What to do in Zagreb? Here are 29 things (eat + see + hike)
Are you wondering what to do in Zagreb? Despite being the capital of Croatia, Zagreb does not receive as many visitors as its coastal cities, most notably Dubrovnik, Split, and Zadar. However, that's not because there's nothing to do there! Whether you're interested in architecture, history, culture, food, or just to beat the summer crowds, Zagreb is a great choice!
Essential Information on Zagreb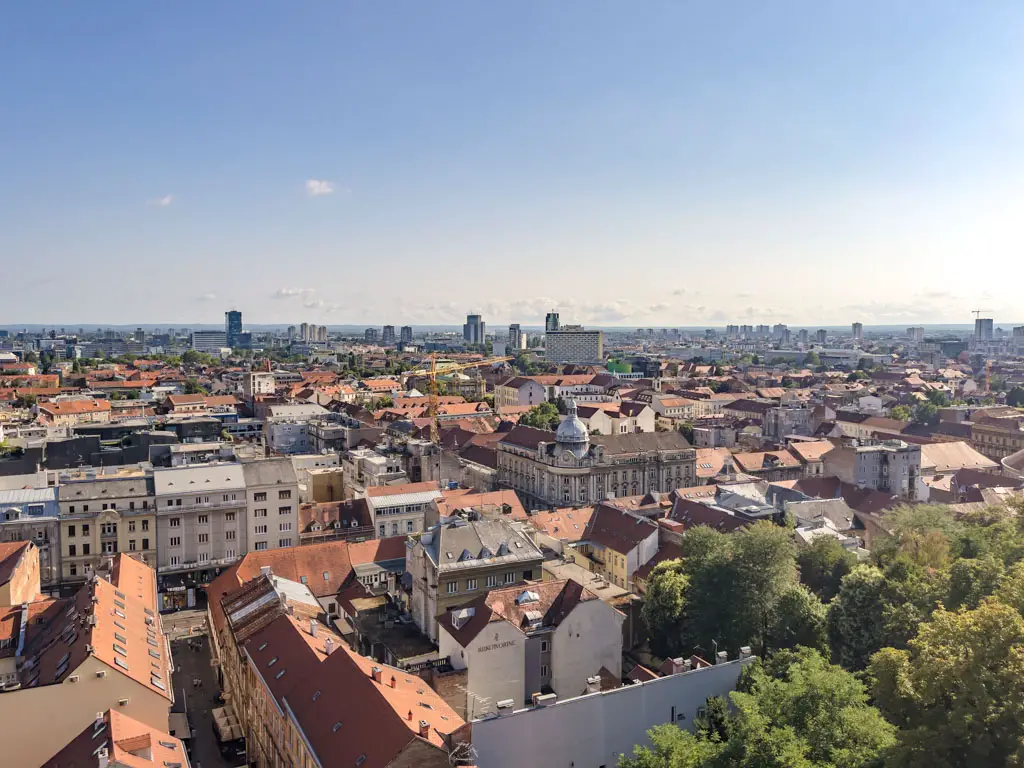 A Short History of Zagreb
Zagreb is the capital of Croatia, but it's a relatively new title for the historic city. While it might not always have been a capital, it had always been important as two rival towns atop a hill, Kaptol, and Gradec, then as one city under first the Hungarian empire, then Austro-Hungarian, and eventually Yugoslavia.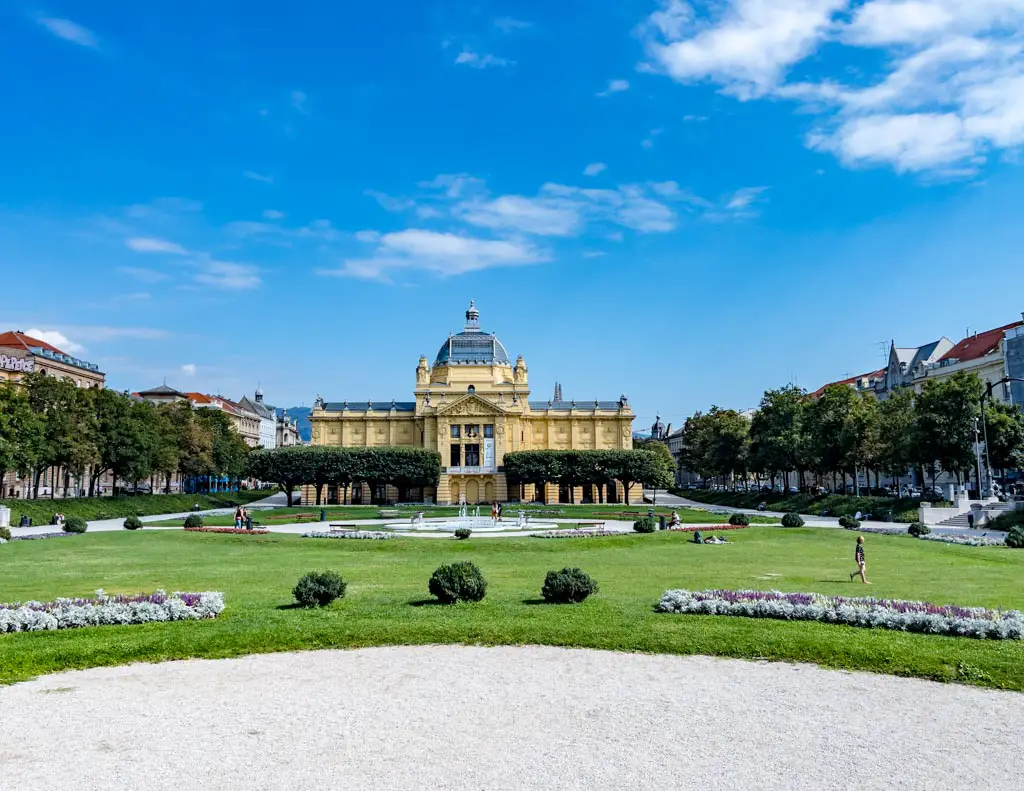 The city we see today mostly took shape in the 18th and 19th centuries when nationalism was reviving and with great influence from Europe and Art Nouveau. The splendid parks of the lower town and the wide streets are a testimony of that.
Zagreb can be split into Upper Town where the hilly historic center is, and Lower Town where the 19th to 20th-century buildings and parks are.
Getting to Zagreb
Zagreb is well serviced by trains, buses, and flights as the capital of Croatia. Here is some essential information on getting there:
Zagreb Airport
The airport is 10km from the city center and is well serviced by buses throughout the day. However, if you're arriving or leaving in the early mornings or late at night, the best option is to get an Uber or get there/wait until service is running.
The airport bus stops at the bus station and city center, and it's the fastest way to get there.
Operating time: 4:30 – 23:30
Cost: 30 kn 
Alternatively, the 290 bus costs 6 kuna and runs a little later, but it has 20 stops.
Zagreb Train Station
The Zagreb train station is more centrally located than the bus station, although the two are a 20-minute walk apart. If you want to travel between the two, take tram 2 or 6.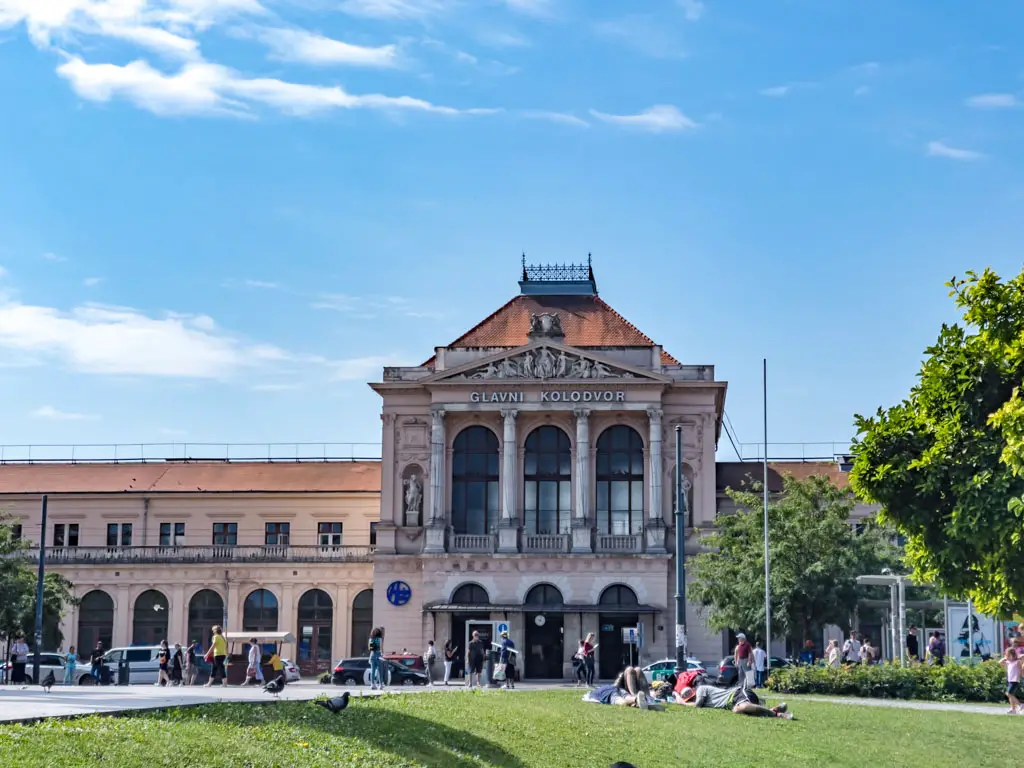 Here are the places you can take a train to from Zagreb:
Within Croatia: Split, Dubrovnik, Rijeka
International: Ljubljana, Budapest, Belgrade (currently not running), Munich, Vienna, and Zurich
It's best to pre-book your tickets during high season! I use Omio or 12GoAsia.
Zagreb Bus Station
The Zagreb Bus Station is arguably one of the worse designed ones I have been to. They have a separate part in the north for the airport bus, and the departure information etc are all upstairs with no lift and only an escalator going up.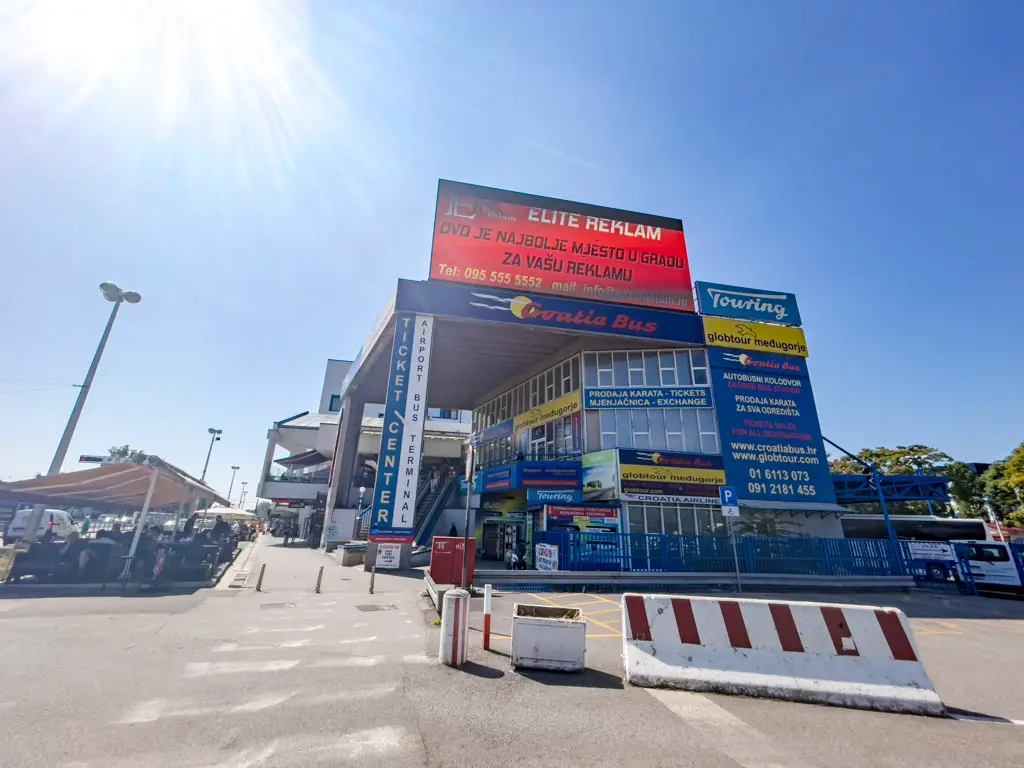 Since I was travelling with my luggage, I couldn't go up to see my bus's platform so I asked the airport bus counter staff. It also took me a while to find the correct platform, as the numbering didn't really make sense.
It's not impossible to navigate, but I definitely think it's challenging for no particular reason!
Once again, you should pre-book your tickets, especially during high season. I booked mine using Omio and have taken the Arriva and it was a smooth experience.
Zagreb Transportation
Zagreb has a good network of public transportation with trams and various bus lines. The main town itself is very walkable and you can also cycle around. In general, I recommend walking or taking the trams.
Where to buy tickets 
You can buy tram tickets at the Tisak – newspaper stands – around town. It costs 4 kuna for a journey under 30 minutes. You have to validate it and the only machine that does it is at the front of the tram by the driver.

You can also buy tickets directly from the driver but it'll be a bit more expensive at 6 kuna.
In general, the lines you'll take are 2, 6, 9, and 14.
Money in Croatia (and Zagreb)
You can use your credit cards for a lot of things in Croatia and Zagreb now, meaning you don't need to have a lot of cash. Most restaurants and all supermarkets accept cards, although it might be worth asking before you go in just in case.
For the most part, cash is mostly needed for:
Tram or bus ticket
Market purchases
Tips for walking tours or other miscellaneous tips
Street vendors
I also needed to pay in cash for a tour I took in Zadar – but you can get around these by booking tours online. Get Your Guide and Viator tours are usually the same as the ones you find on the street and you can read reviews as well.
Is Zagreb Worth Visiting?
Absolutely! People often skip the capital of Croatia in favour of its coastline. But Zagreb is a great place for food and history lovers who want to see a different side of Croatia!
Is 1 day enough in Zagreb?
While you can do the highlights in 1 day, I think it's best to budget 2-3 days for Zagreb so that you are not rushed. It also gives you more time to sample the food!
What to do in Zagreb: food edition
Go on a Zagreb Food Tour!
When it comes to Croatian food, most people think of fresh seafood. But the food in Zagreb is an amalgamation of the entire country!
Did you know that Istria has their own truffles? Or Croatia produce one of the best quality olive oil? Here are some foodie places for you:
A food tour is the best way to get familiar with a city and its culture. My food tour with Free Spirit Tour, who runs some amazing tours throughout Croatia. I met up with my guide Diana by the equestrian statue main square in Zagreb and luckily I came hungry, so I'm prepared!
The tour was one of those that didn't feel like one, with Diana leading me around town and chatting like we're friends meeting up. The only difference is that she's here to feed me lots and lots of food.
It was hard to pick a favourite part of the tour. From learning about the culture, walking around town, and all the food! Here is a gallery of photos from the tour and what I ate:
Cottage cheese with milk and cornbread, typical breakfast, can add salt and other herbs and even bacon
Meat platter – prosciutto, smoked sausage, normal sausage, prosciutto 
Burek- best in the Center and it's a Balkan thing from ottoman. Have different versions.
Cevapcici – something with the softest pita bread and minced sausage 
Štruklji – traditional one with cheese and also with truffle
Bajadera – a Croatian chocolate flavour you should definitely try
Cost: 445 kuna, 59 euros
How to book: online
Duration: 10:00 – 13:00 (might overrun depending on how fast you can eat!) 
Eat all-local ingredient food at Heritage – Croatia Street Food & Shop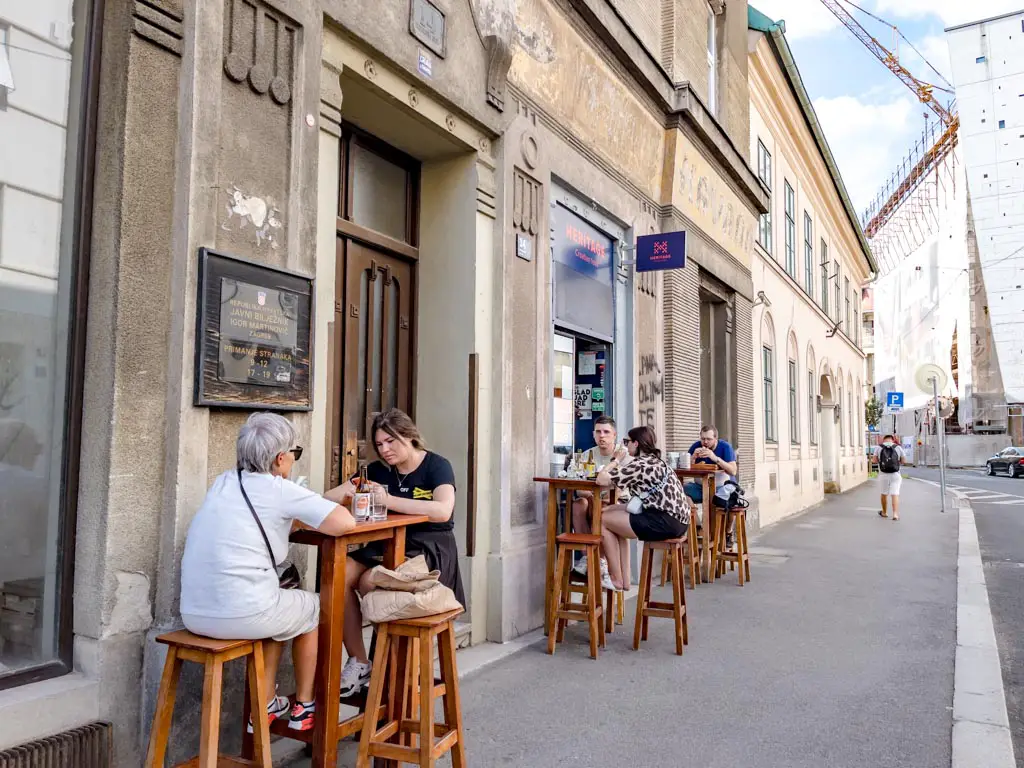 Heritage is a small restaurant that's almost like a tapas bar with a few tall tables outside and inside. They strive to only use Croatian ingredients and also sell a fine selection of local produce.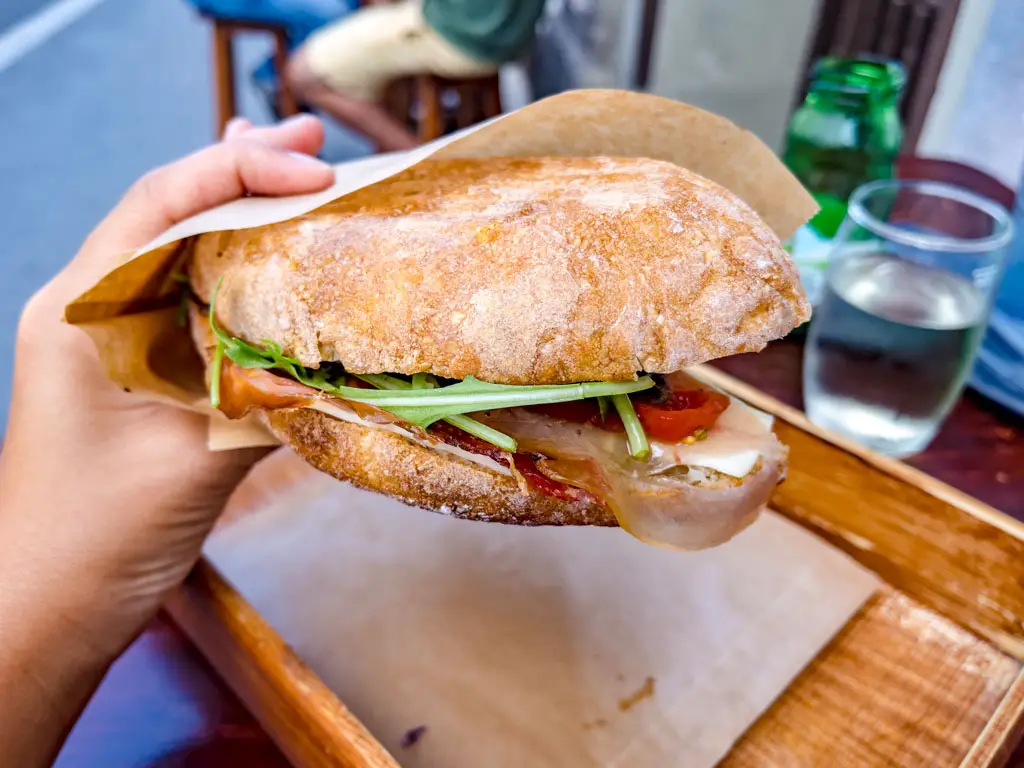 For a small bite, they have panini and also starters to share. You might want to pre-book because they have limited seatings and do not offer takeaway.
Address: Petrinjska ul. 14, 10000, Zagreb, Croatia
Opening times: 12: 15 – 20:00
Try the pastries at Korica
If you are making your way from the train or bus station to town (or vice versa), you won't regret making a stop at Korica. This little cafe bakery has a range of delicious pastries and is famous for the cruffins – cronut muffins.
Address: Preradovićeva ul. 39, 10000, Zagreb, Croatia
Opening times:  Mon – Thurs 7:00 – 19:00; Sat 8:00 – 15:00
What to do in Zagreb: sightseeing edition
Admire the Ban Jelačić Square (Trg bana Josipa Jelacica)
The main town square with the equestrian statue of Ban Josip Jelacic, it is on the southern edge of the old town which rises on the hill behind it. It used to be a market place, then a cattle market, and eventually came to the name it has today in the mid-19th century.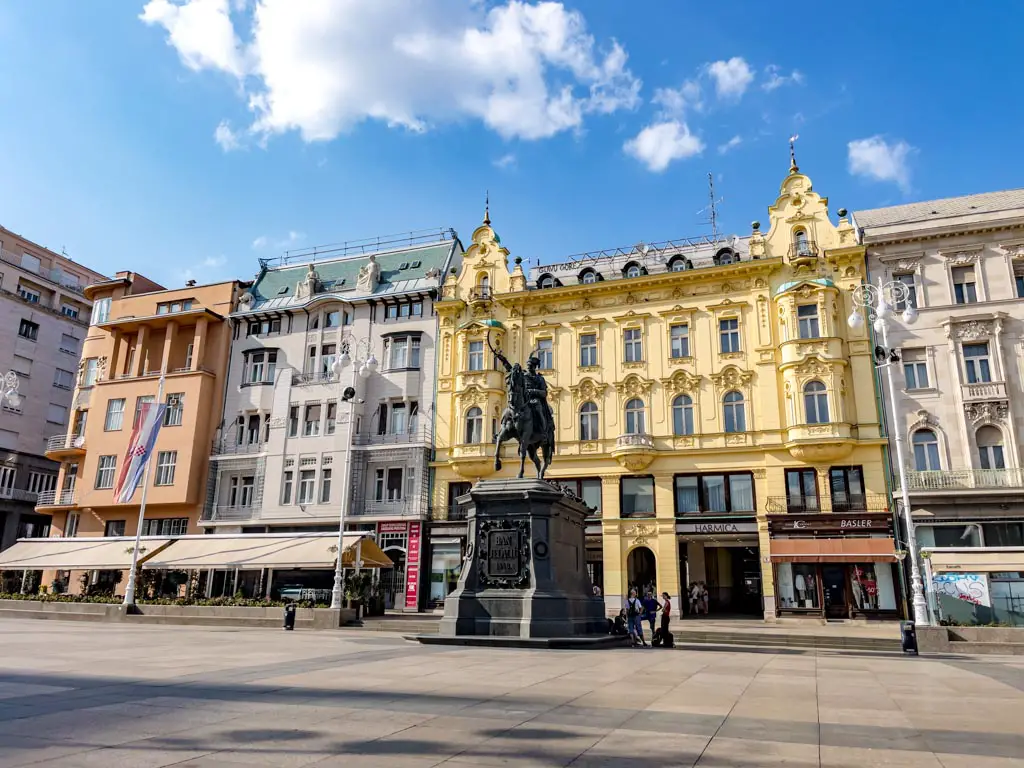 The statue of Ban Josip Jelačić was placed there in 1866 and he was a general known for his role in the Revolutions of 1848 against Hungarians for the independence of Croatia. The statue was removed between 1947 by the communist government and was placed back in 1990.
The square is a no-car zone but you can easily catch one of the trams to wherever you need to go. It is a popular meeting place and where many free walking tours start.
Take a Free Walking Tour in Zagreb
I didn't end up doing one because of time constraint but Free Spirit Tours also run free walking tour that lasts for 2 hours and take you around town. There is generally one every day at 11 am (aside from between 25th Dec to 1st Jan).
It's a great way to learn the history of the city and the many historical landmarks from someone in the know.
Note: while free walking tour is always free, it's good to leave a tip!
Stroll along Ilica Street at sunset or sunrise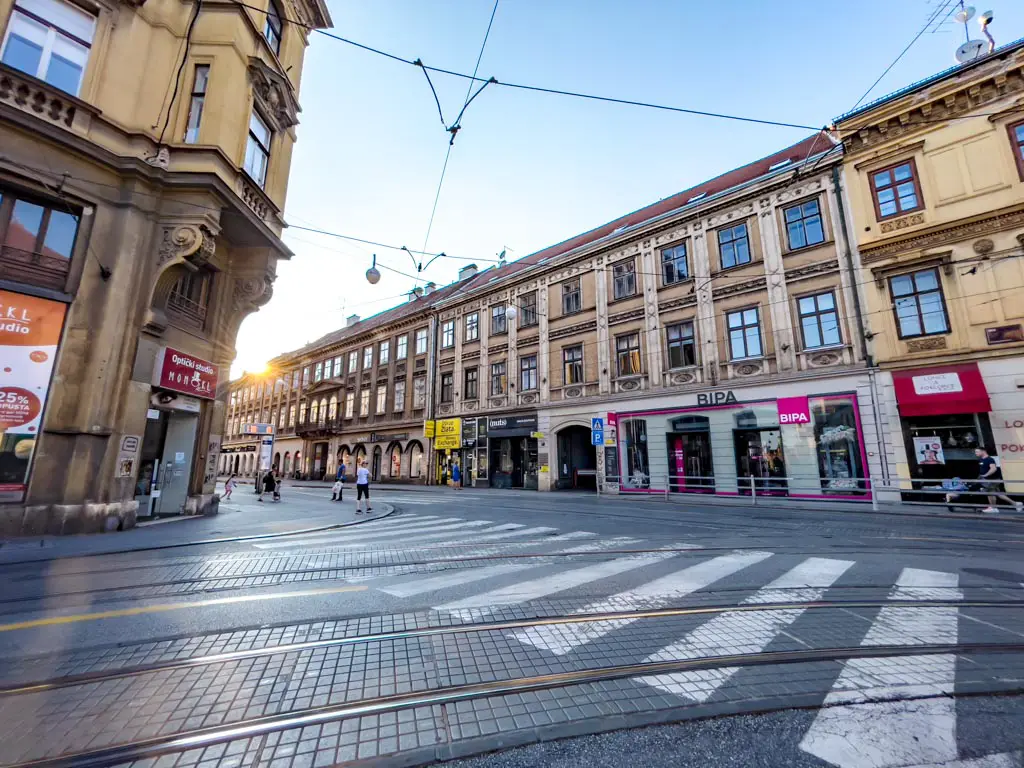 Ilica is one of the longest streets in Zagreb running east-west just south of the Ban Jelačić Square. It is 5.6 km (3.5 miles) long and a great place to catch the sunset or sunrise glow.
Shop at Dolac Market
Dolac market is an open-air market in the heart of Zagreb where you can find fresh fruits and produce under red and white umbrellas. It is still frequented by locals with a marketplace directly below it, and a fish market to one side (indoors though!).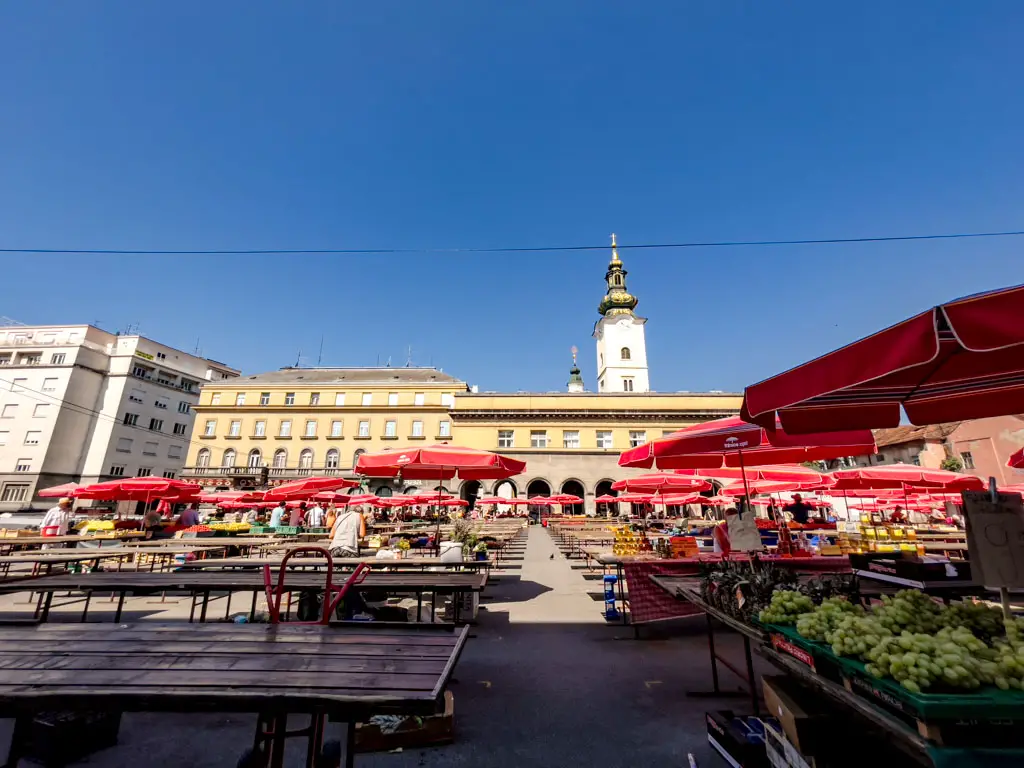 Everything is from Croatia and generally only what is in season is sold. Although the market is open until 3pm, it's best to visit in the morning when there are more activities.
Opening times: morning until 15:00
Walk through the Grič Tunnel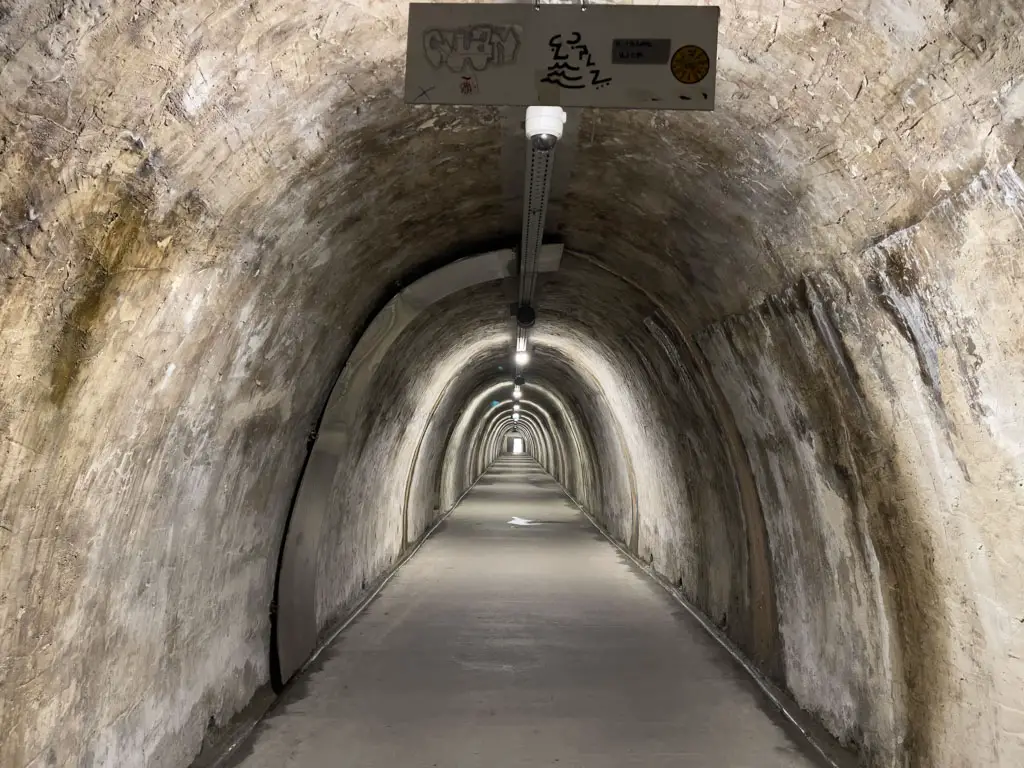 The Grič Tunnel is now a pedestrian tunnel that is frequently used by locals and tourists alike as a shortcut. It runs under the upper town and was built during WWII by the government as a bomb shelter. It was never used for that and eventually became the grounds of the biggest rave in 1993.
It was then refurbished and remodelled, opening in 2016 with six-point of exit and entries throughout the upper town.
Go to the upper town through Stone Gate
The Stone Gate is the eastern gate of the royal city of Gradec dating back to the 12th century. It was made of stone, hence the name, but the current one we see was from the 18th century.
Aside from being the sole surviving gate from the medieval town, it is also home to the shrine for Mary. The painting of Virgin Mary survived fire in the 18th century and remains one of the main sthrines.
Find Croatia's coat of arms at St Mark's Church
St Mark's Church is arguably the most icnoic landmark in Zagreb. It's most recogniseable by the colourful tiled roof with the coat of arms of Zagren, Triune Kingdom of Croatia, Slavonia, and Dalmatia.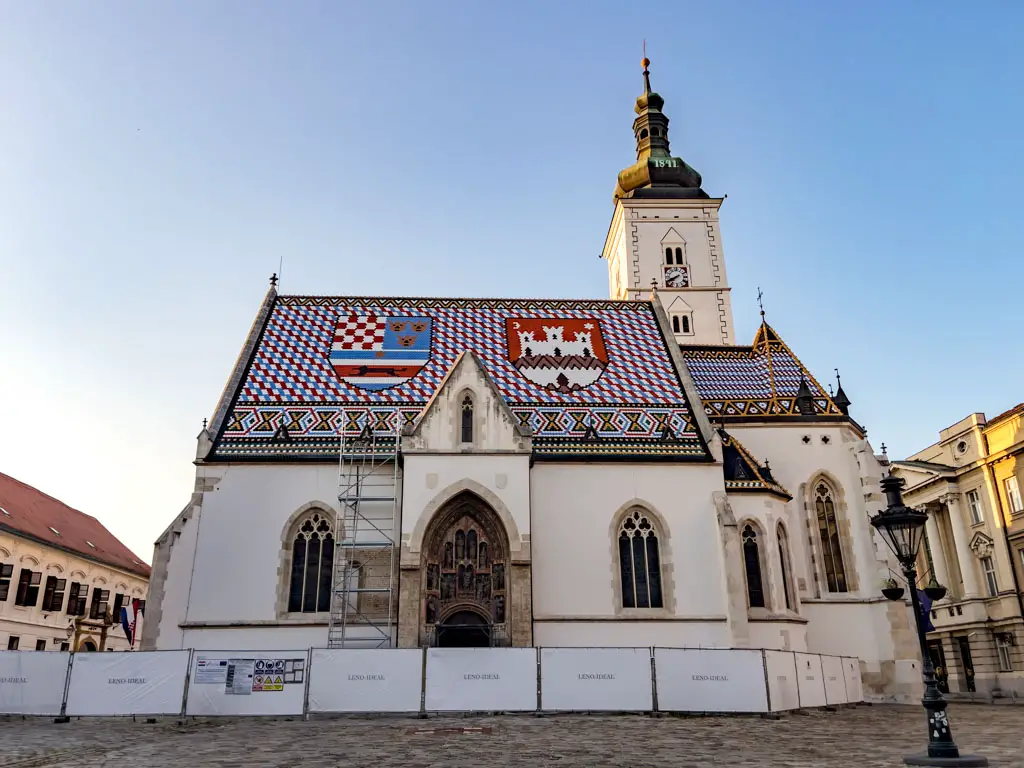 It is the Roman Catholic parish church that was built in the 13th century but reconstructed in the 14th century from in the Gothic style. It stands in its own square in the medieval uppertown. 
Note: it is currently under construction from the damage in 2020 and not open to entry
Peek at the Water Well (Bunar)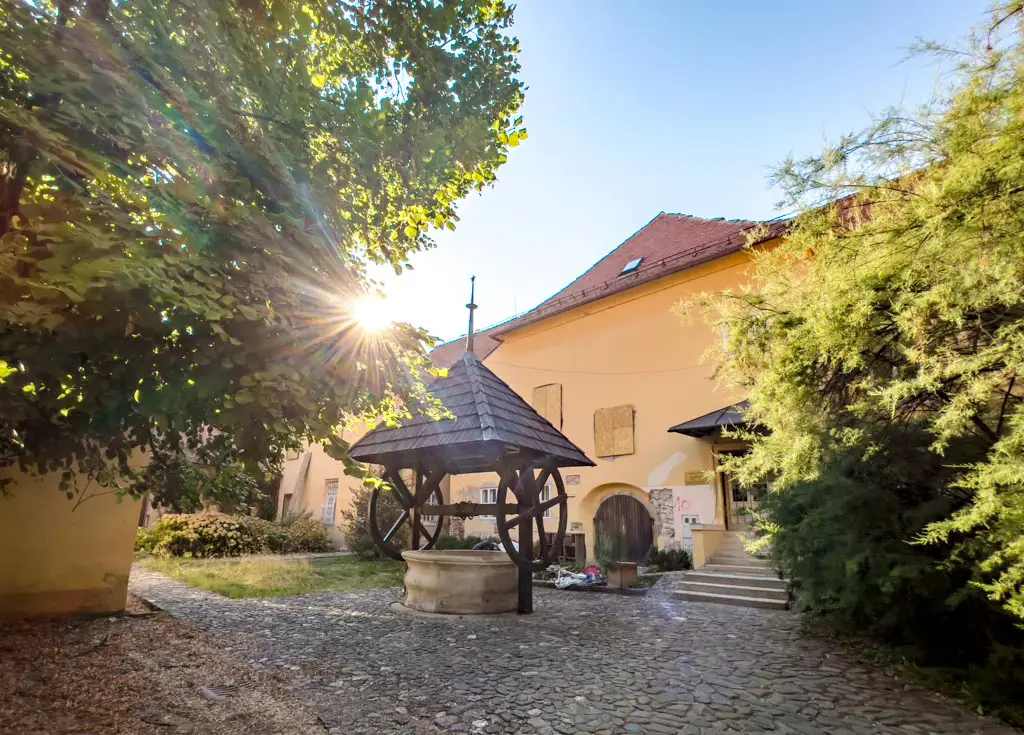 The old water well is by the Zagreb City Museum hidden in the upper town. It is the only remaining water well and in a pretty medieval courtyard. I won't go out of my way to visit it, but if you are in the area (and you should be), it's worth a stop.
Cathedral of Zagreb
The Zagreb Cathedral is built in a Gothic, then reconstructed in the Gothic Revival style set on the eastern side of the old town. It is distinctive in the skyline with the two towers standing at 108m high.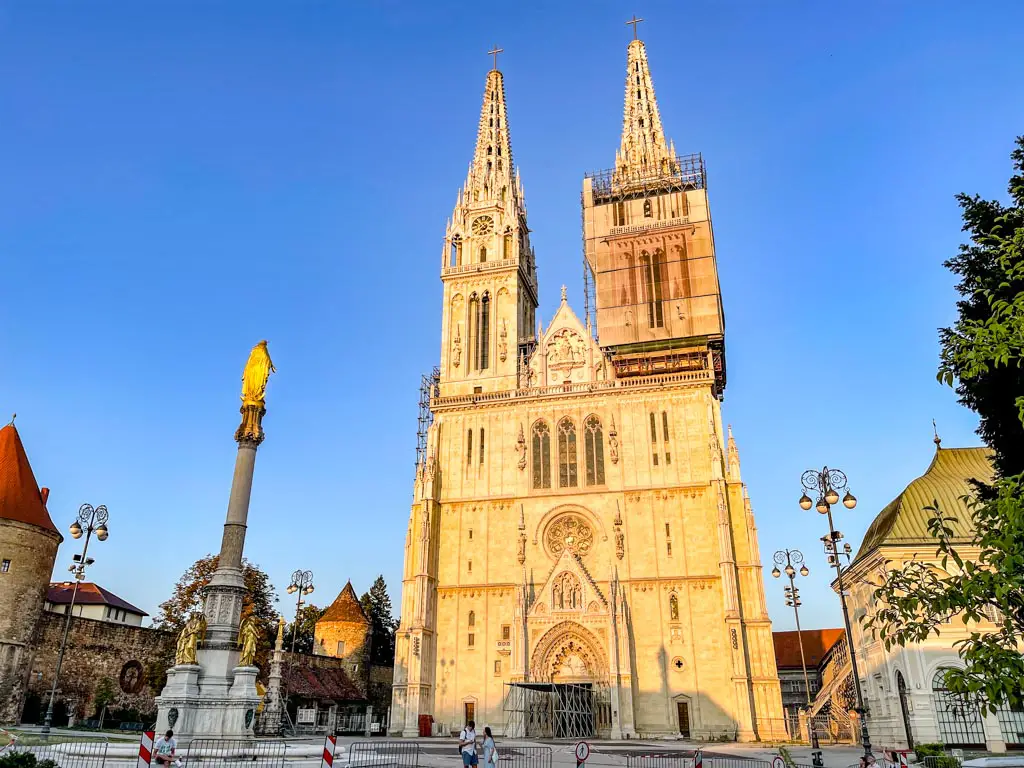 The cathedral is Roman Catholic and belonged to the city of Kaptol in the 13th century. It is dedicated to Assumption of Mary, Saint Stephen, and Saint Ladislaus. It was built when the bishop chair was moved from Sisak to Zagreb to facilitate the pilgrimage road by King Ladislaus I of Hungry. 
Note: it's damaged in the 2020 earthquake and currently still under reconstruction.
Be instagrammable at the Oktogon
As you can guess from the name, Oktogon involve something that is eight-faced. It is a shopping passageway near the center of Zagreb with a gorgeous central octagonal dome. 
It was built in the late 19th century as part of the First Croatian Savings Bank by architect Josip Vancas. 
Note: Come on a Sunday when all the shops are not opened for as many shots as you like.
Wander along the Strossmayer Promenade
The Strossmayer Promenade runs above the Gric Tunnel on the edge of the old town. It doesn't exactly have the best view, but it is a great walk that takes you past many attractions. It passes by the Lotrščak Tower and Zagreb Funicular, as well as the cute washing lines.
Take the Zagreb Funicular
The Zagreb Funicular is a must-do and connects Ilica with the Strossmayer promenade. While the distance is only 66m long, the price of 5 kuna and the cute ride makes it popular for locals and tourists.
It runs around every 10 minutes and the schedule is posted on the door.
Learn about botany at Zagreb Botanical Garden
The Botanical Garden of Zagreb is right by the train station and worth a visit for any plant lovers.
It might be a small place, but they have structured flower beds encompassing the whole of Croatia's rich florals to the swamp plants as well as exotic species.
The greenhouses were damaged during the 2020 earthquake but the grounds are still wonderful with many detailed educational signs.
Address: Trg Marka Marulića 9A, 10000, Zagreb, Croatia
Admission fee: Free entry Mondays and Tuesday, 10 kuna (cash only)
Opening times: Mon – Tues 9:00 – 14:30; Weds – Sun 9:00 – 19:00
See the noon gun and viewpoint in Lotrščak Tower
The Lotrščak Tower is the tower from which the famous noon gunshot is fired. The white tower stands right across from the Zagreb Funicular upper station and has an observation deck on top that boosts a panorama of the entire city.
While the entrance fee is a bit steep for such a tight squeeze, you get to see the gun where the shot is fired from and there are also quite a few educational signboards inside.
Entrance fee: 20 kuna
Opening time: Tues – Fri 9:00 – 20:00; Sat – Sun 11:00 – 20:00
King Tomislav Square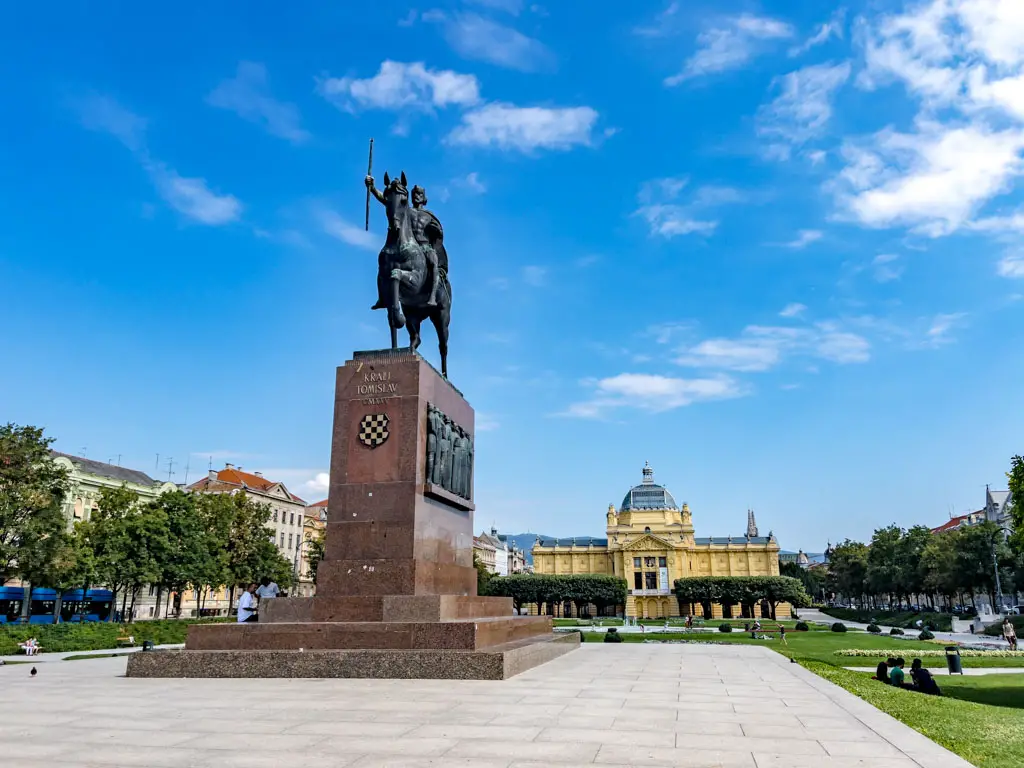 The equestrian statue of Ban Josip might be the center of Zagreb, but visitors arriving by train will first see that of King Tomislav. The King Tomislav Square is one of the many 19th-century public parks in Zagreb lower town.
This one is arguably one of the prettiest one completed with a fountain in the middle and artfully manicured lawns. 
What to do in Zagreb: Museum edition
Zagreb has many museums and it can be difficult to choose which one to go to. But a general tip for the more scientifically orientated one is to download the Google Translate app. Many of the smaller signboards do not have English translation and having it on hand can mean you get a wealth of information that you otherwise would miss out on.
Zagreb has free WiFi so if you forgot, you're likely to be near a hotspot for Zagreb Grad so you can quickly download it. Which is what I did at the Tesla and Technology Museum.
Zagreb City Museum Muzej grada Zagreba
The Zagreb City Museum is the one to visit if you are interested in the history of Zagreb. It's on the northern side of the upper town with numbered signboards that lead you through the ages, starting from the 7th century BC.
While the exhibits from prehistoric time were a little choppy, it is the best museum to visit out of the ones I visited with the best laid out rooms with relevant information and exhibits.
Note: tickets from the rocket bombing memorial also work here
Address: Opatička ul. 20, 10000, Zagreb, Croatia
Admission fee: 30 kuna, 20 for concessions
Opening times: Tues – Sun 10:00 – 18:00
Museum of Broken Relationships (Muzej prekinutih veza)
The Museum of Broken Relationships is among the most popular museums in Zagreb. That said, it is not the biggest museum with only 3 rooms. I enjoyed reading about all the various objects and stories, however, I do find it difficult to reconcile the price range of the exhibition with donated items.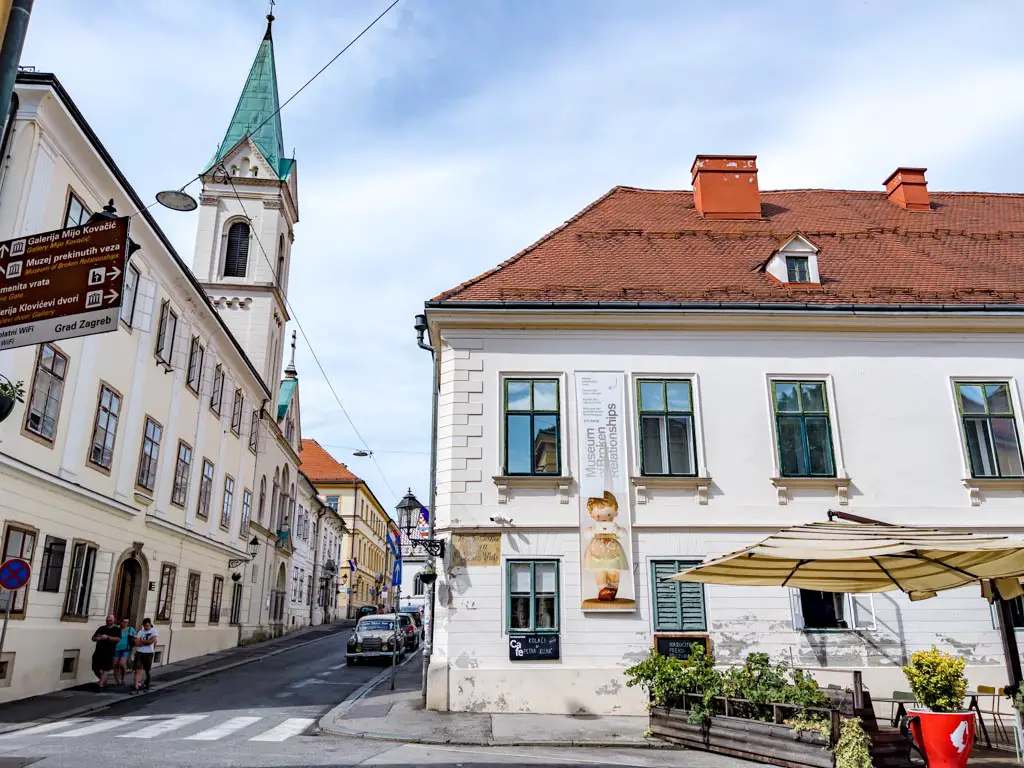 Regardless, if you are in the area and is a fan of love (or anti-love), it might be an interesting spot to spend an hour.
Note: During high season, you might have to wait an hour or so before you're allowed to enter. That said, it's in the middle of the old town so there are plenty of things to see and do.
Address: Ćirilometodska ul. 2, 10000, Zagreb, Croatia
Admission fee: 50 kuna
Opening times: 9:00 – 22:00
Ethnographic Museum Zagreb Etnografski muzej Zagreb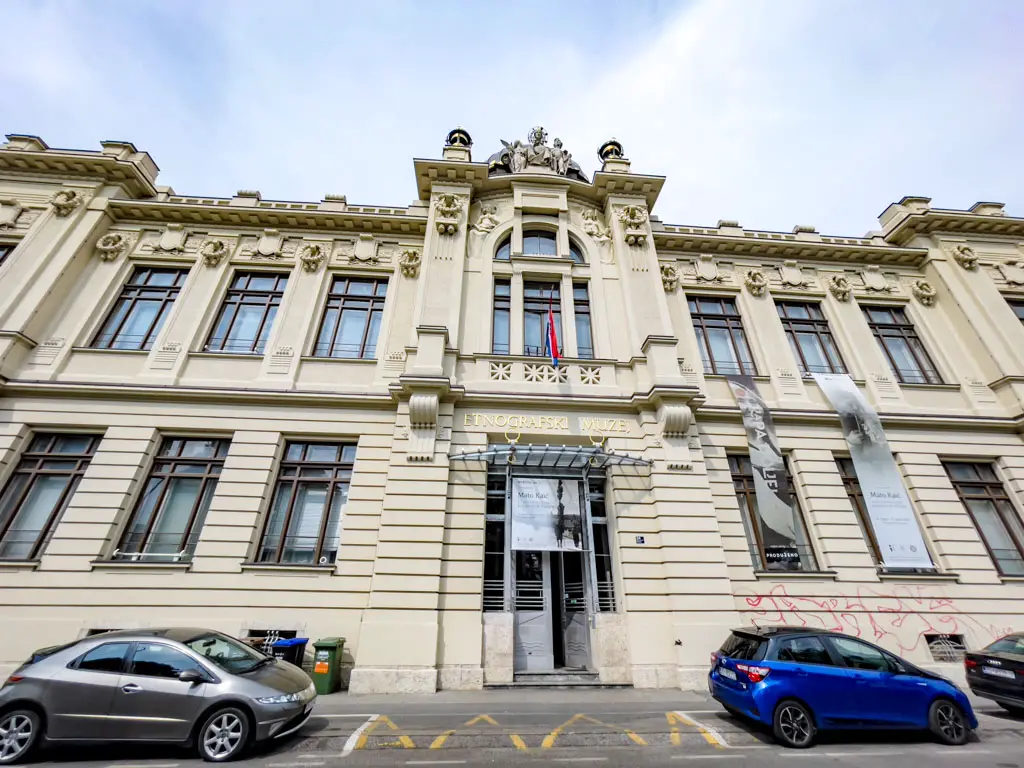 The Ethnographic Museum is housed in a beautiful pastel yellow building in the lower town. It consisted of two floors and is the best place to learn about the different ethnic groups and traditions of Croatia. There is good English signage as well, making it easier for visitors.
On the left of the ground floor are oversea collections by Croatia explorers, and travelers in the 19th century. The exhibits are chiefly from Africa and South America, but also a samurai suit from Japan, many of which were gifts. The other side is for various temporary exhibitions, and on my visit, it was photos by a Croatian photographer in Yugoslavian time.
Upstairs was a hat exhibition which I found fascinating. The various hat shapes, decorations, and uses throughout the years in Croatia are beautiful, especially the wedding ones that are beyond extravagant. The other side is darker but houses all the national costumes and traditional wear of Croatians.
Address: Trg Antuna, Ivana i Vladimira Mažuranića 14, 10000, Zagreb, Croatia
Admission fee: 30 kuna
Opening times: Tues – Sun 10:00 – 18:00
The Memorial Centre of the Rocket Attacks on Zagreb 1991/1995 (Memorijalni centar raketiranja Zagreba 1991./1995)
This small museum commemorates the two bombings that happened in Zagreb in 1991 and 1995. It's hidden away on the first floor of a building by the shopping and restaurant streets.
It's a small with only three rooms, which is worth a visit if you are planning to go to the Zagreb City Museum as well as the tickets work for both.
Address: Ul Frana Petrića 4, 10000, Zagreb, Croatia
Admission fee: 15 kuna
Opening time: Tues, Thurs, Sat 10:00 – 18:00
Nikola Tesla Technical Museum Tehnički muzej Nikola Tesla
The Nikola Tesla Museum is situated on the southwest side of the old town in a warehouse built in 1949.
It showcases a series of historical steam engines on the ground floor which lacks a cohesive storyline but is certainly interesting to all mechanical engineers. There are also cars, planes, and railroads. Come with a google translate app and lens ready to read all the interesting stories which are only in Croatian.
The Tesla section is on a corner of the ground floor with a good overview of his life and various patents. But it is only a small part of the entire museum.
There is also a mine you can visit but only on a guided tour that runs at 3pm.
Note: it was very hot inside no air-con
Address: Savska cesta 18, 10000, Zagreb, Croatia
Admission fee: 25 kuna
Opening times: Tues – Sun 9:00 – 17:00
Museum of Illusion
The Museum of Illusion in Zagreb is one of the biggest in the region and often has a queued outside. It's a great family activity for those who want to get some fun photos and a good laugh.
Address: Ilica 72, 10000, Zagreb, Croatia
Opening times: 9:00 – 22:00
Admission: adult 50 kn, seniors and students 40 kn, family 120 kn, 5-15 30 kn
What to do in Zagreb: Medvednica mountain edition
Take the Sljeme Cable Car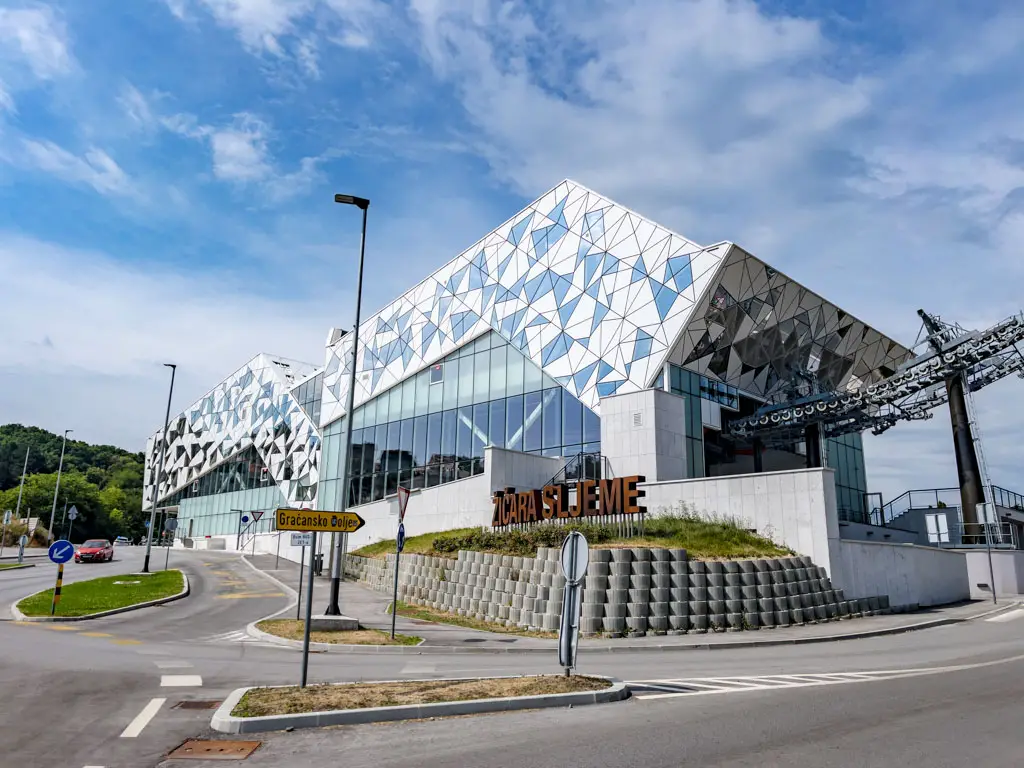 The Sljeme Cable Car is a relatively new addition to Zagreb, having only opened in early 2022. It can save you 2-3 hours and take you straight up to 1030m in about 20-25 minutes with a stunning view of the mountains and the city as you go up.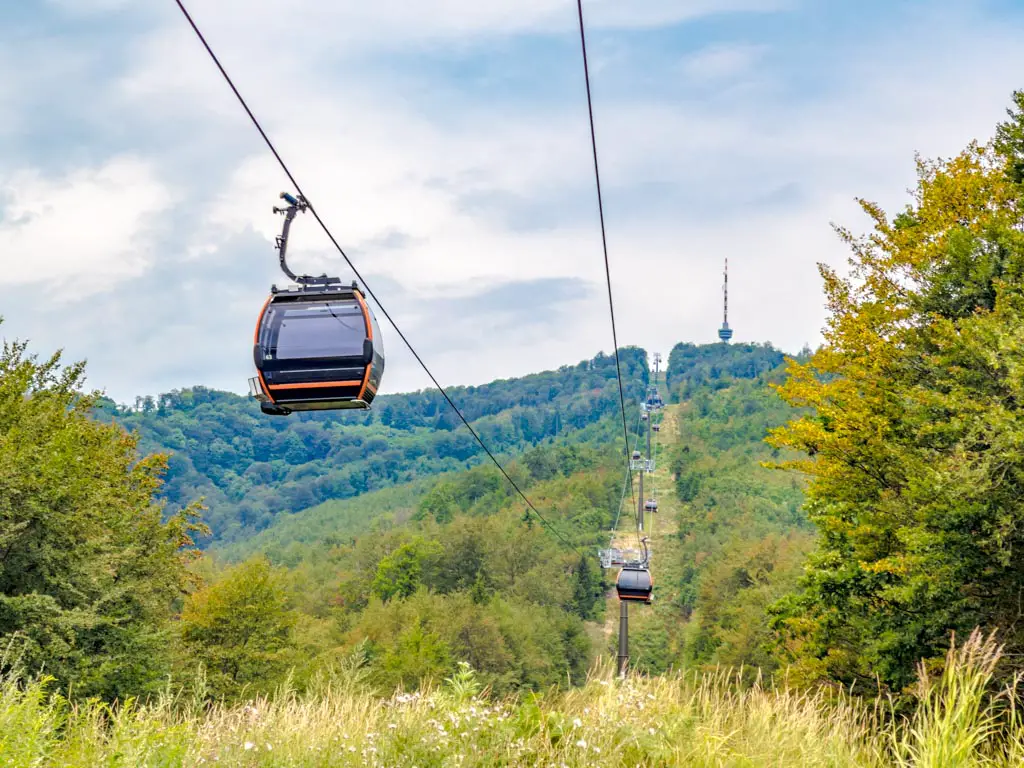 I recommend taking it for a return as the trails in the mountains are very confusing.
How to get there: it's easiest to take tram 14 up north to the end stop, then change to tram 15 all the way to the end. You'd need a 60 minutes ticket as the ride in total is about 40 minutes
Address: Gračanska Cesta, 10000, Zagreb, Croatia
Opening times: 10:00 – 18:00 generally, check the website
Cost: (single/return) adults 75/125 kn; 15-24 years old & senior 50/75 kn; kids & people with disabilities 20/30 kn 
See the Brestovac Sanatorium
The Brestovac Sanatorium is about a 20-minute walk from the 1030m cable car station. It was once a tuberculosis hospital built in the early 20th century in the peaceful woods. It was said to be one of the finest hospitals in Europe at the time, and it was turned into a military hospital during the two world wars. 
It started to fall into despair in the 60s and slowly become the urban explorer heaven today. Do be careful when walking around as the structures have not been checked for over 50 years.
Admire the Church of the Mother of God
This small stone church on Sljeme is not to be confused with the church of a similar name in the city. It's only 5 minutes or so from the upper cable car station and was built in 1932. Designed by architect Juraj Denzler, you cannot miss seeing its interior which is 46 ceiling tiles of the 46 coat of arms of Croatian cities, painted by Gabriel Stupica.
Dine at one of the mountain huts
There are several mountain huts along the ridge of the mountain for hikers to eat at, and I ended up dining at Restaurant Grofica.
These alpine-style huts have a limited menu but they are famous for their strudel and also have hearty portion sizes and reasonable prices.
Visit the Medvedgrad
Medvedgrad is the medieval fortress that was built between the Medvedica mountains and Zagreb in medieval time as a defensive point. It was spurred by the Mongol attacks and a fear of the later Ottoman attacks in the Balkans in the 13th century. 
Note: unfortunately, it was closed for refurbishment when I was in Zagreb
What to do in Zagreb: Day Trip edition
A lot of people take day trips from Zagreb as well, especially those who will be driving. I'll list the most popular ones:
Plitvice Lake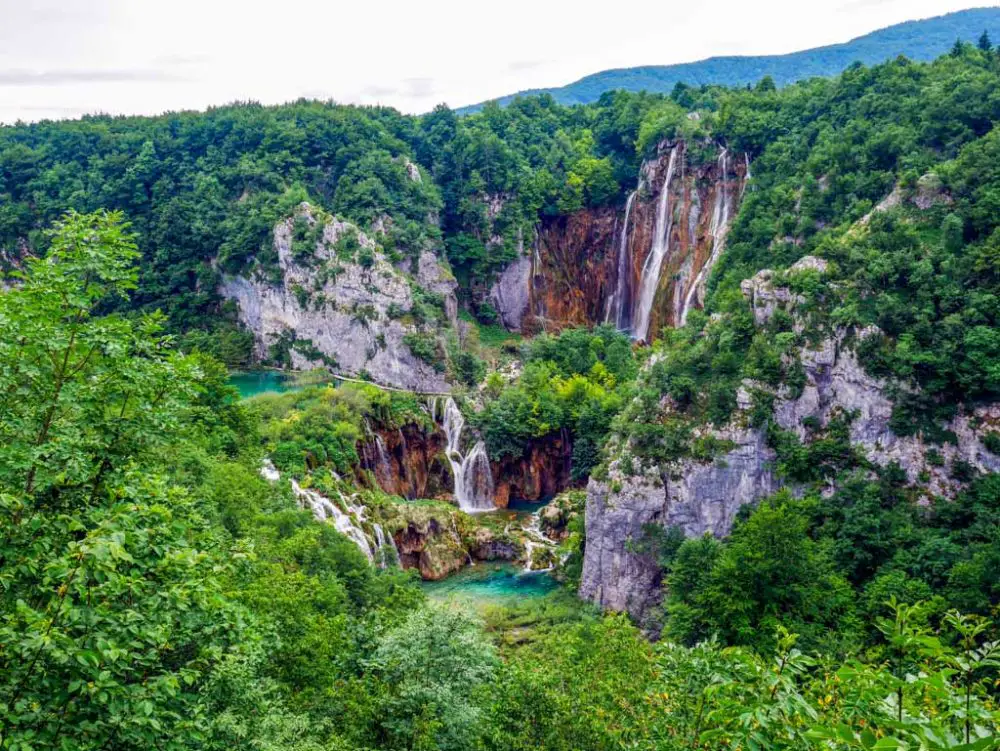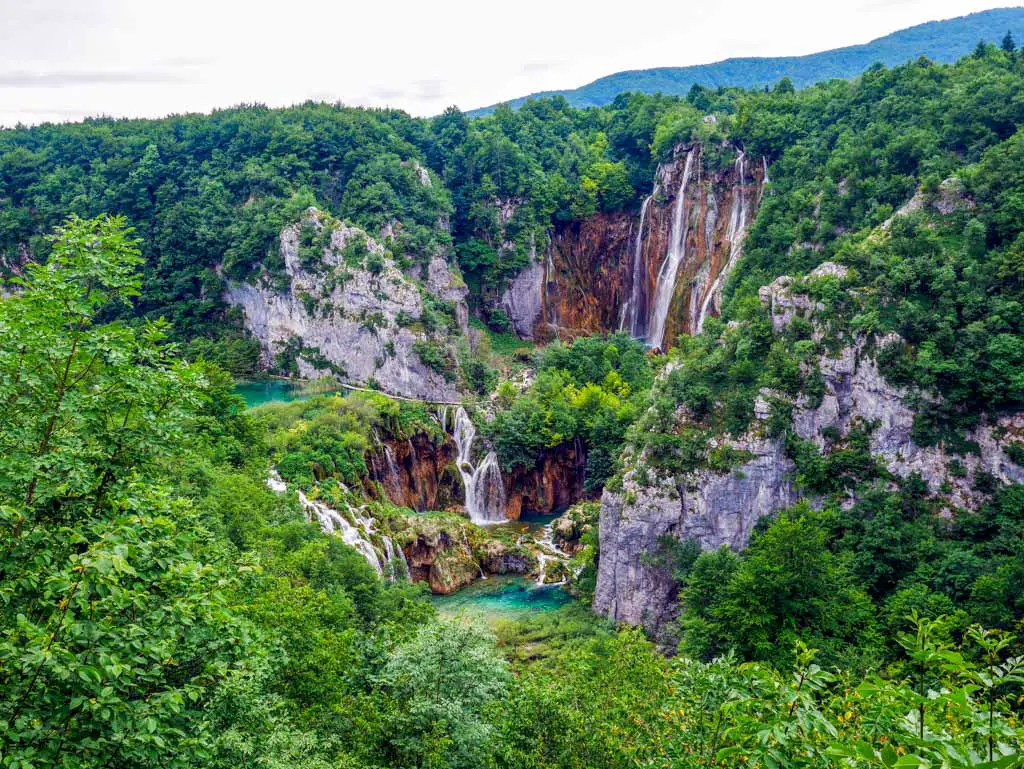 Most people flock to Croatia to see the Plitvice Lake. The national park is famed for its clear turquoise lakes and waterfalls. It's just over 2 hours drive and it's perfect for a road trip. There are also plenty of day trip options for those who want a stress-free trip.
Rijeka
Rijeka is, also called Fiume in Hungarian and Italian, is the biggest city on the Istria peninsula. It's famous for its historic town and rich sea port. It's just over 2 hours bus ride to get there but a perfect day trip option if you have an extra day.
Krka National Park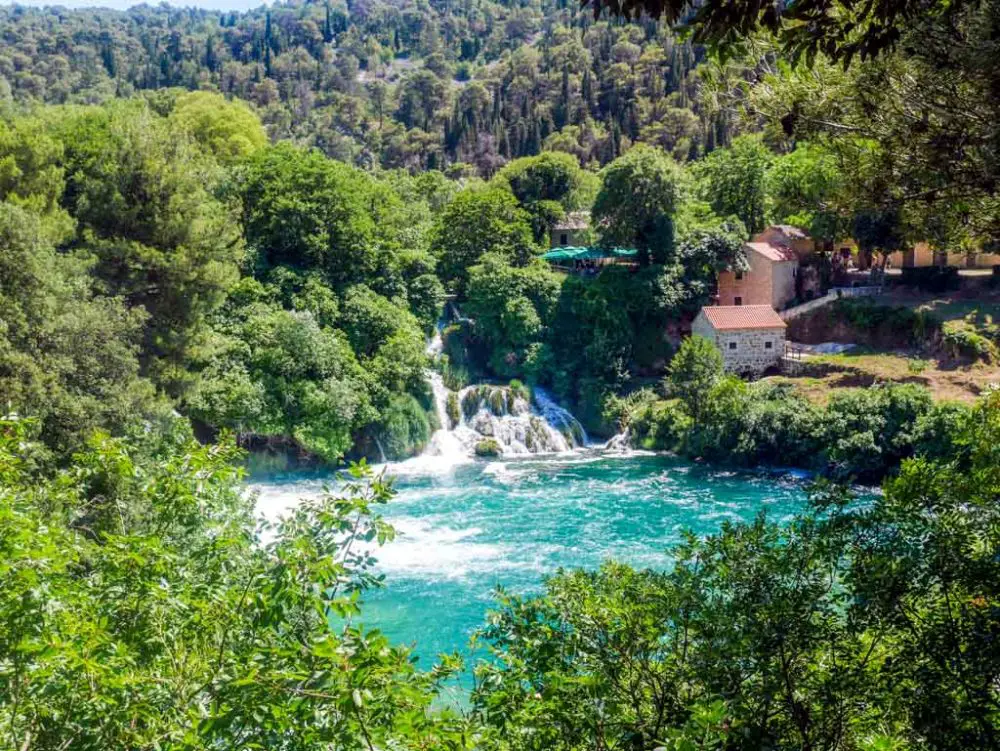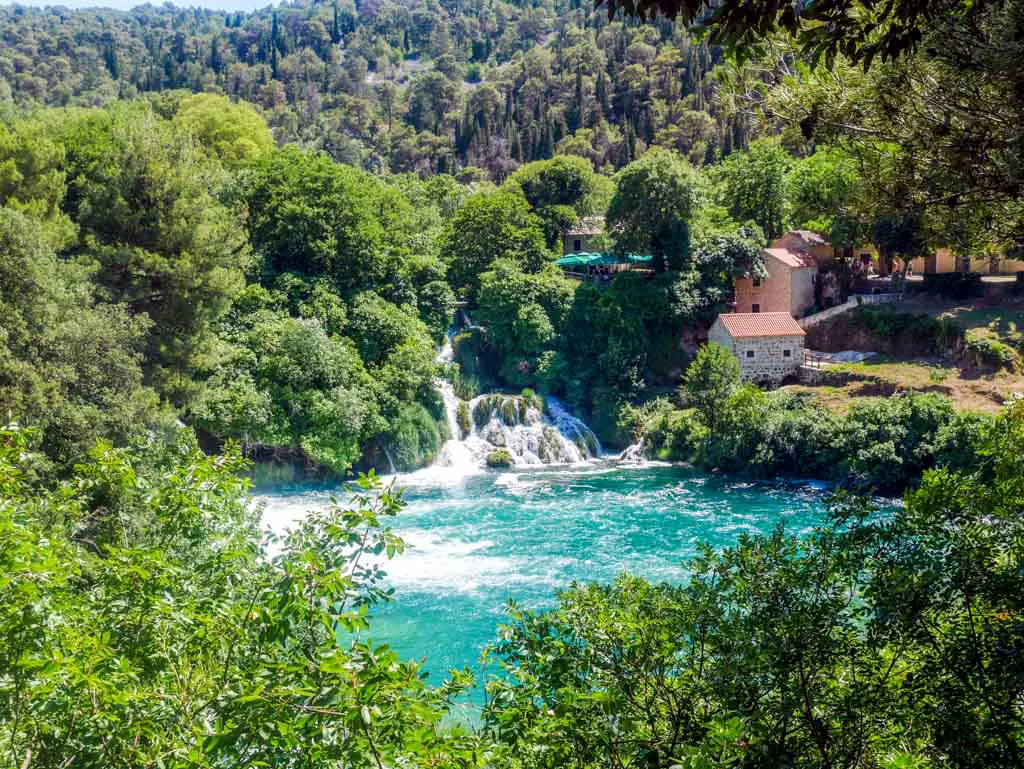 Krka National Park is a popular alternative to Plitvice. Although not as beautiful or extensive, visitors can swim in the national park.
Ljubljana and Lake Bled
Zagreb is close to the Slovenian border and a day trip to Ljubljana and also Lake Bled is possible. While I'd argue that you need more than one day to explore these places, if one day is all you have, it is the best combination of nature and culture.
There is a small group tour or a private tour option.
What to do in Zagreb in 2 Days
If you only have 2 days in Zagreb, here is a suggested itinerary:
Day 1: arrive in Zagreb, check in or drop your bag and grab a bite at the Heritage Croatian Street food. Then a walk around the old town:
Stroll from Ban Josip square along Ilica to take the funicular
See St Mark's Church
Go to City Musem, then visit the well
Go through the stone gate
Walk along the main street and then through the Gric Tunnel
You might be hungry again and Kras Choco Cafe is a great place for ice cream. The 
Day 2: take a food tour of Zagreb in the morning. If your flight is late, head to Sljeme Cable Car to see the church and hike off some calories. Alternatively, visit one of the other museums.
Best Place to Stay in Zagreb
The best place to stay in Zagreb depends on your preference. With comprehensive tram lines and also buses, you can get around fairly easily. I personally recommend staying between the train and bus station and the start of upper town which is flatter if you have suitcases.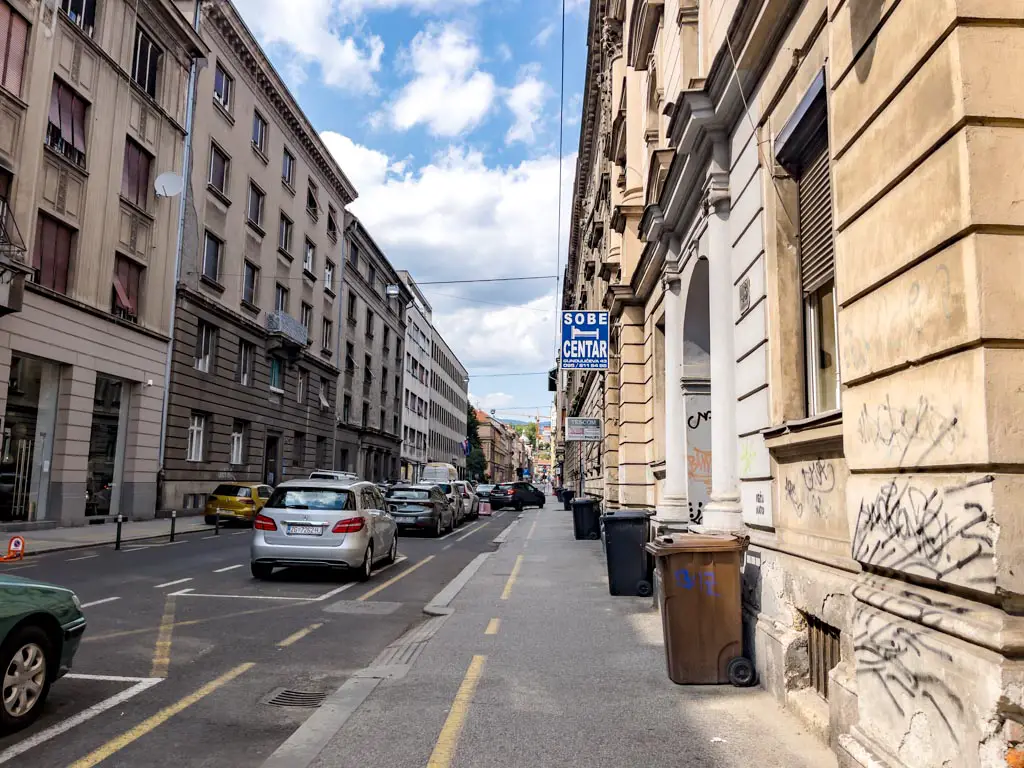 Note: I picked ones with air conditioning – you'll need it in the summer
Budget: Zagreb Speeka is one of the best-rated hostels in Zagreb only 600m from the train station. They offer both private rooms and dorms.
Mid-range: I stayed at Centar Guesthouse and it's great for both solo travelers and a family. The bathroom is a bit smaller than expected but you can't beat the location and amenities.
Splurge: Best Western Premier Hotel Astoria is centrally located with spacious rooms and limited parking. A modern alternative is Hotel Park 45 while Hotel Jägerhorn is a choice for those who like traditional styles.