A UNESCO world heritage site, even if you don't think you have heard of the Cinque Terre, you probably have seen its photos somewhere. With rugged hills dotted with picturesque trails scattered across the five (Cinque) villages (Terre – it actually means land, but you get the gist), it draws tourists like moths to fire. Going there is easy, but planning your trip is much less so with all the information flying around. Where to stay, what are the trails like, what exactly is Cinque Terre – whatever your question is, I have probably asked and googled it. To make it easier for you, here's my guide to the Cinque Terre.
Cinque Terre Guide: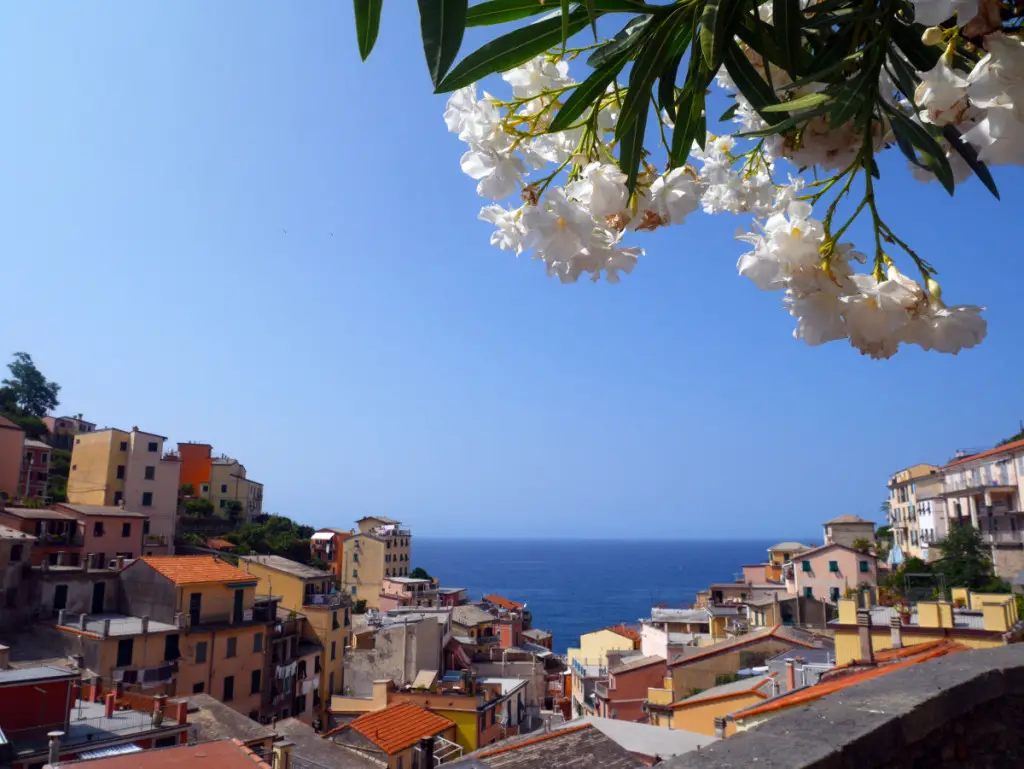 The five villages of Cinque Terre: Riomaggiore, Manarola, Corniglia, Vernazza, and Monterosso each have their own charms and shortcomings. Catapulted into stardom in the last few decades, these colourful fishing villages sloping down to the sea became a sensation drawing thousands to view its beauty. Although famous for its stunning views along the trails, a lot of visitors skip the hike altogether and pop across the five towns via trains. It is possible to do the five villages in one day if you are not one for hiking, especially since right now (July 2015) all trails but the one between Vernazza and Monterosso are closed for maintenance. And despite the milder climate, hiking along the rugged mountains spanning up and down across Cinque Terre can be quite a task during the summer months.
On the reading list below, I compiled prior to my journey to Cinque Terre, as my sister and I had hoped to hike along the official paths. I was rather disappointed, though not overly so due to the hot weather to learn the closing of the trails. However, it appears that the 'hike' between Riomaggiore and Manorola, the two towns closest to La Spezia is nothing more than a paved walkway. Before I continue on about getting to and from the five villages, here's a load down on the Cinque Terre:
Riomaggiore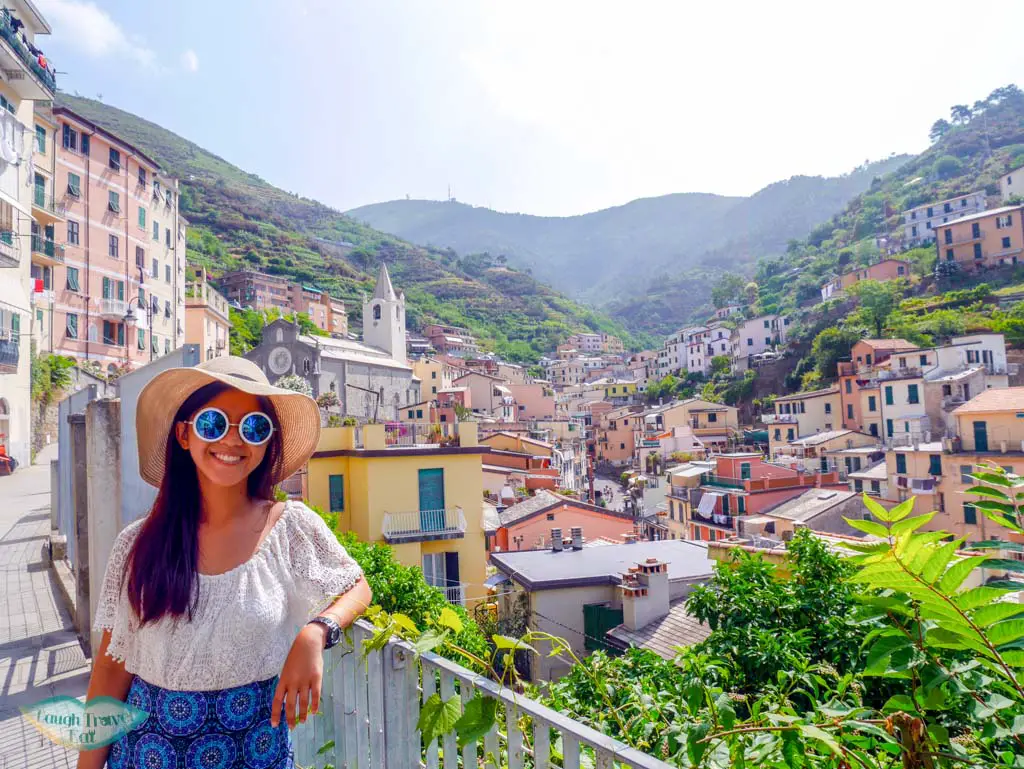 The closest town to La Spezia, this is by far my favourite village. Though not as large as Vernazza or as dramatic as Manarola, Riomaggiore preserved a sense of local tranquility that is lacking in the other four villages (save for Corniglia, but more on that later).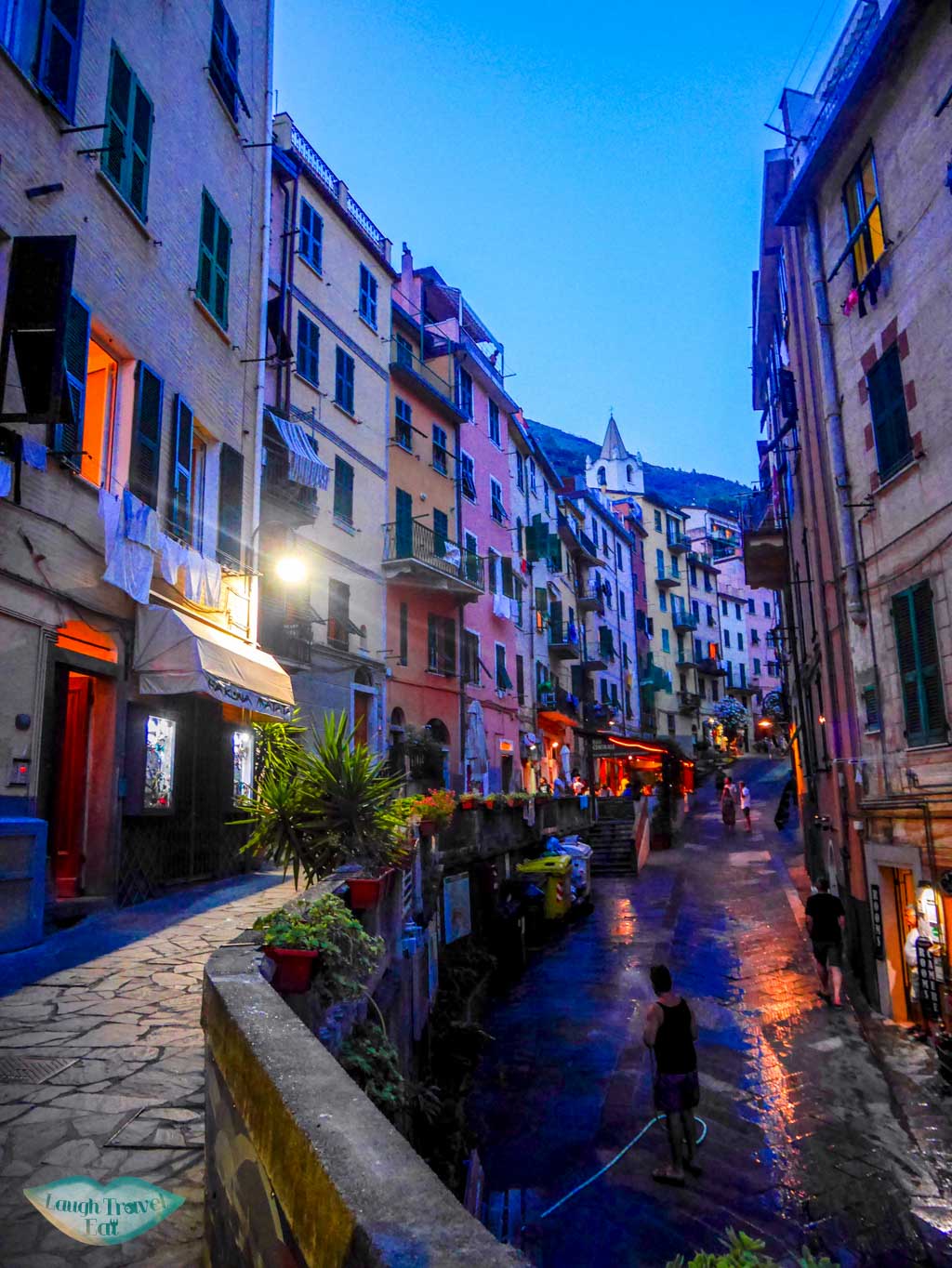 It is comparatively less swamped by tourists and the restaurants and snacks shop prices are actually affordable. It also has a wonderful rocky beach not far from the pier, left of the small marina where dramatic black shale surrounds the bay leading you to stunningly clear water. It is also the best place to swim and relax in all of Cinque Terre, but that's my own opinion. However, jelly fishes are reportedly spotted here.
Manarola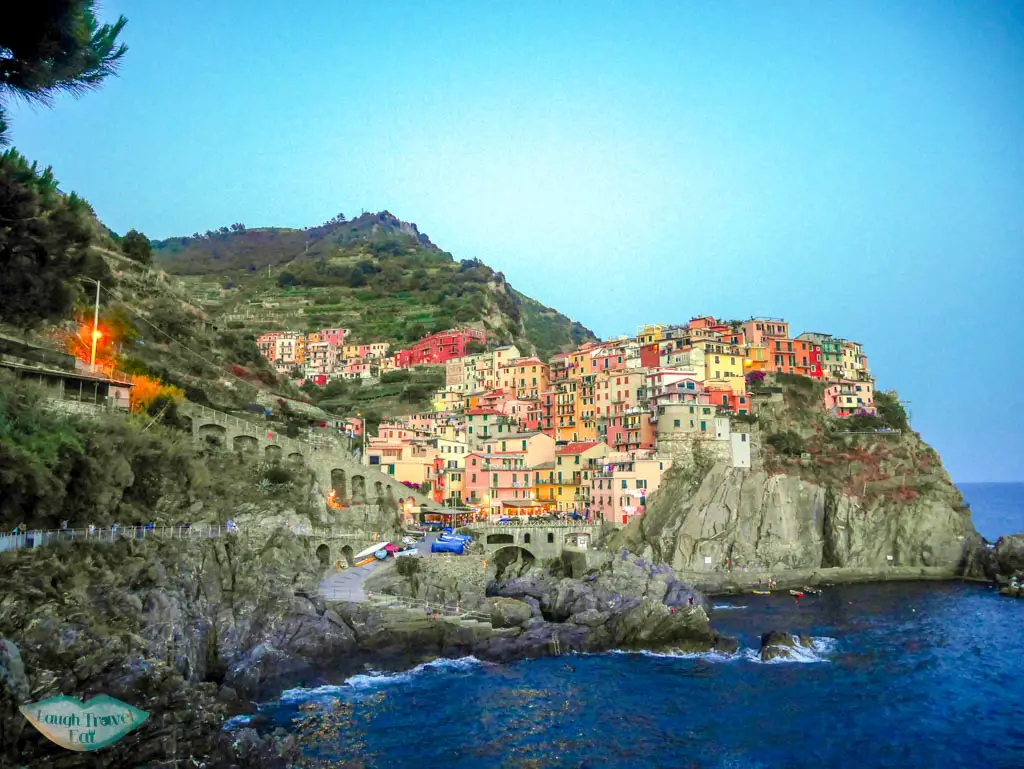 The most dramatic Cinque Terre town that perched on a small cliff, Manarola is the sassy town of the bunch. Showered with good restaurants and a rugged marina that makes for a dramatic image, I would consider twice about swimming there due to the amount of trash and seaweed, but the view from the opposite headland is great.This town is the perfect place to sit back and enjoy the view or the greatness of Italian cuisine. This is also one of the best places to see the sun set, though be warned it'll be packed with tourists wanting to do the same thing. Or you can jump off the cliff (though I won't recommend it):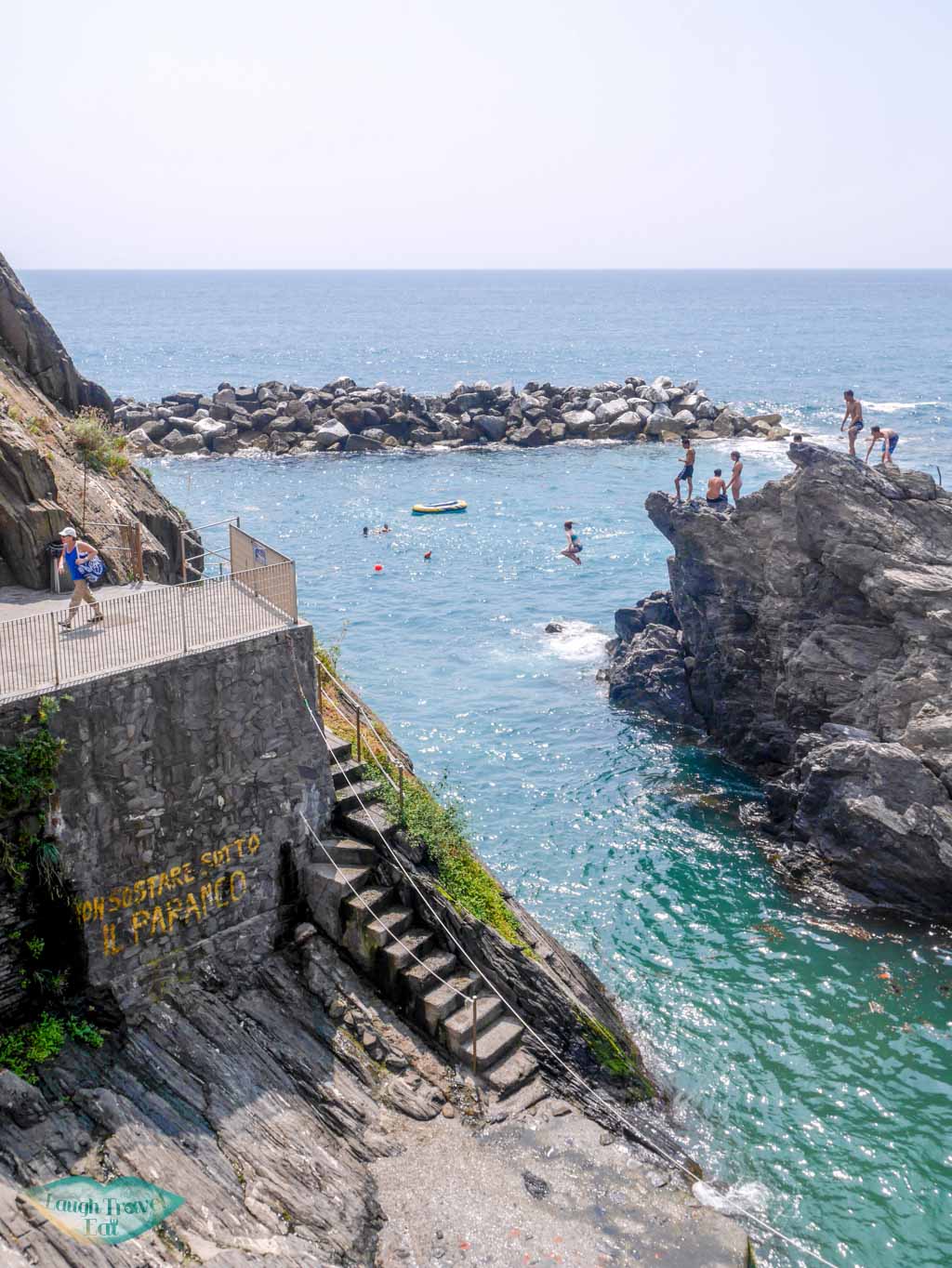 Corniglia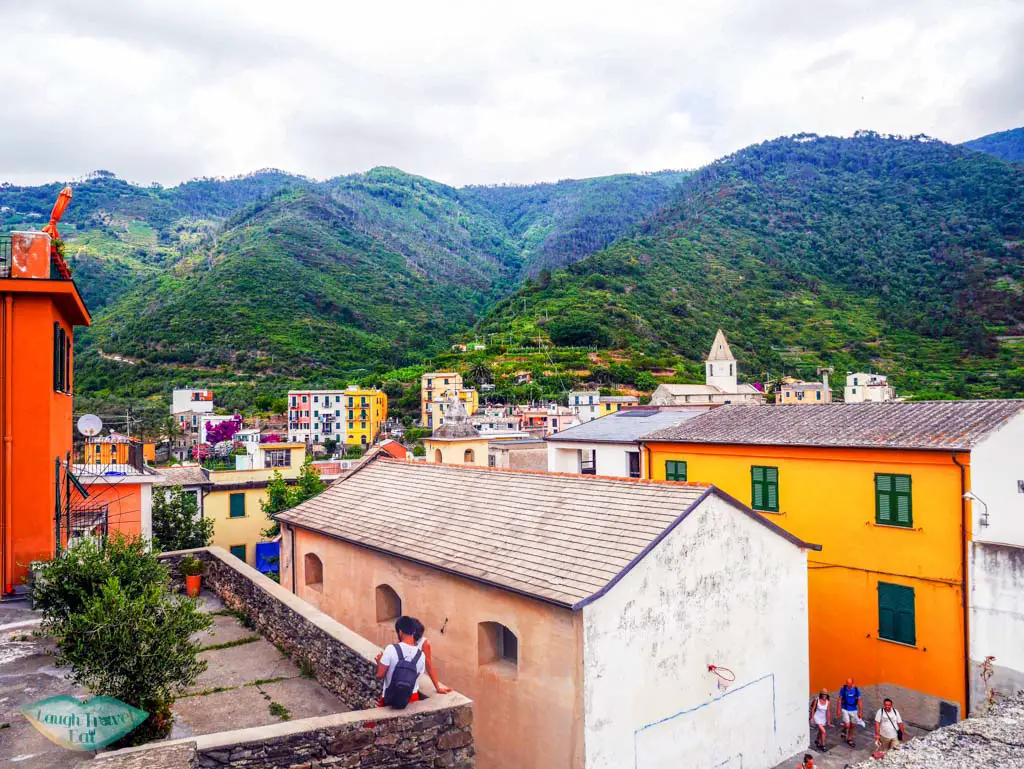 The village up, up, up the cliff, Corniglia is the high and mighty one that requires trekking up seemingly endless switchbacks to reach. Though offering a stunning viewpoint, this remote village does not offer a swimming spot like its siblings and requires extra time to reach from the train station.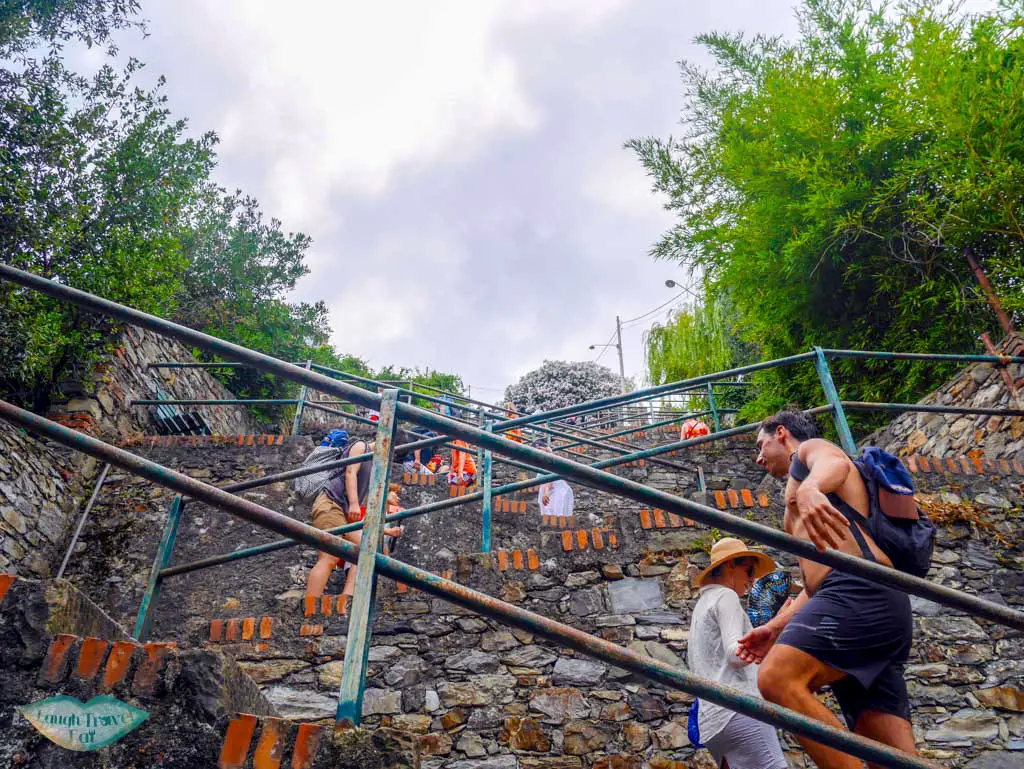 The best way to enjoy the view is through hiking to it and enjoying an ice cream or cocktail at the top terrace.
Vernazza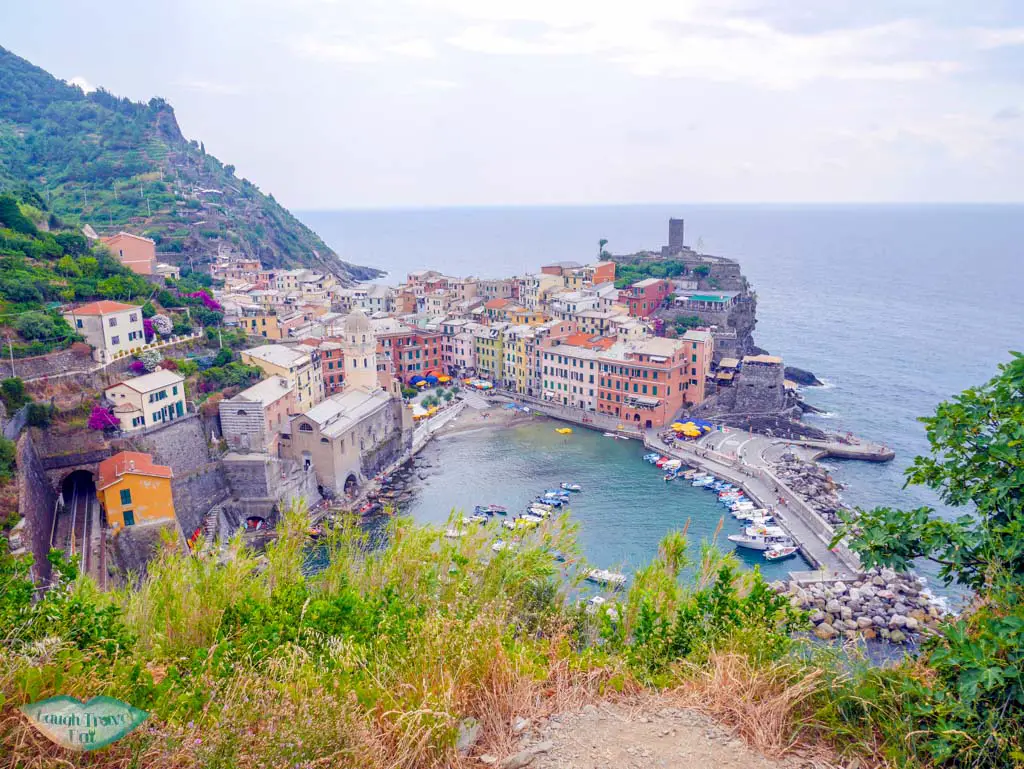 With a long bay sheltering the marina – Vernazza is undeniably charming, safe for its prices. Arguably the most touristic town, it's relatively flat slope yet still idyllic charm draws most tourists to its shore. Though not my favourite by far, the church and colourful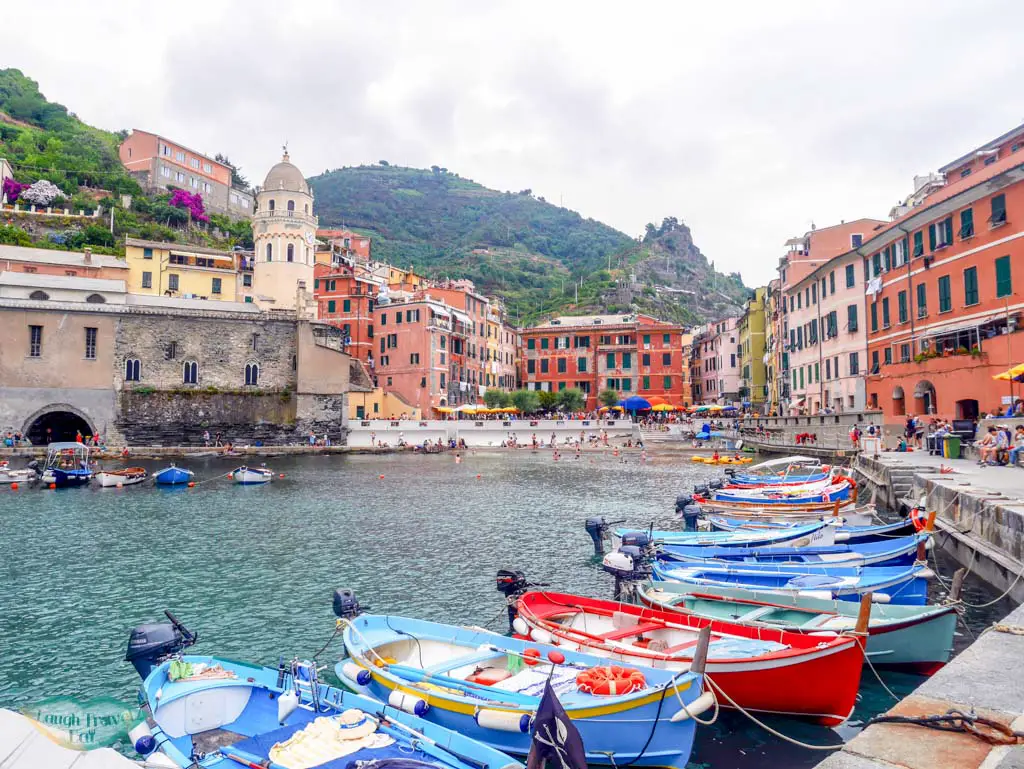 house by the bay definitely make for a good photo opportunity and it is swamped by people trying to take a swim or photo. However, I must admit it is the most photogenic of the bunch, particularly on the trail.
Monterosso

Known as the one with the best beaches, Monterosso is flooded with sunbathers though its title is only gained in comparison to its siblings. The biggest town of the bunch, it has an old town as well as a new town for you to explore.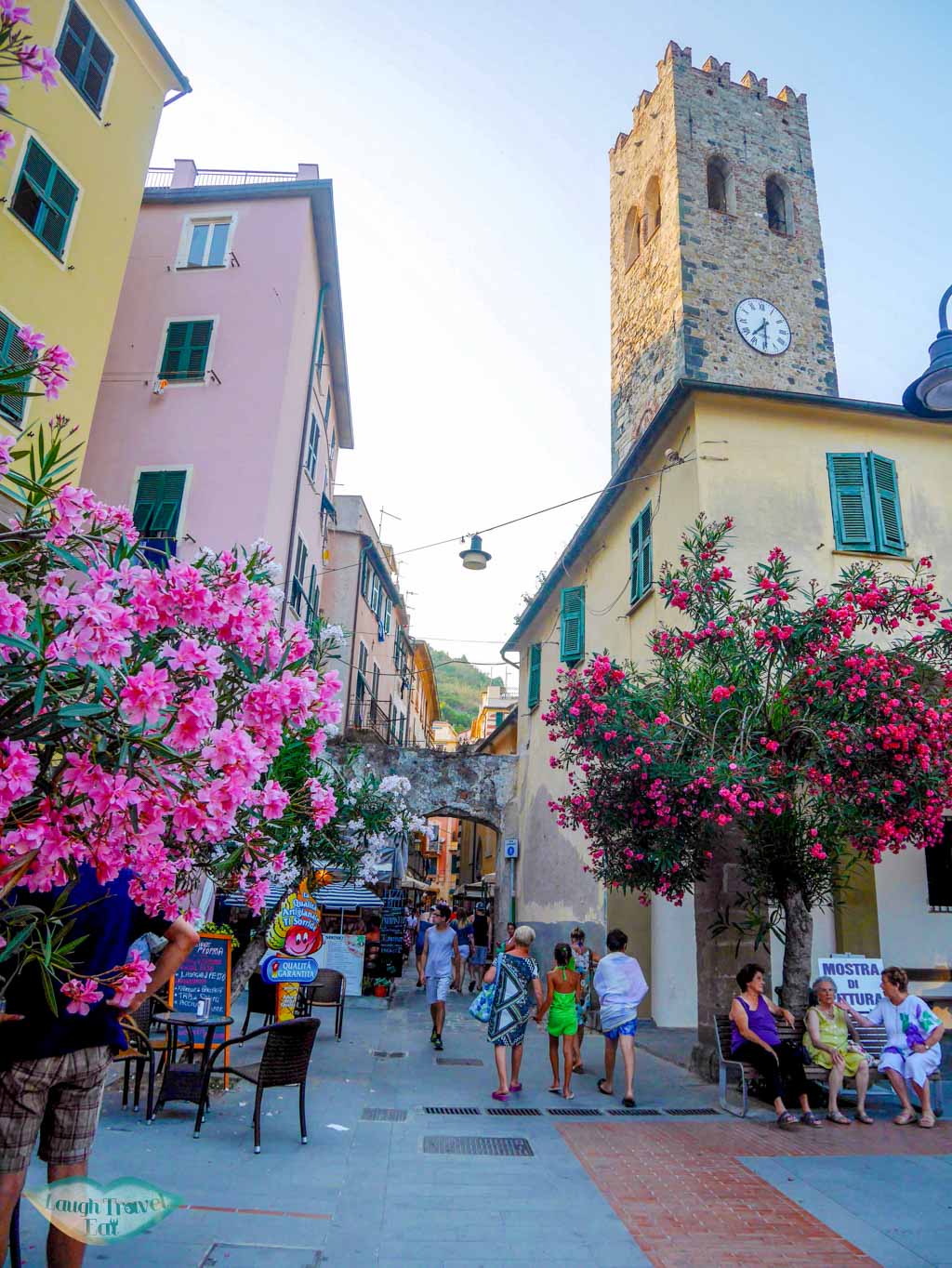 (The old town )
Despite the fact that most of the hotels are congregated here and the half-pebble half-sand beach is often full to the brim with people sunbathing, the old town still makes for a beautiful stroll and it also has the flattest topography.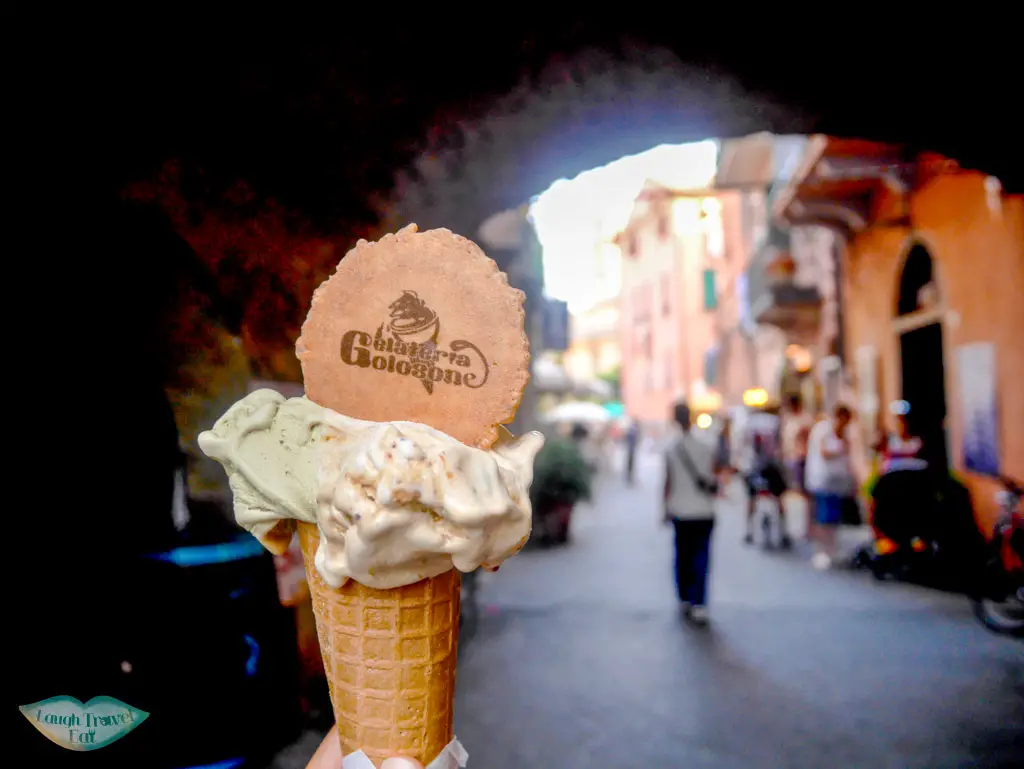 Are you going to Cinque Terre? I have a free pdf offline guide with exclusive photo spots! Get it here
How many days Cinque Terre?
As always, the answer to this question is it depends. Truthfully, you can visit all five towns within a day, but that is if you aren't going to do all the hike.
If you are on a tight schedule – you can spend 1 day only and get a day pass for the train (see below for details) and do all of the towns. If you are busy, you can skip Corniglia.
For those who enjoy hiking and want to explore more of the region, spend 4-5 days should be enough with a side trip to the beautiful town of Portovenere.
Hiking Cinque Terre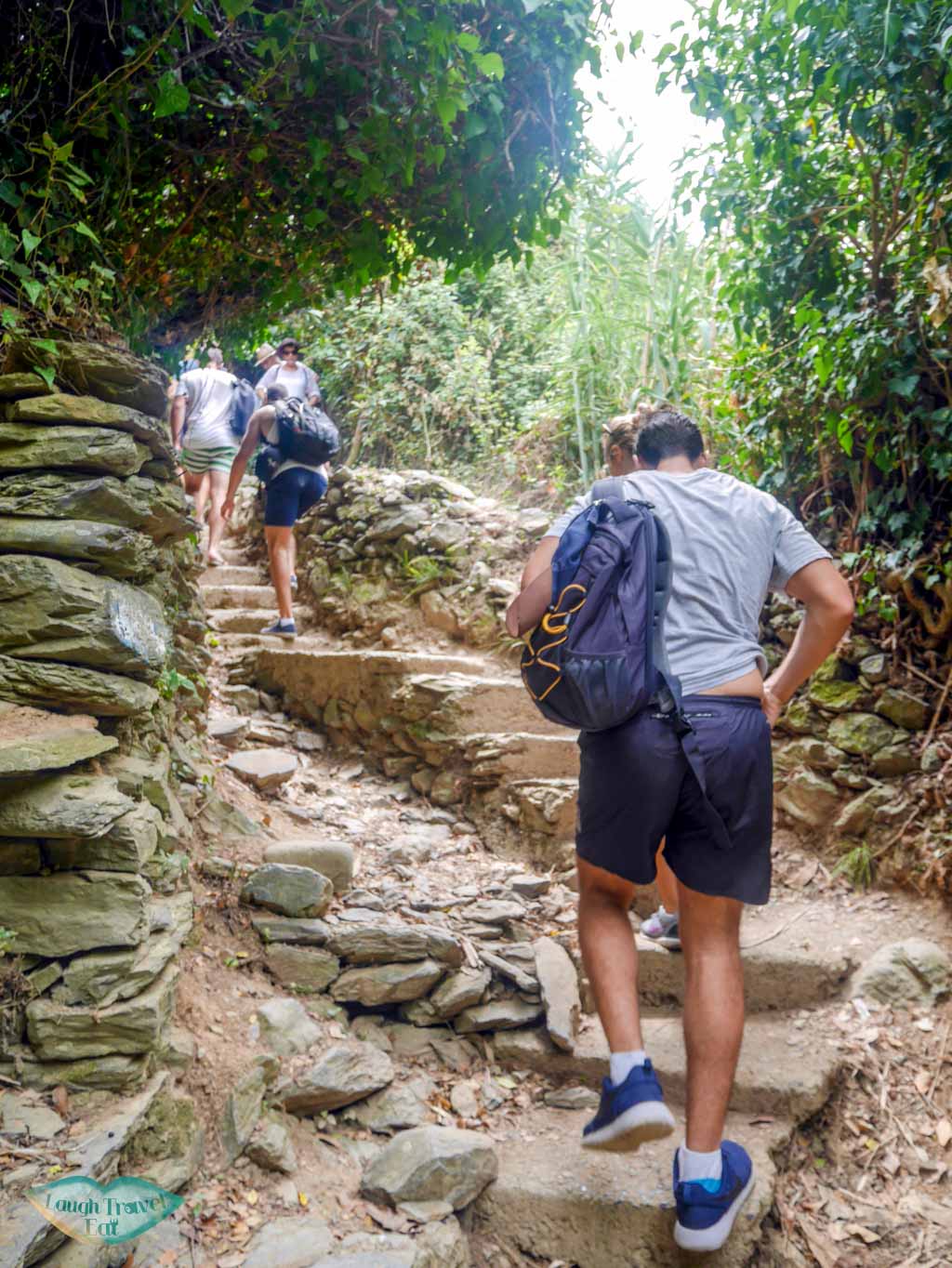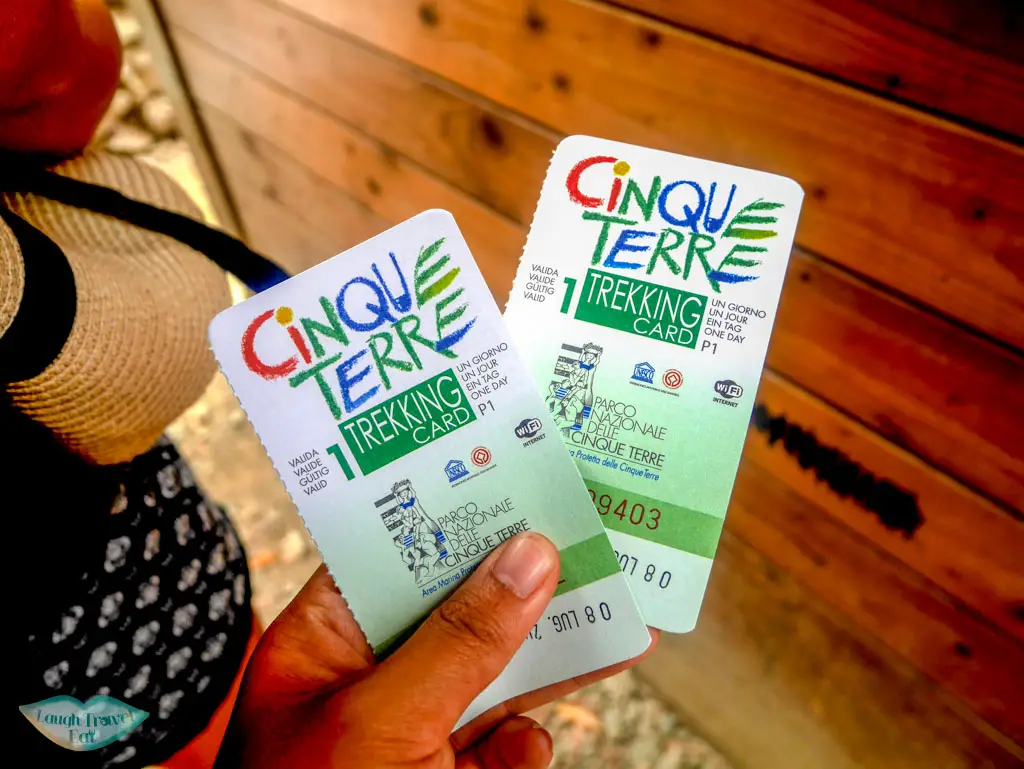 There has been a lot of confusion over the hiking paths for me. I wasn't sure which one was available or which one requires a fee. Cinque Terre Insider does a great job and it was my go to source for all things Cinque Terre. As of the time I went (July 2015) all but the path between Vernazza and Monterosso is closed for maintenance.
We got tickets at the both for the trail – which cost about 7 euros.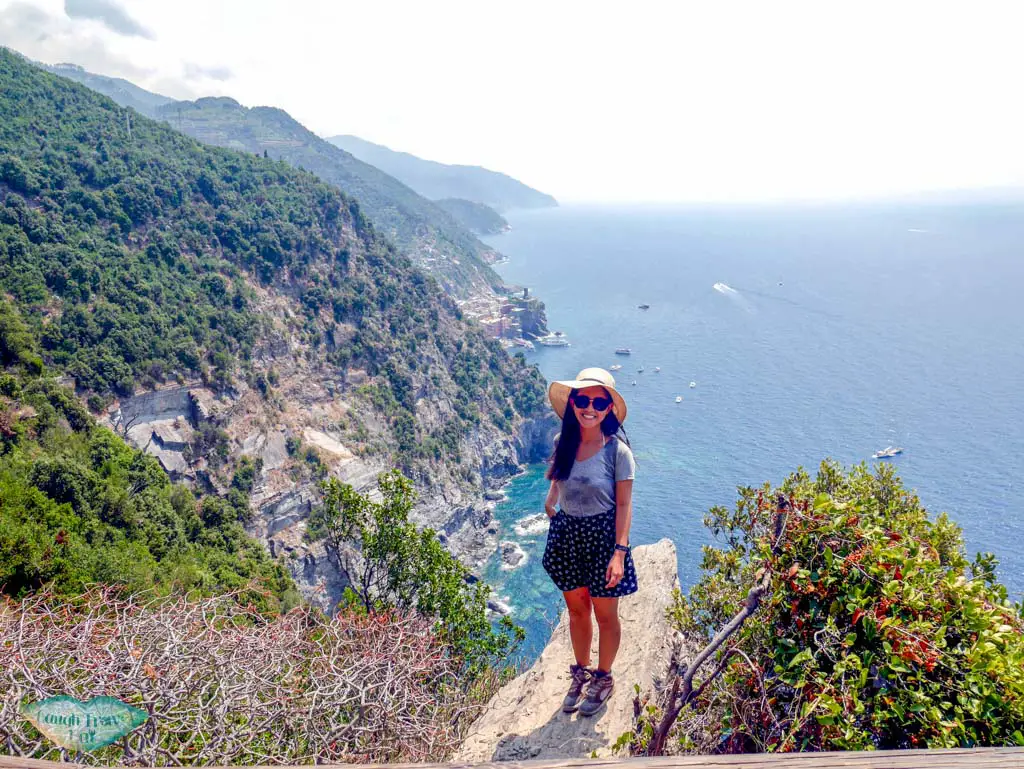 It's probably best to check before you come if hiking is our main objective – because otherwise, it can be a disappointment. To be honest, the official website isn't much help, so google around if Cinque Terre Insider hasn't updated on that. 
The path was actually fairly narrow, only really wide enough for a one-way traffic, but of course, that doesn't happen in Italy, so more often than not we had to pause and find a spot to let people pass through. The path is easier from Vernazza to Monterosso, as the reverse direction has a more uphill climb. Despite not being a fan of this trail, there are spots that offer a great view.
Cinque Terre Accommodation
There are a myriad of options for accommodation in Cinque Terre. You don't have to stay at a different village every night or even stay in them at all! There are tons of options and I'll cover them in terms of budget:
Budget:
We ended up staying in a hostel about a 20 minutes' drive from Riomaggiore called Ostello Tramonti*. Here's a quick list of pros and cons:
Pros
They run morning and evening shuttle bus to Riomaggiore that is free for anyone staying three nights or more (or at €2 each return)
Cheapest accommodation in the area – starting at 18 for the dorm to 30 per person for double room
Very comfortable beds
Friendly and helpful staffs that help you plan your trip
Has an onsite restaurant with good food
Nice garden area
Has washing line to hang your things
Very comfy beds
Friendly atmosphere
Cons
It is situated in a town called Biassa, and though not exactly easy to get to and unsuitable for early or late arrivals
Wifi was absolutely atrocious
Can get noisy at night if your room faces the front with church bell ringing at all hours and staffs hanging out
They have a locked out period in mid-day for all rooms
Breakfast, though delicious, costs €4
There is next to nothing to do in the town of Biassa
The points really are just to inform you of what I liked and disliked – but for the price and friendly vibe, I would definitely recommend staying here.
Mid-range:
Monterosso: right in the old town, Zia Letizia Bed And Wine is a great choice close to the beach, but beware that they have steep stairs! Also in the center of old town, Da Vice Rooms has the cutest rooms and friendly owners. 
Vernazza: Lisetta Rooms is small but centrally located, though you should follow the hosts' direction as it is not easy to find. 
Manarola: right by the marina with a stunning view, Affittacamere San Giorgio features rooms that integrate the rock face. Like the idea of staying in one of the colourful houses along the street, then stay at Ca' de Gianchi
Riomaggiore: Sottocoperta is a surprisingly spacious place to stay in the heart of Riomaggiore. La Dolce Vita is just a little way up the road as well.
Splurge:
Monterosso: stay near the beach and train station with Villino Wanda – featuring modern rooms and friendly owners. Prefer the old part? Guesthouse Marina has a more rustic vibe and spacious room.
Vernazza: you can't beat MaDa Charm Apartment Jacuzzi with the harbour view and a jacuzzi. 
Manarola: another apartment with stellar views, Luxury Seaview Apartments Manarola is worth the steps up!
Riomaggiore: enjoy the classic view of Riomaggiore without leaving the comfort of Scorci Di Mare by staying there! 
Cinque Terre Restaurants
Manorola – lil Porticciolo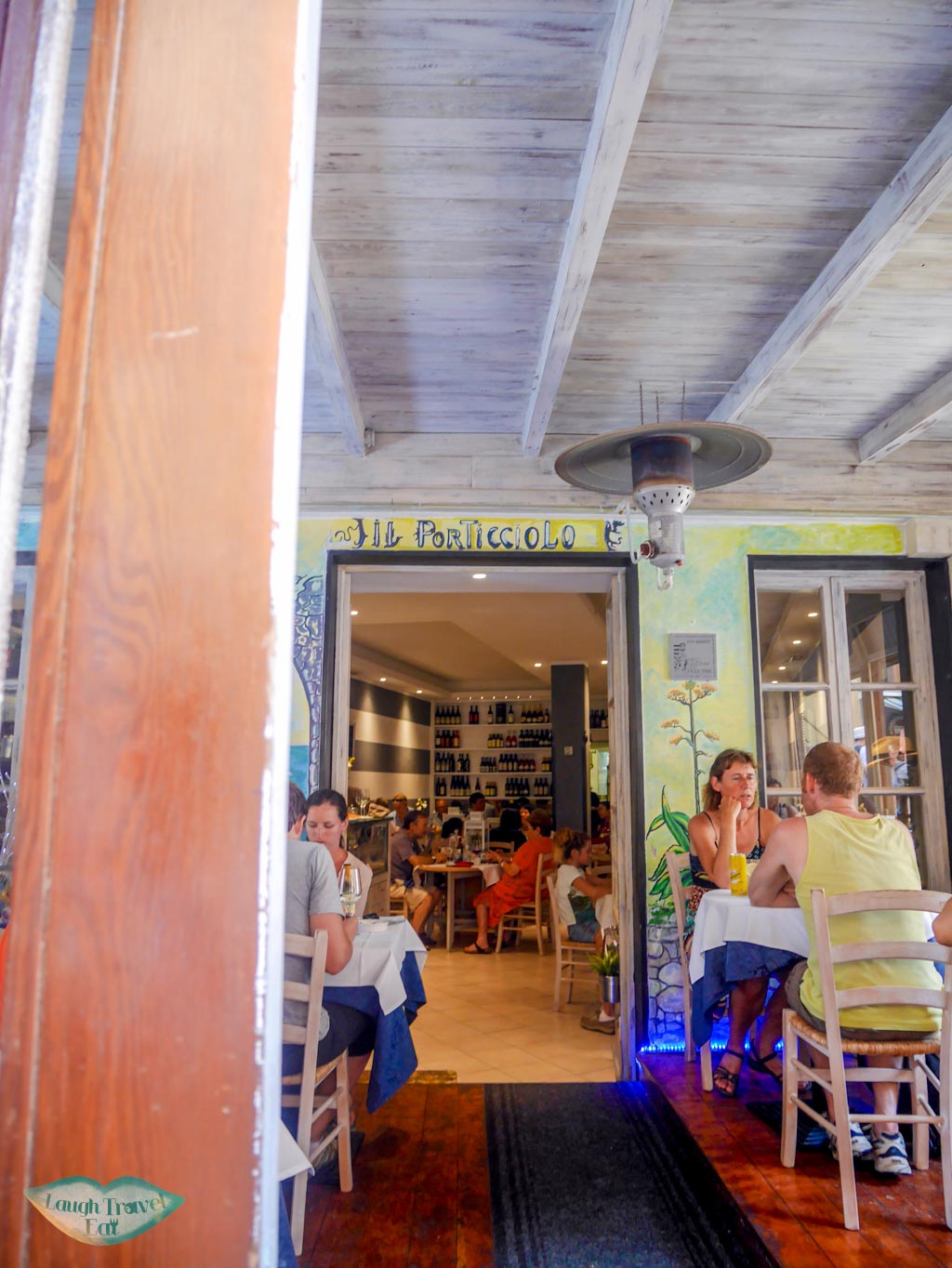 We had one of the best meals of our trip in Manorola, and I don't say that lightly. The portion was hefty, the price reasonable and the cuisine excellent. The best part is that it's open all day long, so you won't have to worry about getting hungry too early which often happens to me. We ate a late lunch in this restaurant, and the lobster pasta and seafood spaghetti were to die for.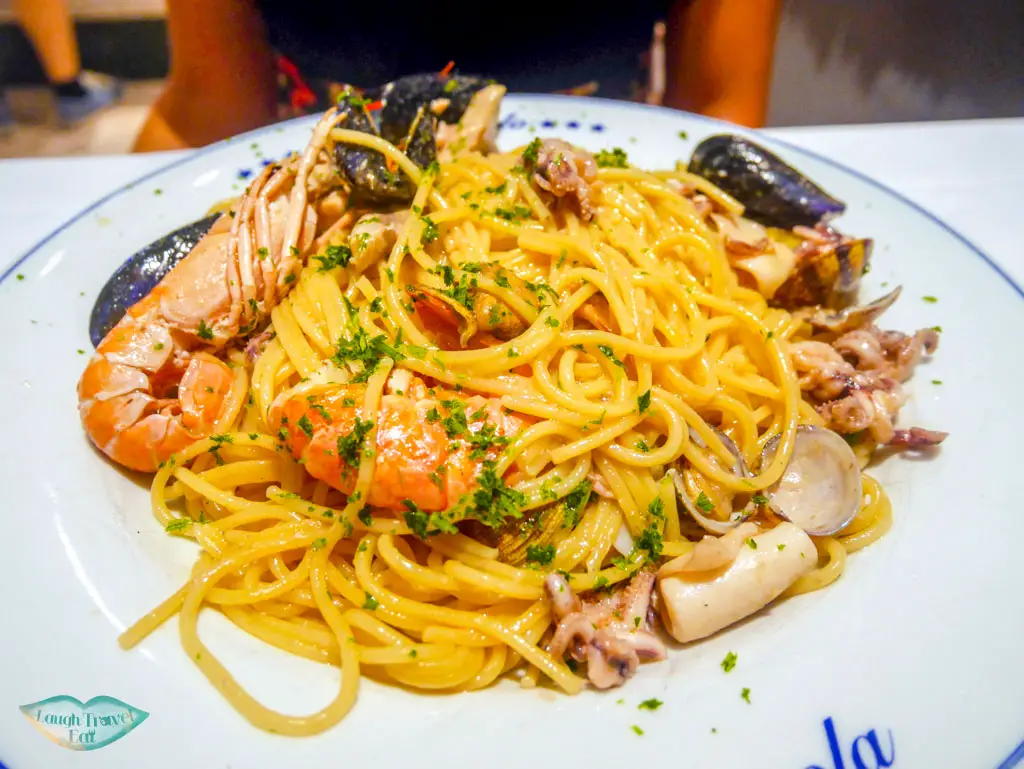 Riomaggiore – Mama Mia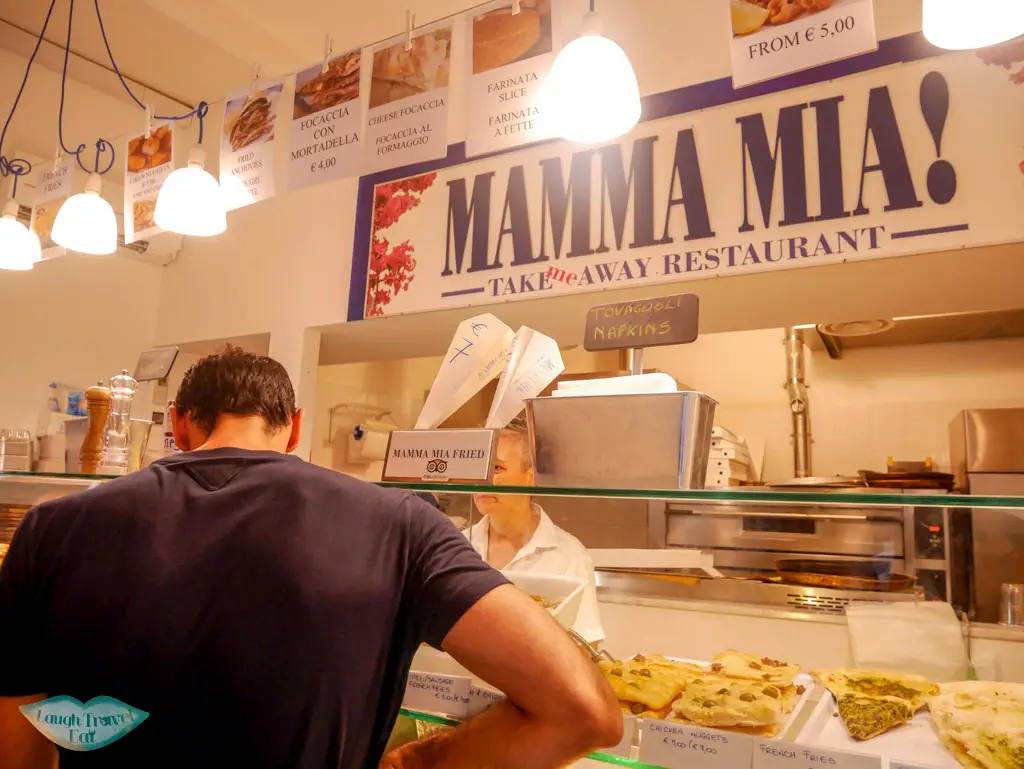 It's more of a fried station than a restaurant, but nonetheless, it's my go to place for a quick bite in Cinque Terre because of its relatively affordable price and fast service. You can get a small cone of fried seafood for 5, or a large cone for 7 ranging from calamari to small fishes to mix.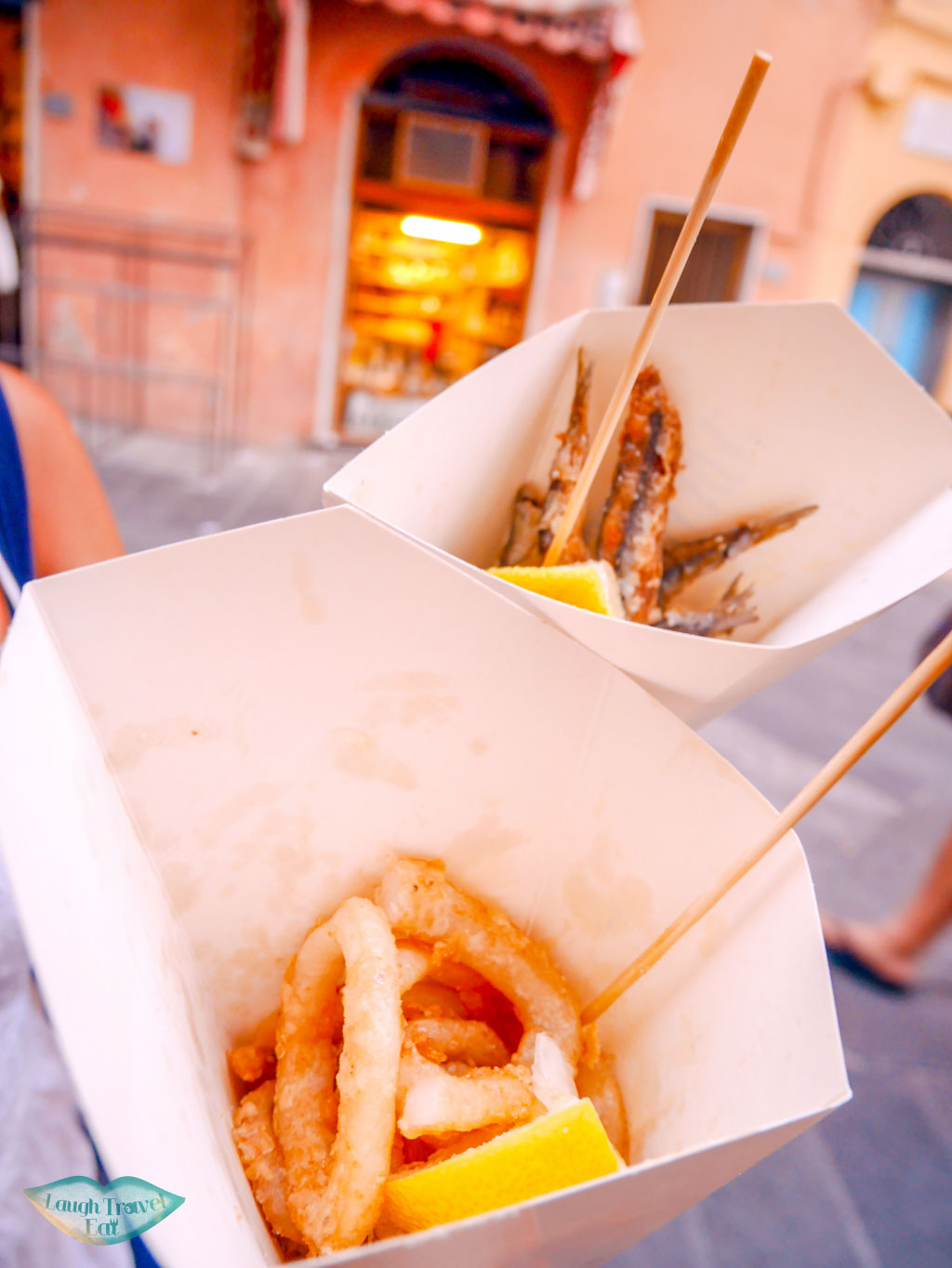 Cinque Terre Transport
Don't even think about driving around the five towns – because that would just be a nightmare. Not only are the roads winding, parking is almost impossible and always on the top of the hill. It's more effort and time than it's worth. Hence the same kind of extend to buses and the only way to go is by train. Or hike if you are feeling active.
Cinque Terre Train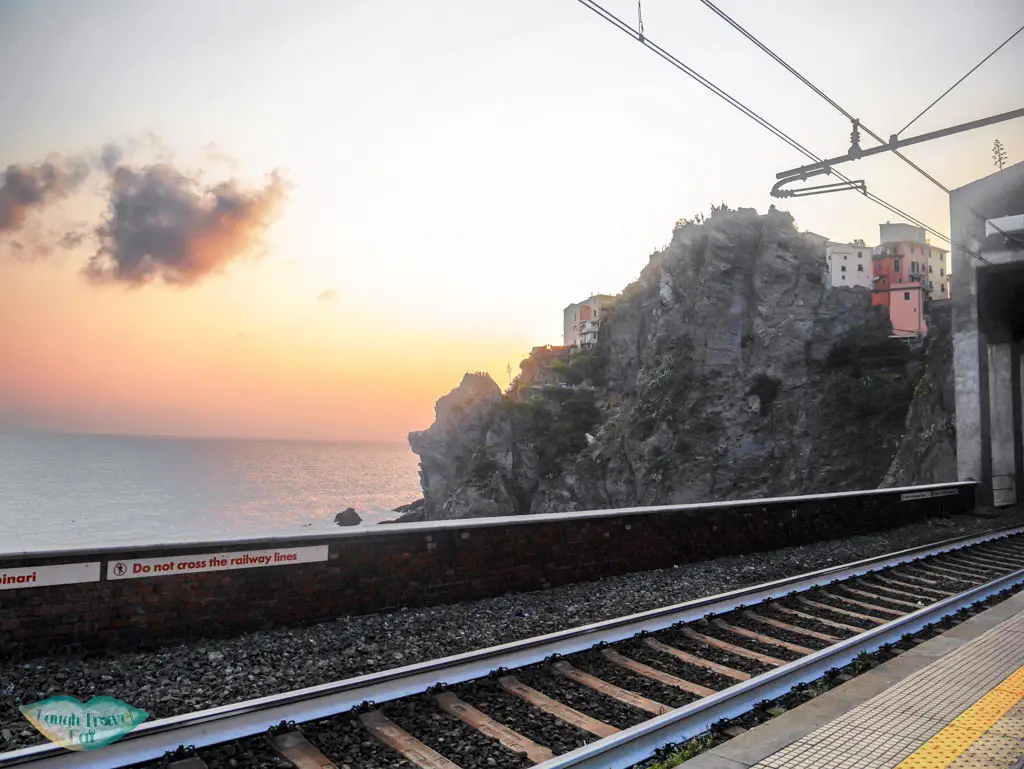 Don't even think about driving around the five towns – because that would just be a nightmare. Not only are the roads winding, parking is almost impossible and always on the top of the hill. It's more effort and time than it's worth. Hence the same kind of extend to buses and the only way to go is by train. Or hike if you are feeling active.
The Cinque Terre Card is probably ideal for anyone who is JUST spending 1 or 2 days in Cinque Terre. It includes entry to the hiking trails as well as unlimited train travel during the time it is valid. However, if you are spending more than 3 days there, I would thoroughly recommend getting the week-long train pass providing your schedule line up with the Monday to Sunday time frame. It gives you maximum flexibility especially since only one trail is open now (July 2015). It also saves you the trouble of trying to buy tickets at the offices because it's a nightmare during tourist season.
Ferry Cinque Terre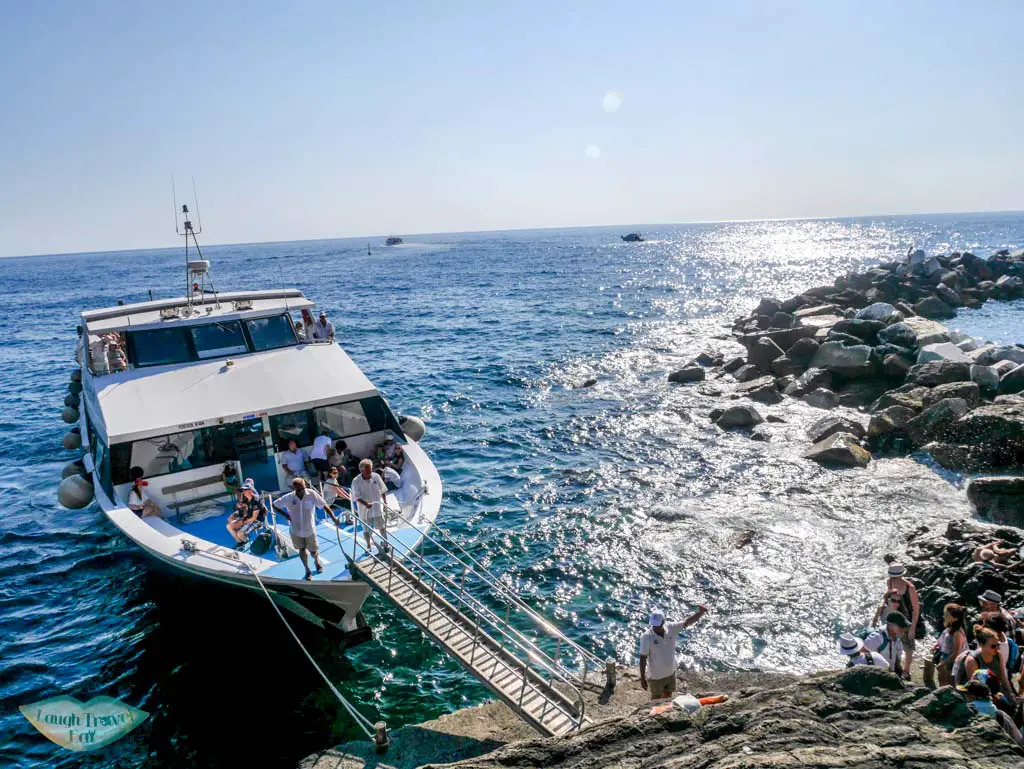 A good way to admire the beautiful coastline of Cinque Terre is by ferry. Though more expensive, you get to see all the villages from the sea which is definitely worth it. Be aware that there is no stop at Cornigila because the village is situated high on a cliff. The ferry line actually goes all the way to La Spezia, the nearest big town and Portovenere. It runs roughly every hour in the high season, from June to early September and costs about 8 to 12.
We took the ferry from Portovenere back to Riomaggiore and we loved the panoramic view we got of both towns. Be sure to arrive on time so you can get a good seat on the upper deck for a good view.
 If the information is still not good enough for you, here's some more I dig up when I was researching: