It is no secret that I'm fond of bubble tea, in fact, my Instagram followers would know that I practically inhale them on a day to day basis (even more so than egg waffles!). I'd admit that I prefer tea over water, especially cold beverages, and one of the reasons why I love living in Hong Kong is the unlimited bubble tea places.
The term bubble tea is used loosely (by me mostly) to refer to any places that sell tea/drinks in a takeaway cup. I have a weakness when it comes to them, not only because I'm often thirsty but because it tastes good. From chain to boutique bubble tea, I'm going to cover all of my favourite bubble tea.
Find out more of my favourite Hong Kong eateries here!
Bring your own reusable straw and/or cup to reduce plastic waste!!
A history of bubble tea:
Bubble tea originated in Taiwan in the 1980s. Also called boba and pearl milk tea, it is now a loose term that many used to describe the places that sell a variety of beverages, including the pearl milk tea. These stores usually serve them in disposable tall paper or plastic cups with a plastic seal, which is pierced by a straw to drink. Bubble tea places can be found throughout the world but in more abundance in Asia countries, and I am sharing all my favourite one here today!
How to be eco-friendly even if you love bubble tea
Since bubble tea places use a large amount of plastic in the cups and straws, there are two ways for us – as bubble tea lovers – to reduce waste. It is a bit more difficult to bring your own cup, as some places will accept them and some don't, not to mention it can be difficult to lug around. But I do it with Flamingo Bloom for that 2 HKD off 😉
But nowadays, I always carry a metal straw with me because it's important to reduce waste whenever possible. It won't save the planet, by any means, but it'll certainly help!
I have a big one for bubbles and a small one for other drinks. They are carried in a canvas pouch and a brush cleaner.
You can buy one on Amazon or Taobao.
Bubble tea ordering:
Before I reveal my favourite places, I want to share with you some tips on ordering bubble tea. All of the places offer a choice of sugar % and ice % – meaning you can control how sweet and how cold it is.
Sweetness: none 0%, slight 25%, half 50%, less 75%, full
Ice: none, less, full
Personally, I try to go for none or slight sugar with less ice. Full sweetness is pretty heavy!
Bubble tea franchise
There are many bubble tea chain stores, and being a creature of curiousity, I often try out a new one as I find them. But not all of them will make it to my recommendation list because I'm also a picky person. The best thing about it is that, as franchises, you are bound to be near one of them!
Gong Cha
Probably my favourite in terms of price, quality, and choice, Gong Cha is an international brand that not only exist in Hong Kong. It is one of the cheapest on the list, with a comprehensive menu of your typical bubble tea fare as well as fruity ones.
My go to: Milk Tea with Grass Jelly or the Grapefruit green tea
To see all branches and their individual opening times, click here
TenRen
TenRen is slightly more expensive, but when you are an addict like me it adds up. That said, they do have the best quality tea and tapioca, therefore if you are looking for something healthier (relatively), this is a good choice!
My go to: green tea with orange juice (weird, I know), 913 tea is their signature and very affordable, too.
P.S. their Yau Ma Tei store has a sit-in section!
You can find all the store locations here!
Share Tea is like my back up Gong Cha, though admittedly it does have a more fruity and extensive menu. If you like fruit teas, then this one might be your favourite! However, it does taste more chemical-ey.
My go to: Milk Tea with Grass Jelly (again haha), Passion fruit/grapefruit green tea
Here is a full list of their location
Happy Lemon
One of my favourite, Happy Lemon has now dwindled down to two stores. Similar to TenRen, this one specialise in lemony drinks and do some seasonal ones. It is also very sweet…
My go to: hand-squeezed lemon green tea
They only have two locations left, you can find them here
CoCo
Another international brand, Coco is like a sassy younger sister of Gong Cha with a different menu but a similar price tag. With more of a focus on none-fruit bubble tea such as milk cap and chocolate mixed ones, and I often grab a boba at the Wanchai store if I'm nearby!
My go to: red tea with rose salt milk cap
Here is a list of their location
TP Tea
A new one on the block, TP tea has started popping up all over the place. I first got introduced to this brand through a recommendation to its kumquat tea (for those who don't know, it's basically a type of lemon/orange). And it is their speciality. It does feel more healthy compared to Gong Cha and Share Tea, and serves some alternative tapioca.
My go to: kumquat tea
Click here to find a list of their store locations
A Nice Gift 賞茶
To finish off my franchise list, A Nice Gift is one that also serves some Taiwanese snacks. It's similar to Share Tea and Gong Cha, therefore I often go to it if the others aren't close by.
My go to: Milk Tea with Grass Jelly
Here is a list of all their stores in Hong Kong
Comebuy Tea
Another Taiwanese brand that makes its way to Hong Kong, Comebuy Tea has a relatively simple menu and a pledge to serve only the freshest brewed tea. As you can see from the photo, they take that very seriously!
At a similar price point to TenRen, there are three choices on their menu: 22 hkd for just tea, 25 hkd for tea with choice of milk, and 28 hkd for fruit tea. Of course, add-ons such as pearl, aloe vera are available.
My go-to: Jasmine Green Tea with Grapefruit Juice
Address: There's one at the base of T.O.P. mall in Mong Kok, other locations can be found here.
Cha Long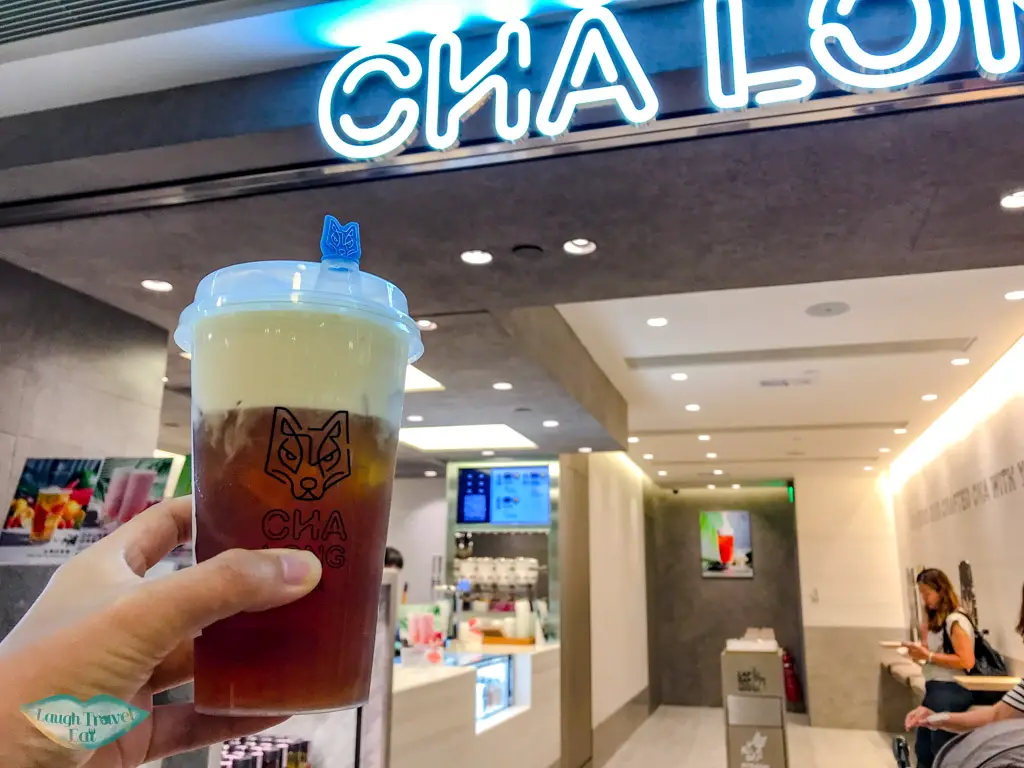 Cha Long means 'Wolf Tea' in Chinese and is a new brand that has garnered popularity with its quality tea and ever-changing, innovative seasonal flavours. They have shops across Hong Kong with their signature roasted oolong, cheese-cap tea, and various fruity numbers.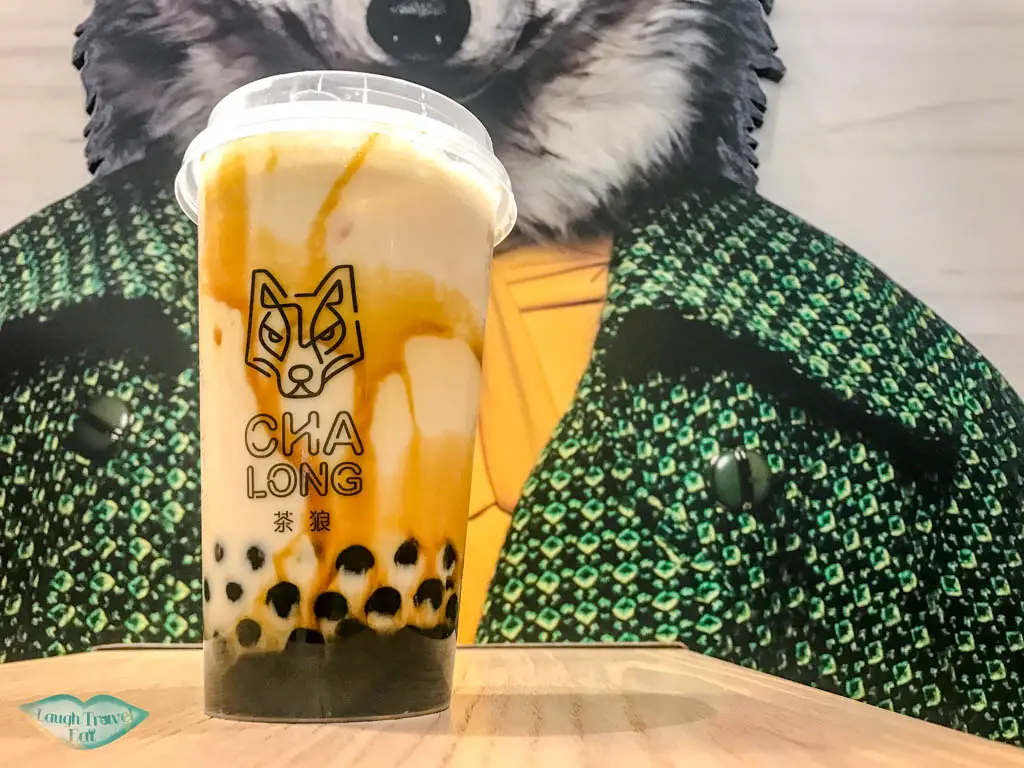 The prices are on the more expensive end, with the average price between 30-40 HKD, especially the seasonal ones. However, if you are looking for good quality tea, this is definitely a good choice.
A list of Cha Long addresses
Tea One
A new favourite of mine, Tea One has a decent selection of fruit tea and cheese cap that are reasonably priced and delicious. My personal go-to is the Guava tea (which does have a lot of seeds though) and the oolong cheese cap!
For their list of addresses click here
If you want something off-the-beaten-path and unique, then don't miss the handmade tapioca from this place. Their first store in Hong Kong is on the fringes of Mong Kok and Ho Man Tin, my friend took me there one afternoon from the Mong Kok East Rail Station to try out. We tried their mango tapioca, and they are more akin to small mango dumplings of sorts. It's chewy and nice!
They have since opened numerous stores across Hong Kong, with tapioca in black sugar, sweet potato, and osmanthus flavour (and more)! They do pretty lovely floral tea, such as Lavendar Green with Milk, and a pretty decent matcha latte.
Address: see all 5 stores' address here
Opening times: 10:00 – 23:00
Boutique bubble tea places:
These are the ones that don't have (a lot of) multiple stores and serves up some (slightly) higher end stuff.
I learned about this new store through Instagram, and I have to give them a bow down to their wonderful marketing. An Instagram lover's dream-come-true, the store is located on a side street near the Mid-Level Escalator in Central and you can't miss its tropical and flamingo prints.
The tea is on the pricier end, but they are definitely good quality. I've tried their Oolong Bubble Tea and the Lime ones and they are both really good. I haven't been frequent enough to have a go-to yet, but their flamingo cup floats (optional add on) are the cutest thing.
Bring your own cup to reduce plastic waste and get 2 HKD off!
Address: G/F, Shop B, World Trust Tower, 50 Stanley St, Central
Opening times: 11:00 – 21:00
Hey! I am Yugost
Looking for something that's a little healthier? They are a brand that comes down from Shenzhen, it boosts yogurt from Yunnan mixed with milk and chewy purple sticky rice. It gives you something chewy without being too much and also offer fruit options.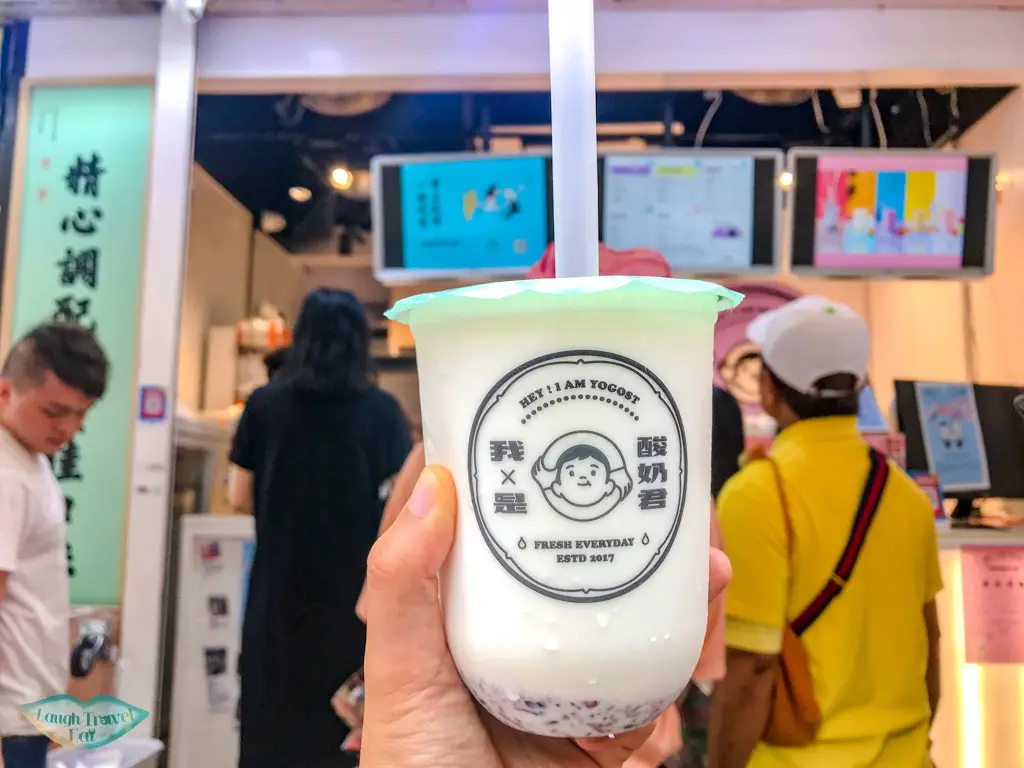 A cup starts from 28 HKD and goes up. The portion size is smaller than expected but the rice is also surprisingly filling.
Address: Shop A, 60 – 102 Soy Street, Mong Kok, Kowloon, Hong Kong, Mong Kok
Opening times: Mon – Thurs 11:00 – 0:30; Fri – Sun 11:00 – 2:00
Tiger Sugar
Although Tiger Sugar only sells a few drinks, it is one of the most popular bubble tea places in Hong Kong right now due to its Brown Sugar Bubble Milk drink. Regardless of which one you go to, there's almost always a queue as people wait patiently for their fix of brown sugar milky goodness.
Did I mention they are super photogenic?
Admittedly, they do a very good blend of brown sugar, brown sugar bubbles, milk, and milk foam! There are some varieties, such as the size of the bubbles.
Note: I have my own straw but the staffs are usually rude and reluctant to help me try to poke a hole for the plastic cover. Which is a shame as I rarely have a problem with other bubble tea places.
Address: there is one in Causeway Bay, Tsuen Wan, and Mong Kok
Opening times: 11:00 – 22:00
Chun Feng Milk House
The latest trend to hit Hong Kong are drinks with an emphasis on milk. Needless to say, Chun Feng Milk House focuses on that! With a variety of fruit with milk as well as the quintessential brown sugar, I tried their brown suger milk with grass jelly and it was quite lovely. Portion wise, it is towards the smaller end. Currently, they only have a shop in Mong Kok, but has a sister brand that is said to be better.
Address: Shop B, G/F, 60 Bute Street, Mong Kok
Don't Yell at Me
With a quirky name like this, Don't Yell at Me opened up in Nov 2018 in Central by a Taiwanese pop star. The price point for the area is rather reasonable, with drinks starting at 16 HKD. Their signature is the Winter Melon Chrysamthumus Tea, which I had with the popping juice bubble for 24 HKD and it's quite lovely.
You can find it by the Mid-Level Escalator and since it's new, there is still a bit of a queue!
Address: G/F, 23 Lyndhurst Terrace, Central
Opening times: 8:00 – 20:30
Maison
The most expensive one on the list, Maison serve up some high-end floral tea. Averaging about 30-40 HKD per cup, these organic beverages captured my attention during a pop up with their romantic names and colours. However, their store in Central has since closed and you'd have to venture to Yuen Long to try this. So perhaps not that value for money…
Address: Shop 6, G/F, Kolour, 1 Kau Yuk Road, Yuen Long
Opening times: 10:00 – 21:30
Royal Tea Concept
A new place that opened along the street-food central known as Dundas Street, Royal Tea has some of the best (albeit sometimes too salty) cheese cap tea. I love the fact that you actually have seating spaces (none of the others except Flamingo Bloom has any), and the owner is nice and chatty.
Address: 22 Dundas Street
Opening times: 12:00 – 23:00