Nam Ha National Park in Luang Namtha province is one of the lesser discovered parts of nature in Laos. Not only does it have lush forest and river, it is also home to many ethnic minority in the area.
You can not only trek through it but also visit and stay at the ethnic villages as well as kayaking on the river! And you'll likely be the only group there!

Note: I was hosted by Luang Namtha Tourism Board but all opinions are my own

Nam Ha National Park Overview
The Nam Ha National Park was established in 1993 with 222,400 hectare of grounds. The ethnic villages existed before then and they continued to live in the national park area. Tourists can not trek or kayak in the National Park without a guide, and here's how best to explore it:

Essential information for hiking Nam Ha National Park
There are many tour companies that offer trekking in Nam Ha National Park, but Luang Namtha is a popular place to start. Activities range from day trips to multi day hikes with possibility to do homestays with the Khmu, Lanten, Akha, and Lao Huea people.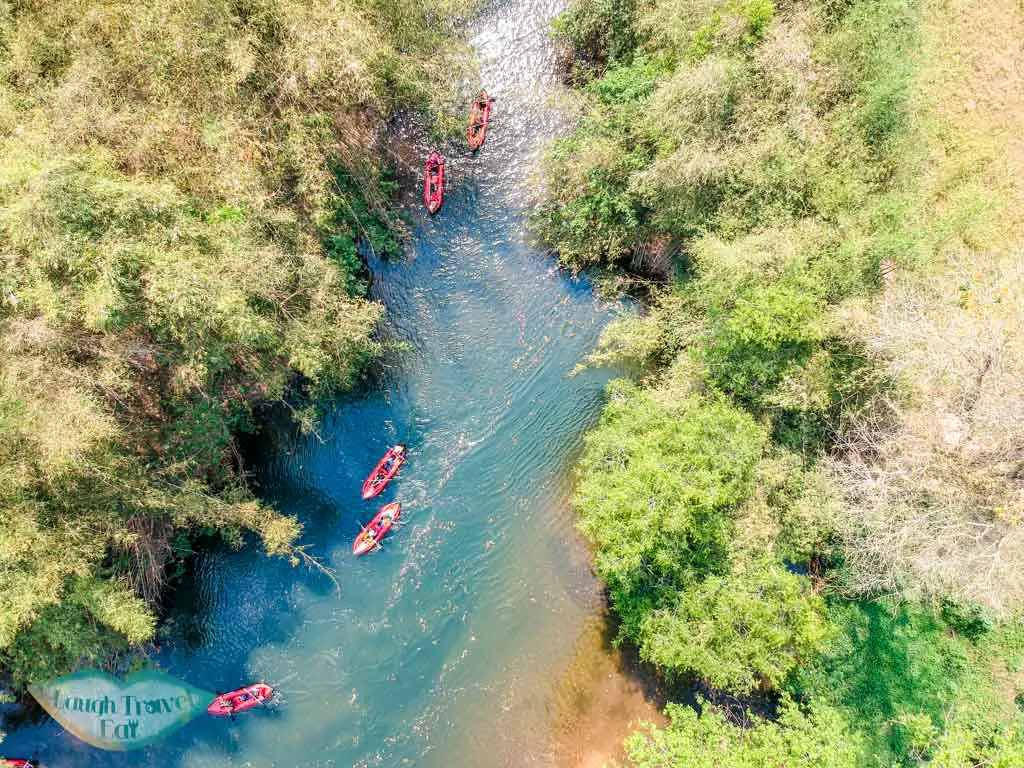 Aside from trekking, you can also kayak down the Nam Ha River or do a combo tour that includes the two. You can book direct with the local tourism board in the office in Luang Namtha or the Nam Ha Tourism Information Center by the Chalernsouk Village, where you can join tours or hire local guides.
Otherwise, there are 20 or so companies that runs tour in the city and their offices can be found in town. Each company has their own route to explore the national park. The most popular companies are Discovering Laos and Green Discovery.

It is not possible to turn up and hire a local guide as village guide's don't speak much English and that all the contracted guides have undergone training.

Best time to trek in Nam Ha National Park
In general, the best time to hike in Luang Namtha is between November to December, when the weather is cooler and without leeches.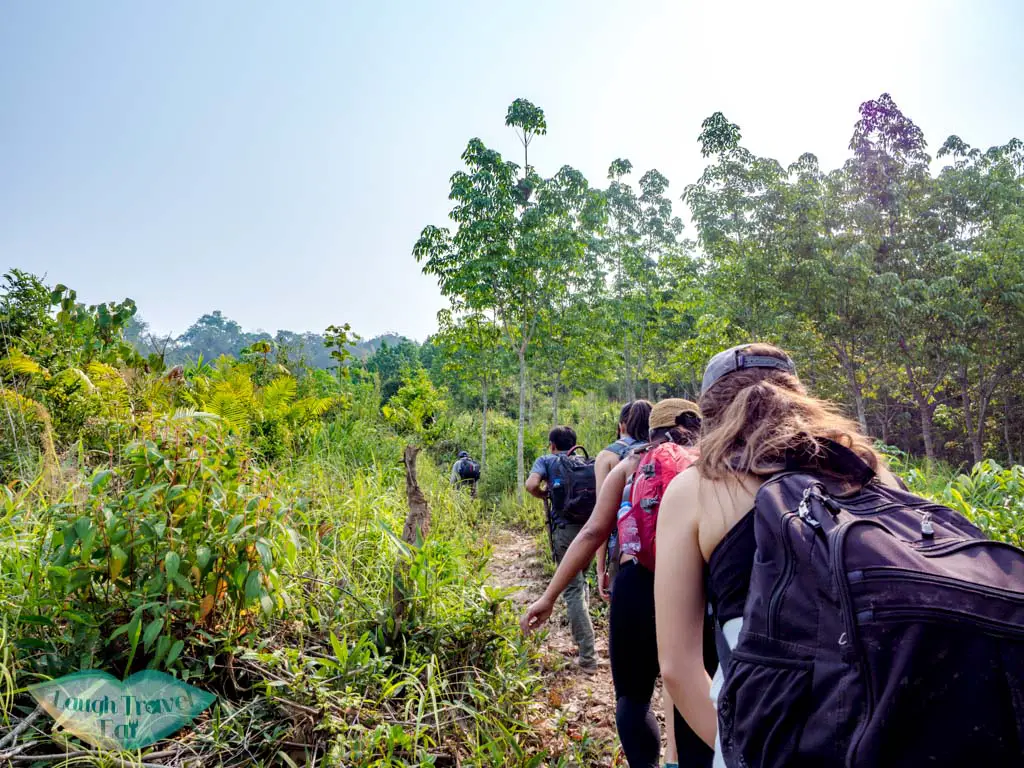 The wet season between July and September are better for kayaking as the water level would be higher making the trip faster and more fun.
April to June is the hot season and it's best to avoid trekking since temperature can go as high as 40 degree celcius.
However, treks can be done yearound. If you are going as a group, you can get a custom itinerary best suited to your interest.
On average, a group is limited to 8-10 people maximum, especially less during rainy season for safety reasons.
How many days to spend in Nam Ha National Park
The most popular option is to spend 2 days 1 nights in Nam Ha National Park. However, you can take up to an 8 day trip in the area. Most tour companies don't advertise the longer options but you can always contact them for custom tours.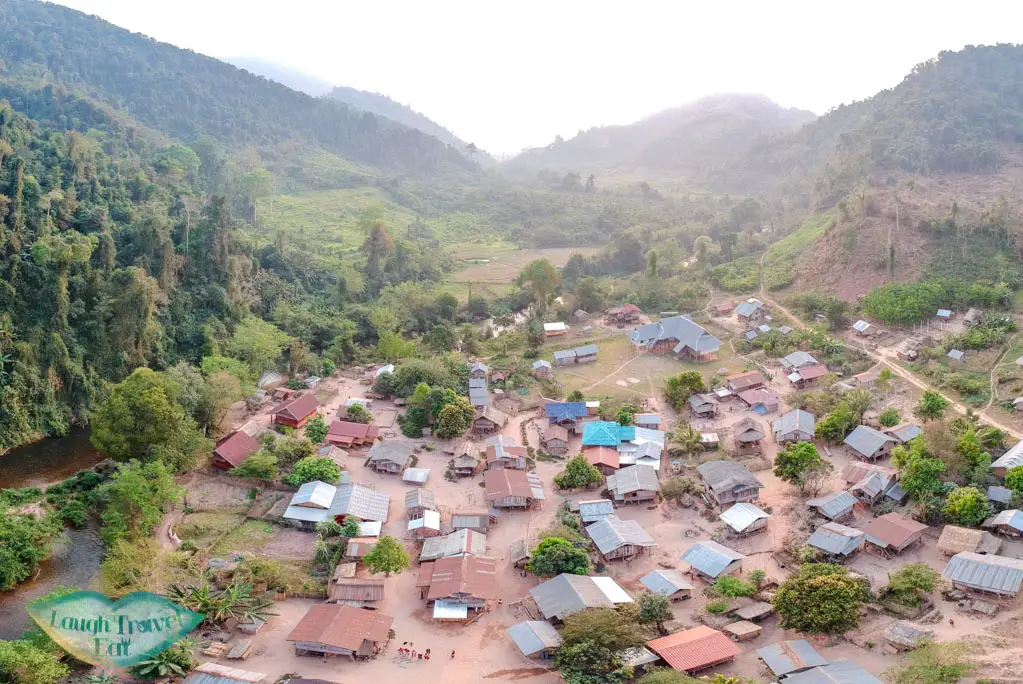 There are many different combinations and trip types, for example, the 3D2N trips can be all in homestays or one night in jungle and one in the homestay. You can also choose to stay one whole day and experience life at the village
Personally, I really enjoyed my 2D1N experience but wished that we had more time to immerse in the village's culture.

Cost of trekking in Nam Ha National Park

We went on the combo tour with Discovering Laos – so the 2 day 1 night trip includes trekking, homestay, and kayaking. The maximum numbers in the group is 8 and minimum 1, with cost varying from 60 USD for the former to 194 USD for the latter.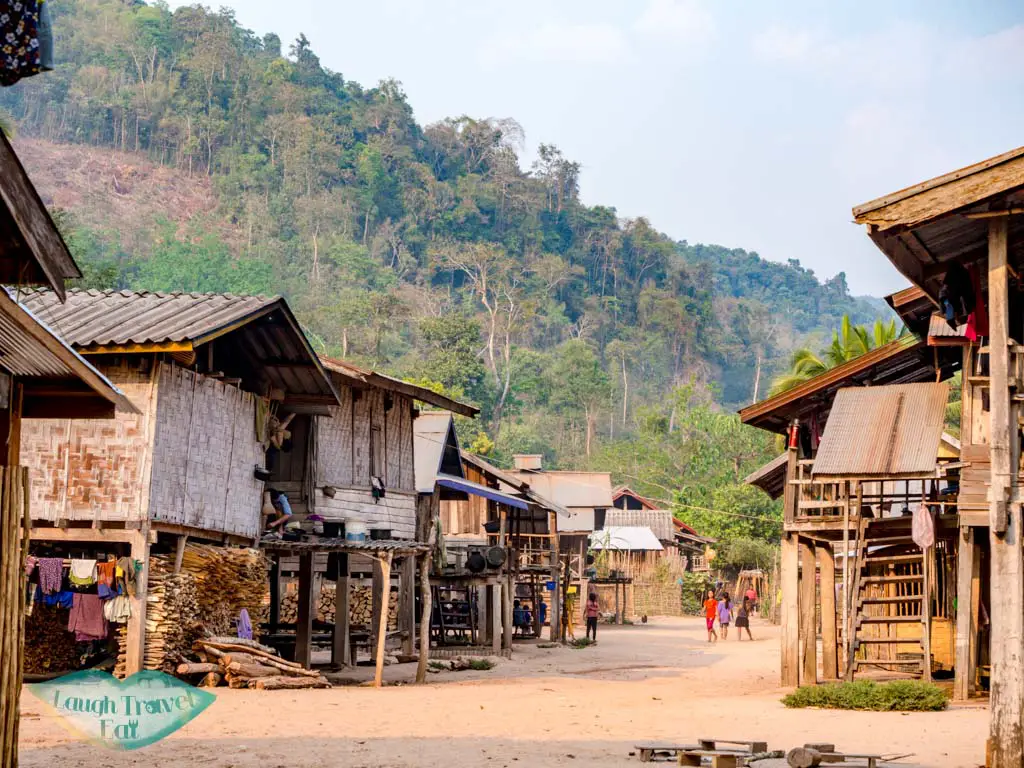 The price in agency is a package that includes transport, guide, water, meal, and homestay. Here's a quick breakdown so you know where the money goes to:
Tuk tuk to and from
5k trail fee for trail maintenance
Agency guide (trained and speak English) and village guides
More details on their website: https://www.discoveringlaos.com/combo-trekking–kayaking-namha—2-days.html

What to bring for trekking in Nam Ha National Park
Depending on when you are doing just hiking or combined with kayaking, here's what you should bring or wear: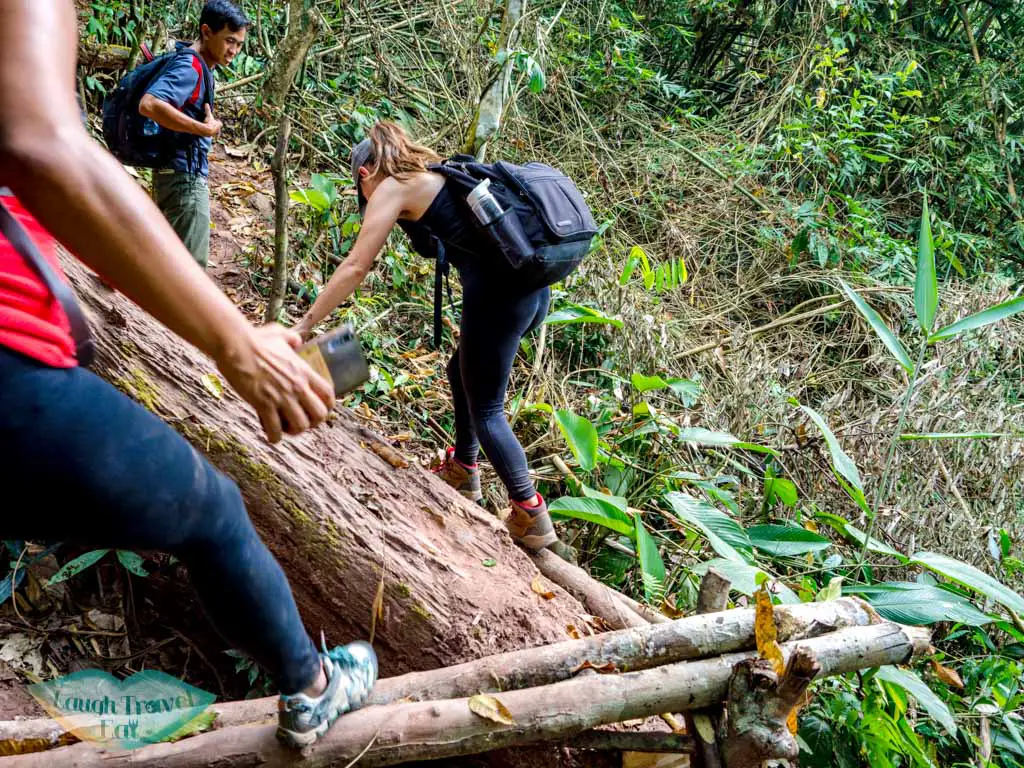 Spare socks
Eco friendly soap
Sarong or sin
Fast dry towel
Toothbrush and toothpaste
Flip flops
Spare clothes to change into (modest)
Ear plugs if you are sensitive to noise
Sunscreen
Insect repellent
Hat or cap
Sunglasses
Toilet paper and wipes
We all wore leggings or long trousers for the hike and the weather isn't too hot for it in March. However, loose hiking trousers might be a better option.

If you are going kayaking as well, they'll provide dry bags.
T-shirt and shorts to wear over swimsuit. The ethnic villagers are very modest so it's important to wear them.
Swimsuit
Something to change into once you get out of the water
Wet shoes for kayaking
2D1N trek in Nam Ha National Park
We did a two day one night trek and kayak combo tour with Discovering Laos. In a nutshell: We started at Nam Ha Village and trekked to Nalan Village (6 hours), a Khmu village where we stayed the night). The next morning we did some cultural activities before kayaking out for 6 hours. Here is a detail breakdown:

Nam Ha Village Start (ta sae nam ha)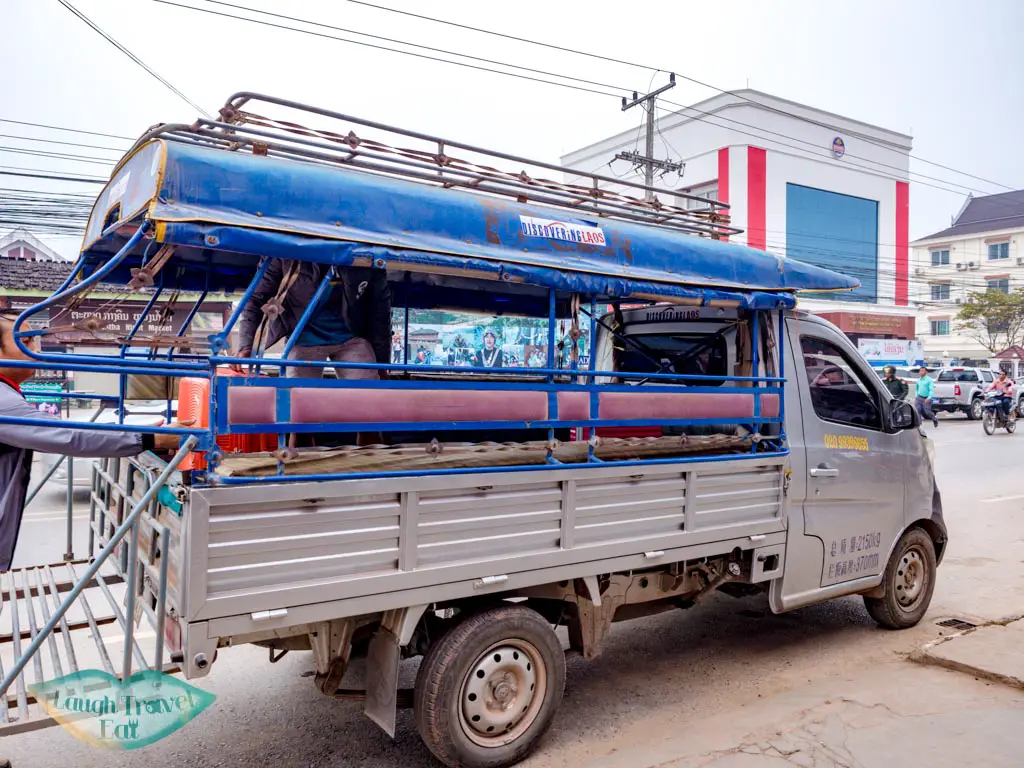 The day start at Luang Namtha where we are picked up by the Tuk Tuk to Nam Ha village. The ride takes about an hour on dusty roads and it can get a bit chilly in the morning.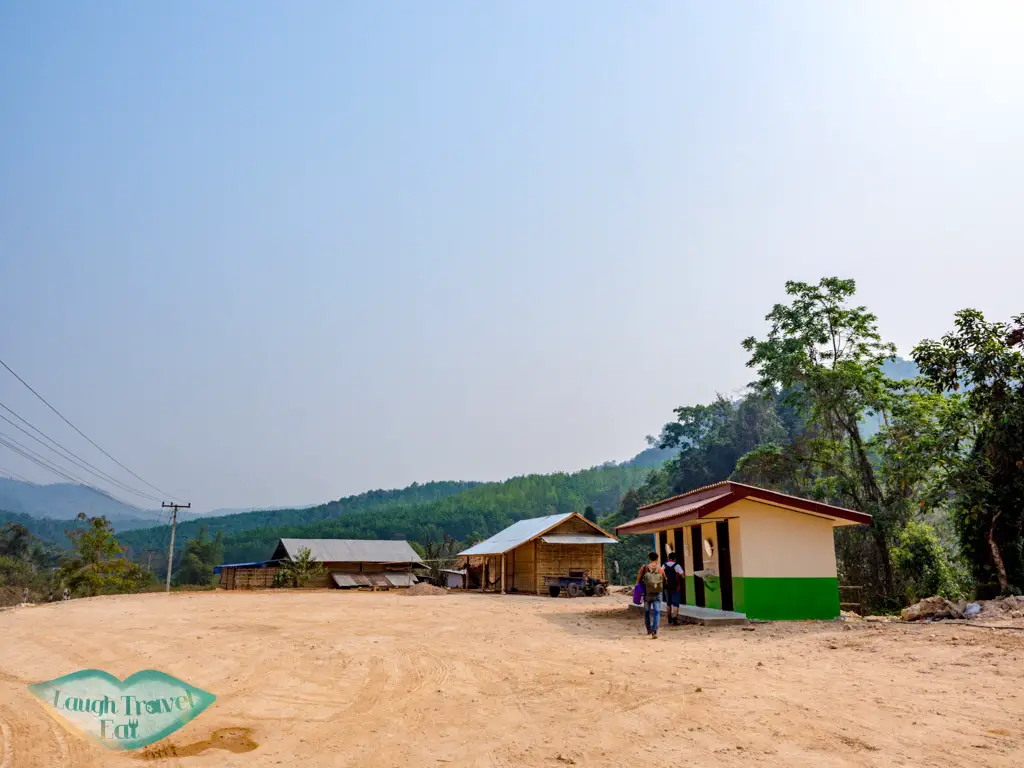 The trail actually starts by the gas station just out of the town, so we didn't see the village itself. On the plus side, there was nice and clean rest rooms available at the gas station.

We started at 9:30, heading into the forests by the gas station. The trail is narrow but well-maintained, cutting through the forest going up and down.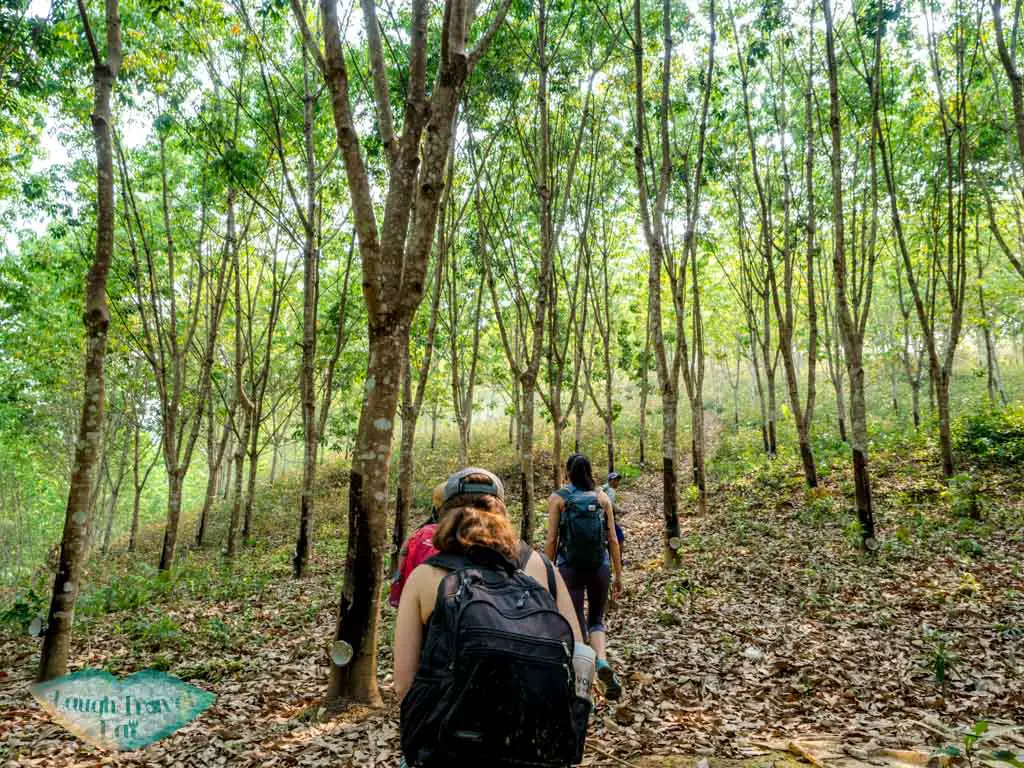 We first went past a field of rubber trees. You can see the little bowls by them ready to collect the sap! The harvesting take place between May to Dec at 1-2am so the sap doesn't dry under sun. The rubber sell to China who refined it then sell it back to Laos.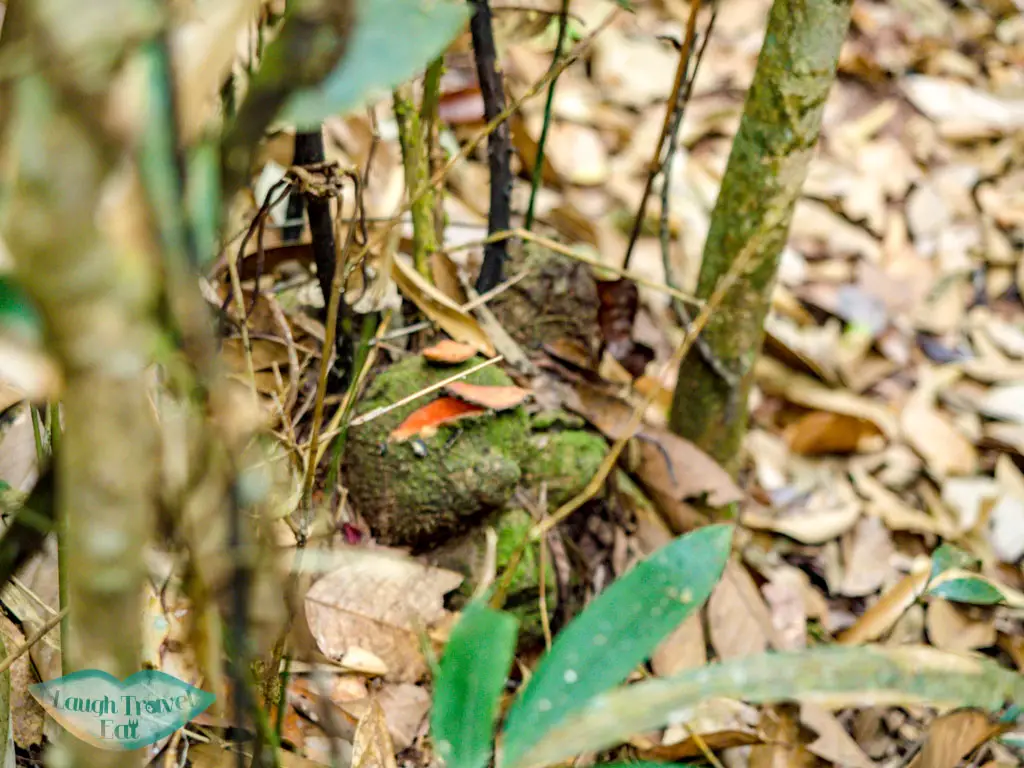 Our guide – Sai – is basically a plant expert and showed us the different edible plants and stories of the land. Like The orange Makbao that they use to darken indigo dye, and I also tried rattan, a ginger herb, and some bitter leaves that is good for the stomach.
Lunch at a clearing with spectacular tree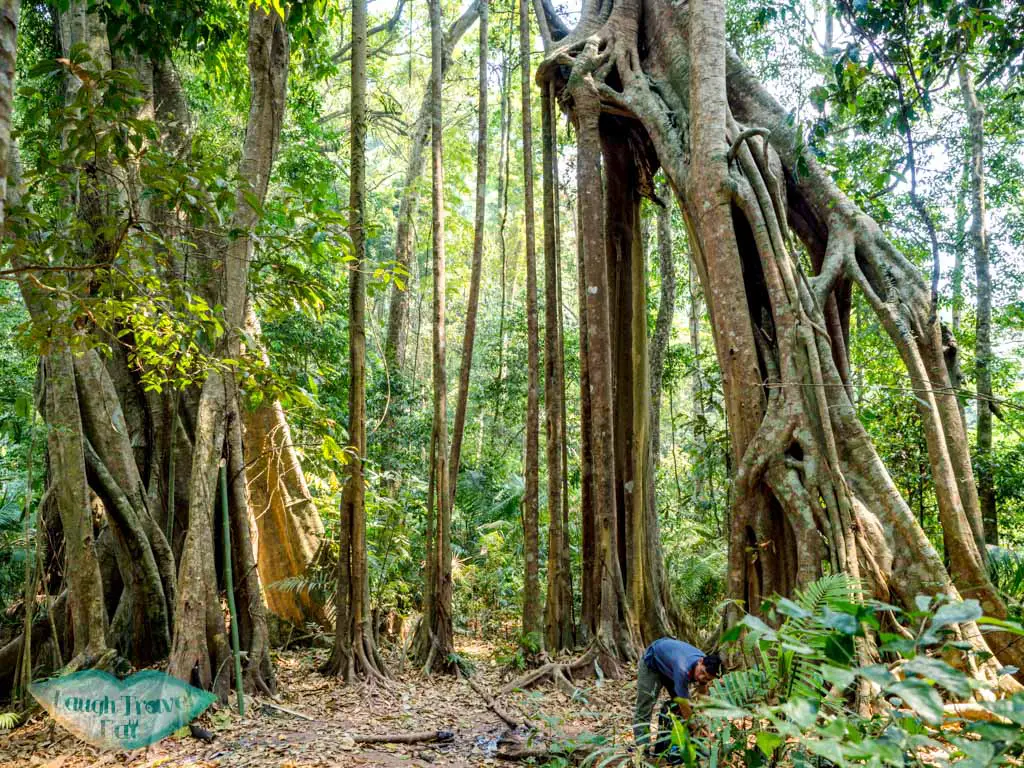 We reached the lunch spot at 11:44. The lunch spot is a clearing with two towering trees with splited roots, standing out in contrast to the surrounding forest. Our lunch was to be cooked on site – the guides had even found a big bamboo on the way to use for cooking.
Meanwhile, we also made our own spoon out of leaves!

After an hour's wait, we were served ratton and banana flower soup (they offer vegetarian and meat option), Luang Prabang sausages, water weed, ratton, sticky rice and some more vegetables.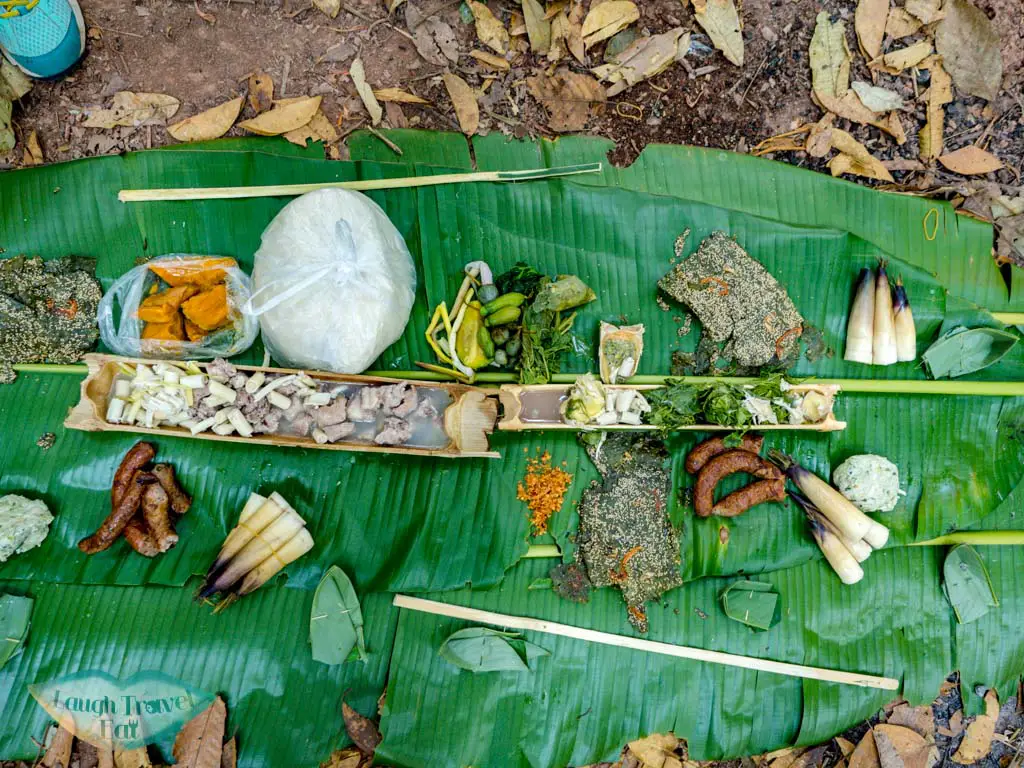 Heading to the Nam Ha River then to village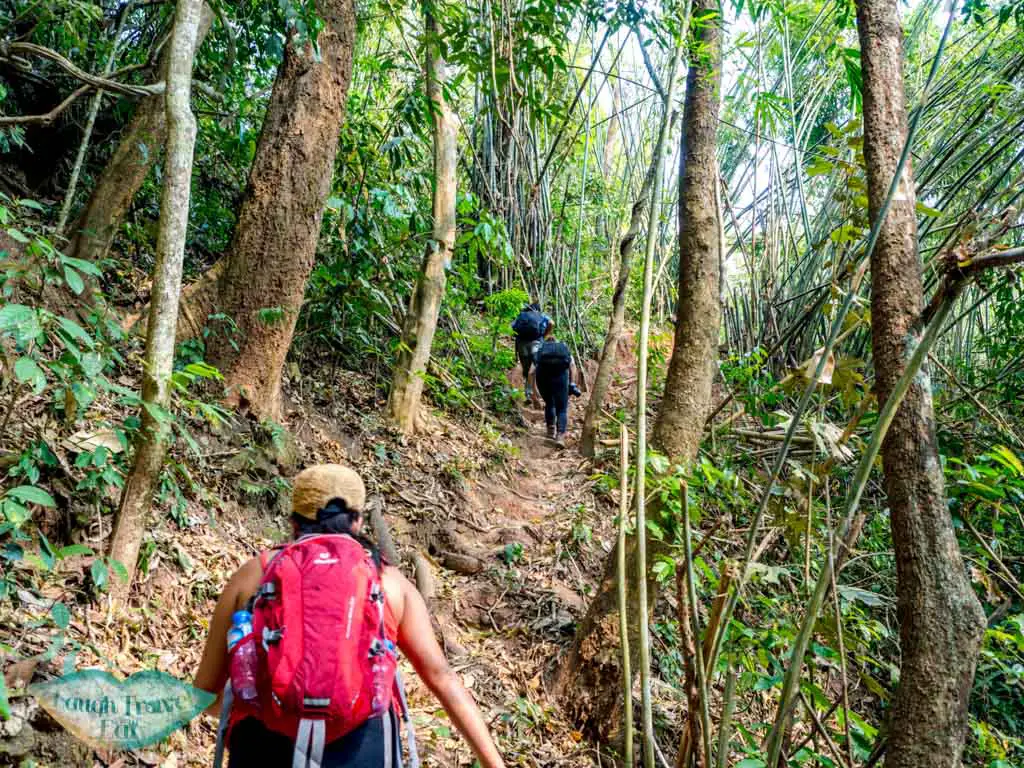 We started trekking again at 13:25. The trail is fairly narrow and steep at places even after we reached the river. Some of the downhill portions are steep and slippery, so if you need knee or ankle support make sure you have them on. It's also important to wear shoes with proper grip!
The trail meanders up and down by the river, but it is a lot cooler.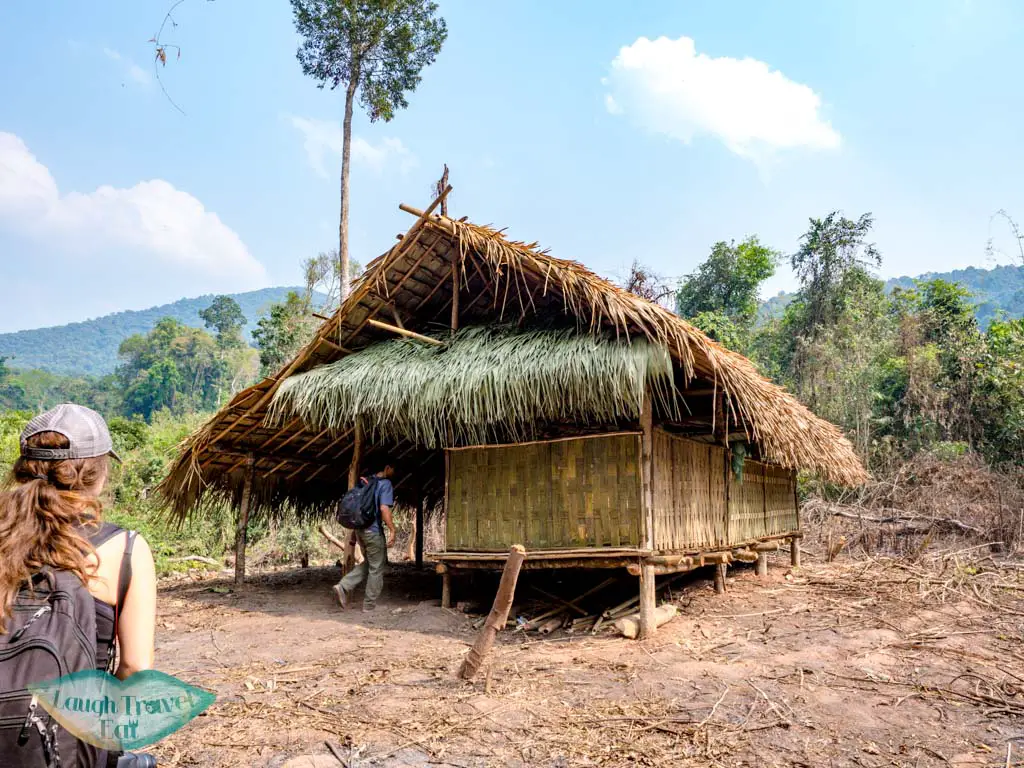 We had a quick break at the campsite for those who do the 3 days option. It's basic but provides good shelter and is by the river.
As we continued on, the lush forest becomes cleared/young forest since we are closer to the village. Most of these are cleared to farm rice with the slash and burn methods.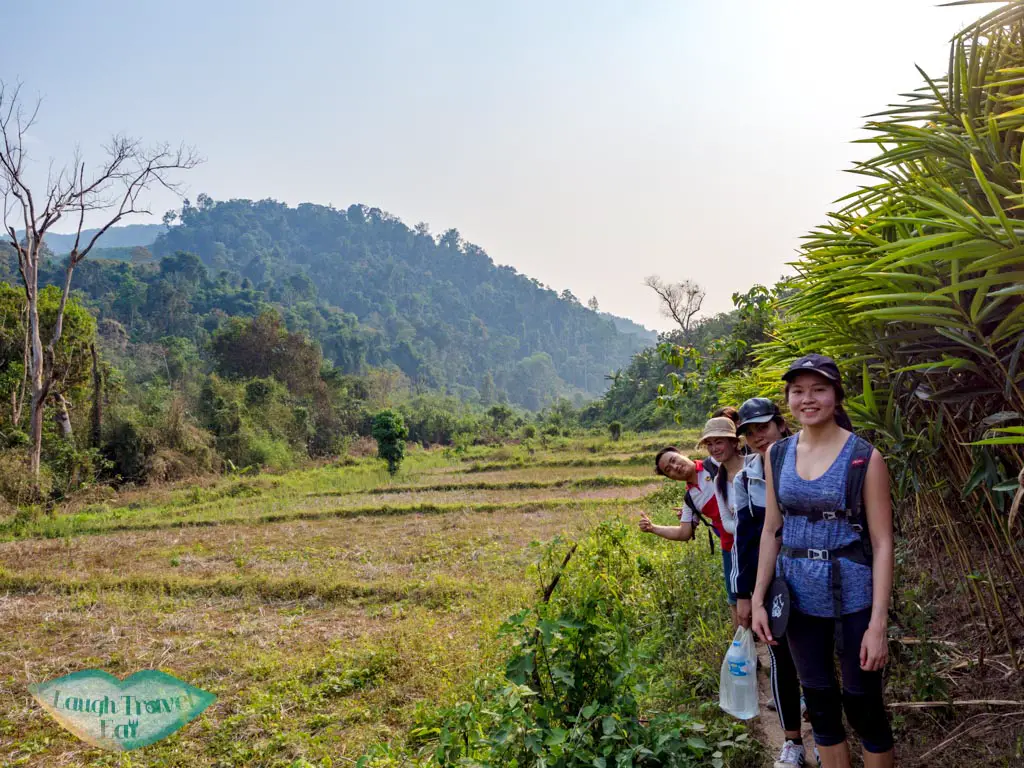 We arrived at the village around 16:30, catching the golden hour in all its glory!

Staying at Na Lan Village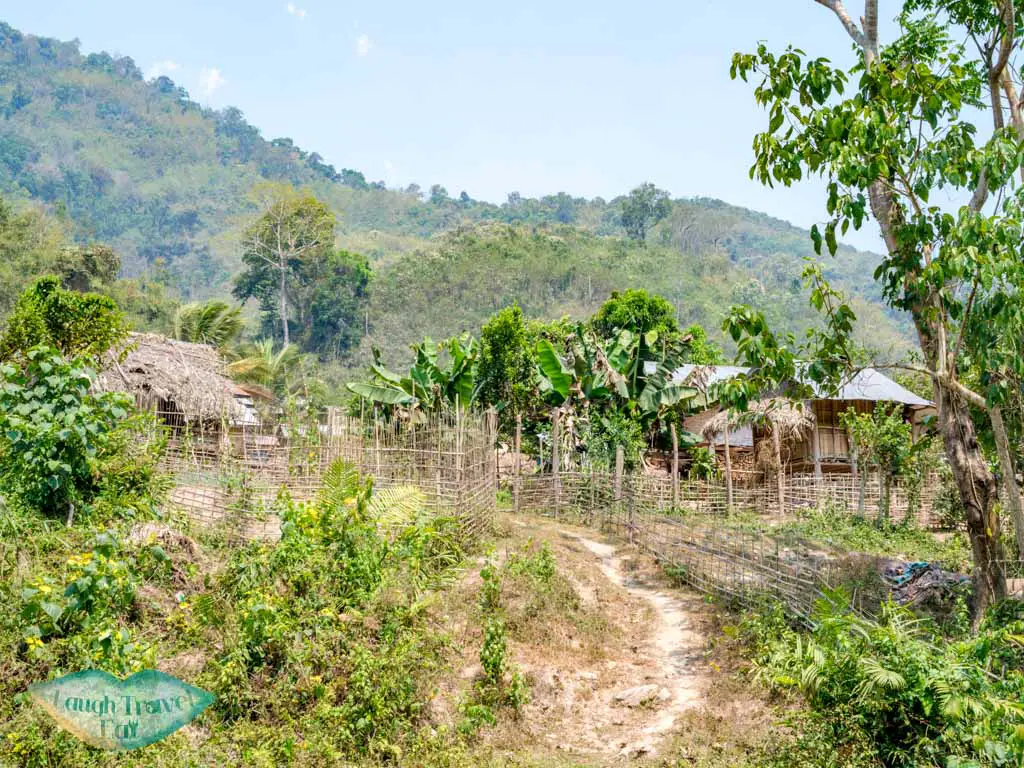 Na Lan is a Khmu village by the Nam Ha River. There are 208 people, 53 families living in 47 houses of which there are 12 homestay. The village has no electricity but have solar power for little things like lights.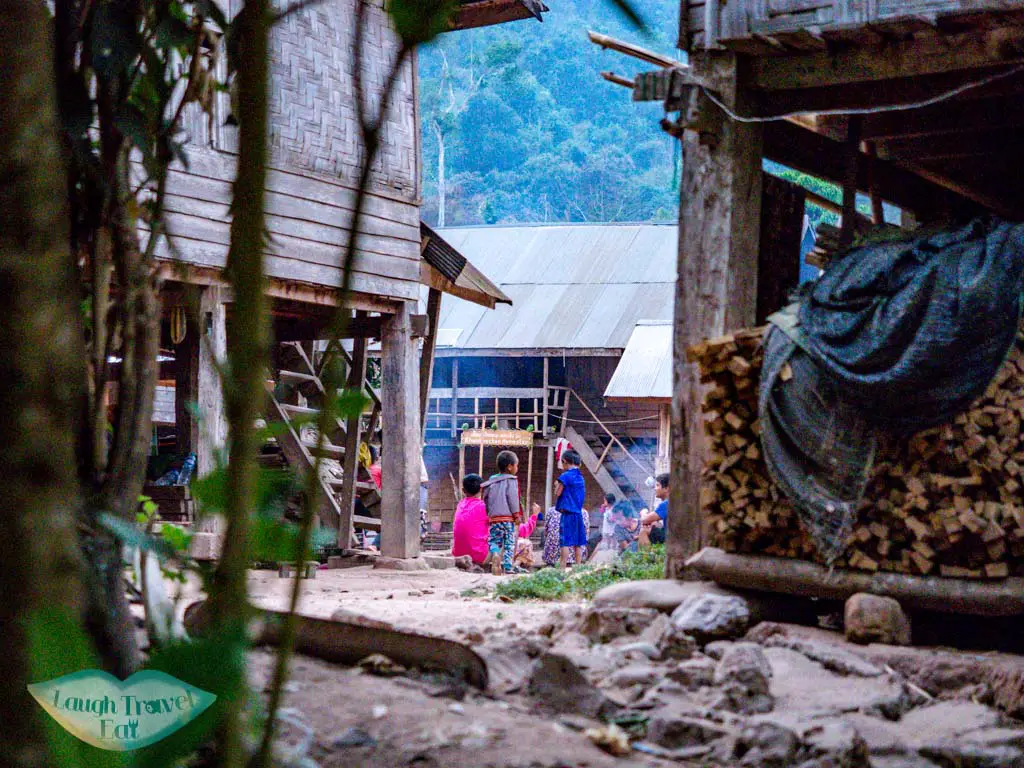 The villagers are very curious about us and we were ushered to our homestay by our guide. Since it was nearing sunset, we were encouraged to shower – by the river.

Shower in the river with a sin
It would be easier if you bring your own sarong but we borrowed a sin (the local shirt that is sewed in a big circle) to shower down by the river. The locals all wash themselves by the river, with women and children showering first and the men later.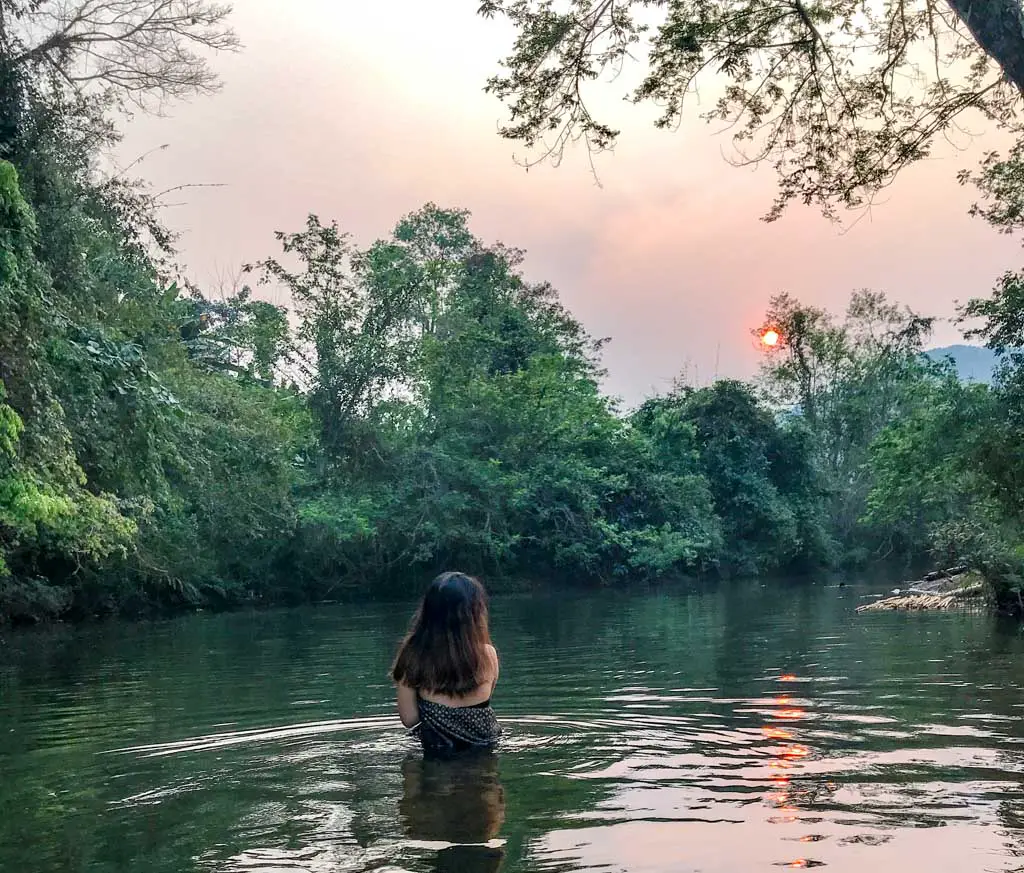 Having a plastic bag to hold your things would be more useful and it'd be good for the environment to use eco-friendly soap. For first timers like us, it's best to tie the sin in a knot above your chest.
Don't wade too deep into the river or else the sin will float up past your thigh. The trick is to bend and dip your head into the water to wash your hair, although it would be difficult too!

Dinner at the Nalan Village Homestay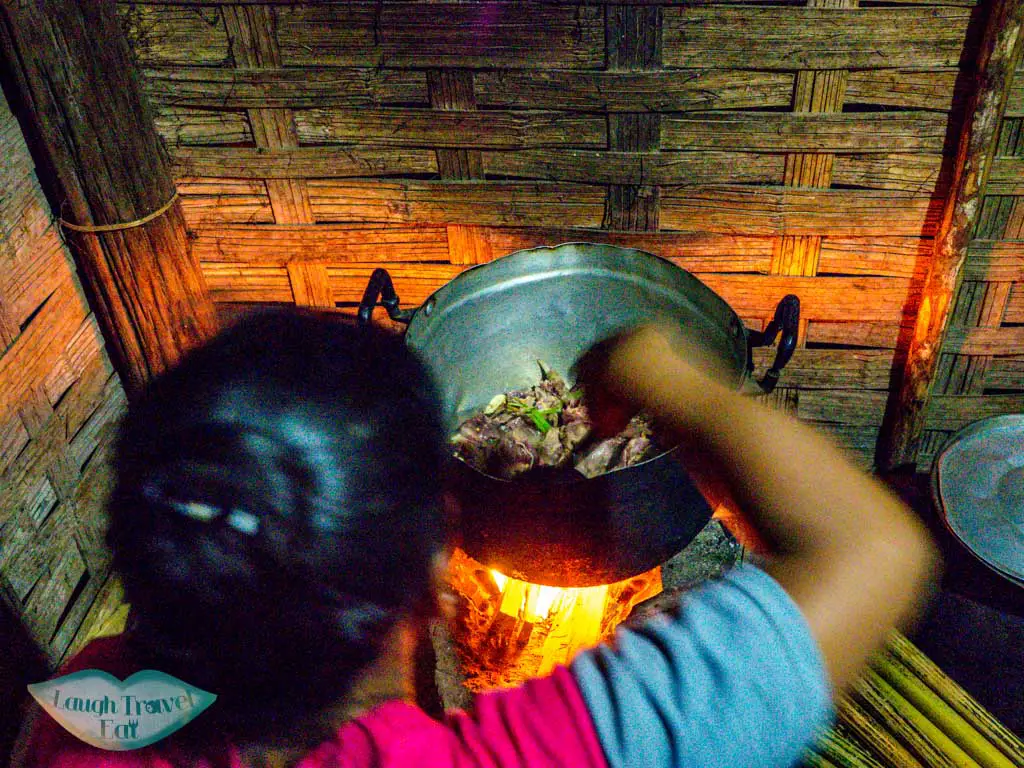 Dinner was cooked in the kitchen hut with a full spread. The dining table is set outside the homestay with benches. It includes ratton that was collected on the trek over, as well as spicy soup, duck, and boiled vegetables.

Duck blood based dish!
Dance performance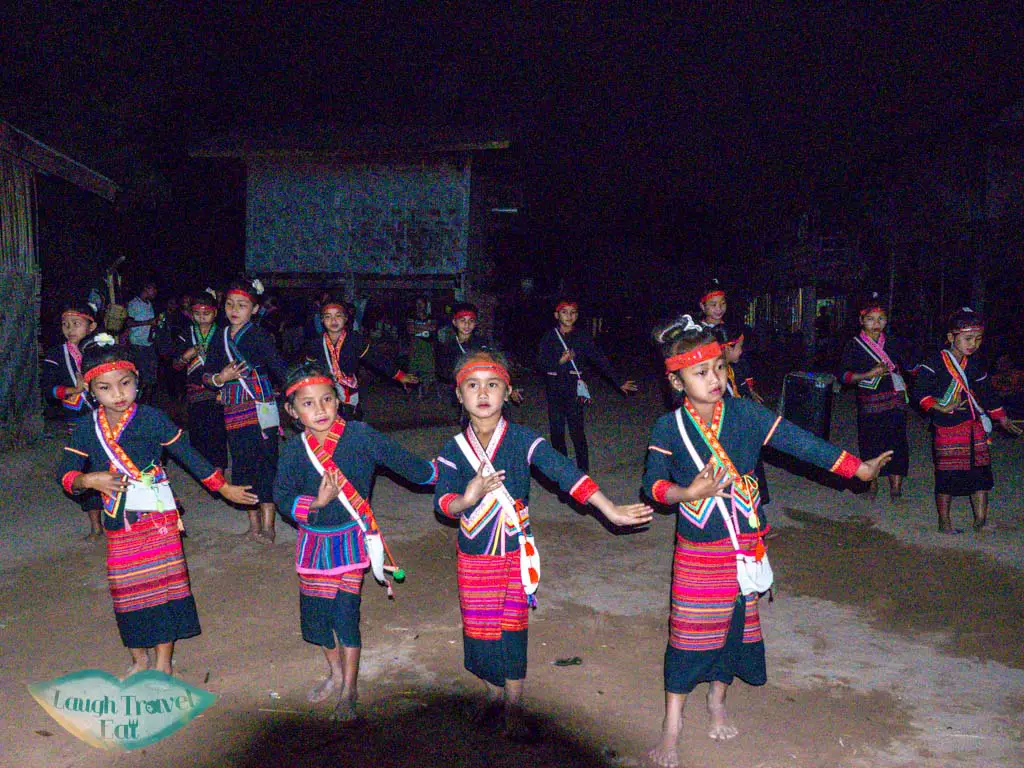 The village elders set up two poles with a bare bulb in the square to prepare for the Khmu Traditional Dance performance. The dancers are all dressed in the traditional outfits and greeted all the guests (aka us) one by one before they start. They danced to five songs, inviting us to dance with them on the last one as well.

Sambayler Homestay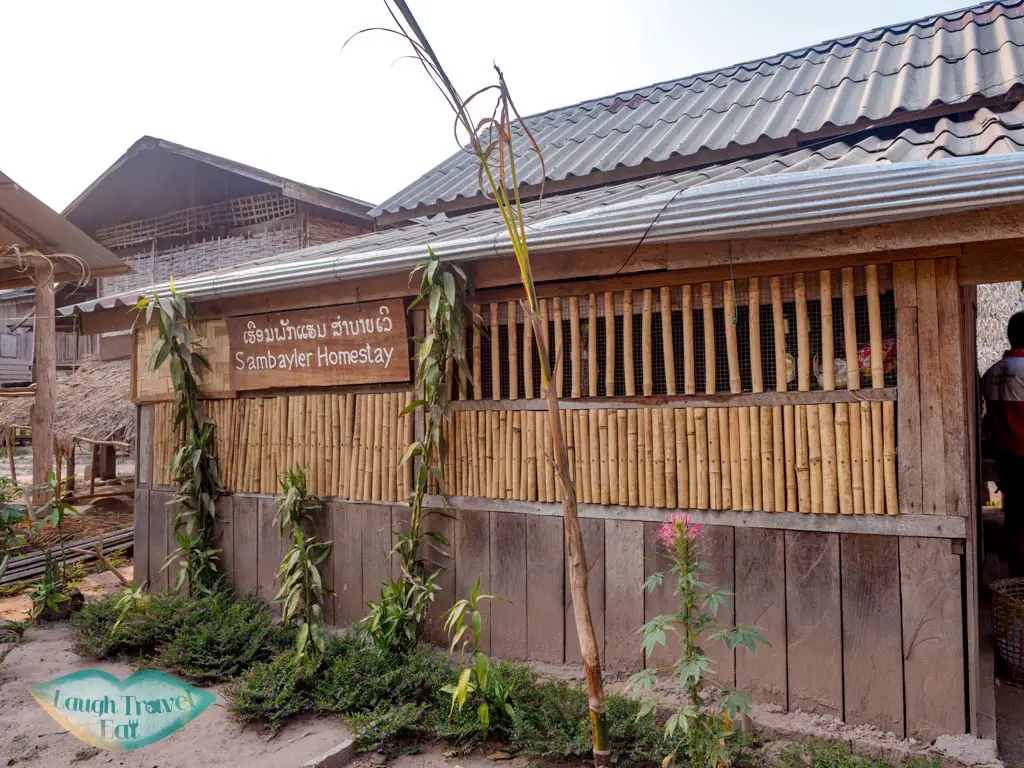 We stayed at a homestay near main square, a one storey bamboo hut with three rooms. They put a soft thin mattress down and a mosquito net over the bed, good for two people to sleep in per room. The hut is fairly ok at blocking out lights but not very sound proof, so prepare to wake up to the sound of chickens!

Bathrooms are separate behind the homestay but big and clean. However, there is no sink. If you want to use one, head over to the ecolodge by the river.

Day 2 kayaking out
We woke up just before 7 – which is later than the chicken who started shouting around 5 am and other villagers who got up and about around 6.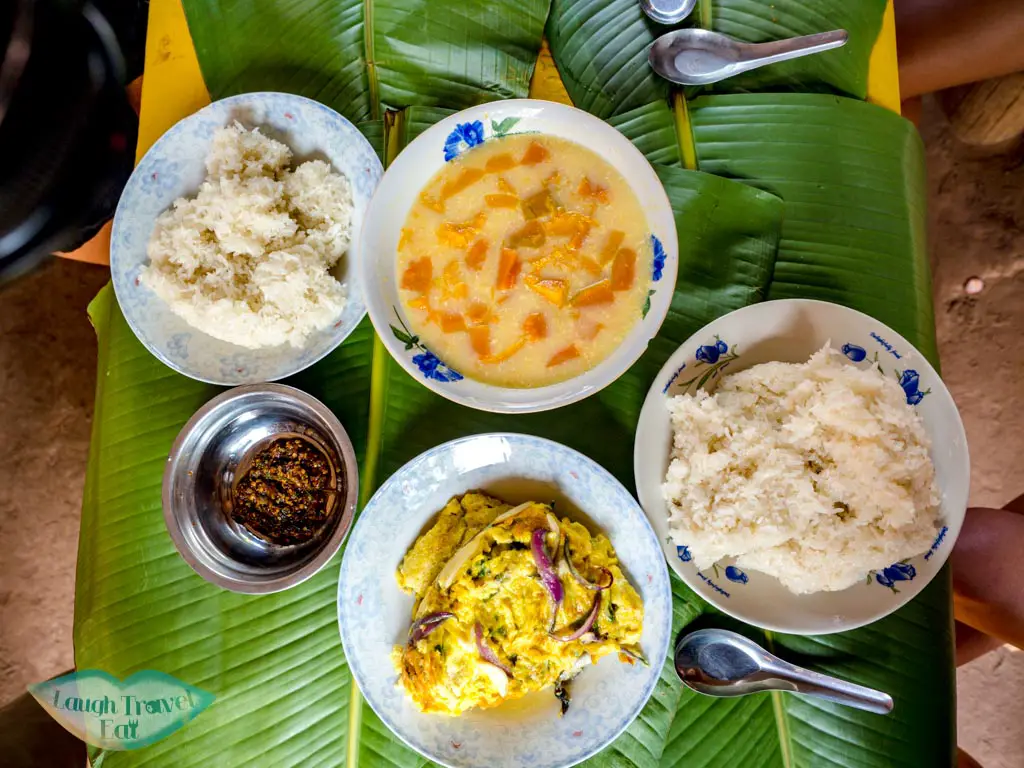 Breakfast was served at 8am, a wonderful spread of omelette, sticky rice, and a delicious pumpkin and coconut milk soup.

Khmu experience
After breakfast, we had some time to experience some Khmu activities:
Dress up in the Khmu Traditional Costume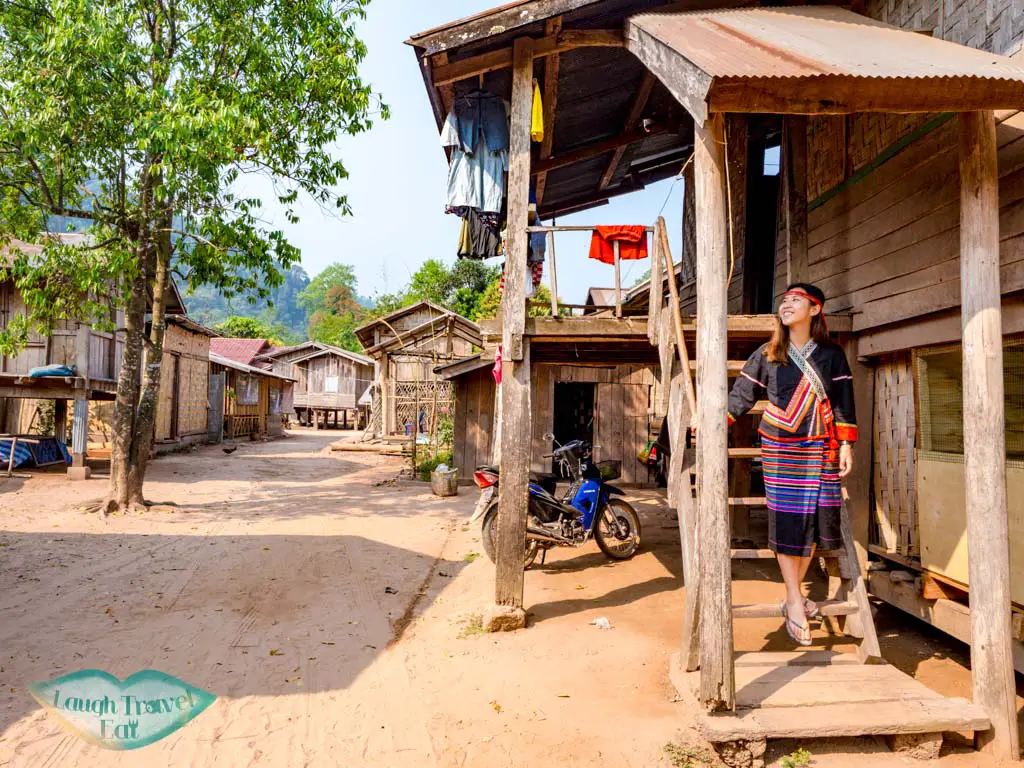 We dressed in the Khmu traditional costume with the top, the sin, and a headband!

Crossbow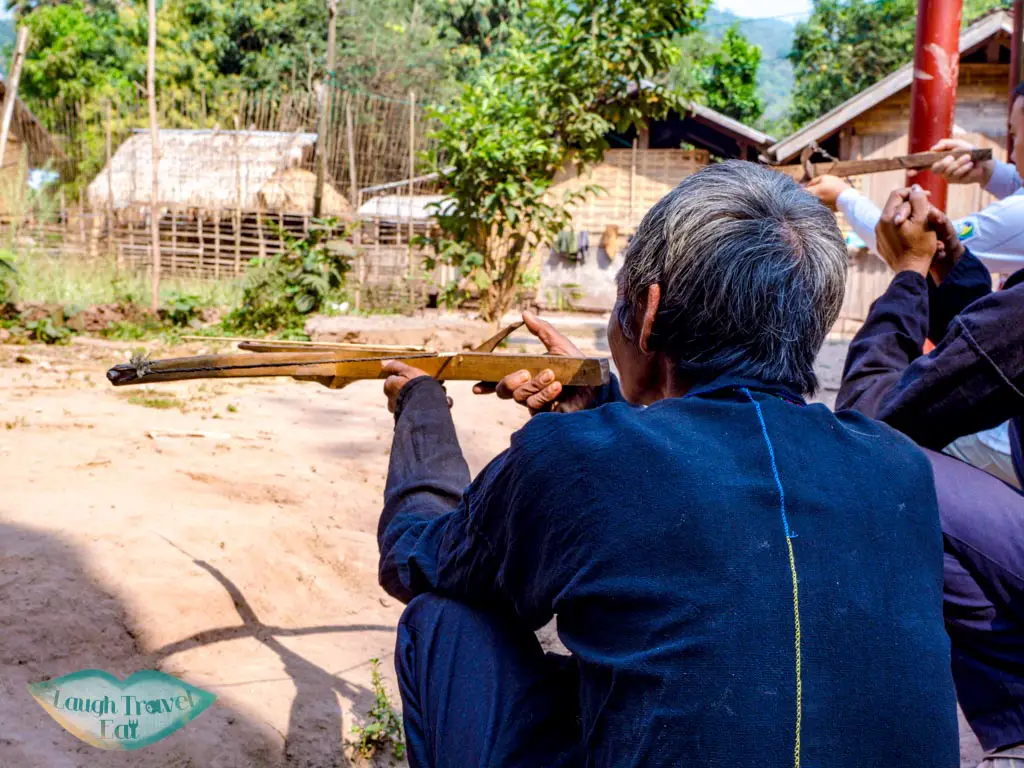 The villagers still use crossbow to hunt wild game in the forest and they taught us how to fire it. Mine hit the board but not the target so there was that!

Rice husking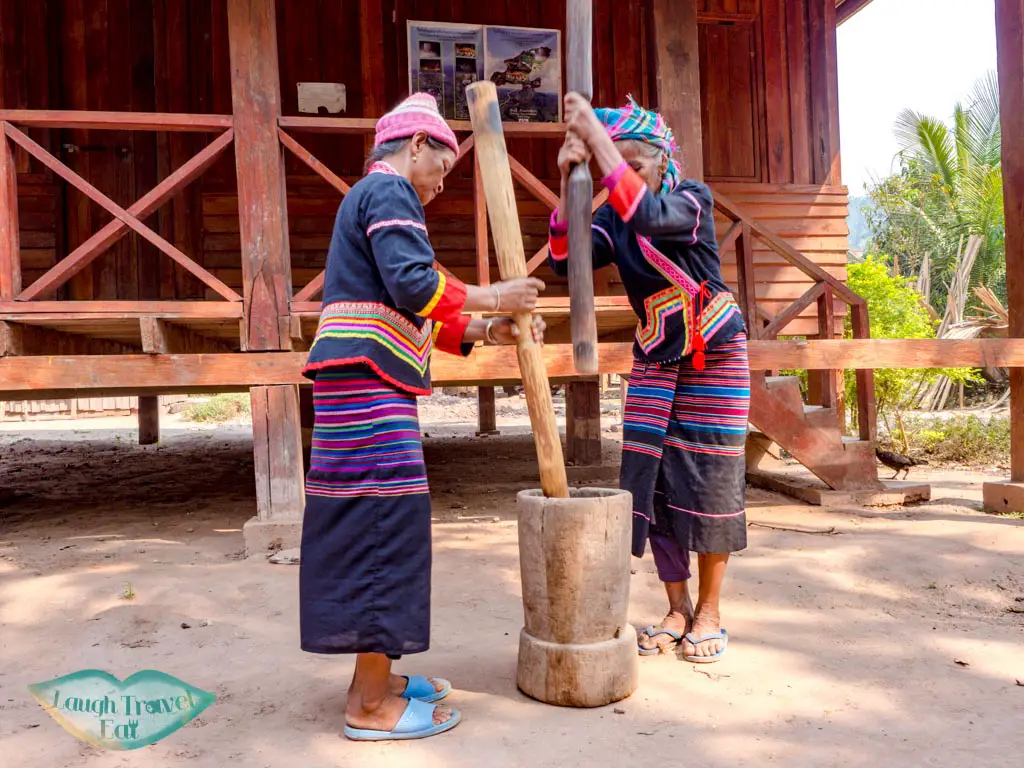 Much like my experience in Sakon Nakhon, we tried to husk the rice grains but it is harder than it looks!

Kayaking on Nam Ha River

The kayaks arrived on the back of a tuk tuk as we were having breakfast. They are inflatable and are very spacious and nice. We put whatever we needed in the dry bag provided and left our bags on the tuk tuk, which would meet us at the end of the trip.

Note: you have to wear a top and shorts to kayak as it is still very conservative there
Remember to put on sunscreen. We also wore a cap under the hard hat for added sun protection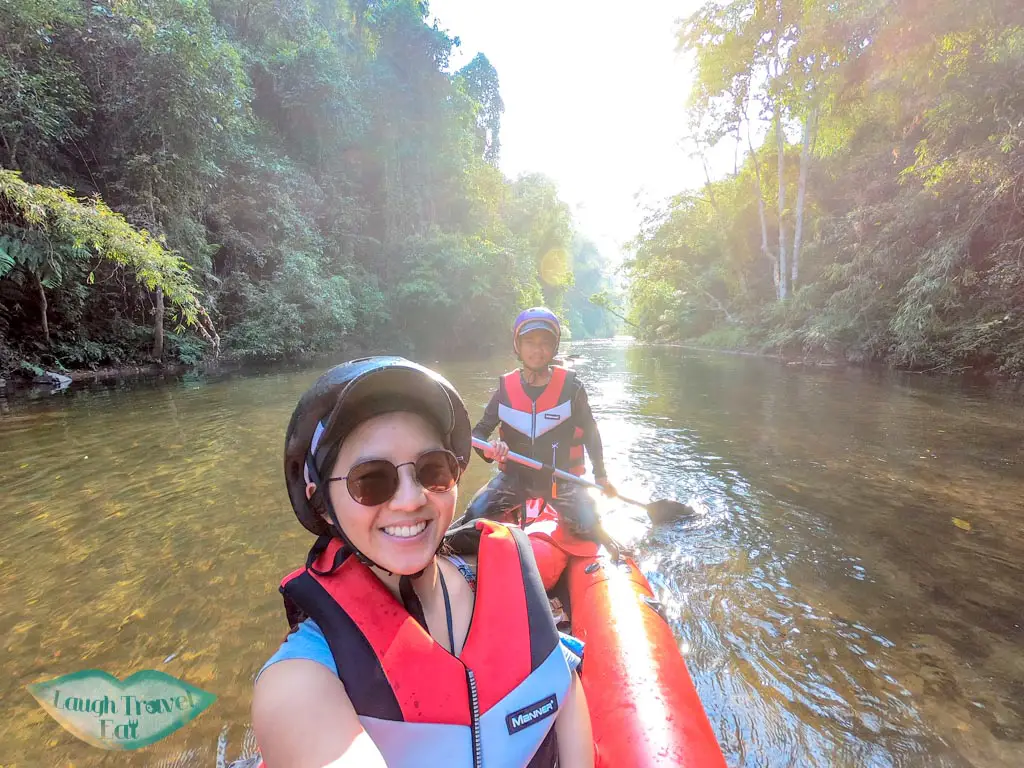 We each had a guide to accompany us as the water level is shallow and difficult to maneuver during the dry season, usually only about ankle to knee deep. After making sure everything was in order, we hopped on the kayak and went off at around 10:45 am.

Stop at south Nalan Nuea village (tai)
Our first stop is a quick visit at Nalan Nuea village – which basically means Nalan south. It used to be the same village as Nalan but they separated to keep the size smaller. We arrived at around 12:12 and did a quick loop around the village. It is smaller than Nalan with only 138 people.

Nam koi village
After a short paddle, we went to Nam Koi Village at 12:42. It is a Lanten village, smaller and poorer than the two Nalan. The village is known for cotton and indigo dying, and we visited a local's house to see the process.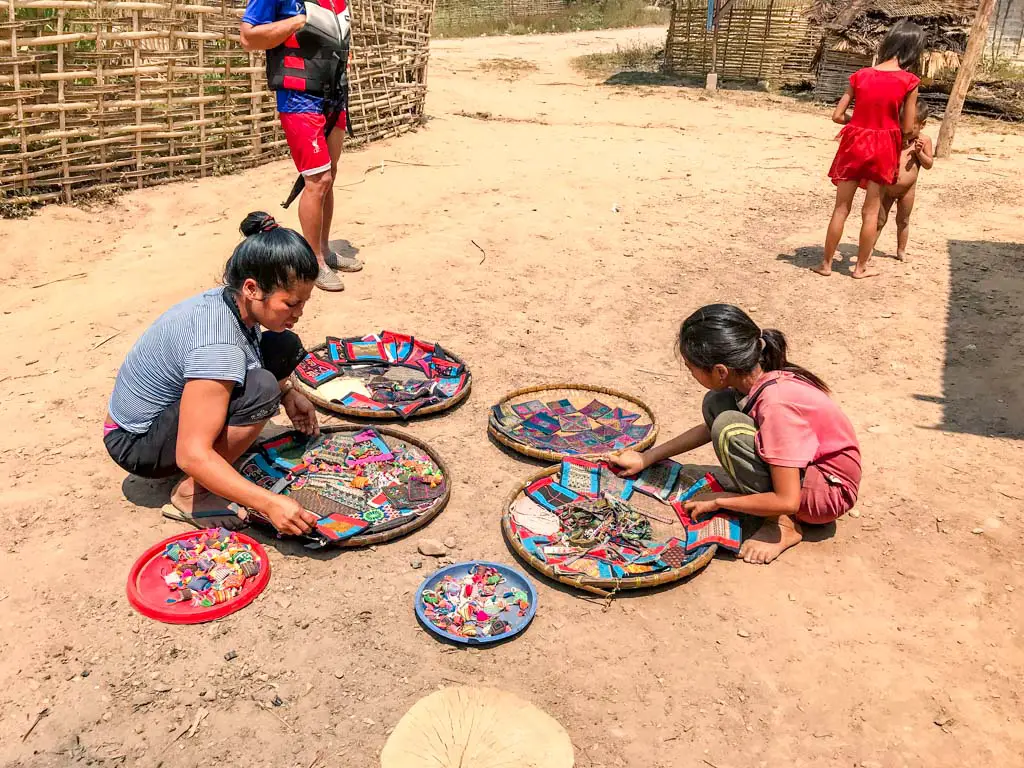 Note: the locals will try to sell you their handicraft product. It's up to you whether you want to buy from them. Seek advice from your guide if in doubt.

Lunch at a sandbank
We stopped for lunch at a little sandbank Island on the curve of the river. The food was packed from Na Lan village with duck, cabbage, river weed, chilli flakes, and bamboo.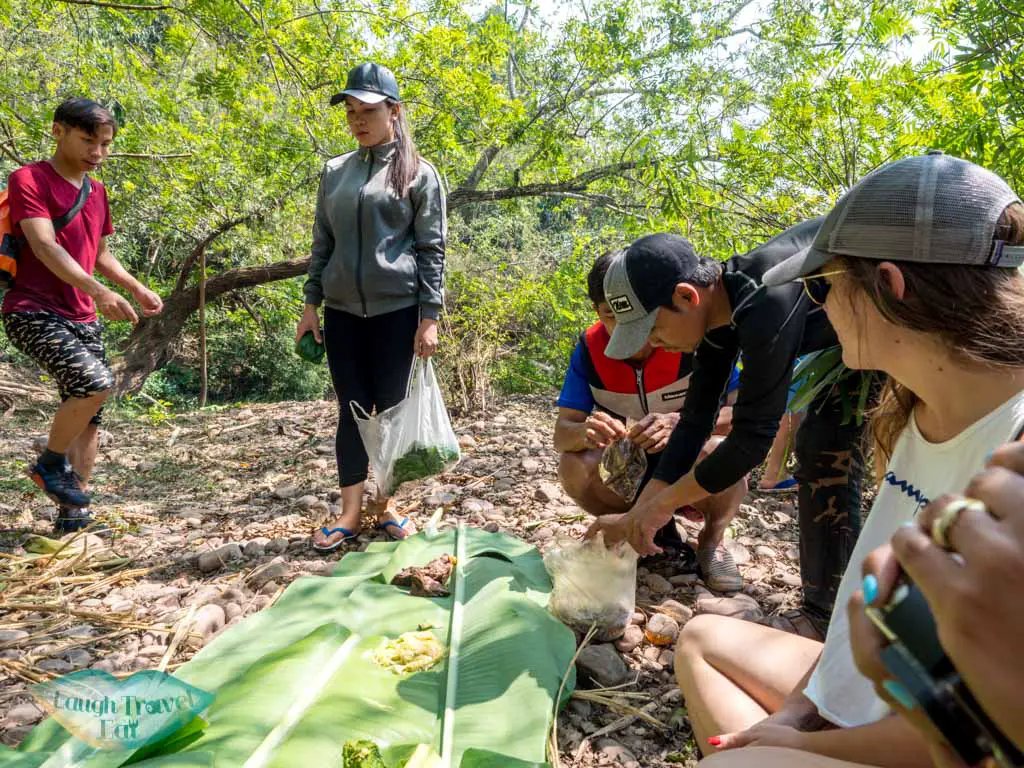 There is also some fruits picked by one of our kayak guide, who turns out to be some kind of Laos Tarzan. Not only did he picked up the fruits but also a water snake: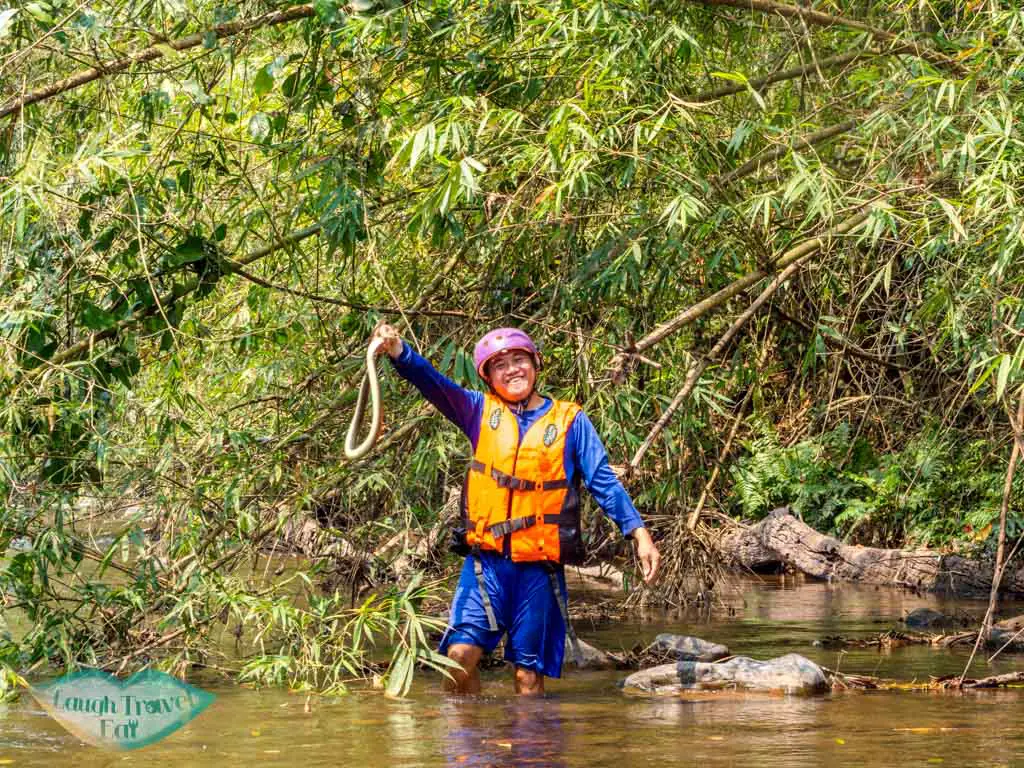 Since lunch was packed, it was a quick affair that started at 1:30 and ended in less than an hour. However, we still had some way to go! This is because the river is much slow during dry season but twice as fast during wet season. On the other hand, it gave us the opportunity to use our camera now and there.

Getting to the end point
We had another quick break at 3:50pm but it became mostly a continuous kayak. There are some pretty and exciting rapids along the way, but also some part that is easy to get stuck on. For the most parts, our guides are the one who did most of the kayaking, though I did try to pitch in!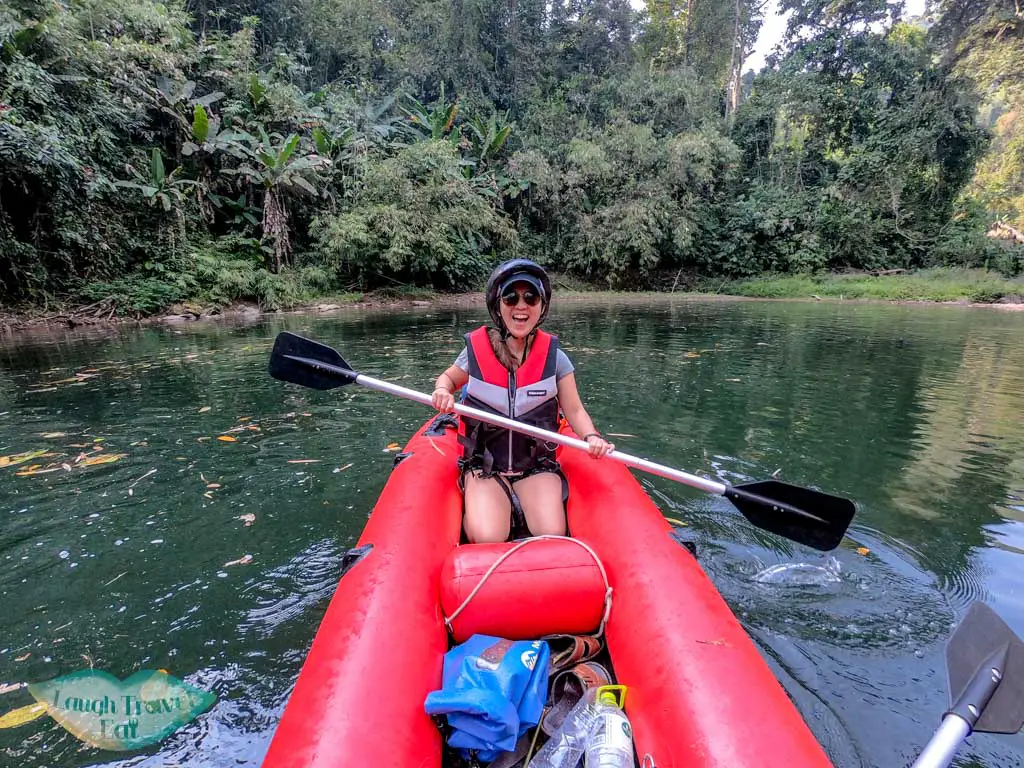 Don't forget to look around now and then as the sceneries are epic, especially during golden hour.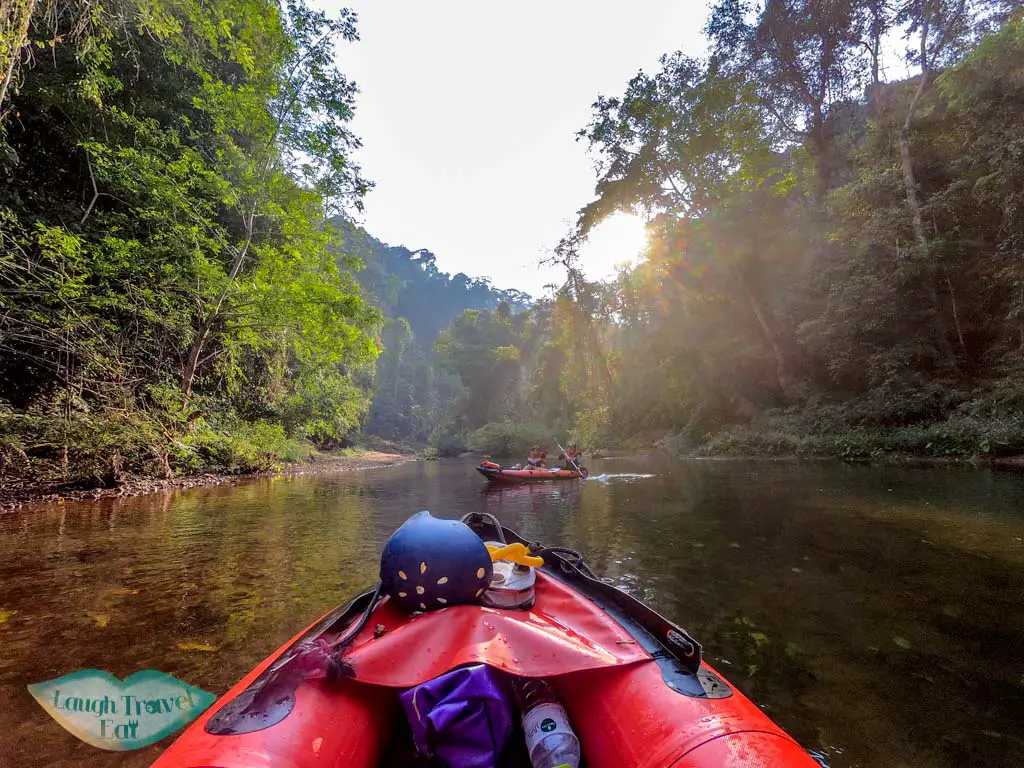 We finally made it to the village  at 5:45 pm.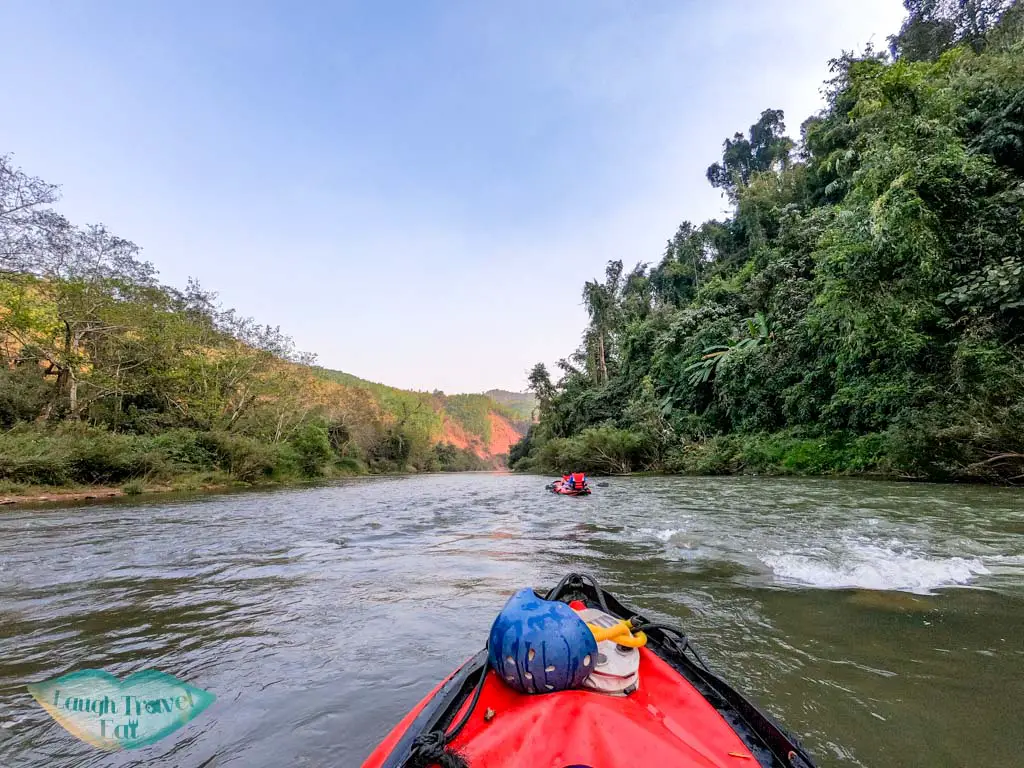 Our tuk tuk was already waiting and we borrowed the village bathroom to change out of our wet clothes. Once everyone is ready, which includes the guides deflating the kayak and putting all our equipment on the tuk tuk, it was an hour's ride to Luang Namtha.