Hue is a city in central Vietnam, and though often obscure by Hanoi, Ho Chi Minh City, and Danang, it is the capital of Vietnam during its last dynasty – the Nguyen, who were warlords in the area before they ascended. There are many things to see, and here's a guide:
Getting around Hue
Hue is pretty walkable, we were able to get around the city by foot without trouble. That said, there are a few attractions that aren't close to the city center, in that case, there are three options:
Taxi
Joining a tour
Hiring a private car for the day.
We did a half day tour with TNT Travel Agency, booking with them directly at their office, but now there are much easier options that you can book online beforehand. 
Check tours and private car charter in Hue
Note: in 2019 there is also Grab bike in the city, but still no Grab car (apparently the local taxi companies aren't keen !)
The same goes for traveling from Hue to other cities, usually Danang. See transport options between Hue and Danang here.
Things to do in Hue Vietnam
The sights are all centered around the Nguyen Dynasty, with various degrees of Chinese and French influence seen in the architectures. There are a fair number of pagodas and tombs scattered around the city limit, but here, I will talk about the top sights.
Hue Citadel
No doubt the star of the city, the 19th century palace complex is often dubbed as the water-down, smaller version of the Forbidden Palace in Beijing. Although the design and architecture style is similar, I personally think that it's beautiful and unique in its own way. The roof decorations, for instants, are brighter and more colourful, and the ruined state of the buildings added some charm the lotus ponds and moat is gorgeous.
The palace was built in 1804, after Nguyen Anh's conquer of Vietnam in 1802 was recognised by the Chinese. He consulted with the geomancers, incorporation Feng Shui heavily in the design; the palace was built north of the River Huong with a 2km x 2 km fortified wall surrounded by a moat.
The palace used to have 160 building complex, but it was greatly destroyed in the Vietnam War despite efforts made to avoid bombing the city. Restorations were in place; however, only 10 buildings remained standing today.
Since we didn't have a guide nor had a map, I couldn't really point out any major point of interest, but here are some photos:
Address: Kinh thanh Hue, Huế, Thua Thien Hue, Vietnam
Opening times: 8:00 – 18:00 daily
Admission fee: 150,000; you can buy combo tickets with 3 tombs for 360,000
Thien Mu Pagonda (Chua Tien Mu)
One of Hue's top attractions, the Thien Mu Pagoda on the Ha Khe Hill 3 km east of the Citadel is actually the tallest religious building in Vietnam.
Built by the first Nguyen Lord in 1601, it has 7 stories and was the product of the lord following a prophecy by Thien Mu – a celestial lady. Its current form is a result of an expansion in 1665. The road between the pagoda entrance and the river is narrow, so be careful when you head up the entrance. The pagoda was severely destroyed by a cyclone in 1904, and never returned to its prime.
There is a small temple behind the pagoda, and a zen garden as well as courtyards. Entrance fee is free, and the brick pagoda is more detailed than it looks in the photos.
Address: Kim Long, Hương Long, tp. Huế, Thừa Thiên Huế, Vietnam
Opening times: 24 hours
Minh Mang Tomb
second emperor of the Nguyen Dynasty, the feng shui of his resting place was of the utmost importance, hence the strategic location on the west bank of the Perfume River on Came Ke Mount.
The emperor started the construction in 1840 and sadly passed away a few months later. His son finished the tomb and he was buried there in 1841, while construction didn't complete until 1843. With a symmetrical axis and grand Chinese style temples and arches, the tomb is the largest of its kind in Hue with two ponds The exact burial ground of the emperor remains a mystery, though visiting the tomb itself is a great.
Address: QL49, Hương Thọ, tx. Hương Trà, Thừa Thiên Huế, Vietnam
Opening times: daily 7:00 – 17:00
Entrance fee: 10,000 dong, cheaper if combine tickets with citadel.
Dong Khanh Tomb
One of the most recent tombs, it is situated 5 km from Hue city center and was built over 35 years and under 4 kings! King Dong Khanh died at the age of 25, merely 3 years after his ascension.
While the Ngung Hy Temple, which was built first, is of the same style as Citadel with heavy Chinese influence, at on top of the hill, the rest of the tomb is a stark contrast.
The dark colour and western architectural style are said to be inspired by Gaudi's work in Barcelona. Even though the tomb is the smallest of the three most famous one, it is the most imposing with the brooding statues and towering pillars.
Address: 8 Đoàn Nhữ Hải, Thủy Xuân, tp. Huế, Thừa Thiên Huế, Vietnam
Opening times: daily 8:00 – 17:00
Entrance fee: 10,000 dong, cheaper if combine tickets with citadel
Tu Duc Tomb
The adoptive father of Dong Khanh, King Tu Duc built his tomb over three years in the 1860s. As the longest reigning Nguyen emperor, he actually lived in the palace area of the tomb and the entire complex reflects the vibe of a summer pleasure palace with lake and woods.
The architecture of the tomb is similar to Minh Mang, with tiled roofs and heavy Chinese influence. My personal favourite is the lakeside pavilions overlooking the lotus clusters.
Address: Thủy Xuân, Huế, Thua Thien Hue, Vietnam
Opening times: daily 8:00 – 17:00
Entrance fee: 10,000 dong, cheaper if combine tickets with citadel
Temple of Literature
A short distance from Thieu Mu Pagoda, I saw a photo of the Temple of Literature and was determined to visit. Also situated along the Perfume River next to the main road, there is no guard, no entrance fee to this small, isolated temple. Marked by a arch by the bank opposite the road, we slipped through the open gate and was amazed with the stunning stone archway. My friend, however, wasn't impressed, and I can't find any information on it either.
Address: Văn Thánh, Hương Long, Hương Trà, Thừa Thiên Huế, Vietnam
Truong Tien Bridge
Fun fact: the Truong Tien Bridge is designed by Eiffel, who is famous for designing the Eiffel Tower in Paris. Spanning over the Perfume River, it is over 100 years old and 402.6 m long. A Gothic steel arch bridge, it lights up at night in different hues (pun intended) and makes excellent photos.
Abandoned Water Park
One of the most famous landmark in Hue is the Abandoned Water Park on the outskirts of the city. It was a multi-million dollar project that eventually closed due to lack of interest, which is ironic as now it has become a popular spot for both tourists and locals.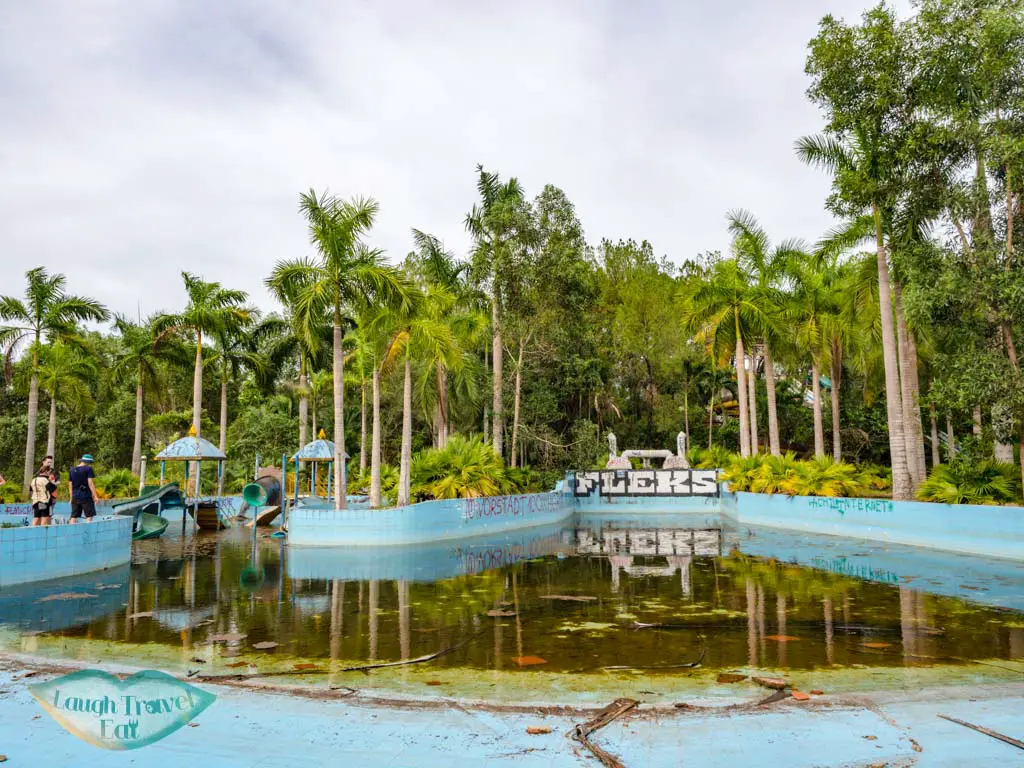 Aside from the famous Dragon Head, there's also water slides on the far side. I ended up booking a private car there and back for 15 USD, but many people also get taxi there or Grab Bike, but getting one out might not be as easy unless you pay for them to wait for you.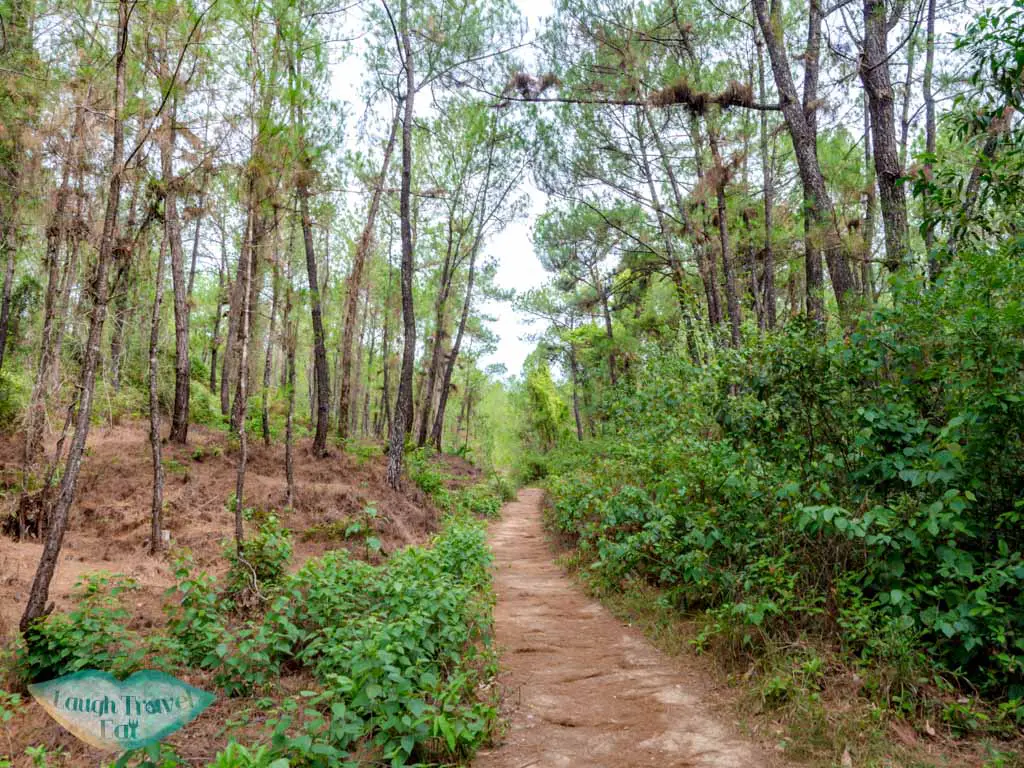 The guard there will show you a slip that says you can't go in, but then asks you for 20k dong (as of July 2019). From there, you walk along a dirt path for about 15 minutes or so to reach the Dragon.
Dong Ba Market
East of the Citadel on the north bank of the Perfume River, the Dong Ba Market is not catered to tourists but a local market. Close to the bus station, it is a maze of stalls selling everything to anything, with little to no space between one stall to the next.
You will be hard pressed to find anything other than t-shirts or food as souvenirs, but I did enjoy the atmosphere of it all, even if the vibe was a bit dodgy.
Alternatively, you can visit Lotte Mart next door.
Address: Trần Hưng Đạo, Phú Hòa, tp. Huế, Thừa Thiên Huế, Vietnam
Opening times: daily 6:00 – 22:00
Hue Walking Street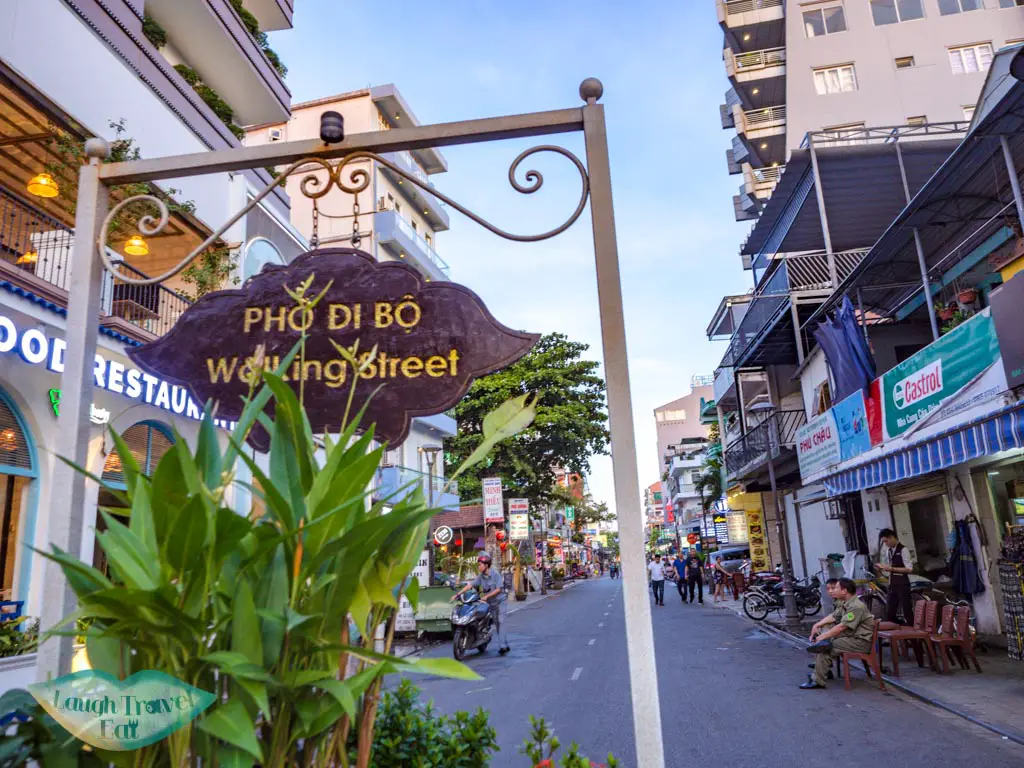 Every weekend evening, the downtown of Hue becomes a pedestrian only zone. Street food vendors and small vendors will come out onto the street and there's also live music.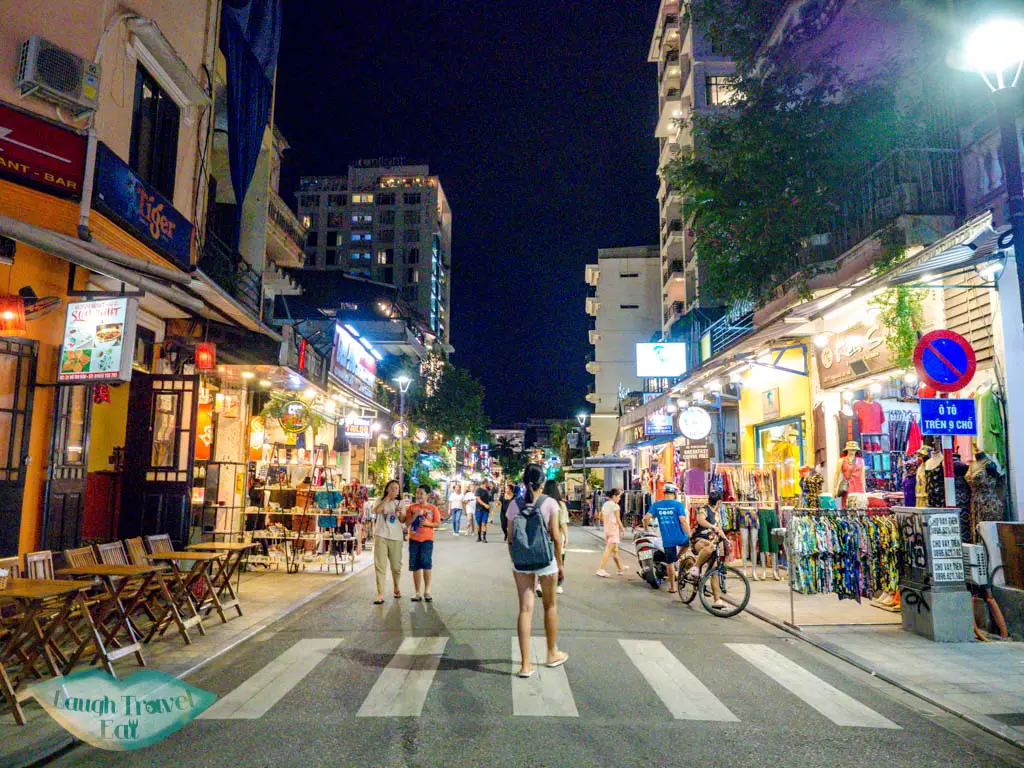 It's not as busy as I thought it'd be but worth a stroll if you are there on a weekend.
Restaurants in Hue
On my first visit to Hue, I stayed away from the central hotel and hostel area which limited our dining choices. Most of the restaurants are clustered around the southeast bank of the Perfume River. On my second visit, I was able to find better food than the first time! Here are my top picks:
Madam Thu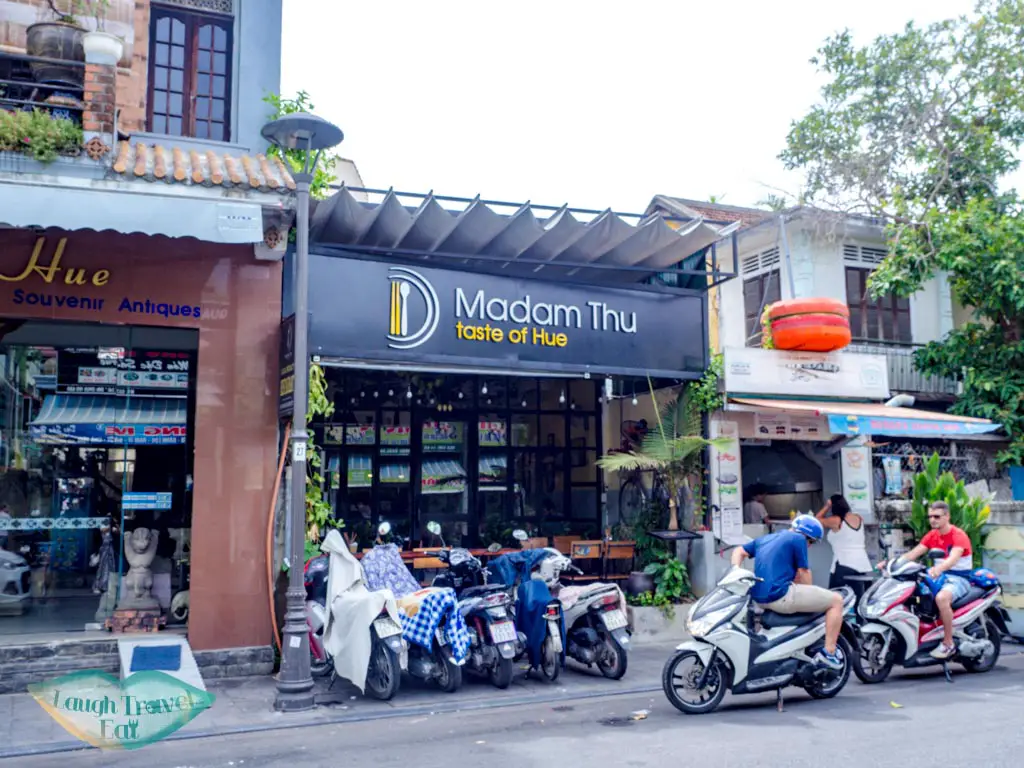 Madam Thu is one of the most top rated restaurants in Hue located in the walking street, and also 1 minute's walk from my hostel! It's a medium sized restaurant with indoor and outdoor seating, and friendly staff. I was greeted with many smiles and a wet towel before a menu was given.
It's a good place to eat if you want local food at good price with air con. Although it was switched off at night and it gets pretty popular, too. I had both lunch and dinner there – a water melon juice is 35k and so is their Banh Xeo (fried pancake with rice paper), and 50k for bun bo (beef noodles)
Address: 45 Võ Thị Sáu, Phú Hội, Thành phố Huế, Thừa Thiên Huế 530000越南
Opening times: 8:00 – 22:00
Quan an ba Tung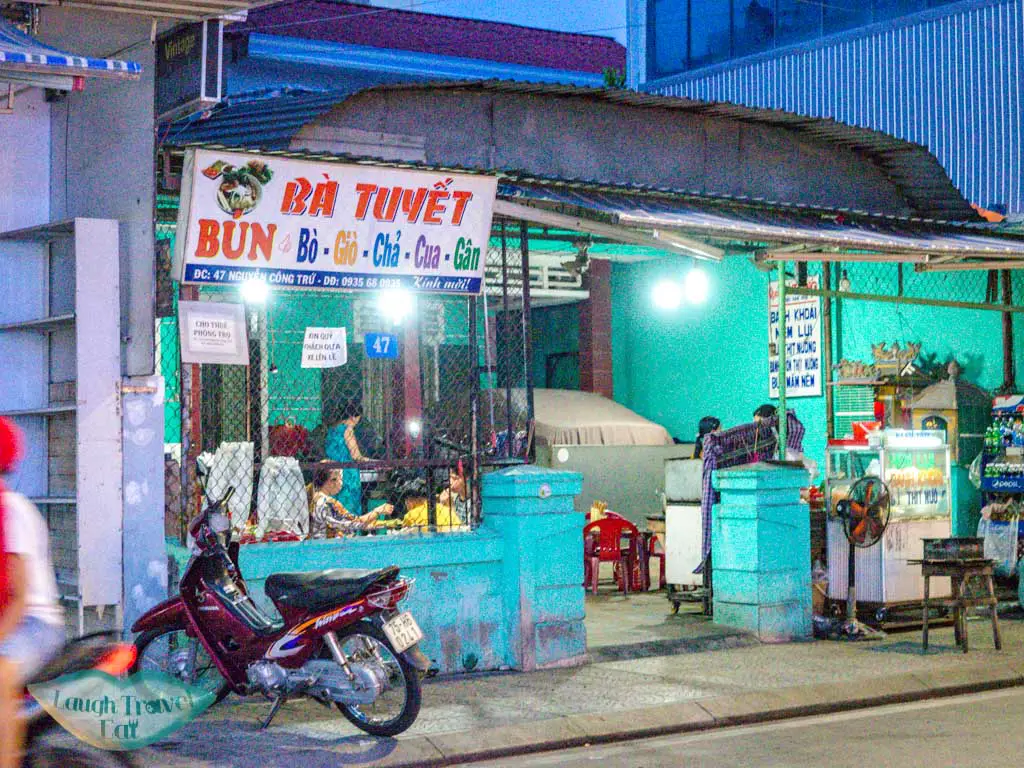 A very cheap local food stall about 5 minutes walk from Walking Street. It's a joint frequent by local and a little intimidating to visit at first since there's no visible menu. But as soon as I sat down and is clearly not a local, an English menu was given to me.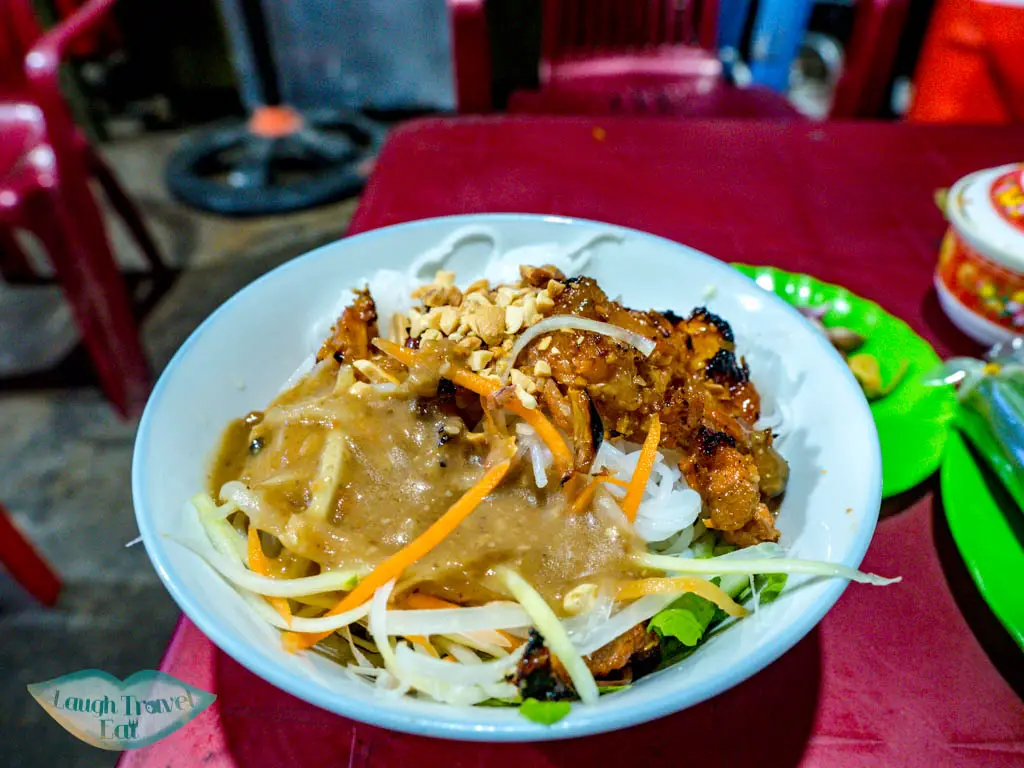 While the price is not listed, I had the Bun Thit Nuong (rice noodles with grilled pork ribs and peanut sauce) and was only 20k and delicious. However, it is an outdoor stall with tiny chair seatings, so if you are boiling this might not be the best choice.
Address:  47 Nguyễn Công Trứ, Phú Hội, Thành phố Huế, Thừa Thiên Huế, 越南
Opening times: 14:00 – 22:00

Hanh restaurant
A local restaurant that's quite popular, the food at Hanh is typical of Vietnamese cuisine and priced fairly. While the level of hygiene isn't the best, it is pretty much like this in all local restaurants. We ordered rice pancakes and pho and both are pretty decent. We ended up paying 109,000 dong for that plus drinks.
Address: 11 Phó Đức Chính, Phú Hội, tp. Huế, Phú Hội, Vietnam
Opening times: daily 10:00 – 21:00
Nina Café
One of the top-rated restaurants in Hue, Nina Café is undeniably the nicest restaurants we've been to in Hue. However, this is reflected in the price. With a jungle like décor, the atmosphere and setting are warm and cosy.
There is a fair amount of choices too, and we ordered a caramelize chicken pot which was average; a banana flower salad, that was also okay; the star of the day was the pork skewer with rice paper. We paid 205,000 dong for 3 dishes and a big bottle of water.
Address: 16/34 Nguyễn Tri Phương, Phú Nhuận, Hue City, Thừa Thiên–Huế 530000, Vietnam
Opening times: daily 8:30 – 22:30
Nha Hang Pho Sai Gon
A pho specialty place right next to Alba Hotel, this is another local spot that has become popular with tourists. The price to quality standard is decent, but do refuse the wet towels they give you on sitting down because they charge.
We paid 114,000 dong for 2 pho and 2 cola.
Address: 10 Nguyễn Văn Cừ, Vĩnh Ninh, tp. Huế, Thừa Thiên Huế, Vietnam
Opening times: daily 6:00 – 23:00
Local noodle places
If you want some real local food, then have the Hue beef noodles at one of the many stalls on Nguyen Tri Phurong Street. It should not cost you more than 35,000 dong. Although they are supposed to be spicy, I didn't find mine hot at all. We were seated right next to the street and it was great to people watch and save some money on cheap food.
Where to stay in Hue
The one thing I must say about hotels (or at least, the two I stayed at) is that the staffs aren't particularly helpful and the tours they recommended are severely overpriced in Hue. One of my top 5 mistakes in Vietnam is booking a tour with my hotel that ends up costing twice what it should be. Instead, you should book directly with a local tour. I recommend TNT travel, which has a store near the stop and go restaurant.
Bon Ami Hotel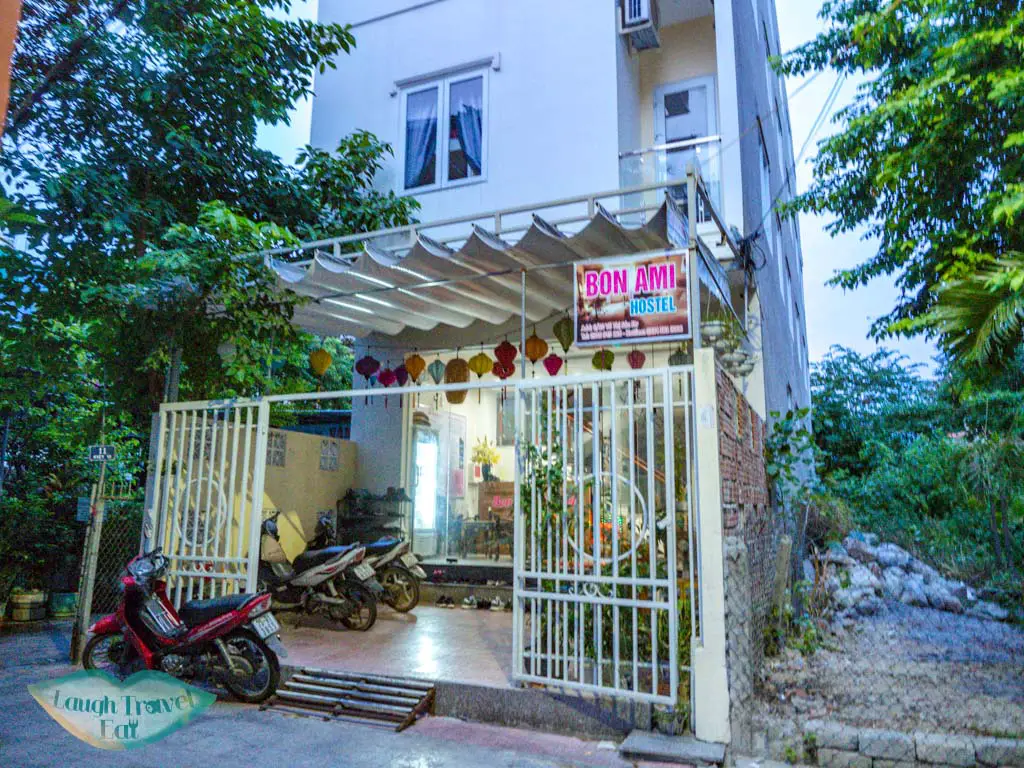 I can 100% recommend Bon Ami Hostel – it's cheap, clean, and the owner Trung is just the nicest ever! I was meant to only stay 1 night in Hue, but I love their hospitality so much that I went back for another.
They have both dorms and private room. Since a private room is only 11 USD, I 'splurged' and got my own room. It has a private bathroom your basic amenities, my only complain is that they use blanket and not sheets.
Sunny A hotel
A good budget choice, Sunny A hotel* is a popular one for many western tourists. It is ideally located from both the downtown area, the Truong Tien bridge and good restaurants. However, I did find ants in the room and the sheets are so thin that it's almost like nothing is covering you.
Alba Hotel
Although it is located in a local area further southwest of the city, Alba hotel* is modern, clean and spacious. Our room was lovely and we also got bathrobes as well, and it's delightful to have a proper duvet. The only downside of this hotel is the noise from the other guests and outside.
If you are up for a splurge and something closer to town, Alba Spa Hotel* is somewhere that I've seen recommended across the board.
*denote affiliate links