Calanques National Park is a short bus ride from Marseille in the South of France and one of the most beautiful national parks I have ever seen. There is some kind of magic that exist along this stretch of land seen nowhere else. With the incredibly blue water and limestone cliffs, this was by far the best part of our South of France stretch of the journey (well, Nice is pretty nice, too). The Calanques National Park should definitely be somewhere on your bucket list, and words alone cannot describe the magic I felt in the park, so I will just try and prep you for your visit.
Before you go
Now depending on what your plan is, I thoroughly recommend:
1)  Wearing at least trainers if not

walking boots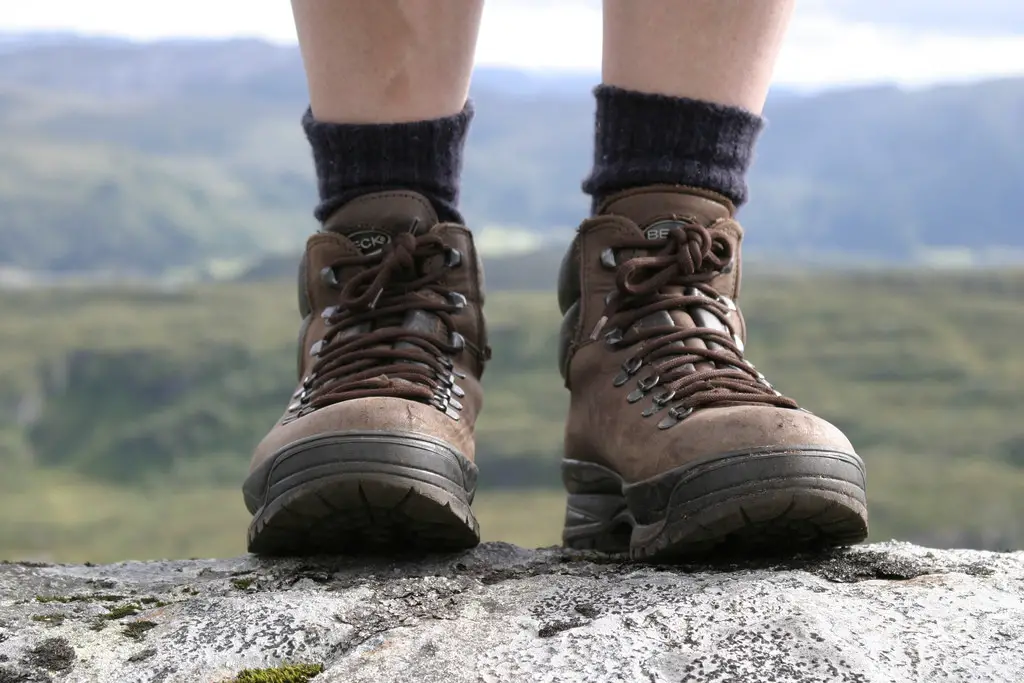 The landscape is quite rugged with plenty of ups and downs as well as loose rocks. I am not saying you can't do it in flip flops, but if you plan to hike to more than one Calanques, then you should wear sturdier footwear. If you are going during the summer month I highly recommend a hat as well because shades are not that abundant.
2) Bring plenty of

water

as well as some snacks and even

lunch

.
Because trust me, once you arrive you do not want to leave.
3) A pair of

wet shoes
If rocky terrains aren't your thing, then a pair of wet shoes would definitely save you from the prickly pebbly ground.
4) A

towel

and change of clothes
They might also be a good idea as the water is rather saline.
5)

First Aid Kit
If you are planning on doing a proper hike like we did, then I would also suggest a first aid kit just in case something happens. It doesn't have to be a proper deal, but band-aids, antiseptic cream, and wipes are a definite must.
6) GPS or having a GPS on your phone
I highly suggest downloading OsmAnd offline maps on your phone, if you have GPS then bring it but i might be a bit of an overkill.
The geology

A carbonate rock dominated coastline, the word calanque originated from the word inlet and is use to describe a steep-walled inlet in karstic (carbonate rocks being actively dissolution) region. Usually consists of limestone and dolomite, calanques form either by fluvial erosion or collapse of caves. In the case of Massif des Calanques, their formation is related to the Mediterranean being cut off from the Atlantic Ocean and the event is known as Messinian Salinity Crisis that occurred almost 6 million years ago. Fluvial incisions by rivers cut deep canyons and dissolution forms caves which collapse. Eventually, during the Flandrian in Holocene (12, 000 years ago), the sea level rose and flooded the area, resulting in the landscape we see today.
Getting there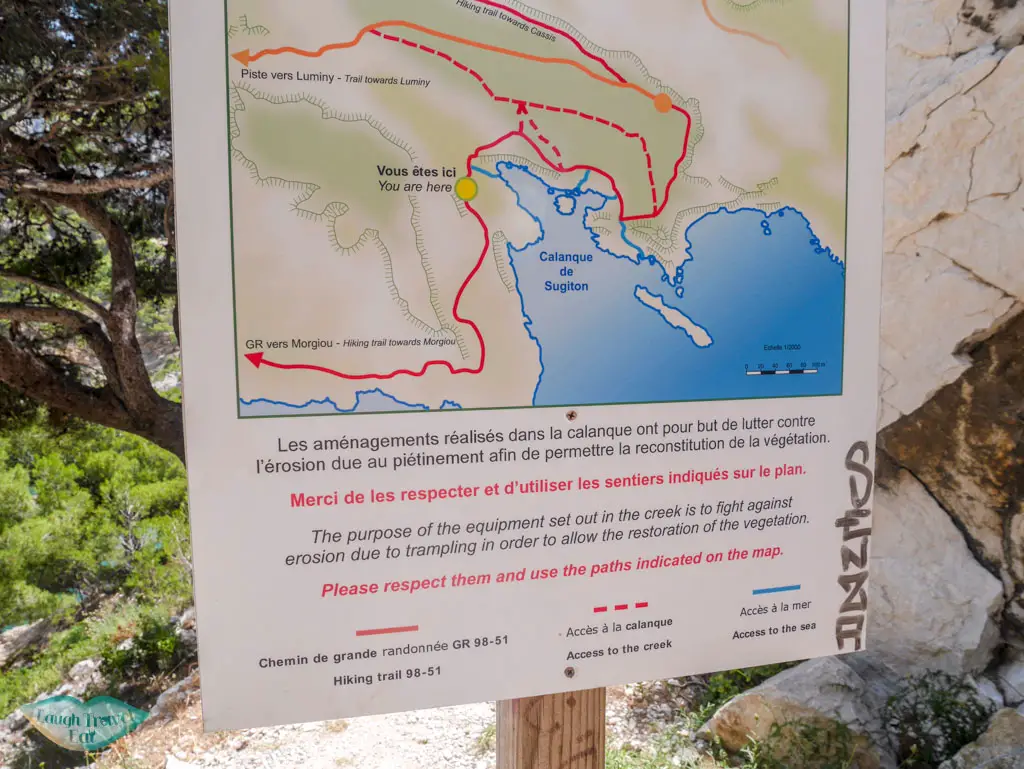 You can easily reach the national park from Marseille by bus 21. The last stop is Luminy, where a university is situated. For more information about where to get on etc, their website has a route planner.
Calanque de Sugiton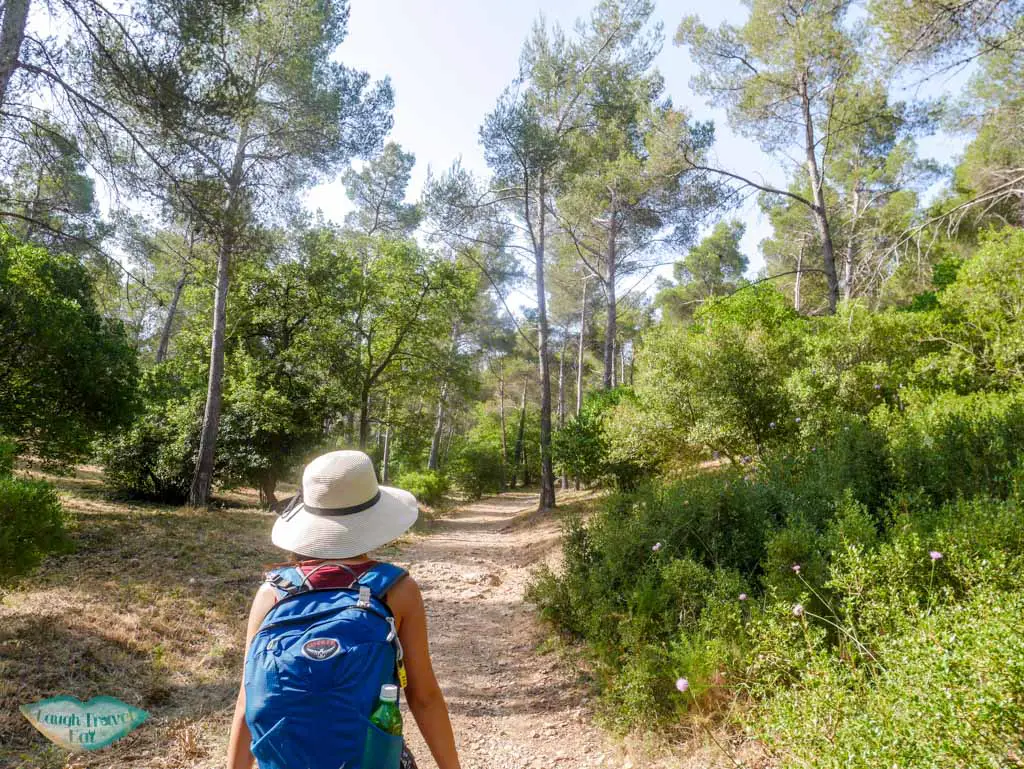 There are many hiking paths and we chose to enter the park through the university. However, the main entrance is near the car park with a sign out front. But whichever route you take, you will find yourself at Falais des Toits: a meandering route downhill to the bay itself.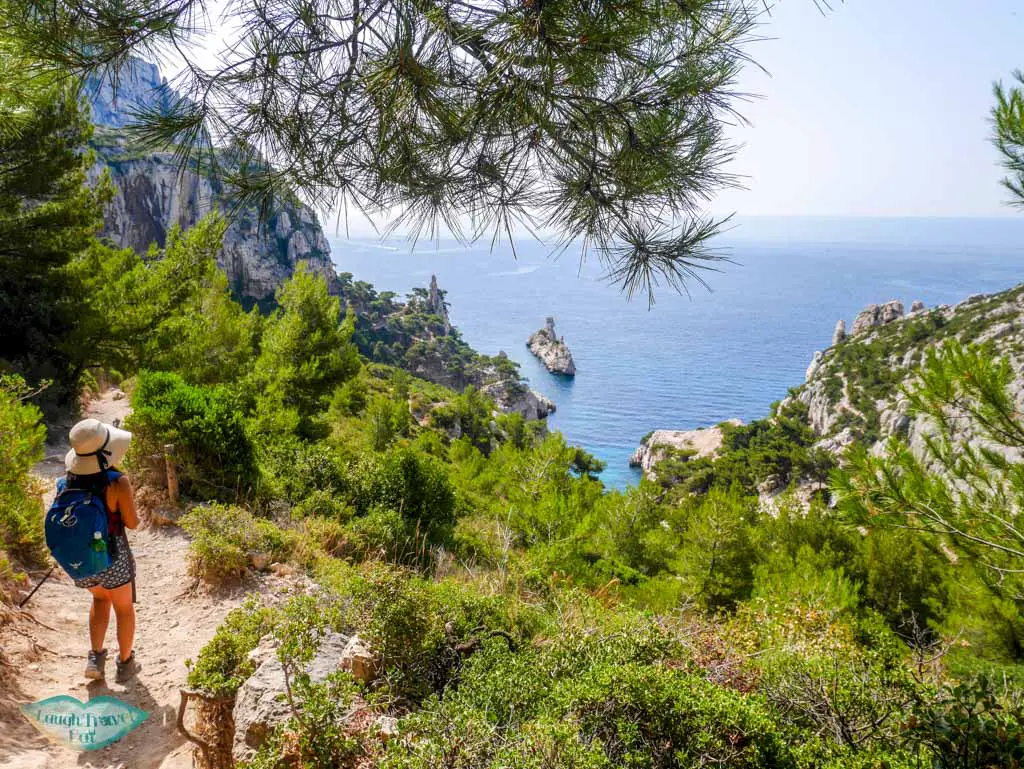 The path, though marked, lacks maintenance and the wooden pillar and wire fence has slumped at several points. So it's best to use your common sense as to where would be best to descend down. For those with less appropriate footwear, there is a wider road that you can take down instead of the steep stairs.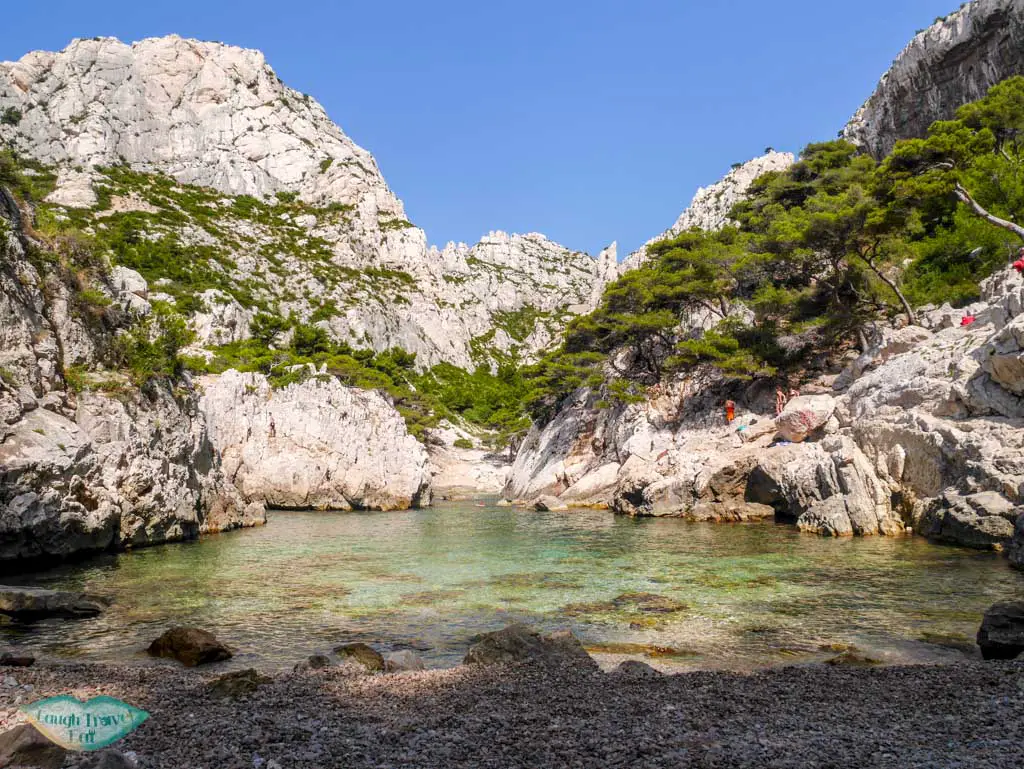 The most popular of Calanque, Sugiton has two pebble beaches which are both always crowded with people. There are plenty of limestone cliffs that you can jump off or settle yourself on, and that's certainly what a lot of people do. Water deepens significantly away from the beaches, so there's no need to be afraid of hitting the ground. The little island in the middle of the bay is also a favourite place for people to jump off.
If you are up for exploring, you can make swim out to the east where the La Torpilleur Island is and also a wider bay where many boats stops by for a swim.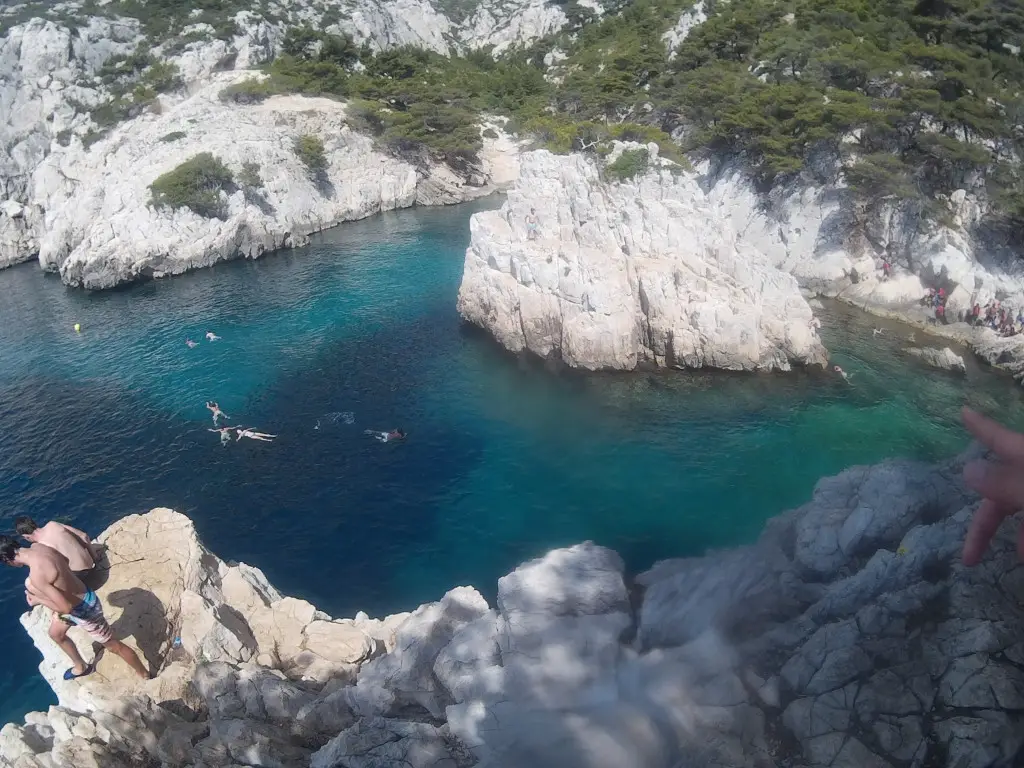 We spend a good 3 hours just swimming and chilling on the beach until it got too crowded for us. Then we made our way to Calanque de Morgiou.
Calanque de Morgion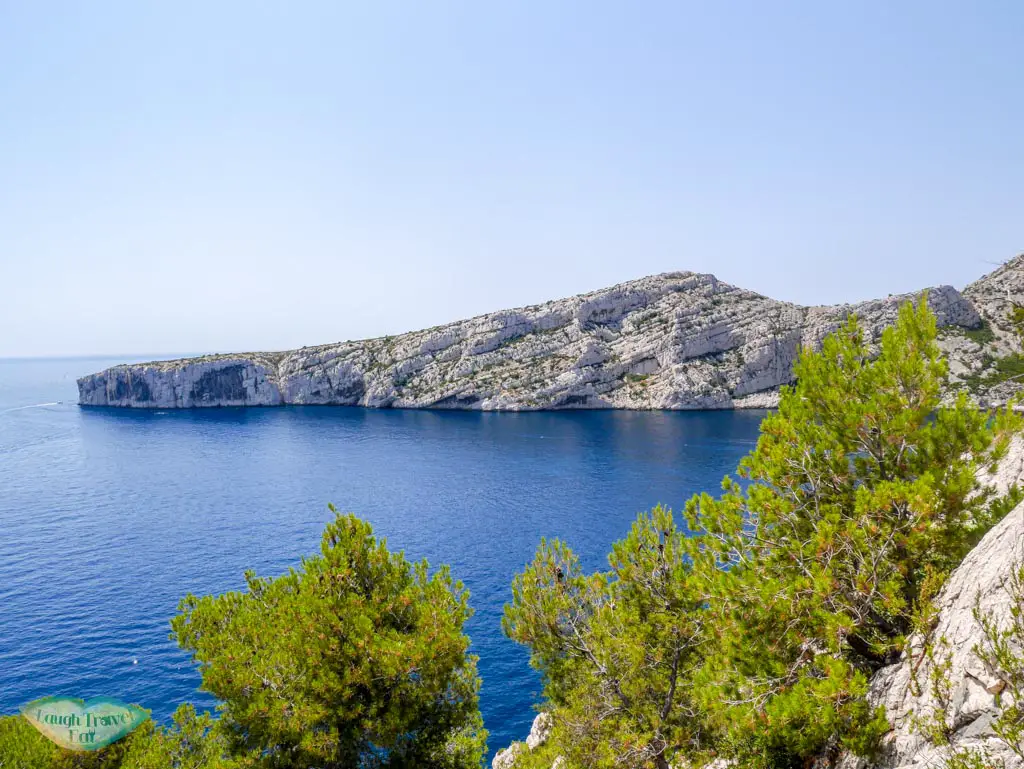 There is a hiking trail along the coast of Cap Sugiton from Calanque de Sugiton to Calanque de Morgion. But be warned – the path is extremely basic and not for the novice hiker or those without appropriate footwear. It is also sparsely marked; therefore it would be good if you have either a GPS with you or on your phone. Not a lot of people venture on this path, so you are hard-pressed to find any help should you need them.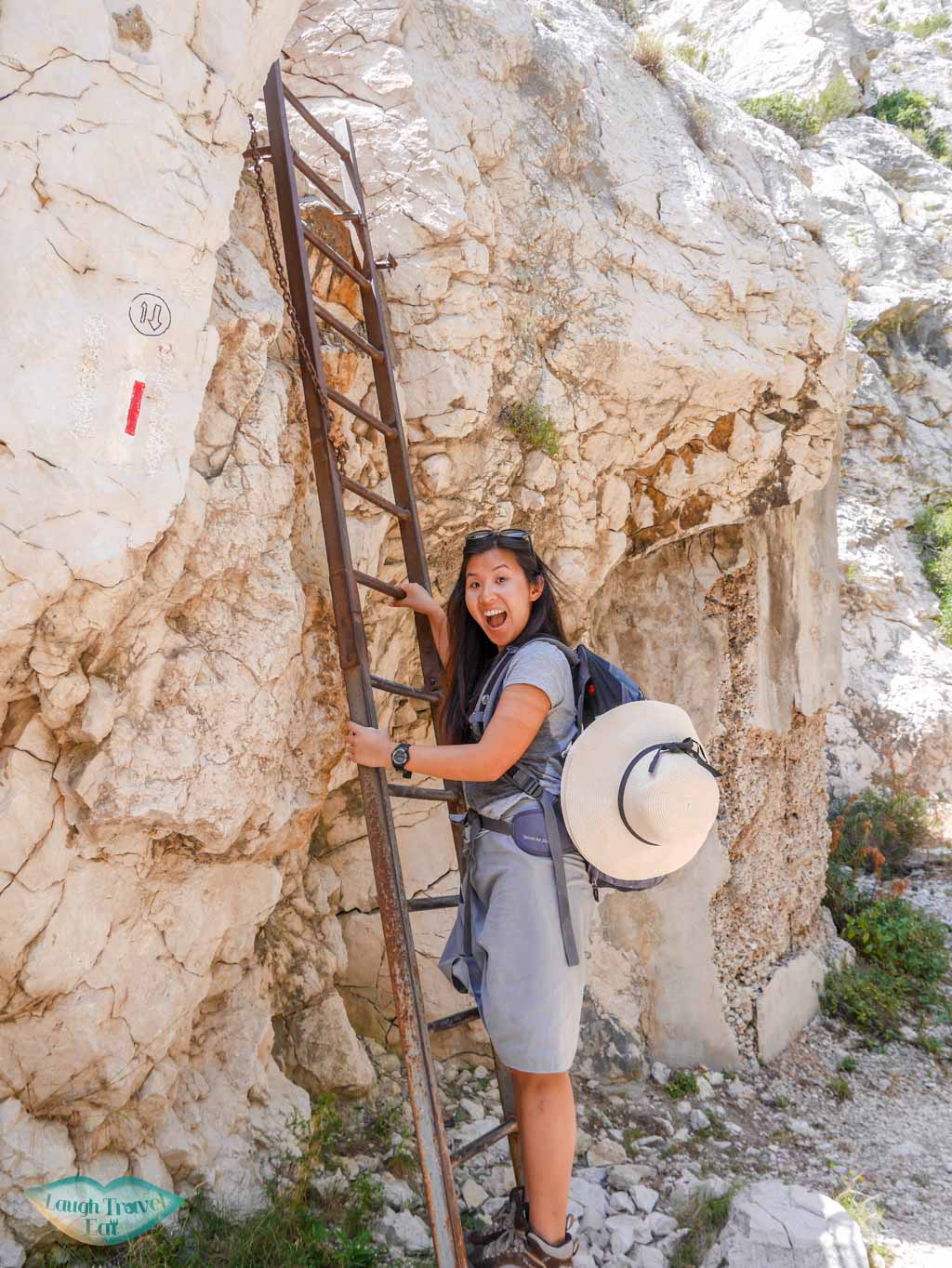 Our path had taken us up a metal ladder, clambering up with the help of chains and even on our butt sliding down a limestone slope. It's definitely not for anyone who is faint hearted. You need to search for the red marks to make sure you are on the right path. They can be a bit spread out, hence the GPS is necessary in my opinion.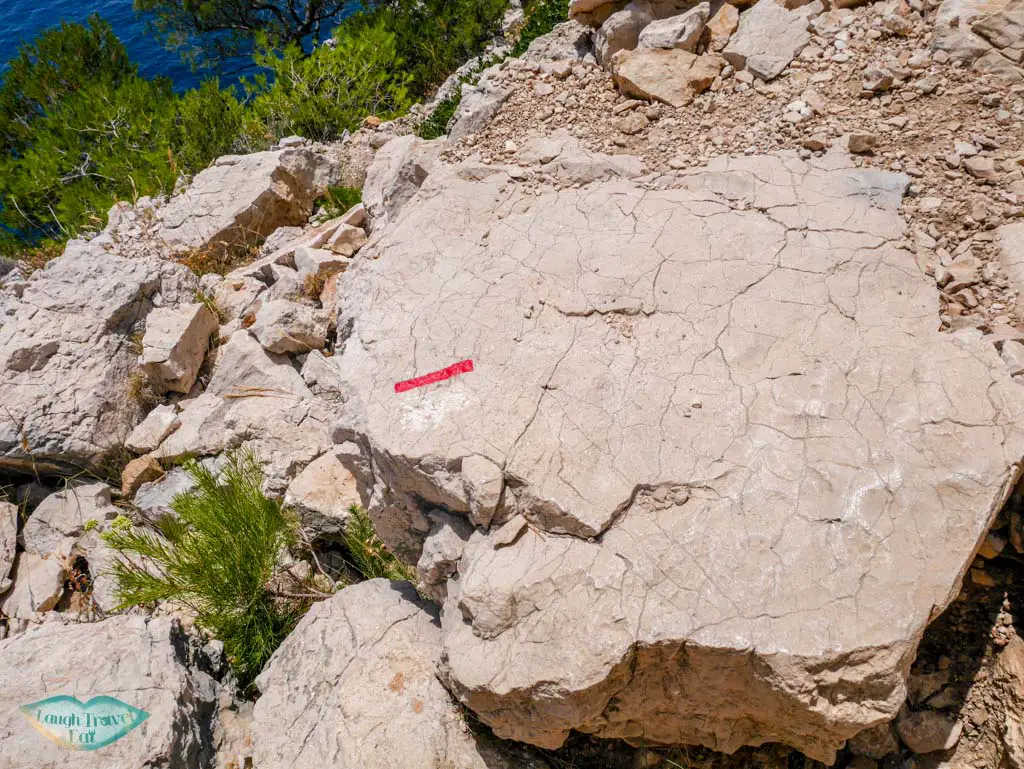 However, the view along the way is spectacular!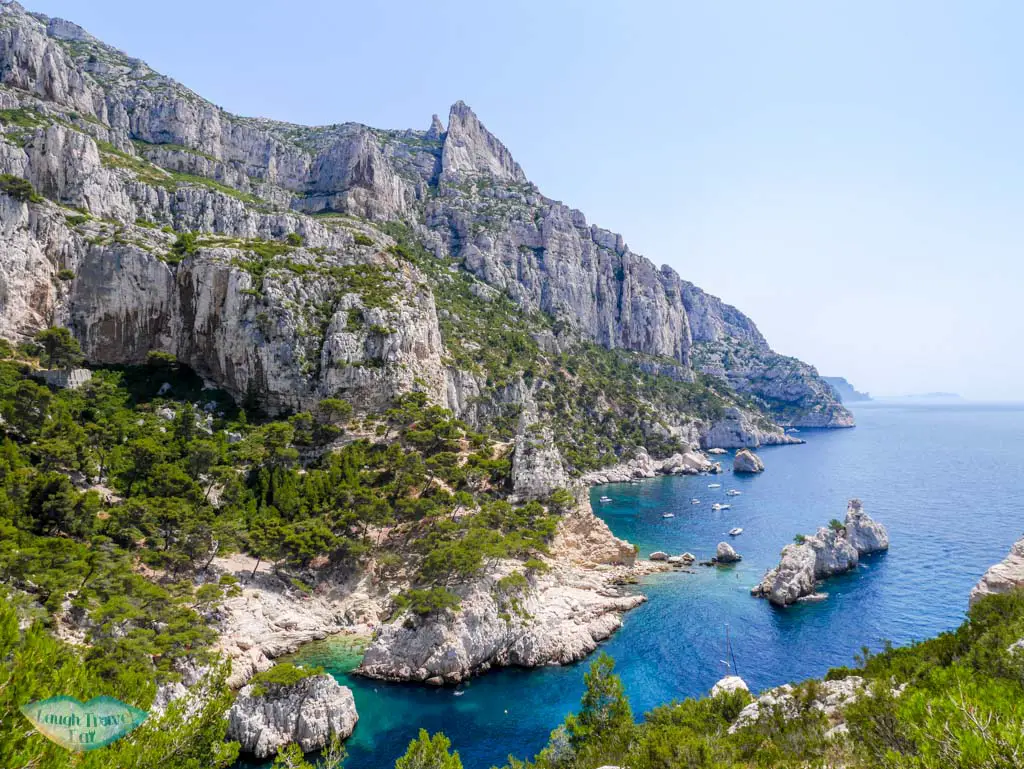 We were able to get some good vantage point on Calanque de Sugiton, as well as having the opportunity to scout out good spots to swim along Calanue de Morgion that you wouldn't be able to see from the entrance bay. The hike took us about 1 hours but it seemed way longer than that because the heat was almost unbearable in July.
The water is equally stunning, though it lacks the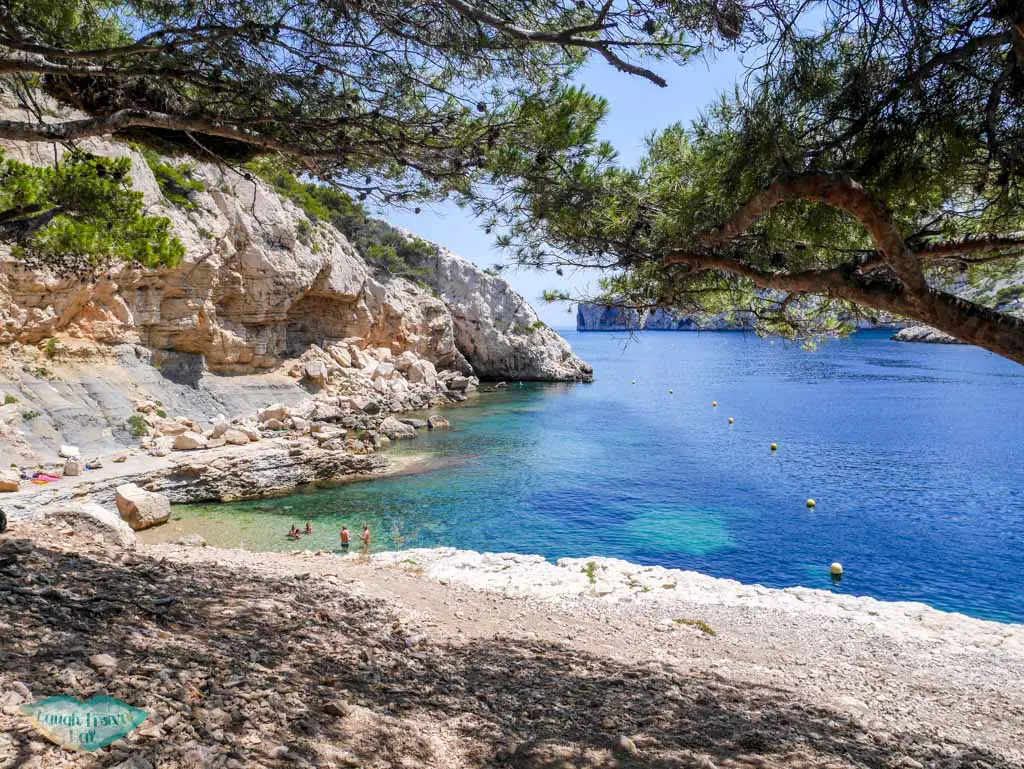 stunning vista of a narrower inlet. But that also means less people. Beware of naturists though, as when we arrived there was an old couple sunbathing nude and we had to quickly avert our eyes.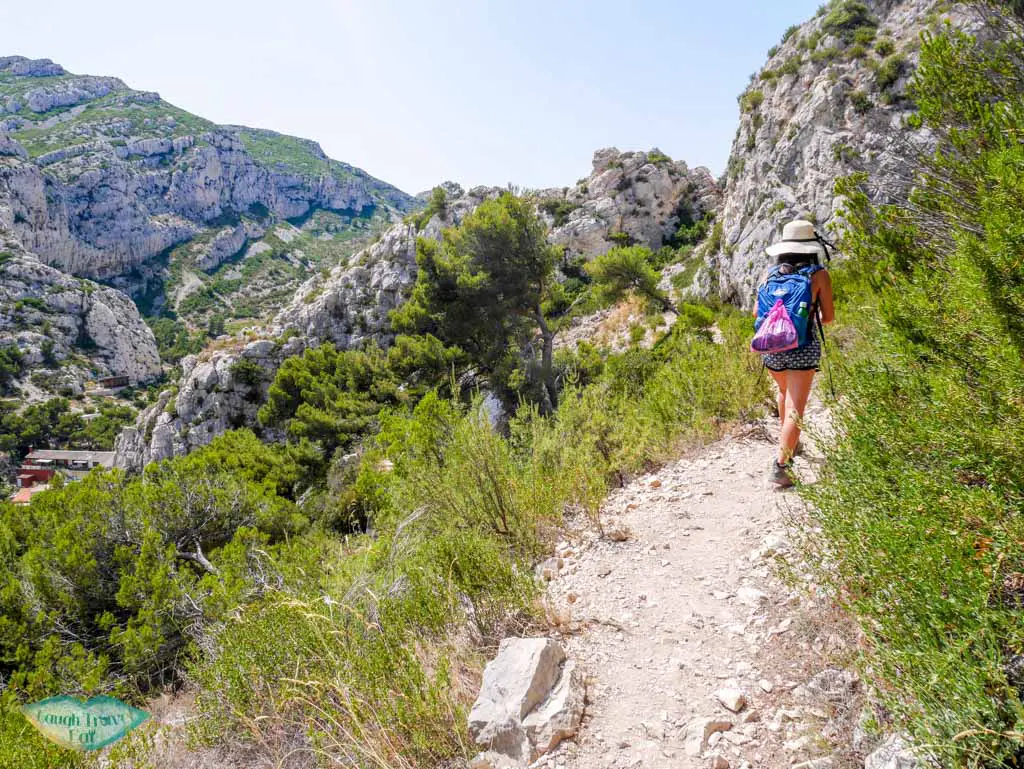 There is a road by Calanque de Morgiou, however, we hiked along the path back to Luminy. We spent a good 7 hours in the national park and spent about 3 hours hiking. This was by far my favourite day in Marseille.