Visiting Mont St Michel: getting around, photospots, and where to stay
Visiting Mont St Michel in Normandy, France is almost like a dream. The full name of it is Mont Saint Michel, an island linked by a bridge on the coastline an hour north of Rennes that has been a pilgrimage point since the Abbey was built in the 9th century. It's known for its fairy-tale like look with the pointy abbey, medieval architecture, and isolated location.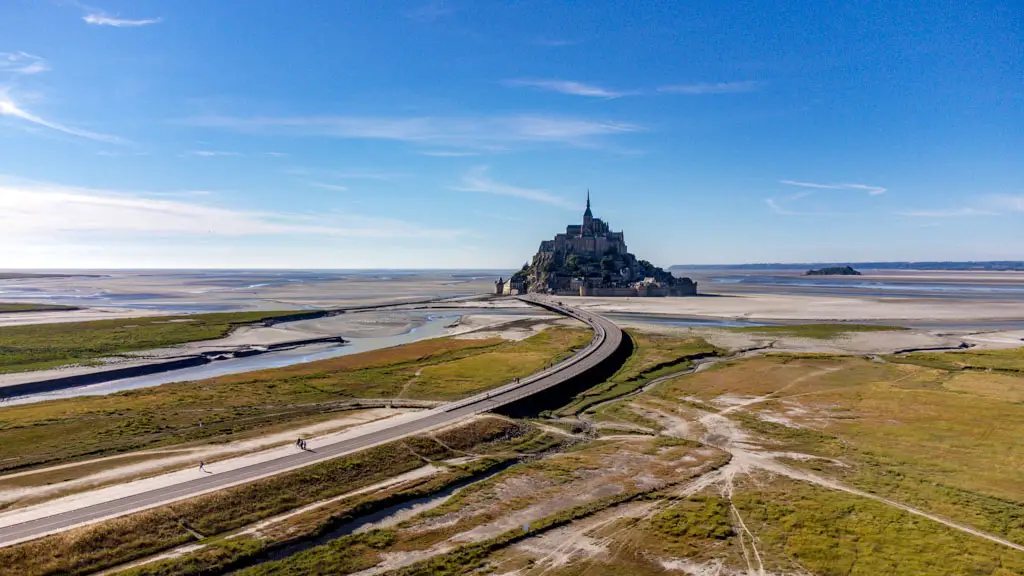 There is a high chance that you've seen a photo of it on Instagram, Facebook, travel magazine, or just a stock photo. I have to admit, seeing it in real life was just as magical and surreal. It's hard to believe a place like this exists and harder still to believe that it's quite affordable to visit!
Given that most people only ever post aesthetic shots or photo locations, here's the full load down of how to visit Mont St Michel:
Essential Information on Visiting Mont St Michel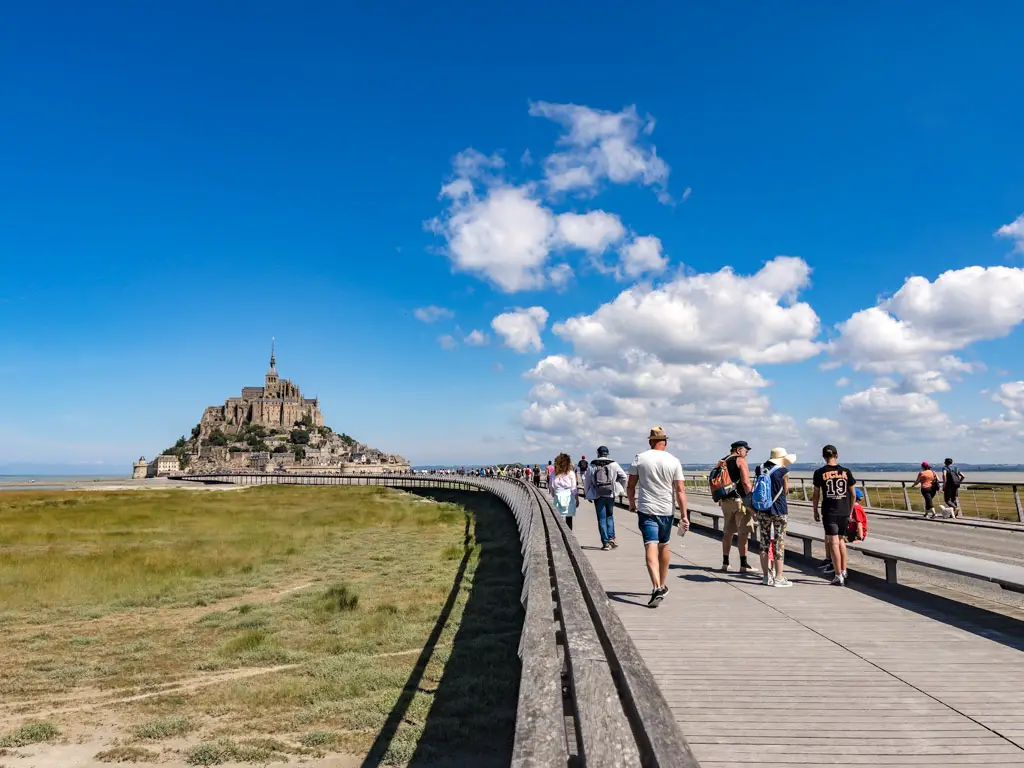 Is Mont St Michel worth visiting? Mont St Michel is a UNESCO Heritage Site since 1979. It draws millions of visitors per year but despite being so busy, it remains a fairy-tale sight to behold.
It lies about 1 km (0.6 miles) from the mainland and is cut off during high tide, and here are some geology, history, and essential information for visiting Mont Saint Michel.
Geology of Mont St Michel
Mont St Michel is built on a leucogranite outcrop that has resisted sea erosion. There are other islands of the same nature in the area. Leucogranite is just granite that lacks dark minerals.
The base rock of Mont St Michel was formed as an igneous intrusion deep underground in the Cambrian period over 500 million years ago.
History of Mont St Michel
Since 1874, Mont St Michel has been a national monument and was inscribed on the UNESCO World Cultural Heritage list in 1979.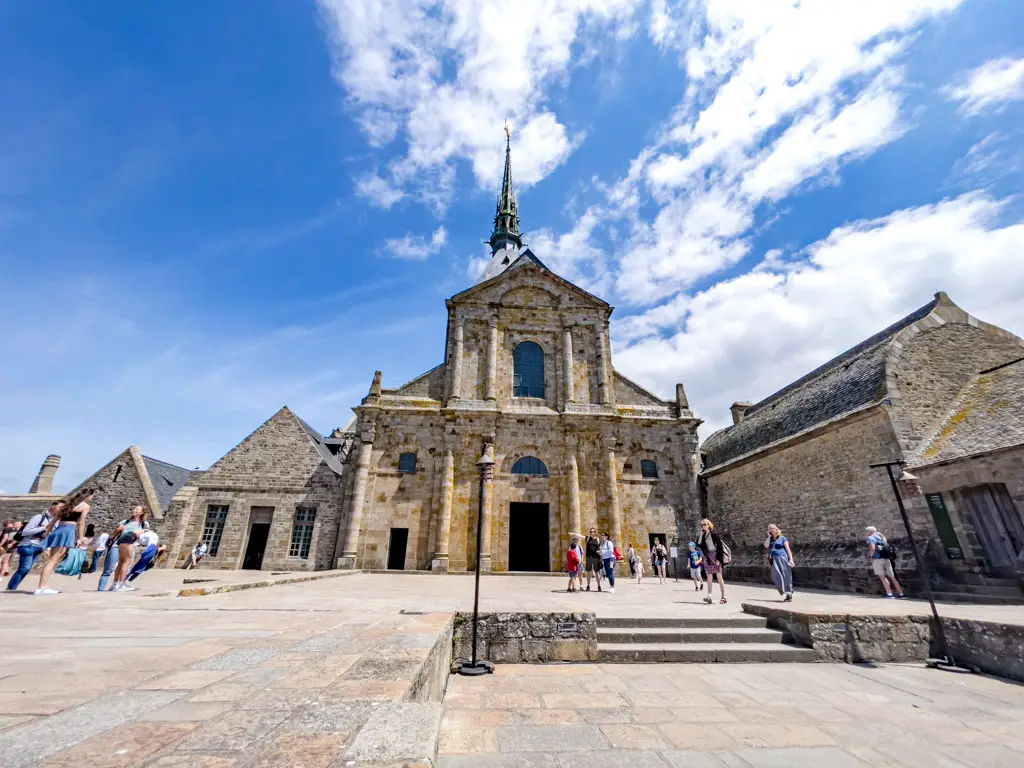 The religious history of Mont St Michel can be traced back to the 8th century when it was still called Mont Tombe. Allegedly, the bishop of Avranches saw a vision of Archangel Michael in the 8th century instructing him to build a church there.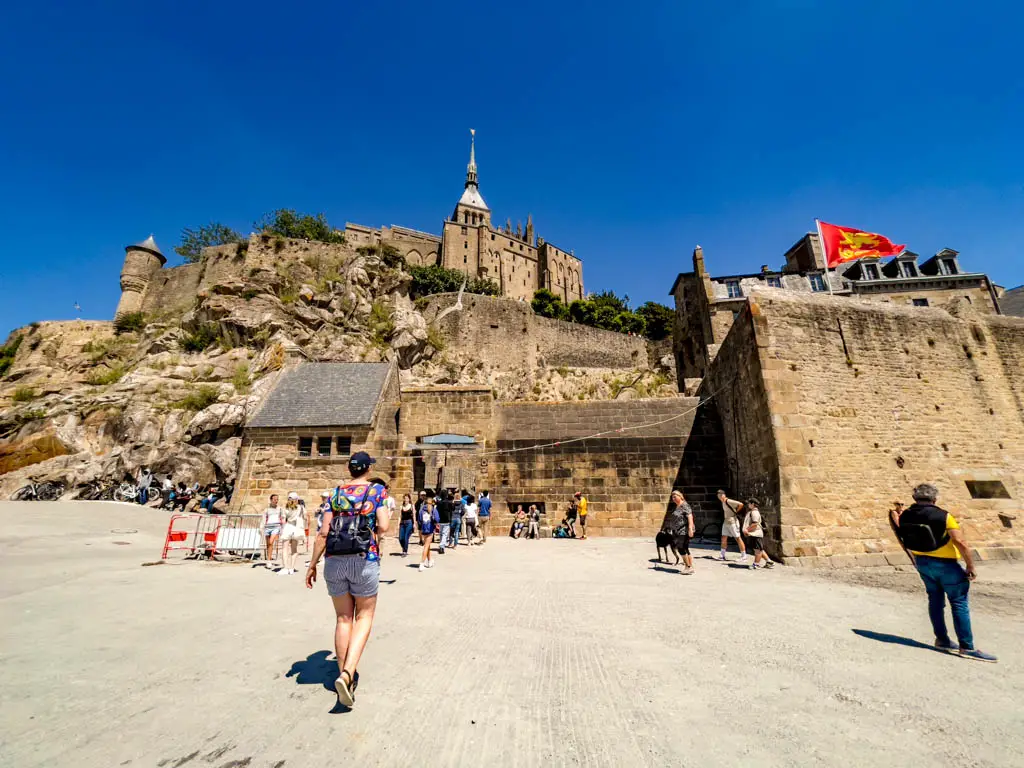 It became a strategically significant point when it became part of Normandy in the 10th century and resisted sieges by the English during the Hundred Years' War in the early 15th century.
The abbey was turned into a prison in the 19th century when pilgrimage waned. Fortunately, it was declared a historic monument in 1874 and underwent restoration. It was occupied by the Germans during WWII who used it as a lookout. It was stormed by French troops on 1st August 1944 and liberated.
The architecture of Mont Saint Michel
The abbey which is the focal point of the island and what drew the village to grow is an architectural feat when it was completed in the 13th century.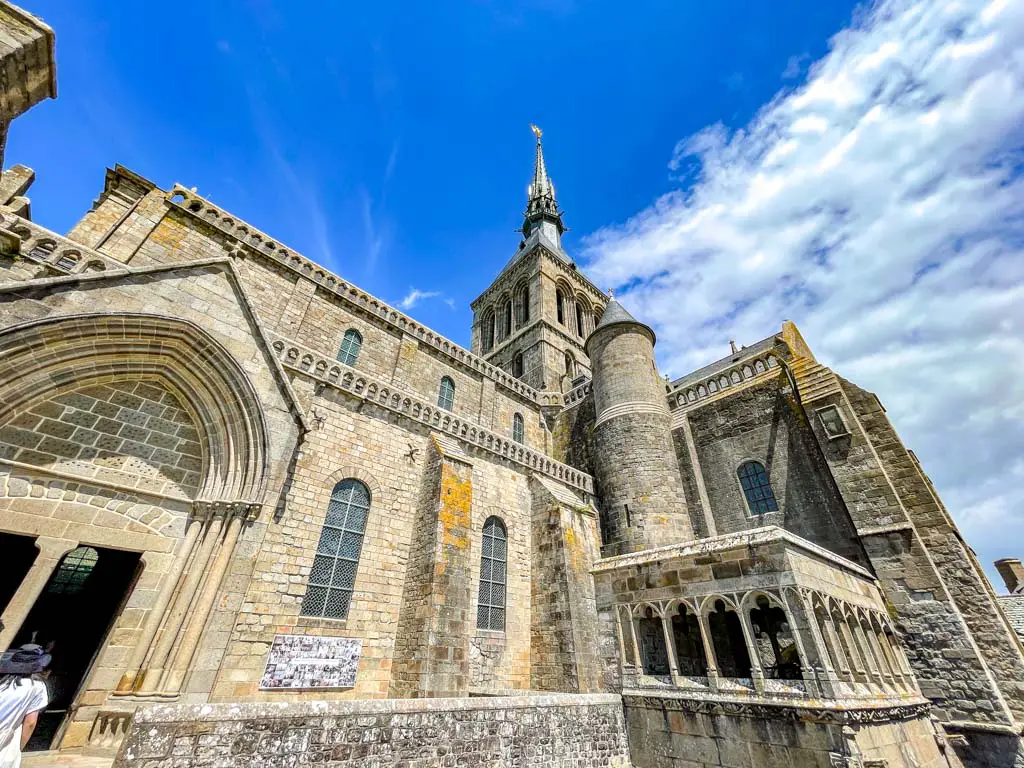 In order to build a 3-storey building on a granite batholith, a balancing system using the crypts below as a platform supported by buttress is done. What's more, is that it's designed for monastery life of praying and working in the abbey.
When is Mont St Michel Open?
You can visit the island any time, although shuttles only run during day time (more information in the transport section). The abbey is open from 9:30 am to 6 pm from September to April and 9 am to 7 pm from May to August.
Do note that the last admission is one hour before closing time!
How much time do you need at Mont Saint Michel?
The island isn't very big, and you can likely explore it under 5 hours. I recommend arriving early if possible with a pre-booked ticket to the Abbey, then roaming the street before heading out for a late lunch, as restaurants on the island are expensive.
Can you go Inside Mont-Saint-Michel?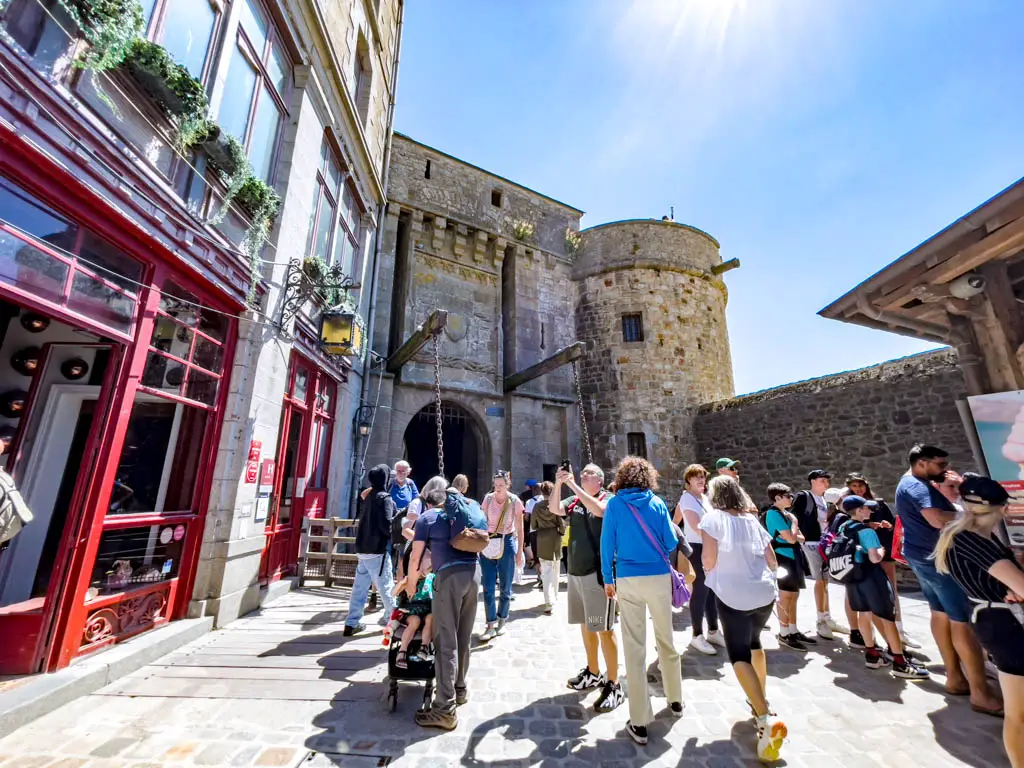 Yes! Mont Saint Michel is open to visitors and you can also stay inside. There are less than 50 inhabitants including the monks and nuns who lived in the abbey, but expect to see many day trippers throughout the day!
Do you have to pay to visit Mont St Michel?
How much does it cost to get into Mont St Michel? It's free to enter. If you want to go into the abbey at the top, you do have to pay. However, it's really worth it to visit and learn about the history and the structure that has made Mont Saint Michel what it is today.
Is Mont St Michel open every day?
The island is open year-round, but the abbey complex closes on 25th December, 1st January, and 1st of May,
What is the best time to visit Mont Saint Michel?
The best time of the day to visit Mont Saint Michel is to either arrive early or towards the end of the afternoon to avoid the crowd.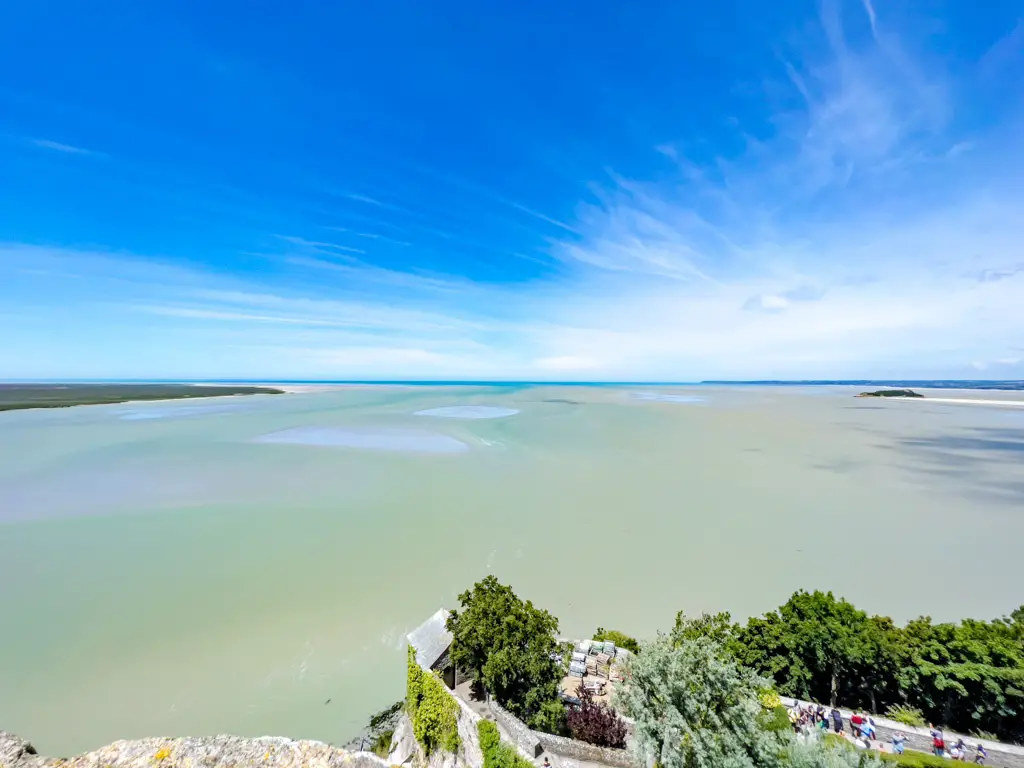 It also depends if you want to catch the island during low tide or high tide, although do note that the bridge can get flooded if it's a particularly high high tide.
In terms of the time of the year, it's a beautiful sight to behold, no matter the weather or temperature. But it's probably best during shoulder season April – June, and September to October.
What is the best way to visit Mont St Michel?
The best way to visit Mont St Michel is to park or get to the visitor center and walk along the bridge to admire it. You can do a guided tour to learn more about the history but for those who are keen on photography, Of course, if time or accessibility is an issue, the shuttle is the best option. More information on the transport section below.
Can you walk to Mont St Michel?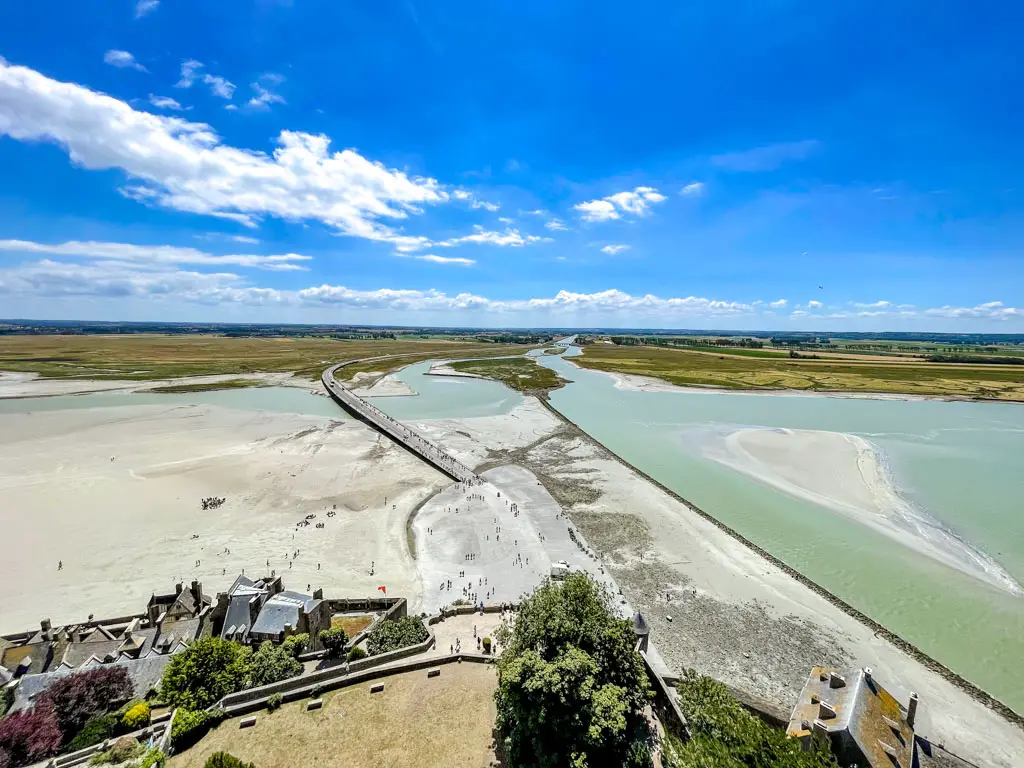 Yes, you can walk to Mont St Michel but only along the bridge. You can technically walk across the marshes during low-tide, but only up to the part that crosses the bridge and not on marshes all the way to the island. It is dangerous which is why the bridge is built.
Can you drive to Mont St Michel?
Visitors have to park at the visitor's center at the start of the bridge and walk or take the shuttle over. Only residents or those with permits can drive up to Mont St Michel.
The alternative is renting a bicycle and cycling to the start.
Mont Saint Michel Tides
One of the biggest changes to Mont Saint Michel's landscape is the level of tide. Mont Saint Michel high tide and Mont Saint Michel low tide are totally different. But more importantly, you need to check the tide schedule in order to not be stranded on the island. 
How to get to Mont St Michel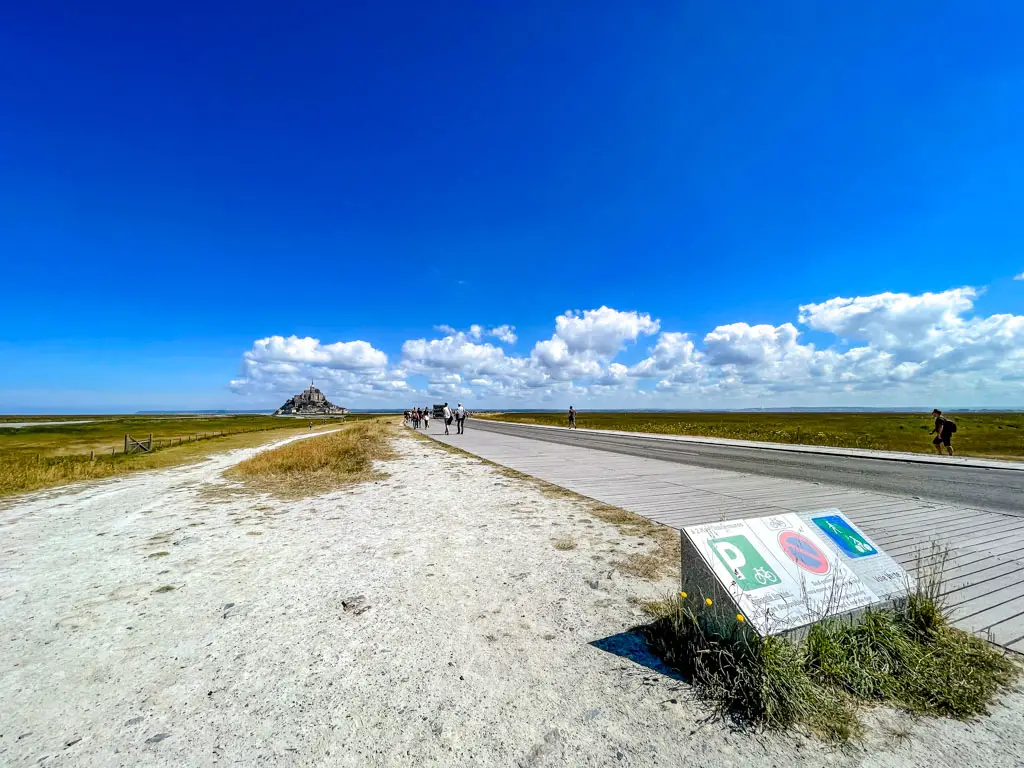 There are many ways to get to Mont St Michel and it can be confusing. Here, I'll be breaking down the best ways to get to this fairy-tale island. Here are some quick facts:
The closest train station to Mont St Michel is Portonson Mont-St-Michel, which has a direct shuttle
The nearest big city and airport is Rennes, which is one hour by train to Portonson
You cannot get a ferry to Mont St Michel – the closest ferry service to Plymouth is at Saint Malo. And there's no direct bus or train to Pontorson. 
Paris to Mont St Michel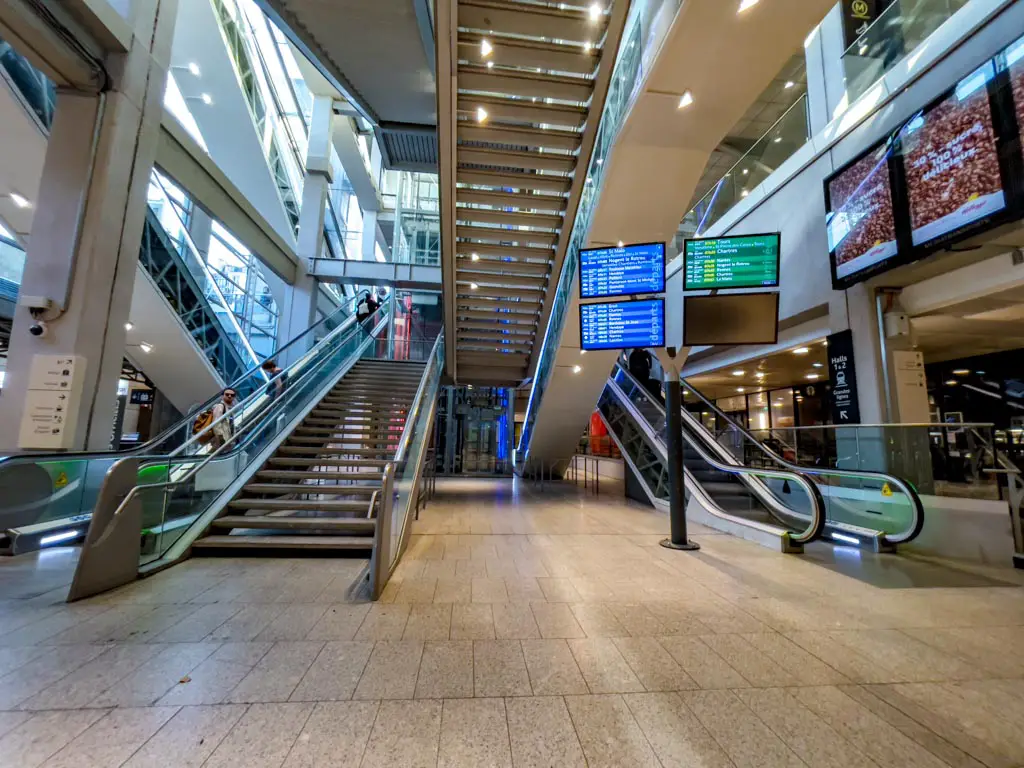 It is possible to do this as a day trip from Paris if you wake up early to catch the first train and then go back on the last train:
7:32 AM – 11:21 AM Paris Montparnasse 1 Et 2 to Pontorson Mont St Michel
6:04 PM – 10:08 PM Pontorson Mont St Michel to Paris Montparnasse 1 Et 2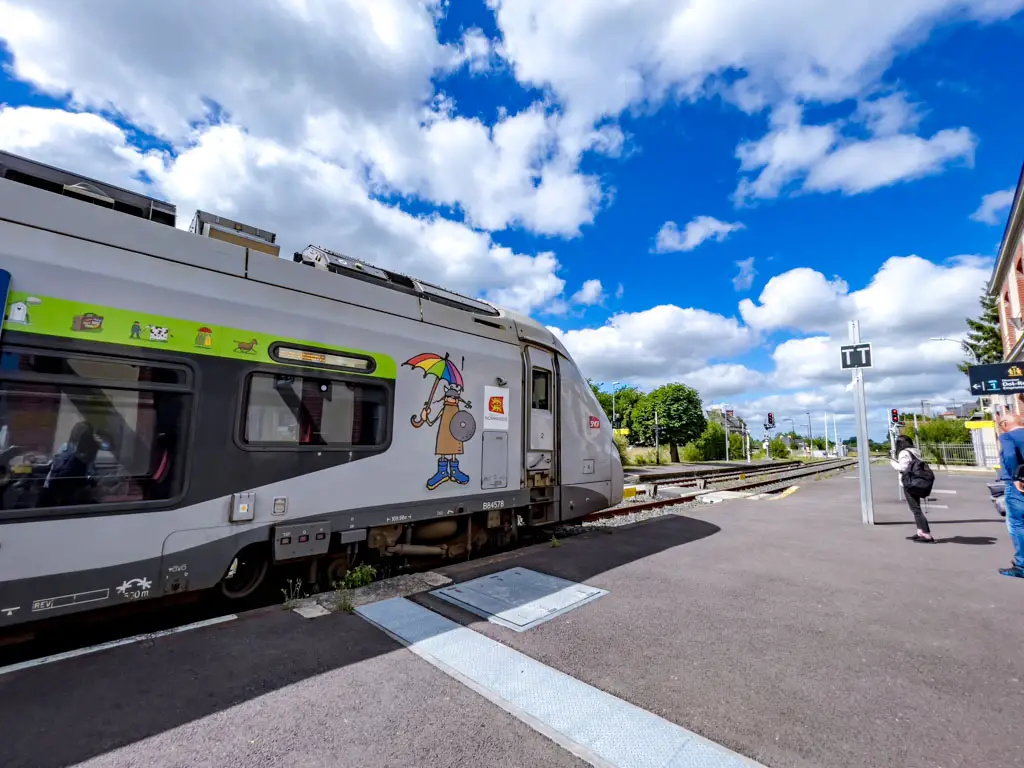 A single ticket should cost 24 euros (12 euros for under 25), which means it's a 48 euros day trip return. This gives you just over 5 hours at Mont St Michel. This is more doable during the summer months when daylight hours is longer. Also, it's important to check the tide to make sure you can cross.
Alternatively, you can take a day trip from Paris without having to worry about the logistic. You also have the plus side of being guided by someone who knows the history.
Rennes to Mont Saint Michel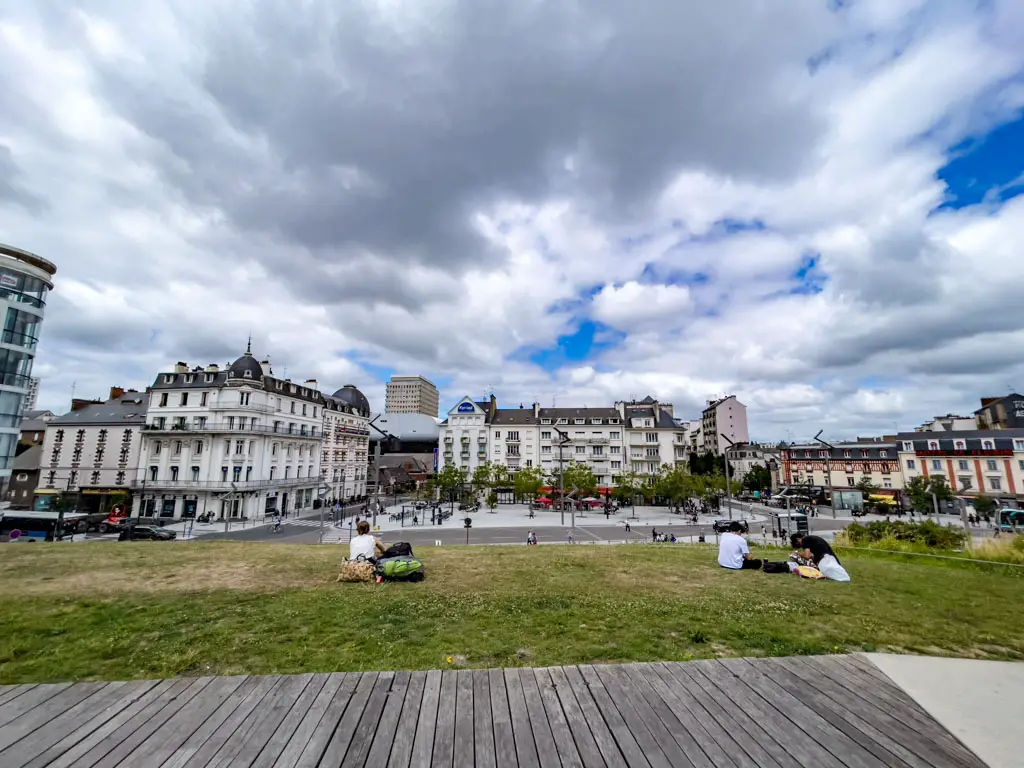 Rennes to Mont Saint Michel by train
From Rennes to Mont St Michel is only a 50 minutes train ride, but be aware that there are only a few trains per day. If you missed it, the next one is a long time away. You can check on the SNCF apps or Omio, and you can book tickets through both apps.
Here are the train times: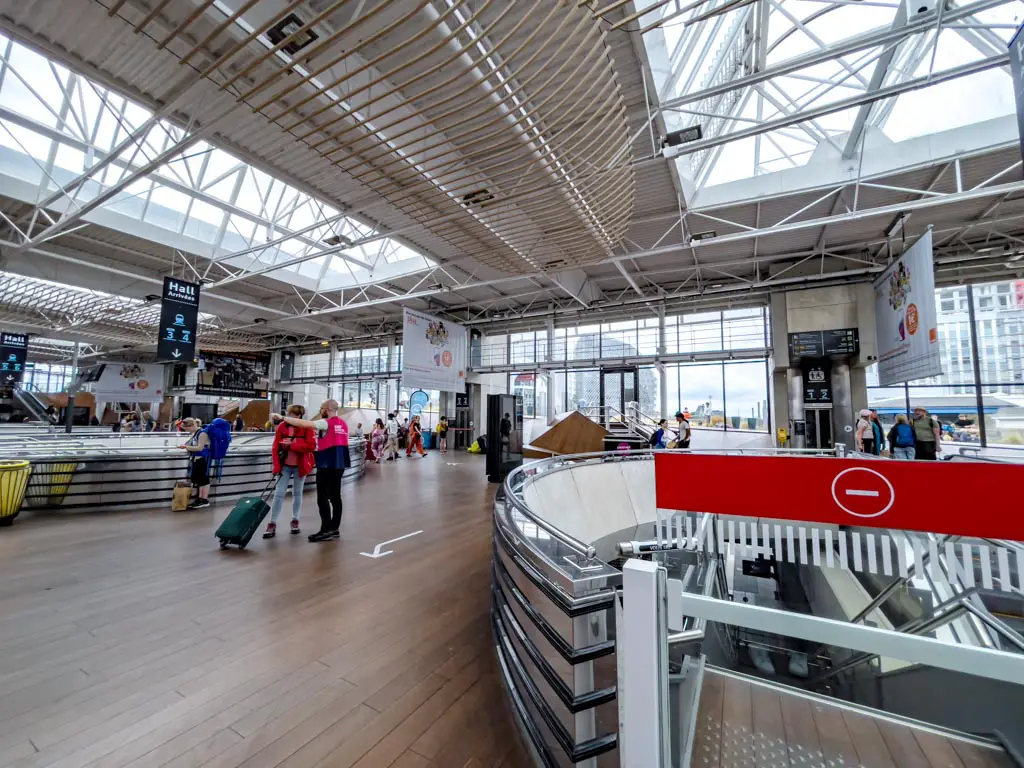 7:30 am – 11:21 am slow train
11:26 am – 12:14 pm 
There are a few other ones later in the noon, but you want to give yourself at least a couple of hours before you leave. The downside is that there is no late afternoon train back from Rennes.
Rennes to Mont Saint Michel by Bus
Keolis runs a bus from Rennes to Mont Saint Michel during the high season between mid-April to late September. It departs from the Rennes bus stop near the main train station.
The timetable for 2022 is here with three buses per day. The earliest bus to Mont Saint Michel departs at 9:45 am and the latest one leaves Mont Saint Michel at 6 pm.
There are some Bla Bla Car options if you look online in advance.
Rennes to Mont Saint Michel by Car
If you are staying in Rennes, the best way is to rent a car and drive yourself, since it's only 1.5 hours and you don't have to adjust your time to the trains.
Alternatively, you can take a day trip from Rennes and save yourself the trouble of figuring out the train time or driving.
Otherwise, staying overnight at Pontorson at Mont Saint Michel is also a great idea. Especially if you want to get sunrise and sunset shots or wait for a high tide view.
Visiting Mont St Michel
Now that you know all the essential information to visit Mont St Michel, here is a guide on actually visiting it. I'll focus more on how to get around without a car, as if you drive – all you need to do is to park by the visitor's center.
As mentioned, it's free to enter the island but the abbey requires a ticket.
Mont St Michel Shuttle
The Mont St Michel Shuttle is called 'Passeur', and it starts from Pontorson Mont Saint Michel train station and can take you 350 m from the island on the bridge.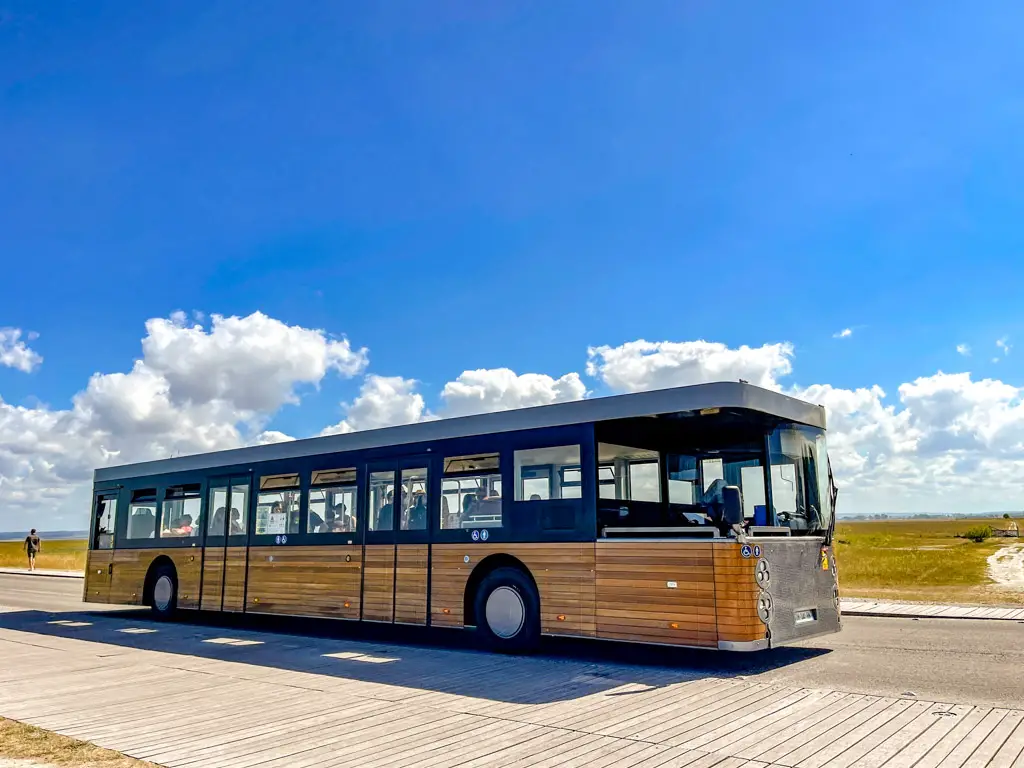 They run throughout the day constantly, although expect it to be crowded with some waiting time during the middle of the day.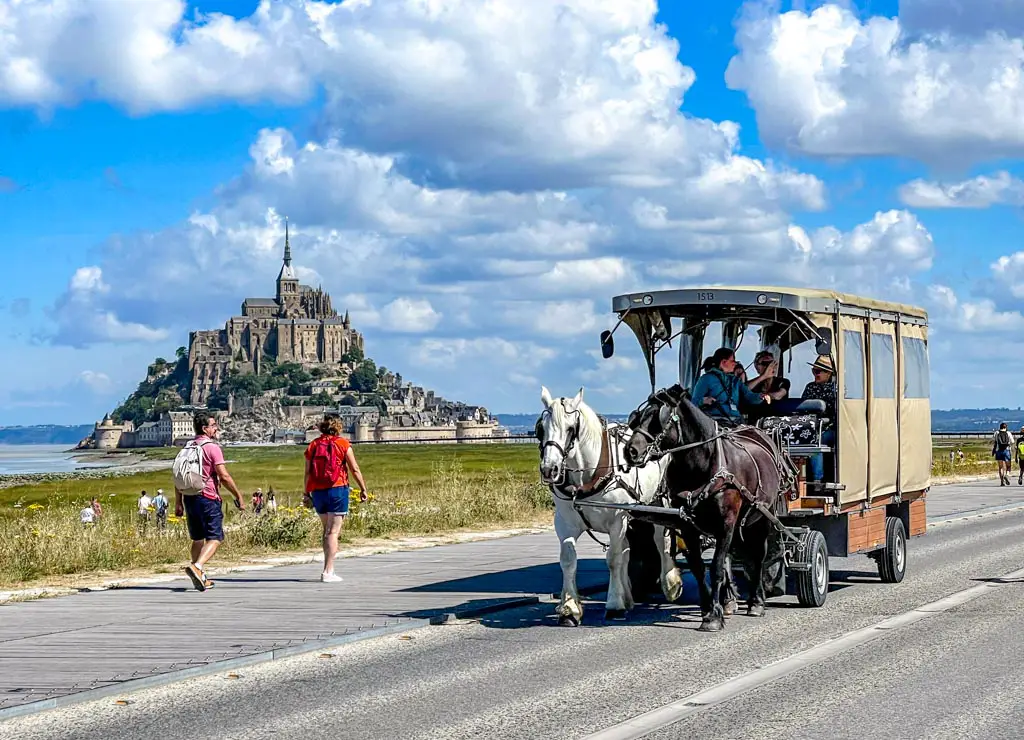 Another option is a Maringote – a horse-drawn carriage that'd take you to the island. But it is quite slow and while it looks magical, you'll be sharing the road with pedestrians, cyclists, and the shuttle.
That said, it costs 5.30 euros and can be a beautiful and romantic trip.
Tickets Mont Saint Michel
The most important ticketed attraction on Mont St Michel is the abbey. It occupies the highest ground of the island and it's still home to several monks and nuns who dedicate the day and life to prayers and in service of their faith.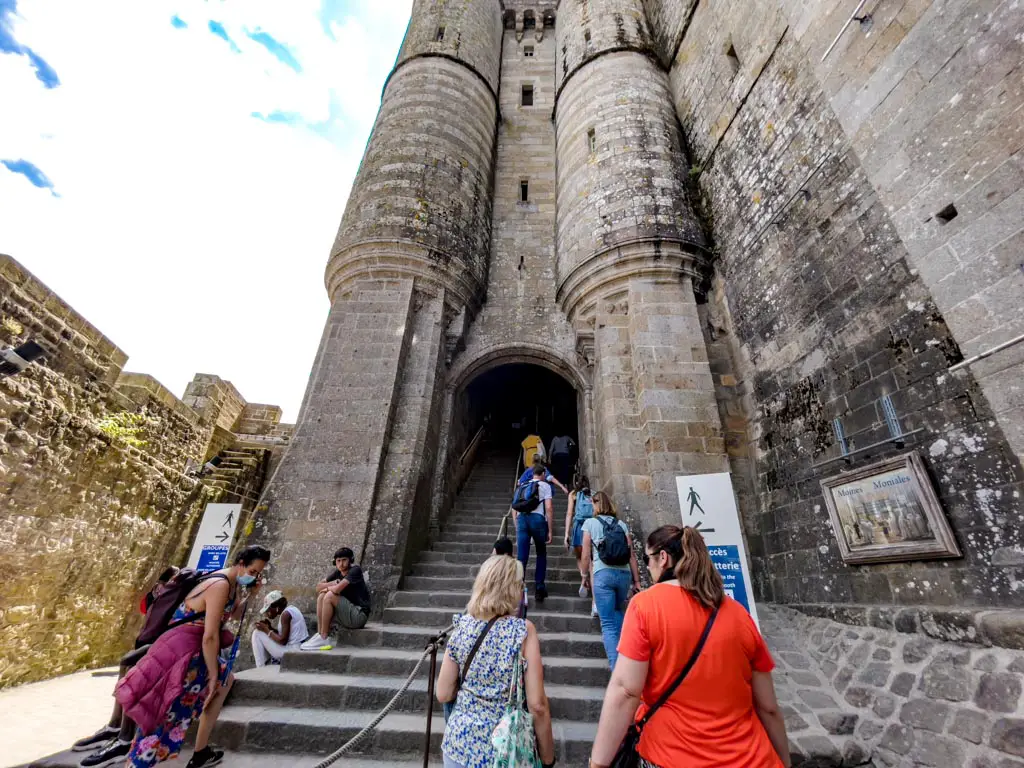 If possible, you should prebook your tickets online for a specific time slot to save yourself from long queues to enter the abbey. We didn't reserve our tickets and had to queue for 20 minutes to buy and get in.
Admission fee: 11 euros, free for under 18s, 18-25 from EU (or those who are registered to living in EU), and handicapped person and their companion.
There is also an audio guide that would give you information, and you just follow the arrow. If you don't feel like you want to pay for or need an audio guide, do pick up a leaflet as it's very informative about the history and architecture of the abbey.
The main attraction is the abbey itself. You'll walk through the crypts, the cloister, guardrooms, and various halls that are now empty.
Note: there are two toilets towards the start and end of the route, but on my visit the former was broken and the latter had a long queue.
Bathrooms in Mont Saint Michel
There are free public restrooms just inside the island. One is on the raised platform immediately upon entering, the other is in front of the draw bridge as you head right to go up the island.
The cleanliness isn't the best given that it is the only bathroom option in an island with thousands of visitors per day, but it isn't too bad either on my visit.
Mont Saint Michel Photospots
Most photos of Mount Saint Michel are taken from afar since the island itself is the most striking part. If you want to get good photos of (and or with) the island, I've got you:
Mont St Michel from the Bridge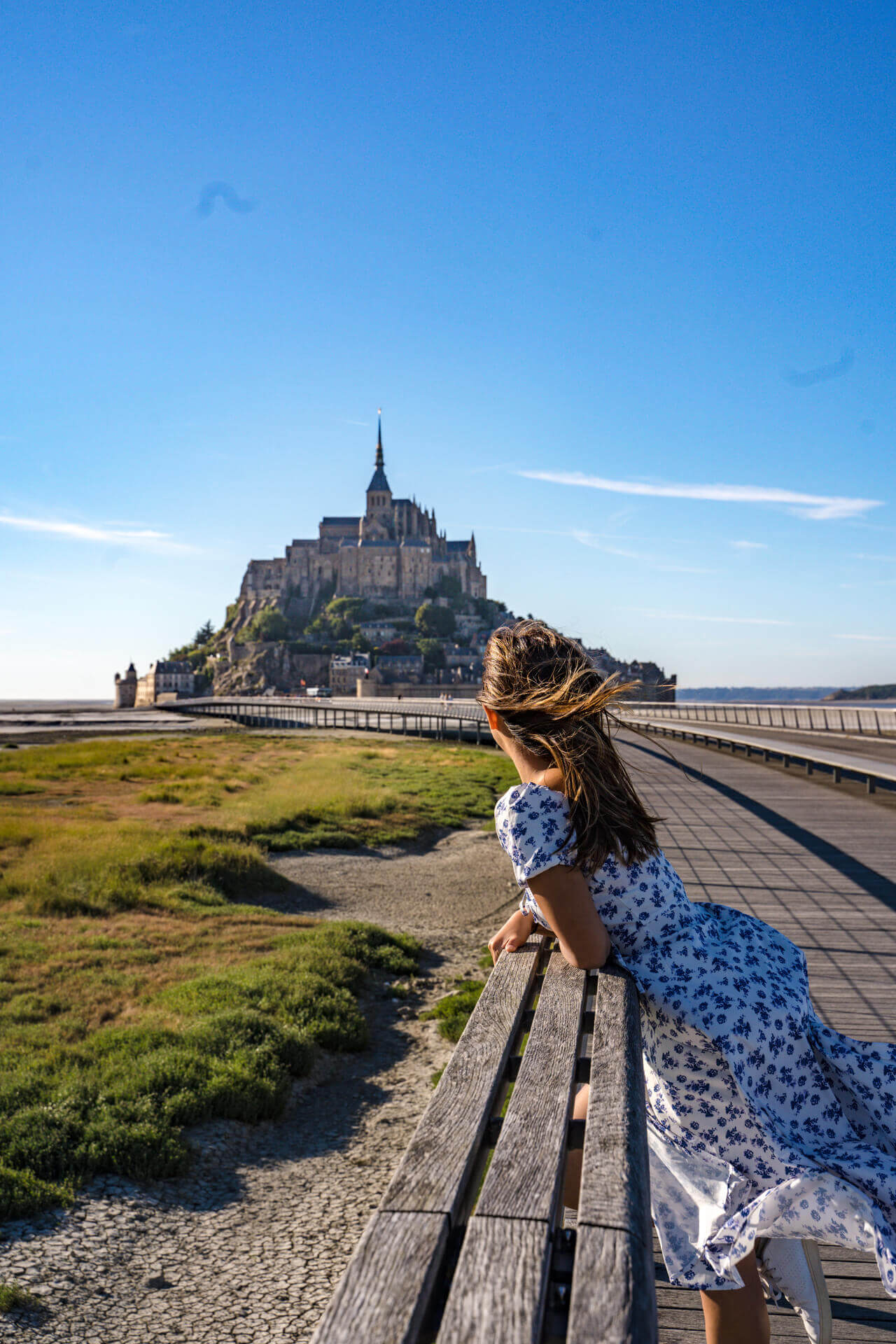 You can get some amazing photos from the bridge or from the little grazing patch by the start if you time your visit.
We returned in the late evening when most day trippers had departed and got the bridge mostly empty.
The high tide isn't until 9pm so we didn't wait for it on our visit, but so check the tide and time and you might be able to see the tide sweeping in!
Note: you can't cross the bridge during high tide and please stand back as the tide can come in fast.
Low Tide Marshland Mont Saint Michel Viewpoint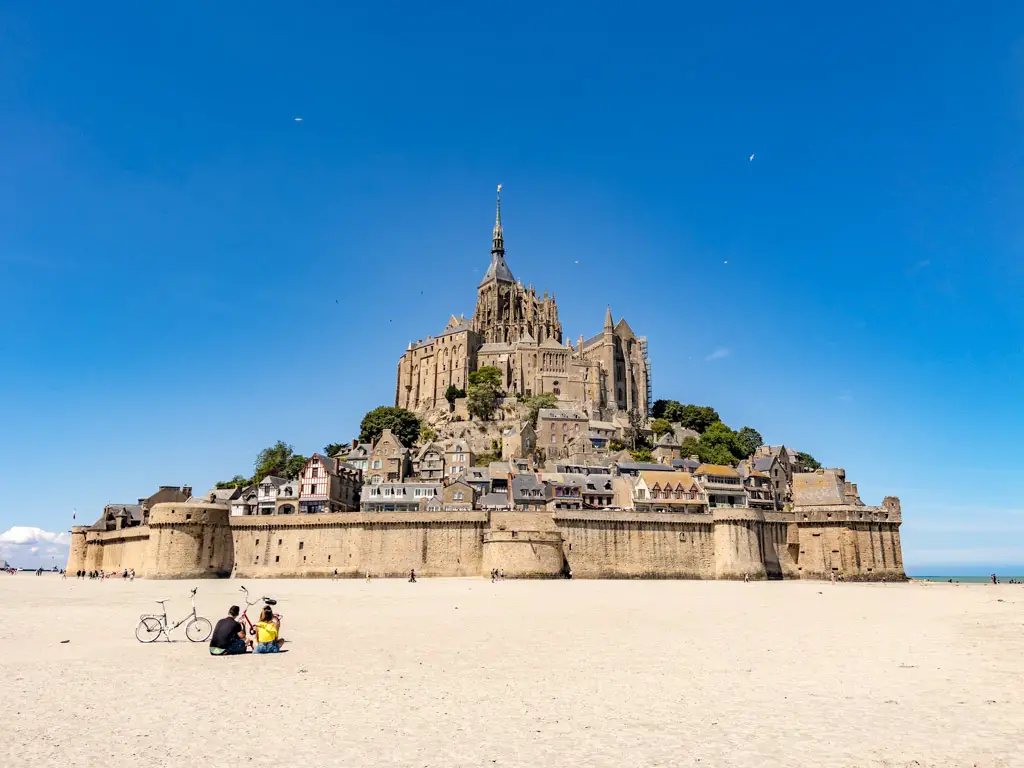 The low tide falls around noon during my visit and you can easily walk out on the marshland during that time. Do be mindful and only go out during the lowest tide. The perk is that if you go far enough, the crowd all but disappear from your photo.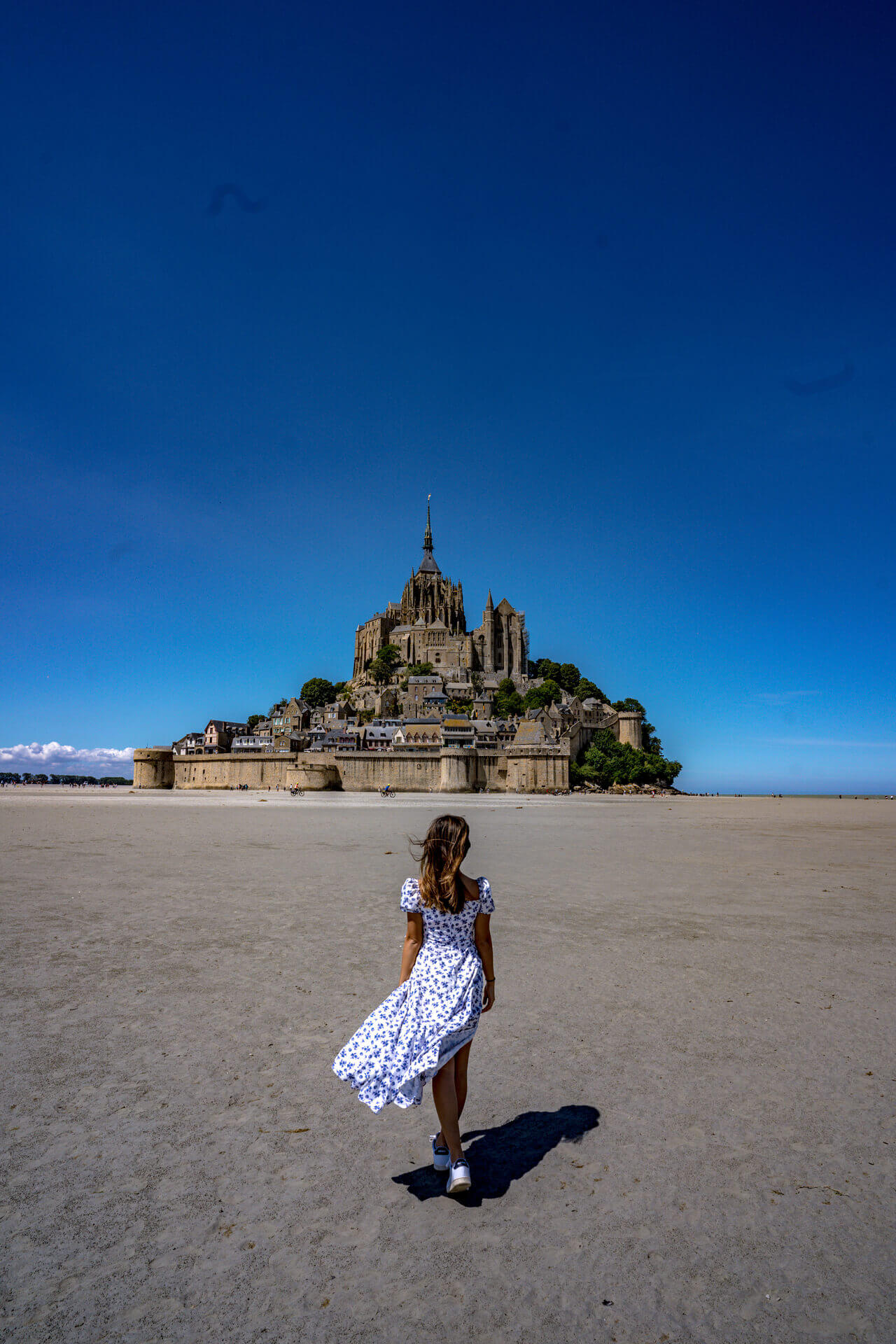 It was fairly hot on the day we visited, so it wasn't too muddy. But you might want to wear footwear that you don't mind dirtying and also have a mat or plastic bag to put your bags down.
Meander Farmland Mont Saint Michel Viewpoint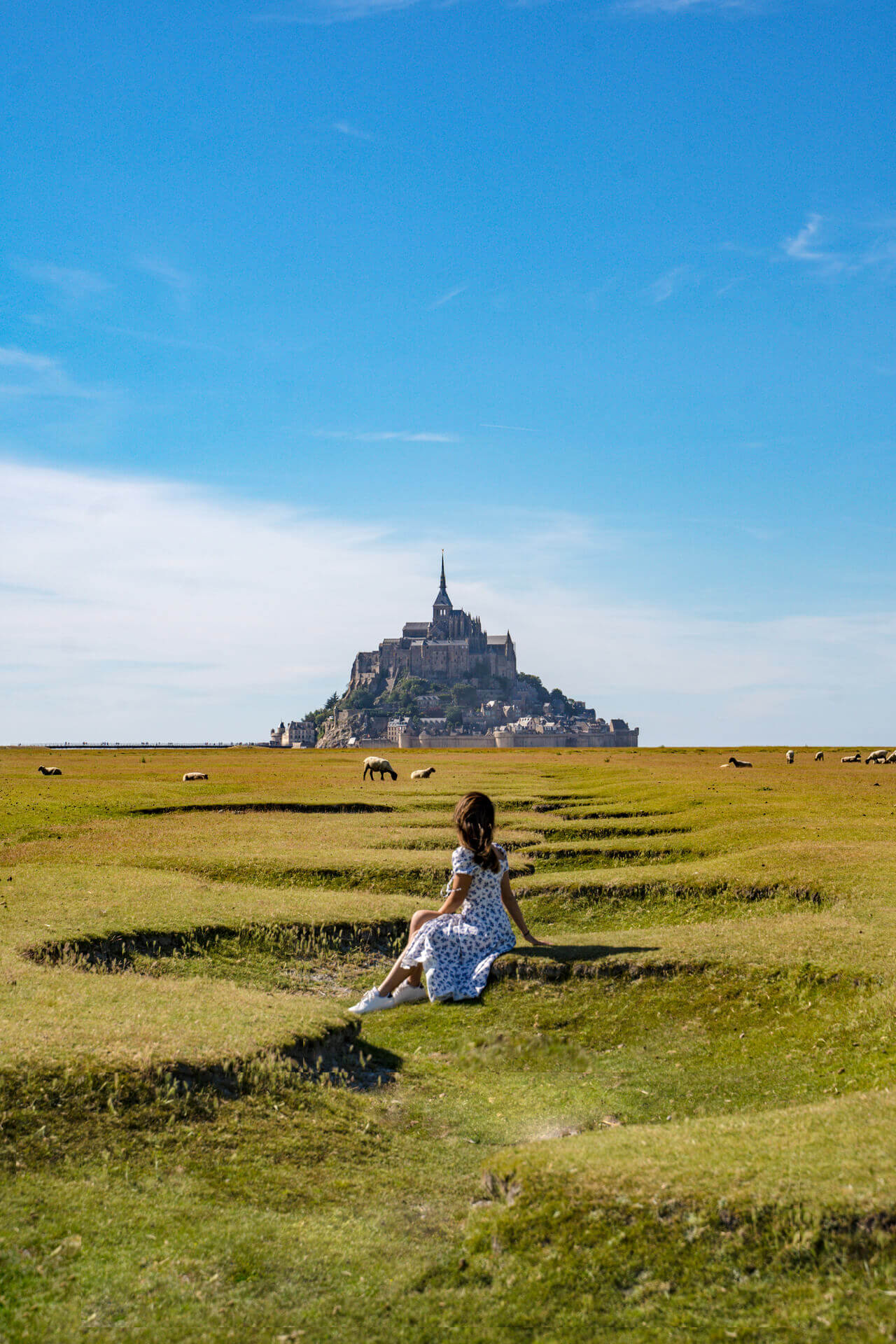 For most, the classic photo of Mont Saint is the little meandering grass field. At first, I thought it was some kind of wild grassland hidden away, but it's actually farmland.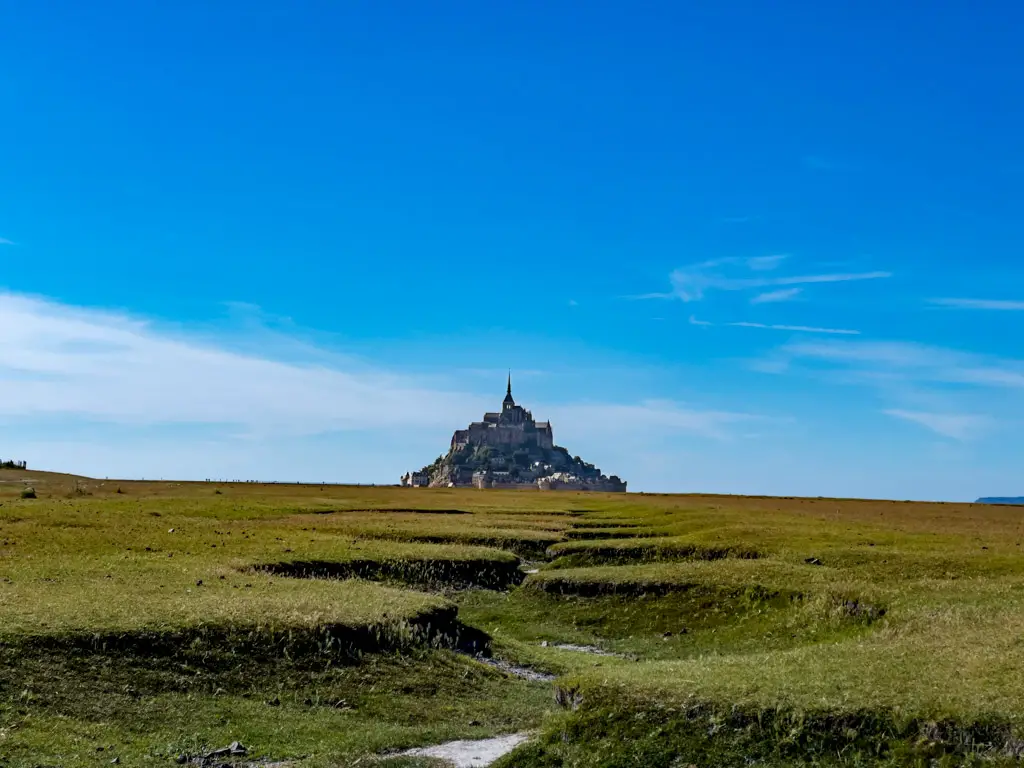 It's only a 5-10 minutes bike ride from the main cycling route and across from the hotel Auberge de la Baie. There is a gate but it's not locked, just chained to make sure the sheep (yes, sheep!) don't escape.
We arrived in the afternoon and locked our bikes against one of the fence. There was a lot of sheep grazing, but we managed to get some photos without being crowded by them! We also saw some people trekking and having a picnic around, so it seems that you can hike quite close to Mont St Michel, which is a little far away.
Here is the cycling route we took. We were on the road for a little but there is a cycling path past the campground car park gate.
P.S. the kind receptionist let us use the bathroom at the hotel!
Mont St Michel Tour

If you want the have a fuss-free experience with a proper guide for the history and architecture beyond what I have provided, it sounds like you should join a tour!
There are many tour options for Mont St Michel, depending on your departure point, here I've listed the most common ones:
Day Trips from Paris to Mont St Michel
A Mont Saint Michel Tour from Paris is a full-day affair but is arguably less tiring than a DIY trip. While not all tours offer hotel pick-up, like this well-reviewed Paris to Mont St Michel Tour which meets at Architecture Museum at Palais de Chaillot, they offer direct back-and-forth transfer.
Do note that it is a 4.5 hours one-way trip! So be prepared for it and also know that you'll be walking a lot.
Mont Saint Michel Tour from Rennes
There are far fewer options for group day trips to Mont Saint Michel from Rennes. The Mont St Michel Tour from Rennes is suitable for groups but otherwise, I think it's better to arrive by bus, car, or train, to join a walking tour locally.
Mont Saint Michel Walking Tour
A good way to get the best value for money is to do a walking tour. This 2-hour guided walking tour with the option to prebook the abbey ticket would be a great choice for history lovers. Do note that the guide would not be entering the abbey with you.
Pontorson Mont St Michel
The nearest train station and town to Mont St Michel is Pontorson, which is home to the station of Pontorson Mont Saint Michel.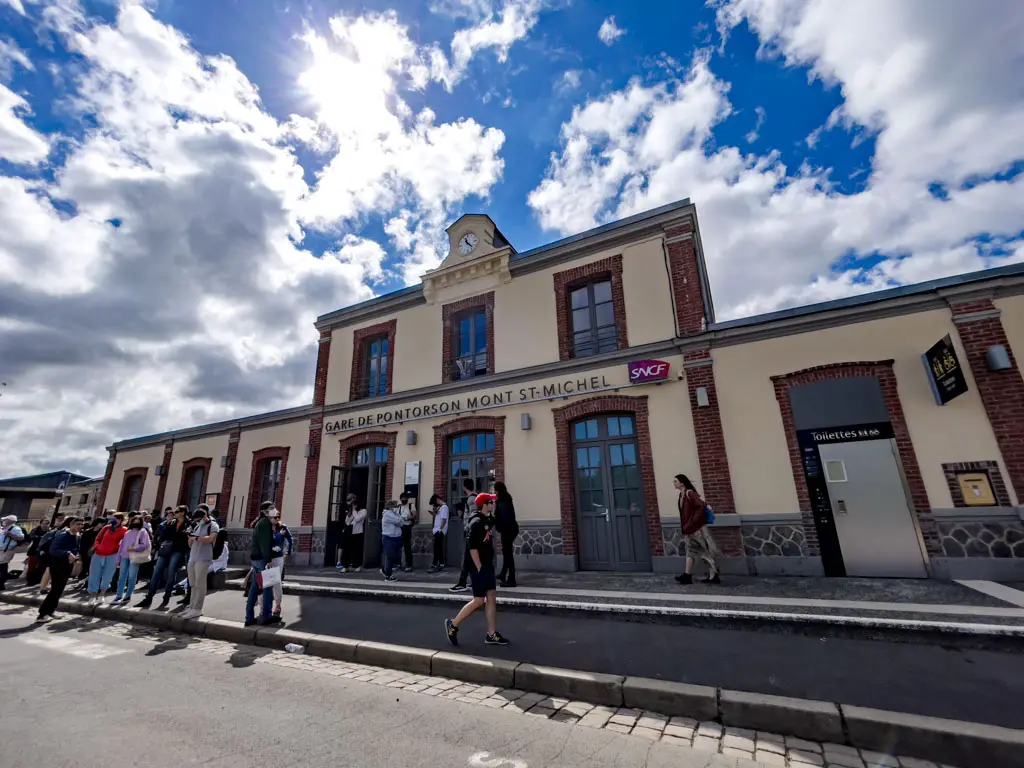 You can get around pretty easily from Pontorson to Mont St Michel without driving, although having a car would make things a bit easier.
The main reason I would stay in Pontorson is that they have more amenities and reasonably priced restaurants with good ratings.
Bus Pontorson Mont Saint Michel
There is a separate shuttle from Pontorson Mont Saint Michel. It's not free but for 3.10 euros, it's still a convenient way to get to and from.
Here is the time table for July to 4th September 2022. They don't run as long as the Mont Saint Michel shuttle with and generally runs from 7:30 to almost 7pm. So bear that in mind when you are planning your trip.
Cycling from Pontorson to Mont St Michel
If you want to be more autonomous and active, renting a bicycle is probably the best way to get around from Pontorson.
It's a 9.5 km cycle that takes 30 minutes along a gorgeous cycling path. There is only one junction with a road and you will mostly be cycling along the Normandy countryside.
Most of the trail is along the River Couseson with a view of Mont St Michel, so it's not a bad trip at all.
It gives you more freedom to get around and we needed that since we wanted to hit several different photo spots.
Atelier Prépa Vélo
We rented our bicycles from Atelier, a relatively new bicycle shop that also rent and repair bicycles. The shop front is quite inconspicuous and it seems to be a one man operation.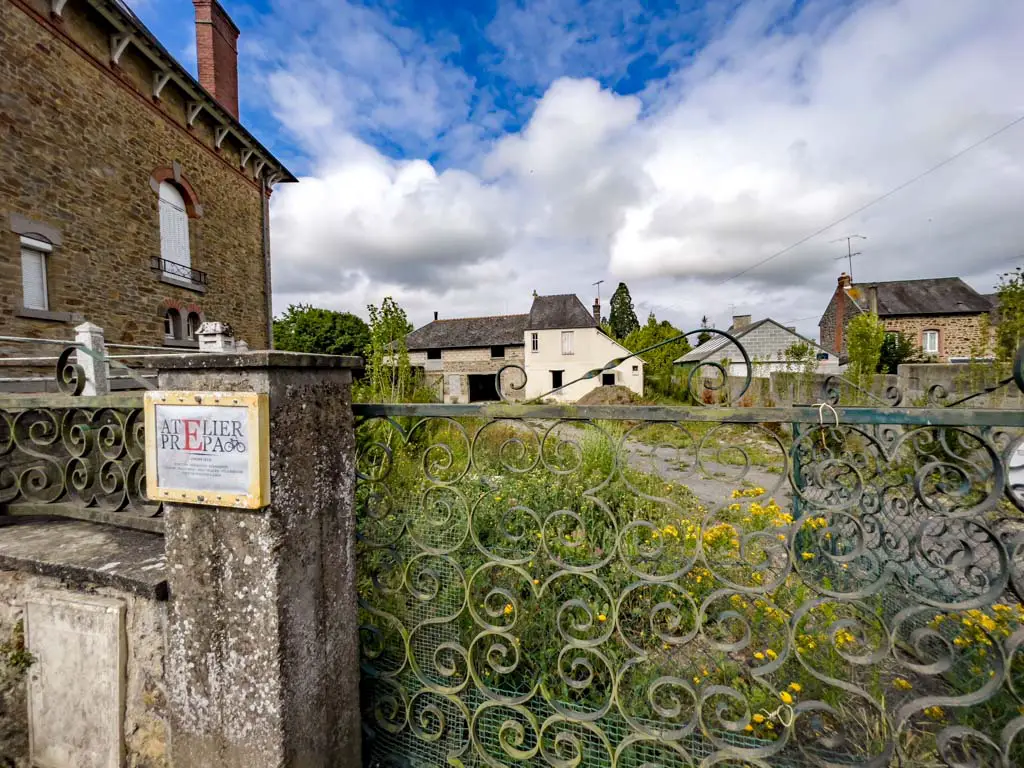 The gentleman that runs the shop was very friendly and we rented a bicycle for 2 days for 28 euros each, so we can return later than his closing time then return the next day.
The bicycles quality was great too, and my only problem is that I'm just a bit too short to be comfortable!
Address: 8 Bd Clemenceau, 50170 Pontorson, France
Opening hours: Thurs – Tues 9:00 – 12:00, 14:00 – 18:00; Weds 9:00 – 1
Cards are accepted
Restaurants in Pontorson
As mentioned above, restaurants in Mont St Michel are very pricey and there aren't that many options nearby either.
Pontorson offers quite a few restaurants that are well-rated and serve some great Normandy dishes. There are also a few boulangeries (bakeries) and supermarkets, the latter closes a bit later than most, too. Here are the top choices for all hours:
Le Relais Gascon
One of the only restaurants that don't have a siesta and opens earlier, Le Relais Gascon is my top choice in Pontorson.
It's located in a little alley hung with cute sheep cutouts with a comprehensive menu that covers Normandy food and pizza.
Address: 15 Rue de Tanis, 50170 Pontorson, France
Opening times: Mon – Weds, Fri 9:00 – 21:00, F
La Brazza
Our AirBnB host recommended La Brazza, who starts serving food at noon. It's a good alternative to Le Relais Gascon and they have slightly different sauces for the Normandy favourite mussels. The staff is very friendly and we actually worked there for the morning before having lunch – no WiFi though sadly.
Address: 10 Rue Couesnon, 50170 Pontorson, France
Opening times: 7:30 – 23:00 (listed on google as such but they were closed on a Wednesday)
Chicken Cabana Pontorson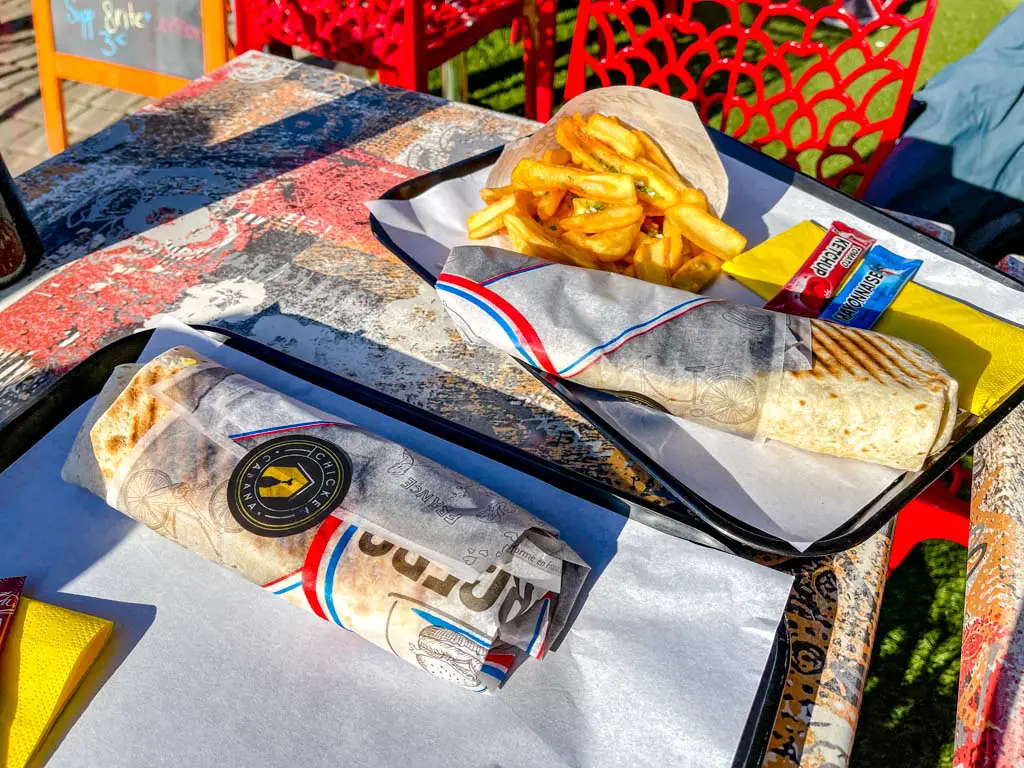 A cheap, fast, and open-late option is the Chicken Cabana Pontorson. It's located in the central crossroad of town and serves family meal to just wraps. The price point is under 10 euros and is good for a quick grab-and-go and budget traveler. It also tastes quite good, which is a bonus!
Address: 70 Rue Couesnon, 50170 Pontorson, France
Opening times: Sat – Weds 11:00 – 23:30, Fri 18:00 – 23:30
Istanbul Kebab
If you prefer Kebab over chicken, then Istanbul Kebab might be a better choice. The price point is similar at around 8 euros for a meal. There is limited seating but generally people come for takeaway!
Address: 47 Rue Couesnon, 50170 Pontorson, France
Opening times: unclear, but opens late
Mont Saint Michel Hotel 
There are many Mont Saint Michel accommodations available, depending on your budget and where you want to stay. There are a few considerations, including luggage sizes and no elevators, whether you're driving, or if you want to stay somewhere with the best access for photospots.
Mont Saint Michel Hotels on the island
If you want to stay at Mont Saint Michel, there are no budget hotels. You'll have the town all to yourself as the day trippers leave, but the cobblestone and steep stairs do not make it easy for luggage. The urban legend is that you can hear the sounds of pilgrims walking towards the island at night. So if you are up for that, here are some recommendations:
Auberge Saint Pierre – stay in a great refurbished hotel housed in a 14th century half-timbered house on the island with exposed beams and also TV and WiFi.
La Vieille Auberge – is closer to the abbey with 2 annex buildings. If you don't mind stairs, it's a lovely hotel to stay in.
Mont Saint Michel mainland hotels
If you want to stay close to the island, maybe being in view of it is better! There are quite a few hotels by the visitor center or around that is convenient to walk and bike. Which would be even more convenient with a car.
The Mercure Mont Saint Michel is close to the visitor center for Mont Saint Michel and also right by the river. 
Auberge de la Baie – is across from the farmland photospot but is a little further from town.
Pontorson Mont Saint Michel hotels
For those who want better dining options and is close to the train station, Pontorson is the best choice. The accommodations are also cheaper which is great for more budget travellers.
L'Orée du Mont is one of the most popular accommodations in Pontorson with spacious rooms and a garden, too! They also have bicycles you can rent directly.
Best Western Hôtel Montgomery is in the center of the small town. The furniture and room are a bit dated but still comfortable.
L'Âme du Gourmand has an outdoor heated pool and serves a continental breakfast to guests. It's a good choice for a those who want a more B&B and homestay vibe.
Budget: Le Lithana is a little outside of town but less than a few minute's walk. The host is lovely but with more basic facilities.
Camping Mont Saint Michel
If you want to save some money, you can go camping by Mont Saint Michel. Not in or immediately near the island, of course, but there is a campsite near the visitor's center.
The Camping Mont Saint Michel has 47 pitches for tents, caravans, and mobile homes.
They have electric 10A or 6A hook-ups and a toilet block, and also holiday homes to rent if you don't have a tent or mobile home. It's best to contact them directly for price and availability.
Address: 35 route du Mont Saint Michel, 50220 COURTILS
Phone: 33/ 02 33 70 96 90
E-mail : [email protected]
Reception opening hours :
Low season : 8.00 am to 6.30 pm
High season : 8.00 am to 8.00 pm