One day in Paris? What can you do? Every time I visit Paris, I'm just as excited as I was the first time. There is something hypnotic and romantic about Paris that it's hard to put a finger on, and maybe that's why the French has the saying 'Je nais c'est quoi'. It could be the smell of croissants and pastries from boulangeries, the way the streets are structured, or just the history and vibe the city has steeped in. Whether you're looking for a one-day Paris itinerary or a list of top attractions, here are my top picks that I would visit if I only have a day in Paris.
Note: I have visited Paris before and this is my choice of place to visit for photos, especially on a budget for a day. I mainly did this due to FOMO on my way to Mont St Michel.
Frequently Asked Questions about Paris Itinerary
Is 1 day enough in Paris?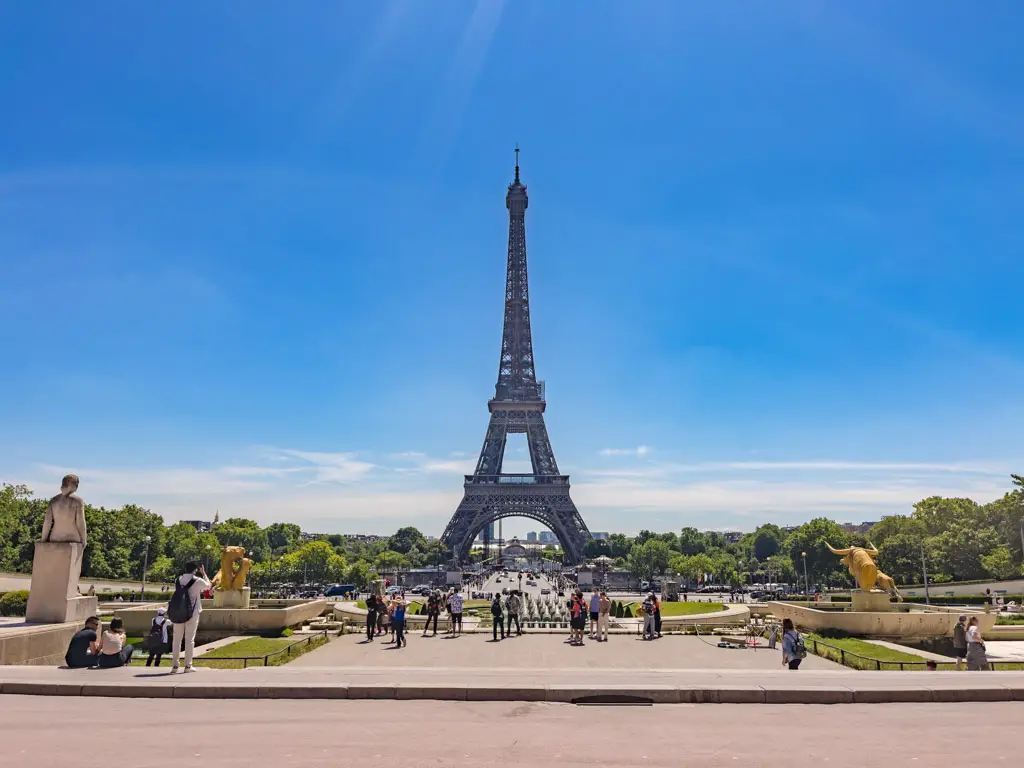 No, but 1 day in Paris is better than no time in Paris! You can do all the major attractions in Paris in one day if you are ambitious enough and budget your time. It would be harder if you want to go inside museums as well, as those can take a long time. When I walked past the Louvre even at 8 in the morning, the queue was already snaking down the street. The best thing to do is to pre-book your tickets online to skip the queue:
If you also plan on going to other museums, it might be worth getting a museum pass. These are valid for longer: 2, 4, or 6 days. And it covers 60 attractions and museums and some of the most important museums like:
Centre Pompidou
Musée Picasso Paris
Musée du Louvre
Crypte archéologique de Notre-Dame
Tours de Notre-Dame
Musée national de l'Orangerie
Musée d'Orsay
Panthéon
However, I'd say that you'd probably hit 2-3 museums at most in one day. Especially if you want to see the other sights, too.
Can you walk around Paris in a day?
Yes, the center of Paris is walkable. But if you want to maximise your day, you should get a transport day pass. You can buy this at any metro station for 7.50 euros – get the Mobilis ticket if you're staying within zone 1-2 (and you should be). The travel pass costs 12 euros so you'll save some money on croissants!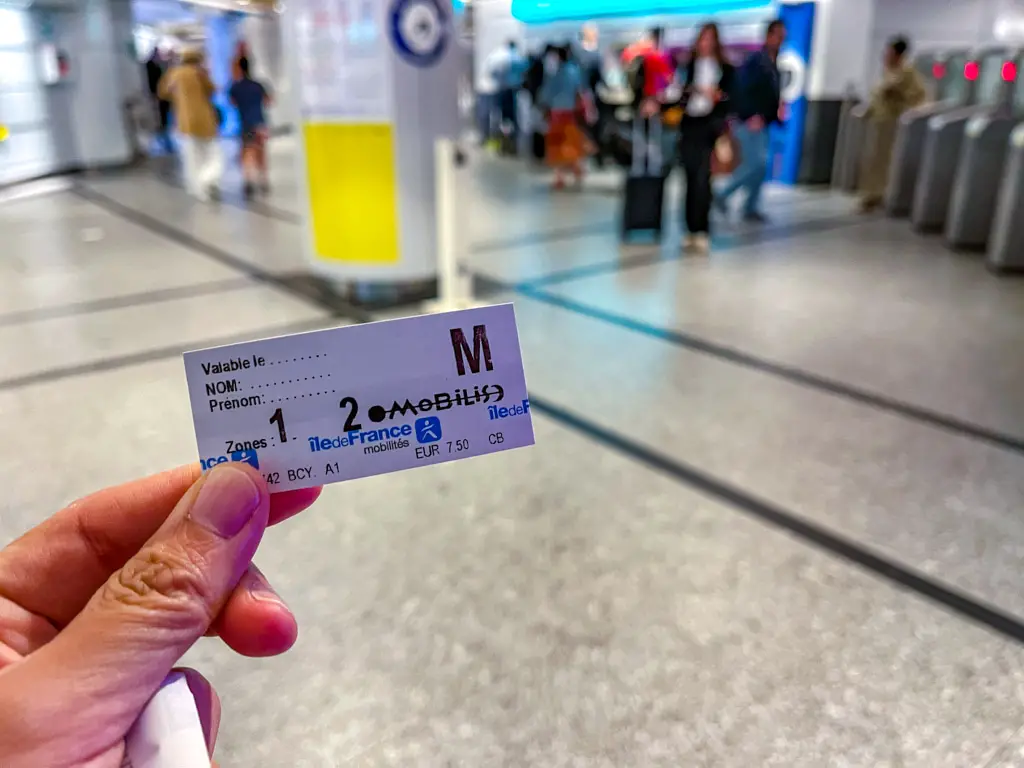 Of course, you can just walk around Paris for a day if you want. But you can get your money back with just 3-4 journeys. And your feet will thank you!
An alternative to the day pass is to buy a carnet: a stack of 10 t+ tickets. This gets you 25% off and you can share it with friends or family.
How can I spend a day in Paris?
You can easily spend the whole day exploring Paris. There are plenty of night buses, trains, and flights that would take you to Paris in the early morning. Depending on the time you have, you might leave that very night or stay one night and head to your next destination.
I'd advise getting a transport day pass for your one day in Paris. While the city is walkable, you want to save time and energy for enjoying the city.
How do you spend a day in Paris by yourself?
Paris is a solo travel-friendly city! I did the entire day's itinerary in Paris by myself and faced no issues. Of course, it's always fun with friends as well.
What should I do on my first day in Paris?
There are so many things you can do on your first day in Paris. Depending on how patient you are, you might want to follow this route to get a view of the city and see all the highlights first, before diving deeper into the French capital.
Is one night in Paris enough?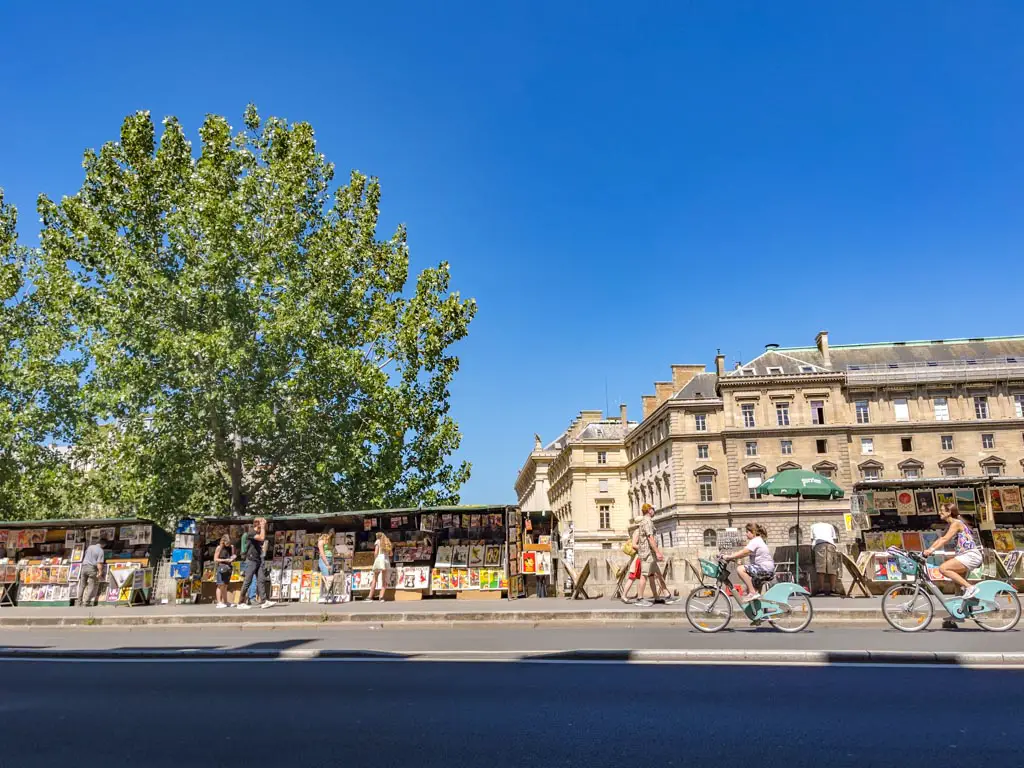 If you only have one night, it'd still be a grand time in Paris. The Eiffel Tower sparkles on the hour once the sun has set, and walks along the Sein at night are always magical.
Do I need cash in Paris?
You can get by using your card in most places in Paris. But if possible, I'd recommend having at least some cash in euros on you for small things. For example, some train station charges for bathrooms or the occasional snack purchase.
Paris for a Day: what to do
If you're ready to FOMO your way around Paris like I was, then this guide is perfect for you. I got so many questions about my route for just one day in Paris that I decided to write this guide. Again, this is more of a FOMO landmark visiting, budget-adhering Paris for a day trip!
Breakfast at Angelina
Angelina is a beautiful cafe tea room just off the Tuileries Garden. It's legendary for its pastries and hot chocolate, and the queue can also get long. I'd absolutely dine in if there is space and not a long queue, but you can also get takeaway and venture to the Tuileries Garden to enjoy it.
Address: 226 Rue de Rivoli, 75001 Paris, France
Opening times: Mon – Thurs 8:00 – 19:00; Fri – Sun 8:30 – 19:30
Enjoy Tuileries Garden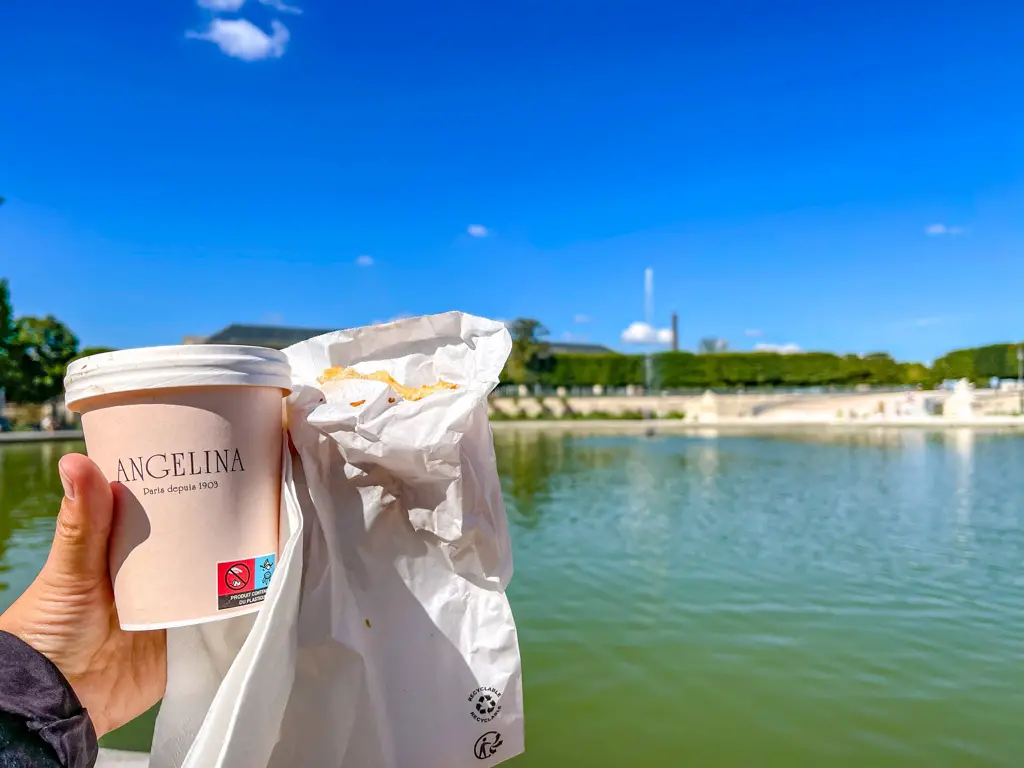 The Tuileries Garden stretches between Louvre and Place de la Concorde. There is an entrance near Angelina, which is across from the park. If you go right (towards Place de la Concorde) along the tree-lined path, you'll reach a fountain with plenty of chairs for you to sit on and enjoy your breakfast. It was great to sit there and watch the ducks and pigeons frolicking around!
Place de la Concorde
Exit the Tuileries Garden to Place de la Concorde. It's the largest public square in Paris with gruesome histories as the place of executions. Don't miss the Luxor Obelisk in front of the garden, which was a gift from Egypt to France in the 19th century.
The other major feature is the two fountains: Fountain of River Commerce and Navigation and Fountain of the Seas. 
I only snapped a photo of the square before moving onto the riverside and walking towards Grand and Petit Palace.
Grand and Petit Palace
The Grand and Petit Palace are two palatial buildings built at the turn of the 20th century for the Universal Exhibition. The Grand Palace stands out with its glass dome roof and houses the Palais de la Découverte, which showcase important science discoveries.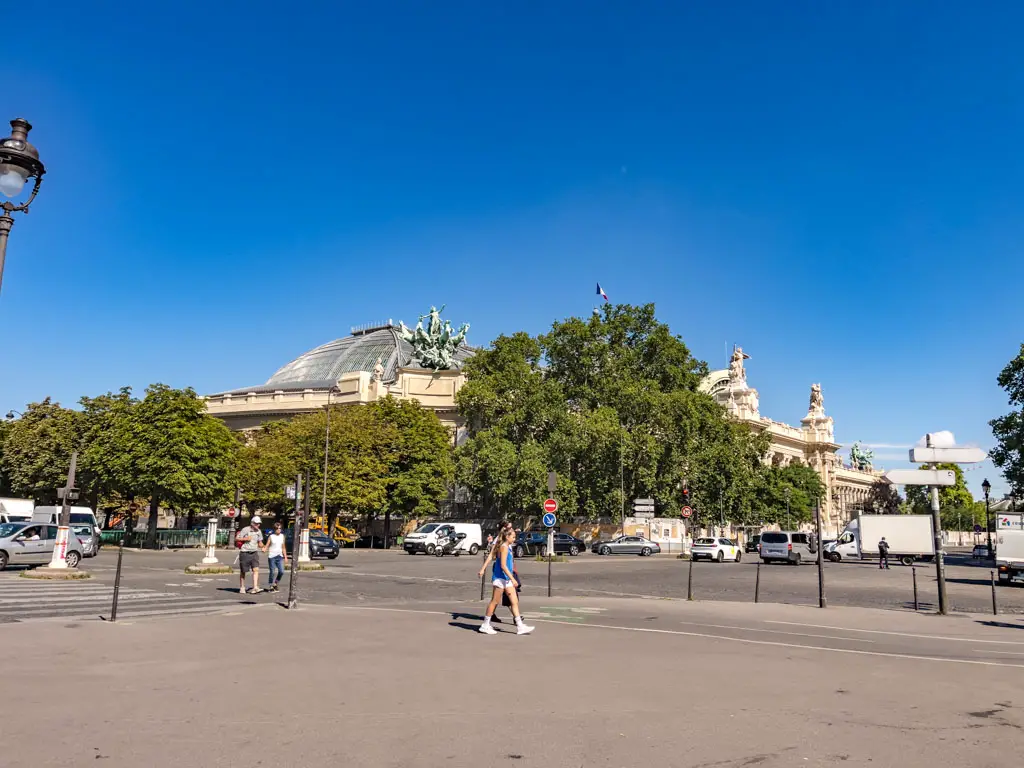 The Petit Palace is smaller and home to the Paris Fine Art Museum with gorgeous gilded door set on an archway entrance.
You can visit the Fine Art Museum if you have the Museum Pass! Again, I was short on time and it was more of a pass by for me.
Ponte Alexander III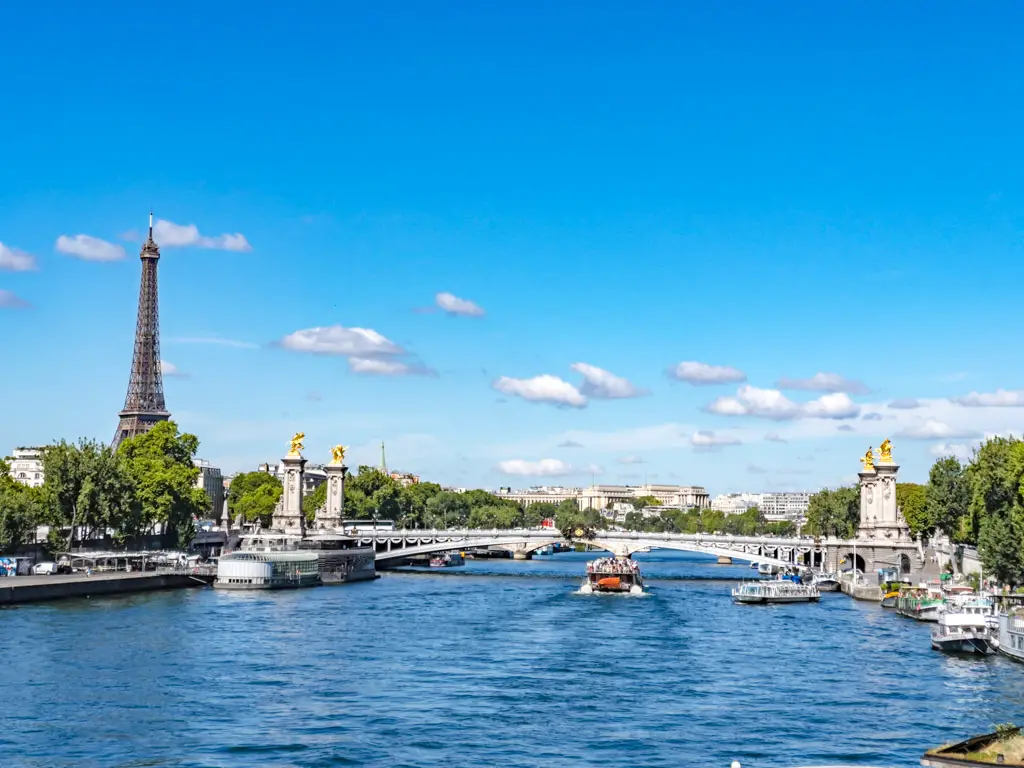 One of my favourite landmarks in Paris is Pont Alexandre III, the Alexander III Bridge. It leads to Les Invalides from Grand and Petit Palace. The bridge was built at the end of the 19th century and named after Tsar Alexander III. It's built in the Beaux-Arts style completed with statues and lamposts. You'll most likely run into about five couples taking wedding or engagement or general photos here!
Did I mention that it also has a view of the Eiffel Tower?
Les Invalides
Les Invalides is a complex that has a similar architectural style to Pont Alexandre III and it's a complex revolving around the army. It houses several military museums, a hospital, and a retirement home for war veterans.
The golden dome that you see stands at 107m tall is known as the Dome of Les Invalides and part of the Saint-Louis-des-Invalides Cathedral.
Again, I mostly just walk past it on my way to the Eiffel Tower!
Eiffel Tower
The Eiffel Tower should need no introduction. It is the most iconic building in Paris and one of the most famous monuments in the world. It was built for the 1889 Universal Exhibition by the Eiffel Company, which it was named after.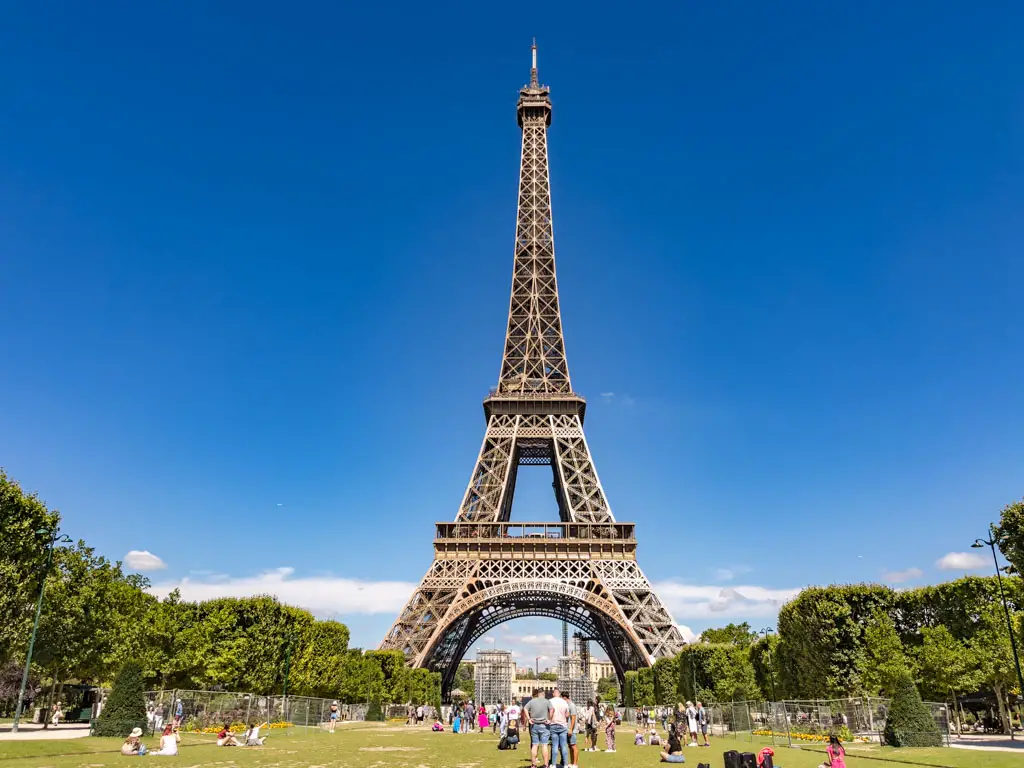 It is 300m tall with three levels and 8 lifts, with the tallest level at 276m, making it the tallest building in Paris.
Note: you now have to have a ticket to enter the area directly under the Eiffel Tower, which wasn't the case for all my previous visits.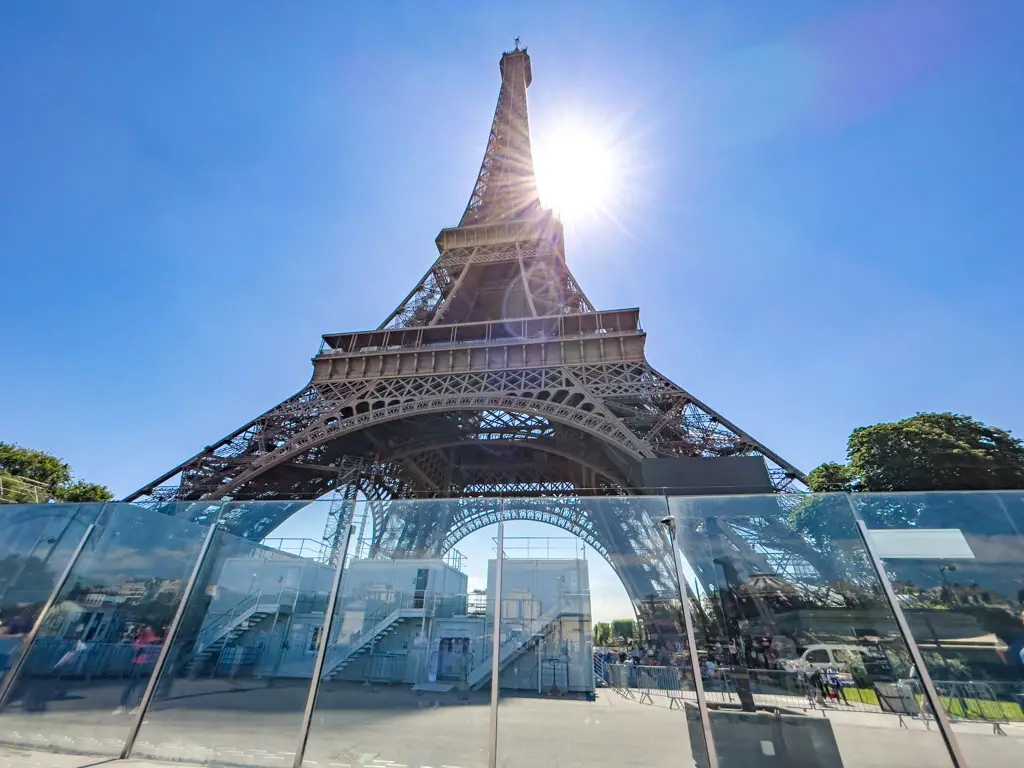 If you want to visit the Eiffel Tower and are short on time, a tour with direct access is the best way to make the most of your time.
I only went to the grass patch on the other side. I also found a really cute alley with a view of the Eiffel Tower as I walked towards the park. The other good vantage point is at the Trocadero Gardens across..
Pont de Bir Hakeim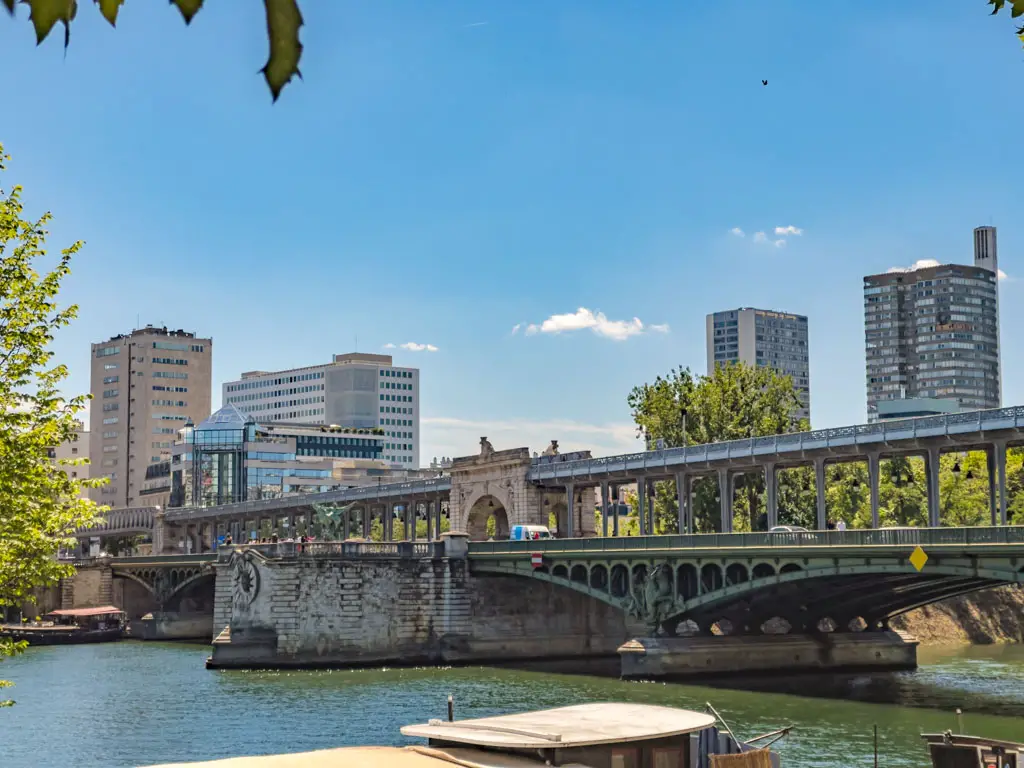 Pont de Bir Hakeim is probably best known as the bridge in Inception. It's a steel bridge that was built in the beginning of the 20th century and was called Pont de Passy. It has two levels with the Metro line 6 train passing on top. 
You can get on Passy metro station on the same side as Eiffel Tower, but I walked down the bridge to Bir Hakeim and got on there.
BREIZH Café Odéon | La Crêpe Autrement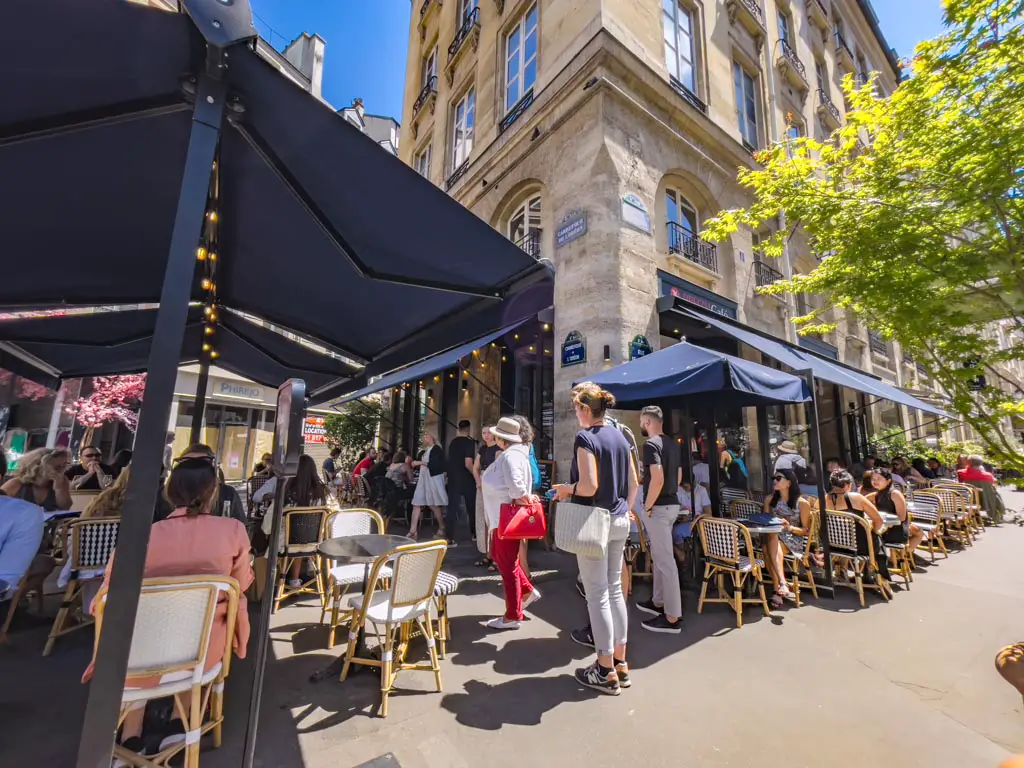 I had lunch at this well-rated crepery because it's close to Notre Dame and I want to see it before I head up to Montmartre. Like all French restaurant, they have a set lunch that shouldn't cost an arm or a leg. I had their set crepe lunch which includes a galettes (savoury crepe) as main, which is just another type of crepe, and a sugar butter crepe as dessert and a lemonade.
The total was less than 20 euros which was decent since I was quite full! And I got to sit outside and enjoy the Parisian street dining.
Address: 109 Rue Vieille-du-Temple, 75003 Paris, France
Opening times: 10:00 – 23:00
Shakespeare and Company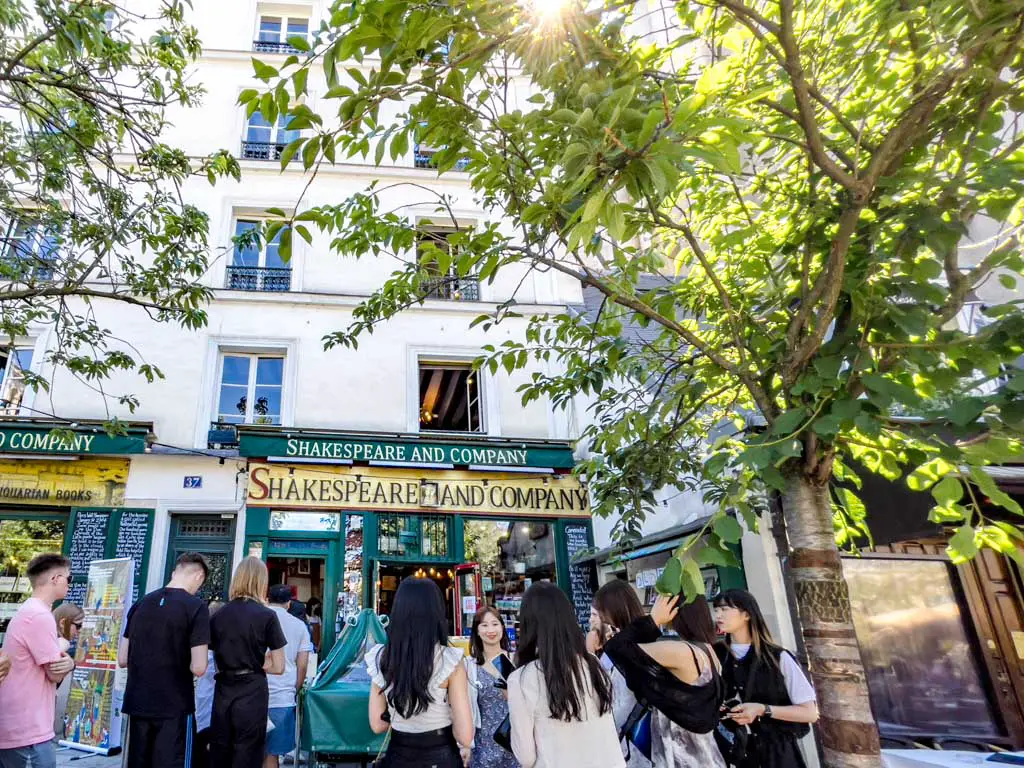 Shakespeare and Company is one of the most famous bookstores in the world. It was opened in 1951 and remains mostly an English-language bookstore. The timber house and green shopfront makes it a pretty sight. Nowadays, you need to queue to enter so I only pass by! It remains a favourite because of its charm and also it's in one of my favourite movies Before Sunset.
It's not a long walk from the Breizh Cafe down to the Sein, and it's en route towards Notre Dame.
Notre Dame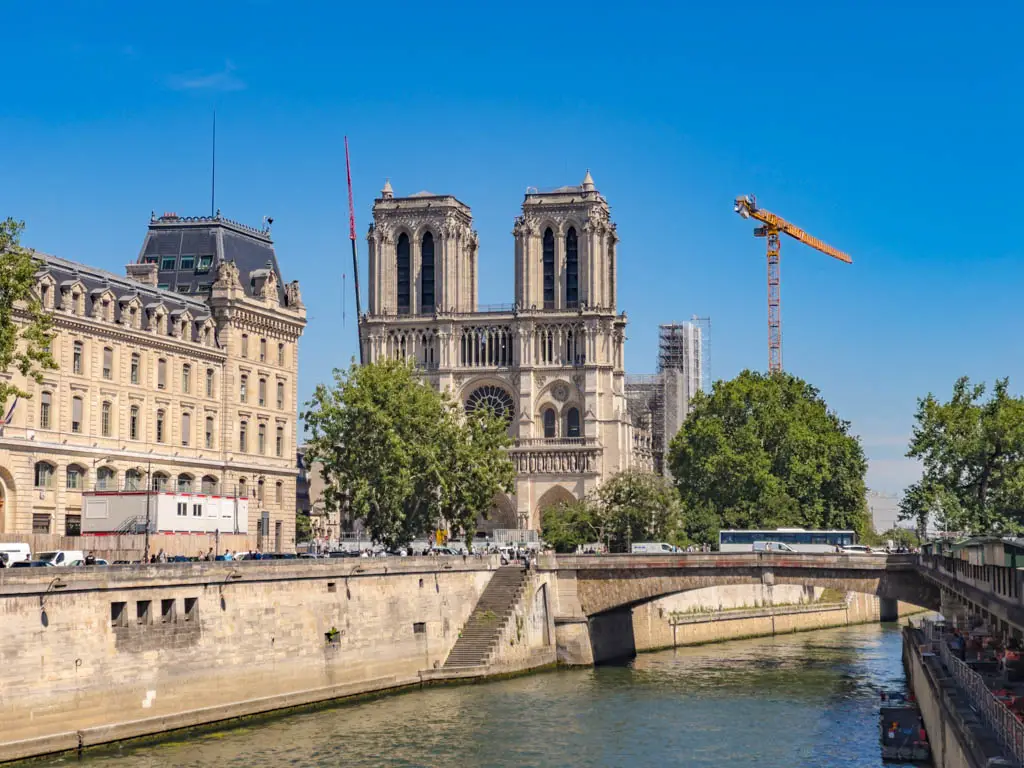 Notre Dame is currently still undergoing renovation after the fire in 2019. However, you can see its relatively unscratched main facade from the bridges spanning across the Sein. I wanted to visit the gardens at the back, but those are also undergoing renovation. It is a nice stop though!
Sacré-Cœur
From Notre Dame, I took the metro to Sacré-Cœur. It is the one place I always visit in Paris whenever I'm there. The white church itself is beautiful, but the panoramic view of the city is also unrivalled.
It's a Roman Catholic Minor Basilica that was completed in 1914. Its style is a free interpretation of the Romano-Byzantine mix with Neo-classical.
I didn't end up going in but walked around the area with a friend whom I met up with briefly!
Wall of Love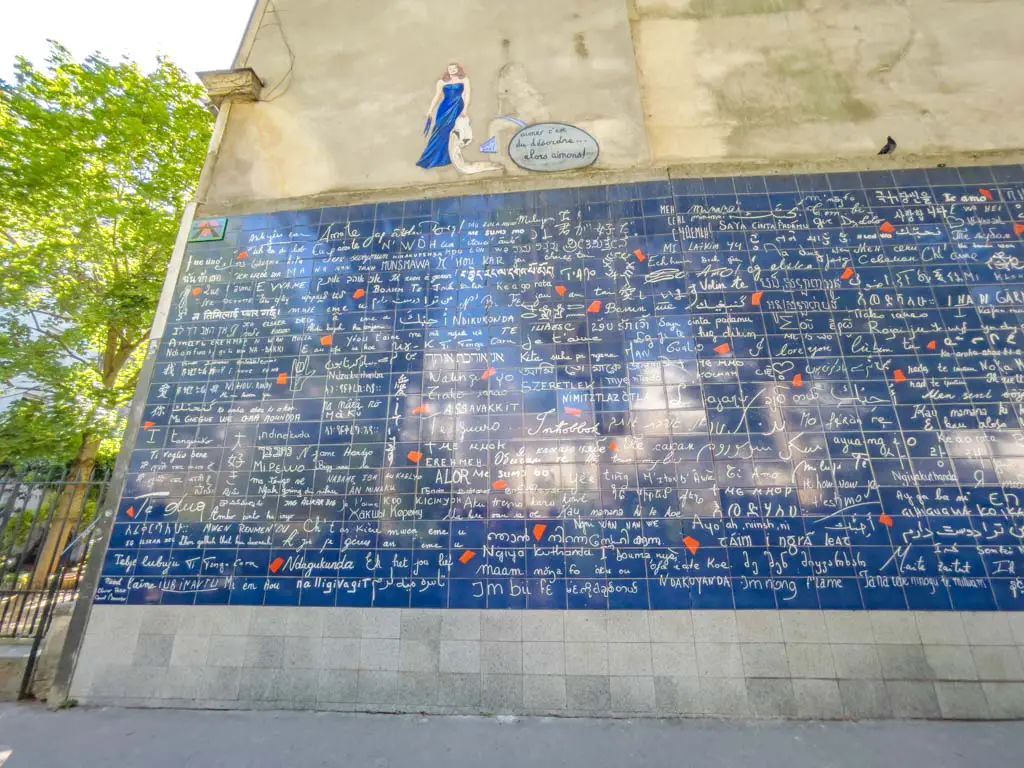 The Wall of Love is located in the Jehan Rictus Garden Square in Montmarte. You can walk past this on your way back from Sacré-Cœur. It's a wall that has I Love You in different languages written all over it.
It was a work by calligraphist Fédéric Baron and mural artist Claire Kito in 2000. There are a total of 612 tiles and it's free to visit!
Opera Garnier
We then made our way to Opera Garnier. The Opera is also called Palais Garnier and was built in the late 19th century in Napoleon III style, who commissioned it.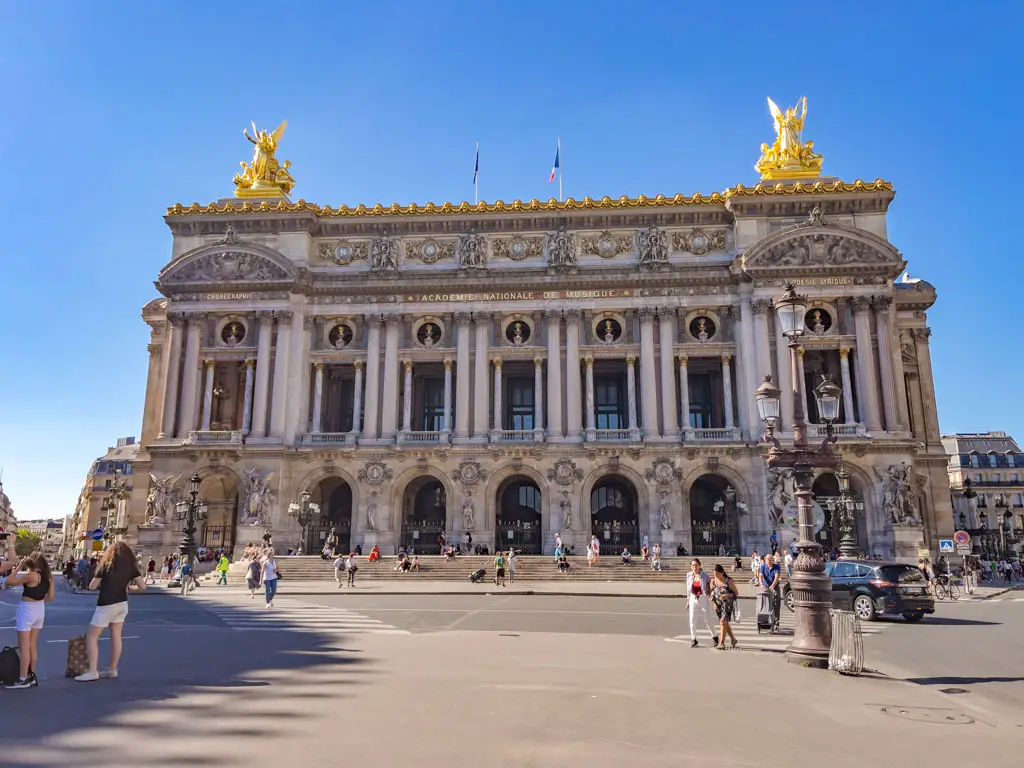 It's one of the most opulent buildings in Paris with a bronze-green dome topped by Apollo, two golden statues of Harmony and Poetry flanking the dome. 
If you have time – you should go inside and see the grandeur of the grand staircase. 
Note: it's where Phantom of the Opera is set in!
Colonnes de Buren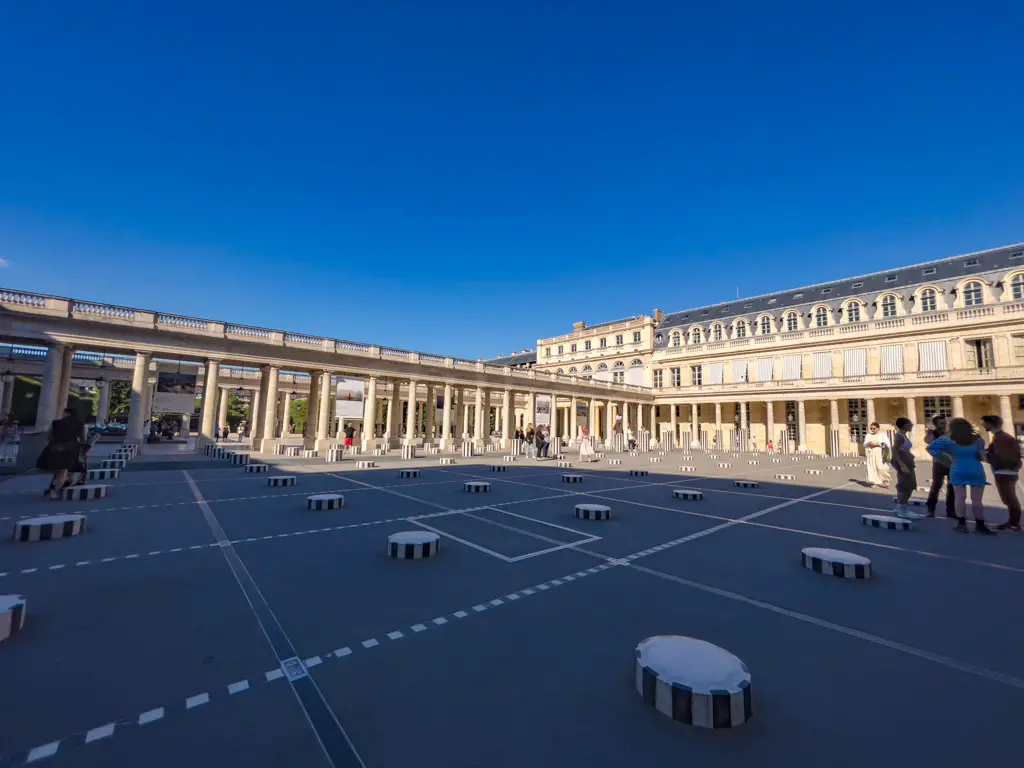 The Colonnes de Buren is arguably one of the most Instagrammed spots in Paris right now. It's in the Palais-Royal square near the Louvre that has various height black-and-white striped pillars. These are artwork installation by Daniel Buren that dates back to 1986! 
P.S. these pillars are made of the famous Carrara marble from the Pyrenees!
Louvre
Interestingly, the Louvre in the middle of the afternoon in the Parisian summer is empty. Probably because it's quite hot! It's a great time to take photos without the crowds. The Louvre should also need no introduction, but in case you want a short summary, here goes: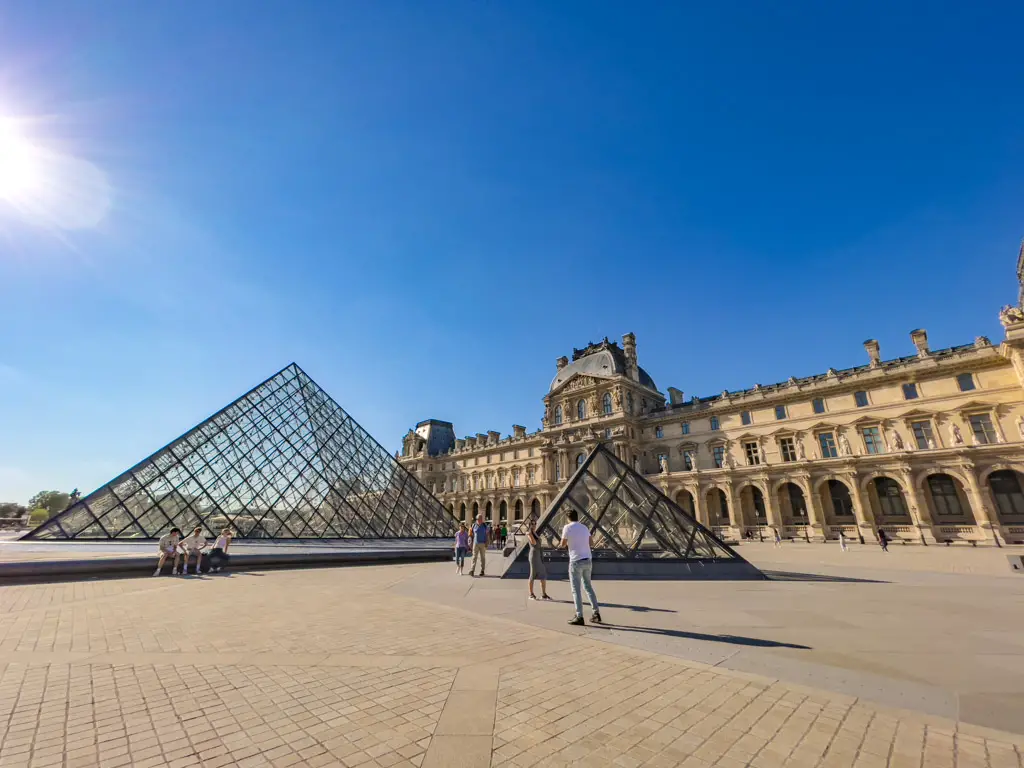 The Louvre Museum is on the right bank of the Sien and established in the late 18th century. Its most famous artwork includes Mona Lisa and Venus de Milo. While it is a huge art museum, most people think of the glass pyramids when they think of the Louvre. But most of the collection are inside the Louvre Palace, a 12th-13th century palace built under Philip II.  The glass pyramid in the middle of the Napoleon Courtyard was added in the 80s when the museum was restructured.
Arc de Triomphe for Sunset
I visited in the summer and took a 2-hour break back at my hotel before heading out for sunset. Depending on the time of the year you visited, you might have to go straight to Arc de Triomphe for sunset. It's also a great chance to see the Champs-Élysées as well. 
The Neoclassical arc was built in the early 19th century to honour those who fought and died in the French Revolution and Napoleonic Wars. The arc is inspired by ancient Roman but with Neo-classical twist. It's in the middle of a 12 road junction, which you might find interesting to know it's called a dodecagonal.
Note: you can go up to the arc for an unobstructed view!
Trocadero Gardens to see Eiffel Tower at Night
Now that sun has set, metro your way to the Trocadero Gardens to see the Eiffel Tower in all its glory at night! Do note that it can get quite busy there at night, so be mindful and polite and you should get some good shots!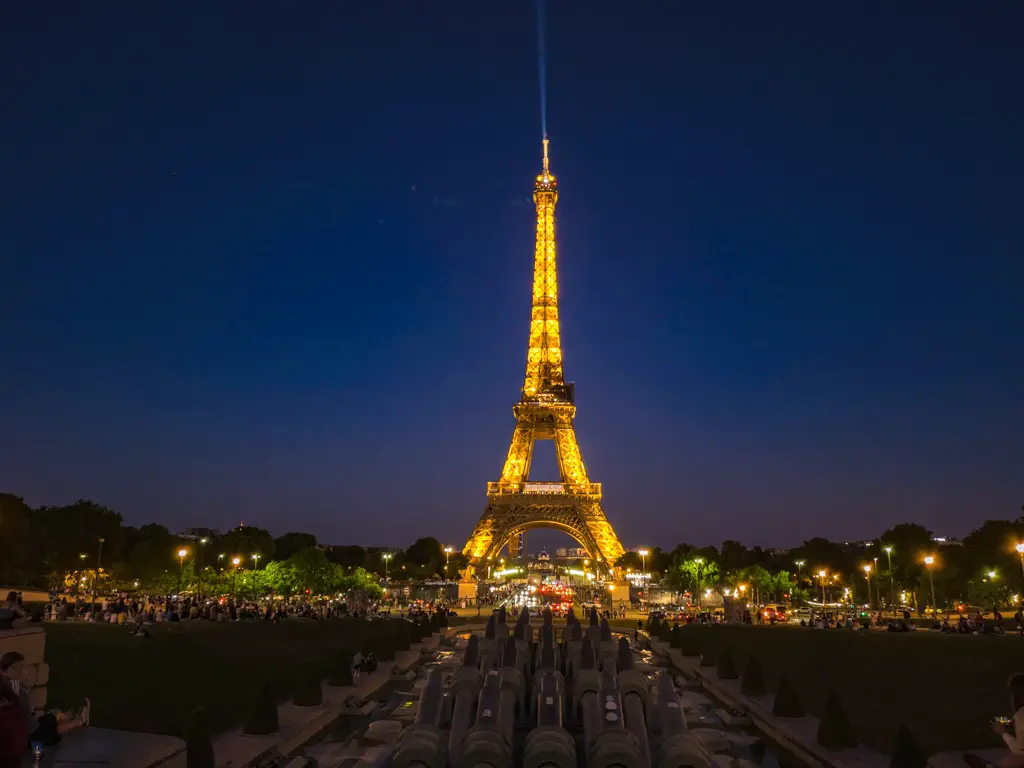 Here's a day-to-night transition to try if you made it to Trocadero during the day as well:
What Else to Do in Paris for One Day?
If you don't want to be self-guided and run around the city, here are some suggestions I have to make your trip fun and memorable:
Take a walking tour in Paris
Whether you're traveling on a shoestring or looking for some inspired experience, taking a walking tour or food tour is the best way to discover a city. Here are some suggestions: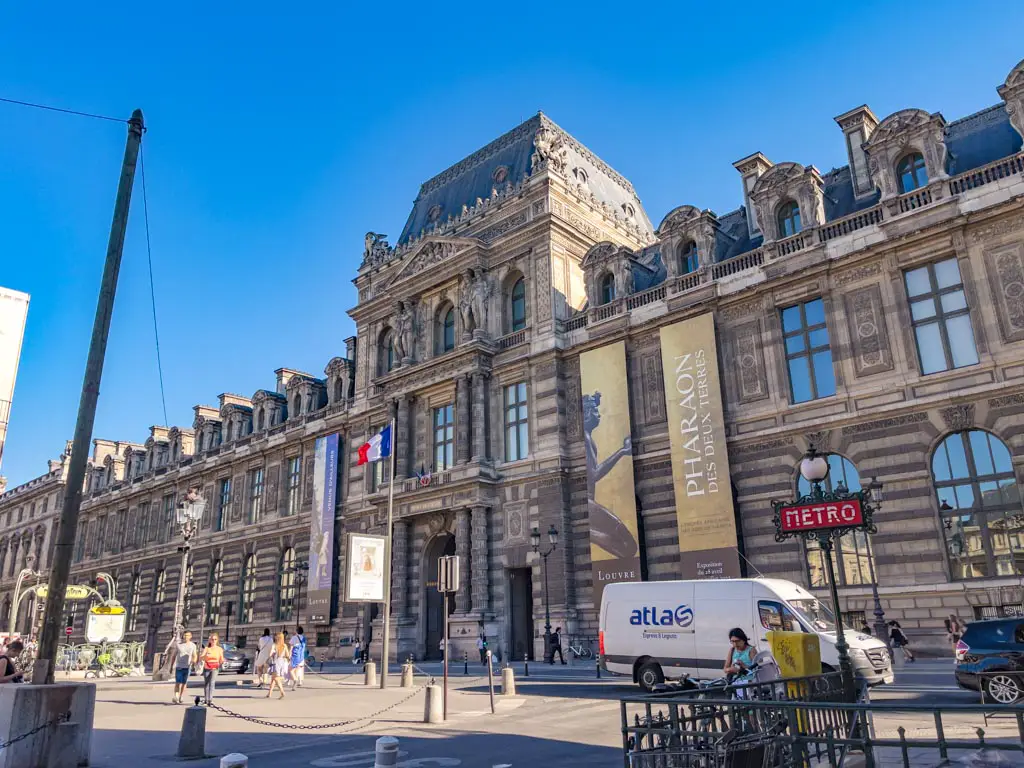 Budget: do a free walking tour in Paris
To learn about Paris's history and major sights is not impossible with only one day in Paris if you join a free walking tour! There are several in Paris and this one has great reviews.
Note: it's customary to leave a tip for the tour guide. Generally, I'd suggest 5 euros unless that day turned out to be a really small group. That's still not bad value for money/time!
You can also do a neighbourhood walking tour for a little more, depending on which area you're more interested in.
Do a Food Tour in Paris
A food tour is usually like a walking tour combined with food, which gives you both some history and sightseeing as well as satisfying your belly. Since Paris is quite large, most of the food tour are neighbourhood focused:
Montmartre: this Cheese, Wine and Pastry Tour takes you around Montmartre for 3 hours trying pastries, wine, cheese, and chocolate. Do note that Montmartre is a hilly area so there will be some strenuous walking!
Marais: Marais is another popular area for locals and this tour covers 11 food tastings and 2 half glasses of wine across 8 family-run establishments.
Macaron Making Class
This was something that I really wanted to do but didn't have time for. If you're not up for walking around the entire city, spare 2 hours and learn how to make macrons!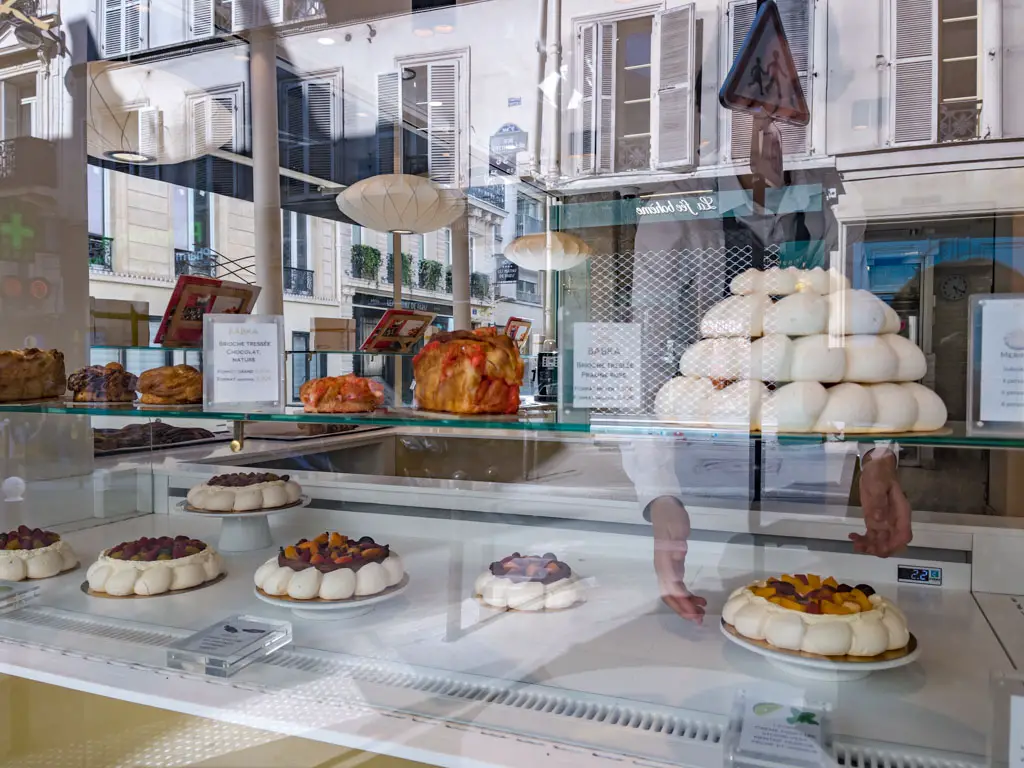 You can do it at Galeries Lafayette and learn from a French pastry chef!
Another highly rated macaron-making class is run by Chef Noémie who graduated from the famous Lenôtre Culinary Institute.
Cruise on the Seine
A cruise on the Seine is a great way to not be on your feet but still see most of the main attractions by the river. Here are some suggestions:

Budget: this Paris: Seine Cruise & Crepe Tasting near the Eiffel Tower is highly rated and very affordable. It loops from Eiffel Tower to Notre Dame, and then back.
Dinner Crusie: Paris: this highly rated Evening Cruise with Dinner on River Seine serves up some great food and is a good romantic choice for couples.
Where to stay in Paris for one night
Where you should stay in Paris depends on your mode of transport before and after your short stay in Paris. With the metro being so well connected, there really isn't too much hurdle on staying somewhere you like.
That said, of course it's more convenient if you're staying right by the station or by the metro line that would take you directly there. Here are some of my top picks depending on where you're headed next morning/night.
Hotels near Gare du Nord and Gare de l'Est
The two stations are very close together. Gare du Nord is where the Eurostar from the UK goes in and Gare de l'Est is the terminus for trains that come towards Switzerland and Austria.
Budget: A la Pinte du Nord is a budget choice but it is in an old building with shared bathroom facilities.
Mid-range: Hotel Les Deux Gares is a boutique hotel near a stone throw from the station with a 24 hour front desk. For a more modern and simplistic design, OKKO Hotels Paris Gare de l'Est is on the same street.
Hotels near Gare de Lyon (and Bercy bus station)
Gare de Lyon is the terminus for trains heading towards Marseille and South of France, as well as those going towards Switzerland, Germany, Italy, and Spain.
Mid-range: Hotel Parisianer is 2 minutes from Gare de Lyon with bright modern rooms. Another popular choice is citizenM Paris Gare de Lyon.
Splurge: Courtyard by Marriot Paris Gare de Lyon has more spacious rooms with choice of twin or double. 
Hotels near Gare Montparnasse
Gare Montparnasse is connected to the metro station of the same line and serves trains to the west and southwest of France. It is also where the train to Versaille departs.
This is where the train to Ponteson aka Mont Saint Michel departs.
Mid-range: Hotel Edouard 6 Montparnasse Saint-Germain-des-Pres is right across from Gare Montparnasse and the metro. Hotel Odessa Montparnasse is a slightly less modern choice but some rooms have a balcony!
Splurge: Victoria Palace Hotel is in a quiet street with friendly staff with modern rooms. For something with a bit more flare, Hotel Le M is a good alternative.