I have two over-whelming memory of Marseille, the first is the distinctive smell of cat pee, the second is that everywhere seems extremely dodgy. My opinion was echoed not only by my sister, but by our Blablacar driver and Airbnb host in Nice. The streets are dirty, graffitied and everything seems to smell. Nice was much better in comparison.
Despite the various attractions listed the only a few spots that I truly enjoyed. One of it is The Calanque National Park and technically does not lie within Marseille, and here are the ones I think are worth a look:
Basilique Notre-Dame de la Garde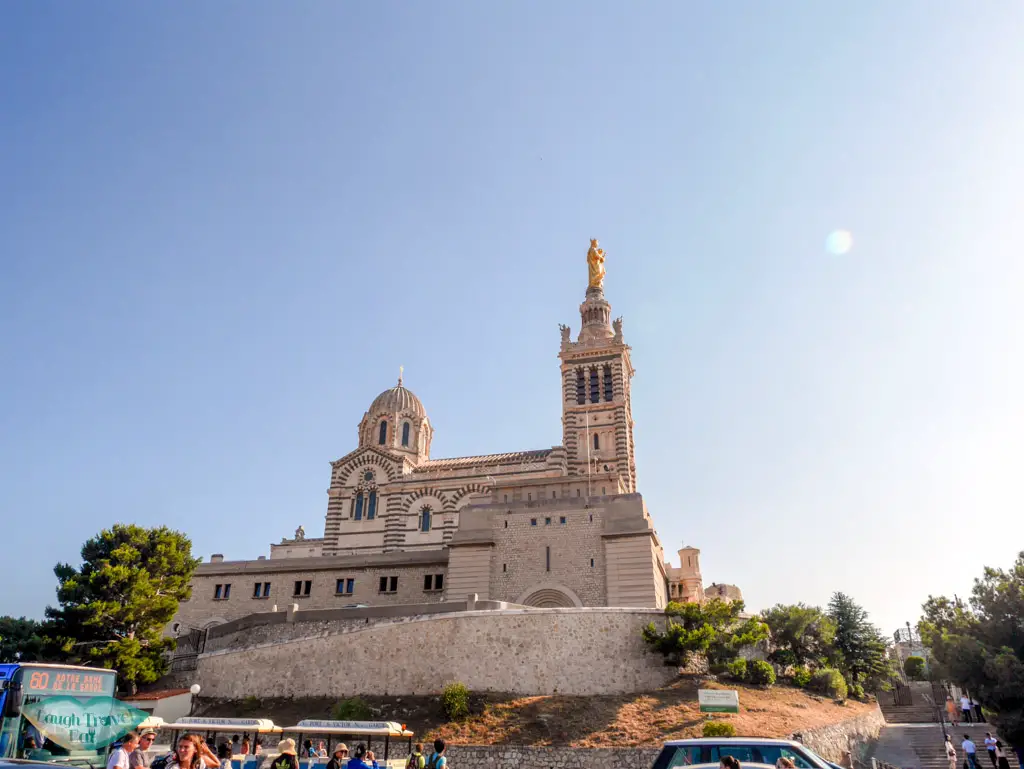 The only highlight of the city in my opinion, the Basilique Notre-Dame de la Garde is situated on a strategic limestone hill with a spectacular view overlooking the city. The literal translation of its name is Our Lady of the Guard, and its beauty can be admired from all around the city as well. A Catholic church of Neo-Byzantine style, it was built in the Mid-19th century to replace an old church of the same name.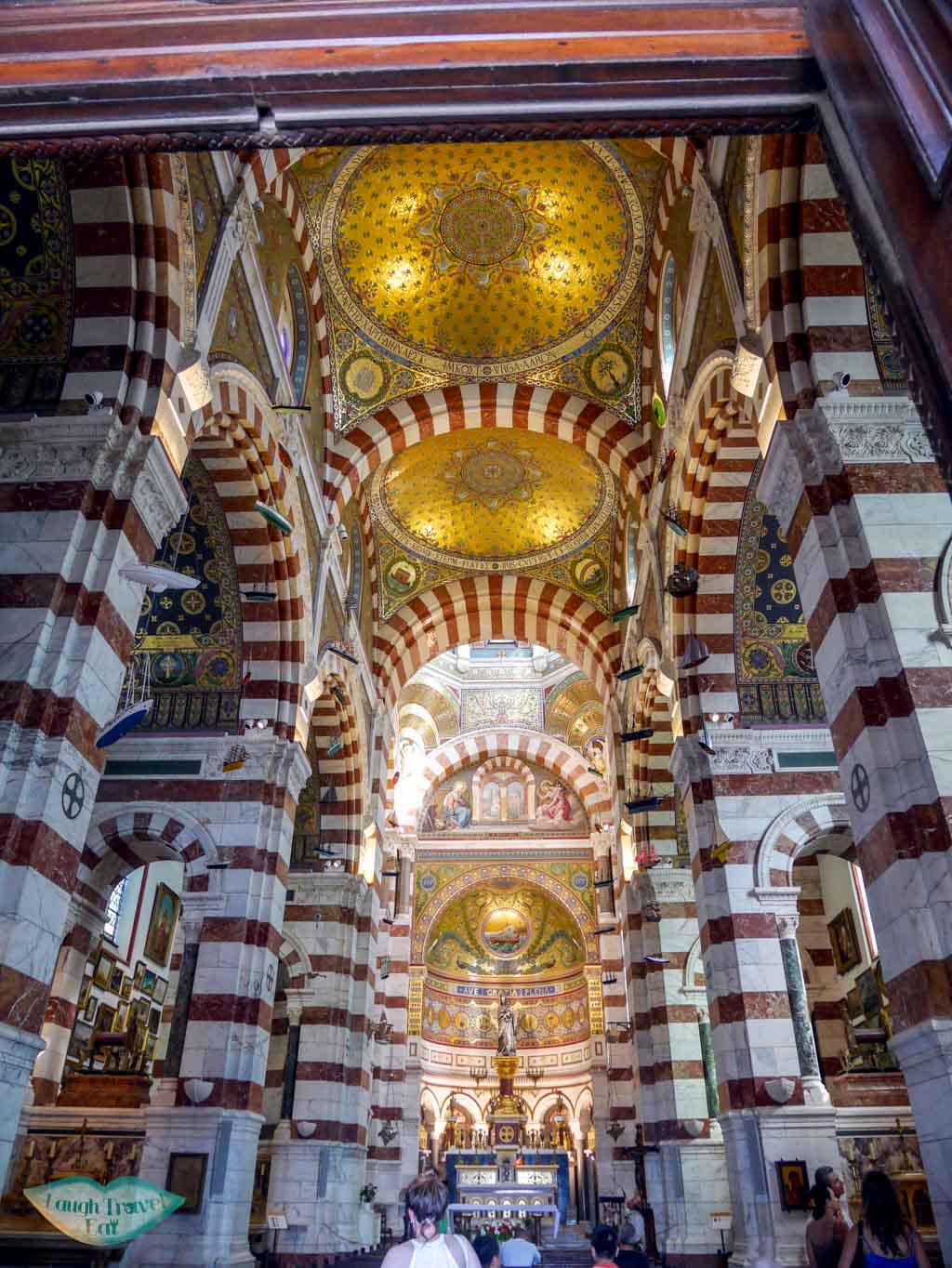 Its façade of green and white marbles contrasts beautifully with its Red and white striped interior – giving it an ethereal, timeless feel. Lines of ship models hang from the ceiling from inside the church, complementing the intricate sea-themed mosaics of the ceiling and walls.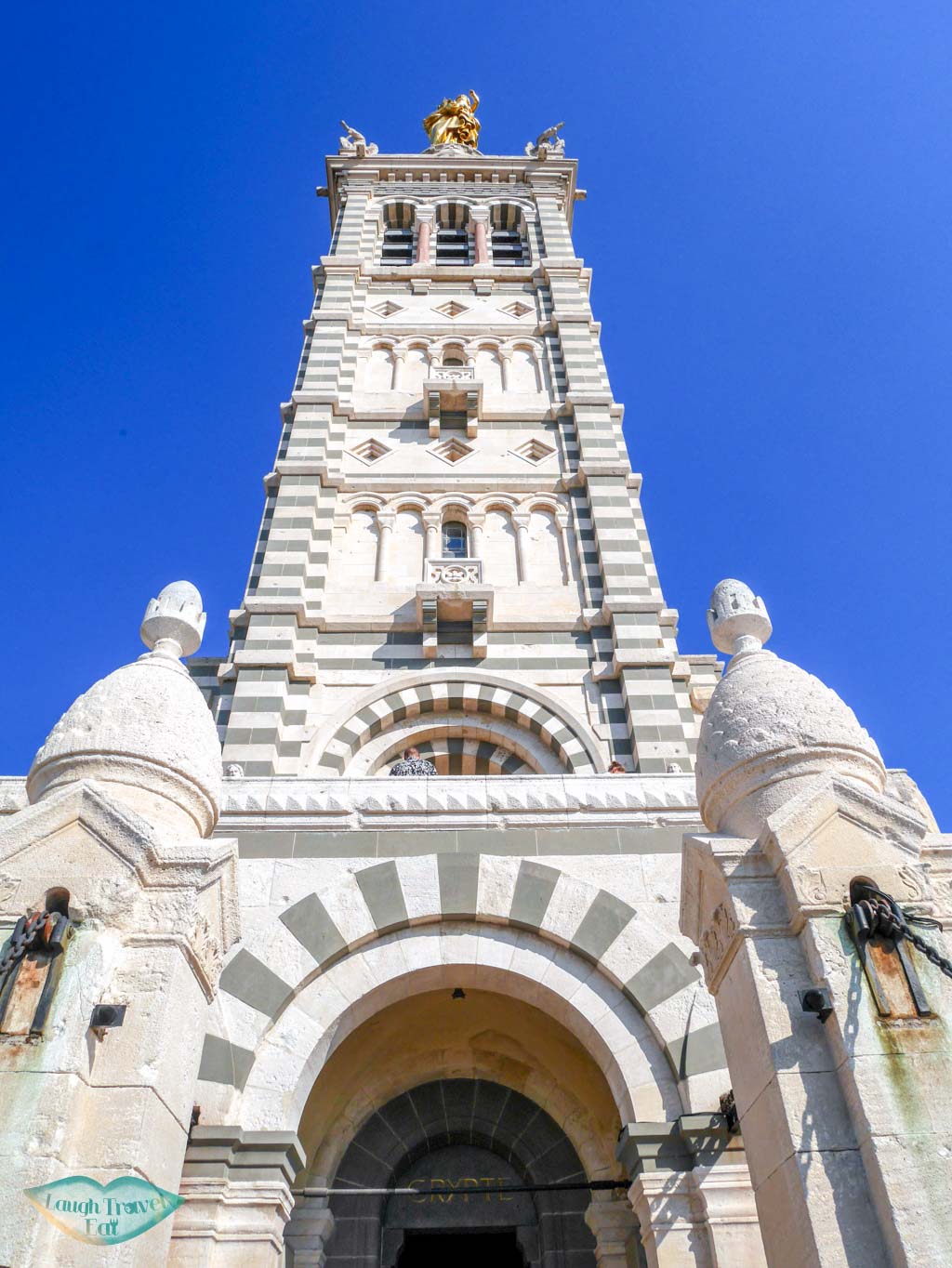 With a bell tower, side walls, crypt, an upper and lower church level, a draw bridge with grand staircase, this church will certainly be one of the most gorgeous ones you will ever see.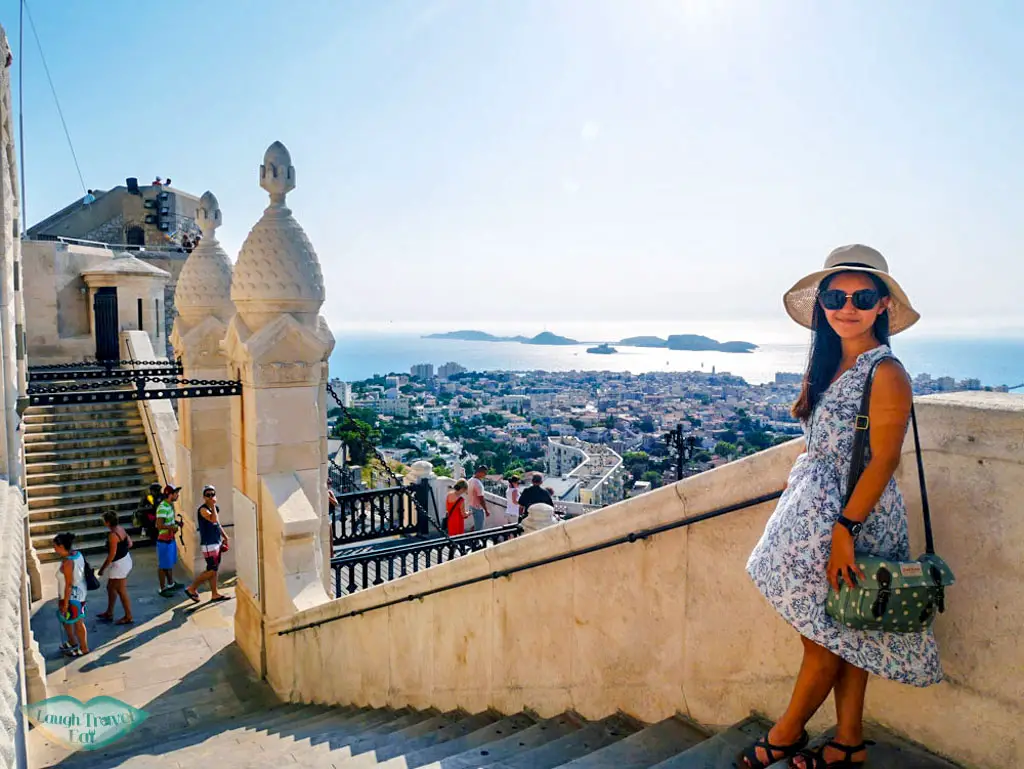 You can skip the grand stairs and draw bridge by taking the lift in the information centre, and go directly to the walls to admire the panoramic views of Marseille. To the people of Marseille, the church is their protector and guardian, and it most certainly did feel this way with the statue of the Virgin with child watching over the city on top of the bell tower.
Address: Rue Fort du Sanctuaire, 13281 Marseille, France
Opening time: 7:00 – 18:15
Admission fees: free
Website: https://www.notredamedelagarde.com
Transport: Take bus 60 near the Old Port (about 1.9 euros)
Old Port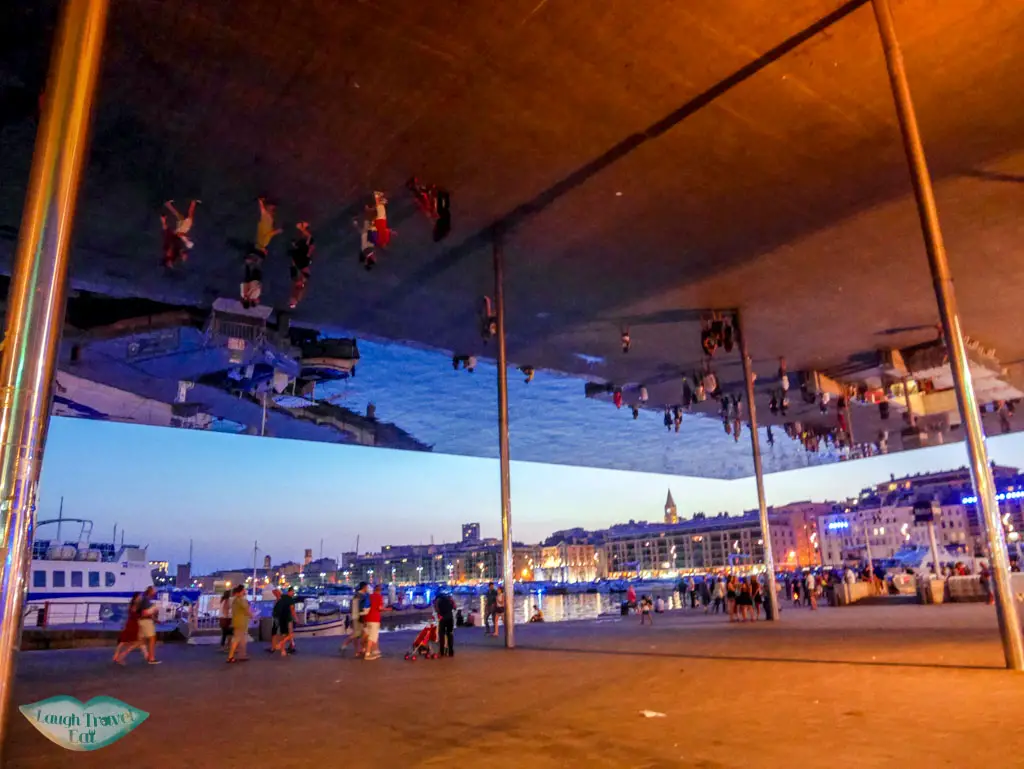 The natural harbour of Marseille, this beautiful sea front is particularly beautiful at twilight. Its history can be traced back to 600 BC, when the first settlers arrived from Phocaea, Greece.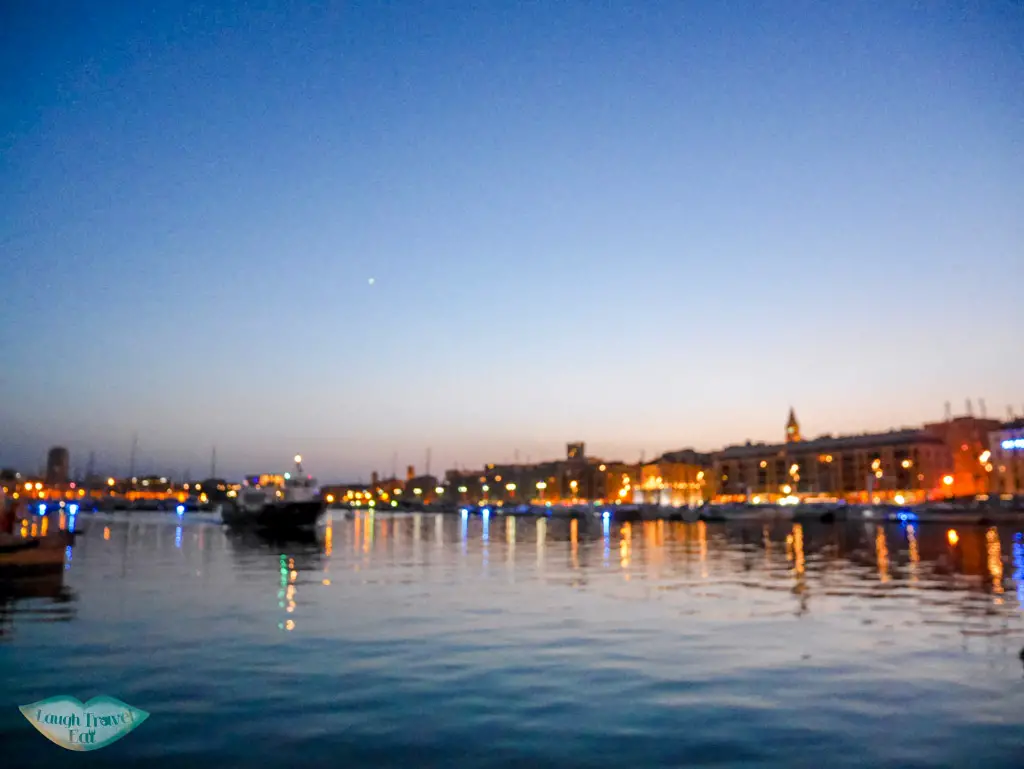 The plethora of lights from buildings illuminate the water and the lines of yachts and old houses gives it a tranquility that cannot be found anywhere else in Marseille.
Palais Longchamp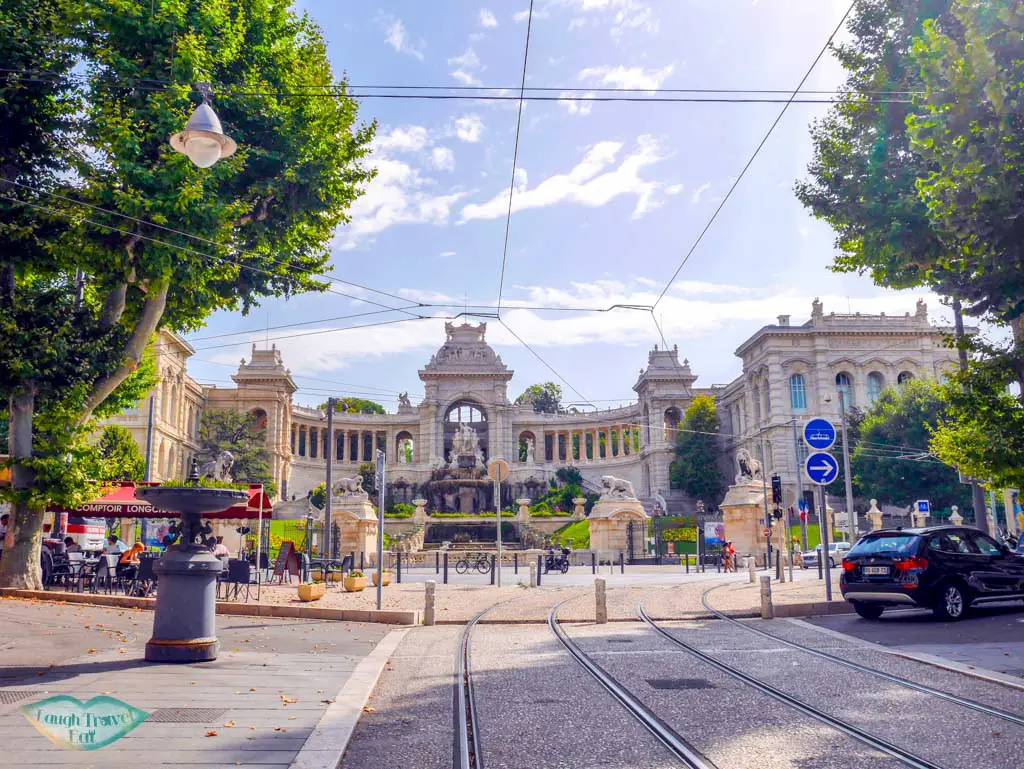 Situated at the end of a wide avenue, Palais Longchamp and its curved glory caught my eye when I was admiring the panoramic view by la Basiliqua de la Garde. A 30 year work erected to celebrate the Canal de Marseille bring water to the city in the mid-19th century, its two wings are now home to Musee des Beaux-Arts and Museum d'Historie Naturelle.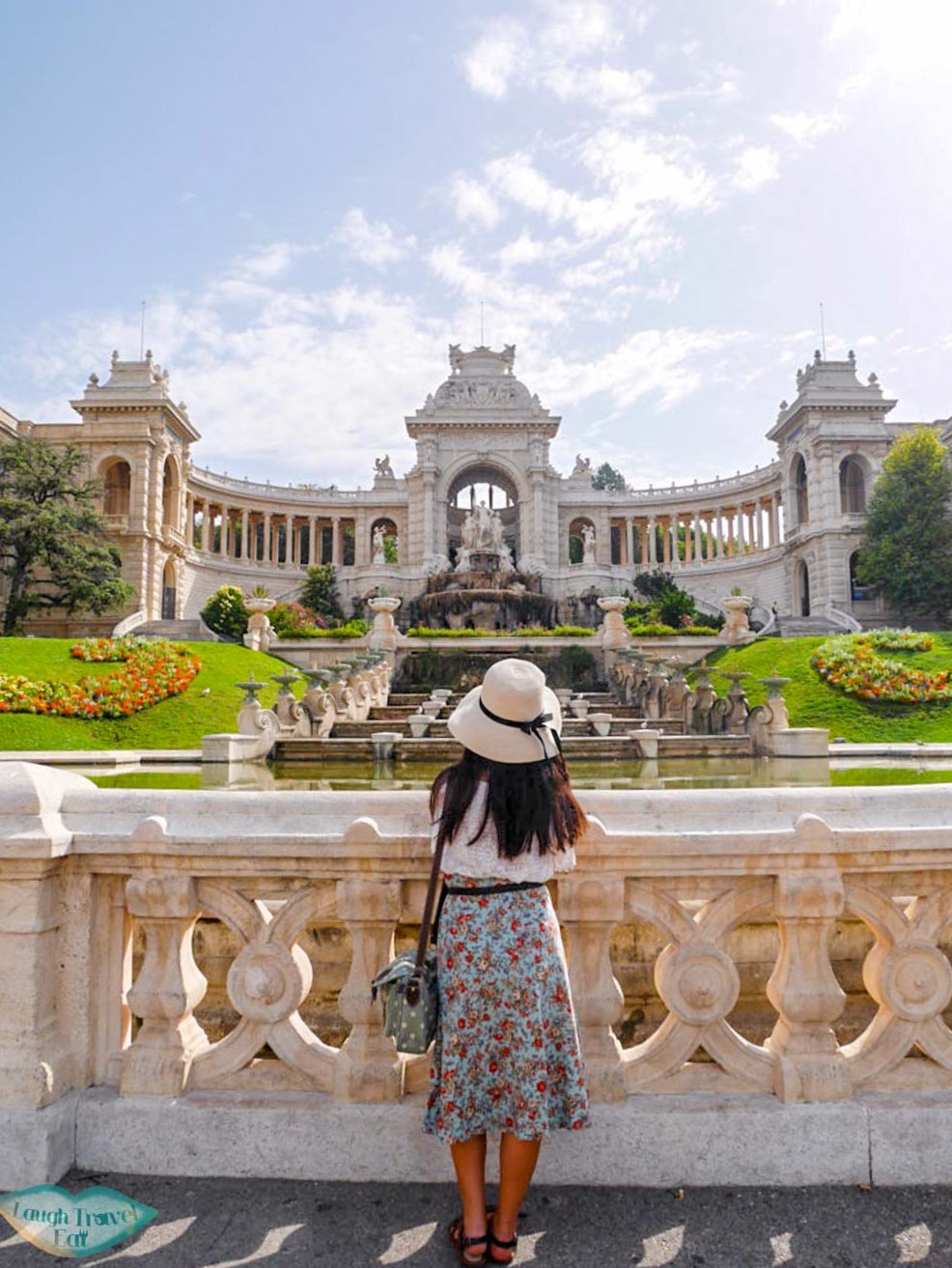 The elaborate fountain flanked by two symmetrical grand staircases named chateau d'eau, literally translate as the castle of water, seems to step right out of a fairy tale; there is even the added beauty of a park and artificial pond in front of the palace that is known as Parc Longchamp.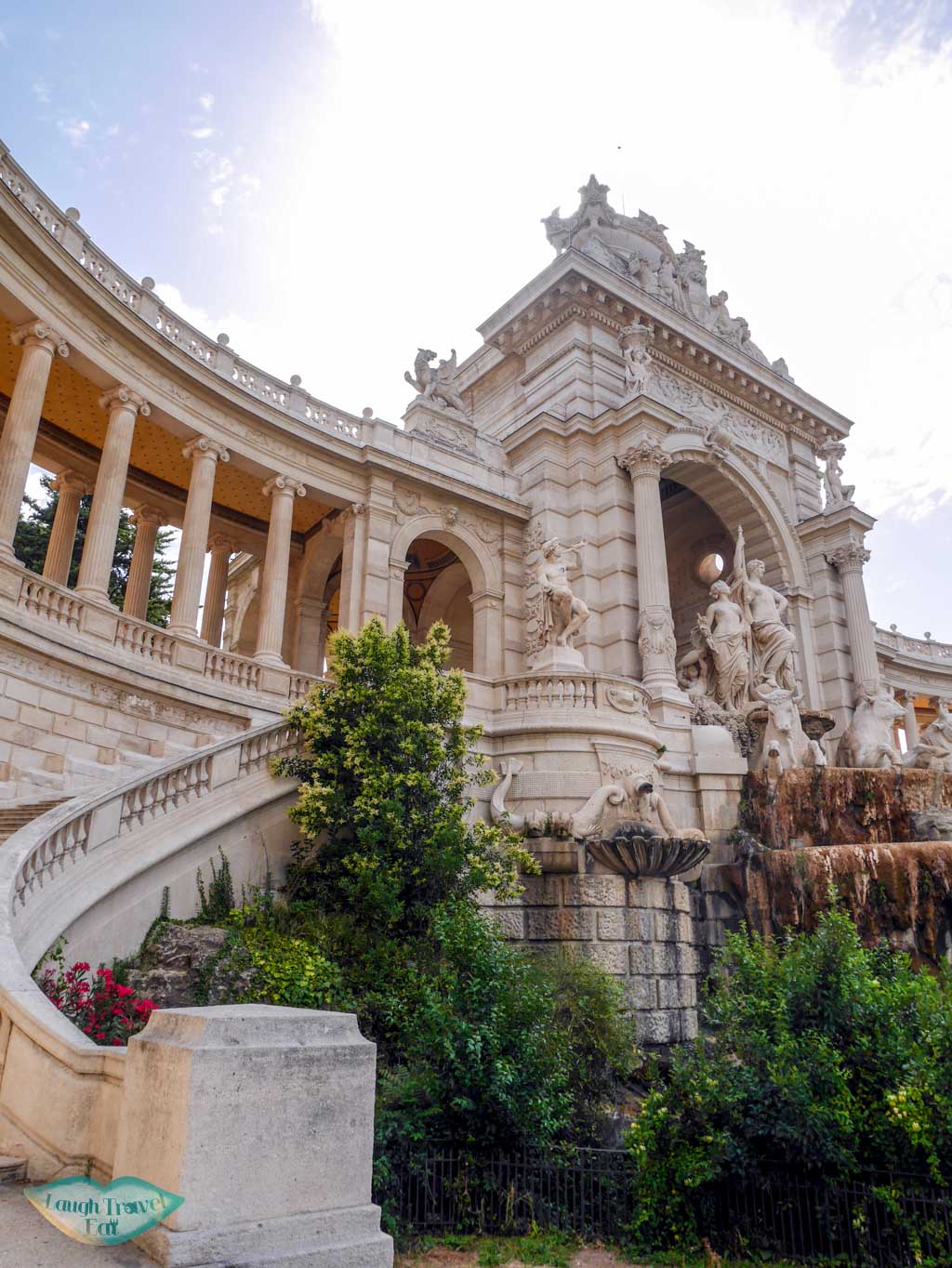 Address:  Boulevard Montricher, 4th arrondissement of Marseille, 13004 Marseille, France
Opening times: I cannot find this for now – but assume normal park hours.
Admission fee: it's free to roam around the park and chateau d'eau.
Marseille Cathedral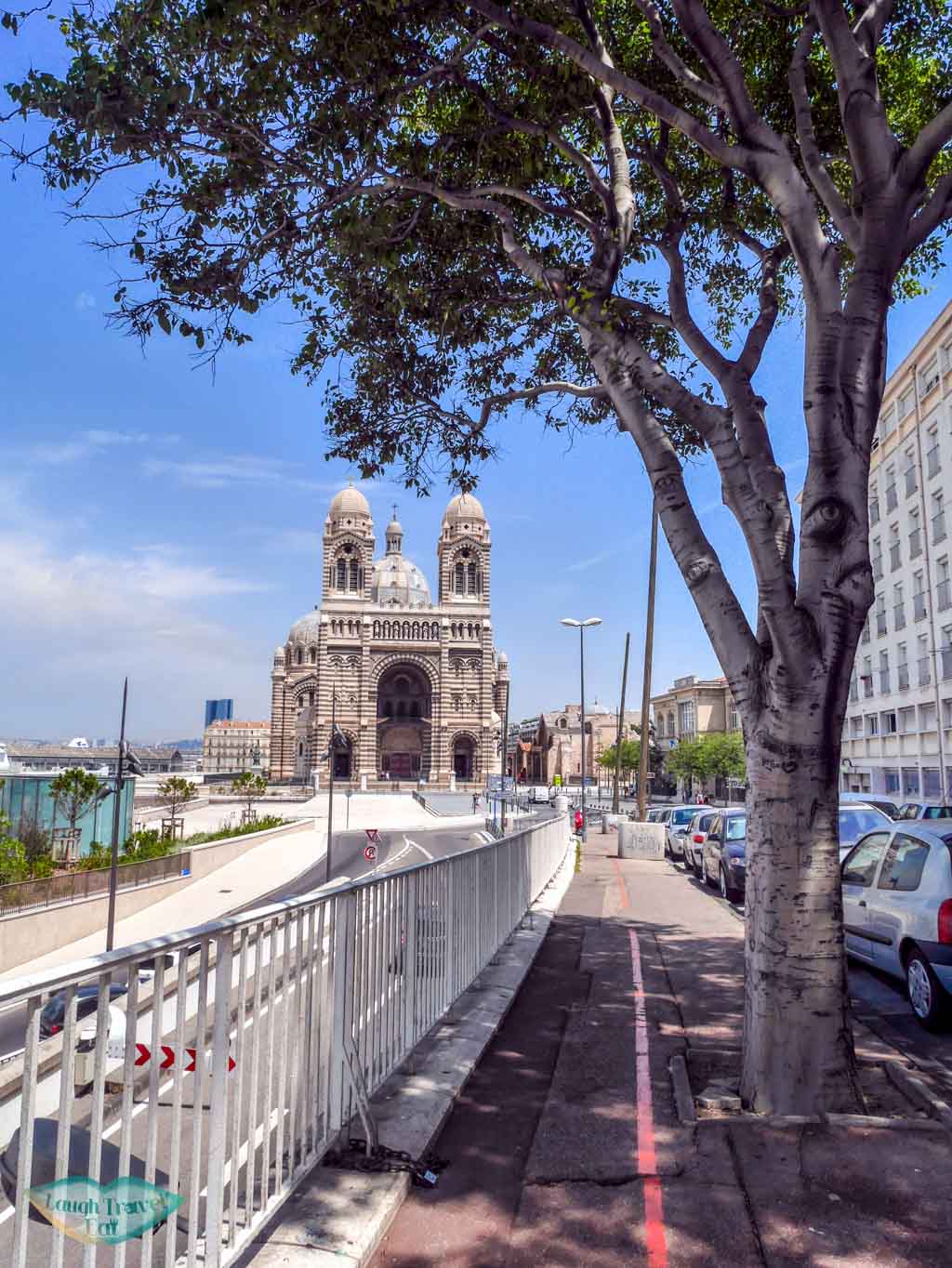 A grand building in the same style as Notre-Dame de la Garde, Marseille Cathedral is situated not too far from Fort St Jean. Oddly out of place to its surroundings, its grandness stood out with its two bell towers and a large dome standing over 70 m in height and 142m long.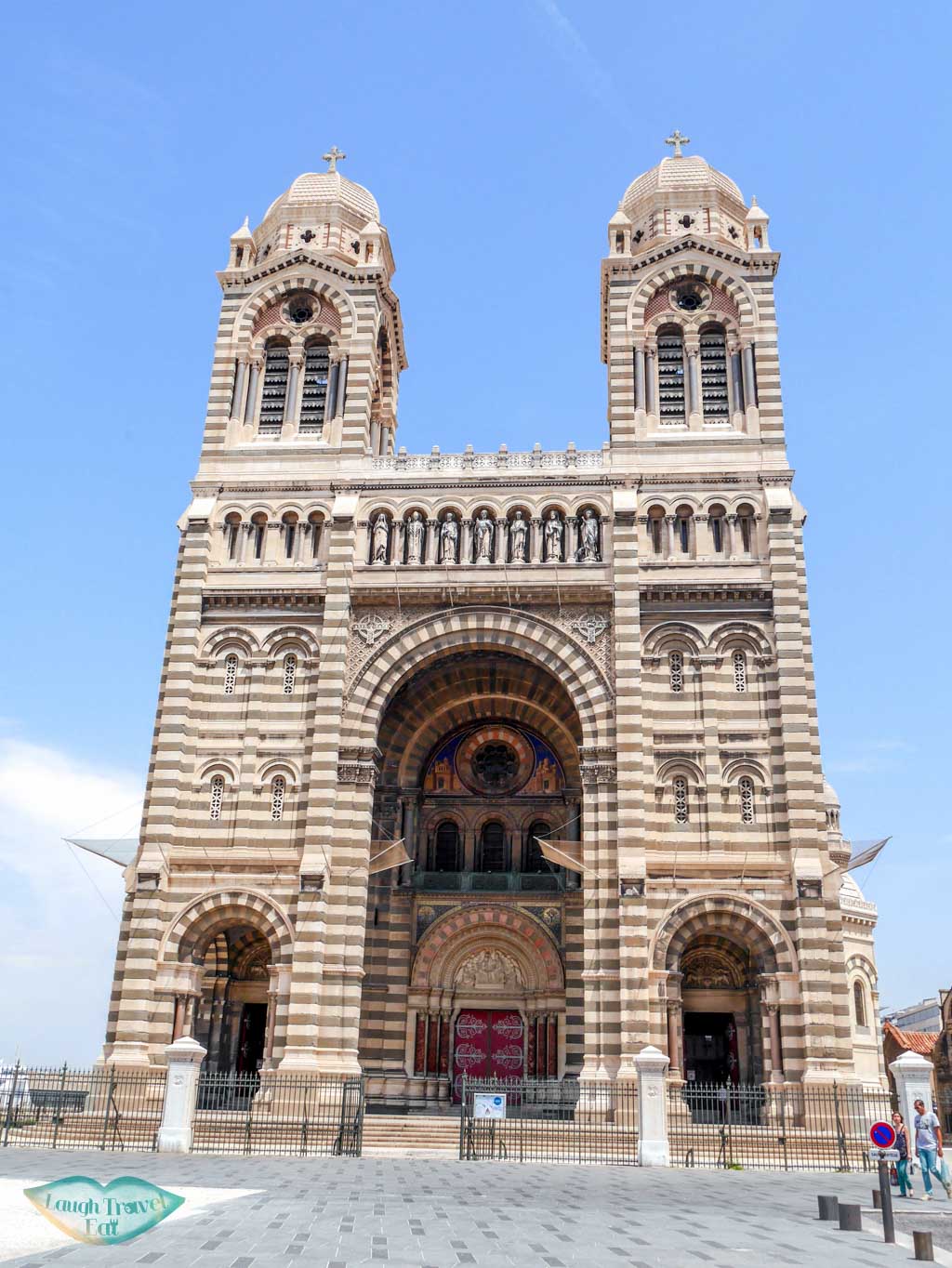 The intricate mosaics above door are absolutely beautiful and red double doors. Its interior is more simplistic, with mosaics in the tone of red, white, black, grey and earth tones complementing the golden motifs.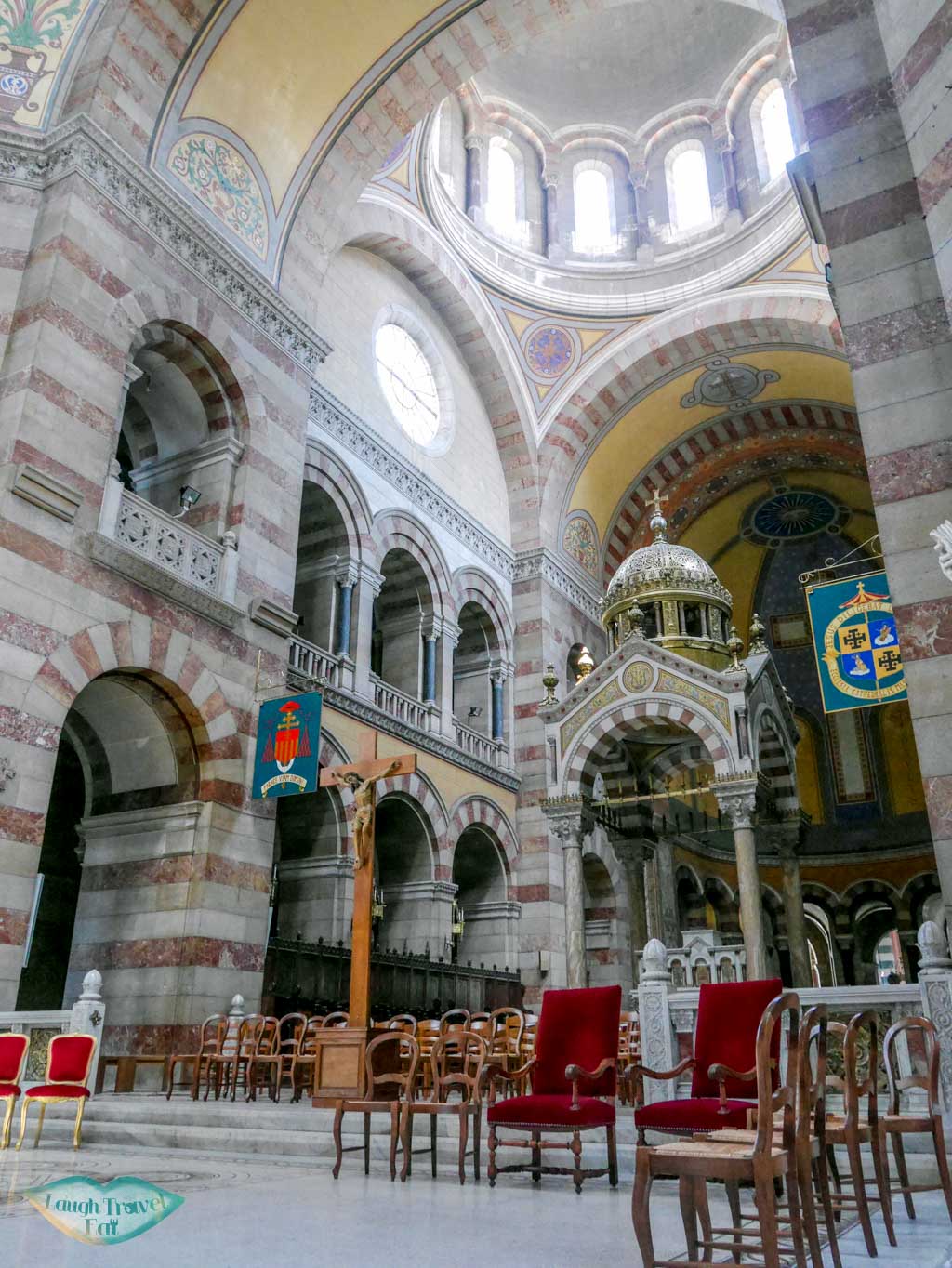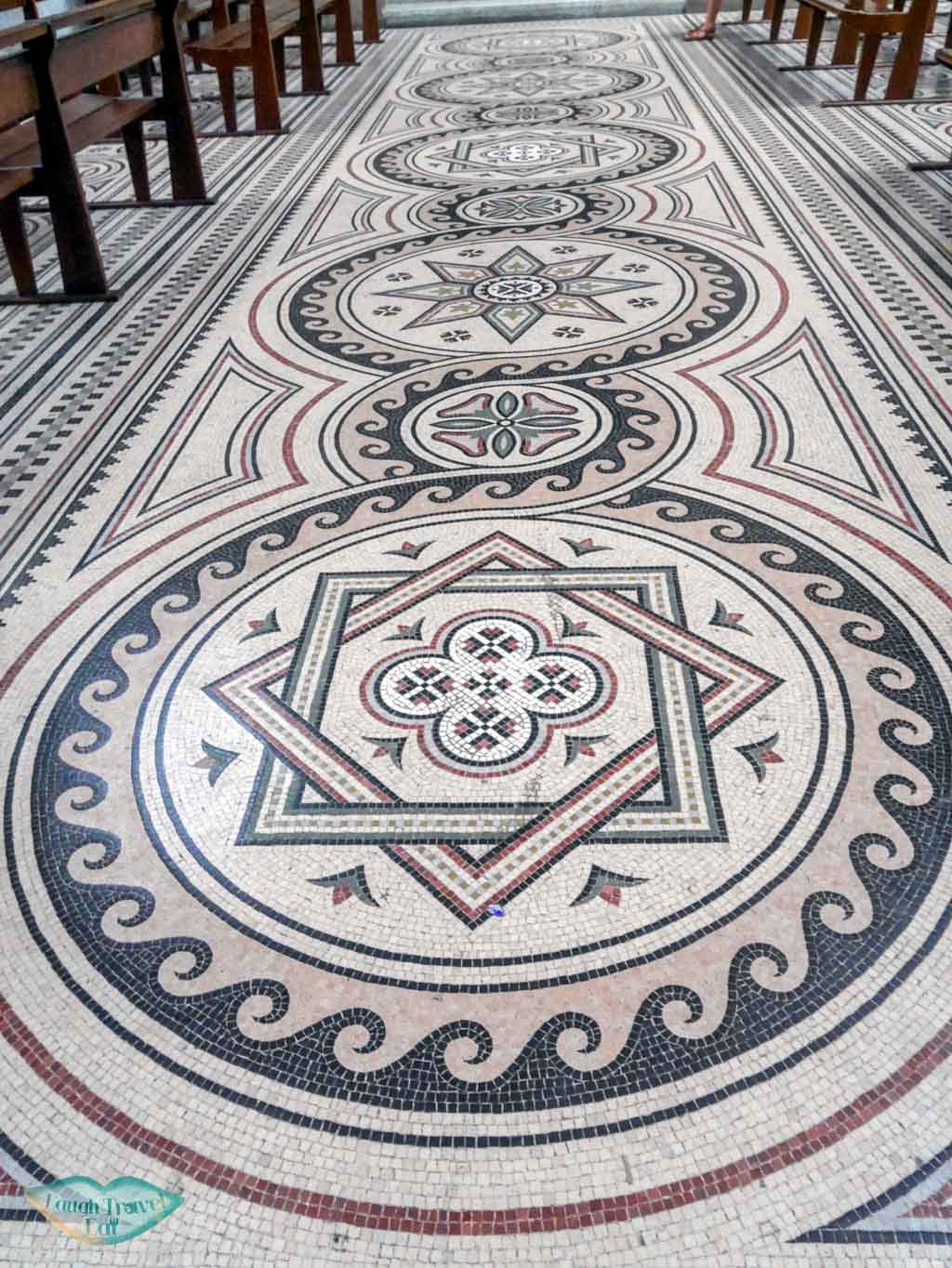 Address: Place de la Major, 13002 Marseille, France
Opening times: Closed on Mondays, 10 – 19
Admission fee: free
Fort St Jean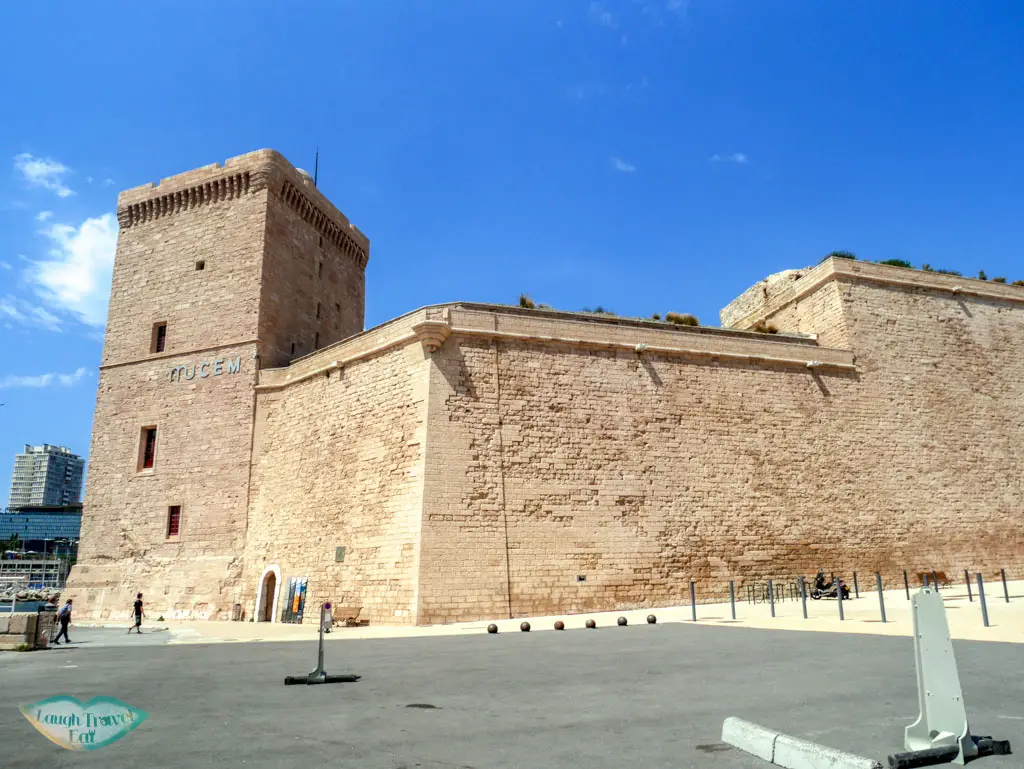 A 17th century fortress built by Louis XIV at the Old Port entrance, Fort St Jean was actually built not because of outside threat but a response to the uprising. It had since been a prison, barracks and then occupied by the German military, fell into disuse before finally being restored in the 1960s.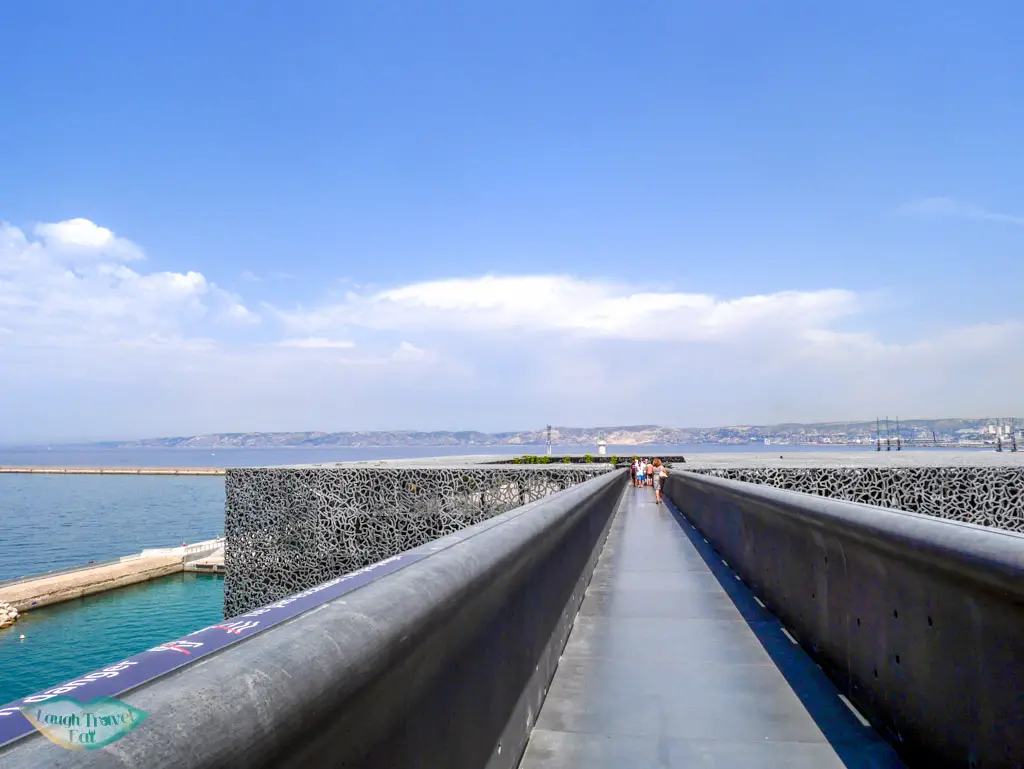 Now part of the Civilisation Museum (MUCEM), it is connected to the new museum J4 by a footbridge, with another bridge connecting it to the Panier district. There is a smattering of gardens around the Fortress worth a little stroll as well as some rooms opened for a peek.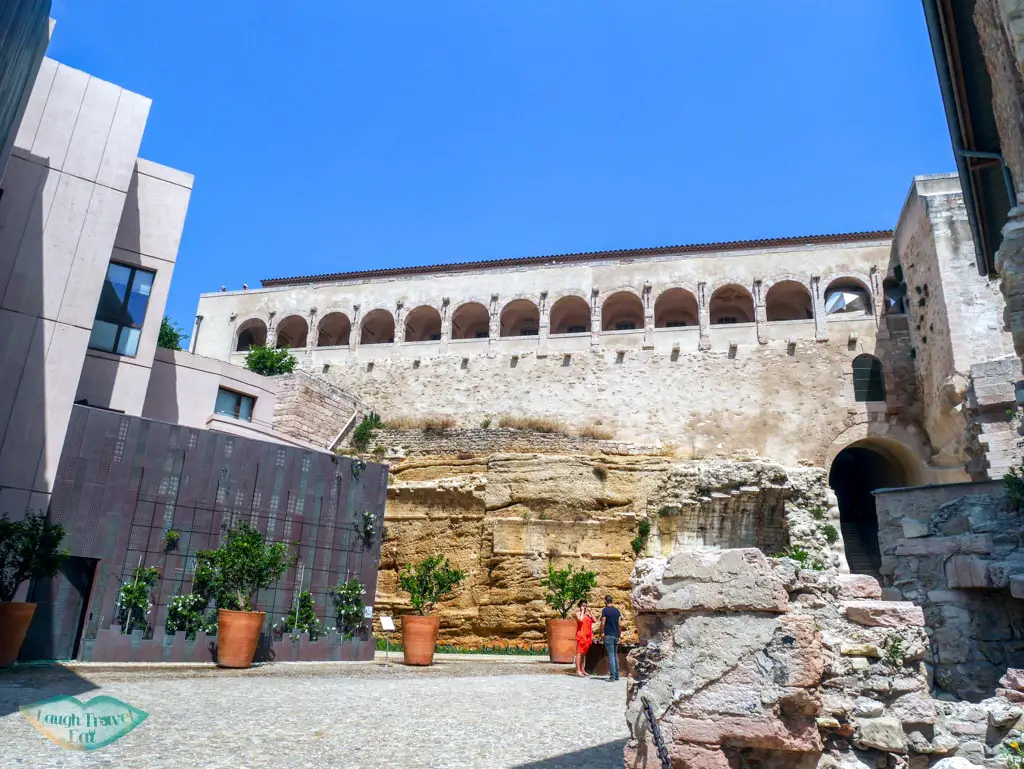 Address: 7 Prom. Robert Laffont, 13002 
Opening times: Mon – Fri 9 – 12:30, 14 – 17
Admission fee: Adults €8, concession €5, family ticket (2 adults and up to 5 children) €12.
Info: Multimedia guide €2, https://www.mucem.org/en/your-visit/opening-hours-and-prices#J4-et-fort-Saint-Jean
Restaurants:
Les Echevins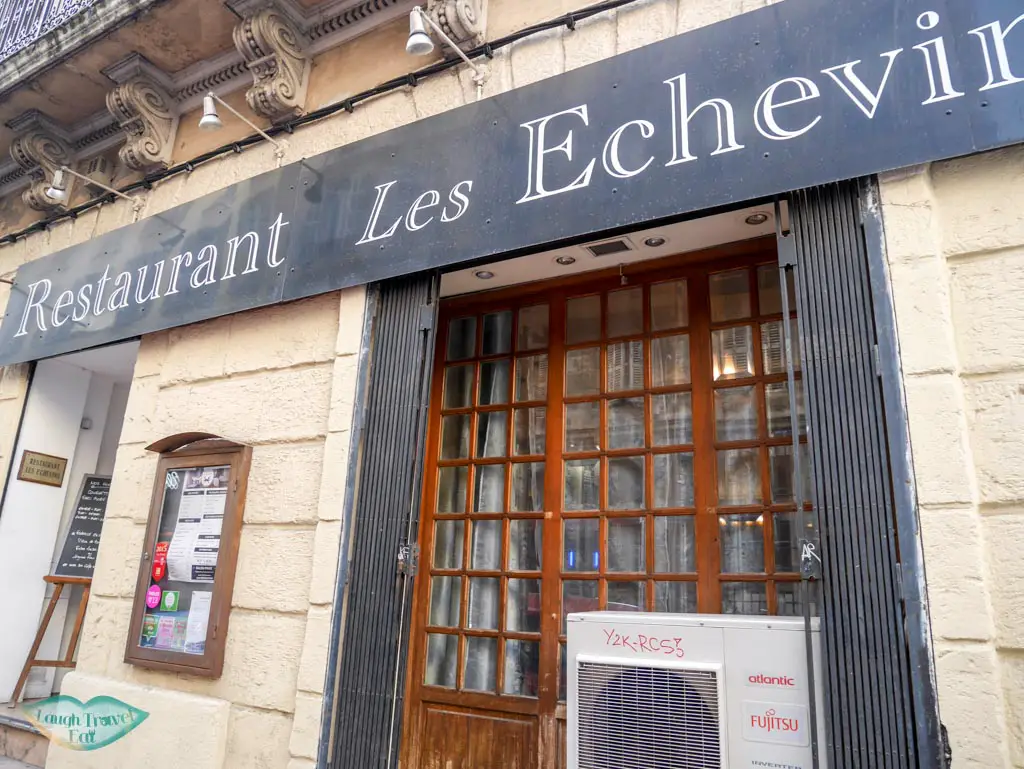 A little treat hidden near the Old Port, we decided on Les Echevins not only because of the gleaming reviews, but also because of the 30% off if we booked through TripAdvisor.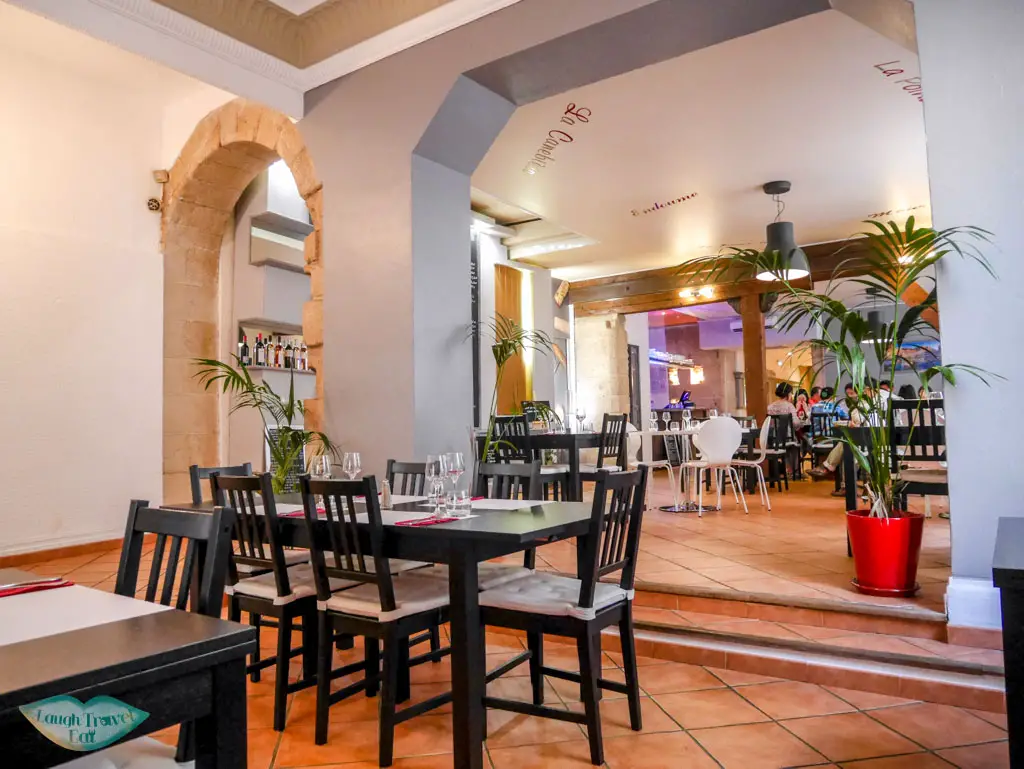 Despite the language barrier, our waitress was extremely kind and the ambiance of the restaurant was nice with a modern décor.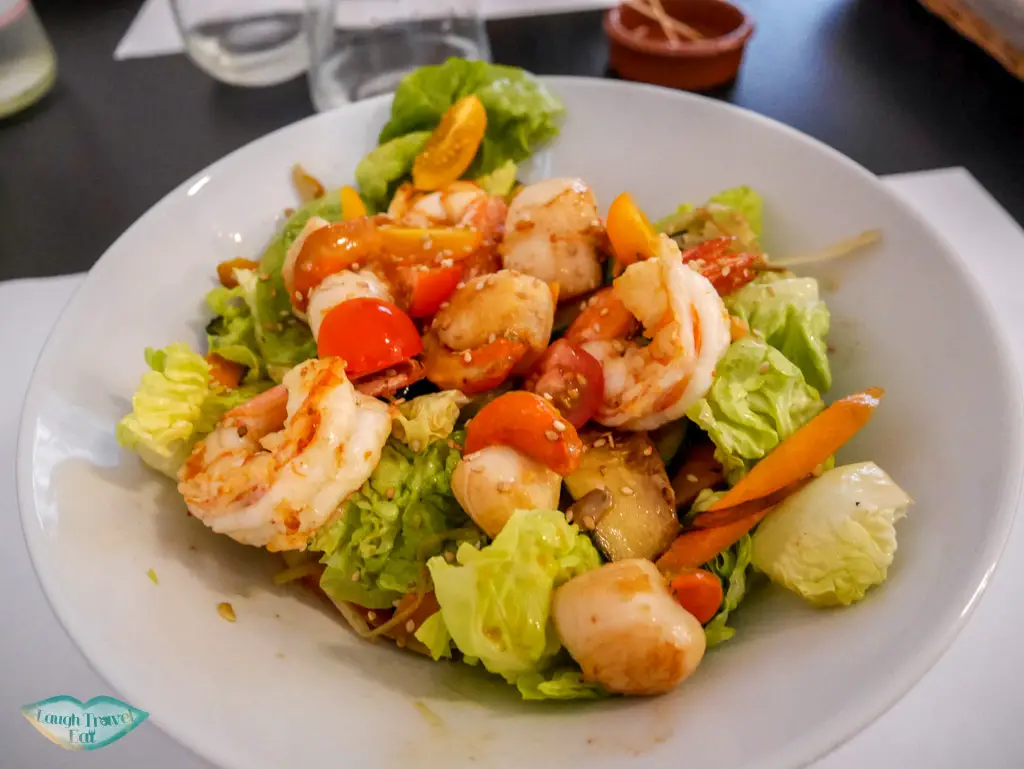 My starter of prawn and scallop salad was amazing, and the portion was the same as the main meal. My sister equally loved her starter – fried squid with parsleys.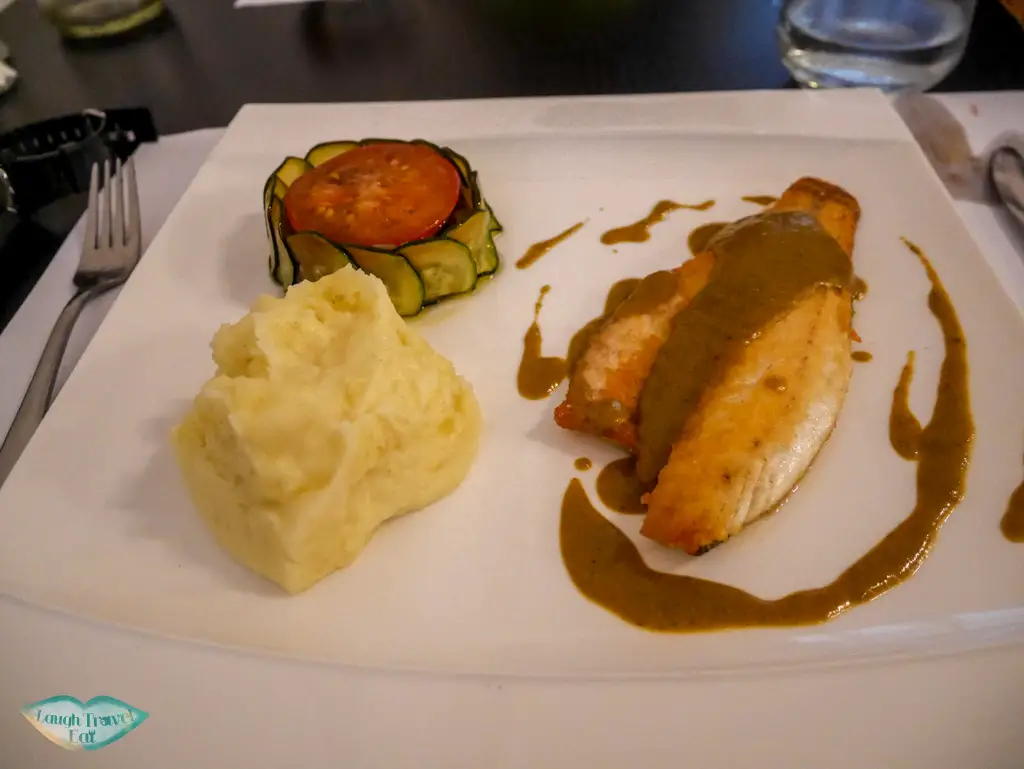 The mains were good too, but not comparable to the starter. I had sea bass fillet with mash potatoes and my sister had roast tuna and salad.
Overall we had a great meal and paid about €25 each.
Address: 44 Rue Sainte, 13001 Marseille, France
Opening times: Daily 9:00 – 23:30