When researching for my trip to South of France, I scrolled through thousands of images of Pinterest trying to narrow down my itinerary. And the most striking images are from the town of Eze not far from Nice. Therefore, when planning my itinerary I left a whole day for us to explore this beautiful mountain town in addition to another day trip to Monaco as well as time to explore Nice.
I originally intended to spend a night in Monaco as well – but the ridiculous price of accommodation meant that we were better off commuting from Nice.
In further research, however, I discovered that Eze is, in fact, closer to Monaco than Nice, and that it's a small town that probably did not warrant an entire day to visit. After poking around on different travel forums we had decided to combine our trip to Eze and Monaco together to maximize our time (which we mostly spent in air conditioned places to reduce the risk of getting a heat stroke) in Nice.
Getting from Nice to Eze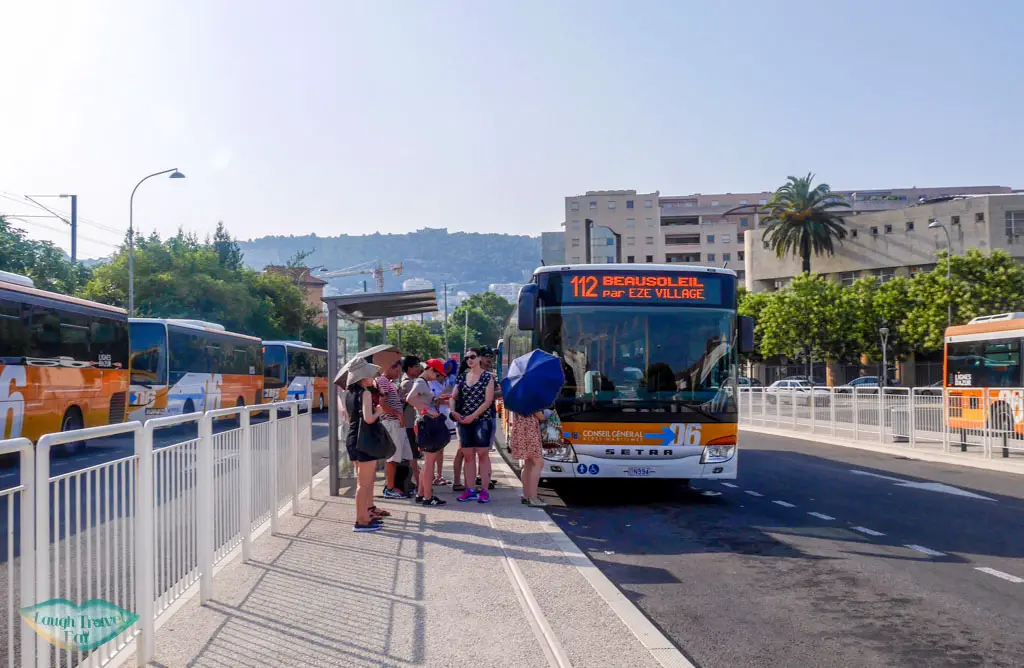 There is a lot of helpful information out there, though it was at times difficult to follow. The most common confusion is regarding trains and buses. The stop Eze-sur-Mer, where the train and bus 100 stop by is by the beach which is not the village itself. If you stop by there a long climb uphill will ensure, or you can take bus 83 that runs a sparse hourly service.
Get a free map for your day trip to Eze and Monaco!
The buses you do want to take are bus 82 or 112. Both stop by Eze Village, which is the stop that takes you directly to the village with only a short climb up. The easiest station to reach and find for both buses is at Vauban, which is only across the car park from the tram 1 line of the same name. If you don't want to go to Eze, or just want to go directly to Monaco the bus you want is bus 100. This one starts at the Old Port, which again is not very close to the train station. The nearest tram stop is Garibaldi, which is still a good five to ten minutes' walk.
>If you prefer to do a day trip from Nice by train – check out my  friend Naomi's post.
Eze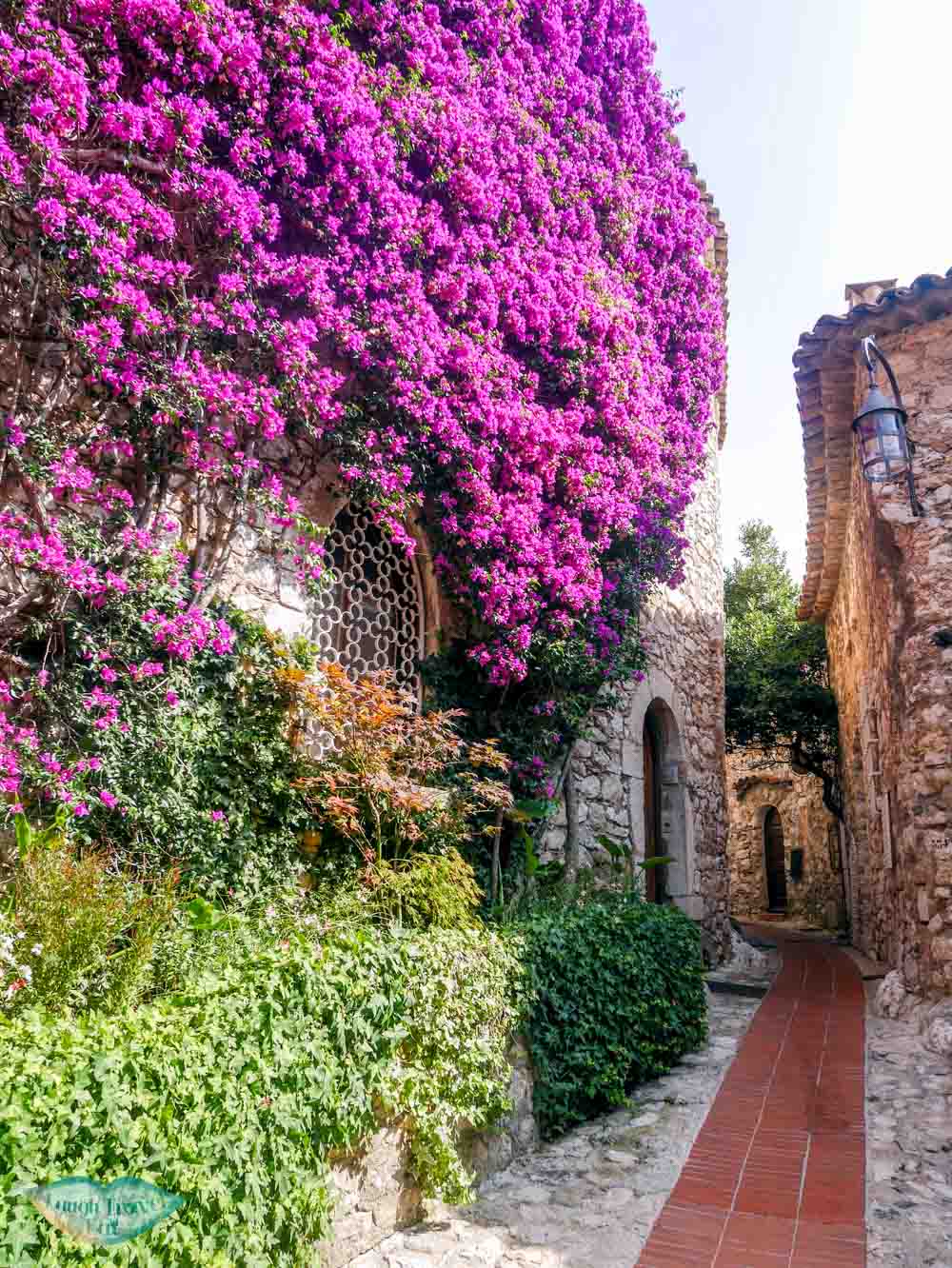 For Eze, you would want to get there early because cruise ships and masses of tourists from both Nice and Monaco flock to this tiny village as well and it can get pretty crowded as the day goes by. The best bus to take would be the 9:00 schedule of bus 112, which gets you there at 9:30 giving you an hour before the big crowd arrives.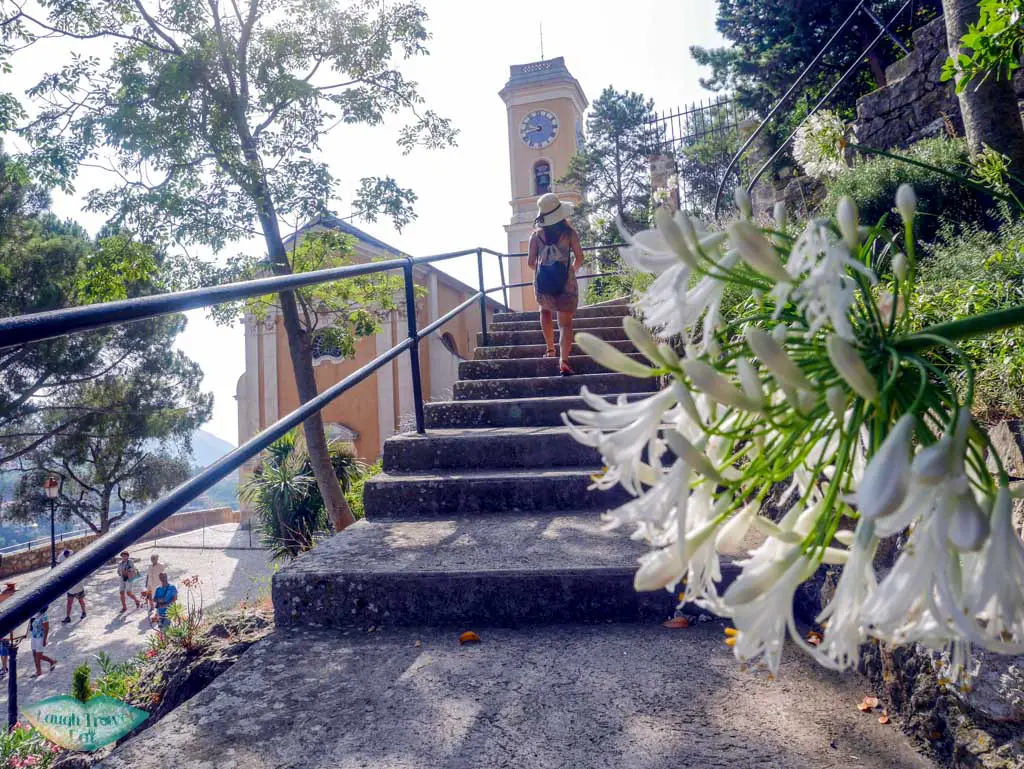 Eze is a medieval village famous for its panoramic view of the ocean and beautiful medieval streets. Although it has a history as far back the Antiquity, the oldest building in this village is from the 14th century. The tiny, charming stone streets overgrown with vines and secret little alleyways are built as a way to provide shade during the summer, giving a movie like quality. Although there isn't much to do in this tiny settlement, the streets alone are incentive enough to warrant a visit.
Exotic garden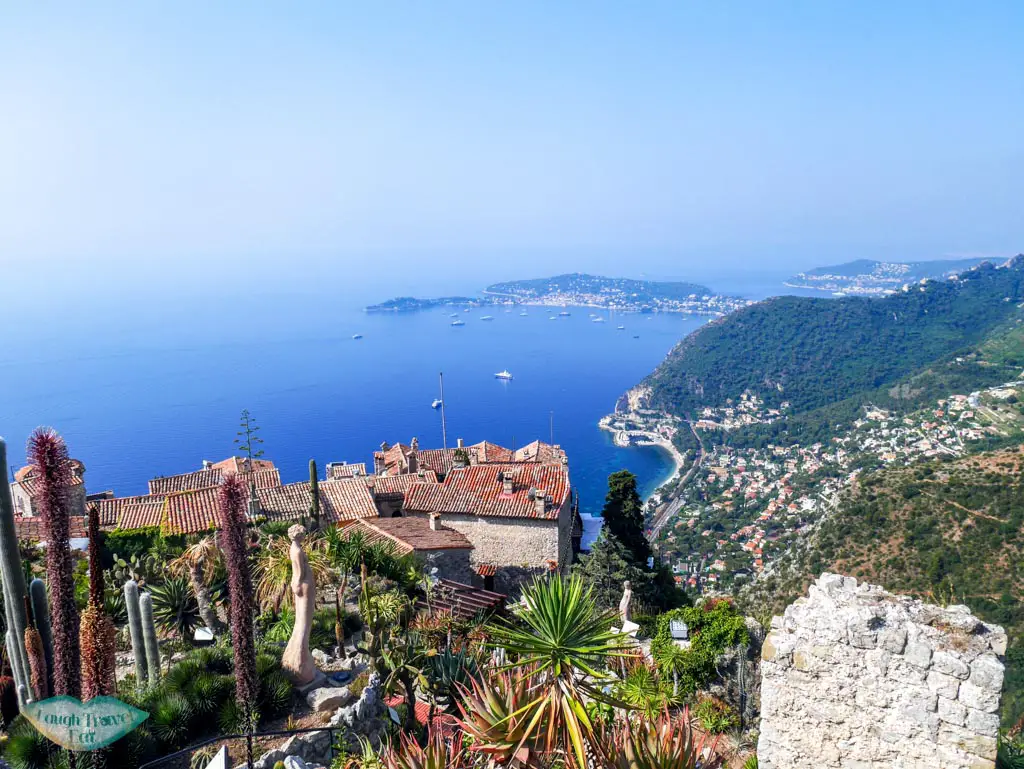 Designed by the same person who created the Monaco Exotic Gardens, the one in Eze offer an even more spectacular view. There are countless species of cacti and dozens of beautiful statues scattered around the hilly garden. It also incorporated the ruins of a fortress and city walls dating as far back as the Iron Age.
Admission fee: € 3 for students, € 6 euros, under 12 goes free.
Eglise Notre Dame de l'Assomption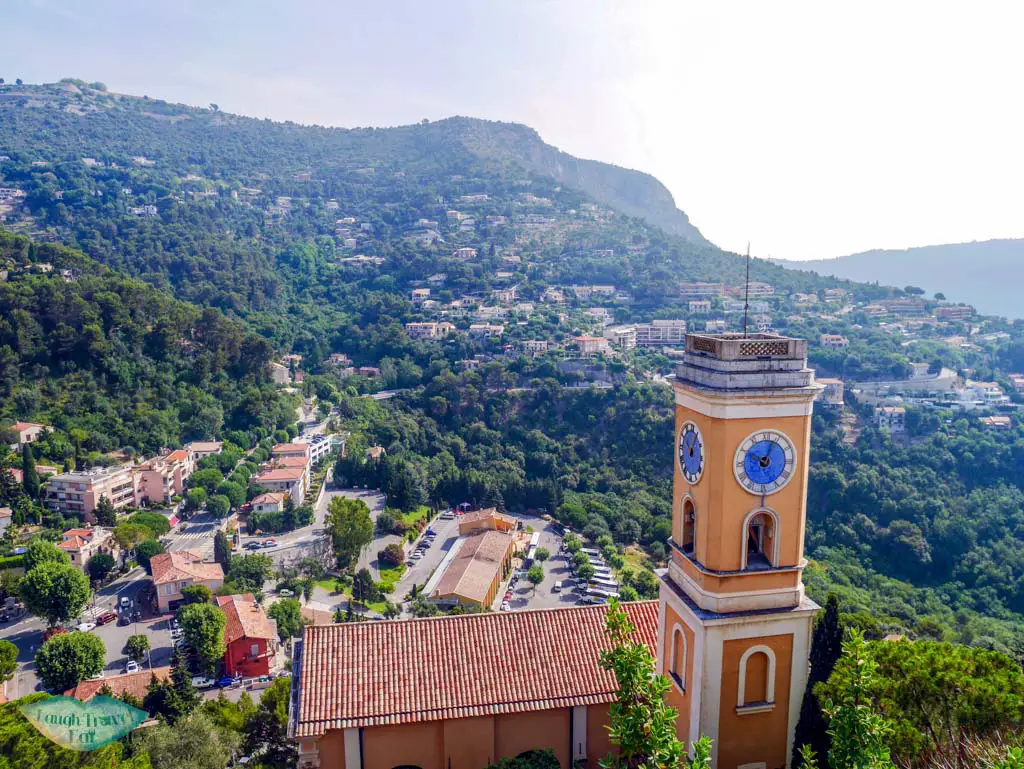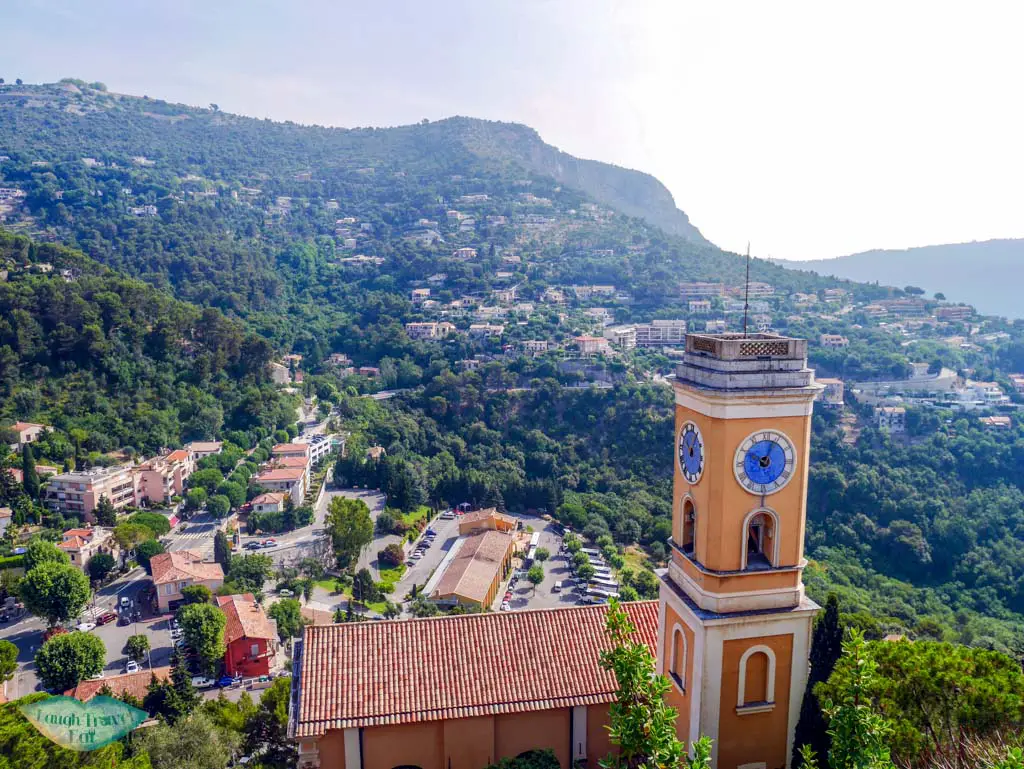 The neo-classical church below the Exotic Garden was built in the 18th century atop a 12th century church. Dedicated to Our Lady of the Assumption, it is the work of Antoine Spinelli. Its yellow exterior gave it a more country, homey feel than the big churches we see a lot. And it is apparently a popular spot for many to get hitched.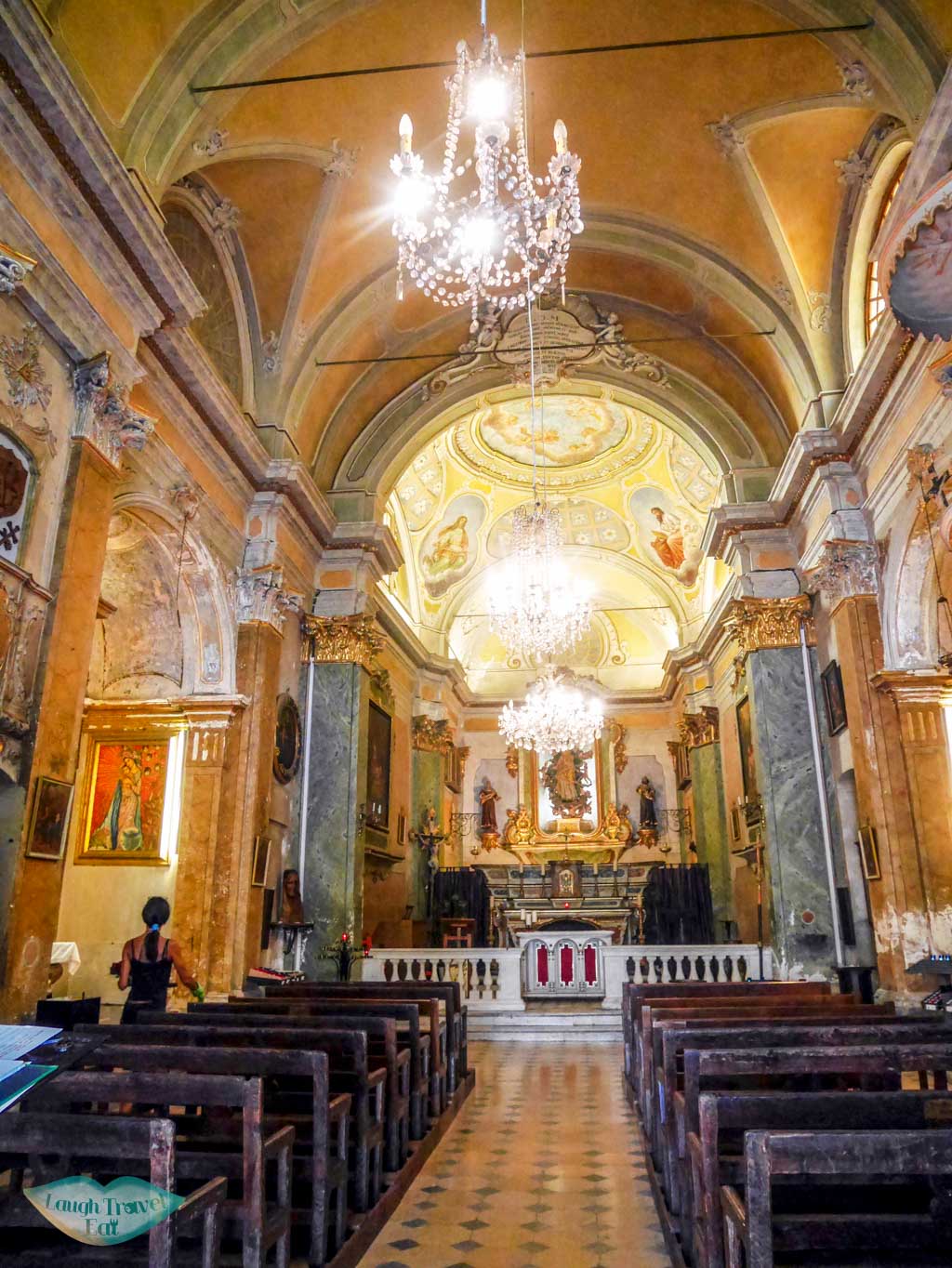 Admission free
Getting from Eze to Monaco
We spent about an hour and a bit at the town and that was enough for us to explore. From the same stop you get off you can easily get the same bus to Monaco. Do check the schedule (links at the bottom) so you can plan your time probably.
Monaco
A small kingdom nestled on the shore of the Mediterranean Sea and surrounded by France on three side, Monaco is the second smallest country in the world right after the Vatican. Known for the casinos and luxury yachts, as well as the royal family of Grimaldi and the marriage of Grace Kelly, there is a lot going for this little country. Though expensive to stay in, you can easily reach Monaco from either Nice or Menton. I will be discussing the trip from Nice's point of view.
There are several stops in Monaco from which you can get off the bus. I would recommend getting off at the last stop, which is at the famous Casino Square so you can explore the east side of Monaco first and return to catch the bus at Place d'Armes. The bus links are provided below.
Casino Square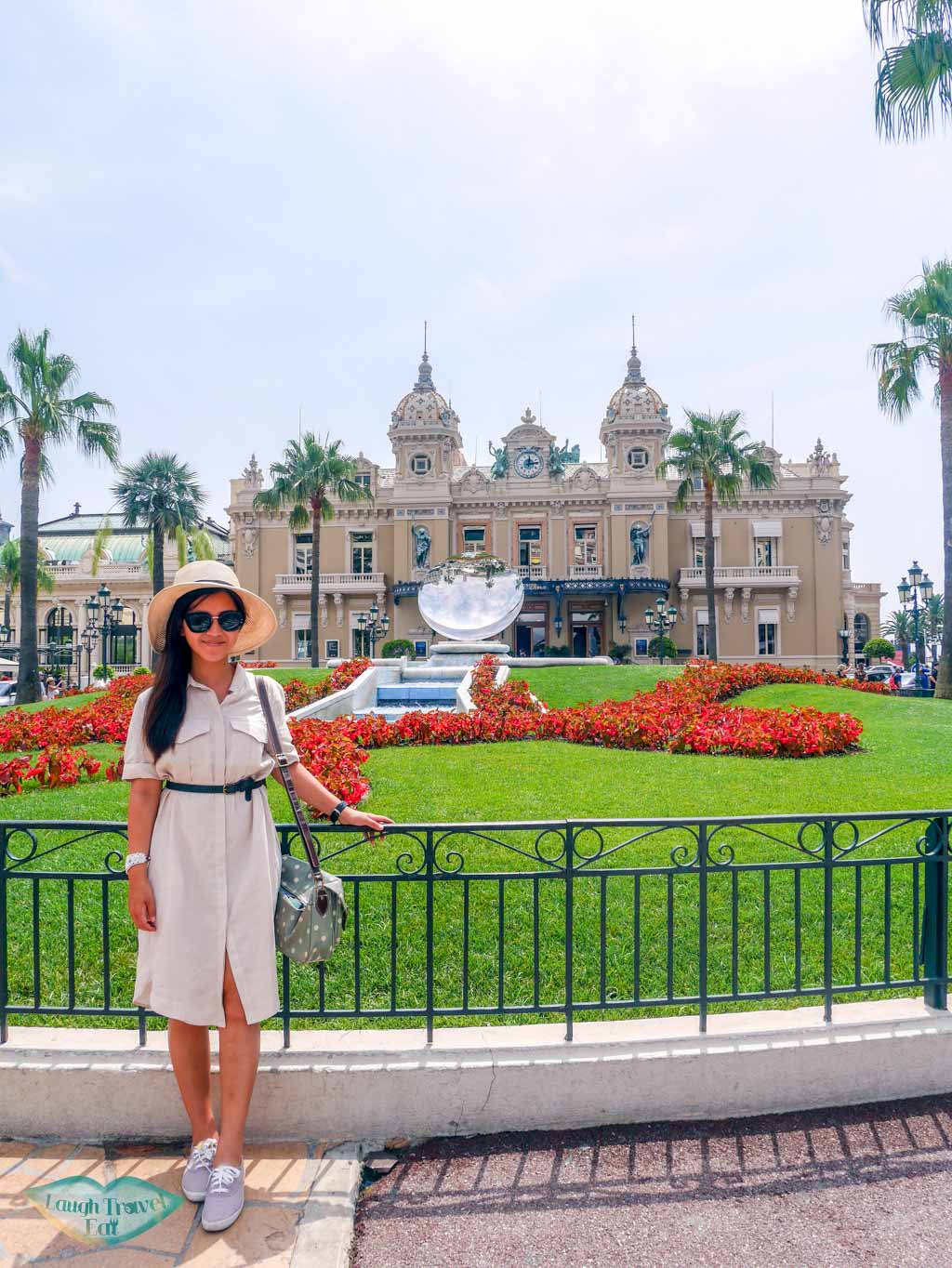 The face of Monaco, the Casino Square spells opulent like no other place on Earth. Fancy sport cars gravitate towards this spot naturally, even though they are not even part of the square itself they might as well be. The casino itself is a gorgeous, two towered building fit for a town hall. The current façade is the result of the expansion in 1878 to 79, with design by Charles Garner and Jules Dutrou who designed the Paris Opera House. Next to the Casino is the equally beautiful Hotel de Paris, which has made appearance of many notable films including two James Bond movies.
Address: Place du Casino, 98000, Monaco
Opening times: free public square
Admission Fee: free
Japanese Garden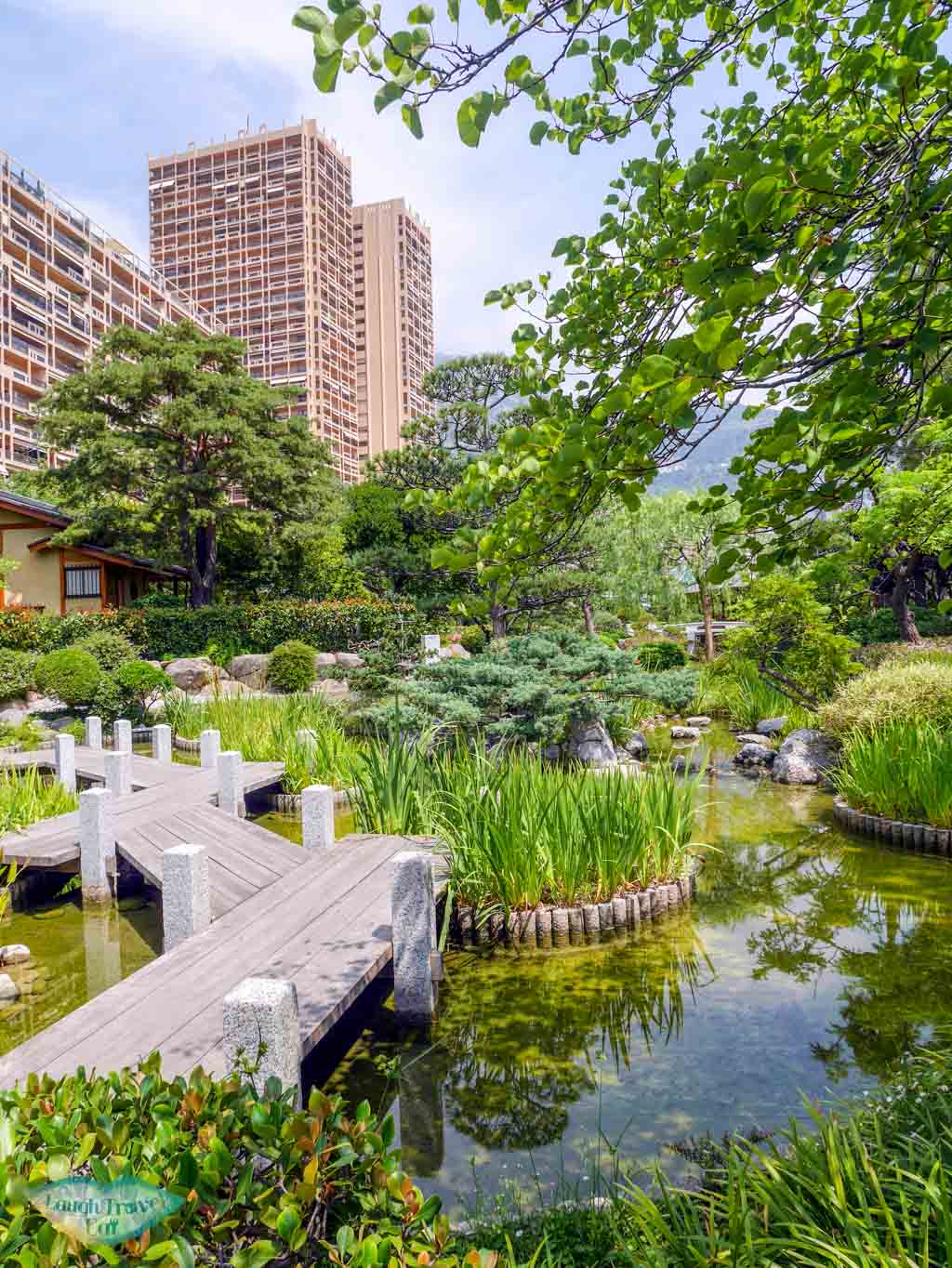 A 7 hectare ground designed by Yasuo Beppu, this Zen garden is completed with waterfall, temple, ponds and bridge. Though beautiful in its own right, I would recommend visiting the Japanese Garden of Holland Park instead. But if you are on your way to the Grimaldi Forum next door, then it's worth a stroll through.
Address: Japanese Garden, A. Princesse Grace 98000 Monaco
Opening times: 9 – 17 everyday
Admission Fee: free
Monaco Port
If you ever wonder what luxury looks like, then a visit to Monaco's port will satisfy your curiosity. Lines after lines of yachts can be seen along the sea front, each one grander than their neighbor as though in secret competition. There are also plenty of bars and restaurants where you can sit and admire the rich and famous' yachts, and their cooling mist fans are a blessing during a hot day.
Prince's Palace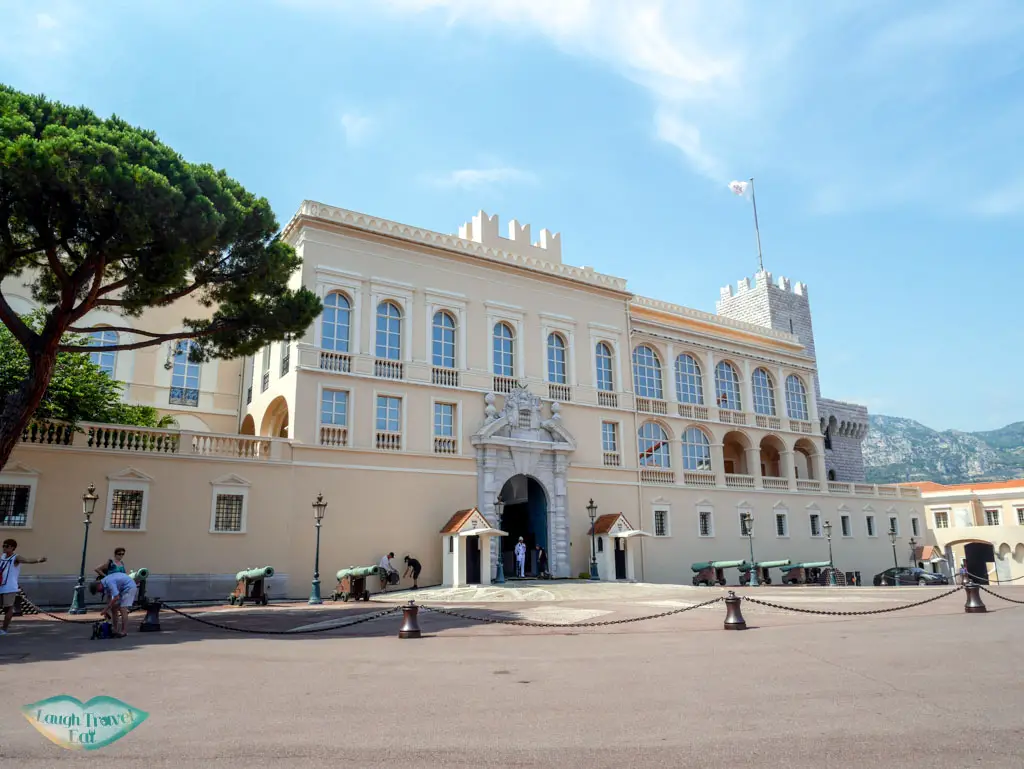 The royal residence of the Grimaldi family, the Prince's Palace has been perched on the hill of Monaco since the 12th century. A mix of old and new, the current beige-yellow façade that we see today is from the Renaissance era. In fact, the Grimaldi family actually didn't come to hold the palace, then a fortress until 1297 as feud lords.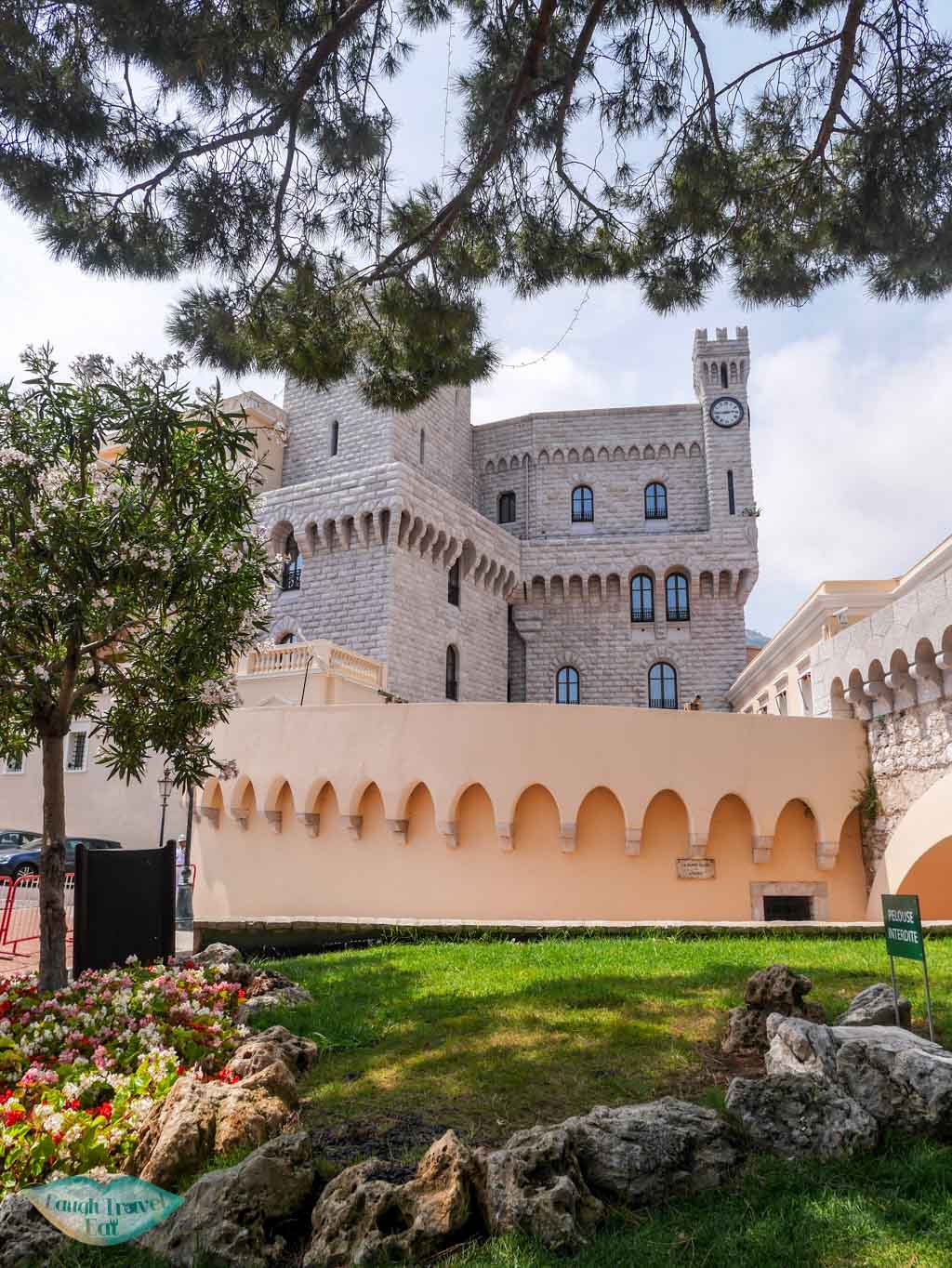 With a detailed guided tour, the rooms of the palace are definitely worth a visit for anyone interested in the history of Monaco's ruling house. Remember that photos are not allowed, especially since the royal family still lives in these grounds.
 Address: Prince Palace, 98015, Monaco
Opening times: 2/4 – 31/10; 10 – 18
Admission Fee: Adult 8, Student and Children 4.
You can buy combined admission tickets with Oceanography Museum (Adult €19, Children under seven €7, under 12, €9, under 18 and student €11.
Information: https://palais.mc
Monaco Cathedral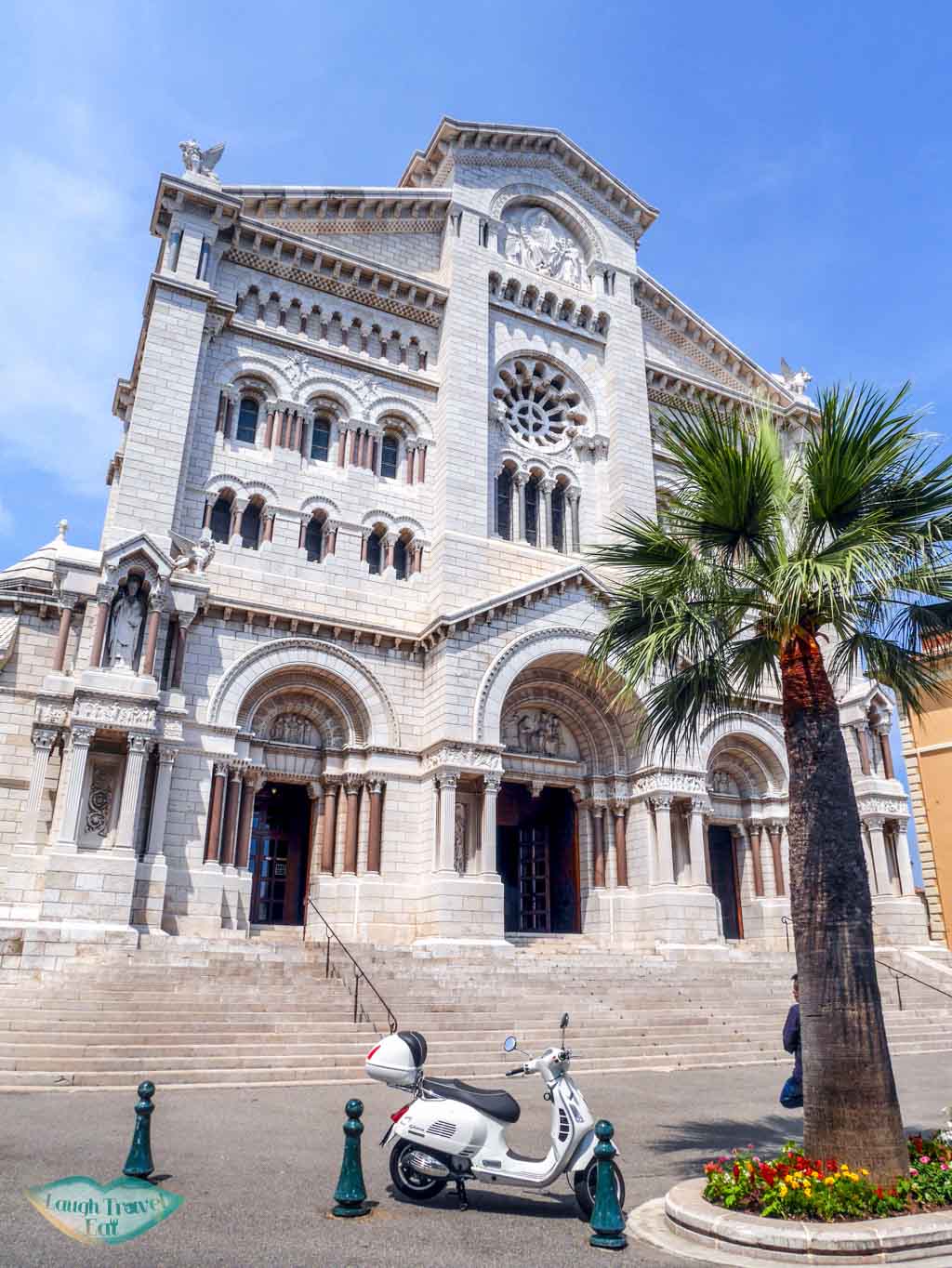 Most will remember it from Princess Grace Kelly's wedding; the Monaco Cathedral is a grand building in itself, situated not too far from the Oceanography Museum. Its full name is Cathedrale Notre-Dame-Immaculee, but also known as Saint Nicholas Cathedral. An imposing presence, it is a Romanesque Revival building that was only built in the late 20th century and consecrated in 1911. However, it was built on the site of a church dedicated to Saint Nicholas since the 13th century.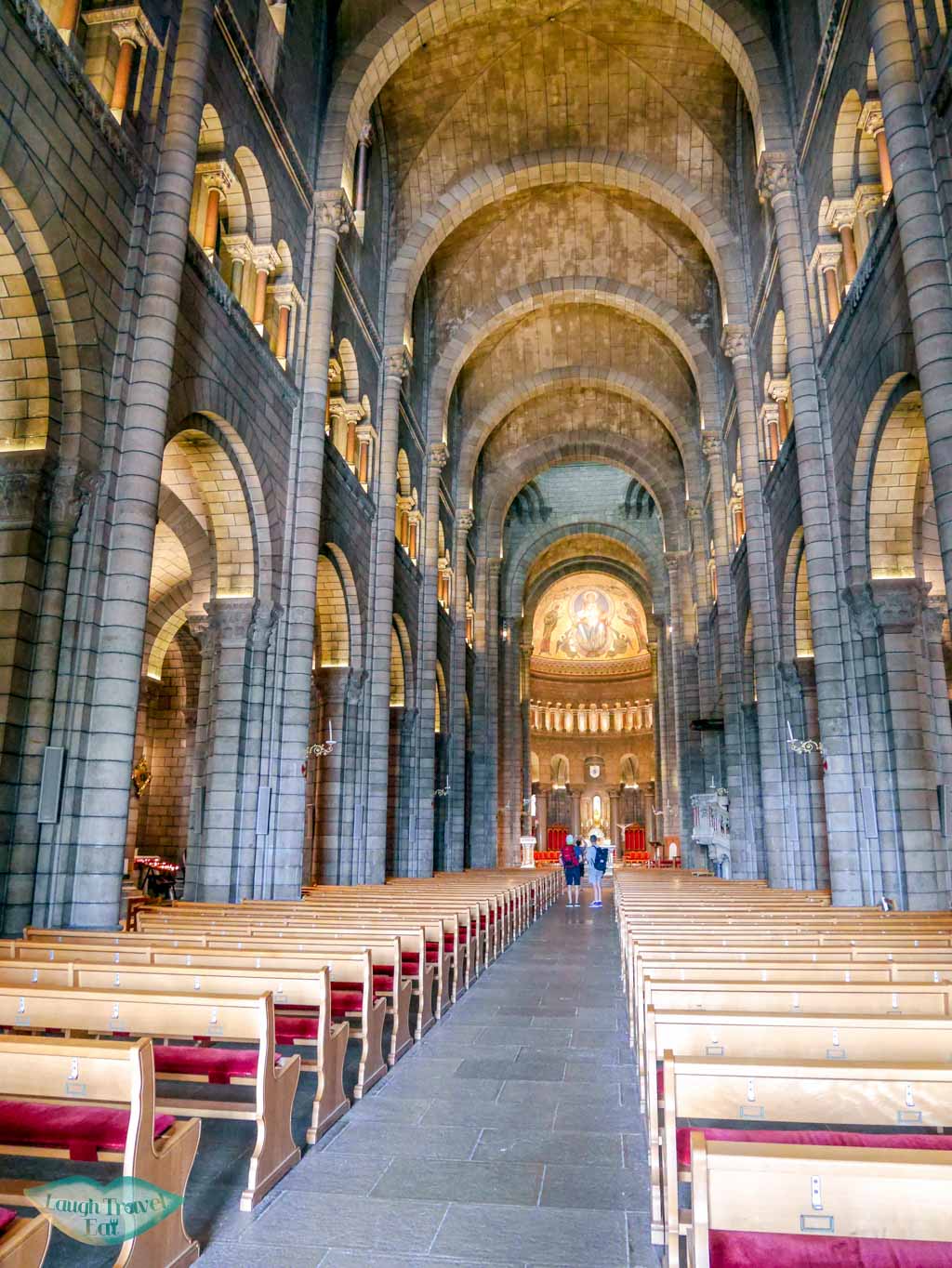 Funny sidenote: when we were visiting whoever was practicing on the organ was playing some gothic tunes that reminds us of Phantom of the Opera.
Address:  4 Rue Colonel Bellando de Castro, 98000 Monaco
Opening times: 8:00 – 19:00
Admission Fee: free
Oceanography Museum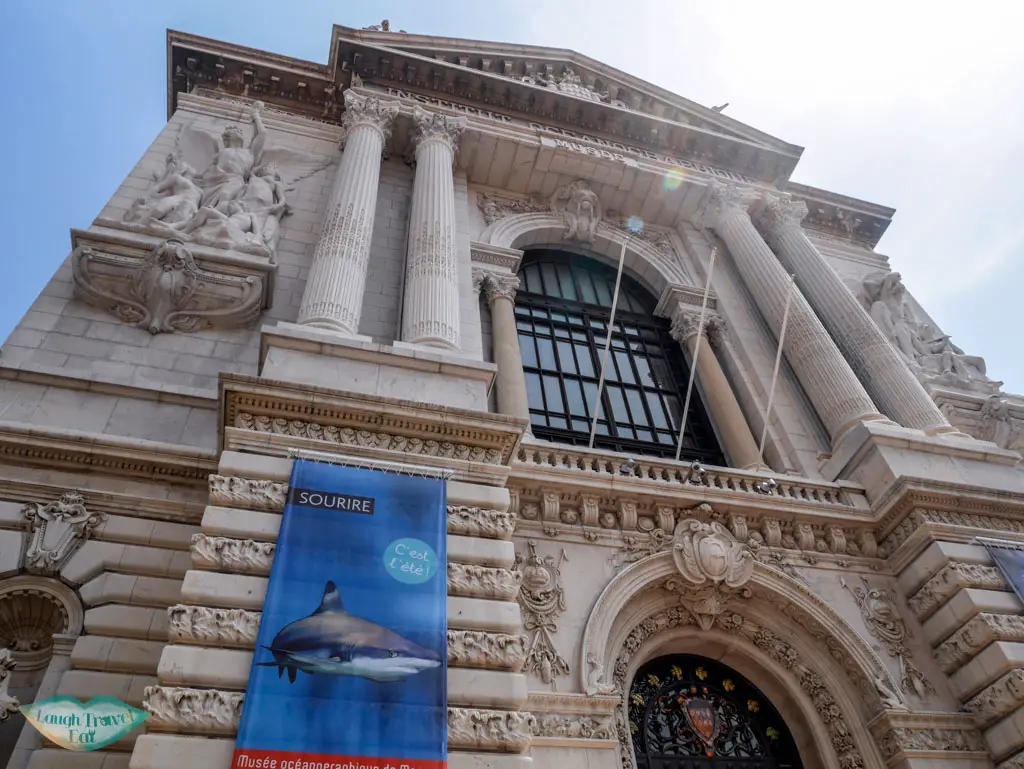 The main attraction for family, the Oceanography Museum is a mix of museum and aquarium. A beautiful Baroque Revival marble structure rising next to the sea, it stands over 85 meters, using 100,000 tons of stone.
Dedicated to marine science, everything sea related from the skeleton of a turtle to Prince Albert's expedition yacht can be seen on display. And let's not forget all the marine creatures housed in the aquarium.
Address: Avenue Saint-Martin, Monaco
Opening times: 10 – 19
Admission Fee: Adult €14, children under 4 free, children under 12 €7, children under 18 and student €7
Website: https://www.oceano.mc/en
Azure express
In front of the Oceanography Museum, you can get in the queue for a touristy train that would take you around all of Monaco's major sights. Unfortunately you can't get off, but the train ride has a commentary all the way through so it's excellent for those who wants to see everything but not necessarily wants to walk.
Address: In front of Oceanography Museum
Admission Fee: €8 
Prince's car collection (Antique Automobile Museum)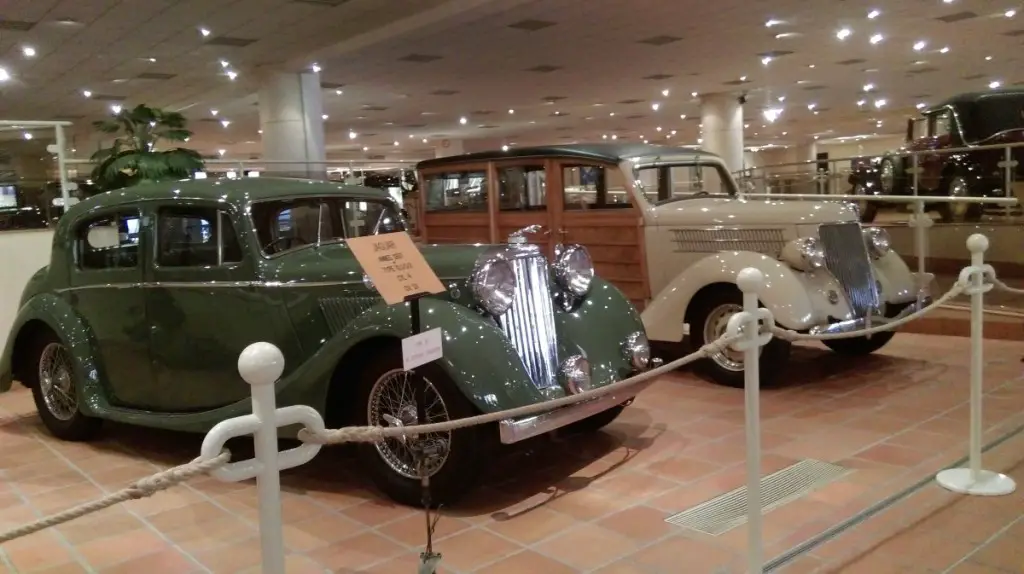 The personal collection of Prince Rainier III, this thirty three years work is not to be missed by any car enthusiast. Even though it lacks focus, the collection is nonetheless impressive with over a hundred cars.
 Address:  Les Terrasses de Fontvieille, Fontvieille,Monaco
Opening times: Everyday 10 – 18 except 25/12 and 1/1
Admission Fee: Adult €6.5, Children under 8 free, student and children under 14 €3
Princess Grace Rose Garden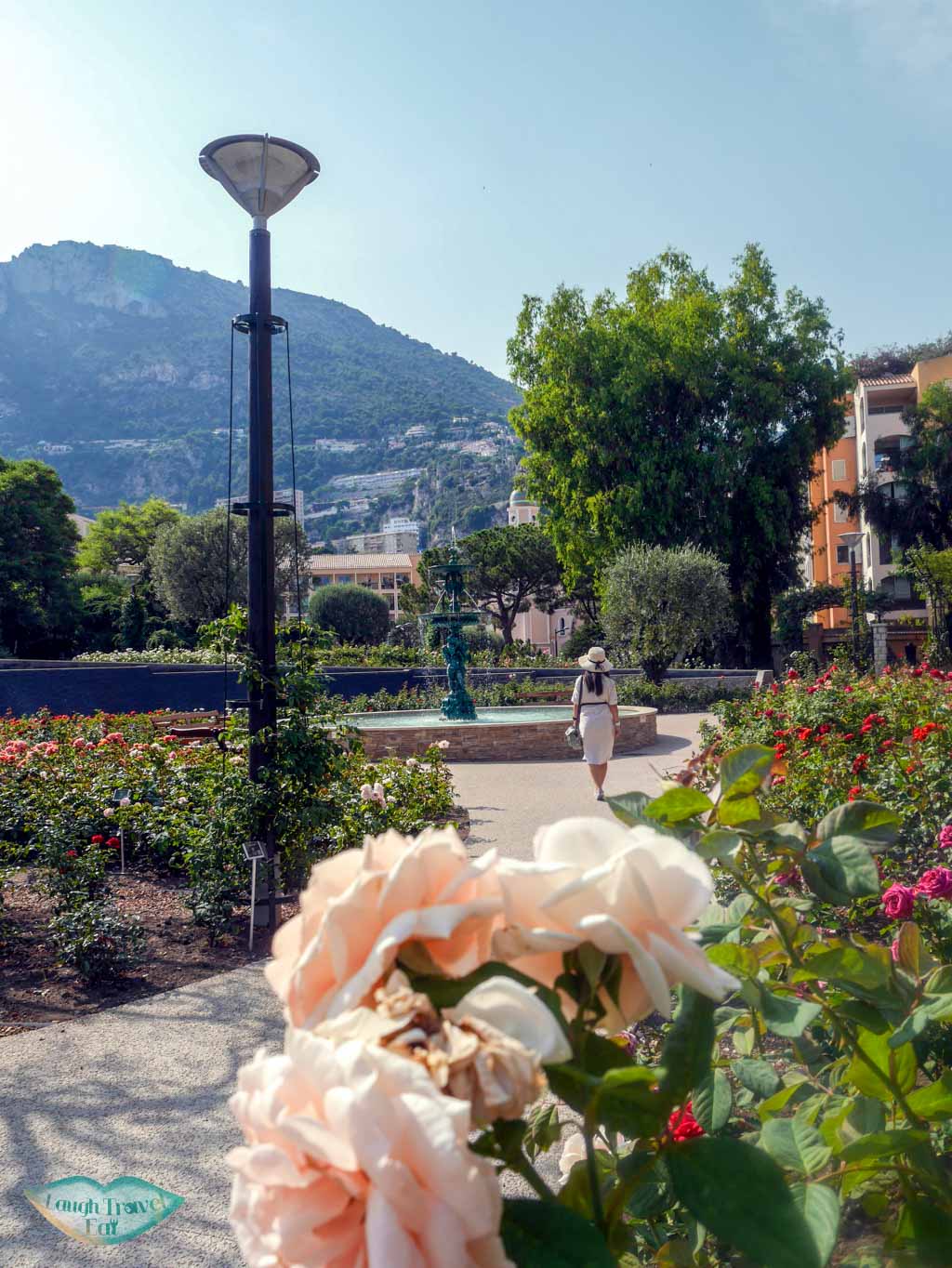 A little out of the way in Fontvielle, the residential area of Monaco, Princess Grace Rose Garden is a small affair with carefully laid out rose bushes, ponds and greeneries. Created in 1984, a statue of the Princess is placed among 4,000 roses to commemorate the beloved royalty.
Address: Fontvieille Park, Fontvieille, Monaco-Ville, Monaco
Opening times: dawn till dusk
Admission Fee: free
Exotic Garden
The older sister of the one in Eze, the one in Monaco is situated on the western edge overlooking the city. Opened in 1933, it has the added caves full of stalagmites and stalactites. We didn't end up visiting it as many expressed that the two Exotic Gardens are extremely similar.
Address: 62 Boulevard du Jardin Exotique, Monaco
Opening time:, Feb – April 9 -18, May – Sept 9 – 19, Nov – Jan 9 – 17; close on 19/11 and 25/12
Admission fee: Student €3.8, Adult €7.2, children €3.8
From Monaco to Nice
We hopped on a bus at Place d'arms (#100) and got back to Nice, for more information, click here.