Royal Island Resort and Spa: a quiet escape in the Maldives
Royal Island Resort is located in the Baa Atoll in the Maldives and is a small island perfect for a quiet getaway. The name of the island comes from the fact that a Royal family once lived on the island! There are beautiful beaches, looming and lush trees, and plentiful fishes. Here's my review of Royal Island and I hope it helps you choose a resort in the Maldives.
> See Villa Park Resort if you prefer a larger resort.
> Check out my Maldives guide
Table of Contents
Royal Island Resort and Spa Overview
The island is 800m x 400m and you can walk around the island in under half an hour. Despite the small size, there are huge trees over 100 years old dotted around the island. The original bathing pool for the Royal family can also be found near the main bar.
The resort only has 150 rooms, which means there will only be 300 or so guests at full capacity. It has a more laid-back vibe and a great house reef to snorkel in and a comprehensive sports center.
How to Get to the Royal Island Resort
The nearest airport is Dharavandhoo, and it's a short domestic flight from Male Airport. There is usually one flight in the morning and one in the afternoon, so time your journey accordingly.
The Royal Island Resort staff was waiting at the door and it was a smooth transfer to the pier which was very close by. Once our luggage was loaded, it was a 20-30 minute speedboat ride from the airport and it was slightly bumpy due to high wind.
Sustainability in Royal Island Resort

As part of the Villa Hotel Group, Royal Island Resort takes sustainability seriously. Here are things they do to be more sustainable:
Treat wastewater and reuse it for irrigation of our garden and in flush tanks
Refrain from discharging wastewater into the sea
Environmental center to educate customer 
Energy saving equipment e.g. lights
Staff training on environmental protection
Regular house-reef cleaning programs
Barring garage to increase landmass
Regular beach cleaning
Regular tree planting
Mooring buoy system for anchoring boats
Rooms in Royal Island Resort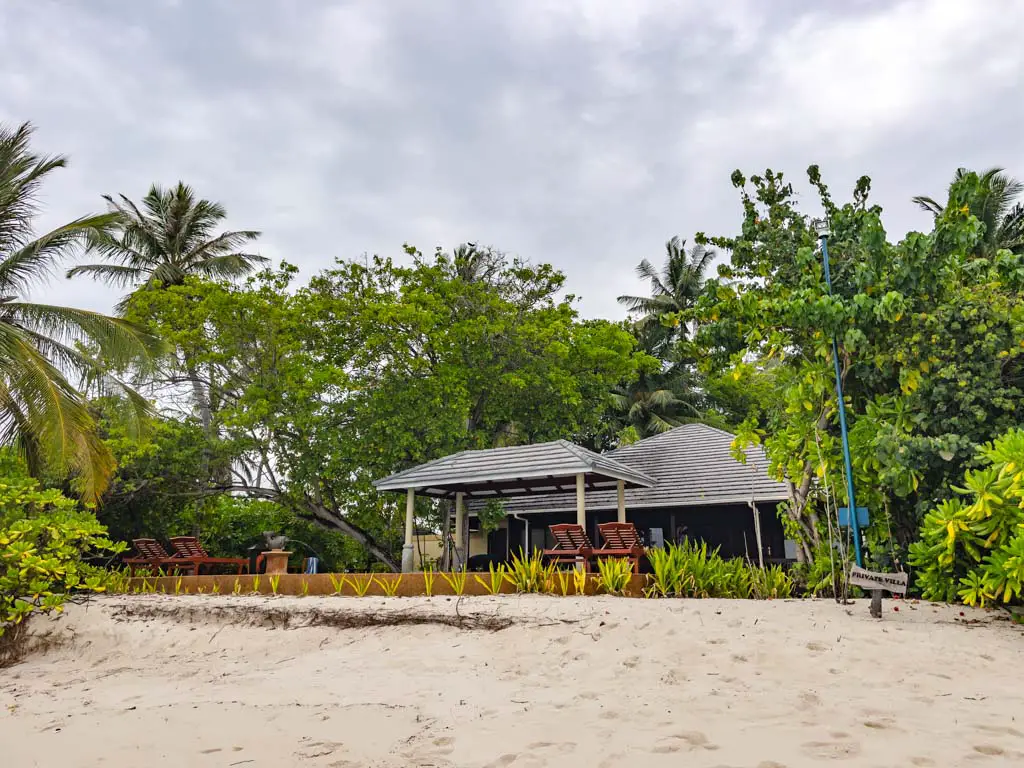 There are only two major room types in Royal Island Resort: Beach Villa or Two-Bedroom Beach Villa. There are only two of the latter on the long end of the island, one of which has a pool!
The Beach Villa is either sunset side or sunrise side. While the decor is on the older side, they are very comfortable with a semi-outdoor bathroom. All of them are beachfront with a little terrace and beach loungers.
There is a washing line on the outdoor side of the bathroom to dry your things which I love.
The only real downside is that the room isn't very bright at night.
Restaurants in Royal Island Resort
As a smaller island, there aren't as many dining options to choose from. But the buffet food is amazing!
Maakana Restaurant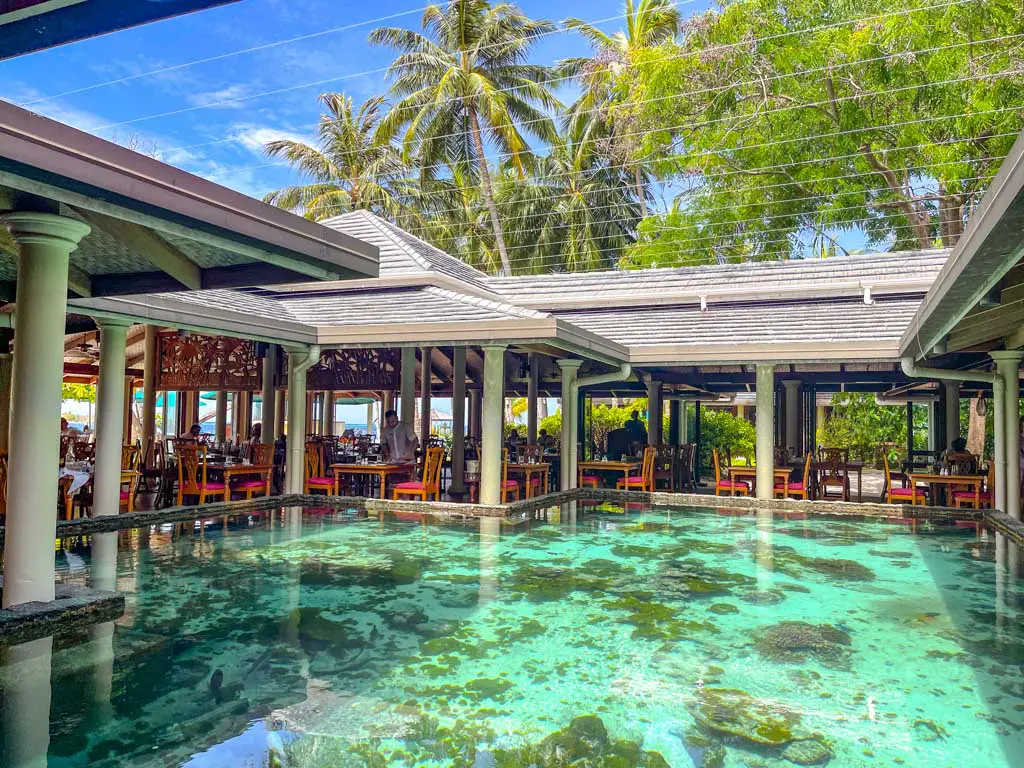 The breakfast, lunch, and dinner buffet are all served at the restaurant by the piano bar and lobby. The Maakana Restaurant surrounds a central salt-water pond where you can watch the sea life. There are even a few nemo!

There are 4 tables generally with one dedicated to salad, one for canapes, one for Asian cuisine (we had Indian, Thai, and Chinese), and a western food counter. In addition, there is a fruit table, a cooking station, and a dessert table.

The food is great but don't expect very authentic cuisine! I love that they have fruit juice shooters during lunch and evening as well.
Breakfast: 7:30 – 10
Lunch 12:30 – 2pm
Dinner: 7-9pm
Raabondhi Restaurant

The a la carte restaurant serves a Mediterranean menu on the other side of the island with beach front tables and a romantic setting. There is live music sometimes in the evening and you can watch the sunset from there.
We had an amazing 7 course menu on our last night and the steak and the seafood are both perfection. The service was attentive and warm and the setting very romantic.
Opening times: 11:00 – 23:00
Happy Hour: 17:30 – 18:30 – 20% off beverage except wine + takeaway
Boli Bar
The Boli Bar is the main bar by the pool that offers 24 hour service with billiard tables. It is beautifully decorated with a poolside area as well as an indoor area with plenty of comfy chairs. There is nightly entertainment here from live music to DJs, and they offer shisha.
Happy Hour: 17:30 – 18:30 – 20% off beverages except wine + takeaway
Pool Bar and Pool Terrace
Between the Boli Bar and the Maakana Restaurant is the Pool Bar and Pool Terrace. There are a few cabanas to rest in as well and overall is a great place to chill for the day if you just want to be a tanning vegetable.
Opening times: 8:00 – 18:00
Light meal 10:00 – 23:00
Fun Pub
The Fun Pub is in a separate building that resembles a European Pub. It's especially perfect for large groups.
Opening times: 21:00 until last guest
Activities in Royal Island Resort
Most activities are organised by the watersports center Q Adventures near the lobby. Vish accompanied us for one of our excursions and also taught us how to ride a Jet Ski and was very nice and friendly. There is an activities board by the watersports center where you can sign up for excursions, although they might get moved around depending on the weather.
Araamu Spa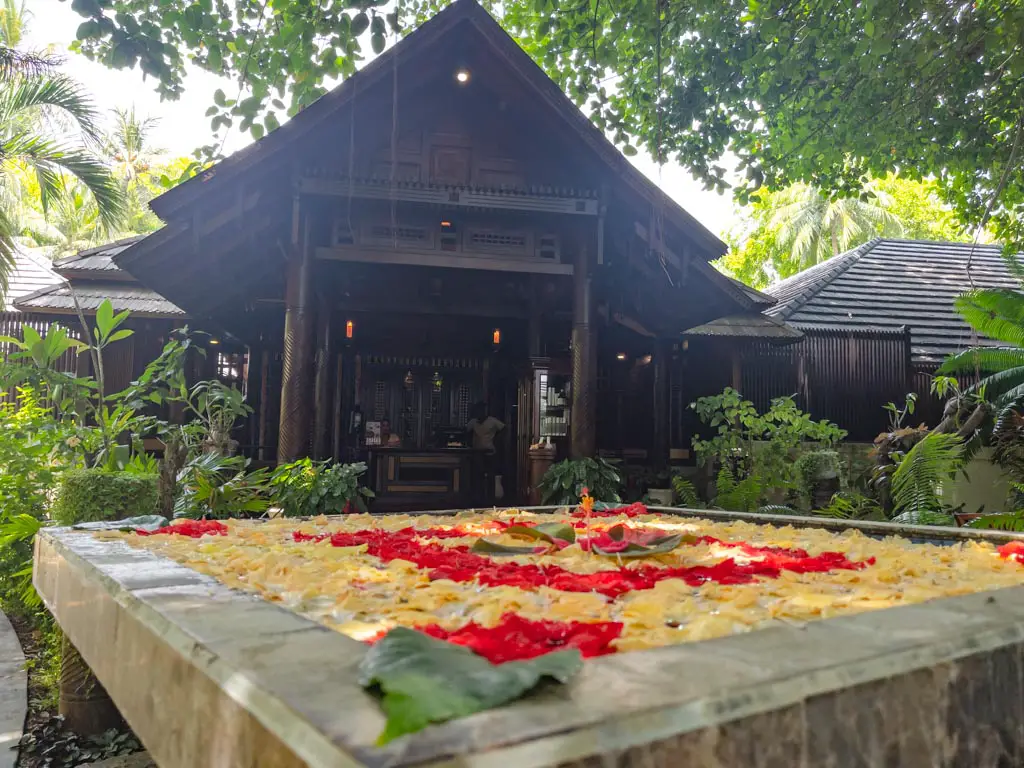 The Araamu Spa is near the lobby and is a very zen space with Balinese elements. they take care of your spa consultation and make sure you get the treatment that you need.
We had a choice of six massage oils and then changed into robes and disposable underwear. I was surprised at how big the ground is since Royal Island is a small Island! The masseuse really took care of problem areas we pointed out and it was a relaxing hour.
The spa is very popular, so I recommend booking a time slot for your stay as soon as possible.
Opening times: 9:00 – 20:00 (last treatment 19:00)
Snorkelling around the House Reef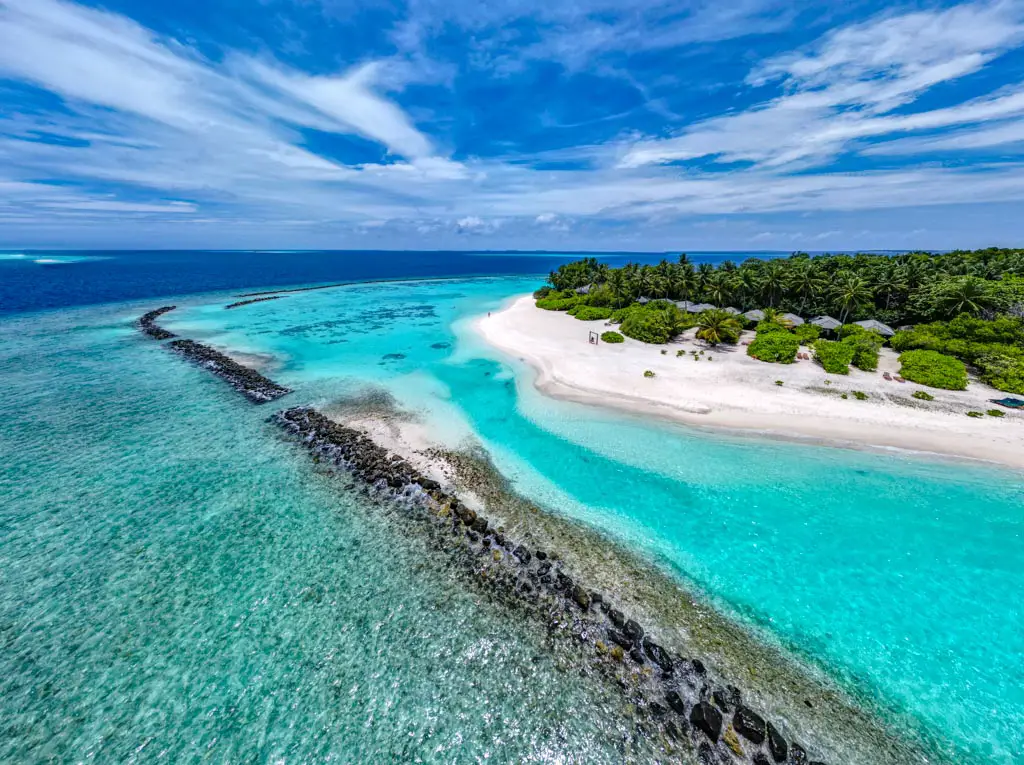 You can just snorkel around the house reef and already see a lot of sea life. Do be careful of the reef close to the beach, especially during low tide. Even just sitting we can spot many needlefishes and other fishes.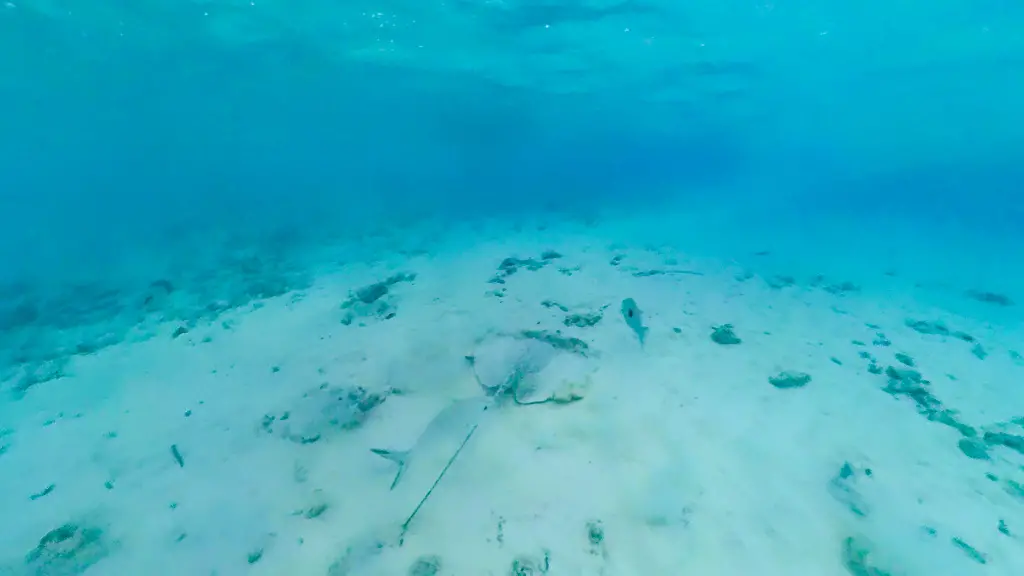 We even found a Sting Ray right in front of our hut on the first day!
Snorkelling Excursion to Baa Atoll
Baa Atoll is one of the best places to snorkel in the area and a short speedboat ride away. Snorkels and fins are provided, though you can also bring your own. Our guide, Vish, was very nice and made sure we put antifog in our masks before we set off.
On our morning snorkeling trip, we saw countless numbers of fish including big schools of them, nemo, and even an eagle ray!
Sunset Dolphin Cruise
The sunset dolphin cruise took us about 20-30 minutes from the resort and we once again saw so many dolphins!
We had to move the trip forward by an hour as the weather condition was getting too windy, but we were still treated to a sunset.
Watersports in Royal Island Resort
There is a plethora of watersports equipment available at Royal Island Resort. However, you are restricted to a smaller area than Villa Park due to the size and current. Because of the windy condition, we couldn't go kayaking or stand-up paddle boarding. Instead, we went out on a Jet Ski and then tried the Sea Bob. 

The Sea Bob is like an underwater scooter and it was ridiculously fun! My boyfriend almost didn't want to come back up.
Sports Center in Royal Island Resort
Royal Island Resort has a very comprehensive sports center and a gym as well. If you want to stay active, there are enough sports to keep you occupied for the whole day. Here is a not exhaustive list:
Badminton
Squash
Gym
Table tennis
Volleyball
Royal Island Resort Maldives Summary
For a laidback Maldives holiday where you can explore just by foot, Royal Island ticks all the boxes. It has fine sand, not a lot of insects, a great house reef, and an amazing buffet.
The villa design are on the older side and there isn't as many things to do. But it's not a huge problem.