Looking for the best night markets in Taipei? You're not alone! There are dozens of night markets across the city and they are famous for their vibrant atmosphere, and excellent street food, and some even have great shopping options. They offer a unique insight into Taiwan's rich culture and history, going back centuries with their origins rooted in the early 1900s. Night markets were initially created as a way for vendors to make a living during challenging economic times. Today, they are a hub of activity where locals and tourists alike come together to enjoy the sights, sounds, and flavors of Taiwan.
Table of Contents
Quick Taipei Tips
Get an Easy Card from the moment you land in Taipei to get around the city easily. My sister bought a ticket each time and they are coins which are annoying to carry and you have to spend extra time at ticket machines.
Get Google Translate App because a lot of places might not have English menu. Remember that Taiwan uses Traditional Chinese Characters and speaks Mandarin.
You will need cash!
See more tips on my Taiwan page
Taipei Night Markets Tips
Heading to a night market in Taipei? Here are some handy tips and FAQ answered!
Which is the best night market in Taipei?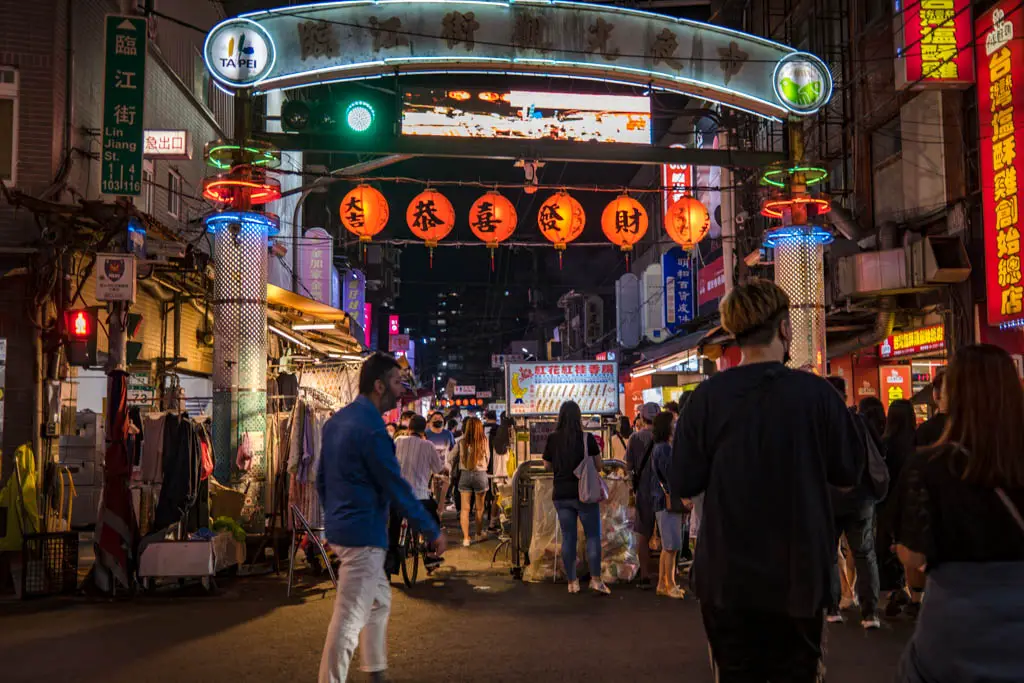 In my personal opinion, you can't just say any of the night markets is better than the others. They are all similar but with different vibes and sizes. The big ones are Shilin, Ningxia, Tongua/Linjiang, and Rahoe. Ximending has a lot of happenings, but technically it's not a night market but I'll include it. 
Bring cash to the night markets
Most of the street food stalls in Taipei night markets are cash only. Some do accept QR code payments but they are all specific to Taiwanese bank accounts e.g. Line Pay. So if you go with a local friend, it might be possible to not bring too much cash.
That said, prices are very affordable in Taipei Night Markets. Here's a general price point for reference:
Bubble tea and juices: 30-70 TWD
Snacks (1 person portion): 40-70 TWD
Bigger snacks (sharing): ~200 TWD
Go at Opening Time if you want to visit a specific stall
Each night market has its own popular stalls and if you want to avoid long queues, it's best to go as soon as the market opens. It's more realistic to hit 2-3 popular spots per night because it'll get crowded eventually and your stomach will fill up.
Bring wet tissues and tissues
Your chances of finding tissues or napkins at a night market are slim. It's best to bring your own in case of mishaps while eating. As a clumsy eater, eating various size street food standing in sharing mode is most difficult.
Rubbish Bins are usually at the market entrance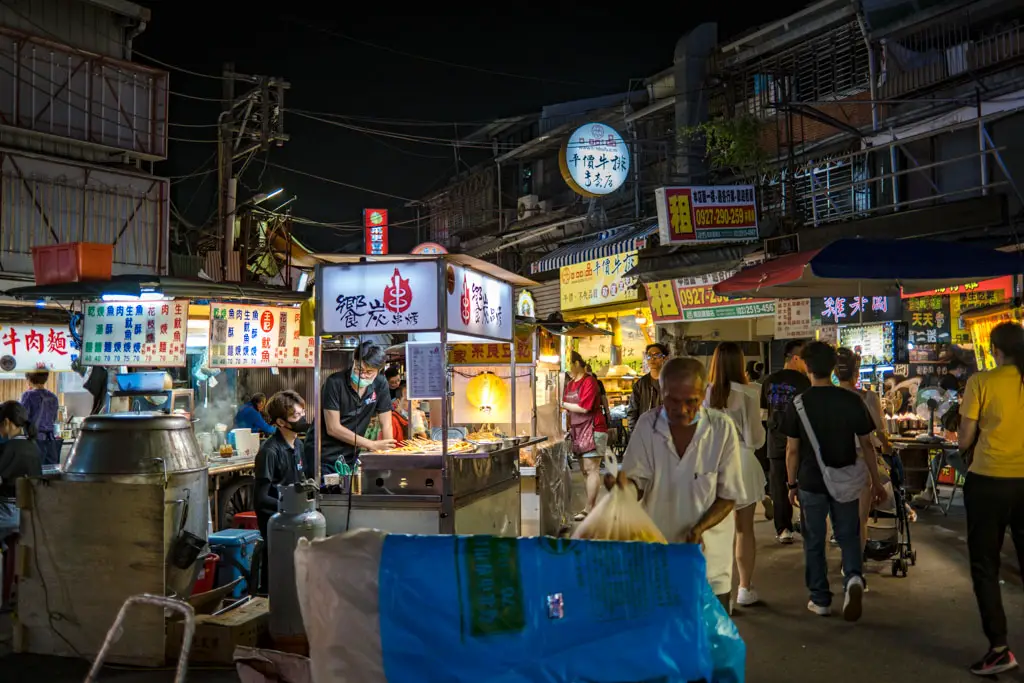 For bigger markets like Shilin, there are bins at every entrance/exit. For most, the bins are usually at the main entrance.
Be flexible about which stall you will eat from
All the night markets are a maze of street food stalls and you will be facing crowds and queues. It'll be difficult to aim for specific stalls, but you should always be able to find the type of food you want from a different vendor.
NingXia Night Market
Ningxia Night Market is one of Taipei's most popular night markets located in the Datong district of the city. It was established in the early 1950s by local business vendors and stall operators and has since developed into one of Taipei's most famous night markets. It was originally a small street bazaar, with a few street vendors selling traditional street food.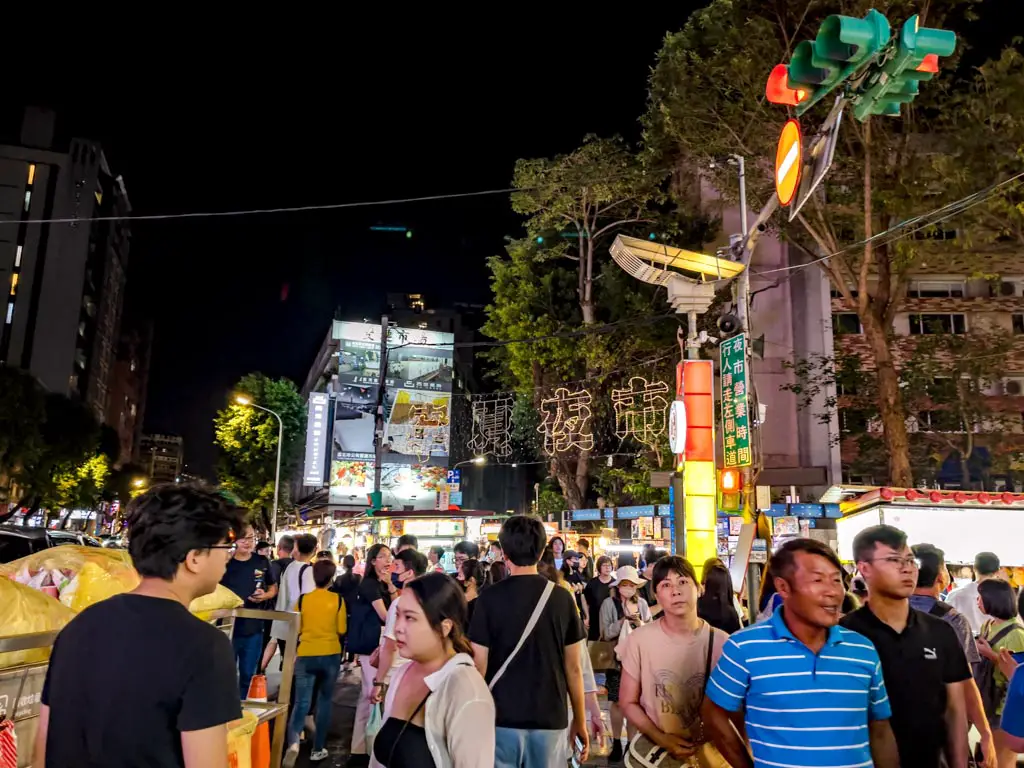 The market's popularity skyrocketed when it was featured on Anthony Bourdain's "No Reservations" TV show. It has since been visited by many world-renowned food critics. The Ningxia Night Market is a must-visit for anyone who wants to experience authentic Taiwanese food and the bustling night market scene.
Having visited twice, I have to say there are more tourists than locals. The market is also more food focused and is smaller than most of the others on the list.
Nearest MRT: Shuanglian MRT on Tamsui-Xinyi Line (Red) exit 1 and turn left
Opening times: 17:00 – 1:00 daily.
What to eat at Ningxia Night Market
Deep-Fried Squid 爆漿脆皮魷魚
This deep-fried squid store is always busy with people queuing up to try this tasty snack. The squid is cooked to perfection and stuffed with juicy cucumber and turnips. The portion size is hearty, so it is ideal to share between three to four people if you want to try more of the delicious cuisine on offer.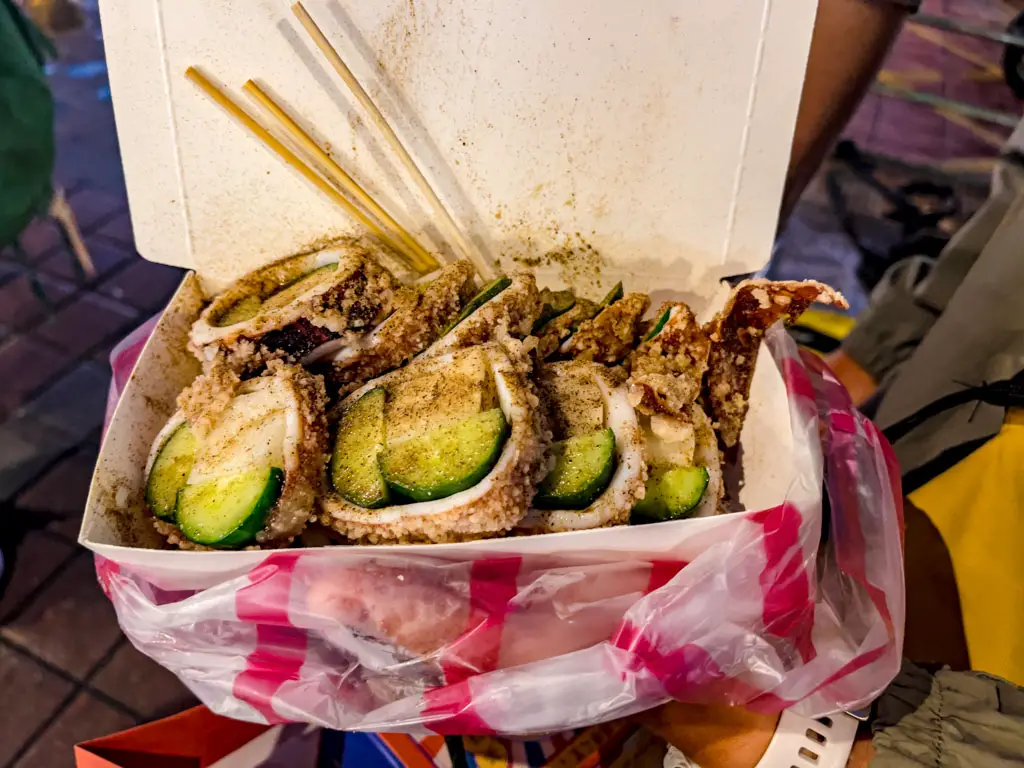 Opening time: 17:00 – 1:00
Cost: 150 TWD
Oyster Omelette
Ningxia Night Market has several places for Oyster Omelette. The Taiwanese oyster omelet is on the soggier side with heavy sauce. The most famous place is Yuen Huan Pien Oyster Egg Omelette, but the queue is crazy, so we ate at this one next door. While the Google review is bad, the food was actually not bad.
Mochi Shaved Ice 燒麻糬冰
After queuing for your order, the staff will find you a cozy spot to sit and enjoy your dessert. They are most famous for their roast mochi shaved ice but also serve other ice and even sell peanut candy. The sesame and peanut mochi shaved ice is a particular favorite and are chewy and delicious, a perfect treat for a Taipei summer evening. You can also just get the mochi.
If this one has a long queue, you can consider the classic mango shaved ice here.
Peanut Ice Cream Roll 花生捲冰淇淋
A widely known dessert in Taipei's night markets, this wrap of shaved peanut candy and ice cream. If you are feeling adventurous, try it with coriander for some added flavour. There isn't much flavour to the ice cream but it is a nice dessert treat to try once on your trip.
Cost: 50 TWD from this stall
Big sausage small sausage 大腸包小腸
Although it has a weird name, the big sausage small sausage is a flavorsome small bite with generous seasoning. The big sausage is made from glutenous rice, while the small sausage is meat. If you prefer the taste of meat, this dish may be more suited to your palate.
For those looking to take on a culinary adventure, go to Ning Xia Night Market right after opening time, around 5 pm. This will help ensure that you hit the market when the queues are the shortest, allowing you to try more dishes and get a real feel for the vibrant atmosphere of the market.
Shilin Night Market
Shilin Night Market is one of the most popular and iconic night markets in Taipei, Taiwan. Located in the Shilin District, it attracts both locals and tourists with its lively atmosphere, delicious food, and unique shopping experience.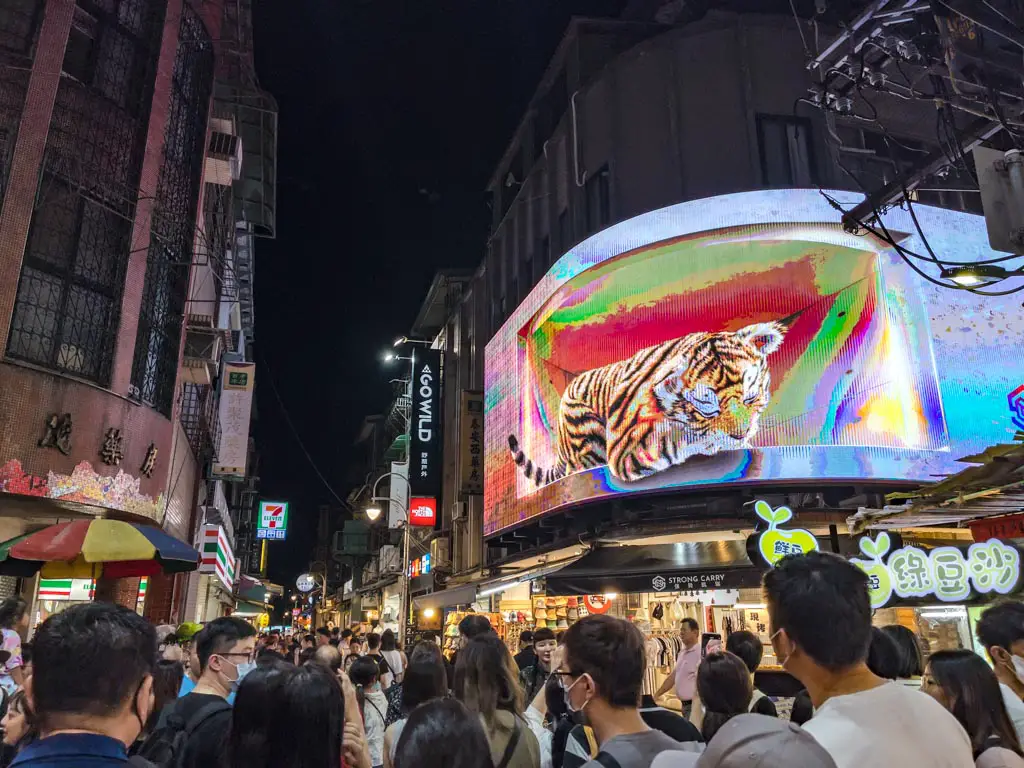 The market is open daily from late afternoon until midnight, although some vendors and shops may close earlier. Aside from street food, you can also shop for clothing, accessories, electronics, and souvenirs. Which makes for an added bonus when browsing. 
The market has a long history dating back to the 1900s when it started as a traditional market for local farmers. It wasn't until the 1960s that it transformed into a bustling night market that we know today. Over the years, Shilin Night Market has expanded and evolved, becoming a must-visit destination for those seeking a taste of Taipei's lively street culture.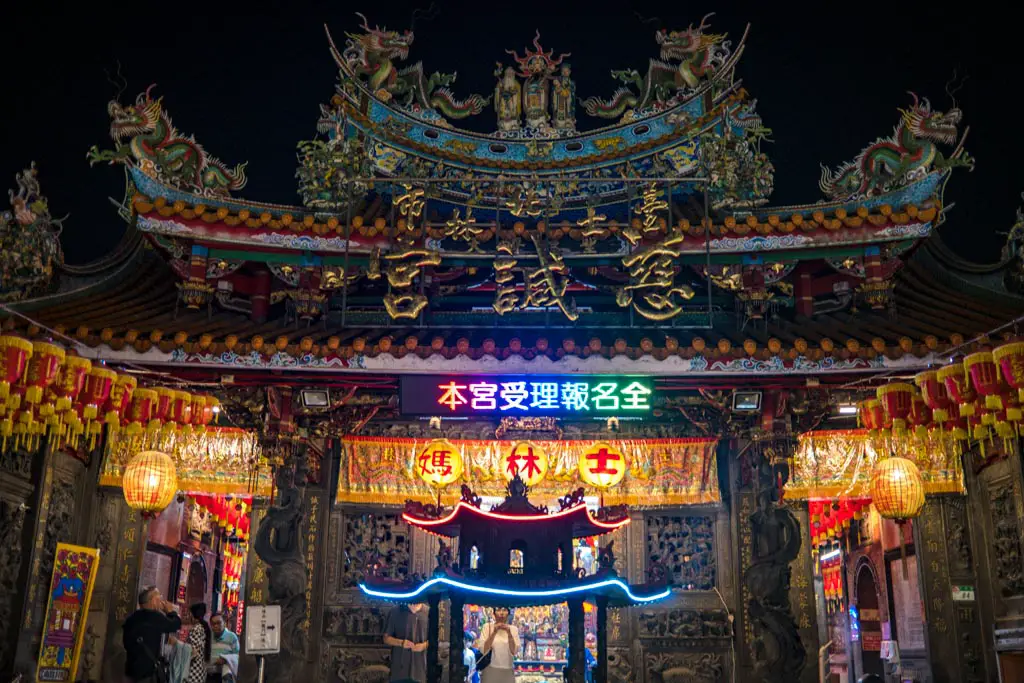 Most of the food we found on the same street as the Shilin Cixian Temple. If you enter from the Jiantian MRT, then just turn left once you see the big 3D display board of the tiger.
Nearest MRT: Jiantan MRT on Tamsui-Xinyi Line (Red), exit 3, go straight and cross the road sticking to the left side.
Opening times: daily 16:00 – 0:00
What to eat at Shilin Night Market
Pepper Bun 胡椒餅
There are many stalls that sell pepper buns and I randomly chose one where they were making it at the stall. They are baked inside a big earthen pot and served super hot! The bun is very peppery so you might want to get a drink first to wash it down.
Cost: 40 TWD 
Sausage in a sausage 大腸包小腸
The sausage in a sausage is essentially a glutinous rice hot dog. We queued for one at this stand which has many flavours to choose from. We opt for the garlic flavour and it was great. 
Cost: 60 TWD
Grilled mushroom 碳烤杏鮑菇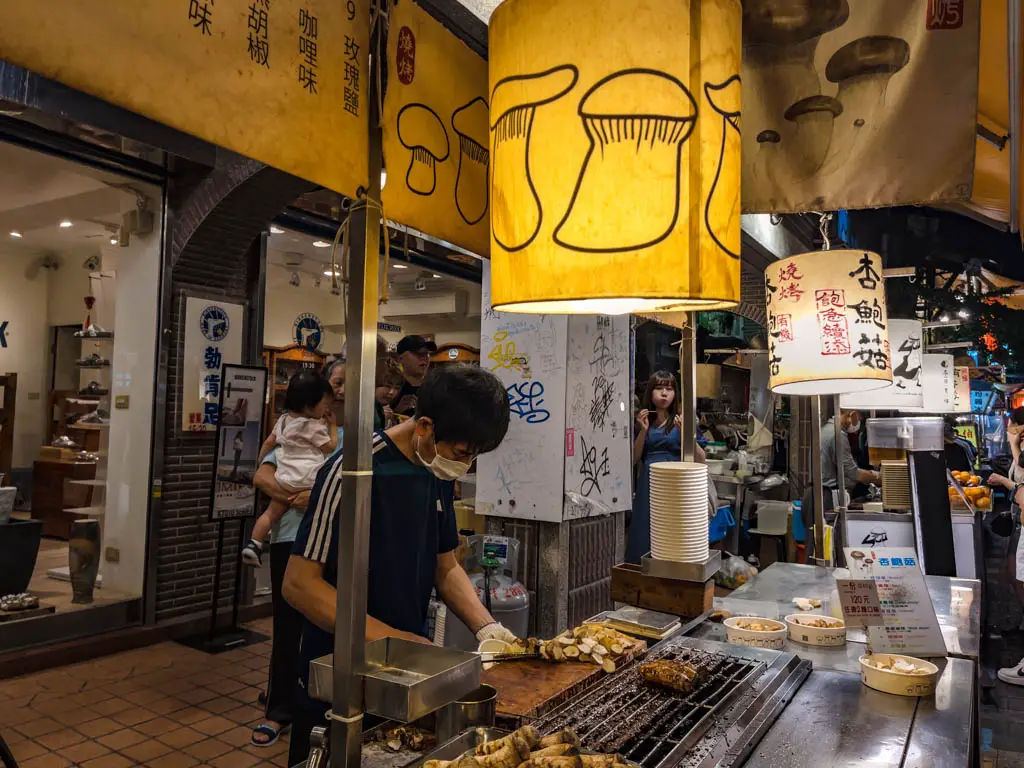 Arguably the most famous street food stand on Instagram is this grilled mushroom stand. It is a standout among the many other more oily and meaty street food options. It now occupies several stall spaces with a long queue.
All the mushrooms are roasted in front of you and there are a few flavoured toppings to choose from. We got rose salt and seaweed flavour and the portion is big enough for 4 to share.
Cost: 120 TWD
Lemon winter melon tea 檸檬冬瓜茶
Lemon winter melon tea is a common tea recipe in Taiwan. This stand is right next to the grilled mushroom stand and is run by the same people. It was a refreshing and caffeine free treat after roaming the night market for the evening.
Cost: 50 TWD
Linjiang Night Market / Tonghua Night Market
Linjiang Night Market is situated in the bustling Da-an District, near the beautiful riverside park. It opens every day from 6 pm until midnight and you can see a more balanced ratio of tourists and locals.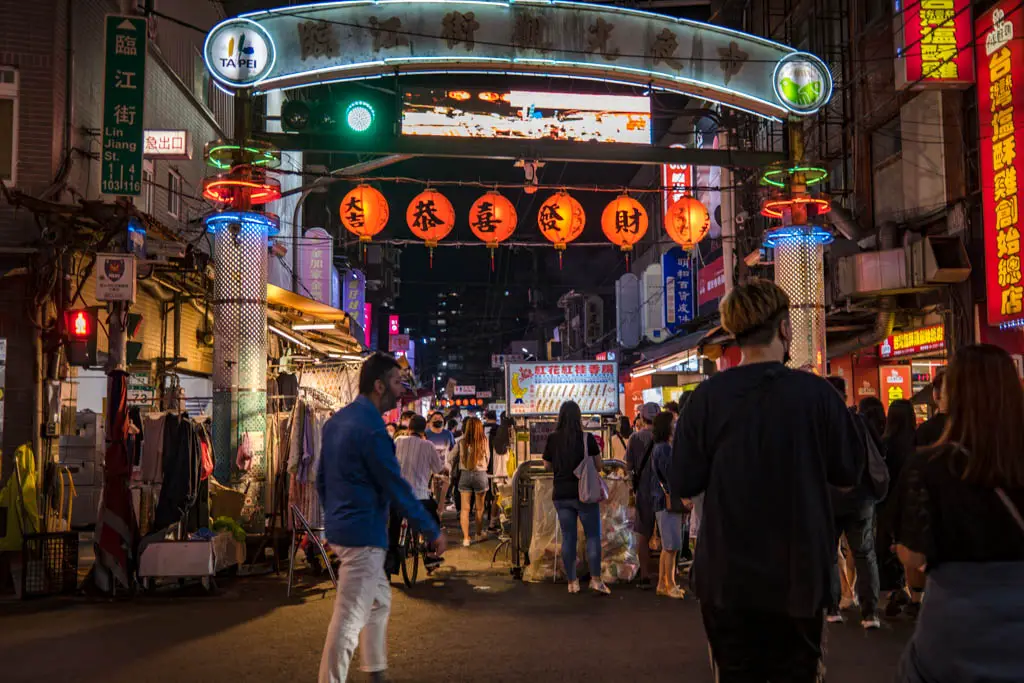 My favourite teppanyaki place is located inside the night market but there are also plenty of good street food stalls and also various shops selling clothes, accessories, and souvenirs.
Linjiang Night Market has a long history dating back to the 1970s and has become a cultural landmark. Despite being renovated and expanded, the market has still kept its original charm, and it remains a favorite destination for locals and tourists who love street food and want to experience the local culture of Taipei.
Nearest MRT: Between Taipei 101 and Xinyi Anhe Station on Tamsui-Xinyi line (red)
Opening times: 18:00 – 0:00
What to eat at Linjiang Night Market
There are many other great street foods in Linjiang Night Market but there is only one place I would eat at if I go:
Hong Lim Teppanyaki 紅林鐵板燒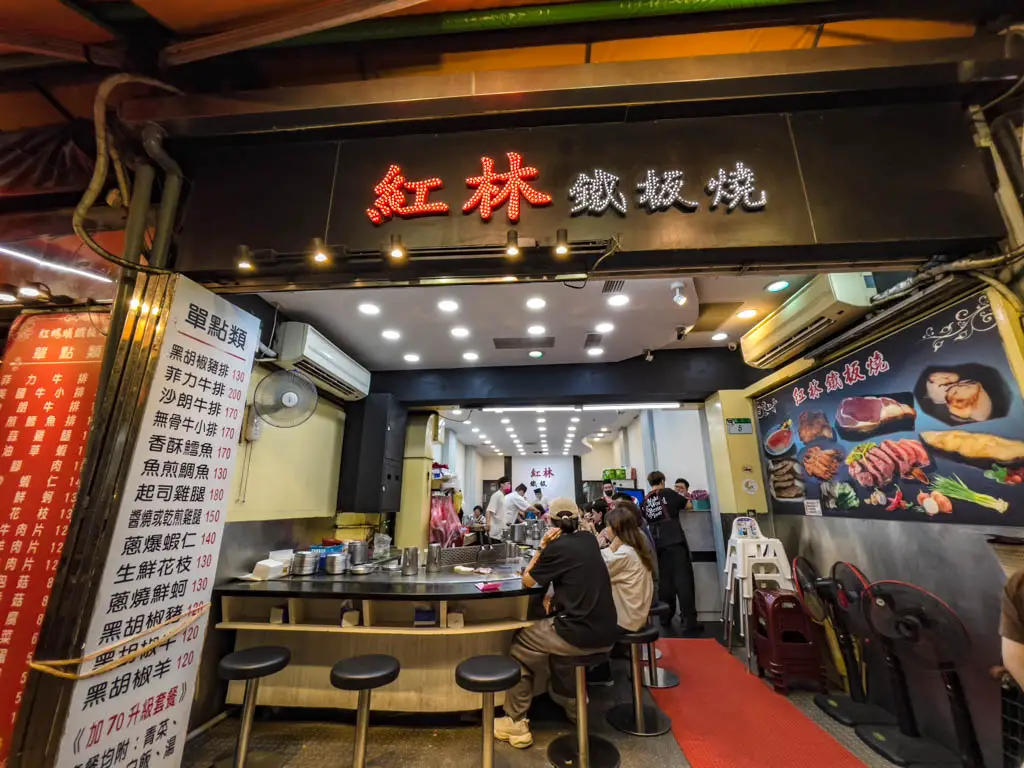 I first came here in 2017 on the recommendation of a friend's friend. I have such fond memories of it that it was the only place I absolutely have to eat at on my 2023 trip. Hong Lim is a Taiwanese teppanyaki joint with amazing prices and it's reflected in the queue.
You get to sit around the teppanyaki and food is served directly in front of you.
Note: you have to pick your order first before you enter the queue to dine in! We got a 2-people set for 660 TWD which is a steal!
Opening times: 17:00 – 23:45
Raohe Night Market
Raohe Night Market is one of the oldest and most renowned night markets in Taipei, Taiwan. Located in Songshan District, it stretches for 600m along Raohe Street and is easily accessible by public transportation. The market opens from 5 PM to midnight, offering a wide variety of delicious street food, local snacks, handicrafts, and affordable clothing.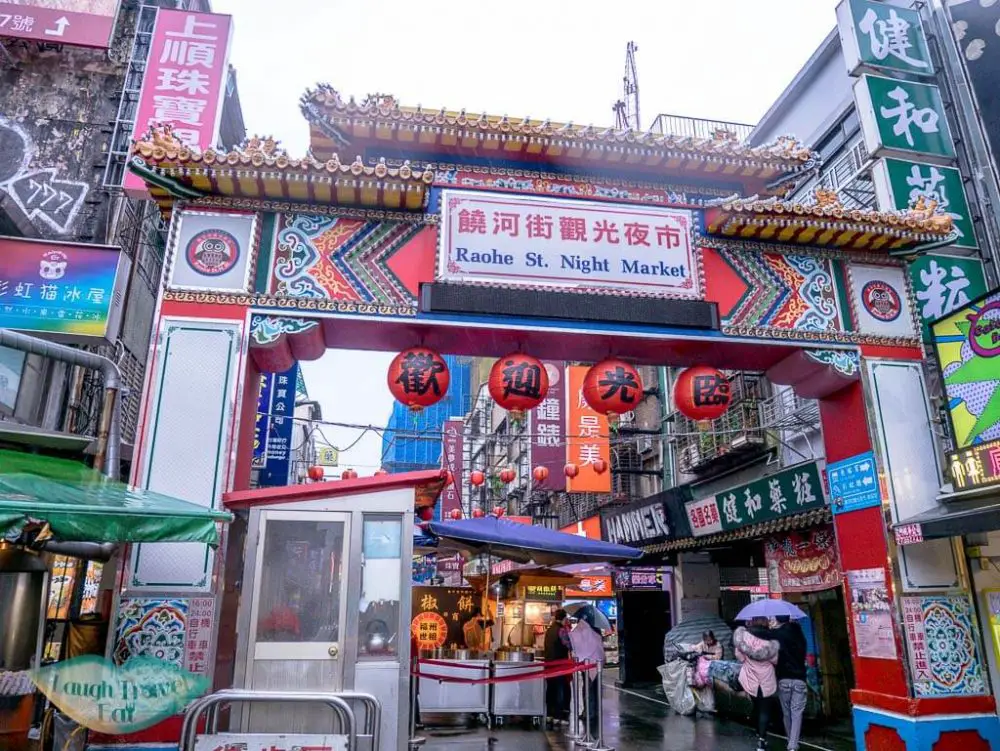 The history of Raohe Night Market dates back to the Qing Dynasty when it was established as a trading place for charcoal. Later, it became a hub for traditional Chinese medicine and herbs. Today, the market is famous for its food stalls but also known for its historic landmarks, including the ornate temple of Ciyou and the towering Songshan Ciyou Tower. 
I last went there on my trip in 2017, so I can't personally recommend many stalls. Songshan is a little out of the way for me which is why I hadn't gone.
(Since I hadn't been there recently, I won't put any recommendations here. But pretty much any items mentioned before should be available here).
Nearest MRT: Songshan Station exit 1 or 4
Opening times: daily 17:00 – 23:00
Ximending Night Market
Ximending Night Market is one of the most popular night markets in Taipei. It is located in the Wanhua district of Taipei, which is known for its rich cultural heritage. The market is open every day from 4 pm to midnight and features a wide array of food stalls, clothing stores, street performers, and other entertainment options.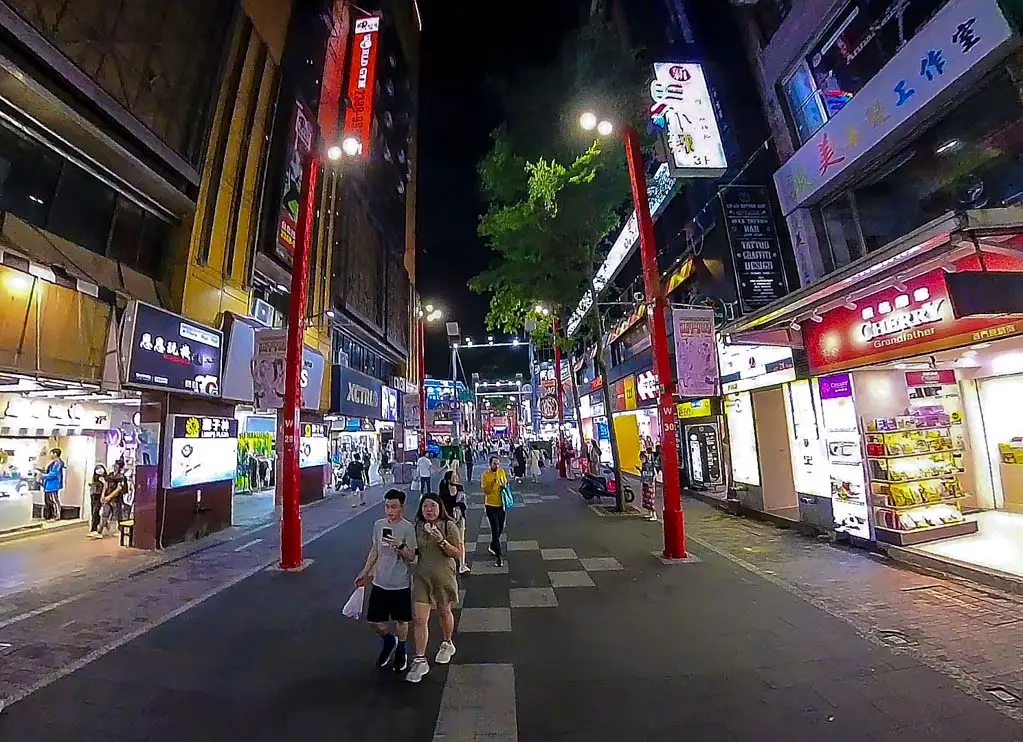 Ximending Night Market is famous for its traditional Taiwanese street food and is a popular destination for young people looking for trendy fashion items and unique souvenirs. There are now many Korean-style photobooths if you want to have some keepsakes for your trip.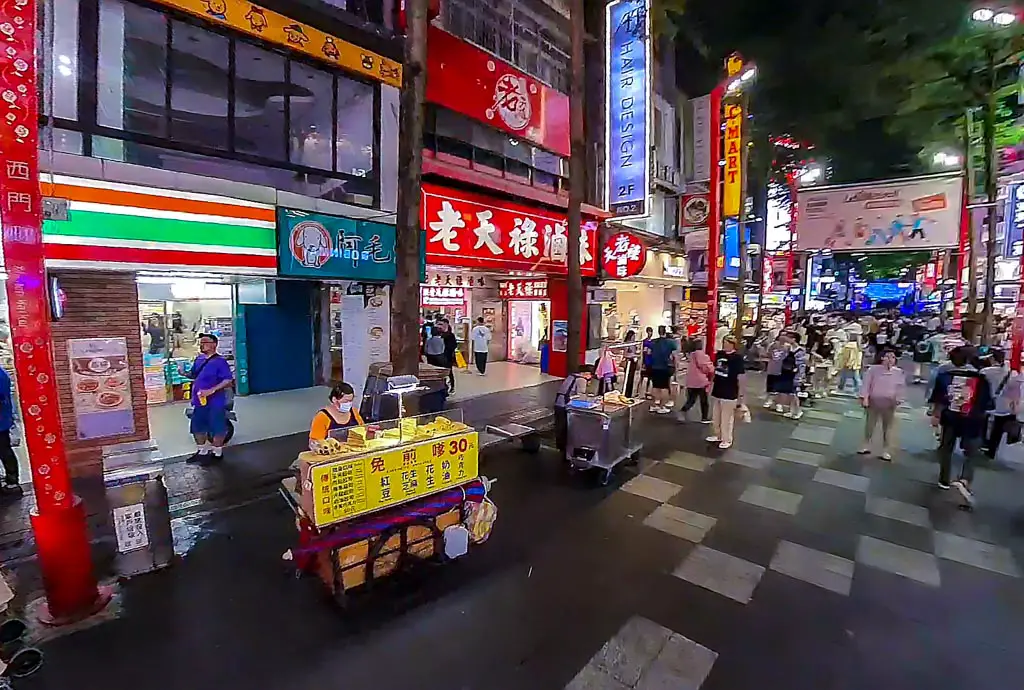 The market has a rich history dating back to the Japanese colonial period when it was a popular area for entertainment and cultural events. Today, Ximending Night Market remains a vibrant hub of activity in Taipei, attracting locals and tourists alike.
Nearest MRT: Ximen MRT exit 6
Opening times: 17:00 – 22:00
What to eat in Ximending Night Market
The unique thing about Ximending Night Market is that it's more of a mix. It's basically a walking street with shops and restaurants as well as the odd street vendors (or ten) selling food. You can just as easily grab a full meal or go for a regular bubble tea as getting street eats. But if you're hungry. Here are my recommendations:
Xing Fu Tang Flagstore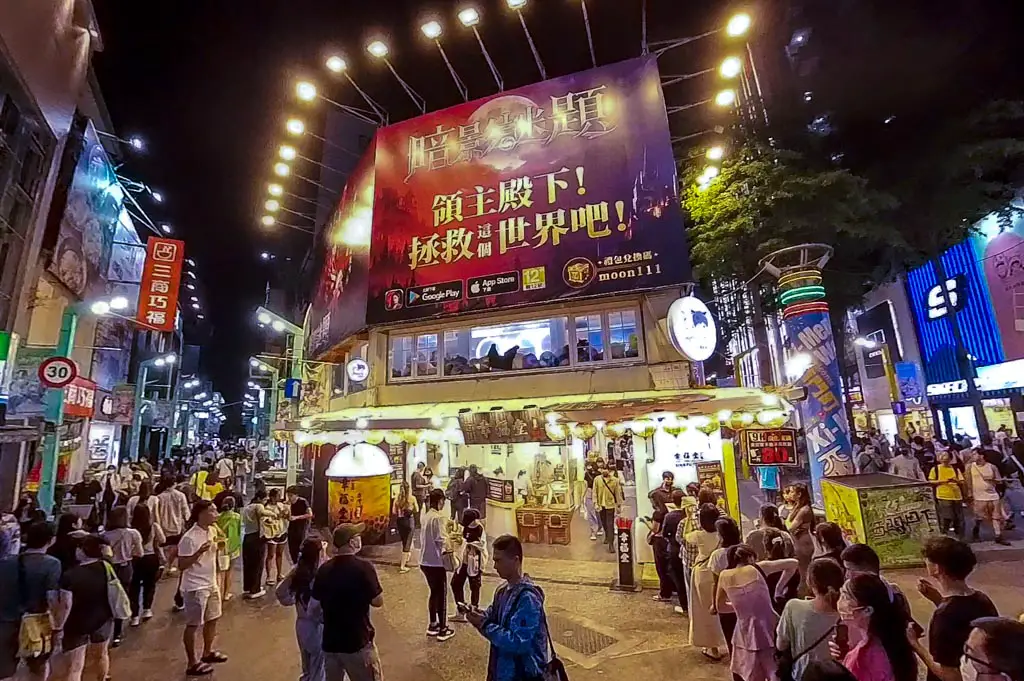 The Xing Fu Tang at Ximending is the largest I've seen, overtaking a corner all by itself near exit 6. Before you say that you can find it anywhere, it is much cheaper than getting it anywhere else. Plus, it is the place of origin so definitely worth a try.
Opening times: 10:00 – 22:00
Dadaocheng Wharf Market
Dadaocheng Wharf Market is an open-air market consisting of shipping containers as street food stalls located in the Datong district of Taipei. It is more similar to a Western market serving both local street food and international fare and plenty of alcohol options.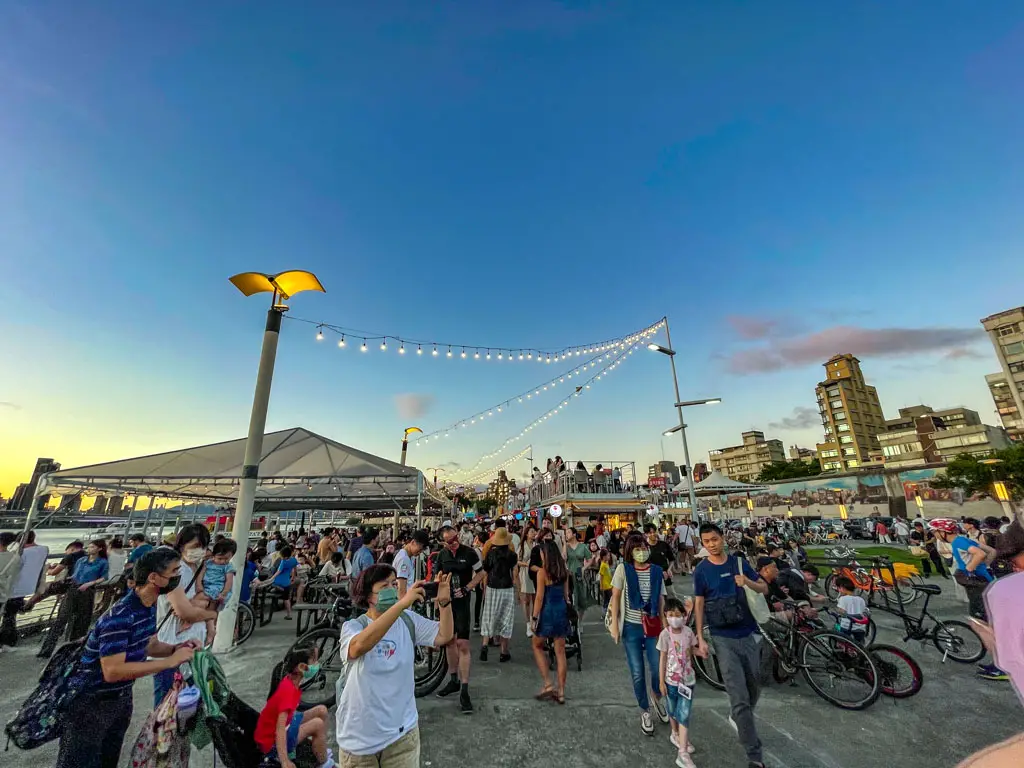 There are also many live performances, such as local music and dance shows. It's right along the Tamsui River and has a long history as a center for trading and commerce. During the Qing Dynasty, it was a hub for importing and exporting goods, and today it still serves as a vital connection between Taipei and surrounding towns. It underwent 4 months of renovation in 2023 and is a great place to watch the sunset as well.
What to eat at Dadaocheng Wharf Market
The food at Dadocheng Wharf Market is higher than the others. That said, there are seats above containers and also a sunset river view, so there is the trade-off. Most of them are more like restaurants and there are Japanese, Korean, Hong Kong style, Taiwanese, and even Italian food.
Nearest MRT: Shuanglian which is a 10 minutes or so walk. You can also cycle up along the Yanping Riverside Park
Opening times: Mon – Fri 16:00 – 22:00; Sun-Sat 12:00 – 22:00
Note: it's very close to Ningxia Night Market, so you can technically combine both but it depends if your stomach has room!
Huaxi Night Market
Located in the city of Taipei, Huaxi Night Market is one of the largest and oldest night markets in Taiwan. Known as the "Snake Alley" or "Huaxi Street Tourist Night Market", it is located in the Wanhua District of Taipei.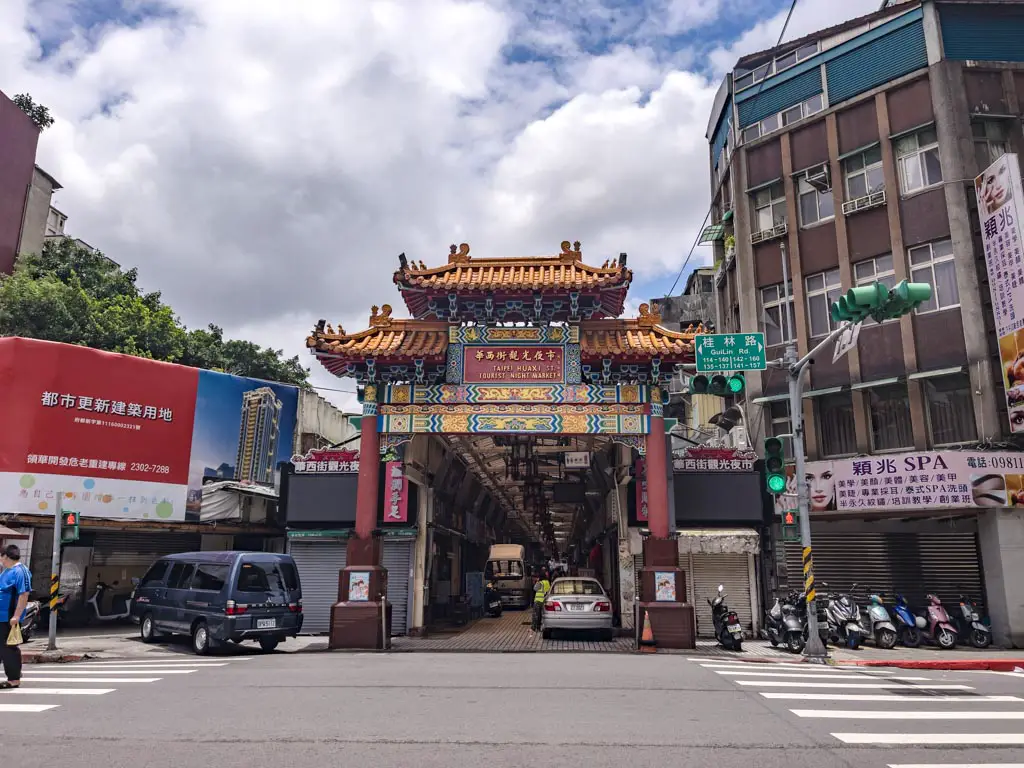 One of the major attractions of this night market is their famous snake restaurants, It is also one of the few that is covered! Although we did have to dodge incoming motorbikes from both sides all the time. Besides snakes, you can also find other street foods and also shops, and even nail and hair salons.

The market has a long history; it was originally created in the 1950s as a place for snake traders to sell their products. Many restaurants are also open during the day.
Nearest MRT: Longshan Temple MRT
Opening times: 16:00 – 0:00
What to eat in Huaxi Night Market
Wang's Broth
Wang's Broth is known for its braised pork rice and braised everything else. We ordered their soup as well which is quite unique with pickled cucumber! The price is also very good and it's spacious with air conditioning as well.
Opening times: Weds – Mon 9:00 – 20:00
Yuan Fang Guabao
Yuan Fang is famous for their Gua baos, which consists of a slice of pork belly (with plenty of fat so beware if you hate that), pickled vegetable, and coriander inside a soft white bun. The price has risen to 60 TWD but you'll still see a long queue for it.
Opening times: Tues – Sun 11:30 – 20:00
Full list of Night Markets in Taipei