Cheap Holidays in Maldives: 8 days with Mirian Sky Hotel
Picture this: you on a tropical island with gorgeous turquoise wat
er on an overwater villa with your own private pool
.
That might cost you an arm or a leg.
Holidaying in Maldives doesn't have to be expensive, you can spend a week in paradise without breaking the bank by staying on a local island.
While most people immediately think of over water villa among the turquoise water when you mention Maldives, those are exclusive to the resort islands
. Out of the thousands of islands, only about eighty of those are resort islands. Comparatively, a hundred odd local islands has recently open to tourism and Gaafaru is one of them (see my photo diary of this local island here to get a sense of it!).
Gaafaru is a fishing village with one thousand population. As the only hotel on the island as of now, you will be one of the only guests on the island.

I love that it is not overcrowded and commercialized, but that depends on your personal preference

. The hotel is two storey, one of the tallest on the island and very modern with tinted windows.
To avoid getting wordy, below is my quick list of pros and cons on the hotel:
Pros: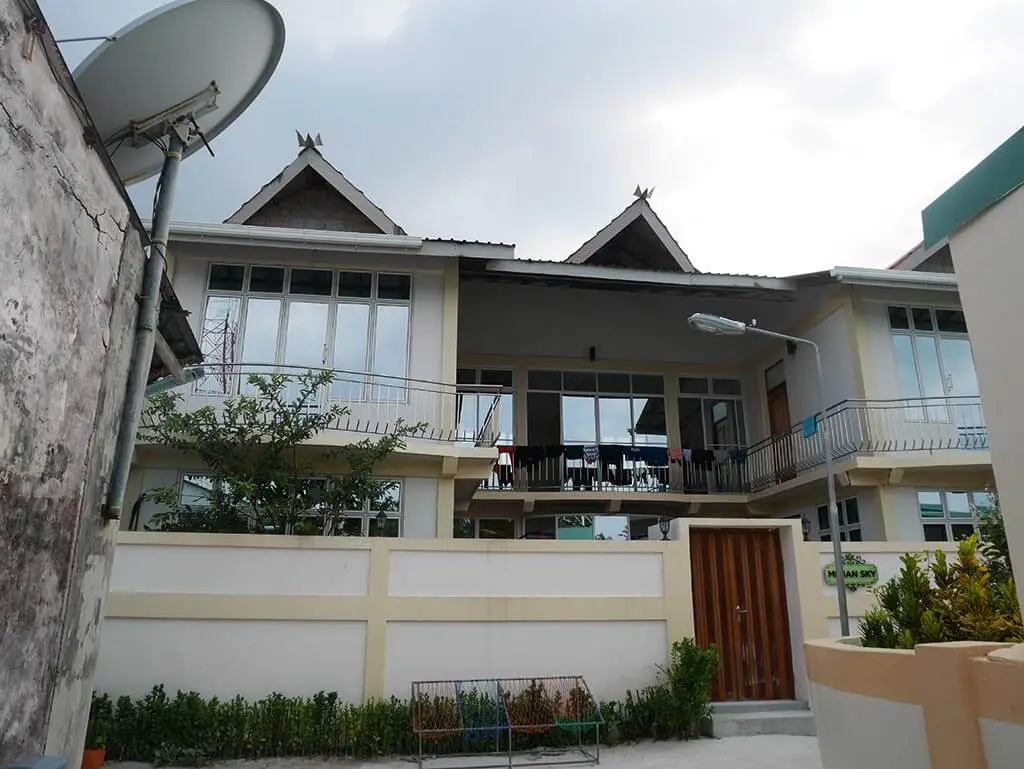 Authentic local experience on an island not touched by tourism.
Modern facilities with LCD TV, comfortable bed and clean everything.
Shower gel and shampoo provided
Beach towels provided!
Free use of bikini beach and their sun bed and umbrella
Great food from Mohammed
Friendly and warm service – Immi wants to make you stay as good as possible!
Proximity to Male and the choice of cheaper daily public ferry if needed
Plenty of experiences to do
Cons: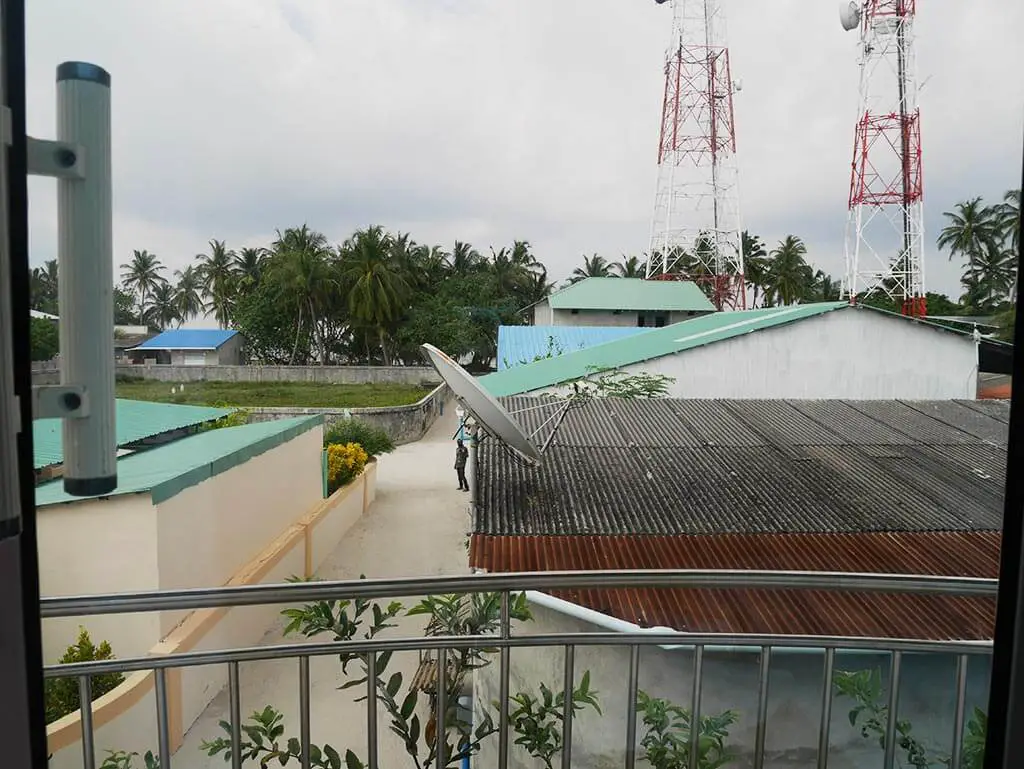 Wifi not the best, it only works on one device at a time and very slow and glitchy but it does cover the whole island. I recommend for you to get a sim card if good internet is essential to you.
Opposite the mosque – which means you get blast away every morning at 5am.
Not exactly a con but you do have to walk from the hotel to the beach – it's less than 5 minutes.
Tooth brush and tooth paste not provided
*Disclosure: I
was invited
to stay with Mirian Sky Hotel in place of Rachel via her blog Hippies in Heels.
However
, all opinions are my own!*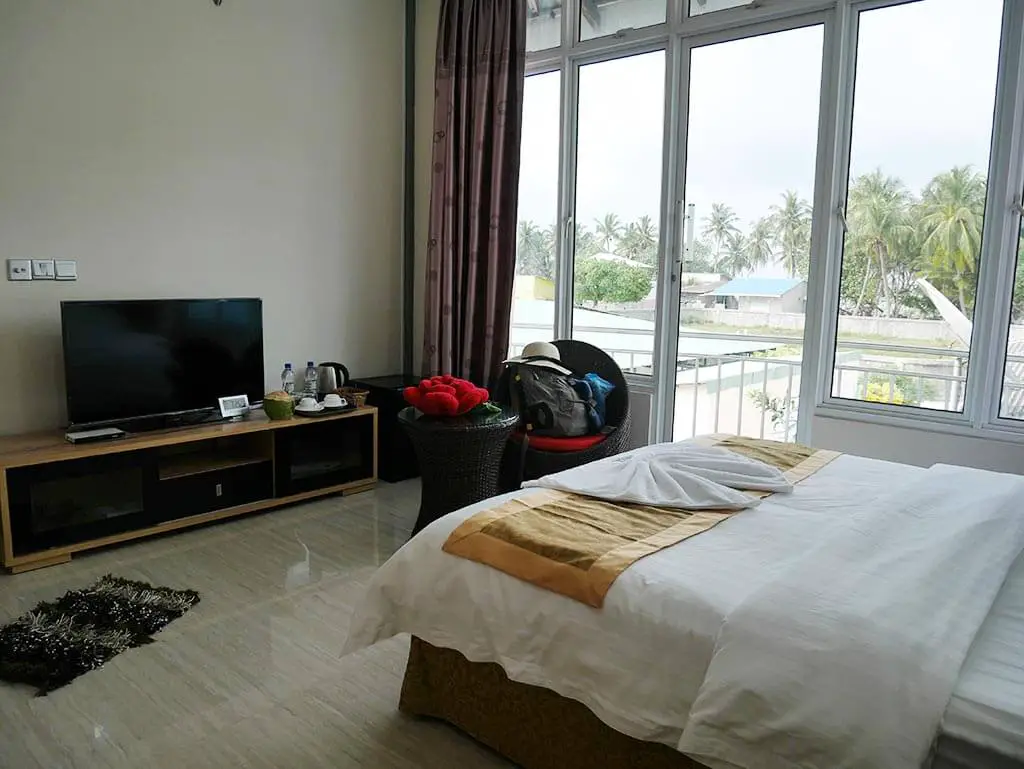 You have three options to choose from: Breakfast only, half-board and full-board. Given that there are only two cafes in town, I highly recommend that you at least go for the half-board.
The room prices vary depending on the month you visit, but it starts as low as 90 USD for Breakfast only and highest at 125 USD for full-board in peak season.
Expenses in Maldives / Gaafaru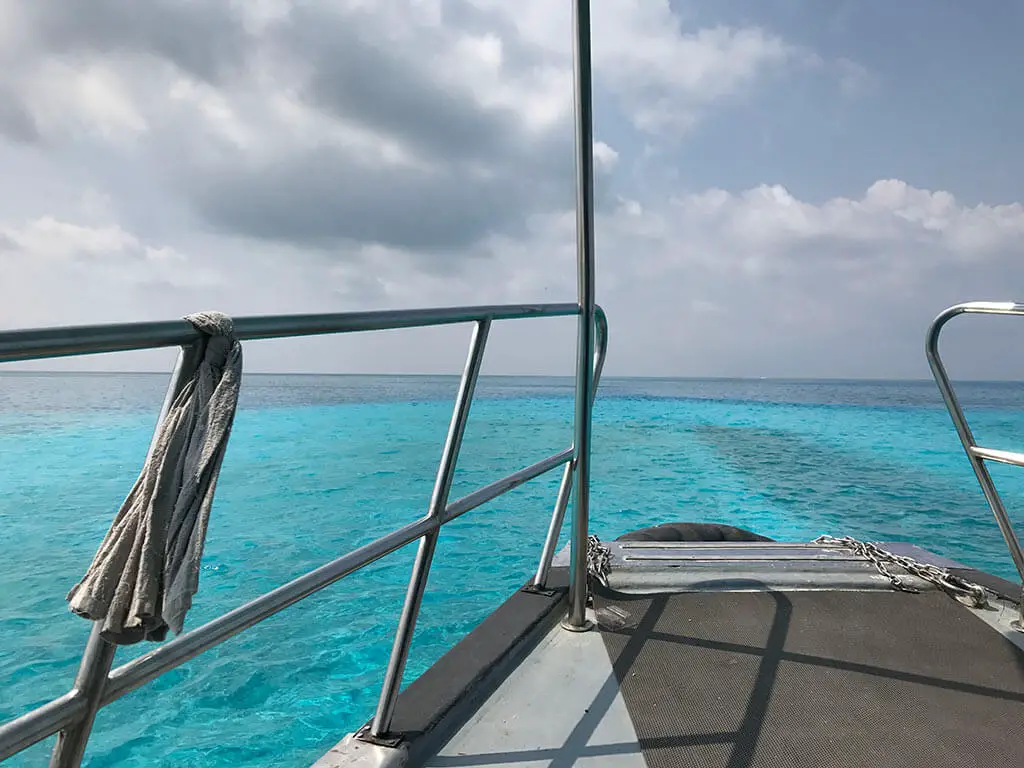 The most expensive thing is getting around in Maldives. The further away you are from the airport, the more likely you'll have to fork over extra dosh to get around. The two most common way to get around is by speed boat and seaplane. Luckily for me, Gaafaru is a three hour and a half ferry ride from Male. The fare only costs 5 USD, as opposed to 200 USD by speed boat (but that would only take an hour).
The ferry runs daily, you can find out more about getting around here.
Maldives Day Tour / Activities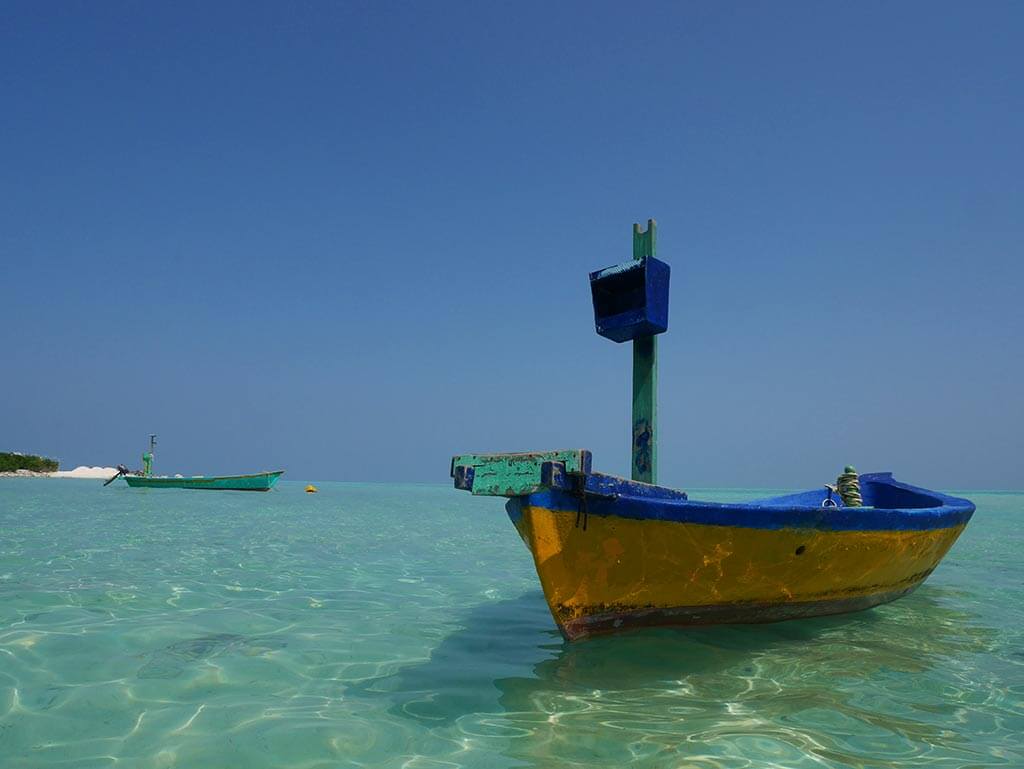 While on the island of the Gaafaru, you'll have access to its bikini beach and the snorkeling equipment. They have the second largest lagoon on the island but the current can be pretty strong.
The hotel organizes many day tours or activities, from turtle snorkeling to a sandbank visit

. Everything
is listed
clearly

and much cheaper than what resort charges. It is worth noting that luck also plays a factor in whether you manage to spot any sea life!
You can also get a day pass to go to nearby resorts, which costs a fraction of an overnight stay. Below is the price list (taken in March 2016):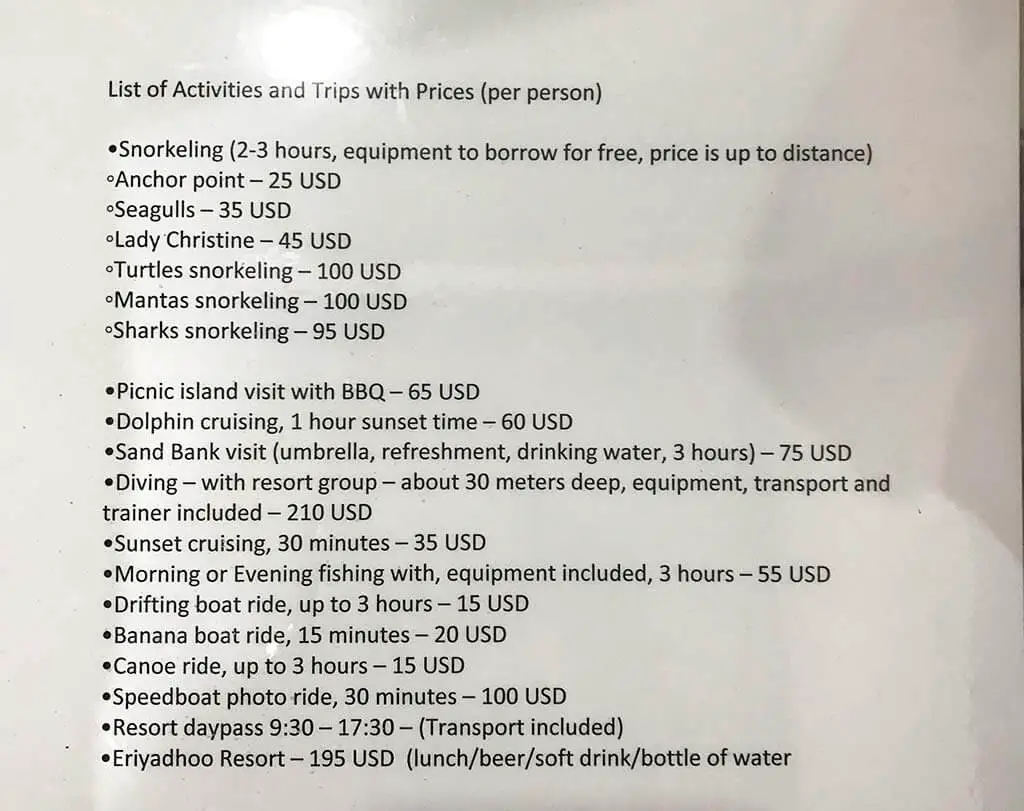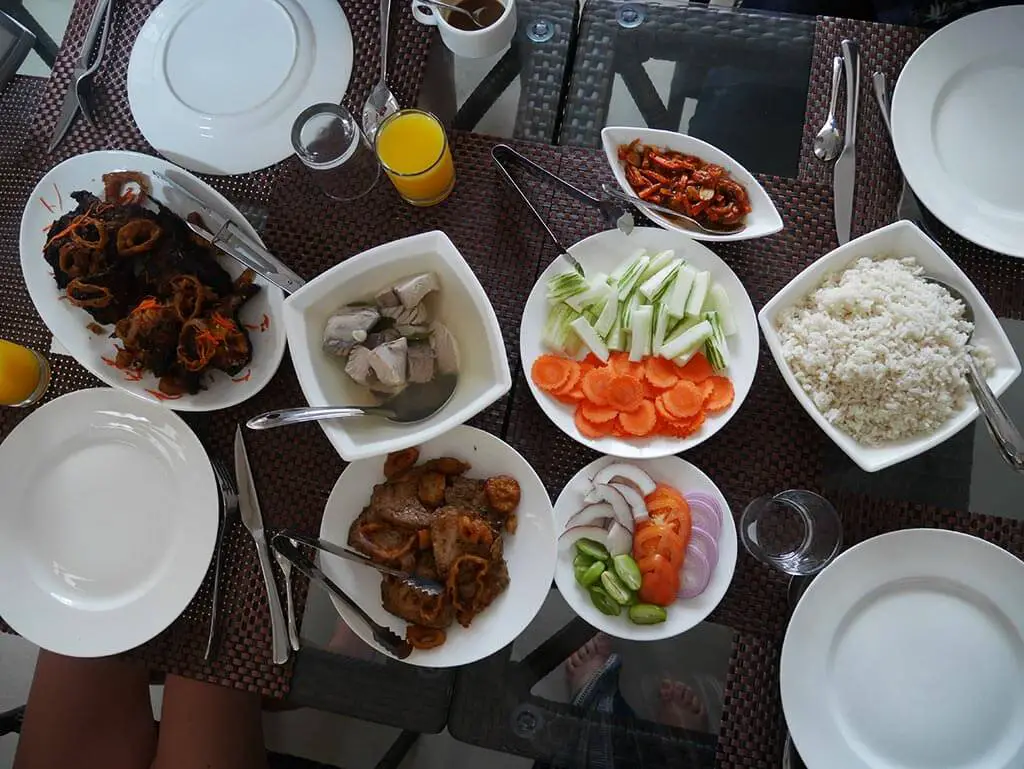 The main diet in Maldives is fish, more

specifically

tuna.
However
, the chef, Muhammad, can whip up anything you want. They do have a menu,

however

, you can order whatever you like and he will cook it for you. One of my favourite dishes is their salad, grill fish, gobi 65 (yes, it's a real food) and omelet.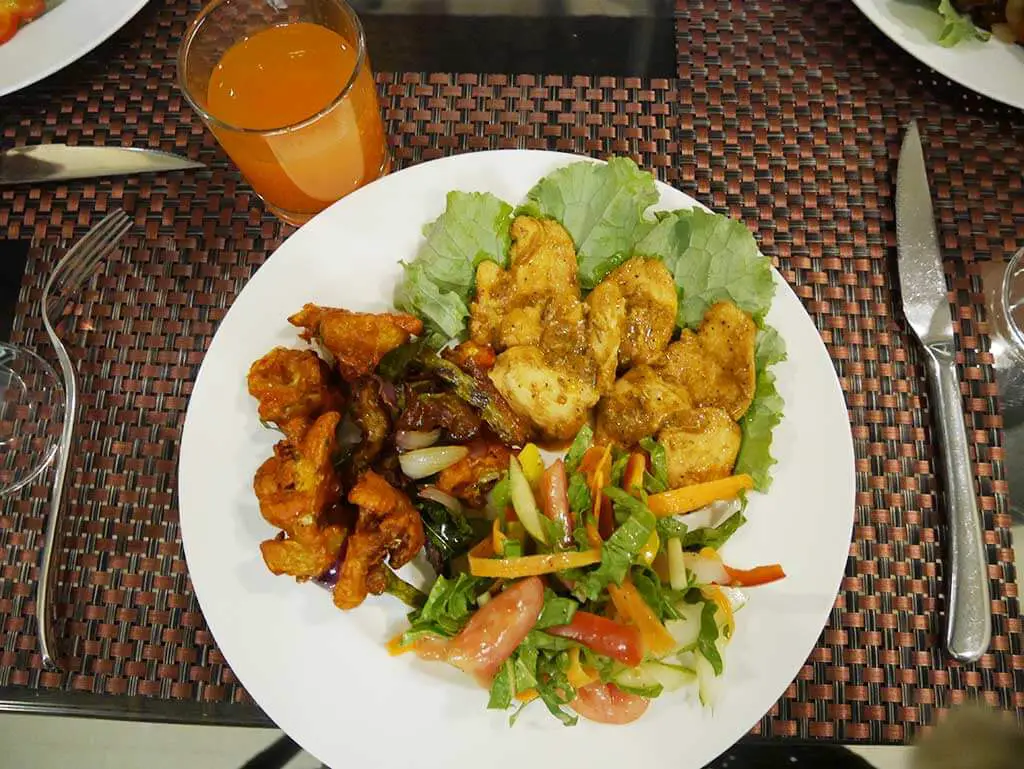 I ended up mostly having salad as the weather was hot, but I did try their Maldivian dishes which was really nice. I even got pancake for breakfast! I stayed with them on full-board, and I recommend at least going half-board.
My 8-day itinerary in Maldives:
Day 1 arrival and layover in Male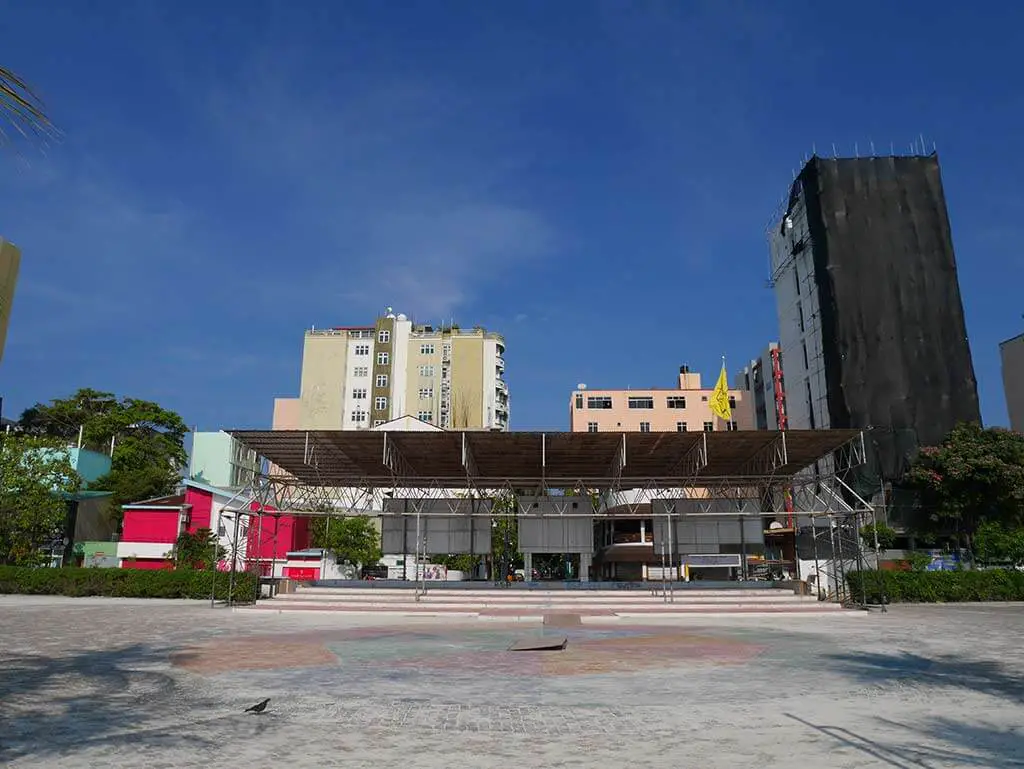 -My flight landed in Male in the evening and a guide, Nadee, from Mirian Sky Hotel was there to pick me up.
-It was late so after check-in, I spent one night in Male.
Day 2 – off to Gaafaru and some beach time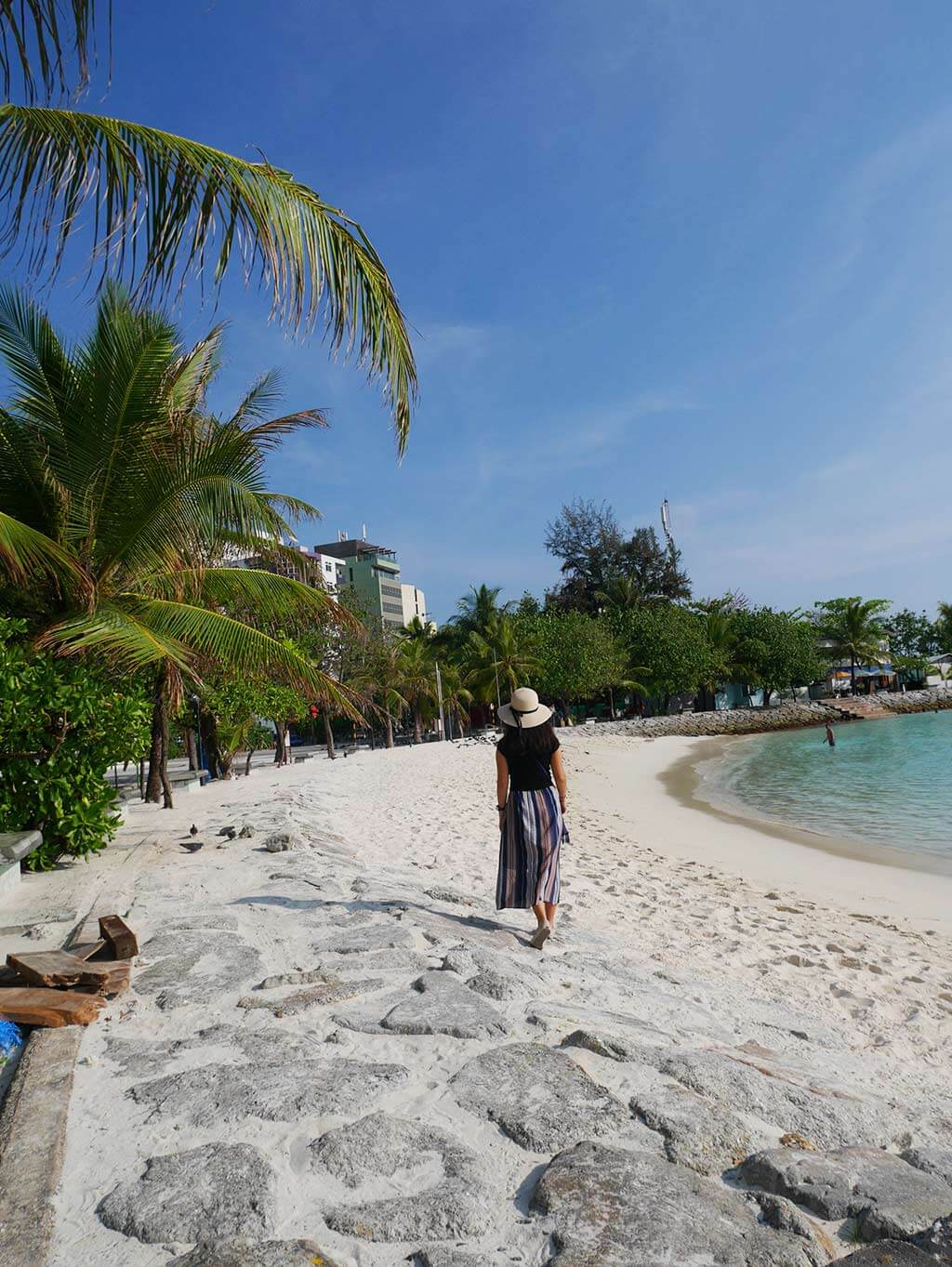 -After breakfast, I quickly walked around the northeast part of Male and visited two of its artificial beach.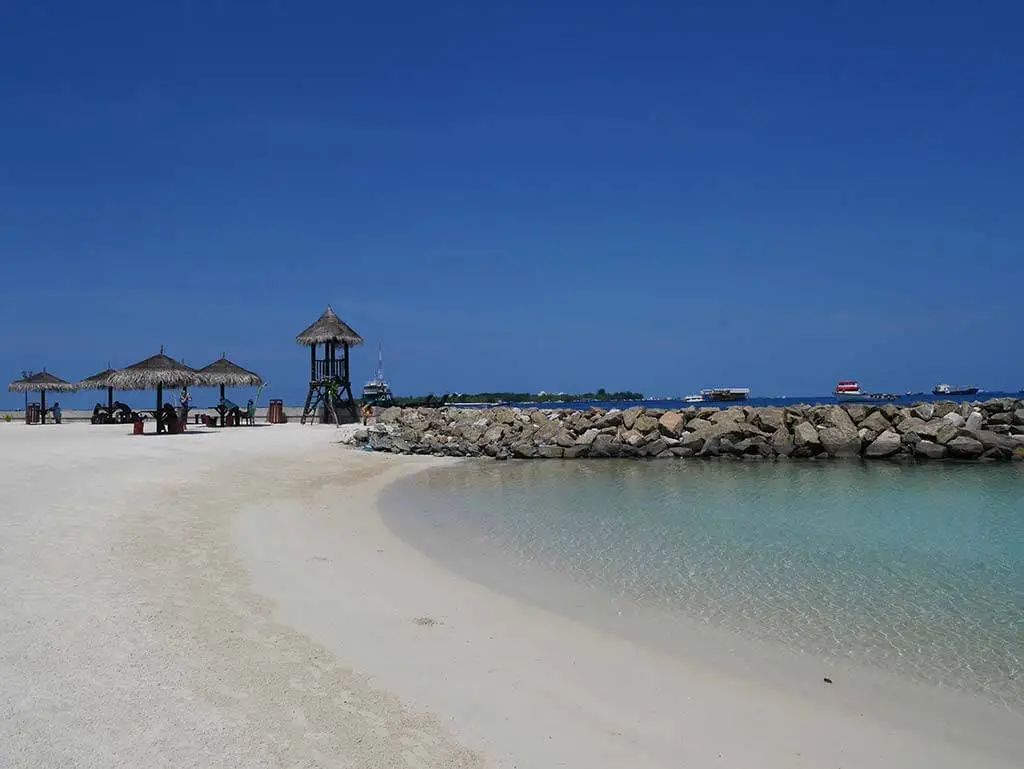 -The public ferry to Gaafaru was at 11 a.m. to Gaafaru. Price: 5 USD and my guide sent me on the ferry. The ride was 3.5 hours
-I arrived
just
after 14:30 and
just
in time for lunch with two lovely German sisters who were staying there.
-Immi, the hotel owner, showed me to the beach and I spent the rest of the afternoon there
-I had dinner at the hotel with a Canadian Family staying there
Day 3 – Snorkel, sandbanks, picnics and sunset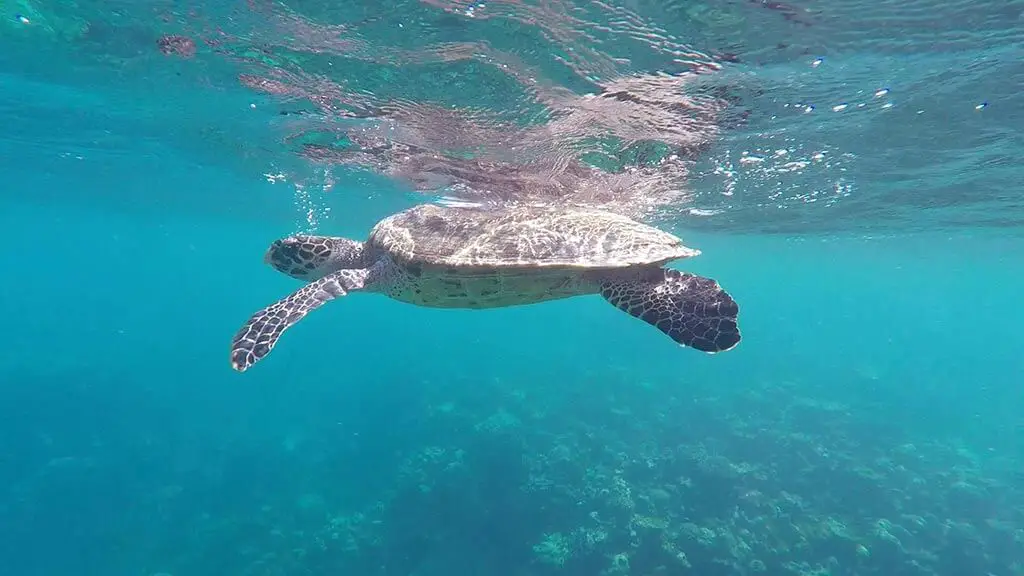 -We set off around 9 for some turtle snorkeling. We had to drop another guest at a resort and it was around 10 when we arrived at the snorkel spot. We were in the water for about one and a half hours and I saw four turtles.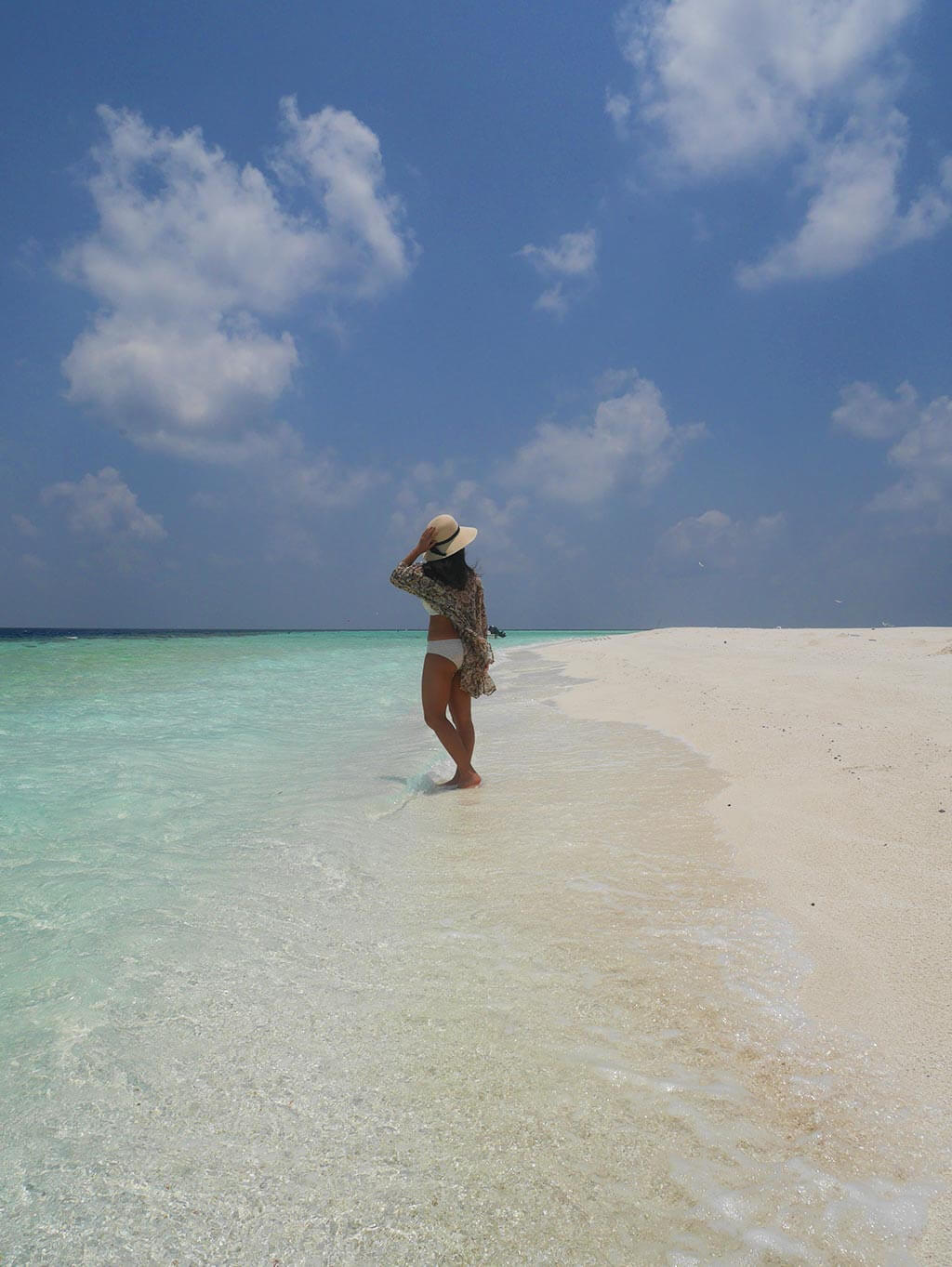 -On our way back, we dropped by to a natural sandbank quickly and it was the highlight of my trip. We spend about half an hour there for some photos before moving on. But you can do a longer visit – this was a surprise to us by Immi!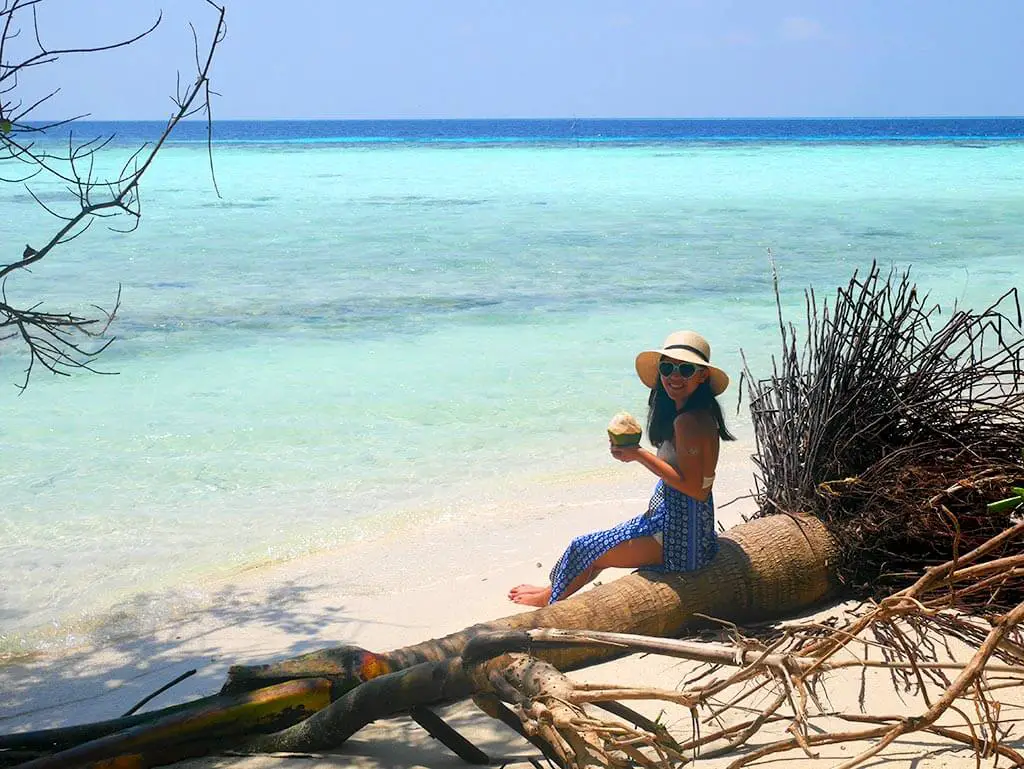 -We had lunch at Picnic Island and the crew picked some fresh coconuts for us! It wasn't the best food, but it was a good picnic.
-With a few hours before sunset, we return to the beach to relax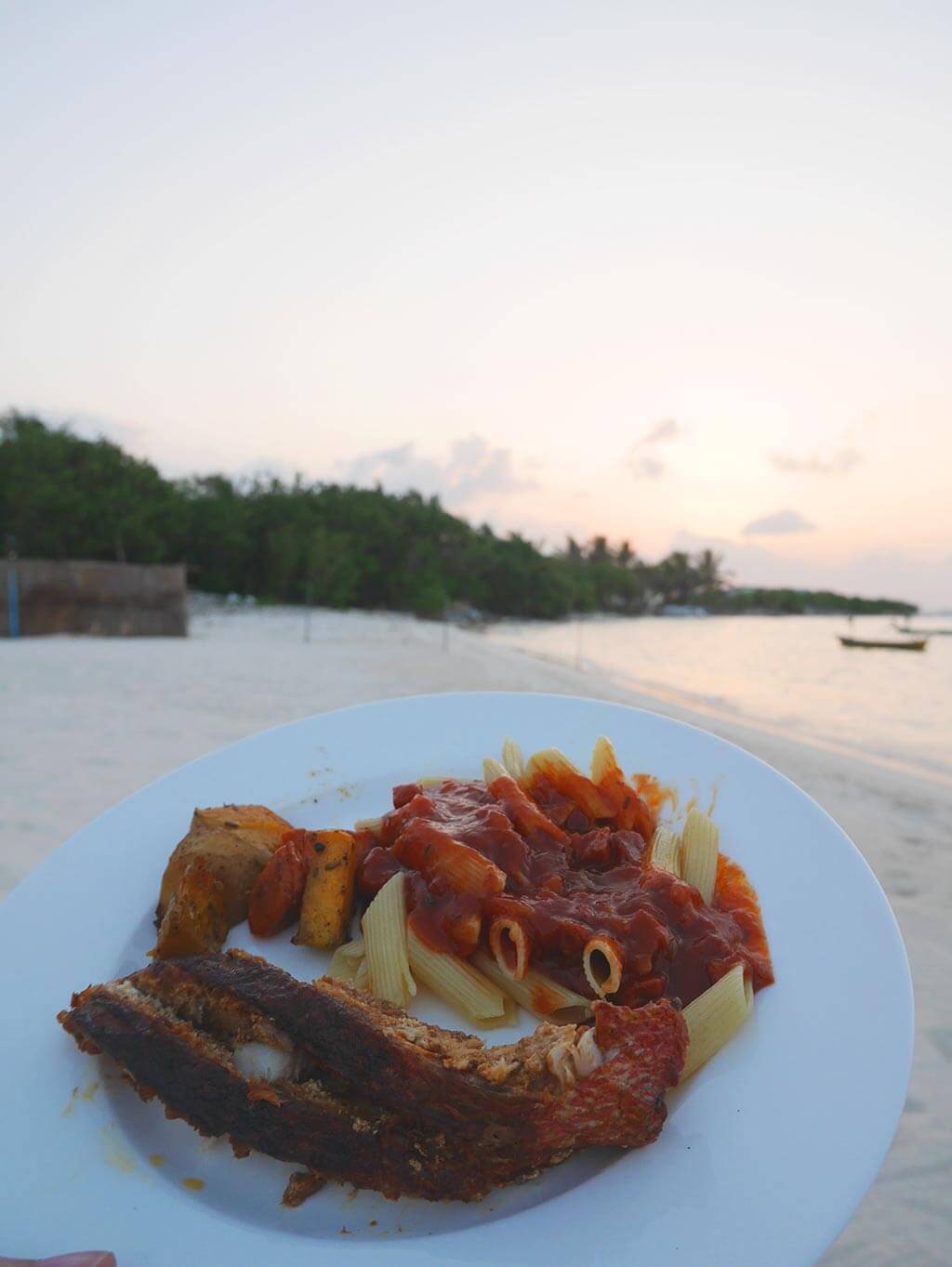 -Immi had organized a special Sunset Dinner for everyone in the hotel with a buffet line. It was beyond romantic and we had fishes from the catch by the other guests the day before.
Day 4 – chill around Gaafaru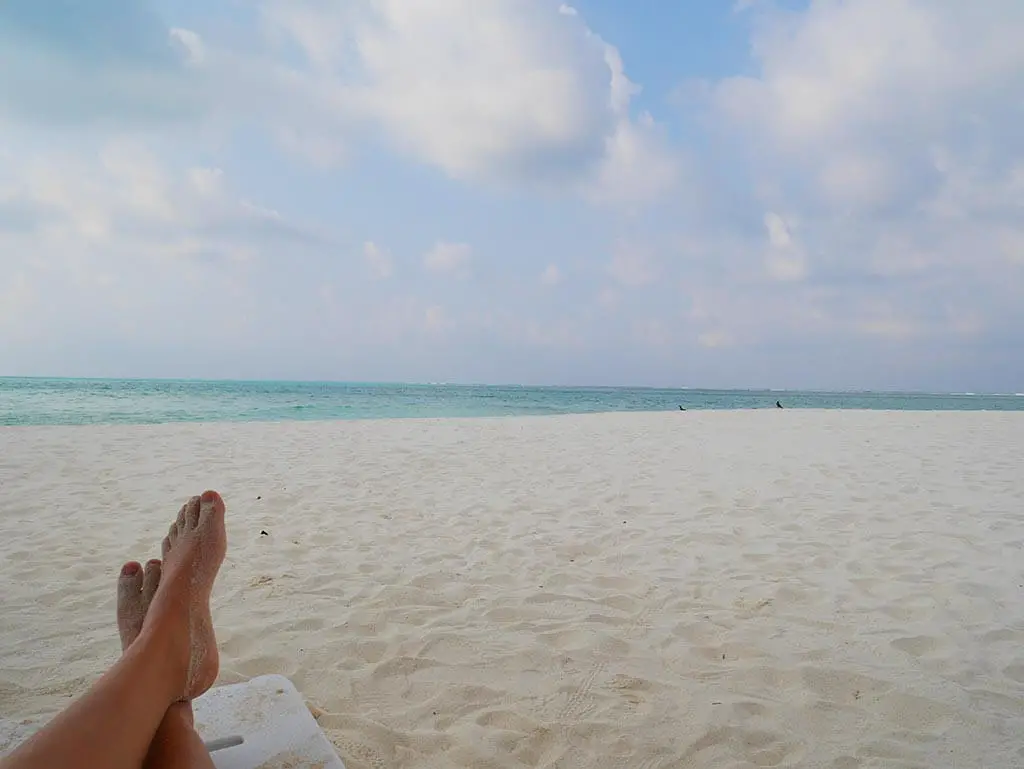 -I took the time to explore Gaafaru and enjoyed a beach day. You can see more of Gaafaru in my photo diary here.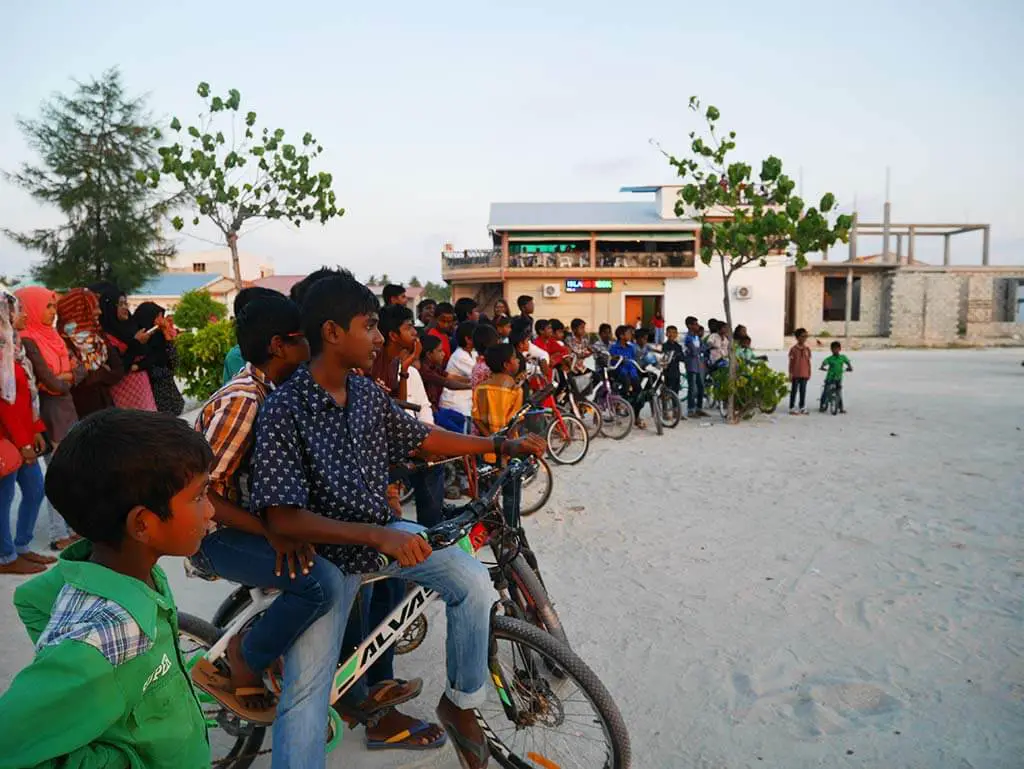 -there was a local music night as well and it was amazing to hear the band that won the Maldivian Idol perform! 
Day 5 – shipwreck snorkel and canoeing
-We visited the Anchor Point Shipwreck and ran into a pod of dolphins on the way! We were really lucky and they stayed with us for a while. The shipwreck of 150 years old is overrun by corals and completely new to me, so needless to say I enjoyed the experience.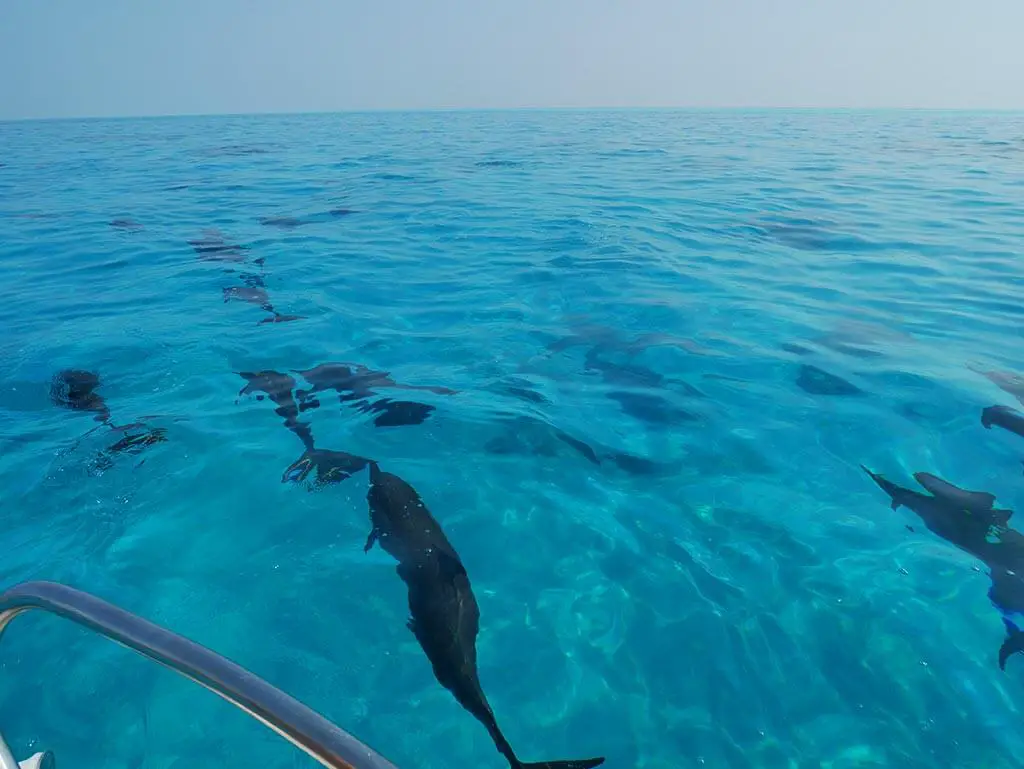 – I canoed around Gaafaru in the afternoon, exploring their lagoon which is the second largest in
all of
Maldives
. It's amazing to see their reef up close, which protects their island from big storm and waves.
Day 6 – Sunset Fishing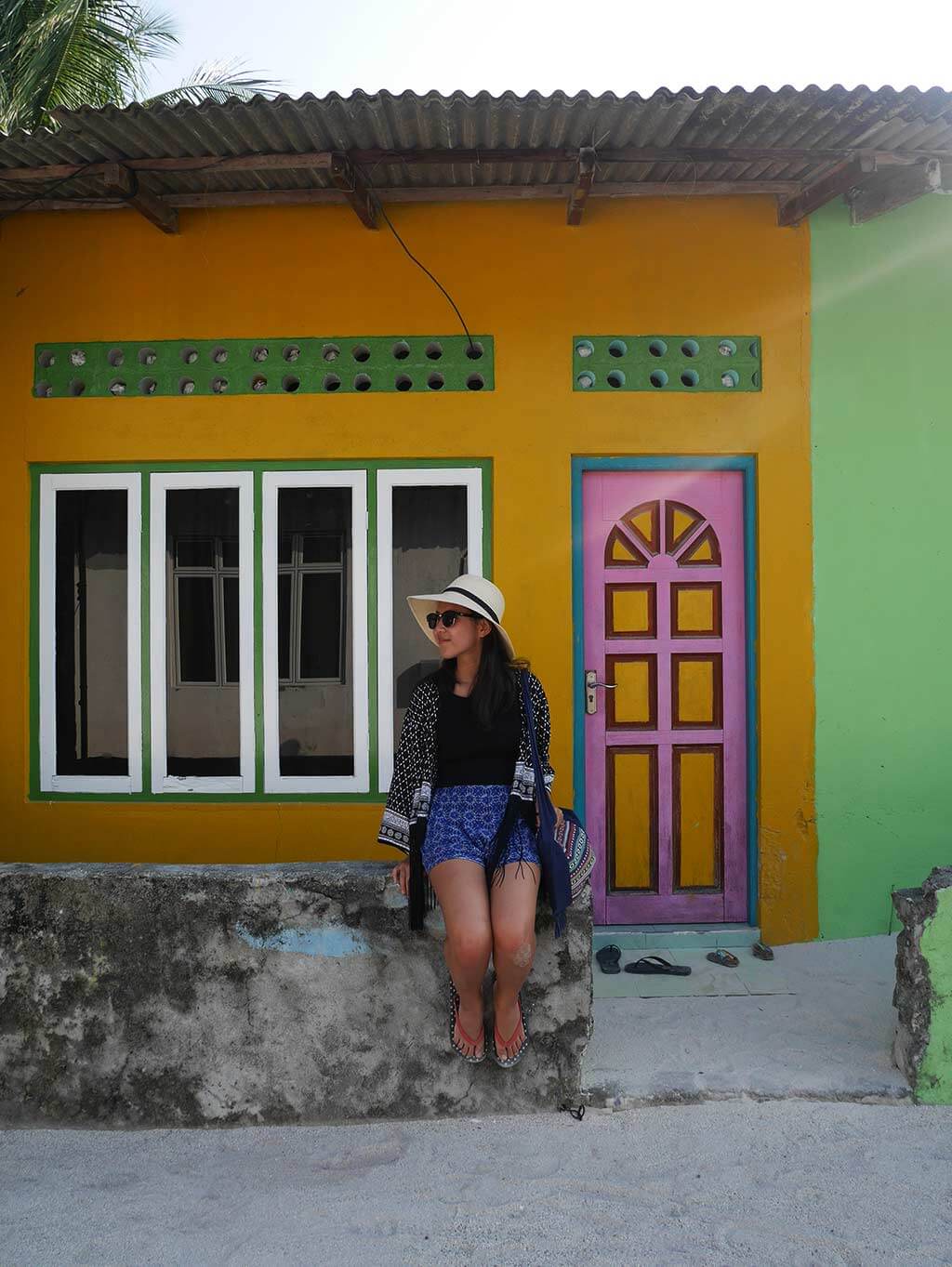 -I spent some more time around Gaafaru and snap photos of the beautiful houses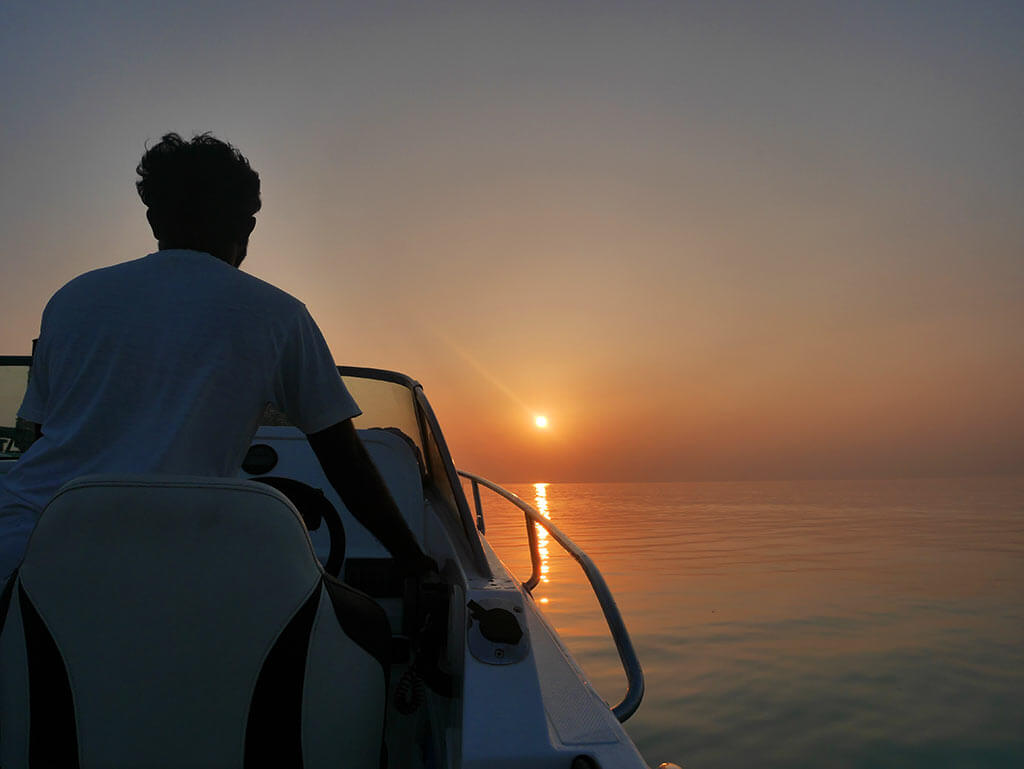 – Sunset fishing was
perhaps
not the most exciting thing, but I surprised myself by actually catching two fishes
! Not that I can cast to save my life. Muhammed kindly cooked one for me for dinner.
Day 7 – Picnic island snorkel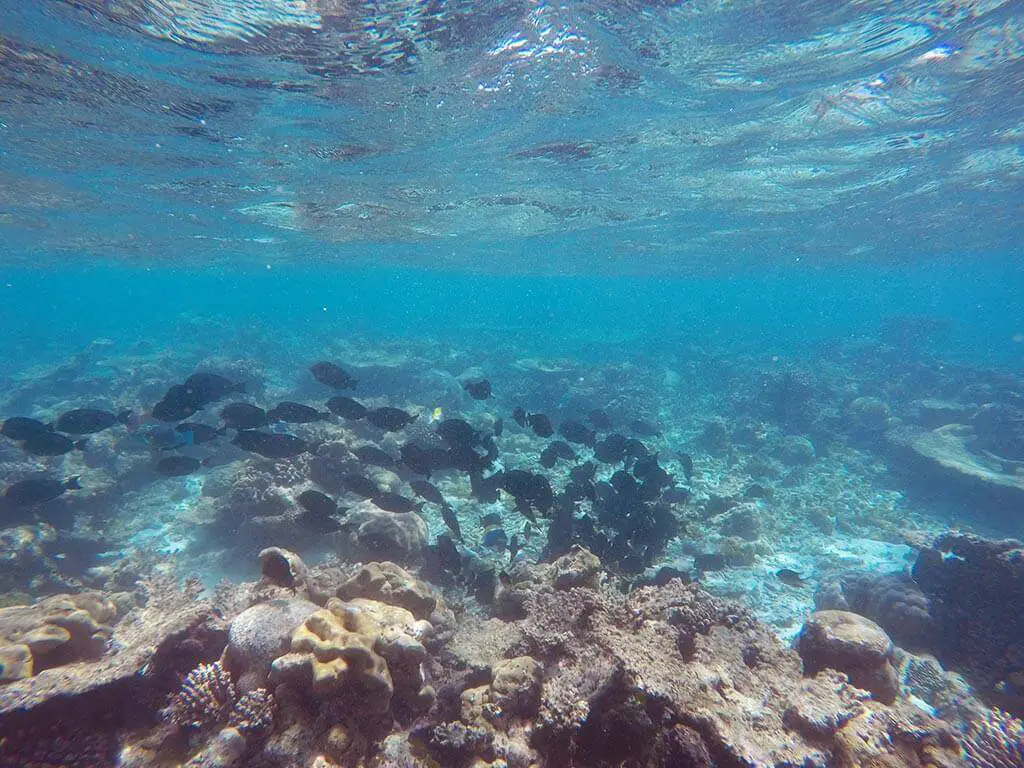 –Since I didn't get a chance to snorkel at Picnic Island, I returned and it was the best experience of the trip. The water surrounding the island is teeming with sea life. I saw over a dozen species of fishes, turtles, star fish, sea anemo and even an octopus!
-I treasured my last day and spent the rest of it by the beach.
Day 8 – Male and flight home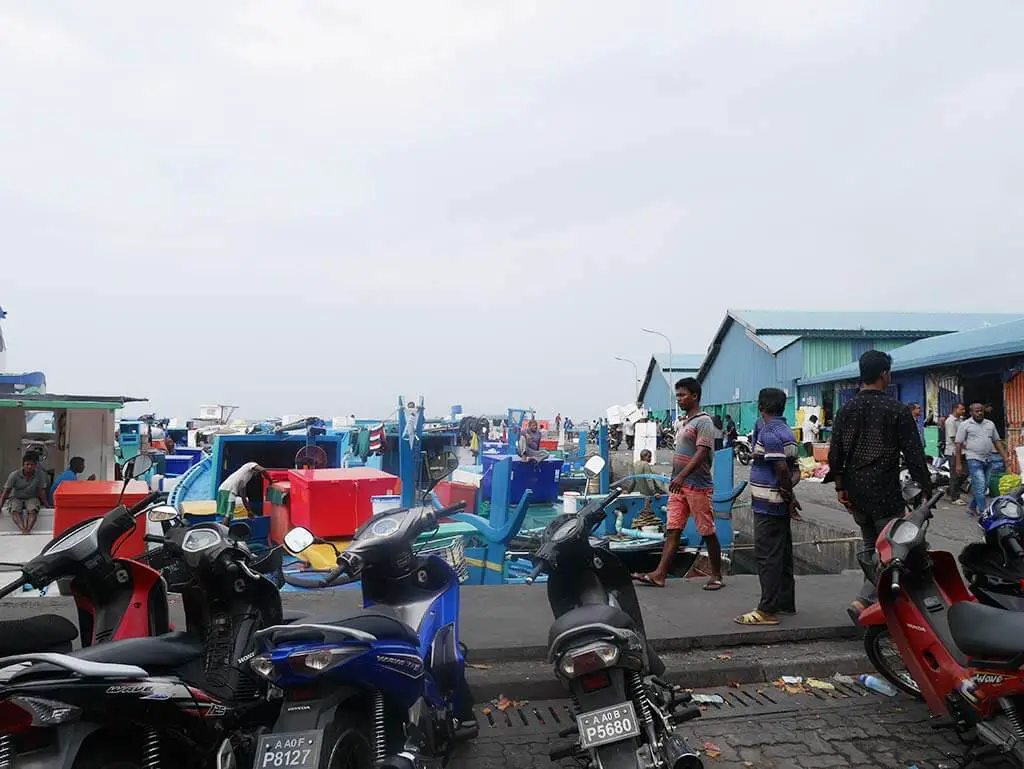 -I left on the morning ferry at 9 to Male.
Mirian Sky had organized a guide to pick me up and I was able to see the big markets in Male and brought some dried fish for a souvenir before I leave
.