Maldives Local Islands: What to Expect + Which to Visit
Maldives' local islands are popping up on visitors' radars, although it's safe to say that the quintessential Maldives resort experience is still a bucket list holiday.
There are hundreds and hundreds of islands in Maldives and the Maldives local islands are where the locals actually live. They opened up to tourism in 2009 and are still home to stunning sea life, white sandy beaches, and also a much more friendly price tag.
After my first visit to the Maldives in 2017 in Gaafaru and talking to some other travellers, I have a better glimpse of Maldives' logistics. I returned and visited Maafushi in 2023 and see that things are slowly shaping into catering for tourists, but there are many aspects of travelling in Maldives that are different from the other countries. But fret not, because I'm here to tell you all the things that I learned as a first-time visitor in Maldives. This guide is geared towards those who want to stay on a local island.
Table of Contents
Maldives Local Islands FAQ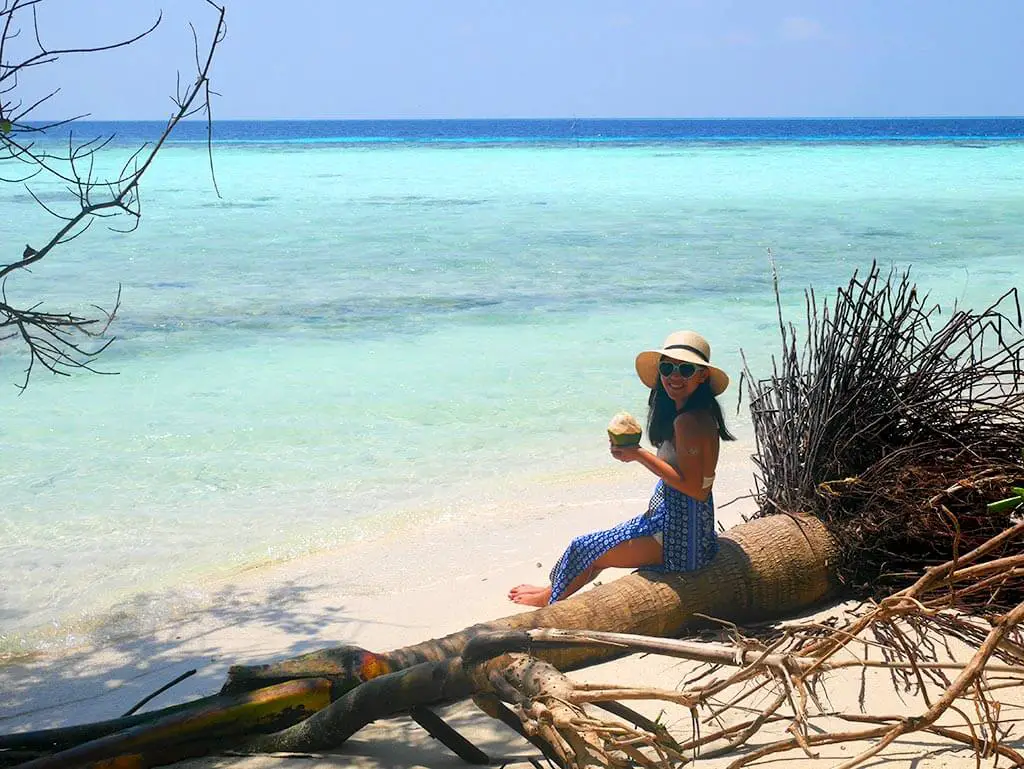 What are the Local Islands in the Maldives?
The Maldive's local islands are islands that are actually inhabited by Maldivians in the Maldives. They were not open to visitors before 2009 and many of them are still developing infrastructure for tourists.
How many local islands are there in the Maldives?

There are over 1000 islands in the country but only 187 are inhabited!
Can I stay on a local island in the Maldives?
Yes, you can since 2009. There are many hotels and guest houses on local islands, although some of them would be lacking in restaurants and shops depending on sizes and popularity.
Which local island is close to Male in Maldives?
There are several local islands that are closest to Male and here are them listed in order of popularity:

Maafushi – it is the most visited Maldives local island and a 35 minutes speedboat from the airport
Hulhule Male – this is the island that the airport is on. But it's only worth staying if you cannot make your resort transfer or missed the ferry.
Villingili – it's a tiny island west of Male with frequent ferries from the main pier.
Essential Travel Information for Maldives Local Island
Have an outbound flight from Maldives

Proof of onward travel is required for you to enter the country. You would be asked by the airline staff to show your outbound ticket confirmation before you are allowed to check in and board. Email on the phone would do, though I had mine printed. For those of you who are nomadic and don't plan your travels, it's important to plan when you get out of this one.
IMUGA form (2023) for Arrivals and Departures
For entering and exiting Maldives (current of May 2023), you would need to fill in the IMUGA form. It's an easy form to fill in regarding your arrival and departure details. You would need your passport on hand to fill it in.
Most passports have 30 days Free Visit
It's free to visit the Maldives, but if you want to work there, you would have to apply for a work visa. A form would be given to you on the flight in and they do require more information than your average landing form. They ask if you have over a certain amount of money on you, as well as custom questions on electronics, etc.
The leaving form would be given, too, and it would save you time to fill it in and keep it for a quick emigration process.
If this is not reason enough for you to visit Maldives, here are some more!
Accommodation confirmation (even if it's just for one night)

You will be asked to provide your accommodation confirmation on arrival, but as long as you have the first night booked, you are good to go.
Alcohol, pornography, and other religious items are banned
Maldives is a Muslim country and consequently, a lot of things are banned. It should be known that alcohol is not allowed on local islands at all. In addition, any none-Muslim religious items are banned and preaching of any kind is a criminal offense. The same goes for pornography.
Bring your modest wardrobe
While the dress code is more relaxed for foreigners, modesty is highly appreciated when you are walking around the local islands. While it's not a requirement to keep your shoulders and knees covered, you should at least keep your midriff and cleavage under wrap when on a local island.
Because of the hot weather and the deficiency of my wardrobe, I wasn't able to cover my knees and shoulders at all time (though I did in the capital). However, I tried to do cover at least one.
Get a local sim card
I had only stayed on Male and the island of Gaafaru, so I can't say for sure of all the islands, but the internet isn't amazing. So if you can, get a sim card. There is a telecom company store in the airport, however, the queue was so long that I didn't get one in 2017.
On visiting again in 2023, there are vending machines for sim card now that accepts credit card. If you're planning to island hop, it's worth it to get one. I believe the price was around 35 USD for a longer package.
If you'd be staying in resorts, they generally have good WiFi so there is no need to get a sim card.
Money in the Maldives
The Maldives have their own currency: the Maldivian Rufiyaa. The exchange rate is generally 1 USD = MVR 12 ~ 2 HKD.
If you are travelling to local islands, it's best to change some Rufiyaa. You can usually pay USD for excursions and most hotels etc accept credit cards.
The Best Time to Visit Maldives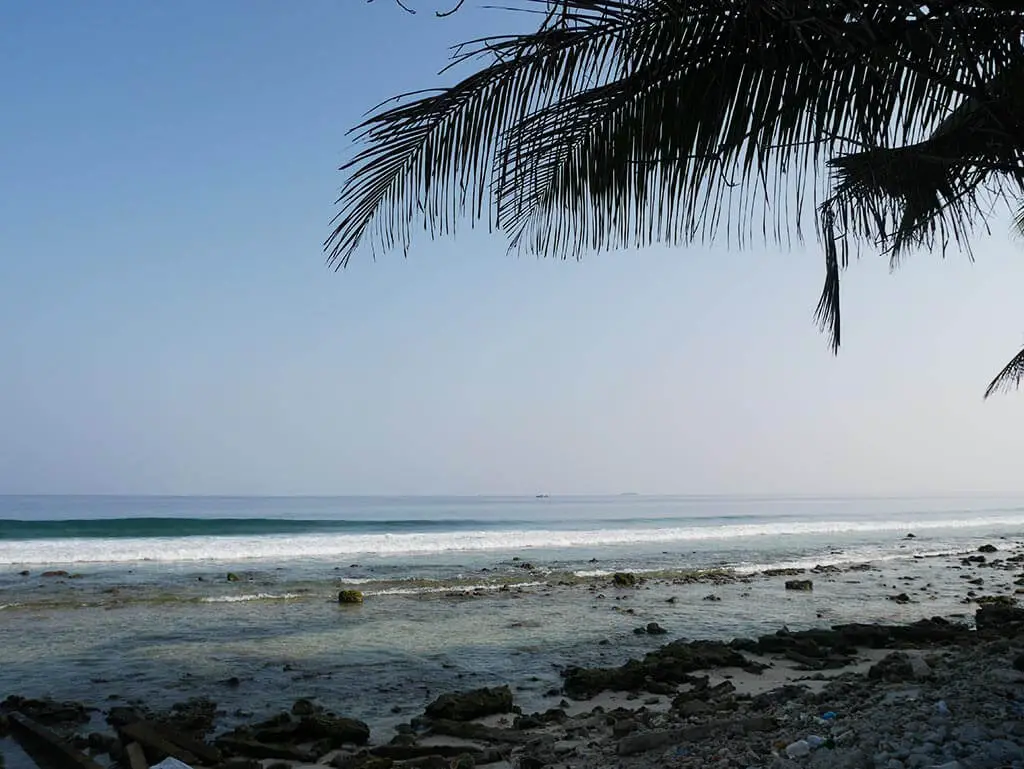 Maldives is a tropical country, so you are guaranteed warm weather year-round. However, to avoid the rainy monsoon season, it's best to visit between November to April.
Having said that, if you want to see Mantas, I was told that it's best to come during the stormier time because that's when they are active. If you are keen on scuba diving, which can happen in the rain, you wouldn't need to worry about the weather, either.
Maldivian Time
One of the things you need to get used to is the Maldivian time. The Maldivians do things slowly with no hurry. While they're warm and friendly, rushing and being service-minded isn't really a concept. For example, we waited for 45 minutes for a tour to start, and we called our hotel for extra toilet paper and never got any on Maafushi.
Getting Around in Maldives
Maldives consists of islands, so flying or ferries are the two main ways to get around. I'll start with the airport and move onto transport around Maldives.
Airport Transportation in Maldives
The airport, though said to be on Male, is actually located on the man-made island of Hulhumale. Most people would have to stay around there for transit, but there is no shortage of hotels.
Male Airport to Male
If you are taking a seaplane, it's best to stay on Hulhumale. If you are taking the local ferry, then you should stay in Male. You can get a taxi to your hotel in Hulhumale, but for Male, you'd need to take the ferry.

You exit the arrival halls to the right and follow the walkway until you reach the banks. Then you cross the road and should find the ticketing booth for the ferry to Male. It costs MVP10 for the trip and they depart every 10 to 15 minutes. The ride is about the same amount of time.
The airport ferry port is on the northern side of the island, while the main ferry terminal is on the southwest side. I recommend staying near either one for an easy walk to either on your onward journey.
Taxi in Male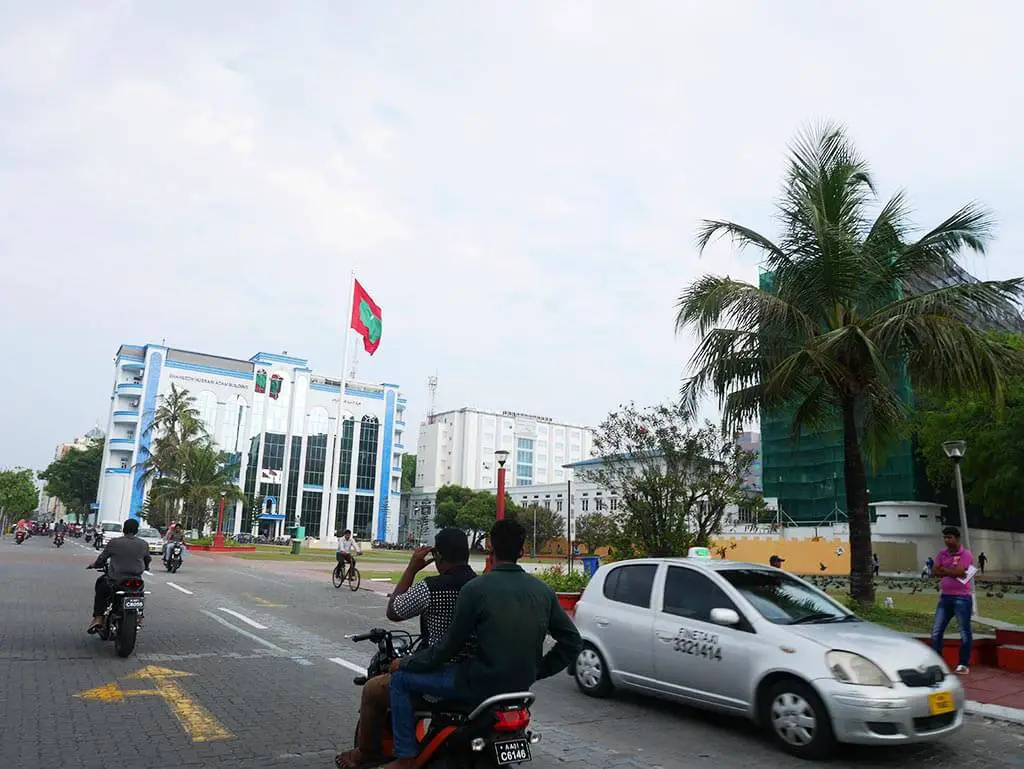 Male is a small island and the taxis all charge a flat rate.
6:00 – 0:00 MVP 25
0:00 – 6:00 MVP 30
1 luggage MVP5, MVP 10 for extra
Hiring per hour MVP 110 (I have no idea why this would be needed)
Unless you have sizable luggage, you can easily walk around Male, though the traffic, especially around the coastline, can be chaotic. Male is generally a safe place to walk around, however, if you have valuables then taking a taxi to your hotel would be a good course of action.
You can usually pay in USD, it should be around 2 to 3 dollars.
Maldives Local Ferry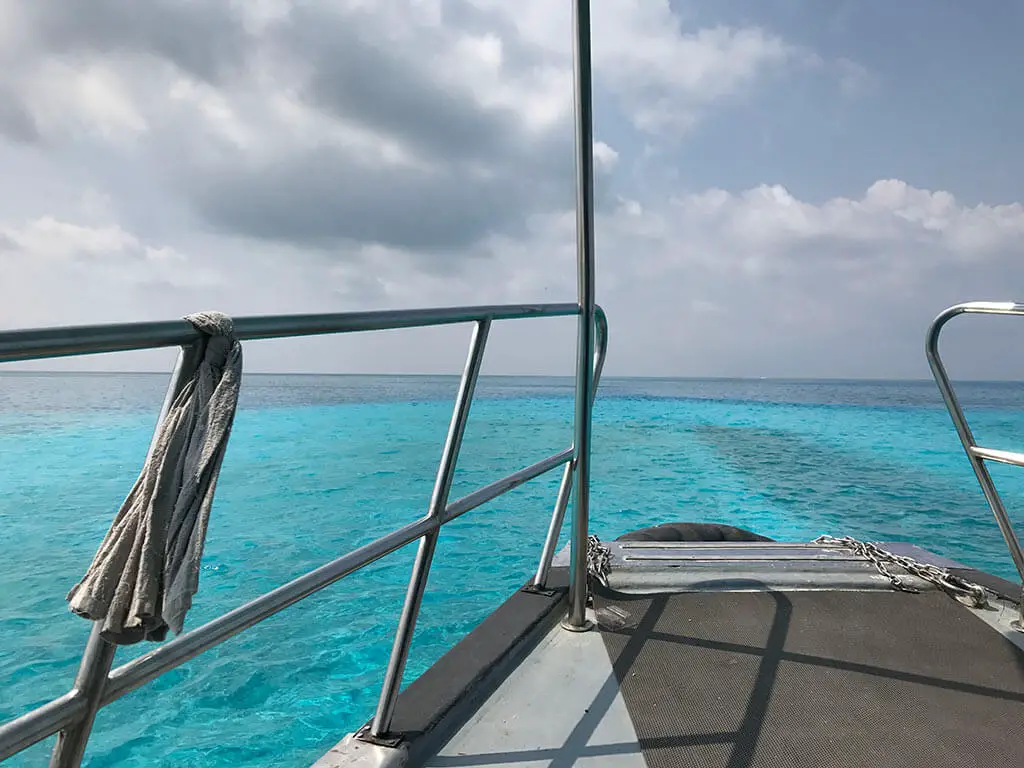 The local ferry terminal is located on the southwest side of the island. It's right next to the Tsunami Memorial. It's safe to say that the ferry prices are cheaper than speed boat or seaplanes, but it requires more time. They also often don't run on Friday so make sure you plan your trip accordingly.
It took me 3.5 hours to get to Gaafaru as opposed to an hour by speedboat. But it only cost 5 USD as opposed to 200 USD per boat.
Maldives Shared Speedboat

Some islands have shared speed boat transfer due to their distance from Male. They will be pricier than the local ferries and make some further islands an easier and cheaper place to reach.
You can usually reach out to your hotel or accommodation to help you with your transfer.
Maldives Private Speedboat
Your accommodation should be able to arrange speedboat or seaplane services for you, depending on how far you would have to go. Since I hadn't tried either before, I don't have much to say outside of the fact that it's good to ask around before committing. But my friend Evie at Mumpacks Travel has gone on a seaplane in the Maldives and here is her experience.
I have heard that they tend to jack up the prices for tourists, so be careful.
What to Expect on Maldives Local Islands
Bikini beach Maldives

Since Maldives is a Muslim country, you are not allowed to wear a bikini outside of a designated beach on a local island. Such beaches are the so-called "Bikini Beach).

It's found on all local islands and is not the actual name of the beach. However, it's definitely easy to remember and find. So if you are looking to walk around in your bikini, then resort islands are a better choice.
Mosque time
There will be 5 prayer times a day at the mosques, complete with loudspeakers broadcast. It can be a shock for people who had never experienced it before, but aside from the potential 5 am wake-up call, it wasn't hard to get used to. If you are a light sleeper, then it's wise to look for accommodation away from the mosques in town.
Friday and Saturday are their weekends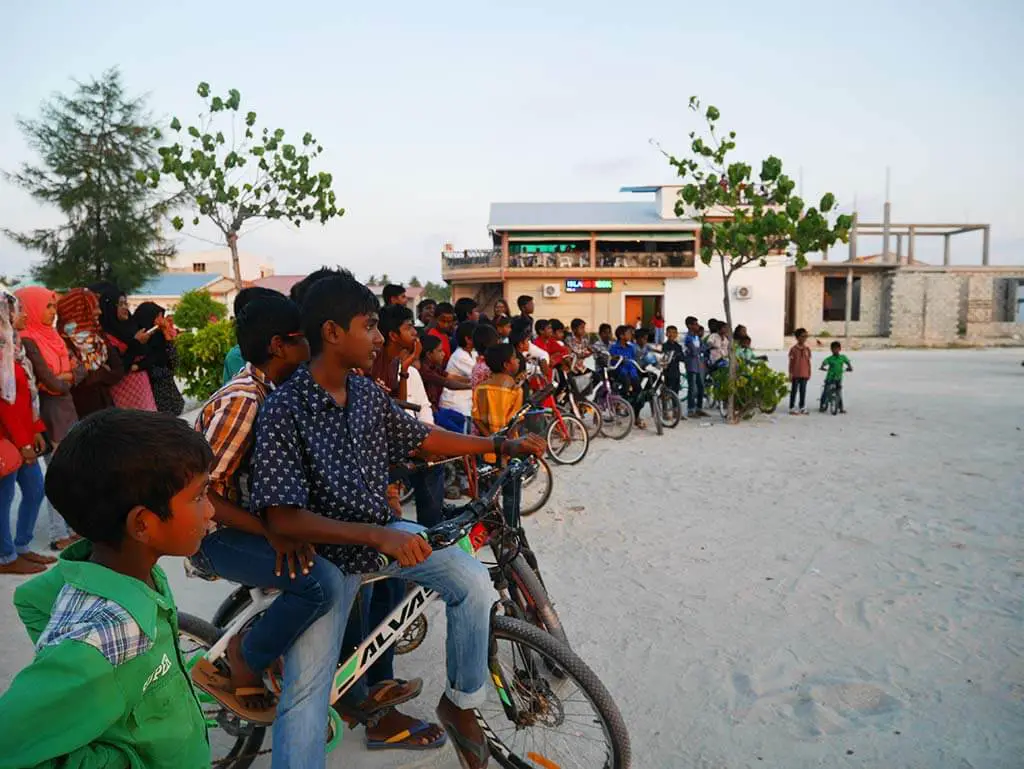 Maldives weekends are on Friday and Saturday, and this will be reflected in their shop times. While I wasn't affected by this, it would be worth noting that perhaps ferry schedules might be different.
Top Maldives Local Islands to Visit
Now that you know what to expect and how to behave on local islands, let's talk about which Maldives local islands to visit. The islands are generally grouped by which atolls they are on. There are 20 natural atolls in the Maldives and the most frequently visited ones are North and South Male Atoll and Ari Atoll.
There are still so many to choose from and frankly, ease of travelling plays a huge factor. Here are some of my top choices:
Maafushi
Maafushi is the most popular island for visitors since it's located on the South Male Atoll and is a 35 minutes speed boat ride from the international airport with direct transfer.
There are good day trip options, a nice bikini beach, and plenty of eateries. The hotels are also more modern and you can also get a local ferry there and out.
How to get there: shared speedboat for 25 USD one way from Male International Airport (or Male).
Gaafaru
Gaafaru is in the North Male Atoll about 3 hour slow ferry (1.5 hours speed boat) from Male. I like that it has more of a local charm compared to Male and the Bikini Beach faces west with a gorgeous sunset. If you want a more laid-back and chill vibe, this is a good choice.
How to get there: 3 hours slow ferry from Male or shared speedboat 
Thoddoo
Thoddo is in the North Ari Atoll and is one of the few agricultural islands in the Maldives. It's famous for watermelon and tropical sceneries, and you can cycle around the island on top of all the water activities.
How to get there: shared speed boat 1 hour 20 minutes twice daily, 35 USD per person one way
Dhigurah
Dhigurah is most famous for its long sandbank and is a long thin island itself. It is also close to whale shark habitat making it a good place to venture to if you want to see it all in one island.
How to get there: 20 minutes domestic flight or 1.5 our speed boat
Fulidhoo
Fulidhoo is on the Vaavu Atoll with a chance to see sting rays right on the beach. It also has two bikini beaches, one of them facing the sunset!
How to get there: 1 hour 10 minutes by shared speedboat 40 USD per person one way