Maafushi is the most popular local island to visit in Maldives due to its proximity to the capital Male and the fact that there are direct speedboat transfers from the airport. It has colourful houses, a collection of restaurants and shops, and nice beaches.
If you are looking for an easy island to visit in the Maldives with better infrastructure than most, then Maafushi would be the one.
> Maldives local islands visiting guide
> Resort recommendations for Maldives
Table of Contents
Maafushi Maldives FAQ

I had a lot of questions before I visited (and picked) Maafushi out of all the local islands to visit. Here are some frequently asked questions:
Male to Maafushi Distance
The distance from Male to Maafushi is 27 miles.
Maafushi Weather
Maafushi weather is much like the rest of the Maldives. The dry season is from November to April, and the rainy season is from May to October. I visited at the end of April and the beginning of May, and the rain is large but generally only lasts for a few hours.
Male to Maafushi
There are two main ways to get to Maafushi: through local ferries and shared speedboat transfer.
Maafushi Ferry from Male
The Maafushi government local ferry departs at the main port in Male and takes 1.5 hours to get to. Note that they would not run on Fridays as it is the equivalent of their Sunday.
Price: 2 USD/person
Male to Maafushi 15:00
Maafushi to Male 7:30
Male Airport to Maafushi

There are shared speedboat services that can take you from Male Airport directly to Maafushi. This is preferable because the operator will wait for you at arrivals and make sure you get to the right pier once the time is right.

The speedboat also takes around 35 minutes as opposed to 1.5 hours. There are several operators that run this route and the most frequent is iCom, which you can book on 12GoAsia.
You can also contact your accommodation who will book the speedboat for you and you generally pay them on arrival. The transfer should cost around 25 USD/person/one-way. There is no discount for buying a return. It is easier to check-in and check-out if you book with your accommodation.
Things to do in Maafushi Maldives
Most of the things to do in Maafushi revolve around the sun, sand, and the beach. The excursions you can go on are similar across the board no matter which company you go with. To save time, it is often easiest to book through your hotel operator.

One thing I'd note is that Maldivian time is real – our day trip started 45 minutes late because the staff simply let the one big family take their time and come instead of trying to find them and hurry them up or just departing when they don't show up on time.
Maafushi Bikini Beach

The Maafushi Bikini Beach is located on the northwest corner of the island. As a local island in a Muslim country, wearing only swimsuits outside of this area without cover-up is not allowed.
Several hotels – Arena and Kani – are right on the stretch of the beach, so you can roam down in your swimwear without cover-up.
The sand is fine, the water is clear, and you can see plenty of fish when you snorkel out.
Explore Maafushi Island
Maafushi Island isn't big and you can easily explore it on foot. There are only two main roads that run on the edge of the island with smaller roads cutting across it.
There is a prison on the southern end of the island that we're not allowed to go near, but there are plenty of colourful houses, small shops, and picturesque lanes on the northern end already.
Watersports
There are quite a few watersports centers between the main pier and the Bikini Beach. You can try everything from Jet Ski to Parasailing, and the prices are more affordable than at a resort.
Most of them are under their hotel umbrella group but the most eye-catching one is this with a surfboard bench. They offer packages as well that are better value for money. For example, 70 USD can get you Jetski, fun tube, kayak, and S.U.P. for two.
Shark Bay Excursion
By far the most popular day trip to take from Maafushi is the Shark Bay Excursion. Every tour offers this and it should be 50 USD. We were supposed to start at 8 but we didn't leave until 8:40 as we had to wait for other guests.
This includes 3 stops:
Shark Bay

This was our first stop and they do feed the nurse shark in order for them to come closer. They are friendly and aren't interested in humans when there is food to chase. Here, you can get drone photography (10 USD) and we had to wait until everyone who had paid for a photo + video was done before going down to snorkel.
Underwater photos with GoPro are free Guests can collect their photos at 8-10 pm the same day. 
Sting Ray Beach
While they say that we'll see manta rays, it was stingrays that we found on the local island of Fulidhoo. Since it is a local island, you have to go into the water fully dressed. The staff has dead fish to lure the ray to you. They're very gentle and generally friendly but it's not really recommended to pet them.
Sandbank visit and lunch

The third and final stop is the sandbank. We had chicken and sausage with spaghetti and some salad, fruit juice, and an apple. As well as cold water. They again offer paid drone photos and videos again, so if you want to shoot yours you'll have to wait.
Cost: 50 USD
Duration: 9:00 – 15:00 (or 8:00 – 14:00)
Day Trips from Maafushi
Most day trips are similar to Maafushi and even on our Shark Bay adventure we saw plenty of other boats from other hotels or tours. I've listed the more popular ones but you can get more information once you're on the ground. Information is from May 2023.
What is included in a day trip from Maafushi
In general, these are included:
Snorkeling gears (including fins)
Drinking water
Lunch (if you have dietary restrictions you should inform them. Although in general, it's unlikely they're able to cater for you)
Underwater photography, usually using a GoPro

Note: some tours offer drone photography at an extra charge. It was 10 USD on our trip (May 2023). Like the underwater photography, files will be available for download the same night and the link active for around 2 weeks.
Booking Day Trips from Maafushi
You can book them before you arrive but you do get the best price when you're on the ground. As most of these tours are subject to whether there's enough demand and also weather conditions.
Half-Day Trip from Maafushi
This includes 2 reef snorkelling and sandbank visit with lunch. There is no guarantee on what fishes you will see, but spotting dolphins and turtles is possible.
Cost: 35 USD
Duration: 10:00 – 15:00
Fishing from Maafushi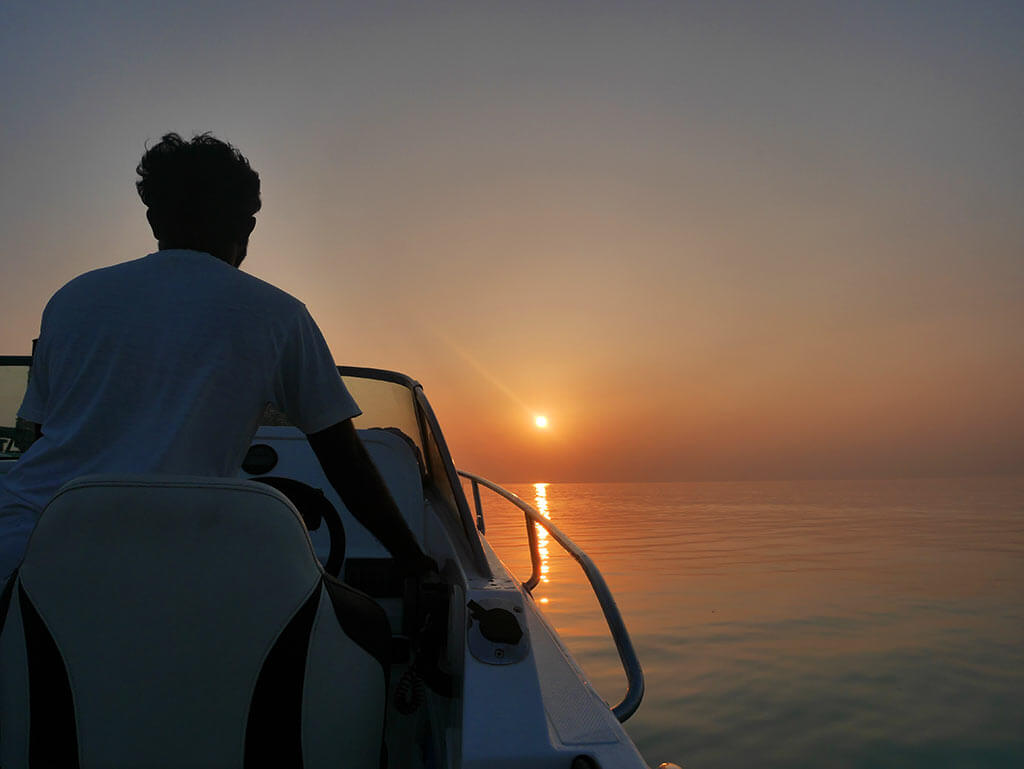 Fishing is a popular excursion from Maafushi. If you're keen on trying fishing or a fishing fan then you have lots of popular tours to choose from on Maafushi. Gears can be provided and sunset fishing tours are the most popular.
Cost: 30 USD
Duration: 17:00 – 19:00
Vaavu Atoll Day Trip
Vaavu Atoll is further from Maafushi and therefore a longer day trip (and more expensive. Their main attraction is Real Break – a shipwreck in water so clear that you can see to the bottom and the Picnic island which are both included in the tour.
Cost: 125 USD
Duration: 8:30 – 17:00
Whaleshark Day Trip 
The hunting grounds for the Whaleshark are in the South Ari Atoll which is 90 minutes speedboat from Maafushi. They are gentle giants and you'll also visit the local island Dhigurah on the visit to have lunch plus an extra snorkeling sport.
I'd also like to add that seeing whale sharks in nature is not something that is guaranteed!
Cost: 110 USD
Duration: 7:30 – 14:00
Scuba Diving in Maafushi
There are quite a few dive centers in Maafushi and you can even get your PADI Open Water Certificate here. Diving season is generally between January to May, with May onwards being the rainy season.
As I'm not a diver personally, here are some top-rated dive centers for you to review:
Resort Day Trip from Maafushi
You can still experience the luxury of a resort without paying the price tag for a day. There are many resorts around Maafushi that offer a day pass which would include a return transfer and lunch with drinks. You can also have alcohol freely on resort islands. Here are the most popular ones:
Sun Siyam Olhuveli – the resort has 2 infinity pools and an overwater villa where you can get as many insta-worth shots as you want. They have some stunning beach villas too if you want to stay a day or two at a resort.
Fihalhohi Island Resort – embrace the Maldivian charms with its design and have a stunning overwater villa walkway, too. There is no swimming pool but a good reef around the island.
Adaaran Club Rannalhi – is a smaller island compared to the other two with overwater villas as well. Some of which have glass floor areas! It also has 2 bars but no public pools.
Centara Ras Fushi Resort & Spa – has an outdoor pool and is close to the airport. 
It usually costs around 115 – 150 USD per person depending on the resort. It's a great choice if you want to experience the resort without paying the full price. Most of the time, the return transfer (to the airport) alone is 150 USD per person. That said, staying on a resort island is an experience in itself.
Note: you can get private speedboat transfers from Maafushi to other resorts for a set price per group of up to 15, which means it might be better value to make Maafushi a transit point for your resort trip. Day trips are cheaper on local islands!
Visit other Local Islands
You can join a day trip or take the local ferry transfer to island hop from Maafushi! Maafushi is the biggest and most populous island out of the three in the South Male Atoll, which means you have two others to visit. There is usually only one ferry per day departing and returning, so make sure you don't miss them.
Gulhi
Gulhi is one of the smallest islands in the Male Atoll and north of Maafushi. There are only 900 inhabitants with a few hotels, guesthouses, restaurants, and minimarts. It's most famous for its beach and also good for surfing.
You can check the timing for the ferry with your hotel.
Note: there are no ATM, so it's best to bring cash in case credit cards are not accepted.
Guraidhoo
Guraidhoo is in between Maafushi and Gulhi and it is also the same in size. It is not as picturesque as Gulhi but is also a surfing hotspot. Baby sharks are often spotted swimming on the beaches as well. There is also a picnic island connected by a footbridge popular for tourists.
Trying Maldivian-brand Ice Cream

We spotted an ad selling Maldivian gelato and thought we had to try it out! It's a very pretty package and sold in a minimart near the Bikini Beach. The most local flavour is coconut, but we also tried papaya.
Maafushi Restaurants
Maafushi has many restaurants, although you can also opt for half or full board at your hotel to save the hassle of finding food. We tried a few restaurants in our two days there and the quality is generally okay. Most restaurant offers WiFi but you'd need to ask for the code.
Aveli Restaurant – Indian restaurant at Kani Hotel

My boyfriend is a fan of Indian food so we ate at Aveli Restaurant around the corner from Bikini Beach. Their portions are on the small side and there are a few western choices. The staff is friendly and the prices are around 10 USD per dish. We were able to pay by credit card.
Opening times: 6:30 – 21:30
Moonlight
South of the pier but still on the western side of the island, Moonlight is an Instagram dream come true with aesthetic decor. If you're looking for a Bali cafe experience with comfy chairs and good vibes, this is the place. They serve Western and Moroccan-style food with shisha too, and it's a popular place for locals and tourists alike. The food was really good but admittedly the sandy ground attracts insects and the table is a little low.

We did catch the sunset from just sitting.
Opening times: 8:00 – 2:00
Maafushi Hotels
There are lots of hotel choices in Maafushi depending on what you want. I'll list a few I'd recommend including the one I stayed at.

Arena Hotels also has two other ones: Arena Fushi Seaview and Arena Veli Premium. We stayed at Arena Beach, which is the westernmost hotel of the block along Bikini Beach. All of them are relatively similar. We booked a room with sea view balcony and that was the best part.
Pros: speedboat transfer and check-in and out are streamlined without us having to handle our luggage. Nice air conditioning and sea view balcony. Modern rooms and we're able to hang our swimsuits outside.
Cons: floorboard is a bit worn down already. Bad soundproofing with music playing outside at night. The staff at Arena Beach Hotel side disinterested in helping
Overall, the stay was not bad. However, there are a lot of flies around so beware of that.
Breakfast at Arena Beach Hotel
It's a buffet selection with an egg station. They cover the food since there are a lot of flies and there are a good variety. Both Western and Indian-Asian style food can be found and there is an egg station.
Kaani Hotels
There are four Kaani Hotels in total: Kaani Beach Hotel, Kaani Village & Spa, Kaani Grand Seaview, and Kaani Palm Beach. From the images I've seen the aesthetic doesn't look as modern as Arena, which is why I picked it over Kaani. 
Breafkast at Kaani Hotels
My boyfriend accidentally ate breakfast there because one of the Kaani Hotels is between the two Arena Hotels. He reported that there is less variety but better taste, although none of the food was covered to protect them from flies.
Triton Hotels
The other popular chain in Maafushi is Triton, which has Triton Beach Hotel & Spa and Triton Prestige Seaview and Spa. Neither of the hotels is located near the bikini beach, so if you want to enjoy an easy beach time this might not be the one. But they do have rooms that have a jacuzzi.
Budget Accommodations on Maafushi
Here are some more budget options:
Summer Villa Guest House – on the southern side of the island with spacious rooms.  
Pelican Beach Maafushi – the hotel has a garden area facing the beach on the east side of the island. 
Sun Shine View – on the east side of the island with very clean rooms and a good breakfast.