Shanghai might be a metropolis, however, it was historically an area that flourished from water trade with many water towns. While the city center show little traces of it, there are still beautiful ancient towns scattered nearby, relics from a bygone era. With dozens to choose from, two of the most popular one to visit from Shanghai are Zhujiajiao and Qibao. Whether you have time to only spend a few hours exploring one or keen for a day trip, here's all you need to know about each and how to choose between them:
Zhujiajiao Water Town
About an hour or so from Shanghai, Zhujiajiao Water Town is a top pick for many due to its proximity and beauty. The history of Zhujiajiao's settlement can be traced back to prehistoric time with official records of a village as far back as the Song Dynasty. However most of the buildings are from the Ming and Qing Dynasty. It covers cover 1.5 square miles of ground and separated into a north and south section by the Cao Gang River.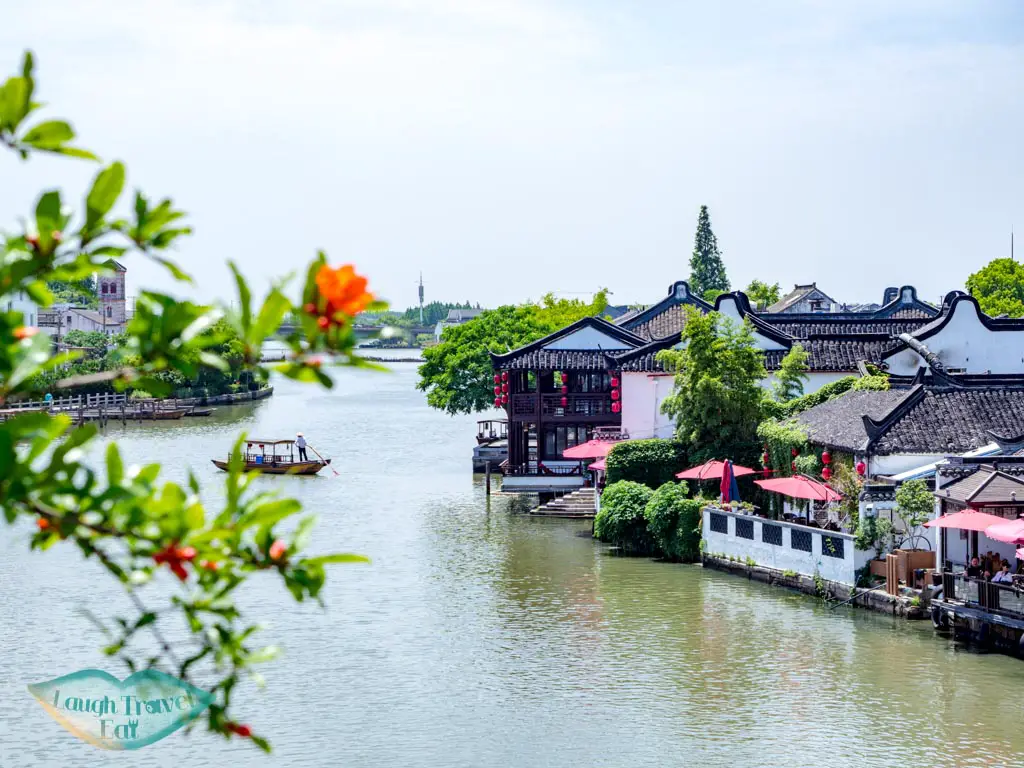 While the entire town looks straight out of a painting, the star attraction is no doubt he main bridge that spans across the Cao Gang River. Fangsheng Bridge in Chinese means 'release life', originally built in the Ming Dynasty (but rebuilt in the Qing Dynasty). It extends over 70m, with a width of 5.8m and height of 7.4m and the longest, biggest, tallest bridge of its kind in Greater Shanghai region.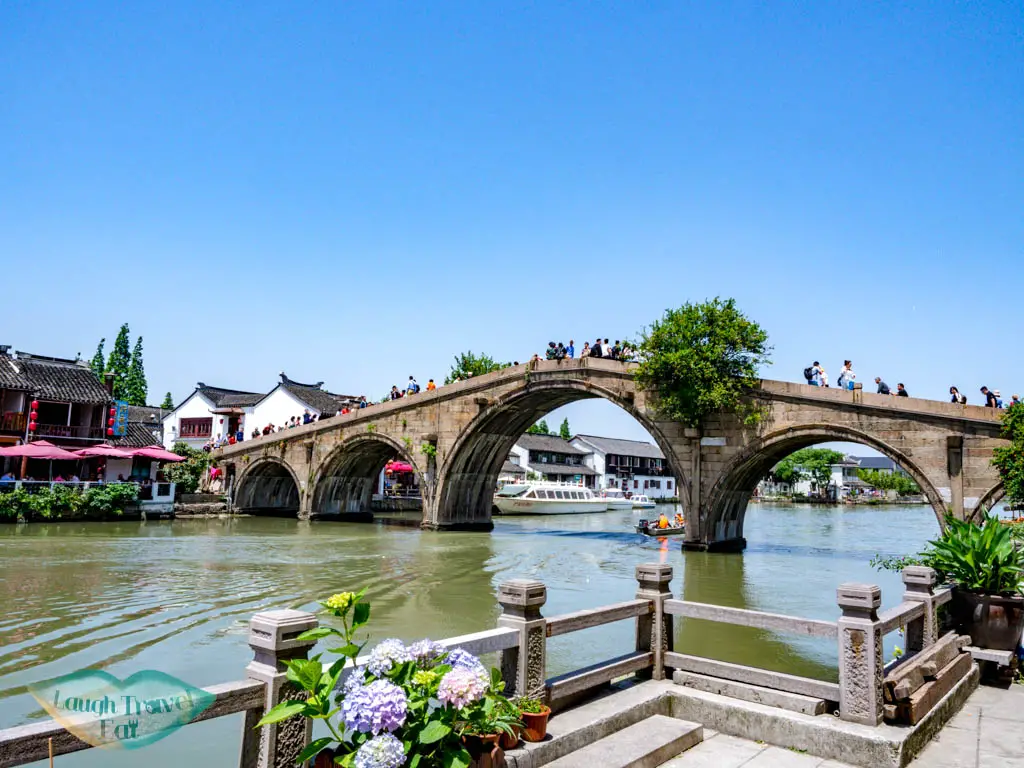 From a visitor's perspective, Zhujiajiao can be roughly split into three zones. The north, the central street and bridge, and the west. I entered the town via its northern entrance, which is also where the car park is. It's relatively quiet with a narrower canal and many small eateries and shops.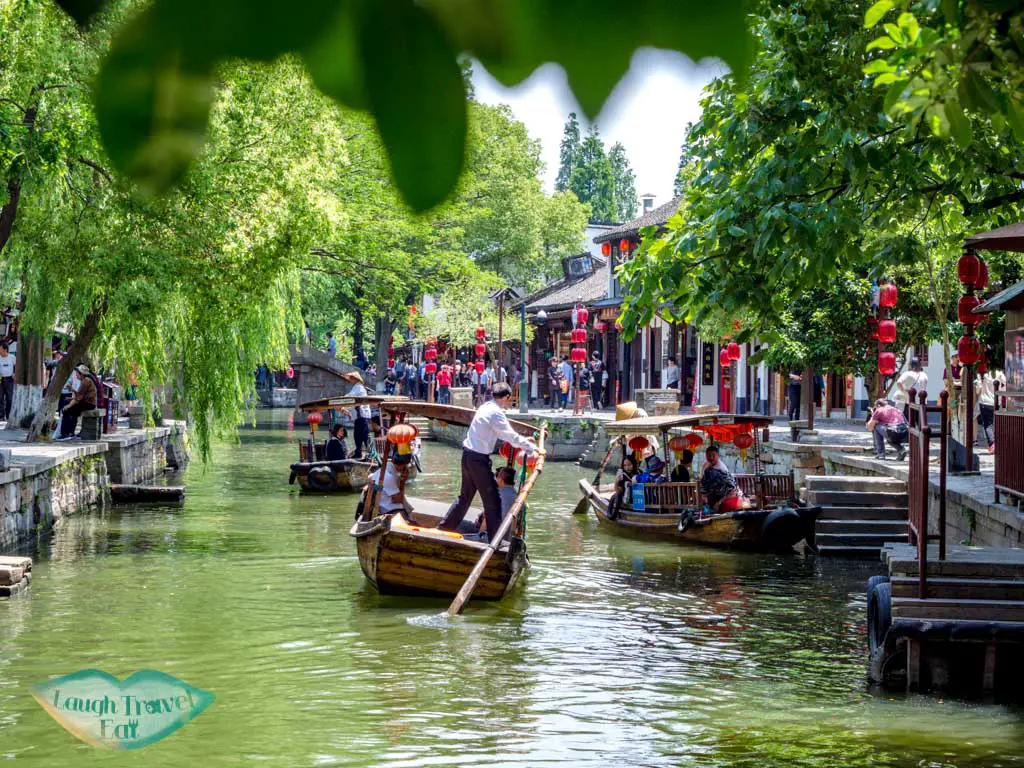 The central street and bridge are the busiest part with a plethora of restaurants perched on either side of the river to choose from.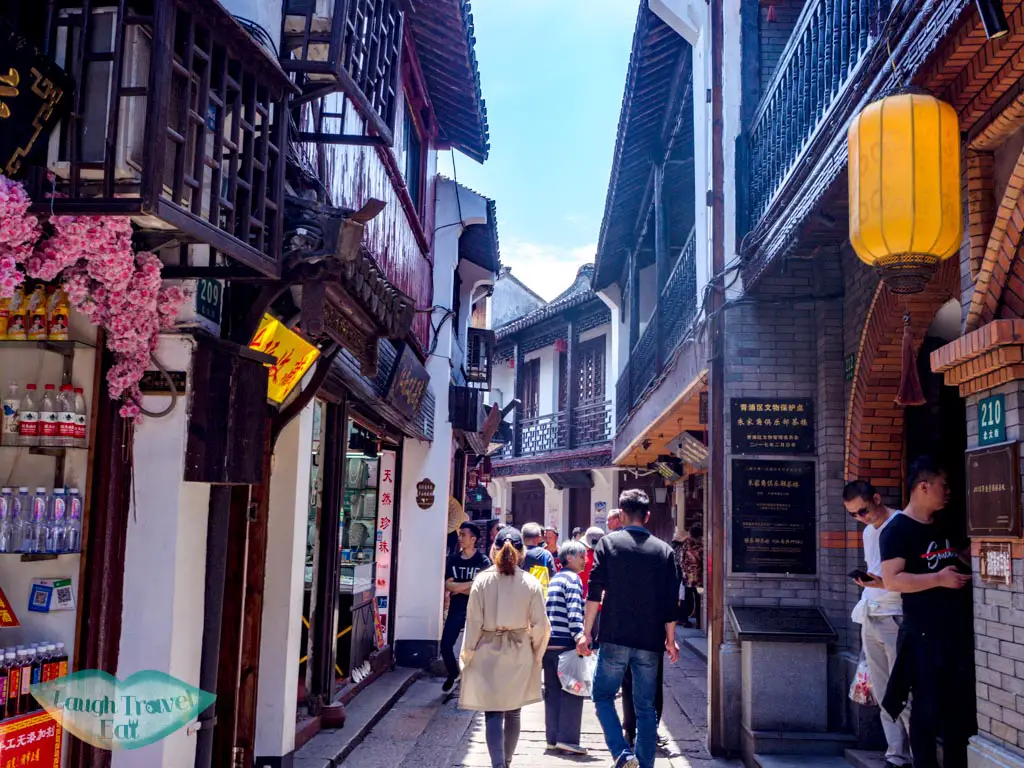 But pay attention to small corridor branching out to riverside with these signs – as it means that there is a small balcony of sorts by the waterside and are usually pretty quiet.
I see this

I run in to take selfies~
The western part is my favourite. Somehow, the crowd doesn't make it here and the cafes and restaurants are mostly empty with the serenity that you hope to find.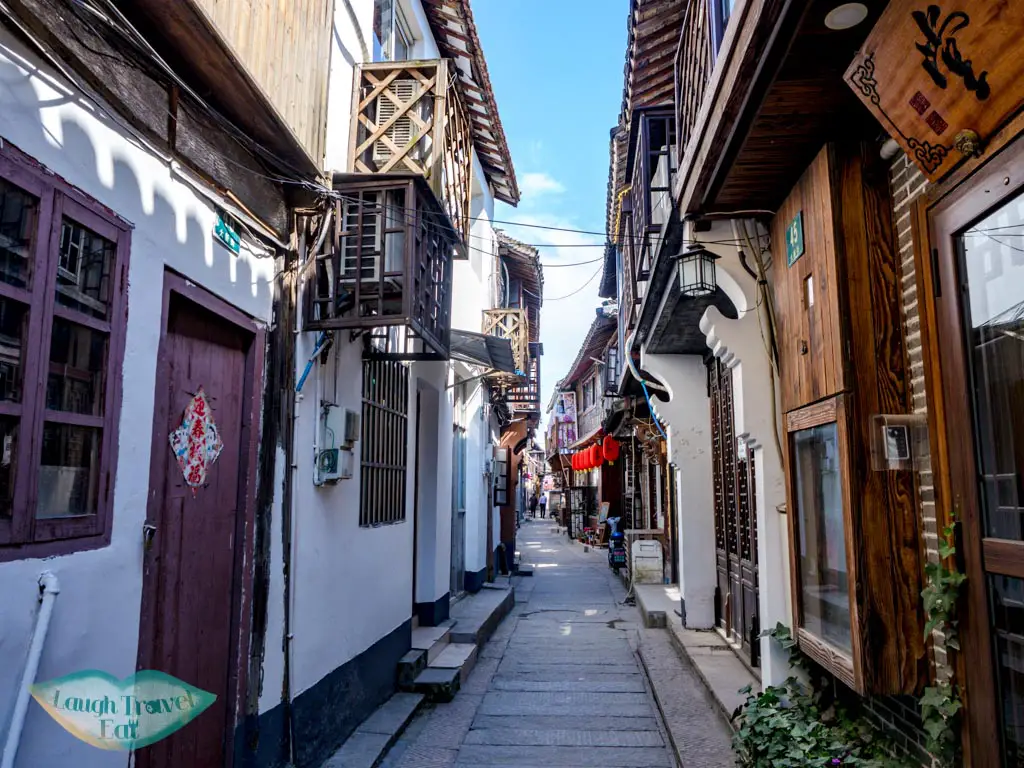 I ended up eating lunch at a small tea house that overlooks the canal junction and loved every second.
In terms of cultural sights, some of the ones that stands out the most are the Great Qing Post Office in the western part, the City God Temple, and the Kwan Wong Temple.
Qing dynasty post office

City God Temple
The bridges themselves are star attractions too; some are arched, some flat, and one even roofed!
What to eat in Zhujiajiao Water Town
Zhujiajiao has no shortage of eateries and street snacks. It's actually quite difficult to decide where to eat. It was also harder for me as some of the more popular places serves typical Chinese style dishes that require sharing to make it work (I mean, I would love to eat a whole plate of shrimps but then I'll probably be full). Another thing to note is that you might just want to choose view over food since it is a gorgeous water town! Here are some of the things that I tried:
Grandma's dumplings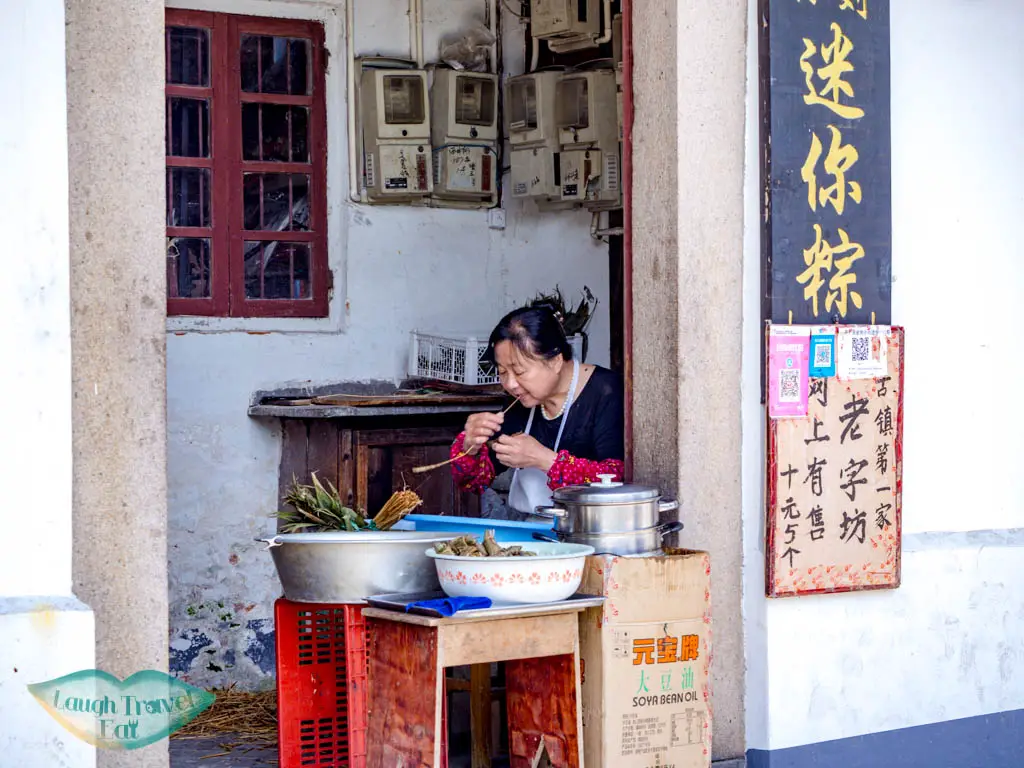 Excuse my direct translation, but this is the number one food to try in Zhujiajiao, as said by everyone offline and online. Starting at 4 RMB, they are most easily spotted by the rows of tied dumplings at the front. Some even has an old lady sitting in store making them. Although they are good, it does taste like any normal dumplings to me.
Shanghainese Yoghurt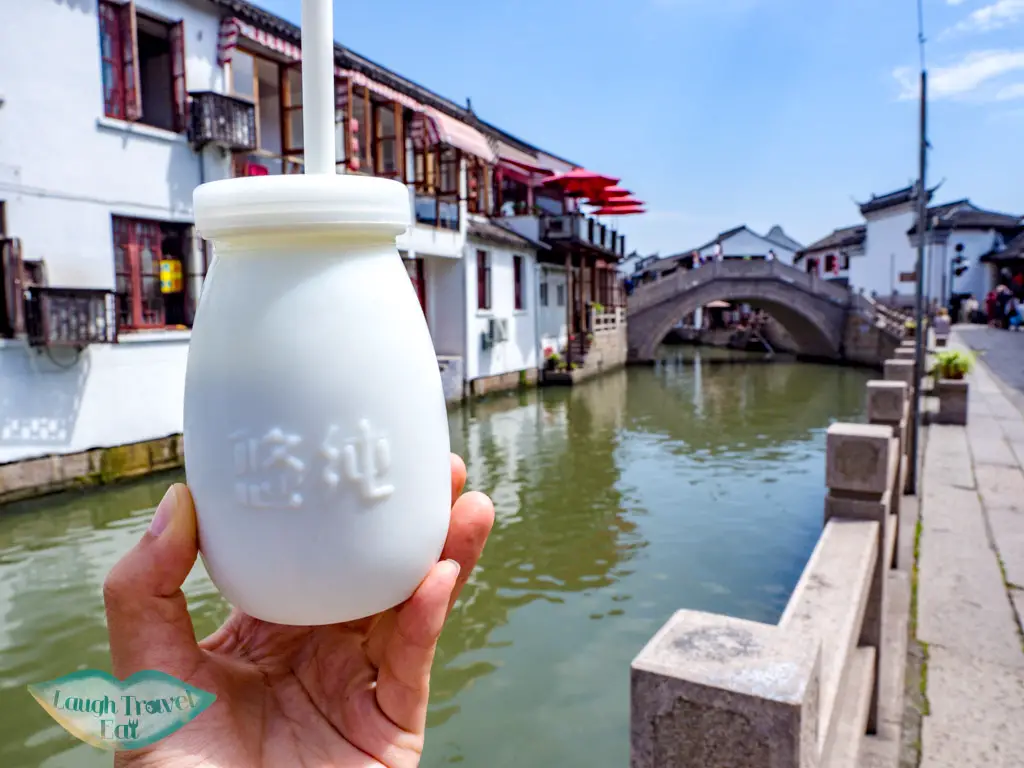 I've decided to forego my usual bubble tea, which can be found in abundance here, and opted for Shanghainese Yoghurt. They can be found in most of the stores around town and sells for 12-15 RMB. it's a thicker yoghurt than expected but refreshing and filling.
葉和荼館
I ended up at this small place by a triple junction in the early afternoon as I grew hungry. It is right by a bridge and its second balcony has a great view of the canal junction. The noodle costed me 38 RMB which isn't bad, however, I didn't order a drink as they are upwards of 45 RMB for a juice and 78 RMB for tea. They also doubles up as a guest house, which can be a nice place to stay that isn't too noisy.
Staying at Zhujiajiao Water Town
If you want to extend your stay in the water town, here are some options:
Budget: The Tile Guesthouse in Zhujiajiao ancient town Shanghai offers nicely priced accommodation option with good reviews.
Mid-range: The Old Studio is a great choice with amazing reviews. It's like an old loft that retains an old vibe but great modern amenities.
Splurge: The Zhujiajiao Jiao Li Xiao Zhu Boutique Inn is a quaint hotel close to the metro station and the old town that's perfect for a relaxing stay.
Admission fee to Zhujiajiao Water Town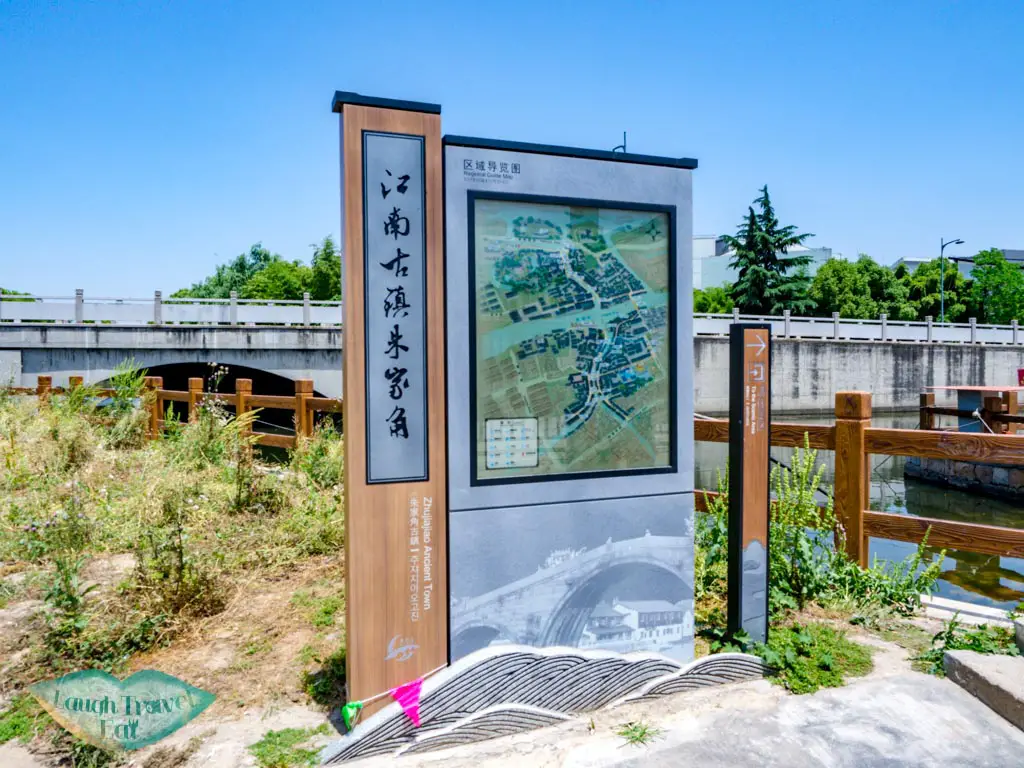 Believe it or not, it's actually completely free to visit Zhujiajiao. In fact, yours truly had waltzed straight in. However, for those who are looking to do more exploring and maybe ride on the boats, there are several ticket bundles on offer:
80 RMB for entry to 8 points of interest and a boat ride
60 RMB for entry to 8 points of interest
30 RMB for entry to 4 points of interest
Note: if you have WeChat Wallet/AliPay and Dianping app, you can get cheaper tickets in advance on Dianping.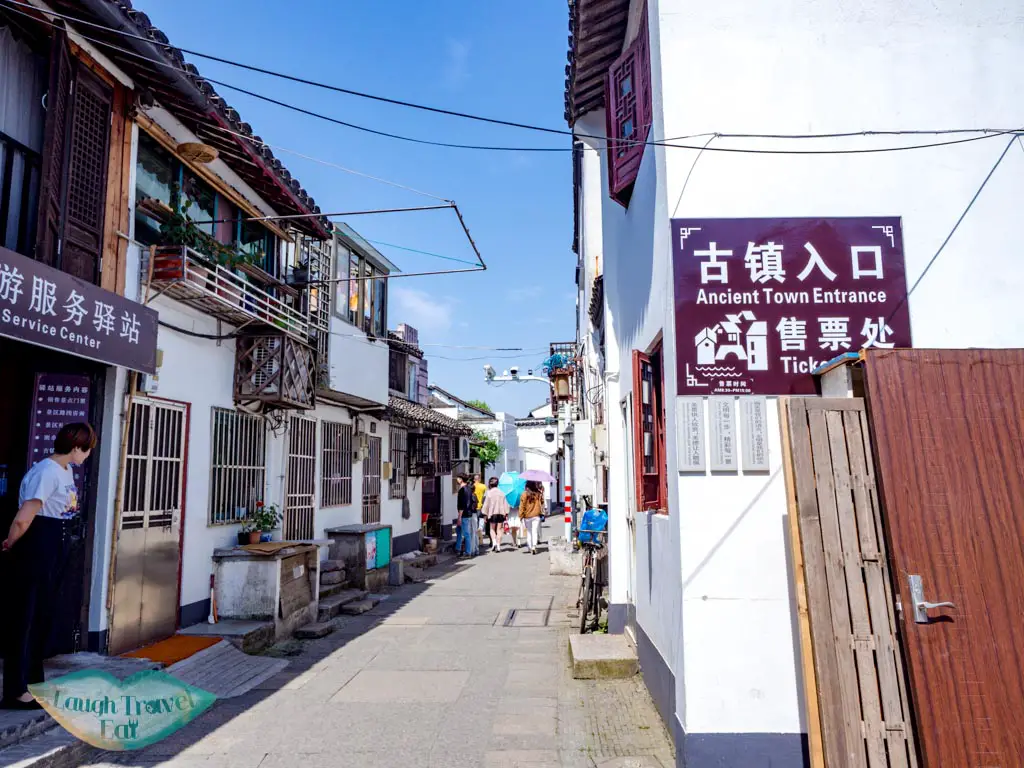 The town is open all day long but all the museums and attractions are open 9:00 – 16:00
Even if you didn't get a ticket, you can also get a boat to roam the waterway of Zhujiajiao. There are various docks scattered throughout town along with ticket booth. If you have purchased a ticket with a boat ride included, look for ones that are specifically for that.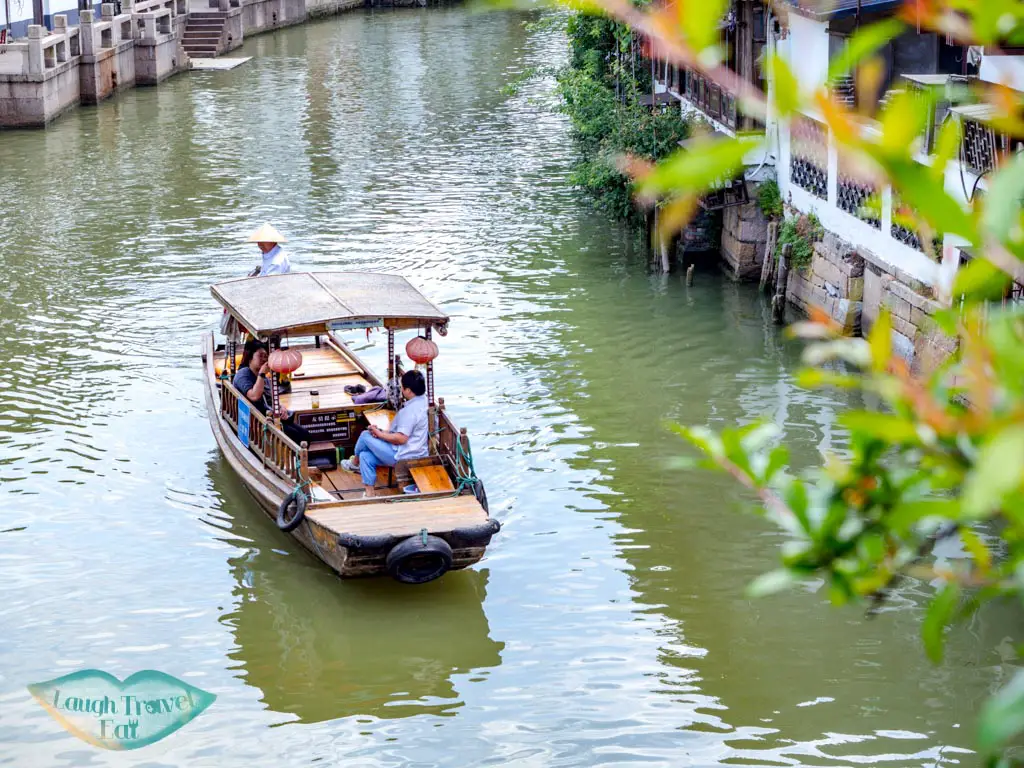 Otherwise, the boat are charged per ride not per person and can accommodate up to six. If you are alone, it's more economical to get the combo ticket. Otherwise, unless you want to see the temples and museums, a ride starts at 80 RMB depending on route. For round trips, it's usually 150 RMB.
Zhujiajiao Water Town from Shanghai
The best way to get to Zhujiajiao, in my opinion, is to take the metro. A journey that will only cost your 8 RMB one way, it's convenient and hassle free as you can depart any time of the day without waiting for too long.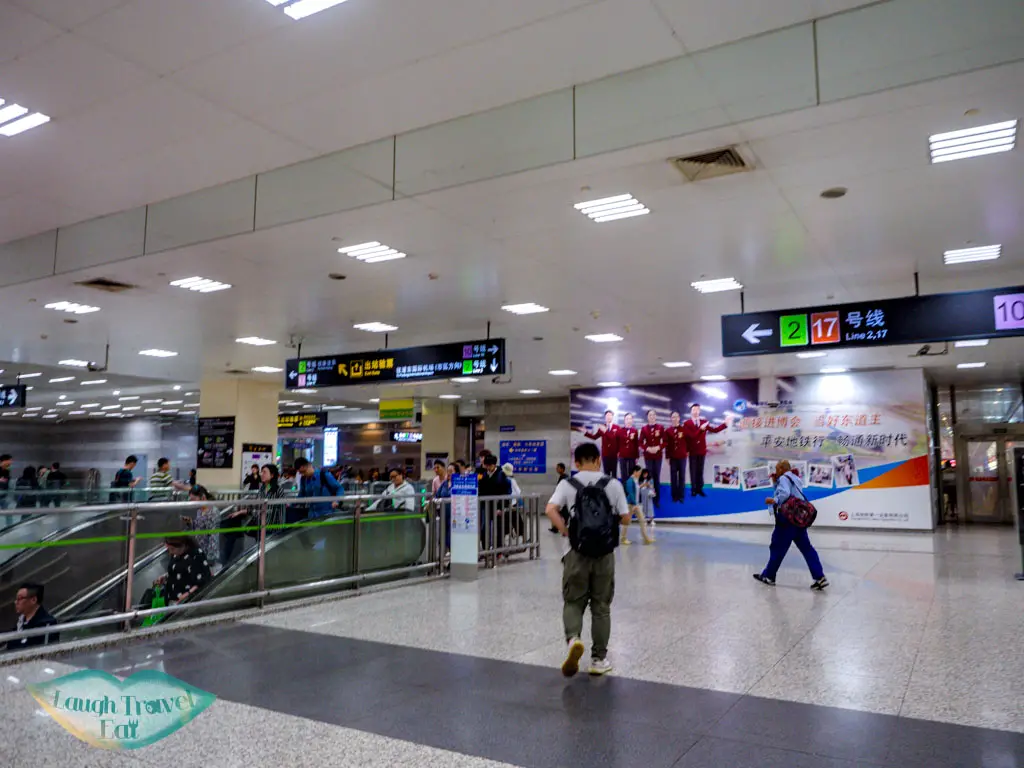 Zhujiajiao is the penultimate station on line 17 that starts at Hongqiao Railway station stop, which is itself the end stop of Line 2. It departs every 7 minutes or so and takes about 35 minutes to reach.
Exit 5

walk towards bus station
Once there, you can walk to the water town from exit 2, but I prefer to take exit 5 and walk to the bus stop and hop on 1050 bus to the northern entrance.
This saves you time and energy for roaming Zhujiajiao itself. The bus departs every 10 – 20 minutes and costs only 1 RMB, and you can use your metrocard to get on. Don't worry about when to get off, as it ends there and it's hard to miss that you are in a car park!
You can also walk to and from via exit 2! Since I took the bus over, I walked back:
The westernmost bridge
Qibao Ancient Town
A few metro stops form the center of Shanghai, Qibao Ancient Town is a slice of history in the mist of the urban jungle of Shanghai.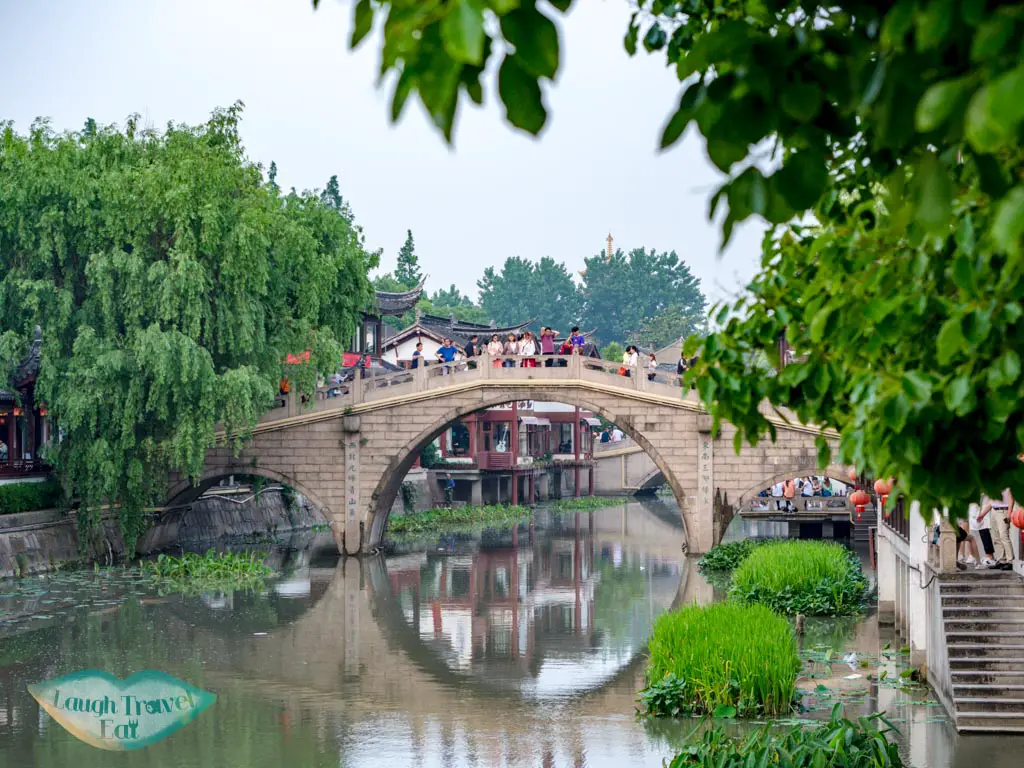 It is a lot smaller than Zhujiajiao, also founded around the Song Dynasty with similar architecture style. The ancient town itself isn't big, with a main square at the entrance, a pagoda, and a small garden.
main street
There is one main street and canal, with three bridges spanning across the historic buildings. I followed one of the sign that leads me to the westernmost bridge that is relatively less crowded for a good panorama.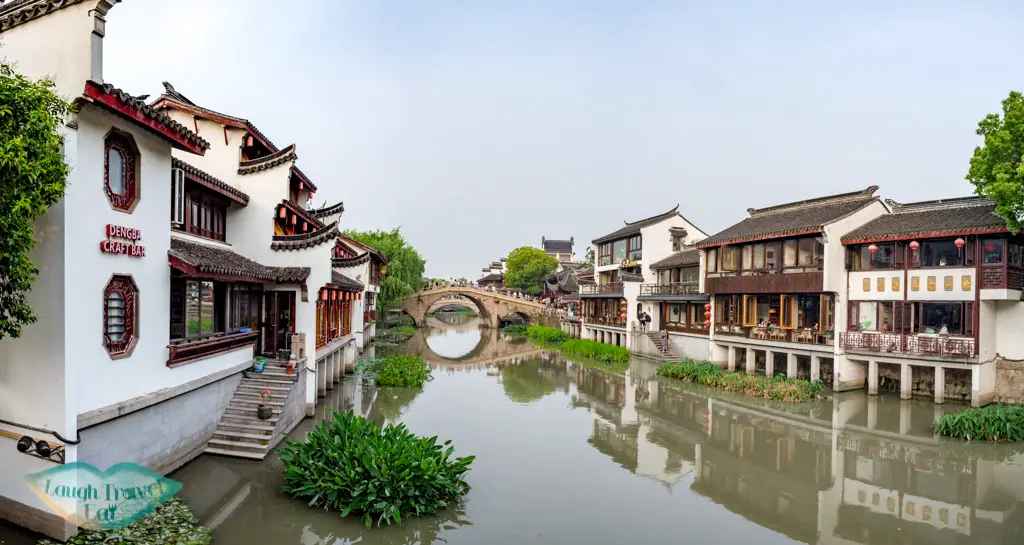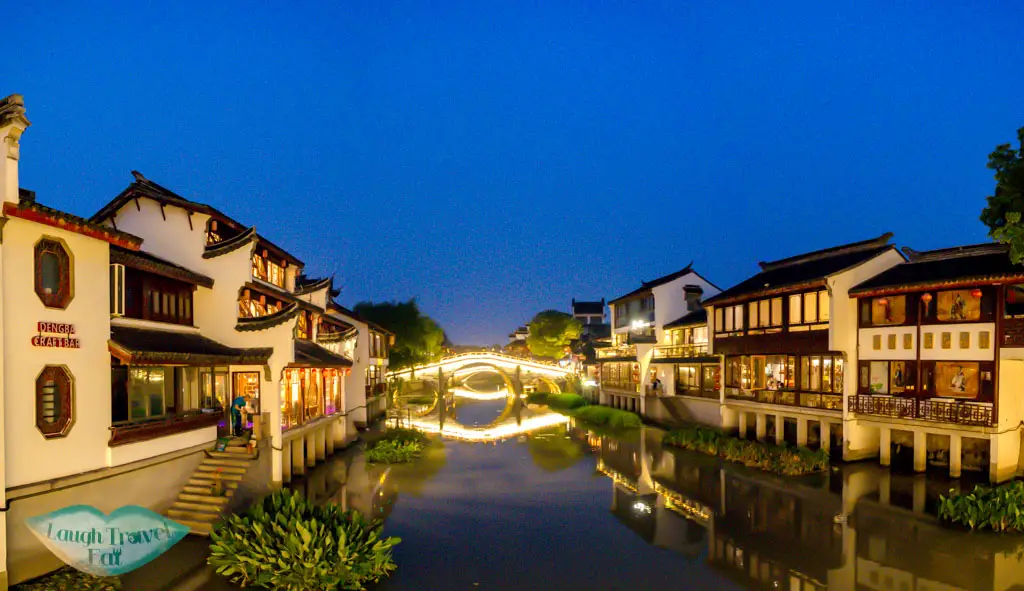 I also found most of the street food stores along the the main street from the bridge and the street at the end of the main town. Also where I got a fried cold noodles:
And of course, bubble tea. Co Co is a good chain store to choose.
Admission for Qibao Ancient Town
It's also free to visit, unless you want to visit one of the museums or exhibits. Since i visited in the late afternoon, I just went in. There is a ticket booth from the metro station to the entrance of the old town.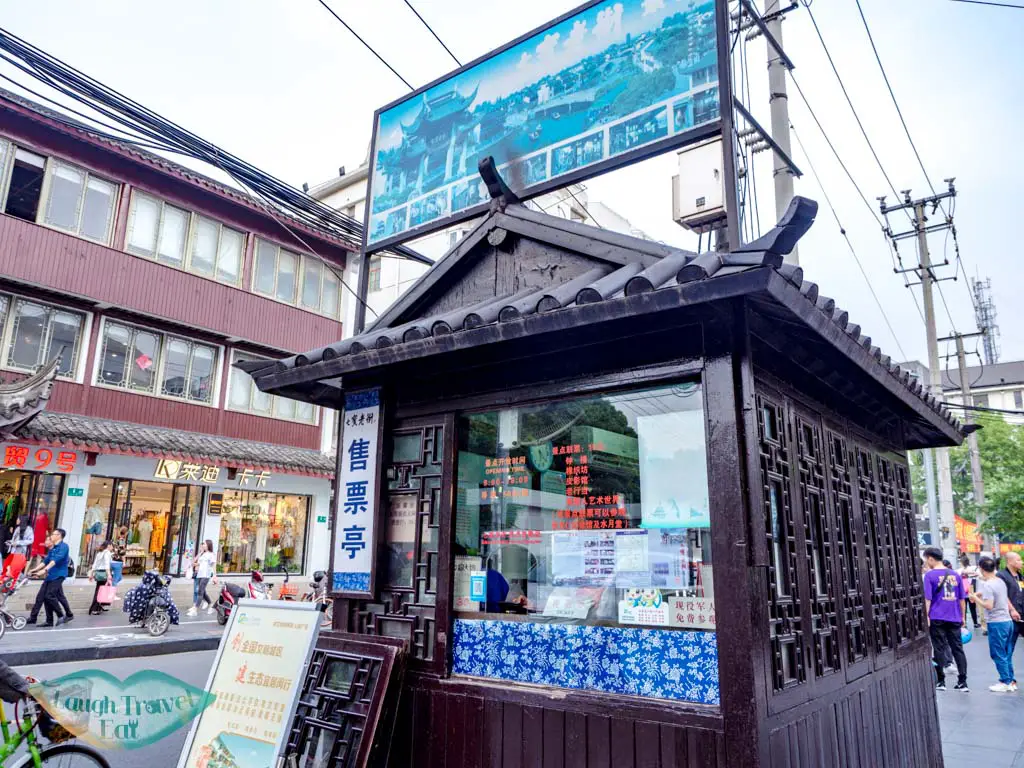 You can get a combo ticket for the attractions at 15 RMB, and they also offer guided tours at 50 RMB per group.
How to get to Qibao Ancient Town
It's on line 9 of the metro and not too far from the city center
Zhujiajiao or Qibao
If i have to choose one, I'd say that Zhujiajiao is more of an experience, but if you don't have time, Qibao is very nice, too. The two are similar in terms of architecture style, but with Qibao there's really only three bridges and a few streets. That said, I think both are worth a visit depending on how much time you have.