A 48 hours guide to Macau, China
Macau is only an hour's ferry ride away from Hong Kong, and despite living in Hong Kong all my life, I had only visited Macau recently. Known as the Las Vegas of Asia, Macau is famous for its casino, but there are also plenty of history and culture in this former Portugal colony.  Since I had never been to Macau before, my friends accommodated the itinerary so that we could cover the most famous sights.
A brief overview of Macau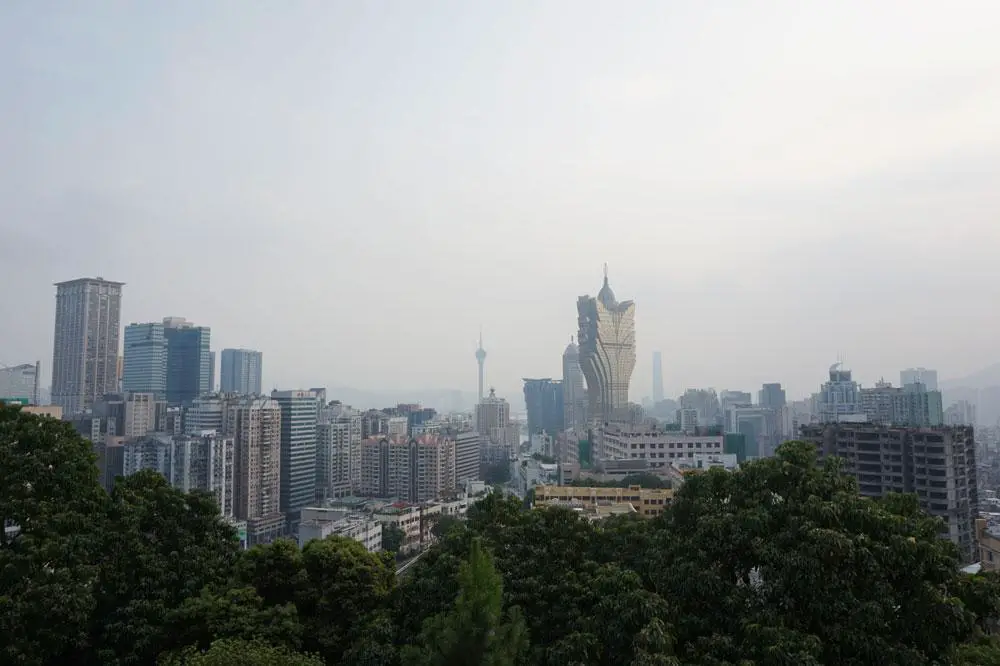 There are two main parts to Macau: the Macau Peninsula and Taipa + Colane. Taipa and Colane are connected by landfill, with the Cotai strip of casinos located in this region. Most of the historical monuments are on the Macau Peninsula and Taipa.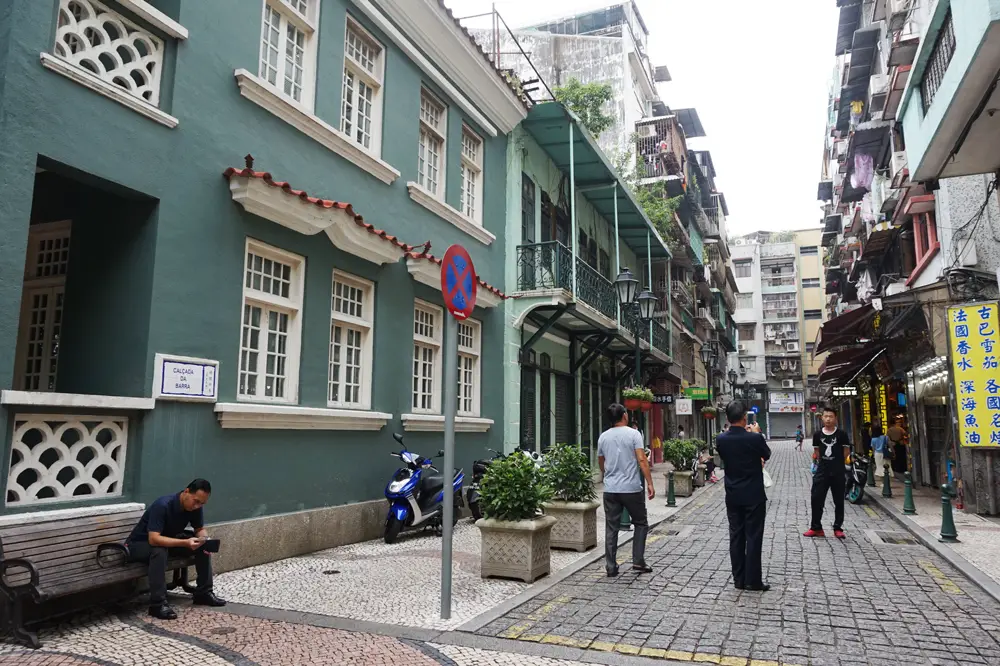 As a former colony of Portugal, there are plenty of colonial architecture such as the Ruins of St Paul, Senado Square and other buildings worth seeing. The other attraction to Macau is the casinos: from the iconic Grand Lisboa building on the Macau Peninsula to the many themed hotels plus casinos on the Cotai strip such as Parisians and Venetians. Given the mix of Portuguese influence as well as those from China and Hong Kong, Macau has some amazing cuisine on offer as well. In short, Macau might be even smaller than Hong Kong, but there are plenty to do.
Where we stayed in Macau
To really experience the Las Vegas of Asia, we decided to splurge and stay at the Venetian Hotel.* Having actually been to Venice, I must say that they do a pretty good job with the decoration. The hotel is built in the same complex as the casino and mall, meaning plenty of amenities is nearby.
We had our ID card ready as we were frequently checked going in and out of casinoes.
How we got around Macau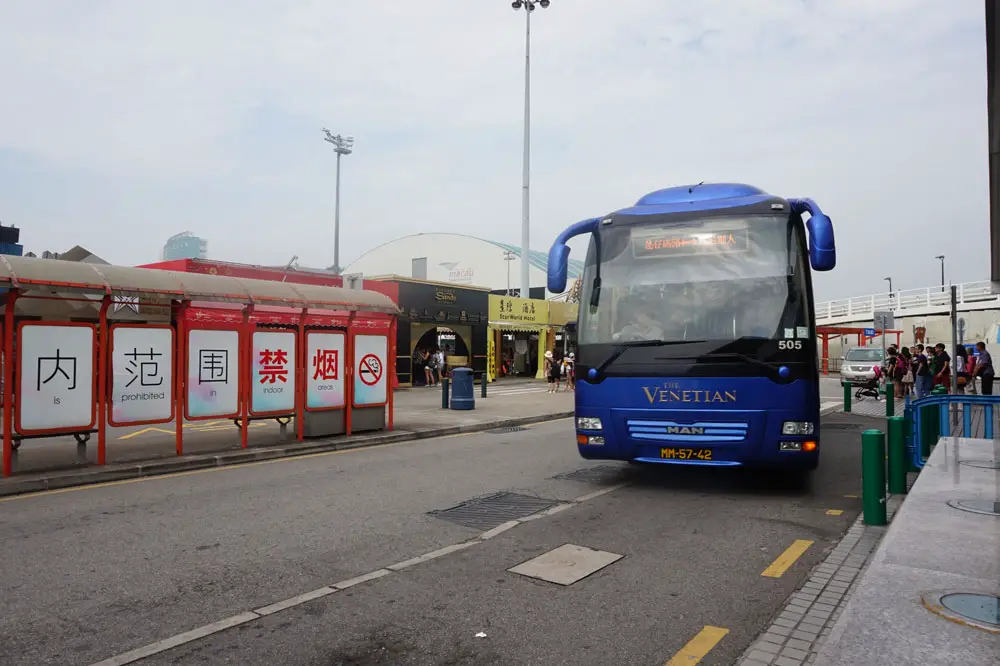 You can practically go around Macau without spending a dime on public transport. Unlike Hong Kong, there aren't a lot of public transport on offer in Macau and most people own a vehicle. It's either bus or taxi. But fear not, because all the casinos offer free transport, usually to and from the ferry terminals or the land border and their hotel. They don't check that you are a resident of their hotel, but you have to be 18 and above or else you can't even enter the casino. However, be prepared for long queuing time. We mostly utilize the shuttle service of Venetian and Grand Lisboa.
Taxi are pretty affordable if the need arises – providing you have enough people to split.
While the shuttles of the hotels in Cotai Strip are pretty easy to get on, if you want to take the shuttle from Grand Lisboa, you would need to head to their third floor counter and get a voucher. It's as simple as asking but knowing you have to beforehand saves you time.
Get a FREE map of my 48 hours Macau Itinerary here!
Day 1 in Macau
https://youtube.com/watch?v=J8YaCtYHdZU%26vq%3Dhd720%26rel%3D0
(A video of mostly day 1 locales!)
Arrival: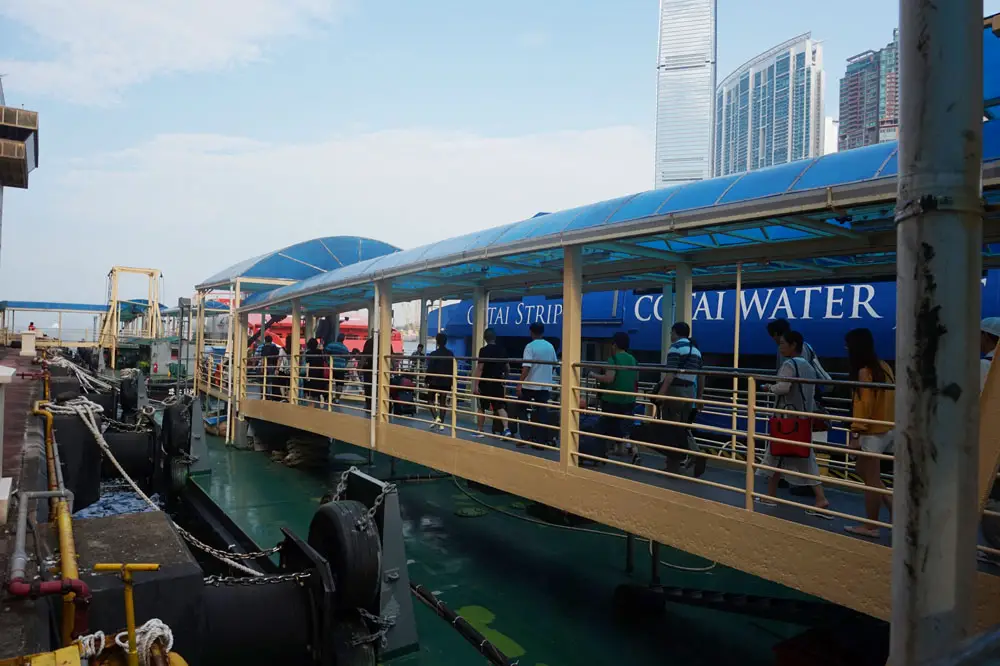 We got the 8:15 am ferry from the China Ferry Terminal in Tsim Sha Tsui to the Taipa Ferry Terminal (not the one on Macau Peninsula as this one is closer to our hotel).
The ferry ride takes around an hour so we got there at 9:00 am. It took us a while to locate the correct shuttle stop and for the shuttle to take us to the hotel.
Venetian: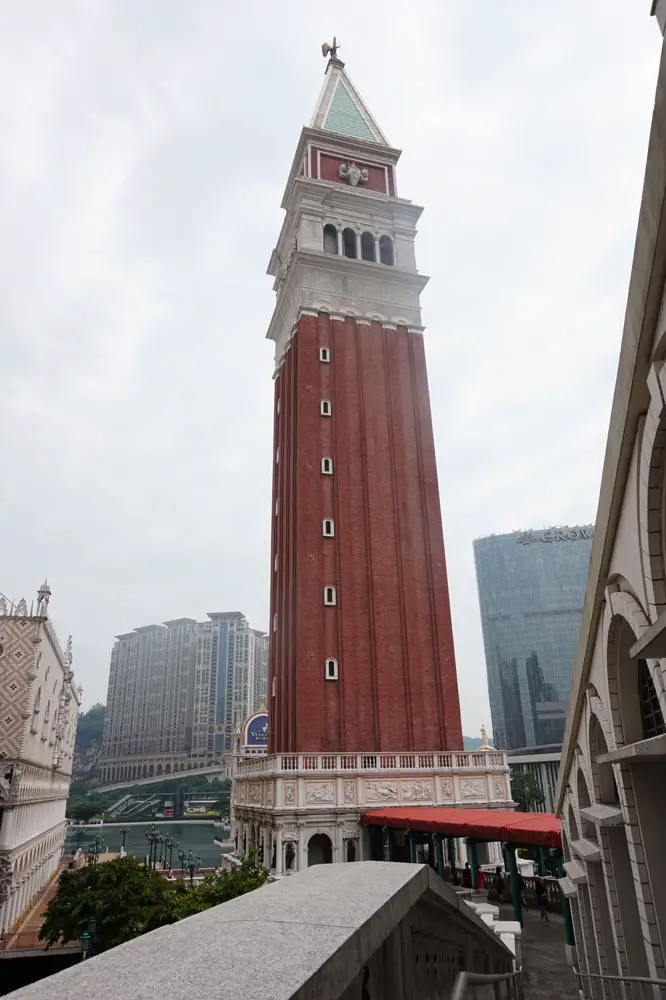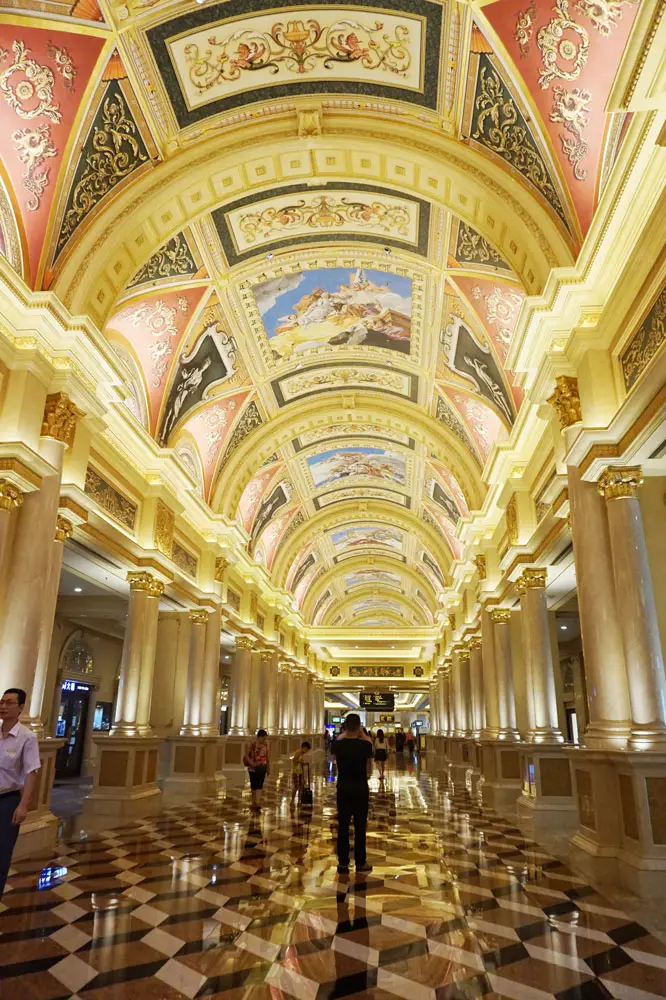 Since it wasn't time to check in, we dropped our bags at the luggage storage and wondered around the hotel, waiting for our friends to arrive.
It was relatively early in the morning, so we had the spots to ourselves. The Venetian has done a remarkable job with the St Mark's column and Rialto Bridge and we focused on those.
The hotel is really spacious and nice, in particular, their decor imitating Venice are done pretty well. I have a canopy on my bed – making me feel like a princess!
Address: Estrada da Baia de Nossa Senhora da Esperanca, Macau
Taipa
We headed towards Taipa, our nearest town center or so to speak, for food. The town here is relatively small so we did a quick snoop around, walking past their main street: Cunha Street as well as the Taipa House, a colonial Portuguese building in a mint blue colour and Pak Tai Temple. The end of the Avenue Carlos da Maia makes for an excellent photo spot.
Cunha Street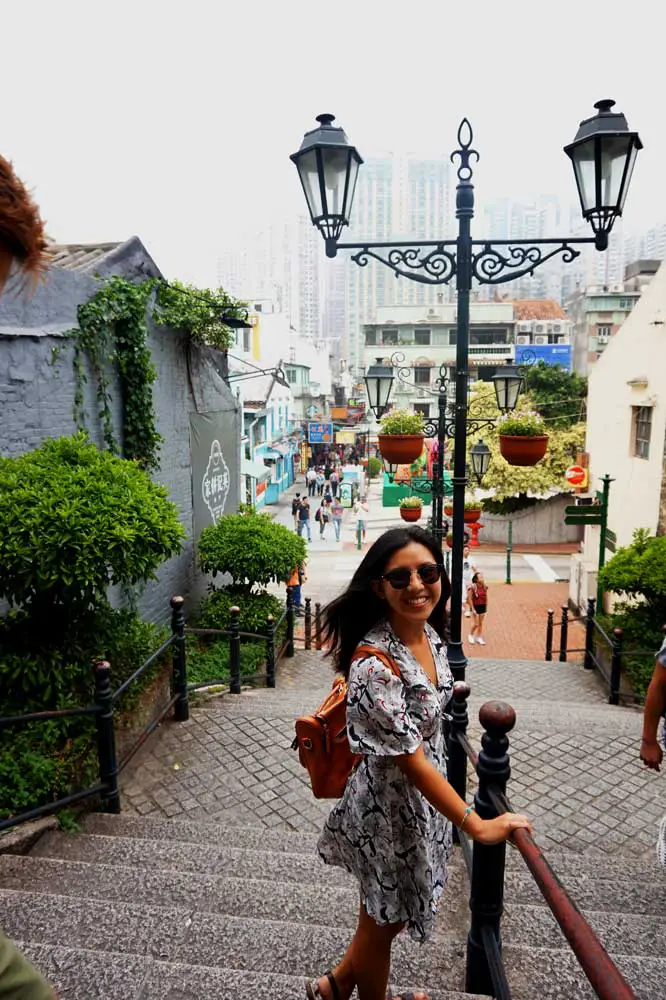 Cunha Street mostly sells food souvenirs such as almond cake, with a colonial style two-storey apartment style. It's worth a stroll even if you don't intend to buy anything. We then head east and walked past the Pak Tai Temple.
Pak Tai Temple: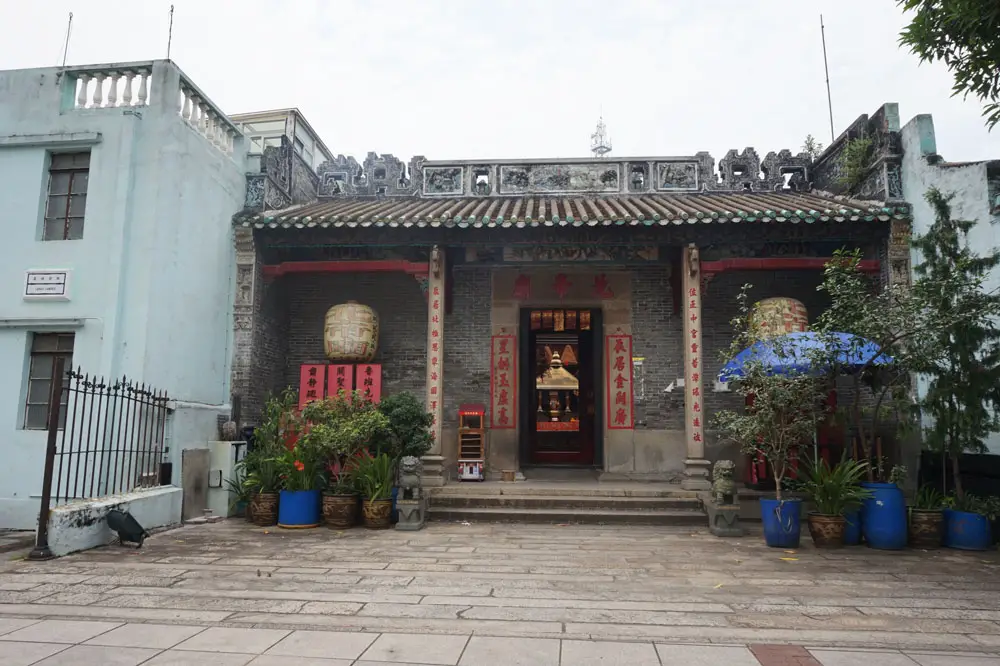 The temple is dedicated to Pak Tai and built in 1843, making it the oldest temple in Taipa. Its direct translation in Chinese means "Northern King" and huge celebrations occurs around its birthday on the 3rd of March of the Lunar Calendar.
Address: Pak Tai Temple, Macau
Tai lei Loi Kei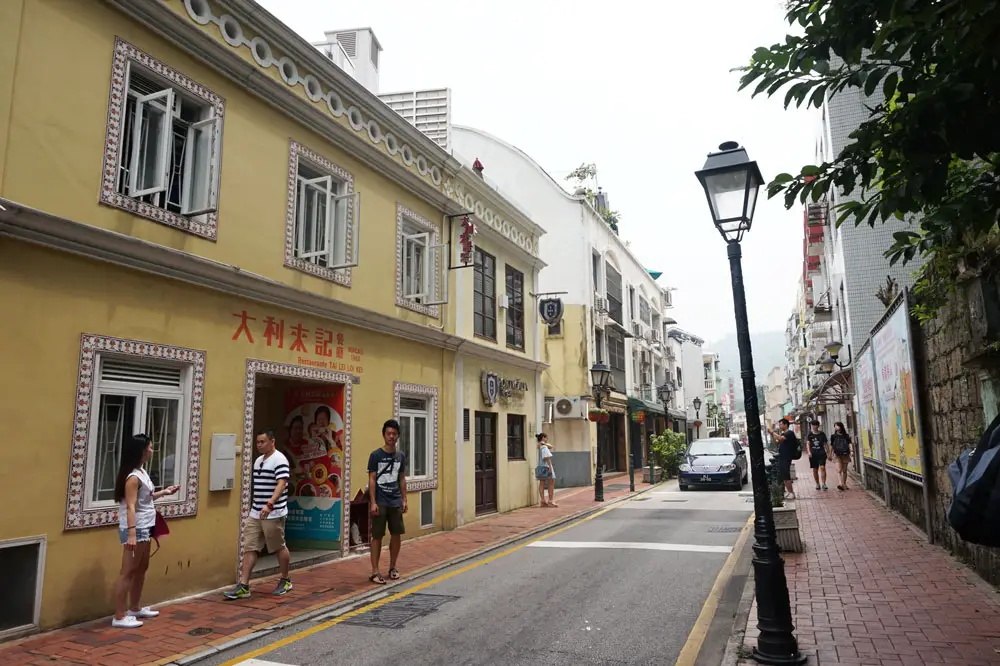 It was around 12 and most of us hadn't had breakfast, so we headed to Tai lei Loi Kei. One of the more famous Macanese food is their pork chop buns, which is served in this café restaurant. However, they don't serve it with the typical buns until after 14:00, so we had it with the pineapple buns, which is quite interesting.
Address: G/F, 35 Rua Correia da Silva, Vila de Taipa
Opening times: daily 08:00-18:00
Casino bus to Macau Peninsula
We then headed back to the Venetia and took the bus to the Ferry Terminal of Macau Peninsula. From there, we took the casino bus of Grand Lisboa to their hotel which took us close to the center. The entire trip cost nothing to us, but the waiting time are quite significant.
Grand Lisboa Casino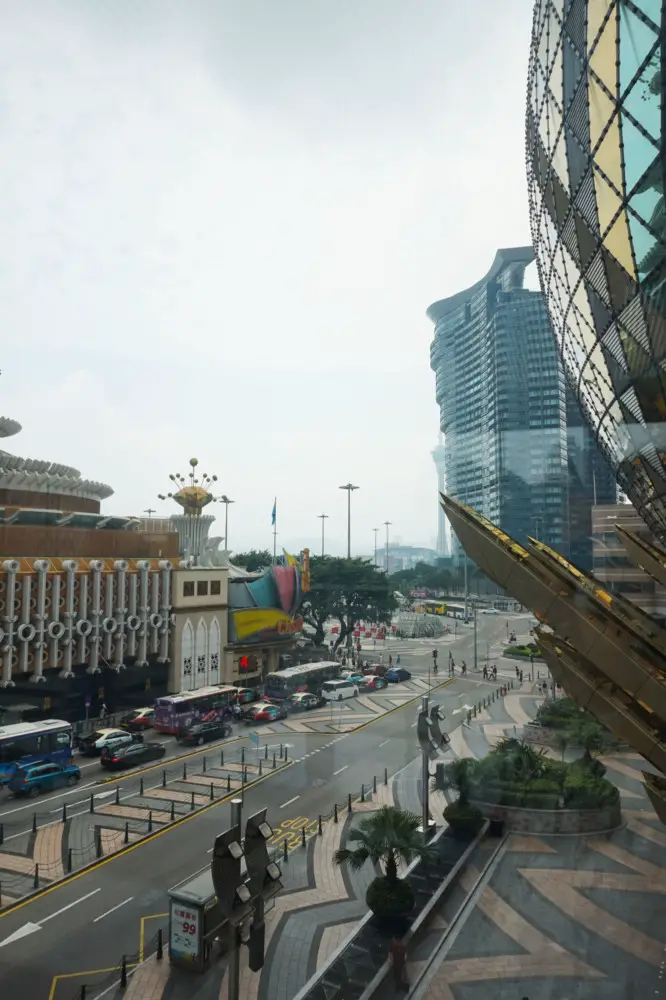 The Grand Lisboa is one of the most iconic buildings in the Macau Skyline, aside from the Macau Tower, of course. With a gold tone and flower shaped top, it's hard to not notice it. We spent some time strolling around the casino and my friends gambled (and lost) for around an hour before we all got hungry.
Address: Avenida de Lisboa, no.2-4, Macau
Portuguese tarts at Margaret's Café e Nata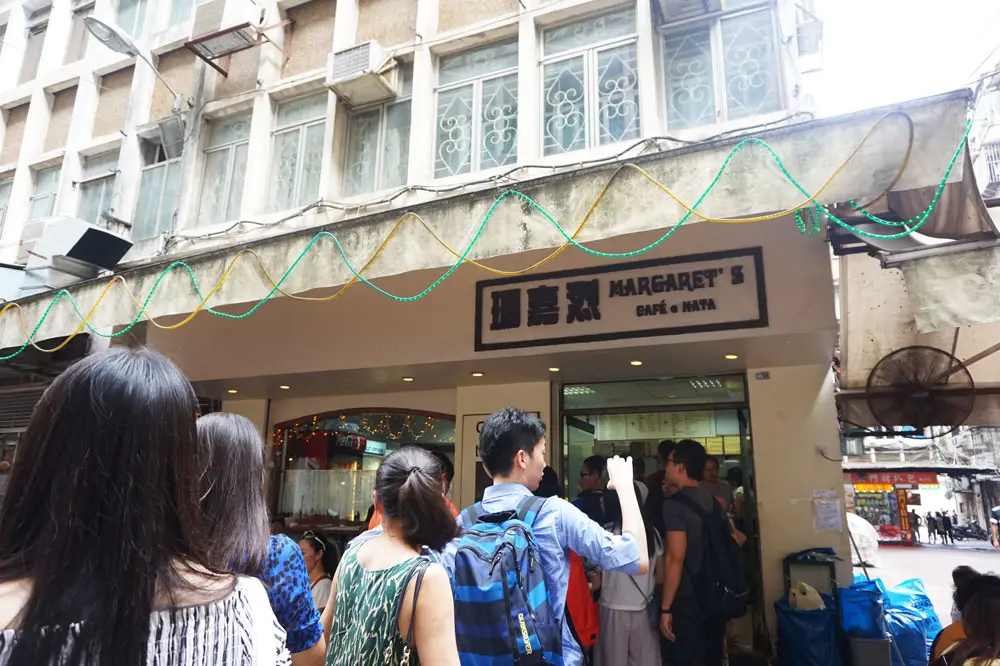 Margaret's Café e Nata is famous for its Portuguese tarts. There was a long queue when we got there but it moves quite quickly. For those of you who don't know, Portuguese tarts look similar to egg tarts from Hong Kong but taste more like custard tarts, made of puff pastry and, well, custards. It's must characterized by the brown spotted surface. It definitely tastes pretty decent!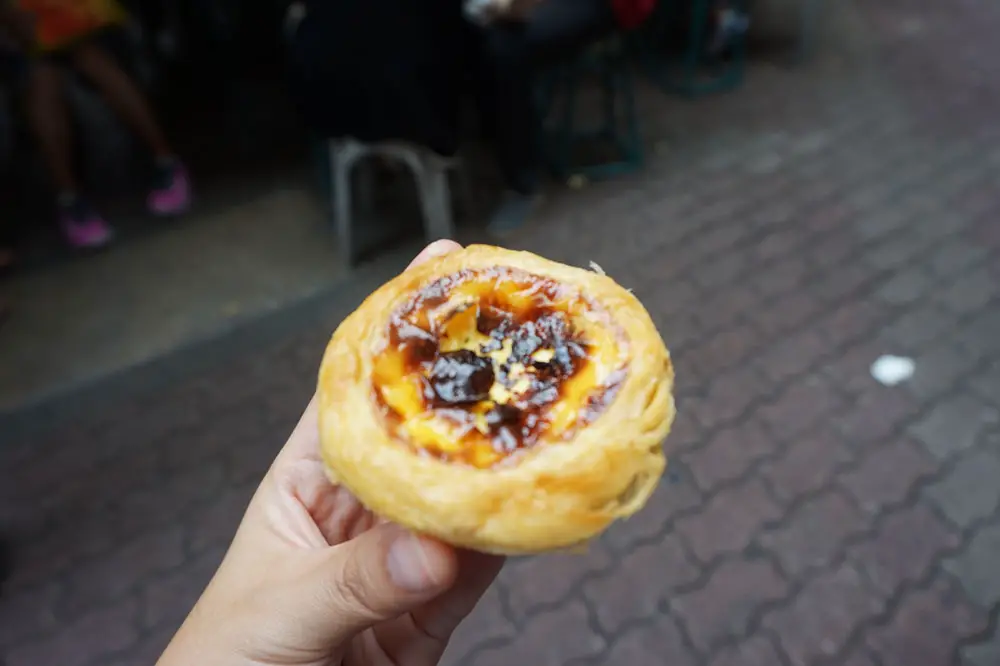 Although the milk tea is supposedly good, too, the one my friend got was too watery. I got mine from around the corner and despite being kind of on the price end, at least it tasted really good.
Address: G/F, 17A Rua Alm Costa Cabral R/C, Avenida de Almeida Ribeiro
Opening times: Close on Wednesday, weekdays: 8:30 – 16:30; Weekends: 10:00 – 18:00
Senado square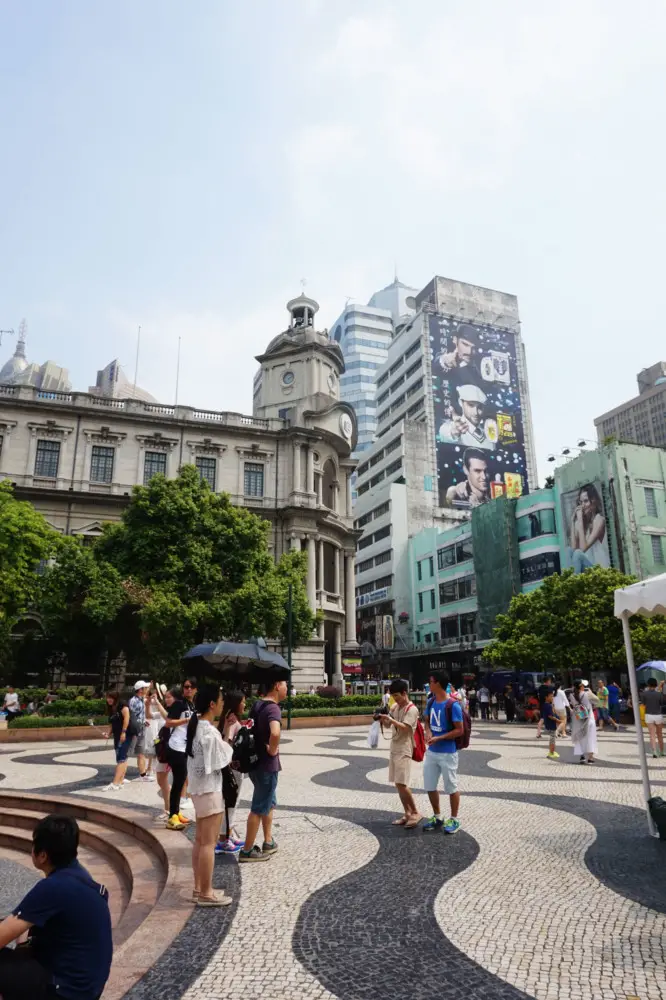 Largo de Senado, which essentially means the Senate Square is one of the most famous sights in Macau with its wavy paved pavement. It used to be the meeting place between the Chinese and the Portuguese and hence the name. Surrounded by gorgeous European buildings, including the Leal Senado, traffic is no longer allowed after the 1990s due to the high number of tourists. Most of the structures around there are protected and it is super busy at all times. There is a fountain in the center, replacing the statue of Mesquita that was pulled down during the Qing Dynasty.
The square reminds me a little of Place de Messina in Nice and I love how well preserved this square is. Did you know that Hong Kong TVB shoots some scenes here as well from time to time?
Ruin of St Paul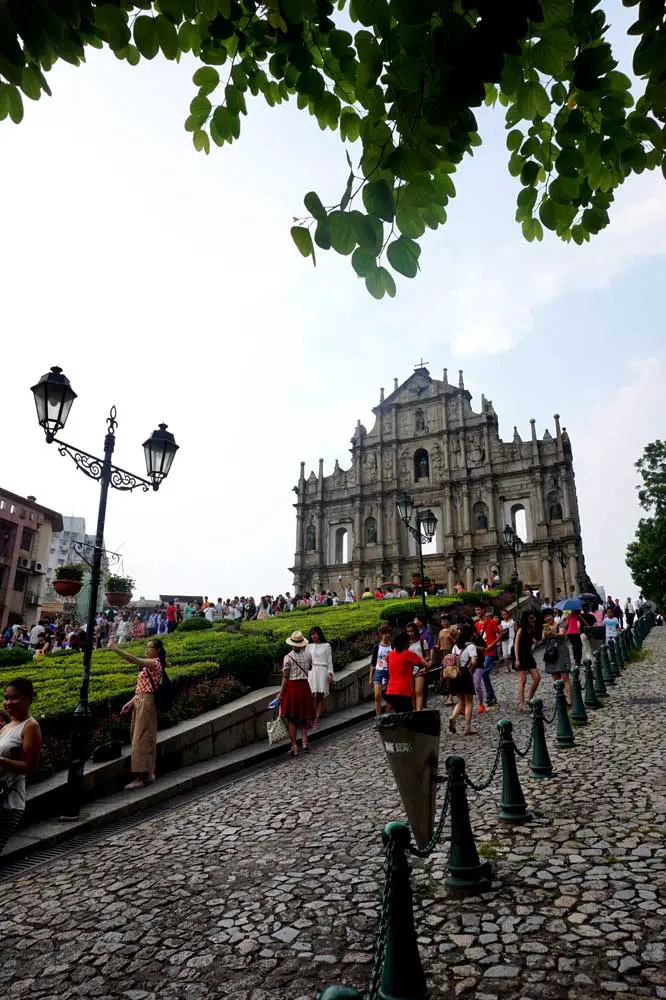 THE most famous spot of Macau, the Ruin of St Paul standing atop a flight of stairs was the number one target of my trip. Though it was a battle to weave through the crowd to get up via Rue de Sao Paulo, but the view is definitely worth it!
The Ruins of St Paul was never a Cathedral, though many referred to it as so. A 17th-century church that was dedicated to St Paul the Apostle, it was burnt down in a fire on 26th January, 1835 during a typhoon. The remaining face is its southern facades and it was restored in the 1990s with buttress and steel reinforcement to make sure it's safe. The 68 steps that lies in front of it remains one of the most photographed points in Macau – I definitely got a fair share of shots taken, too.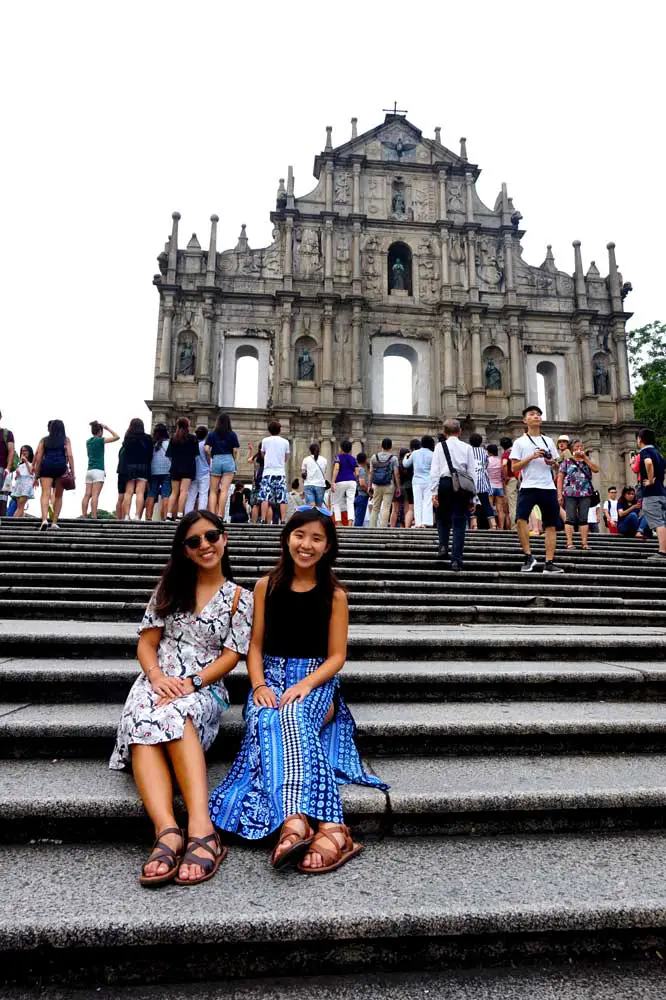 Address: at the end of Rue de Sao Paulo
Guia Hill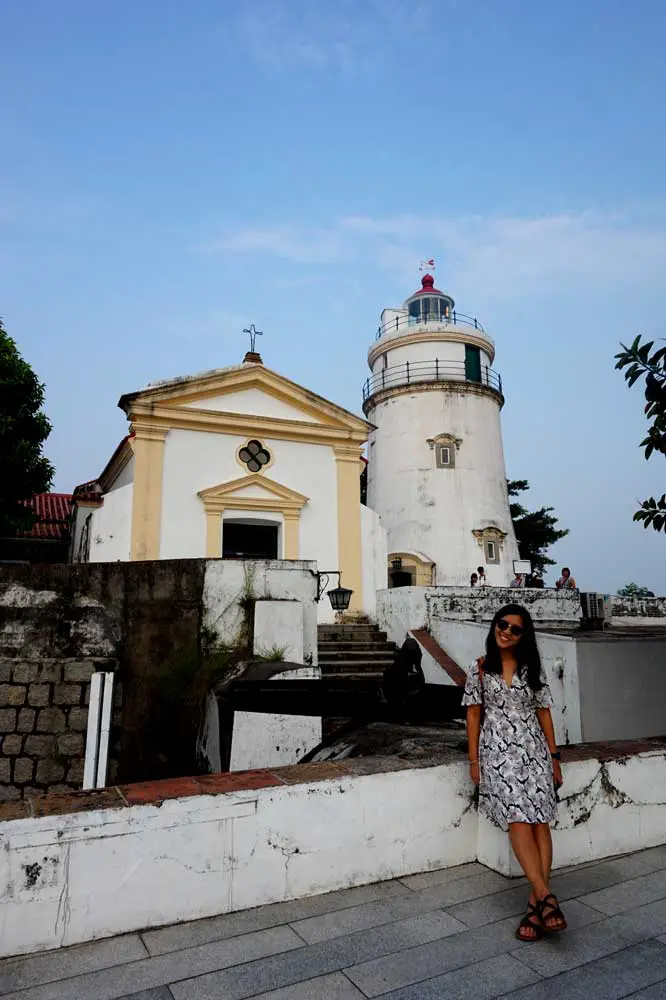 I knew that I wouldn't have enough time to see everything and my mother recommended for me to visit Guia Hill. Because of the distance, we opted to take the taxi there from the Ruin of St Paul's (and ended up stuck in traffic for a while). We took the cable car up to Guia Hill, the highest point in Macau, and visits this interesting complex of fortress, lighthouse and chapel of white and yellow.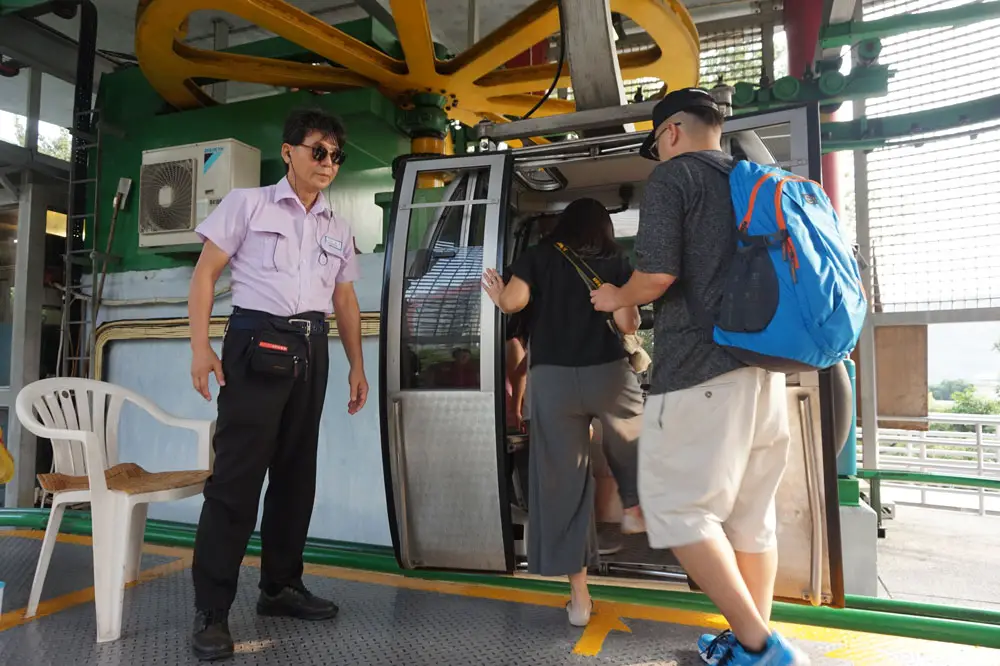 The fortress area is free to enter, only the cable car costs money. The chapel and the fortress were built around the same time as the Church of St Paul in the early 17th century, after the Netherland's failed invasion to Macau. The chapel is free to enter and the fresco is an interesting mix of European and Chinese style. The lighthouse was built in the 19th century, standing 91.4 m tall and the first western lighthouse in the region.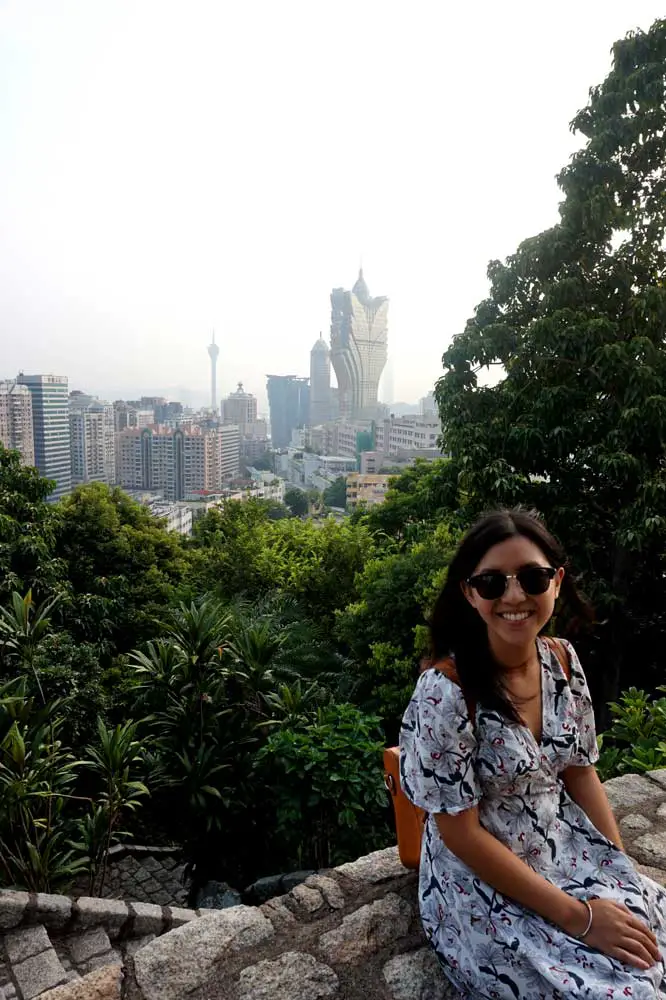 The hill, being the highest point of Macau, offers a great view of the Macau Peninsula.
Address: Avenida Sidónio Pais
Opening hours: 8 a.m. – 6 p.m. Closed on Mondays and open on public holidays (if Monday happens to be public holidays, cable car service will be closed next day).
Cable car ticket prices: Adult's price is MOP2 for one way, MOP3 for return. For children from 2 years old or above, students (up to 18 years old), and seniors over 65 years old, the price will be MOP2 for return.
Admission fee free for Guia Hill
Dinner at Taipa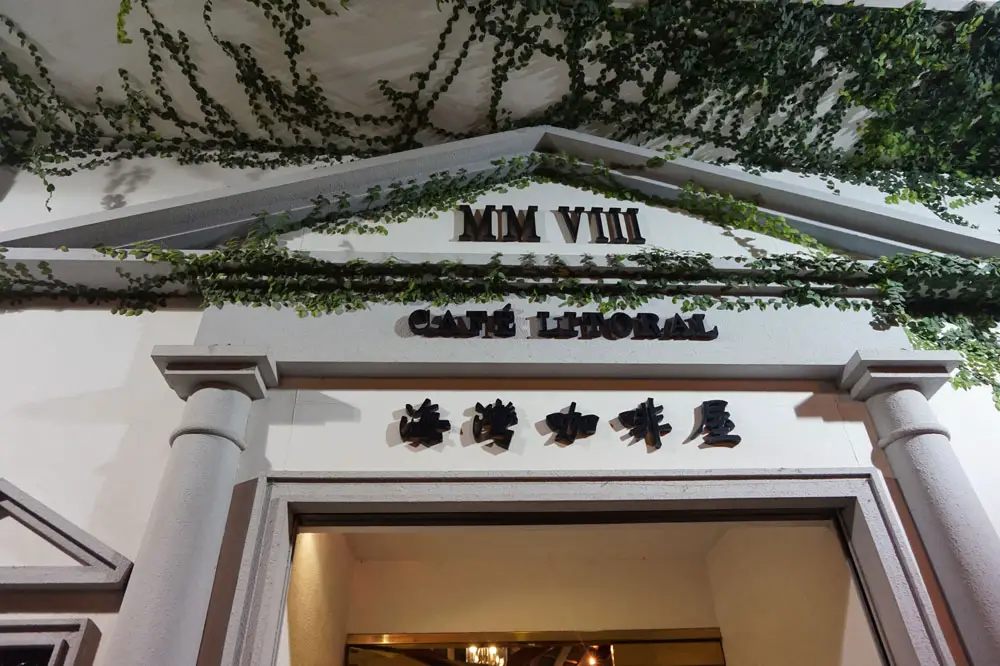 We returned to Taipa, via casino shuttles, in time for dinner. We were originally booked at the Café Litoral but we missed our bookings due to disorganization. Though we later got some take out there and they were really good! It serves authentic Macau Portuguese-style cuisine and is one of the most famous restaurants around.
Address: Rua do Regedor, Bloco 4 Wai Chin Ko Nº 53/57 Taipa
Opening times: daily 12–3PM, 6–10PM
Day 2 in Macau
Get my FREE map here with all the spots
Stroll around the Cotai Strip of Macau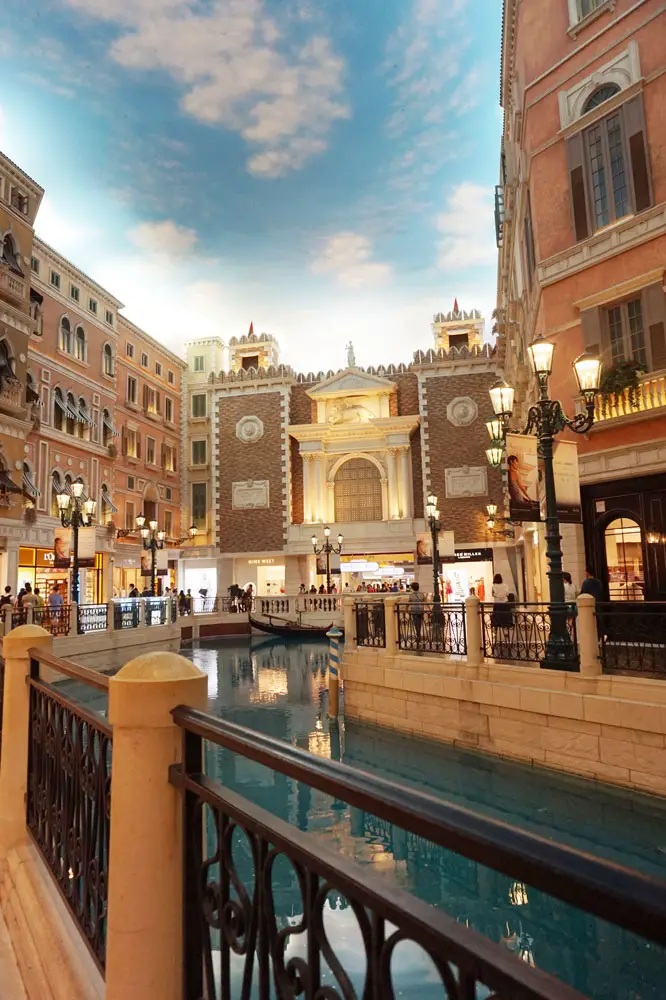 We had breakfast at the Tai Lei Loi Kei again and spent the next morning wandering around the mall, visiting the Parisian and Venetian malls. The interior of the Venetian section are decorated like Venice and aside from the fake sky are uncannily good.
Pizzeria Toscana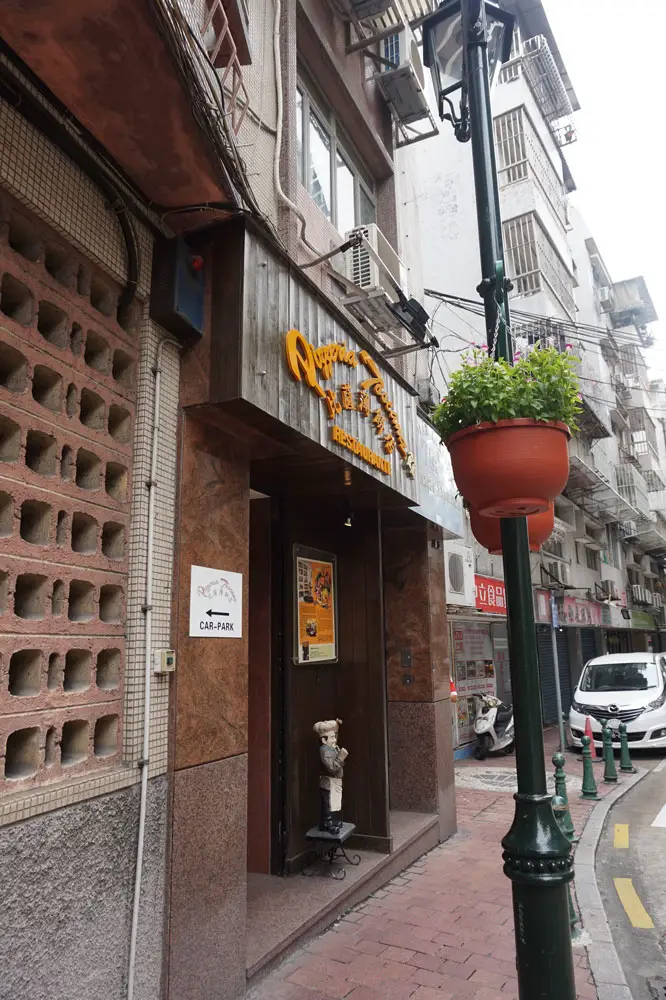 We took a taxi to the southwest corner of the Macau Peninsula to the Italian restaurant of Pizzeria Toscana. It is a surprisingly amazing restaurant hidden in this far corner of Macau and I recommend their four cheese pizza and ravioli.
Address: G/F, 2A Calcada da Barra, Sao Lourenco
Opening hours: daily 11:30AM–3:30PM, 6:30–11:30PM
A-Ma Temple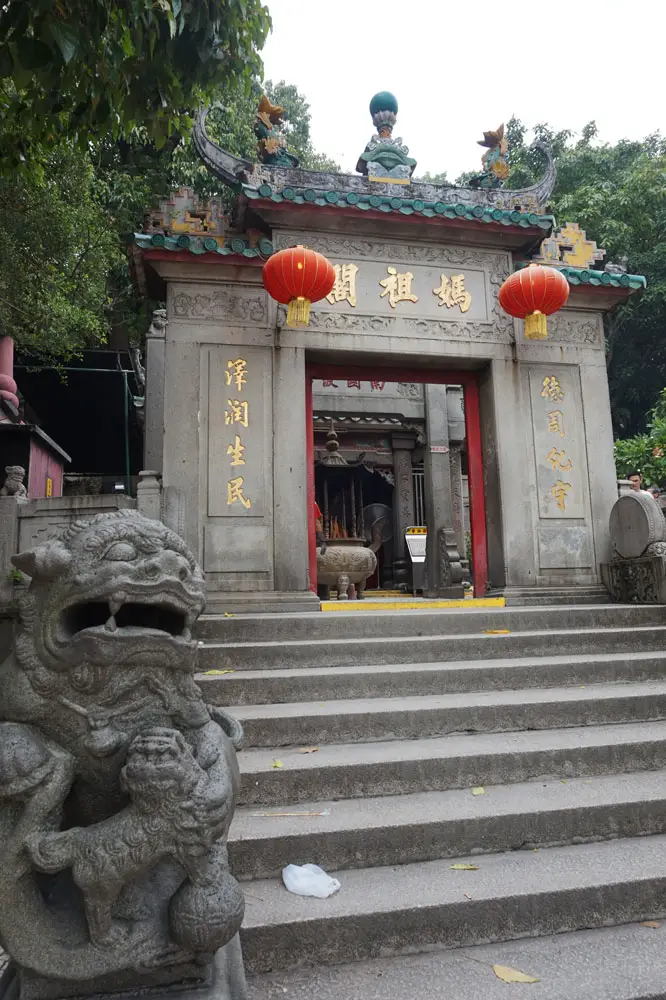 The restaurant was fairly close to the A-Ma Temple and we headed south to visit it. The oldest temple in Macau that's dedicated to the sea goddess Mazu, as common with all the seaside towns (Hong Kong has Tin Hau Temple), it was built in 1488. The name Macau was thought to have originated from the temple, where the Portuguese sailors asked the name of the place was.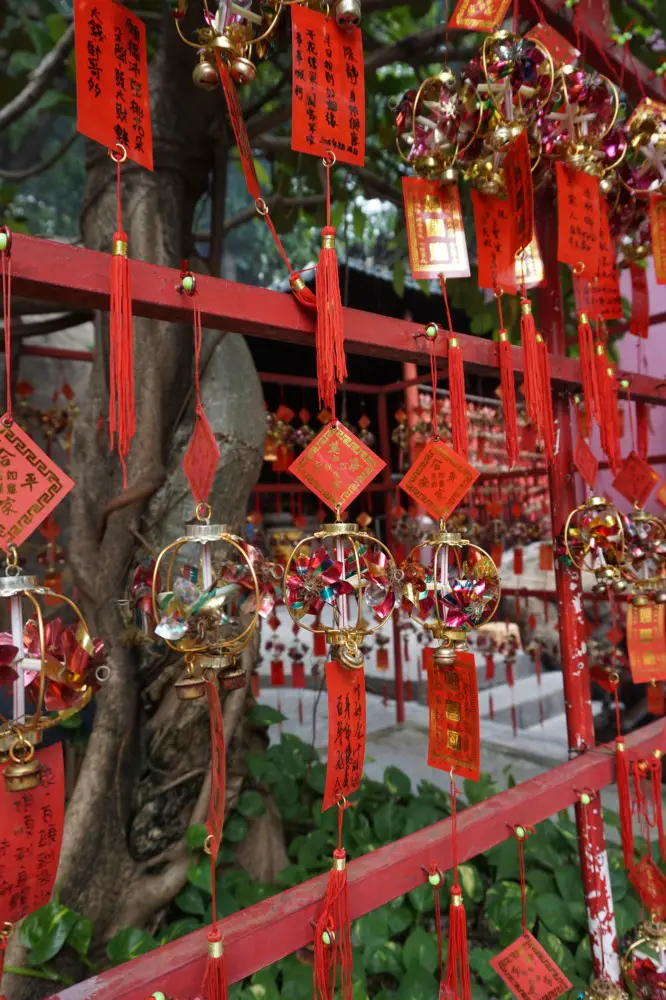 A typical Chinese temple, you enter through a gate and there are shrines and incenses inside. The temple reaches up to the hill and you can walk around, however, there isn't much to see up there. The temple, though big compare to others, isn't very large and can be visited in under fifteen minutes.
Address: A Ma Temple, Macau
Opening times: daily 7:00 – 18:00
Admission free
Maritime Museum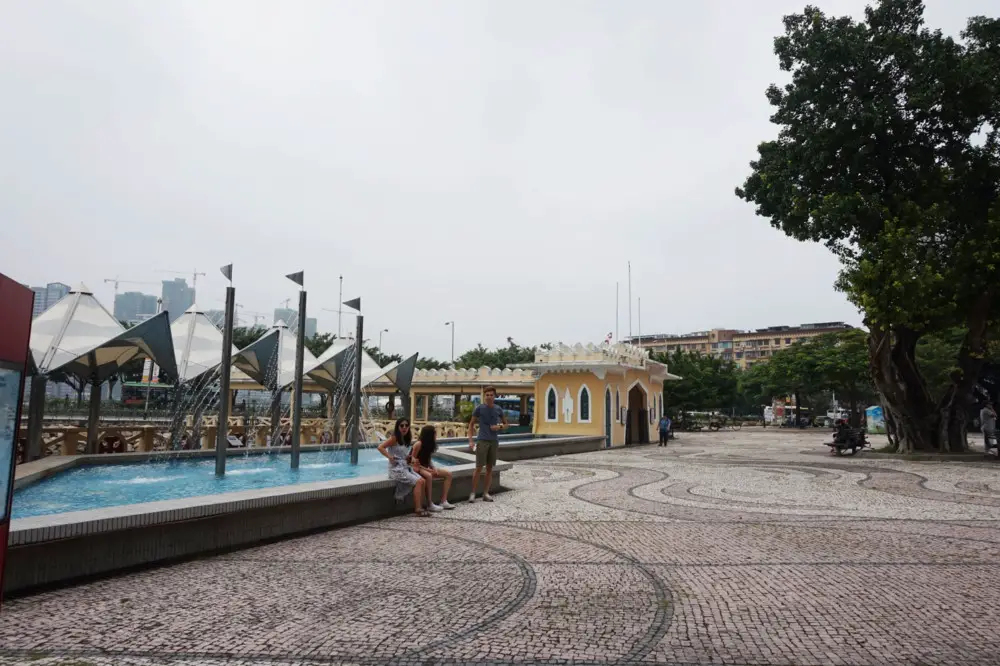 The museum is not too far from A-Ma Temple and with a low entrance fee, we visited out of curiousity. Inside, there is a small, recurring show that explains the origin of A-Ma Temple and various maritime histories and artefacts related to Macau and beyond. It's an interesting stop and there is a toilet inside.
Address: 1 Largo do Pagode da Barra, Macau
Opening times: Daily except Tuesday 10:00 – 18:00 (last entry 17:30)
Admission fee: Adult 10 Macau dollars, 5 for youth, free for elderly and children below 10. Half Price on Sunday.
Chapel of Our Lady of Penha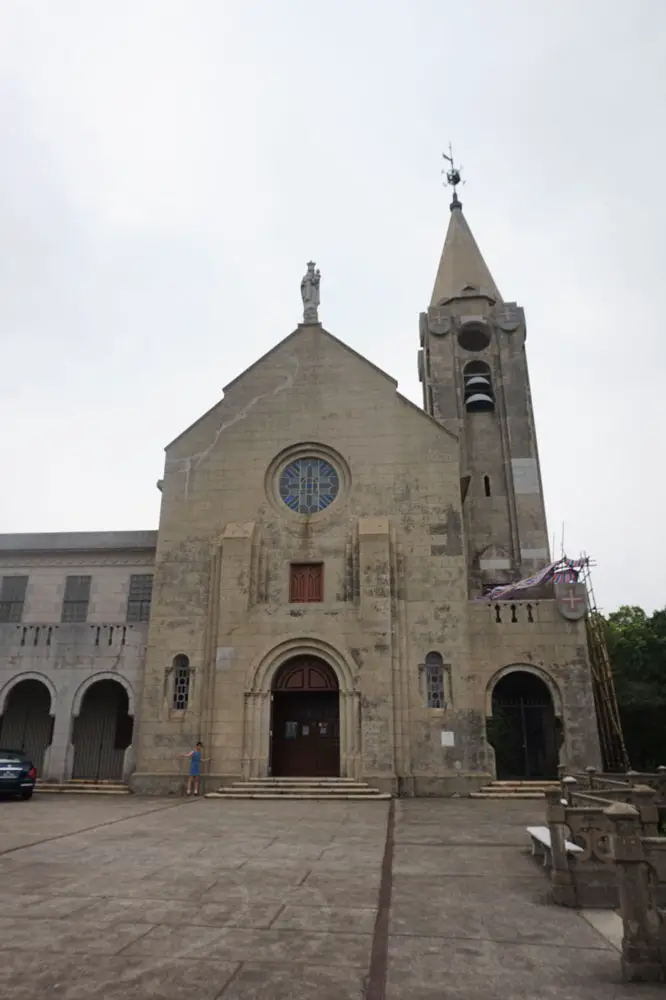 We decided to pass through this other sight on our way back to the center but in truth, the hill is tougher to hike than expected. This is one of the highest points of Macau aside from Guia Hill, however, the view isn't as good as there are numerous trees that obstruct it. the church isn't particularly interesting either, founded in the 17th century by sailors and had been a pilgrimage place for those who are heading out to sea.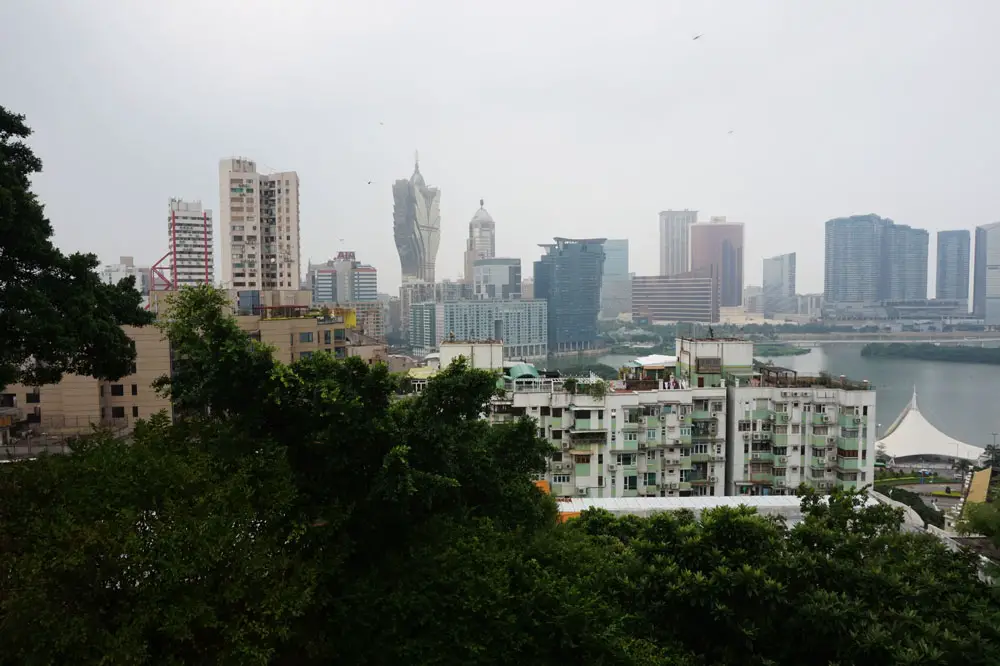 Address: Hilltop of Penha Hill, Macau
Admission Free
Gathering drink stop/Terra Coffee House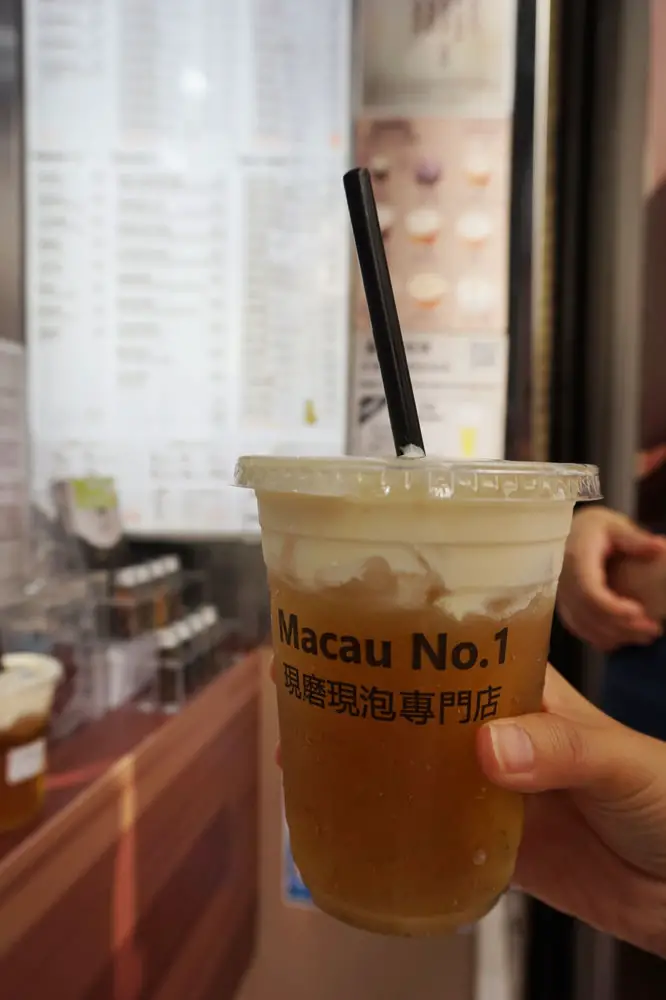 Refreshment point for tea or coffee, the former being the cheaper option. It was enroute back to the center and just around the corner from our last two stops.
Gathering Address: Edificio Fong Meng, 19 R. de São Lourenco, Macau
Terra Coffee House address: 20 Rua Central, Macau
Dom Pedro V. Theatre

A pretty green and white neo-classical theater that was built in 1860 to commemorate King Peter V of Portugal, it was the first of its kind in East Asia. The theater is still in use and it is free to visit during the day, with its ballroom and study still in good condition. We didn't stay long inside due to the moldy smell, however, it's a beautiful building itself and its façade makes for a great photo backdrop.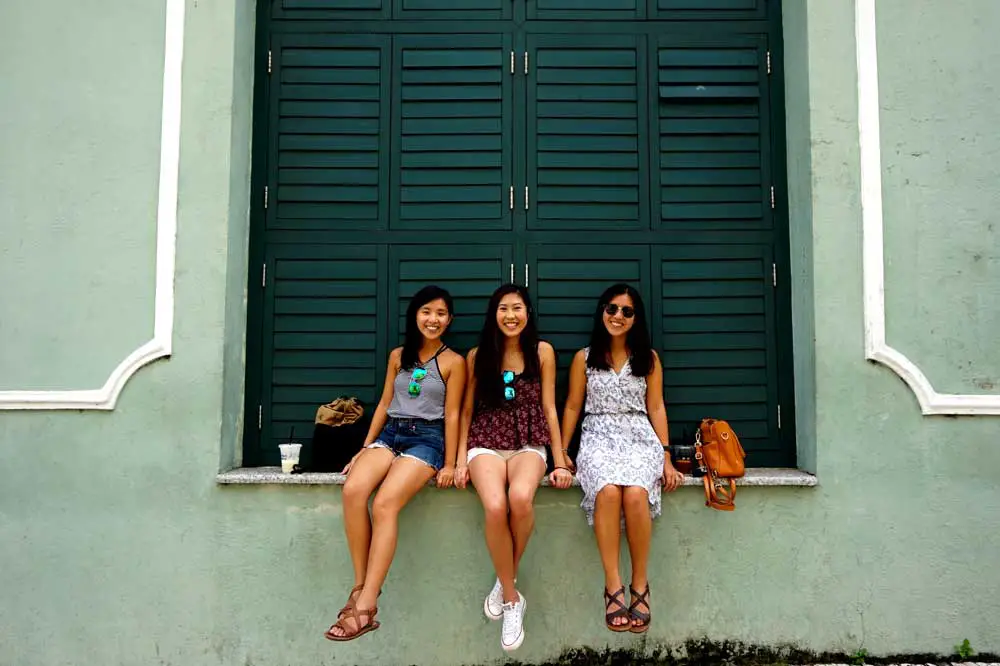 Address: Largo de Santo Agostinho, Macau
Opening times: 10am-6pm, Wednesday through Monday (closed on Tuesdays)
Admission free ( view its program here)
Sir Robert Ho Tung Library Building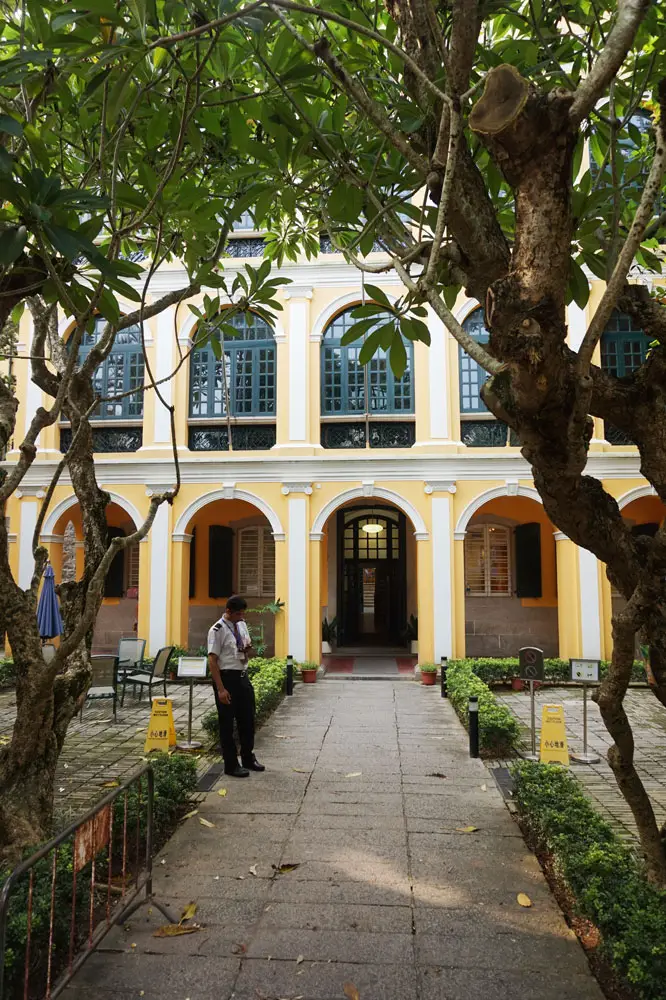 The prettiest library I had ever seen, it looks more like a mansion (because it used to be one) and is still in use today. Built in the late 19th century, Sir Robert Ho Tung brought it in the 1910s and lived there in the 40s. The building was repurposed as a library in the 50s and has an old and new part, both somehow meshing well together. It's free to visit and makes for another great photo spot.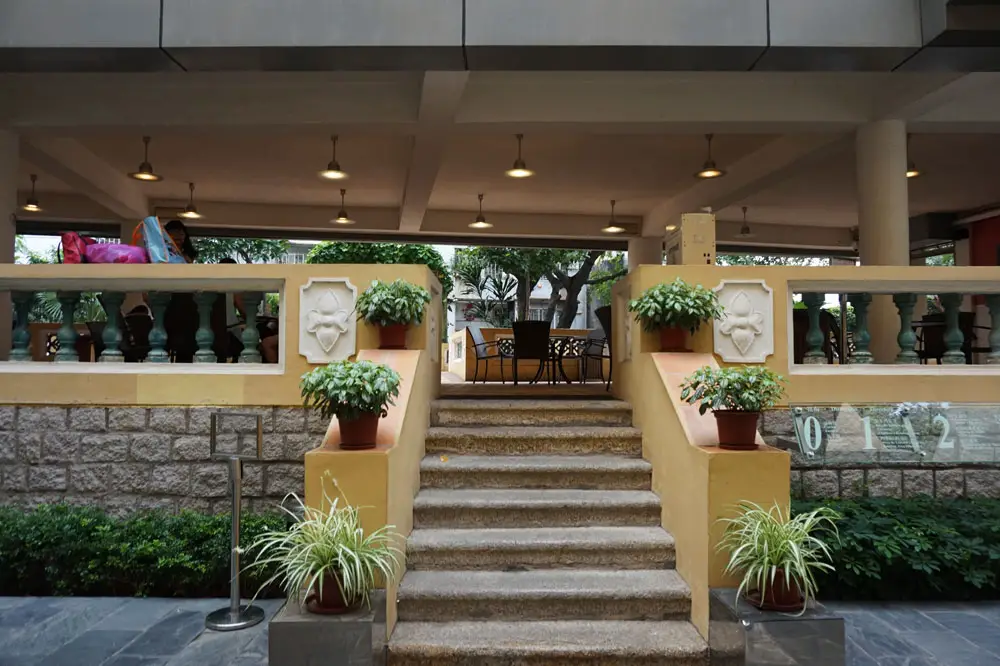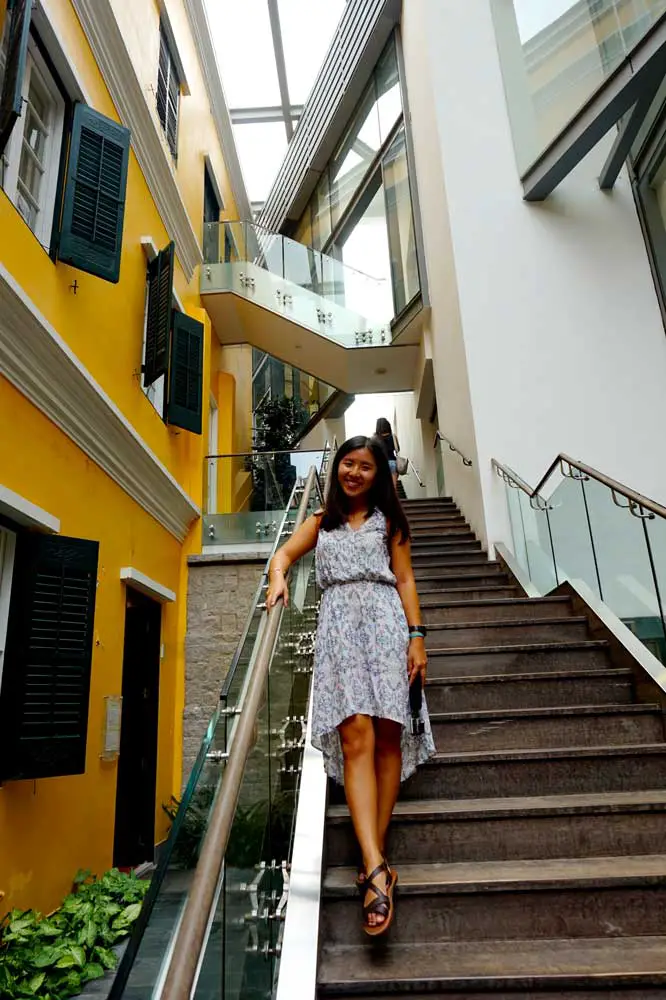 Address: 3 Largo de Sto. Agostinho, Macau
Opening times: Daily 10:00 – 19:00
Admission free
The end of 48 hours in Macau!
Afterwards, we headed back to the hotel via more shuttle waiting near Grand Lisboa to pick up our bags and get in line for the shuttle to the Taipa Ferry Terminal. We were getting an evening ferry, hence it was super busy and it took us a while to get there. The ferry terminal was packed as well, but they have some kind of a queueing system in place so we got on our designated one after some delay. All in all, it was a good trip, but here's what I would have done differently:
Head straight to Macau Peninsula the first day after arrival, do Guia Hill first, then Ruins of St Paul, then A-Ma temple area (skipping the Penha Chapel) and taxi back.
The next day, spend the morning around the malls then explore Taipa before leaving for ferry terminal. This minimize waiting time for transfer and optimize the day.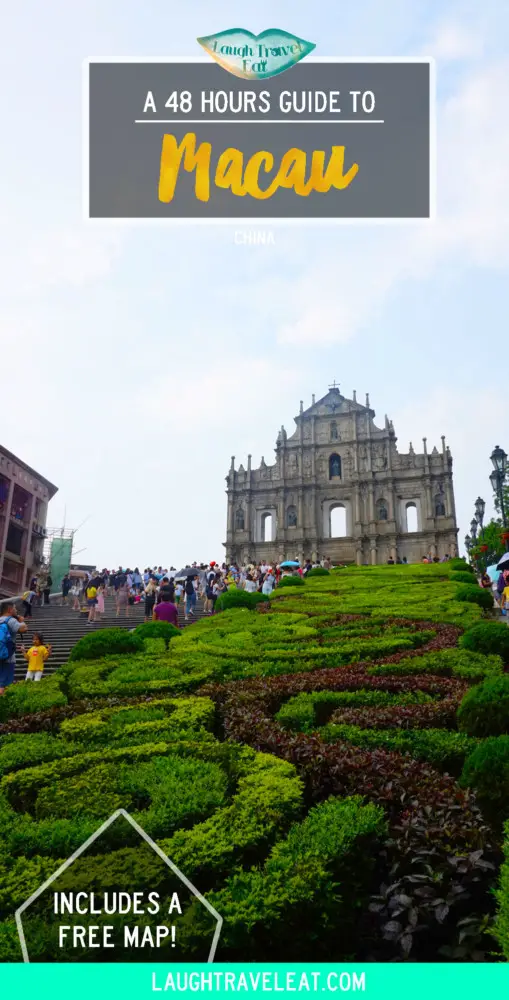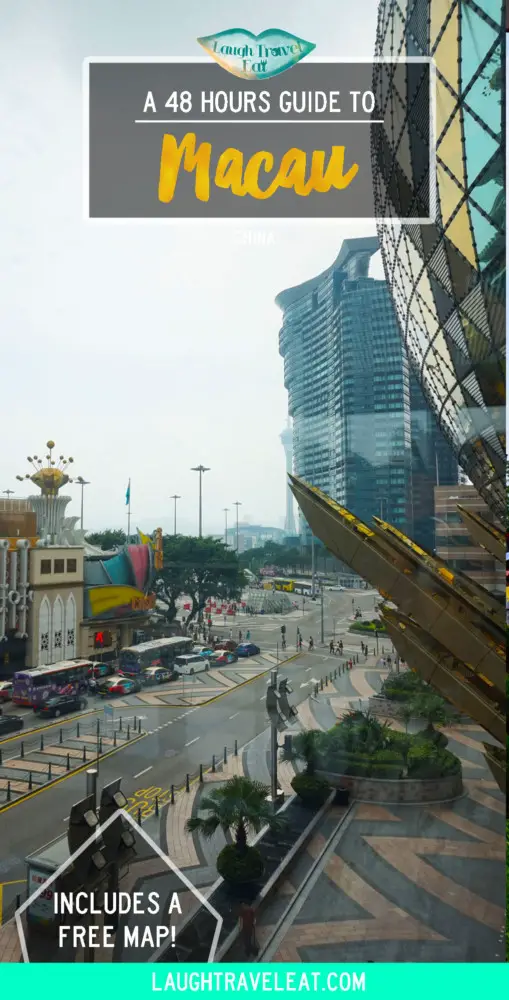 *This post contains affiliate links