Shenzhen from Hong Kong: day trip + weekend guide
Shenzhen has always been a popular day trip or quick escape option from Hong Kong ever since I was little. However, there are so much more things to do in Shenzhen now besides shopping at Lowu (which is what we did about 10-20 years ago).
Though RMB is stronger than HKD now, the average cost of living in Shenzhen is still lower than Hong Kong, meaning eating out and other entertainments are more affordable. Beyond that, Shenzhen has become a UNESCO City of Design with modern architecture and art that surprises many visitors (including me).
This will be a regularly updated post as I explore and write up more about Shenzhen, what to do, and how to get around!
>For more info on visiting China for the first time, check my China Travel Tips post
Hong Kong China Passport/Visa check

You would need to go through immigration between Hong Kong and China as they have a different system.
For Hong Kong residents with ID card and or passport, you would need what is referred to as 'Home Return Permit'.


You can apply for this through the China Travel Service that is valid for 10 years (I can only find the website in Chinese). If you are a frequent traveler between the two, you should also apply for the fast track at the border.
If you are a visitor in Hong Kong, you would need to obtain a China Visa. A 10 year visa costs the same as a 1 day visa obtained at the border so there's really no point in not getting the former.
Travel from Hong Kong to Shenzhen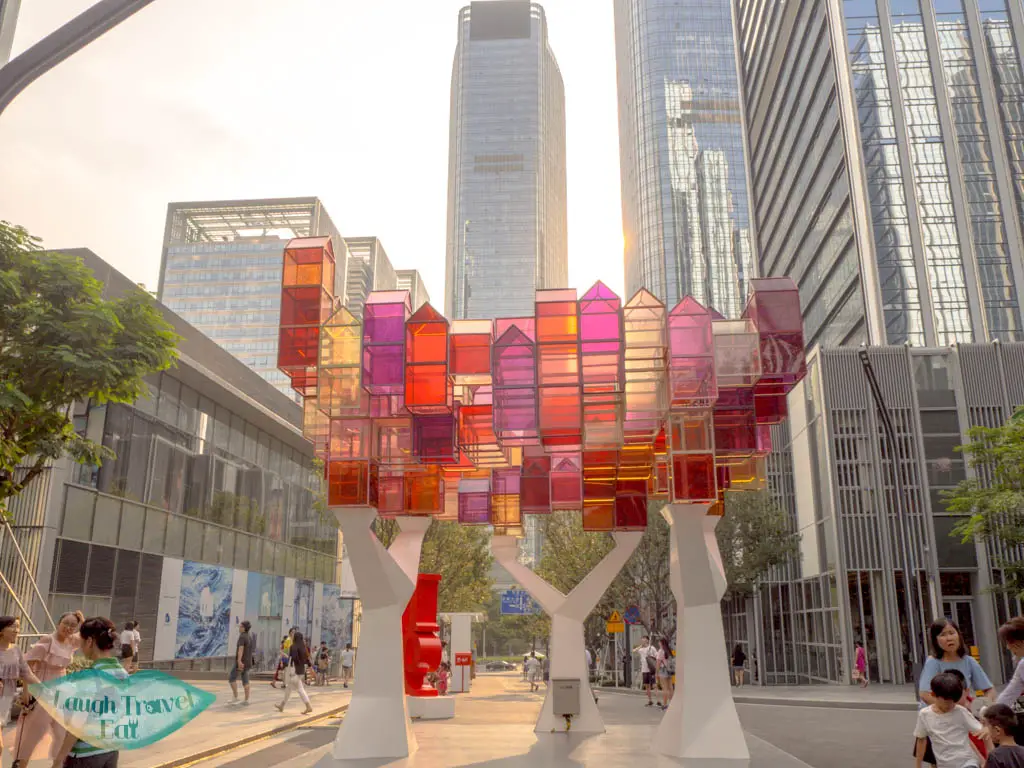 Hong Kong to Shenzhen
There are a lot of ways to get from Hong Kong to Shenzhen, but here I will focus on the most common public transport methods to cross the border.
Train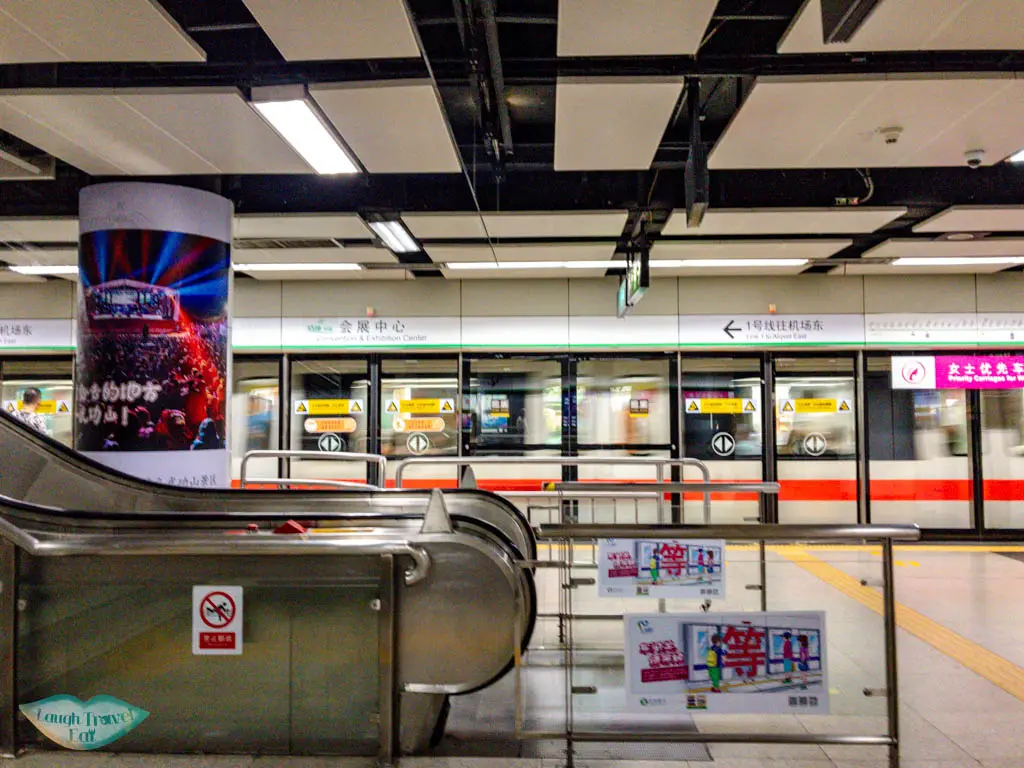 The East Rail Line has two endpoints that both connect to a border with metro station at a different part of Shenzhen. Lo Wu is the more historic one, linking to the Lo Wu district in Shenzhen since 1949. The border is reached on foot and you go through a bridge that straddles the river which acts as the natural territory boundary between the two.
The other point is Lok Ma Chau, which opened in 2007 and connects to the Futian Border. Again, it has a similar set up to Lu Wo but is much more modern. It is usually less crowded but not really that much of a difference.
Note that both borders closes at midnight and opens at 6:30.
Bus
The main thoroughfare for buses is that Huanggang Port. It is the second most popular border aside from Lo Wu, but doesn't connect to a Hong Kong MTR or train station, although it does link to a Shenzhen metro stop. There are plenty of buses that go to this port.
Things to do in Shenzhen
There are many things to do in Shenzhen, although most of the Hong Kongese venture up in search for three main things: food, photo opportunities, and entertainment. The later mostly relates to Karaoke or massages, though sports can be cheaper to try such as archery.
Massage
There are a large number of massage parlours in Shenzhen for every budget, and it's a favourite thing to do for Hong Kongese to venture up north for a massage. It is worth booking beforehand if you have a place in mind, especially during public holidays and weekend.
When we went up, we didn't end up getting a massage because most places were booked. You can check the ratings for the massage parlours on Daiping App (only available in Chinese), otherwise, here are some that I recommend:
Note: most charges a compulsory tip on top – however, if you go to a medicinal (推拿) place, no tip is necessary
Shenzhen Hotpot
If you like hot pot then you'll be spoilt for choice in Shenzhen. A feast for the meat lovers, it's much cheaper to eat in Shenzhen than in Hong Kong. personally, I highly recommend the beef speciality and the coconut chicken ones!
For beef hot pot: Bahe Lihaiji Beef Shop 八合里海記牛肉店
For coconut chicken: Runyuan Fours Seasons Coconut Chicken 润园四季椰子鸡
Archery
With much cheaper prices and more abundant studio, going to an archery studio in Shenzhen is a good, sporty, indoor option. While the prices are generally cheaper than in Hong Kong, it is even cheaper if you can go on Dianping and purchase groupon style packages. But for that you'll need to have money on your Alipay or Wechat wallet and perhaps a China mobile number, too.

Cheese cap fruit tea
While you can get cheese cap tea in Hong Kong, too, there are a few brands that just do it better in Shenzhen. Not to mention it's a little bit cheaper plus more refreshing than getting it in Hong Kong. Hey Tea is the most popular one, often spotting a long queue.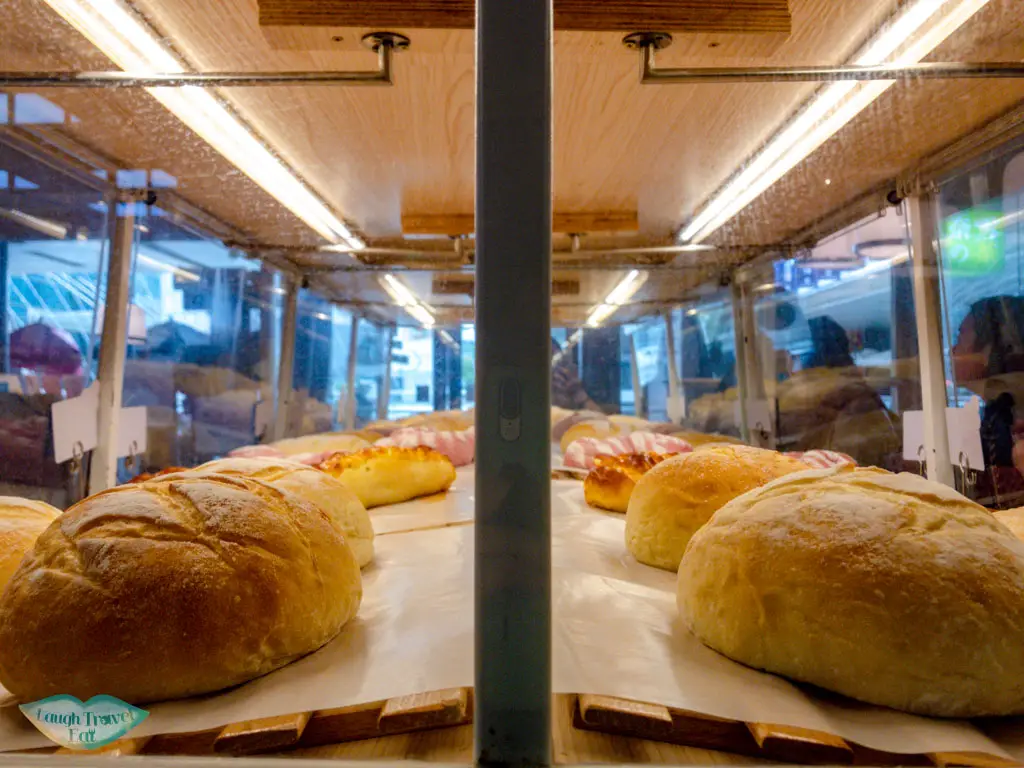 Naixuecha is another successful brand with their ea and bread concept. If you like fruit, bread, and innovative food, then you have to go and try!
Address for Hey Tea
Shenzhen attractions
There are a fair amount of things to see in Shenzhen, but here, I'll be handpicking my favourites and leaving out ones that are just a bit too cliche.
Dongmen
An old market turned pedestrian area and mega shopping district, Dongmen is a good place to scout for street food while wandering around.
Shenzhen shopping mall
Shenzhen can be split into 'business/shopping districts' with various huge mall complexes scattered. They are great for day trippers looking for entertainments all in one place, in particular food! Here are some of my personal favourites:
OCT Bay
A new development, the OCT Bay is the best place to go shopping and enjoy a chillax afternoon. With stone paved wide streets and elegant cafes and restaurants, its design combine modernity with traditional architecture. So not only do you have high ceiling malls, you'll also find paved stone streets and arch bridges. It's also close to the Shenzhen Bay Park which is good for sunset and cycling.
Nearest station: Shenzhen Bay Park station 深圳灣公園
Estimated travel time: 49 mins from Lo Wu, 30 mins from Futian
Wanxiang Tiandi
A huge shopping complex with all the shops and chains of your dream in one place, Wanxiang Tiandi opened at the tail end of 2017 and is a great place to spend a day.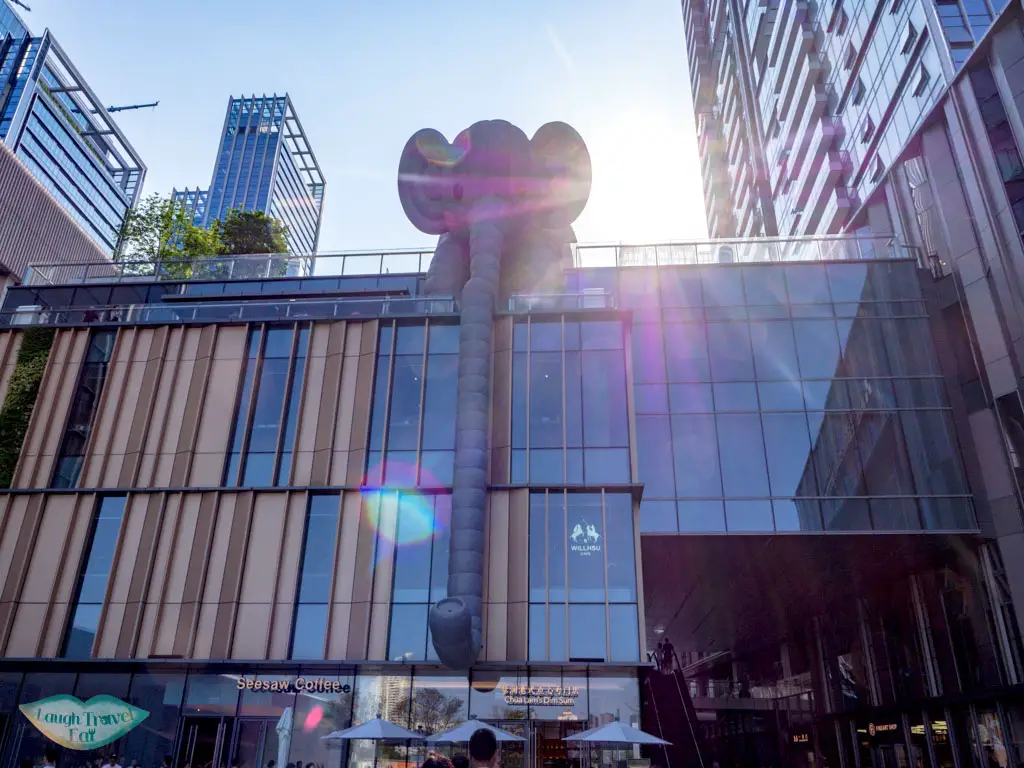 It is most famous for its 6-storey Eslite bookstore and the giant elephant. Admittedly, a lot of the shops are also seen in Hong Kong, but it's more about the wide lanes and mall space, as well as the various cool restaurants!
Nearest station: Hi-Tech Park (7 mins walk)
Estimated travel time: 47 minutes from Lo wu, 34 minutes from Fuitan
Coco Park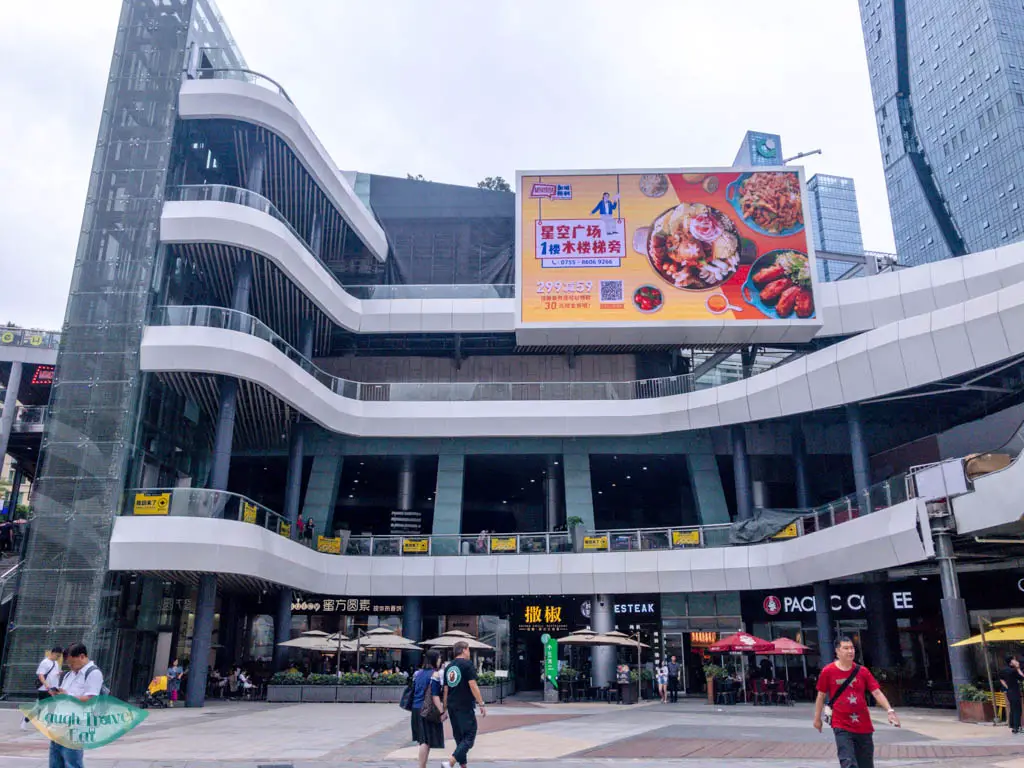 Family fun shopping mall by day, nightclub district by night, Coco Park is only a few stations from Futian border. It is connected to the LinkCity Underground shopping mall, so it makes for a good extended stroll!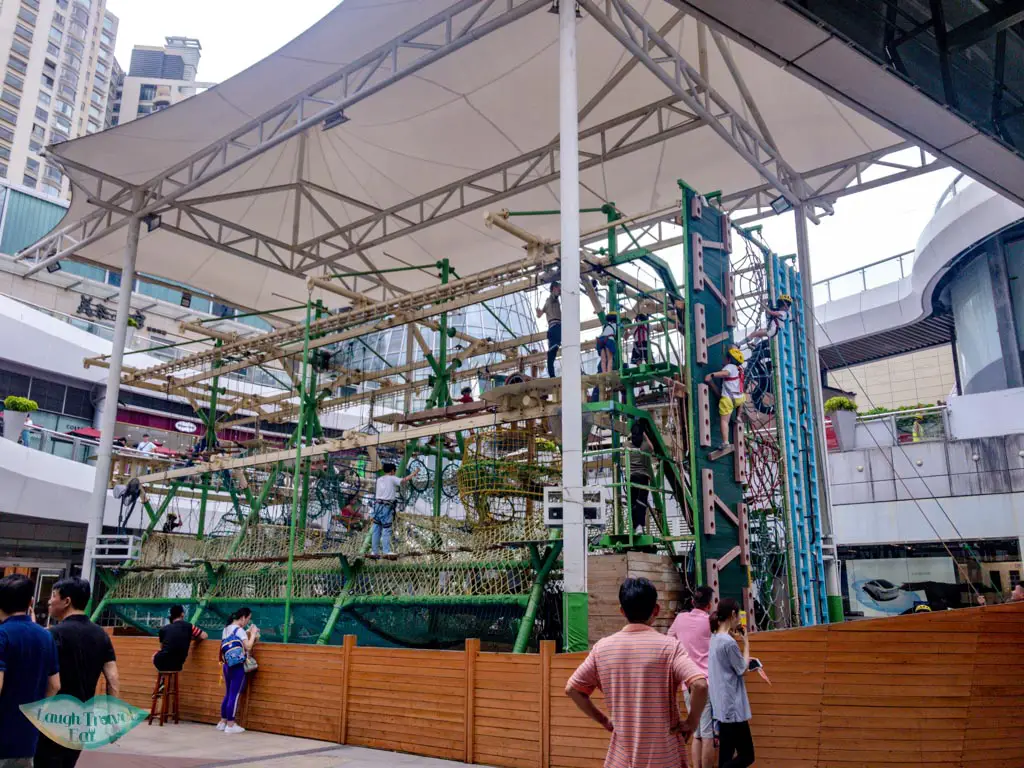 On our visit, there's also a giant climbing structure for kids that makes me want to be 20 years younger.
Nearest station: Shopping Park 購物公園
Estimated travel time: 29 mins from Lo wu, 21 mins from Futian
9 Square

Huaqiang North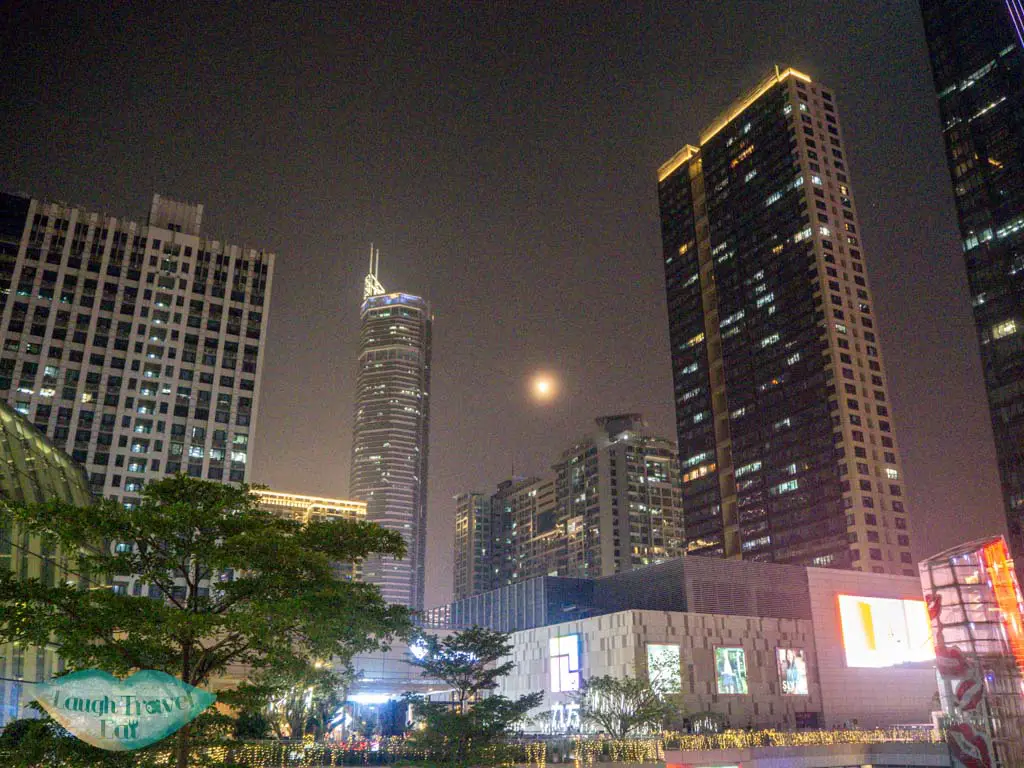 Another great mall to visit, 9 Square is a sprawling complex near the Huaqiang Road station. With a pretty little platform on top, arcade, and various top restaurants. I particularly like the view of the surrounding skyscrapers and its proximity to both borders.
Nearest station: Huaqiang North station
Estimated travel time: 22 mins from Lo wu, 24 mins from Futian
MICX City
A modern shopping mall close to the Lo Wu border, don't confuse MICX City with Wanxiang Tiandi, which has basically the same name in Chinese! You can actually walk here from the border but it's also only three station on the metro.
Nearest station: Grand Theater station 大戲院
Estimated travel time: 30 mins on foot from Lo wu or 15 mins metro