A weekend spa getaway to St Regis Macau
People in Hong Kong live a stressed life, and while staycations are great, sometimes we just need to escape a little further away. Macau is known for its Cotai Strip with its arrays of world-class hotel, and not all of them are focused on gambling. St Regis Macao is only 10 minutes away from the Taipa Ferry Terminal and one of the most beautiful hotels I have ever stayed in, with a therapeutic spa experience to match.
The Flawless Diamond Treatment at the Iridium Spa in St Regis with Gemology
St Regis's Iridium Spa offers a facial package with Gemology, a Paris based skin care and spa product company, that make uses of gemstones and diamond. Yes, you have read it right – they use diamond in their product, too.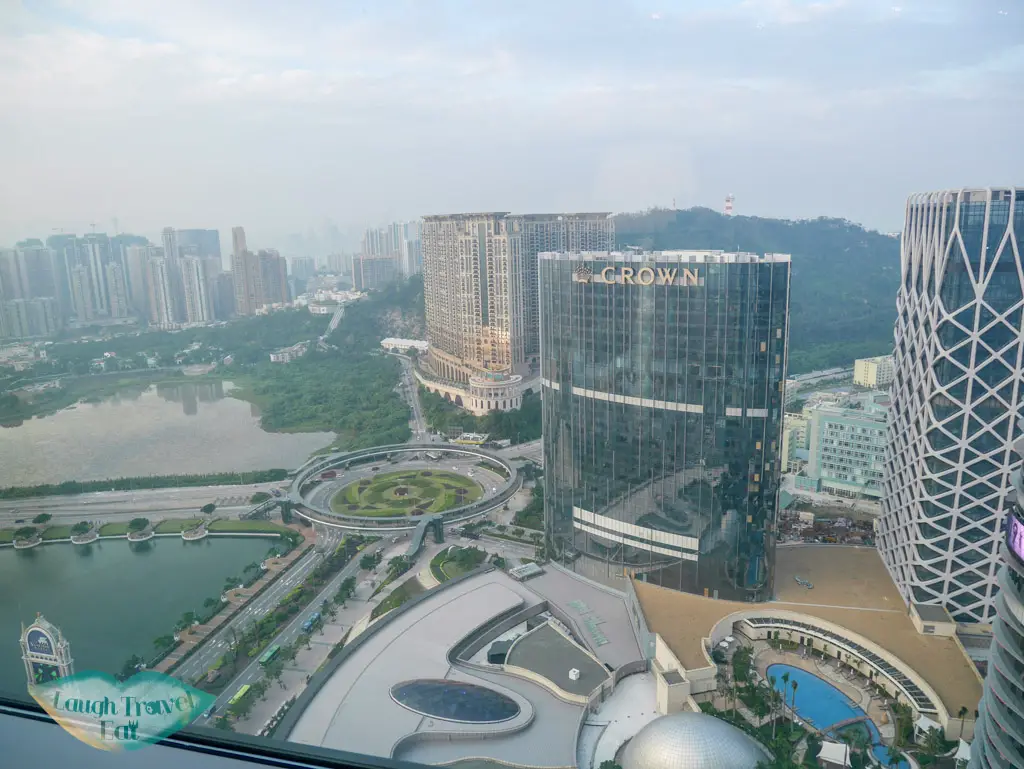 As a geologist, the concept fascinates me and it was eye-opening to hear about the use of minerals and their properties in skin care. Gemology's use of gemstones is based on their naturally occurring trace element content as well as their lack of contamination whether it's used as a powder, extract or stones. Diamond happens to be an excellent anti-aging product, which is what this facial focused on: making you look less aged and tired from the city life. You can find more about the Diamond line here.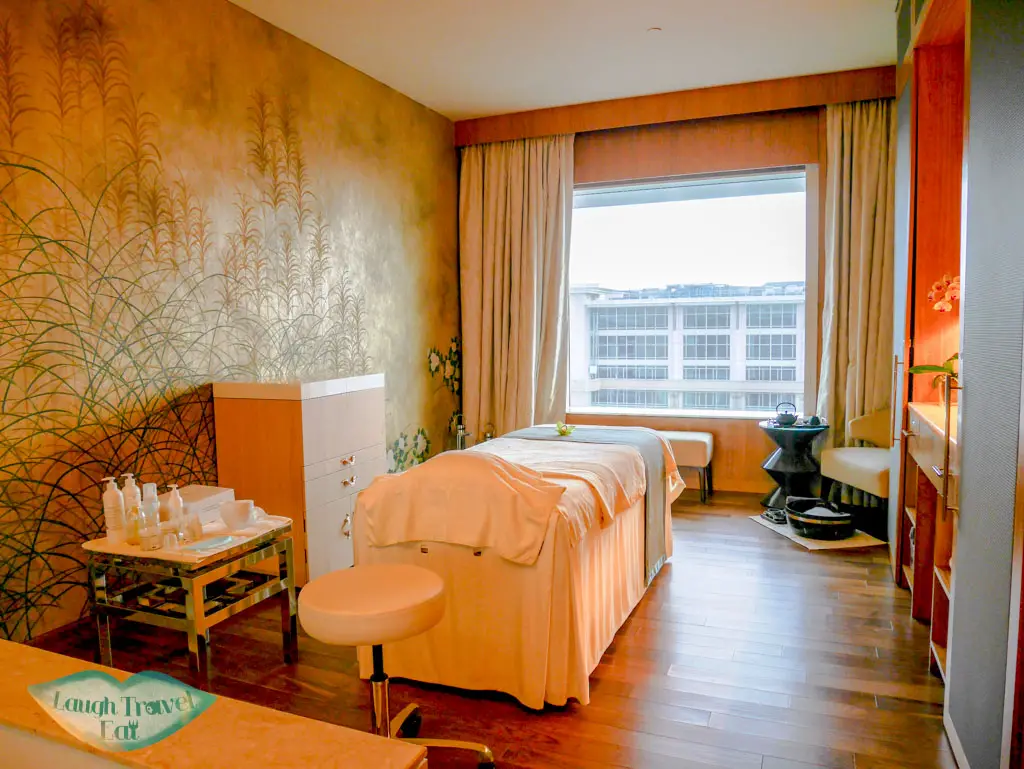 The Iridium Spa is located on the 38th floor of St Regis Hotel and its lobby offers an unparalleled view of the surrounding. I could even vaguely make out the Grand Lisboa on Macau Mainland. The relaxing vibe inside the spa was perfect to a tee. I was able to get changed in the bathroom and they have a safe for valuables. And here's a recap of my 80 minutes facial experience:
They start by removing makeup from my face, a gentle product that's suitable for eye makeup. A moisturizer was then applied to make scrubbing more effective.
The scrub is a creamy number that contains Jojoba beads with pearls bits to exfoliate, a sensitive skin option with no beads also available.
A foam cleanser with white quartz and moonstone is then used to double cleanse the skin and a lotion is used to make sure all scrubs are gone.
The mask is then applied and the stone massage on the hands and shoulders began. They use a lovely dry essential oil to massage the neck and shoulder which has a mix of 20+ extracts and herbs including cinnamon, vanilla, and sandalwood.
Three different stone shapes were used: rolls, cushions and pear shape (for eyes). They also have a pointy stone specific for the diamond facial to target antiaging. The stones are made of quartz and jade, heated before use and provide a lovely pressure. The facial masks end with a scalp massage before it is removed.

They are not just for show!

After the mask is removed, the Diamond lotion was applied. It acts as a skincare primer for the diamond eye cream and serum. The former contains diamond powder, tourmaline and some iron as anti-irritant. The serum contains black hematite and diamond which is good for reducing wrinkles. The final product applied is the Youth Diamond Cream with a lovely orchid fragrant.
You can find the full information about the Diamond Experience here.
Cost: 2,200 MOP (discounted from 3,570 MOP) with a 1,200 MOP goodies bag
Alternatively, they also offer a stay rejuvenated package with other spa treatments.
The St Regis Hotel Macao
Located opposite Venetian on the Cotai Strip, the St Regis Hotel isn't as eye-catching as the Venetian or the Parisian, but its charm is in its quiet exquisiteness.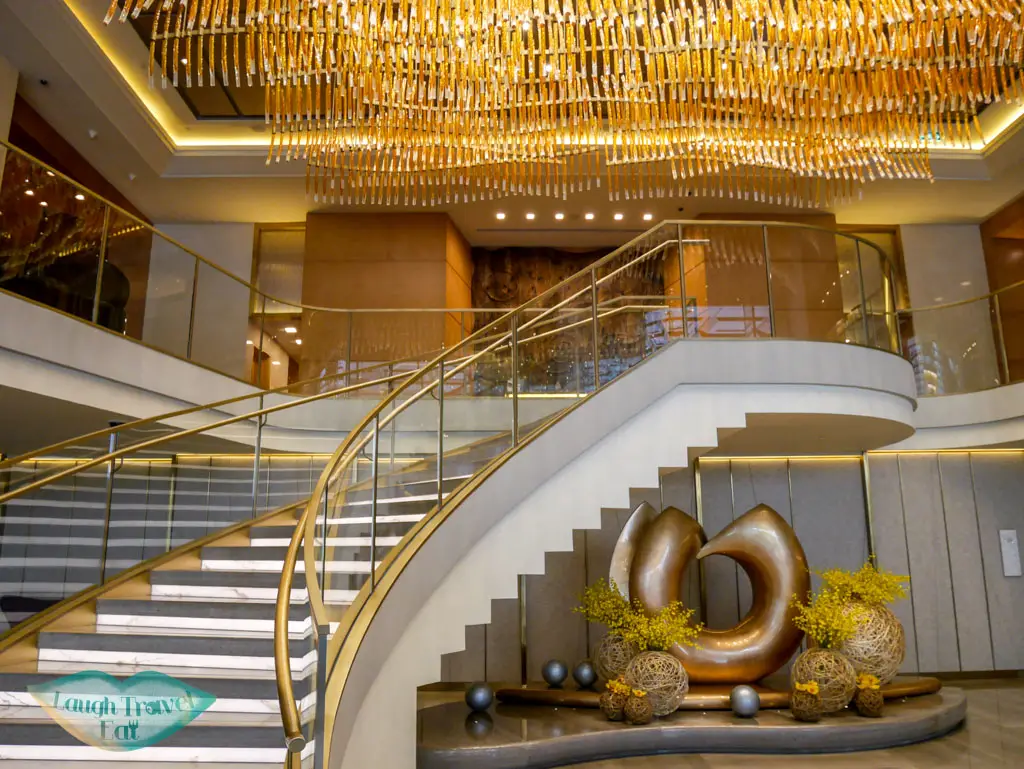 The lobby has a stunning staircase with wave-like orange glass dangling down. The hotel oozes a modern luxury with a twist of royal with its blue and gold carpeting.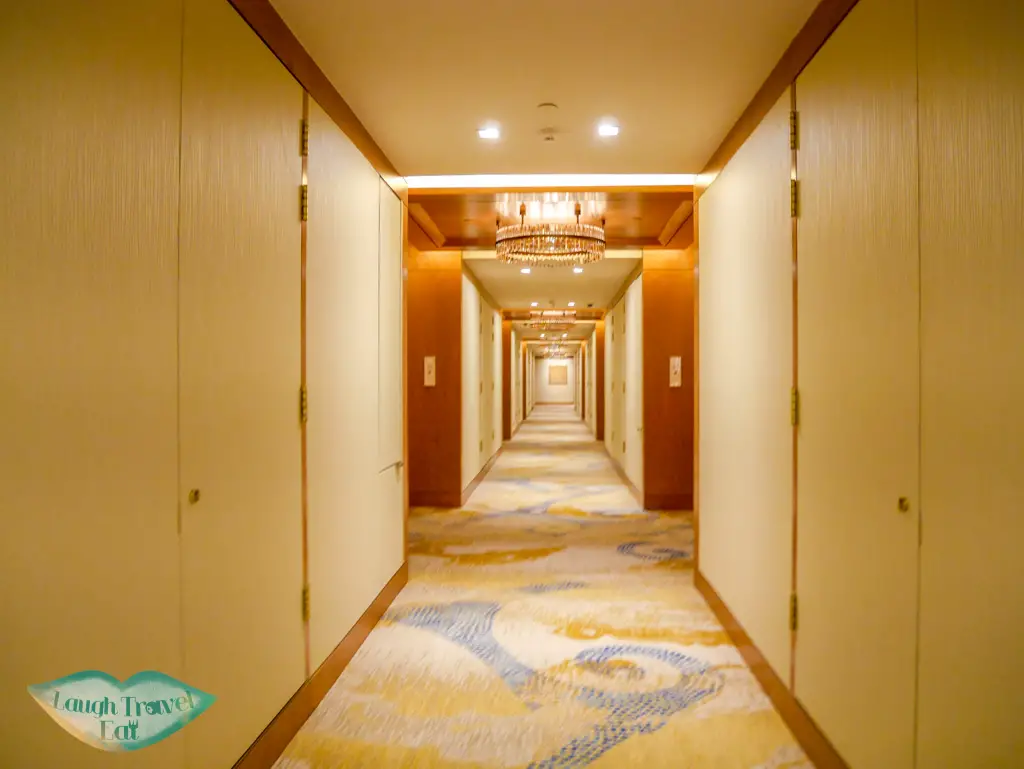 The view of the rooms facing the Cotai Strip is unrivaled too.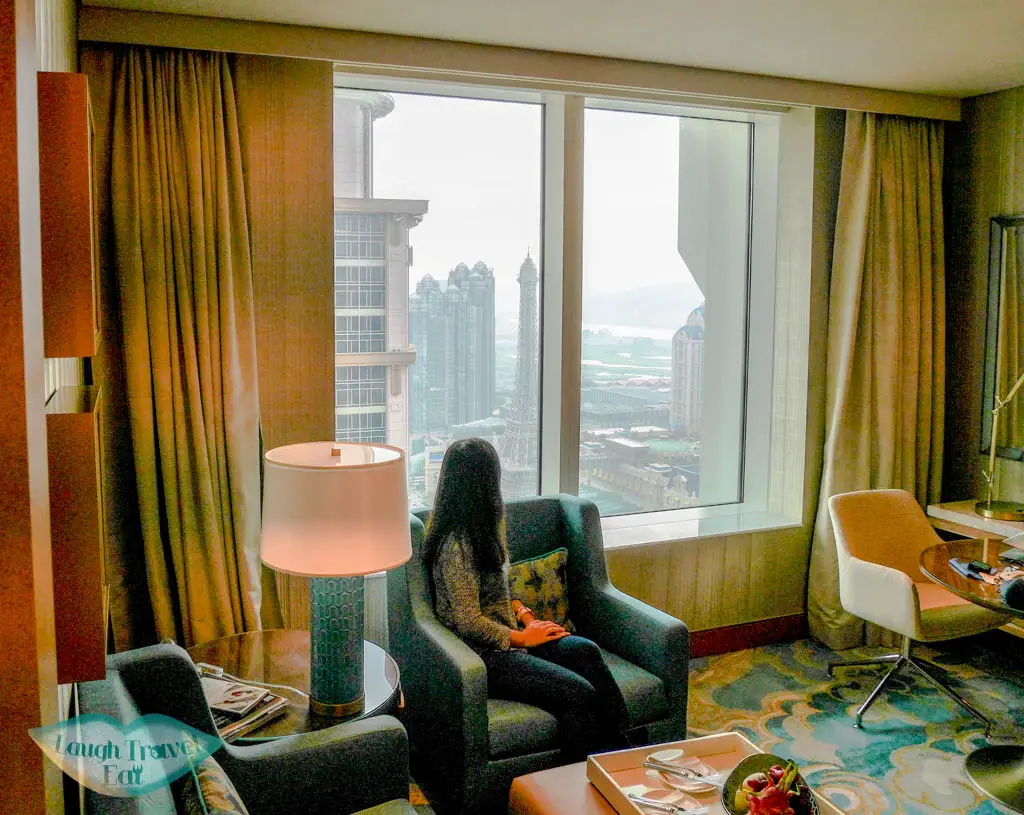 The rooms are spacious, clean and beautiful. There were fruits waiting for me and I love the sitting area.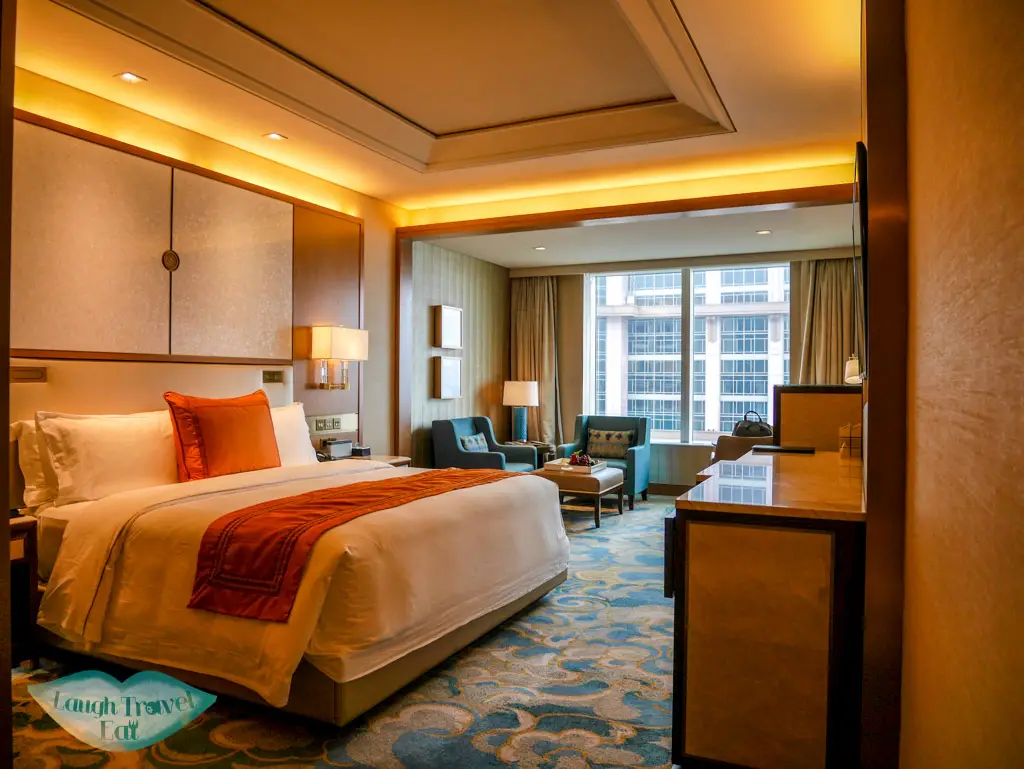 The bathroom's simple white marble décor is elegant and has everything you need.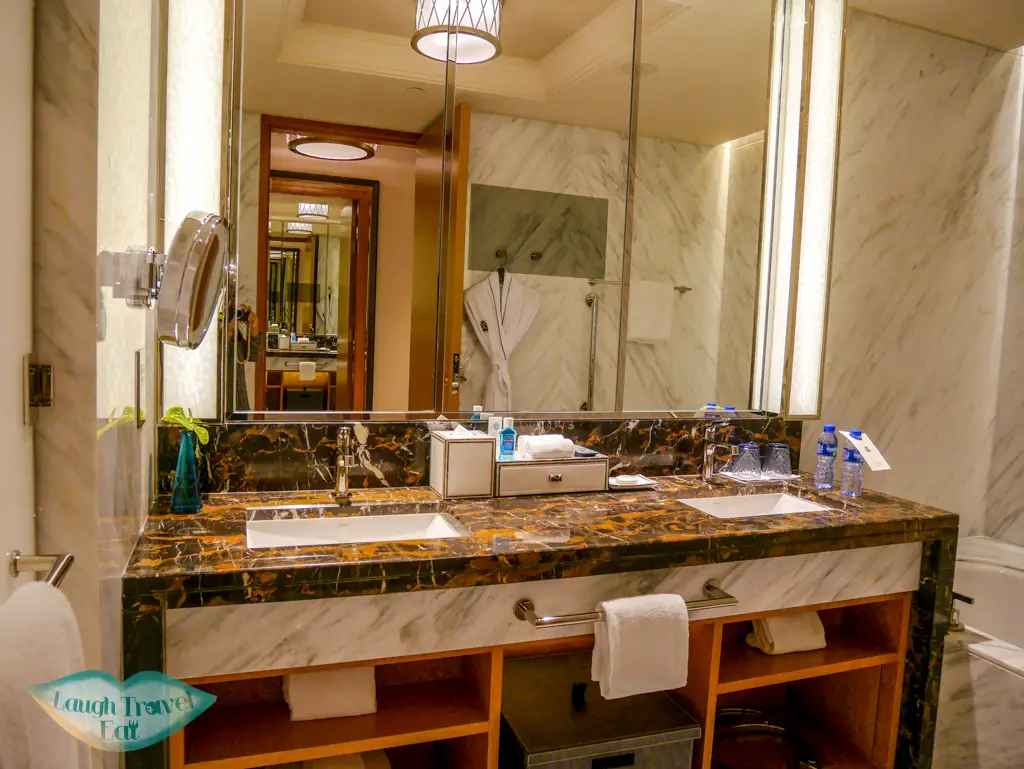 The turndown service for the night was simply ingenious – with the slippers and bed ready to greet you as well as a glass of port and chocolate.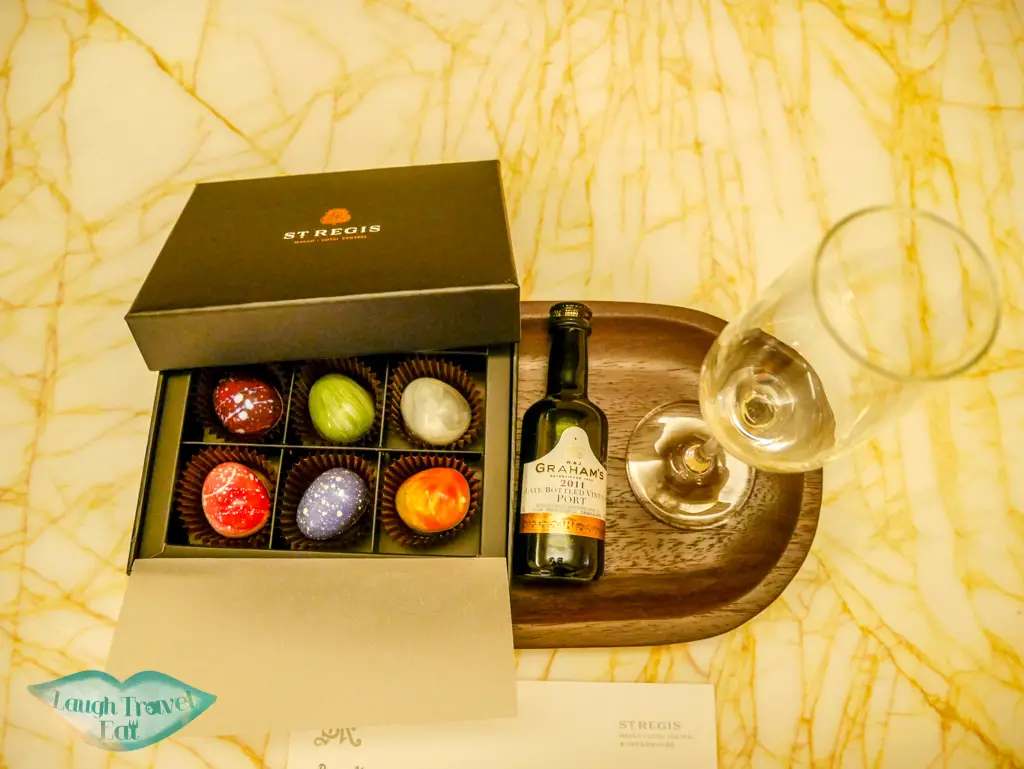 There is a handy phone to use on your travels around Macau and double up as a WiFi hotspot, too.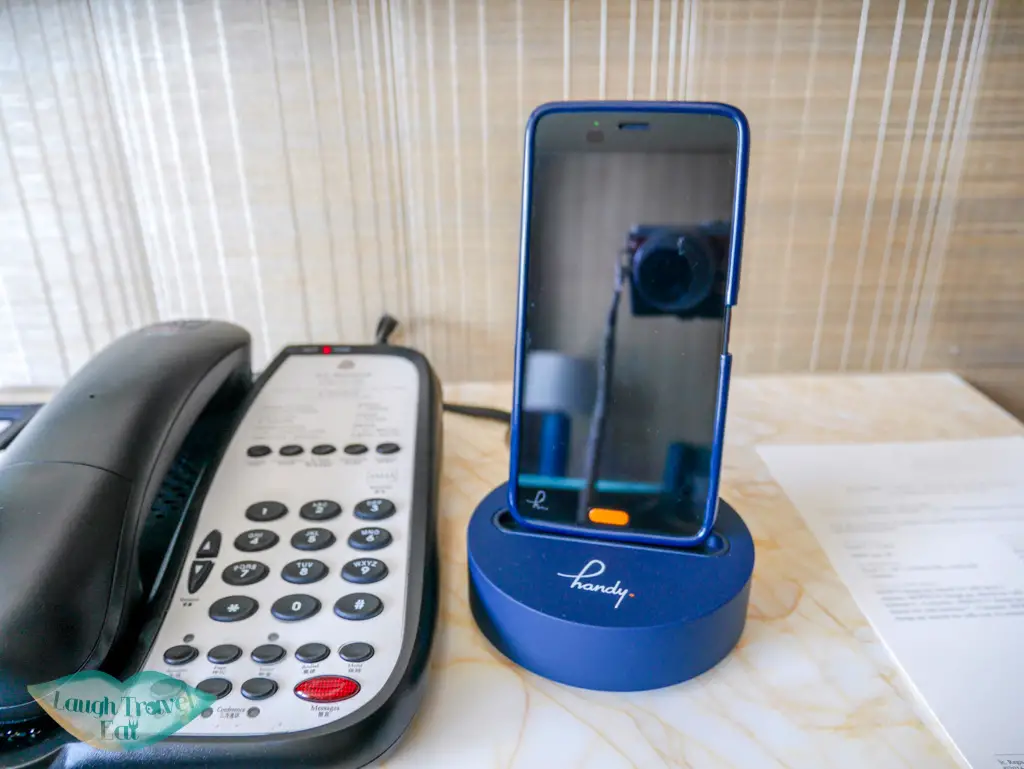 There is also a lovely pool on level 8, but on my visit, it was too cold to go outdoor!
The St Regis Bar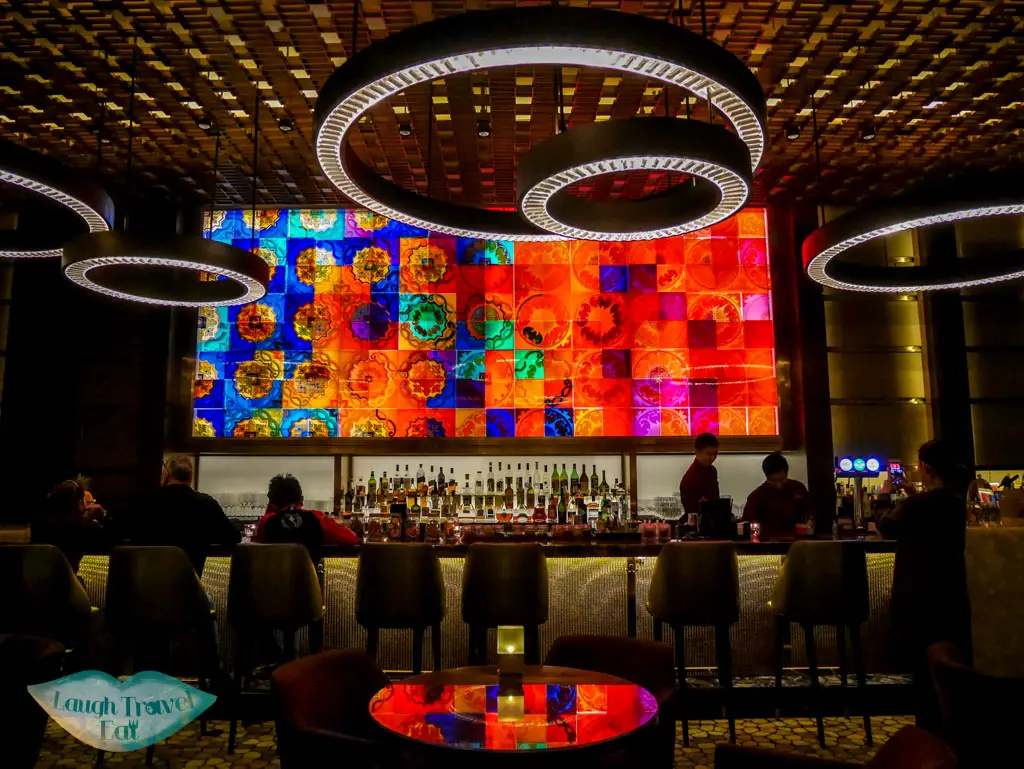 Each St Regis Hotel is home to a St Regis bar, and the wall behind the bar area is a true work of art. Made with countless glass panels stacked over four layers, each hotel has its own iteration and this one in Macao combines its Chinese Heritage and Portuguese history. The red represents the Chinese element, while the blue Portuguese, coming together as green ties in the middle signifying Macao.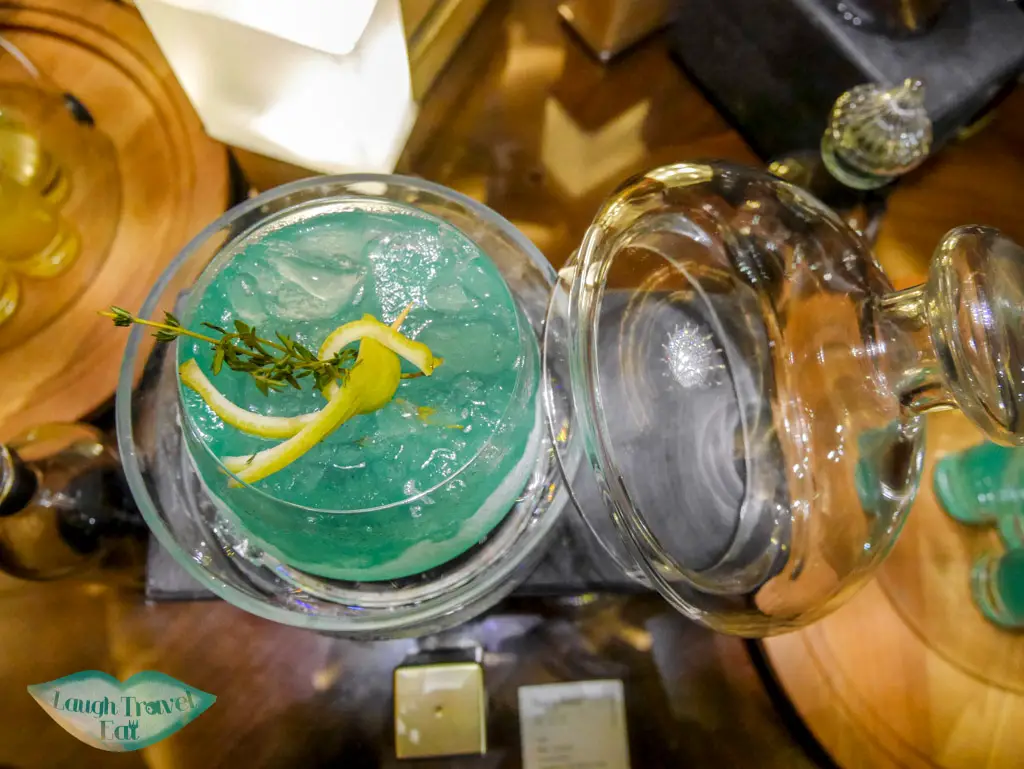 They are most famous for their Bloody Mary, but also have 8 different signature cocktail each season, currently, you can find 8 beautiful gemstone cocktails on offer.
Pssst: you can vote for what the next 8 signatures will be on their Facebook page!
The Manor dinner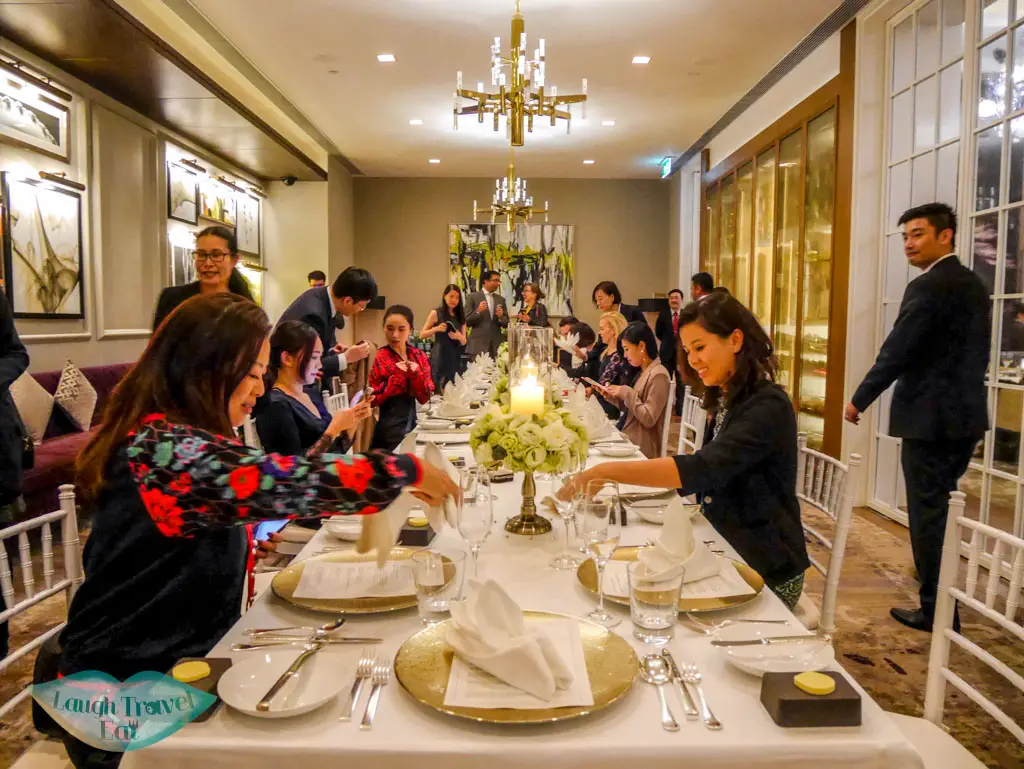 I'm going to be honest and say that I hadn't expected the food to be as amazing as it was at the Manor. If you are planning on getting married somewhere, St Regis might just be a perfect choice because I genuinely thought it's a wedding setup when I walked in.
We were treated to delicious arrays of Portuguese food such as Duck Rice and Lobster Rice as well as the best Wagyu Beef I've ever eaten in a long time.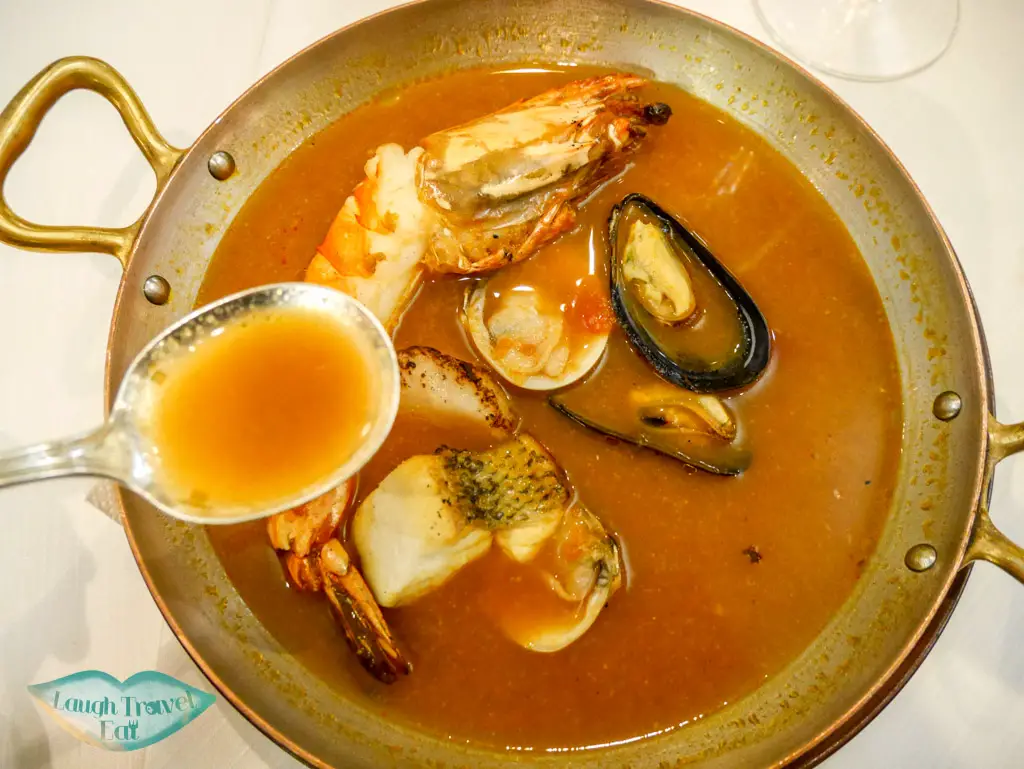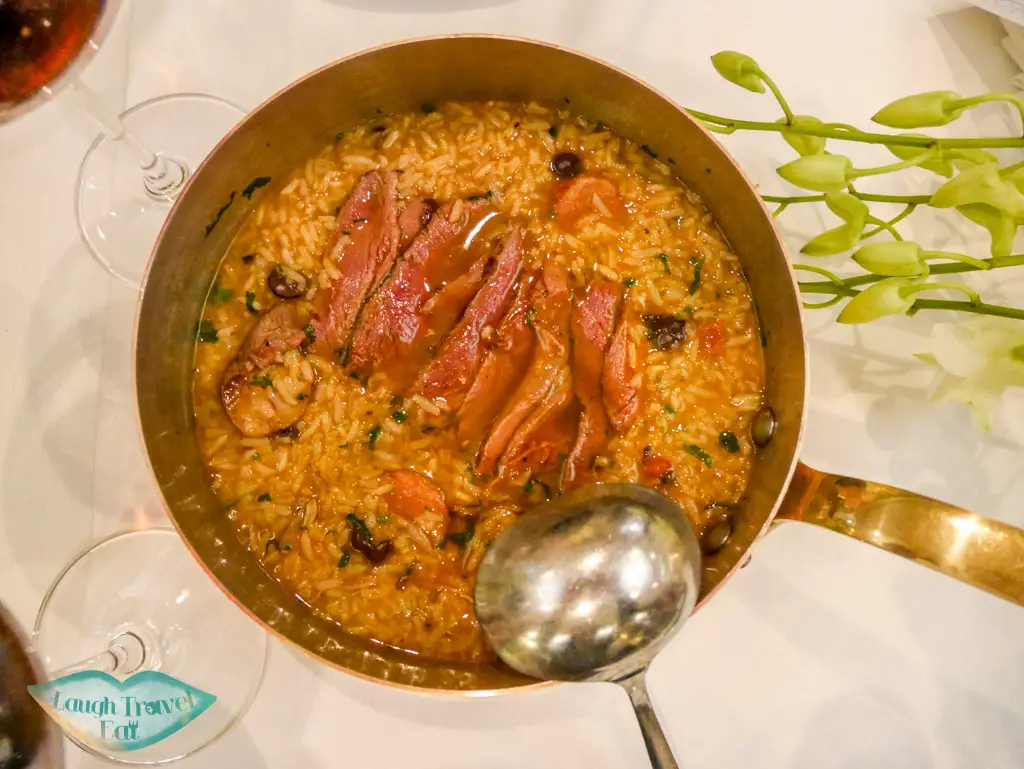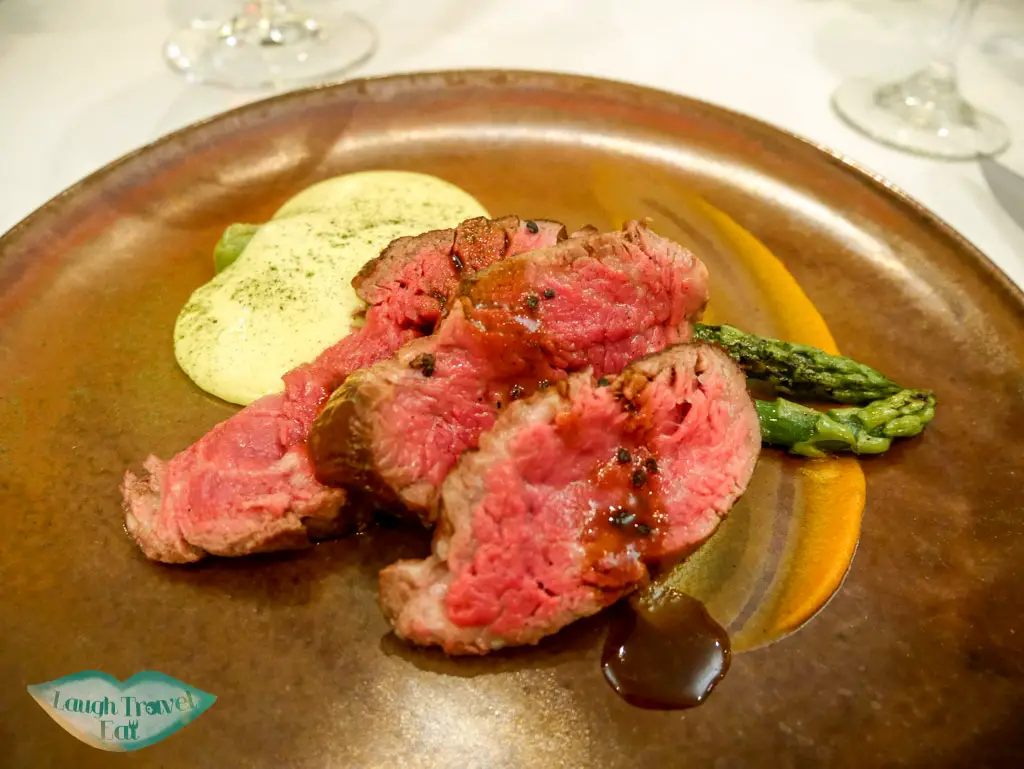 And oyster. Did I mention oysters?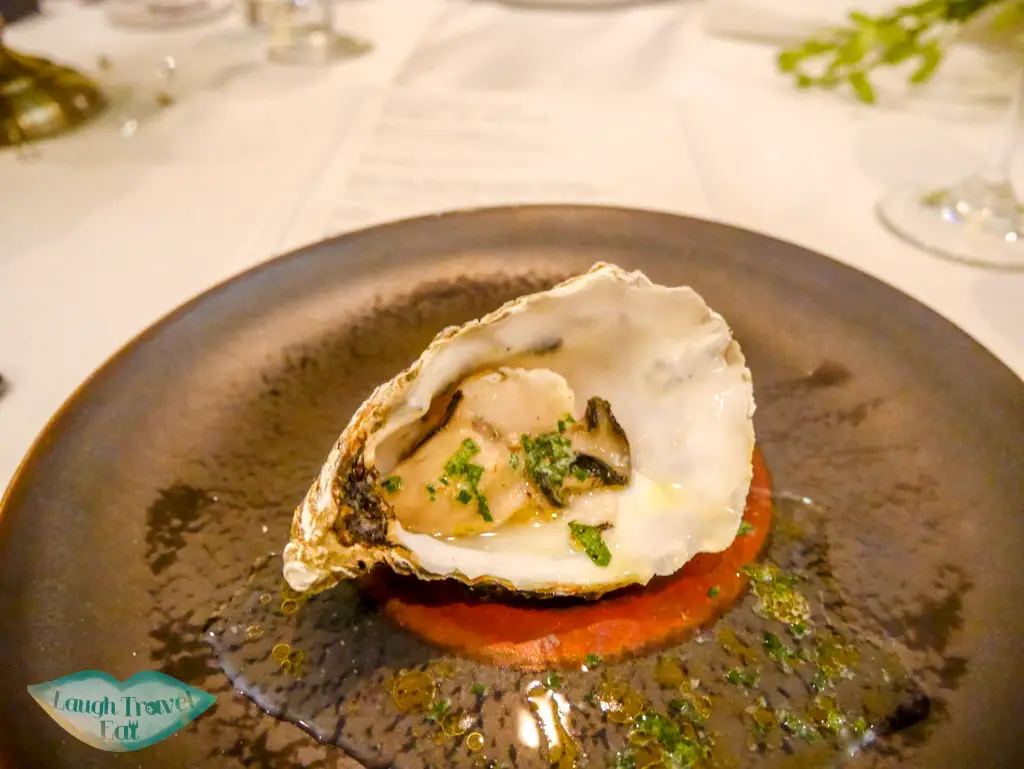 The cheesecake was also 4 times the size that I'm used to in restaurant of this caliber.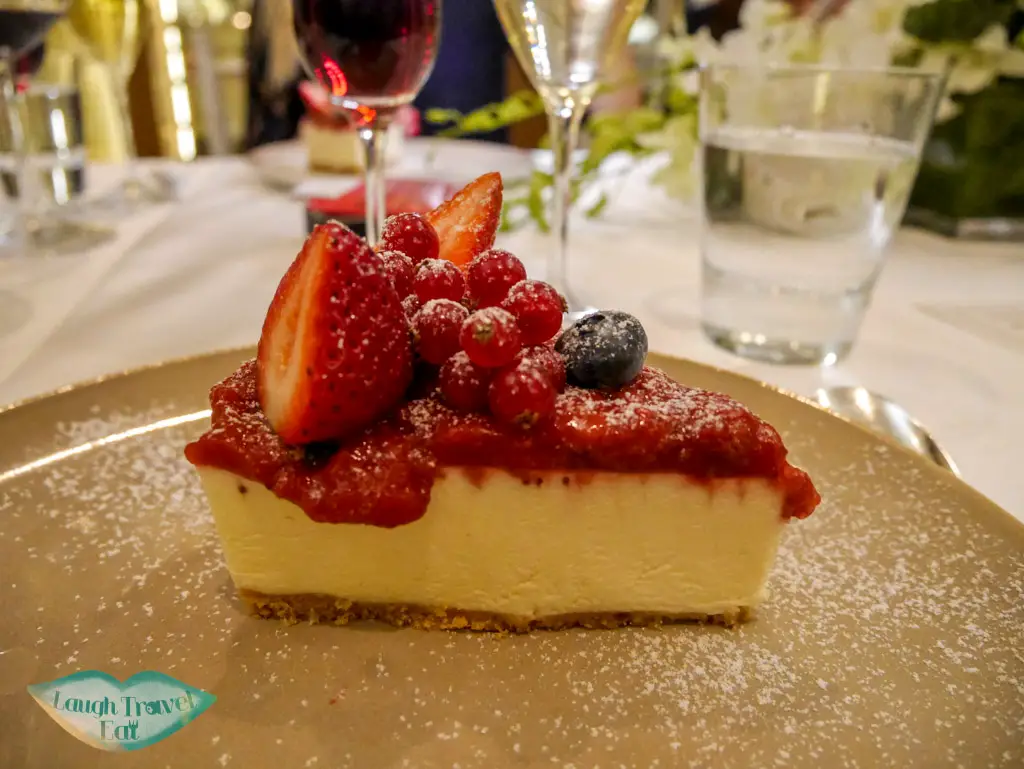 I was kind of full when we had the seafood broth but everything was so good that I ate them all. What's even more amazing is that they have a female head chef, the brilliant Mandy.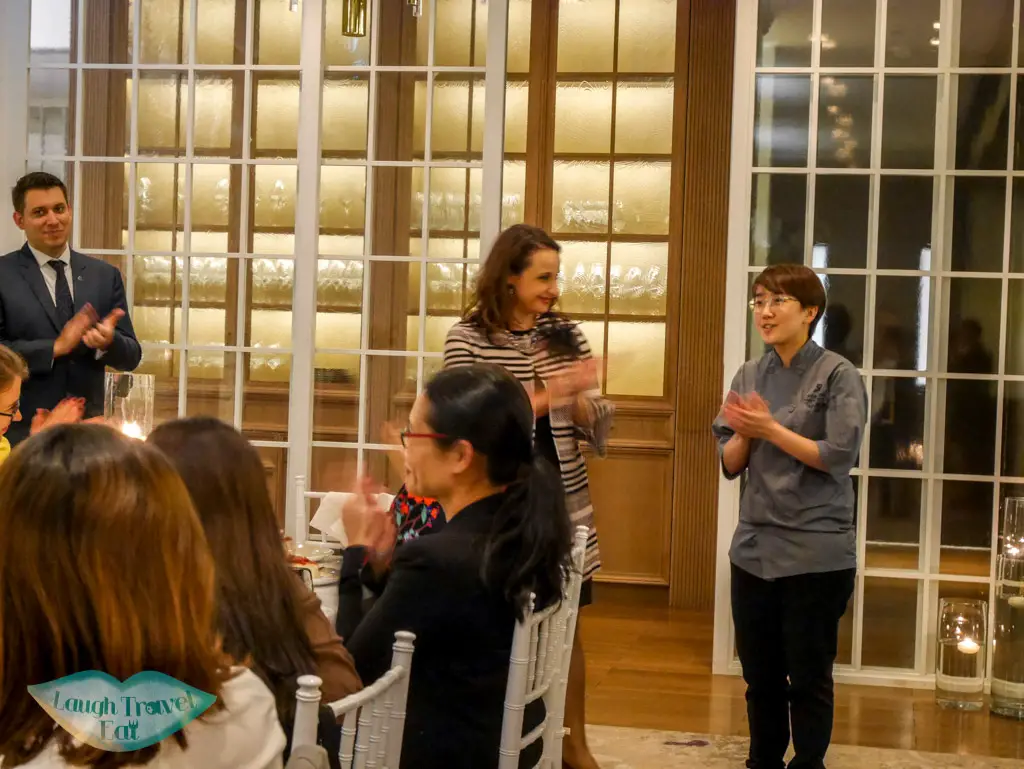 It's not often to find a Chinese female head chef around here so it's even more precious.
The St Regis Breakfast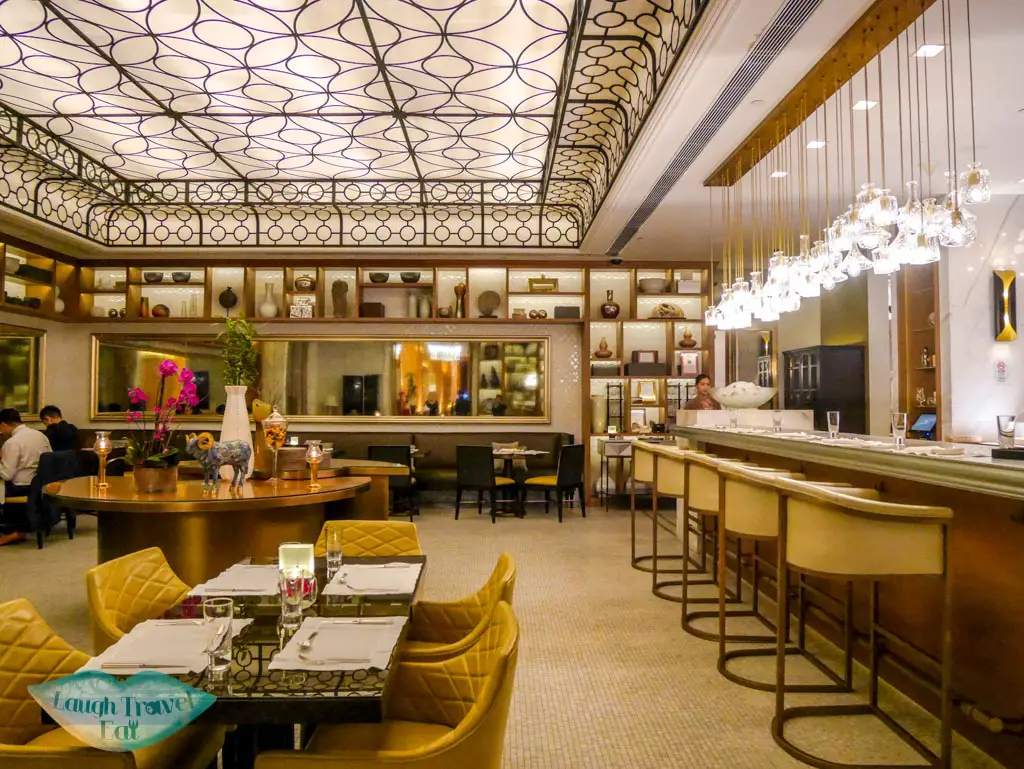 I'm not going to lie, I woke up pretty full from dinner but the breakfast spread is truly impressive. It's even better than most of the buffets I've been to in Hong Kong and those were for lunch and dinner.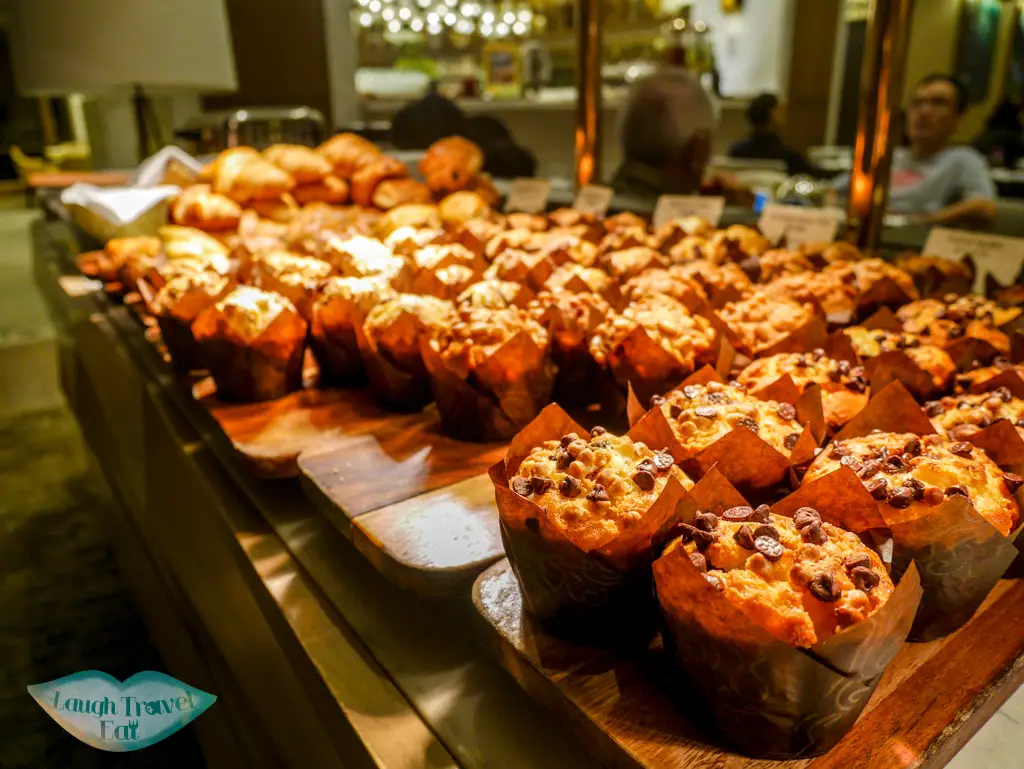 You have the quintessential egg station as well as a Chinese beef brisket or wonton noodle bar, a decent selection of pastries and muffins as well as congee and yogurt.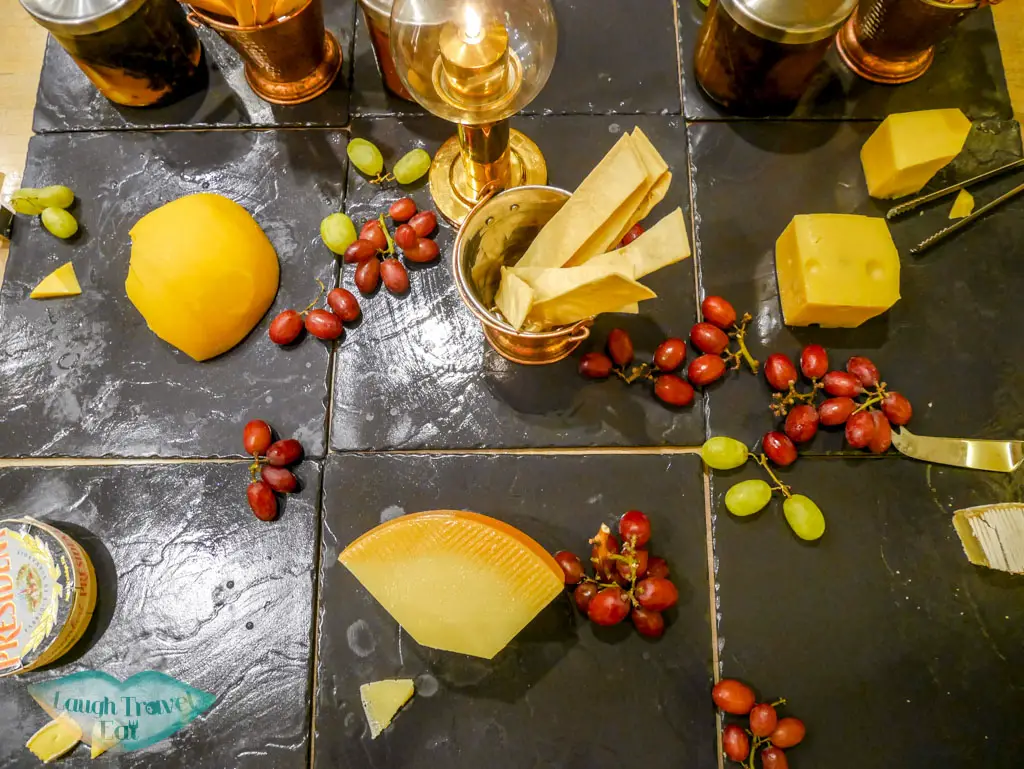 But St Regis didn't stop there. There is also a juice bar with carrot, guava, pineapple juice and more! There is also a cheese table (love!), a sweet pastries and cakes section as well as some sushi and cold noodles. Despite not being that hungry, I had 3 people's worth of food. No regrets.
Things to do around Taipa
For a 48 hours guide to Macau, you can see my post here. St Regis is located on the Cotai Strip near Taipa, and it's only a 10 minutes' walk to the historic town. The following suggestions are made with a 2 days itinerary in mind with a focus on enjoying the hotel. Because really, it's too amazing.
This really cool circular bridge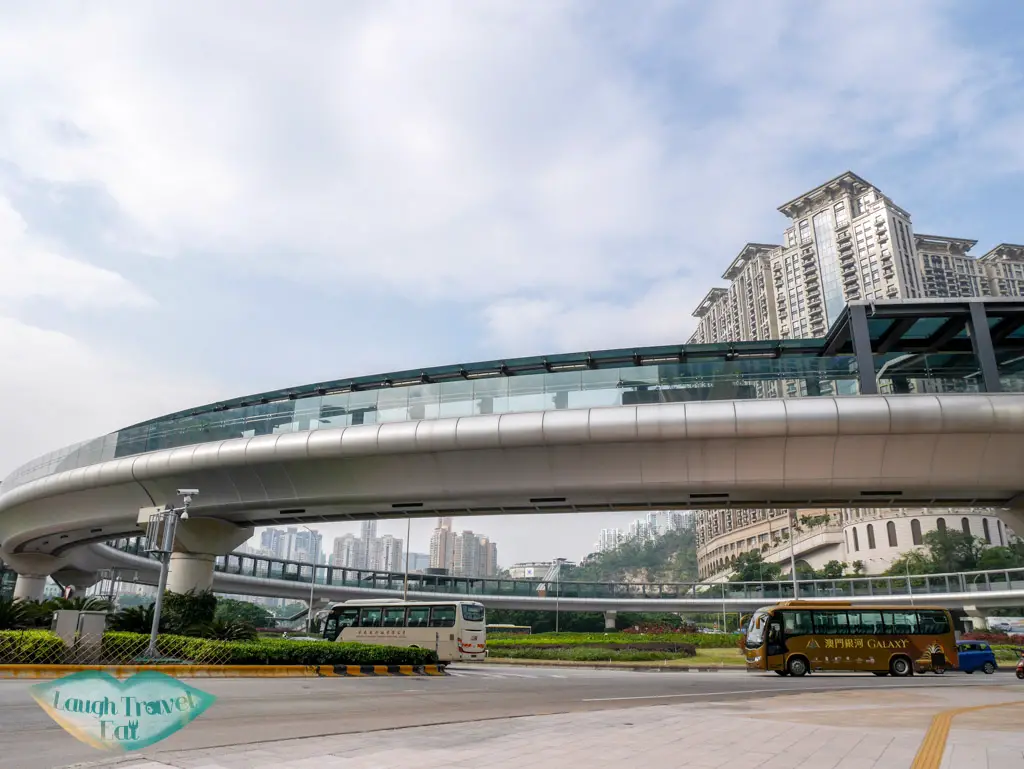 Straddling the roundabout at the end of the Cotai Strip is a circular pedestrian bridge. I didn't encounter many people making use of it but the bridge offers an excellent view of the hotels on the strip and is very pretty in itself.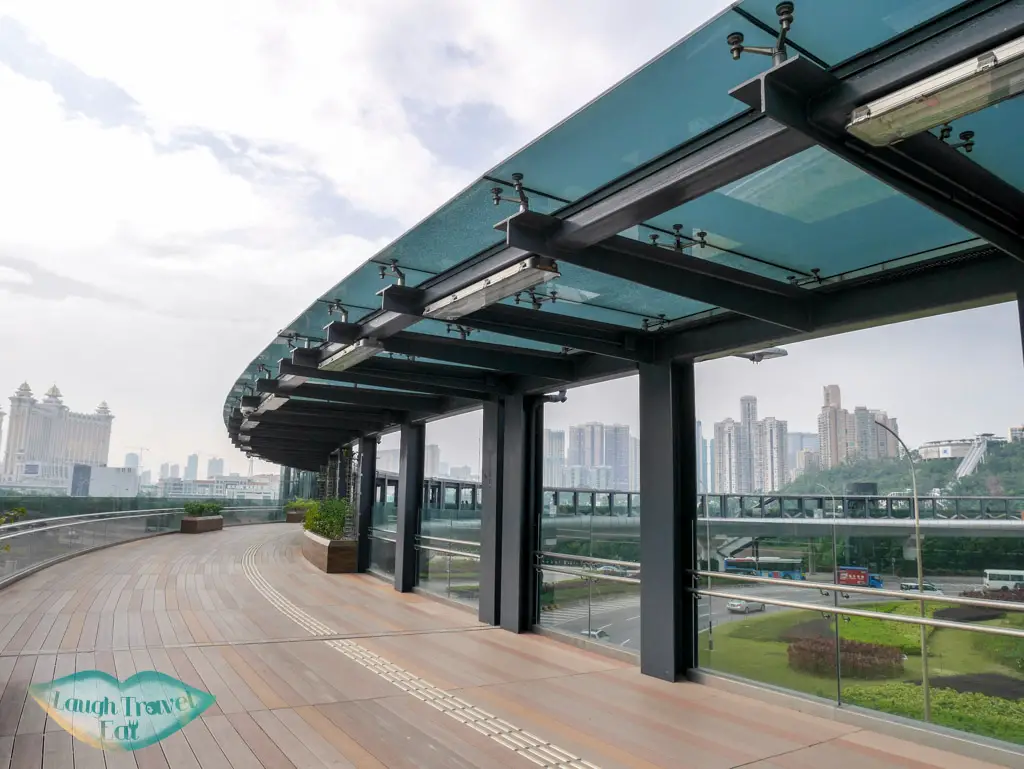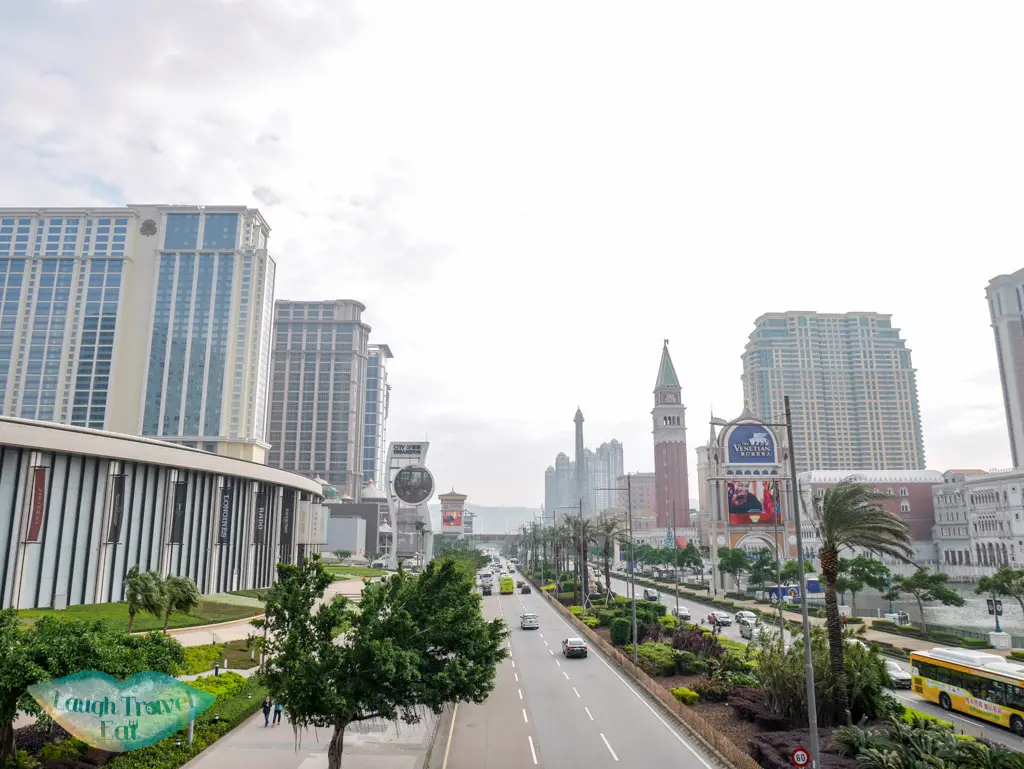 It's also en-route from St Regis to Taipa, so you'll pass it anyway!
Terras Humidas da Baia de Nossa Senhora da Esperanca 望德聖母灣濕地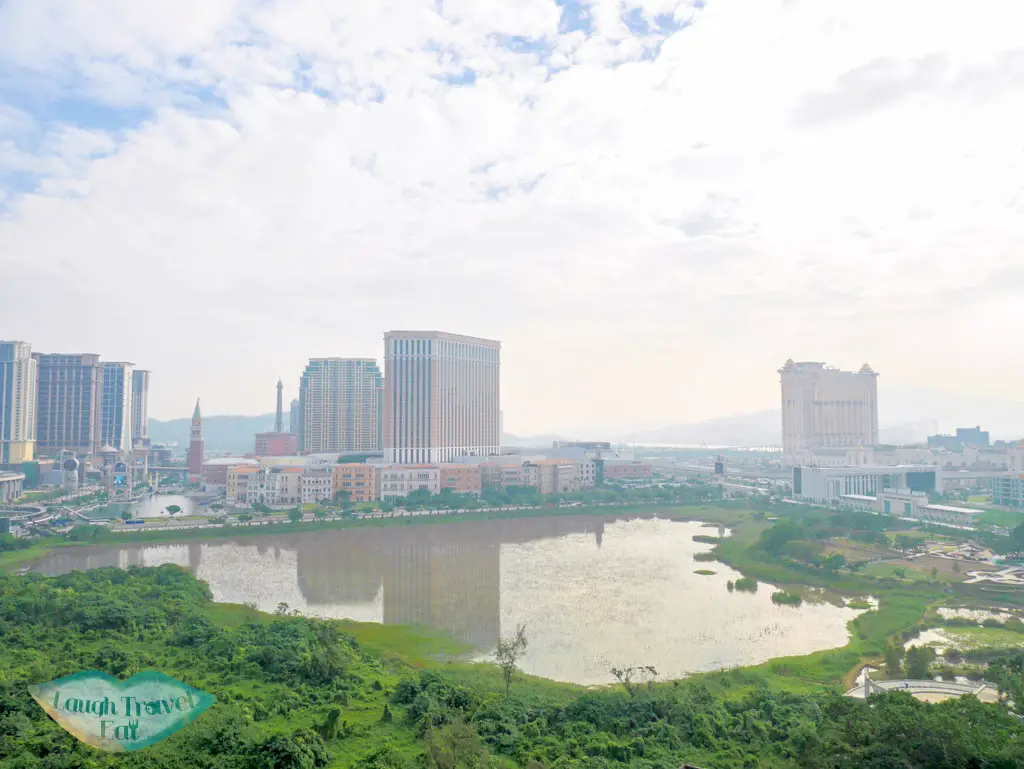 Don't be alarmed by its long Portuguese name, this is actually a protected wetland park. With an area of 115,308 square meters, it is home to over 30 species of birds as well as fireflies.
Casas – Museu da Taipa 龍環葡韻住宅博物館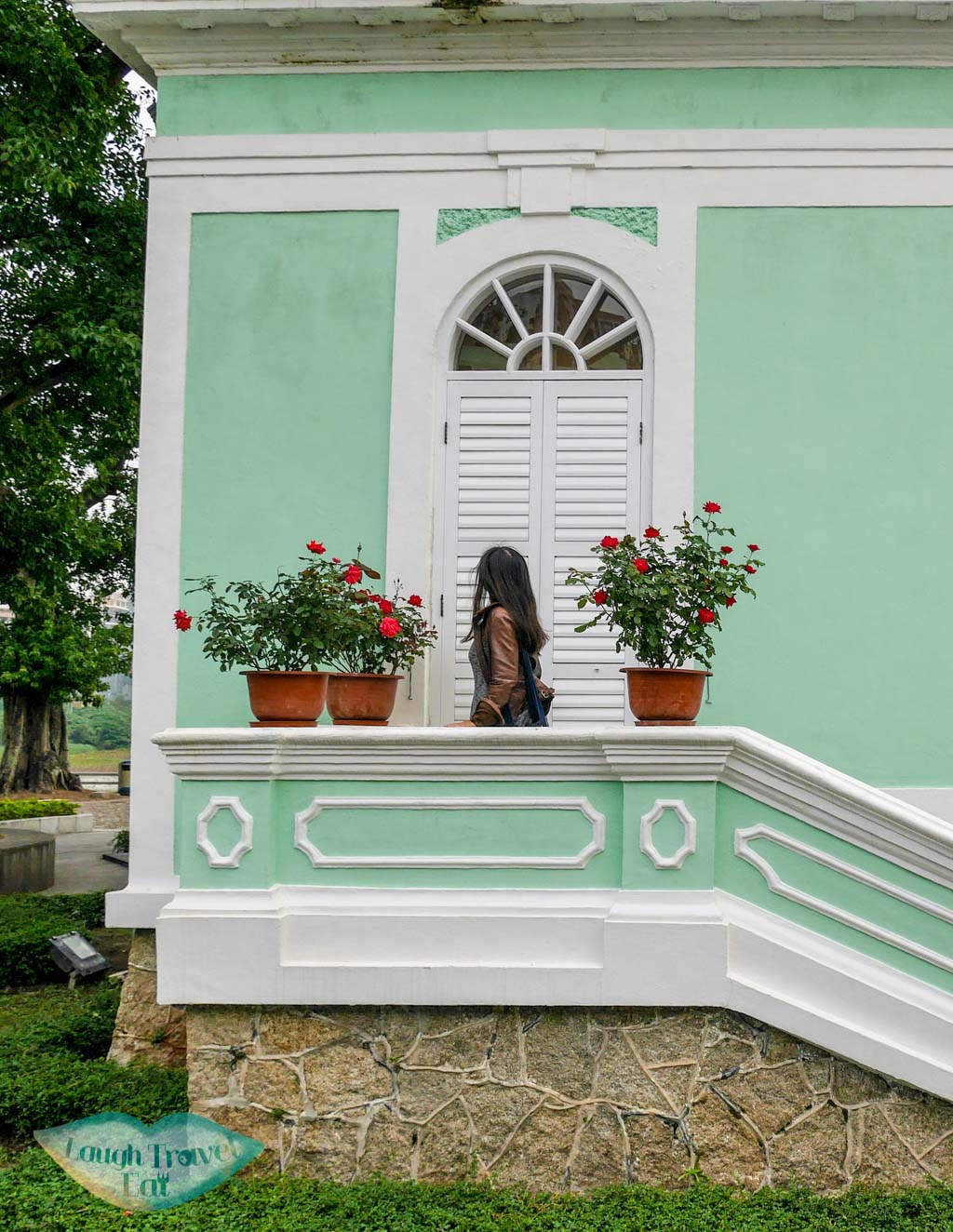 Opened in 1999, this is a unique museum consist of five traditional Portuguese home. The houses were built in the 1920s and face the wetland. It is now a popular photo spot!
Taipa Grande 氹仔大潭山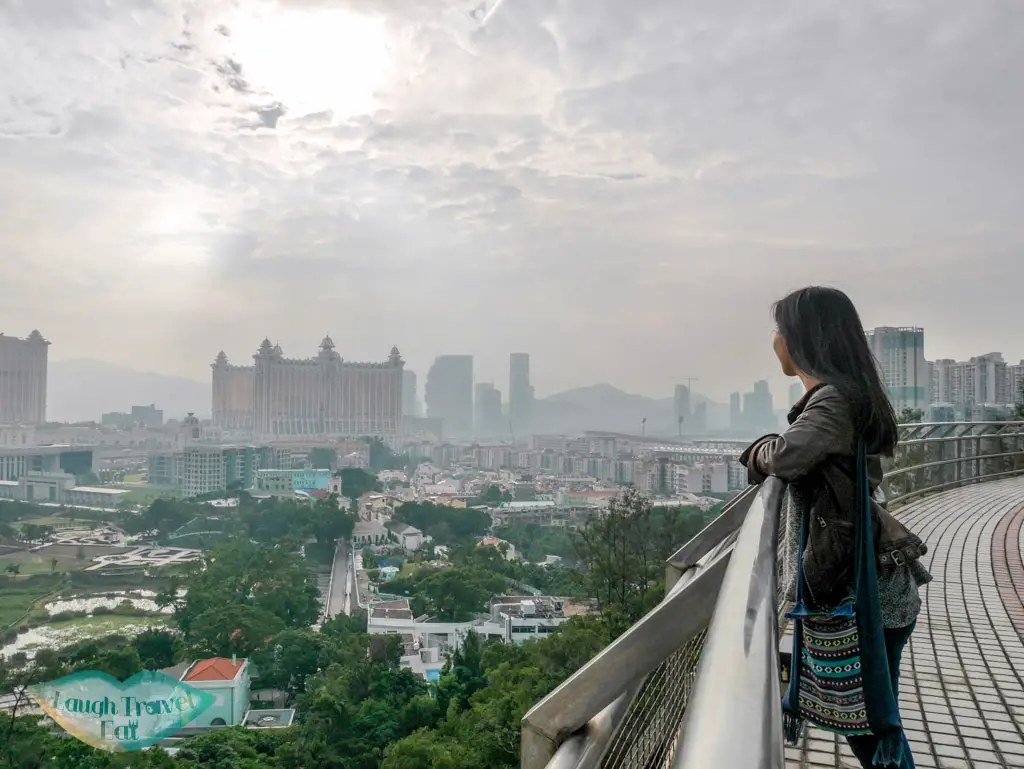 On the way to Taipa from St Regis on Estrada Governador Nobre de Carvalho, you'll find a tram-like elevator that goes up to the Taipa Grande.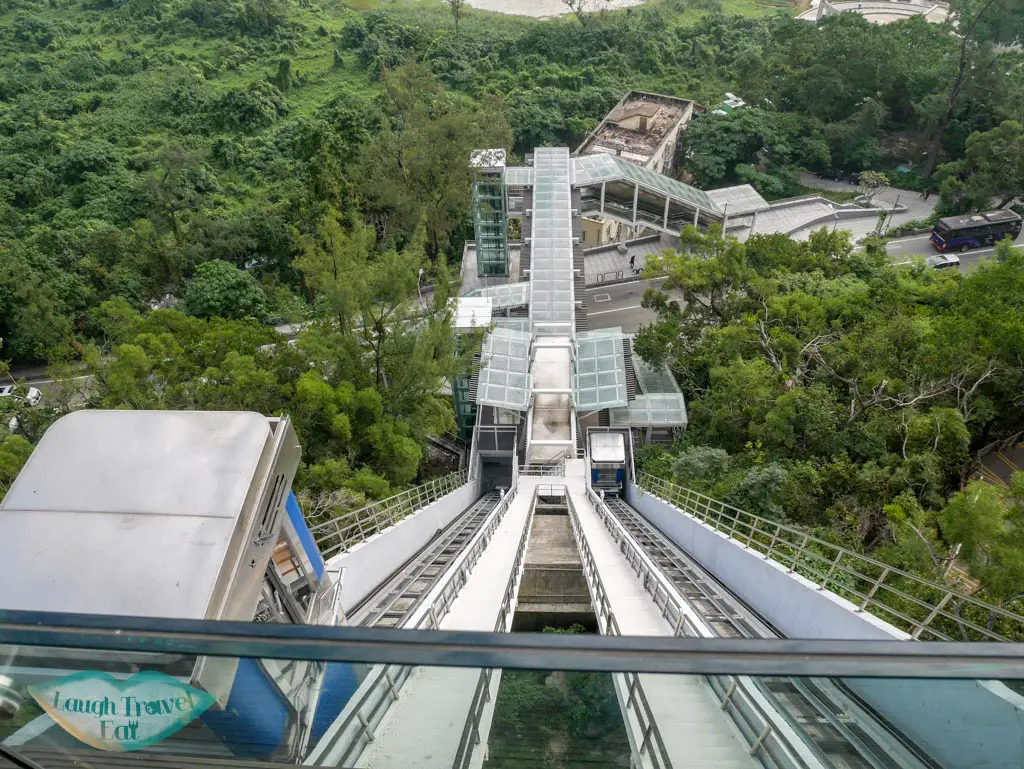 The view of the entire Taipa and Cotai Strip area is spectacular and not to be missed. Did I mention that the elevator is free?
Igreja de Nossa Senhora do Carmo 嘉模聖母堂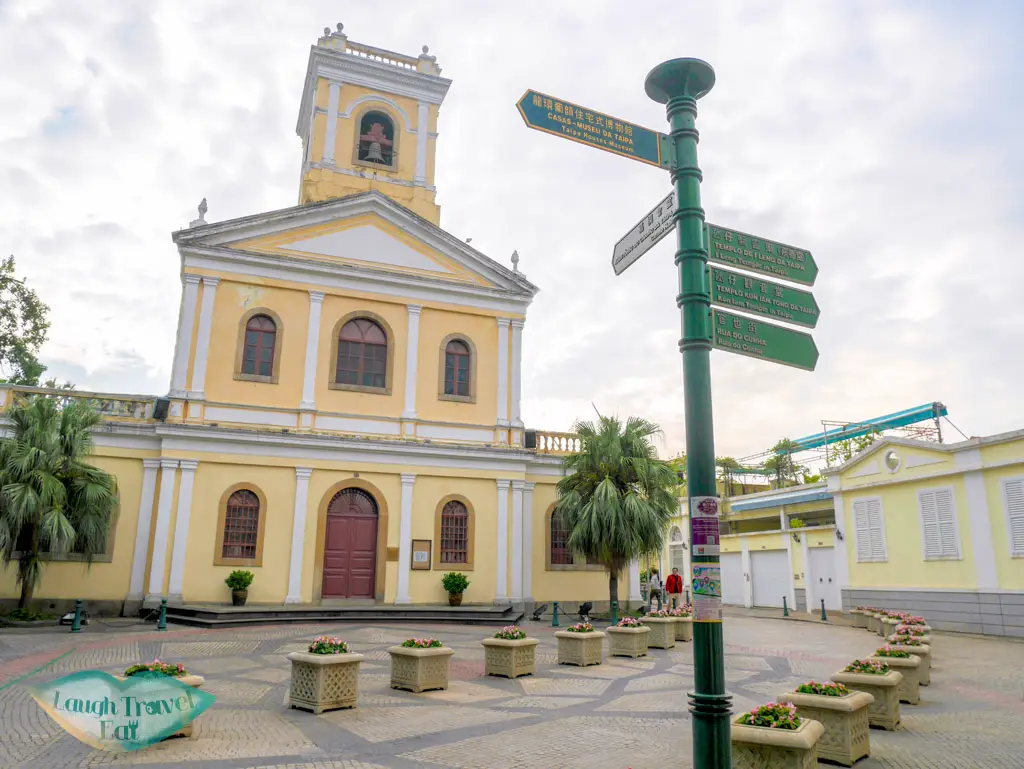 A short walk from the Museum da Taipa on top of a small hill is a scene that looks like it belongs in Europe. The yellow façade of the church and the stone paved road is idyllic, so much so that there were wedding photos taking place!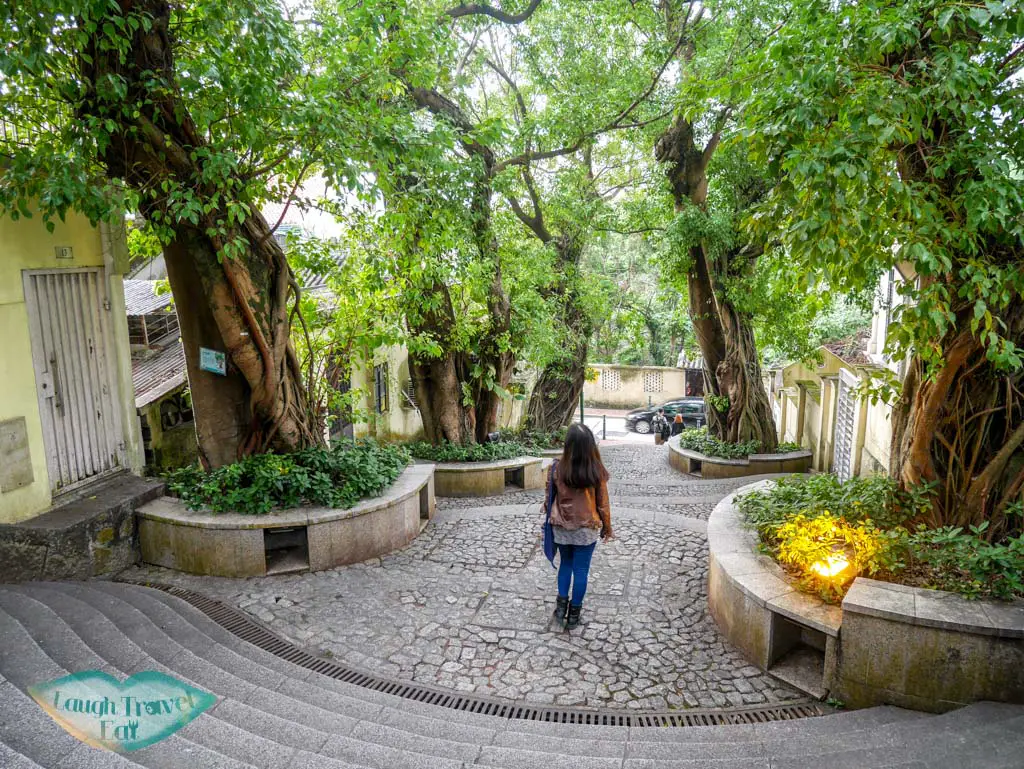 Don't miss the little staircase to the right of the church.
From Hong Kong to Macau
There are frequent ferries between Hong Kong and Macau, mainly operated by Turbojet and Cotai Water Jets. I usually depart from the Kowloon Pier and have only taken the ferry by the latter, and the journey takes about an hour. You can find more information on the ferries in my 48 hours to Macau guide!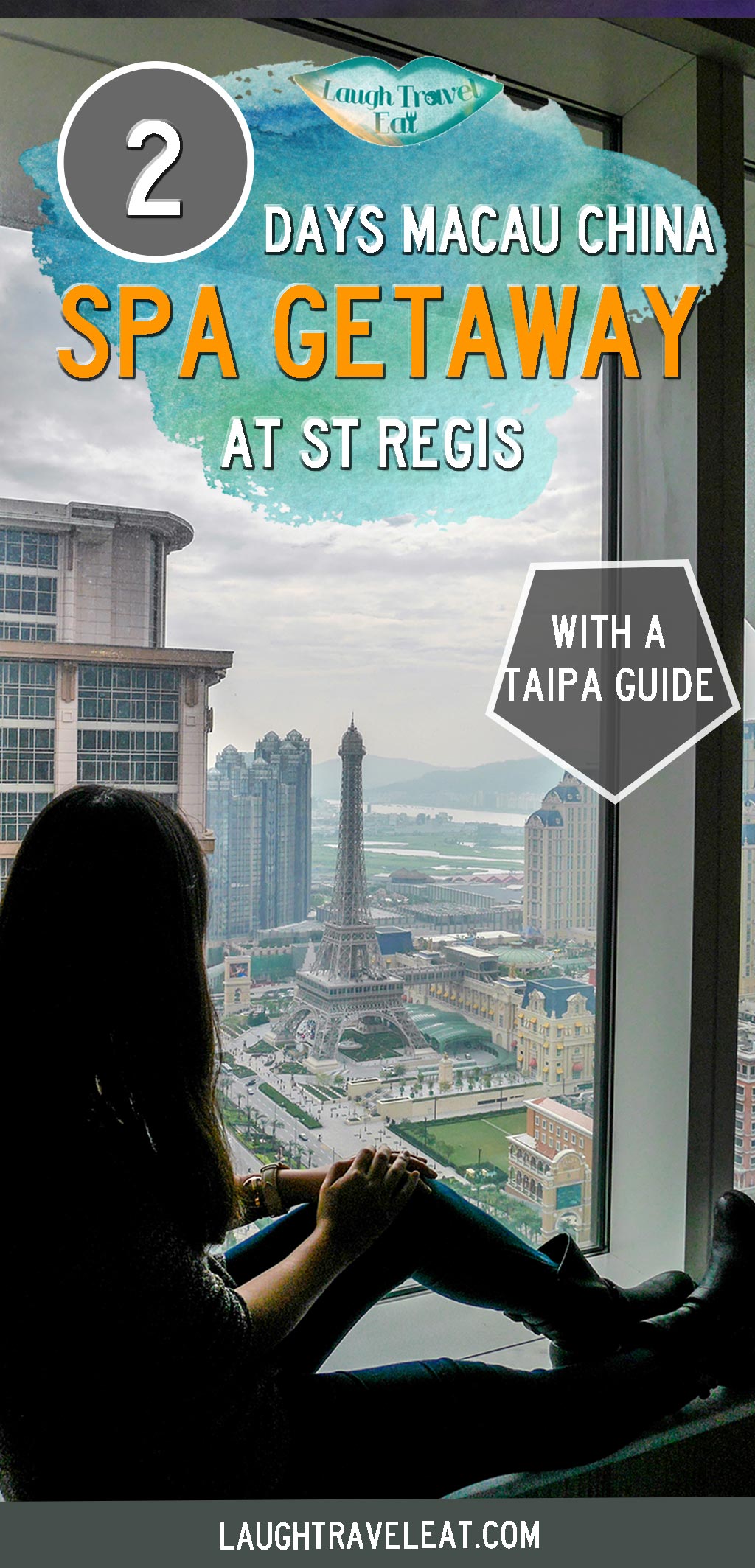 *I was hosted by the St Regis Hotel for the trip but all opinions remains my own