Qingyuan is a city about an hour north of Guangzhou, most well known for its chicken, but also for the beautiful caves and waterfalls. With a new glass bridge that opened in June 2018, Qingyuan makes for a good day trip from Guangzhou or even a two or three days trip from Hong Kong.
The most cost-effective way to go to Qingyuan from Hong Kong is to join a local tour,  and I am here to report back on what there is to see in Qingyuan!
From Hong Kong to Qingyuan
I joined a local tour from Hong Kong to Qingyuan, since it's much cheaper overall with the transport, tickets, and meals. But there are buses that go up from Hong Kong to Qingyuan, too. It would be best to either join a tour from Qingyuan or rent a car.
Check buses from Hong Kong to Qingyuan
Things to do in Qingyuan
The sights are scattered around the prefecture, so most about an hour or so away from the main city. Let's start with my favourite and work our way down:
洞天仙境 Wonderland

Rated as an AAAA attraction by the government, its Chinese name means "Wonderland in the Cave". It is an open top cave with a river running through it, with a riverboat as well as a walking path that goes up near the cave opening. A good way to do it is to walk inside and take the ferry out. Here's a quick walkthrough of the sight: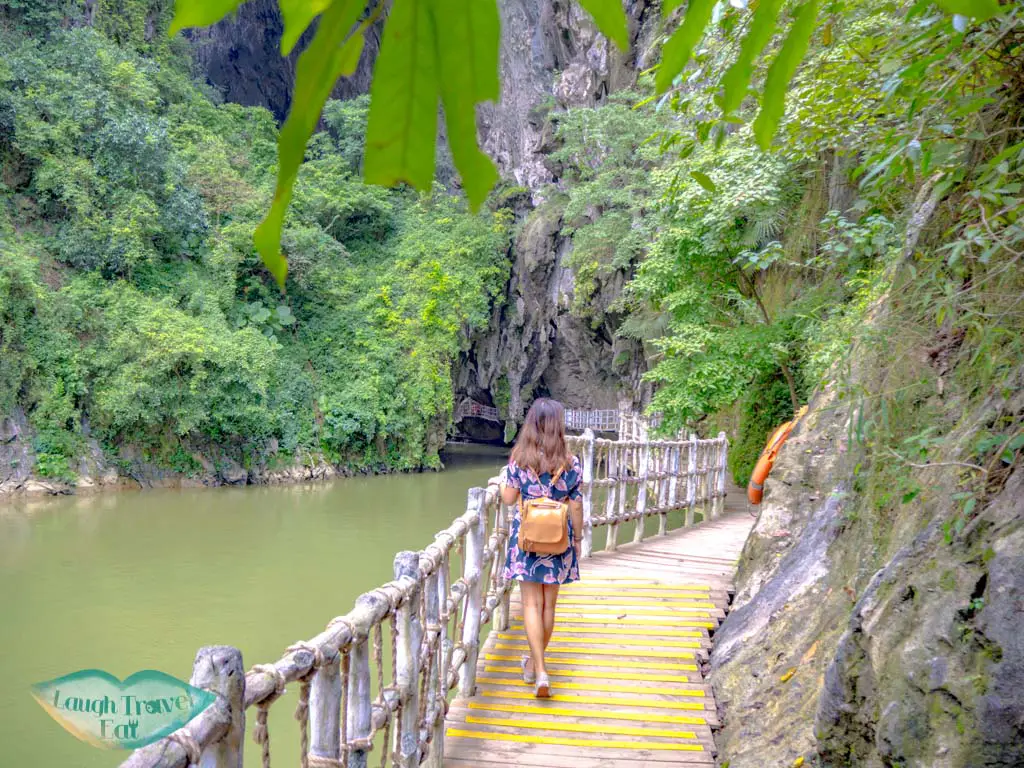 The entrance is pretty standard in China, with a parking lot and ticket barrier. We first went past the outbound ferry terminal and onto the cliff-side walkway. It's perched a few meters above the river, going through the low entrance into the high ceiling open top cave and onto the island inside.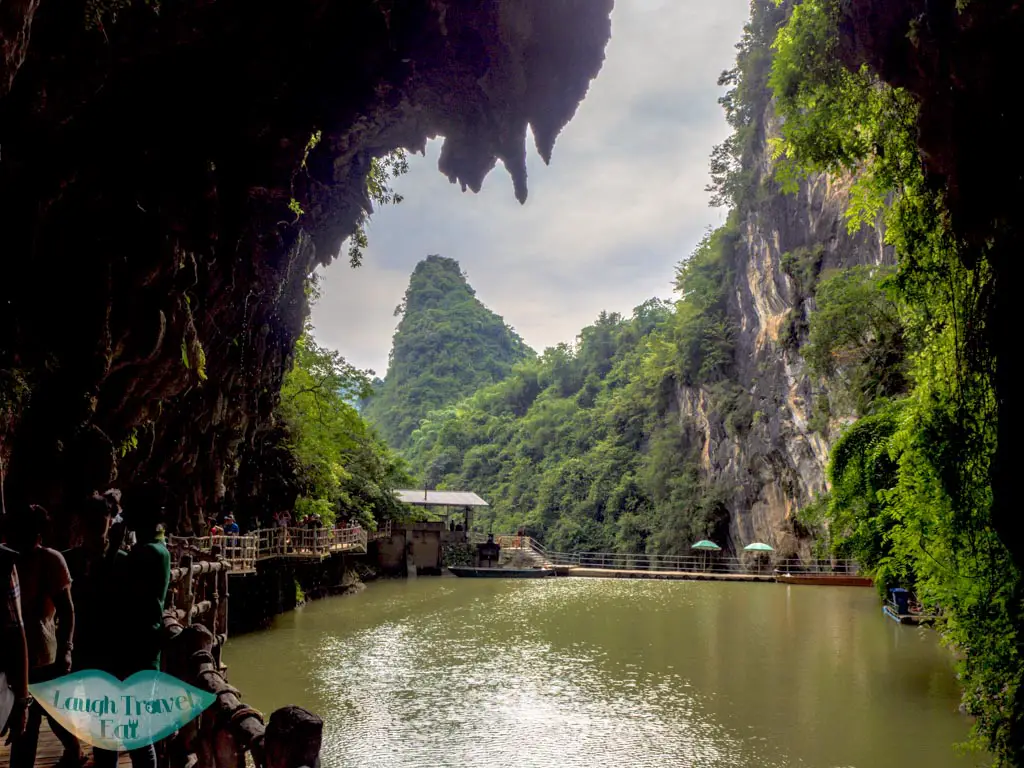 The initial path is relatively easy and well paved, but fairly slippery once you get on the island. There was actually a small village here until the river washed it away.

As a cave, there are naturally some rocks, with the locals naming the different shaped such as a turtle, lady Buddha and lion. It then leads to a 姻緣橋bridge that takes you into another lower cave with.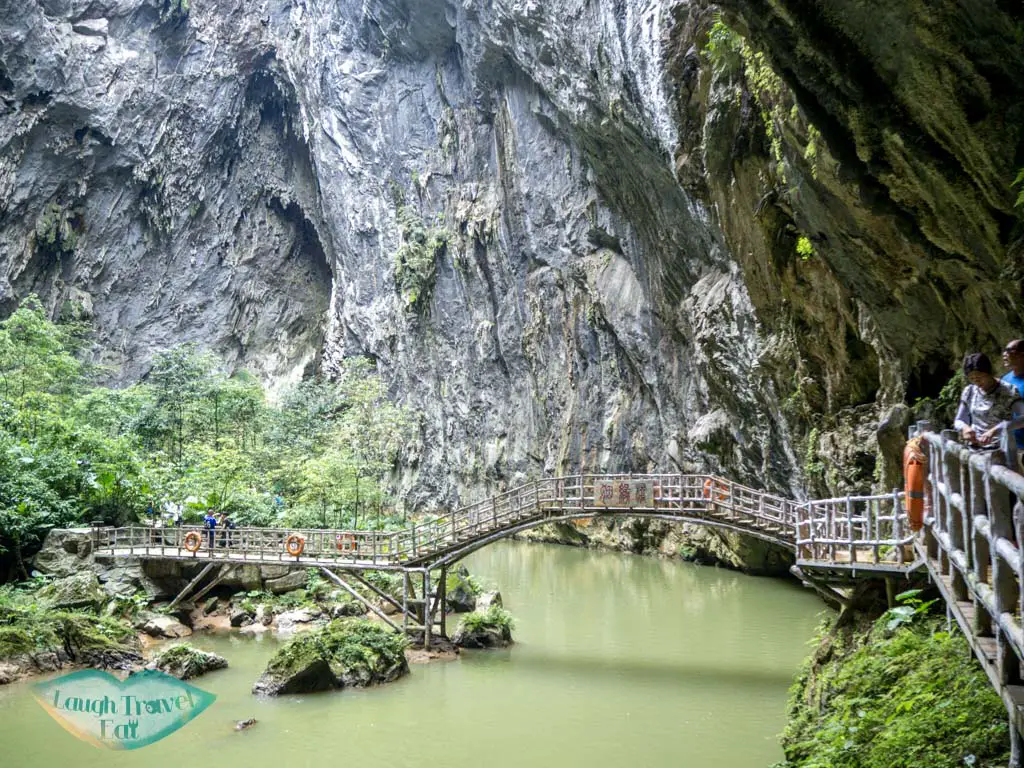 Pretty cool caves but have coloured lighting that sucks. Once you entered the cave, there is the choice to go up or head straight to the ferry pier along the river. The two paths converge just before the pier.
Second Heaven二重天 is where the glass bridge we've glimpsed from the bottom is. The view is very beautiful, but the glass bridge on top is short and is mostly a for viewpoint. You'll need to wear shoe covers provided to walk on it and only five people are permitted on top at a time.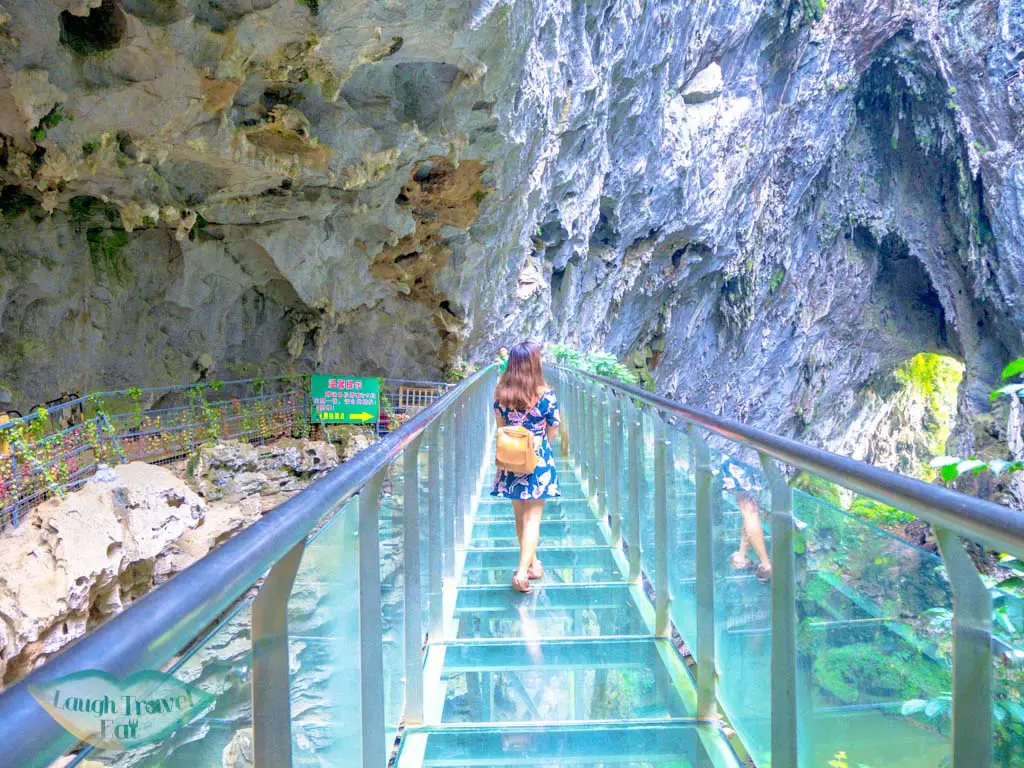 There are a tea shop and souvenir shop in front of the ferry pier. It comes every 15 minutes and it's a 5-10 minutes ride back along the river. It takes you through the path again.
Time spent there: 60-90 minutes
Admission: 85 rmb entrance
Hakka Village 山蕉坪村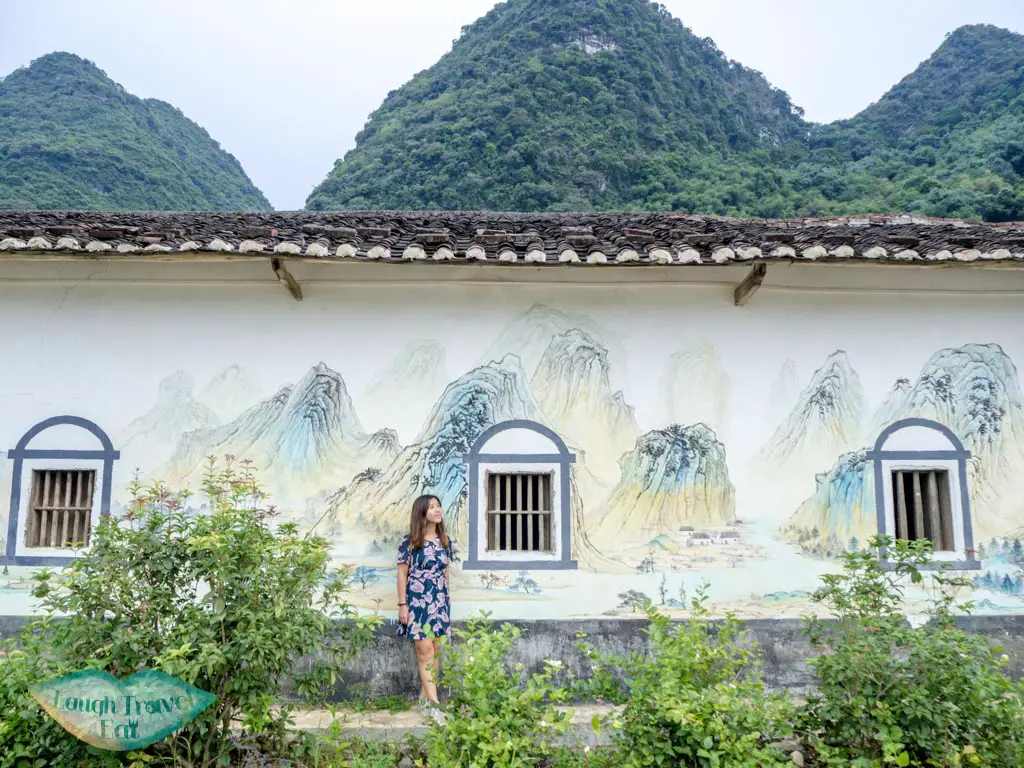 A Hokkien village near the Wonderland, I can't find its English name and it's not easy to pinpoint on the map – but it's near the town of Jilung. The village was founded in the Qing dynasty, and though not very big, they preserved the original housing wonderfully. The locals still live there, but in new buildings next to the preserved ones.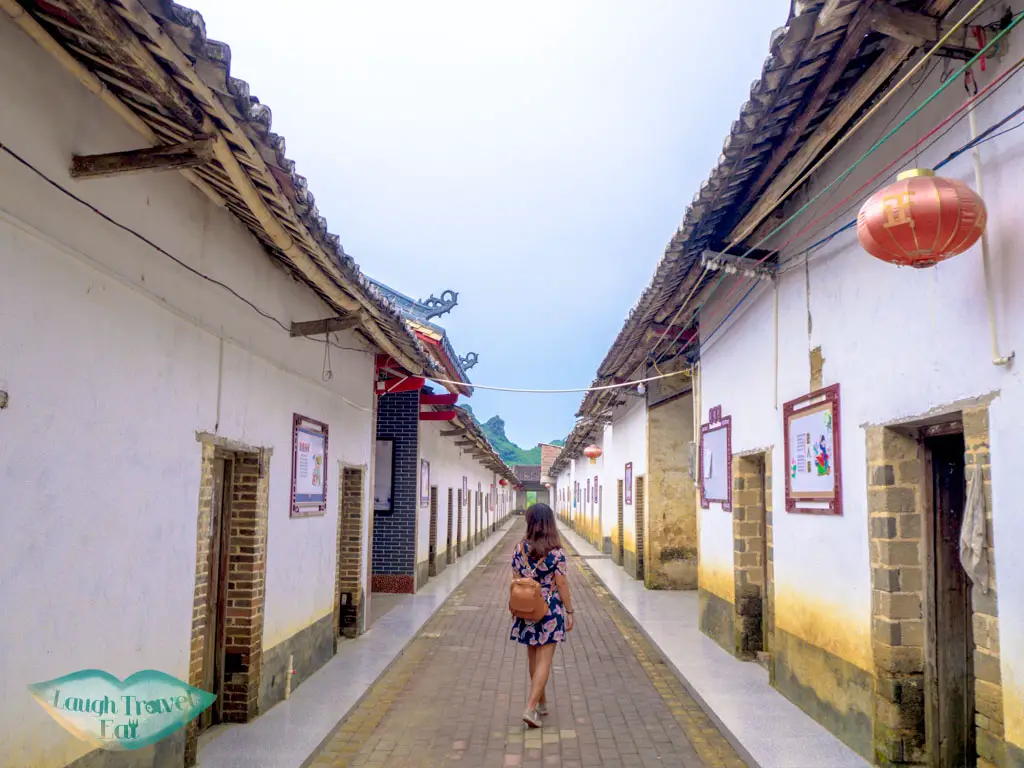 Another highlight is the mountains around, which is reminiscent of the ones in Halong Bay, Ninh Binh, and Guilin.
古龍峽 Gulong Gorge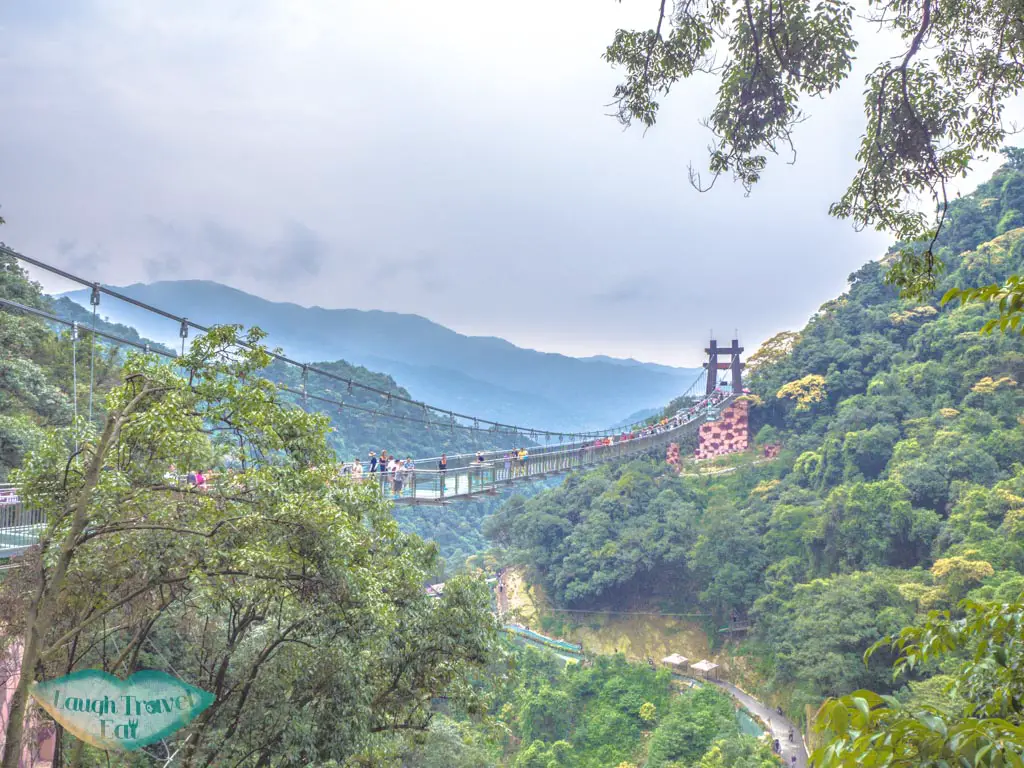 A 40 minutes from Qingyuan is the Gulong Gorge. Another mountain river combo, the Gorge offers a chance to experience its rapids but also to see the waterfalls on a record-breaking glass bridge. There's actually two, a suspension bridge and a glass platform. Tickets are sold separately at the entrance for both – I didn't have a chance to try the rapids, but here's all you need to know about the glass structures:
Essential information:
The rapids have clear mountain spring water. Up to 15m rapid. Very popular in summer. The glass bridge and platform opened to the public on 29/6/2018, the total length of the glass structure is 1314 m long

, which has the same phonetic as 'our whole live/forever' in Mandarin

The area only admits 20,000 people at one time and houses 3000 cars per day, so be sure to arrive early!

Visitors over 70 needs to sign a waiver for health

They are building a canyon swing and zipline around
Canyon and waterfall walk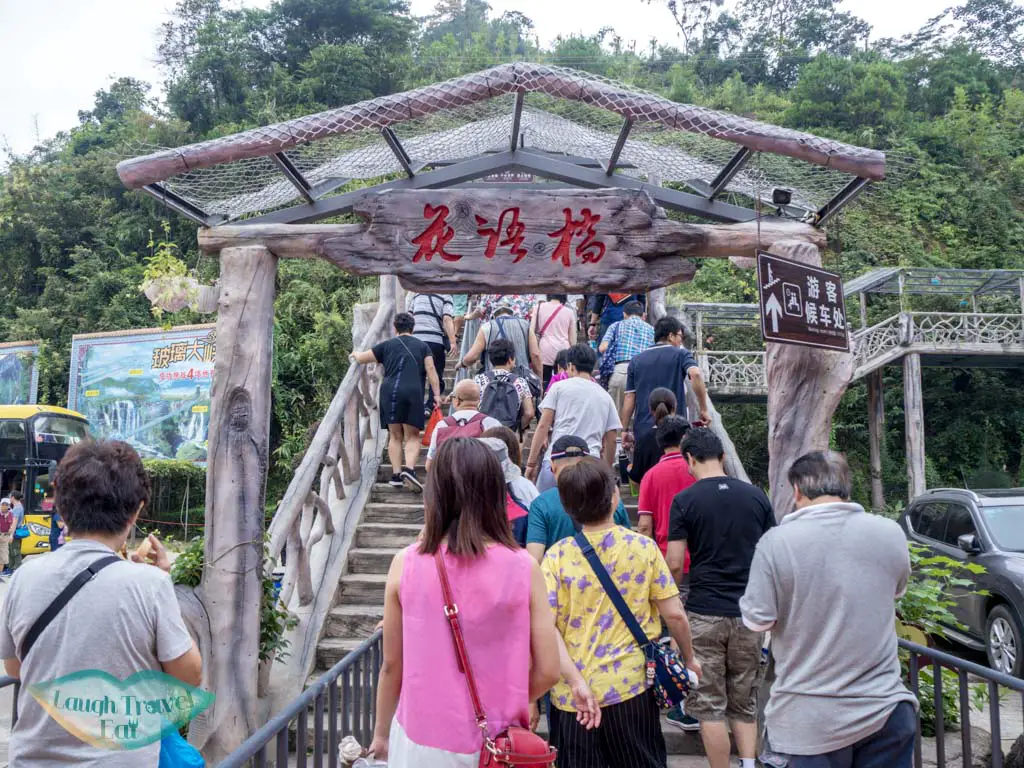 From the entrance, there is a pedestrian bridge that leads to the shuttle area. If you are above 70, this is where you need to sign a health waiver. The ride up to the starting point is only about 5 minutes long, where we can take the only stair up.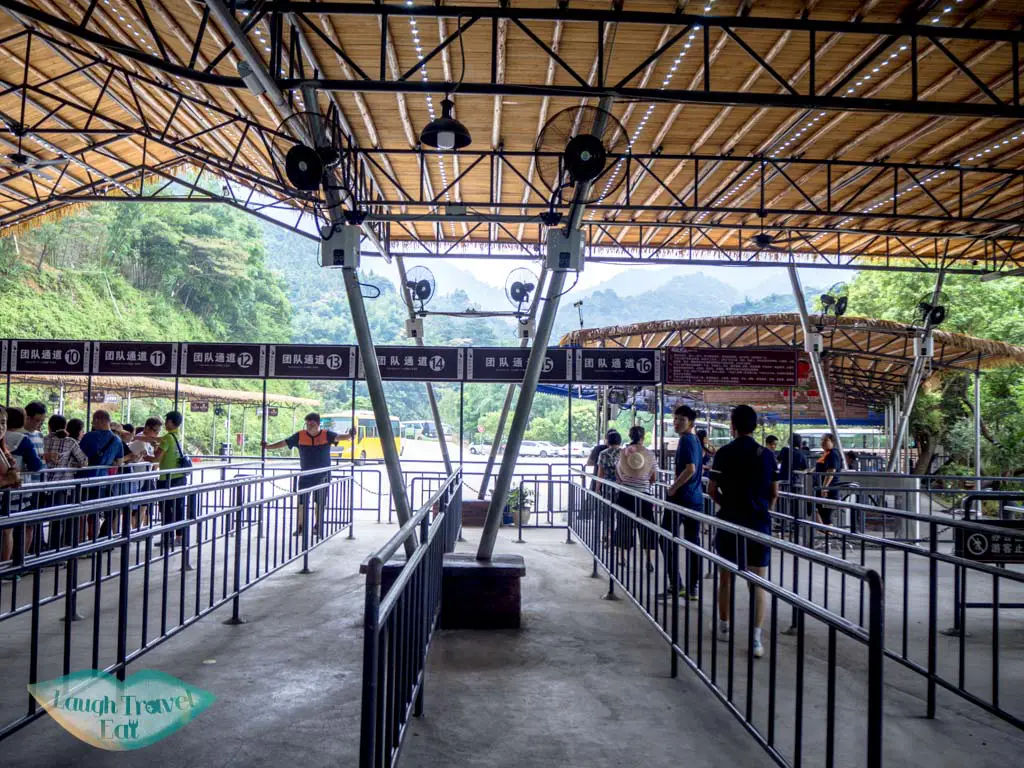 The path up is not long, but there is a lot of stairs!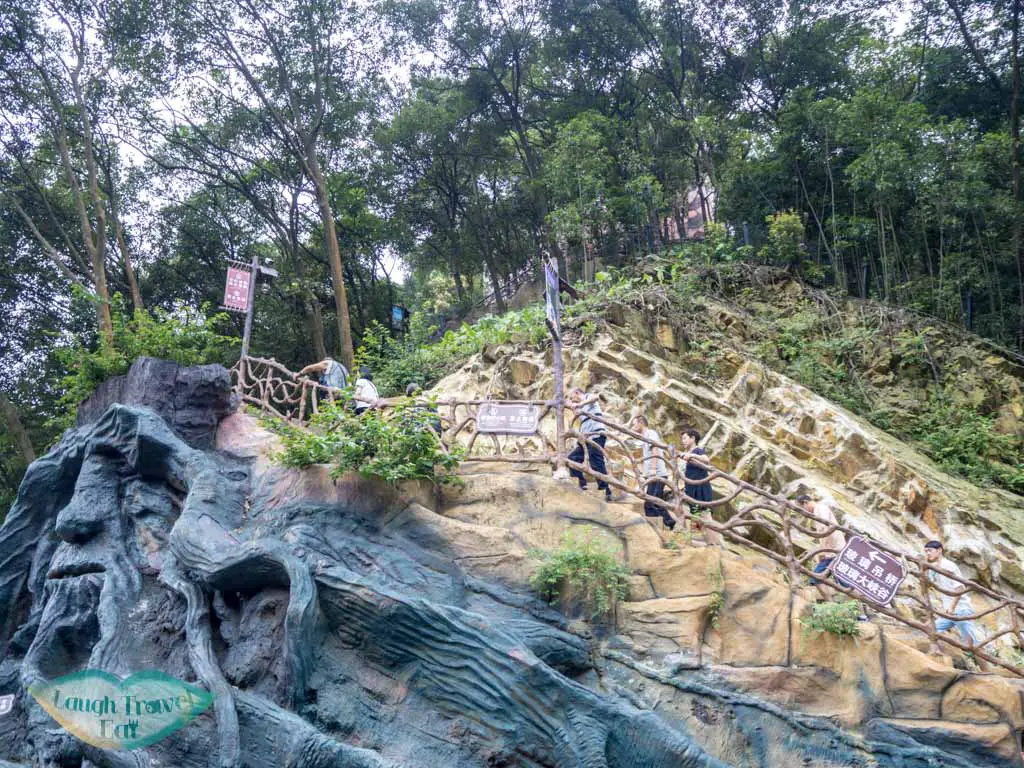 The first set takes us to a platform area before it continues up to the suspension bridge. Shoe covers are provided at entry and it only house 700 people at a time. As someone who is afraid of heights, it wasn't as scary as I expect, as long as I stay in the center.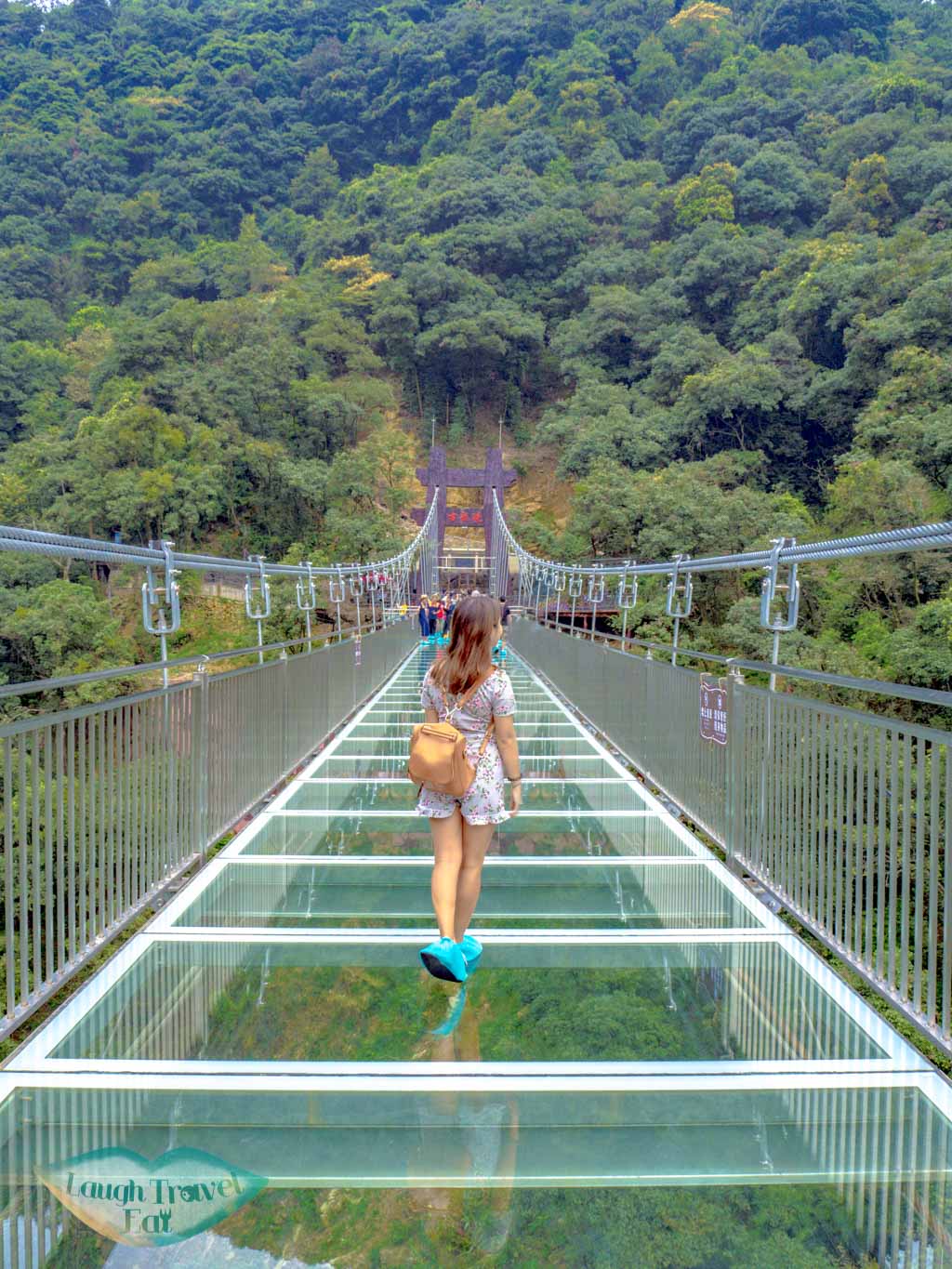 From here, you can get a clear view of the waterfall!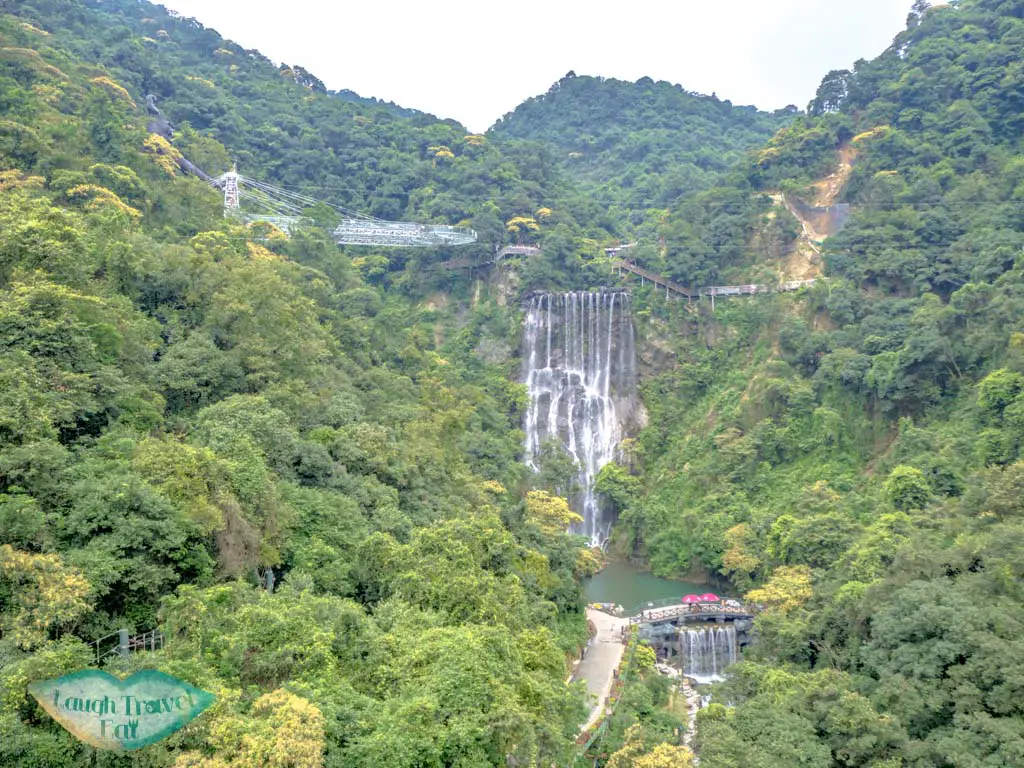 But as we carried on to the top of the waterfall, we found but that the shape is partially manmade with strategic rocks and pump on top. We also noticed that the glass platform has a cliche ugly King Kong at the entrance.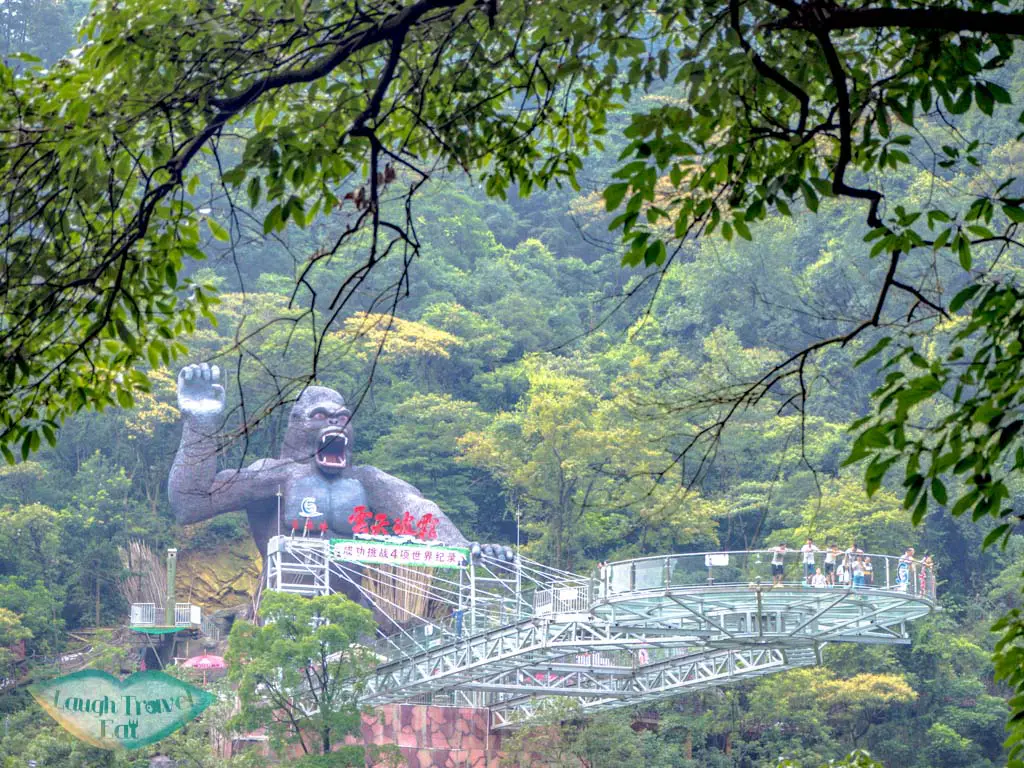 The platform is most stunning for the circular platform at the end, hanging 72m above the ground.

Then it's a long way down to the base of the waterfall, where the glass platform goes from best viewpoint to a view itself.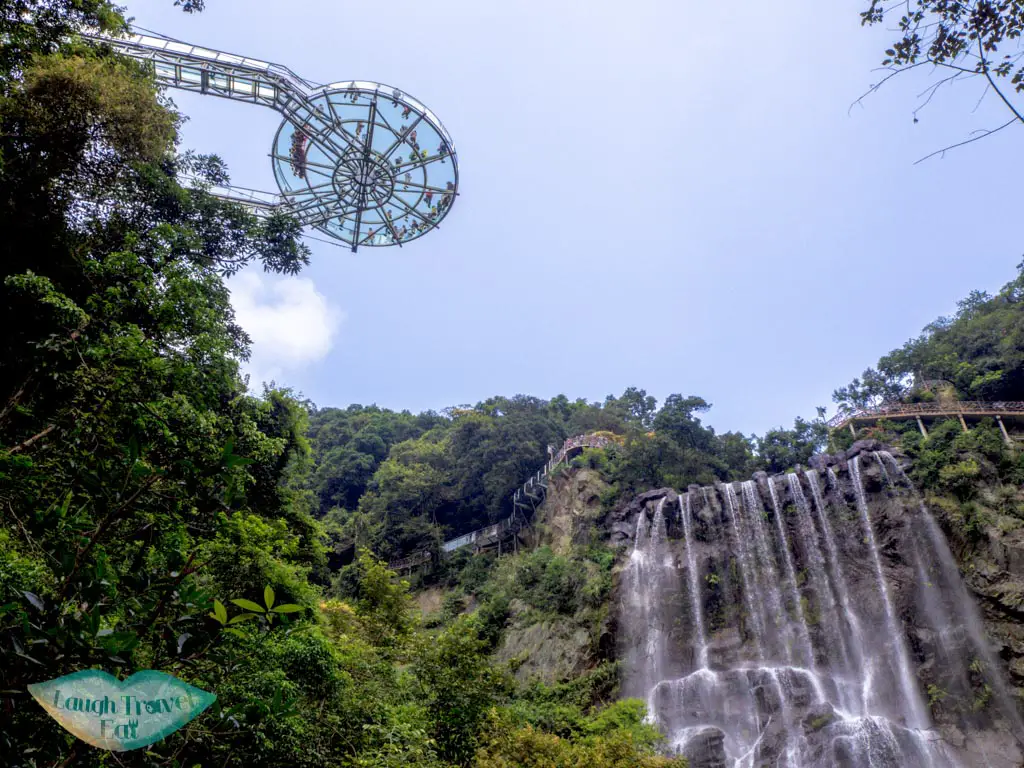 The end point is the second platform we saw, but to get the shuttle, we had to walk down the road back to where the shuttle set us down. After that, it's waiting for the shuttle to go back down.
Takes about an hour and a half round trip to visit.
Ticket (current as of September 2018) weekday/weekend:
Gulong Canyon Glass structures: 138/168 RMB, VIP 218/248
Rapids: 238 RMB, VIP 318 RMB
Combo: 290/318 RMB, VIP 370/398 RMB
Yingde 英德市
If you are a fan of hot spring and river view, then Yingde is a good town to stop by. While I wouldn't have venture 1.5 hours from Qingyuan main town myself, admittedly it was a nice stay, although there is nothing to see in town aside from the riverside and their wet market.
We stayed at the hot spring hotel with river view rooms. They have an outdoor tub on the balcony that faces the river, but it isn't as photogenic or pretty as it sounds. The resort is linked to a hot spring area, with stone pools and a riverside swimming pool.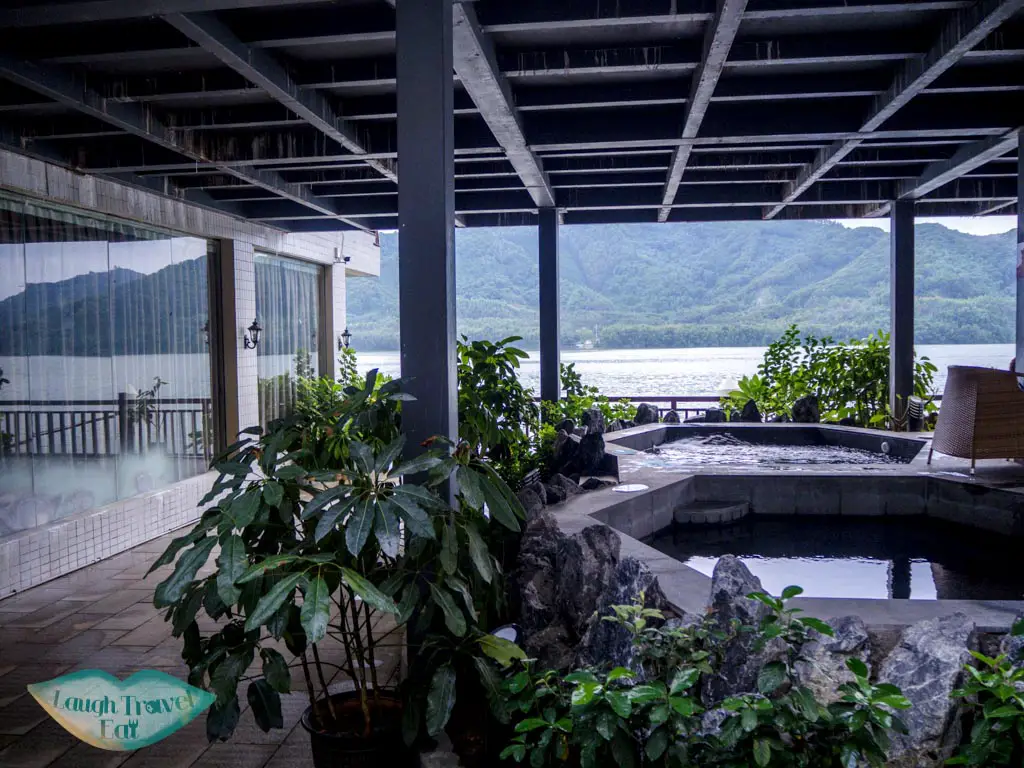 The rooms are very spacious, but not very clean. There's also only one towel for you to use so if you want to go to the hot spring, you might want to bring your own towel.
Dazhang Shatan Resort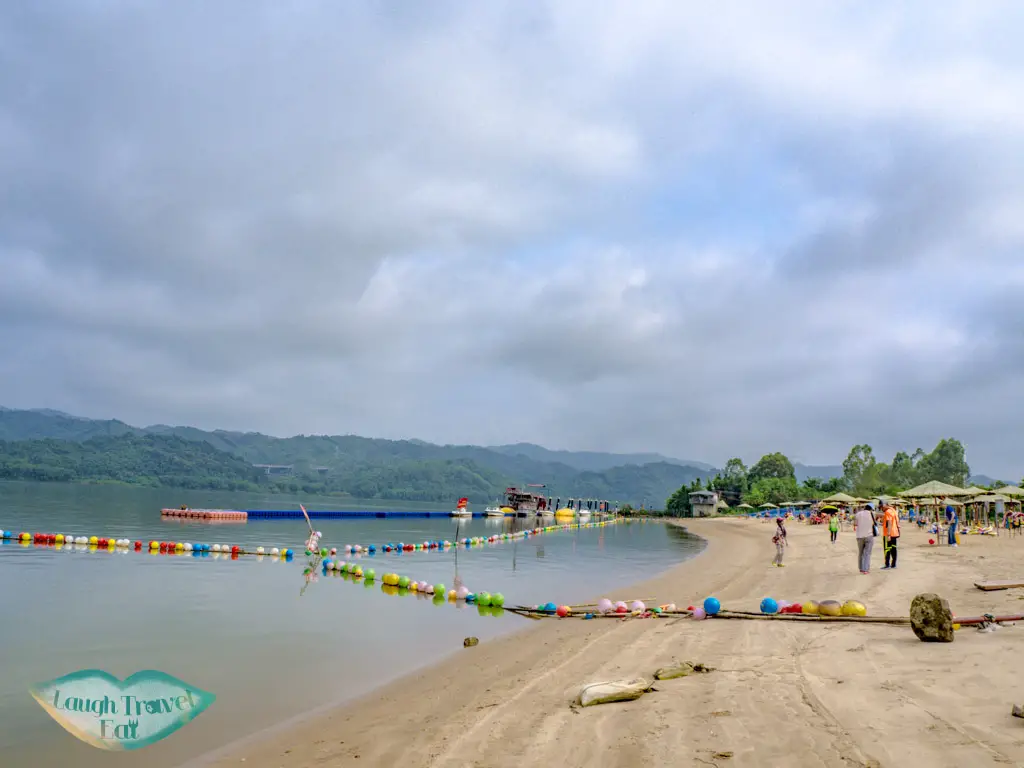 I want to put this here because it is very close to Yingde but the Dazhang Shatan Resort (Shatan is basically beach) isn't really worth a visit. The beach is small, and the accommodation options inside are kind of funny because it's so bad.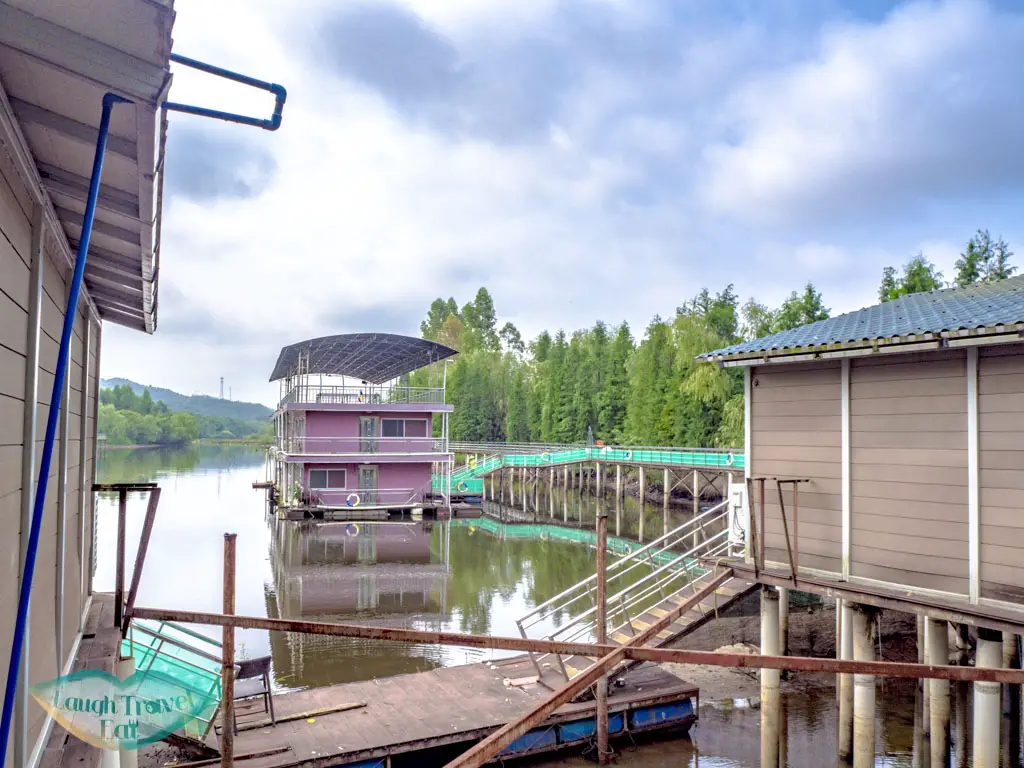 Qingyuan city
As a prefecture capital level city, Qingyuan is bigger than you think. With the North River separating the old city from the new city, there are more to do and eat in the old city but the new city has more shops and amenities. We didn't have much time to explore Qingyuan. But here's what I managed to see:
Time Square Mall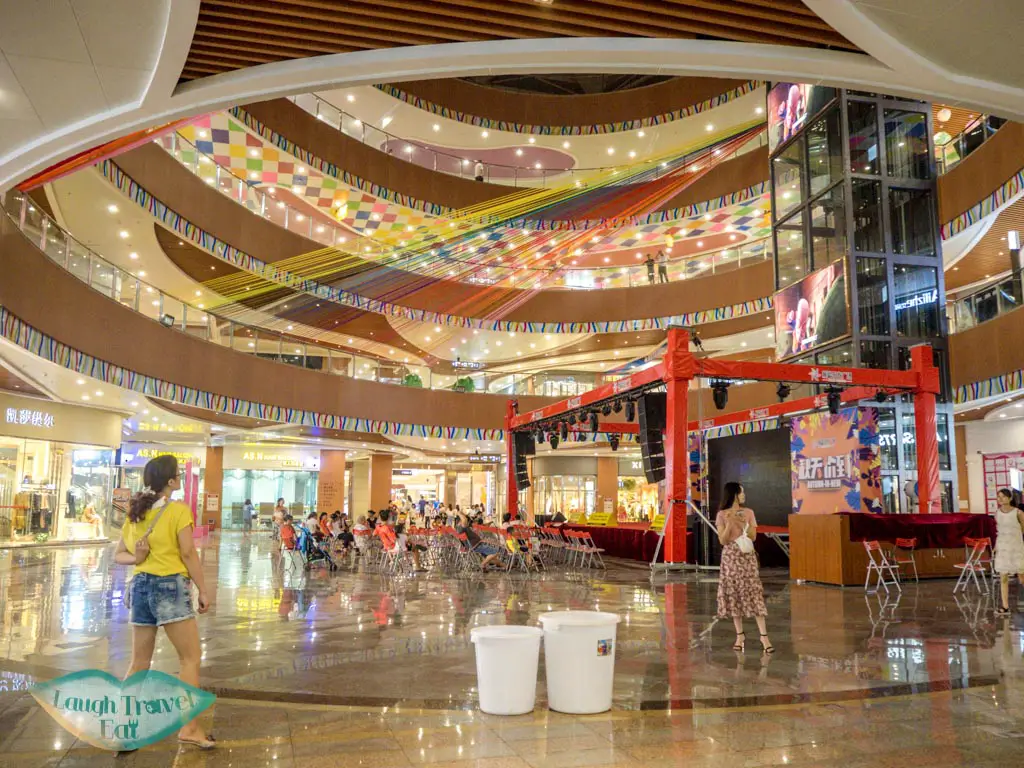 A modern big mall near our hotel, Time Square has a supermarket, various clothing shops as well as restaurants. It's a spacious and cute mall that makes for a nice place to stroll. Here are two refreshment points that i highly recommend:
½ tea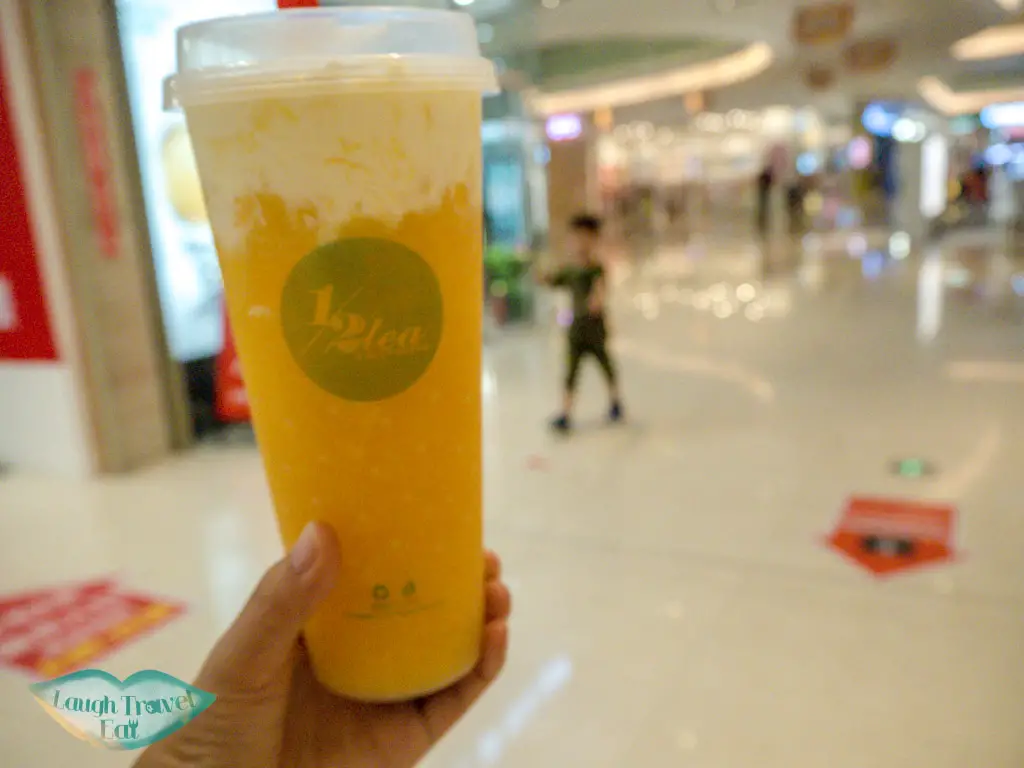 Guangdong province has been going crazy with fruit tea, milk tea, and milk cap tea. There are no less than half a dozen tea shops in the mall and I was glad I went with ½ tea! I originally intended to get the guava cheese cap tea, but they sold out so I got the mango version. I wasn't expecting much but it was truly delicious!
聚蕉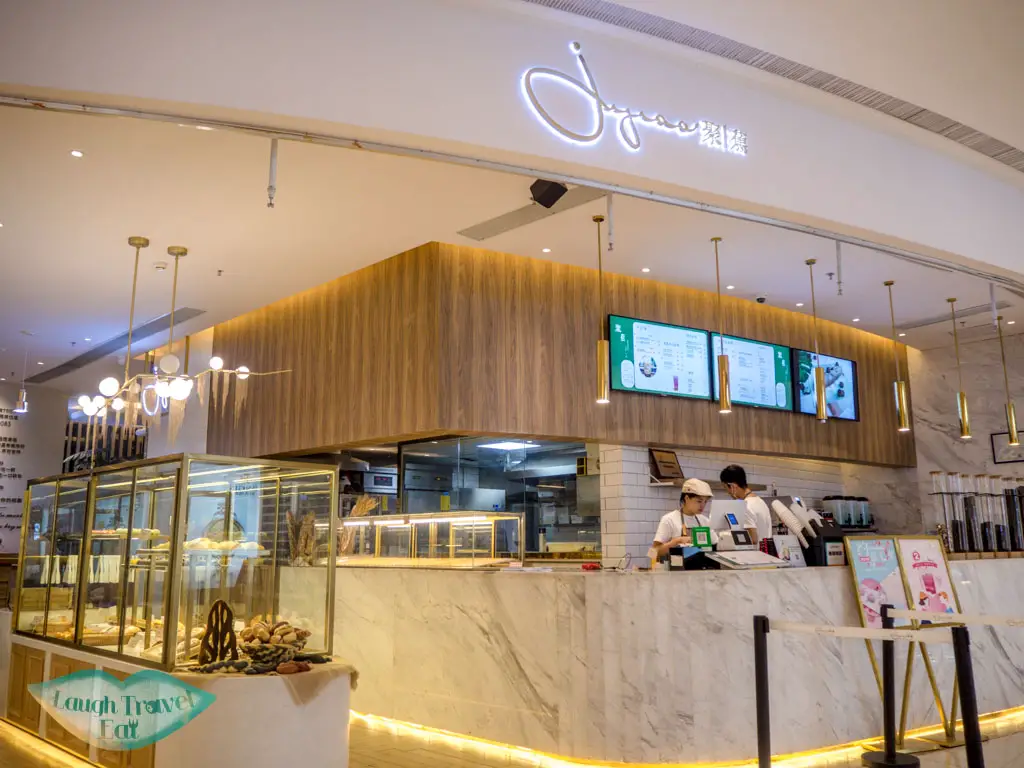 Another popular one is innovative bread, mostly with fruits. They also have tea but it was a bit pricier! We tried a green tea one that was super tasty, but they sold out for the day already. Instead, I found a cheese bread that satisfied my taste bud after a day of same-same tour group Chinese meal.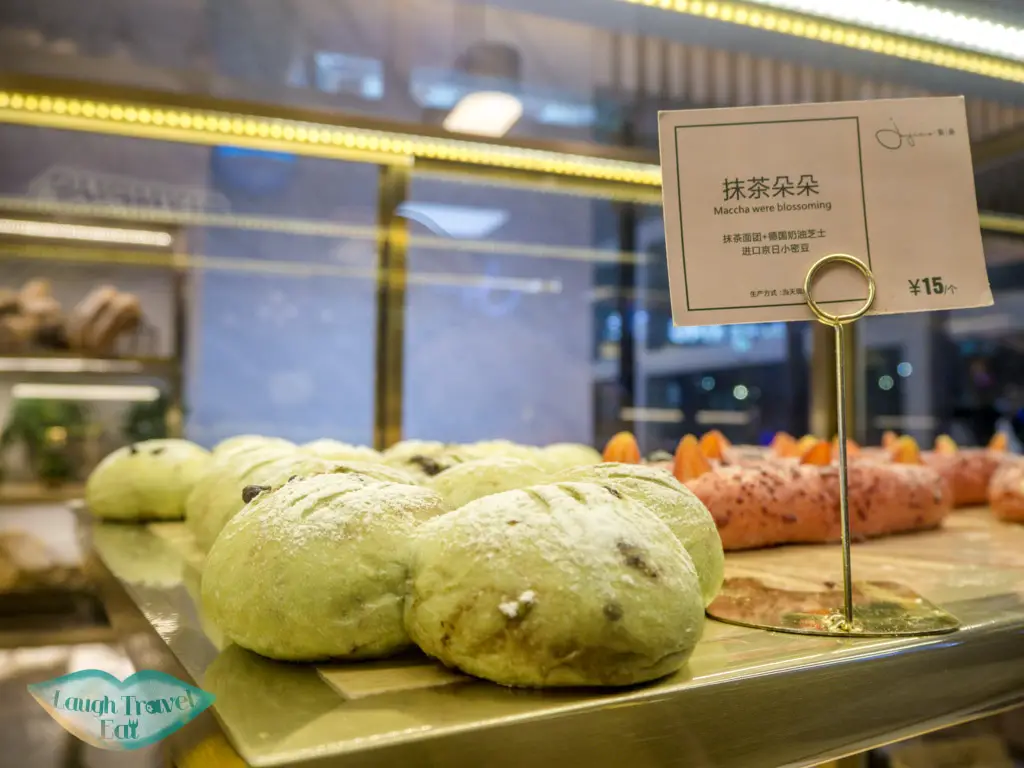 Feilaihu 飛來湖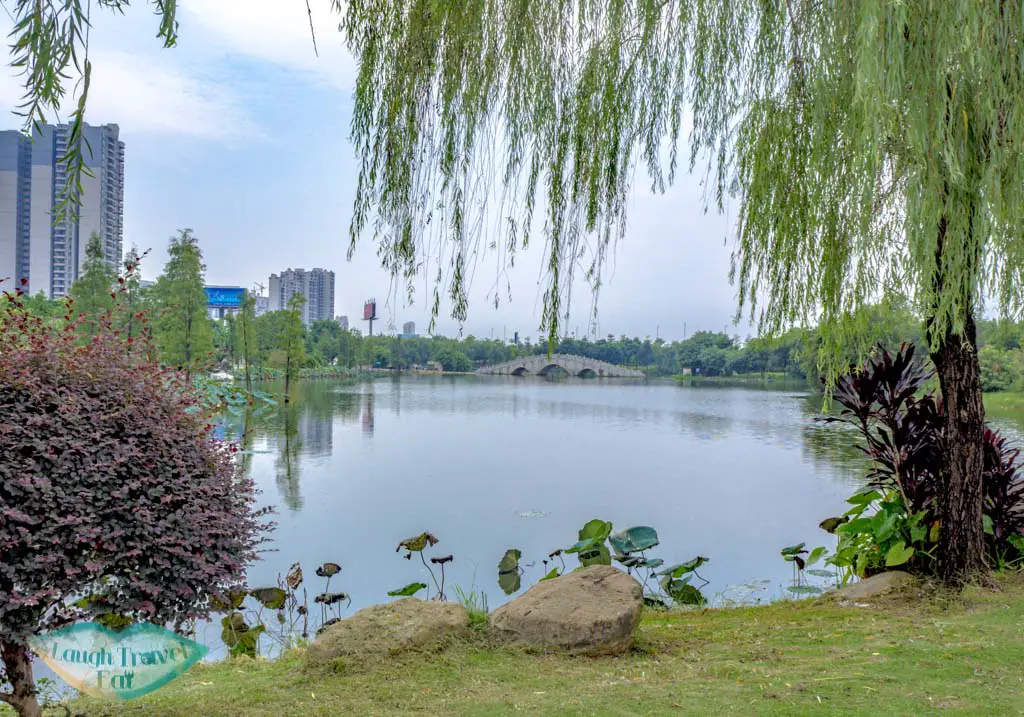 A picturesque lake in the developing area, Feilaihu Park covers 3020 hectares of ground with half of it consisting of the lake. Our tour guide said that it was built in a month, with a well-paved walkway and Tong style bridge and pavilions. There are lotus in the lake, too, as well as some statues depicting the historic figures and scene.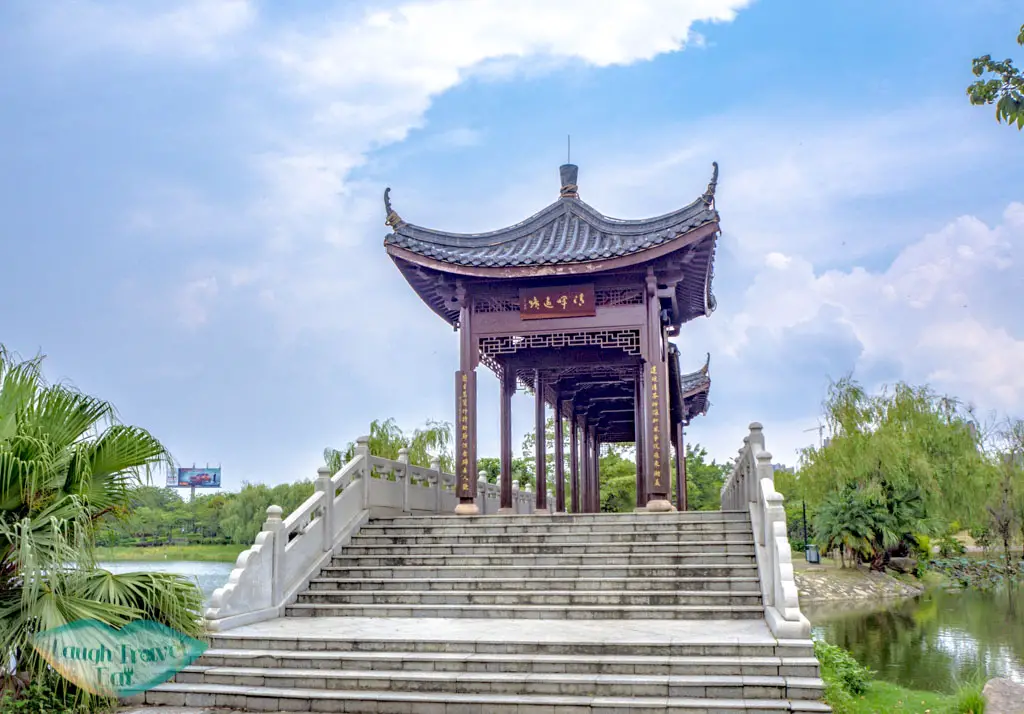 The park is free to visit, though the ground might become flooded after heavy rain.
Quingyuan hotels
Our hotel was by the Timesquare Mall in apartment style rooms. It's tidy, clean, and even has a small kitchenette. The security is good, too, and the only drawback is the breakfast. It is currently outsourced with very limited options. So instead, here are some better hotels to stay in:
Budget: Jinjiang Inn – Qingyuan Shifu is a great budget option that's near the business district.
Mid-range: Hampton by Hilton Qingyuan Qingxin District is a brand new hotel with spacious rooms and near the parks.
Splurge: Sheraton Qingyuan Lion Lake Resort is a little way from the city but its luxurious grounds make you feel like you are living an Arabian dream!