Best restaurants in Shanghai and what to eat
When people think of Shanghai, the image of soup dumplings is among the first thing that pops up. With more than just Shanghainese cuisine to offer, it can be hard to figure out which restaurant is good, what's hot, and what's just fluff. Luckily for you, I have done all the groundwork to find the best restaurants and what to eat in Shanghai!
What to eat Shanghai
Shanghai Breakfast Tour with Untour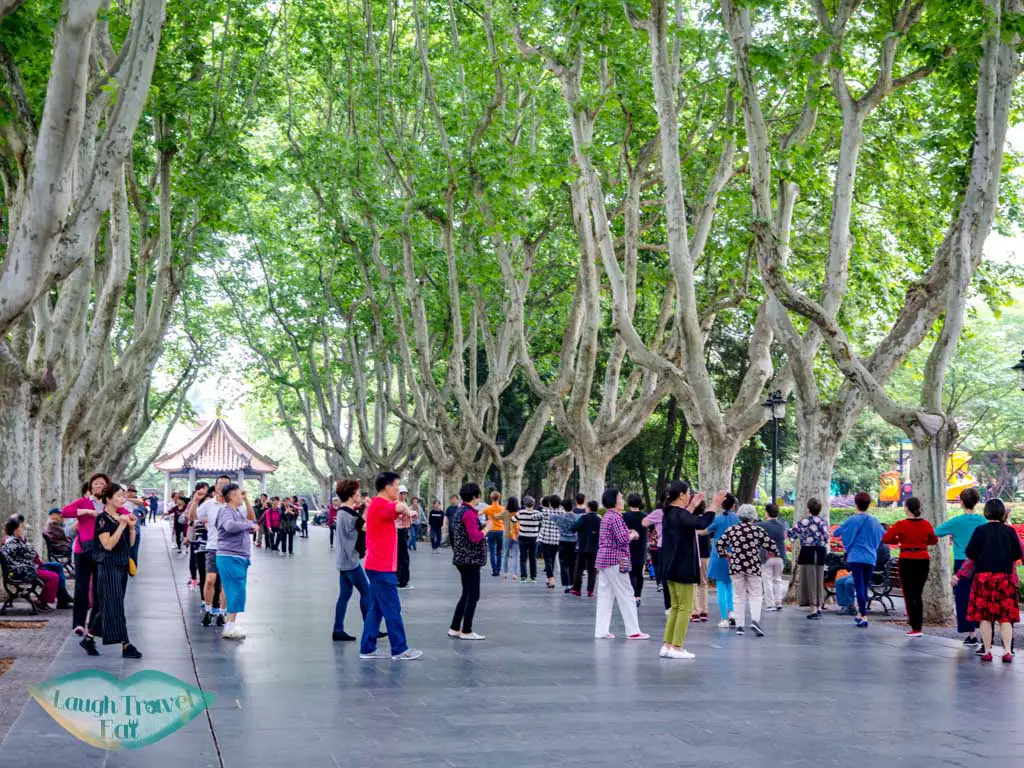 One of my favourite things to do in a city is to take a food tour! It's hard to decide on what to eat and to figure out what's good and what's not, especially in a city as big as Shanghai. While I do speak Mandarin, that doesn't really help me narrow down what to eat, it just makes it easier for me to order. Untour Shanghai offers both breakfast, dinner, and a dumpling tour, and I opted for breakfast since it includes a bit of a neighbourhood and park walk, too.
The sunday breakfast tour starts at Xiangyang Park 襄陽公園 south gate. Our guide, Ashley, was a friendly Chinese Malaysian who have been working in the city for a while and gave us a great overview of the history of the area. We took a look at the various morning exercise groups in the park and headed on to our first stop!
Three king of Shanghai Breakfast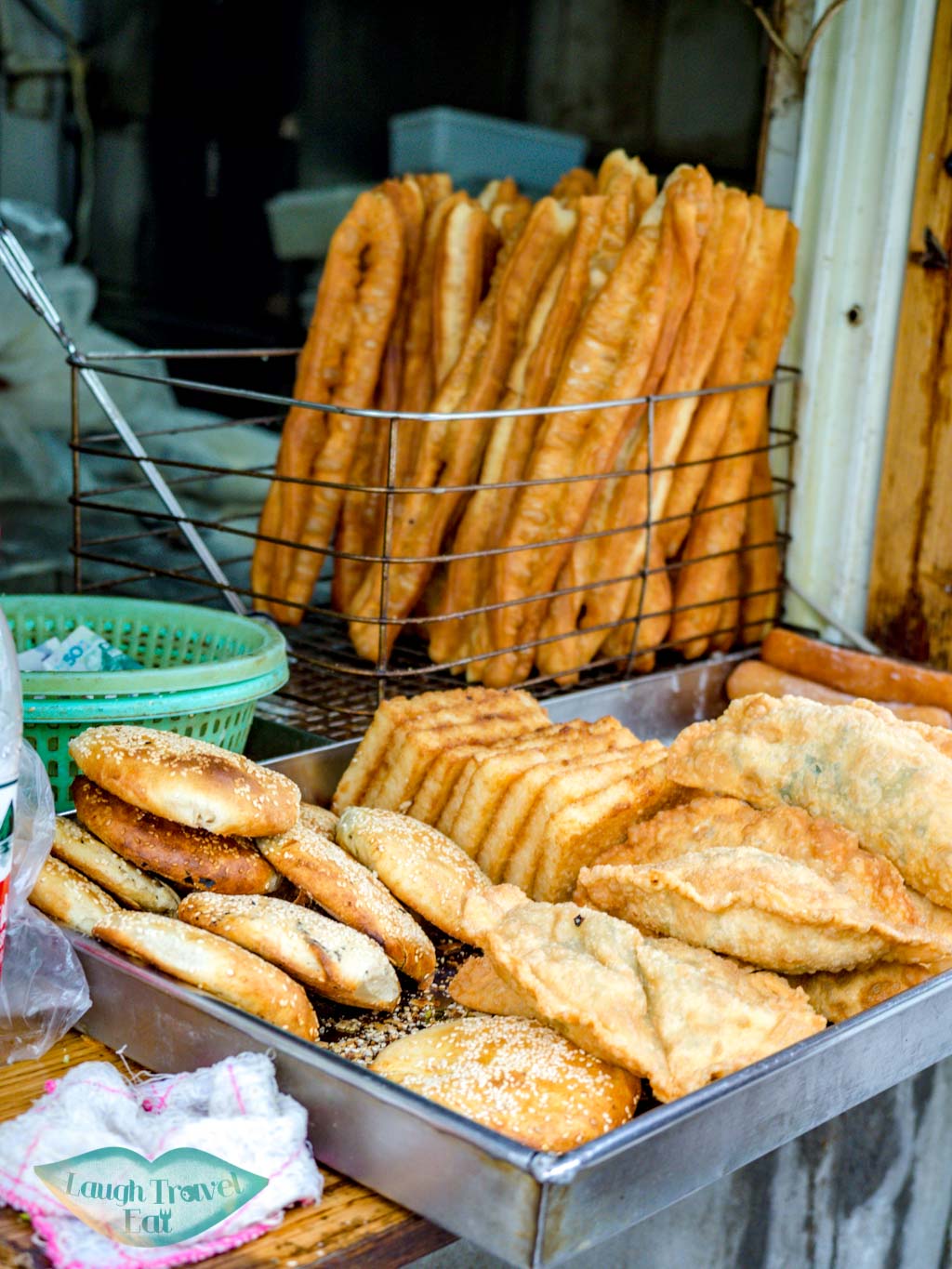 In the first restaurant, we tried youtiao 油條, along with sweet and savoury soy milk. The latter has spring onion in it and soaked yao tiu, a more northern style way to have soy milk.
Last but not least is the new Shanghai breakfast rice ball, it's catered towards commuters who have no time to eat and home with youtiao and salted duck egg inside.
Jianbing
It was hard to not eat everything, but I managed to pace myself which was a good thing since the second stop was just a few minutes' away. The Jianbing 煎餅 consists of rice crepe made fresh from the pan, filled with spring onions, egg, sweet and sour sauce, and crispy youtiao-like filling. They can make it spicy or not, which was good news to me!
Guiotie (Potstickers)

Third, it was onto the scrumptious potstickers. While it is a common type of dumplings across China and in Japan, too, the Shanghainese version has a twist. They have soup inside! Cooked in giant woks, the bottom are fried to perfection without being burnt with the top are steamed with s piping hot portion of soup and meat. The trick, our guide Ashley informed us, is to use congealed soup which melts during the cooking process!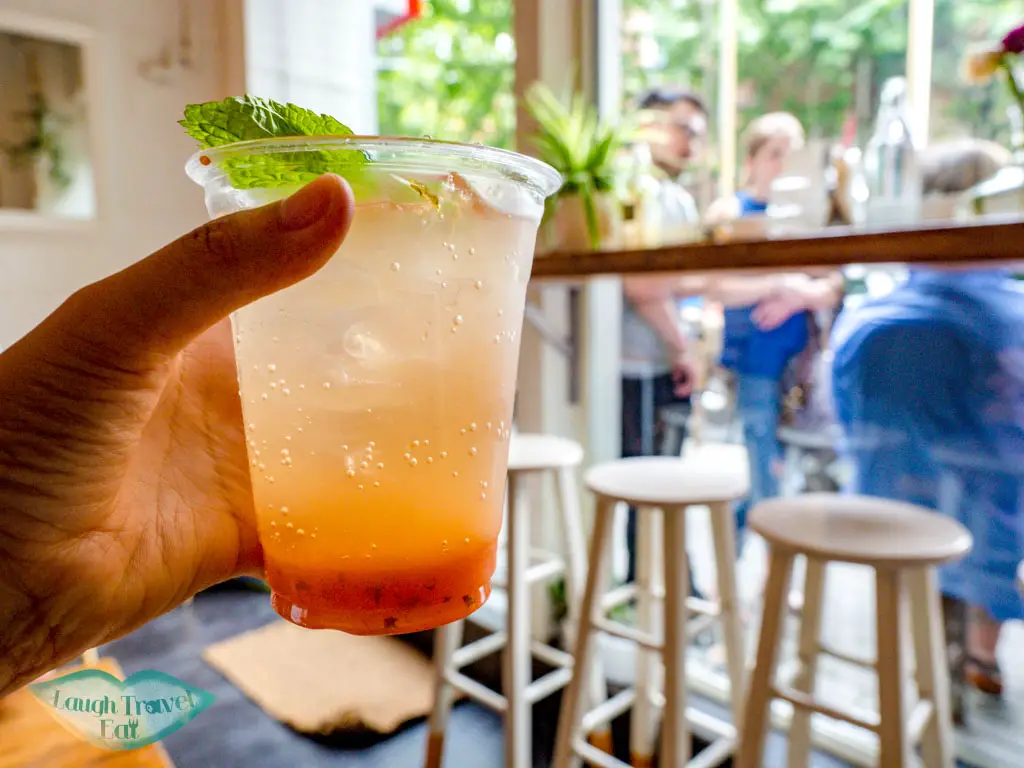 The tour is well paced and the third stop was sort of a rest stop at a coffee shop called Egg, where we could use their nice restroom, sit, and just digest. They have a range of nice coffee, but since I'm not a coffee person, I ordered a grapefruit and mint soda that wa quite refreshing.
Our guide Ashley took us around the neighbourhood, telling us little tidbits about the community and the history as well. We went into a longtang (the hutong of Shanghai), a wet market, before diving back to eating!
Hand pull noodles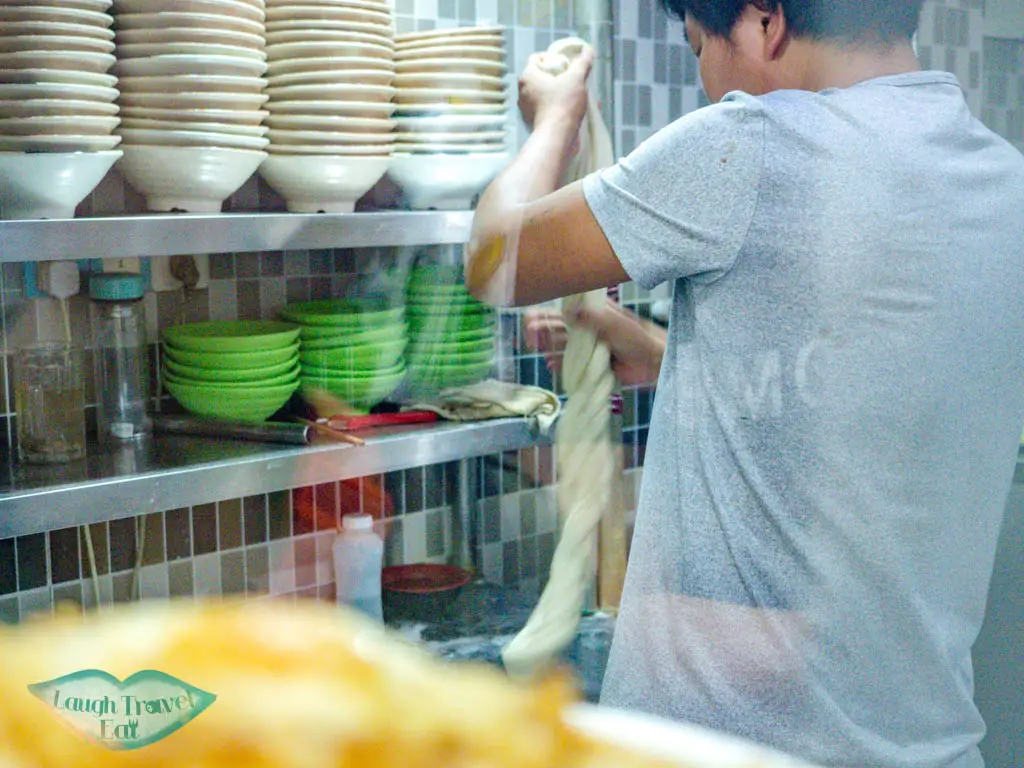 Next up is hand pulled noodles. It's a small roadside shop that I would have walked by without thinking twice, with the chef pulling the noodles afresh every time it is ordered.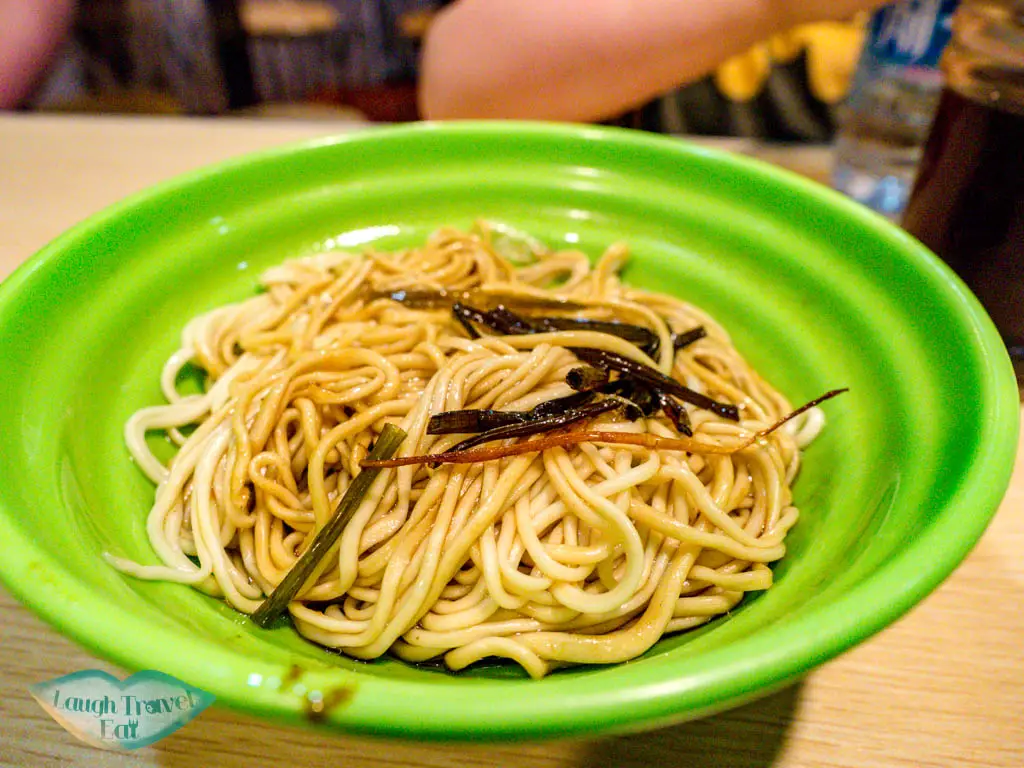 It is served fried with scallion oil, which makes it oilier than usual but the texture is great. As the noodle is handpulled, it forms one continuous long strand.
Soup Dumplings and wantons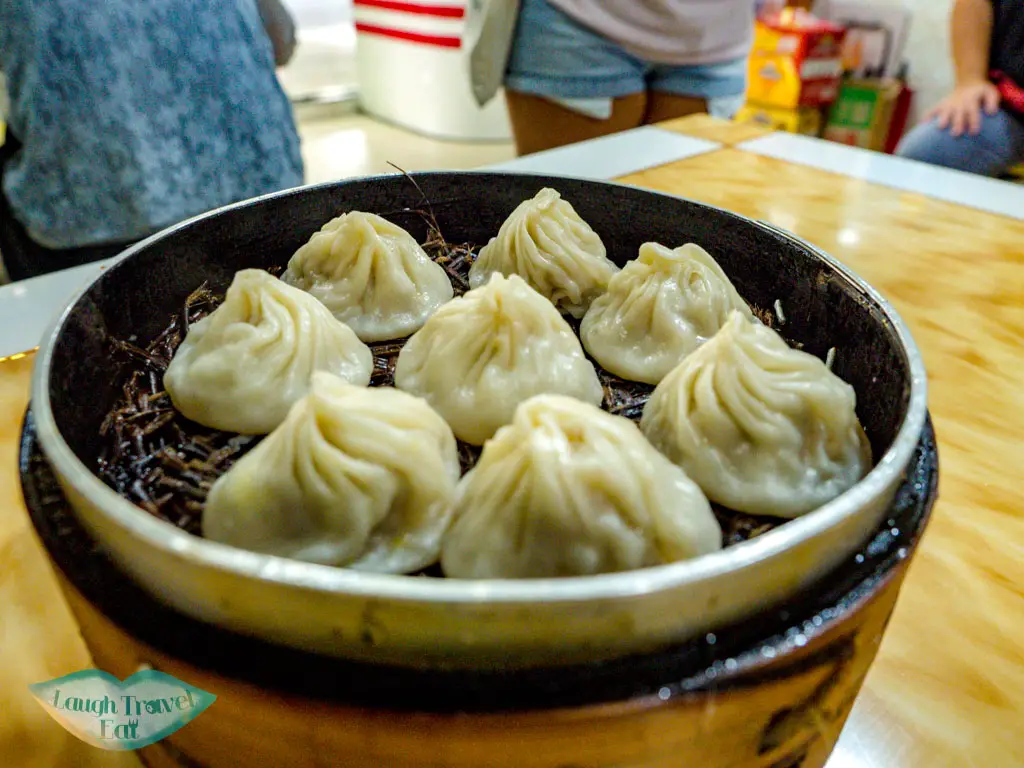 Our penultimate stop is the long awaited soup dumplings and Shanghai-style wonton. It's another unassuming small restaurant with rows of picnic-bench like seatings. The dumplings were delicious and the trick to not breaking the skin is to hold it at the top where the skin is thickest.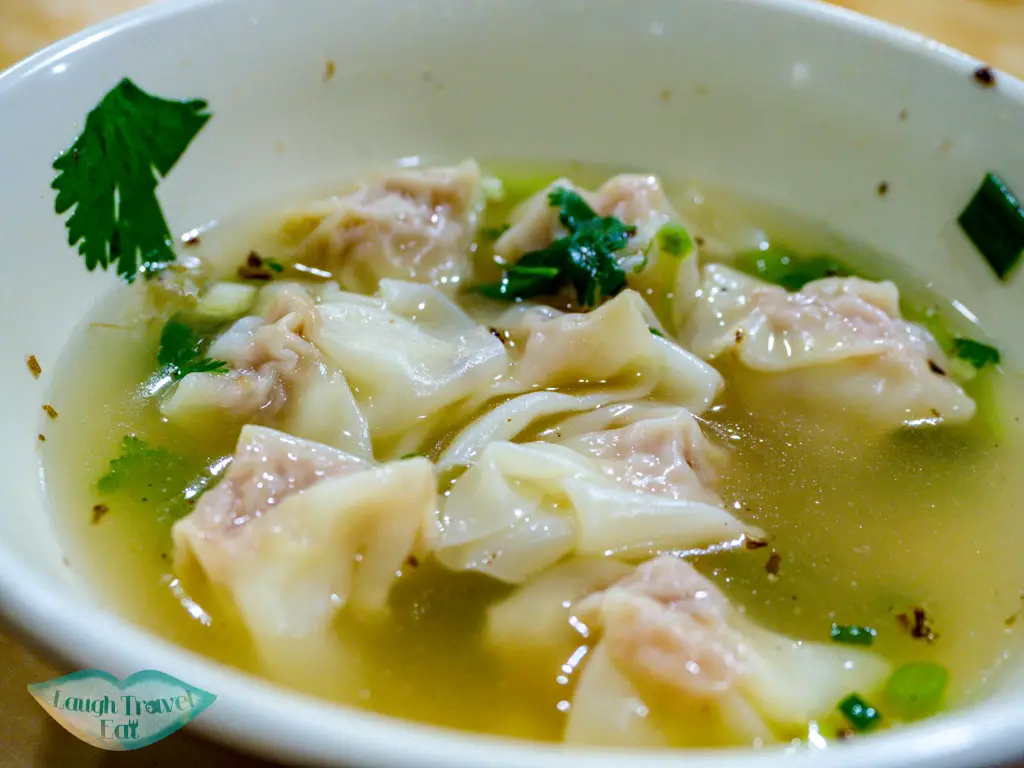 Being from Hong Kong, I'm used to giant wantons made from shrimps and pork, but the Shanghainese version are dainty numbers with just pork, almost like a popcorn version!
Sweetheart cake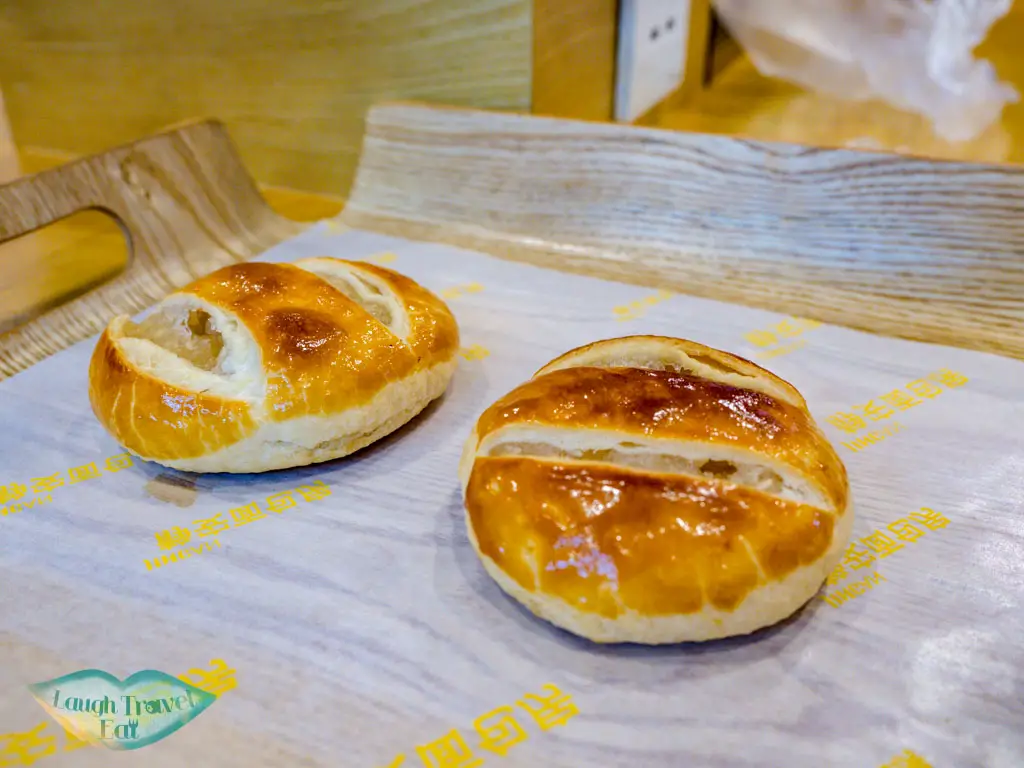 Lastly, we headed to a famous local bakery to try their wife cake, also called sweetheart cake. It is pioneered by a couple during the 19th century, different to the ones you'll find in Hong Kong. It was just after noon when we got here and Ashley kindly helped us with where to go next and how.
Old Shanghai Scallion Pancake 老上海蔥油餅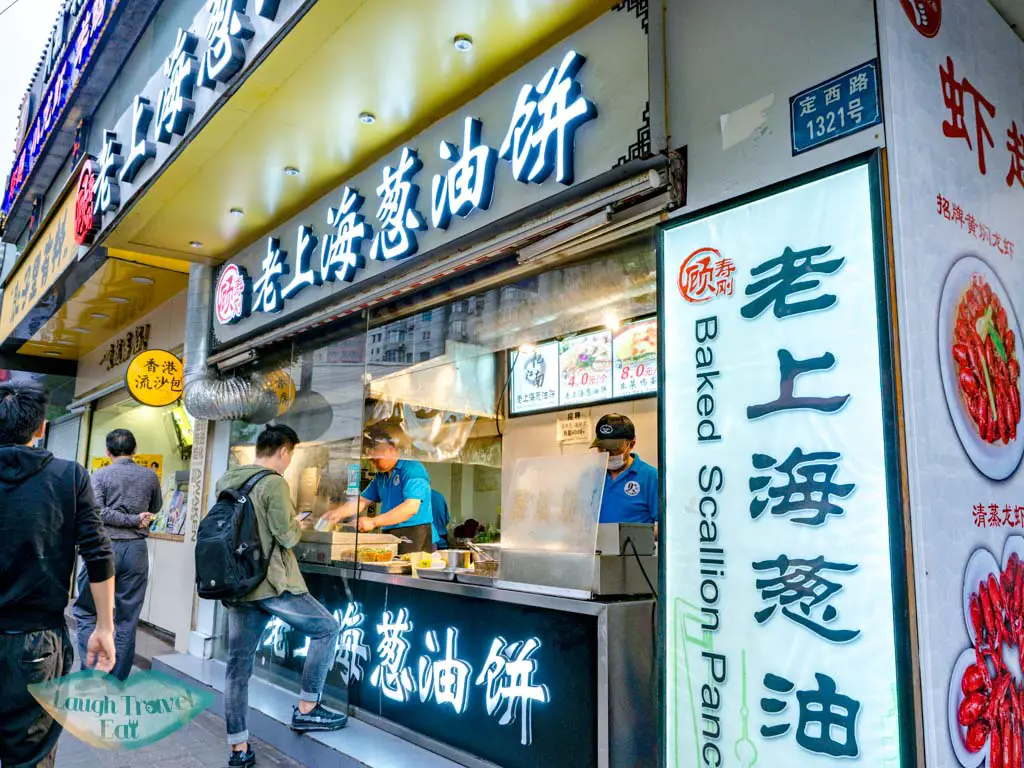 The eatery is pretty self explanatory: they sell old Shanghai styled scallion pancake. It's a chain store that can be found along the street with tasty crispy scallion pancake in swirls. In fact, some might say it looks like a savoury flat cinnamon bun.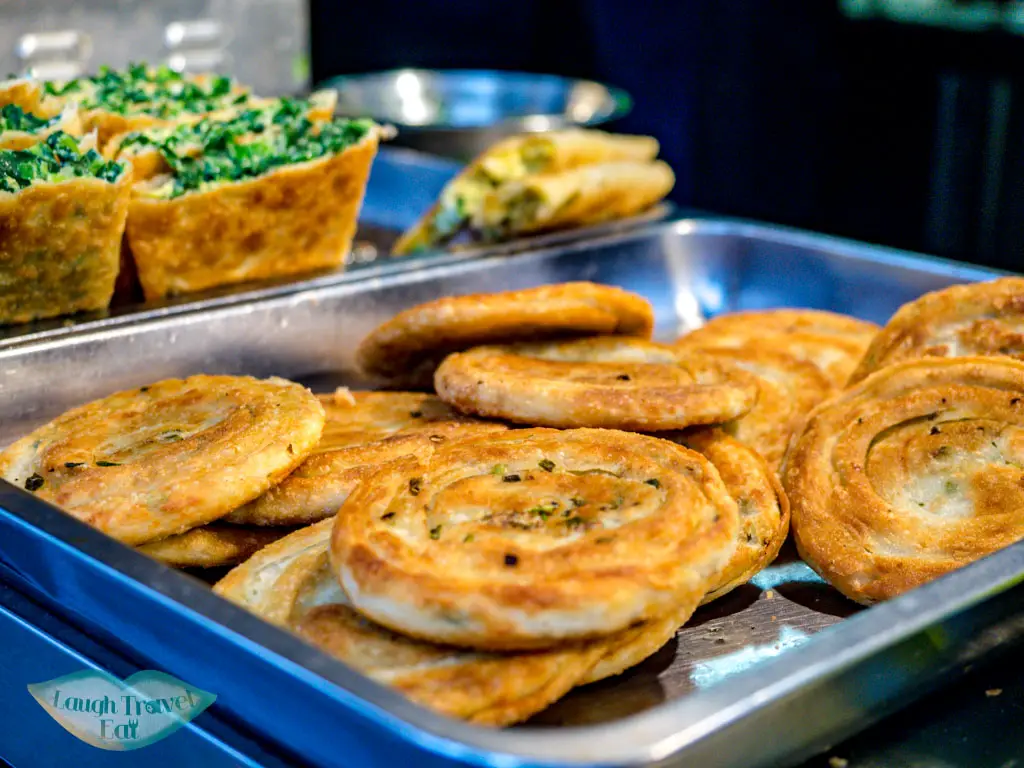 There are many places that sells them aside from this brand, and one costs as little as 4-6 RMB, so there's really no reason not to have one.

Best restaurants in Shanghai
To be honest, I didn't get to eat as much as I'd like in Shanghai, simply because I was a) alone, b) overwhelmed with choices, and c) had a busy schedule for sightseeing. Here are the places that I did try and enjoyed:
Shanghai Chinese restaurant
Shanghai Ren Jia 上海人家
Want some foolproof Shanghainese food? Shanghai Ren Jia is a tried and tested chain that serves up the classic dishes of Shanghai with great ambience and price.
Must try includes their crab with rice cake, shrimps, smoked fish, and sweet and sour pork ribs. For dessert, don't miss the osmanthus wine dumplings.
They have several locations throughout the city, but the most central one is People's Square or by Jing'an Temple.
The Dining Room 南小館
A more modern Shanghainese chain restaurant, I went to the branch at Big Brand Mall which has a great view of the Bund. It's less upscale than Shanghai Ren Jia, as we had to self-service to get water but it is also reflected in the price.
They have a signature soup dumplings set with different flavour which you can get as a combo. The truffle one was great, but I didn't like their meat choice but my friend liked it, so I guess each to their own! The hand pull noodles was nice and so was the dessert dumpling soup.
Address: Big Brand Mall lv 8
Opening times: 10:00 – 22:00

ZhouLi LaoYa FenSiTang 妯娌老鴨粉絲湯山東路中店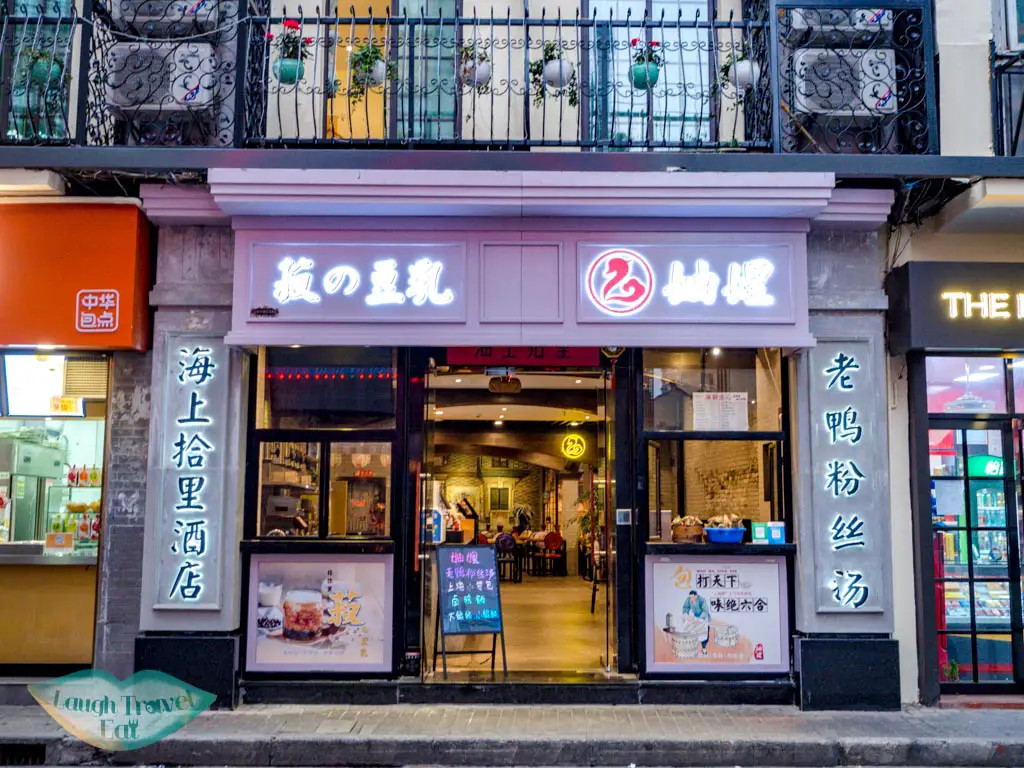 A good budget chain to dine at alone or with friends, the restaurant has a signature noodles with congealed duck blood, various duck bits (I didn't try to find out, but some were actual meat) and some beancurd. I also ordered soup dumplings because why wouldn't you and liked them better than the Dining Room's. The grand total of my entire meal was only 33 RMB!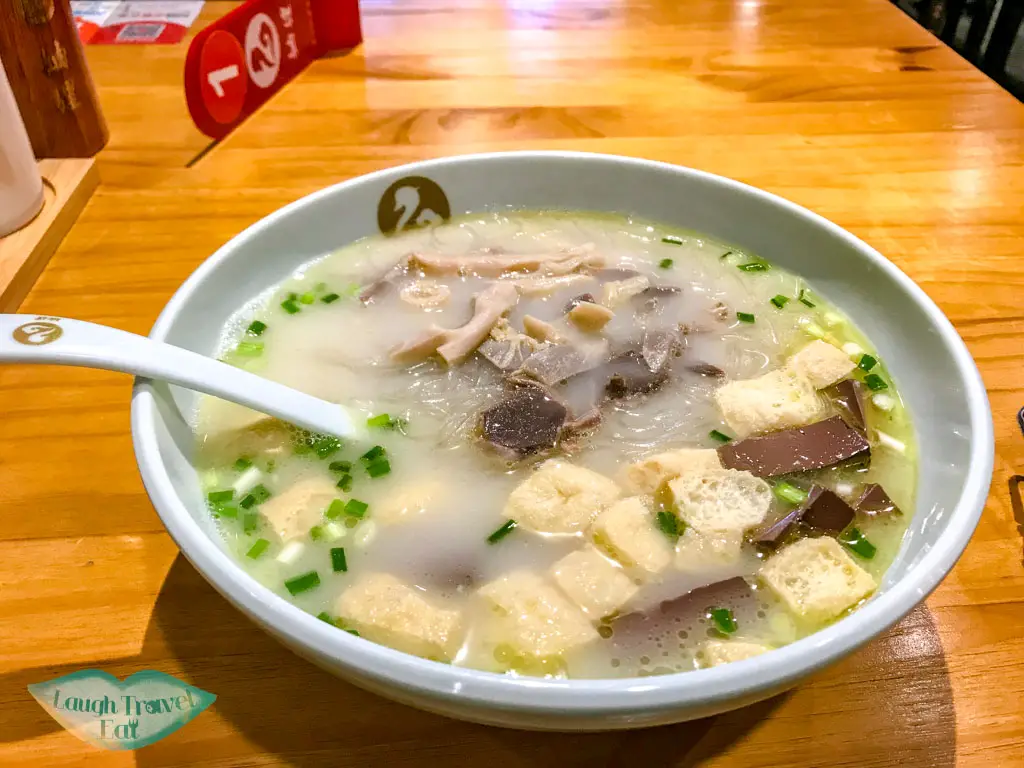 You order and pay at the counter then sit down and wait. The decor was surprisingly nice and spacious, the staff even pull an extra chair for me to put my bags! The branch that I went to is by the Bund and also double up as a guest house.
Address: 中國上海市虹口區武昌路579號
Opening times: 9:00 – 23:00

Yang's Dumpling 小楊生煎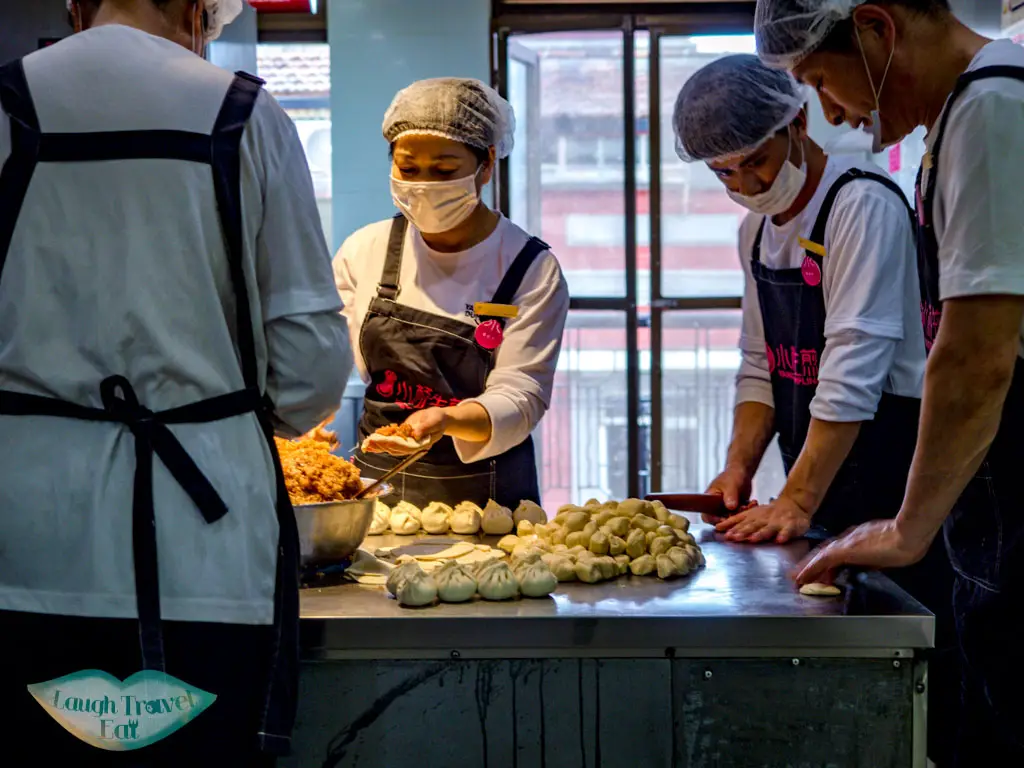 Also a chainstore, Yang's Dumplings serves up Shengjian – aka fried dumplings with various fillings. The top three are pork, beef, vegetarian, and shrimps, and you can get them as a combo of 3 flavour and 6 buns. While they are value for money at 19.5 RMB, it was too oily.
Overall, I won't recommend unless you don't mind oily food. The brand started as a street food cart by Yang with his grandfather's receipe and is like by many, so perhaps try a branch that isn't on Nanjing Street.

嗲記湯包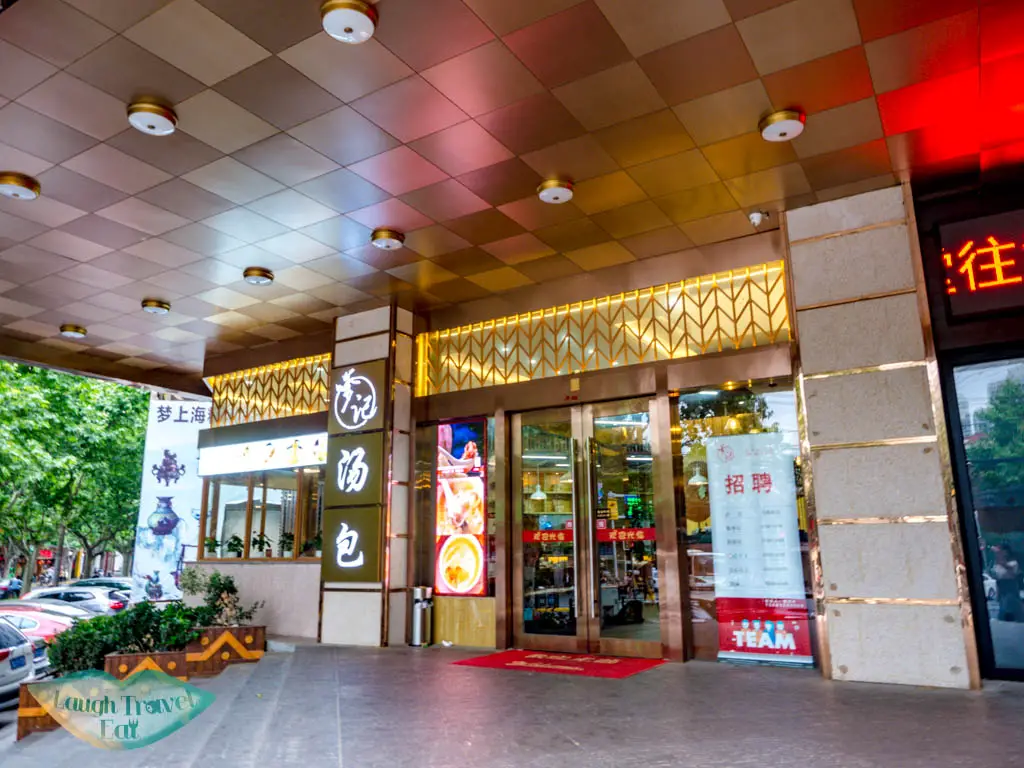 Most famous for soup dumplings the size of your face, this restaurant has two stores across Shanghai but the one close to Zhongshan Park. While I kind of feel like it's a bit overpriced for China, there's no question that they didn't skim on the quality or portion.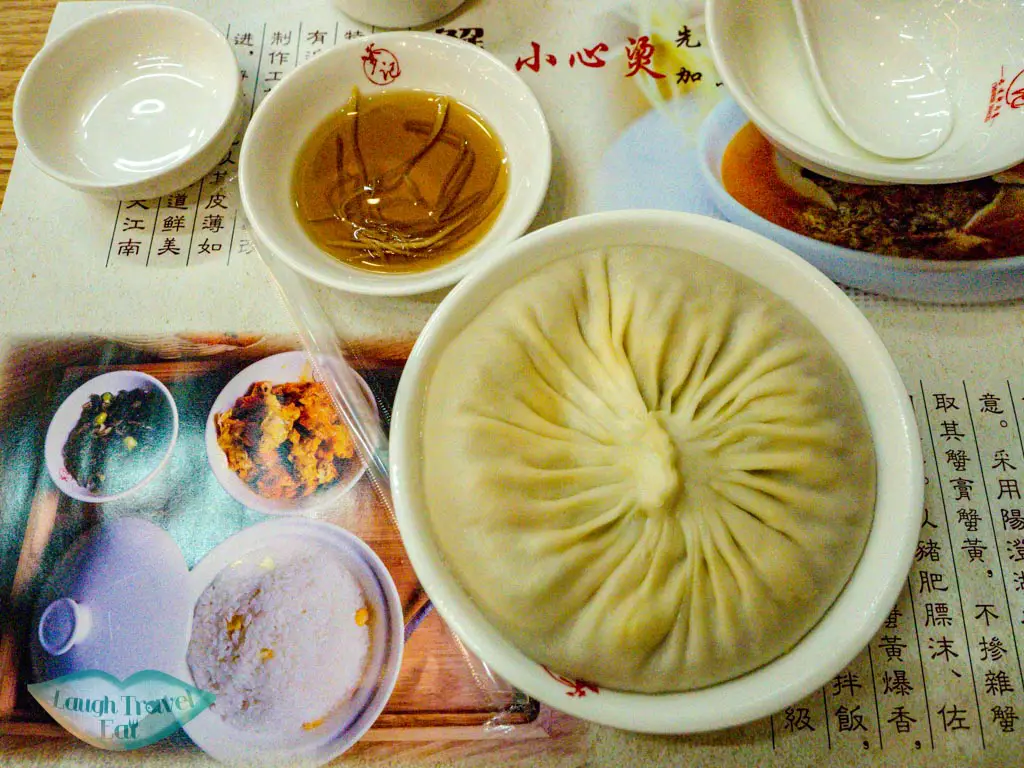 The only way to eat this giant soup dumpling is to use a straw, and boy did it take me long to drink up the interior. It's crab based and full of piping hot flavourful soup, but it was a little hard to eat it without popping it in the end.
Personally, I think I'd prefer to have the regular sized one, but it's certainly a unique style! The big soup dumplings costs 88 RMB, a regular sized one of four is 26 RMB.
Address: 定西路1115号夢海上1樓106室
Opening times: 9:00 – 21:00
Lotus Hubei Cuisine 蓮.湖北菜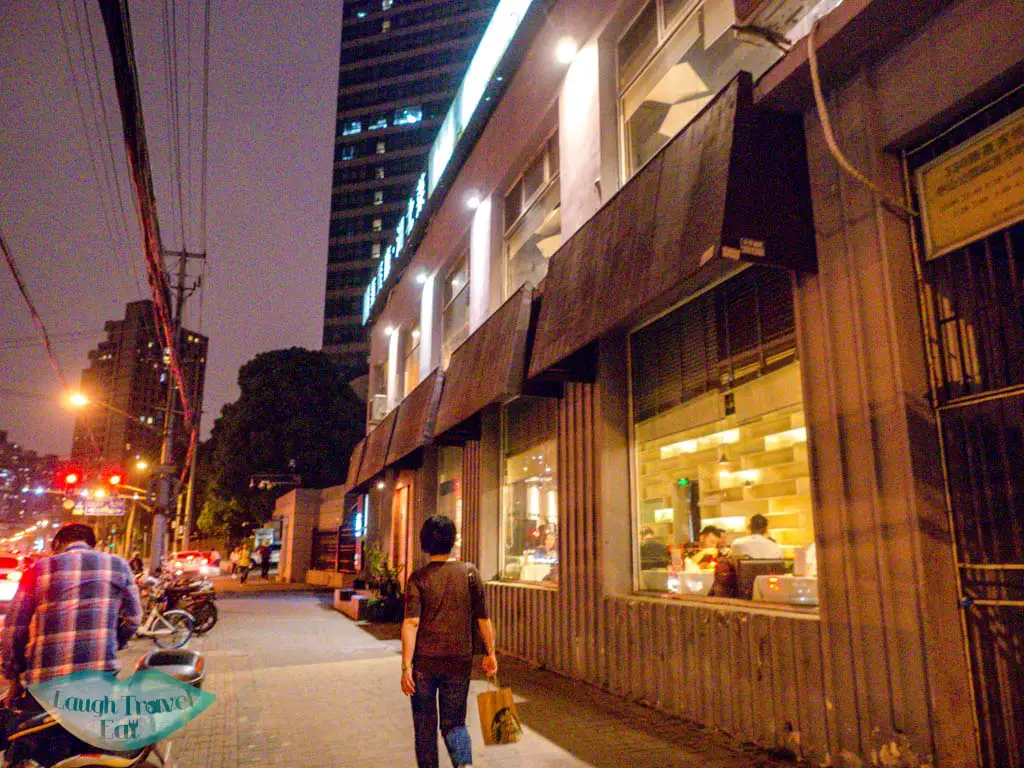 Do you like spicy food? This is the place to be! It serves Hubei cuisine with a modern twist. It's more suitable for a group as most dishes are meant for sharing.
Address: 長寧區 长宁路641号
Opening times: 11:00 – 14:00, 17:00 – 22:00
Western Restaurants in Shanghai
Kathleen's Waitan

I booked an afternoon tea at Kathleen's Waitan, which is about 20-30 minutes walk from Yu Garden. It's a hotspot for many given that it has a great panorama of Lujiazui on its rooftop, though you would have to call and look in advance to see whether there are any functions or space available.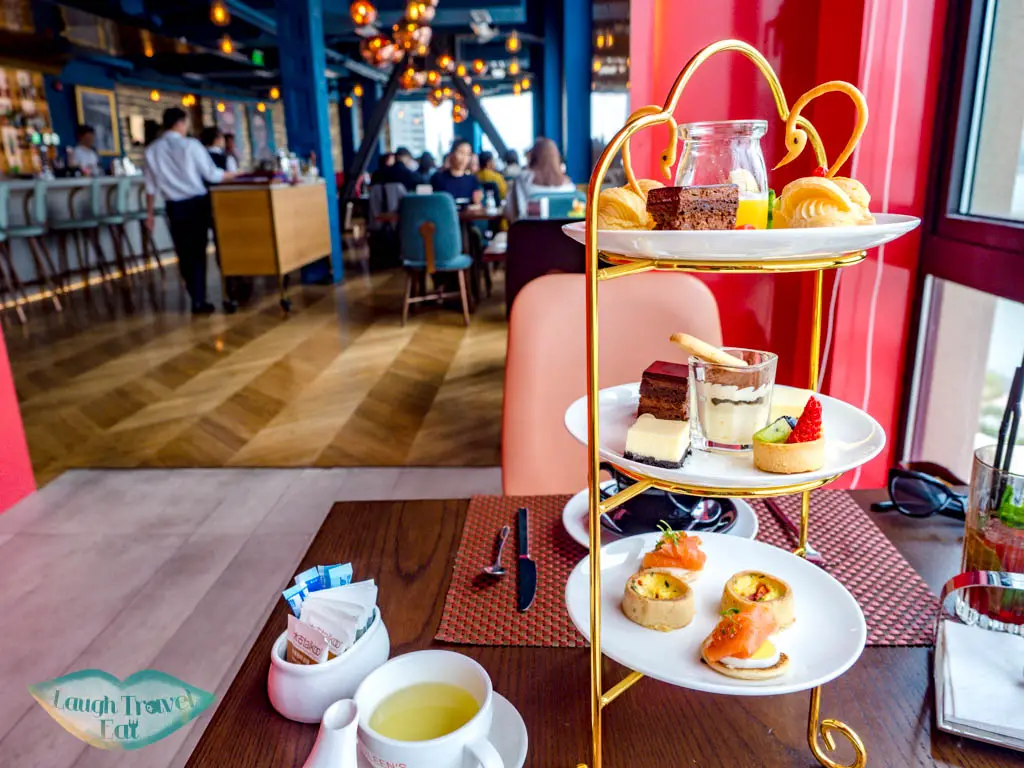 There was an event on the rooftop on my visit but the interior of the restaurant was lovely, too. The afternoon tea is decent for two and the atmosphere nice. It's perfect for some rest and afternoon chats!
Address: 1018 Yuyuan Lu
Opening times: 9:30 – 19:30
Closest metro: 小南門 Exit 3, turn left from exit and go straight, turn right at the first intersection and go straight down to park

Taste & See

In a cute hutong not far from Nanjing West Metro, I was enticed by the branch set at Taste & See and dragged my friend along. Truth be told, it is a little overpriced in Shanghai, but that's also common for most western restaurants.
The brunch set includes one main with buffet spread of dessert and some salad, as well as a drink (orange juice, coffee, or tea) at 180 RMB. For free flow house wine and bubbles, it's an additional 150 RMB. I ordered a burger with fries for my main while my friend ordered an avocado on toast. It seems that my portion is more value for money based on size!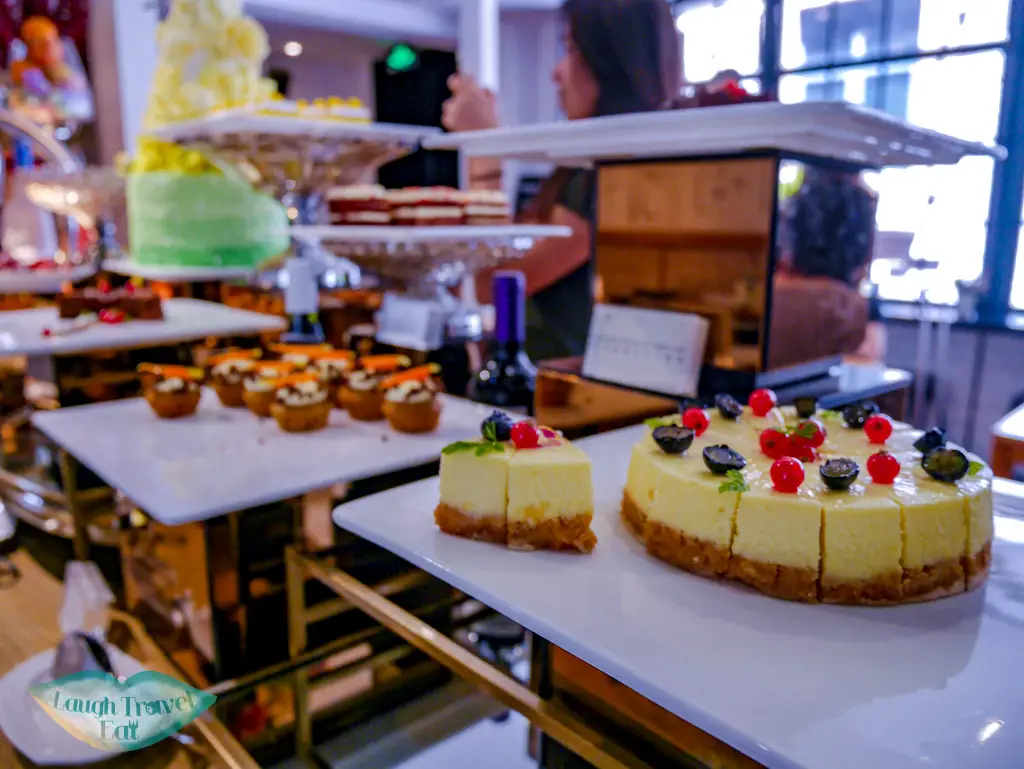 Personally, I think it's a cute little place to sit with friends and catch up. But perhaps not as suitable for people with less time on their hands and limited budget, since it's pricier but without a view.
Address: 99 Taixing Rd, Jingan Qu, Shanghai Shi, China, 200333
Opening times: Tue – Fri 11:30 – 14:30 17:30 – 21:30; Sat – Sun 11:00 – 21:00