Deciding on which Greek Island hopping routes to do can be a task in itself. There are over 6,000 islands in Greece and some of the more famous ones are not as close to each other as you think. Some islands are so big that you should probably just spend your whole holiday there!
Whether you are a Greek Island hopping virgin or just looking for inspiration, I hope this article is helpful!
Greek Island Hopping Frequently Asked Questions
Before we dive into the itinerary, here are some of the most commonly asked questions about island hopping in Greece:
How long do you need for Greek Island hopping?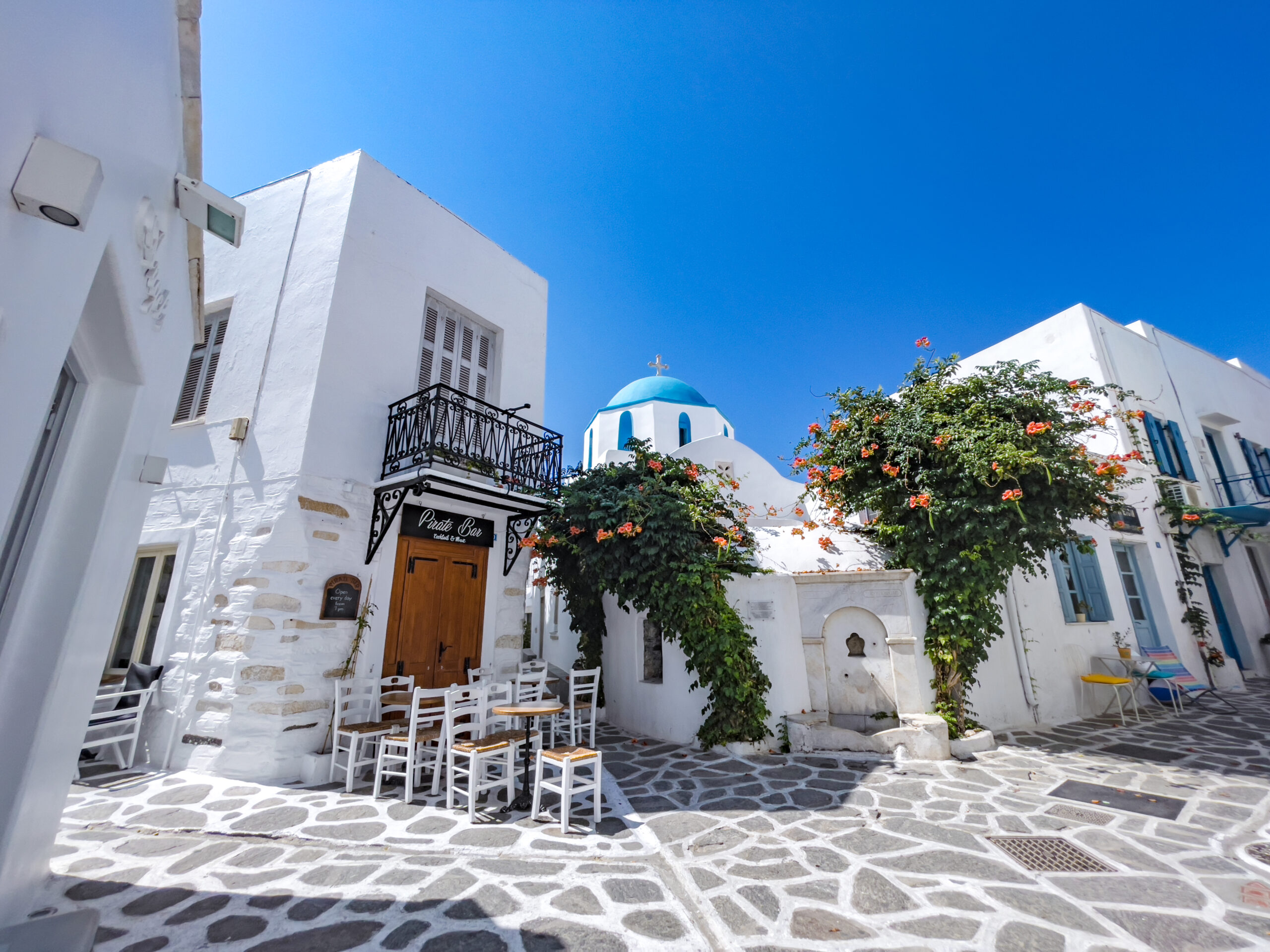 You will definitely need more than a weekend if you want to island-hop around Greece. I would suggest no less than a week and to hop 2-3 islands to make sure you don't burn out. It also depends on which island you are looking to visit, as some bigger islands would take longer to cover!
How do you plan an island hopping in Greece?
To plan an island hopping trip, first, you need to decide on which islands you want to visit. The best way to do this is to decide on which group of islands to visit:
Cyclades are arguably the most popular islands between the mainland, Crete, and include the famous Milos, Santorini, and Naxos.
Ionian Islands – Ionian Islands are west of the Greece mainland south of Albania, including Zakynthos and Corfu.
Aegean Islands – these are the islands on the northeastern end close to the Turkey border. Most famous islands include Samos and Lesvos.
Dodecanese Islands – are the islands south of the Aegean islands also along the coast of Turkey. The most famous islands are Rhodes and Kos. 
Sporades – are the islands closest to the mainland of Greece, with the northern group between the mainland and the Aegean, and the southern ones between the mainland and Peloponnese. The most famous ones are Hydra and Skiathos.
The most popular group to island hop is the Cyclades, but if you fly you can also do the Ionian Islands as well. Crete is not included in the islands because it's a huge place in itself. 
How much money do you need for Greek Island hopping?
Although Greek Island hopping shouldn't cost you a lot, it is not really a budget trip since most of them are only good during the warmer months and that's also when everyone is heading there.
Hostel options are few and far between, especially on the most popular islands. We went to 3 islands: Milos, Ios, and Paros at the very end of August and the beginning of September for 7 days here is a quick price breakdown:
Accommodation total for 2: 722 USD for 7 nights, so just over 100 USD per night at more budget accommodations.
Car rental: we rented an ATV for one day in Milos for 95 Euros
Ferry tickets: we took ferries for the entire trip that starts and return to Athens: 261 Euros for 2 on 4 trips
Meals: we set a budget for 25 euros per night which we exceeded twice only. It's doable if you're willing to eat Gyros Pita.
Is it hard to island hop in Greece?
Not at all! There are plenty of ferries and domestic flights connecting the islands. I personally prefer taking the ferry since it leaves from the main port, which is usually smack in the town center.
I use Ferry Hopper to book all of my ferries and their app is super useful. When our ferry was running late from Milos to Ios, I was able to track it through my phone so I didn't panic like some other people!
For flights, use Skyscanner and Google Flight and book early! Ferries are better because the prices stay the same no matter when you book.
Top Tips on Greek Island hopping
I ended up getting some tips that weren't very useful or is wrong. So here is my actual experience based on my trips in Milos, Ios, Paros:
Do I need cash or can I use card on the Greek islands?
Most places accept cards – although bus stations might not. If you are heading to the popular islands, chances are you can get away with just a small amount of cash.
How is the data and Wifi situation on the Greek Islands?
Wifi is surprisingly much better than Athens. If you are in the main port or any of the towns, there is generally a good signal. I used roaming on both the 3UK sim card and the GiffGaff and it worked well.
But don't expect there to be consistent signal when you're out in the sea on a boat trip or on a ferry.
Greek Island Hopping Ferries Guide
Generally, the ferries are on time. You can arrive 15 minutes or so before scheduled departure, especially on bigger islands.
I used Ferry Hopper to book my tickets. But you need to read carefully about whether it's an electronic ticket or if you need to collect a physical ticket. Some require you to collect a physical ticket at an office and it's best to do that earlier.
Note: if you forgot – they do let you on in the case that we saw, but the staff can be a little mean about it.
You have to check in 48-2 hours before departure for electronic tickets as well!
Seatings on the ferry
Most ferries have indoor and outdoor seating with no scheduled seats. I highly recommend getting on early if you can.
Blue Star ferries have luggage racks at the bottom, but our other two ferries we had to take the suitcases along.
There is generally an escalator going up but not going down. There is staff that might or might not help you depending on how crowded it is!
Greek Island Hopping Routes
Planning the best Greek Island hopping route
What is the best route to island hop in Greece? There is no right answer for that as it depends on the atmosphere and sights you'd prefer. Here are my favourite islands:
Zakynthos – part of the Ionain Islands, home to the famous Shipwreck Beach and many turtle nesting beaches.
Santorini – Santorini should need no introduction as the most famous Greek Island. From the caldera in the middle of the bay to the dramatic cliffs, it's an absolute stunner and rightfully crowded.
Milos – Milos is quickly becoming more popular with tourists because of its varied landscape and many beautiful fishing villages. And prices are starting to reflect that.
Ios – Ios is famous for its party scene but it was the charming view of Chora that enchanted me.
Paros – is the typically idyllic Cycladic island that is full of pictureque houses and boutiques.
Mykonos – Mykonos is another typical Cycladic island is known as the most LGBTQ-friendly destination.
Naxos – Naxos is the largest island in the Cyclades with some important sites like Emery and Marble mines.
Samos – Samous is the largest island in the Agean group and an underrated island with cute towns, nice but rocky beaches, and sweet wine.
Corfu – Corfu is the biggest Greek island closest to Albania. 
I'd highly recommend starting the trip or ending the trip in Athens. It is a bit of a gritty city but the Acropolis is a must see in Greece if you haven't been before. Plus, there are so many beautiful places to dine in Athens.
Greece Island hopping itinerary 7 days
How do you spend 1 week island hopping in Greece? I would say that you can do 2-3 islands depending on how close they are together. Here are a few of my suggested highlights:
Ultimate Highlight: Zakynthos – Athens – Santorini
Both Zakynthos and Santorini are in different island groups but both have an international airport, making it possible to island hop. That said, direct flights aren't possible, so making a stop in Athens is a great option to see the Acropolis. It's great for both a girls' trip or a romantic getaway:
Day 1 – 3 Zakynthos
Zakynthos serves many international flights but only during high season – you can see a full list here. Most major European cities have flights over as well as other nearby countries. It can even be a great extended trip. Here is a rough overview:

Where to stay in Zakynthos:
For Zakynthos, you should actually avoid staying in Zante Town the main town, since there are no nice beaches. Argasi is the nearest town south with a beach. Overall, you should be renting a car to get around or booking day tours, so here are some general suggestions.:
Budget: Pettas apartment is a great choice in Zakynthos town, or Giannis Studios in Alykes. 
Midrange: Lemon Garden in Vasilikos is an entire holiday home. Although not seaside, Pansion Mary is a quaint place with great hospitality. Katerinas Inn Apartment is also lovely in the small town Kerion. For Argasi, there is the seaside Mirabelle Hotel.
Splurge: for the ultimate treat, Lesante Blu is an adults only hotel in Tragaki. Another one is Villa Melite which is a mountain getaway.
Day 4 Athens
Where to stay in Athens
Budget: Most budget options in Athens are around Omonia Square, but it is the dodgier end of Athens. That said, if you are staying close to the metro station like we were, it was fine. We stayed at Elikon Hotel which was basic but lovely and next to a good bakery that opened early. Another hotel nearby is Parnon Hotel.
Midrange: Tatania Hotel is also near Omonia Square with a terrace view of Acropolis. Or stay by the central Monastiraki Square at 360 Degrees which would be a little noisier but less dodgy.
Splurge: Theasis Athens has an amazing view and friendly hosts. Or stay in Plaka at Electra Palace Athens or Electra Metropolis, both offering a stunning view of the Acropolis.
Day 5 – 7 Santorini

Day 1: Arrive early (or have already landed) in Santorini and head to your hotel in Oia or Fira. I'd suggest Oia for the ultimate romantic vibe. You can relax on day one and walk around the village of Fira and Oia, which are connected by bus. If you want to do something anyway, there is a sunset wine tasting tour. Did you know that Santorini has a unique pruning process?
Day 6: The absolute must-do for Santorini is the volcanic boat trip! It's the classic boat trip to take to visit the caldera, hot springs, and some beaches. There is a luxury catamaran version as well. If you want a later start, this boat trip only takes 5 hours.
Day 7: This is a free day! Take a beach day before your flight or seize the chance to visit some ancient ruins on Santorini.
Where to stay in Santorini
If you have to splurge on accommodation in only one place, Santorini is definitely it. As mentioned, I recommend staying in Oia, but Fira would be more convenient if you prefer to take the bus.
Budget: Galatia Villas is in the backstreets of Fira main town which is affordable and has a pool. Closer to Fira main town is City Break. 
Midrange: In Fira, the Winery Hotel 1870 and George & Joanna Suites are both good choices. In Oia, Alsaki Suite by K&K and Central Hostel Oia are the more budget choices.
Splurge: Amaya Selection of Villas is a luxury Cycladic-style villa with hot tubs maisonette that overlooks the caldera. Another great choice is Hyperion Oia suites which have a heated pool perfect for honeymooners. For a cheaper splurge in Fira, check out Fira Deep Blue Suites.
Greek Island Hopping itinerary 10 days
Note: If you can only do 7 days, simply cut Athens, Paros, or Milos (or Ios plus a day in Paros).
Underrated Cyclades Island: Athens – Milos – Ios – Paros
Day 1 – 2 Athens
Just follow the same Athens itinerary from above. With the combined archaeological ticket, you can see the sights over 2 days instead of one!
Day 3 – 5 Milos
Day 1: you're probably arriving in the afternoon from Athens to Milos (unless you flew out last night). This would be a good day to explore the island's many sights that the boat trip doesn't cover. My top picks are Sarakiniko, Papafragkas, and Plaka. Sunset at the Plaka Castle is definitely a highlight.
Day 2: take the full day boat trip to explore the many coastal gems of Milos! It covers the fishing villages, Sikia Cave, Kleftiko, Gerakas, sulfur mine, and my favourite Poliegos.
Day 3: take a morning trip to see the fishing villages Mandrakia and Firopotamos before taking a ferry to iOS. if you arrive before sunset, head to Agia Irini by the main port to see the sunset.
Day 6 – 7 Ios
Day 1 – In the late afternoon, head up to explore Chora Village and watch the sunset at the Odysseas Elytis Amphiteahtre before going back for dinner and a night out.
Day 2 – relax at Milopotas Beach in the morning as a break and take an afternoon or full day boat trip from there to see Tripiti Beach and Never Bay.
Day 8 – 10 Paros
Day 1 – arrive in Paros by lunchtime and spend some time exploring Parikia old town before taking a bus to Naoussa and staying there for sunset and then the nightlife.
Day 2 – Take a day trip to Antiparos
Day 3 – Head up to Lefkes for a morning trip before you leave.
Greek Island Hopping Itinerary 14 days
If you have 2 weeks, you can do 4 islands! This itinerary I stole from my friend who went to two Ionian Islands and 2 Cyclades Islands.
Note: If you want to do only Cyclades Islands, simply extract the Mykonos itinerary and insert it to the 10 days itinerary!
Day 1-6 Santorini

Day 1: Arrive in Santorini and relax in Fira, dinner at the Aris Restaurant.
Day 2: Head to Imerovigli to roam around town before enjoying the sunset at the suite.
Day 3: move to Oia and explore the village. Dinner at Ochre Restaurant.
Day 4: Go on a full day cruise from Oia.
Day 5: Move to Fira and visit some ancient ruins or relax on a beach before taking a wine tasting sunset tour.
Day 6: take the ferry to Mykonos
Where to stay in Santorini
Since I've covered my picks, here are where my friend stayed + similar alternatives in case it's booked out:
Fira: The stylish Loizos Stylish Residence and Georgia Studios both have great views.
Oia: Allegro Suites
Imerovigli: Above Blue Suites has an unrivaled view at the tip of the Santorini island.
Day 6-8 Mykonos

Day 1: Arrive in Mykonos and explore Mykonos town. Depending on your arrival time, you can even take a sunset cruise!
Day 2: If you like history and Greek mythology, don't miss Delos island with its ancient ruins. Alternatively, see Delos from the sea with a combined boat trip that also visits Rhenia Island.
Day 3: Mykonos to Kefalonia
Where to stay in Mykonos
Budget and midrange options are few and far between during the high season. Expect to pay more when you visit Mykonos. Airbnb booked in advance is likely the best idea. But here are some other top picks:
Splurge: the Poseidon Hotel Suites in the city center is one of the best-reviewed hotels with free shuttles. Vencia Boutique Hotel is atop a cliff with an infinity pool.
Day 8-11 Kefalonia

Day 1: arrive in Kefalonia and get a rental car to drive to Sami (around 1 hour)
Day 2: Do the Melissani Cave Lake and Drogarati Cave tour, then drive to Myrtos Beach and then Fiskardo
Day 3: From Fiskardo, it's a 40 minutes drive to ASOS, then Petani, Luxori, and take the port ferry to Argostoli
Day 4: Drive to Pessada Harbour to return the car then leaves for Zakynthos
Where to stay in Kefalonia
Since Kefalonia was a road trip, they stayed at different apartments:
Day 11-13 Zakynthos

Day 1: arrive in Zakynthos and relax at the beach or at your hotel!
Day 3: leaves for Athens
Day 13-14 Athens
Day 1: arrives in Athens and depending on time, go on a food tour and head up to Aeropagus Hill for sunset.
Day 2: leaves Athens and returns home!