How to Hike Mount Olympus Greece: practical guide by a solo hiker
One of the biggest highlights of my Greece trip was that I got to hike Mount Olympus. Yes, you read right – the Mount Olympus that is home to the Olympian gods. It's about 1.5 hours from Thessaloniki in the north of Greece, and a natural stop if you're heading south to Athens.
I was excited and eager to hike Mount Olympus, but on initial research, I was faced with a myriad of information that was too technical or too broad. Here is a comprehensive guide that includes all my experience and research:
FAQ on hiking Mount Olympus

Mount Olympus is not actually a mountain, but the name of a nature reserve in the north of Greece. It consists of 52 hills with the highest being Mytikas at 2,917m. It'll take you days if not weeks to hike all the trails in the region, which is not recommended if you don't have hiking experience. I've broken it down further in the below questions:
Can tourists climb Mount Olympus?
Yes, anyone can climb Mount Olympus. You don't need a permit or hire a guide or join a tour to hike Mount Olympus. Although it's recommended to be prepared for your hike and join a tour/hire a guide if you're hiking solo (which is what I did).
Is climbing Mt Olympus worth it?

Yes! You have the bragging rights of not only summiting the highest peak of Greece, but also having visited the home of the Olympian gods. Mount Olympus is a nature reserve and the biosphere as you go up are beautiful in their own rights.
Is it easy to climb Mount Olympus?
Mount Olympus isn't as hard as I thought to hike, and I would rate the hike not including summitting Mytikas to be easier than both Mount Kinabalu and Mount Fuji. However, the highest peak Mytikas, was a scramble up and not to be attempted by those who have no climbing experience or a fear of heights.
Can you hike to the top of Mount Olympus?

Yes! Mytikas, the highest peak of Mount Olympus, is hikable. But it is a Class III scramble, so you need some experience, time, and careful footing in order to attempt it.
What is a Class 3 Climb?
The definition of a Class 3 hike is a hike that would require you to use your hands to scramble extreme terrain. In Mount Olympus' case, it would be steep rocks that are a little loose. 
How many days does it take to climb Mount Olympus?
It really depends on which route you take. If your goal is to reach Mytikas, the highest peak, then generally it's a 2 day 1 night hike. But there are multi-day hike tours that would last up to a week!

Of course, there are also day trip options that will take you around Mount Olympus Nature Reserve. This trip combines a visit with Dion and is less physically demanding, while this one is a full hike from Thessaloniki. Or you can also do a canyoning trip!
Can you climb Mount Olympus in one day?
Yes – it is possible to hike Mount Olympus in one day. If you start early and take the Gorstica trail, which is also the one that I took, you can make it back down by nightfall. The hike is estimated to take 10-11 hours, so you should only try to do it in one day if you are fit and have hiking experience.
How long does it take to climb up Mount Olympus?

The hike is said to take 10-11 hours, but you should also budget in time to eat and rest as well. This is why most people opt to do it over 2 days and stay overnight on a refuge. The highest one looks right at the Mytikas peak and serves hot food.
How do you prepare to climb Mount Olympus?
There are several ways you can prepare for climbing Mount Olympus, but mostly it's to do with your physical fitness and your equipment.
Fitness level for hiking Mount Olympus

You don't need to be very fit to hike Mount Olympus, especially if you opt to do that 2 day 1 night trail. However, if you want to summit Mytikas, I would recommend gaining some rock climbing and bouldering experience as well.
If you are in Hong Kong – some comparable trails to prepare for that level of hike are Lantau Peak (stone river) and Pak Lung Stream trek. Of course, they are not as long.
Gear list for Mount Olympus
Depending on the time of the year you climb up, you might or might not need extra thermal layers. It does get very cold during the night, so it's best to pack your fleece or puffy jacket.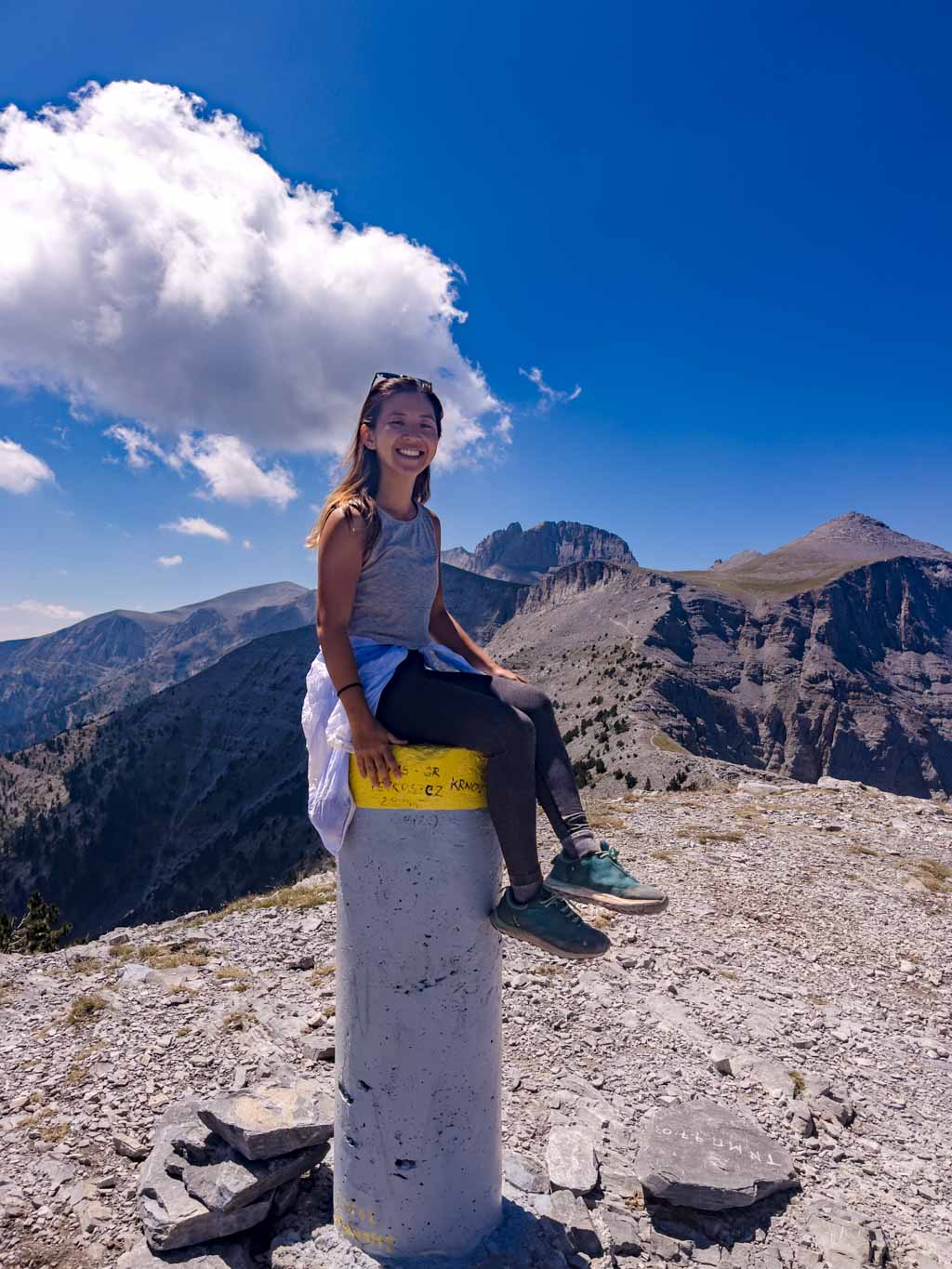 Good hiking shoes – ankle support would be a bonus but I was okay with my regular hiking shoes.
25-30L backpack – ventilation panel preferred. Some would advise you to use a bigger backpack but only bring essentials!
2L hydration bladder – which really was a life saver for me but you can probably do with bottles
Waterproof and windproof jacket – the weather can be unpredictable when you get high up and the wind can get quite strong
Thermal layer – fleece or puffy jacket. I have a 3-in-1 jacket and it was perfect for the cold evening and morning.
Hiking poles might be useful, but I didn't have any and I was fine. You don't need hiking poles for the ascent and descent to Mytikas because it's a scramble and you would need your hands
Snacks for the road – I opted for a half board 2D1N hiking package and was able to purchase sandwiches from Litochoro to bring up. I also had a few snack bars and juice boxes that was nice to have.
Sunscreen – the sun can be strong so definitely wear and bring sunscreen.
Sunglasses – same.
Cap – you do also want to have a cap!
Sleeping liner – I didn't have this either but I would recommend having at least something to put on the pillow because it's not very clean. I was wearing so much that not having the liner wasn't too bad.
Fast dry towel – you can wash your face and brush your teeth at the refuge, so it's good to have a towel for that. I also have a separate one for sweat during the hike.
Basic toiletries – toothbrush, toothpaste, and emergency lotions are very handy.
Battery pack – cold temperate can drain your devices' batteries! And getting a charging slot at the refuge can be impossible. So make sure you have a battery pack!
Charger and cable – there is a place to charge your devices at the refuge but space is first come first serve. It's still better to have the option than not!
Camera gear – I only had my GoPro and phone, but if my bag wasn't so heavy or if I can carry more, I'd!
Note: I tried to find if there are rental shops for hiking gear in Litochoro (where I started my hike) but couldn't find any. Nor did I see any hiking gear shops, so go prepared or buy things at Thessaloniki.
Where do I start the Mount Olympus hike?
Most of the routes for Mount Olympus start in Litochoro, which is about 1.5 hours from Thessaloniki. There are also hikes that start at Dion. If you are aiming for the easiest route up to Mytikas, then it would definitely be Litochoro.
How to get to Mount Olympus (Litochoro)
From Thessaloniki to Litochoro
The best way to get there is by bus. You need to take the bus from KTEL Macedonia, which is 3.5km from the city center. It's best to take a bus or taxi from the city center.
You can find the bus schedule here. The taxi ride to the bus station cost 7.5 euros and the bus itself 8.5 euros.
It's super easy and well-labeled inside with different counters for different destinations. The bus to Litochoro passes by Katerini, and the overall journey time is about 1 hour 15 minutes.
The bays are all easy to find and I waited for the bus which boarded and left on time.
There are two stops once we got to Litochoro, one at the official bus station, and the other at the square in the middle of town. Depending on where your accommodation is, get off at the one most convenient for you!
From Athens to Litochoro
I did this trip in reverse, but the bus to Litochoro is much longer and requires a change. My bus driver was very kind and made sure I got off and waited, but it did involve a roadside stop in the middle of nowhere close to Litochoro. It's also pricier at 34 euros but it is a 5-hour trip.
I would recommend flying to Thessaloniki and then heading to Litochoro. Alternatively, take the train or bus up to Kateri and then take a bus to Litochoro.
The bus station it connects to in Athens is the KTEL Liosion, which is also not close to the city center and requires a bus or taxi.
Mount Olympus Overview

Mount Olympus has long lived in Greek Mythology but the summiting of its highest peak wasn't until the 20th century. The first person to summit the highest peak Mytikas was Swiss photographer Frederic Boissonnas and his companions in 1913.
The area consists of 55 peaks between 2000 to 2918.9 m and it was established as a national park in 1938 and cover 225 km2. If you want to learn more about the entire national park, don't miss the Olympus National Park Information Center.
Mythology of Mount Olympus
Mount Olympus is the seat of the Olympian gods. And the rise of the 12 Olympians is related to the overthrowing of the Titans who ruled before them. The famous battle from which they emerge victorious is called the Titanomachy.
The Mytikas peak is the Seat of the Olympians, created during the Titanomachy. At its peak is the Parthenon, where the gods would gather, and Zeus's throne is just below on Stefani. Further down are the plain of the Muses where muses and other minor gods would be.
Geology of Mount Olympus
As much as I love Greek Mythology, the shape of Mount Olympus is best explained by its geological history.

Mount Olympus is part of the Pelagonic mountain, from Macedonia to Evia Islands. Most of the rocks are Dolomites and limestones with crystalline schist substratum, and the unique shape is a result of Ice Age glacier movements.

The mountain overlooks the plain of Katerini and you can see all the way to Thessaloniki and beyond on a good day.
Trails to Mount Olympus
There are over 160km of trails in Mount Olympus National Park, so hiking all of them would take weeks if not months. The most classic trail to hike for people looking to summit Mytikas is the Gortsia Trail.

Another is the E4 trail that links Litochoro to Prionia which goes through the beautiful Enipeas Canyon and takes around 5-6 hours. It is a great choice for a day hike and much easier.
Weather on Mount Olympus
Since Mount Olympus rises to over 2,000m above sea level, it has several climates. The foothill is Mediterranean with Black pine and Bosnian pine trees. Even during the summer, the temperature difference between day and night was huge and it got extremely windy and cold.

The best time to hike Mount Olympus is between July and September. While trekking to the peak is still possible in the colder months, you might need special equipment as the area would be covered in snow.
You can check the weather at the summit on this website.
Flora and Fauna on Mount Olympus
The Mount Olympus National Park is a rich biosphere with many florals and faunas. As someone who's more of a geologist, even I can see the change in plant species going up. But unless you are a plant enthusiast, you'll likely only notice the change from pine to a more barren landscape.

The coolest thing was spotting a group of Balkan Chamois- there are only 150 of them living here! There are other wild animals around but I did not spot them on the trek!
Mount Olympus Hike
Hiking Mount Olympus without a tour or guide

While you don't need a hiking tour to summit Mount Olympus, I recommend joining one unless you have extensive bouldering or rock climbing experience. It is dangerous to hike to Mytikas without a helmet, and it's far better to have harnesses and ropes to assist. Unless you pack specifically for the hike or is a pro, you're unlikely to have this equipment.
Mount Olympus Hike Tour
There are quite a few different tour options for the Mount Olympus hike and generally the 2 day 1 night ones cost around 200 euros. The one-day ascent is cheaper at 135 USD, but only take part in it if you are fit!
I mostly browsed the tours on here, but ultimately didn't book through it.
In the end, most tours are filled up because of how last minute I left it, there was only one tour left. But if you are a group, you have more options depending on the group's physical fitness:
I ended up booking the 2 day 1 night trip with Greek Adventures on their join-in day. I opt for the half board which included dinner and breakfast and it was perfect.
Somehow, I also ended up being the only one on the joint in tour. My guide was Thanos and while his English wasn't good, it was good enough for us to chat. He organised everything in the refuge and also the equipment for summiting Mytikas.
Cost: 215 Euros (195 Euros + 20 euros half board supplement)

My first choice was Trekking Hellas but they are more popular and the dates got filled up quicker. The cost is similar and they are a trusted Greek company for adventures.
Cost: 210 Euros (meals not included)
Tips on booking Mount Olympus hiking tour
Look out for guaranteed fixed departure dates.
Find friends so you can go on a private tour. It's cheapest to be in a group of 4 to 5.
Book early to get the dates you want!
Book accommodations in Litochoro before and after the hike so you are prepared.
Hiking Mount Olympus
The Greek Adventure hike starts with a 9am meet-up at the town square in Litochoro. Since I was the only one on the tour, my tour guide drive us up to the trail start of the Gortsia trail in his car.

It's actually not a short drive in itself, which is why I was glad I booked a tour. If you rent your own car, you can also drive up. It seems to be a free for all parking situation at the trail start and we parked a little further away.
There is a signboard that marks that trail start with a map for you to check the route.
Gortsia Trail Start

The average time is 3 hours to the first refuge. It's mostly in the alpine forest with shade. There are a few flat stretches but mostly switchbacks going up the mountains.
The path itself is gravel-y and littered with lines and generally easy to walk on, with tree roots holding them firmly and the occasional bouldery parts. We took a small break along with other hikers at a bench, mostly to refuel aka eat a snack bar.
It's pretty easy and nice to hike in the shade, but there isn't much to see until we get close to the first refuge.
Refuge of Petrostrouga 

We actually reached the Refuge of Petrostrouga in about 2 hours or so. This is the first refuge (the name for the mountain hut) you'll find closest to the bottom of the hill.
There were people there enjoying a tea or coffee break, and it also offers overnight accommodation. Since it was still quite early and I wasn't that tired, we only stopped for a short while before continuing up.
The trail does get steeper and a short walk later, we emerged out of the tree line. There is a stretch that felt a little dodgy but it's fine. The trail is still quite rocky but still decent to walk on, so ankle-support hiking boots aren't too necessary.
Skourta Peak (2485m)
The Skourta Peak is marked by a pillar and we stopped there for lunch. It has a great view of the massifs that make up the highest mountain cluster of Mount Olympus.
From there, it actually wasn't too bad with only a switchback stretch before reaching the Plain of the Muses.
Plain of the Muses
The Plain of the Muses is just a plain that rests below Mytikas. There are two refuges in the area and we took the trail to the left to go to Spilios Agapitos Refuge.
It's a gentle incline up and we actually made it to the Refuge by 2 pm or so.
Spilios Agapitos Refuge
The Spilios Agapitos Refuge is the first refuge established on Mount Olympus in 1939. It is the base camp for climbing up Mytikas and comes with a kitchen, dorm, and bathroom.

The bathroom is indoor but can only be accessed from the outside at the back of the building, while the dorms are mixed but come with pillow and blankets. As mentioned in the gear section, it's much better to bring a liner to sleep in.
We took a short break here and the tour actually took me up to the summit on the same day and not for sunrise!
Chondronmesorachi Ridge
The Chondronmesorachi Ridge is the name for the narrow ridge that scoops under Mytikas. Once we reached the other side, my guide Thanos carefully looked for the scramble trail up.
We donned our helmets, and I was hooked onto his harness with a rope. This makes sure that if I slipped and fell, I wouldn't fall off. I asked the guide if that actually ever happened and he said only twice in his career as a hiking guide. So don't worry.
The ascent up to Mytikas was truly more like bouldering and rock climbing. But if you have good hand-eye coordination and shoes with a reasonable grip, you should be able to do it. A girl we met on the way up did it in runners and shorts!
But let me warn you in advance that coming down is another story.
Mount Mytikas
The summit of Mytikas is smaller than I thought given that it's the seat of the Olympians. The highest point is marked by a Greek flag and there is a guest book you can sign!

I took some photos and panorama at the top but overall, the view isn't particularly better or worse except that you get a 360 view.

Going down was really not something I'd like to do again. It's hard on the knees and some of the footings are difficult. You also have to watch out for other hikers in case one of you knocked off some loose rocks. With the level of steepness, it can gather momentum and cause real damage.
We were lucky to spot a Balkan Chamoix as well!
Sunset by Spilios Agapitos Refuge
We made it back to the Refuge with plenty of time to spare. The dinner choices weren't much, and I ended up getting spaghetti bolognese (you can also get rice). It wasn't the best meal, but the portion size was generous and it was tasty enough.
Water, however, costs extra.
Sunset was somewhere behind the refuge and it was only a short walk, so I headed over. The view was well worth it but remember to get back before it gets too dark!

The temperate also drops dramatically at night, so it's important to bring warm layers. Especially since the bathroom is accessible from the outside.
Most people have gone to bed by 8 pm and I did the same. The data signal also comes and go, so there isn't much to do.
Sunrise and Descent

Most people got up around sunrise and so did I. From my window, I could see the view of Mytikas which was quite nice.

I set up my GoPro to take a timelapse while I brush my teeth and got breakfast. I had a choice between omelet and toast and I went with omelet.  
We ended up setting off back down at around 7 am and it was the same way down. The golden hour made everything look more magical, and we ended up back down in around 3 hours.
Litochoro
Litochoro is the default base for all those looking to hike Mount Olympus. It's a small town with many locals and 22km from Katerini, so many take the bus there to go to the beach as well.
There isn't any special attractions in town, although I did enjoy a visit to the Mount Olympus Information Center. Even if it was a weird walk from town. If you are staying a little bit before and after like I did, here are some recommendations:
Restaurants in Litochoro 
There is actually a good selection of restaurants in Litochoro and also plenty of mini-marts and one supermarket. Do note that mini-marts tend to close for siesta, so make sure you have your snacks and drinks or you'd have to go to the one supermarket.
Most restaurants also have a siesta but there are also quite a few cafes around. Here are the ones that I've tried and liked: 
Hairi
Hairi is right by the town square where I was dropped off the bus and I had my first meal there. The moussaka – a Greek lasagna with aubergine/eggplant – was delicious and a hearty portion! There are also seafood dishes and the owner was very friendly.
Address: 28is Oktovriou, Litochoro 602 00, Greece
Opening times: 12:00 – 0:00
Mele Mele Μεζέ Μεζέ
Mele Mele is located along the main road about 5 minutes from the main square. It is right by the pavement with adorable red tablecloth street-side dining. There were a lot of choices on the menu. Since it was my last meal before the hike, I went for a chicken dish that was also very generous in size. 
Address: Agiou Nikolaou 40, Litochoro 602 00, Greece
Opening times: 12:30 – 23:45
Lemonas
Lemonas is a bakery restaurant that I walked past on the way to the supermarket. It so happens that they sell individually wrapped sandwiches, which are perfect for hiking. They have a meat one and a cheese one, and both are quite delicious. Since it's only a 2D1N hike, and you can get down before lunch if you're fast, you only really need to carry a few.
Opening times: 9:00 – 23:00
ONE WAY- Fresh Fast Food
When I got back from the hike, all I want to do is to lie down and rest. So I bought a bottle of 1L Fanta orange and grabbed a gyros pita from here and took it back to my apartment. And it was perfect!
The staff there were really nice and the price very good. This is definitely a good budget eatery to go for. It's a shame that gyros pita would not be ideal as a hiking snack as it'd fall apart.
Address: 28is Oktovriou 3, Litochoro 602 00, Greece
Opening times: Close Monday, 18:00 – 23:00
Litochoro accommodations for hiking Mount Olympus
I would recommend staying by the main road of Litochoro to avoid going up the hill if you have big luggage. But staying in the hilly part of town can give you a crazy good view of Katerini and beyond. Some places even have a view of Mount Olympus:
Budget: Olympiades Rooms and Apartment is a great budget (but basic) option on the hilly side of town with friendly owners. Olympus View Rooms Sauna & Spa is near the town square with a good breakfast. 
Mid-range: Areti Apartments has kind hosts and comfy rooms. Mythic Valley is another boutique option with an indoor courtyard.
Splurge: Olympus Mediterranean Boutique Hotel has a spa that would be a great option post hike.