Looking for things to do on Ios Island? A lot of people gloss over this charming little island in the Cyclades, but it turns out to be an unexpectedly pleasant stop on our Greek Island hopping trip. Not only is there good public transport, the relatively smaller size of the island meant that we could see most of what we wanted to see in a shorter time! Here are our top things to do on Ios Island:
> See my Milos Island guide here (Island hopping trip itinerary coming soon)
Ios Island Essential Information
How to get to Ios Greece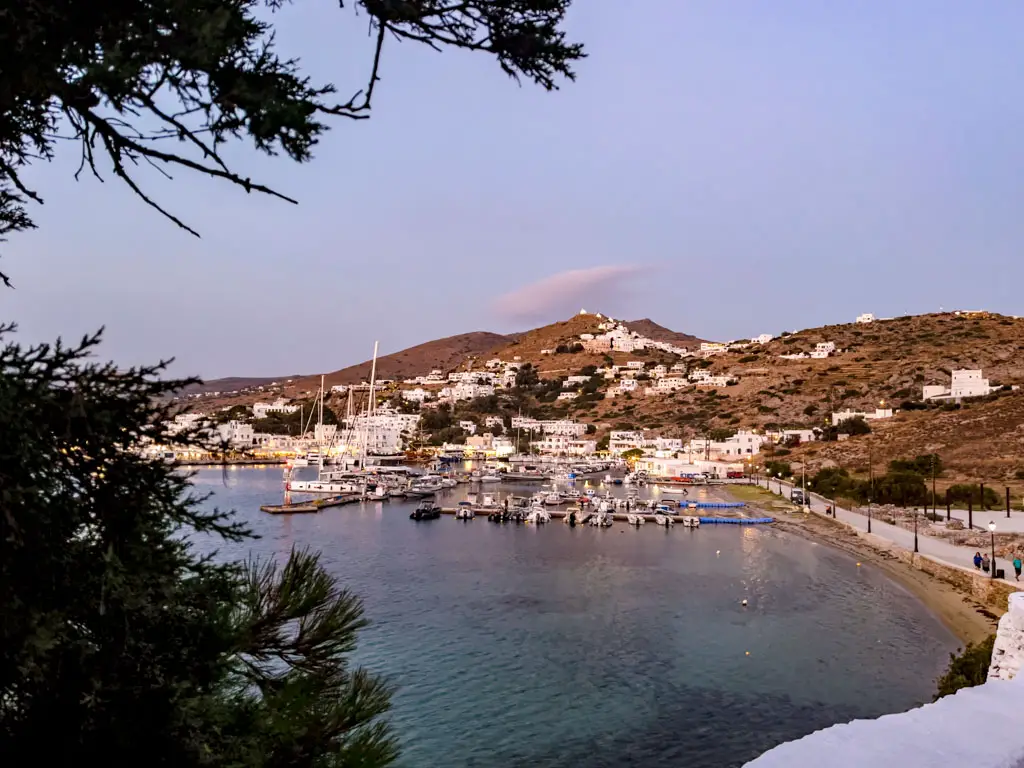 Ios does not have an airport, so to get there you have to take the ferry. The nearest airport from Ios is in Santorini, which is less than 2 hours away by ferry on average.
Ios Pier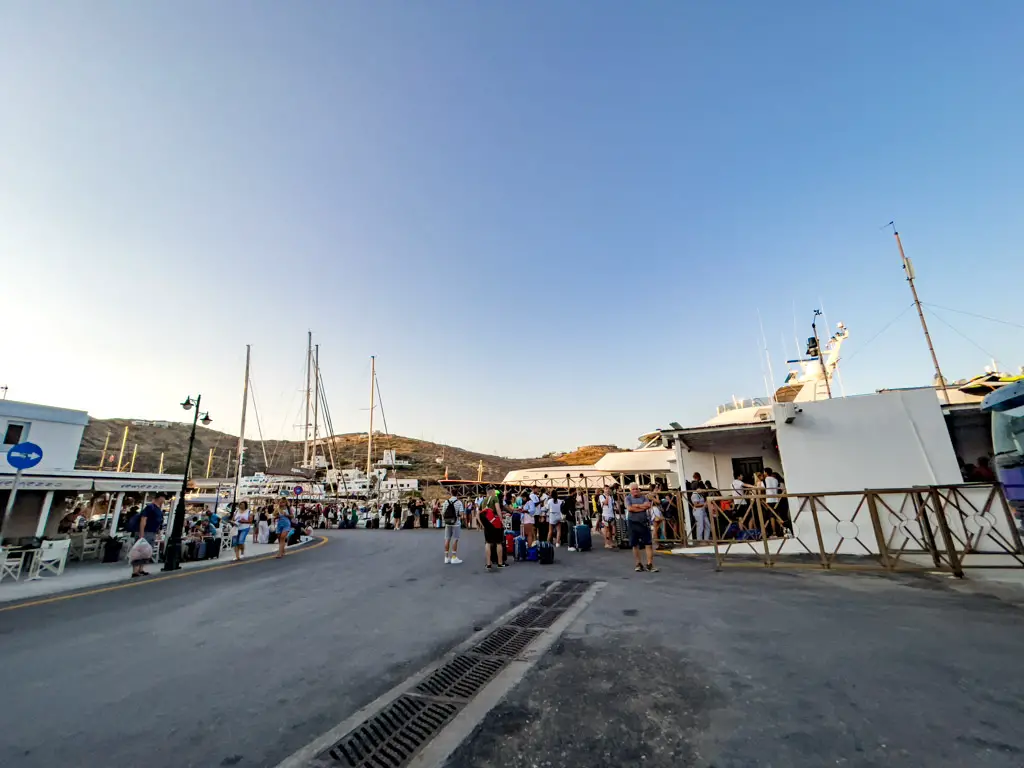 The Ios pier is a small pier, so there's no need to worry about missing your ferry or not knowing where to get on. There are several cafes and restaurants nearby and Yiousa Cafe is a popular place to sit and wait for your ferry.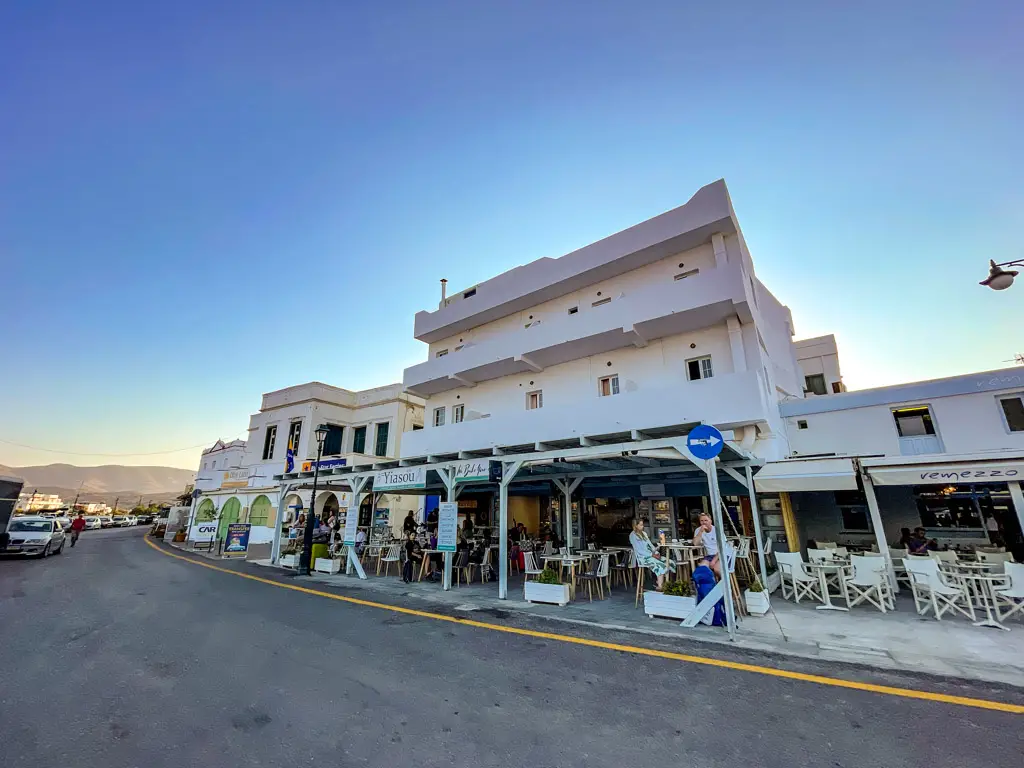 We took the ferry from Milos over, which took 4 hours 10 minutes. 
Ios Transport
Ios has one of the most well-connected bus links and schedules throughout our Greek Island hopping trip.
Ios car rental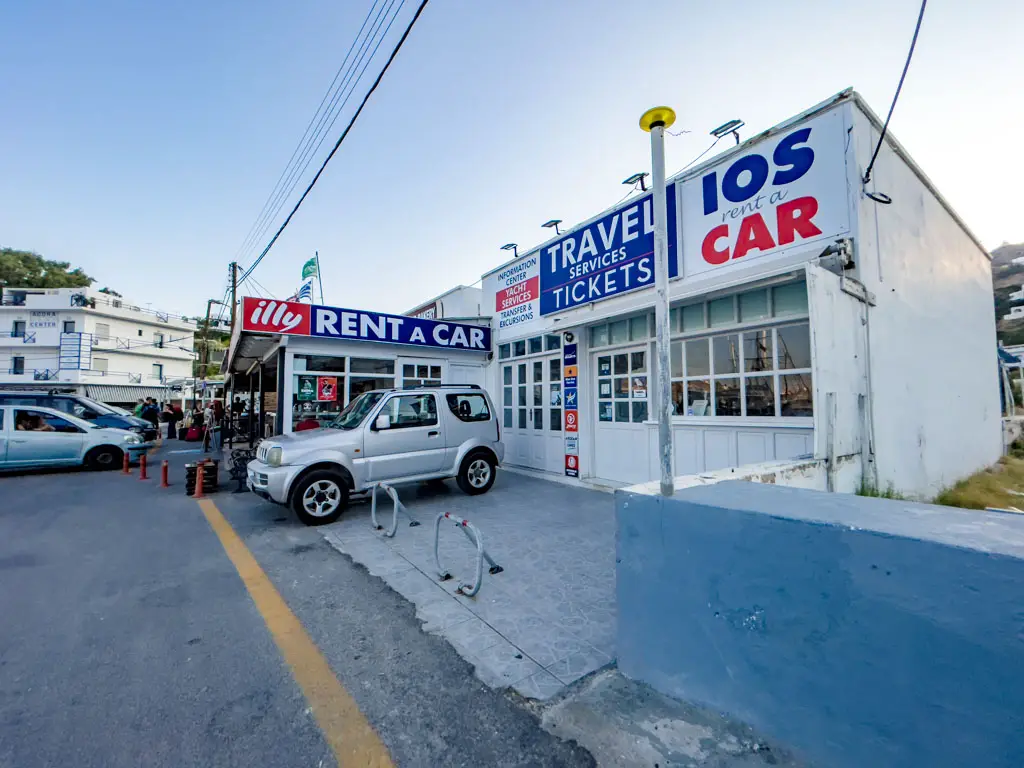 There are many car rental places with cars, ATVs, and scooters available around the port. We didn't end up renting a vehicle as the bus schedule is already quite good, and there aren't that many places to park in the main town.
Ios public bus
There are regular buses from Ios port to the Chora Village up the hill, and also to various beaches and spots across the island. This is the summer 2022 schedule for reference:
Cost: 1.6 to 4 euros depending on your destination
What is Ios Greece known for?
Ios island is actually known for being a party island. But did you know that the tomb of the famous Greek philosopher Homer is also on the island? You can also visit some ancient ruins or just chill at one of its many beaches.
Is Ios still a party island?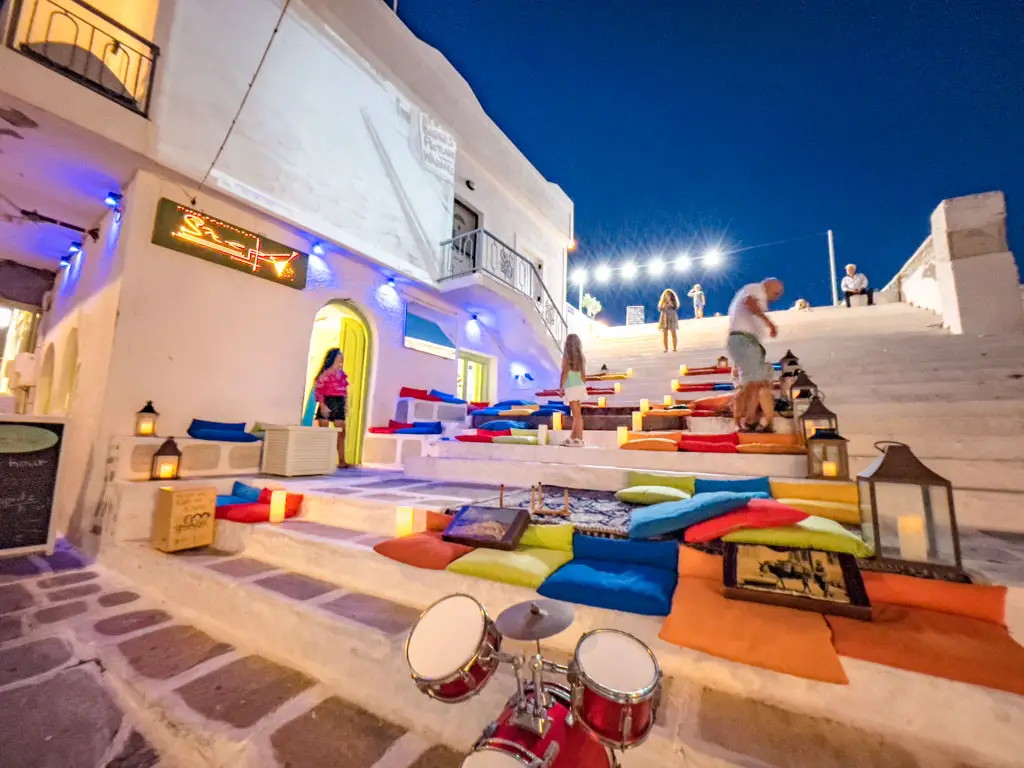 Yes! The nightlife is still popping (or so to speak) on Chora village, although we didn't end up going out since we only had two full days on the island.
Is Ios island worth visiting?
Absolutely! I added Ios to my Greek Island hopping trip because it's a smaller, more off-the-beaten-path island compared to Mykonos. But I ended up enjoying it a lot more than expected. The Chora Village is stunning.
How long should I spend in Ios?
We spent 2 full days in Ios and saw the highlights that we wanted. But if you want to spend more time on the beach or to party, I'd say 3-4 days is better.
Is Ios better than Santorini?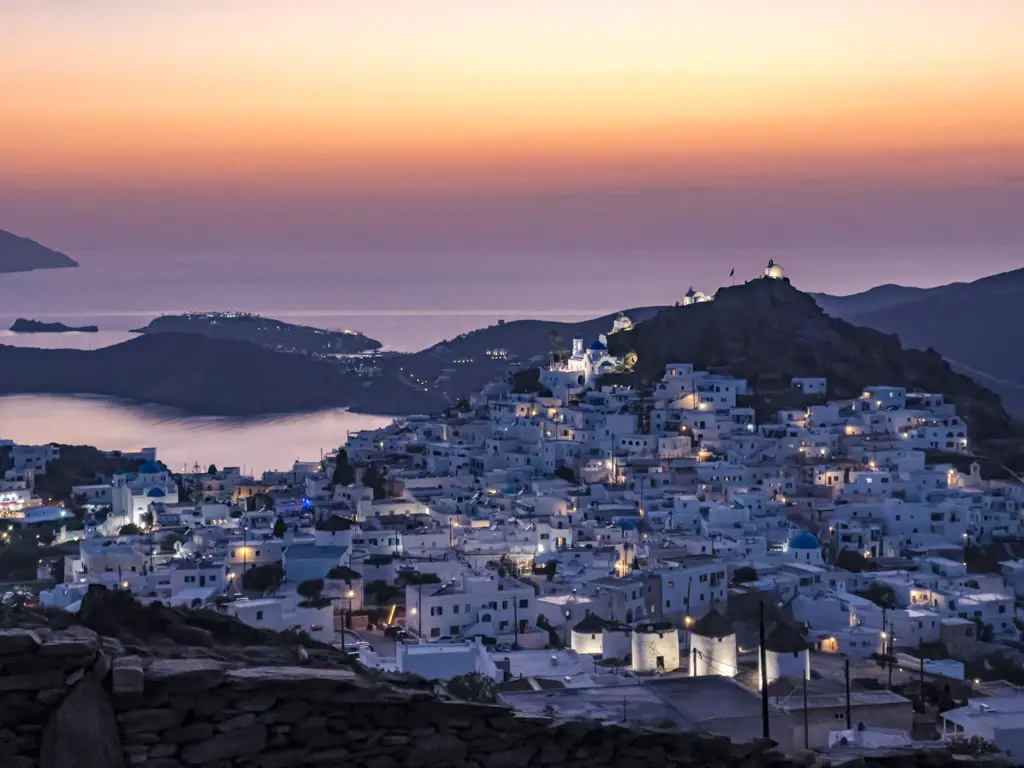 Ios has a different vibe from Santorini. I'd definitely not say one island is better than the other. But Ios is certainly a lot less busy and smaller. That said, Ios doesn't have an airport, and it's hard to beat the volcanic landscape that makes Santorini so famous.
Is Ios worth a day trip?
If you only have a day to visit Ios, I'd still do it. However, personally, I found the sunset the most beautiful, and it can be difficult to see it and manage the ferry schedule.
What's better Ios or Paros?
Ios and Paros are not that far apart, so if you have the time, I'd visit both islands. Paros has more of the classic Cycladic islands with pink flowers against white buildings vibe and is bigger with more towns. Ios is more compact. If you like shopping, then I'd definitely go for Paros.
Things to do in Ios Island Greece
There are quite a few things to do on Ios Island. Since we opt not to rent a car, we decided to prioritise the sights that we want to see instead of trying to do everything in two days. You can see my Greek Island hopping itinerary here for the full schedule.
Here, I'll just list the places in the order of my preference:
Chora Village
Chora Village is referred to as the village on Ios, which frankly confused me quite a bit when we first arrived. It is also sometimes called Hora, and is the capital of Ios and spread over a rocky hilltop.
The main town is only accessible on foot, but there is a main road with a big parking lot and bus stop at the bottom of town, which is still on a hill. It is very easy to get lost inside Chora and even google Maps doesn't have all the paths listed out. But it is a beautiful place to get lost in with all the narrow lanes and beautiful white houses.
There are also no less than 24 churches dotted around town! I found a map that listed out major attractions when we turned in: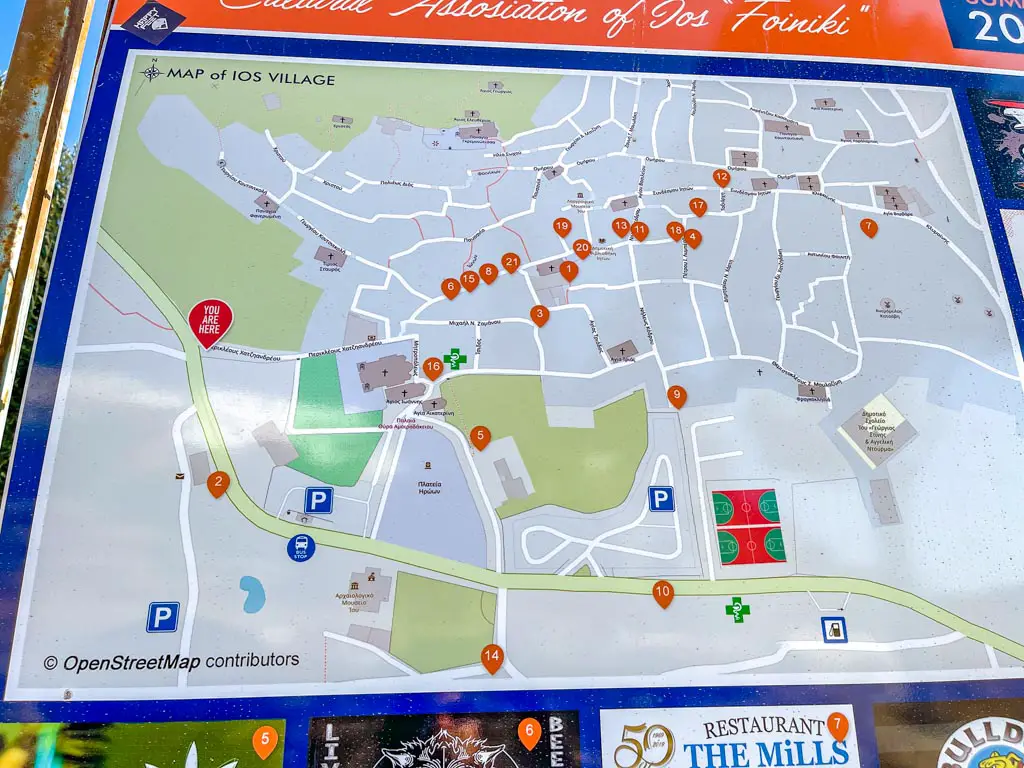 Note: You can walk or take the bus from the port to go up. The walk is around 20-30 minutes depending on your speed, but it is an uphill climb which can get hot in the summer.
Panagia Germiotissa
The Panagia Gremiotissa means Panagia (a title for the Virgin Mary) of the cliff. It is a church with a series of 3 churches on the very top of the village. It is also one of the most popular places to watch the sunset!
Legend says that the image of Panagia came from a raft from Crete at Milopota Beach. They built the church high so it has a view of Crete.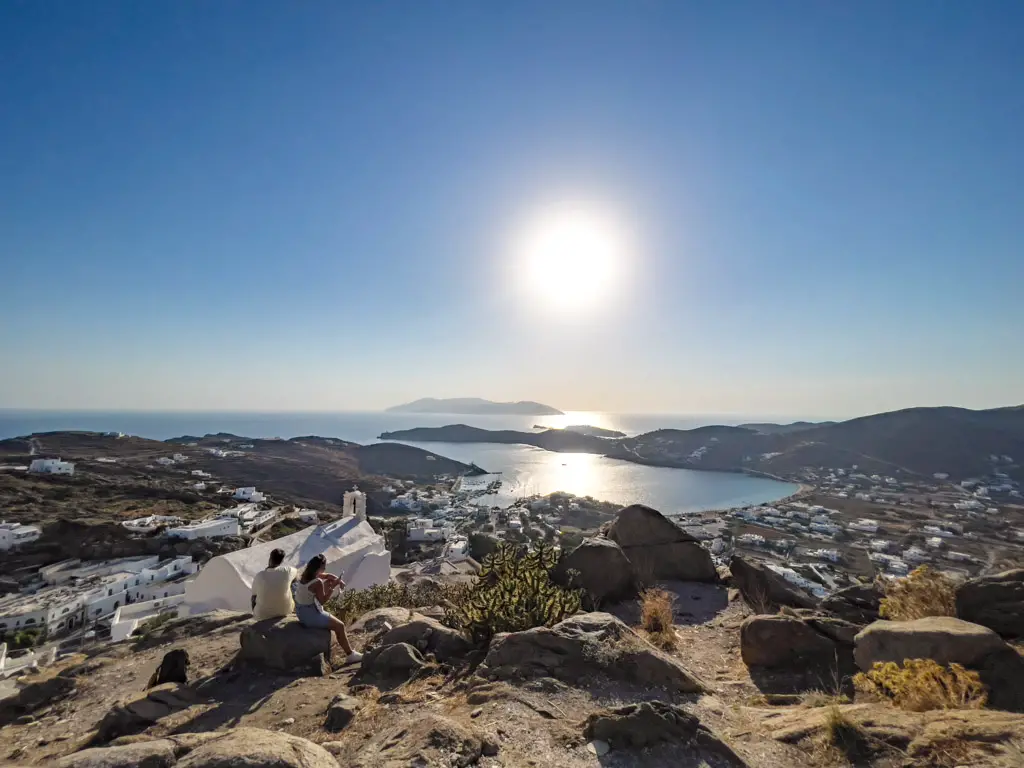 The main church is not on the hilltop and you enter it through a tunnel gate from the narrow alleys of Chora. It was built in the late 18th century and you can continue up to see the 3 famous churches.
The Mills Restaurant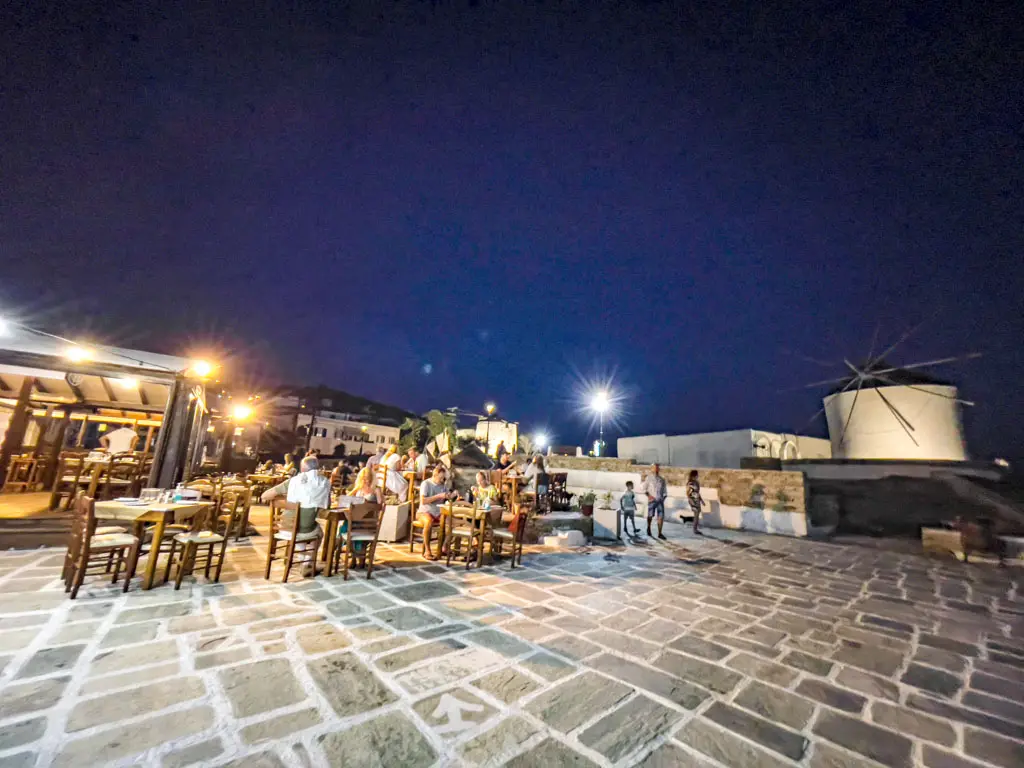 The Mills Restaurant is next to the windmill in one of Chora's big squares. It is a popular place to eat so be sure to arrive early or book in advance. We had their famous clay pot Moussaka, grilled octopus, and salad, and it was fantastic!
Address: Chora 840 01
Opening times: 17:30 – 0:30
Odysseas Elytis Amphitheatre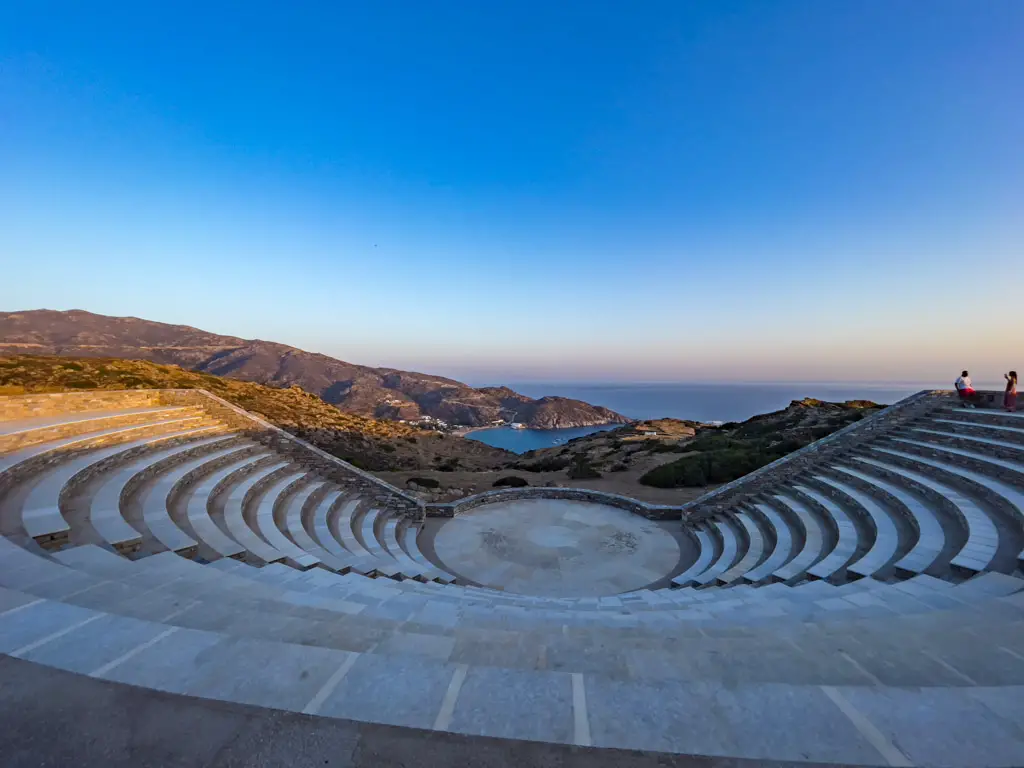 Also great sunset spot and a much less crowded alternative is the Odysseas Elytis Amphitheatre. It's another 20-30 minutes walk from Chora and is named after a famous Greek poet. The marble open-air amphitheatre is built in the ancient Greek style but it is only constructed recently in 1997. It can seat up to 1100 people and hosts summer festivals and concerts. Did I mention that it has a stunning sea view as well?
How to get there: there is no entry fee for the amphitheatre and you can just walk in. It is a little confusing as to how to get up so I took some photos to help you:
Windmills
Ios is one of the best places to find windmills that have become famous photo spots on Instagram. These were used to grind grains once upon a time, and now many of them have turned into homes or fallen into despair.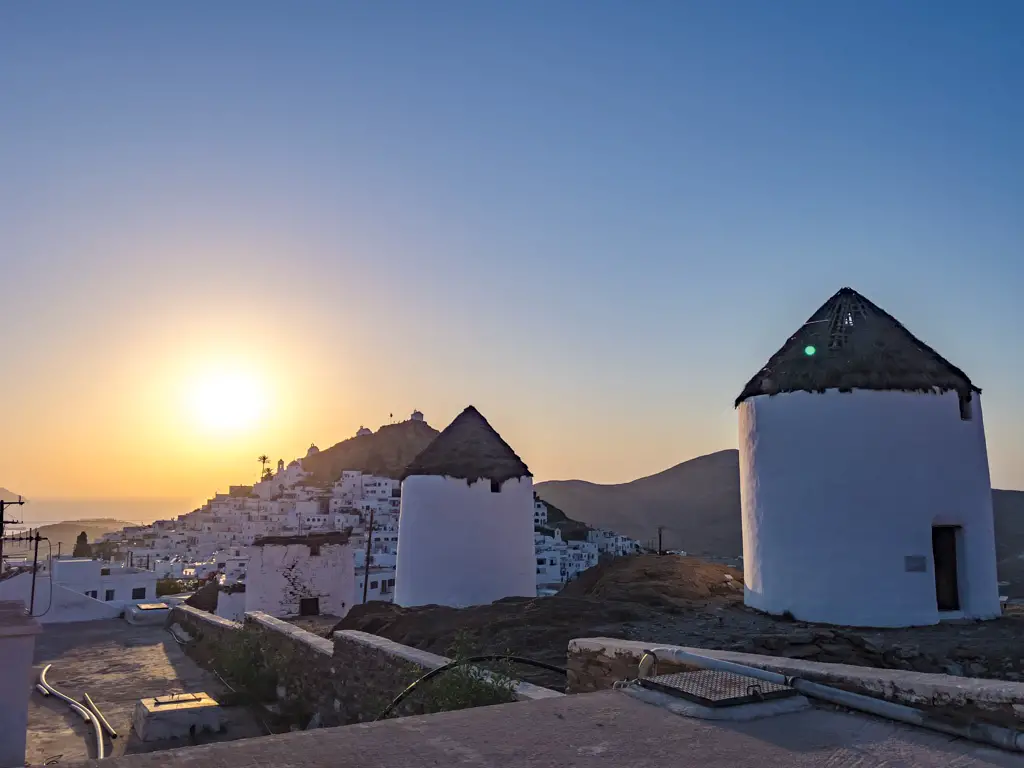 There is one across from the Mills Restaurant, and on the walk up from Chora to the amphitheatre we also saw 3.
Go see Ios Beaches
Ios has many beaches and I was surprised at the turquoise water and the fine sand. Although we only have time to visit a few, I think this might be the best island out of Milos and Paros to beach hop in! We ended up taking a half-day boat trip as well to get to the south side of the island.
Milopotas Beach
Milopotas Beach (or Mylopotas) is a short bus ride from both Ios port and Chora. It is a long stretch. The bus stop is towards the northern end of the beach, where you can find organised sunbeds and water sports.
If you just want to chill, the southern side of the beach is not overcrowded with sunbeds so you can have your own space.
Salt Restaurant Bar
We ended up using the sunbeds at Salt and also having breakfast there. Their bohemian decor really drew us in and the food was pretty amazing as well. They also have a menu for the sunbeds and a 10% discount if you dine inside the restaurant.
Sunbed costs: 14 euros for 2
Address: Mylopotas, 840 01 Greece
Tripiti Beach

Tripiti Beach is one of the more insta-famous locations for Ios and it actually lived up to its photos! The beach itself is idyllic and all but empty when our half-day boat trip arrived, and the sand fine.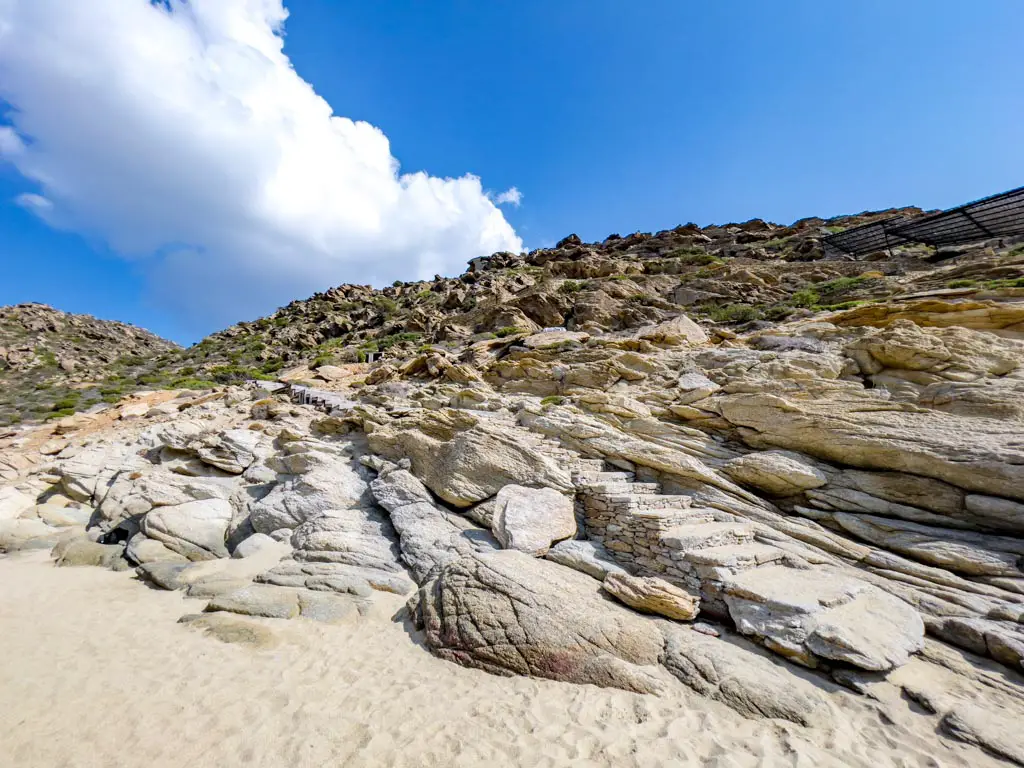 The viewpoint is just up from the stairs to the right of the beach facing away from the sea. This is part of a half-built structure with some abandoned sunbeds and some of the nails on the wood planks are half up, so watch out for your feet.
Note: you can't get to the beach by road if I remember correctly!
Never Bay
Never Bay is on the southern tip of the island and a pretty cool destination. Just west of the bay is a cove where you can swim under an underwater arch and emerge on the other side. But it's not for the faint of heart to try!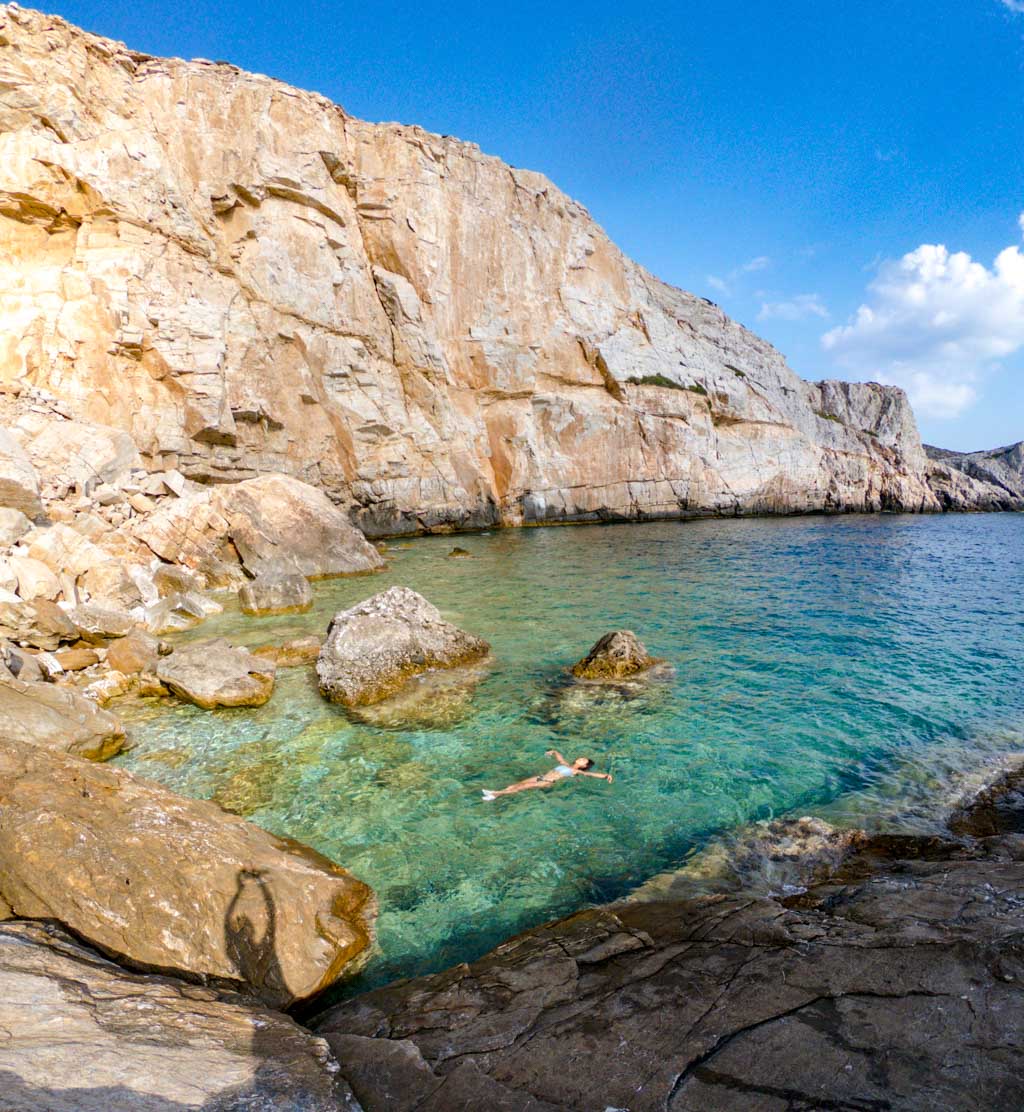 They bay itself is quite rocky so it's best to wear wet shoes if you want to climb on. The waves are also fairly big so I would be careful climbing out.
Agia Irini
Agia Irini stands on the edge of Ios port looking to the west Church close to town. It was built in the 17th century with two tall bell towers that make for a dramatic scene at sunset.
The walk from the town to the church pass by a beach and is a beautiful walkway.
Homer's Tomb
Homer was one of the most important historians in Greece in ancient time. He died on Milos and was buried in Plakoto, most likely because Homer's mother is allegedly from Ios. The grave's authenticity was verified by inscription and some other historical texts, making it a popular place to visit.
You do have to drive up there yourself, but the area is surrounded by beautiful vineyards so you'll get an amazing view.
Skarkos archaeological site
Skarkos is a Bronze Age archaeological site on Ios and one of the most historic in the Cyclades. It was excavated in the late 20th century on the west part of Ios over 1.1 hectares of ground. It was a 200-300 people settlement which you can now visit!
Paleokastro – the Byzantine castle
The word Paleokastro means the old castle, and it's a Byzantine castle built by the Venetians at the end of the 14th century. It's on the top of a cliff so they can watch out for pirates. There is a small church inside the castle compound.
Where to stay on Ios Island
Ios is not a big island. For convenience, I've opt to stay by the port throughout the entire greek island hopping trip. However, both Chora village and Milopotas Beach looks lovely and there are regular bus connection to the port. Here are some of my top picks:
Ios Port Hotels
Ios port is the best place to stay so that you can get off and on your ferry without having to take a bus! Since we have an early ferry, we wanted to play it safe.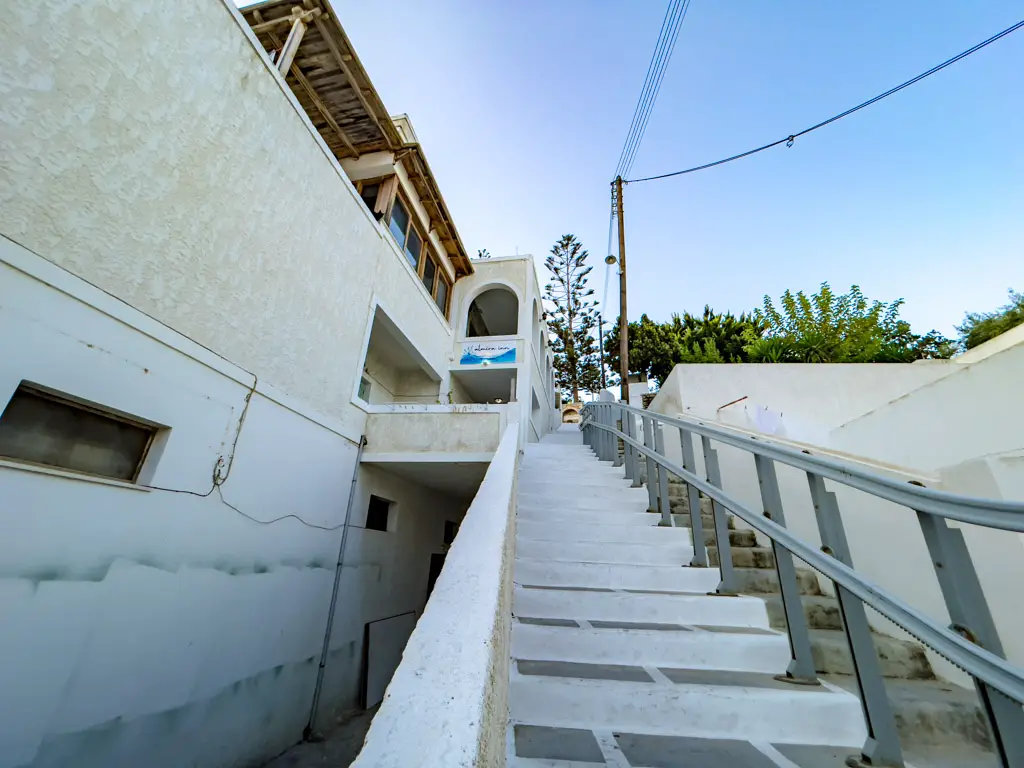 Budget: Almira Inn is atop a slight hill on the corner of the port town. But there's a small flight of stairs with nice rooms but basic bathroom. 
Mid-range: Poseidon Hotel has a pool and is just above Almira Inn. It also means the view is better.
Chora Village Hotels
Budget: Hotel Lofos – the Hill is close to the main road and Chora Village with basic but comprehensive rooms. La Luna's rooms are basic but they have great facilities and views.
Mid-range: You can stay inside Chora Village with Lofos Village, which even has a pool! Or stay a little further from town at Sunrise Hotel which has a stunning view and a bigger pool.
Splurge: Liostasi Hotel is on a cliffside near Chora with panoramic sea view rooms and suites. 
Milopotas Beach Hotels
Budget: Deep Blue Rooms & Apartments is a family-run hotel 100m from the sea. 
Midrange: Hotel Aegeon has lovely rooms and a pool and Holiday in Ios as well. And Far Out Spa has an amazing view on the hilltop from Chora to Milopotas.
Splurge: Ios Grand Pool Suites is on the northern headland of the beach with free parking and beautiful suites with seaview. Just next door is Ios Palace Hotel and Spa with cute balconies as well.
Unique Hotels on Ios
Splurge: Agalia Luxury Suites has an amazing outdoor pool and restaurant near the Tzamaria Beach.