Looking for things to do in Antiparos Greece? Or just looking for a day trip from Paros? Antiparos island is a smaller island close to its famous sister Paros. At the recommendation of a friend, I hopped over for a day trip and quickly fell in love with the charms of the island. From the white-washed building to the famous Antiparos cave, here are the top things to do in Paros:
> Planning to go to other Greek Islands? Here are my Ios island and Milos island guide.
Paros Essential Information
Antiparos Ferry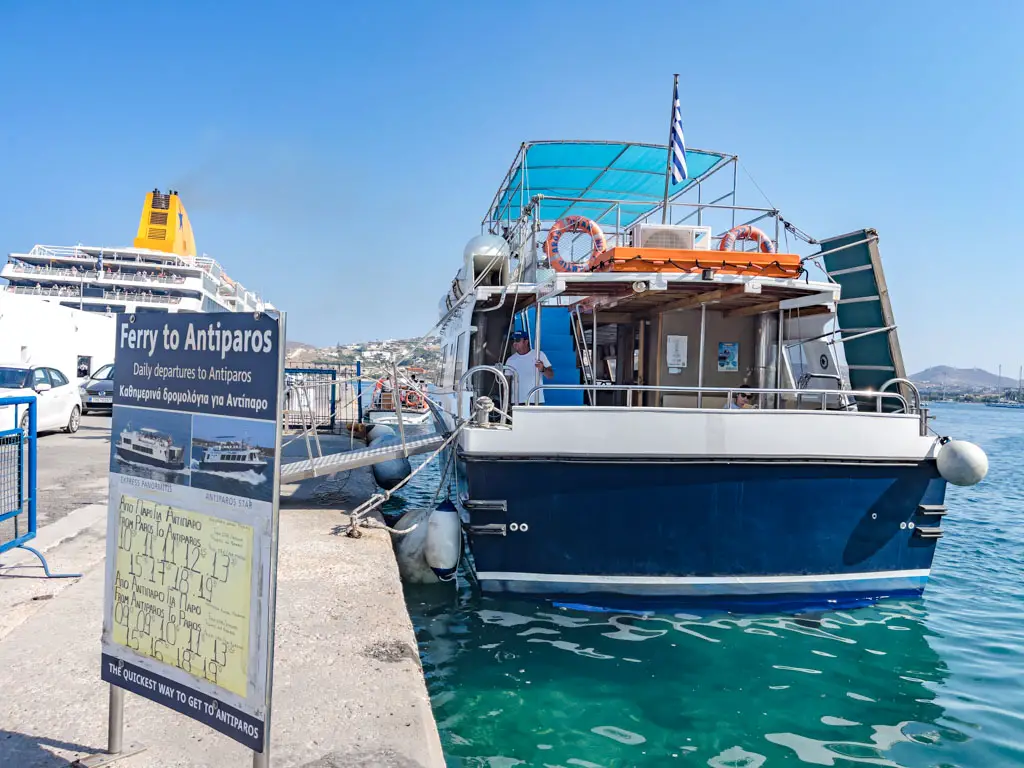 The only way to reach Antiparos is by ferry. There are several Antiparos Paros ferries running. Depending on where you stay and whether you have a car, there are two options:
Parikia (Paros port) to Antiparos
There is a ferry that takes foot passengers from next to the main port of Paros to Antiparos. The tickets are 7 euros one way and the journey takes 30 minutes. Here is the schedule from summer 2022: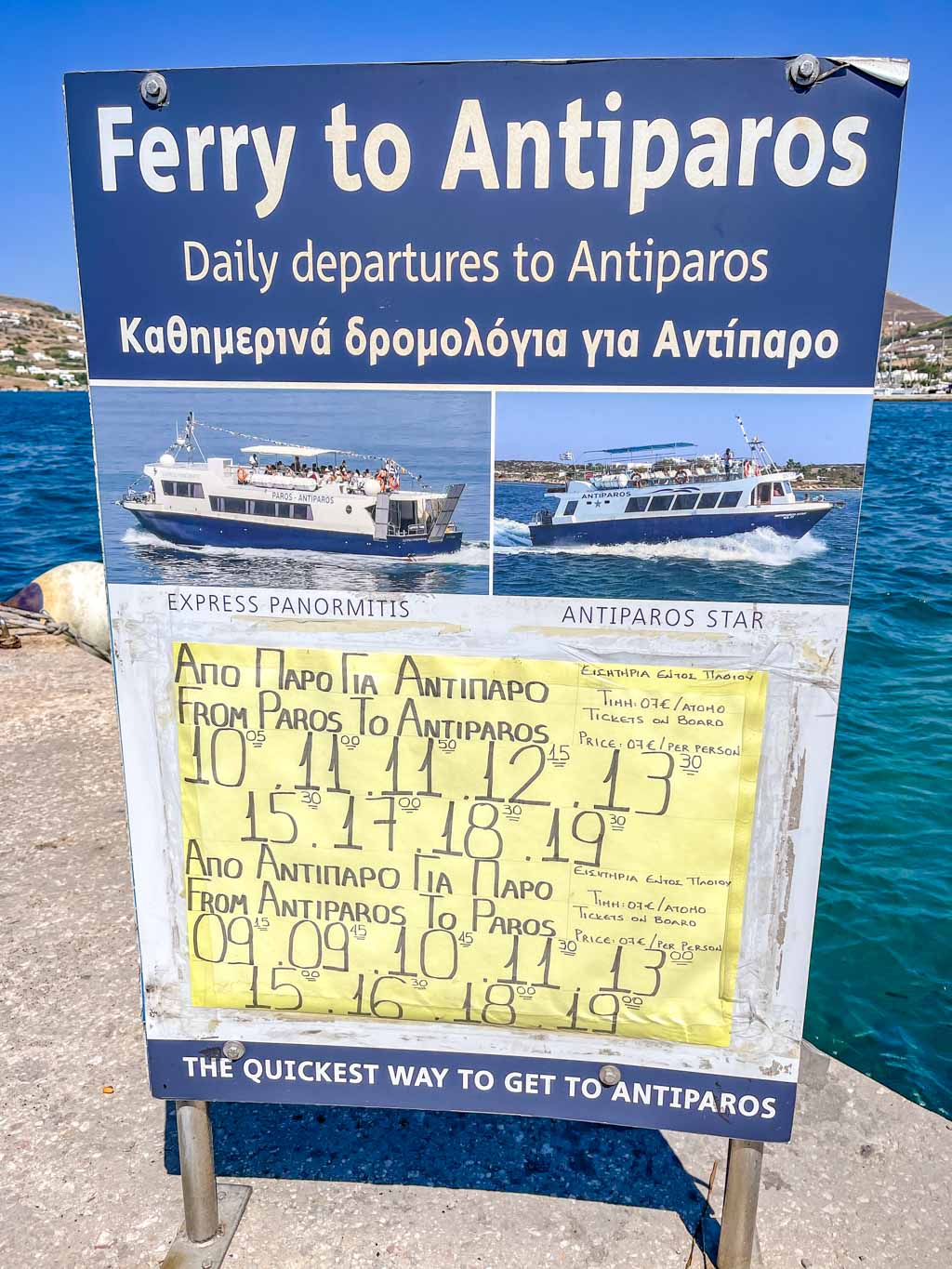 You purchase the ticket on the ferry and you can pay by card!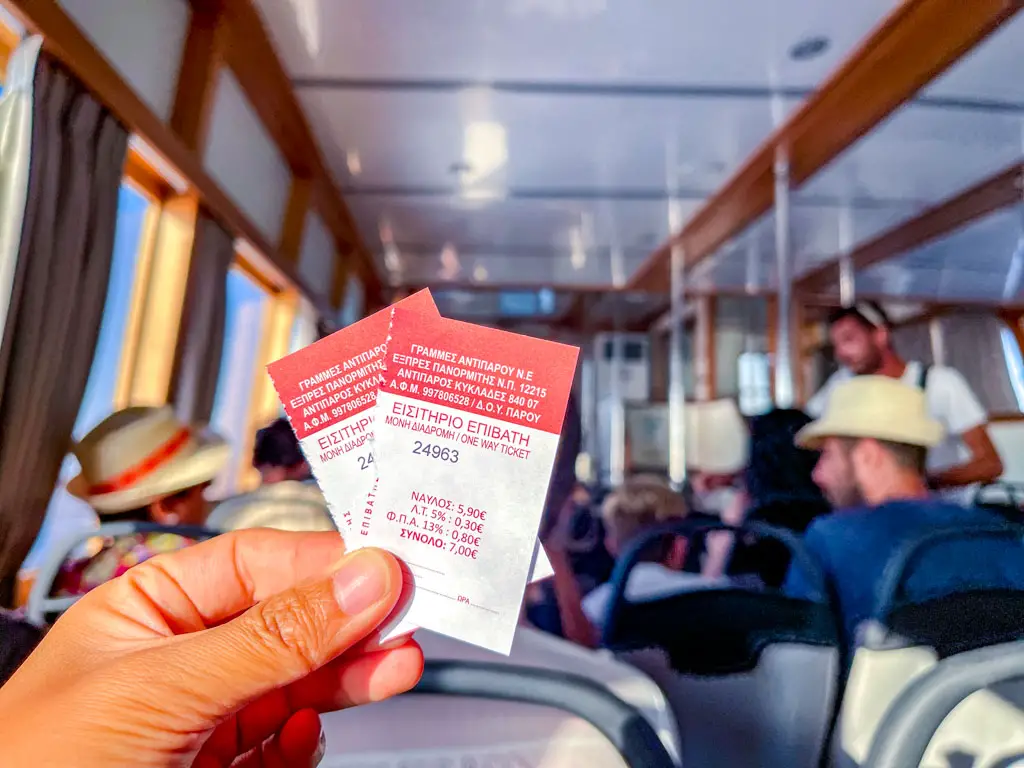 Note: it's likely that the ferry only runs during high season, so check to see if you spot them when you arrive on Paros.
Pounta to Antiparos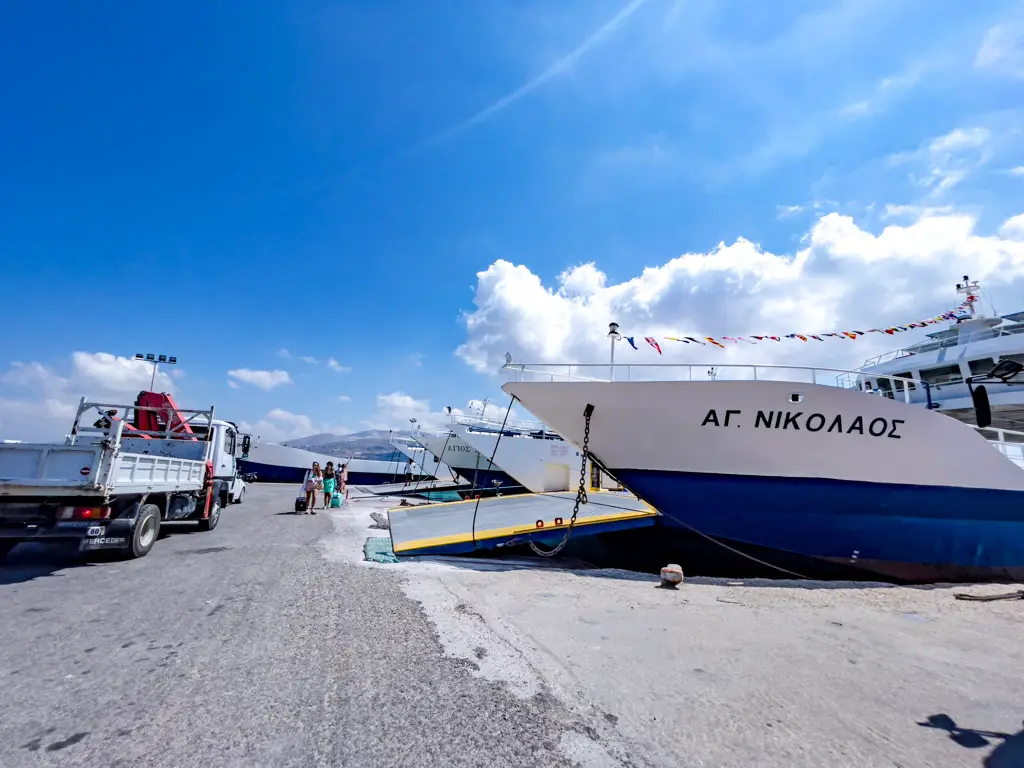 Pounta is the town at the closest point between Paros and Antiparos and also has car ferries. You can take a bus to Pounta from Parikia (or other parts of Paros) easily then hop on a ferry.
Antiparos Transport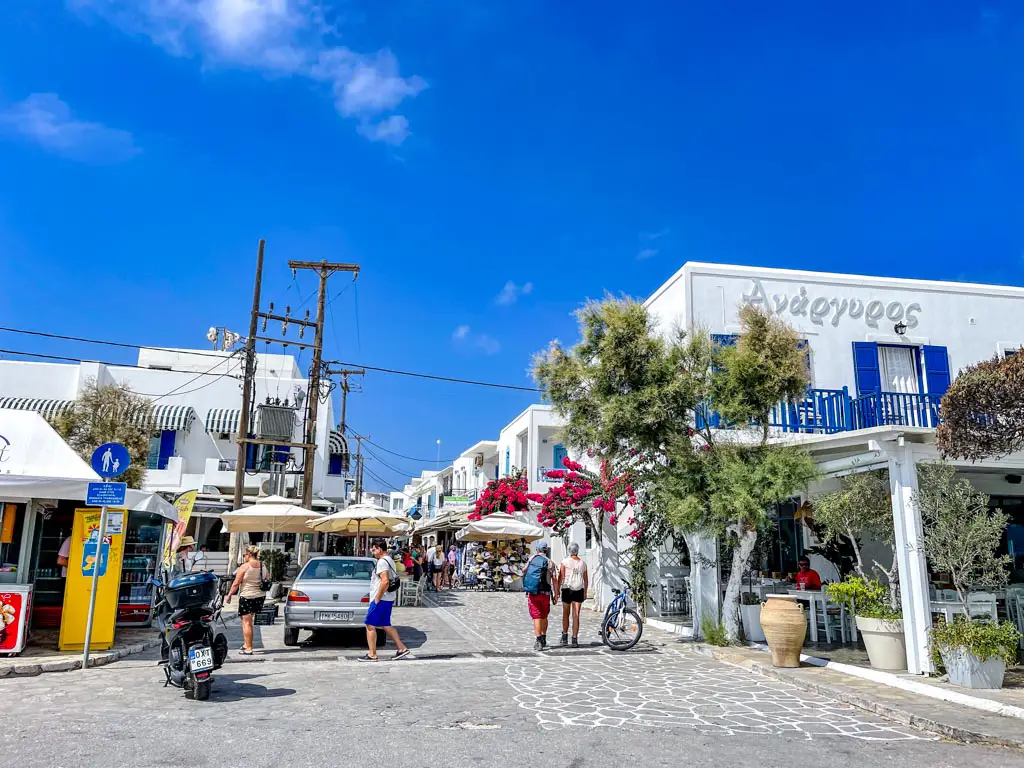 Antiparos has great infrastructure, and you can get everywhere by driving or taking the local bus. If you're only going on a day trip, I would say that taking the bus would be far cheaper, but car rental does offer flexibility, which is why here is all the information:
Antiparos Bus
There is a local bus network on Antiparos which annoyingly only sells day tickets. So if you need to take the bus, you might as well make the most of it!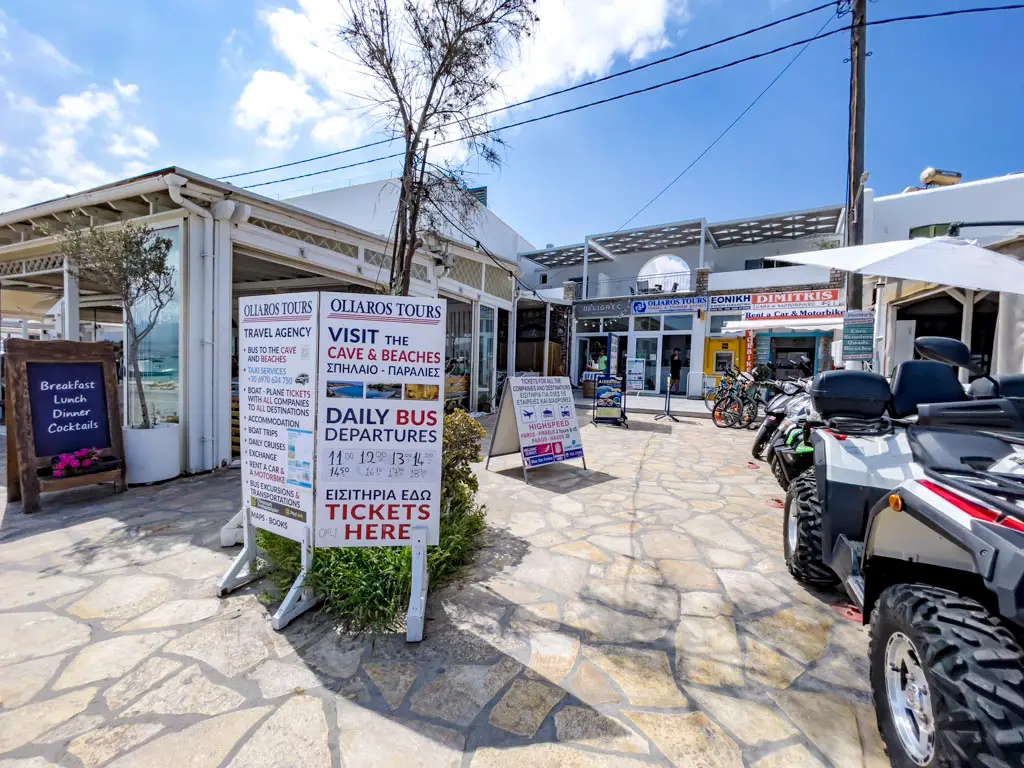 Tickets have to be purchased before boarding at the ticket office, which is close to the port. From there, it's a short walk towards the other side of the port which also serves as the main bus stop of Chora.
Here is the bus schedule from summer 2022: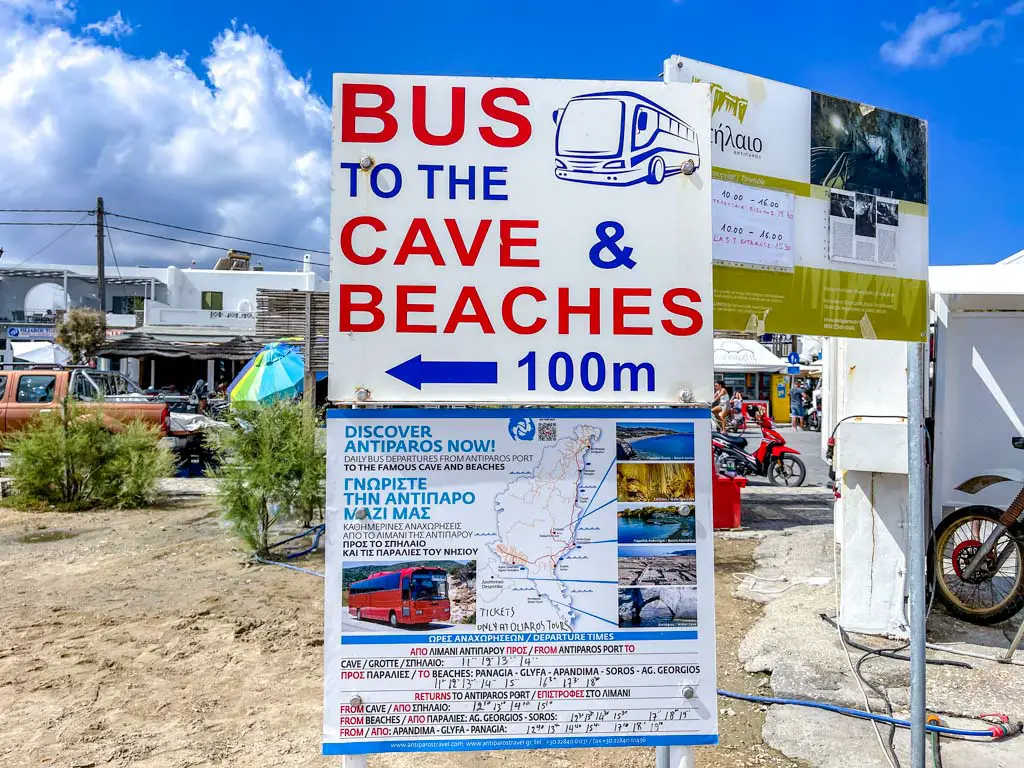 But you should be able to see one on a board at the end of the pier when you get off. A day trip ticket costs 8 euros.
Antiparos Car Rental
There are several car rental places right by the seafront. 
Is Antiparos worth visiting?
Yes! If you prefer a more chill out place than the busier Paros, Antiparos is perfect. Actor Tom Hanks bought a house on the island and I have to say 
Is Antiparos better than Paros?
I wouldn't say Antiparos is better than Paros, but it most certainly is more laid back than Paros and less busy. If you want to escape the crowd, I'd stay on Antiparos. There are frequent ferries between the two so you can always do a day trip.
How many days do you need in Antiparos?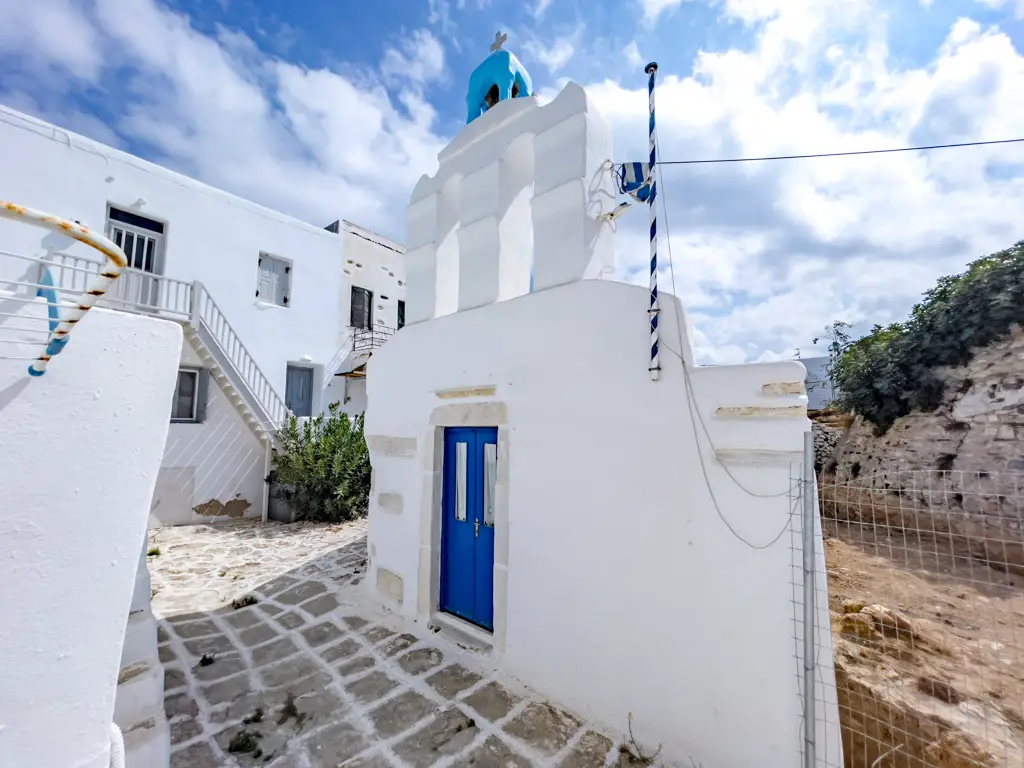 You can probably see everything in Antiparos in one day, although you might want to take a boat trip for one day then spend another day seeing the cave and relaxing on a beach.
Is Antiparos a day trip?
Antiparos can definitely be done on a day trip – we did it as a day trip from Paros main port Parikia. We could easily spend more time there but it was enough for us to see the highlight and even relax on a beach for a while.
What is Antiparos known for?
Antiparos is most famous for its cave, sea caves, and the laid back vibe. It also has an unexpectedly large number of boutiques!
Things to do on Antiparos Island
How do you spend a day on Antiparos? The answer is easily! We spent less than a full day there but we managed to hit a lot of amazing spots. Here are the top things to do on Antiparos.
Chora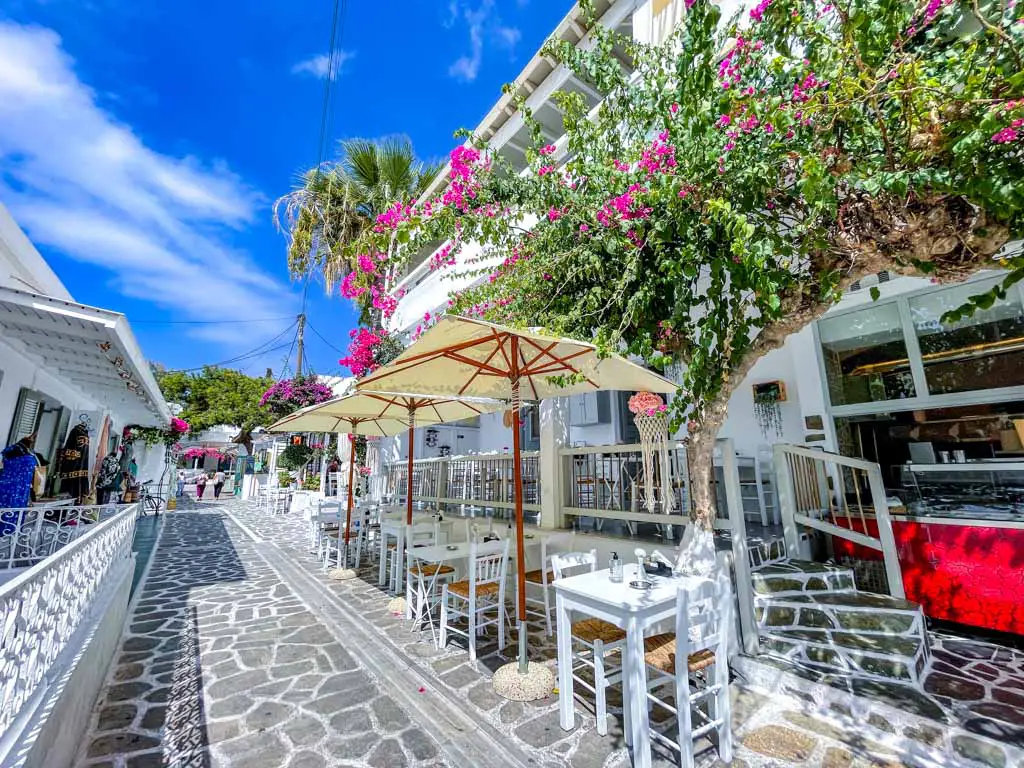 Chora is the main town of Antiparos and a short walk from the main pier. It is the quintessential picture of a Greek island with its white-washed houses accented by blue beside the plaka pavement.
For a small island, everything was surprisingly high-end and neat, and it was just lovely to walk around.
Kastro Antiparos – Castle ruin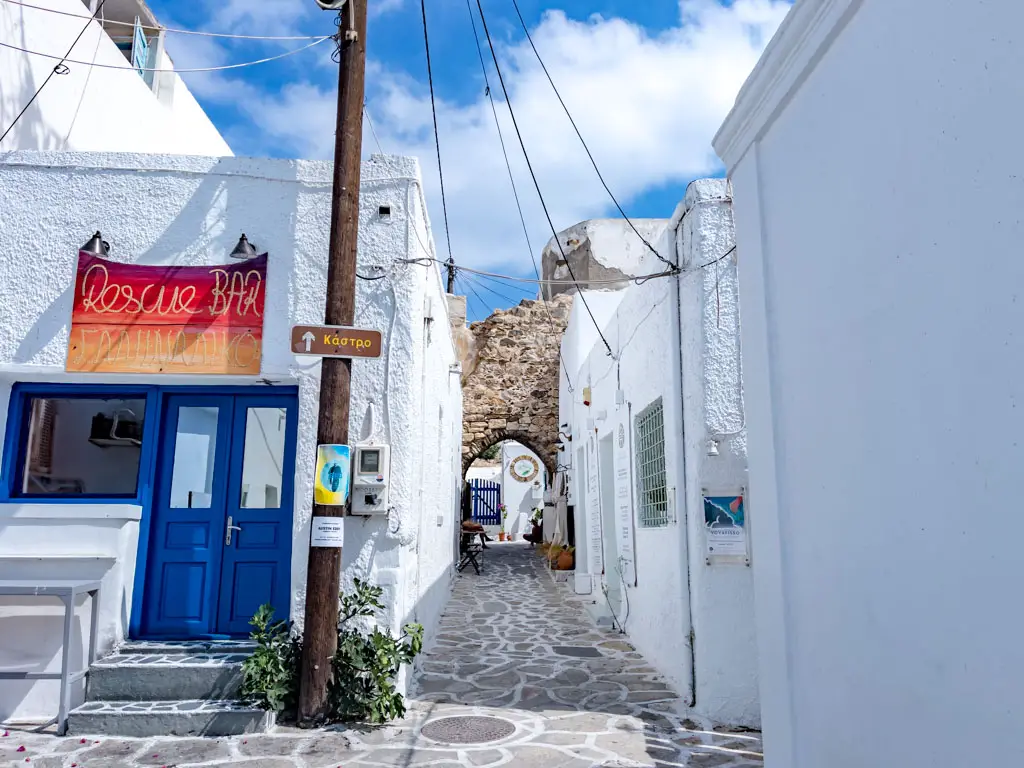 The Kastro, aka castle, of Antiparos was built by the Venetians during their rule in the 15th century. It was done to celebrate the marriage between Giovanni Loredano, a Venetian, and a local, Maria Sommaripa. 
While the tower in the middle has been reduced to a ruin, the residential buildings surrounding the circular estate in the perimeter remained. There is also a church but it was added later. It's not a big space but worth a walk in to visit.
Vicky's Ice Cream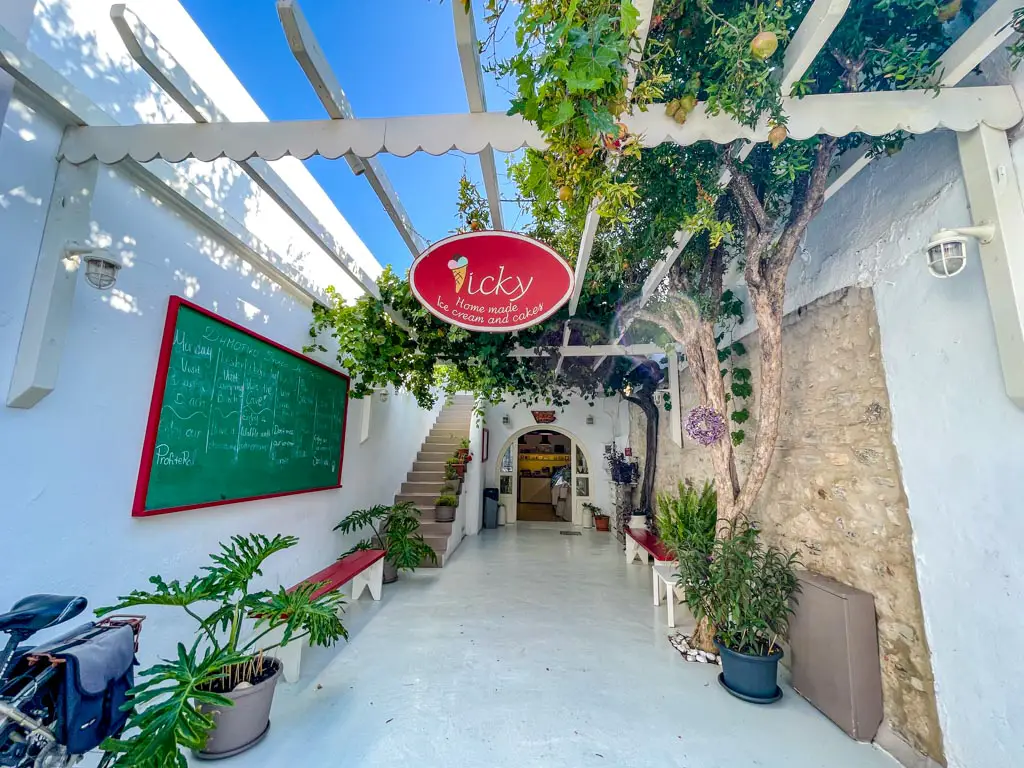 One of our highlights in Chora was getting gelato from Vicky's Ice Cream! Their gelato was perfect after a day out in the heat and before you board your ferry back.
Antiparos Cave
Antiparos Cave is arguably the most famous attraction on the island. It is a surprisingly big cave in the middle of the island that has been used as a place of worship as well as a hiding spot throughout the century.
The stalagmite and stalactites are gorgeous and the cave is well set up with stairs that reached down to the deepest corner at 100m deep. It is a lot cooler inside and don't miss the chapel Agios Ioannis Spiliotis by the entrance.
P.S. in the 17th century, Christmas Mass was held inside the cave on an altar-like stalagmite! And allegedly Macedonian generals hid here when fighting Alexander the Great.
Entrance fee: 6 euros
Opening times: daily 10:00 – 16:00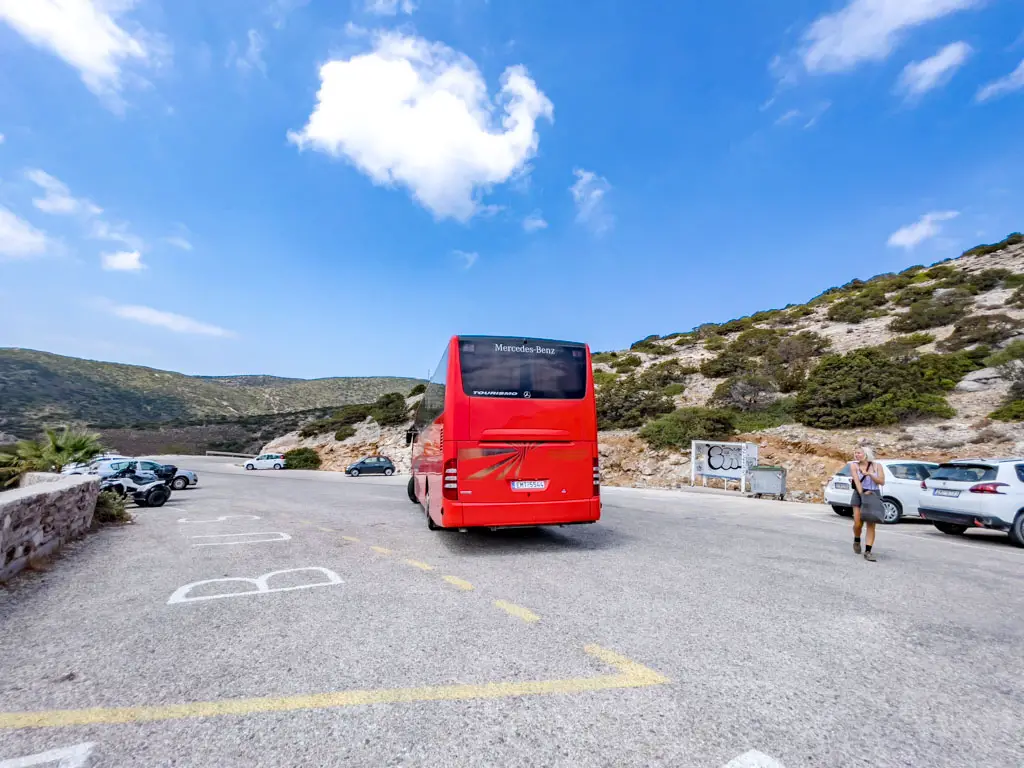 How to get there: we took the bus from Chora which only takes 15-20 minutes
Go Antiparos beach hopping
There are many beaches around Antiparos both near and far from Chora. The bus network connects quite a few and here are some of the top ones:
Soros Beach
Soros Beach is quite high on the list and a short bus ride from Antiparos Cave, making it a good next stop. There is a nice restaurant right by the bus stop but we ventured down to the beach.
There are actually two beaches separated by a small rocky outcrop. The one closer to the bus station is unorganised while the other side has sunbed and a restaurant-hotel.
Chill in Agios Georgios
If you have to chill at one place for the whole day on Antiparos, I'd pick Agios Georgios. It is the name of the town and also the beach on the southern tip of the island with many lovely little seafood restaurants.
It's also directly across from Despotikos island with frequent ferries taking people over there. There are sunbeds and also a patch of beach free for people to lie down not too far from the little town. But the beach is more rocky than sandy. 
Visit Despotikos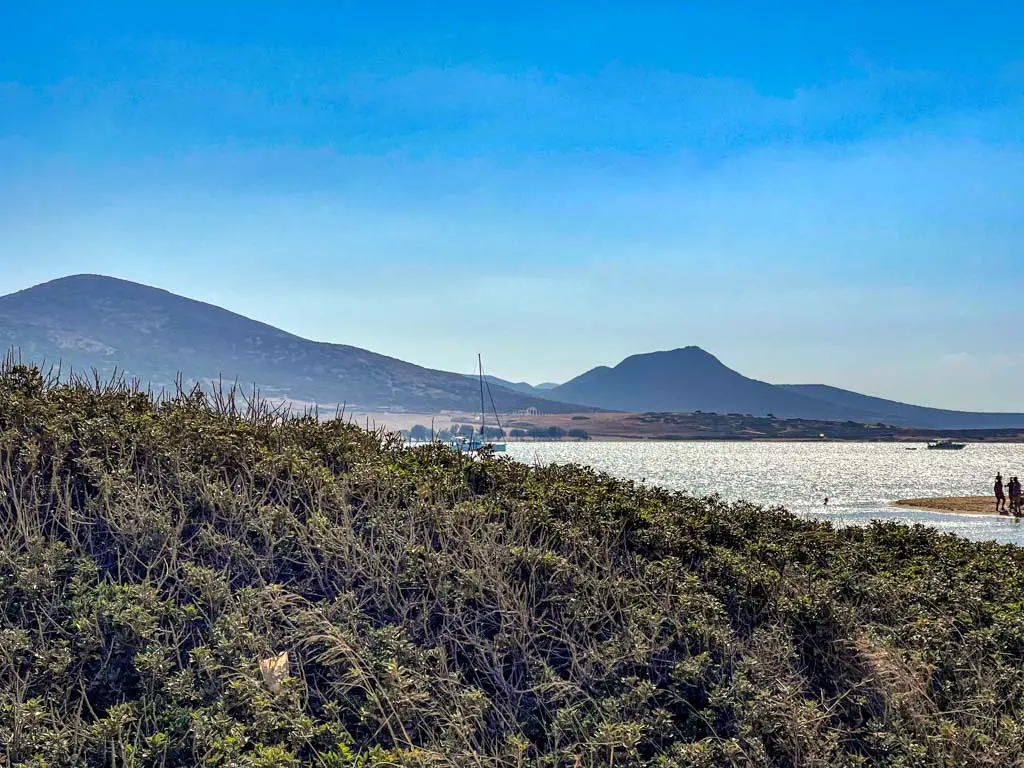 Despotikos is an uninhabited island southwest of Antiparos and you can see it clearly from Agios Georgios. It used to be called Prepesinthus and is one of the most important archaeological site. There is the ruin of an Apollo temple with a smaller Artemis temple with a sanctuary complex that dates back to the 9th-8th century BC. It is then followed by the Hestia temple.
Antiparos Boat Trips
You can visit Antiparos and Despotikos together from Paros on a day trip! It's a great way to see all of the coastal attractions as well. There are many sea caves around Antiparos that you can only see from the sea!
There are quite a few tour companies that offer boat trips whether on Antiparos or Paros. But if you are on a tight schedule, it's better to book something in advance.
Dine in Antiparos Restaurants
Antiparos has some quite lovely restaurants. Because we only had time for a day trip, I've gathered here a list that we wanted to try but didn't have time for: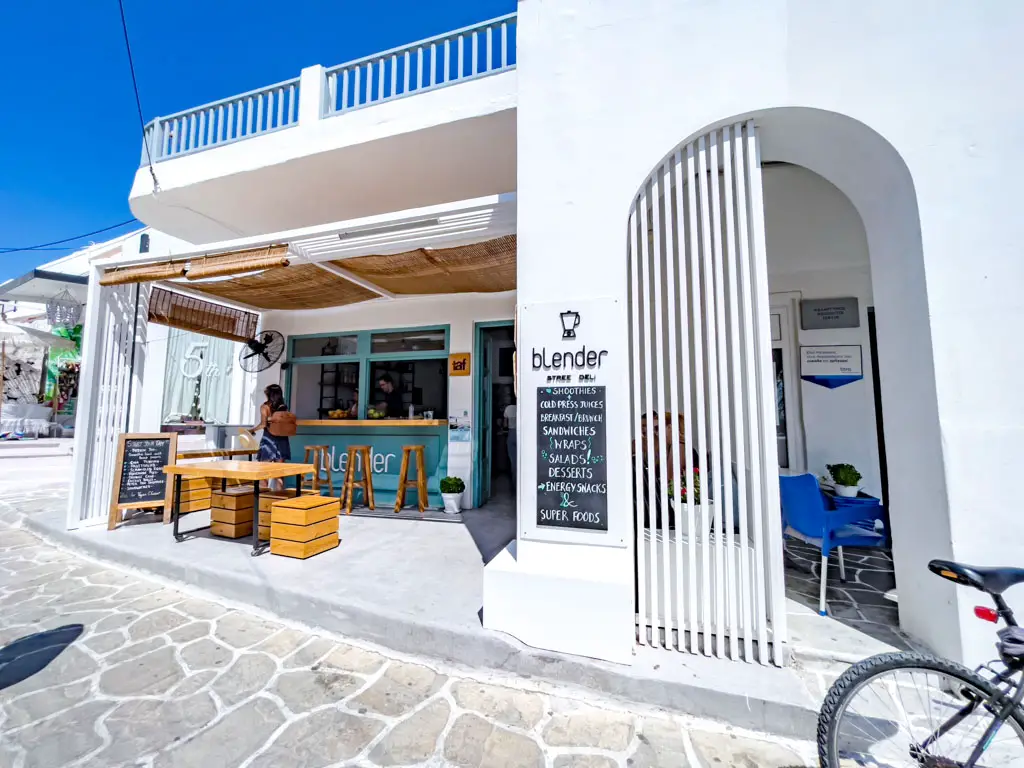 Blended – we had a lemonade there and they also serve some light meal that looks very fresh and healthy.
Traverna Kyklades is just off the main street with some great reviews of its seafood dishes.
Sifneiko Cafe has a wonderful sea view and a great spot to dine and watch the sunset or just for drinks.
Stratos Pizzeria Restaurant is at the end of the main street serving Italian food 
Cafe Margarita is highly rated and the price tag also reflects that, but the food is delicious and it's on the scenic main street.
Argo Restaurant & Rooms is another highly-rated eatery with friendly staff and tasty food.
Shop at the boutiques of Antiparos
Antiparos has many boutiques and jewellery shops, and of course there are souvenir shops as well. You can find some beautiful and unique pieces in Antiparos, so why not get a gelato and shop around.
Enjoy Antiparos Nightlife
Believe it or not, Antiparos also has vibrant nightlife. Since I didn't stay there at night, I'm not sure how it compares to Parikia or Naoussa, but here are some of the top rated clubs you should hit up:
La Luna is one of the most famous clubs/bars on Antiparos. A recent review says that they have a 10 euros cover fee that includes one drink.
Boogaloo is another popular bar with reasonably priced cocktails and good dance music.
Lime Bar is in the village square and a great place for dancing.
Antiparos Hotels
Antiparos isn't big, but if you don't want to rent a car or take the bus with luggage, then Chora is your best bet:
Chora Antiparos hotels
Budget- Mid-range: Pavlos Place is a traditional cycladic-style complex with double, twin, triple, and quadruple rooms. Limani is a good alternative if you prefer apartments. If you are a larger group, Minas House Antiparos can fit 6.
Unique Antiparos Hotels
Lagadia Village is an apartment close to Chora with modern facilities and an outdoor terrace.
Kameo, Antiparos is in Agios Georgios and an adults-only accommodation with bar and terrace. The view is fantastic and the rooms modern.
Soros Beach is a short walk to the beach with airy rooms that has plaka flooringand balconies.
Antiparos camping
Camping Antiparos started operating in the late 70s and remain one of the most affordable places to stay on Antiparos (and to be fair most of cycladic islands). It's located on the north end of the island near the nudist beach. The rate is as low as 7 euros per person during low season, making it an attractive choice.