9 things to do in Ljubljana Slovenia
As the capital of Slovenia, Ljubljana is one of the most underrated cities to visit in Europe. If it wasn't for a friend wanting to see the alternate art scene – Metelkova – there, it wouldn't even be added to our itinerary. A perfect stop for those going between Pula in Croatia and Bled, this delightful town that is full of history, beauty and a charm that I couldn't quite put my finger on.
Psst, you can get a free map (display above) for your trip here!
Ljubljana Sightseeing
Being a small city, you can easily see the best of Ljubljana in one day – alternatively, you can also base out of the city and take day trip s around. Here are some of my favourite sights:
Franciscan Church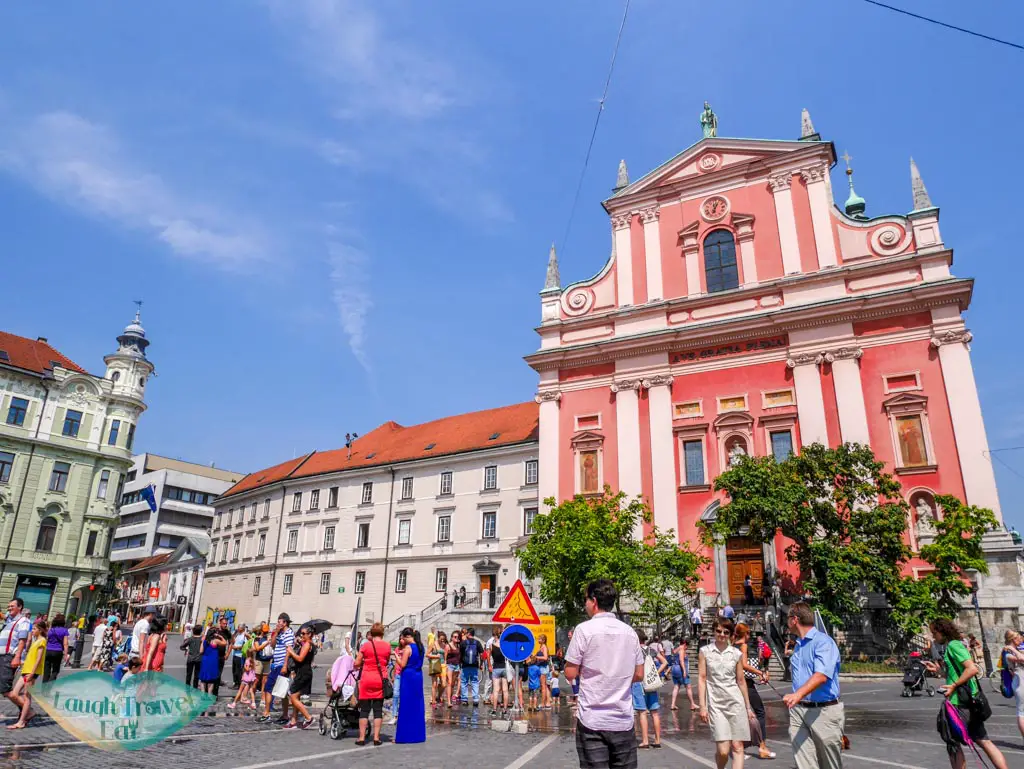 One of the most prominent sights in the heart of the city, the brightly coloured church draws the attention of those who passes by. A slightly faded fuchsia, the red colour is actually symbolic of the Franciscan monastic order. It was built in the mid-17th century, but the current façade is from a redesign in the 19th century with the statue of Our Lady of Loretto. With its captivating bell tower behind, they made for a brilliant part of the Preseren Square.
Preseren Square and Preseren Monument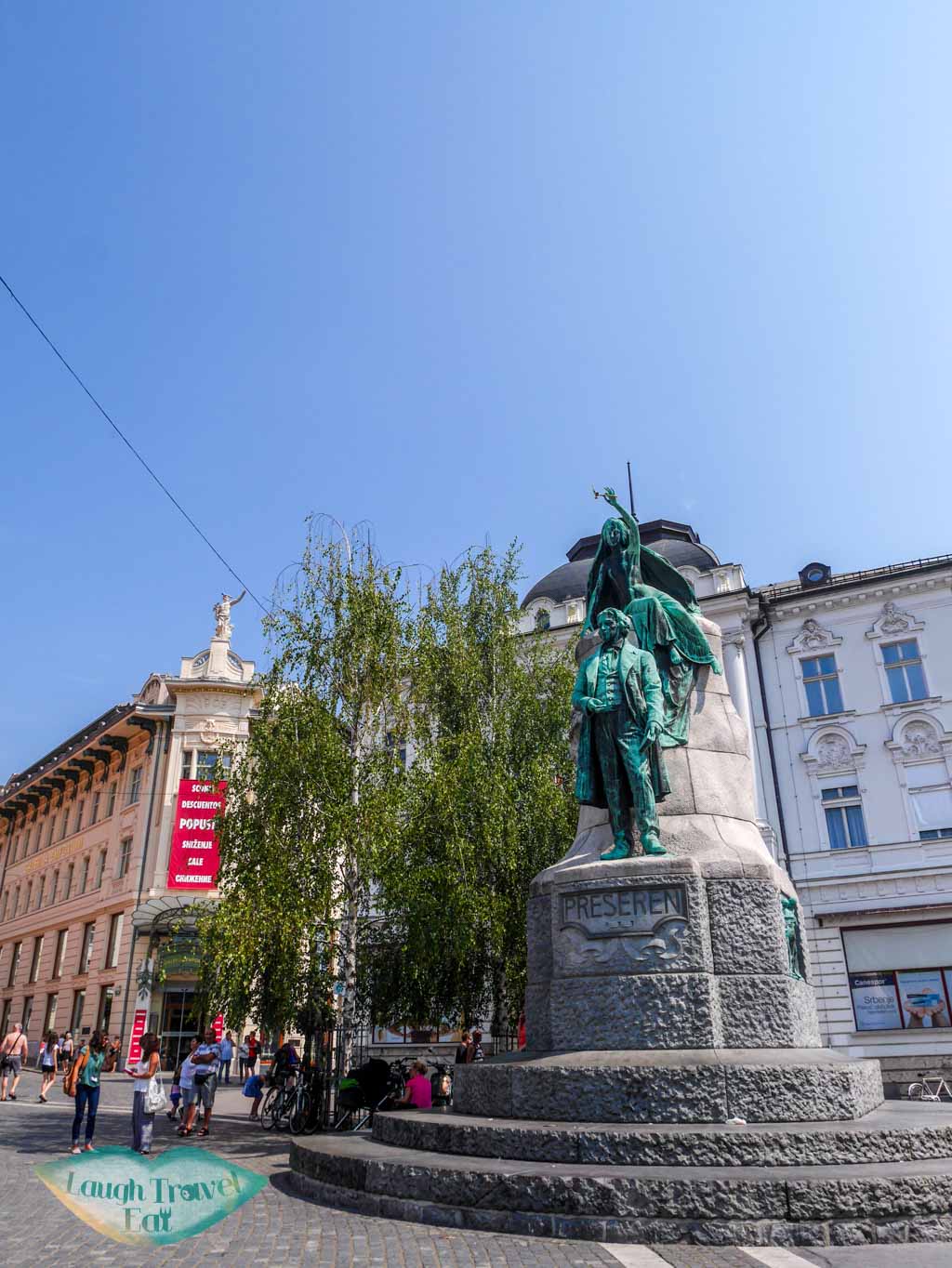 Located in the heart of the city, Preseren Square is actually at the front of the Franciscan Church and Triple Bridge meets. It is paved with granite blocks and Macedonia Sivec marble, at the center of which is the Preseren Monument, with the statue of France Preseren, a Slovene national poet.
Triple Bridge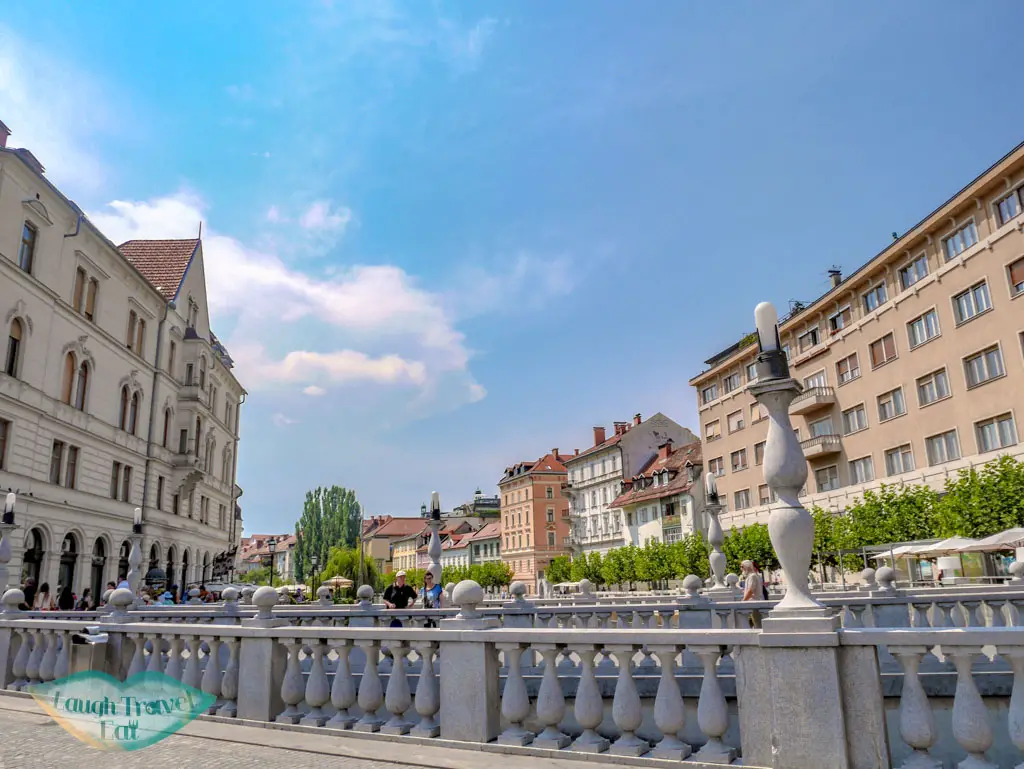 A peculiar group of three bridges that span across the Ljubljanica River that confused me for a good 15 minutes as I kept walking back and forth between them, the triple bridge has come to be one of the most famous sights in Ljubljana. Built with gleaming Glinica limestone paved with granite, the current design is from the 1930s, in addition to the 1842 bridge by an Italian architect that replaced a 13th-century wooden bridge. It was mainly to relief foot traffic and now is now a pedestrian zone.
Dragon Bridge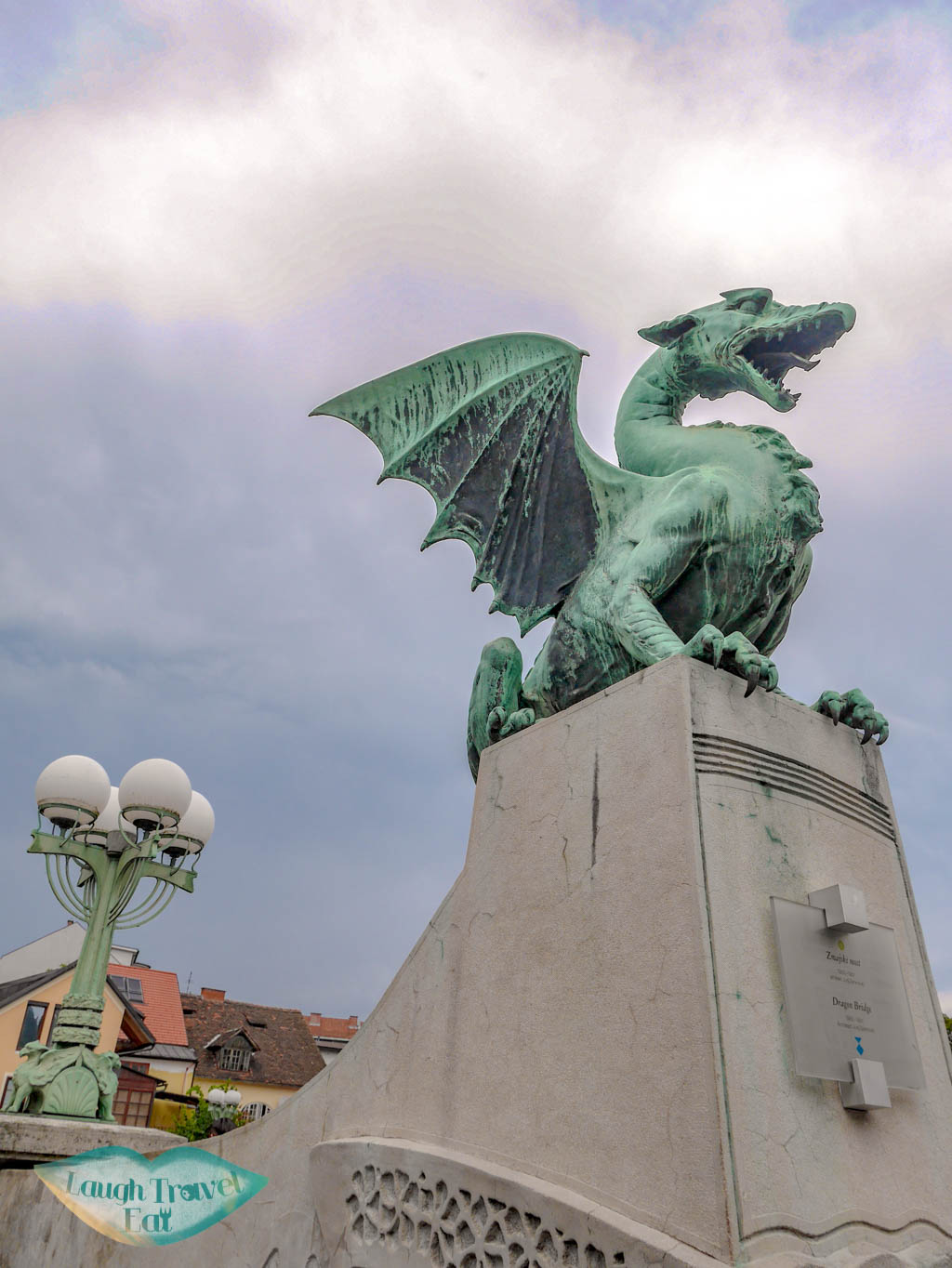 Not to be confused with the famous bridge in Vietnam or Elder Scroll (whatever that might be), the Dragon Bridge in Ljubljana should more correctly be called Zmajski most. Its original name is actually The Jubilee Bridge of Emperor Franz Josef I, but was renamed in July 1919. A road bridge that was opened in 1901, it spun just over 30 meters and in the style of Vienna Succession.
Why a Dragon? It actually originates to the Greek Myth of the Argonauts, where Jason is the founder of Ljubljana, slaying a dragon in the nearby marshes; allegedly, if a virgin crosses the bridge, the dragon will wag their tags.
Kresija Palace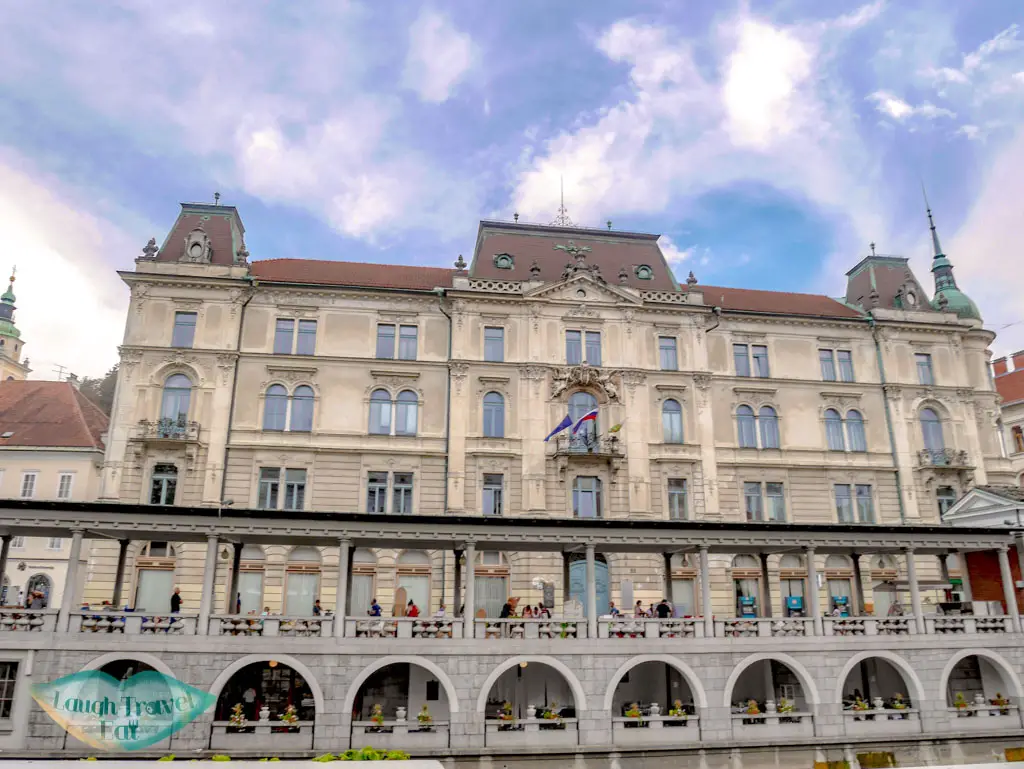 Marking the entrance to the medieval town on the right bank of the Ljubljanica River, this pretty palace is now home to the Ljubljana Center Administrative Unit as well as a number of offices including the visitor center. Built in Neo-Renaissance façade, it was built in the late 19th century, after the 1895 earthquake. It's particularly impressive viewed from one of the many cafes lining the left bank.
Cobbler's Bridge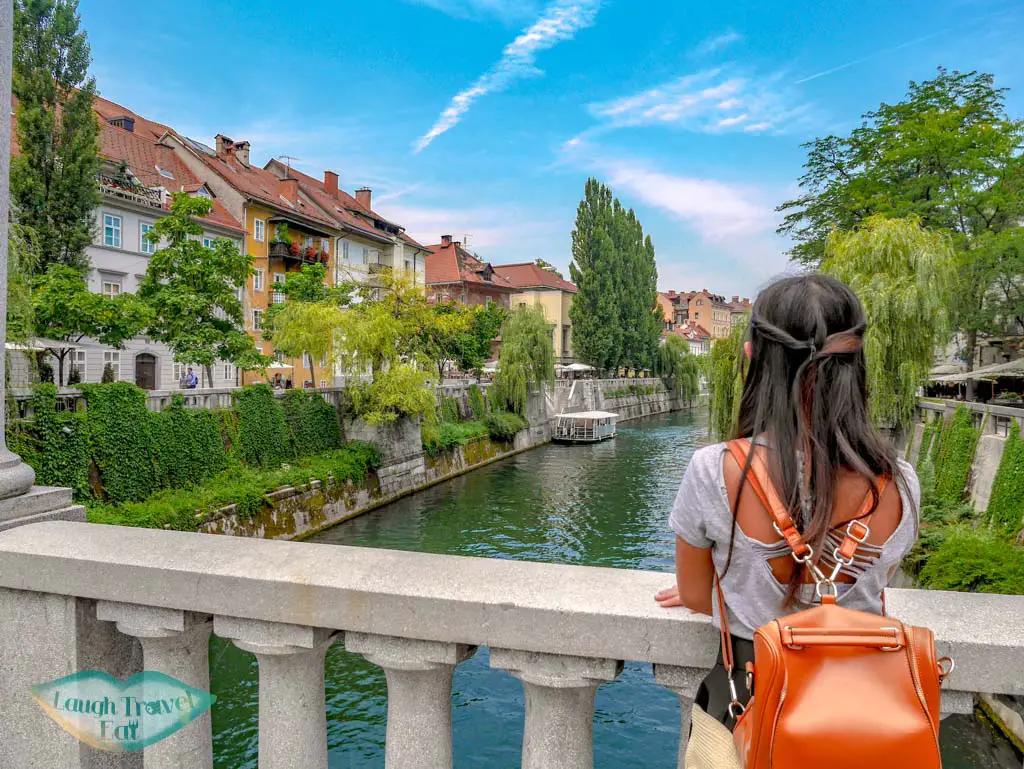 A surprisingly flat bridge that spun straight from one side of the Ljubljanica to the other, it is one of the oldest bridges that date back to the 13th century, when it was known as Zgornji most (Upper Bridge). Originally home to a butcher's shop, it was later moved and occupied by shoemakers, hence the name. Its current incarnation is from 1931, a design by Joze Plecnik. I quite like the straight pillars that extends towards the sky for some reason, and it's one of the shortest bridge in the city.
Robba Fountain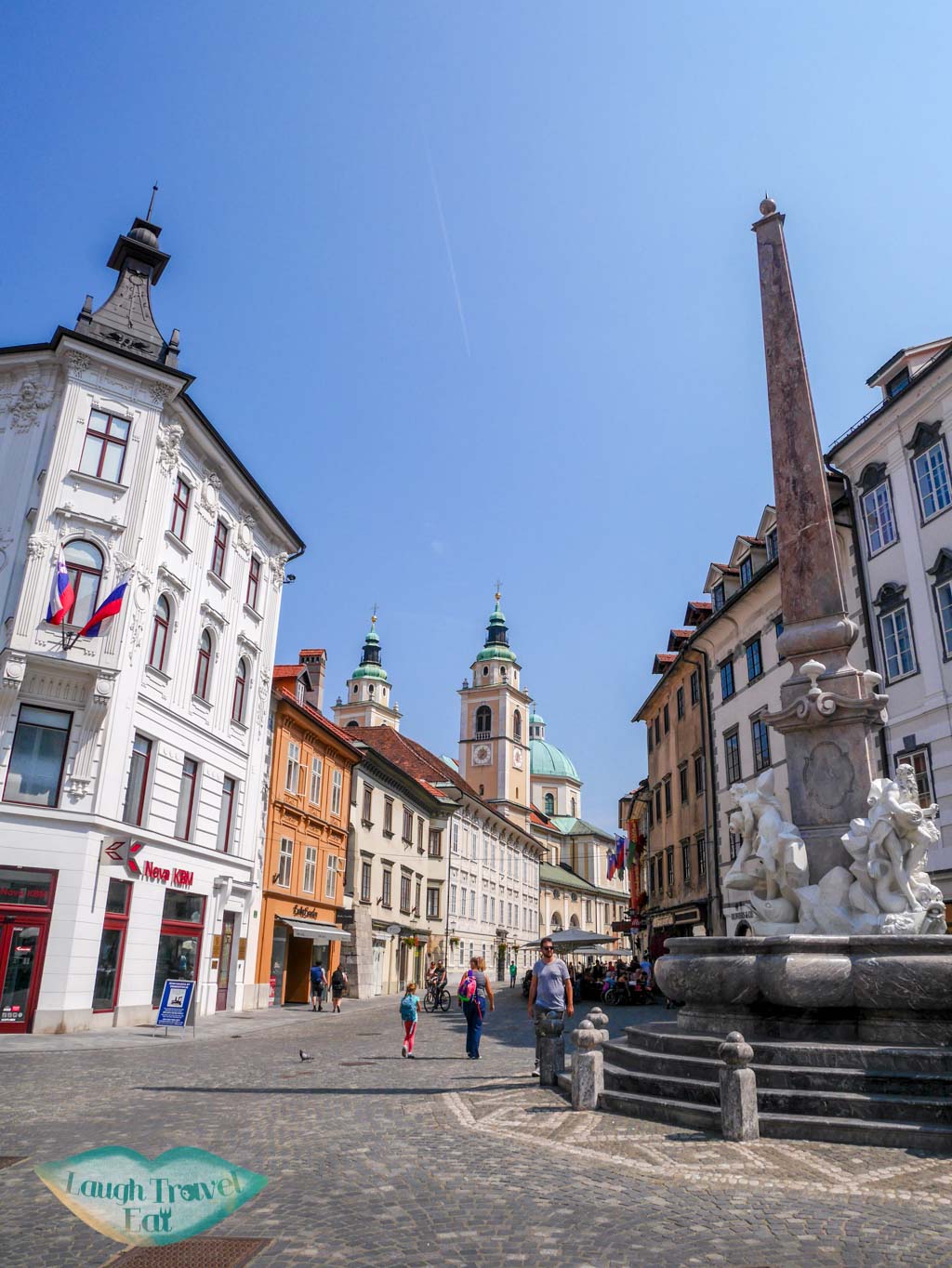 Also called the Fountain of the Three Carniolan Rivers, it stands in front of the Ljubljana Town Hall, created by an Italian sculptor called Francesco Robba whose it is named after. This 18th-century piece is inspired by the fountain at Piazza Navona in Rome, and consist of three male figures representing the river Sava, Krka, and Ljubljanica holding jugs. Fun fact: the current fountain is actually a replica, the real one had been moved to the National Gallery in 2006.
Ljubljana Castle
Built on the aptly named Castle Hill, Ljubljana Castle gained its current looks in the 15th century. It was first mentioned on a Names of the Dead document in 1161, therefore it must be built before the 12th century.
It is a quick climb along a gorgeous wooden path, although you can also take the tram up.
The castle was once the seat of the Lords of Carniola (a historical region that is still pretty much Slovenia). It has medieval walls, but a much less historical looking inner courtyard.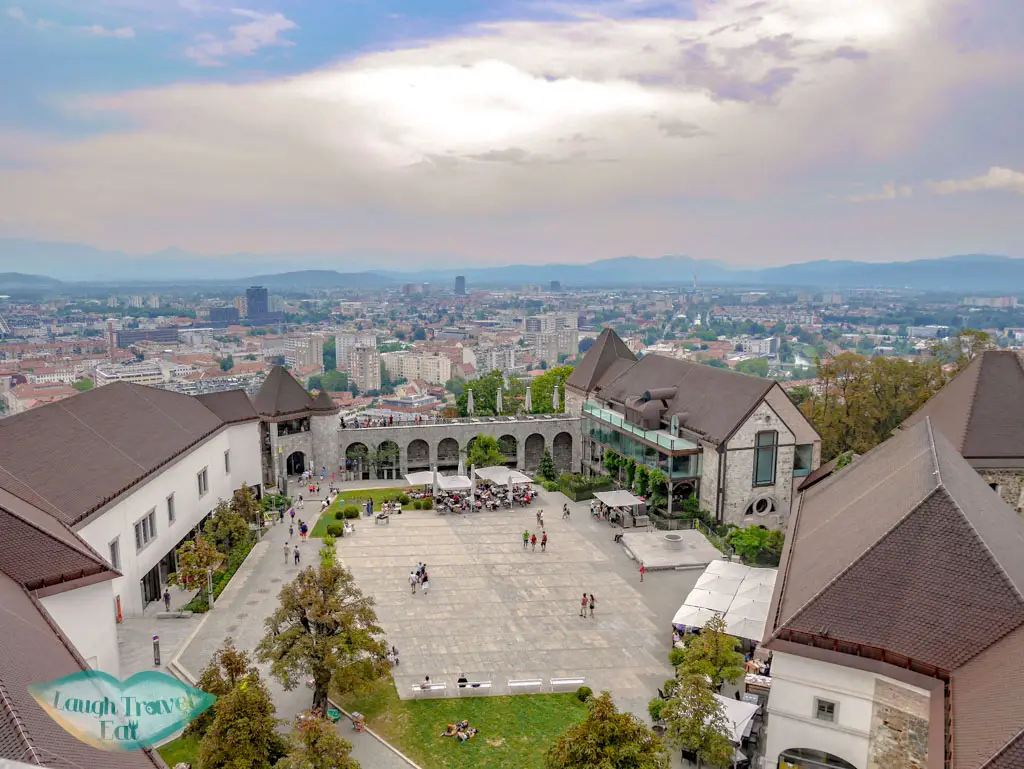 It somehow lacked exhibitions and display to explain its history, however, I was enamored by the views you get on the watchtower across the whole of Ljubljana and its surrounding region. In fact, we even saw a lightning or two that day. The spiral staircase leading up to the tower was equally charming with its red handles.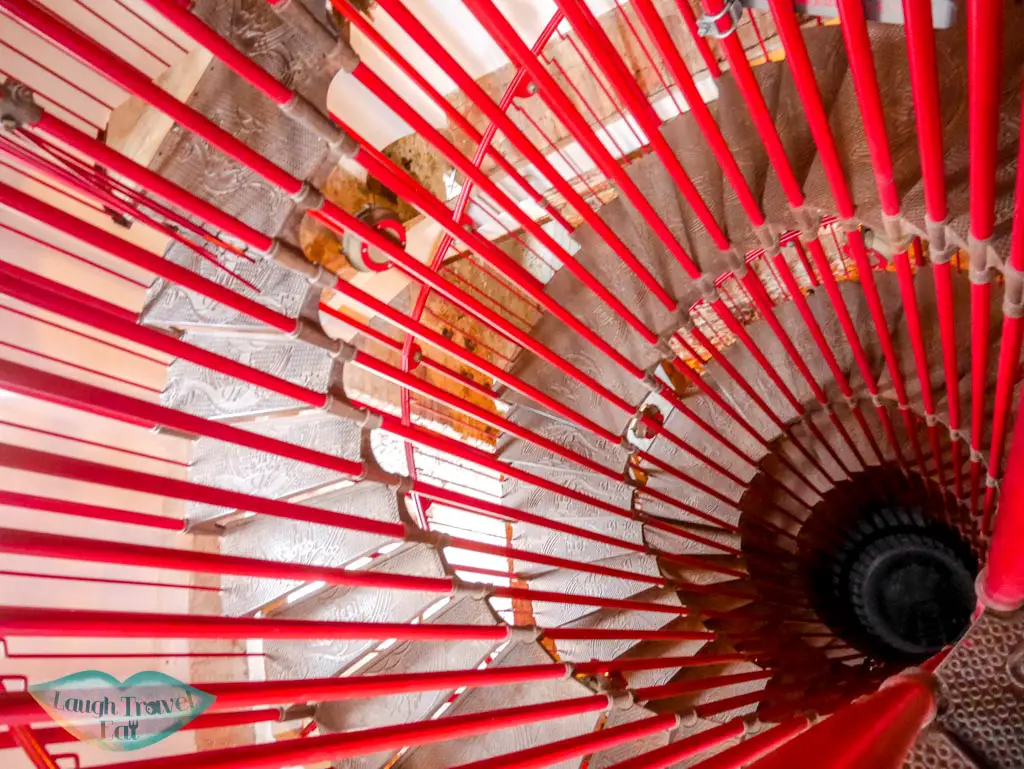 St George's Chapel was also a nice treat, with Baroque ceiling and gothic window. There was also a skilled calligrapher offering to write people's names for free – I snagged one for myself and one for my sister. Of course, donation was also welcomed.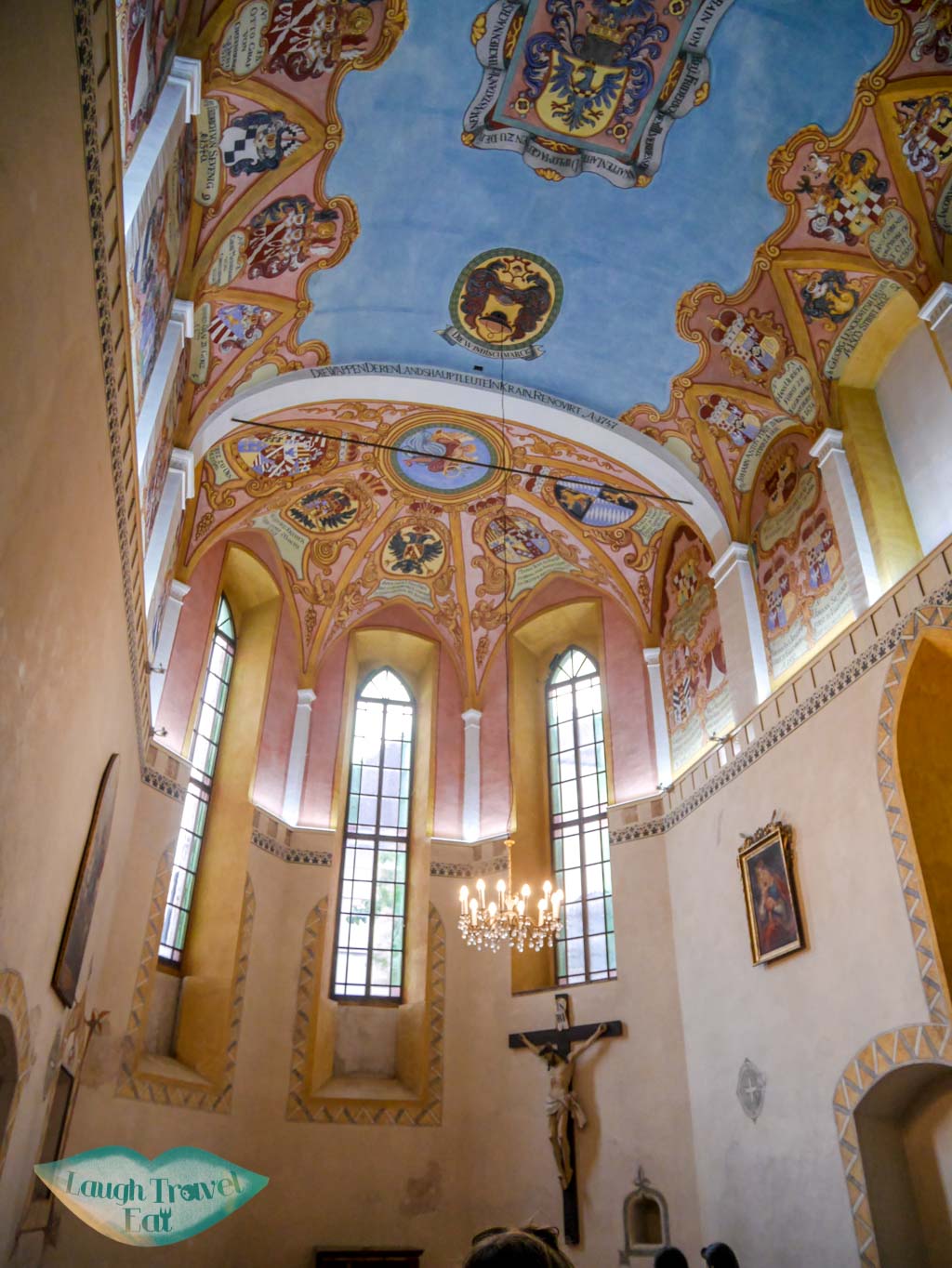 Ljubljanica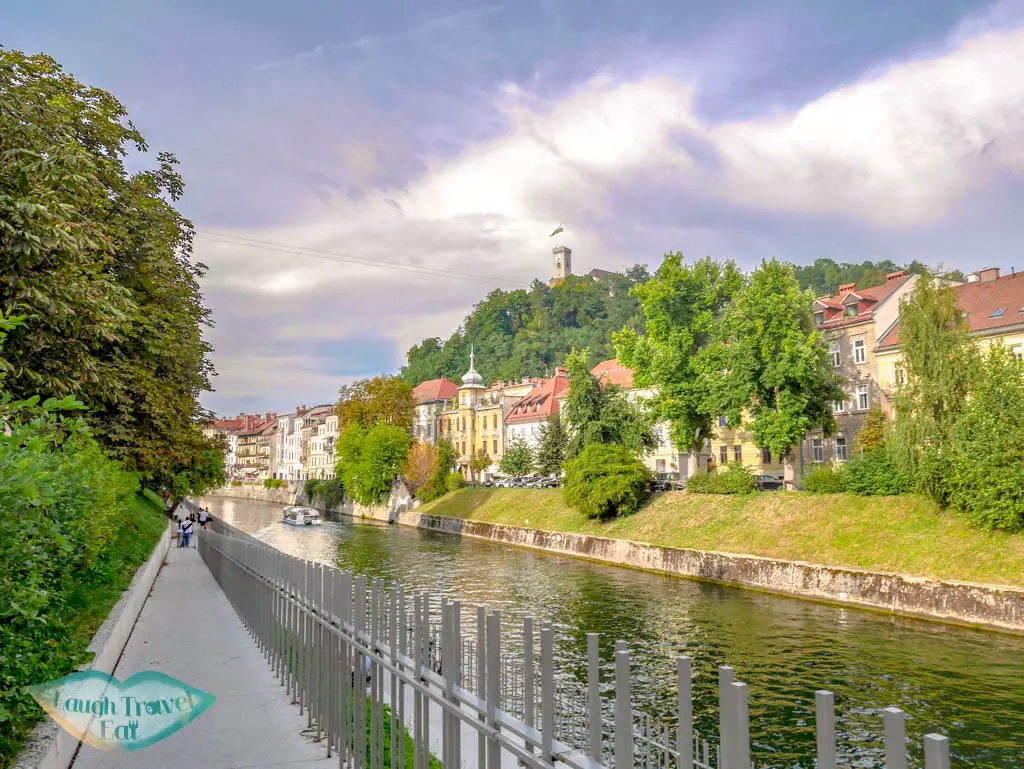 Taking a stroll alongside either side of the river banks is a pleasure in itself. The cobblestone streets, small houses and quaint cafes and restaurants all call out to you and somehow make you feel lighter and happier. I could certainly walk up and down it all day!
Day trip from Ljubljana
If Ljubljana is your only stop in Slovenia or that you have some time to spare, there are some stunning day trip destinations to choose from. Here are some suggestions:
Bled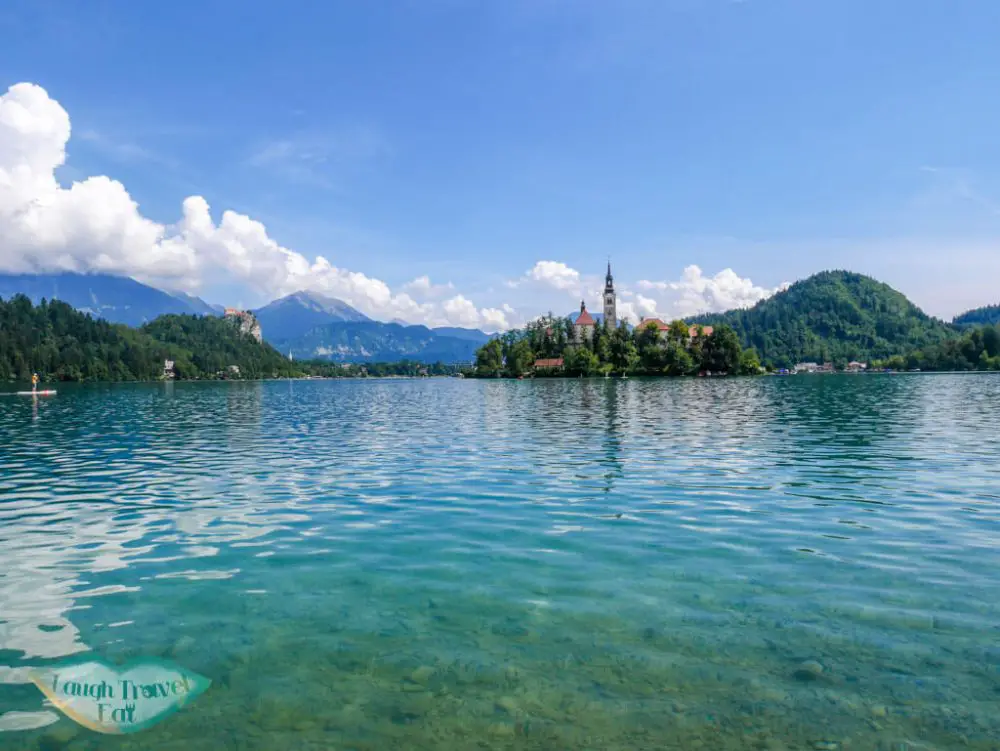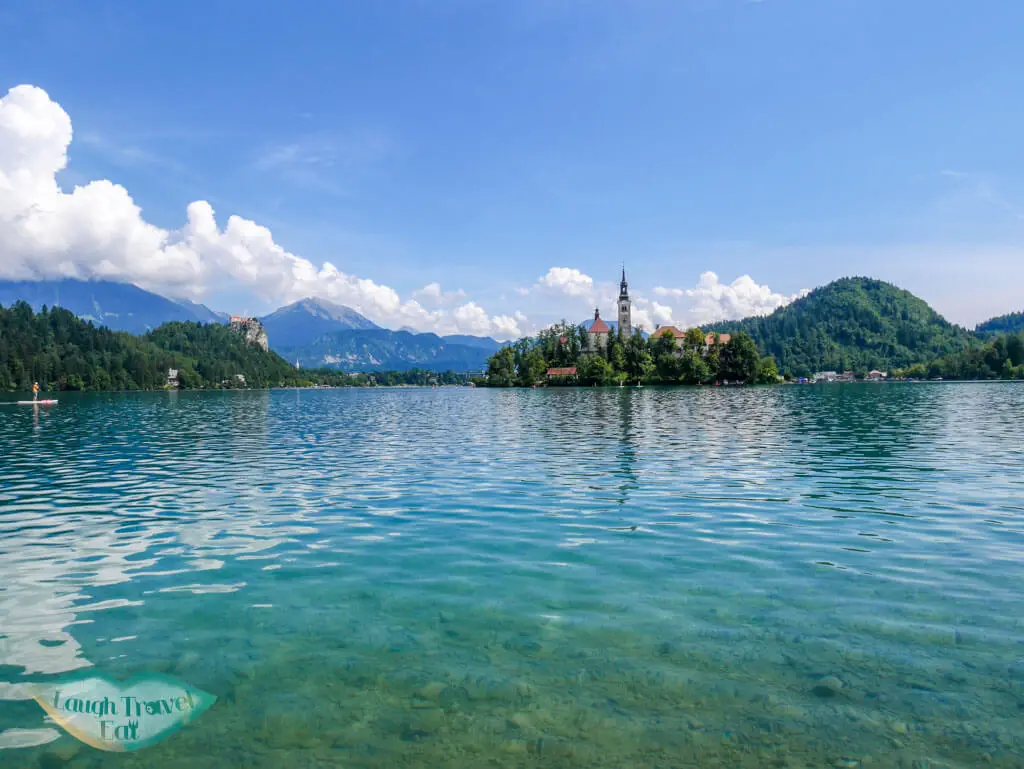 Lake Bled is less than an hour away from Ljubljana and famed for its fairy tale beauty. While you can easily spend a few days there, a day trip would give you enough time to admire the lake and see the castle.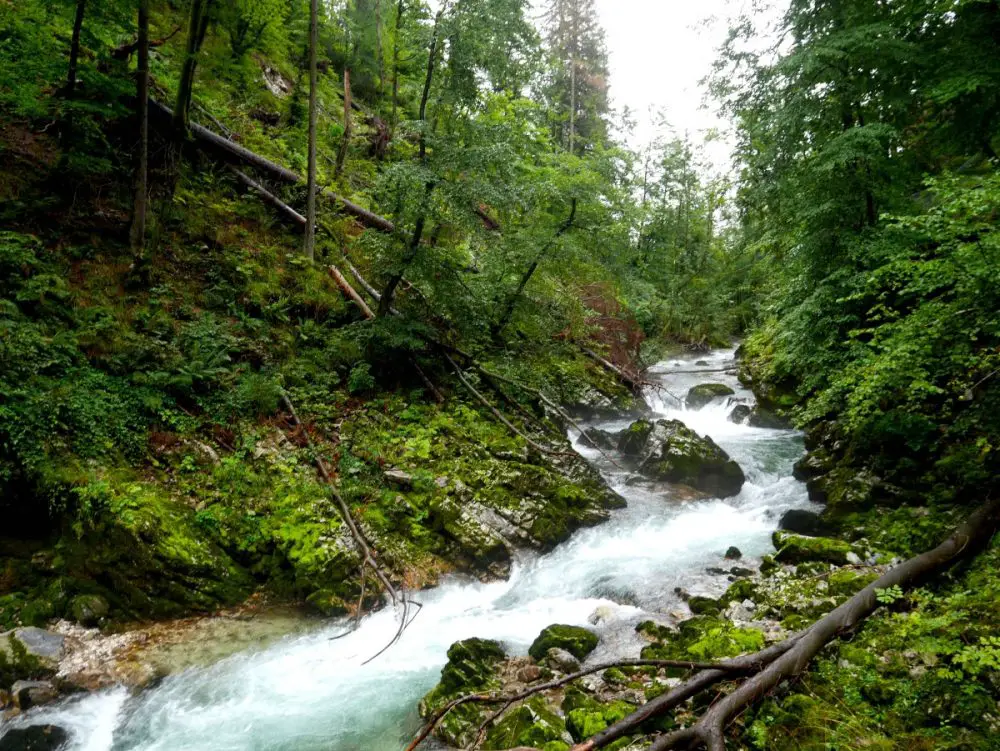 Some also take you to Vintgar Gorge nearby
Postojna Cave
Another popular place to visit is the Postojna Cave, a beautiful karst cave in the southwest. Sadly, I never visited it myself, but there are day tours that combine a visit here with Lake Bled!
Ljubljana Restaurants
Restaurant Julija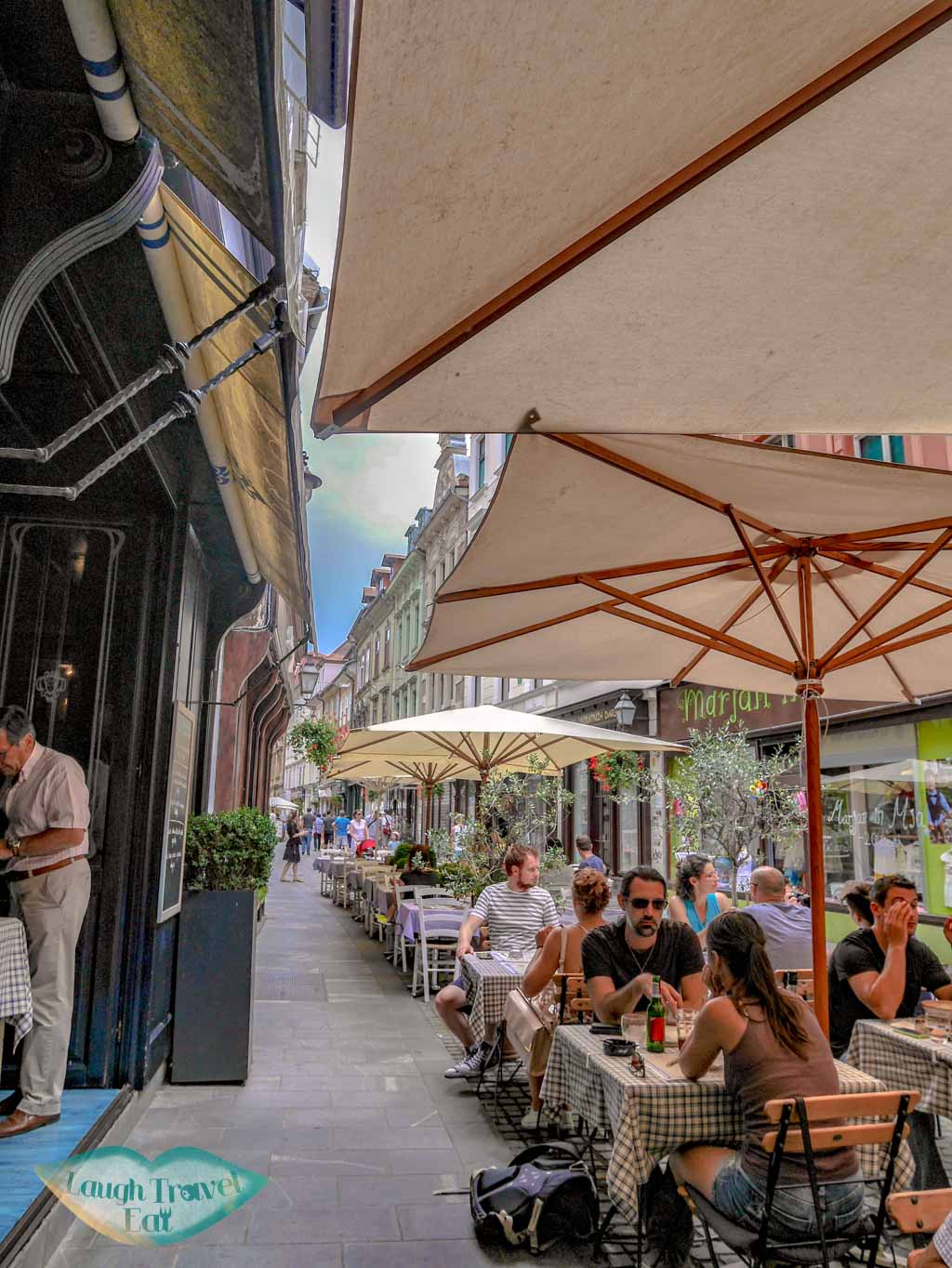 Situated along a beautiful medieval cobble street in Ljubljana, a city with rows after rows of café and restaurants, it can be rather difficult to decide which one you should eat at. There are the ones that lined the Ljubljanica River and ones that stretch along the gorgeous cobbled-stone streets.  We finally decided on the good old fashioned method of choosing one that is the fullest – and picking Restaurant Julija.
Truth be told, the main reason why we stopped there was because we were starving and it looked like as good a place as any. Since most of the outdoor seating was taken, we were ushered into the palace style interior.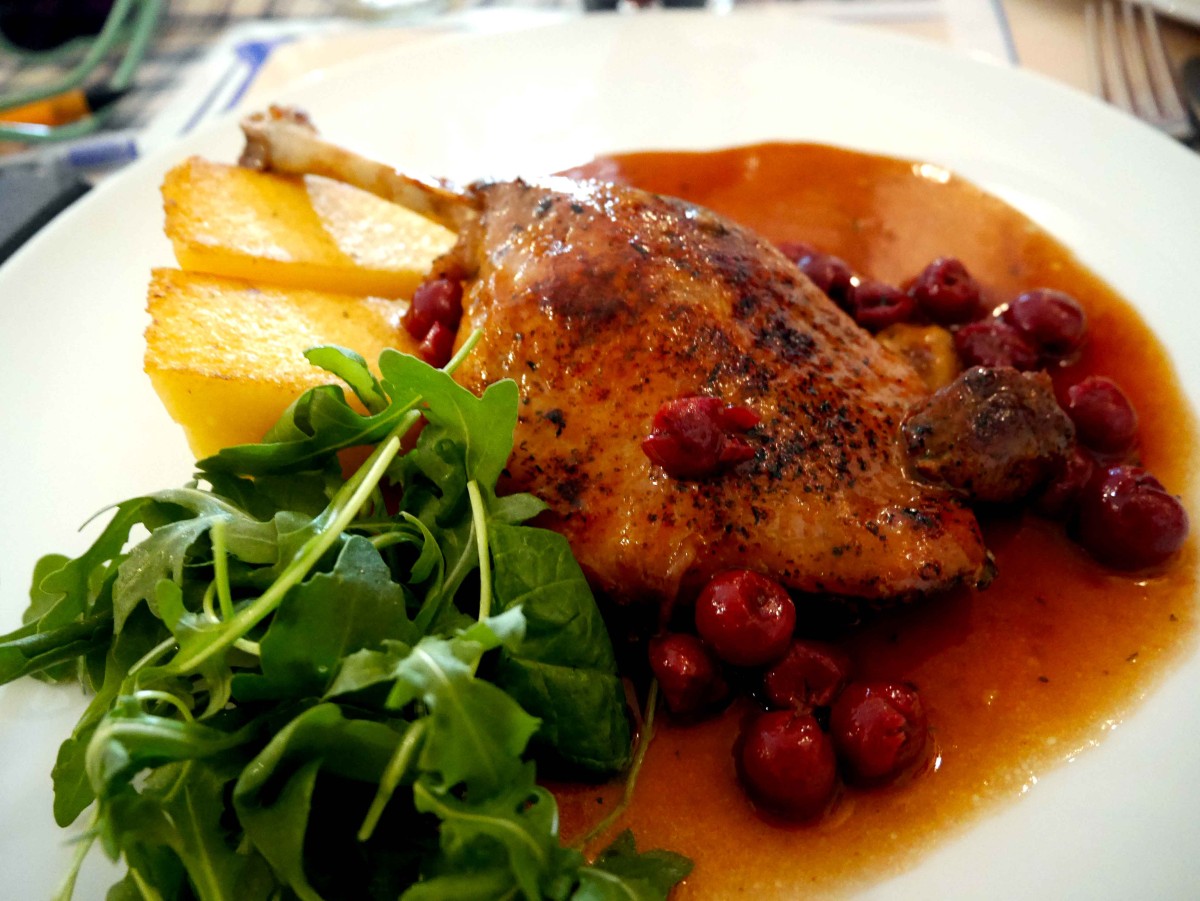 Ordering the duck confit – I was unprepared for how delicious it was and wished that I could swallow my tongue along. The restaurant wasn't particularly cheap, costing me 21 euros for the duck confit, Cola and a shared bottle of water. However, I do think it's well worth the price.
Address:  Stari trg 9, 1000 Ljubljana, Slovenia
Ljubljana Hotels
Ljubljana isn't big, so everything is pretty much within walking distance, even the train and bus station. So here are some suggestions as to where to stay:
Budget: Fluxus Hostel and Hostel Tresor are both right in the city center and offers private rooms and dormitory. 
Mid-range: stay in a beautiful apartment with Studio Optim. For design lovers, Vander Urbani Resort – Member of Design Hotels is fantastic with a rooftop pool.
Splurge: feels like royalty and stay in an Art Nouveau building at Grand Hotel Union. If you prefer modern hotels,check out City Hotel Ljubljana
Pin me!