The Ultimate Guide to Bled
One of the most iconic lakes in the world, Lake Bled in Slovenia is a huge tourist attraction worldwide. Whether you are a backpacker, family or retired, there's something for you to do and see in Bled, whether it is sports or just some stunning viewpoints. Having spent almost a week in this beautiful town, I couldn't help but write more than one post about this place that never ceases to amaze me with its beauty.
The first mention of the town Bled is in an 11th-century source and believed to be founded around 600 AD by Slavic who settled around Eastern Alps during that period. However, the modern town didn't form until the 19th century, when the villages around Lake Bled begun to form together.
Things to do in Bled
Lake Bled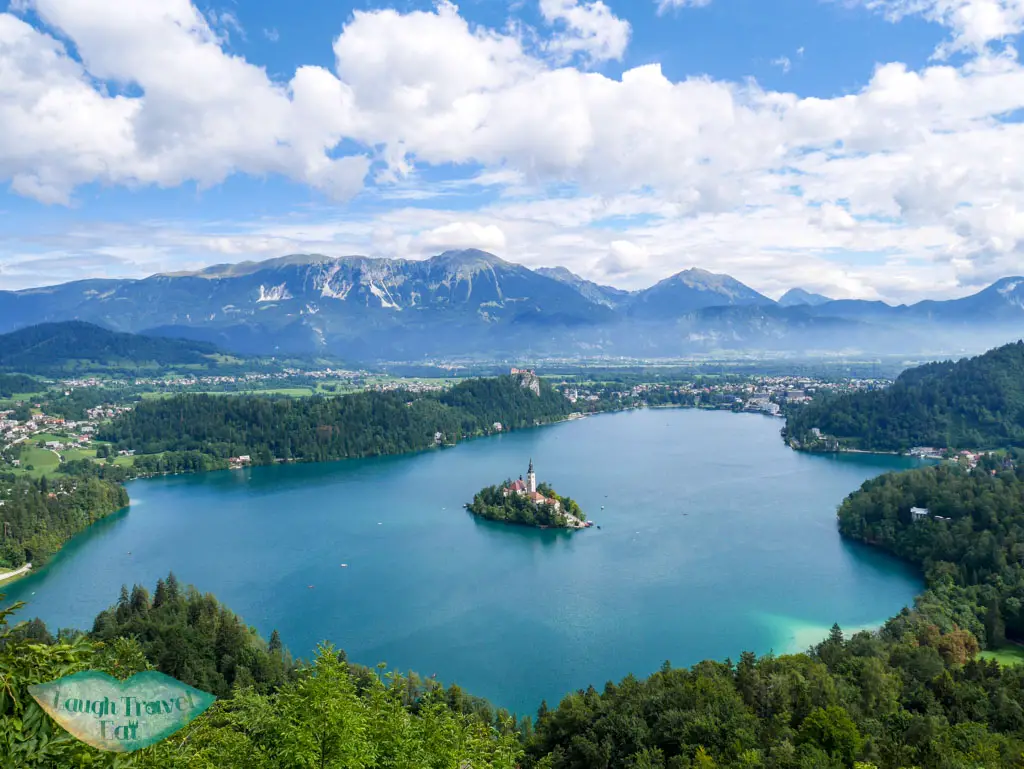 A glacial lake that formed in the last 2.6 million years, during the Quaternary period when the Bohinj Glacier retreated last Ice Age, Lake Bled is 2,120 m long and 1,380 m wide, with a maximum depth of 29.5 m Fed by the Savica River, the lake is quite cold all year round and might not make for the best place to swim for those who are not used to frigid water. There are so many ways to get a great view of the lake that you can read all about all the best view points here.
Bled castle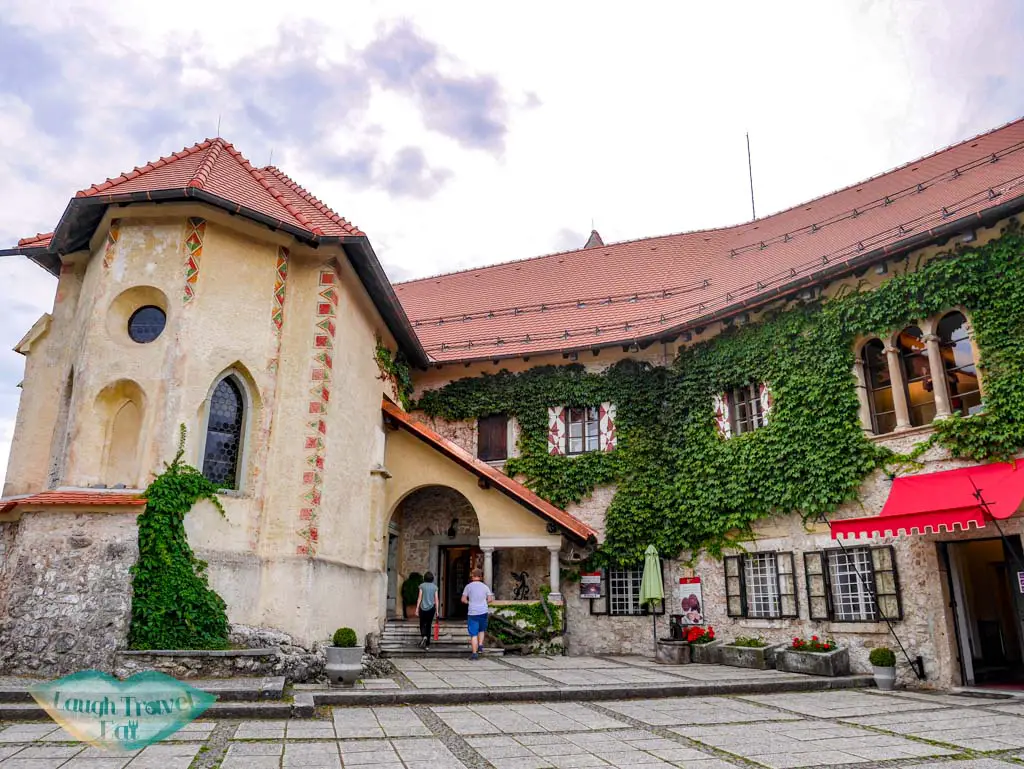 The oldest castle in Slovenia, the current structures that is Bled Castle was first mentioned when it was given by the German Emperor Henry II to the Bishop of Albuin of Brixen in 1004. With pastel beige washed walls and red-tiled roof, it's every bit a fairytale castle that screams medieval.
It didn't achieve its current looks until the 17th century, with many towers and fortifications built around the oldest part -the Romanesque tower. It boasts two courtyards, an 18th-century gothic chapel and of course, a drawbridge with a moat that is now filled with earth.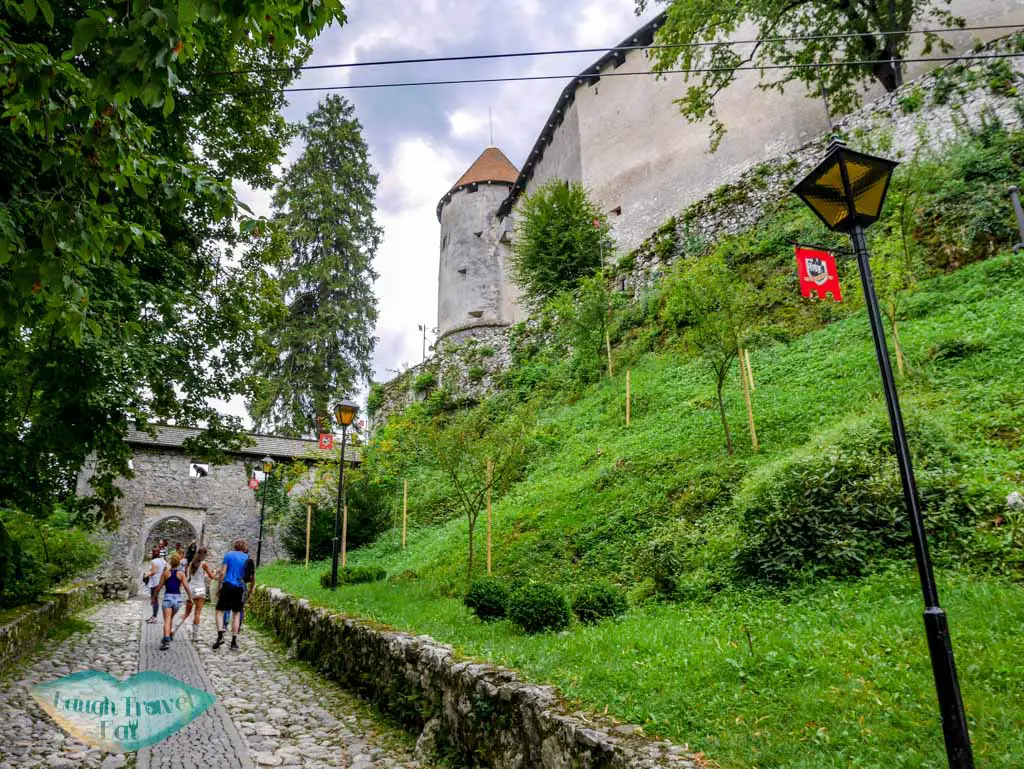 The castle had undergone some damage from the 1511 earthquakes and was restored during the 1950s. Now it houses a comprehensive exhibit showcasing the history of the area surrounding Bled, from its geology to its people.
Address:  Grajska cesta, 4260 Bled, Slovenia
Opening hours: 8:00 – 21:00
Admission fee: Adult €9, student: € 4.5
Heading to Bled? Get a free copy of my map so you know where to go!
Bled Island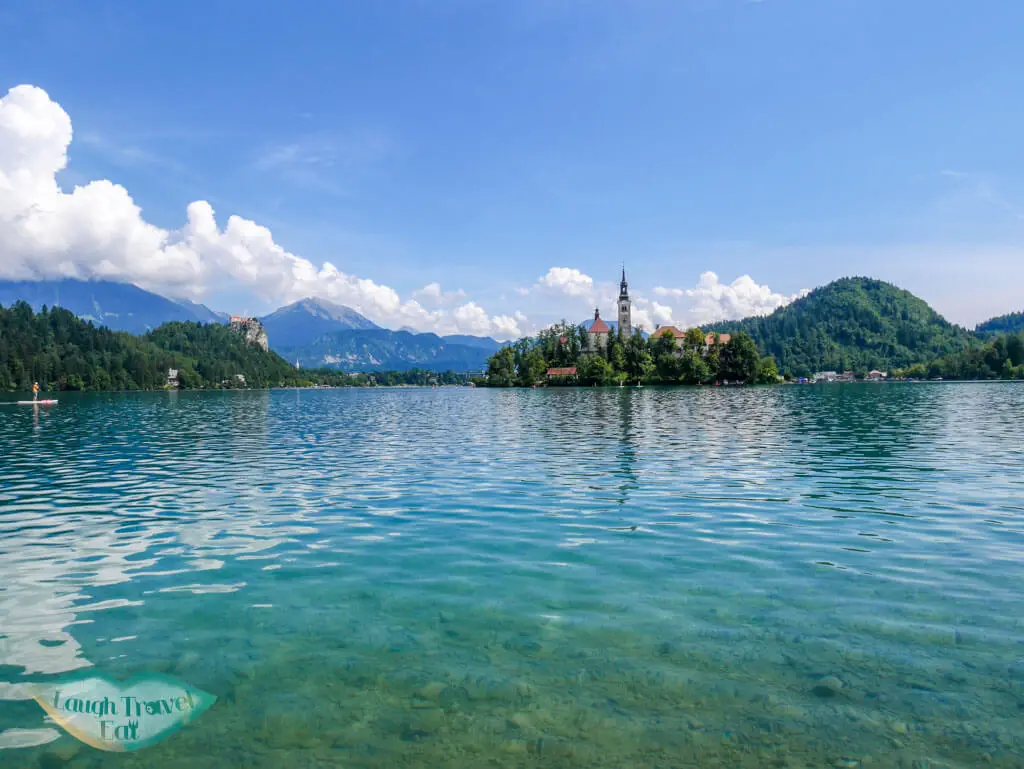 A natural island in Lake Bled, it is most famous for the Assumption of Mary Church that was built in the 17th century and a major pilgrimage site for many around the region and beyond. Its prominent church tower can be seen from afar, making it the fairy tale sight it is.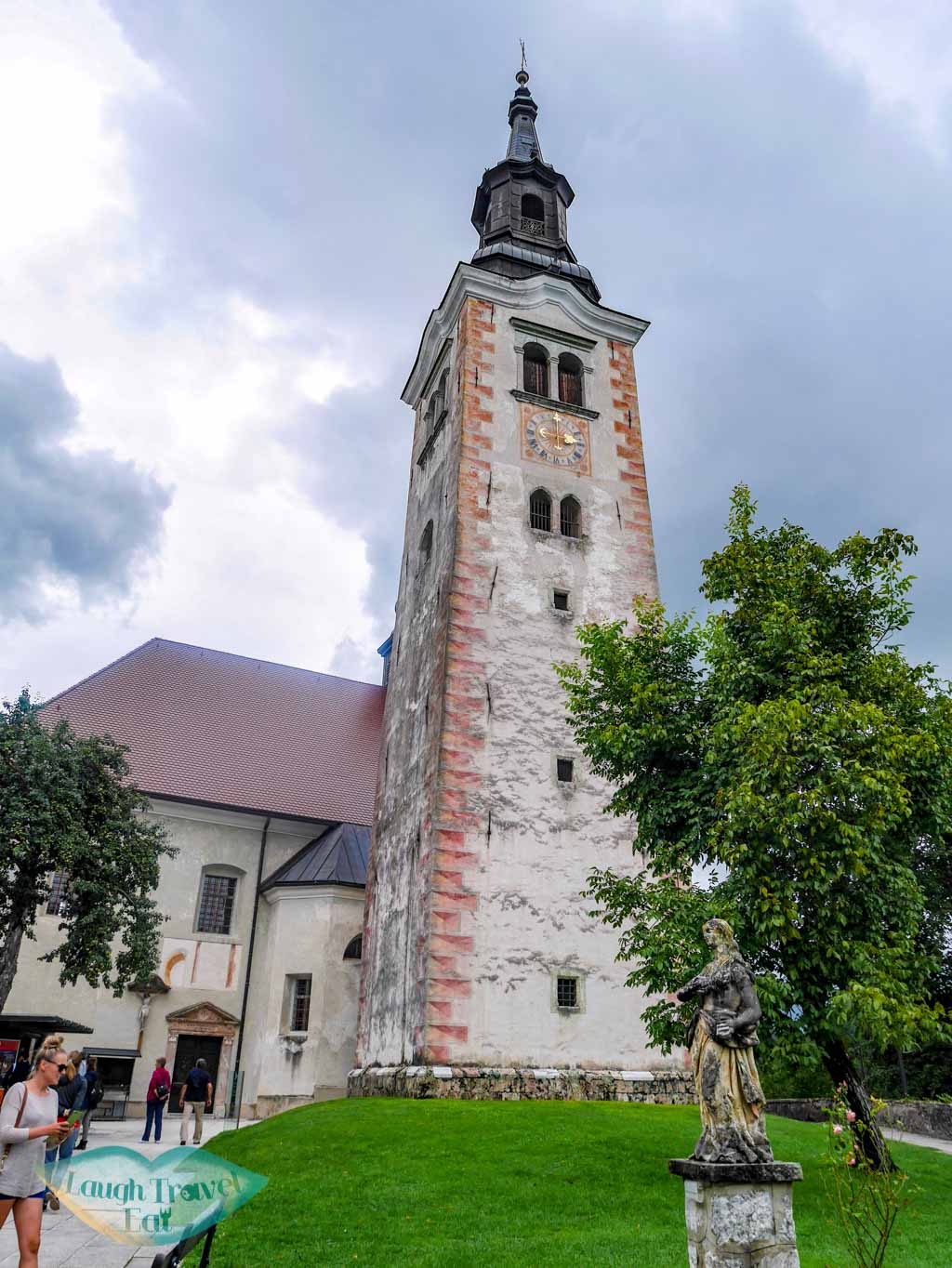 You can get to this island either by boarding one of the many pletna on the east bank, or rent a kayak or row boat and go there yourself. You can dock either side of the two staircases on the north or south side of the island, but be sure that you moor the boat properly. The Baroque staircases have 99 steps and are beautiful in their own right.

There is a café on the island as well, but due to the costs we neither went inside the church nor eat there. It is believed that if the bride is carried up the stairs and the bell rung on the happy couple's big day that it would bring them luck. And it is rumoured that an ancient temple to the Slavic goddess Ziva was built there prior to the church.
Vintgar Gorge


1.6 km away from the town of Bled is the well-visited Vintgar Gorge. Formed by the erosion of Radovna River, it features a series of canyons from 100 to 50 m high, forming a 2km walk where you get to admire the tranquil green water ending in the Sum Fall – a 13-meter high waterfall.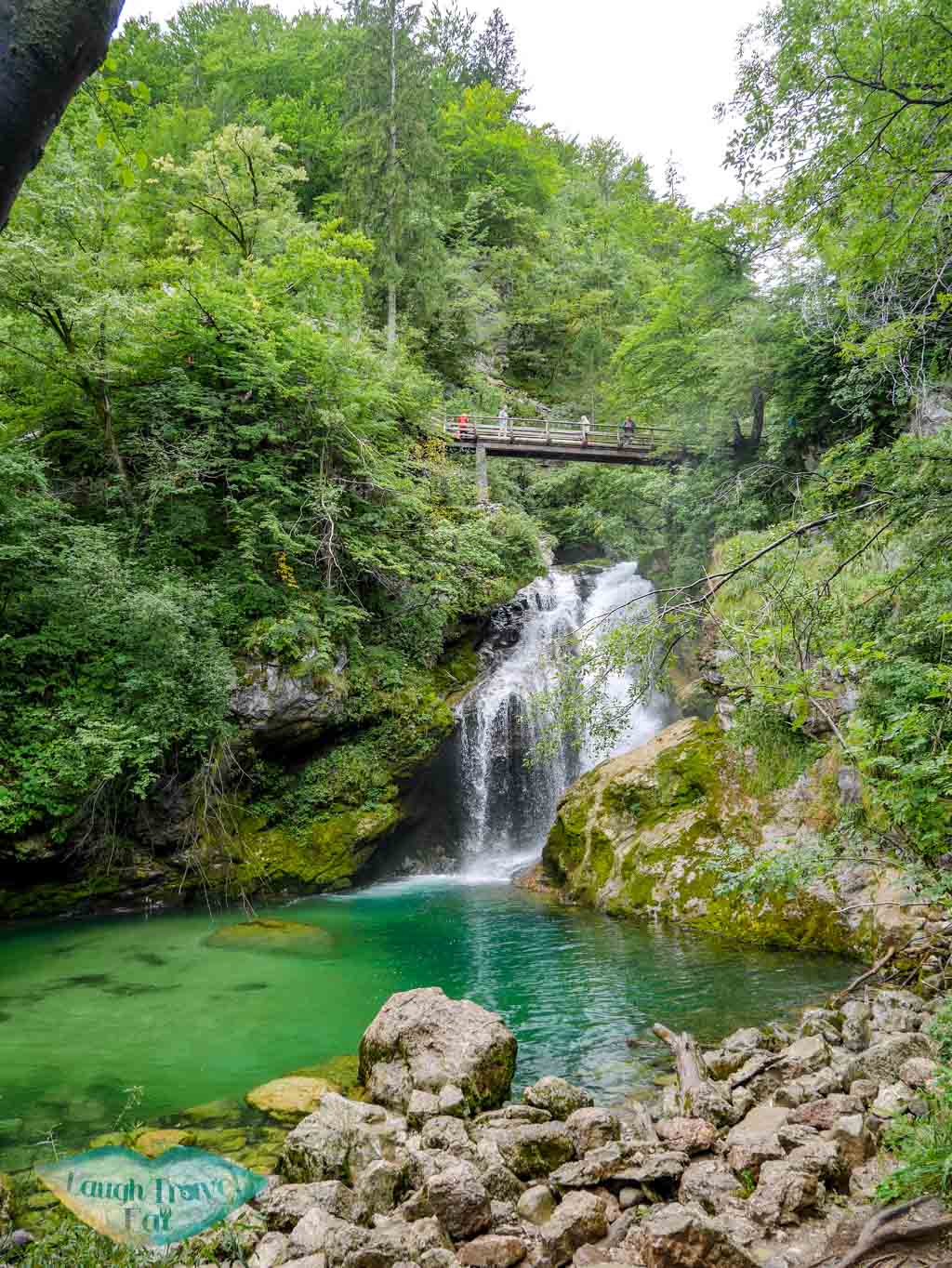 Given its popularity, it might be surprising to learn that the gorge wasn't accessible until 1893. Though the landscape and wooden trails are beautiful, the trail is full of tourists going both ways and can be difficult to navigate around the crowd and take photos. Consulting a map, we discovered an alternate route around a small village then back up on the hills next to the river that would take us back without having to trudge through the gaggles of people on the wooden path.
Admission fee: Adult €4, Student €3 (groups of 10 get a €1 discount), 6 – 15 years old €2, below 6 €0.8.
(Bohinj card discount: Adult €3.6, Children €1.8)
Tobogganing +Car lift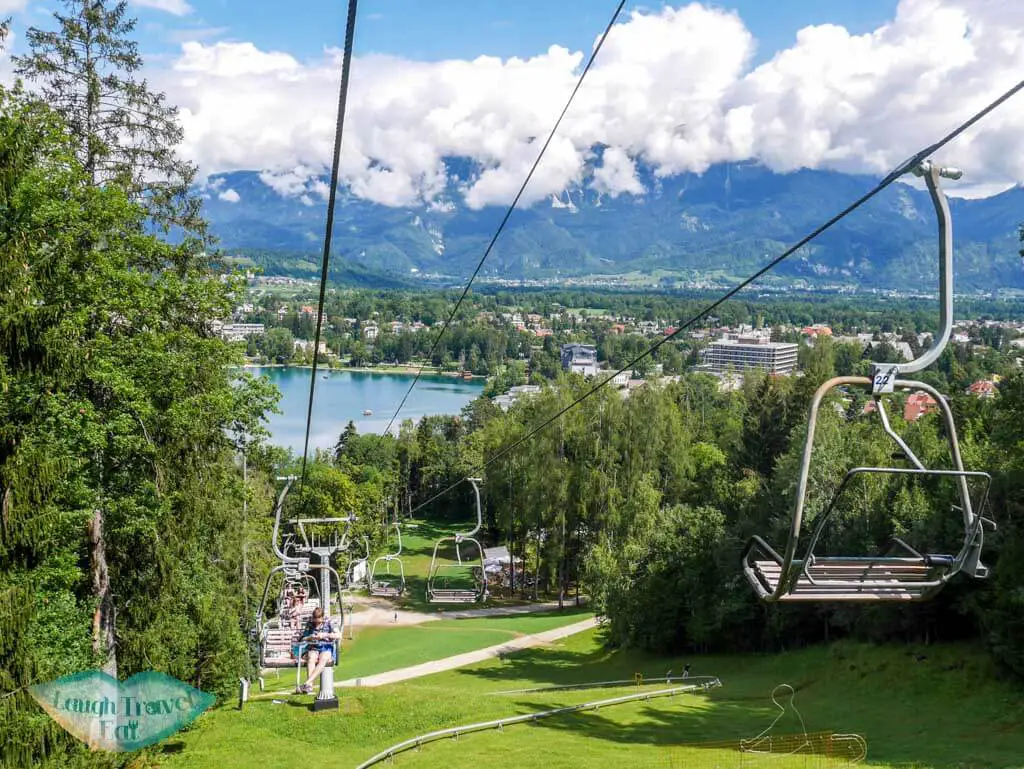 Tobogganing down the ski slope is a summer time must-do. A rather curious activity, it is best described as riding a small cart down a single line rail meandering down the slope. In fact, it's an oddly exhilarating experience and a good indication of how brave you are by looking at how much you break when going down.
In order to go on the toboggan, you would have to go up the hill. And the fastest, most scenic way is up the car lift. There tends to be a bit of a queue, and you purchase the car lift ticket along with the tobogganing ride at the counter next to the queue. You can walk up or down the hill, if you so wish, to reach the rope course and activity center at the top which also does zip-lining.
Car lift + 1 ride: €9
Lake Bled activities

As I had mentioned before, the water in Lake Bled is pretty cold, however, you can certainly kayak or paddle around the lake. In fact, there are so many that I have a separate post on it, you can read that here.
Lake Bled restaurants
Grajska Plaza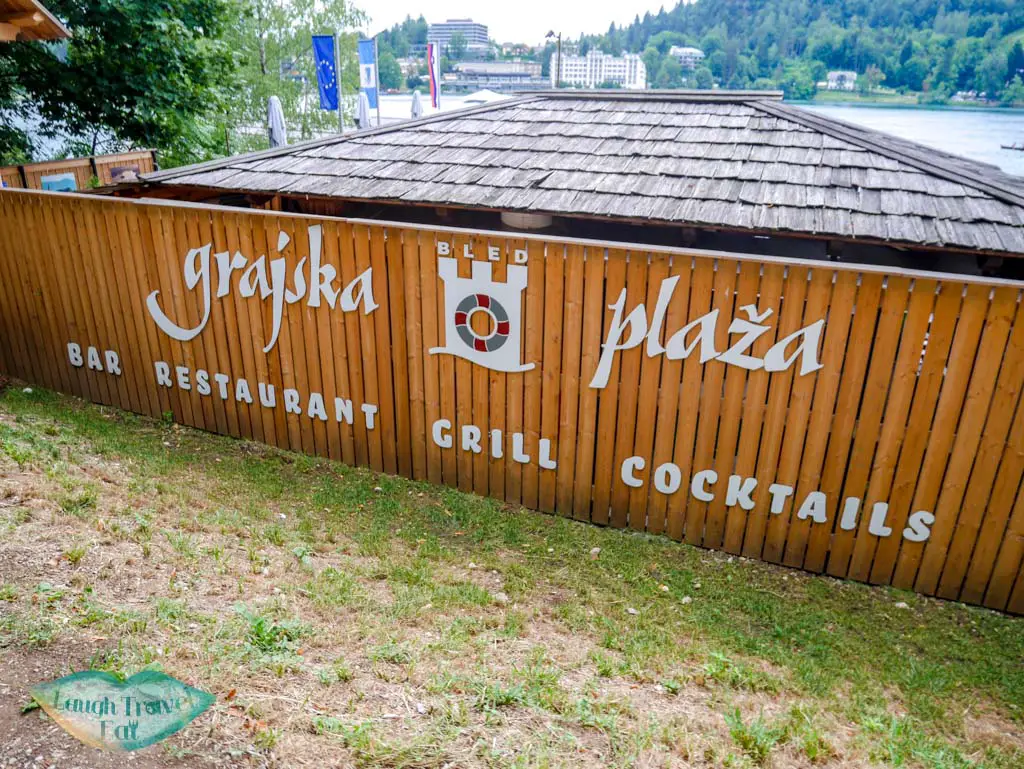 A charming little restaurant perched on the north bank of Lake Bled, Grajska Plaza is by far my favourite place to eat in Bled. With a pretty wooden deck that overlooks the lake as well as free WiFi, it's the perfect place to sit back and enjoy the view. In fact, out of the 4 days there I had 3 meals in this place.
I would definitely recommend the trout from the lake itself, the tuna tartar and of course, the famous Cream Cake. However, it is slightly on the pricey end with a dish costing around €13 each.
Address: Veslaska promenada 11
Opening times: (They tend to close when it rain as it is exclusively outdoor seating)
Pizzeria Rustica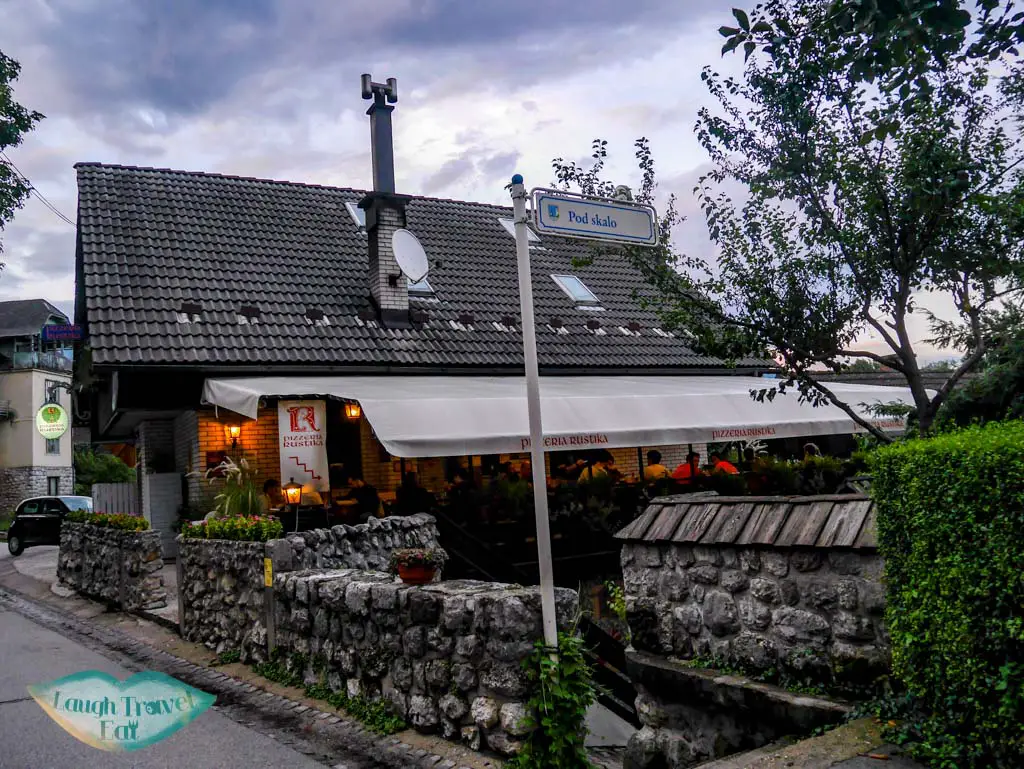 A budget restaurant in town, Pizzeria Rustica serves, well, pizzas. They are quite generous in size and competitively priced, it is a great alternative to Grajska Plaza. We ordered a massive pizza plus French fries to share, as well as beer and it only costs me €9.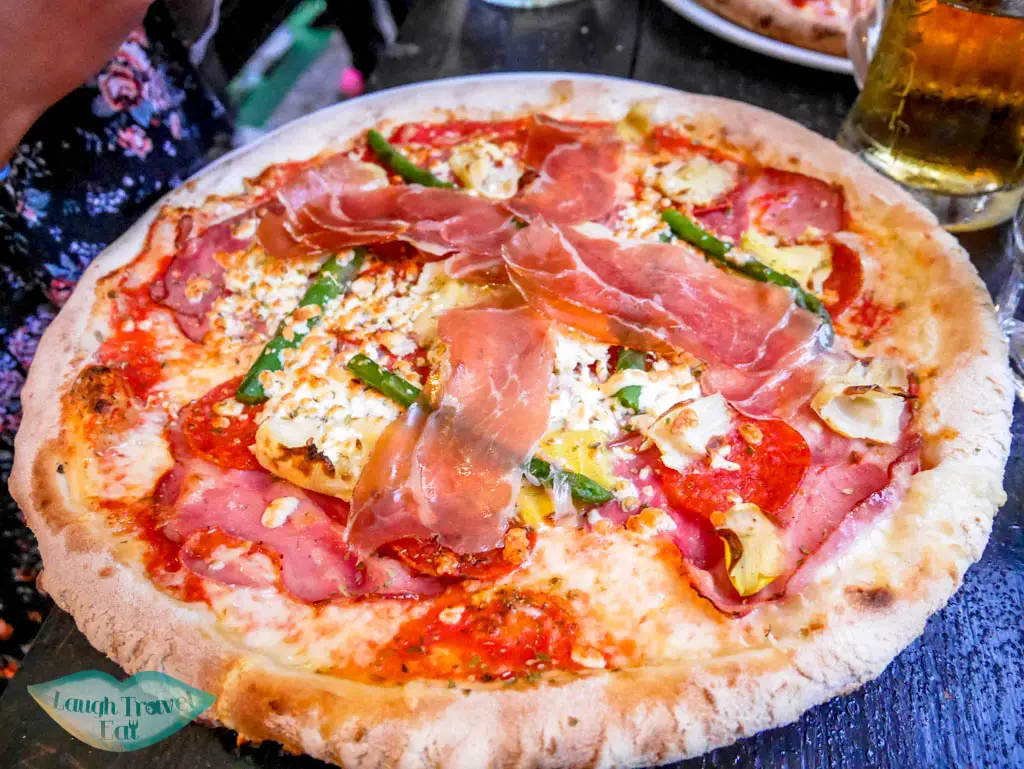 Address: Riklijeva cesta 13, 4260 Bled, Slovenia
Opening times: daily 12:00 – 23:00
Hostels in Lake Bled
I wouldn't hesitate to stay in this here again if I were to return to Bled, Castle 1004 is the friendliest and welcoming hostel I have ever stayed in. Boasting a terrace that overlooks the city of Bled as well as the lake, it only consists of one floor, but come equipped with a kitchen that is home to some free food for all. It is worth noting that the reception is separate to the hostel itself, though they are only a stone throw apart. The bathrooms are clean and nice, although they aren't very well ventilated.
You also get a wristband on check-in that offers discounts in various stores around the town – so be sure to wear it and study the map with the stores on. This includes the Grajska Plaza and the bakery opposite the bus station, although the latter is super cheap anyway. You can also book a myriad of activities with the hostel, including canyoning and paragliding. They also offer a free trip to the view point Ojstrica and a ride to Vintgar Gorge and back.
Address: Grajska Cestra 22, Bled, Slovenia
Ace of Spades Hostel is the sister hostel to Bled and only a couple of meters up, and a great alternative if Castle 1004 is booked up. With 2 floors, it's right across from the supermarket and much cosier. However, the kitchen area isn't linked to the rooms by stairs and requires you to walk out and around.
Midrange:
For apartment fans, check out Hiša 24 with its own balcony and a view of the Bled Castle. 
Splurge:
the Grand Hotel Toplice is right by Lake Bled and on the edge of the city center, with most rooms facing the lake as well as a wellness center. For somewhere even more palatial, Villa Istra is a must.
 This post contain affiliate links: i.e. if you book I get a % of the sale at NO COST to you
Pin me!

Pin me!