Cycling in Bohinj – chasing waterfalls
One of the things that came up when I researched on what to do in the Bohinj region, Slovenia is its cycling path. Specially paved and design for cyclists, this path takes you around the small towns and countryside of the Bohinj region, although it this route does not actually take you past Lake Bohinj.
However, this route does take you past some of the best waterfalls in the region, including Mostnica Gorge. It's the perfect day trip for those who are looking for an active day and see the natures of Bohinj region.
If you are not a cycling fan or able to drive, here's how you can get around Bohinj.
Bohinj Cycling path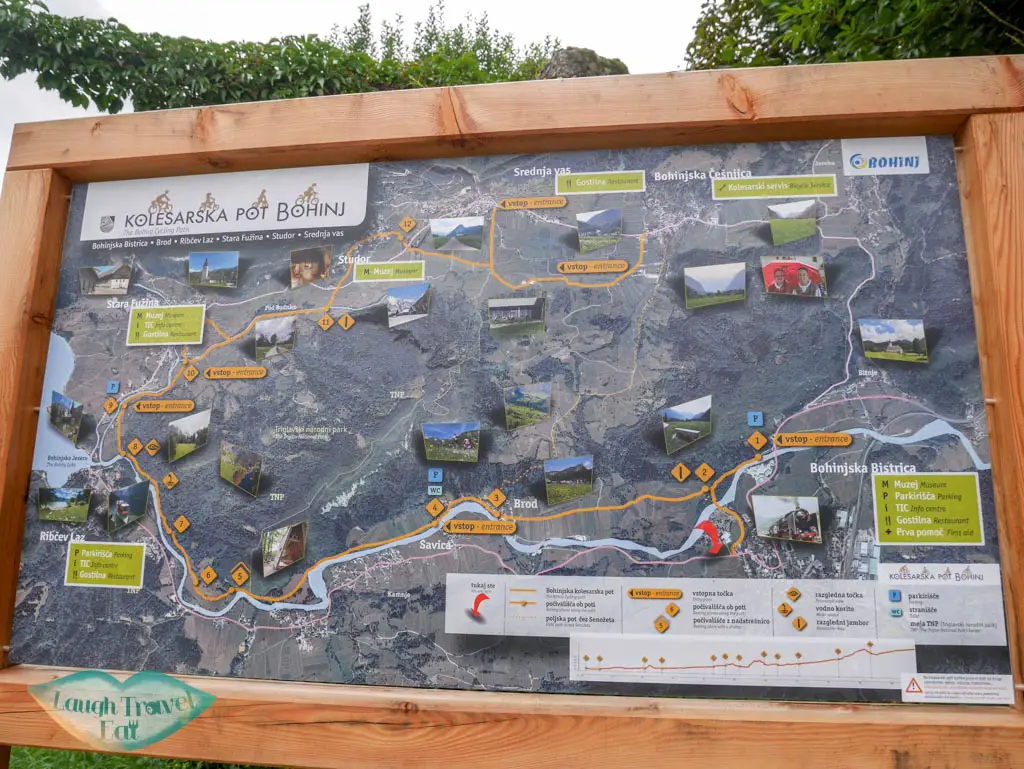 A 16 km bicycle trail that takes you past the best of Bohinj countryside, you can start your journey at any point, though the path officially starts at Bohinjska Bistrica. There are a few places around town where you can rent a bike, including one right by the entrance. But since I lived practically next to the tourist information center, I rented my bike there:
Address: Tiglavska cesta 30, 4264, Bohinjska Bistrica
Opening hours: 8:00 – 19:00
Price: 9 euros half day, 13 euros whole day
Helmet and lock provided
The cycle trail isn't available on google map, but I can offer you a map of Lake Bohinj region with all the interesting spots and info here.
After getting extensive directional advice, I set off towards the entrance of the cycling path that's next to a farm. The path would take you past the town of Brod next and then skirted past Ribcez Laz that bordered the east shore of Lake Bohinj, heading northwards to Stara Fuzina where you can stop and hike to Mostnica gorge – but more on that later.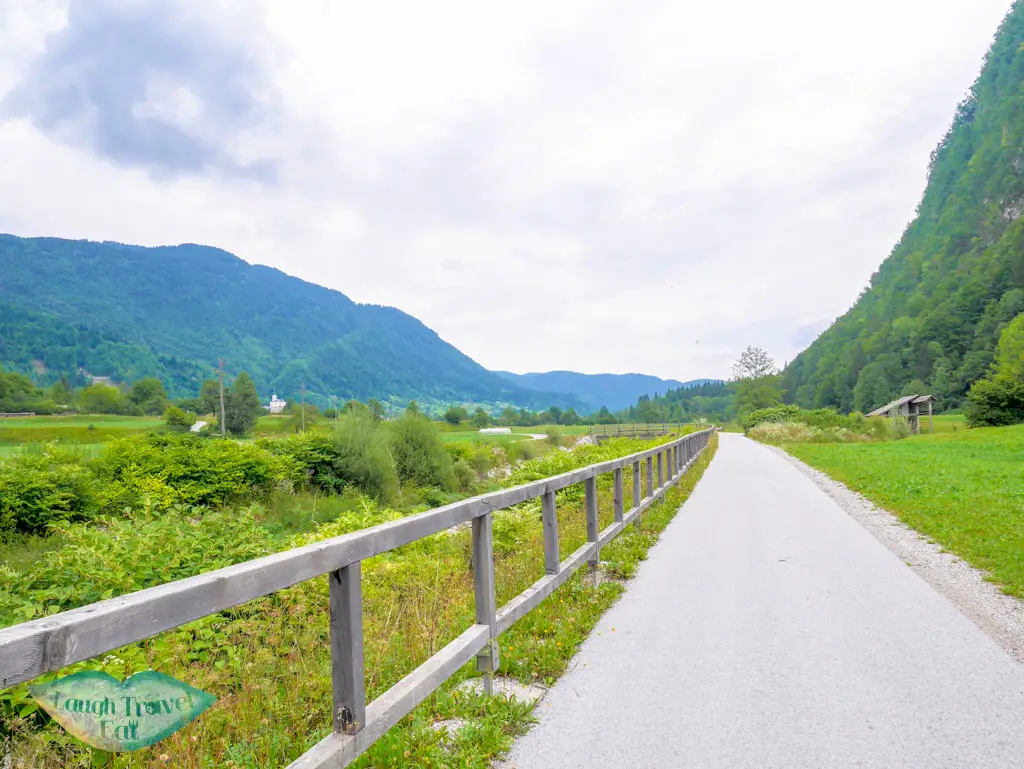 Turning northwest, you go up to the town of Studor, then ending your journey at Srednja Vas. You can cycle back the way you came, or head onwards on the road to Bohinjska Cesnjica and follow the main road back to Bohinjska Bistrica, which is what I did. Taking away the time I took to hike up to the waterfalls and eat, this should take around 3 hours depending on your cycling speed.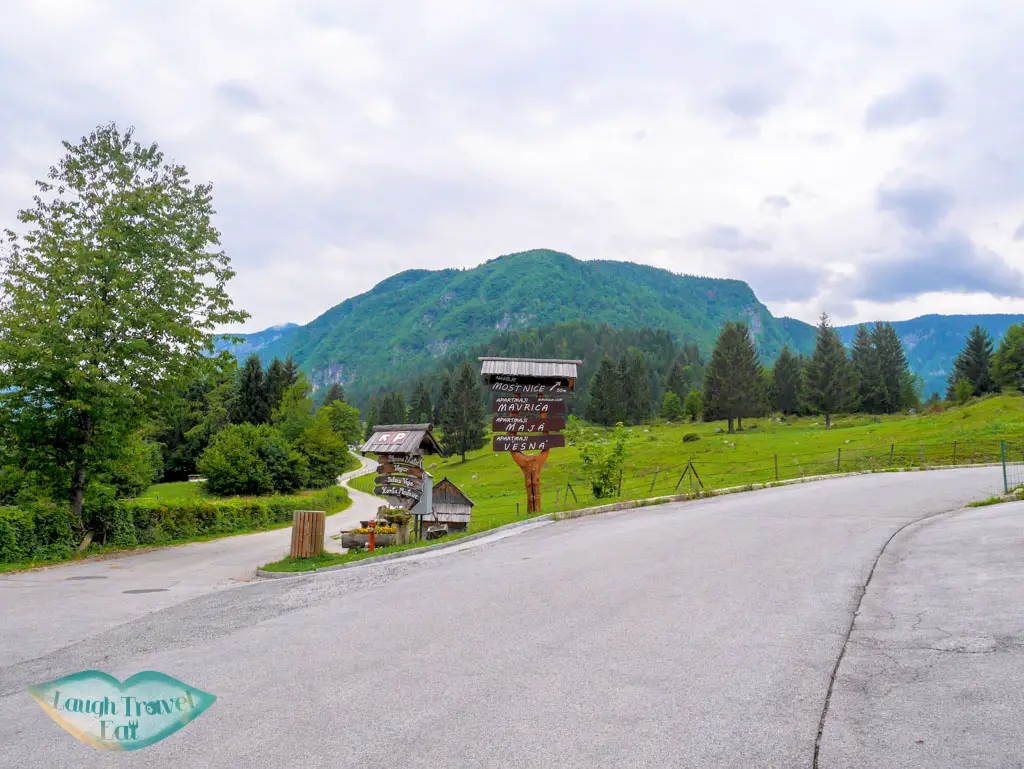 There are a couple museums dotted along the way, but truth be told I found most of the small towns quite monotonous and bland, so I didn't make an effort to seeing any of the museums (pretty sure one of them was about cheese though). The towns and countryside I sped past was by no means pretty, however, they are mostly farm towns therefore does not offer much in terms of amusement or sights. I was way more interested in waterfalls, and that's what I spent my time and energy seeing.
For more information, here's the official website.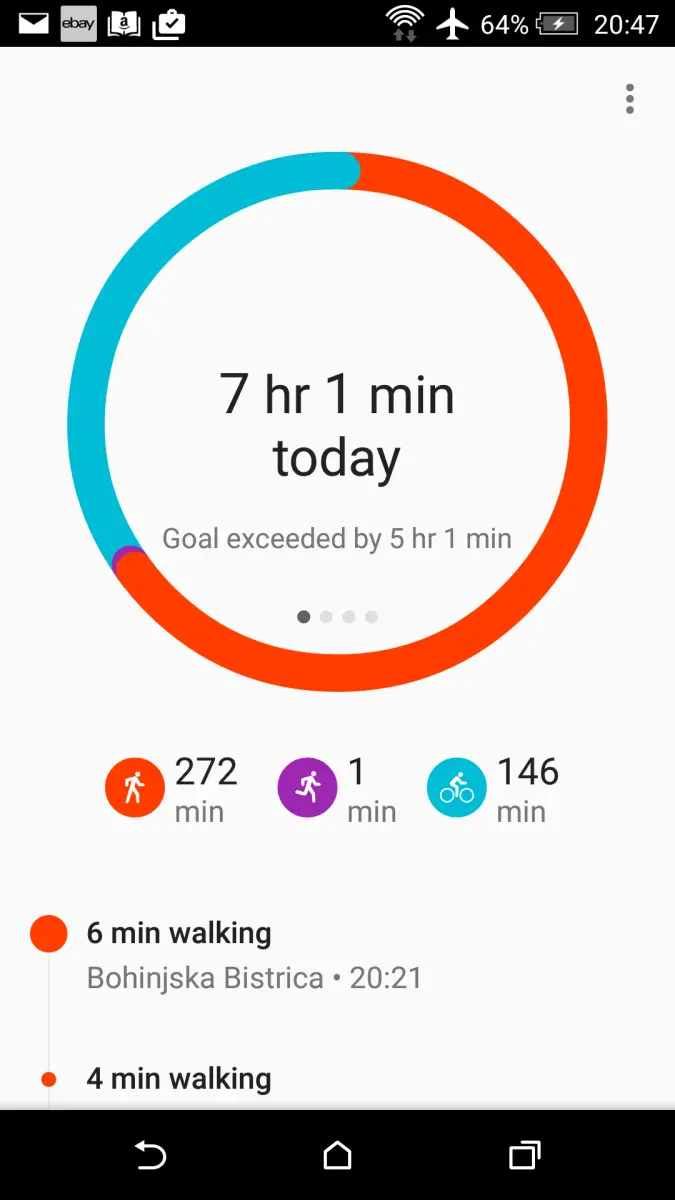 Bohinj waterfalls
Now the most famous waterfall in the Bohinj region would be Savica Slap, but that one is west of Lake Bohinj and I wouldn't recommend cycling there, since you would have to do that on the road and it's a brutal uphill ride most of the time. There are three waterfalls that's (semi) en-route the cycling path:
(Unfortunately google map does not have the hiking trails on their maps, but I have tagged on the important way points)
1) Mostnica Gorge
The prettiest gorge I have ever seen, Mostnica Gorge refers to a 2km section of the Mostnica River north of Stara Fuzina. I parked my bike at the (paid!) car park for free and hiked towards the Devil's Bridge (Hudicev most). The little hut where tickets to enter the gorge can be purchased is about 400 m further along.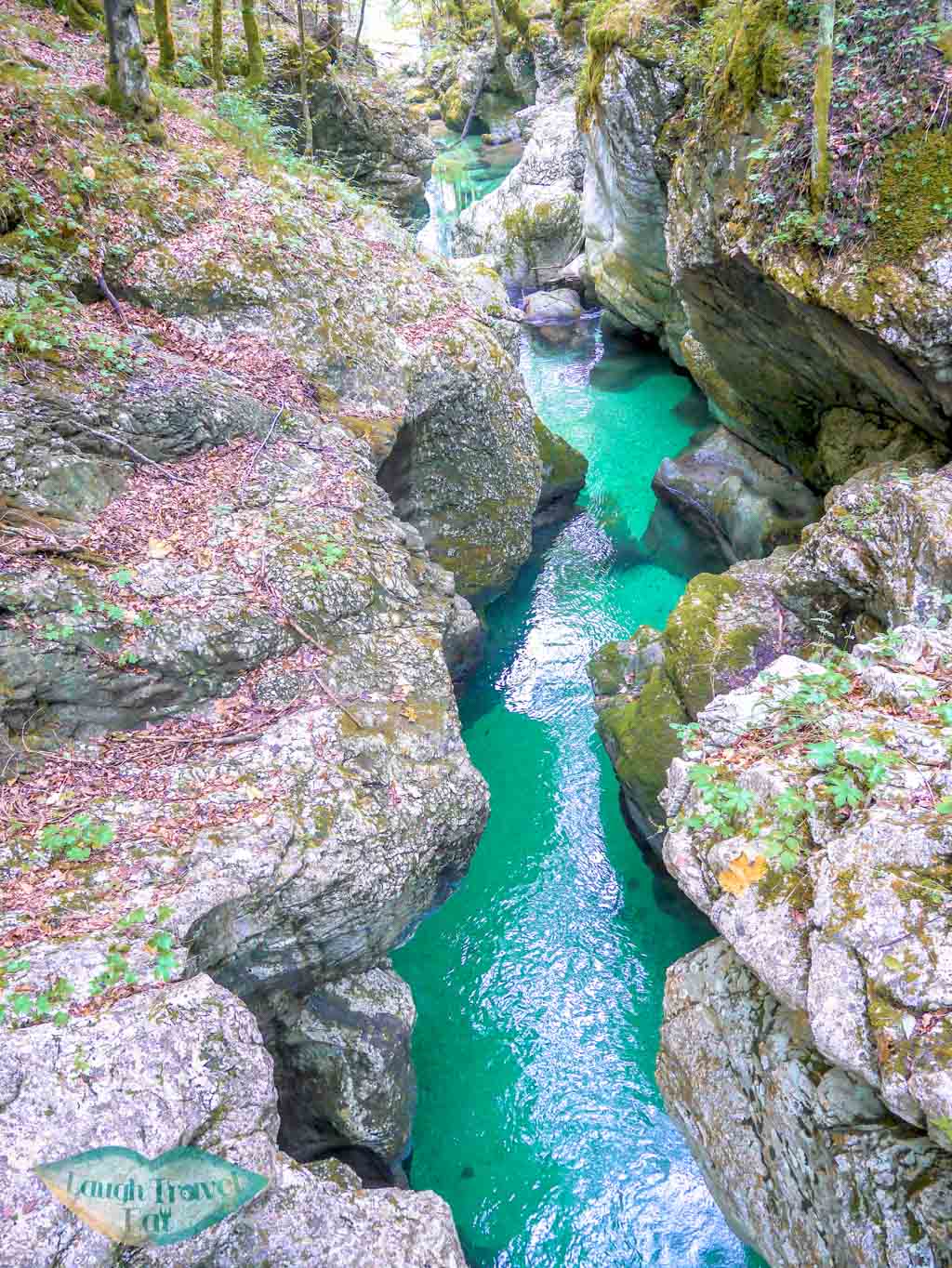 Starting as deep, almost 20 meters deep gorge with gorgeous milky blue water, the depth decreases as you hike northwards into a series of smaller rapids and mini-waterfalls. Here the river flow faster and runs clear, and you can even climb further out to the limestone bedrocks for a few photos: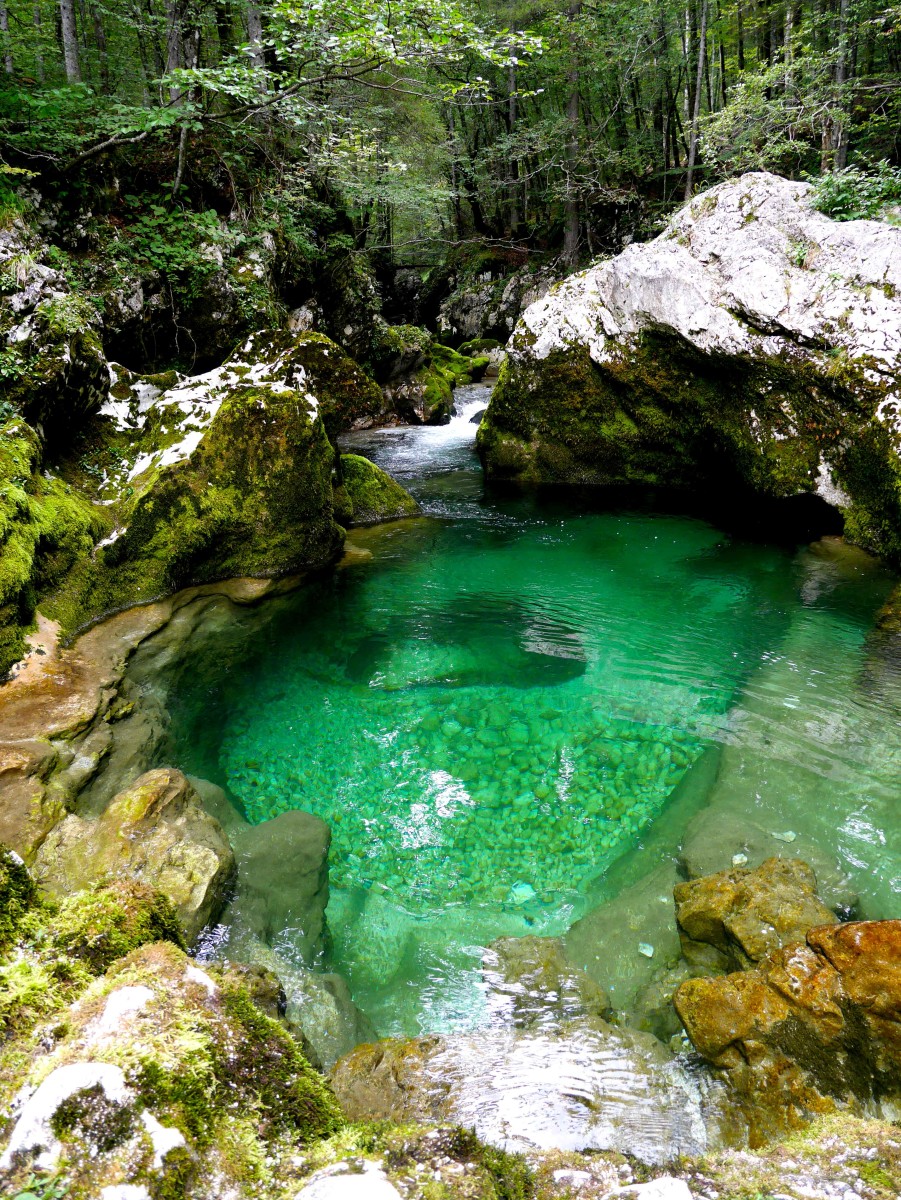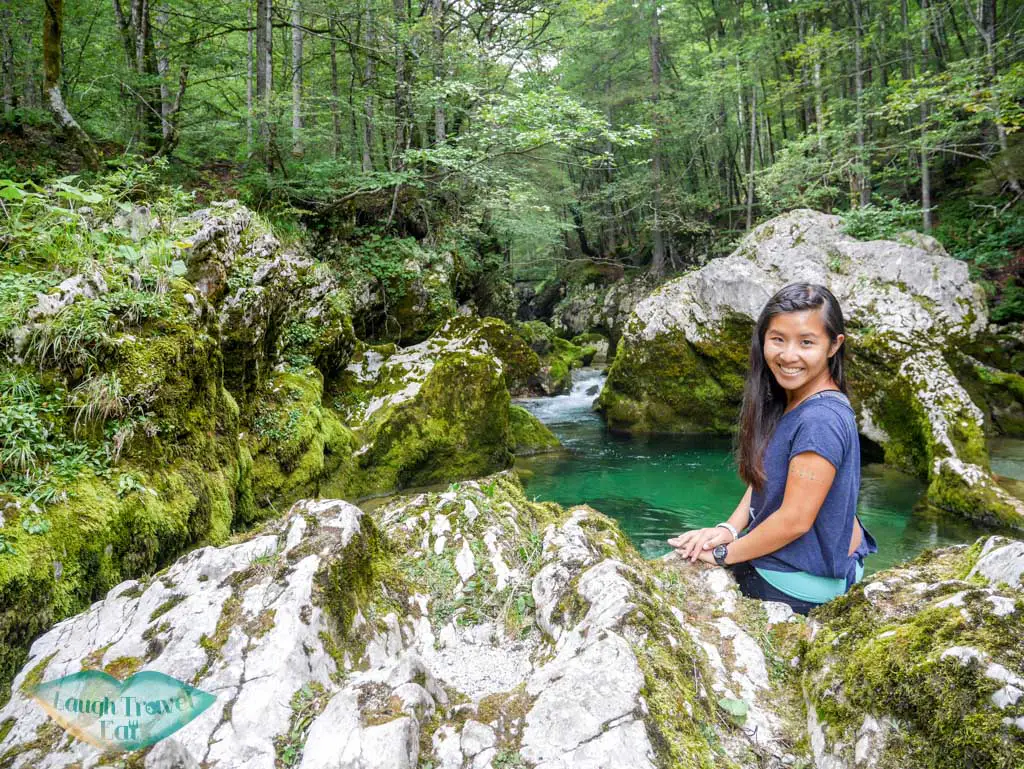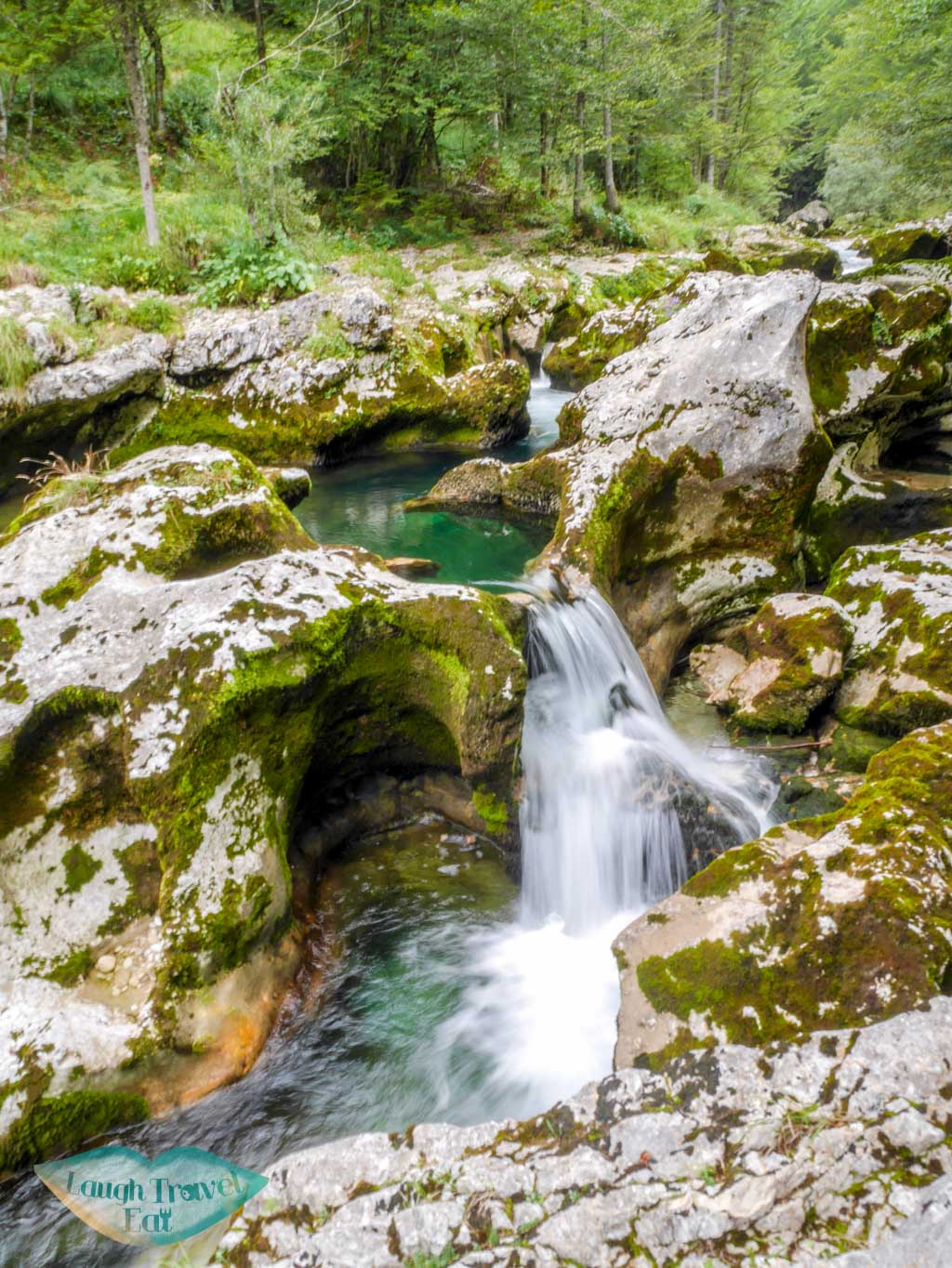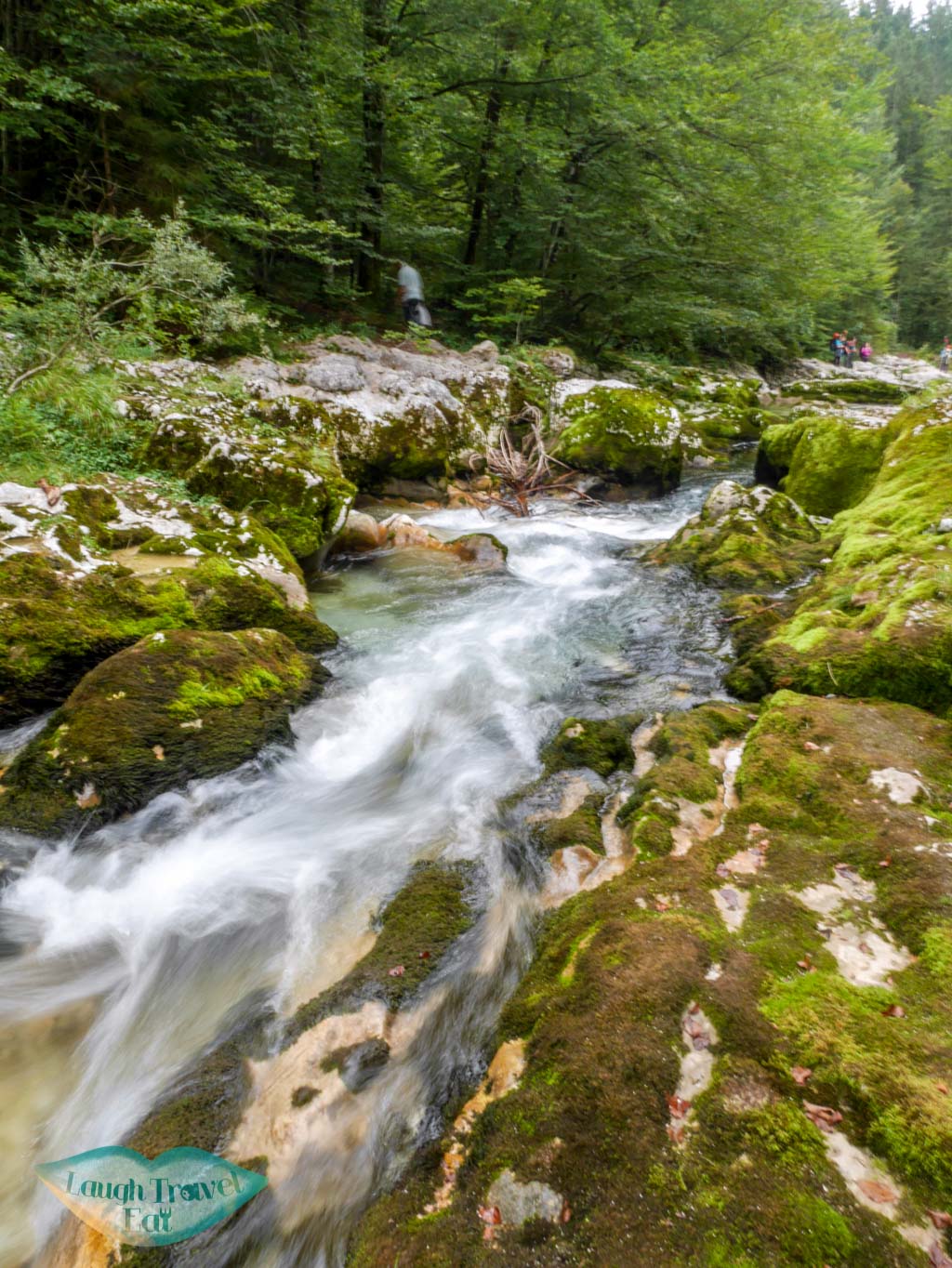 There isn't a sign that tells you when you have exited the trail, and there isn't another way out except the way you came. So turn back when you have decided it's enough, but if you carry on, you will get to numero 2 on the list.
Price: 3 euros for adults, 2 euros for students, 50% off with Bohinj card
The fee only stands from April to October, and is inflated from previous 2.5 stated on the tourist boards and website
2) Okrepceralnica Slap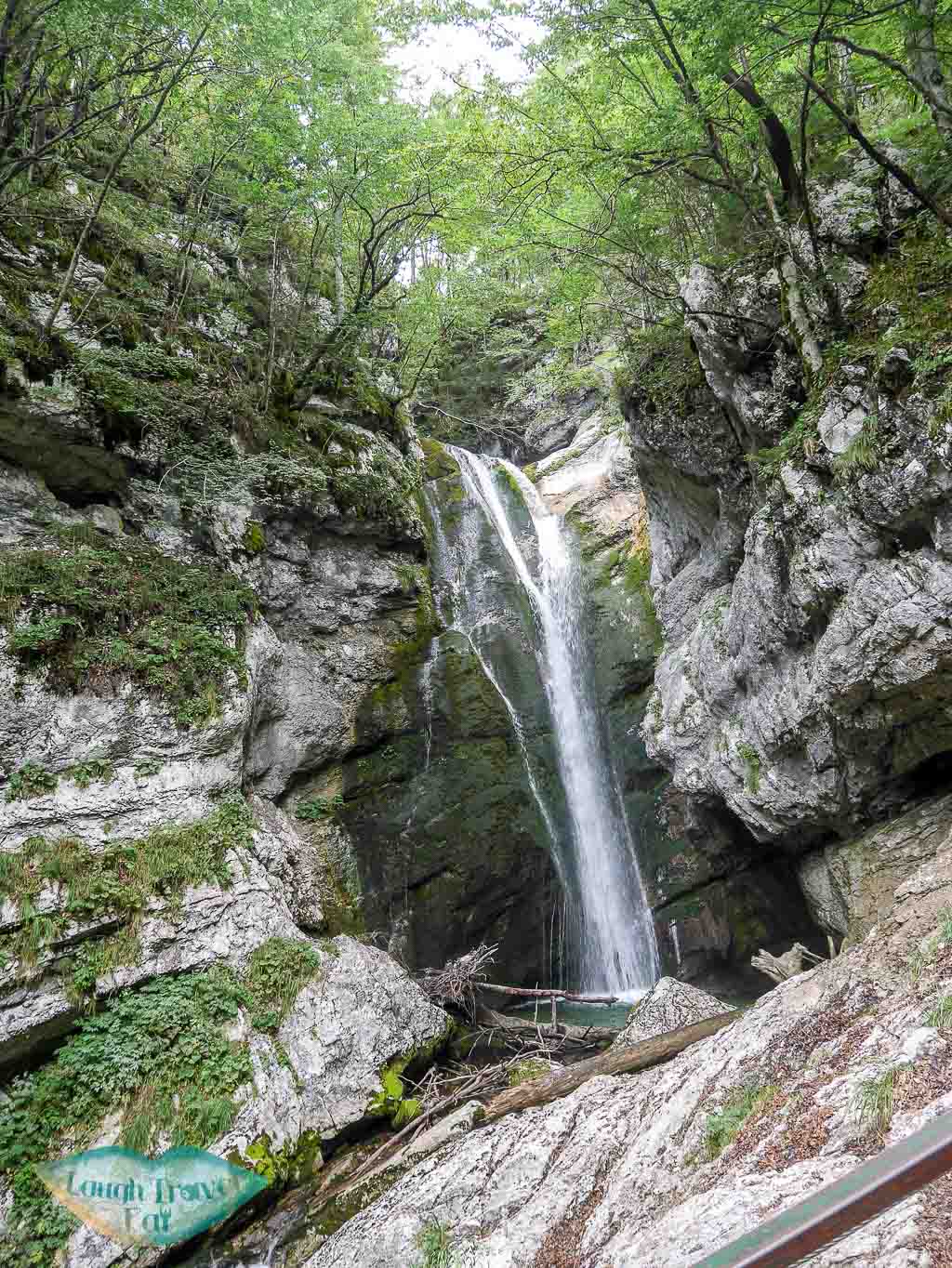 Where the Mostnica River begins, the Okrepceralnica Slap isn't that famous, and that's for a reason. Seeing a waterfall mark on my offline map – I thought I might as well go and see the end of the river. It is a straight trail from the Mostnica Gorge trail, though diverging away from the river to the west for a while before doing the reverse. The tell tale sign of being at the right place is when you cross the huge meadow filled with little wildflowers and then reach the Okrepcevalnica Slap Voje.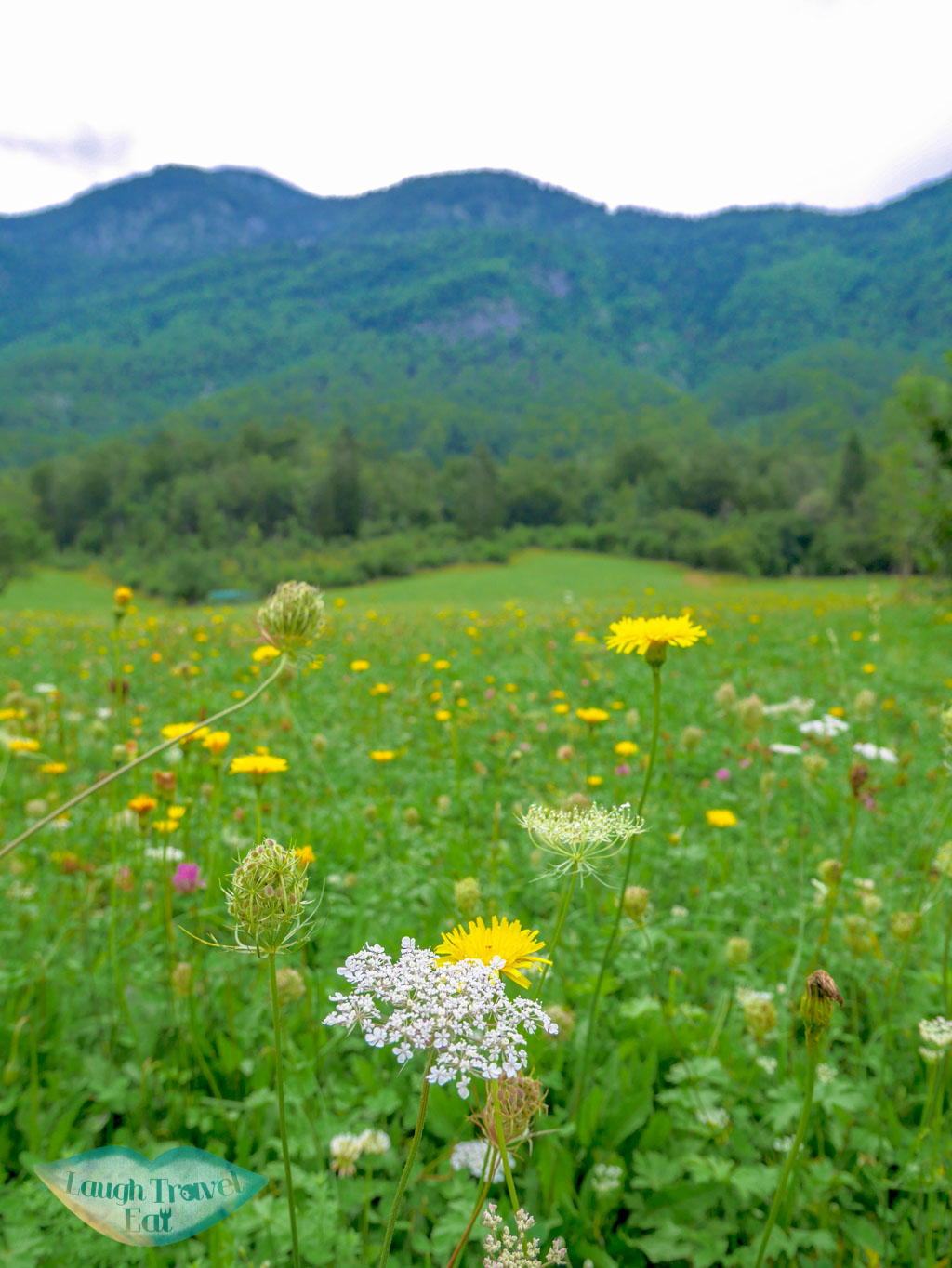 It's a perfect pitch stop for those who didn't bring enough provision, but be warned the choices are scarce and the prices a little steep. I didn't find anything I like so I settled on an apple strudel, which was a little burnt.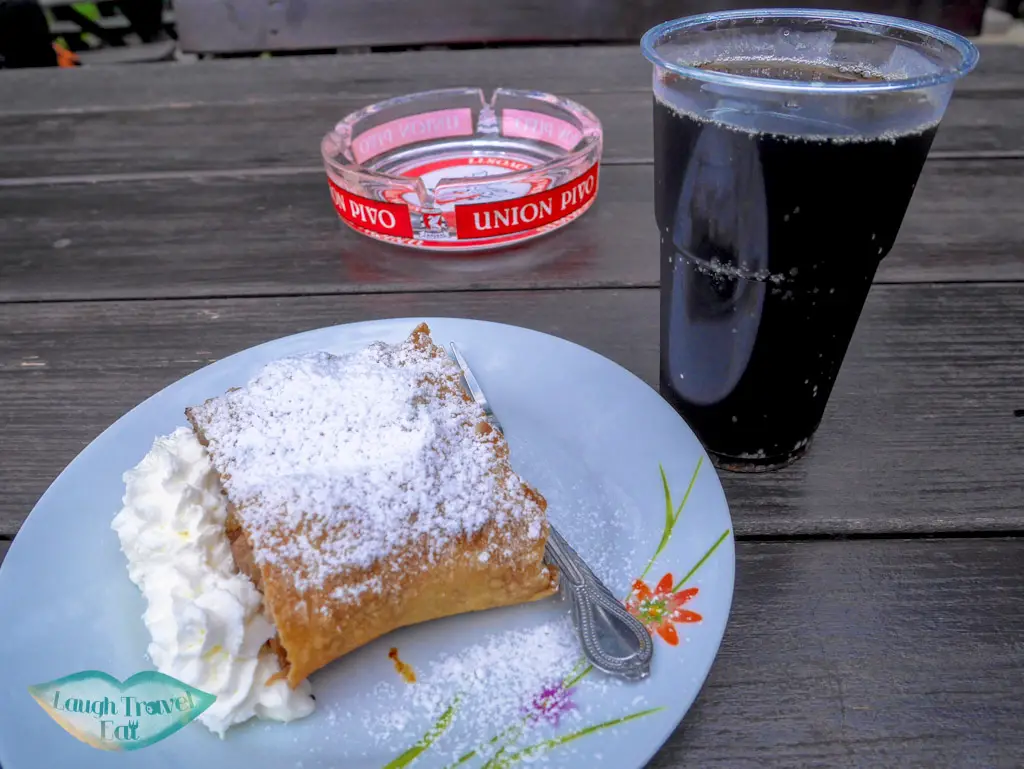 The waterfall itself, though pretty, wasn't spectacular. And it was difficult to get a straight shot of it.
This takes about an extra 2-3 hours round trip from Mostnica Gorge, as you have to exit the same way you came.
3) Ribnica Slap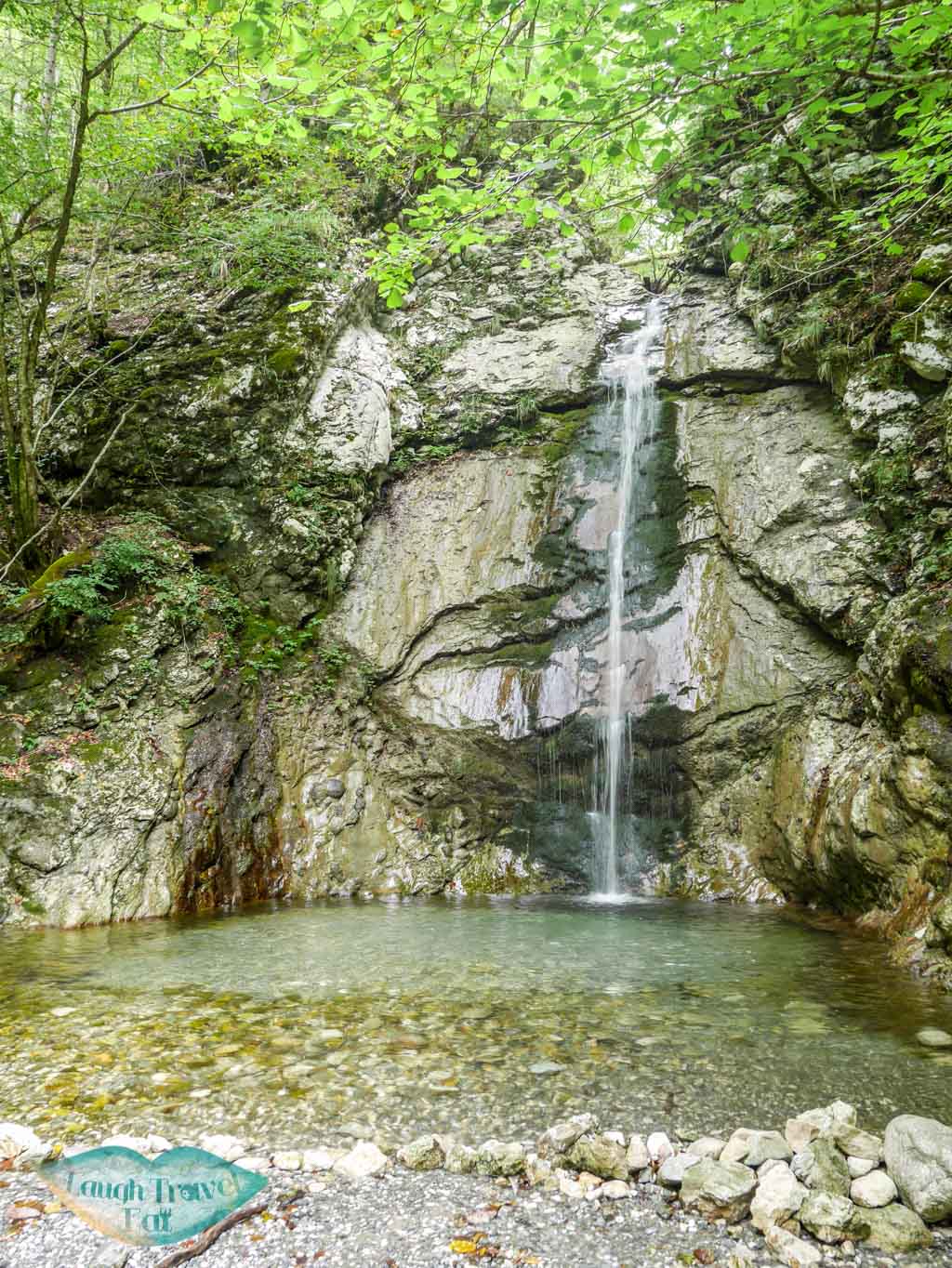 Northwest of the town Srednja vas v Bohinju, Ribnica Slap is a hidden waterfall that's a much shorter climb than the other two. An off the beaten track sight, I only ran into two other groups of people on the hike, and the trail itself is less well defined. I ended up having to cross two little valleys and I lost my way a little bit. The waterfall isn't particularly stunning; however, it makes for a nice hike.