Beitou hot spring is a popular day trip from Taipei. The area has long been the hot spring hot spot in Taipei, and it continues to be today with the development of XinBeitou (New Beitou). There's nothing more magical than soaking in hot water after a tired trip or during the cold weather. I mean, you can even do it in the rain (and I've done it in the summer too)! Here's all you need to know about a day trip to Beitou–or staying there for some extended spa time.
> See all the Taiwan recommendations here
> Why not head to a Taipei night market after hot spring?
Table of Contents
Beitou hot spring history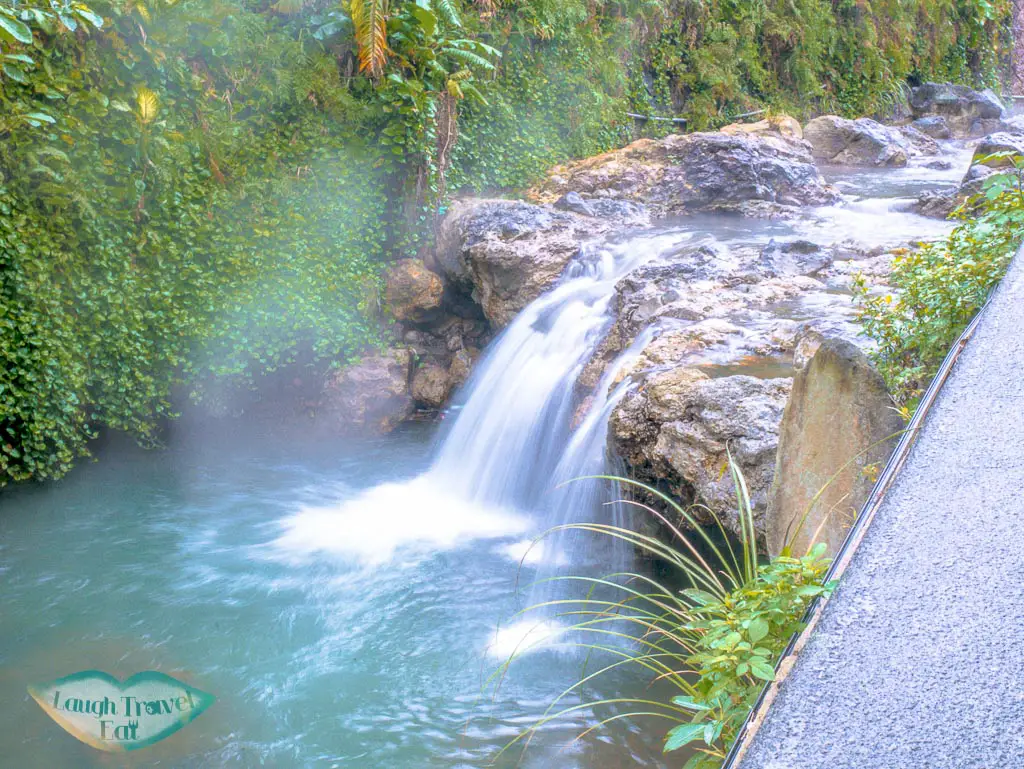 Taiwan is located on the plate boundary between the Yangtze plate and the Philippines plate. The geothermal heat comes from the subduction zone and the water quality here is famed for being clean and drinkable.
Before the Japanese colonial times, the hot springs were not used and seen as a bewitched space by the local tribes. But the Japanese realised the hot spring has great potential and Beitou became a popular spot for Japanese soldiers to relax and unwind after a long day at war. After Taiwan's liberation, Beitou's hot springs became available to all, and the area around the springs began to develop with many new hotels and resorts.
Essential Information on Beitou Hot Springs
What is Beitou famous for?
Beitou is famous for its hot spring! Which is probably the reason you're trying to find where is the best place to go!
Where is Beitou?
Beitou is about 30 minutes north of Taipei city center by metro at the foot of Yangmingshan and part of the national park. It was a dormant volcano and where the hot spring comes from.
Best time to visit Beitou Hot Spring
It is much nicer to visit the hot springs during winter but it is open year round. I have been to the hot spring on a hot summer's day and it is doable.
Avoid visiting the Beitou Hot Springs on Monday as most attractions will be closed. If you're only there for the hot spring then you can check the opening time individually.
Beitou Hot Spring Type
The hot spring water quality can be split into three types: Green Sulfur, White Sulfur, and Iron Sulfur.
Green Sulphur
Green sulphur is the hottest with the strongest pH and the natural state of the water that comes out.
White Sulphur
White Sulphur is the spring water that results from mixing Green Sulfur with mountain or river water.
Iron Sulphur
Iron Sulphur water is from Double Creek, with brownish water due to mixing with the iron calcite minerals that are good for various pain illnesses.
What do you wear to Beitou hot spring?
Public hot springs at Beitou require visitors to wear swimsuits when bathing. You can also buy them at some resort, but it's better to bring your own. Do know that the swimsuits will smell like sulphur for a while afterwards.
How long can you sit in hot springs?
You are not recommended to soak over 15 minutes consecutively, and not over an hour altogether for the day!
How to get to Beitou Hot Spring
Beitou is located within the Taipei region but not in the city center. However, it is an easy ride on the the red metro line to the Beitou Station and changing lines to Xin Beitou, where the hot spring facilities are concentrated.
Tip: get an Easy Card to get around Taipei and check if your hot spring is closer to Beitou or XinBeitou Station. Some resort will also have shuttle services.
Beitou Hot Spring Price
Whatever your budget is, there will be a hot spring suitable for you. While there is no free hot spring, there is a free feet soak area some distance away from the XinBeitou metro, but I hadn't got the chance to go over there. The cheapest hot spring would obviously be the public hot spring, but for private rooms, the prices can be anywhere between 40 NTD to thousands of NTD (no, I'm not kidding).
Budget Beitou Hot Spring
The budget ones are, of course, public hot spring. They are value for money, particularly for solo travellers as booking a private room for one isn't recommended (or even allowed in some cases) due to safety issues. Yes, over soaked can cause people to pass out! Anyway, there are numerous ones around, but the cheapest goes to:
Millennium Hot Spring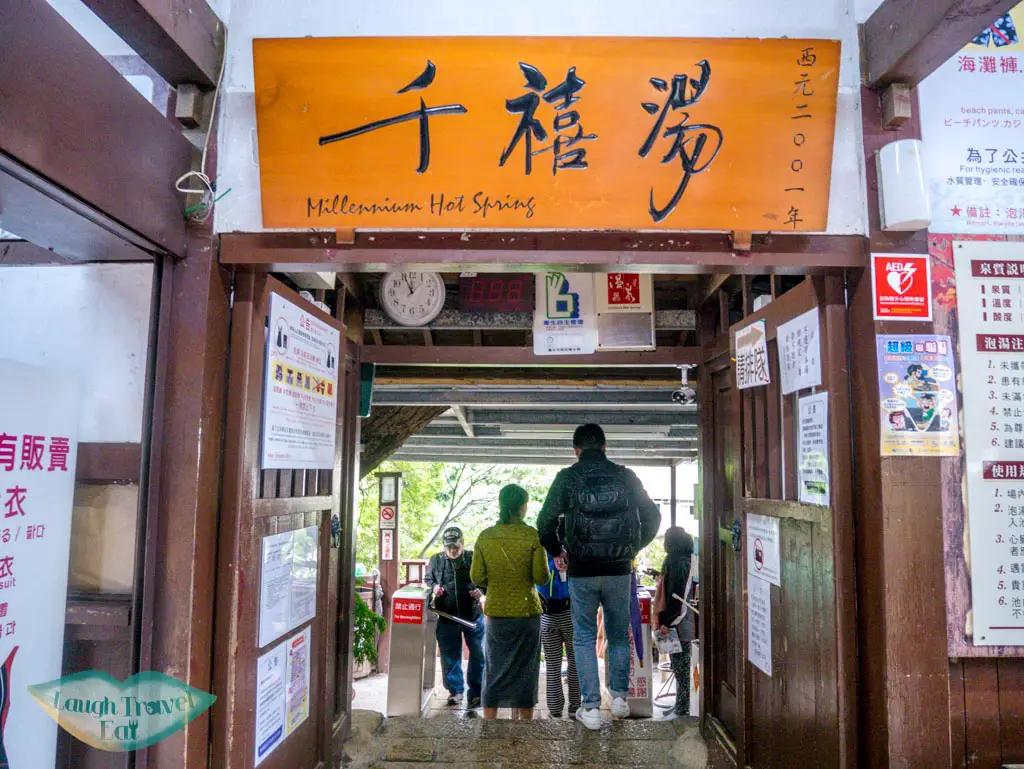 Newly renovated, Millennium Hot Spring is go-to with its cheap 40 NTD entrance fee and accessibility. There are two cold pools and four hot pools, and you are required to wear a swimsuit. There is nothing much to be faulted at such an affordable hot spring location, although be warned it is crowded even on a weekday and isn't the cleanest. But as long as you are not a clean freak, you will do fine.
Address: No. 6, Zhongshan Road, Beitou District, Taipei City, Taiwan 112
Opening times: 5:30–7:30AM, 8–10AM, 10:30AM–1PM, 1:30–4PM, 4:30–7PM, 7:30–10PM
Admission fee: 40 NTD for adult, concession 20 NTD – you buy the tickets on the vending machine outside
Good to know: lockers cost 20 NTD per open, showers also cost 20 NTD
Tip: bring your own towel and swimsuit, and if you bring a backpack, just lock everything inside and you won't even need a locker! Photos are not allowed!
Spring City Resort Beitou Hot Spring Spa
Thos of you with more budget and want to experience a less crowded experience, Spring City Resort is a good next-step-up. It's south of the Beitou Park and a walkable distance from the metro. A free shuttle is also offered from the XinBeitou Metro por Beitou Metro and there are meals combos, too. It's a great choice for families as it has a family pool, and the Japanese style decor are pretty scenic.
Address: No. 18, Youya Road, Beitou District, Taipei City
Opening times:  9:00 – 22:00
Cost: starts at 12.1 USD
Grand View Resort Beitou Public Hot Spring Spa
If you are not afraid of showing your hot bod and want something a bit more refined, then the Grand View Resort Beitou is the place to go. While it is a bit far from the station, it offers free shuttle service from XinBeitou Station. While the price is much higher in comparison at 54.2 USD, you will be treated with complimentary snacks and drinks, as well as a steam room and sauna!
Note: these are gender separated nude hot spring!
Address: No. 30, Youya Rd., Beitou District, Taipei
Opening times: 7:30 – 23:00
Cost: 54.2 USD
Beitou private hot spring recommendation
There is plenty of Beitou hotel with private hot spring, most of them provide complimentary hot spring inside the room or the use of their facilities inside. Here are some of my top picks:
Mid-range:
For a good value for money private hotel with private hot spring, Phoenix Pavilion Hot Spring Hotel is ideal with a Japanese decor. For somewhere more modern, try Chyuandu Beitou.
Splurge:
Beitou Hot Spring Resort is a less luxurious but still luxurious (haha… I know) choice if you are not looking for a huge splurge!
Mega Splurge:
for the ultimate romantic (plus relaxing) getaway, Villa 32 only entertain guests above 16 years old with the most beautiful private hot spring in each room. If that's not enough, Grand View Resort Beitou is the only 5 star hotel in the area, though it's a fair distance from the MRT station.
XinBeitou attraction
There isn't just hot spring in Beitou – wait, actually, there is only hot spring that's cool in Beitou. What I meant was that there's more to do than just soak in hot spring! As we've discussed with the different type of hot spring water, the Green Sulfur (the type that comes straight out of the ground) is extremely hot and acidic. These geothermal water runs under and over the Beitou area, forming some unique geological phenomenal.
Beitou Park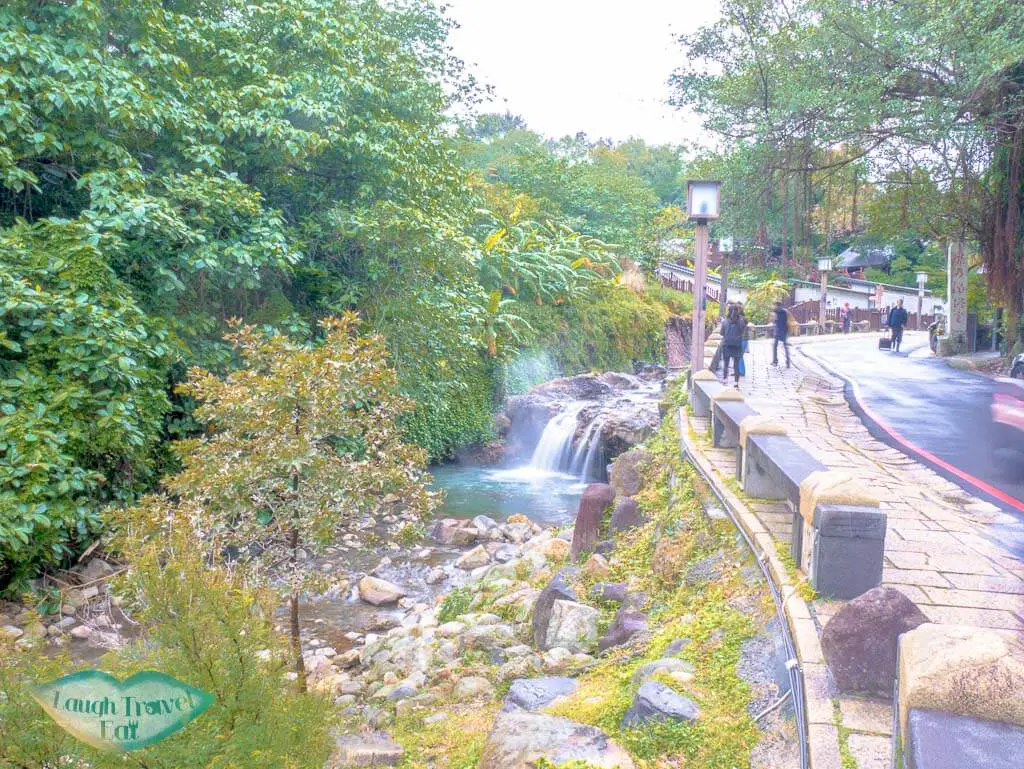 Around Beitou Park, in particular, along with the southern side and the northeast side, the geothermal water runs above ground like a river, except with steams! There are wooden walkways along it for you to admire.
Beitou Hot Spring Museum & Beitou Public Library
If you are interested to know more about the hot spring history in Beitou, this would be the place to go! I didn't have time to visit, although it would have been a great place to hide from the rain. It is also located within Beitou Park, along with Beitou Public Library, which is apparently a popular photo spot.
Address: No. 2, Zhongshan Road, Beitou District, Taipei City, Taiwan 112
Opening times: Closed Monday, 9:00 – 17:00
Thermal Valley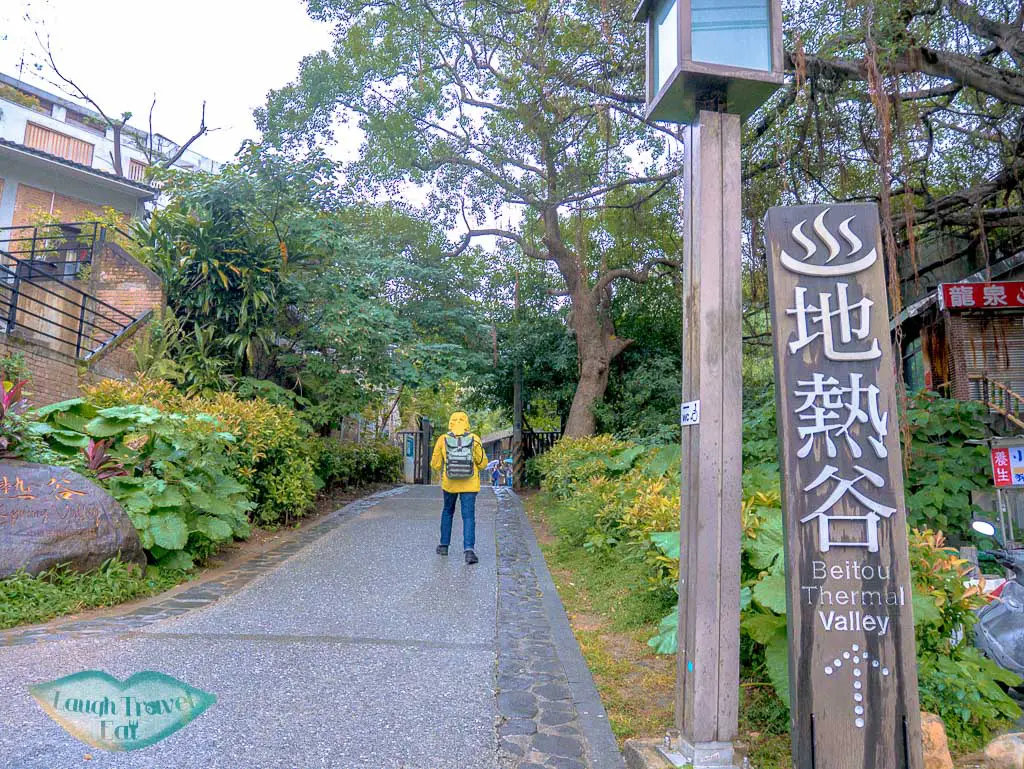 East of the Beitou Park is where things get really hot: in the Thermal Valley. The name pretty much said it all, this is a Thermal Valley where the geothermal water comes to the surface.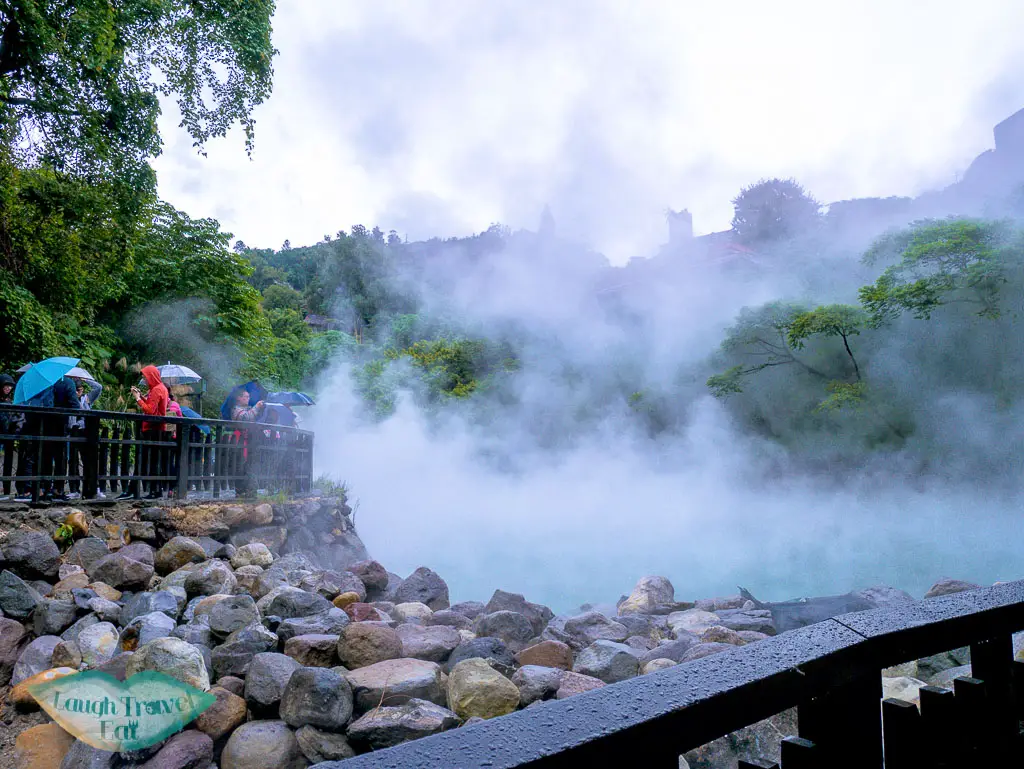 Since it was December during my visit, the steam was almost all you can see, with the occasional gust of wind blowing the white curtain right in your face. It's quite a sight to see, and you must be careful because the water is hot enough to severely burn you should you fall in.
Address: Wenquan Road, Beitou District, Taipei City, Taiwan 112
Opening times: Tues – Sun: 9:00 – 17:00
Admission Free
Hot spring eggs or corns!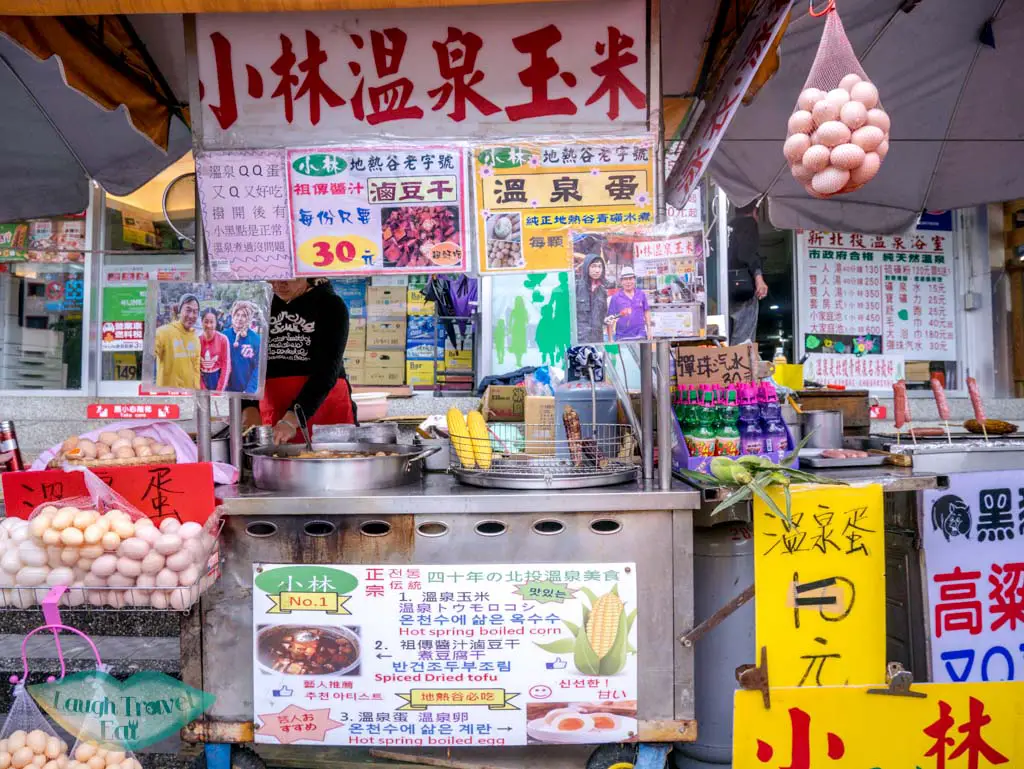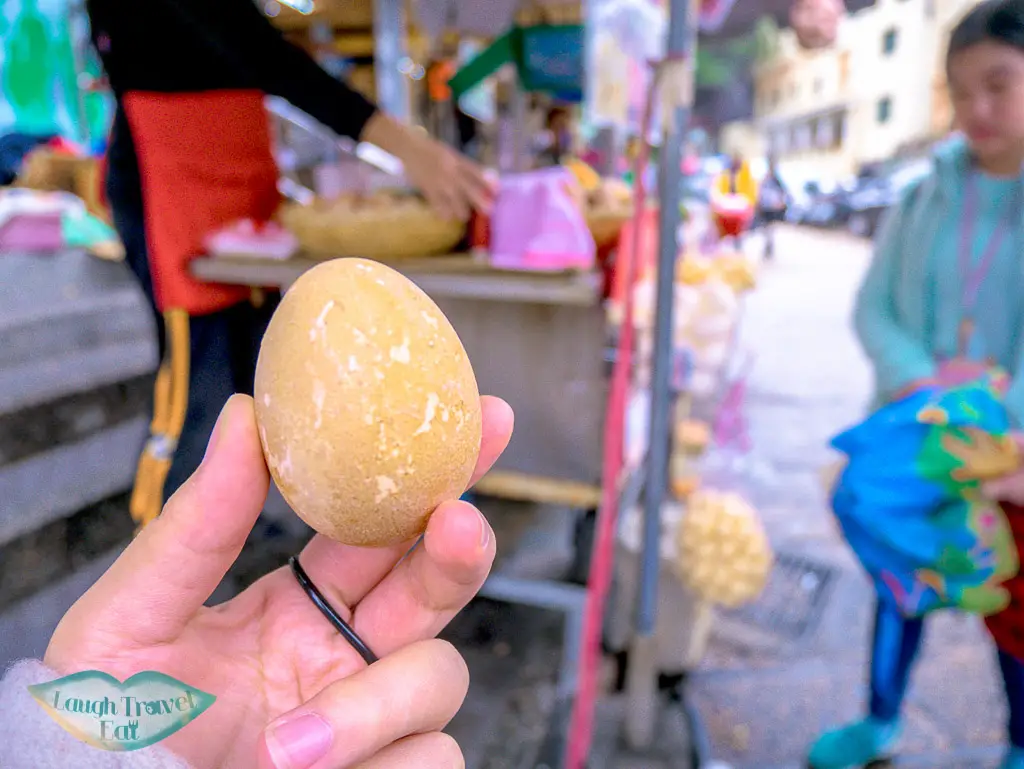 It's not a proper hot spring in East Asia without hot spring eggs or corns! They are basically eggs or corns that are boiled using hot spring water. They are said to contain special mineral properties, but whether that's true or not, they are still delicious. There is a stall right outside the Thermal Valley entrance, and the friendly owner told me that she had been running the stall for over twenty years! An egg only costs 20 NTD, and yes, the black lines are just minerals and is totally safe to eat. The owner even provides salt!
Note: this post contain affiliate links. This means I get a % of the sale if you purchase something from the link but at no cost to you!