Ah, Taipei! The capital of Taiwan appeals to me the most with the fact that it's a bubble tea heaven, as well as its many amazing food and night markets. Originally, I thought 5 days in Taipei would be an overkill, but it turns out not to be the case at all. In fact, I had barely swept up the most iconic sights in the city and didn't even get a chance to discover its café scene.
Taipei Essential information
For the top ten things that surprised me in Taipei, you can read it here. But let's talk about some essential information for first time (or long time ago) visitors.
EasyLink card Taipei
The Taipei transport card is known as Easylink, and you can use it for all kind of transport in Taipei region. Topping up is very easy at each station and journeys are cheap.
Currency in Taipei
Taiwan uses New Taiwan Dollars, and there are decent currency exchange places at the airport. Taipei, in general, is a cash-based culture, so be sure to take some money out from the ATM or exchange some before you go shopping or to the night markets.
Sim card or data in Taipei
There are plenty of places that sell Sim Card before you exit the immigration area in Taipei, but be warned that they are often busy. As always, getting a card or a WiFi egg on Klook is fast and easy, plus the latter make sharing between friends easy.
Pre-book your WiFi device or Sim Card
Taipei to do
There are many, many things you can do in Taipei, and this list is more catered towards first-time visitors. There are some places that I hadn't managed to see (unfortunately), but here are some must-sees:
Taipei 101
The most iconic building in Tapei, Taipei 101 is a must see if you are headed there (or at least, to have a photo of it). If you want to admire the panorama of Taipei on top, you can head to the top and test your courage over the glass floor. The best view of the Taipei 101 would be at the Elephant Mountain, but more about that later.
Taipei 101, contrary to other iconic buildings such as the Eiffel Tower, doesn't light up as much at night. Its glass panels mean that it reflects light, so it's better to visit during the daylight hours rather than after dark. My advice is to head there just before sunset for the best views.
Address: Xinyi Special District, Xinyi District; Taipei, Taiwan
Nearest Station: Taipei 101 / World Trade Center MRT station (Red Line)
Admission fee: 600 NTD for adults, Concessions (115cm>) 540 NTD
Opening times: Daily 9:00 – 22:00, last admission 21:15
Prebook your Taipei 101 Observatory Tickets
Xiangshan – Elephant Mountain
The most famous hiking trail in Taipei is Xiangshan, which can be directly translated as Elephant Mountain. Conveniently located near the same name metro station, it's not a long walk up but involves a lot of stairs. There are three viewpoints up the path, and a quick trip up and down would take about an hour.
For the drone lovers/owners reading this – you can flow your drone here! But beware of the 60m height restriction.
Chiang Kai Shek Memorial Hall and Liberty Square
Another iconic site in Taipei, the Chiang Kai Shek Memorial Hall opened in 1980 in memory of Chiang Kai Shek. Chiang Kai Shek, known as the Red General, was a prominent figure in the 20th century China, becoming the president in 1948. With its iconic octagonal blue roof and white walls and the stairs that lead up to it from the Liberty Square.
You can visit the interior of the hall, however, on my visit, the memorial was under renovation. Every day on the hour between 9 to 18:00, you can see the change of guards from the CKS Memorial Halls to the flag at the Liberty Square, with the rise and take down of the flag at the start and end of the day.
The Liberty Square adjacent is a sprawling space of 24000-meter square, flanked by the National Theater and Concert Hall. It's a leisurely space for the masses, with people flying kite, playing badminton, and, of course, taking photos.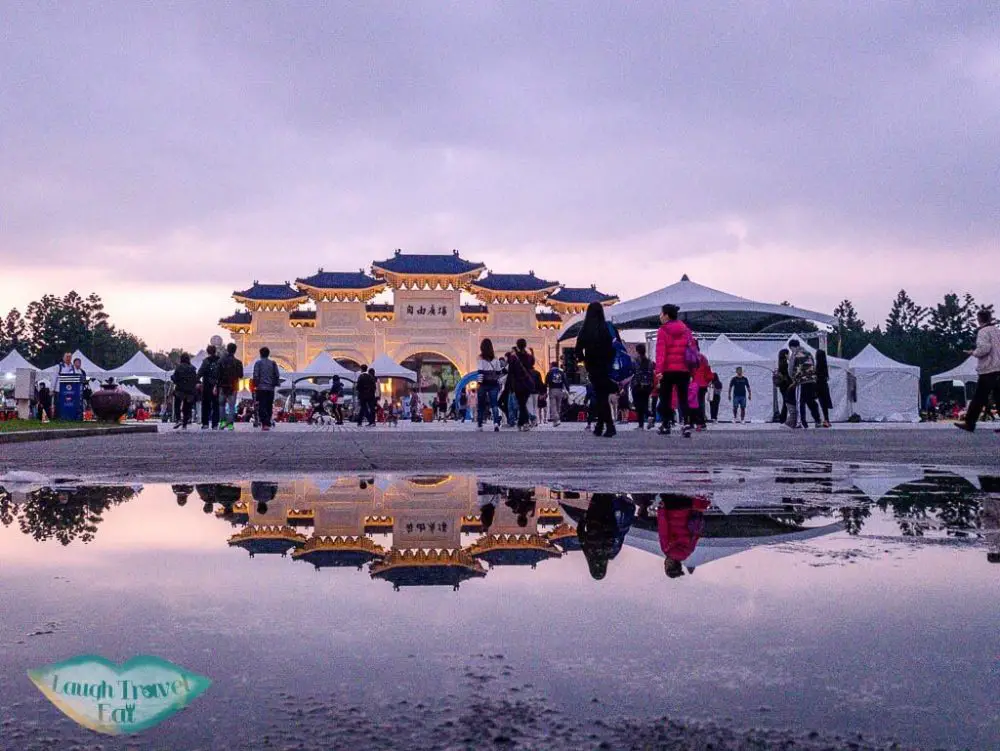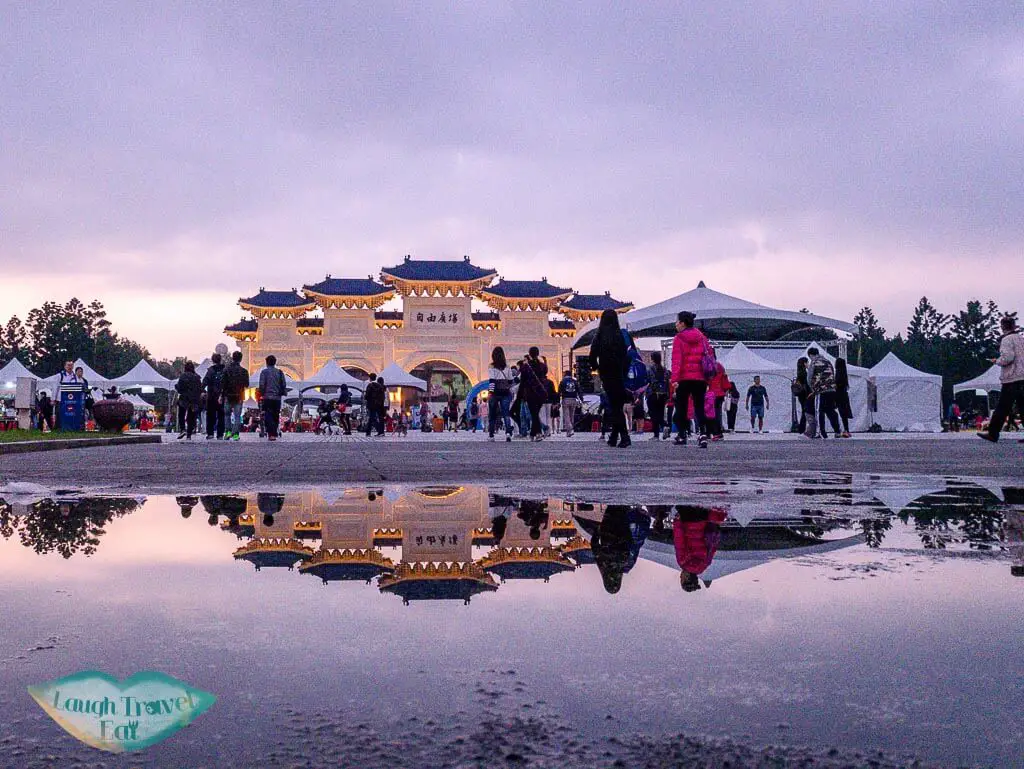 Address: No. 21, Zhongshan South Road, Zhongzheng District, Taipei City, Taiwan 100
Opening times: 9:00 – 18:00
Longshan Temple
Longshan Temple is arguably the most famous temple in Taipei. Built in 1738, Longshan is a Taoist-conficism
-and-Buddhism temple dedicated to the Lady Buddha, Guanyin and many other Chinese deities. It was built by Fujian immigrants, a tribute to the original Lungshan Temple in Jinjiang.
The temple was rebuilt twice, first in the 1920s, after the original was damaged by numerous fire and earthquakes. The second time after the bombing in WWII.
Covering an area of 1800 feet, each visitors can take three incense for free for offering. The Chinese Cupid is particularly popular and wish-granting.
Address: No. 211, Guangzhou Street, Wanhua District, Taipei City, Taiwan 10853
Opening times: 06:00 – 22:00
Taipei Xiahai Chenghuang Temple
Another popular temple for young lovers, the Xiahai Chenghuang Temple was built in 1856 and dedicated to the City God, as well as various other deities including the Chinese Cupid. Again, they offer 3 free incense for worshippers as well.
Address: No. 61, Section 1, Dihua St, Datong District, Taipei City, Taiwan 103
Opening times: 06:16 – 19:46
228 Peace Park
Covering over 7 hectares of space, the 228 Peace Park contains the 228 Museum, as well as numerous memorials dedicated to the February 28 Incident in 1947. The incident was an anti-government uprising that causes the death of 10,000.
The history of the park was different. The land was originally temple grounds, it was turned into a park in 1900 during the Japanese Occupation. It was renamed as the 228 Peace Park in 1998 and the museum built. The park is a beautiful mix of traditional and modern elements, with traditional Chinese water garden mixed in with the various modern memorial and European buildings.
Address: 100, Taiwan, Taipei City, Zhongzheng District
Ximending
One of the most famous districts in Taipei is undoubtedly Ximen. Known as the hippest and biggest shopping district, with a pedestrian zone. The district was developed during the Japanese Occupation in the model of Asakusa in Tokyo.
While Xiemnding might look popular now, but it had a period of decline before being revived by the metro line opening nearby. Point of interest includes the numerous street-food cart along the street as well as the popular movie theatres.
If you want to see something more cultural, the Nishi Honganji Relics and the Red House are both great candidates. The former was built during the Japanese Occupation as their temple. The latter is also built during the Japanese Occupation in 1908 as a theatre.
Yanping Riverside Park
For a good sunset view and some countryside vibes, Yanping Riverside Park is perfect. It was more difficult than I expected to find the park, but turns out the entrance is also for motorbikes!
It turns out to be a popular cycling location, as well as huge grass field perfect for a picnic.
Wufenpu Shopping District
For those who like shopping, you mustn't miss the Wufenpu Shopping District. Originally a wholesale market, you can now also purchase directly along the shop. If you are a bargain hunter like me, there are often a sales rack outside each store at 200 or 100 NTD.
P.S. It's near Raohe Street Night Market
Address: Alley 9, Lane 443, Yongji Road, Xinyi District, Taipei City, Taiwan 110
Nearest MTR: Sonshan
Presidential Office Building
The Presidential Office Building in Taipei is a beautiful red brick white stoned Renaissance-baroque building. Built in the early 20th century, it was designed during the Japanese Occupation.
Since the office is in use, there are guards standing in the front. The best photo spot is across the street at a small grass patch.
Address: 122 Chongqing South Road, Zhongzheng District
Maokong
I didn't get a chance to visit myself but it is said to be a beautiful vantage point. There is also a Taipei to Maokong cable car and plenty of cute cafes!
Taipei food guide
What to eat in Taipei? Ah, what not to eat? There are so many good food and for so cheap! Now, with only 5 days, I can't say that I have tasted everything, but I definitely tried! Here's a list of food/restaurants/cafe to try:
Bubble tea
As the place of origin to my favourite beverage of choice, Taipei is home to a myriad of cheap bubble tea choices. Now calling then bubble tea is a loose term (see here for my favourite in Hong Kong), as they sell fruit and milk tea, too. I've had a fair amount – namely 2 per day) while I was there. Here are the shops to try:
50 嵐
The most popular brand for tapioca (aka the bubbles), it's found everywhere so don't miss it! Try the one with mixed sized tapioca for the ultimate texture.
丸作食茶bobatea
A slightly more expensive choice, this is also a chain store and does some pretty good fruit mix!
Street snacks
Now let's move on to street snacks, as in those from street vendors.
蔥抓餅 Scallion Pancake
The breakfast of choice when I was in Taipei, you can buy Scallion Pancake all over the city. As the name suggest, it's a kind of pancake with scallions, but to me, it resembles the Indian bread-pastry rather than a pancake. There are often options to add various ingredients including but not limited to cheese, eggs, and bacon.
蛋餅 Egg Pancake
Egg Pancake similar but not the same as Scallion Pancake. It's more like a soft shell taco with egg, so a kind of crepe. Again, you can add different kinds of ingredients – and it's a popular breakfast choice.
車輛 Cart-wheel cake
Its direct translation from Chinese is Cart-wheel, which refers to its flat cylindrical shape like a wheel. It is actually a kind of cake with different flavour filling. Traditionally, inside would be red bean paste, though nowadays custard is common, too.
魯肉飯 Minced Pork Rice
Sold at 25 NTD per bowl, Minced Pork Rice is practically a national dish and a must try. It's almost like a small snack since it's small portion!
Commune A7
For the cutest food market ever existed, head across the street from Taipei 101 and you'll find yourself in Commune A7. With numerous food cars vying for attention and the gorgeous 101 as backdrop, it's no wonder that I had spent 2 of my 4 nights there! From Spanish Tapas to bubble tea and egg waffle, you can even get a couple of beer and spend your evening chilling with friends!
Note: it has since closed down in Jan 2018 to make way for Taipei Sky Tower
Address: No. 3, Songshou Road, Xinyi District, Taipei City, Taiwan 110
Opening times:  Mon – Thurs 12:00 – 0:00; Fri – Sun 12:00 – 01:00
啊"現做捲餅舖
Unfortunately, this little handroll shop doesn't have an English translation, so all I can do is put the photo of the shop front here.
It, however, does serve up a delicious handroll. Note that this is my translation, in reality it's more like a Chinese kebab/gyros pita with different filling options.
I tried their beef one for 80 NTD with vegetable and sauce and it was delicious! If only I had enough time to go back!
Address: 10047, Taiwan, Taipei City, 開封街一段2-28號
Opening times: Mon – Fri 11:00 – 20:30; Sat: 11: 20:00; Sun 11:00 – 19:00
Ding Tai Fung
A Chinese chain restaurant that originated from Taipei, Ding Tai Fung is most famous for their soup dumpling and is practically a must try. They have stores all over the world, and several in Taipei, but the original shop is found near Dongmen Station.
Be ready to queue a while for it! But the soup dumplings are well worth the wait. Other good things to order are the chicken soup and the pork rib fried rice (at least, these are my fav!).
For a list of their location check here
Hong Lin Teppanyaki
Hong Lin Teppanyaki has redefined Teppanyaki for me. Usually, teppanyaki is food surfed on a hot plate. But here, you order and the chef will fry whatever it is right in front of you before serving it right up. It takes the dining experience to a whole new level and the steak and seafood are spectacular.
Due to the nature of how it's done, there are limited seat but luckily I wasn't a long wait. We ordered three sets between the four of us and walked away paying less than 400 NTD each!
Address: 106, Taiwan, 台北市大安區臨江街5號
Opening times: 16:00 – 2:00
Oromo Cafe (Taipei Main Station)
I was searching high and low for a cute WiFi cafe that serves actual food and Oromo Cafe was the perfect find. Located near the Taipei Main Station, the cafe is surprisingly spacious in a prime real estate area. There are plugs available as well as speedy WiFi. But what made it famous isn't either of these things.
It's also known as the Harry Potter Cafe, with a British Wizardy theme. You do have to order downstairs and pick up your food as well as clear your tray, but its quietness and serenity means you can stay there for ages!
Address: No. 26, Nanyang Street, Zhongzheng District, Taipei City, Taiwan 100
Opening times: weekday 7:30 – 22:00 ; weekend 8:00 – 22:00
Day trips from Taipei
Jiufen
Located on the mountains on the northern corner of Taiwan, this former mining town is arguably the most popular choice for a day trip from Taipei. You can read more about how to visit Jiufen here.
Tamshui
Tamshui is conveniently connected to the Taipei city center via the red metro line and another popular sunset choice. Unfortunately, I haven't got the time to explore it this time, but it's worth being put on the list so you know our option!
Beitou
Beitou is most famous for its hot spring. Beitou can also be further separated into Old Beitou and Xin Beitou, with the hot spring hotels and facilities concentrated around the former.
For more information on visiting Beitou – read here!
Yehliu Geopark
Yehliu Geopark isn't as famous as the three above, however, it's an attraction that might just worth visiting even more. It's known for the unique rock shapes resulted from erosion. It is said that the shapes won't last for now due to continual erosion.
Alishan
If you have more than a day to spare, Alishan is a beautiful national park that's popular for sunrise chasers and hikers. Here's a guide to Alishan for you.
What to do in Taipei when it rains
The weather is never going to care that you are on holiday. On the five day that I was in Taipei, it rained for half those days. Which begs to question: what to do in Taipei when it rains?
Taipei Main Station Metro Mall
One of the easiest answer is the Taipei Main Station Metro Mall. It's connected to the station and underground, making it perfect for roaming during the rainy days.
The metro mall itself is like a sprawling maze, so be sure to take a photo of the map for reference. One part extends along the Taipei Main Metro and Train station, the other towards the Zhongshan MRT station.
Beitou Hot Spring
It might seem a bit weird, but visiting the hot spring in the rain is probably one of the most viable things to do. Since you are getting wet anyway!
Things to do in Taipei at night
Some of you might be wondering where the night markets are on the list, well, I'm getting to it in this section!
Taipei Night Markets
The lively night markets are some of the most popular attractions in Taipei. Here, you can find street food, souvenirs, cheap clothing and shoes, plus many, many more. Here are some of my top picks:
Shilin Night Market
Although it's not located in the city center, Shilin Night Market is still the number one night market in Taipei. It's a short walk from the metro station of the same name. The market sprawls over several streets, where I ate my full and got a 3.5 USD jumper.
Raohe Street Night Market
Another popular night market is on Raohe Street. Unlike Shilin, this one is almost completely along Raohe Street. It is a lively one, close to the Wufenpu Shopping District.
Nearest station: Songshan
Where to stay in Taipei
Taipei isn't that big, and it's well connected by the MRT. That said, depending on what your focus on the trip is, there are a variety of option:
Best place to stay in Taipei
Taipei Main Station
An obvious choice would be the Taipei Main Station, however, it isn't as simple as that. The area surrounding Taipei Main Station is massive, including the train station as well as the airport train station. There are also the Metro mall and exits that stems from it.
For example, not all exits are equipped with an escalator. Most of the ones along the metro mall Z zone doesn't have it (I found out the hard way).
To be close to the exit that leads to the metro, stats close to M6, M8 and M3. If you want to be close to the train station, then M3, M1, M5 are all nearby options.
Some hotel suggestions:
Budget: Taiwan Youth Hostel & Capsule Hotel is right next to the M8 exit with great reviews and budget dorms. Work Inn is a great choice for female travellers which is right next to M8, too.
Mid-range: Taipei H Imperial is a perfect mid-range choice between M6 and M5 exit. If you want to stay a little more budgeted but at a nice hostel, NiHao Taipei Hostel is ideal.
Splurge: Cosmos Hotel Taipei is right outside the Taipei Main station at the M3 exit and a great comfy pic. Caesar Park Hotel Taipei  is directly next to M5 and across the road from the main building
To be close to the Airport Express, it's near the metro mall zone Y and its associated exit. It's about 5 minutes walk from the metro, connected by tunnels, which might or might not be ideal depending on how much luggage you have.
Some nearby hotels:
Mid-range: Apartment 10F is a clean and tidy choice near the Airport Express. For those who prefer apartment, Taipei Beautiful Apartment is bigger than most in Taipei and very stylish.
Songshan
Another great location to stay in Songshan if you want to be close to the night market and shopping. Songshan also has its own train station, where trains to Juifen, Xiufen are available.
Mid-range: Stay right by the river at Waterfront Hotel where it's a minutes' walk to the Raohe Night Market! If you want to be even closer to the action, then Capital Hotel SongShan is an alternative.
Splurge: Amber Taipei Songshan is the unquestionable nice hotel to stay in at Songshan. 
Taipei 101 area
Taipei 101, as I found out during my trip, is the lively nightlife district featuring the iconic building. It's a great place to stay if you want to experience the nightlife scene and it's only one stop away from the Elephant Mountain.
Budget: Try something a little different at Space Inn Xinyi – which is, yes, space themed.
Mid-range: AT Boutique Hotel offers a nice range of private and dormitory room close to the 101.
Splurge: to stay right by the 101, Taipei 101 SPARKLE Hotel is the only choice!
Ximending
This is for those who want to be in the center of all shopping action. Ximending is relatively close to the Taipei Main Station and the distance is definitely walkable.
Budget: a surprisingly nice find, ECFA Hotel – Wan Nian offers value for money, considering it's not a hostel! 
Mid-range: A great location with cute rooms, CityInn Hotel Plus – Ximending Branch is great. If you want somewhere more budgeted but still functional, Puri Hotel or ECFA Hotel – Wan Nian
Splurge: For somewhere modern and spacious, Hotel Midtown Richardson is perfect. 
Dongmen
If you still want to stay somewhere cute but not necessarily as crowded as Ximending, the Dongmen is a great choice. Now it isn't to say that Dongmen isn't touristy, but the vibe is a lot more relaxed and quaint. Though don't expect the prices to be much lower. There are also a lot of famous eateries here, too.
Budget: a cute, industrial vibe hostel, Banana Hostel offers dorm and private room choices. 
Mid-range: small it might be, but Chaiin Hotel – Dongmen is a nice and functional choice. For somewhere a little bigger, try Hotel 73 Taipei or Citizen Hotel.
Pin me!

Pin me!
Note: this post contain affiliate links. Which means a % of sale made from this links go to me at no cost to you