Jiufen is most famous for being the setting of Spirited Away, of mountainside buildings, stone staircases, and red lanterns. Located about two hours away from Taipei, it's a popular choice for a day trip whether it's done in combination with Xifen or other cities. I had visited Jiufen in the rain, and here's the load down:
Jiufen History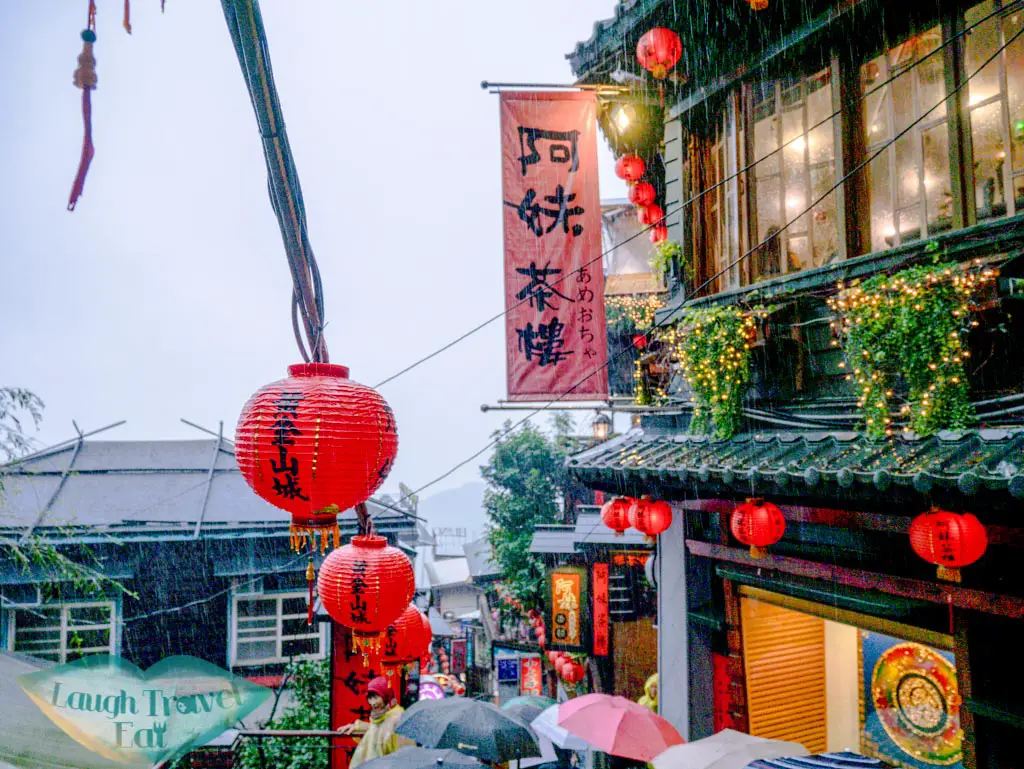 Jiufen might be a quiet town founded during the Qing Dynasty, but it became the equivalent of San Francisco in Taiwan when gold was discovered. The gold industry carried this town's economy until the 50s. Its beautiful setting has made it popular with the tourists since the 90s, saving it from becoming a deserted mine town.
How to get to Jiufen
There are numerous ways to get to Jiufen, especially now that it becomes so popular with the tourists. The average time to get there is two hours, with a myriad of ways that would definitely make your head spins. When in doubt, pick the mode of transport that you are most comfortable with. I took the train because it's easy to track the train schedule than it is to check the bus schedule.
Taipei mainstation to Jiufen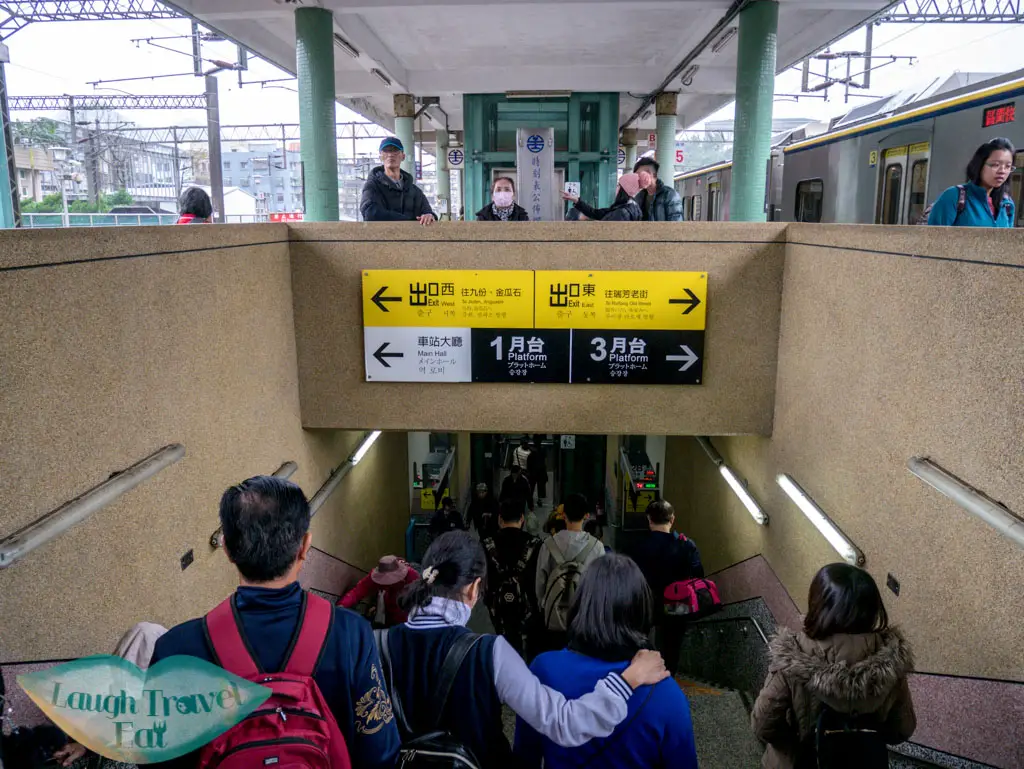 From Taipei Main Station, you need to get a train (not MRT) to Ruifang. These are regional trains and you can use your Easy Card to get on them. The trains come every 2- to 30 minutes and you can check their schedule here.
Ruifang station is on the Pinghsi/ShenAo line. There are three type of rains you can take: regional, regional fast, and fast. The journey takes 32-60 minutes depending on which one you take. It should cost 49, 59, or 76 NTD respectively.
From Ruifang, you would need to take the bus to Jiufen, which takes around 10-20 minutes depending on the traffic. The bus stop towards Jiufen is not the one right outside the train station.
You would have to walk across the road then left for about two blocks before you find the bus station. There are some signs along the way and the bus stop is next to a car park. You can get the bus 788, 808, 825, and 1062. 827 also runs on the holiday, too.
The stop you want to get off is the Jiufen Old Street, and everyone practically gets off here so you won't miss it. You can use the Easy Card on the bus as well or pay cash. The bus journey costs 15 NTD
Bus from Taipei to Jiufen
You can get the 1062 bus from the Zhongxiao Fuxing station. Since I didn't take the bus there, I don't have any good advice for you on this.
Taxi from Taipei to Jiufen
A taxi there will cost you more but it is the fastest and the most direct way. Most people get their taxi from Zhongxiao Fuxing as there are taxis who offers to transport people together for 200-250 NTD each.
Tour from Taipei to Jiufen
If all of these are too much trouble, you can always book a tour or direct transport that would take you to and from Jiufen. It would be a good place to meet fellow travellers, too, especially if you are traveling alone. In fact, if you are short on time, you can do a combo tour with the nearby geopark, too.
Jiufen old street
Jiufen Old Street isn't big, but it's crowded and beautiful, so I would budget around 2-3 hours there. There are a few point of interests, but the most enjoyable part of exploring it for me was just wandering around. But if you are a 'spot-hitter', here are a few places to check in:
霞海城隍廟
This is where the bus stop for Jiufen Old Street stops in front of. If you have time, it's a nice place to nip in and have a roam. I didn't end up going in because it was pouring.
As you go further uphill, there is a small sheltered area that offers the first view of the mountainside town.
Jishan Street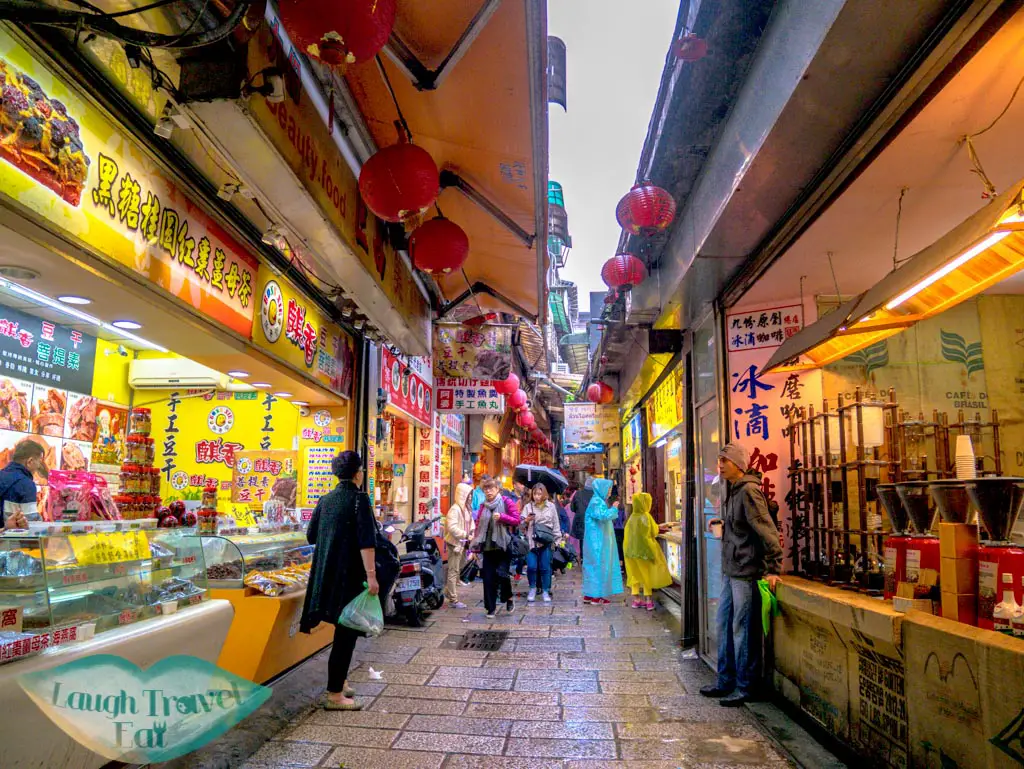 Jishan Street consists much of the Jiufen Old Street. The entrance is a narrow lane nestled between busy shops, with canopies, lanterns, and the occasional glass panel above your head. This shops sell a myriad of things, mostly food, tea, and souvenirs. There are some more famous places than the other, judging from the queues.
Shuqi Road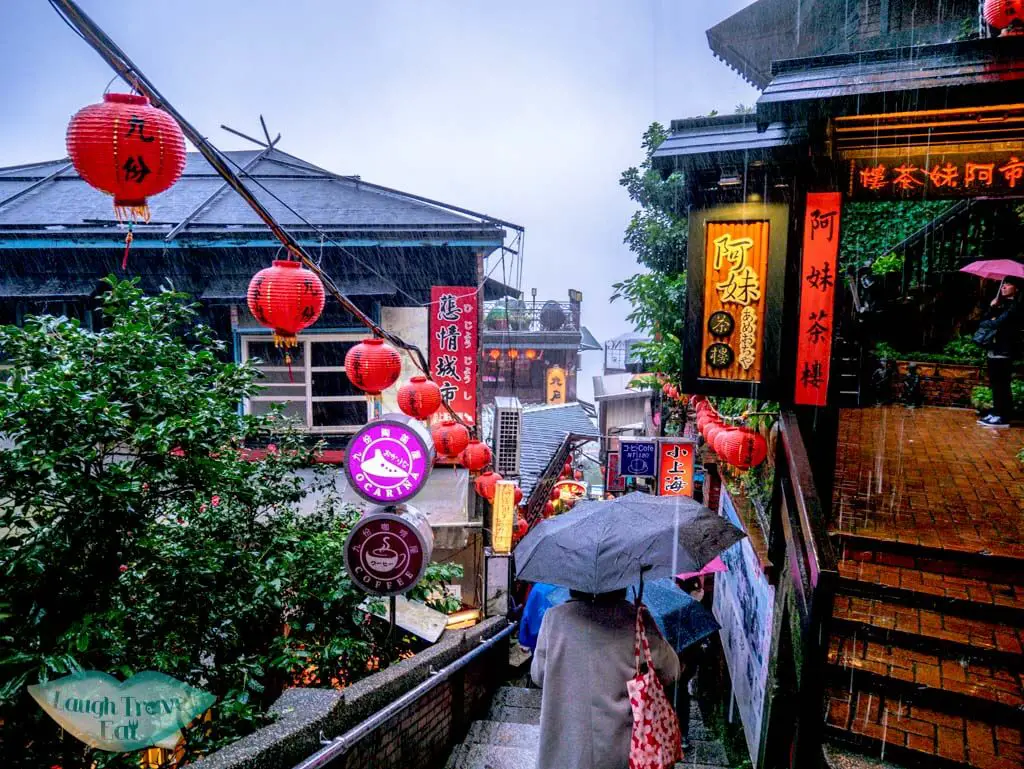 Arguably the more scenic path, if you headed down Jishan Street, Shuqi will intersect it to the right. This street leads down to the Jiufen Police Station and the main road.
Shengping Theater
The Shengping Theater is one of the oldest in the area, built in the 1920s but had been rebuilt a couple of times. The theatre is built in the Baroque style and renamed to Shengping after Taiwan returned to China.
Siidcha
Siidcha is a teahouse ideally located on the most scenic stretch of the Jiufen Street, right next to a viewpoint. A spacious and modern wood and glass three-storey building. There is a minimum charge of one drink per person, and you order before you head up for a seat. If it's sunny, you can even sit out in the terrace.
They give 130 NTD off the drink if you order food as well, and the price is reflective of its location.
Address: Ji Shan St. 166, Rueifang Township, 224, New Taipei City
Opening times: daily 11:00 – 19:00
Minimum charge: 1 drink per person
One more viewpoint after Siidcha
If you want to get one last view, there is a little platform just a few houses down. It's not as good as the place next to Siidcha. Still a good option.
Getting back from Jiufen to Taipei:
Whether you need the train or bus, you will need to get to the nearest bus station and it's usually the Jiufen Police Station. The bus stop is at the end of the Shuqi Street, across the street to the left. They have an arrival board that you can use. You can also get the 1062 here.
Jiufen in the rain:
Visiting Jiufen in the rain was probably one of the worst ideas I've had this year it was still beautiful, but impossible to stay safe from being dredged. Now the photos still turn out okay with the help of RAW file and Lightroom, but at the end, I was running out of none-damp clothing to wipe the lens with. Also, the hordes of umbrella and people in bright plastic raincoats really don't make it a pleasant experience.
That said, if you are out of option, there's no choice but to do it!
Staying in Jiufen
If you want to explore Jiufen in a more relaxed schedule or to explore more around the area, you might want to stay there. For example, I considered going to Shifen to see the waterfalls and the lanterns, too, but I only had 5 days in Taipei so I didn't do it in the end (give the weather conditions was crap, too). Anyhow, here are some accommodation suggestion should you want to stay overnight:
Budget: a cute pick with a beautiful view, Jiufen Hui Ming Homestay II is simple but functional. If you like quirky little places, then you should consider the Aegean Sea Guest House with a Greek island vibe.
Mid-range: Go stay in Jiufen The Ore Inn, a beautiful modern Inn runs by a lovely couple or at the Blue Sky B&B, only 5 minutes from the Old Street.
Splurge: If you are into modern design and luxury apartment, then you'd love Something Easy Inn and Chien Ching B&B .
Note: this post contain affiliate links, which means that if you purchase something a % of sale goes to me at NO COST to you