Shek Nga Tauis a small hill by the famous grass field of Sai Kung: Sham Chung. While it is not a tall hill at 180m, the trail that goes up is narrow and only marked by ribbons, and therefore not really beginner friendly.
That said, it does offer a spectacular view of the Three Fathoms Cove and overlooks the mangrove forest to Yung Shue O as well.
> see here for my Sai Kung hiking guide for all hikes in Sai Kung
> see here for all other Hong Kong hikes
Table of Contents
Summary of Shek Nga Tau Hike

Time Take: 5 hours, but can be shorter if you take the short cut
Difficulty: 3.5/5 
Pros: a great view of the surrounding area and not a popular route
Cons: the trail is not well trodden and is quite steep in places
This can be an add on from my Lai Chi Chong, Sham Chung, and Yung Shue O hike. Or just on its own.
What to bring for Shek Nga Tau Hike
The Shek Nga Tau hike, although not high, is not the easiest hike. There are quite a lot of exposed stretches too, so it's best to bring your best sunscreen and good shoes. See here for my usual list of hiking essentials.
Hiking shoes with good grip
Hat, sunglasses, and sunscreen
1.5 to 2 L of water depending on the temperature and weather
Lunch and snacks
Drone if you have one – no better place to drone!
Towel for sweat because you will sweat
Shek Nga Tau Hike
There are a few ways to tackle Shek Nga Tau hike. We didn't want to hike in a loop so we started the hike at Pak Sha O and hiked into Sham Chung via She Shek Au (skipping Lai Chi Chung), and ending the hike from Yung Shue O out to Shui Long Wo (near the start of MacLehose Trail Stage 4 and 3).
Before I dive into the hike, here are some ways to make this shorter:
Ways to shorten the Shek Nga Tau hike
In case you are short on time or you want to hike this the shortest way possible, there are two ways to make the Shek Nga Tau hike easier and shorter:
Start and end at Yung Shue O
You can taxi in to Yung Shue O which cuts around 45 minutes of hiking from Yung Shue O to Shui Long Wo. You can also come back and taxi out. You would need the taxi number to call for one on the way out.
Ferry to Sham Chung

There are ferries that depart from Ma Liu Shui pier by University Station that stops at Sham Chung. From there, it's an short hike to the trail start. You can go back the same way, but the schedule is sparse especially on weekdays. But the ride is only 30 minutes!
Ferry Schedule From Ma Liu Shui to Sham Chung
Weekday: 8:30, 15:00
Weekends + public holidays: 8:30, 12:30, 15:00
Ferry Schedule From Sham Chung to Ma Liu Shui
Weekday: 11:55, 18:15
Weekends + public holidays: 11:55, 14:30, 18:15
Fare: 20HKD weekdays, 30HKD weekends + public holidays
Pak Sha O Start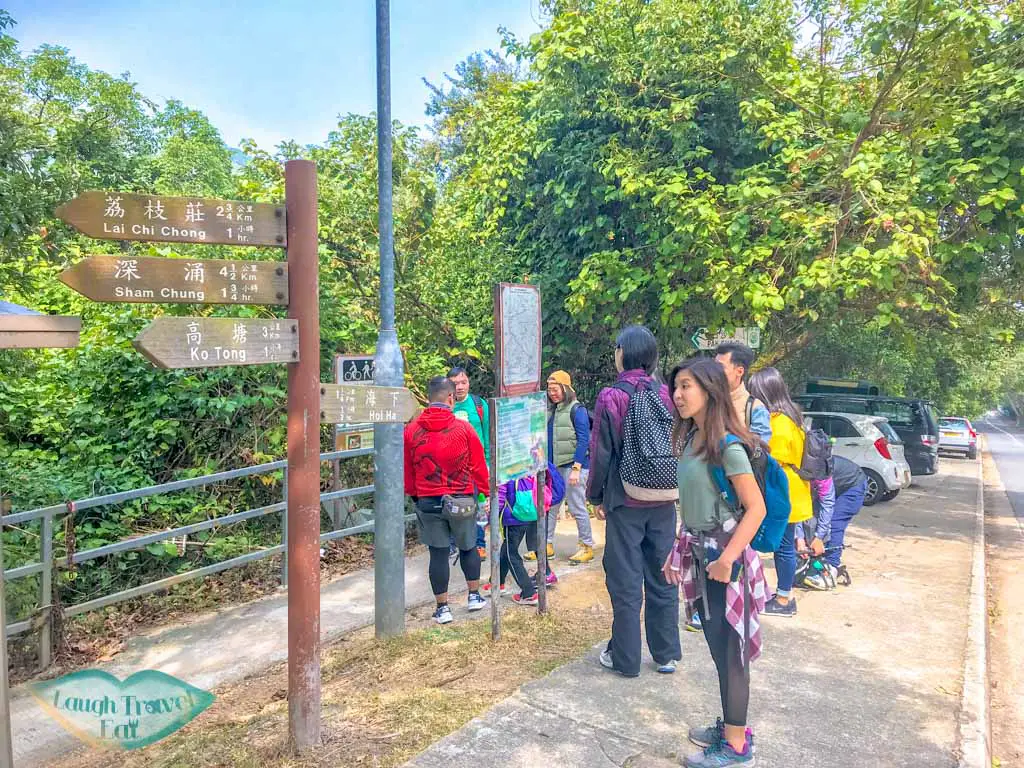 Pak Sha O is the best public transport start for the hike and you need to take the number 9 minibus from Sai Kung town center. It goes to Hoi Ha so you need to keep track of where you are and let the driver knows you want to get off at Pak Sha O.

From Pak Sha O it's an easy hike in and there is a public restroom – the last you'll see until you get out – not too far past the Youth Hostel. The rest of the trail is narrow but well paved and mostly flat. This is the nicest part of the hike under the shades of the trees.
You will reach a junction that branches off to Lai Chi Chong eventually. If you started early and have time and enough food and water, it's nice to see the geological formations. Or you can save it for another hike.
From the junction, it's a downhill hike towards She Shek Au. 
She Shek Au
At She Shek Au, which literally means Snake Rock Junction, there are a few rocks that look like there are snakes running on it. These are actually quartz vein that are fairly common in igneous rocks.
But if you don't care, simply keep going and you'll be at Sham Chung.
Sham Chung

The entrance to Sham Chung is very picturesque, almost like entering a wonderland. The trail loops on the edge of the grass field and there is a local restaurant if you want to eat. They do not have a website or social media page, so it's best to call lif you want to make sure it's open.
From Sham Chung, continue along the trail towards the pier until you see the sea. Then walk right on the dam and follow the trail right again. Keep an eye to the left for the trail start, which is marked by a red ribbon.

Shek Nga Tau
I underestimated the hike up Shek Nga Tau as it's 180m tall only. While the hike only took around 23 minutes to reach the top, it was still a bit of a trek up with overgrown vegetation and a much steeper terrain than expected.
But the view at the top is stunning. There is a black-and-white pillar marking the highest point, and in front is a huge rock outcrop that probably gives Shek Nga Tau the name.

It's not too difficult to climb up it for a good shot.

Hiking back down it's exactly the same way, and we carried on past the Sham Chung Pier towards Yung Shue O.
Yung Shue O
Yung Shue O is a village but it's more famous for the mangrove forest along the path. The village itself is residential only, so there's not much to see.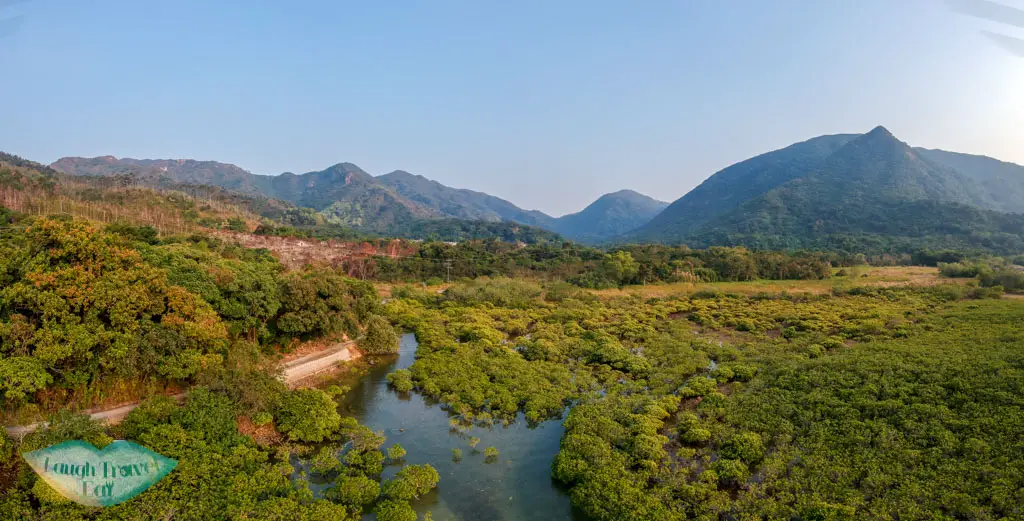 It does link to the Cheung Sheung Country Trail that if you want to extend the hike even more, but that's easily 2 hours to Pak Tam Au, so I don't recommend that.
You can call a taxi to pick you up or walk around 45 minutes along the road to Shui Long Wo.
Getting out from Shui Long Wo
From Shui Long Wo, you can get buses that go to Sai Kung Town Center or out to Ma On Shan or Shatin.
There is also a public bathroom to the left but both bus stops either directions are to the right.
You don't need to cross to the other side of the road if you are going to Sai Kung, but for Shatin and Ma On Shan, you do.