Penang Street Food Guide: Hawker Centres in Penang
If you're looking for the best Penang street food, you're looking for the best hawker food in Penang, too. The smell of garlic, soy sauce, and fried carbohydrates lingering in the air of these sometimes tiny sometimes sprawling food courts is guaranteed to send your stomach growling and turn your head as you try to find the food you're looking for. In short, there's no better place to try Penang's street food than at a hawker centre. If you're still a bit confused, don't worry, because I'm here to tell you all about Penang food and how you can fill your bellies for cheap:
Understanding Penang Street Food
Unlike some places, Penang's street food is not street side but mostly clustered together in small or large food courts. These are what are called hawker centres and they are generally stationary with specific opening times.
Most of Penang's hawker centers and street food courts can be separated into two types: breakfast-lunch or dinner.
There are a few that run for the whole day, but they are few and far between. Most breakfast places close between noon and 2:30 pm, while dinner places open between 3-5 pm, but generally at 5 pm.
It's essential to time your visit to them, otherwise, you can be in for a world of disappointment.
A lot of the hawkers there also sell out pretty early, which is another problem. If you're after something popular, then definitely sim to be there within an hour of opening.
To make it easier and clearer, I'll put breakfast or dinner in brackets behind the corresponding ones. Before we dive into that, here are some more tips on eating at hawker centres:
Ordering Drinks at Hawker Centres
Generally, once you sit down, there will be someone over to take your drinks order. All the hawker centres have a central drink provider that would appear at the table. If in doubt, flag down the person who is distributing drinks to order yours. It's very rare for you to go up to the counter to order as you pay when the drinks arrive at your table.
Most drink costs between 2-5 rm, and here are some common ones you can ask for:
Orange juice – don't worry, they are fresh!
Milk tea (cold and hot)
Kopi aka coffee (cold and hot)
Barley water
Chrysanthemum tea
Lo Han Gua, a Chinese herbal tea
There are more to choose from, but if it's your first visit, it's easier to stick to some classics. The drinks menu is usually behind the drinks bar, but it can be hard to read. A few individual places might have a menu with pictures and English menus.
How to Order Hawker Food in Penang
Ordering hawker food in Penang is not like ordering food in a regular restaurant. As mentioned, each hawker is independent of the next so you would have to go over and order. In general, here's what you do:
Walk around and figure out what you want to order from which vendor
Order what you want from the vendor and let them know where you sit. Sometimes, your table has a number you can tell.
Depending on the hawker, you either wait and collect it or they'll come over to your table
You usually pay in cash when you get the food
Note: remember, everything is cash only for 99% of hawker centres.
Penang Famous Food
These street food in Penang are also some of Penang's famous food. They're found in almost every single hawker place in the city, 
Char Kway Teow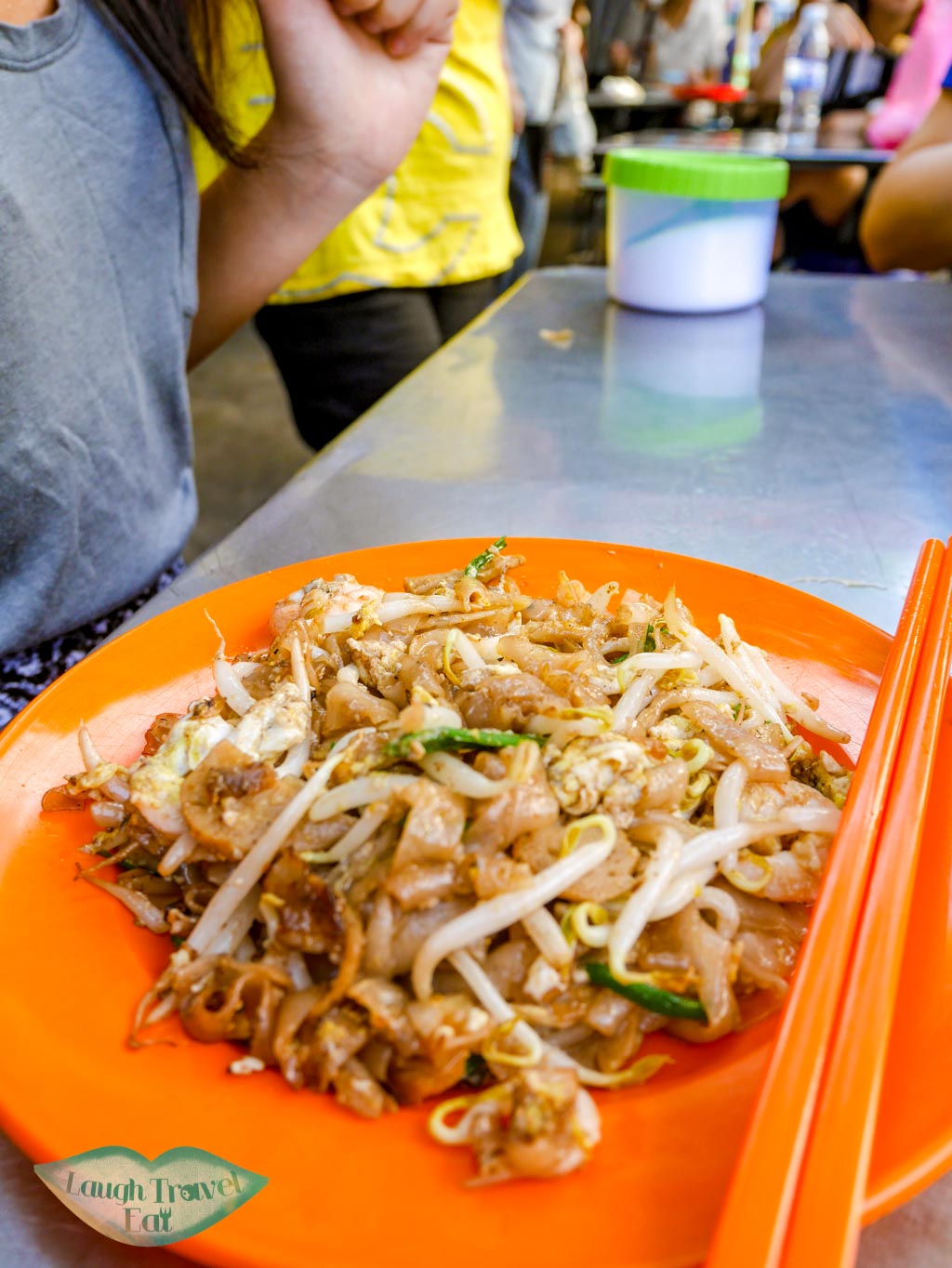 This is my top recommendation for what to eat in Penang as Char Kway Teow is the signature Penang dish. It literally means fried rice noodles and is a Hokkien dish stir-fried with soy sauce, chili paste, garlic, eggs, Chinese sausages, cockles, beansprouts, and other toppings.
Is it healthy? No. But is it delicious? Absolutely.
Char Koay Kak Penang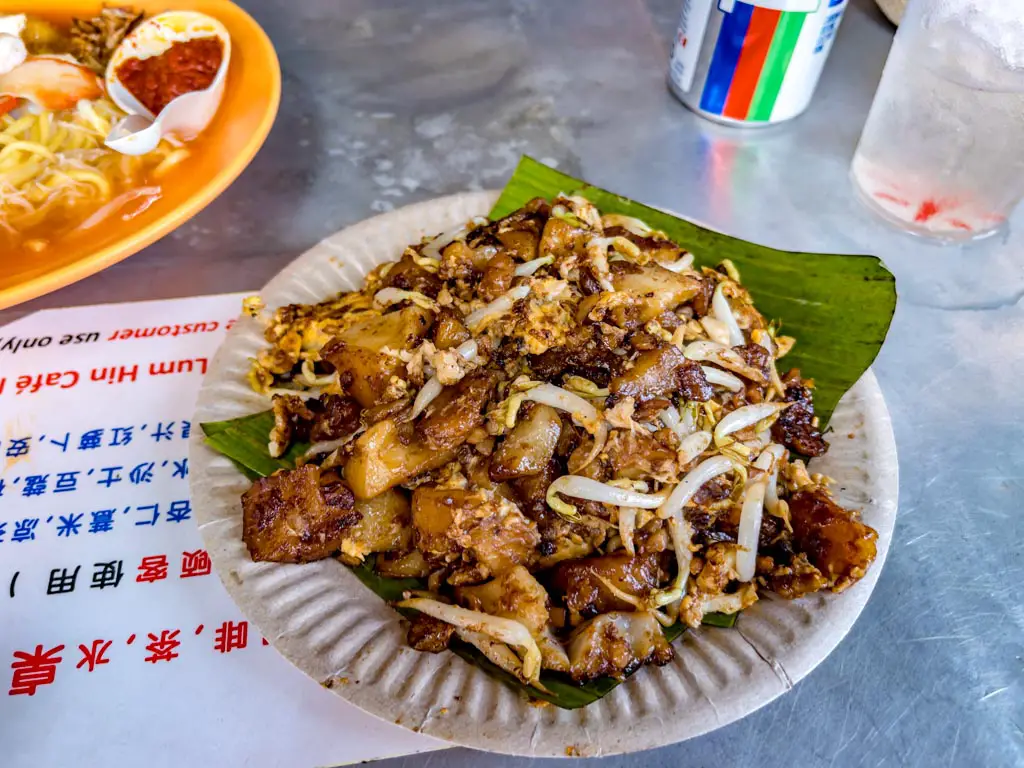 Char Koay Kak is similar to Char Kway Teow but instead of rice noodles, it is stir-fried rice cake. Although also very tasty, the versions I've tried generally lack 
Hokkien Mee (or Prawn Noodles)
Hokkien Mee or Prawn Noodles is a Hokkien dish very popular in Penang. Unlike many of its counterparts, the Penang version is a soup-based noodle, although you can also get Loo Mien, which is just very thick gravy with noodles.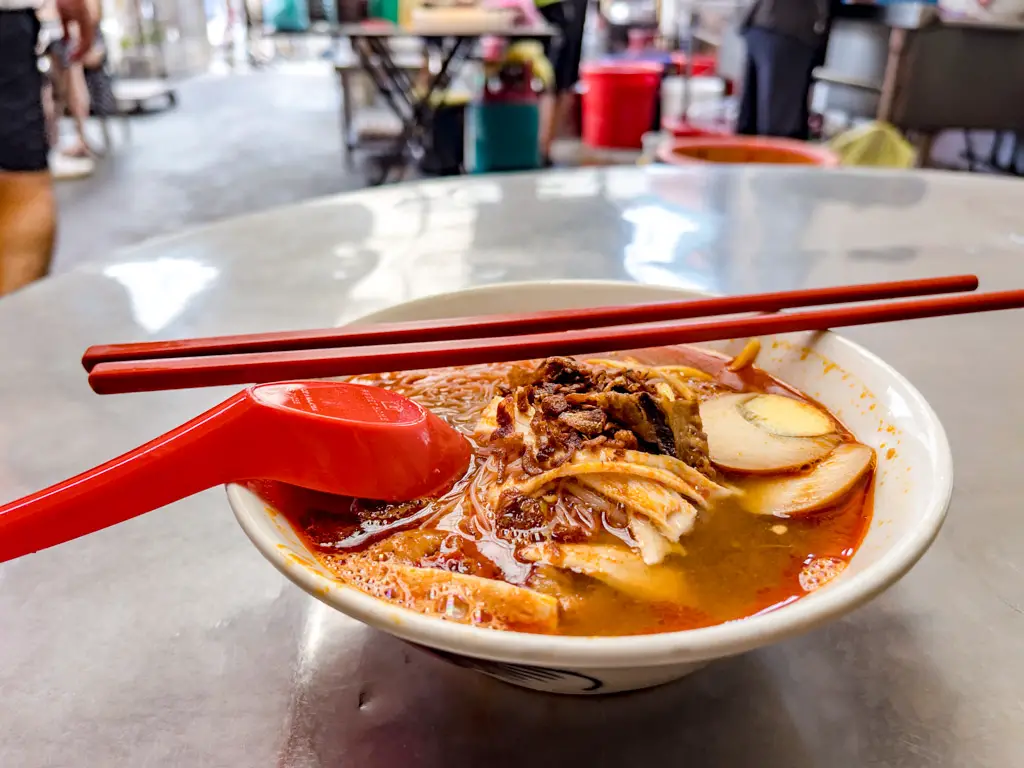 The soup base is made from pork ribs, prawn heads, and shrimp. You can pick a noodle of choice to go in which is topped with shrimps, a few slices of roast pork belly or some meat, as well as a spoon of chili sauce. Add the chili sauce to taste – personally, I always leave it out since I have no spice tolerance.
Fun fact: you can ask for a mix of noodles for an interesting texture contrast
Satay
Satay should need no introduction and it's true that they are the best in Malaysia. You can find many hawker stands char-grilling them with a choice between chicken, pork, or beef. They're served with the signature peanut dip and also cucumbers and shallot slices.
Laksa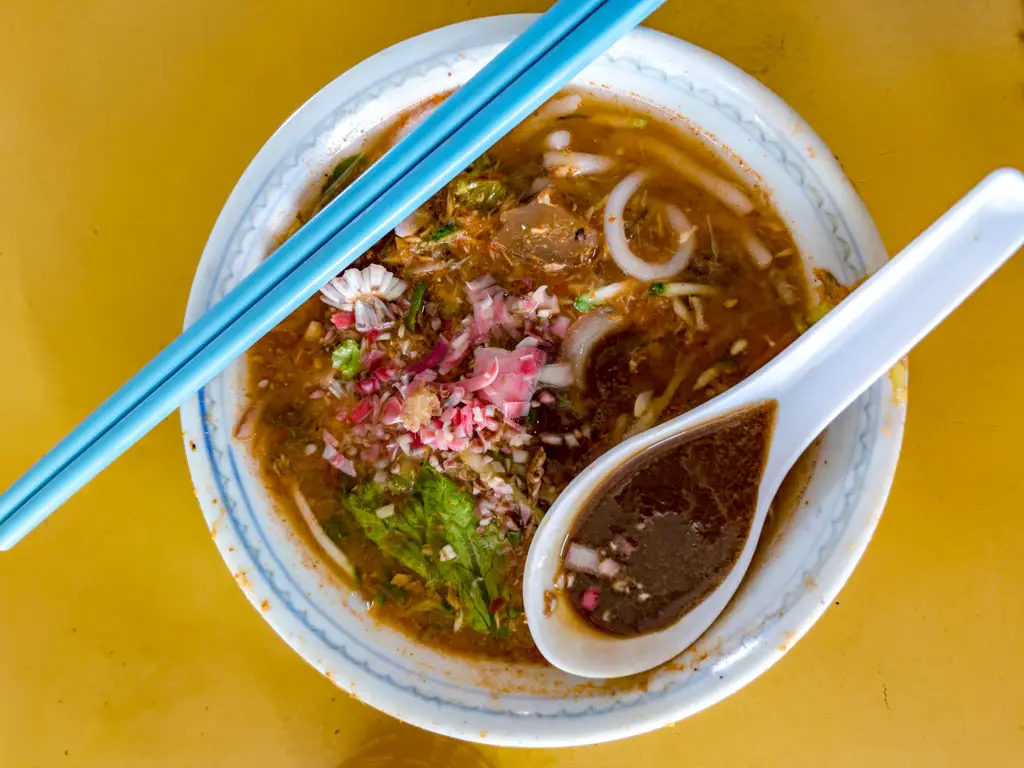 Laksa is arguably one of the most famous dishes from Penang. There are two versions of laksa, Asam Laksa which is more Nyonya (learn more about Nyonya cuisine in Penang here) and is sour based, and the more Malay version which is curry based.
Apom Pancake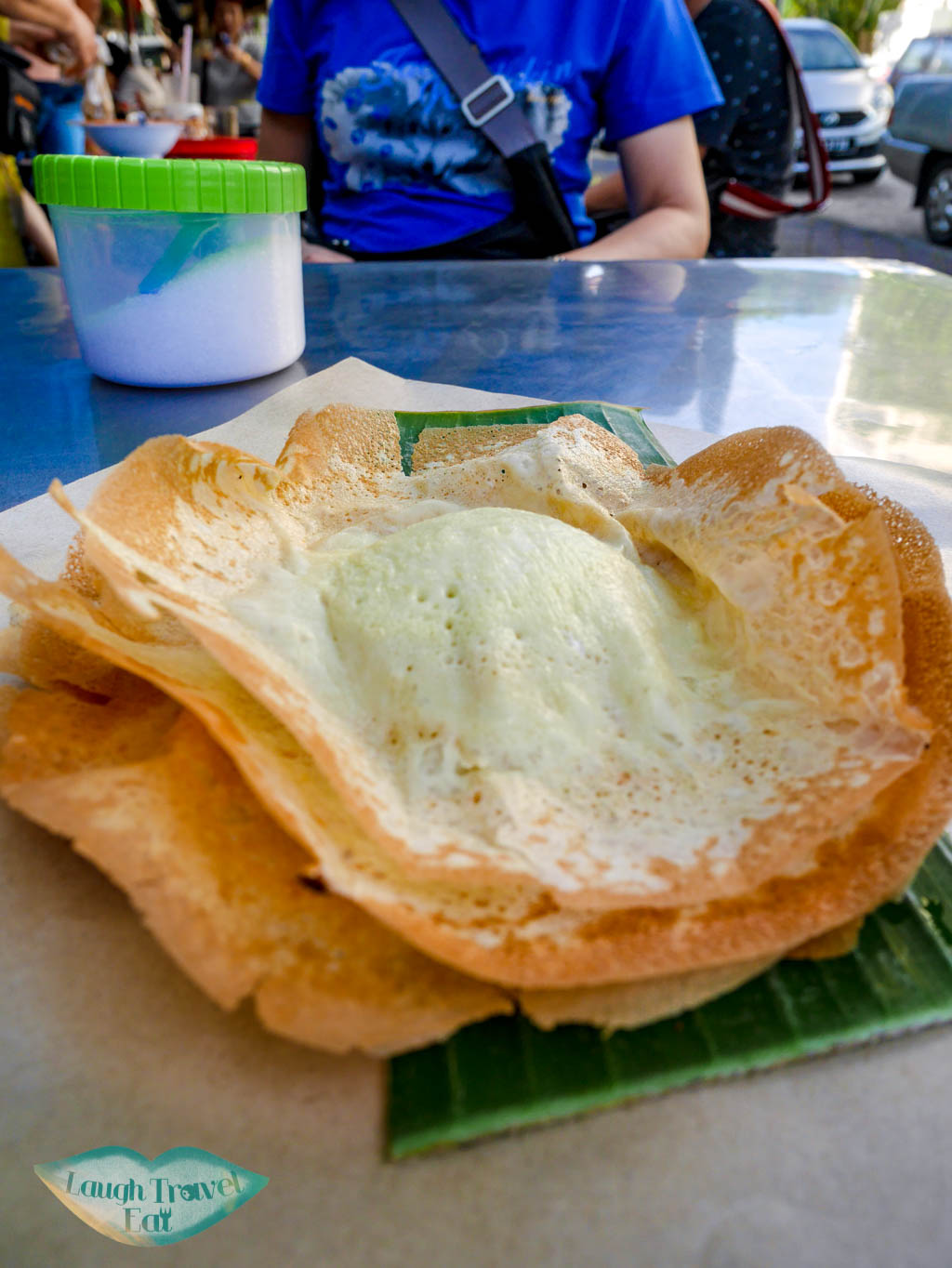 Apom pancake is a popular breakfast or dessert treat that also comes in two versions. There is a thin, crispy version that is crunchy and airy, and there's also one with fillings with a more typical pancake texture.
Loh Bak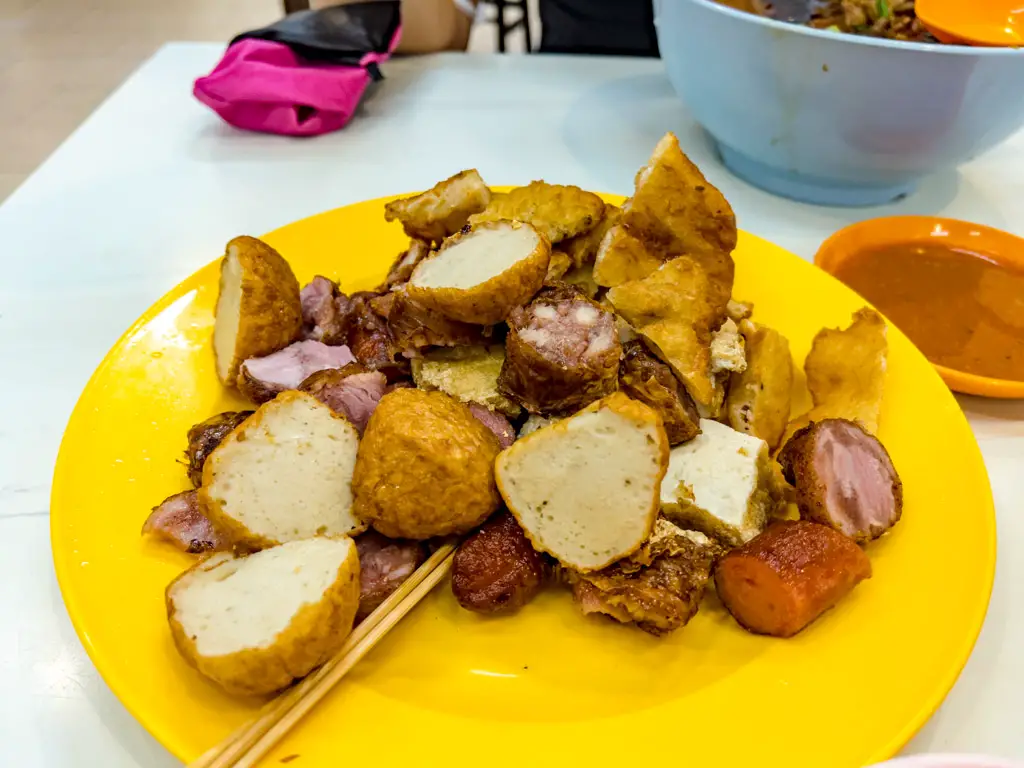 Loh Bak is the general term for deep-fried meat or tofu that I like to refer to as Malaysian-style tempura. It's minced meat (most likely pork) marinated in five spices and served with a spicy dip accompanied by cucumbers. I like both the meat version and the tofu, too, and there's a Chinese sausage one as well.
Nasi Lemak
Nasi Lemak is one of the most popular Malaysian dishes to try. While Nasi Lemak actually refers to the coconut rice wrapped in pandan leaves, the dish is also accompanied by sambal, a spicy thick sauce that's basically a paste), fried anchovies, peanuts, and eggs. The classic combo also includes fried fish but also chicken rendang or fried chicken.
There are quite a lot more that I don't personally love as much, but I'll make them as a list below:
Lok lok – lok lok is basically a quick hot pot street-side style. You can pick a selection of skewers from meat to vegetables, dip it in the communal (yes!) pot and then add your own sauce and eat it.
Oyster Omelet – Penang's oyster omelet is just as good as other places. Some of them are more deep-fried than others and while it is delicious, it is very high in cholesterol!
Fish head noodles – not all soups are shrimp and pork based. The fish head noodles is another one of Hokkien's classic but admittedly not one that I personally ventured to try
Curry Mee – for something more spicy and fragrant than Hokkien Mee, you can try curry mee. Sometimes the curry laksa and curry mee is used interchangeably here so watch out for that!
Loh Mee – Another alternative to Hokkien mee is Loh Mee, which is just noodles in a very thick, soy sauce-based sauce. It's way too heavy for me but worth a try if you're in a group.
Wanton Mee – wanton mee should need no introduction. Wanton refers to the wrapped goodies of shrimp and pork on egg noodles. Unlike the ones in Hong Kong, the Penang version is served with other slices of meat as well as some vegetables.
Penang Hawker Centres
Penang Hawker centres are where you should go to eat for variety and for cheap but delicious street food. It's generally outdoors and a sort of food court that consists of dozens of individual vendors each with a specialty. That's right! When it comes to the best hawker food, it's the vendors that only serve one or two dishes that make the best food.
Penang Road Famous Teochew Chendul
Although it is part of the Hoo Fo Cafe, the small size of it and the popularity of this dessert stand means that you're very unlikely to get a seat.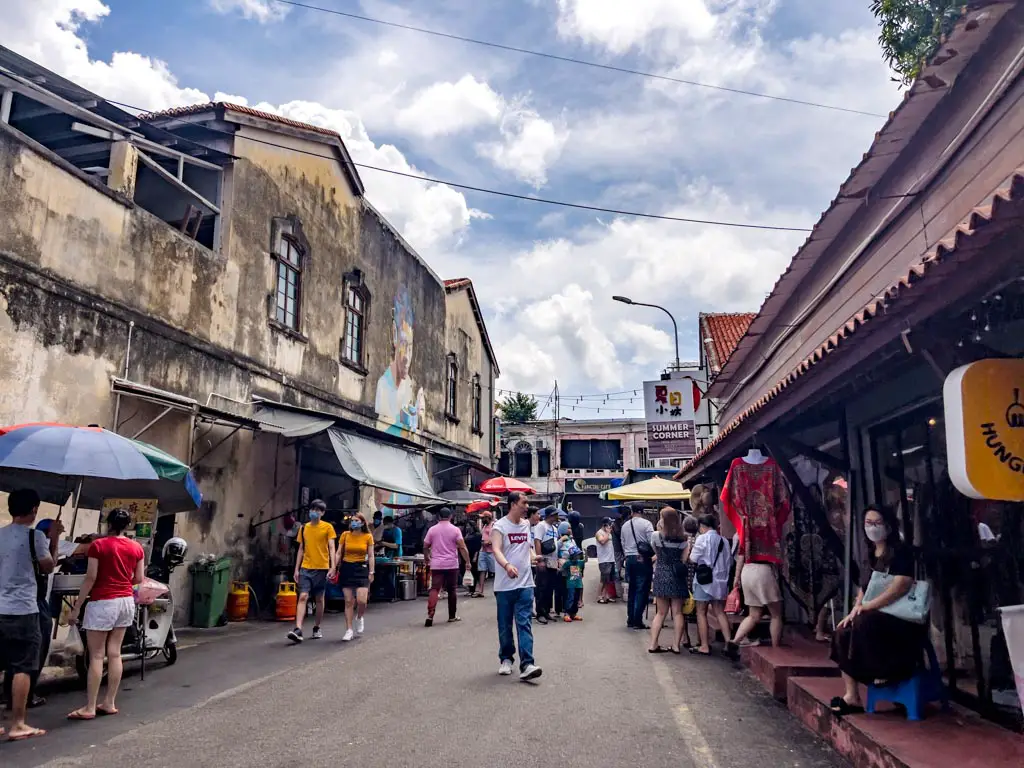 It's difficult to miss it since there is often a long queue of people waiting for their turn to order the icy goodness.
Chendul is the order de jour and you'll find red kidney beans and green noodles in a bowl of shaved ice with coconut milk mixed with pandan leaves and palm sugar.
If you go in a group, it's worth attempting to secure a table while one waits in the queue to order. Otherwise, be prepared to order it as a takeaway and eat standing.
Address: 27-29, Lebuh Keng Kwee, George Town, 10100 George Town, Pulau Pinang, Malaysia
Opening times: Mon – Fri 10:30 – 19:00; Sat – Sun 10:00 – 19:30 
Loo Beef Noodle (breakfast)
Loo Beef Noodle is a popular breakfast hawker place that is most famous for the Loo Beef Noodle. Hence, the name it has in English is the noodles. But they also serve some nice kayak toast and tasty deep-fried oyster omelets.
It is a popular eatery so if you're driving, expect to struggle a little to find a parking spot. There is also a parking fee of 2 rm which is a little unusual.
Address: 262-264, Lebuh Carnarvon, George Town, 10100 George Town, Pulau Pinang, Malaysia
Opening times: Thurs – Tues 8:30 – 17:00
Bridge Street Prawn Noodle 正宗橋頭福建蝦麵 (breakfast)
Prawn noodles are a Hokkien staple that should be on everyone's list when visiting Penang. The Bridge Street Prawn Noodle is one of the top places to try and they've been run by the Lau family for three generations.. 
Note: be sure to get there early as they're known to close when sold out.
Address: 533, Lebuh Pantai, 10300 George Town, Pulau Pinang, Malaysia
Opening times: Tue – Sat 7:00 – 14:30; Sun 7:00 – 12:00
Restoran Old Green House (dinner)
Although it's called a 'restaoran', Restoran Old Green House is a hawker center on the west end of George Town popular with locals. Their Hokkien Mee stall is the signature and you can also sample the curry mee, porridge, and Bak Kut Teh.
Address: 223, Jalan Burma, 10050 George Town, Pulau Pinang, Malaysia
Opening times: Mon – Sat 15:00 – 23:45
Ravi Apom/Apam Manis (breakfast)
Ravi Apom is a hawker centre that is most famous for their apom pancake for breakfast. It's located around a cluster of other hawker centres on a busy street that makes parking the most difficult of all. The pancake also often sold out quite quickly.
That said, if you can't get the apom pancake, there are many other stalls to dine from that are good as well.
Address: 319, Jalan Burma, George Town, 10350 George Town, Pulau Pinang, Malaysia
Opeining times: Fri – Weds 6:00 – 10:00
New Cathay Cafe (breakfast)
New Cathay Cafe has been a breakfast spot that my family goes to since I was little, and it continues to remain a great place to go in the Gurney Drive area. They have my favourite of Hokkien Mien and apom pancake and of course milk tea.
Address: 425, Jalan Burma, George Town, 10350 George Town, Pulau Pinang, Malaysia
Opening times: Mon – Sat 7:00 – 12:15
Gurney Drive Hawker Centre (dinner)
Gurney Drive Hawker Centre is a bit of a tourist attraction, but that doesn't mean that it's not good. Although often crowded, there are what feels like hundreds of stalls to choose from with metal tables of various sizes tetrised in the narrow center.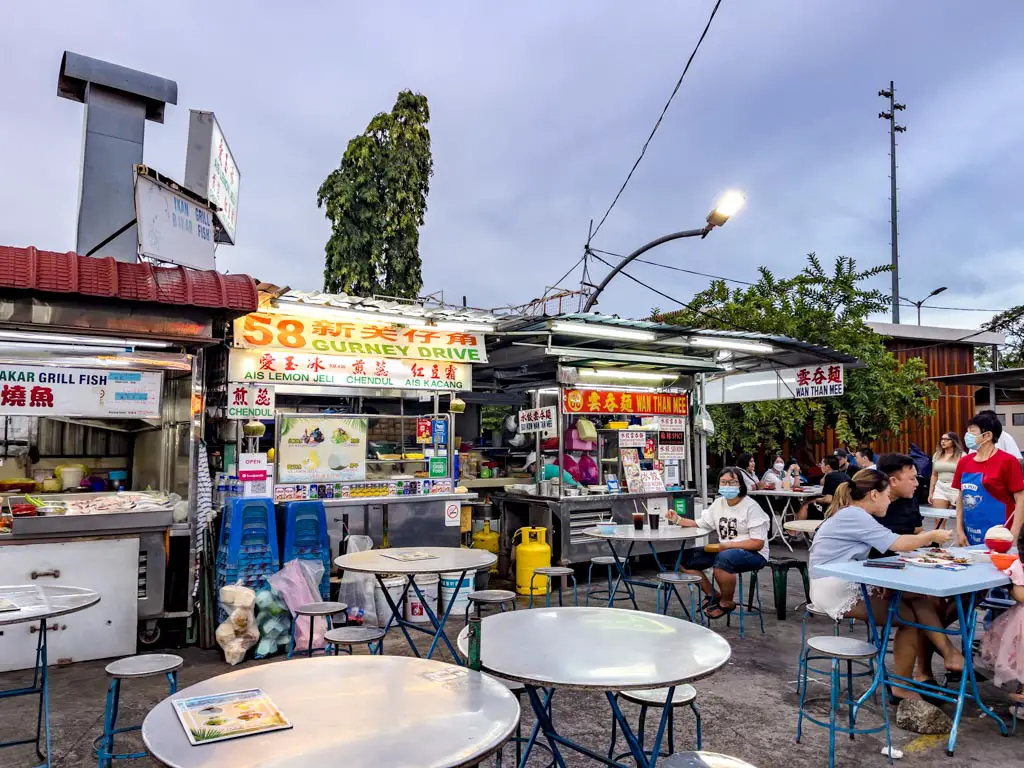 You'll find more Hokkien and Chinese fare in the south end while the Malay food centered around its own corner in the north. It's easy to spot what the local favourites are because there would often be a queue.
There used to be a lot more gurney drive Penang street food but a lot of the hawker centres did not make it through COVID.
Note: the northern tip of the hawker centre opens even on Thursday and the wonton noodles tend to sell out by 7-8 pm
Address: 172, Solok Gurney 1, Pulau Tikus, 10250 Jelutong, Pulau Pinang, Malaysia
Opening times: Thurs – Tues 17:00 – 0:00; Weds 17:30 – 0:00 
Restoran Kimberly Kuan Kee (dinner)
Restoran Kimberly is famous for their duck kway chap. It's a hawker center with streetside hawker stalls and two shop-houses seatings across from each other on the road. The loh bak and char kuay chap here is also pretty good and the Chinese dessert here is pretty good, too.
Address: 135, Lebuh Kimberley, George Town, 10100 George Town, Pulau Pinang, Malaysia
Opening times: Fri – Weds 17:00 – 22:00
Swee Kong Coffee Shop (breakfast)
Swee Kong Coffee Shop is a good alternative as a breakfast place in Georgetown with plenty of choices. They have an extensive drinks menu, kayan toast, Hokkien mee, and chicken rice.
If you like tea and coffee, this is definitely the place to have breakfast.
Address: 317, Jalan Burma, George Town, 10350 George Town, Pulau Pinang, Malaysia
Opening times: Fri – Weds 5:30 – 13:00
Cecil Street Market (Pasar Lebuh Cecil)
Cecil Street Market is one of the biggest markets in the Georgetown area that has both hawker stalls and produces stalls. All of them operate at a different set of hours from each other, so it's best to go in without too much expectation.
It's more of an experience than a total foodie trip, but I did really like the Char Koay Kak store here.
Address: 40-48, Lebuh Cecil, 10300 George Town, Pulau Pinang, Malaysia
Opening times: 7:00 – 17:00
888 Hokkien Mee (dinner)
888 Hokkien Mee is a short walk from downtown George Town and a fuss-free local joint tucked in a side street. Do be careful as there are two hawker centres on that street corner, and it's the one that's not on the corner but further down the street.
I also really like the satay that's at the other hawker centre and there is also a Chinese sweet soup stand.
Address: 67-A, Lebuh Presgrave, 10300 George Town, Pulau Pinang, Malaysia
Opening times: Fri – Sun, Tues 17:00 – 20:00
Red Garden (dinner)
Red Garden is the fancier of all the hawker centers in Penang with a stage in the middle that often has live music or even a show. I haven't been back personally for a while, but it definitely has the most variety of hawker stalls compared to the others. Everything I've mentioned in Penang's famous food can be found here!
Address: 20, Lebuh Leith, George Town, 10000 George Town, Pulau Pinang, Malaysia
Opening times: 17:30 – 0:00
Gemas Road Roti Canai (breakfast)
The Gemas Road Roti Canai is the most famous place to get this Malay breakfast dish, attracting both locals and tourists. It's a little out of the way between George Town and Air Itam, taking over a street-side section with the kitchen visible to passerbys.
Roti Canai is essentially roti with a meat curry and you have a choice of Ayam- chicken, Daging- beef, or Kambing- lamb.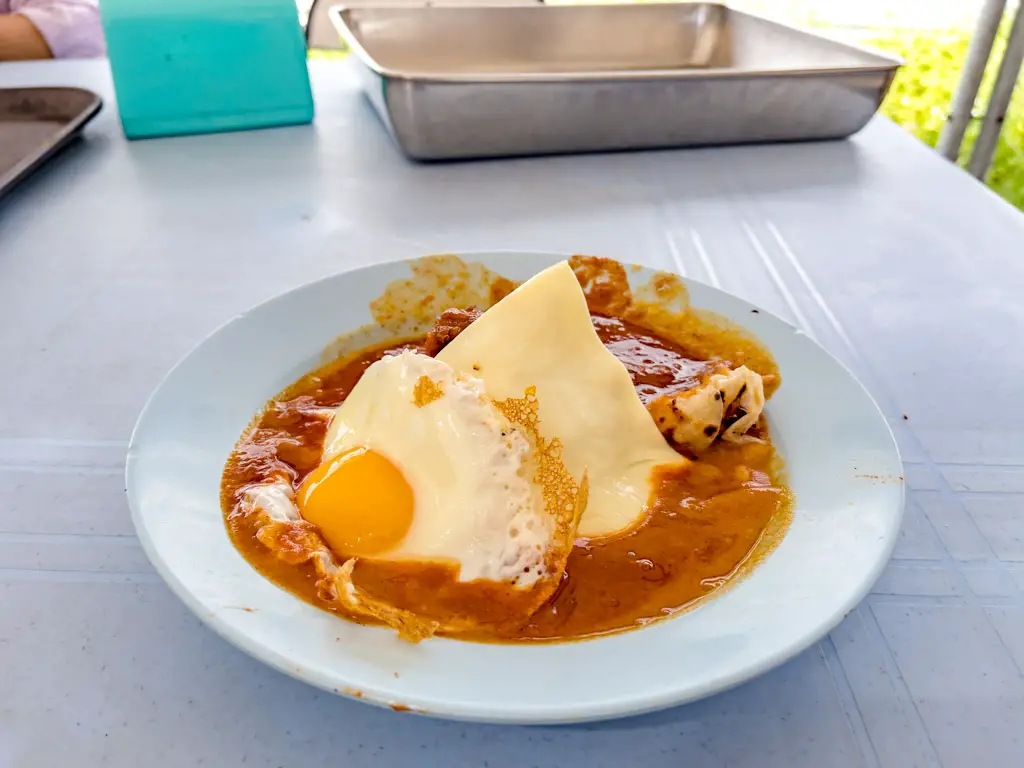 The queue is quite long and parking a little difficult, and we had to eat at a small pavilion in the car park. While I do find the dish quite good, the hassle and long wait make it a little more trouble than it's worth.
Address: 51 29, Jalan Gemas, Taman Kampar, 10460 George Town, Pulau Pinang, Malaysia
Opening times: Tues – Sun 7:00 – 12:30
New World Park Food City (Lunch – Dinner)
The New World Food Court is a local favourite because it has plentiful parking space, lots of choices, and it has a roof cover. While the official open time for the food court is at 10 am, don't expect to turn up and find everything open until midday.
Address: Jalan Burma, George Town, 10050 George Town, Pulau Pinang, Malaysia
Opening times: 10:00 – 23:30
Chulia Street Night Hawker Stalls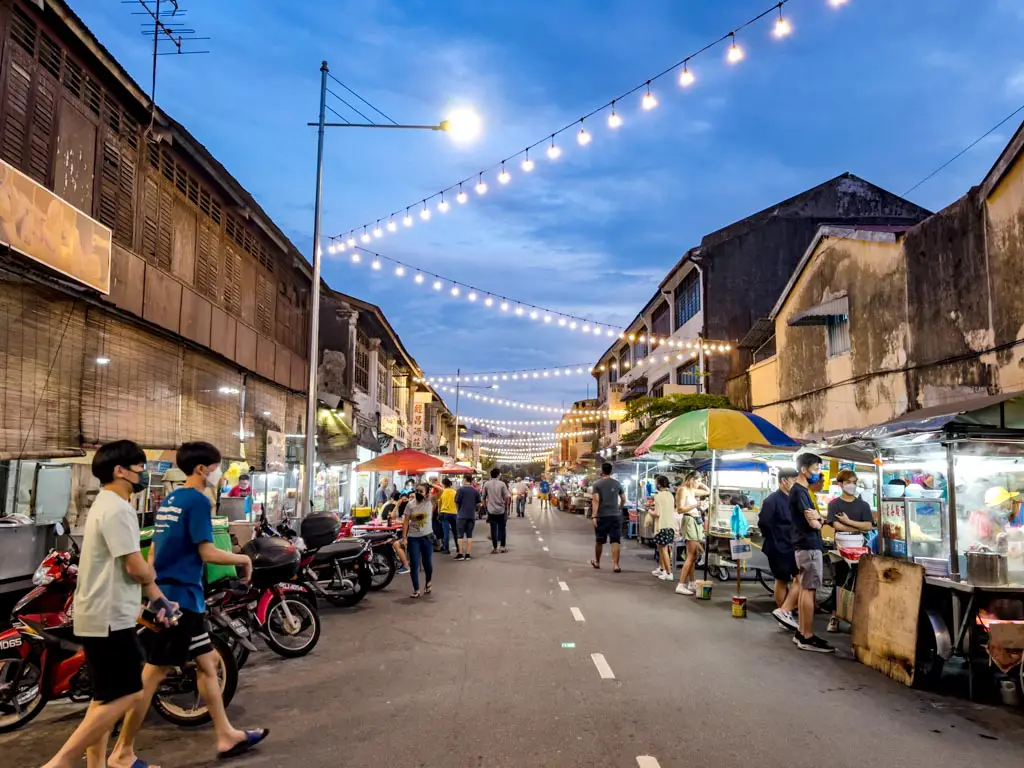 The Chulia Street Night Hawker Stalls are in the center of Georgetown and therefore a default popular spot at night. If you're searching for the food street in Penang, it's likely that you're looking for Chulia Street.
Although many might consider it too touristy, my local friends assured me that their wonton noodles is anything but. It's fast, cheap, and looks amazing. The only trouble you'll have is finding a place to sit!
Address: Chulia St, Georgetown, 10450 George Town, Penang, Malaysia
Opening times: Tues – Sun 18:00 – 0:00
Air Itam Food Court Laksa Bisu (breakfast-lunch)
Air Itam is close to Kek Lok Si temple and a thriving area in its own right. The most famous place to eat here is Asam Laksa, but we ended up going across from it to another food court for the Laksa Bisu.
It's cooked by a deaf and mute chef and also featured in many other media publications. While I'm not a huge fan of this version of laksa, at 5 rm and a balance bowl there's not much to complain especially since we got seats.
Address: Pekan Ayer Itam, 11500 Air Itam, Penang, Malaysia
Opening times: Weds – Sun 10:00 – 17:00