What to do in Kuala Lumpur & 2-3 days itinerary for Kuala Lumpur
If you want to see what to do in Kuala Lumpur, I've got you covered with itineraries for Kuala Lumpur as well as the best attractions. The capital city of Malaysia is known affectionately as KL, and before my trip, I heard many say it was a boring city. But it has surprised me and I'm excited to tell you all about 
Table of Contents
Essential Information about Kuala Lumpur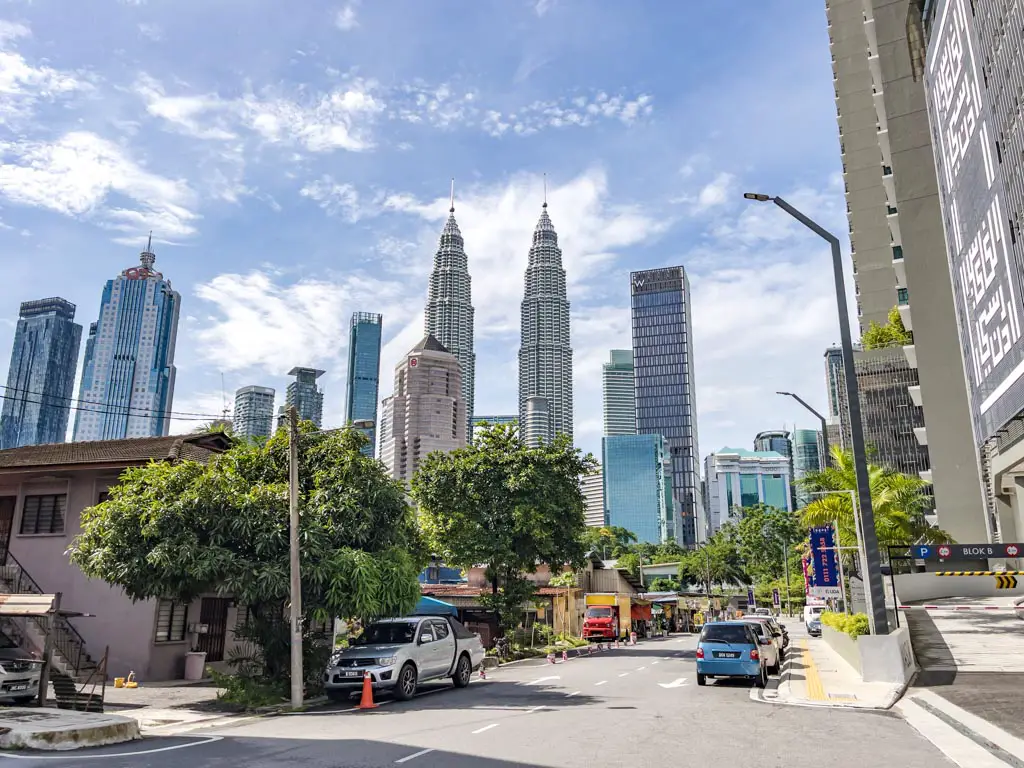 A short history of Kuala Lumpur
Kuala Lumpur was once a small community of Chinese and Malays by the Klang River until the British moved the state capital here in 1880. The former was on the east side of the river and the colonial establishment on the west, 
Airport Kuala Lumpur to City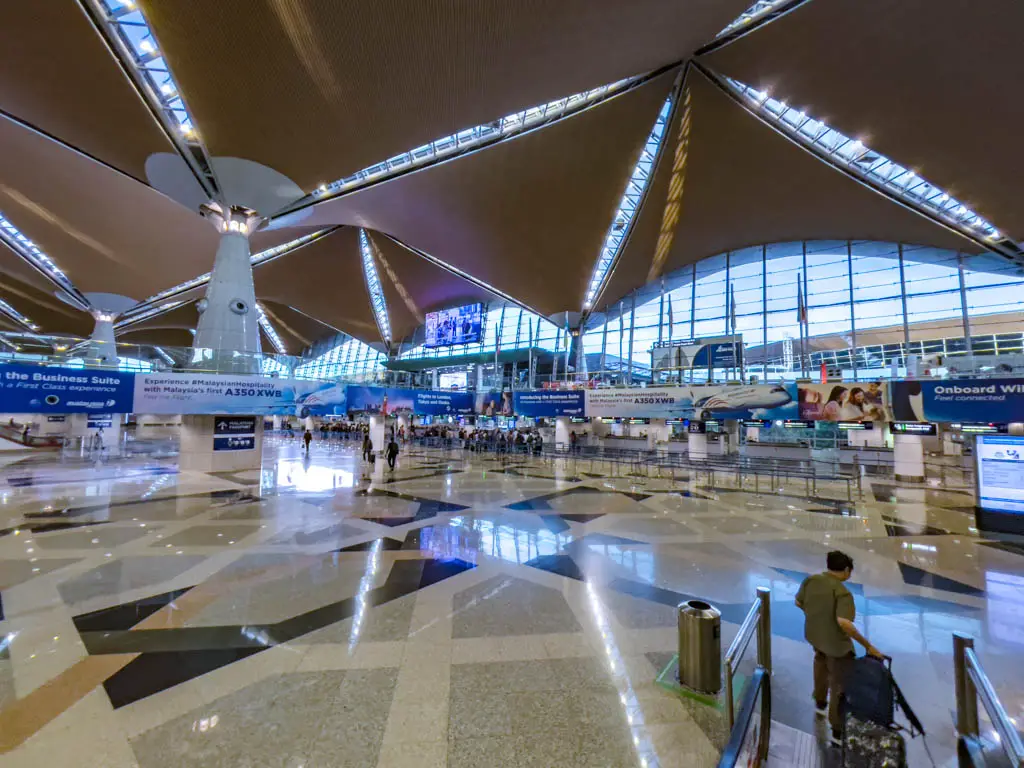 The Kuala Lumpur International Airport is also called Klia, and it has 2 terminals.
In good traffic, the drive from the airport Kuala Lumpur to the city center should only be 45 minutes, but I'd generally budget 1 to 1.5 hours as it's pretty congested during rush hours.
I used Grab, which is the Uber of Southeast Asia, and the price was 65 rm with 9.5 rm for tolls.
There is also an express train that takes you to Sentral station for 30 rm. So if you're more than 2 people and have big luggage, it's probably worth getting a Grab instead.
Public transport in Kuala Lumpur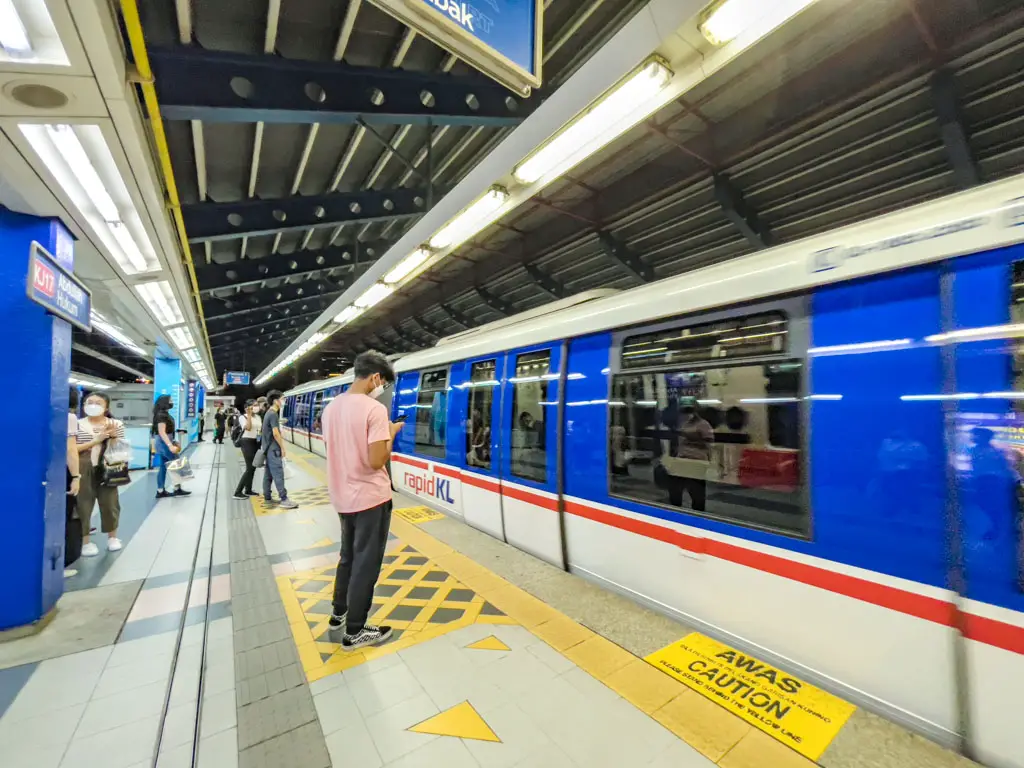 There are trains, buses, and light rail in KL, although they are not very well linked to each other or to all parts of the city.
Everything is more or less connected to the Sentral Station, otherwise it's better to use Grab unless the prices are surging. I mostly used the red and the green lines to get around.
Red lines notable stations: old China Town, KLCC, Sentral Station, and Mid-Valley Mall
Green lines: Chow Kit, Butik Bitang (shopping area)
KL Commuter Rails: links to Batu Cave (requires a separate card)
I was lucky to be in KL when they had a month free of public transport (June 2022), but an average journey in the city center costs 1.4 rm per ride.
What to do in Kuala Lumpur
Kuala Lumpur's sites are a little spread out, and it's not as grouped as Penang. The city is designed more towards car owners, but there are still pockets where you can walk to and from a place. Although the weather tends to be hot and humid with the chance of a sudden downpour!
Petaling street Kuala Lumpur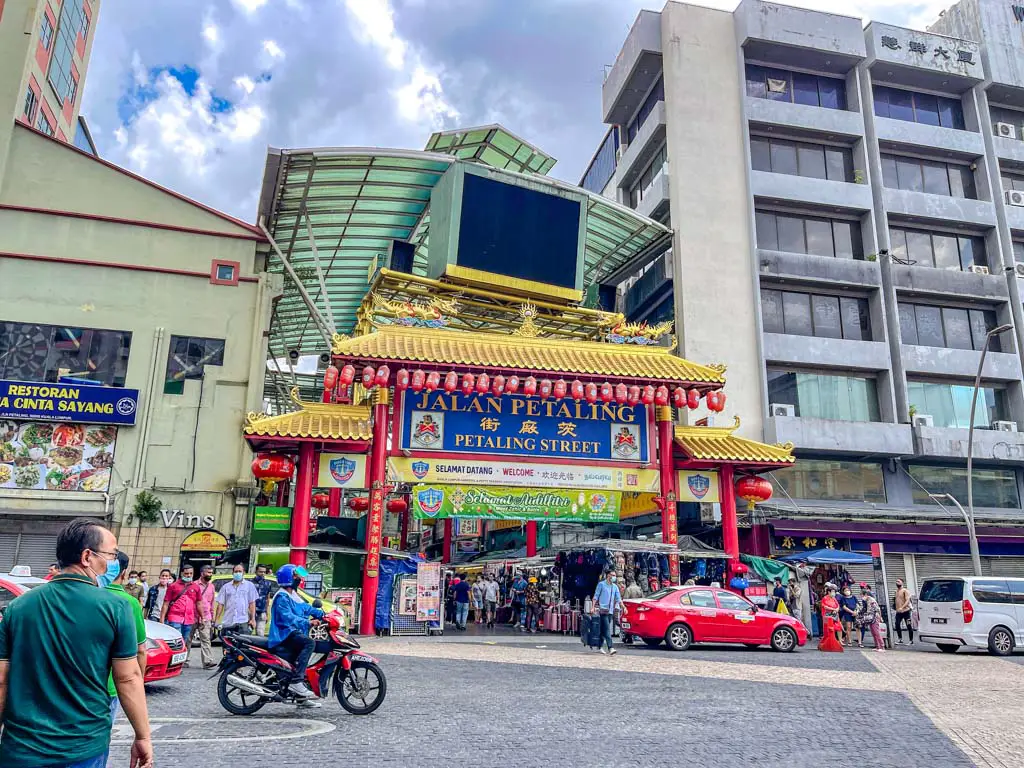 The Petaling Street is a mix of Chinatown and flea market, with parts of its neighbourhood becoming more gentrified.
This street remains more of a touristy walking street with street food, hawkers, and knickknack stores.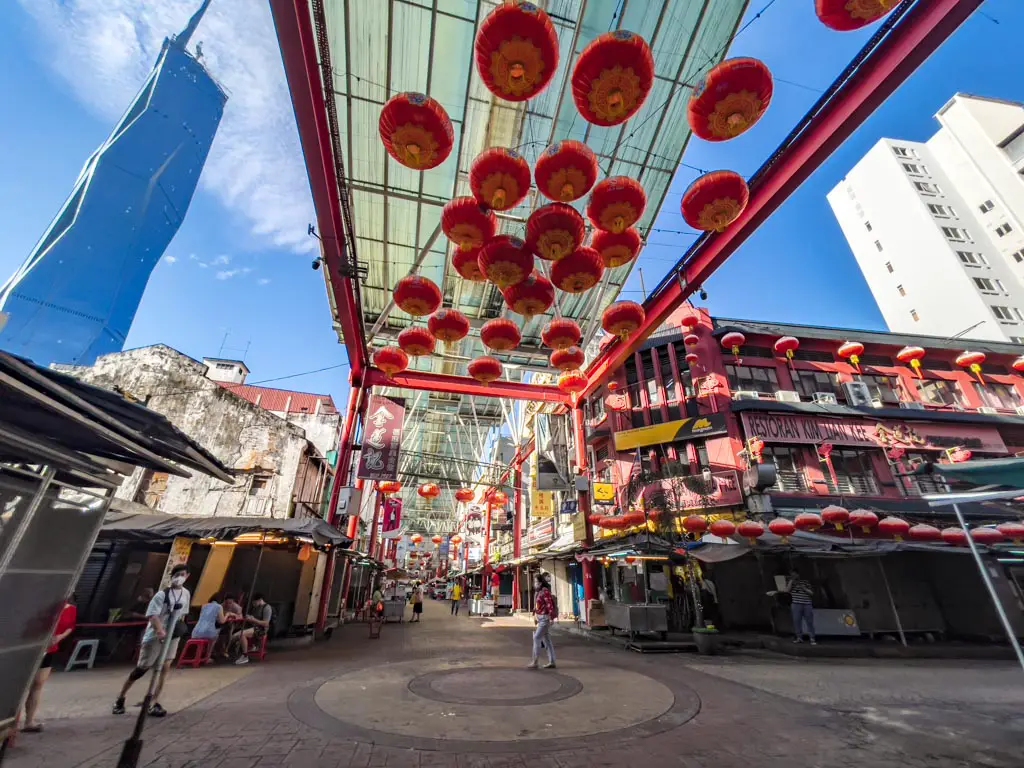 Apam Balik, tofu fa, machi, and lo han gua are only some of the food you'll find. I'll take more about the food later!
It's worth a roam if you've in the area, and you definitely should be!
Kwai Chai Hong
The name translates to little ghost boy alley and was once an alleyway with many different vendors offering services. It's now full of street art reenacting cultural norms back in the days like writing Chinese calligraphy and polishing knives.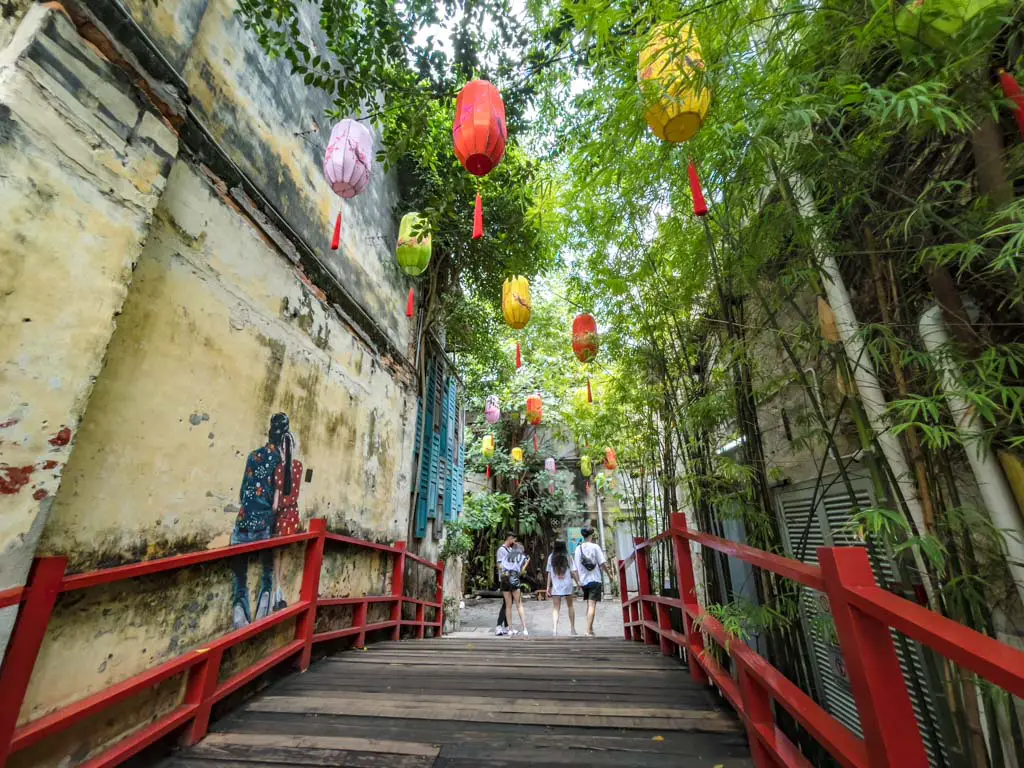 There's also a signature red bridge. The alley is free to enter but it doesn't open until 9am and closes at midnight. There are 
Take a photo with the Petronas Towers
There are lots of locals who loiter around the fountain offering to help you take photos. You're expected to tip/pay them a small fee which I believe is around 3-5 rm. It might be worth it for the night shot as many people are crowded around there and they have the lightning panels to make sure your face is well lit.
Batu Cave
Batu Cave is arguably the most famous sight in KL even though it's on the northern edge of the city. It's known for the colourful stairs and the Hindu temples that are built in the caves between the limestone mountains.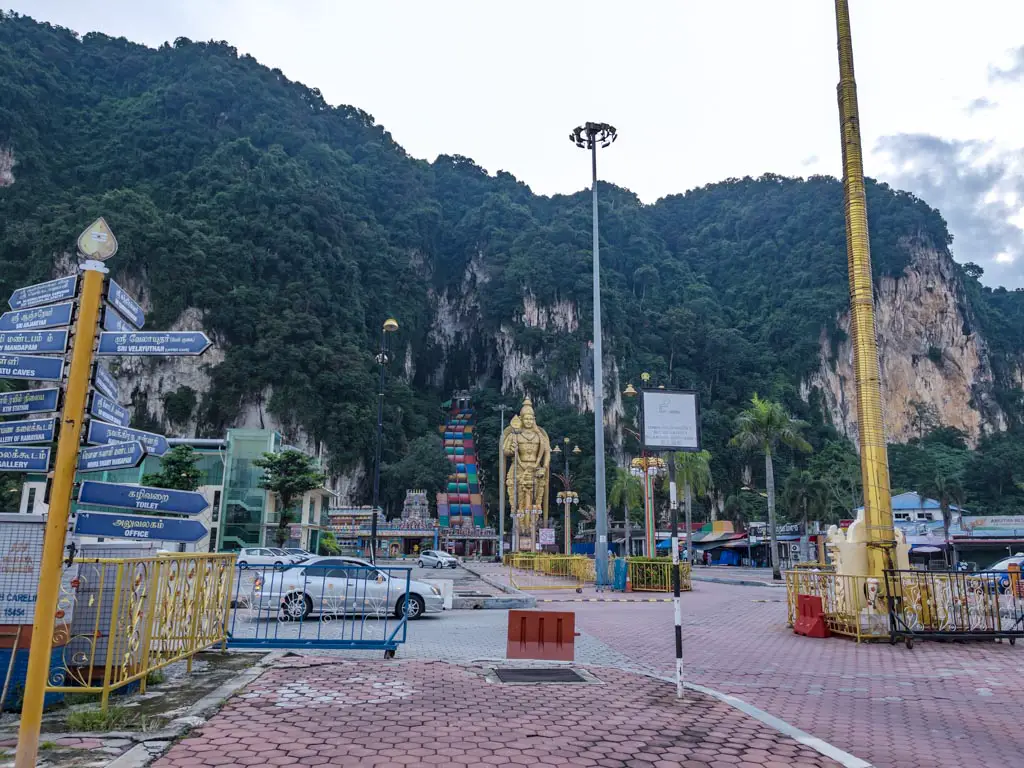 Batu means rock in Malay, and the limestone caves date back to 400 million years old. They were used as shelters and then became more famous after it was surveyed by the British in the 10th century. A prominent Indian Tamil trader learned about the caves and decided to build a series of temples at the cave at the end of the 19th century, which was completed to its present form in the 30s.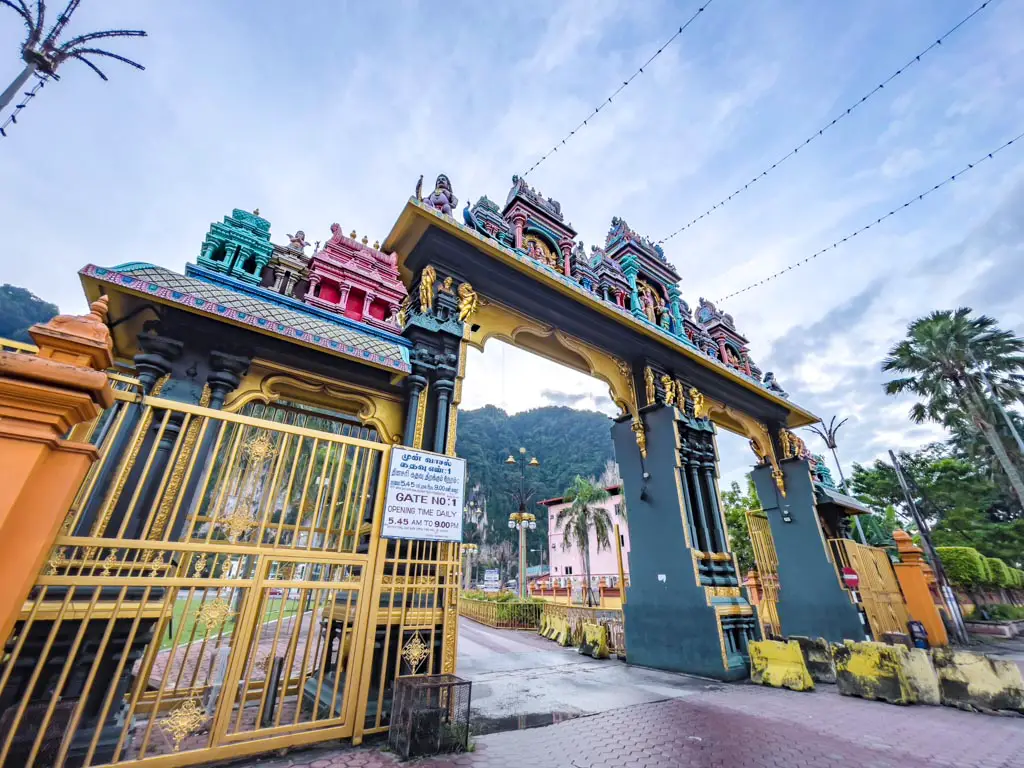 Do note that the caves can get flooded so be sure to wear proper footwear. The Hindu visitors go up barefoot but most visitors don't. There are quite a few temples dotted around the complex, but I'll only mention the more notable ones.
Statue of Lord Murugan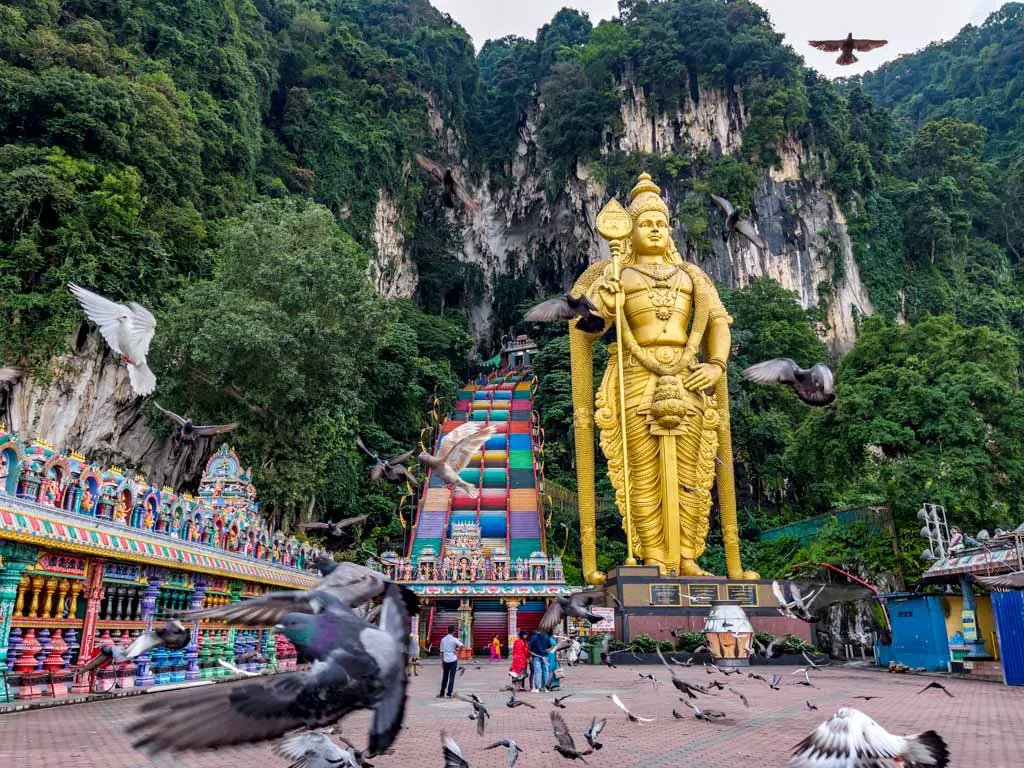 The 43 m (140 feet) high golden statue of Lord Murugan, otherwise known as Kartikeya, is unmistakable next to the colourful statue. He is the Hindu god of victory and war and the commander of the gods.
He is most commonly worshiped by the Tamil people and a more recent addition in 2006. 
Main Temple Cave
The main cave is most famous for its rainbow hue of stairs leading up to the entrance. The stairs are recently repainted and was previously just red and made of wood. There are 272 steps and it's quite steep, so take your time going up!
Inside it's the Sri Velayuthar Temple, which is the main cave.
There is also the Sri Valli Deivanai Murugan up another flight of stairs. It's much smaller with an exposed cave roof, and I saw a few monkeys there.
You can enter both of the temples providing you take off your shoes. As both of them are open plan, I just admired it from outside.
Ramayana Cave
The Ramayana Cave is off to the west side of the complex near the entrance from the train station. You can't miss the giant statue of Hanuman, the Hindu monkey god and companion of Rama.
There is an entrance fee which keeps the cave relatively quiet especially in the morning. Inside are many small statues re-enacting famous tail of the god Rama.
At the back of the cave there is a long flight of stairs that goes up to two stalactites with a towering view of the cave. 
Admission fee: 5 rm
Dark Cave
I didn't actually managed to find the entrance to the Dark Cave, although it is not really part of the temple complex but just a natural cave. Since it's not developed, the cave remains unlit hence the name Dark Cave. There are two types of tours you can take: a 45 minute educational walk and a half day adventure that involves sliding, swimming, and walking through the cave.
Art Gallery Cave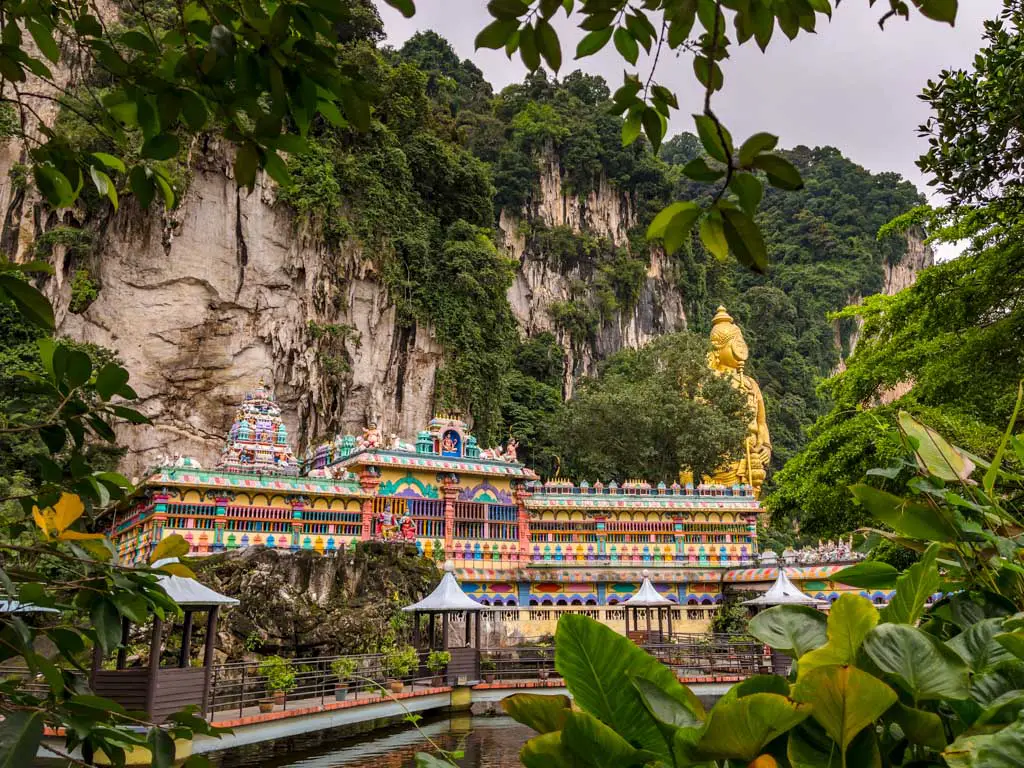 There is also an art gallery cave that displays art related to Batu Cave and its temple. It's set behind an artificial pond and I wasn't motivated enough to pay it a visit.
Admission fee: 5 rm
Tips for visiting Baut Cave
If you want to avoid the crowd, it's relatively quiet until 9am. There is also a bathroom but the condition is pretty grim, so I'll avoid using it unless you absolutely have to.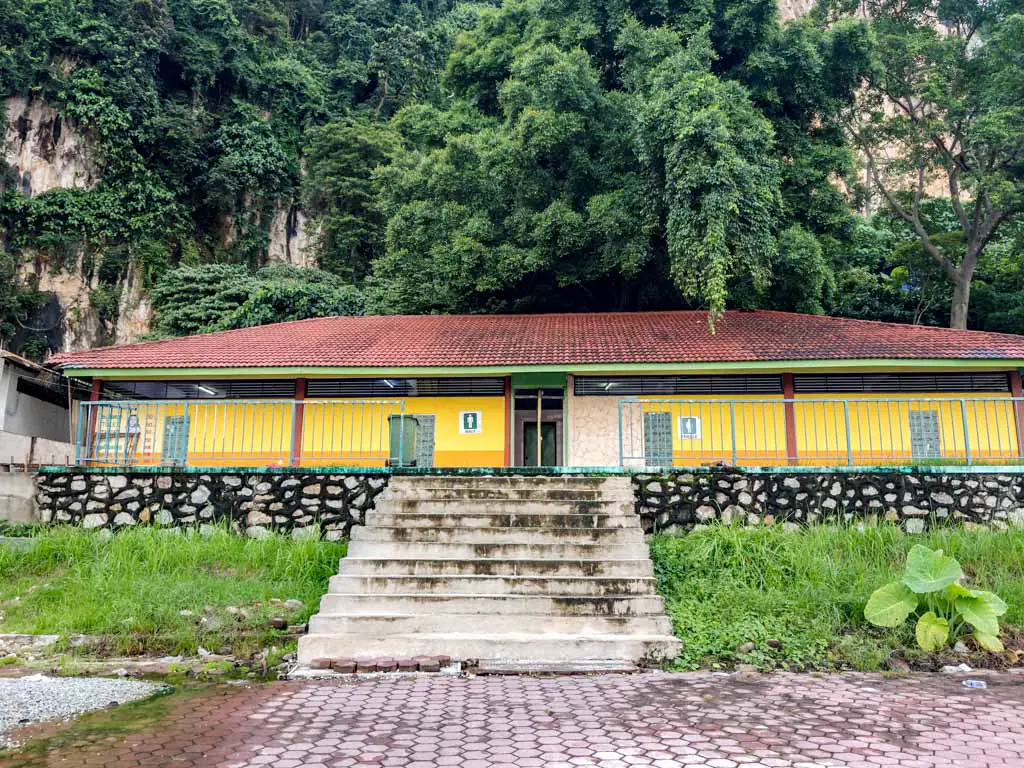 There are also several restaurants and shops at the southeast side of the complex between the main temple and the bathroom where you can grab a bite.
How to get to Batu Cave: you can take the KL commuter train from Sentral station to Batu Cave. You do have to get the card but even then it's an 8 rm journey versus 20-30 rm Grab, depending on when you're going.
The trains run quite sparsely so make sure you time your return trip.
Kuala Lumpur Tower
The KL Tower stands at 421 m high and looks like an alien spaceship or receiver in the KL skyline. It is the 7th highest tower in the world, with an observation deck (inside), sky deck (outside), sky box, and revolving restaurant at the top.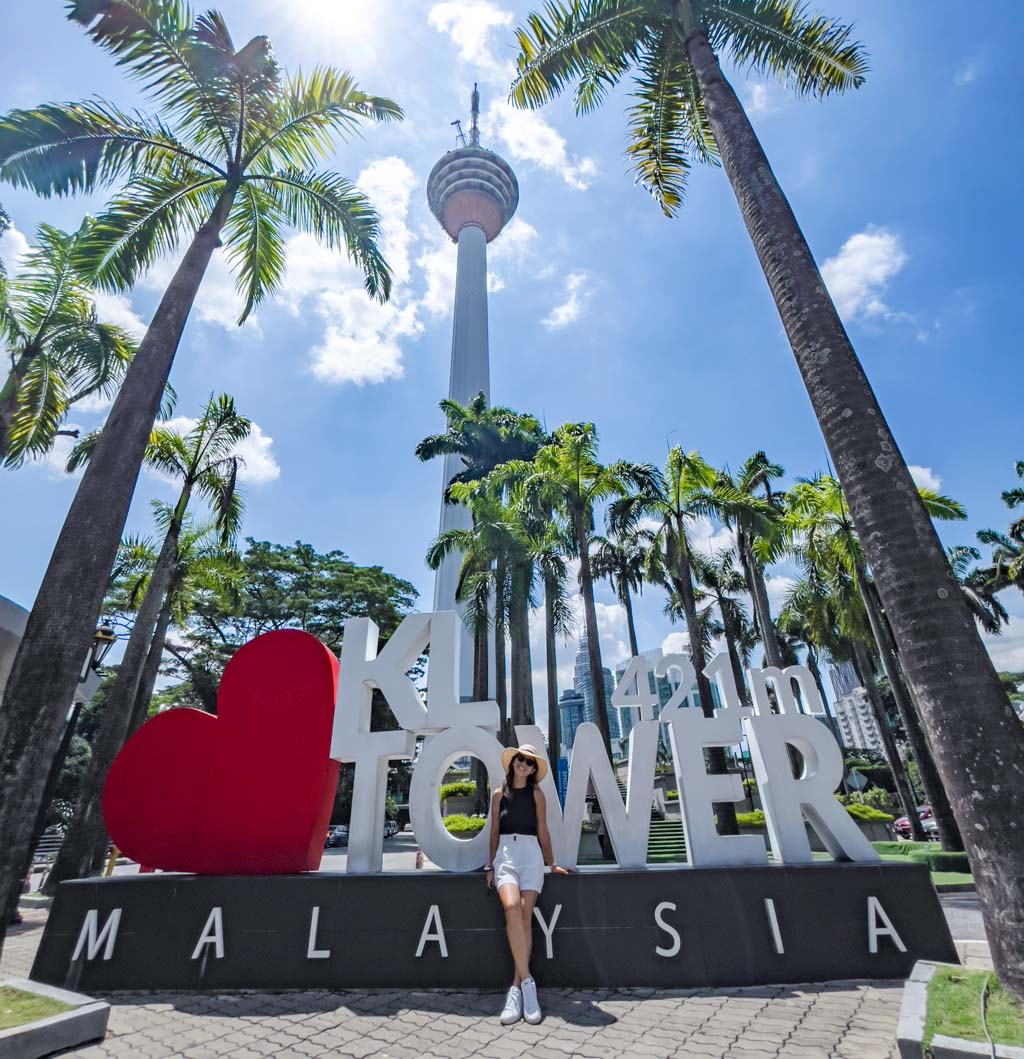 As the highest observation point open to public in KL, it's worth a visit for some air-conditioned view, although I personally ran out of time to do so.
Another great pastime is taking photos with it in the background. It's visible from many points of the city but sometimes partially obscured by other skyscrapers. My personal favourites are:
Right by the bottom of the tower
At the Chow Kit Hotel with the light rail bridge
From the Eco-Forest Park.
Buy tickets to the observation tower online
Opening times: 9:30 – 22:00
How to get there: it's not the easiest place to reach. I walked there by going through the KL Forest Eco Park, but most people take a Grab or the hop on hop off bus since the road up is quite steep.
KL Forest Eco Park (Bukit Nanas National Reserve)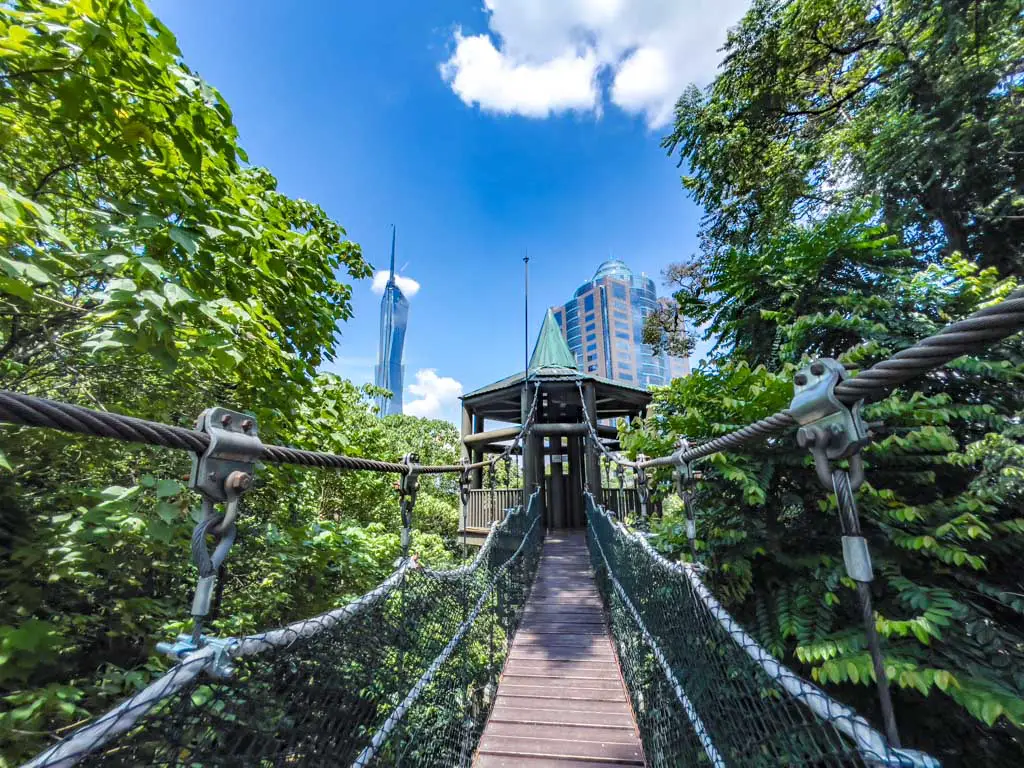 The KL Forest Eco Park is a slice of forest in the city that has existed since before the city. It's located by the former China Town district and covers 10.5-hectare of ground.
Canopy Walkway
The canopy walkway is the highlight of the eco-park with a great view of the city and it feels quite cool to walk on the canopy level.
There are numerous trails that loops around the complex and it weaves around the KL Tower. There is a map by the ticket office entrance for you to look at and everything is well signposted.
While I think the price is a bit steep, the canopy walkway was pretty cool and maybe when they finished renovation, there will be more trails to hike.
Admission fee: 40 rm for international visitors, 10 rm for Malaysians. Children under 6 are free, 5 rm for international 6-12 and 1 rm for Malaysians 6-12.
Address: there are two entrances to the park that I saw, one by the KL Tower, the other one in the southwest corner. 
National Mosque
The National Mosque of Malaysia is near the old Sentral Station. It was built in 1965 after the country's independence and free to visit.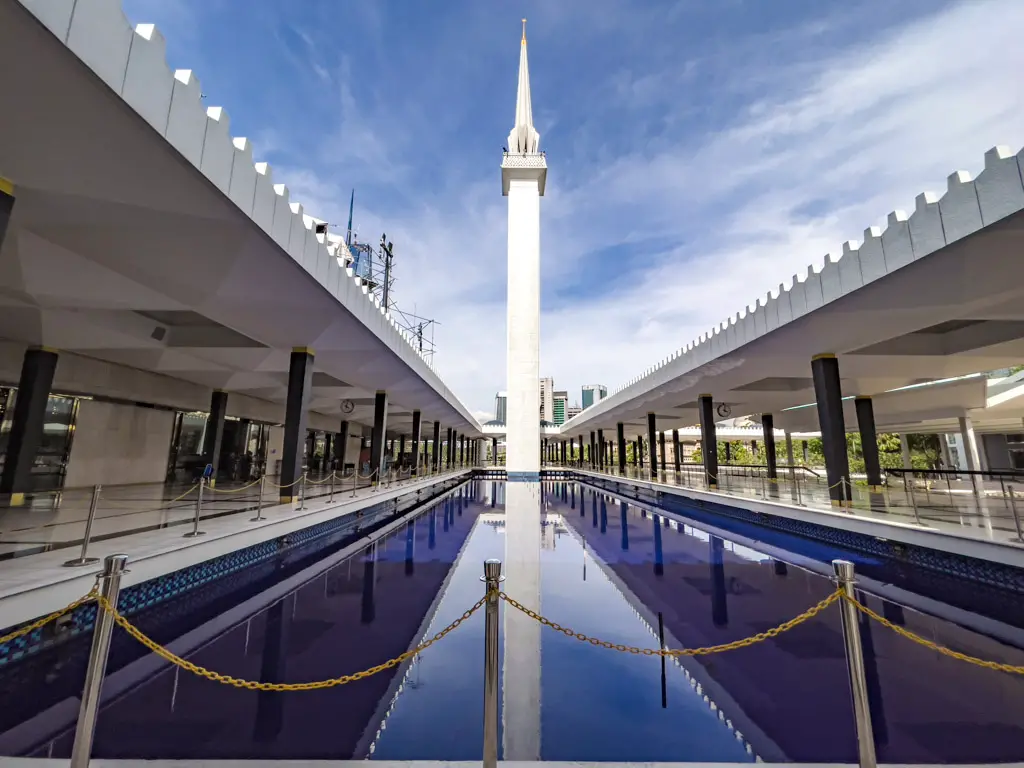 Female visitors have to wear the a cover up which you can borrow for free – and remember to tuck your hair away! Children and male do not have to wear them, though if you plan on visiting, I'd definitely dress more conservatively.
There are free volunteer guides that would show you around and tell you about the history of the mosque and Islam. Our guide was 73 and a long-term volunteer.
You can also see the three tallest buildings in KL from the mosque: Merdaka, KL Tower, and Petronius Tower.
Parking is free, and you can also walk or grab here. While you don't need to book ahead to enter, remember the opening times below.
Address: Jalan Perdana, Tasik Perdana, 50480 Kuala Lumpur, Wilayah Persekutuan Kuala Lumpur, Malaysia
Opening times: 06:30am – 01:00pm, 02:30pm – 04:00pm, 05:30pm – 07:00pm
Independence Square
The Independence Square is the site where Malaysia declared its independence from British rules in 1957. It has been kept as a grass patch between the Sultan Abdul Samad Building  and Selangor Club.
This ground has been a central point in the history of the capital as well as Malaysia. It was where the British first built their administration building, then it became a cricket ground and also where the Malaysian flag was raised on 30th August 1957 for the first time.
It's also a great viewpoint for Sultan Adbul Samad Building and right next to the KLCL.
Note: do be careful walking across it after rain as it can be very muddy.
KLCG Kuala Lumpur City Gallery
The Kuala Lumpur City Gallery, otherwise known as KLCL, is where to go if you want to learn about KL's past, present, and future through miniatures (and for free)! It's right by the Independence Square and it has a great cafe where you can hide from the heat as well.
It's also popular for the I love KL sign in front for that obligatory tourist shot!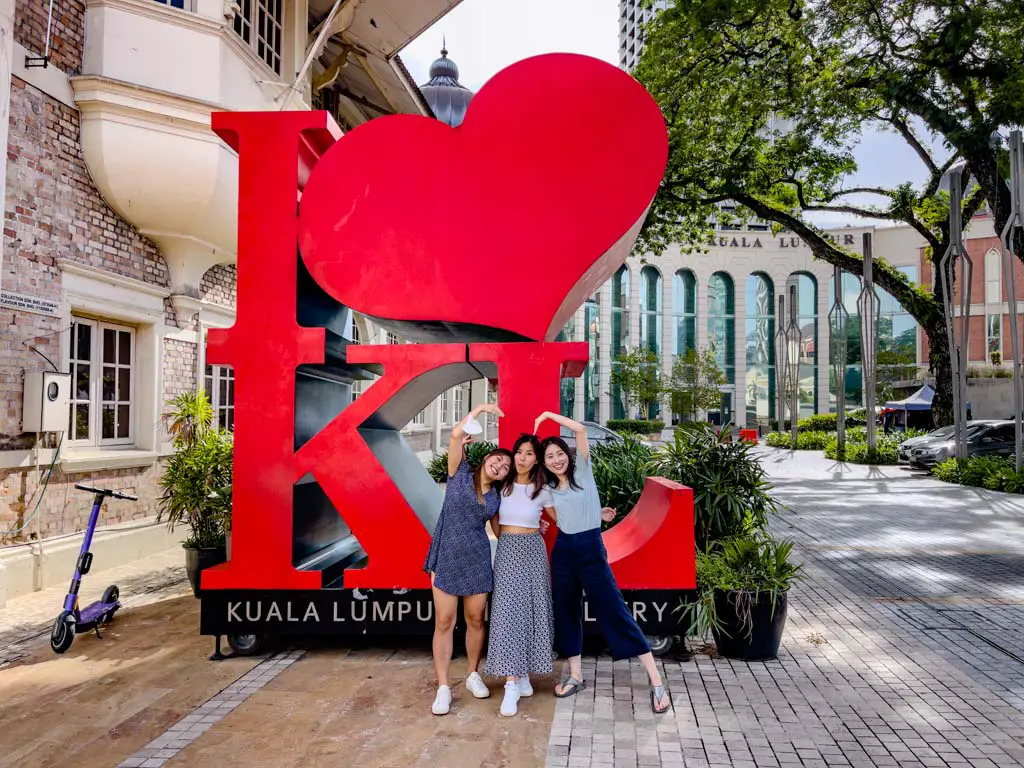 P.S. the cronut and really any pastries in the cafe are delicious.
Opening times: close Tuesday, 9:00 – 18:00
Address: Dataran Merdeka, 27, Jln Raja, City Centre, 50050 Kuala Lumpur, Wilayah Persekutuan Kuala Lumpur, Malaysia
Sultan Abdul Samad Building
The exotic building in front of the Independence Square was the heart of the British colonial office. The design lean towards Moorish in a style that can also be classified as Indo-Saracenic, common during British India, and Neo-Mughal, which is a legacy of Mughal rule in India.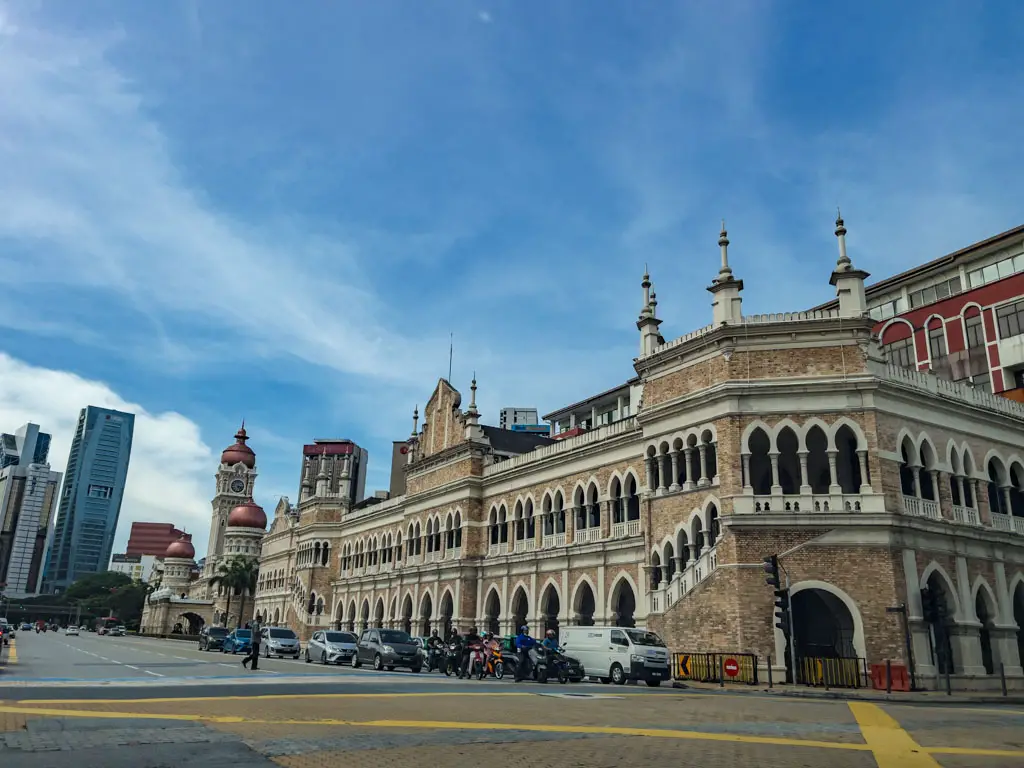 Its building was overseen by the British Engineer Charles Edwin Spooner, who rejected the original Classical Renaissance design. The central clock tower stands at 41 m high with 2 towers to the side. It was completed in 1897 and housed various official departments. It's also where the declaration of independence was signed on 31st August, 1957.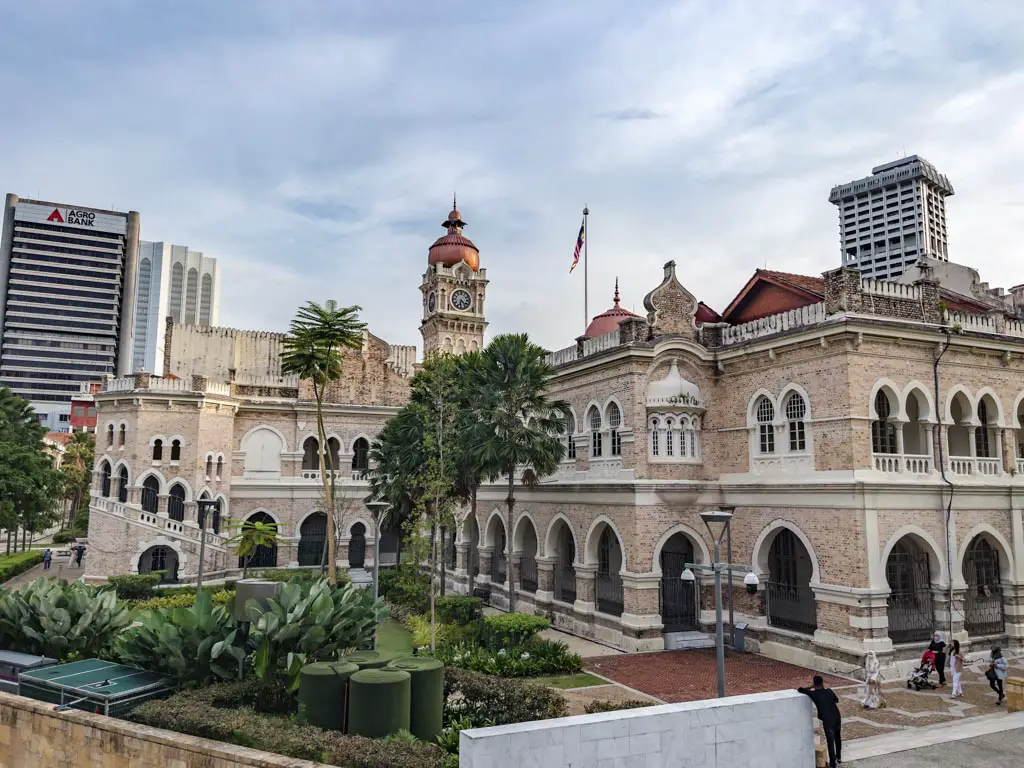 The building was refurbished in 2012 and now houses the Ministry of Information, Communication, and Culture.
Address: Jln Raja, City Centre, 50050 Kuala Lumpur, Wilayah Persekutuan Kuala Lumpur, Malaysia
River of Life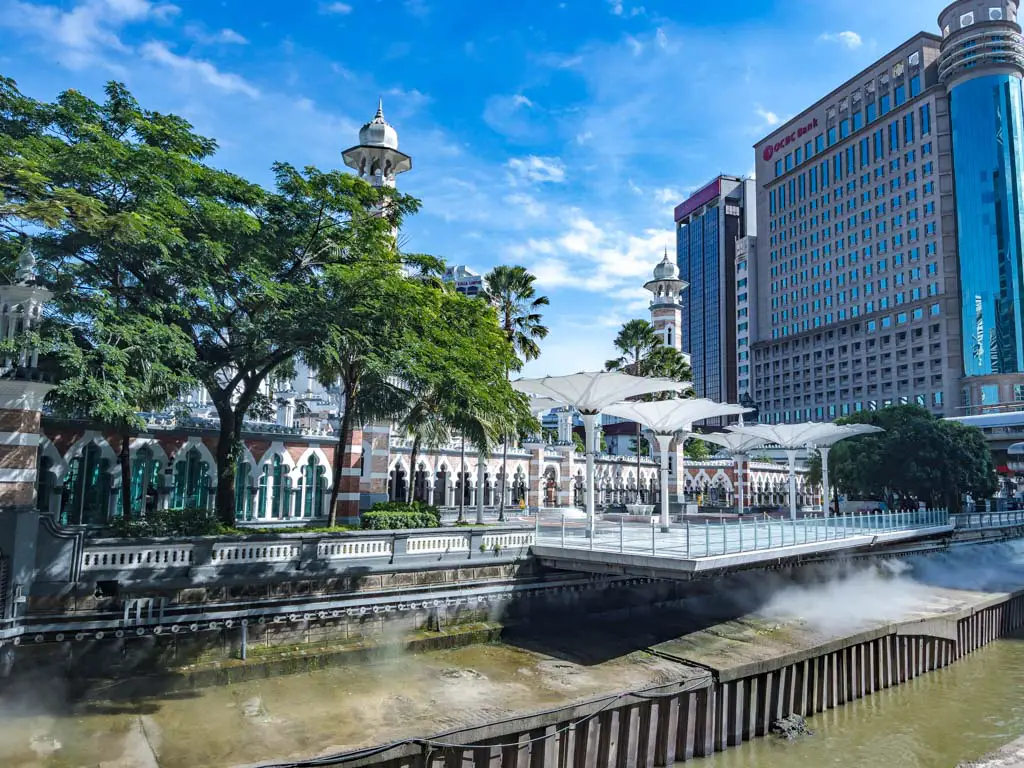 The River of Life is the point where the Klang River and Gombak River meet, which happens to be behind the Sultan Adbul Samad Building. It was a muddy marshland that had been refurbished with river promenade and also where the Masjid Jamek is located.
Masjid Jamek of Kuala Lumpur
While you can't enter the mosque, it's still nice to walk by the it along the River of Life. it was the first large scale mosque built in Kuala Lumpur and the grounds were once a Malay burial site. It was a joint effort between the Malay community and the British colonial government.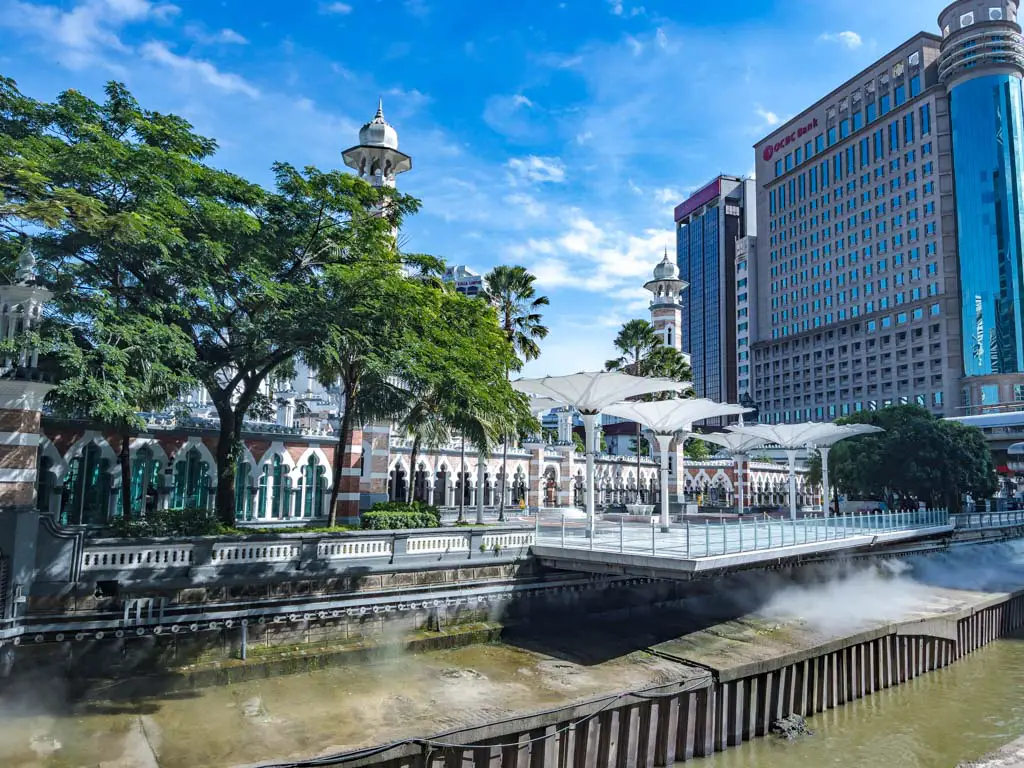 It opened in 1908 and it has the same architecture style as Sultan Abdul Samad Building and the primary mosque in the city before they built the National mosque. It can house 1,000 for prayers and remains one of the most popular temples.
Address: Jalan Tun Perak, City Centre, 50050 Kuala Lumpur, Wilayah Persekutuan Kuala Lumpur, Malaysia
Thean Hau Temple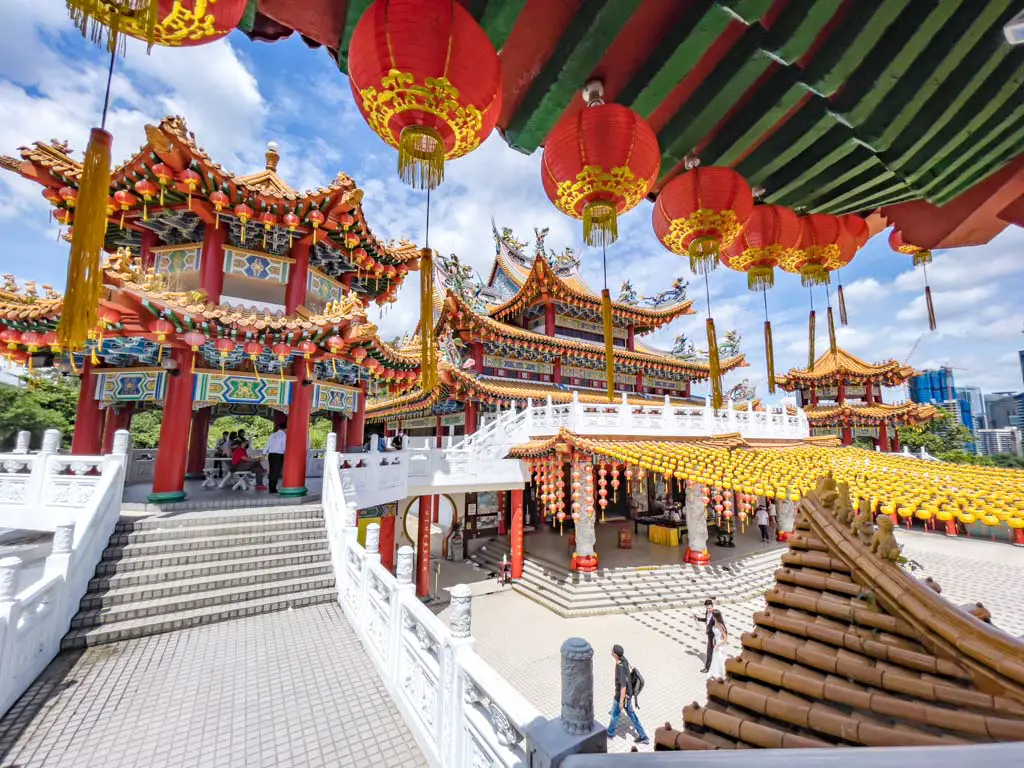 The Thean Hau Temple is located on a hill up from the Bangsar area dedicated to the Taoist sea deity Tin Hau, sometimes also known as Mazu. KL was a Cantonese predominant city during its early days, where Tin Hau is very popular as well.
The only way there is to drive or Grab with the road steep and lacking in pavements. It's Insta-famous for the lines of lanterns hanging in front of the main temple courtyard.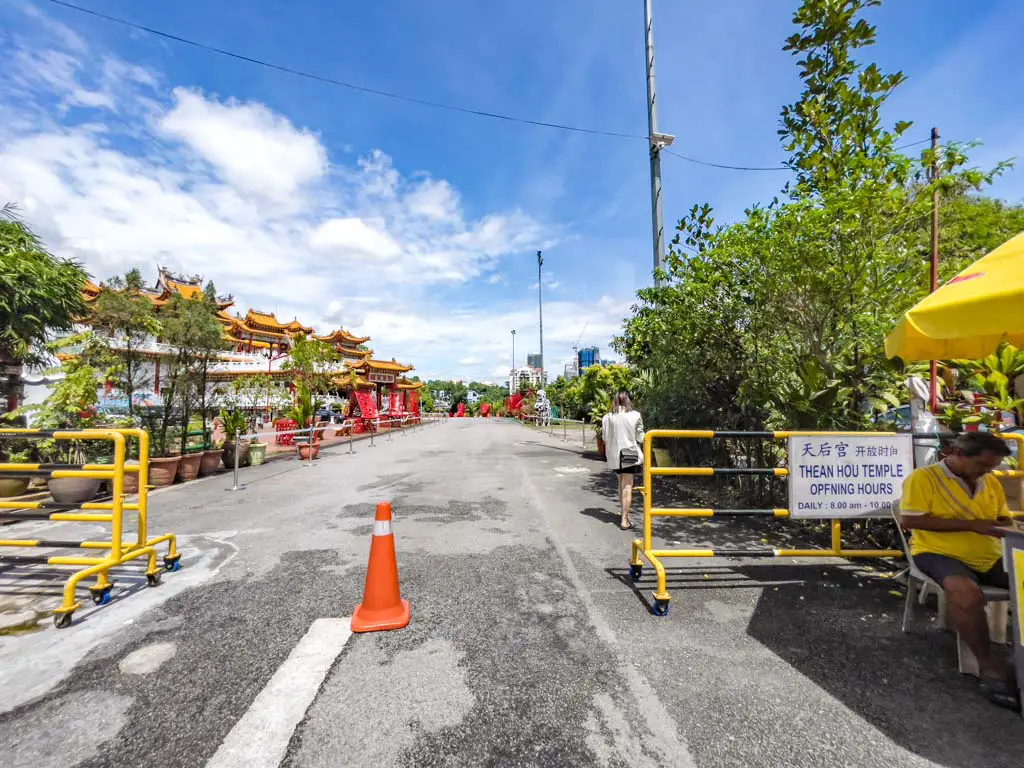 The temple actually has six levels and covers 1.67 acres with a good view of the city. It's a relatively new temple, having only been completed in 1987 by the Hainanese people.
The temple also had a marriage license office attached, making it a popular spot for Chinese Malaysians couples and you'll probably encounter half a dozen couples on your visit.
There are quite a few flights of stairs to go up and the lower floors are used for wedding banquets. There are a few minor shrines dotted around, like the 20 obedient sons.
They also have a food court at the ground floor and a garden with the 12 Chinese astrology animals.
Free entry
National Monument
The National Monument was built to commemorate those who lost their lives during Malaysia's Independence War. it's a 15m tall bronze sculpture depicting 5 soldiers over two defeated forces in the middle of a fountain and there's also a cenotaph that was elected by the British on the other side of the square.

It was built to remember those who have lost their lives during the Japanese Occupation in WII and the Malayan Emergency which led to the country's independence from British. The sculpture was designed by the Austrian sculptor Felix de Weldon with a granite base.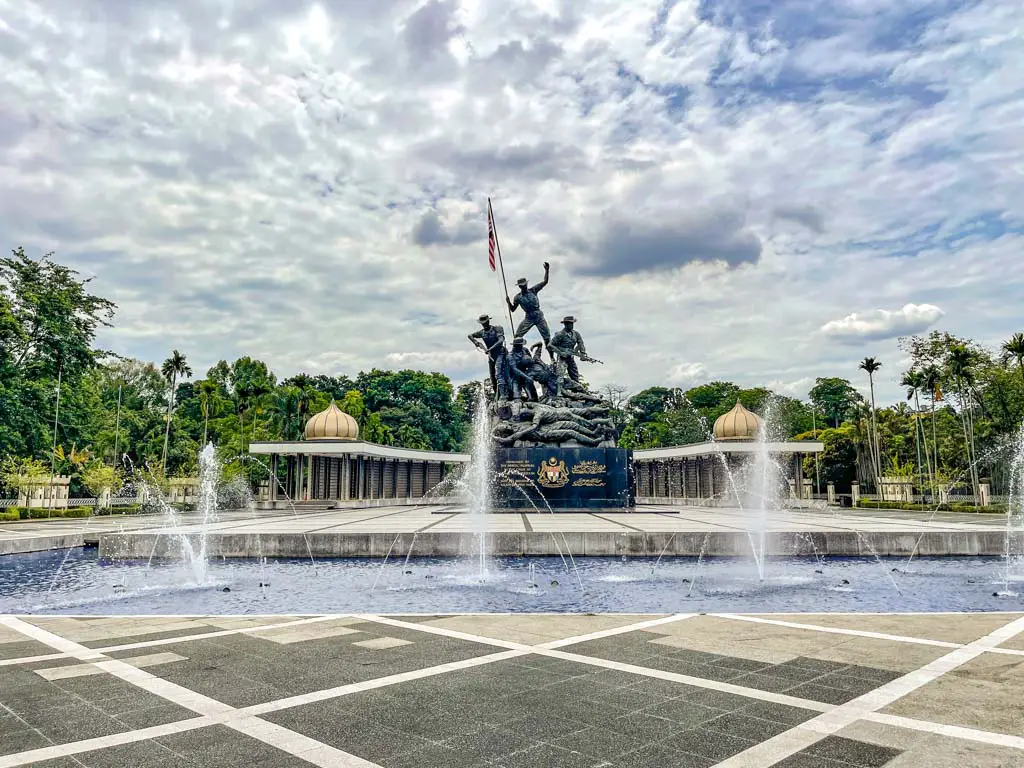 The monument is set on the hill across from the main botanical garden and worth a visit if you're in the area!
Address: Perdana Botanical Garden, Jln Parlimen, Kuala Lumpur City Centre, 50480 Kuala Lumpur, Federal Territory of Kuala Lumpur, Malaysia
Perdana Botanical Garden – Bird Park and Butterfly Park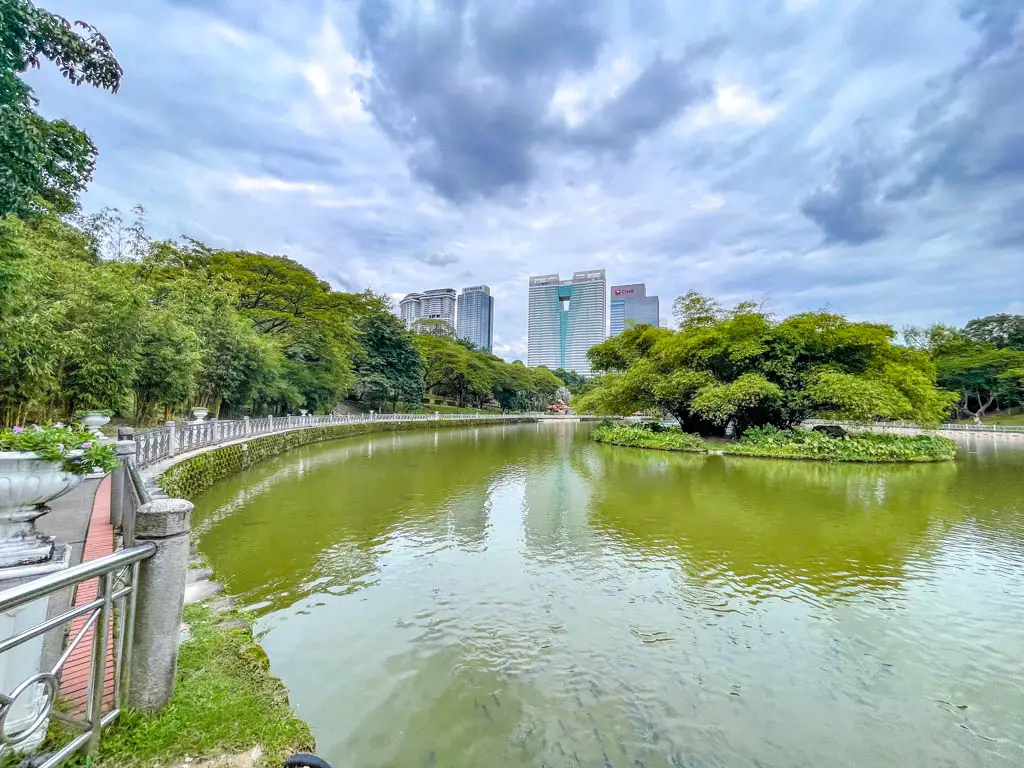 I'm always tempted to visit a city's botanical garden and it was no exception when I visited KL. However, it is much bigger than expected and I had unfortunately picked a day they were doing maintenance to visit.
The garden itself is free to visit, but it also has ticketed attractions that are quite popular. I only quickly walked through it because it was a hot day, but you can find more information on their website.
Lama Perdana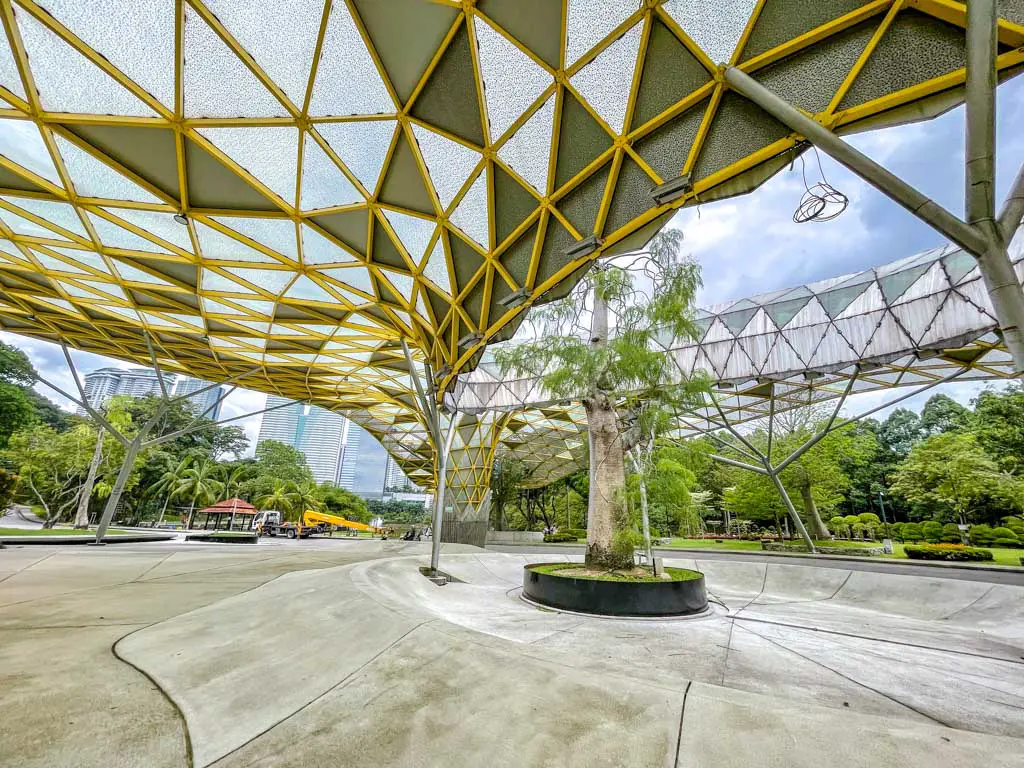 The quirky covered space by the lake – there were a few gardens but I didn't loop over to see them!
Bird Park
The Bird Park in Perdana Botanical Garden is an avian paradise with over 3,000 species of birds of 200 species in 4 different zones. And of the 4 zones, the birds roam freely in 3! The park is pretty big with 20.9 acres of ground, and they host various daily activities such as feeding time and photography with birds.
They also have a gift shop, a sandwich bar, and the HORNBILL restaurant & cafe.  
Opening times: 9:00 – 18:00
Butterfly Park
If you're not a fan of birds, what about butterflies? It is the largest butterfly garden in the world with 80,000 square feet of garden. Beyond the 5000 live butterflies, there are also plants and other insects, as well as a museum and koi fish pond.
Opening times: 9:00 – 16:30
Address: Jalan Cenderawasih, Tasik Perdana, 50480 Kuala Lumpur, Wilayah Persekutuan Kuala Lumpur, Malaysia
As the botanical garden is pretty big – you might want to opt for a private tour to save time and learn more about KL and Malaysia as well.
Go Shopping in one of the Malls
KL is home to some of the biggest malls in the world. Given that the weather is usually hot and prone to sudden rain, it's often quite nice to escape to a shopping mall. Here are some of my favourites:
Mid Valley Mega Mall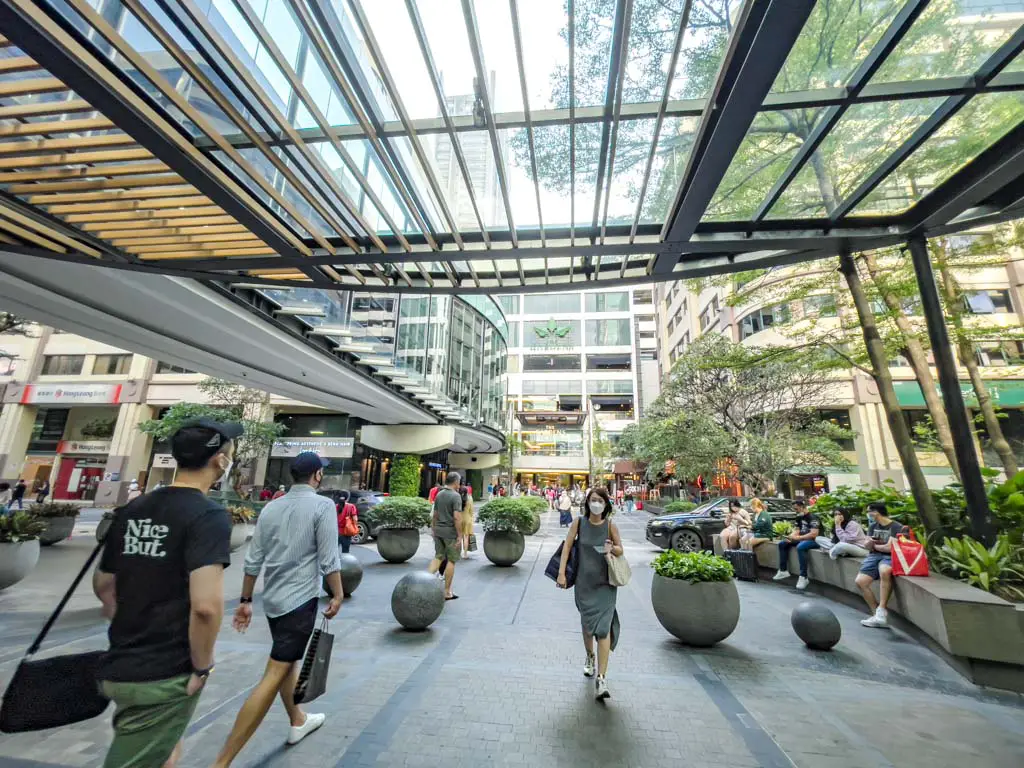 The Mid-Valley Mall is connected to the Gardens Mall which sells higher brands stuff. The mall is huge with every international brand you can think of with a Golden Screen Cinema at the top.
It's close to the Abdullah Hukum KTM station on the red LRT line via a sky bridge that also links to the Eco City Shopping Mall.
Opening tiems: 10:00 – 22:00
Suria KLCC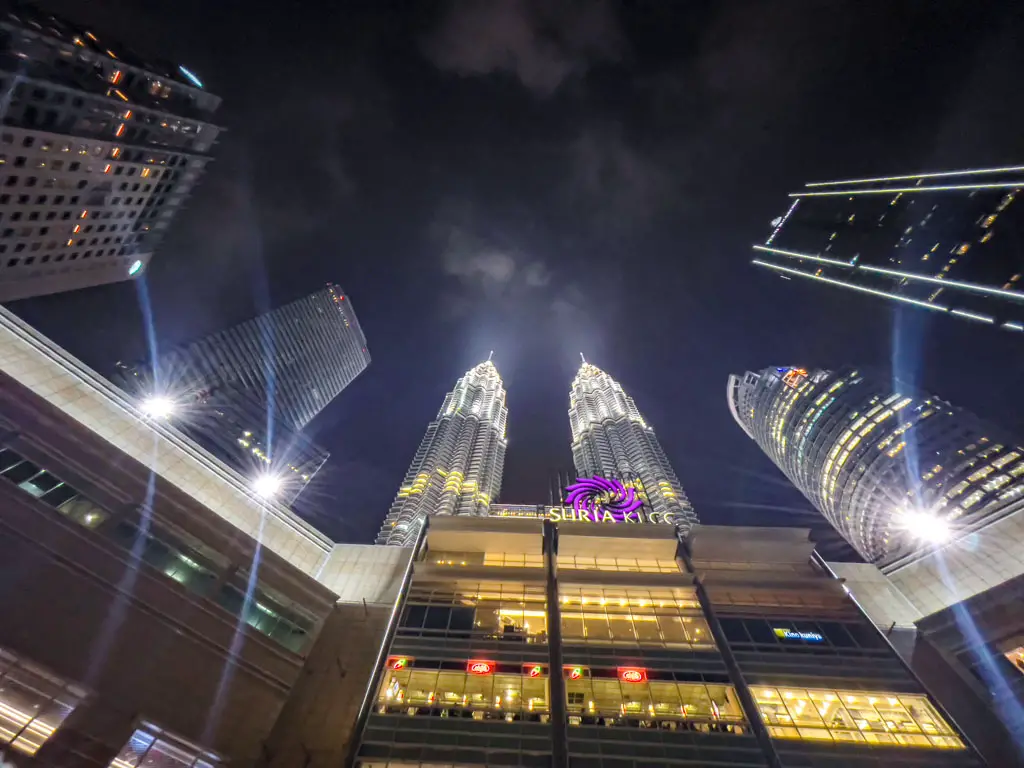 Suria Mall is the one that connects to the Petronius Tower and KLCC station on the red line. It has a good selection of restaurants and food stands on the ground floor and plenty of international high street brands spread over 6 floors.
Opening times: 10:00 – 22:00
Pavillion Kuala Lumpur
The Pavillion Mall is another top favourite for locals and tourists alike. Located in the fashionable Bukit Bitang, it has luxury and international brands all in one place around in its circular corridors.
You definitely shouldn't miss the sprawling food court at the basement level where you can find every cuisine under the sun.
If you're confused by the layout, don't worry. You can google the store name and find its floor or look out for one of its directories.
Opening times: 10:00 – 22:00
Go to a Mamak's
Mamaks are the general term for Muslim Malay run diners that operate 24-7. They serve classic dishes like nasi lemak and other rice and noodle dish. But I'm here to talk about roti tisu. It's named that because it's thin as tissue, a dessert roti that is served in a long thin cone coated in condensed milk and sugar. Pair it with the classic lemon tea and it's a hearty afternoon tea or dessert.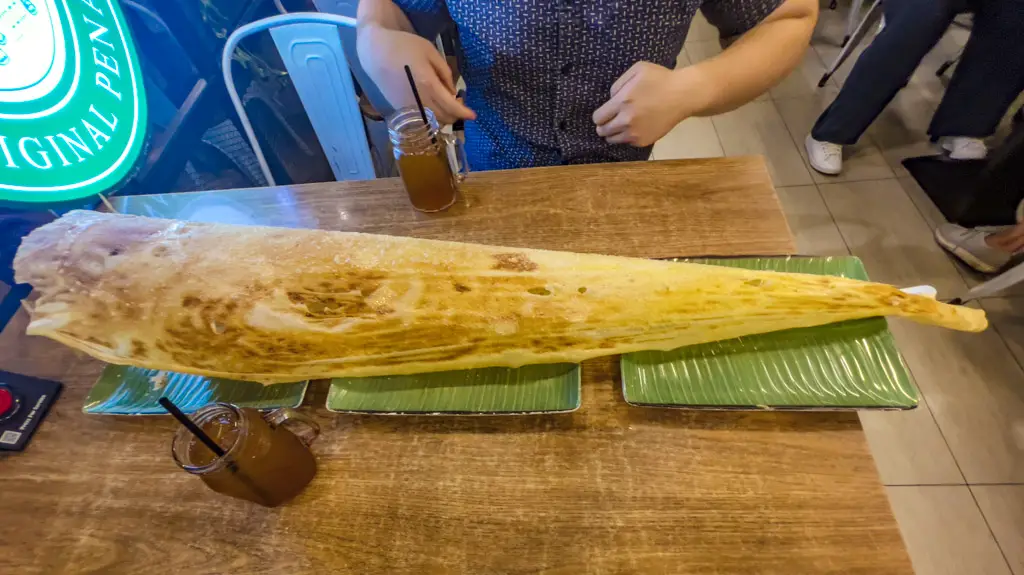 My friend took me to one in Bangsar and here are the details:
Street food in Kuala Lumpur
KL's street food scene is quite vibrant, though I haven't had as much time to eat around as I'd like,m. My favourite street food tour company It's a Chef has a tour here, and I absolutely loved their Thailand and Vietnam ones.
Lai Foong La La Noodles
The Lai Foong La La Noodles has long since become a two-storey restaurant by Petaling Street, but considering it's origin, I think it's still worth putting it here.
They serve up steaming bowls of seafood noodles that they called La La Noodles. I tried their signature noodles and the portion was huge! There were so many clams that I kept finding more at the bottom. While I'm not a fan of the way they added the ginger – as strands mixed in with the noodles – it's a well-crafted bowl of noodles.
Apam Balik uncle
Apam balik is the name for a type of sugar and peanut pancake cake. It's similar to apom and the Apam balik uncle runs his nameless stall by the big intersection at Petaling Street.
It's interesting to watch the uncle work his magic. He speaks mostly Cantonese and also sell apom as well. A piece of Apam balik costs less than 2 rm and makes for a good snack.
Restaurants in Kuala Lumpur
Malaysia is a melting pot of cultures, most notably the Malays, Chinese, and Indians. As the capital, Kuala Lumpur's cuisine is a reflection of that. I tried to eat a variety of food and here are my recommendations.
Chow Kit Restaurant and Bar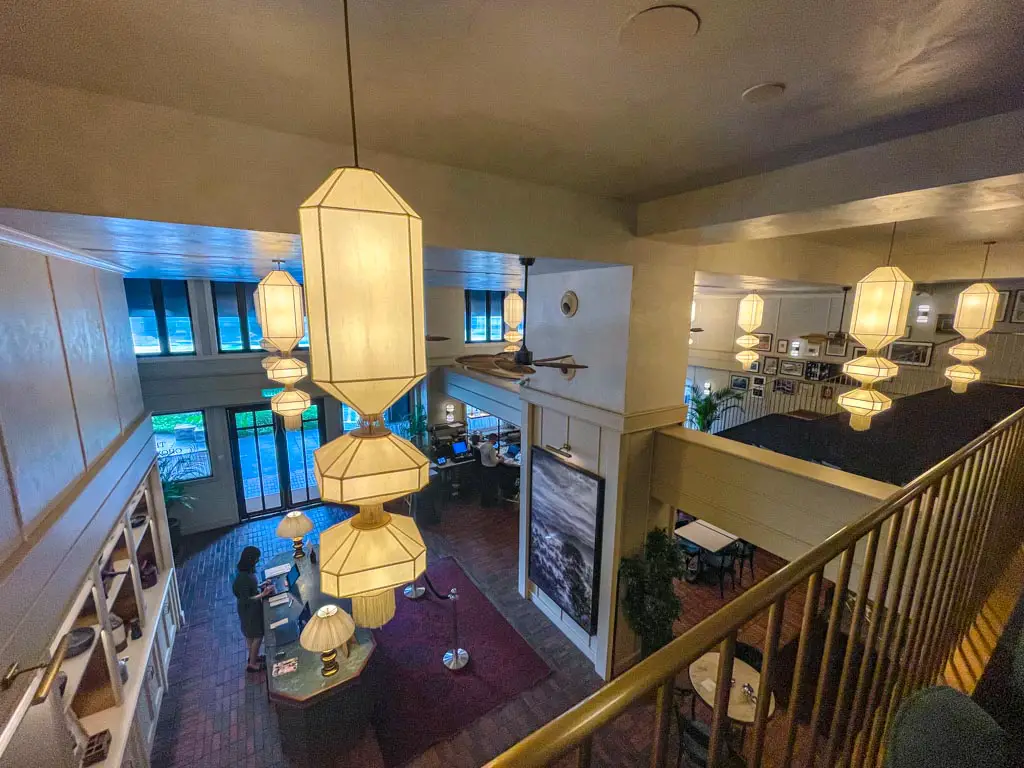 The Chow Kit Restaurant and Bar is at the ground level of the hotel of the same name. Their serve both traditional Malaysian food as well as dishes with a modern take.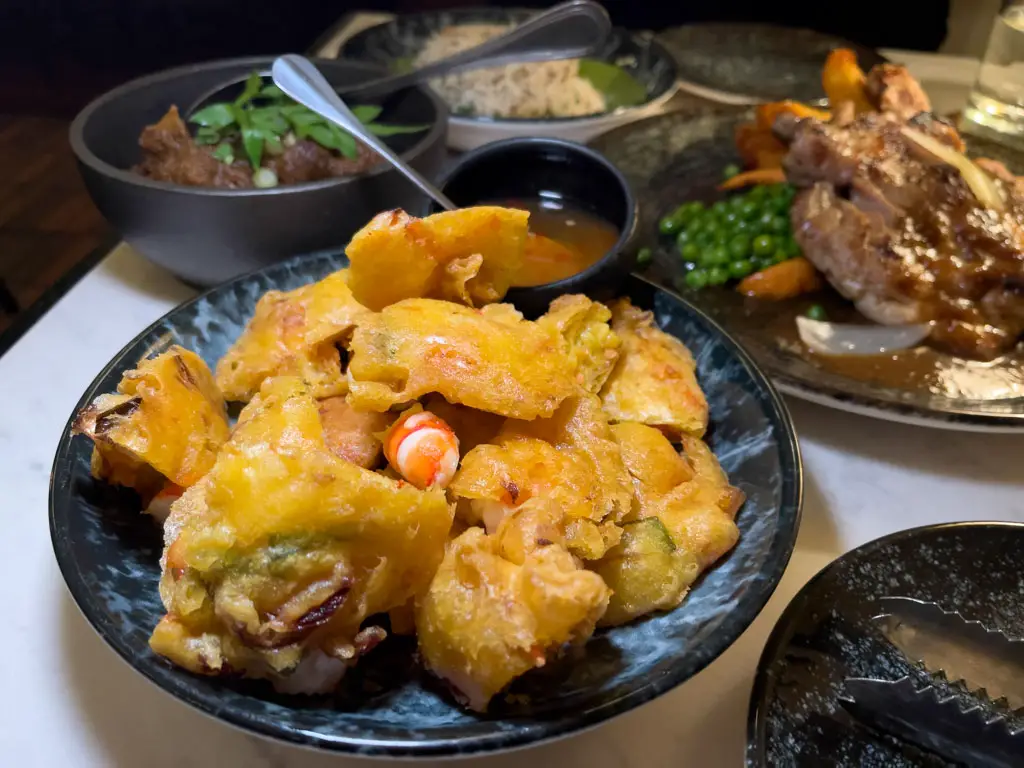 We tried the cucur udang (fried shrimp cake), beef randang, Hainanese chicken chop, and rice. Everything was delicious, and the total was just a little over 160 rm for two. They also have set lunches during weekday which are great value for moeny.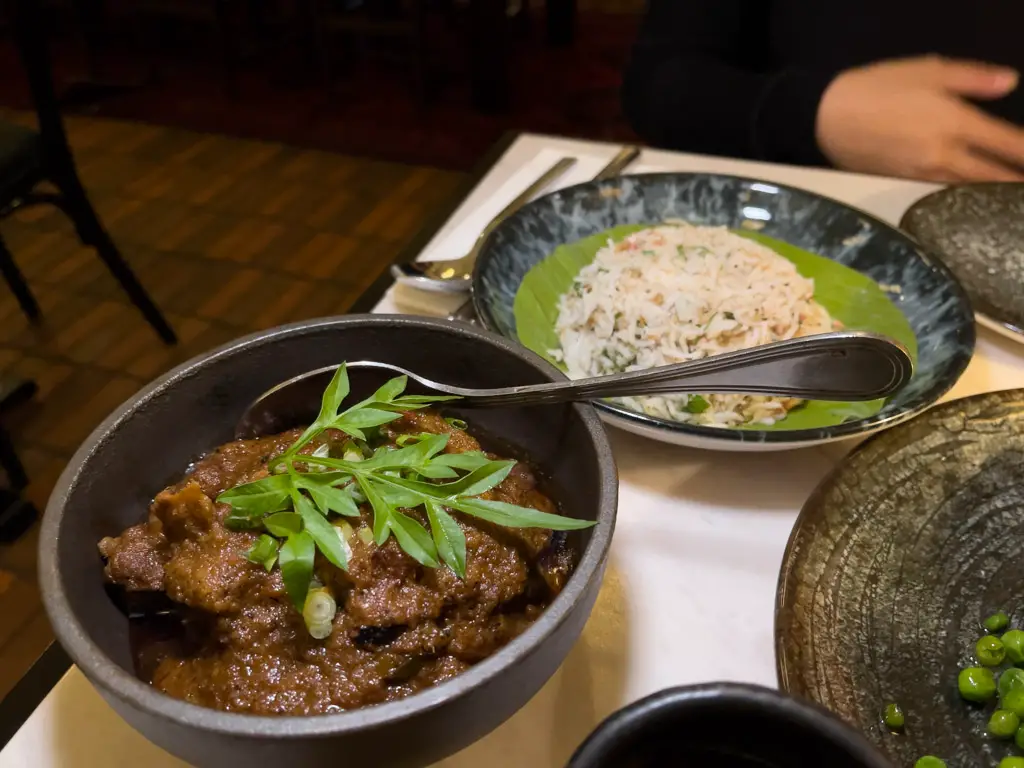 Address: 1012, Jln Sultan Ismail, Chow Kit, 50100 Kuala Lumpur, Wilayah Persekutuan Kuala Lumpur, Malaysia
Opening times: 7:00 – 23:00
Ho Kow Hainam Kopitiam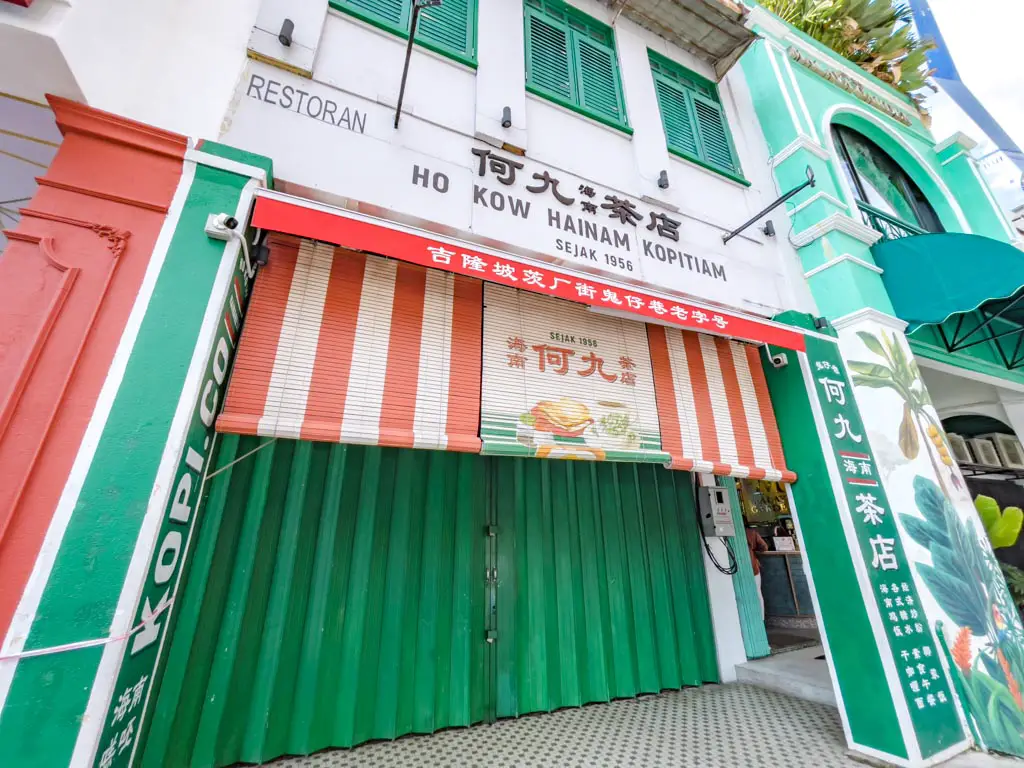 Kopitiam is the way of life in Malaysia and nearby region, which really means morning coffee and tea shop. Ho Kow Hainam Kopitiam is one of the most popular and oldest kopitiam near Petaling Street. They are quite popular and around the corner from Kwai Jai Hong, so be prepared for a queue. I got there at 9am one morning and queued for about 15-20 minutes.
They have a more modern decor that still reflects the kopitiam style and a menu full of the usual favourites. I opted for kayan toast with butter and the quintessential half boiled eggs, along with a cold milk tea. They also have Hainanese tea, which is part coffee part tea.
Their coffee is highly recommended by my local friends, although because I don't drink coffee, I can't be the judge of that!
Address: 1, Jalan Balai Polis, City Centre, 50000 Kuala Lumpur, Wilayah Persekutuan Kuala Lumpur, Malaysia
Opening times: Tues – Sun 7:30 – 14:30
Malaya Garden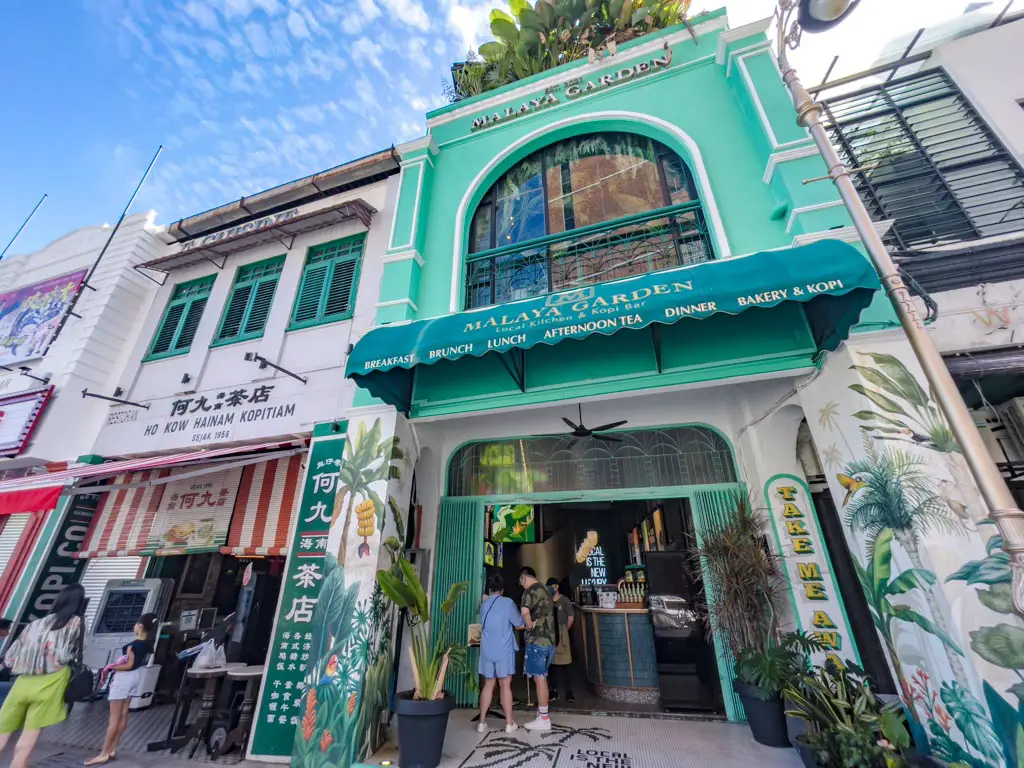 Malaya Garden is housed in a renovated shop house not too far from Petaling Street. It also serves Malay food with a modern twist with some western menu items.
They have three floors with the top being an indoor rooftop with the same peacock green walls and hanging greeneries. I tried their smoked duck macaroni which was really nice.
Address: 1A, Jalan Balai Polis, City Centre, 50000 Kuala Lumpur, Wilayah Persekutuan Kuala Lumpur, Malaysia
Opening times: 9:00 – 22:00
The Choochau foodstore is a modern fusion restaurant and bar that opens for dinner and late night only. It's perfect to catch up with friends or even as a social date spot in the airy courtyard.
I did have to google some of the menu items as the ingredients or cooking method are foreign to me. We had the banana blossom picked and fried as tempura, which was pretty good (though I preferred the version I had in Khao Sok, Thailand in a cooking class farm stay).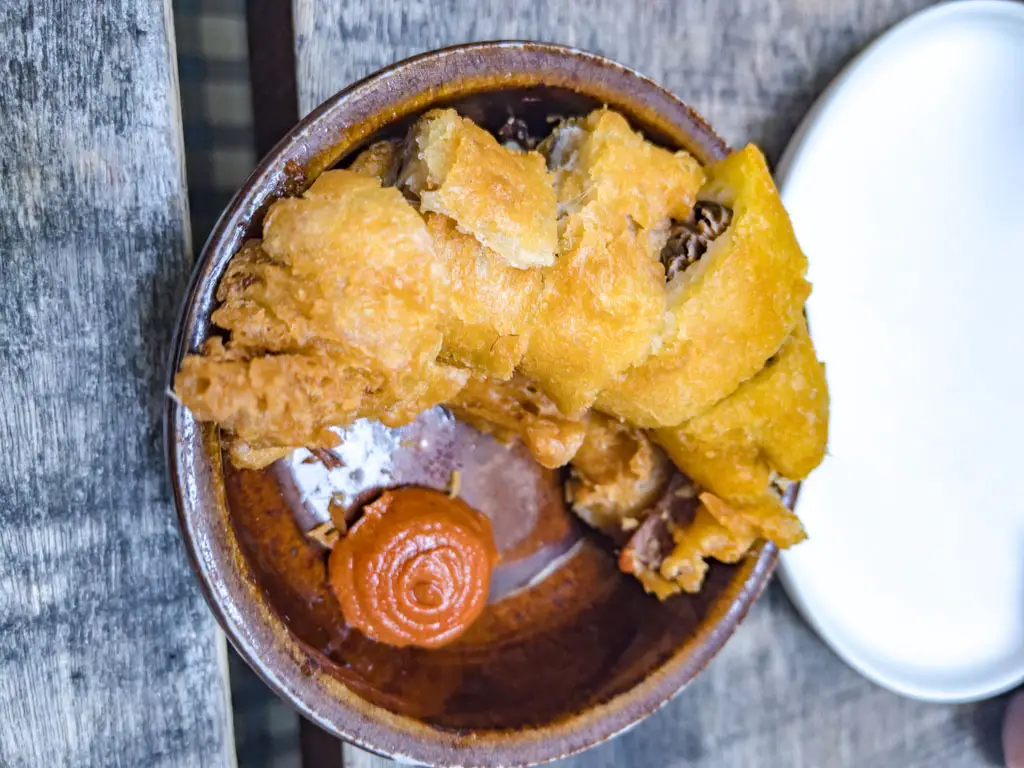 Then I had the Nasi Ulam Udang Salai – which is a Malay mixed rice with smoked dry shrimps.
The portions were reasonably sized but I do think it's slightly pricy for the quality in KL, but it has a hip vibe with original elements of the old ship house and courtyard kept the same way. 
Address: 156, Jalan Petaling, City Centre, 50000 Kuala Lumpur, Wilayah Persekutuan Kuala Lumpur, Malaysia
Opening times: Tue – Thurs 17:00 – 0:00, Fri – Sun 12:00 – 15:00, 17:00 – 0:00
Hungry Tapir
Hungry Tapir is another modern fusion restaurant with Malaysian food but it's all vegan. It's just across the street from ChoCha Foodstore but I didn't have time to try it. It's a good choice for anyone who wants a plant-based option and also keto-friendly and gluten free options. You can see their menu here.
Tapestry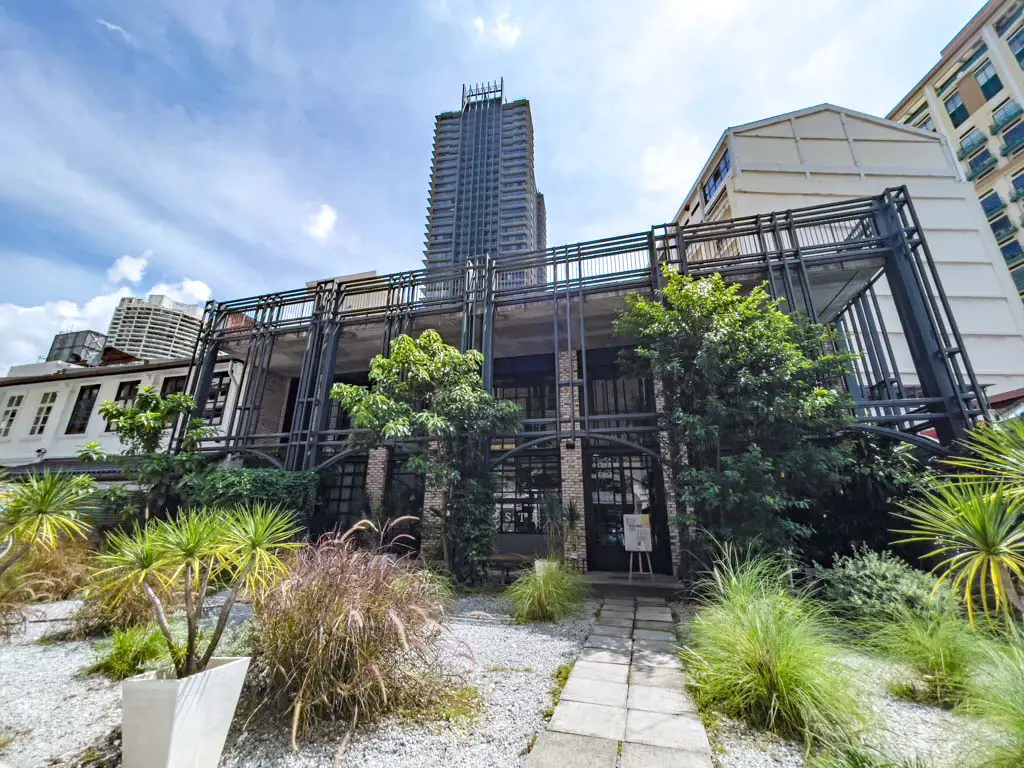 A popular cute cafe in Chow Kit, Tapestry is the warehouse cafe Tapestry. It has an airy interior with exposed bricks and plants, with enough space between tables. They are more of a brunch place with a western menu, so we tried the eggs benedict and smoothie bowls and both are good.
Just note that they closes at 4:30pm and only reopens for the night between Wednesday to Sunday.
Address: 28, Jalan Kamunting, Chow Kit, 50300 Kuala Lumpur, Wilayah Persekutuan Kuala Lumpur, Malaysia
Opening times: mon – Tues 8:30 – 16:30, Weds – Sun 8:30 – 16:30, 18:30 – 22:30
Itinerary for Kuala Lumpur
Now that you know where to go in KL, it's time to put goethe an itinerary for Kuala Lumpur! I do think that you can get the highlight done in 2 days if you want, but for a more relaxed and enjoyable trip, I'd say 3-4 days is better. More if you plan on doing day trips.
2-days in Kuala lumpur
For two days in KL, I'd do only the highlights, which is the Twin Towers, Batu Cave, and Petaling Street area.
Day 1 in KL
arrive and check in to your hotel, go to Petaling Street for street food and see Kwai Chai Hong and eat at one of my recommended restaurants for lunch
If time allows, go to the KL Eco Forest Park and KL Tower or take a Grab to Thae Hau Temple
Dinner at Chow Kit Restaurant and then head to the Twins Tower for a nightview
Go to a Mamak's for a late night snack if you're hungry
Day 2 in KL
Early morning visit to Batu Cave to avoid the crowd
Go to KLCG for lunch or an early morning snack and look around the Independence Square, River of Life, and Sultan Adbul Samad Building.
Depending on time, take the lightrail to Mid-Valley Mall or head to the airport directly.
Kuala Lumpur Itinerary for 3 days
Day 1 in KL
Arrive and check in to your hotel, go to Petaling Street for street food and see Kwai Chai Hong and eat at one of my recommended restaurants for lunch
Take a Grab to Thae Hau Temple before going back to your hotel for a break (or a mall – I recommend Bangsar Village if you want somewhere close to the temple)
Dinner at Chow Kit Restaurant and then head to the Twins Tower for a nightview
Go to a Mamak's for a late night snack if you're hungry
Day 2 in KL
Early morning visit to Batu Cave to avoid the crowd
Go to KLCG for lunch or an early morning snack and look around the Independence Square, River of Life, and Sultan Adbul Samad Building.
Take the lightrail to Mid-Valley Mall to avoid the hottest part of the day
Go to KL Tower for the observation tower view sunset or hang out at the Suria Mall for sunset view of the Twin Towers, then watch the Lake Light Show.
Day 3 in KL
Morning walk at KL Eco Forest Park or the Botanical Garden
Leave or head to Butik Bintang for some pre departure shopping.
Where to stay in Kuala Lumpur
Wondering which area to stay in KL? You're not alone! I wasn't sure where to stay because the city is massive with many different districts and attractions that are spread out. There are good places to stay dotted all around depending on your preferred transport method.Here are some of my favourite:
Editor's Choice: Chow Kit Hotel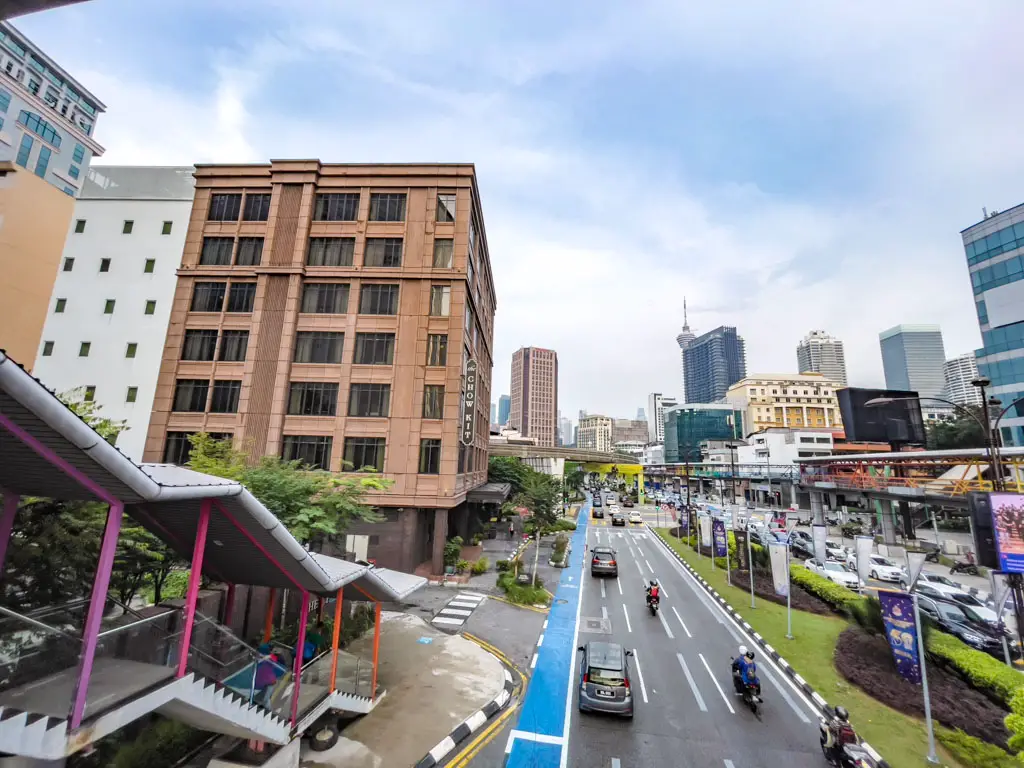 The Chow Kit Hotel is a boutique hotel by the Oromond Group at the southern edge of the district of the same name. It's located near the Stesen Monorel Medan Tuanku monorail station on the green line, safely and beautifully connected by a rainbow coloured bridge.
Every aspect of the hotel was well designed. I especially loved the view of the KL Tower and the rail. The room I was in was on the small side, but the bed was very comfortable, the window was huge, and the shower had great water pressure.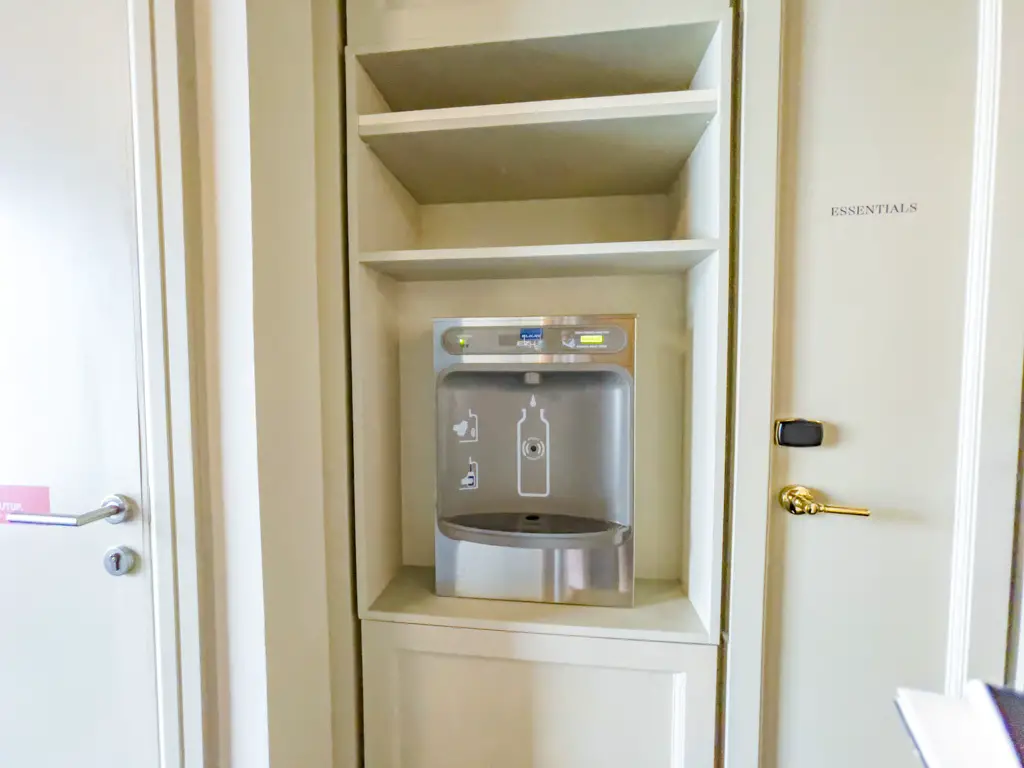 The hotel is also by a main road and easy for Grab to stop by.
Day Trips from KL
There are plenty of day trips option from KL, even Batu Cave can be a day trip of its own if you decide to combine it with other activities. I've a brief list of ideas for you from close to far in case you have time to spare in the capital and want to do some day trips from Kuala Lumpur:
Batu Cave Day Trip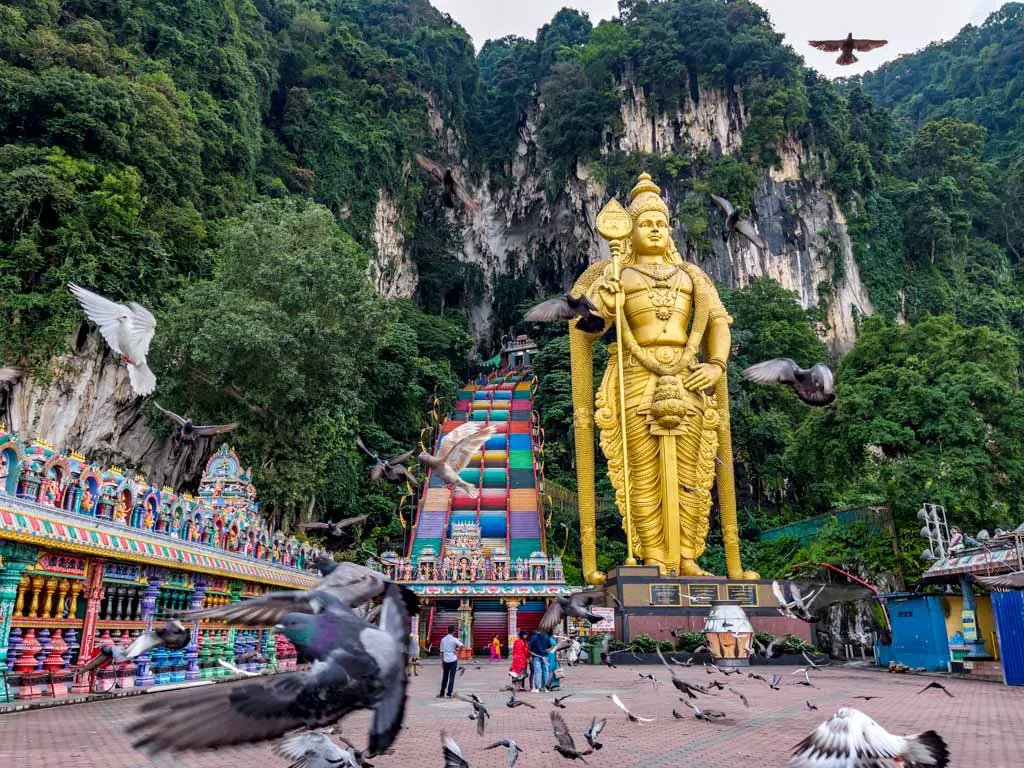 You can easily turn Batu Cave into a day trip, especially if you're an adventurous person. The Dark Cave tour can take several hours, so if you stick around and look at the cave as well, that'd be a whole day.
There are also rock climbing tours that include a visit to Batu Cave, as limestone aka karst mountains are perfect for rock climbing.
If you want more culture instead, there is a Kuala Lumpur suburbs and Batu caves tour that take you to some Malay villages.
Genting Highlands
The Genting Highlands is to Kuala Lumpur much like what Ba Na Hill is to Danang – a resort (and actually casino) high in the mountains with a theme park and cable car.
Note: I won't recommend a trip, especially self-drive, if the weather forecast is rainy for an extended period as the road can get dangerous
There is a tour that combines Batu Caves with Genting Highlands, or you can opt 
Malacca
Malacca is about a 2 hours journey south of KL and known for its mix of Portugese, Dutch, British colonial influence mixed with local culture. You can take a heritage focus day trip to Malacca from Kuala Lumpur, which would take you to all the highlights with a typical Malaccan lunch.
Cameron Highlands
I would recommend you to take a 2D1N trip to Cameron Highlands, as the drive is just over 3 hours without traffic, and there is always traffic in Kuala Lumpur. It's famous for the tea estates and the cool plateau weather.Self-driving to the highland can be dangerous, so if you want to do a day trip there, I highly recommend you join a tour.