Things to do in Kota Kinabalu, Sabah, Malaysia
Kota Kinabalu is the capital of the state of Sabah, Malaysia. There are plenty of things to do in Kota Kinabalu, from its famed mountains to its sandy beaches. It's a great base or starting point for those who wants to adventure around Borneo. While it doesn't have many heritage sites compared to many other Malaysian cities such as Penang and Malacca, it makes up for it in variety. For me, the focus of my trip was to hike Mount Kinabalu, but there are many things to do in and around Kota Kinabalu beyond that

Note: part of my trips were sponsored by the Sabah Tourism Board but all opinions are my own
History of Kota Kinabalu
The city of Kota Kinabalu was the headquarters for the British North Borneo company who arrived on the island of Borneo in the late 19th century. It was called Api Api then Jesselton and most of the original town was destroyed during WWII and the Japanese Occupation. Most of the reconstruction was funded by the British when it became a colony after the war, hence the oldest buildings are only built around 50s. About 90% of the land in the city reclaimed, with the coastline close to the street by signal hill.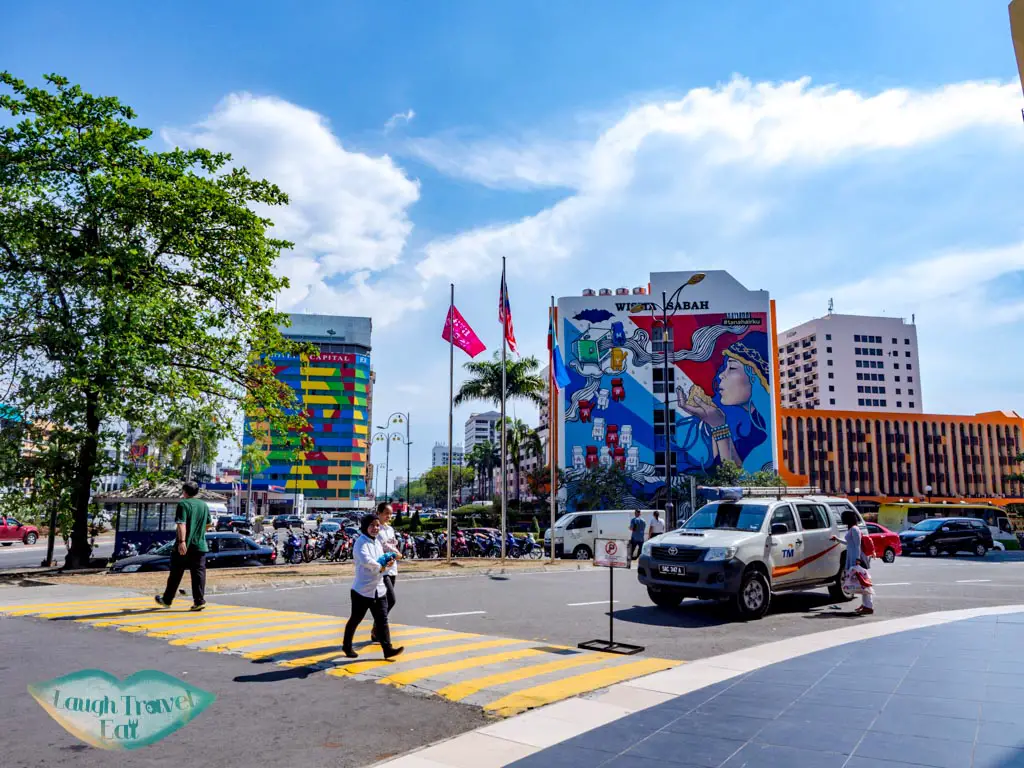 It was renamed Kota Kinabalu in 1960s when the state was returned to Malaysia and renamed from North Borneo to Sabah itself. The only mode of public transport is buses, so almost every family has more than one car and up to even four.

Getting around Kota Kinabalu
As tourists, the best and likely most convenient and only way to get around is by Grab. A ride from the airport cost as little as 8 RM depending on where you are staying (likely 12 RM if you are staying in the city center), and around 5 RM around town.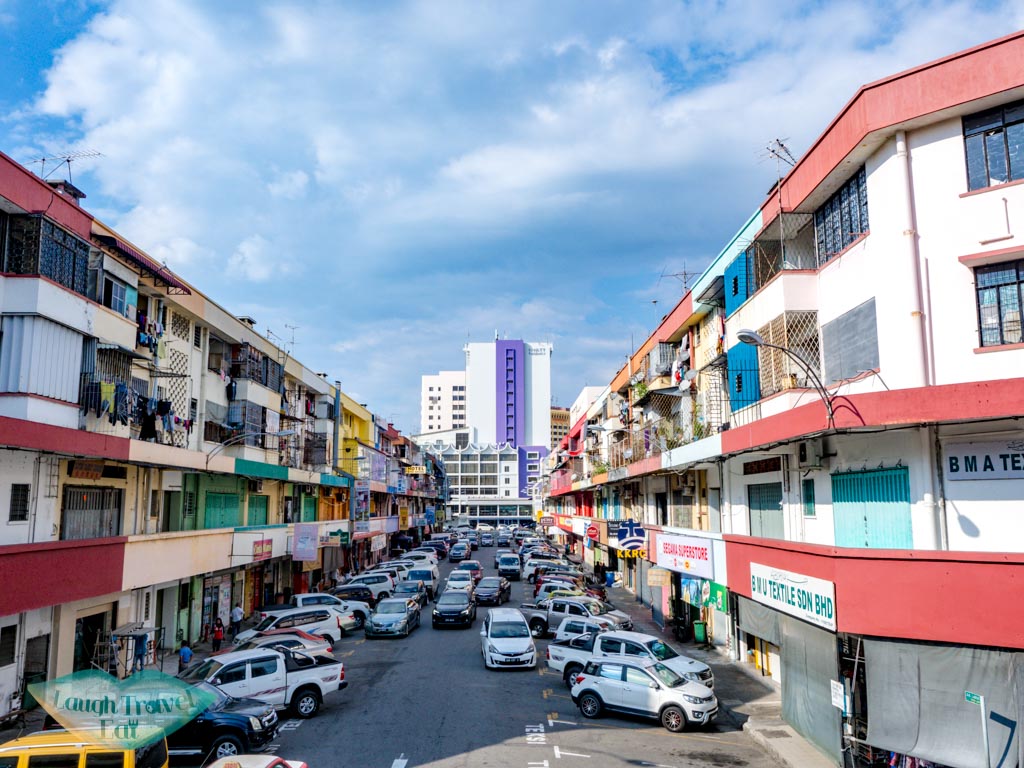 When you are in town, most of the things to do in Kota Kinabalu is walkable. There are public buses to get to and from other major cities in Sabah but I haven't have any personal experience with those. If you are looking to visit further, it's best to join a day tour or even rent a car since buses can add up to an hour of transfer or waiting time.

Things to do in Kota Kinabalu: Attractions
Jesselton Point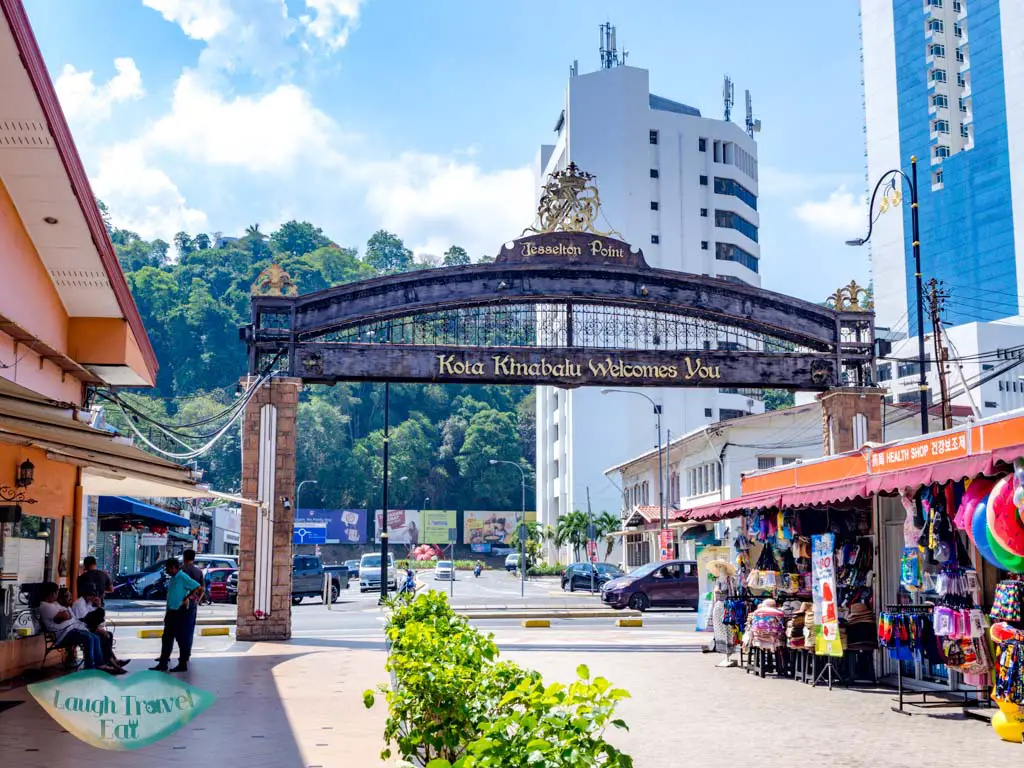 The historical pier of Kota Kinabalu, the Jesselton Point is on the northern edge of town center with a distinctive archway above the entrance. It is the gateway to the beautiful islands of the Tunku Abdul Rahman National Park (see how to visit the islands here) with many shops and restaurants by the waterfront. For sea lovers, it's one of the best things to do in Kota Kinabalu. The pier area isn't big, so if you are only going there for a look it can be done in 15 minutes or so.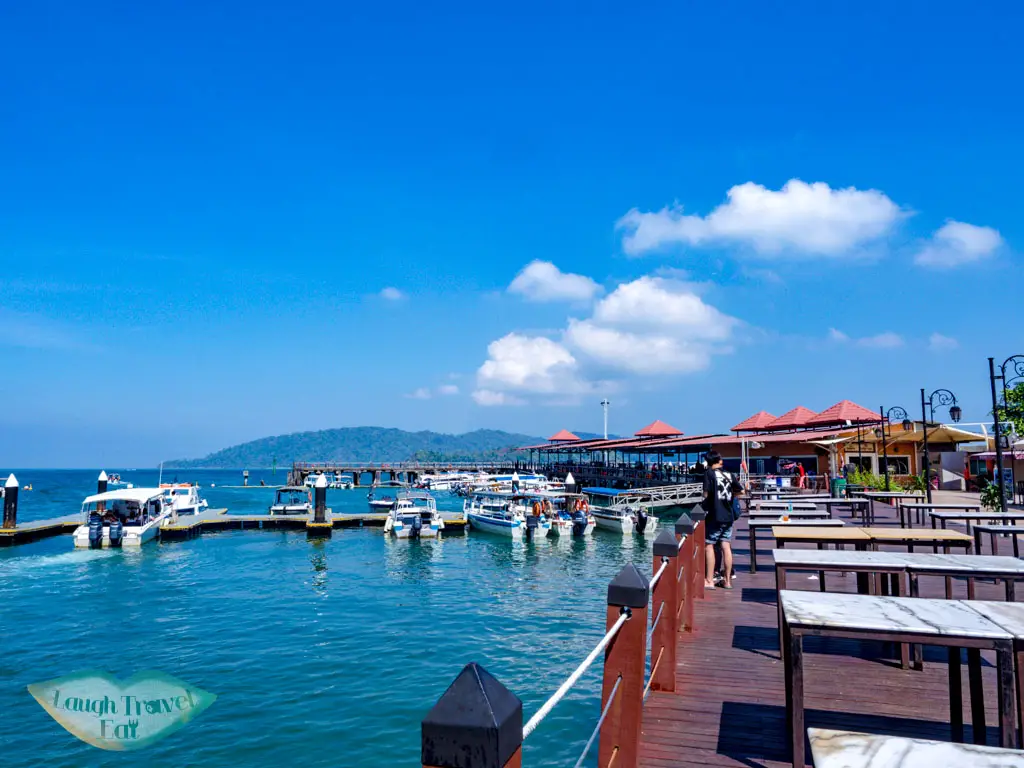 From above or one of the piers, you can see the word Jesselton Point written on it as well. A good vantage point would be the rooftop bar at Mercure Hotel.

Gaya Street Sunday Market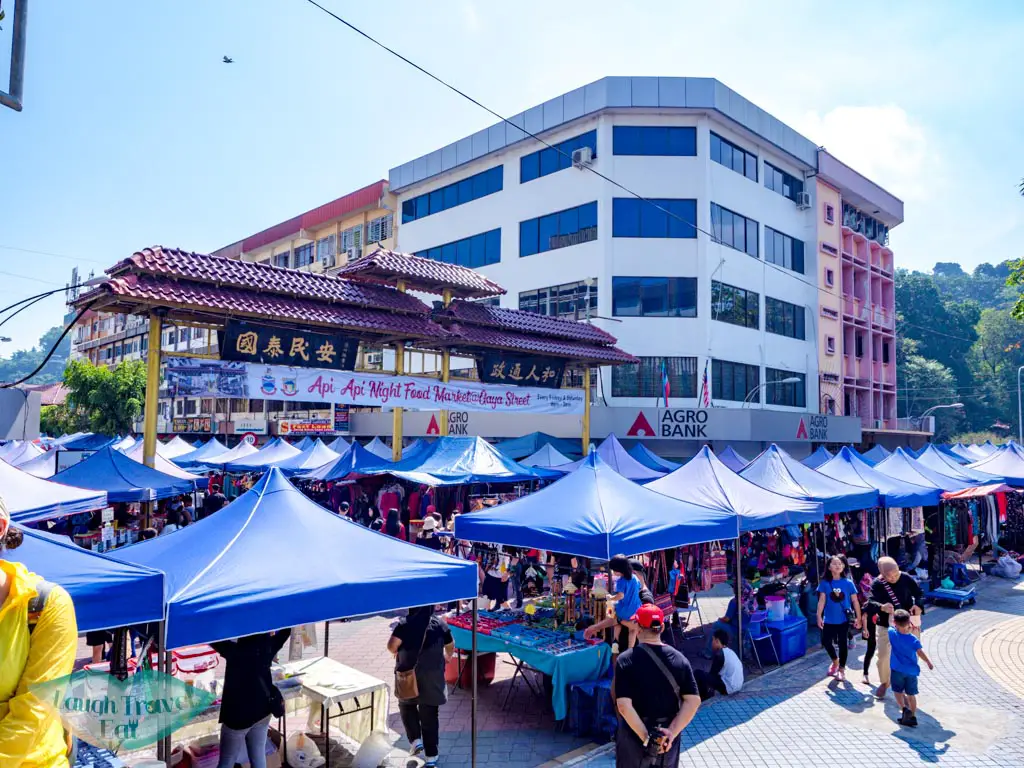 The biggest event of the week, the Gaya Street Sunday Market is both an affair attended by locals and tourists. Vendors start setting up around 4am and even some sleeps there overnight to open for business bright and early. They sell everything and anything from homeware, antiques, souvenirs to pets.
Food is, of course, present in all shapes and form in the market. If you are looking for a drink to cool down, there are plenty to choose from but in particular there's pineapple smoothie done straight in the fruit itself (10 RM), as well as a seaweed drink (3.5).
If you are tired, there is a corner where the Sabah Society for the Blind offers affordable massage. Even the locals come since a 15 minutes shoulder massage costs 25 RM. One hour massage for foot, shoulder, or foot and shoulder is 45 RM – but there is a bit of a queue and it is right on the street.

Souvenir-wise, you can find jackfruit and durian related products easily and there are also locally grown coffee. I spotted sarong now and there for 10 RM, but they are a circle rather than one long piece of cloth.
Between Jalan Gaya and Jalan Pantai there is a little local market (one of the entrance is by a BBQ Roast Restaurant). This one mostly sells fruits and vegetables in addition to frogs and beehives!
The market finishes around 1pm so make sure you get there early to make the most of it!
Pillars of Sabah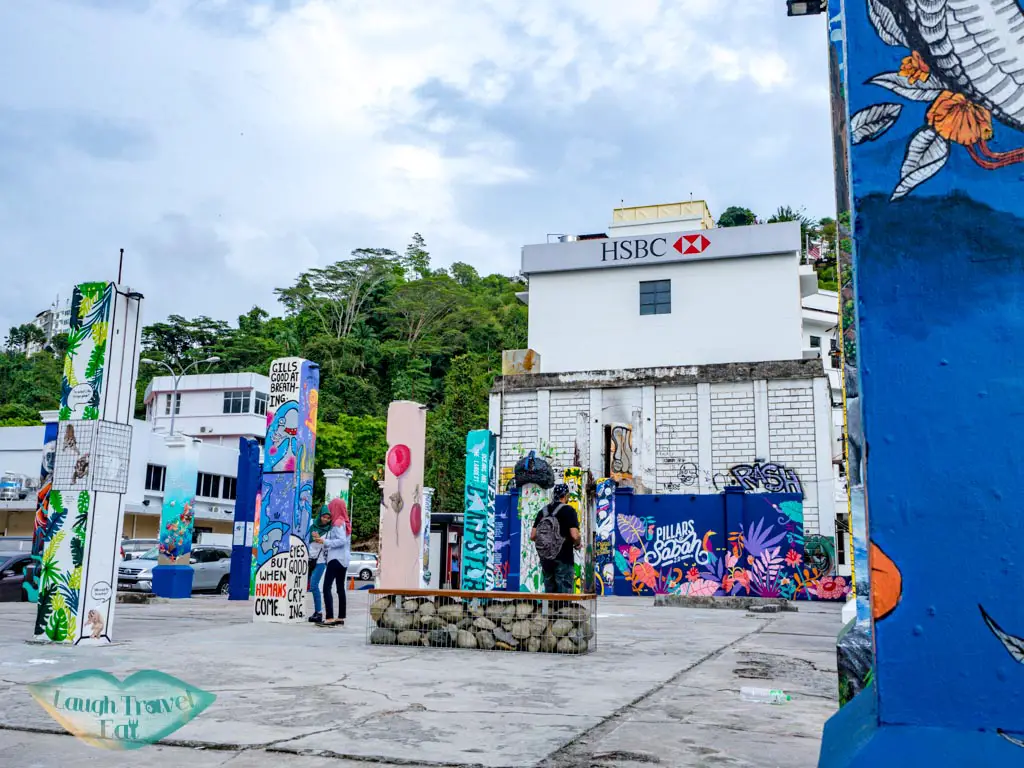 An art project in conjunction with the WWF, the Pillars of Sabah are about 5 minutes' walk from Jesselton by Jalan Haji Saman (in front of a HSBC bank). Each pillar represent an endangered specie found in Sabah and designed by a local artists – there are 30 of them in total. It's a great educational stop and also pretty good for photos.

Atkinson Clock Tower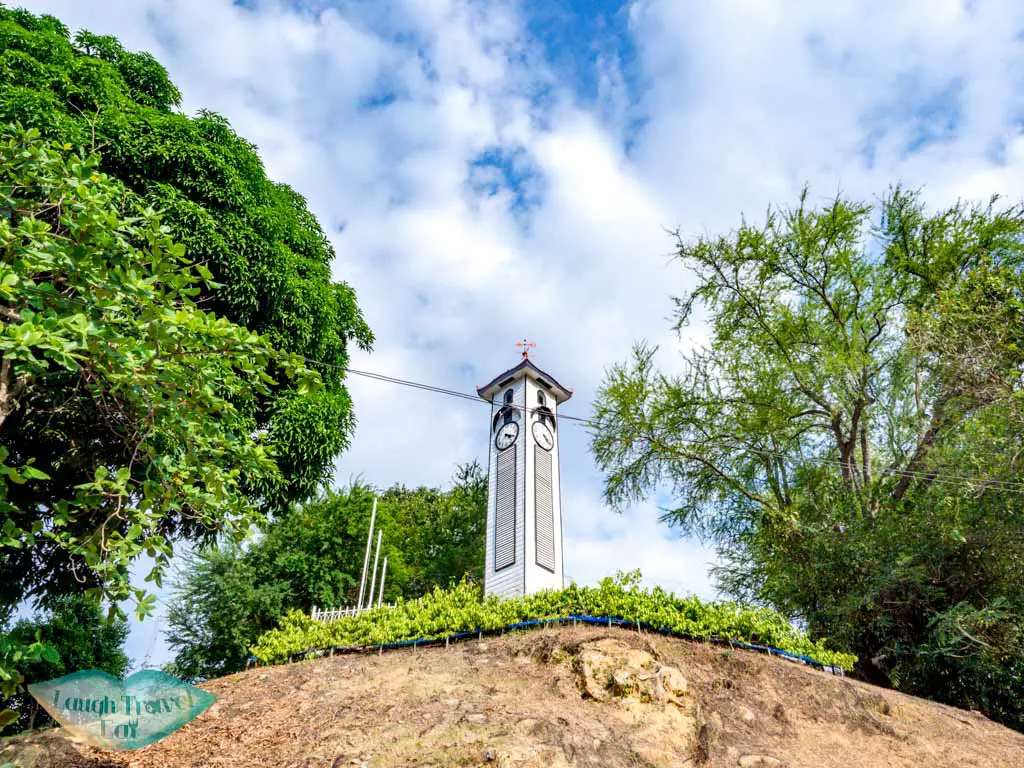 One of the oldest surviving buildings from the Jesselton era, the Atkinson Clock Tower is just about 15m tall standing on a small hill by Jalan Istana. The wooden clock tower was built to commemorate the death of British district officer Francis Atkinson by Malaria, erected in 1905. It's quite difficult to get a good look of the clock tower unless you are directly across or under it – and you can't visit the tower itself as the section is gated.

Signal Hill Observatory Tower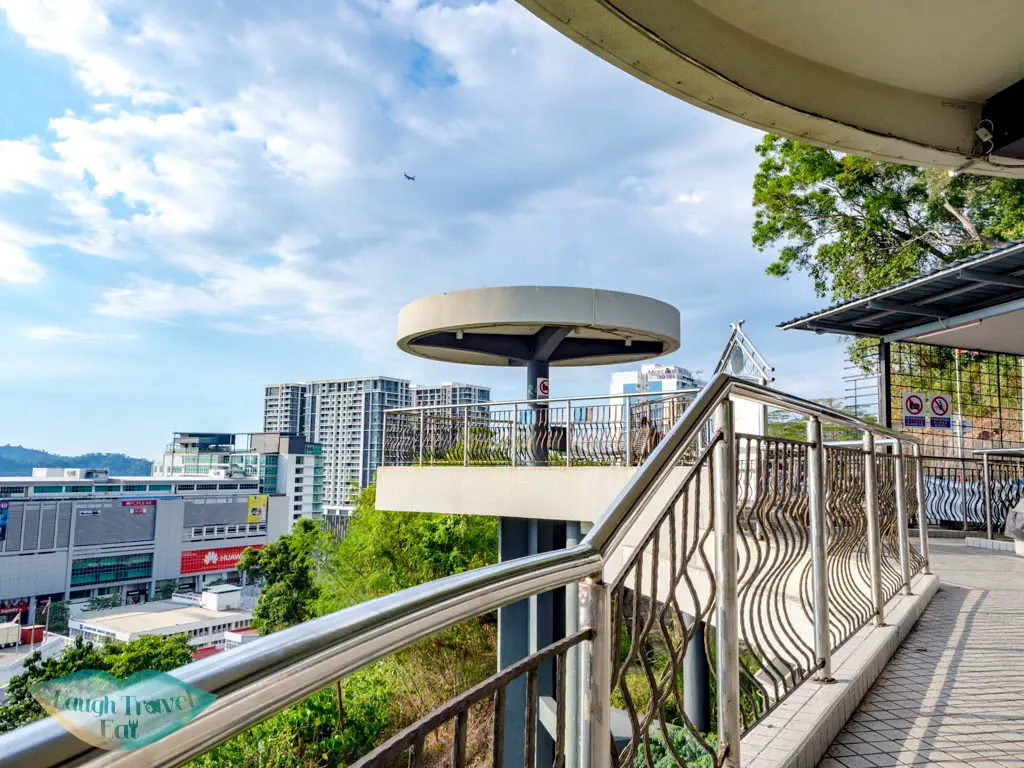 A free observatory tower accessible by a flight of red stairs, you might be a little disappointed if you are hoping for a sweeping panorama of the ocean, since most buildings are as tall, if not taller, than the observatory tower itself.

However, it does offer a pretty good city view with the added bonus of airplanes flying across the skyline now and then. A restaurant is attached to the observatory tower with seating spilling out to the deck.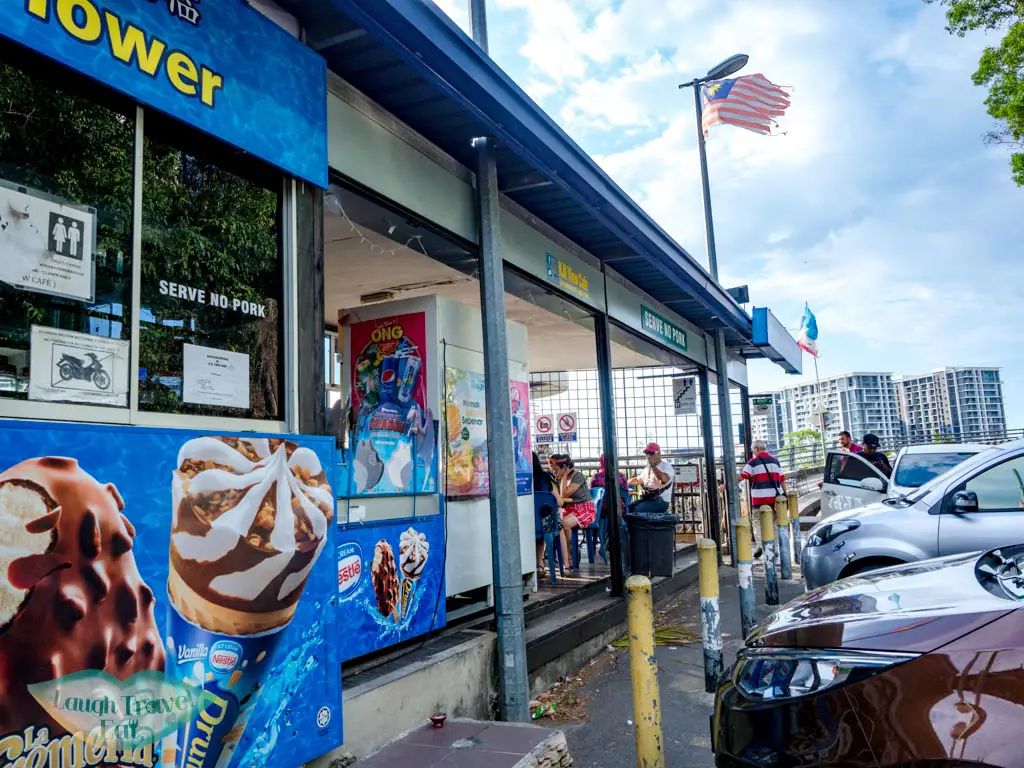 The stairs leading up to the observatory tower is across the Camara Gelato.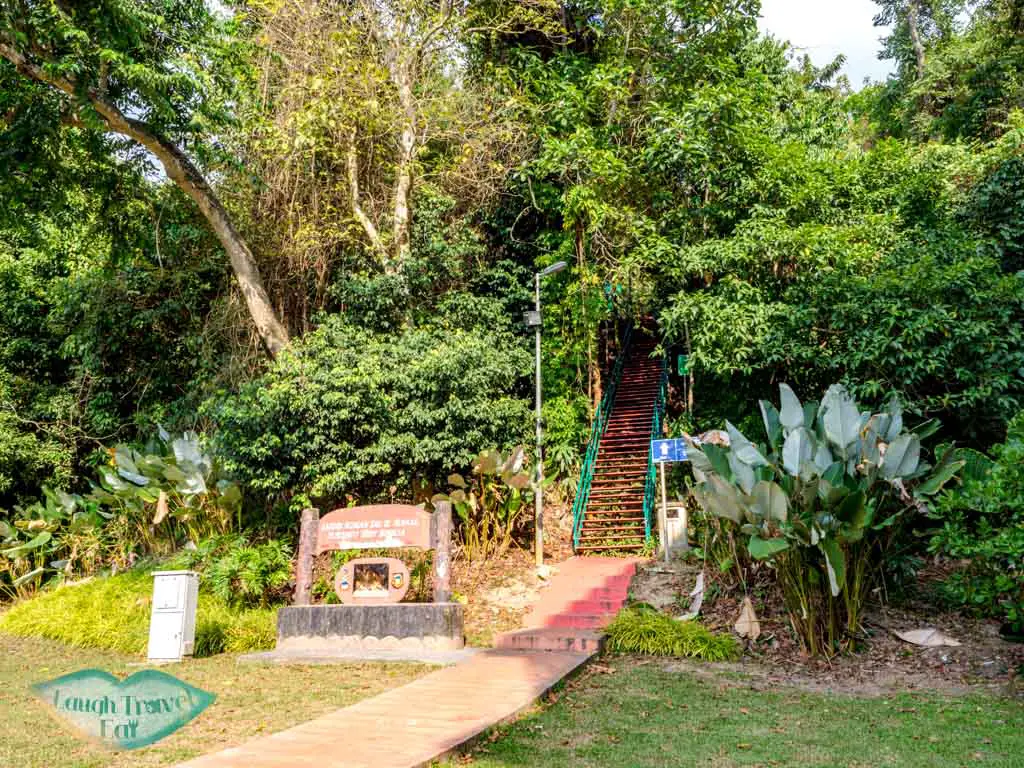 The stairs are steep and takes you up and through the forest for about 15-20 minutes.

Multicolour bridge by Handicraft market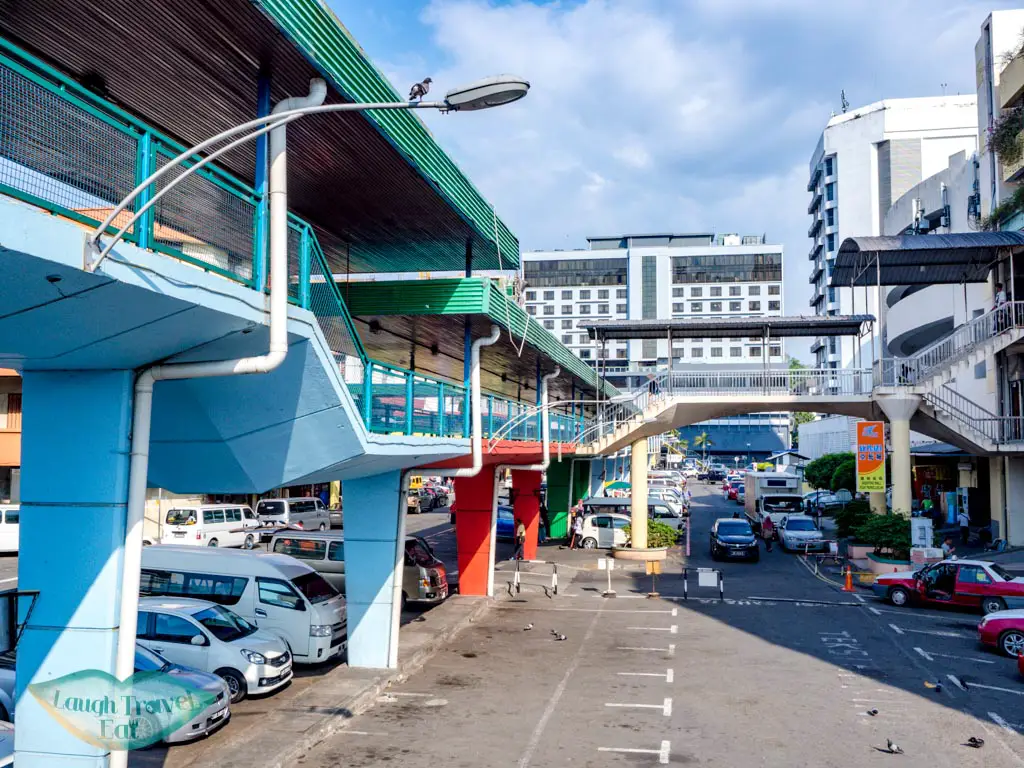 Although not really an attraction on its own, I really liked this multicolour bridge along the Handicraft Market. Spoiler alert: the handicraft market actually doesn't sell handicraft but durians as well as various street food and drinks.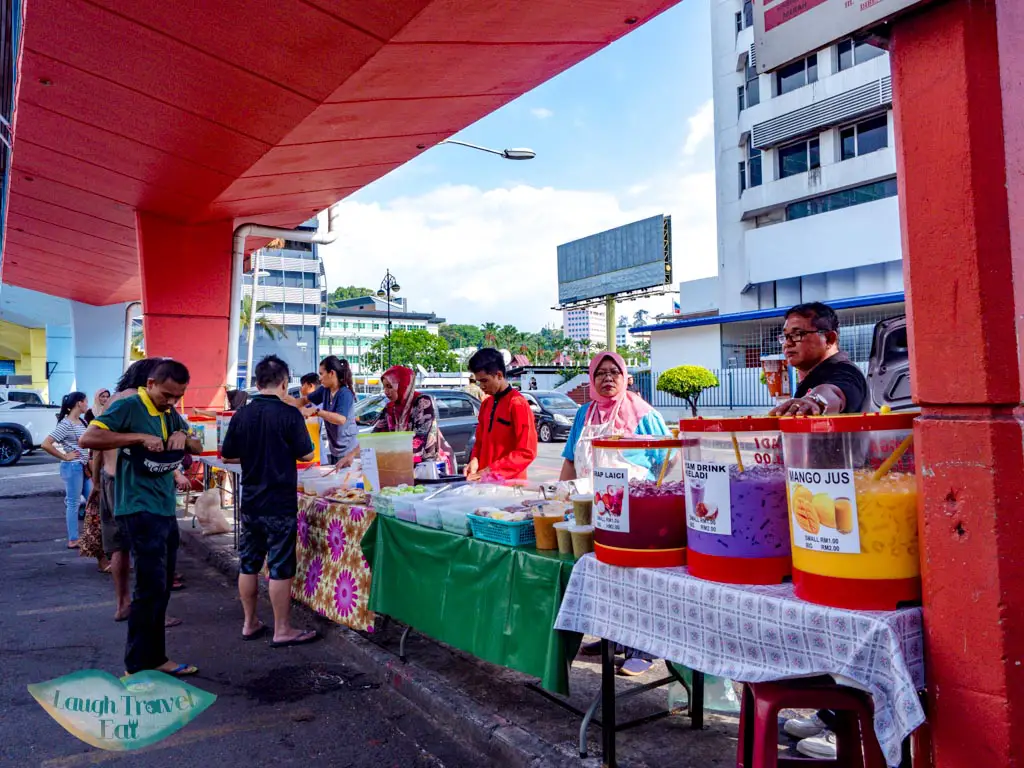 The stalls mostly open in the afternoon and evening, so there wasn't much when we were there. However, it offers an interesting view of Kota Kinabalu that's more old school.

Masjid Bandaraya Kota Kinabalu
Better known as the floating mosque of Kota Kinabalu, the Masjid Bandaraya Kota Kinabalu is the biggest mosque close to the city center. Since its rise to popularity to photographer, you now have to pay 5 RM to enter the rope fence around the fenced area of the mosque itself to take photos.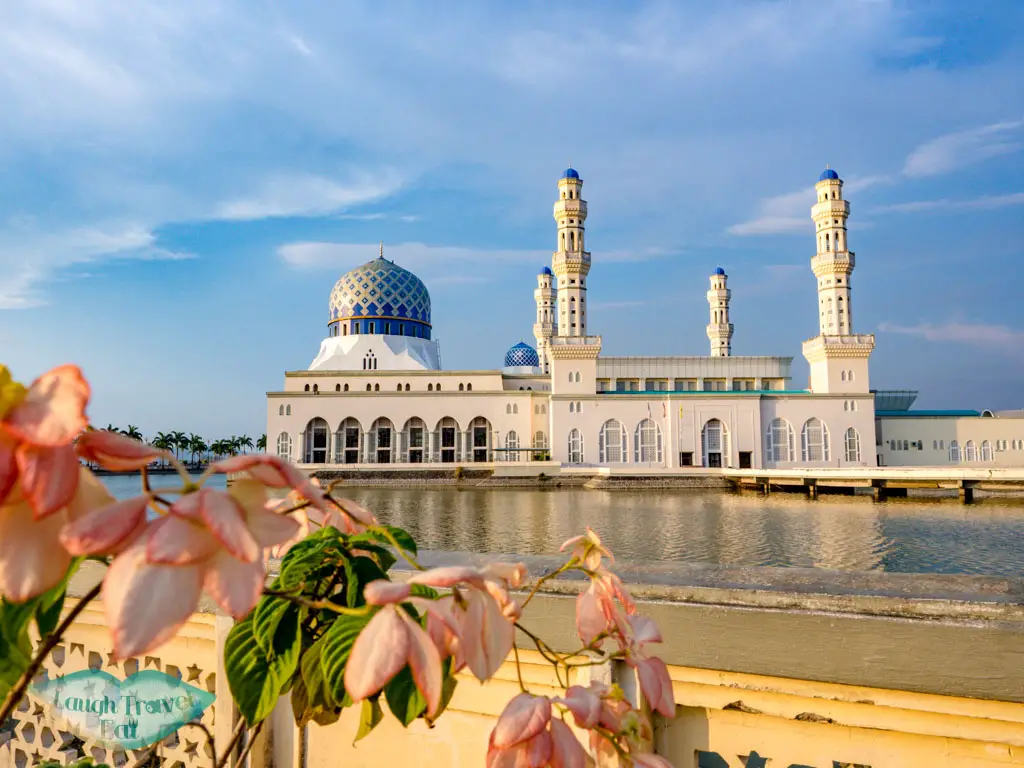 The mosque was only opened in 2000 and can hold up to 12,000 people. You can visit the inside of the mosque when it's not prayer time but only if you are wearing modest clothings. It's easy to Grab to and from the mosque and the journey it's only 5-10 minutes.
Admission fee: 5 RM for photos around the area, 5 RM for cover up rental to enter the mosque
Kota Kinabalu Waterfront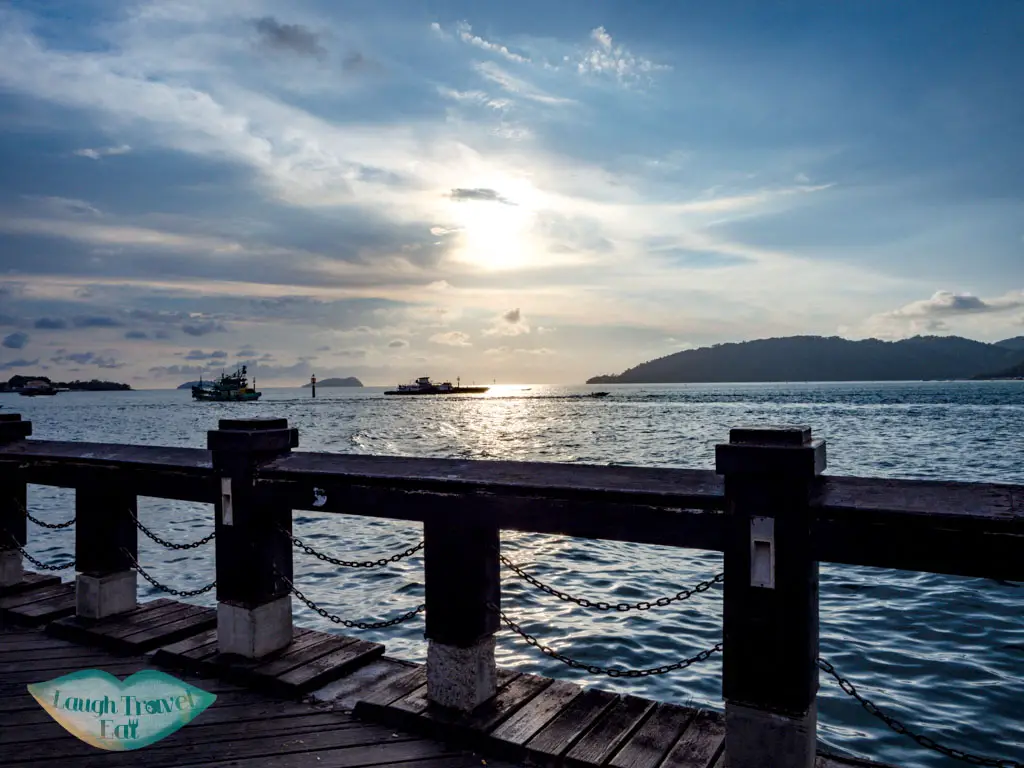 Want to watch a glorious sunset? It's as simple as walking to the waterfront. The whole stretch of area from near Jesselton Point to just past the Marlin Statue are all great spots to watch the sky turns pink.
There's also a I love Sabah sign here for those who likes to seek these out!

Mari Mari Cultural Village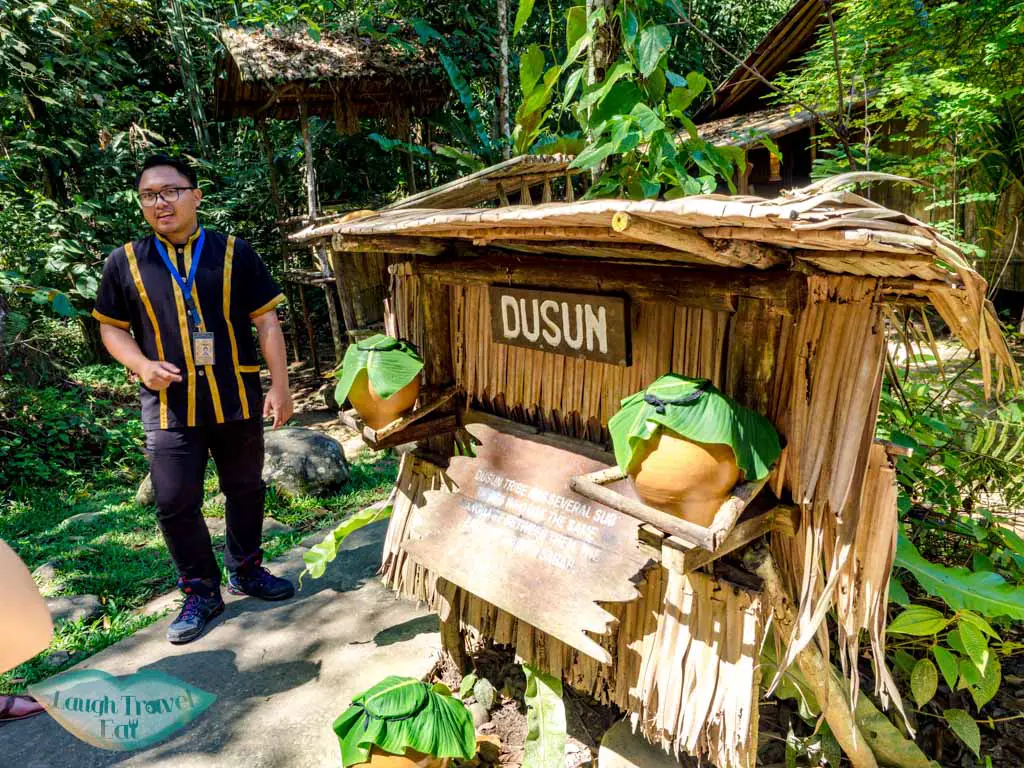 If you are a culture lover, Mari Mari Cultural Village is the best thing to do in Kota Kinabalu. It' a perfect half day trip for those curious about the ethnic groups on Sabah. Although it is built purposefully for tourists, it not only showcases the traditional houses and customs of the five tribes beautifully but also provide detail insight and information.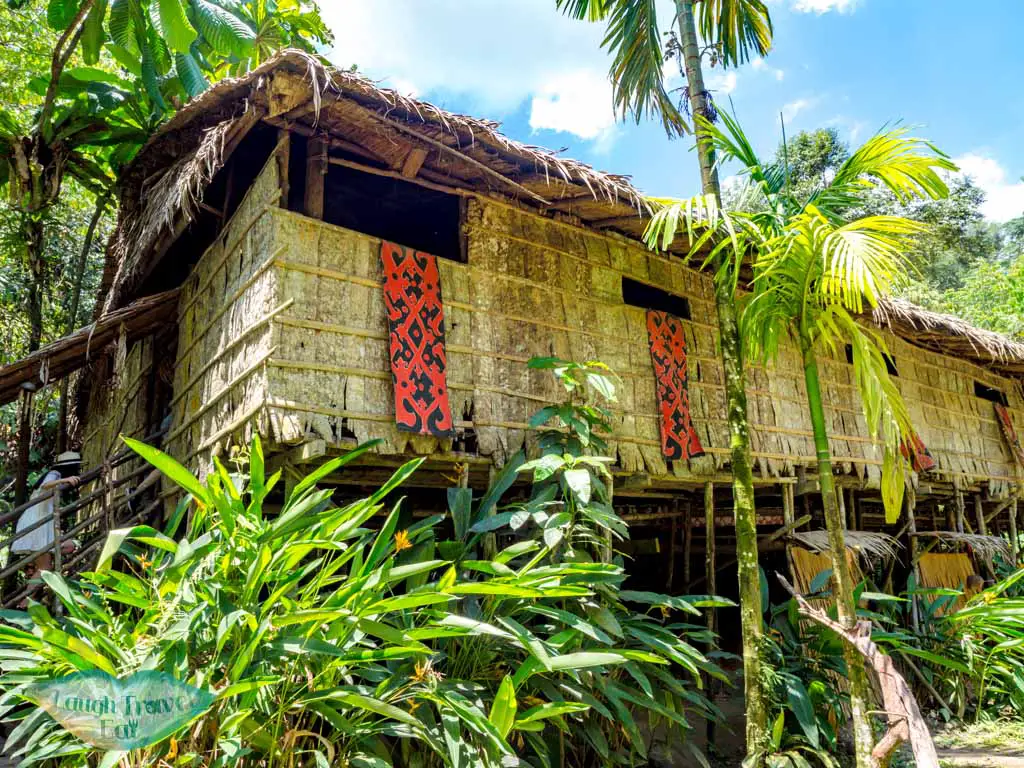 Mari translates to 'come', which embodies the welcoming vibe of the village. We were picked up promptly from our hotel and began the hour long journey to the village. Our guide welcomed us warmly at the entrance and whisked us away to visit and learn about the five different tribes. They are the: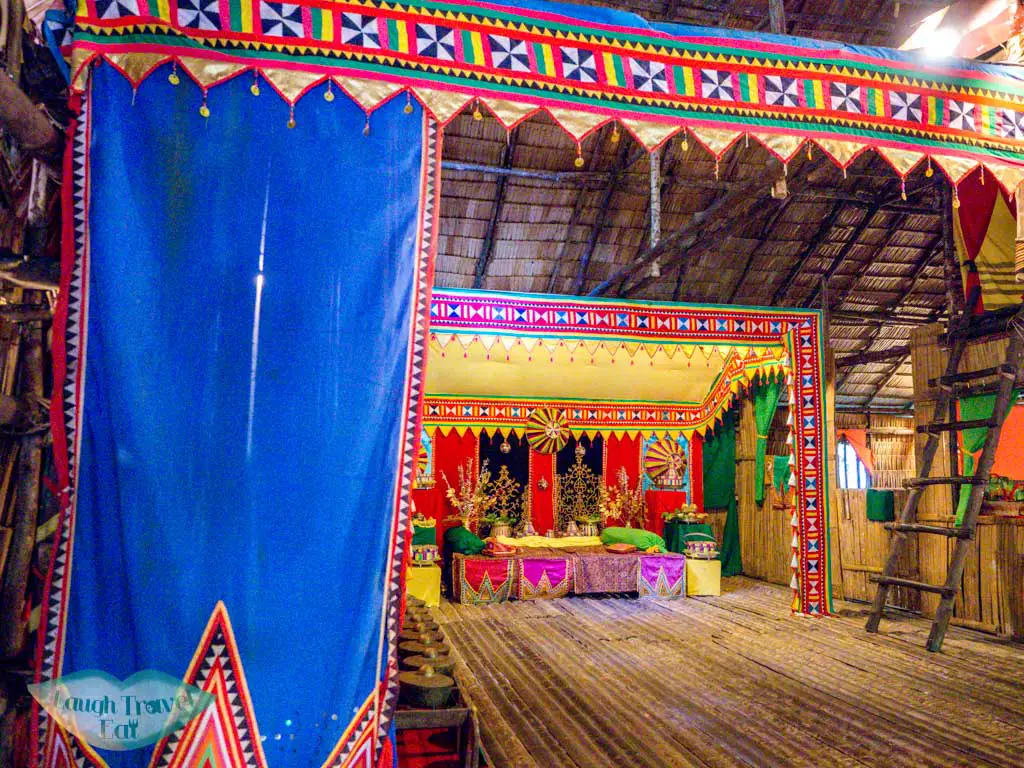 Dusun – farmers and largest population
Rungus – communal living farmers
Lundayeh – river people who also practices headhunting
Bajau – the merchant and horseman tribes
Murut – the infamous headhunter tribe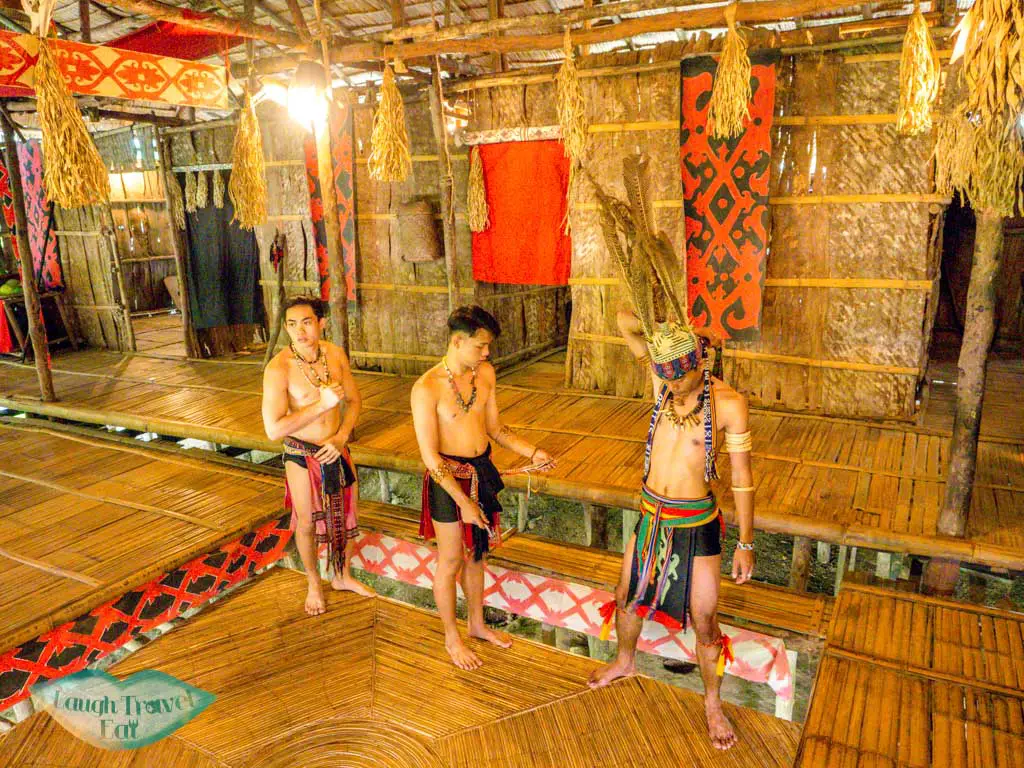 Throughout the tour, we were able to visit reconstruction of the tribe's houses as well as try their signature dishes. That means honey, rice wine, some strange condiment, and various herbal drinks and snacks.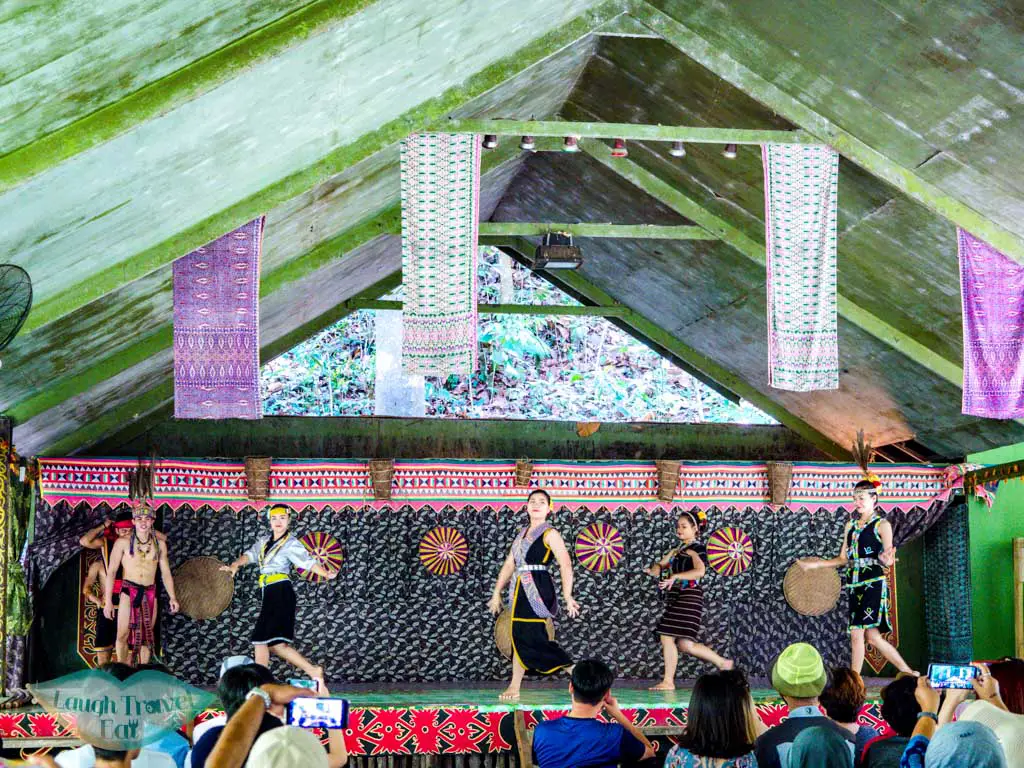 To round it all off, we entered the Murut tribe with a reenactment of the traditional way before we were treated to a dance show. Did i mention that one of the house have a built in trampoline using bendy wood?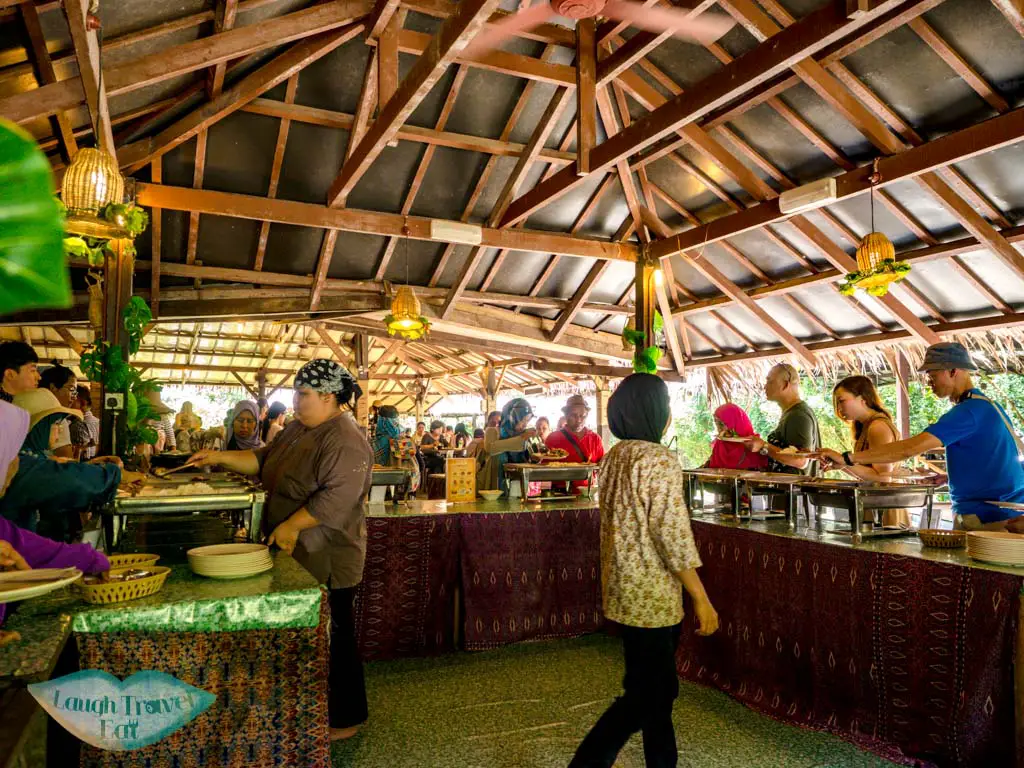 You can join a half day tour to visit the village at 9:00 or 1:00pm pick up. We did the morning tour which included a buffet lunch. They do have a vegetarian option but you must inform your guide on arrival if not beforehand. The food was decent, though with so many groups coming together it was a bit of a hunger games battle!

Opening times: 10:00-21:00, with three sessions per day that picks up in KK at 9:20, 13:20, and 17:00

White water rafting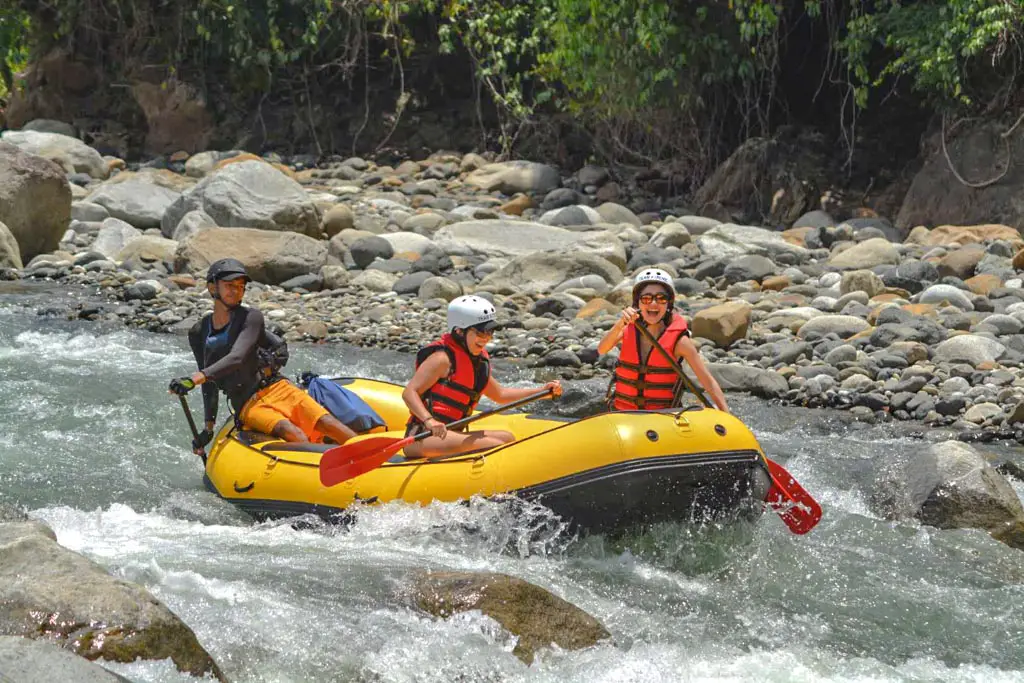 One of the best adventurous things to do in Kota Kinabalu for tourists, white water rafting of different levels can be done from Kota Kinabalu. Xtreme Paddler has been the best tour a girl can ask for with their seamless organisation and professionalism.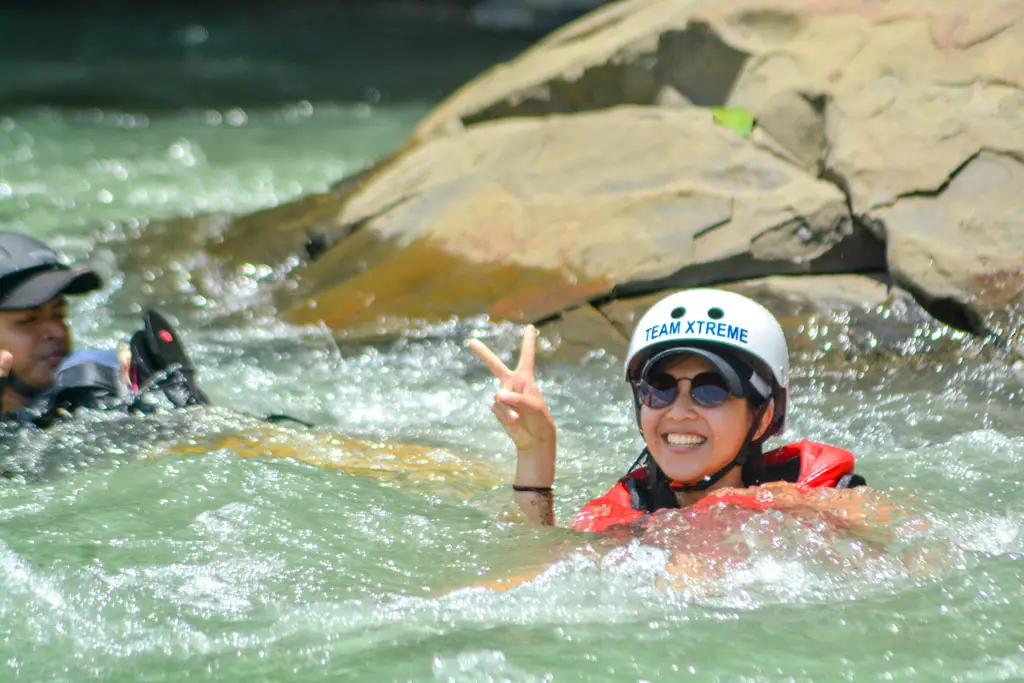 They operate rafting on three different river: the Kiulu, Kadamaian, and the Padan. The first two are grad 1-2 suitable for all ages and levels. In fact, many who participate in white water rafting don't even know how to swim. Padan is a much faster, higher level river suitable for those who wants an adrenaline pumped trip, but we went with Kadamaian as it will be the first time rafting for us both.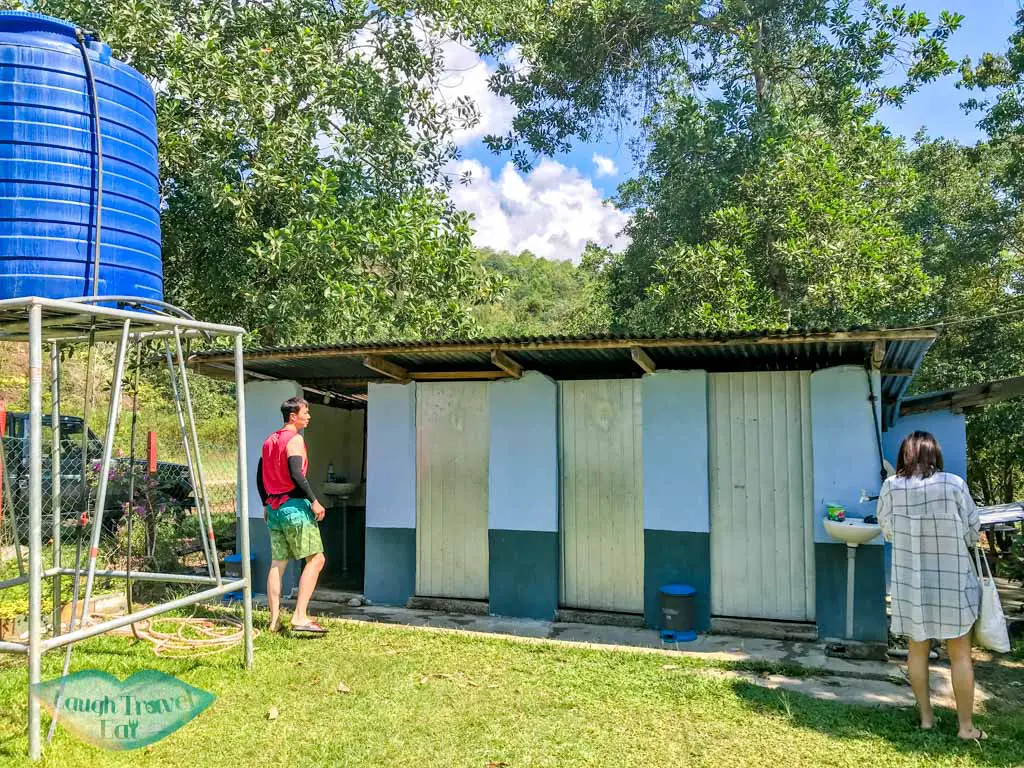 We were picked up from our hotel promptly at 9:20 and the ride to our starting point takes 2 hours. The Kadamaian river has a rapid level of 1-2 and since we were in the dry season, it was relatively tame.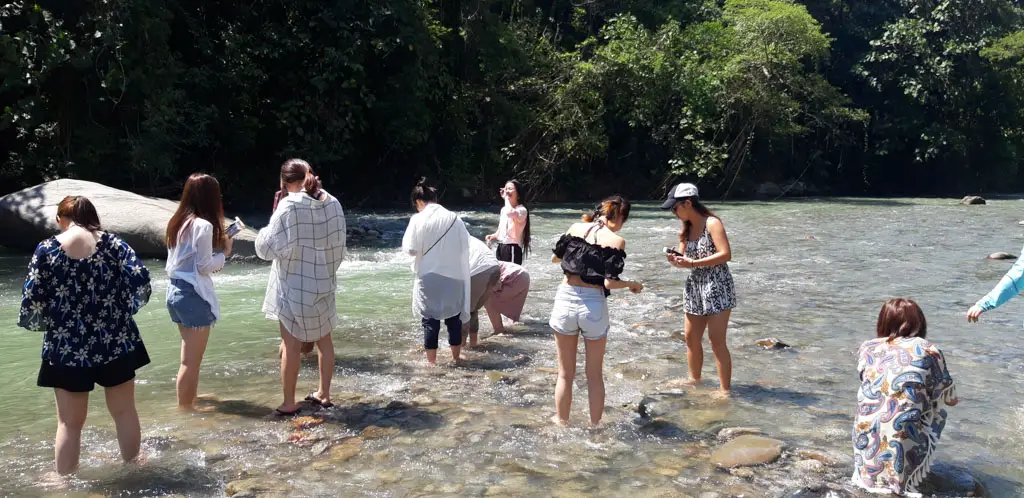 The starting point has a small cafe with bathroom facilities, and snacks were offered to us as soon as we arrived. Interestingly, our first stop was to go up river and feed some fish. And they were not shy about being near human once they found out we had food!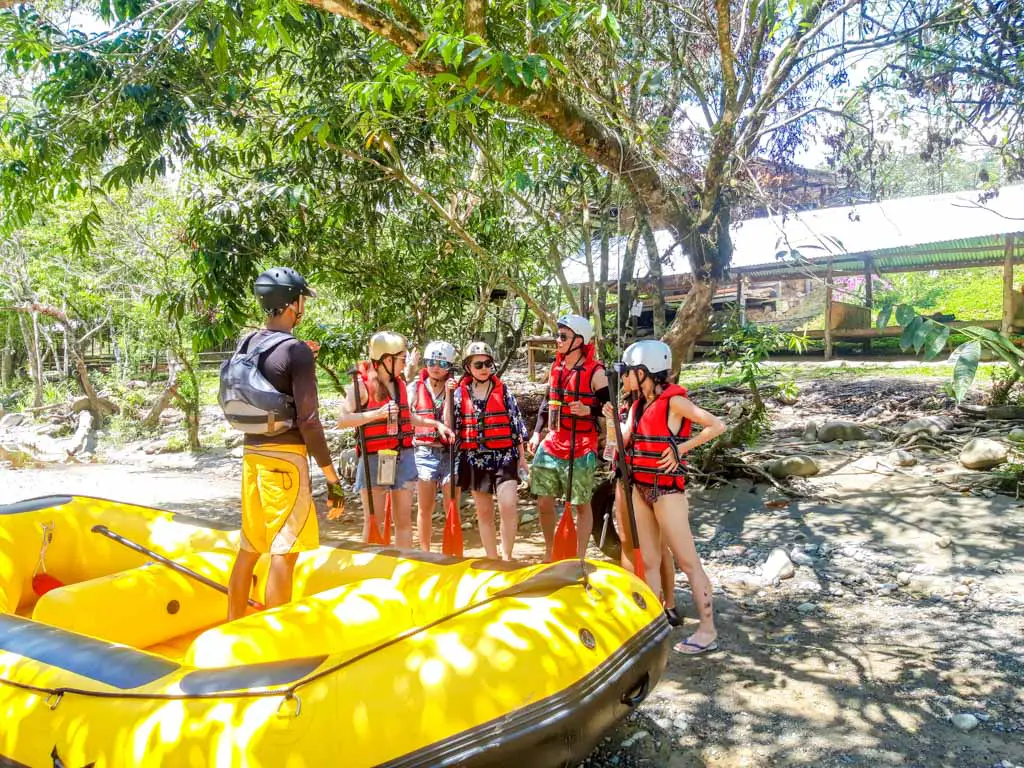 We were able to leave our belongings in the van. Here are some quick pointers on preparing for your white water rafting trip:
You can wear sunglasses, they'll tie rubber band around so you can wear it securely
It's ok to just wear swimsuit but you can also wear clothings – everyone will be putting on helmet and life jacket
Put on sunscreen and insect repellent. If you are easily sunburnt then I recommend wearing something on top of swimwear
Water will be provided
I wore a cap under my helmet to keep off the sun
They can keep you phones and flip flops in a dry bag, you don't need wet shoes but I find mine helpful
There is a place to shower and get changed but you'll need your own towel etc
If you have a GoPro, bring a head strap or use a floaty handle. I clipped the strap of mine on my lifejacket and tucked it inside for safekeeping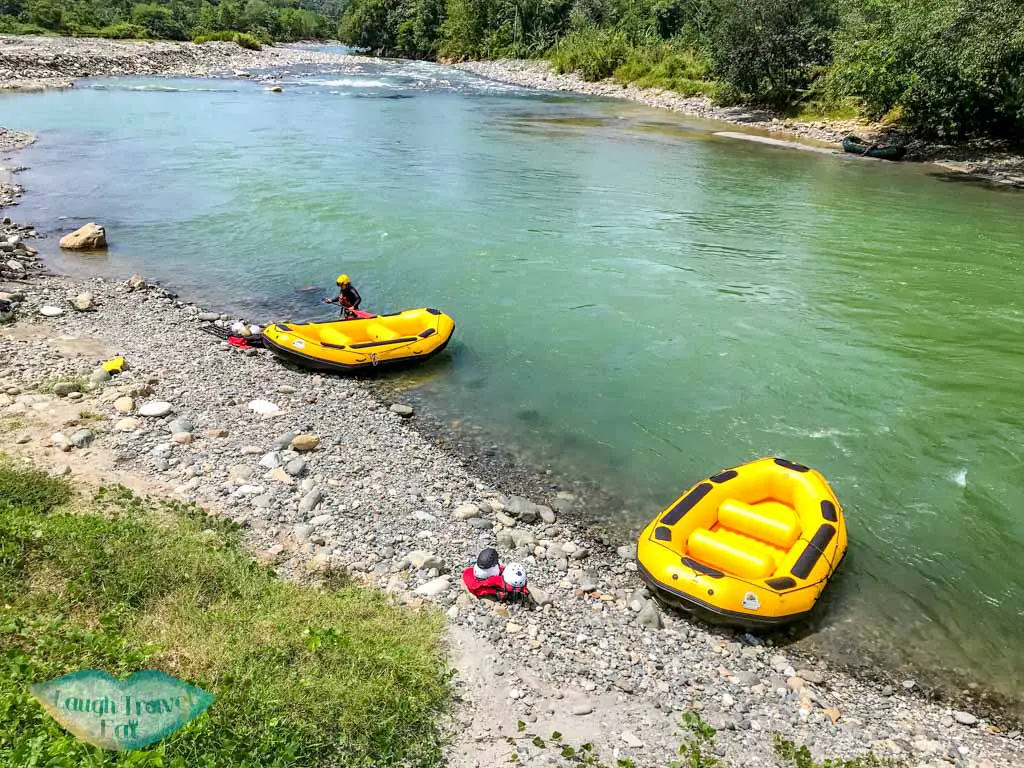 It took us 2 hours to finish the 10 km course. The river level was low from the lack of rain so it was slower than expected. We had a little stop at a sandbank for photos and our guide pointed out some features resulted from the 2015 earthquake.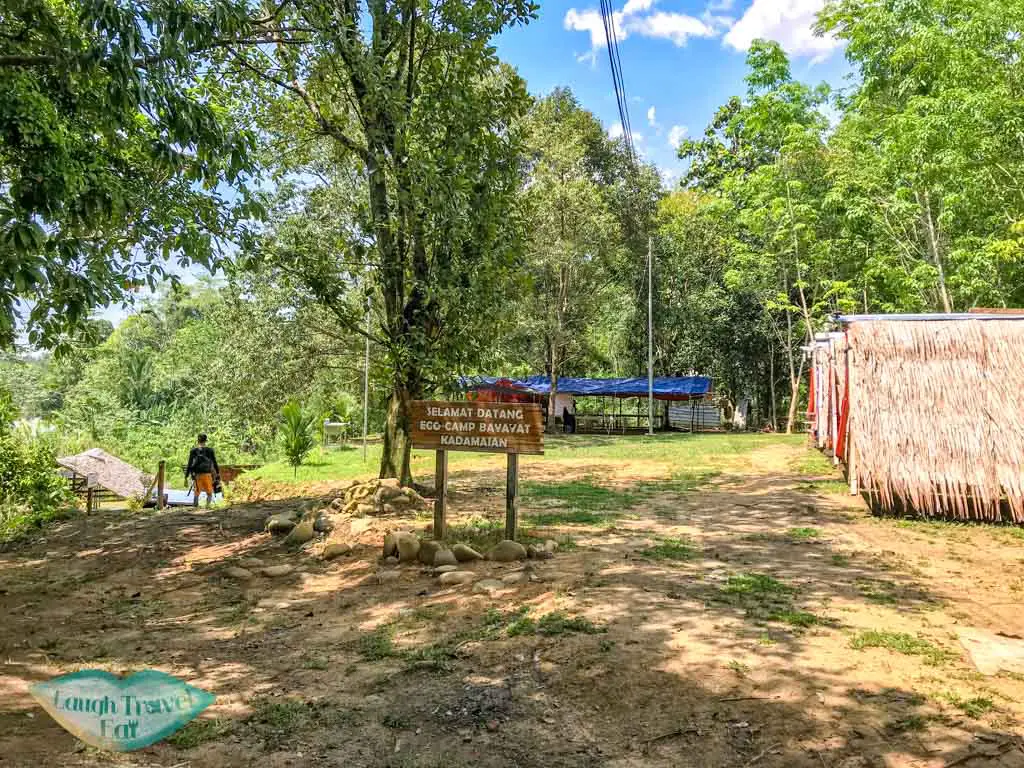 The buffet lunch was a short car ride away once we had all showered and change, then it was a smooth ride back to Kota Kinabalu.

Kinabalu Park

Now one of the main things to do in Kota Kinabalu is to hike up Mount Kinabalu. But whether you are going to do that or not, the Kinabalu Park is a treasure trove in terms of biodiversity and nature. Trekking, rock climbing, bird watching are some of the many activities you can do there. The park is about two hours' drive from Kota Kinabalu and the high elevation gives it a more mild climate.
Sabah Tea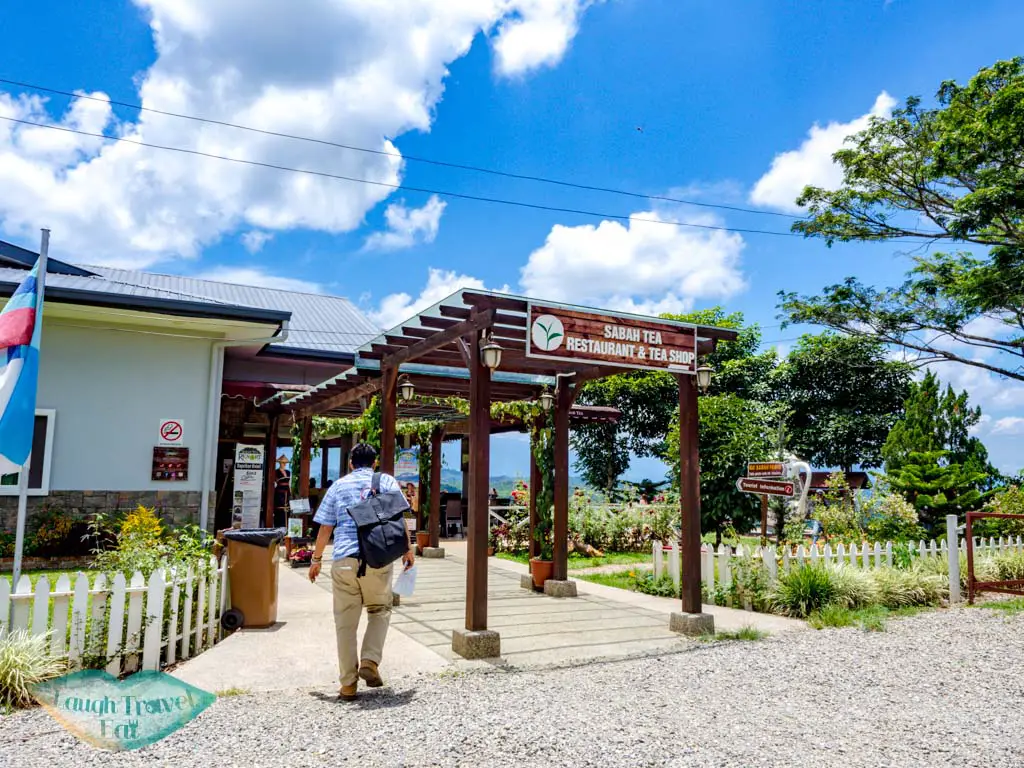 Do you like tea? About half an hour from Kinabalu Park is Sabah Tea. it is the only organic farm in the region and offers so much more beyond that. Not only do they have a great restaurant and a gift shop where you can buy their products, they also offer various trekking as well as tea plucking activities and factory visits.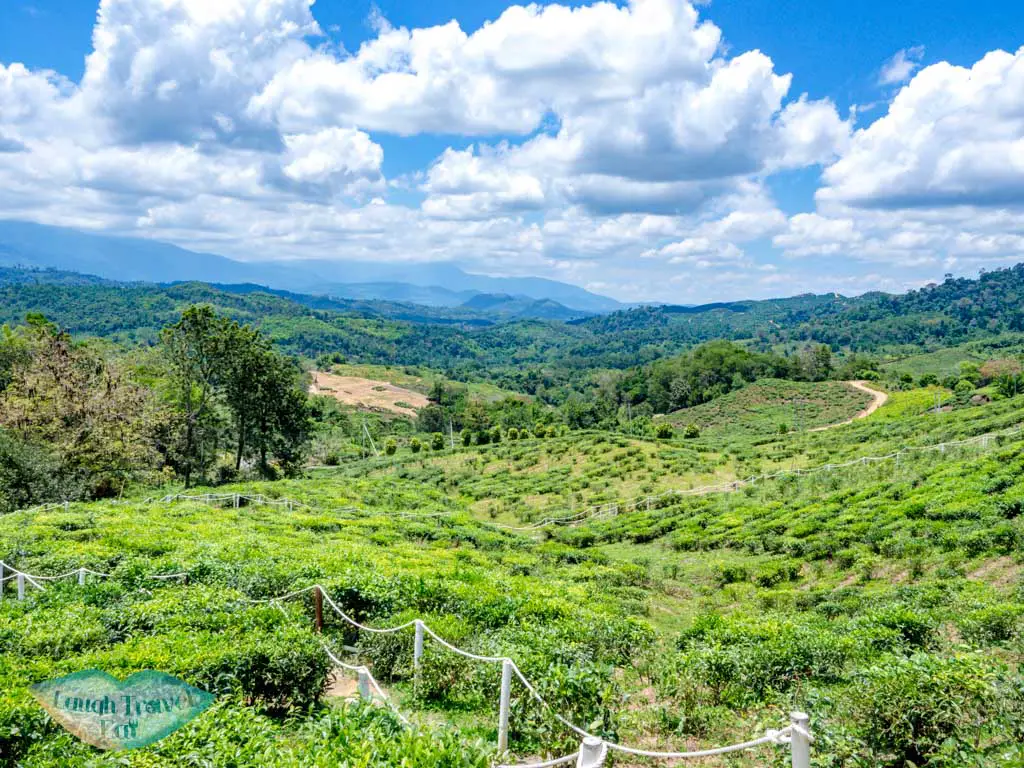 You can also stay in this tea paradise overnight. There are three accommodation options available – a long house (75 people), cottage (60 rooms), and bungalow (12 people) with spectacular view of the tea plantations, possible to see Mount Kinabalu.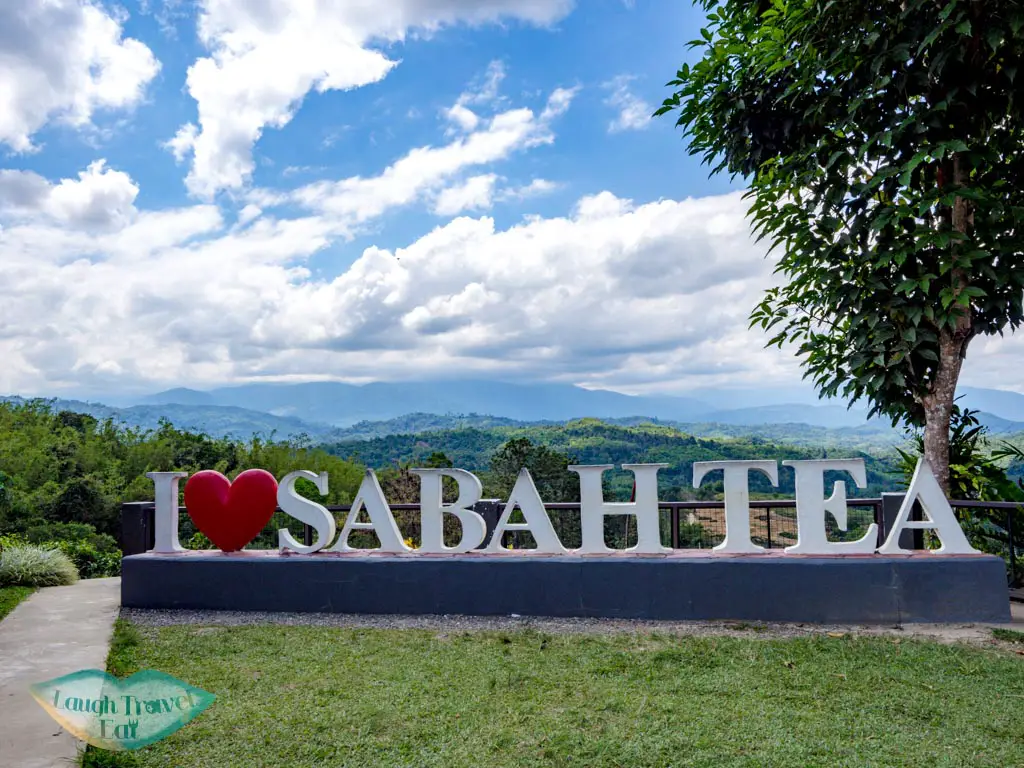 For a brief visit, we only had time to eat lunch there and go up their tree house to admire the tea plantation more. They have many Sabah tea flavoured treats to choose from and the mains themselves are delicious too with generous portion size.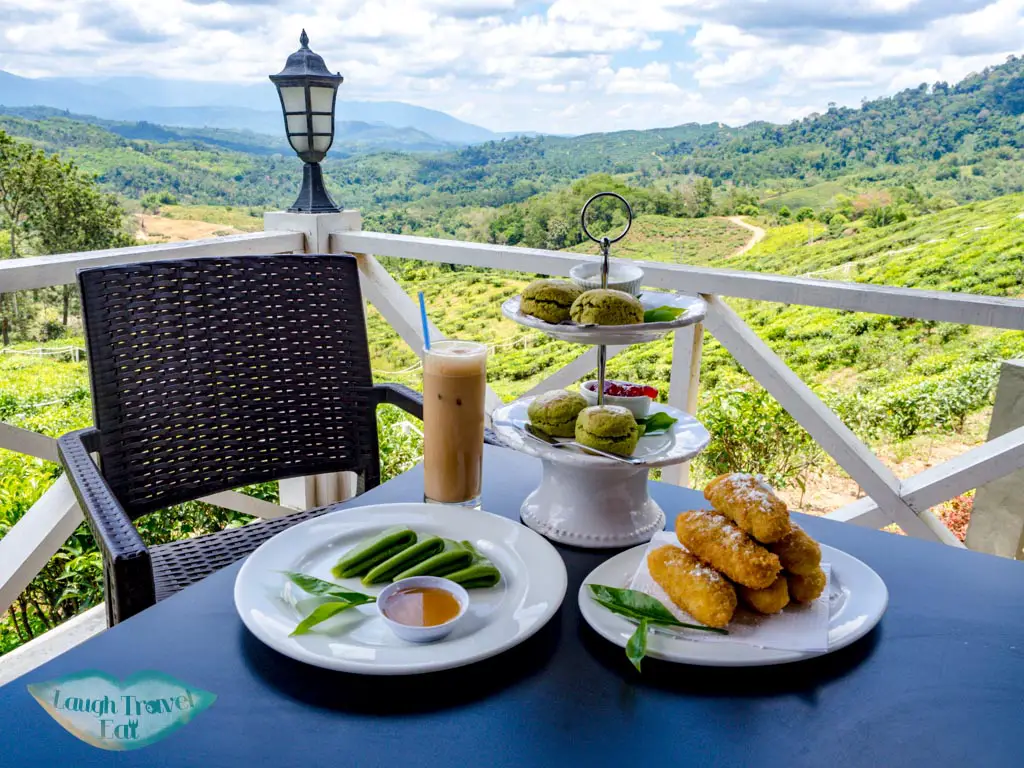 The restaurant overlooks the tea plantation which makes a spectacular backdrop.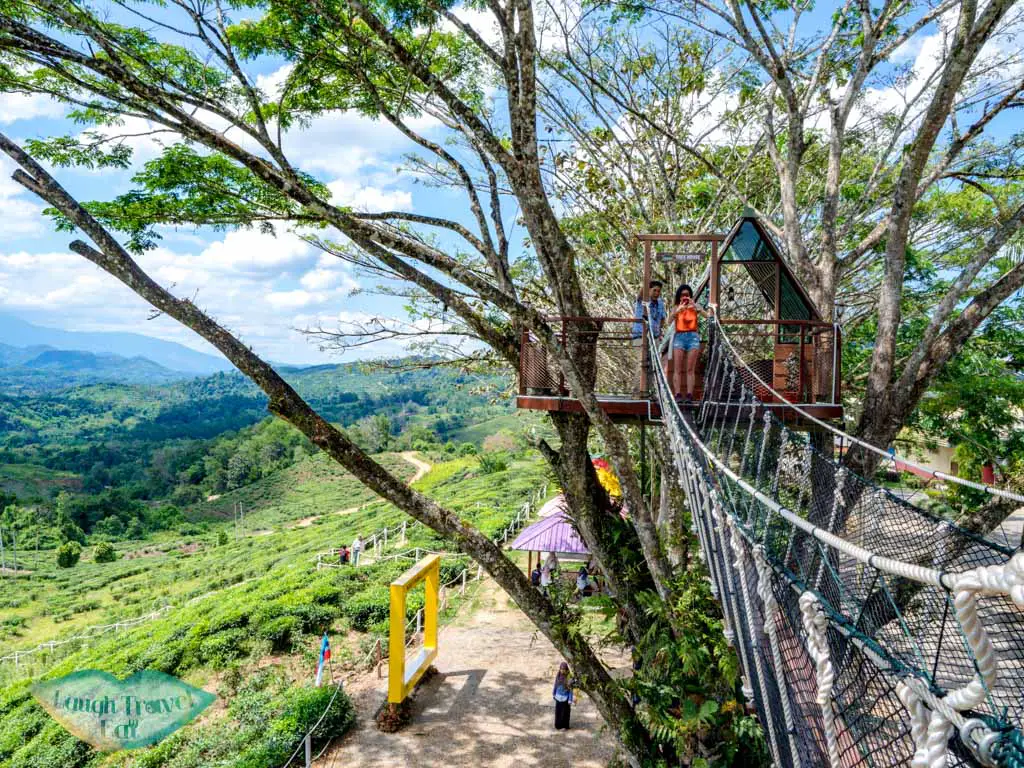 Unfortunately, there's no direct transport here unless you book a tour that includes a stop there. The best way to reach is by driving otherwise since public transport will take 3 hours one way from Kota Kinabalu.
Here's a quick look at some of their activity and costs:
Tree House RM5.00
Factory tour RM11.60
Tea plucking / harvesting RM11.60
River trekking RM17.40
Jungle trekking RM17.40
Sapaon area (Included obstacle crossing, low rope & commando course, swim in river RM17.40
Batik painting RM17.40
Blowpipe RM8.15
Morning walk RM8.15
Campfire RM40.600
Insects Night walk RM8.15
Address: Sabah Tea Resort Sdn. Bhd., Lot 83, Block 1-6, Lorong Kilang D, Jalan Kiang, Sedco Industrial Estate, Kolombong, 88851 Kota Kinabalu, Sabah
Kundasang War Memorial

During the WWII, Sabah saw many soldiers from around the world coming over to fight the Japanese. The Kundasang War Memorial was built to commemorate the Australian and British soldiers who had died in the nearby prisoner of war camp as well as the suffering of the indigenous people.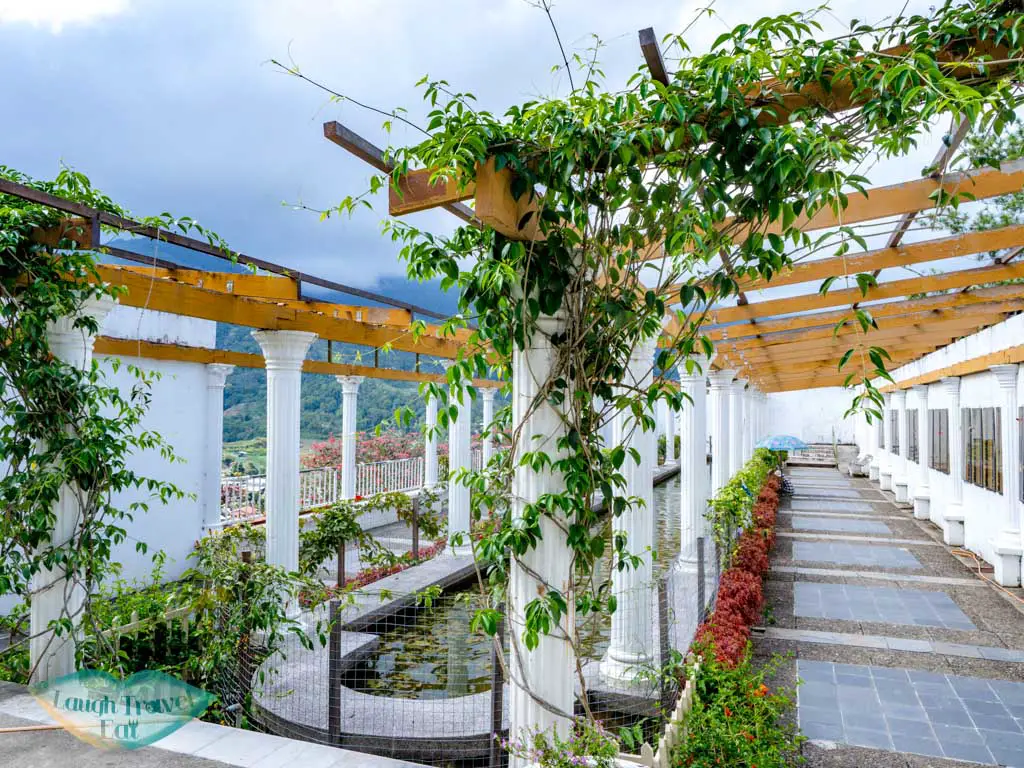 It is located between Sabah Tea and Kinabalu Park atop a little hill. The memorial itself is more like a series of gardens with the names of the soldiers marked on the plaques on the walls. The gardens are the English, Australian, Borneo, and Contemplation garden.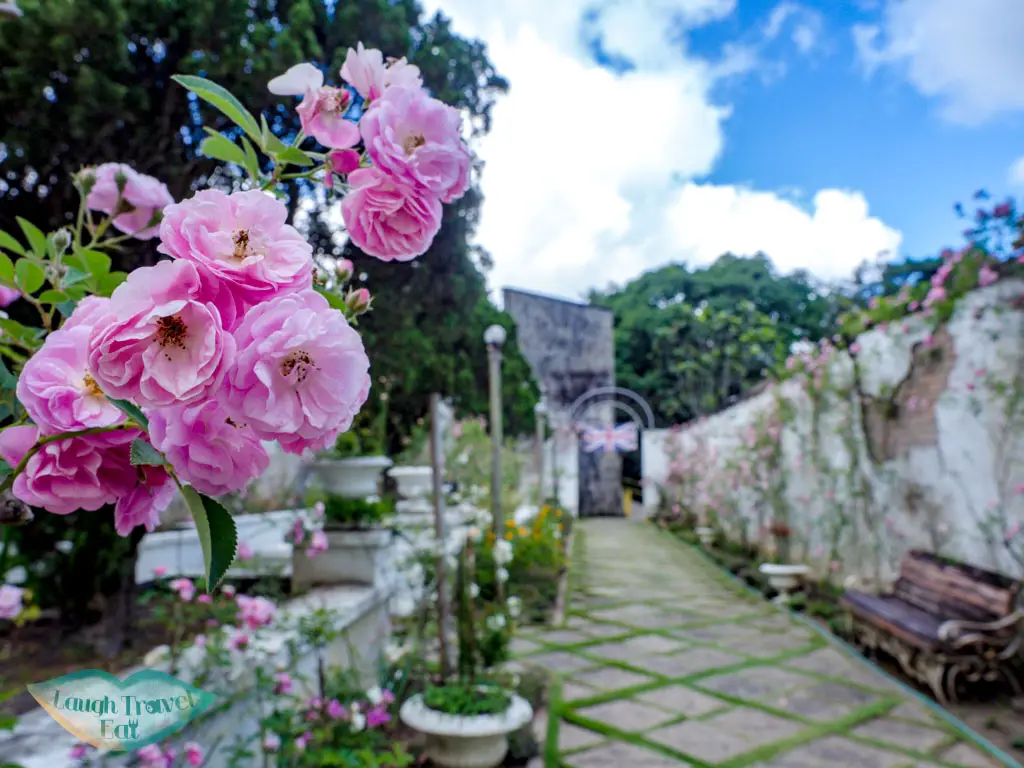 It's a good place to stop by if you are in the neighbourhood, but I probably won't seek it out especially.
Admission fee: International 10 RM (children under 12 and student 5 RM), 2 RM for Malaysians
Address: Jalan Kundasang Kauluan, Kundasang, 89300 Ranau, Sabah, Malaysia
Opening times: 9:30 – 17:00

Best food in Kota Kinabalu
Sin Kee Bah Kut Teh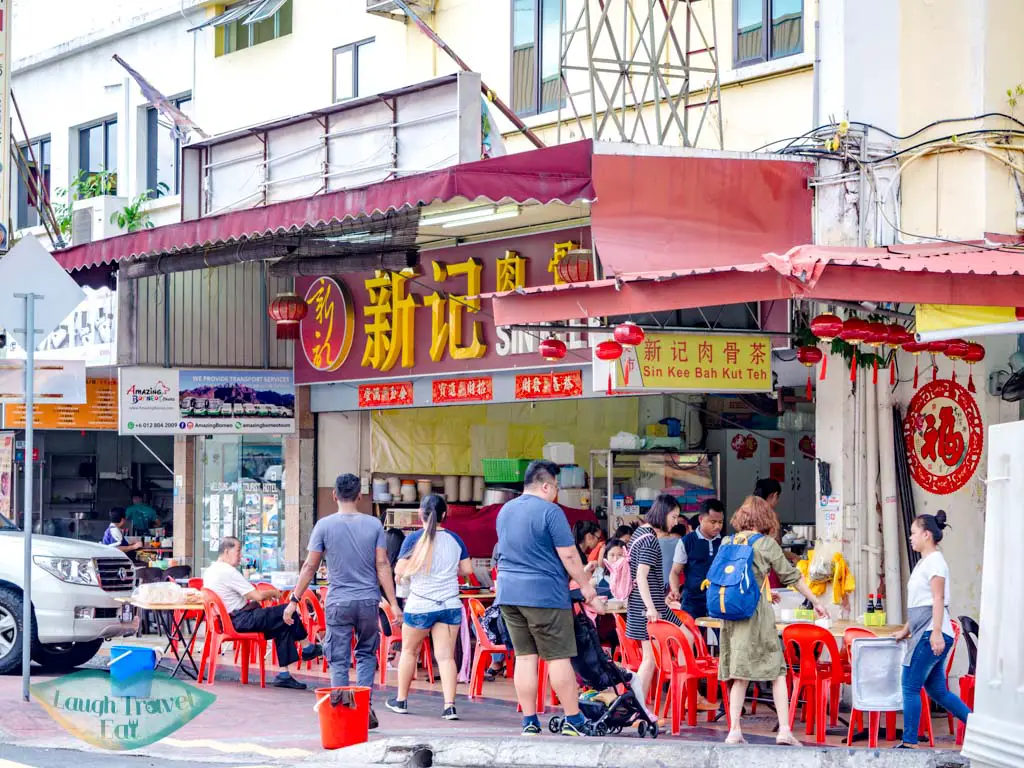 Eating is another great things to do in Kota Kinabalu. While no Bah Kut Teh can compare to those from Penang, I was curious to try Sabah's version. On our hunt for food we came across Sin Kee Bah Kut Teh and snatched a table to see if the crowd around it speaks volume. A small Buh Kut Teh with rice and a three mix milk tea will set your back 18 RM.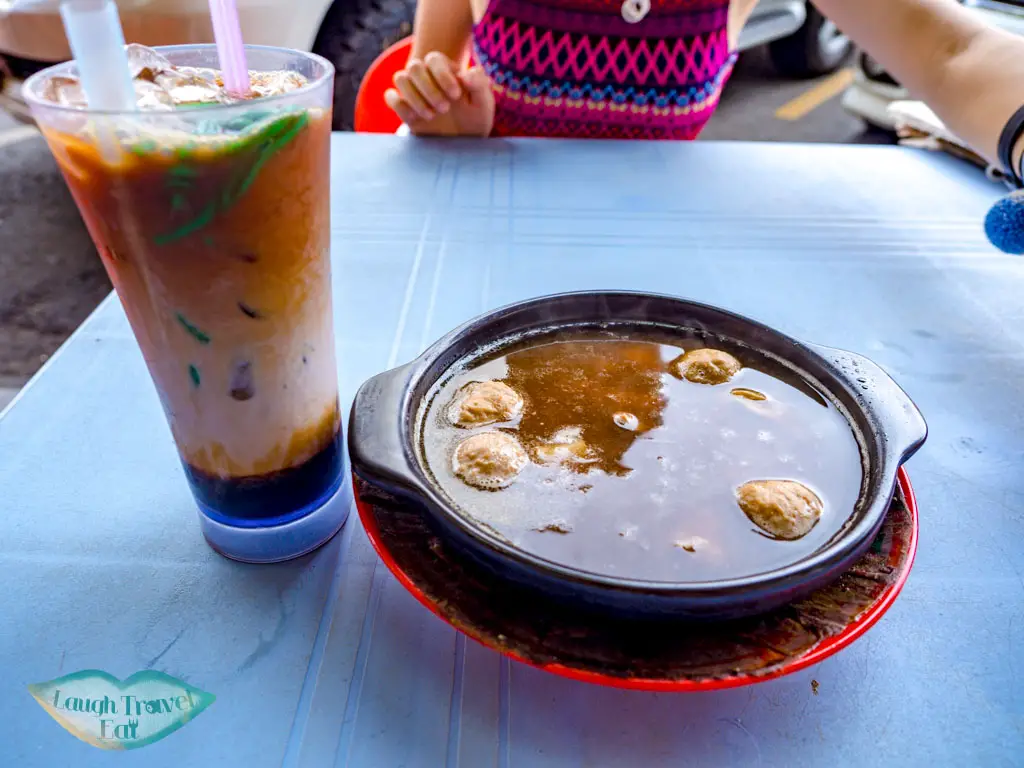 Unlike the Penang and Singapore counterpart, the Buh Kut Teh here not only consist of herbal soup with spare ribs but also small intestine and meatballs. Sauces, chillis, and garlic are on the table to add into small bowl as choice, and personally I find the rice to be a bit undercooked. The soup is kind of more bitter than Penang but overall not bad.

Address: 26, Jalan Pantai, pusat bandar, 88000 Kota Kinabalu, Sabah
Opening times: 15:30 – 23:00

Lucy's Kitchen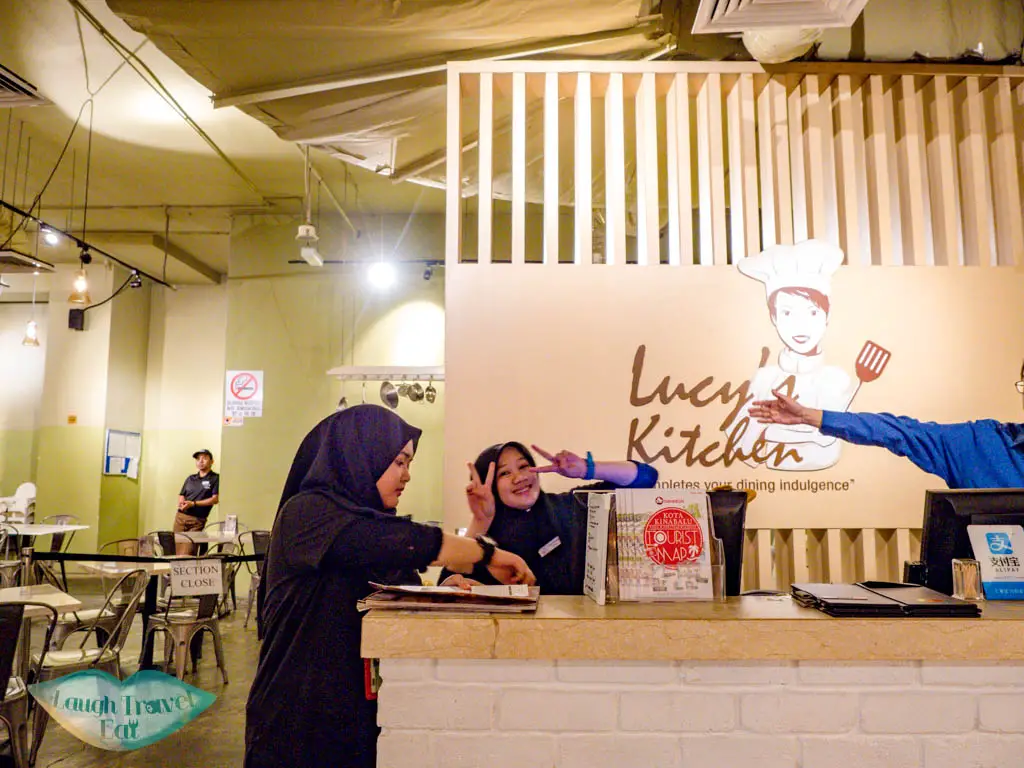 A chain store across the city, Lucy's Kitchen offers a variety of local and western food so it has a choice for everyone. We went to the one in Imago Mall (near the food court) and the quality and price is good.
I had a fried noodle while my friend had their spicy spaghetti, both portion size are on the big side. But the main reason we visited was to try the lemon coconut jelly, which was cool and refreshing about a hot day out.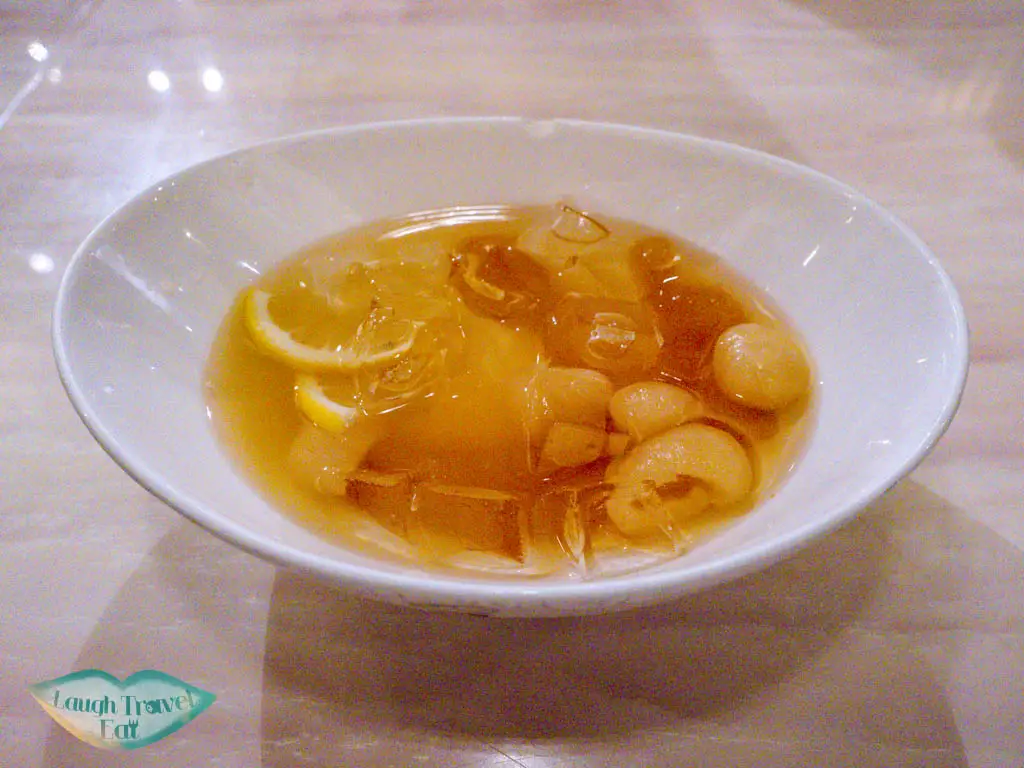 Address:  B-42, Phase 2, Imago Shopping Mall, Coastal Highway, KK Times Square, 88100 Kota Kinabalu, Sabah, Malaysia
Opening times: 10:00 – 22:00

Wiya Nasi Ayam Dan Kedai Kopi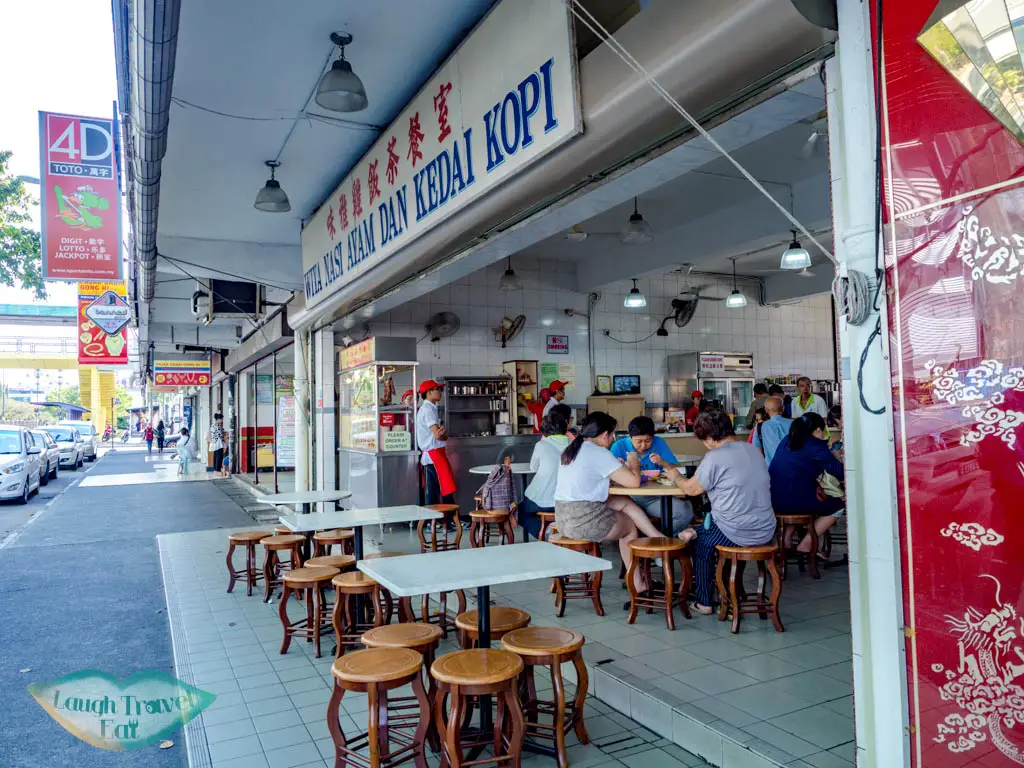 There's nothing better than chicken rice and Wiya Nasi Ayam is one of the best place to find it in Sabah. A self-serviced restaurant with simple white tile walls and floors, we were enticed by the myriad of drinks option it has to offer. Naturally, I opted for Tea C (aka with condensed milk) and my friend had Kitcai, which is basically kumquat tea.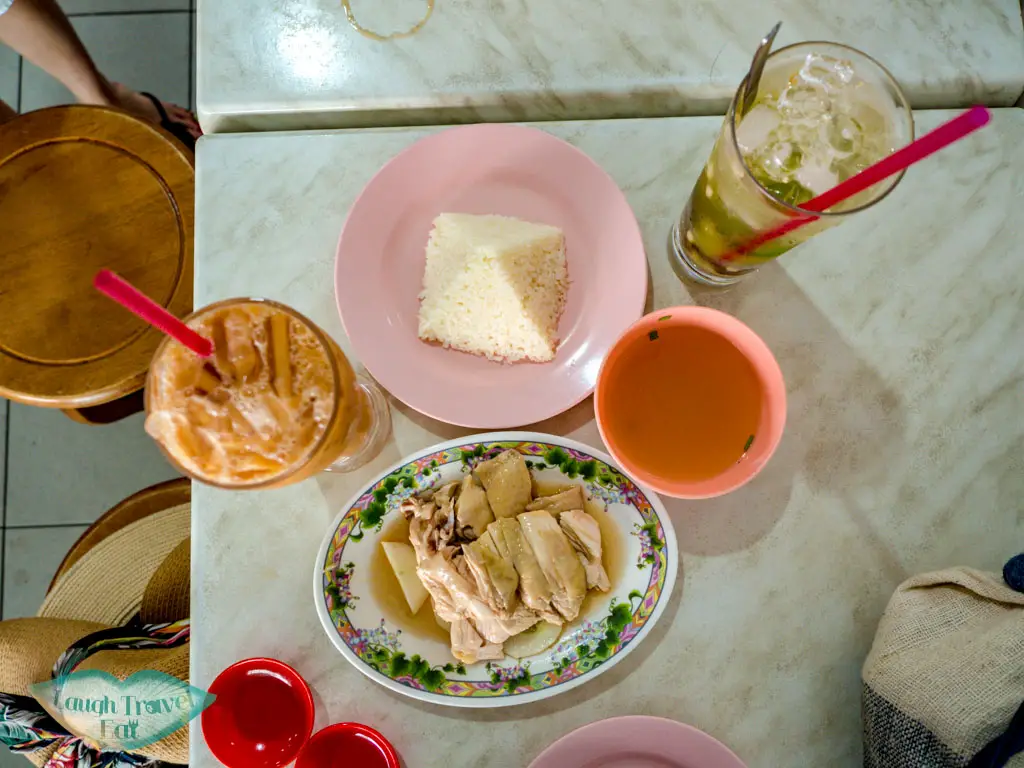 Sauces and cutleries are self serviced, too, and they have an upstairs that (sometimes open) has air conditioning. If you do want to head on up it's an extra 0.5 RM. Apart from chicken rice, they also have barbeque pork rice and wonton noodles. I particularly like that they have different portion sizes since we were there for a – er – second lunch.
Address: Block F, Segama Complex, 4, Lorong Segama, Pusat Bandar Kota Kinabalu, 88000 Kota Kinabalu, Sabah, Malaysia
Opening times: Mon-Sat 8:00 – 18:00; Sun 8:00 – 15:00

Fook Yuen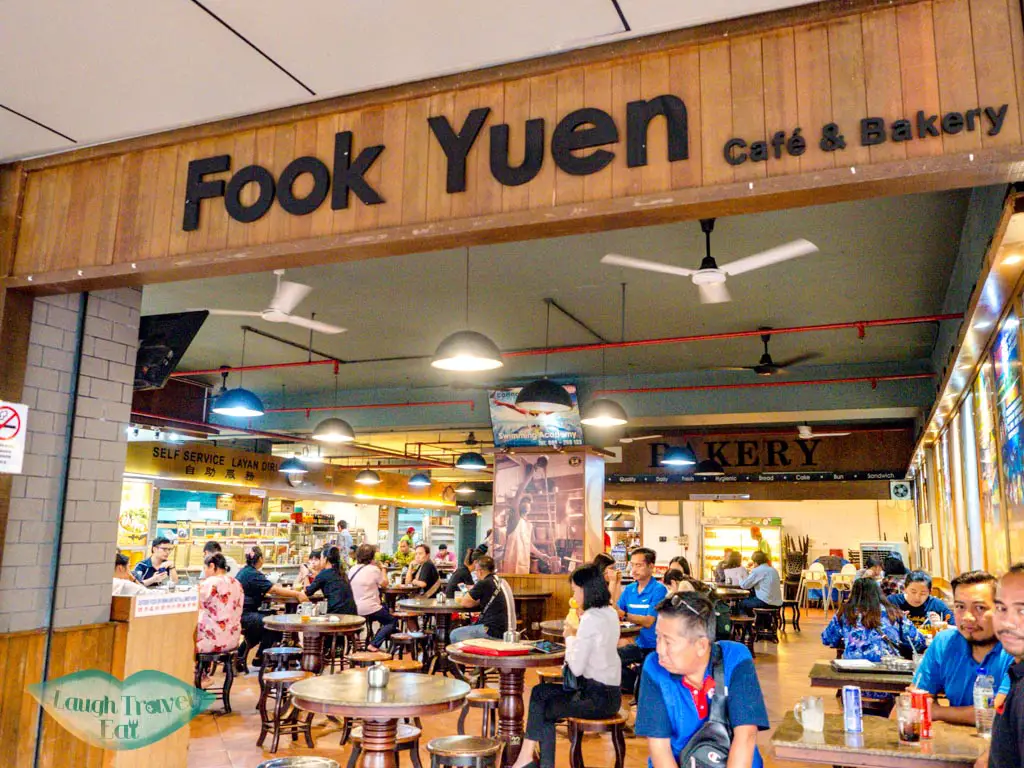 Close to the Sabah Tourism Building, Fook Yuen is a nice indoor food court with quintessential drinks, chicken rice, laksa, buffet-style food, and kayan toast. It's a good place to escape to if you are downtown, and the prices are good, too.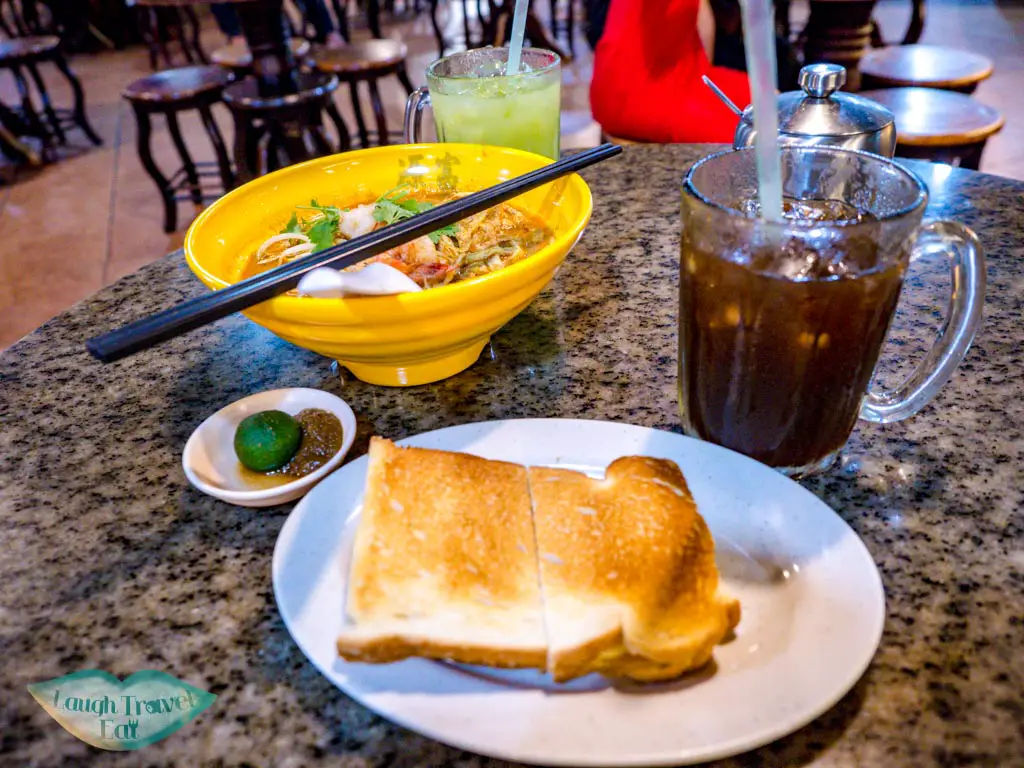 Address: 53, Jalan Gaya, Pusat Bandar Kota Kinabalu, 88000 Kota Kinabalu, Sabah, Malaysia
Opening times: Mon – Sat 6:30 – 1:00; Sun 6:30 – 0:00

Camaca Gelato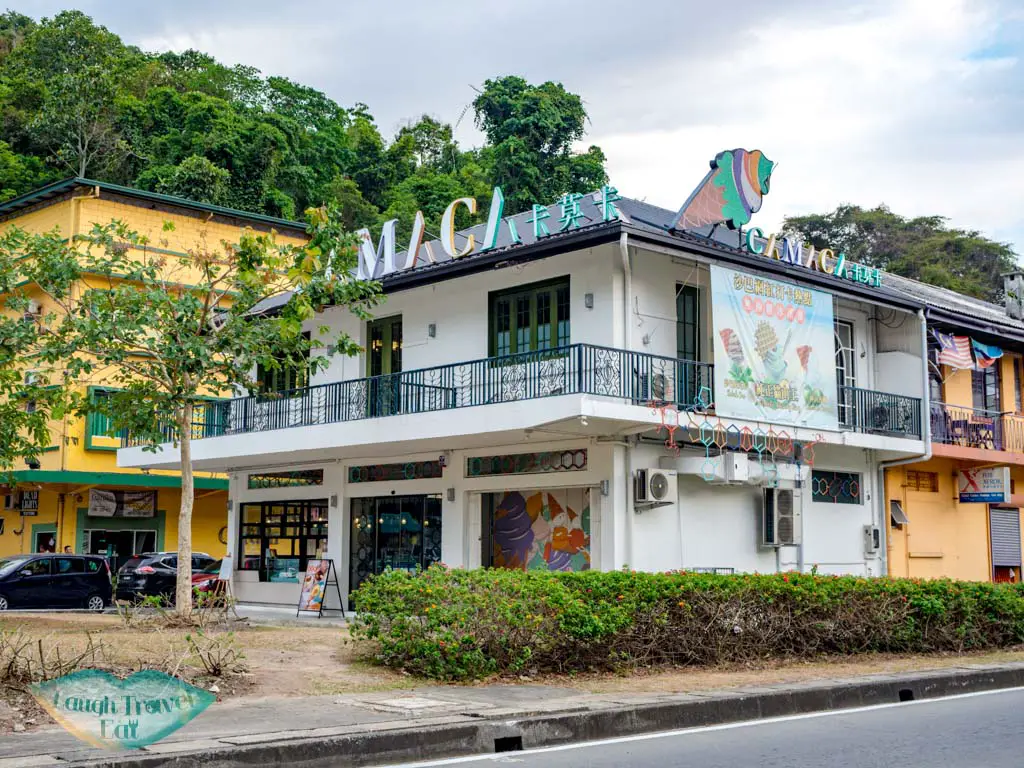 After our walk up and down Signal Hill Observatory Tower, we escaped to the cool interior of Camaca. The prices are on the high side, but we had a lovely ice cream cup with Sabah Tea flavour gelato at 15.9 GM.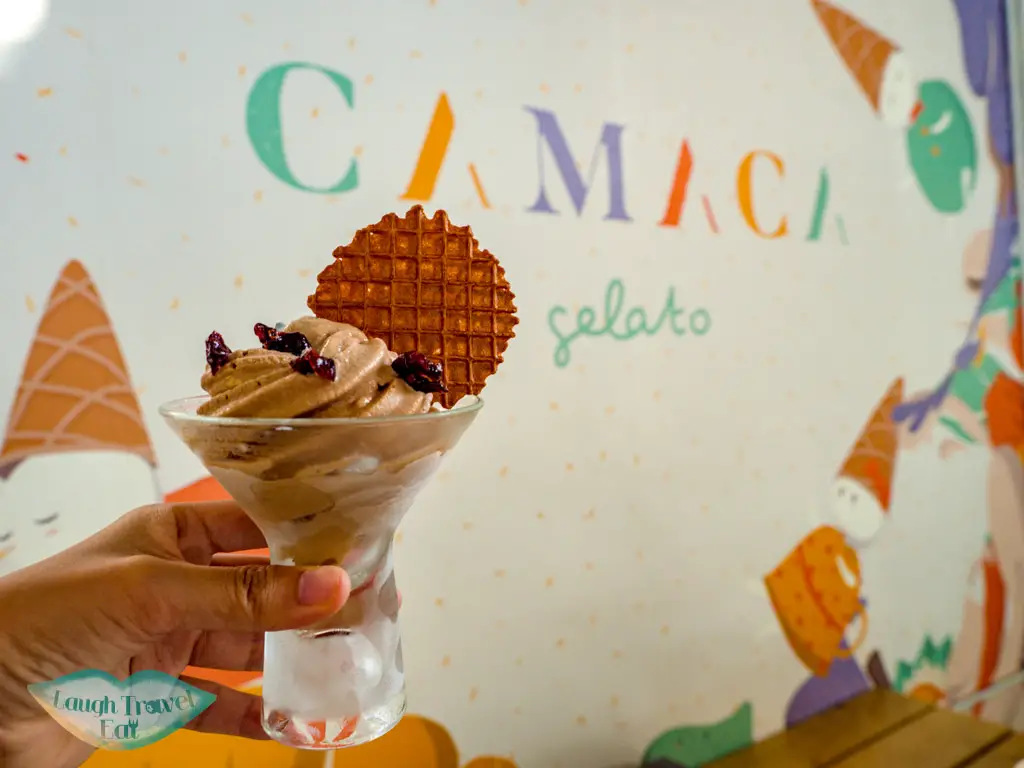 They also have water for free and clean bathroom!
Address: Jalan Dewan, Pusat Bandar Kota Kinabalu, 88000 Kota Kinabalu, Sabah, Malaysia
Opening times: 12:00 – 22:00

El Centro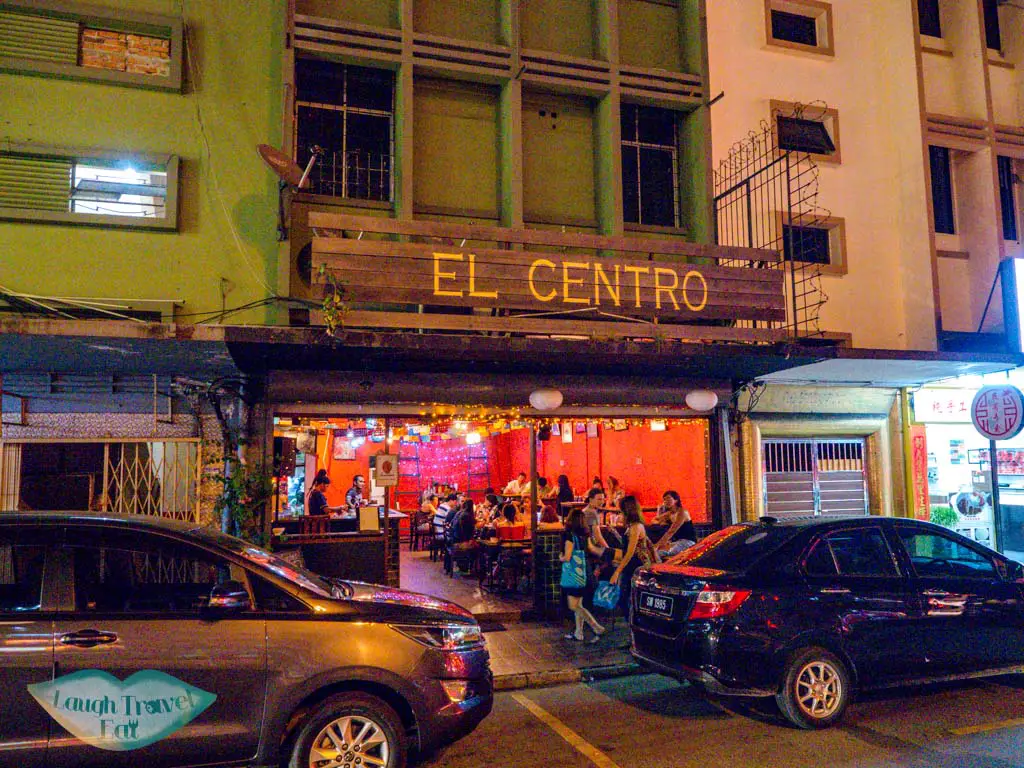 Admittedly, I'm a sucker for Mexican food so after a good few meals at local eateries we decided to go to El Centro. They have a variety of choices, most meal sets are at 22 RM with general portion size. My sister had their taco but she didn't like them, but I had their chicken and black bean burrito and I'm in love!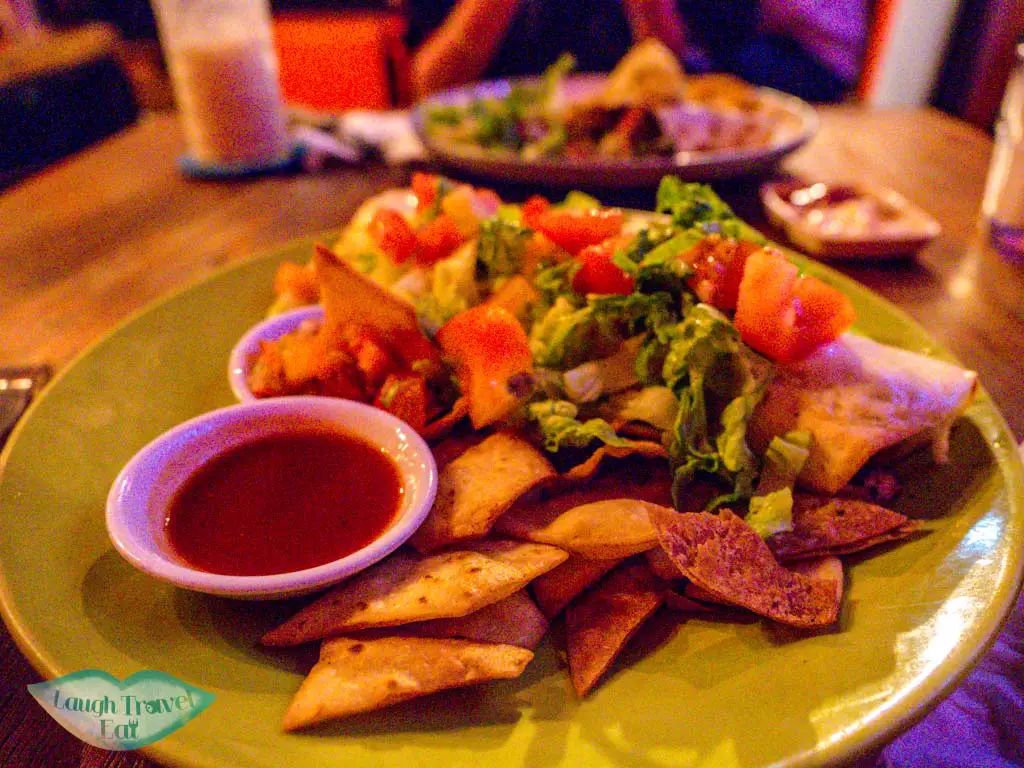 Their homemade chips and salsa are also heavenly. One thing I have to say is that the service is very slow. So don't come here if you are short on time.
Address: 32, Jalan Haji Saman, Pusat Bandar, 88000 Kota Kinabalu, Sabah, Malaysia
Opening times: 11:00 – 0:00

Breakfast in Kota Kinabalu
Kedai Kopi Yee Fung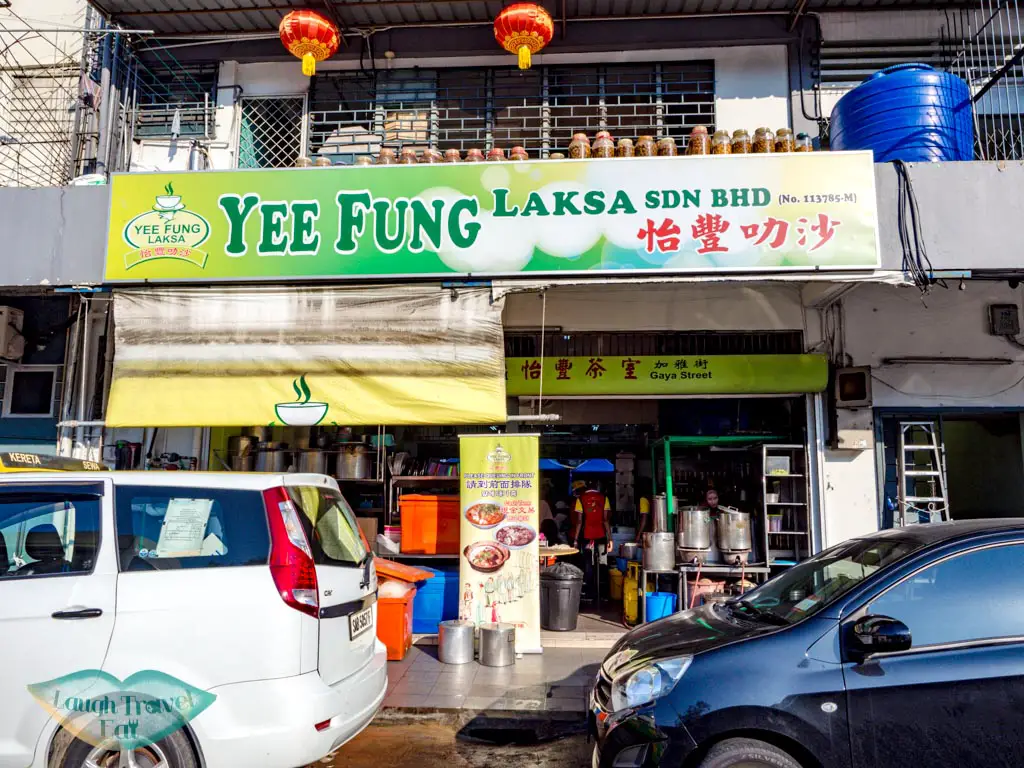 Kedai Kopi Yee Fung is a good place to eat at any time, however it is most popular as a breakfast place.  Be prepared for a whirlwind dining experience as the staff takes your order almost as soon as you sit down and sharing tables with others.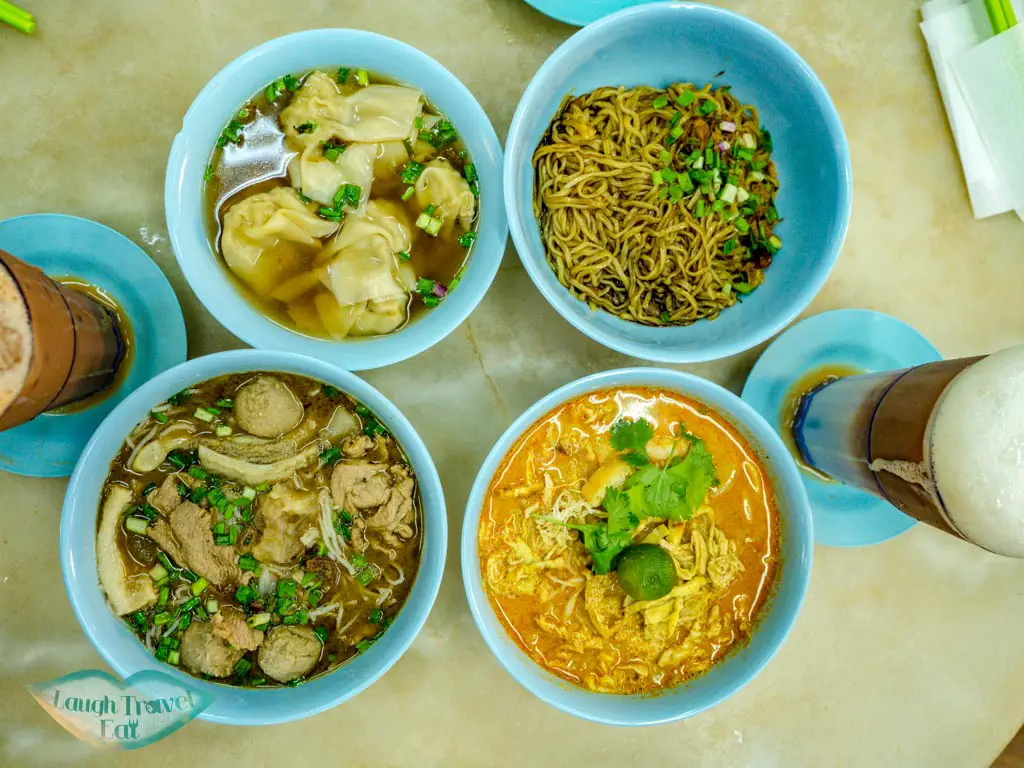 We visited before fully going into the Gaya Street Sunday market and had a filling and great meal. Their most popular dishes are laksa, beef noodles, and wonton, with a great variety of drinks, too.
Address: 127, Jalan Gaya, Pusat Bandar Kota Kinabalu, 88000 Kota Kinabalu, Sabah, Malaysia
Opening times: Mon – Fri 6:30 – 18:00; Sat – Sun 6:30 – 16:00

Massage in Kota Kinabalu
Eden Reflexology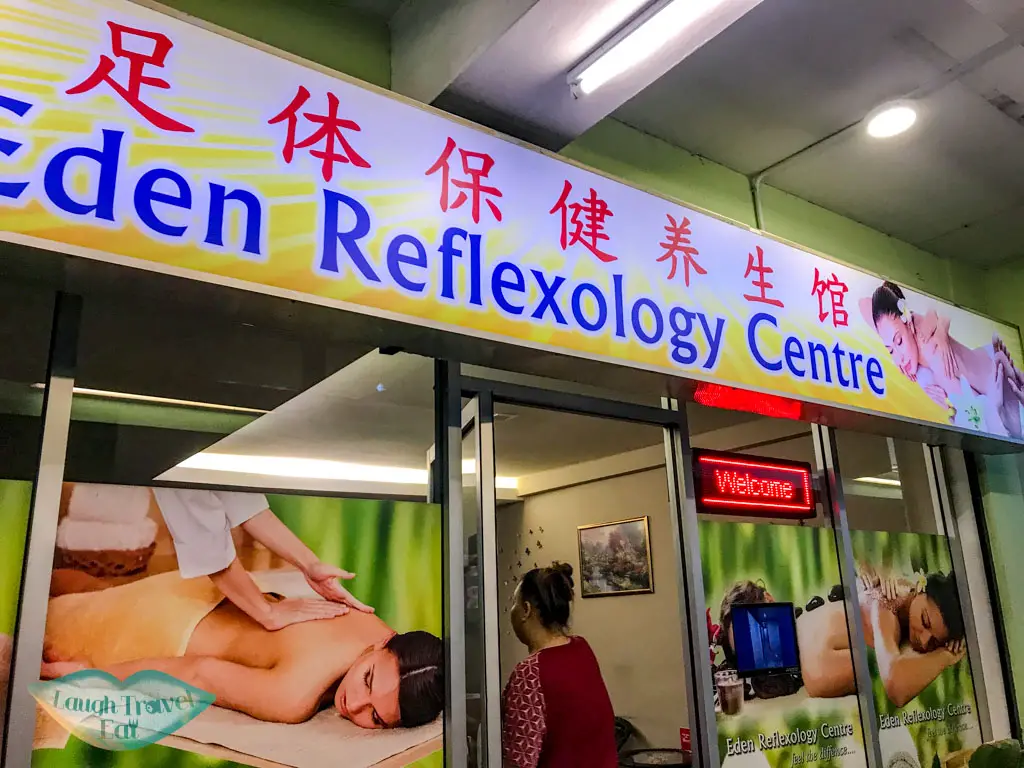 Located on the second floor of a row of shops and apartments, Eden Reflexology is a simple and clean massage place that hits the spot. The inside is subdivided into smaller, private rooms for massage and it was easy for me to book a few hours in advance via Facebook Message. They have a few two hours deal but we only had time for a one hour massage. Their oil massage was heavenly after hiking up Mount Kinabalu and I will definitely recommend them.
Address: Lorong Api – Api 2, 3-1-18 Level 2, 3rd Block Lot 18 at Upper Floor of 99 Speedmart, Api-api Centre, 88000 Kota Kinabalu, Sabah, 馬來西亞
Opening times: 11:00 – 1:00am

Best hotel in Kota Kinabalu
One of the most important things to note in Kota Kinabalu is that stays in big hotels and hostels will incur a 10 RM per room per night charge. Whereas if you stay in AirBnB, it's not applicable.

Mercure Kota Kinabalu City Center
A modern hotel located close to the Jesselton Point, Mercure Kota Kinabalu City Center is a 20 minutes walk to most attractions and easy to get Grab pick up, too. The rooms are small but with great layout and very functional.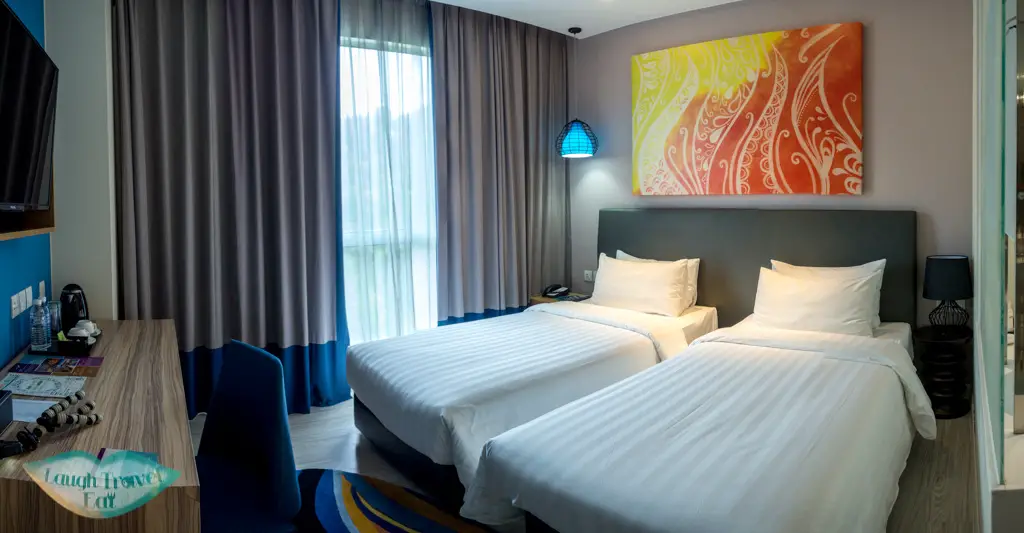 We stayed in the Superior Twin Room which has a big flat screen TV, separate bathroom and shower stall, a work table, as well as wardrobe equipped with ironing board. Hair dryer is also available and basic toiletries, too.

The hotel also has a rooftop swimming pool with good seaview and cityview. However, the building in front does block off quite a bit of the view!
Buffet breakfast is on the second floor with a comprehensive spread of fruits, pastries and bread, hot food, cereal, and even a noodle bar! Everything is accessed by key card and breakfast coupon is given

Hostels in Kota Kinabalu
Dock In
Welcome to the future of hostels! Dock In is a great choice for those who want to stay close to the airport since it's only 10 minutes away. Similarly, it's also only 10 minutes' drive away from the city. It is a modern hostel situated by the main road and I'm particularly impressed with the shared bathroom and shower facilities. Each floor has a separate female and male shower area and bathrooms and they are both spacious and clean.
Shoes aren't allowed inside the sleeping area and each guest is given a pair of flip flops, towel, and shoe locker keys upon arrival. Your key card is needed to access the floor and room, and there's no elevator for the two storey hostel.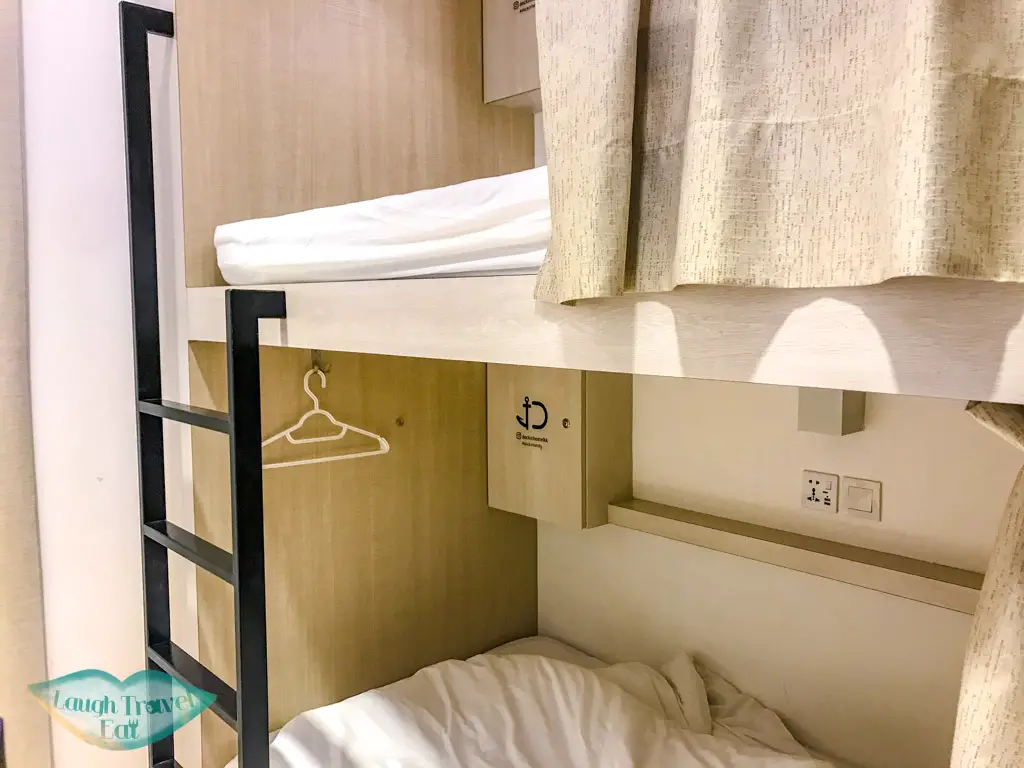 The bunk beds are standard with privacy curtain, power socket and two USB slots. There's a little shelf where I can put my things as well. The cleanliness could be better and the staff had mixed up our room upon arrival, other than that I had no complaints.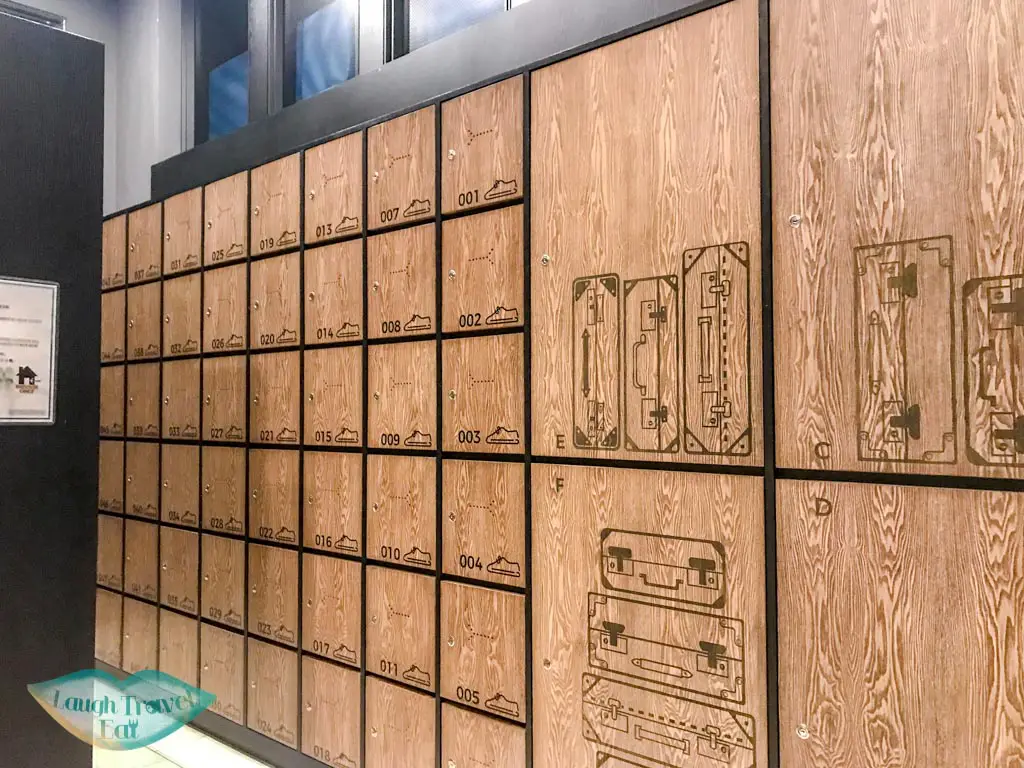 A cafe is attached to the hostel if you are hungry and don't want to venture far. The prices are more expensive compare to local restaurants, and the wait time is long. I did enjoy the grilled chicken with avocado and the orange juice, though.

Cozy Hostel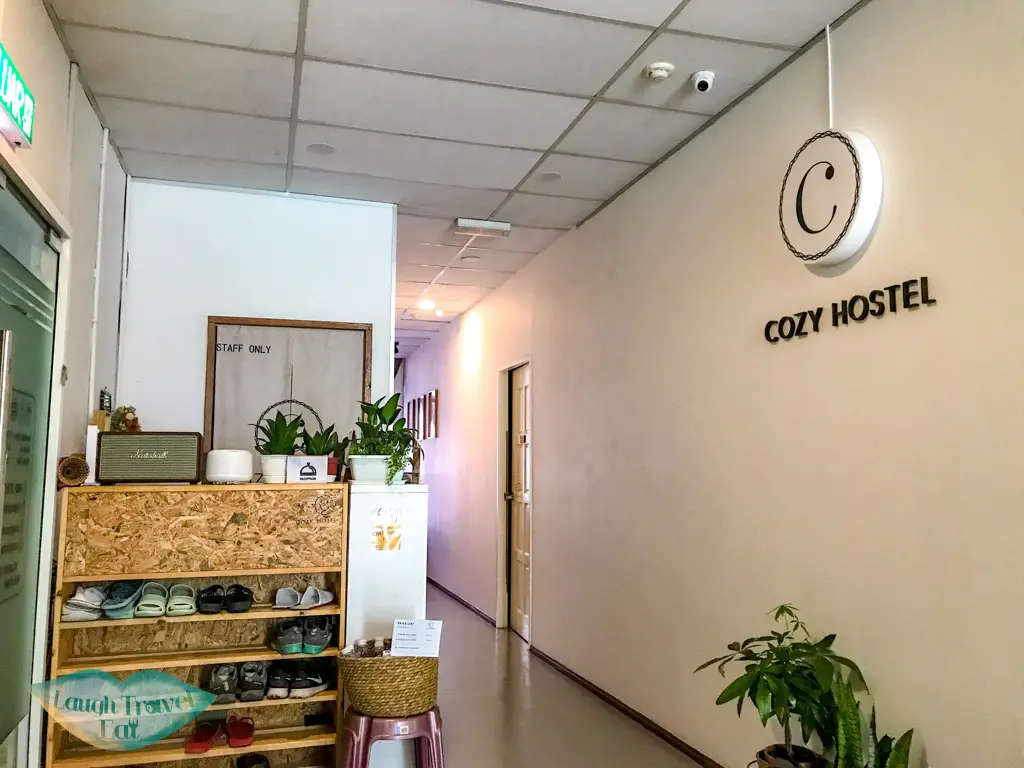 Next to the Imago Mall, Cozy Hostel is on the fifth floor of a nearby building. The staff provided great directions for me upon booking including directions for taxi, which makes it really easy for me to find it. The hostel isn't big with about four big dormitory rooms. Each guest has their own locker where the pillow, towel, and blanket is found.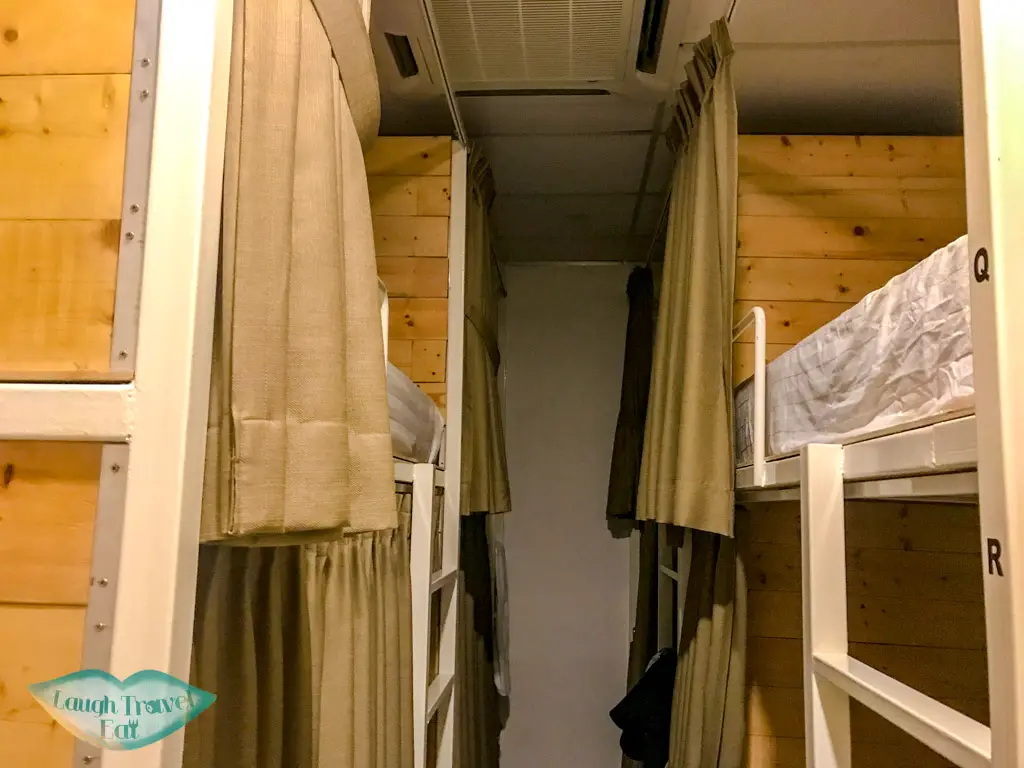 I like that the room is big enough for people to leave their suitcase by the lockers without having to shove it under the bed. The bunks themselves are comfortable and sturdy with privacy curtain and charging docks inside. The bed are bigger than expected, too!
Bathrooms are outside by the kitchen. There's only two stalls that act as both shower and bathrooms so I imagine it can get a bit busy. Breakfast is self serviced with bread and cereal and you'll need to wash up after yourself.