17+ things to do in Vientiane, Laos and where to eat and stay
Vientiane is the capital of Laos and one of the smallest capital in Southeast Asia. Located close to the border to Thailand, it is often considered to be a transit spot. I have to admit, my first impression of Vientiane was pretty average, but on closer inspection, you'll find many beautiful nooks and crannies hidden around town. So whatever reasons it is that brought you to Vientiane, here's everything you need to know about the Laos capital and things to do there:

Laos visa on arrival
Most people get a visa for Laos on arrival and you can check the list of countries that can do so here. Once you land in Vientiane airport, you need to fill in two forms. One is long and thin, which is the standard arrival and departure form, the other is a visa on arrival form.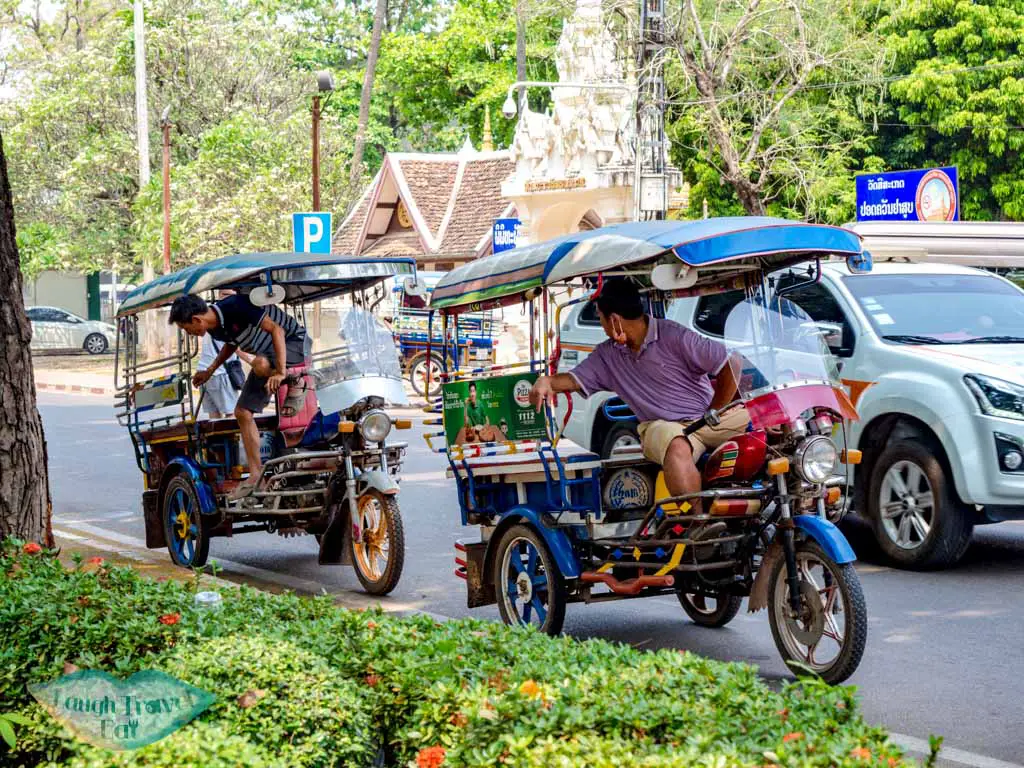 Get in the visa on arrival queue as soon as you filled in the form. A passport photo is required but if you don't have one, it'll just set you back 1 USD and they'll photocopy and use the one on your passport.
Cost for visa on arrival for:
Hong Kong 30 USD
US 35 USD
Singapore 30 USD
UK 35 USD
Taiwan 30 USD
Note: You will have to pay in USD so make sure you have some on you. They'll have change for you in USD but some bills are more crumbled.

It shouldn't taken long unless you are stuck behind a tour group (like me). You'll then need your regular arrival  form to hand to the immigration officer in the regular queues before you go through. The arrival forms are found to the left once you entered, the visa on arrival forms are on the nearest table to the counter.

Money exchange in Vientiane
As Laos Kip is a closed currency – aka you can't exchange it outside of the country – the rate is pretty similar across the board. Which means that you can get your currency at the airport at pretty much the same rate as you would in town.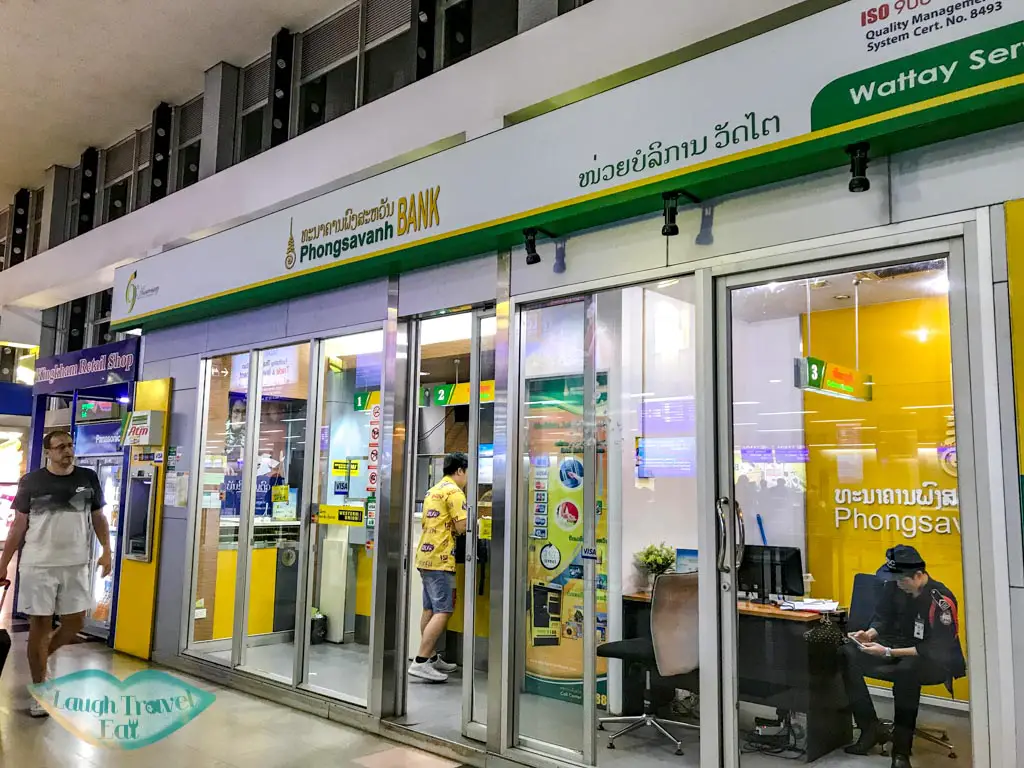 Head left upon exiting the baggage claim and there you'll find the Phongsavanh Bank – you won't miss the white and yellow sign.
The exchange rate is quite competitive and process easy. Just sign a form with your passport number and viola.

Rough guide: 1 usd = 8.5k, 1 hkd = 1k

Pro tip: set aside the amount that you want exchanged and bring your own envelope if the amount is high since there will be a lot of bills.

Laos Sim Card
You can easily get a Laos Sim Card at the airport or at any mobile store or convenience store in the city.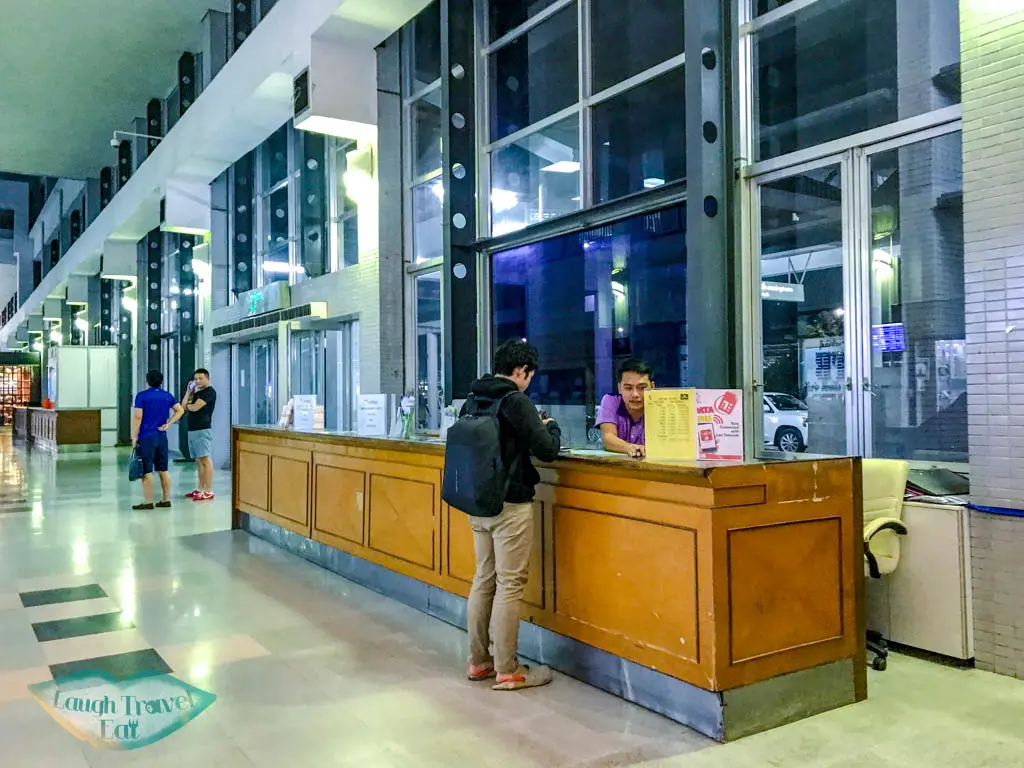 There are several providers available. Since I'll be visiting Luang Namtha as well, I went with Lao Telecom which is said to have the best coverage.
You can find the counter without much fanfare around it across the hall to the left from baggage claim. They have a good few packages on offer, all data only: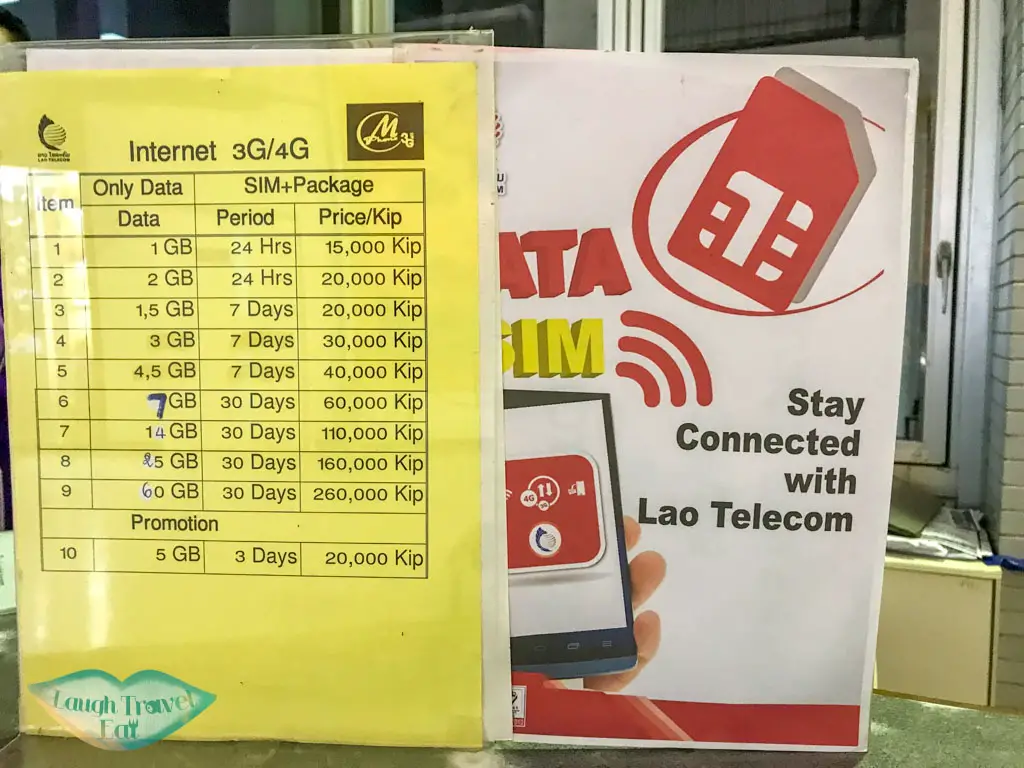 I went for the 7 GB for 30 days and it costs 60k. Coverage was great around Vientiane and in the city center of Vang Vieng, but it wasn't as good west of the town. The northern coverage was good whenever we get it so overall no complaints since it is more remote.

Getting to and from the airport
Taxi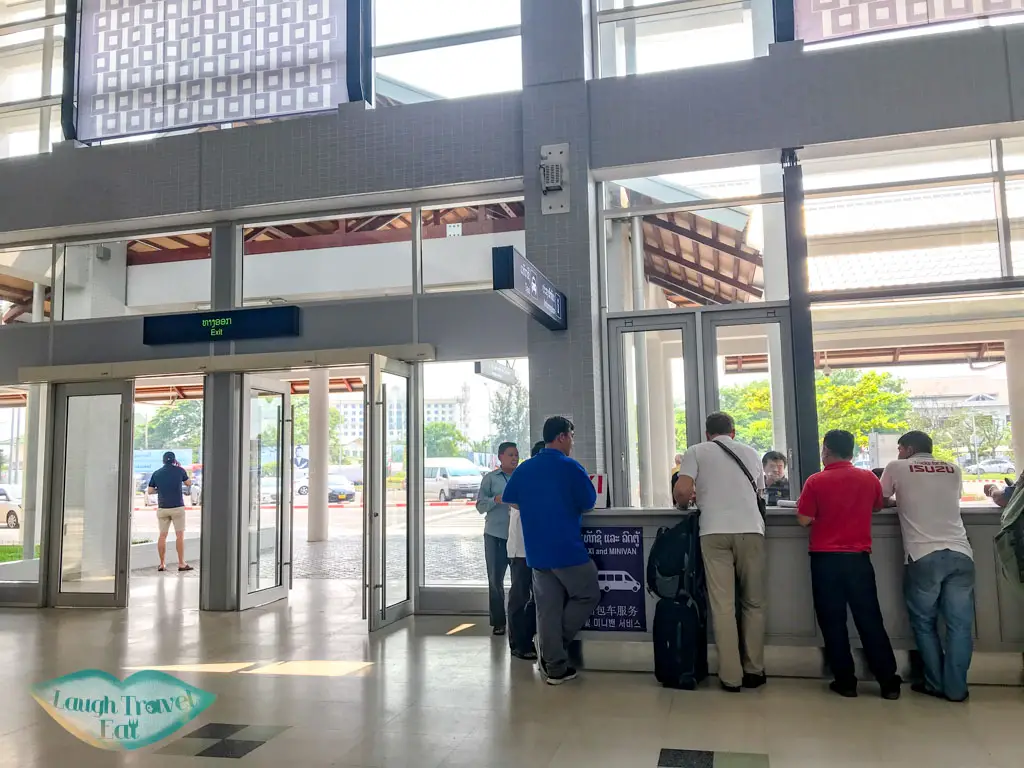 Taxis are readily available at the airport. You'll need to buy a taxi fare ticket, which costs around 7 USD  or 60k kip before aligning. The counter is right outside both the domestic and international arrivals with a taxi sign, so you won't miss it.

Airport bus
Alternatively, there is an airport bus that costs only 15,000 kip with stops at major hotels. The bus comes around every 40 minutes or so.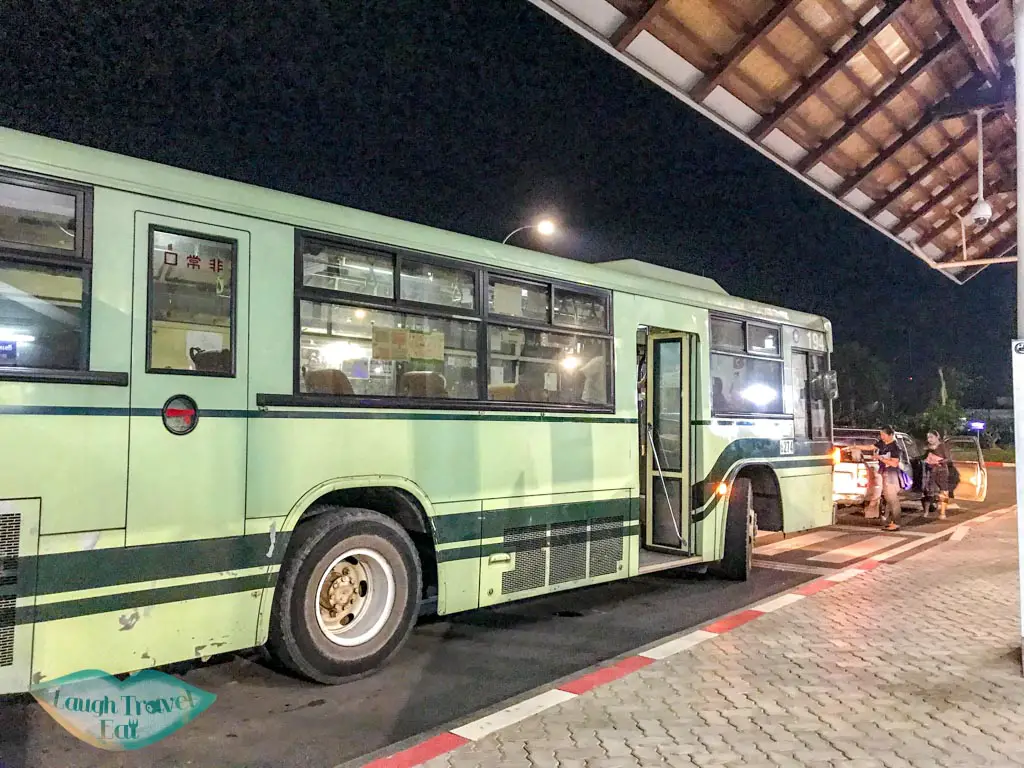 You can buy bus tickets at the counter or on the bus – and the ticket boy will have change to hand back. The map of the course can be found online and stops are well located.
Ticket counter

Interior
You can ask your hostel or hotel beforehand which stop is the closest. I tried to get the bus back to the airport, however, the stop closest to me is surrounded by construction. I'd suggest that you take a taxi to the airport if it's urgent.
Click here to see the bus time table
Cost: 15k kip

Note: though the traffic are not as hectic in Vientiane, if you have a suitcase it would be a bit of a task maneuvering it ok the bumpy and narrow sidewalks. It is also quite hot!

Getting around Vientiane
Cycling in Vientiane
You can easily rent a bicycle from hostels or any shops for around 10k per day. The traffic in Vientiane, though chaotic, is slow enough that it is ok to cycle. There are usually places to park your bicycle around, just remember to ask for a bike lock at your rental place as well.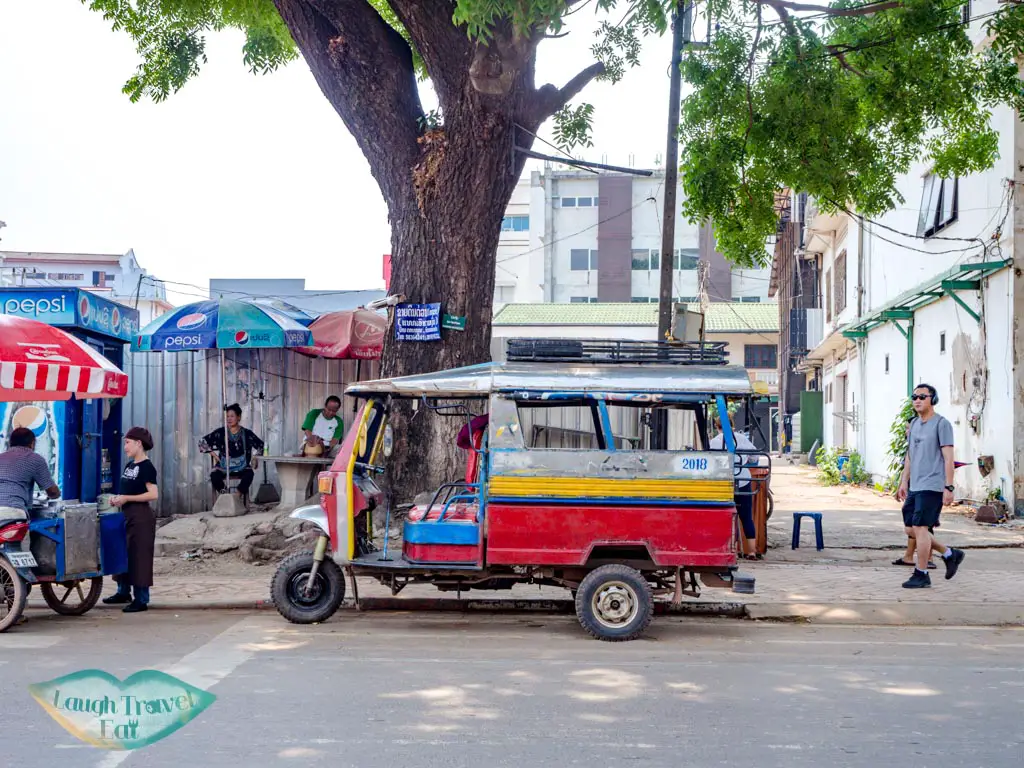 Traffic is fairly light in Vientiane so that makes cycling quite safe. The only few points to be careful of if you are cycling out to the Patuxai Victory Monument and Pha That Luang, since there will be roundabouts and main roads involved. When in doubt, just stop by the road side and check your phone. Or get off and push the bike!

Tuk Tuk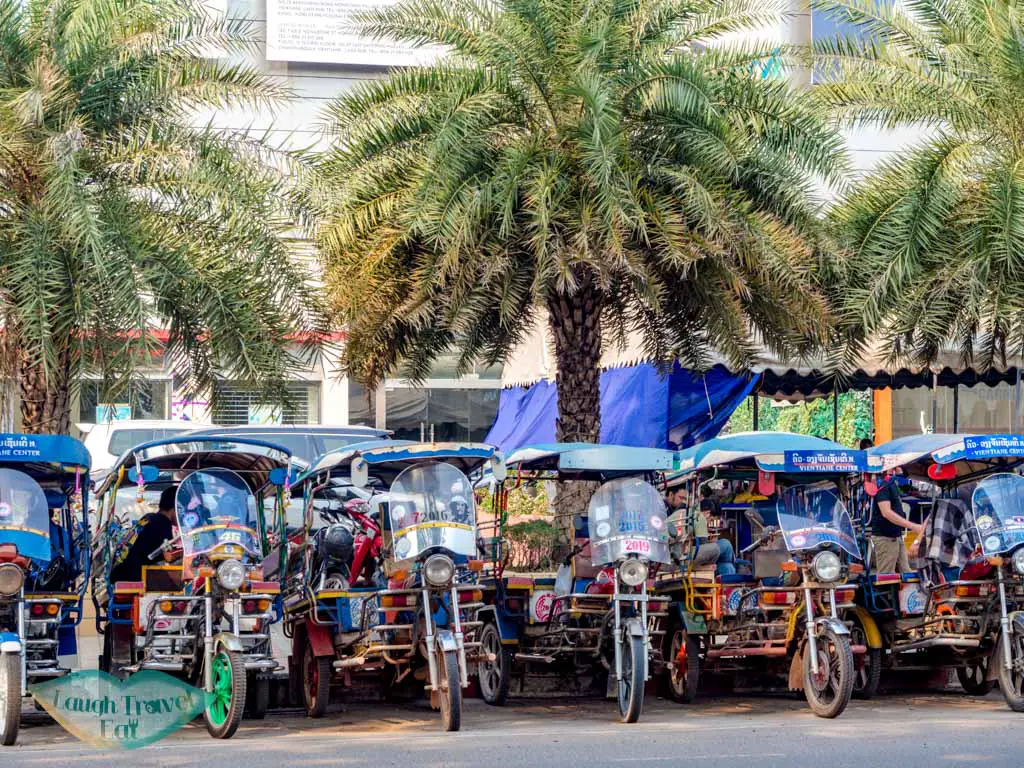 There are many tuk tuk waiting for customers on the streets. I never ended up taking one and walked around mostly. From what I've seen and heard, at least half the price they quote. It should be 50k to get to the airport but it'd be the same to get a taxi through grab.

Loca (ride sharing)
Unfortunately, Grab hasn't make its way to Vientiane but fear not, because they have Loca! A relatively new idea and app, it only works in the capital.
While it works like Grab in almost all aspect except it doesn't give you the total price at time of booking, only an estimate. We used it on our way to the airport from our hostel and it ended up costing 50k – which is 20k cheaper than the quote given by our hostel. It only took the driver about 3 minutes to accept so we got there in no time at all. The second time I used Loca to the airport costed 47k.

What to do in Vientiane
Patuxai Victory Monument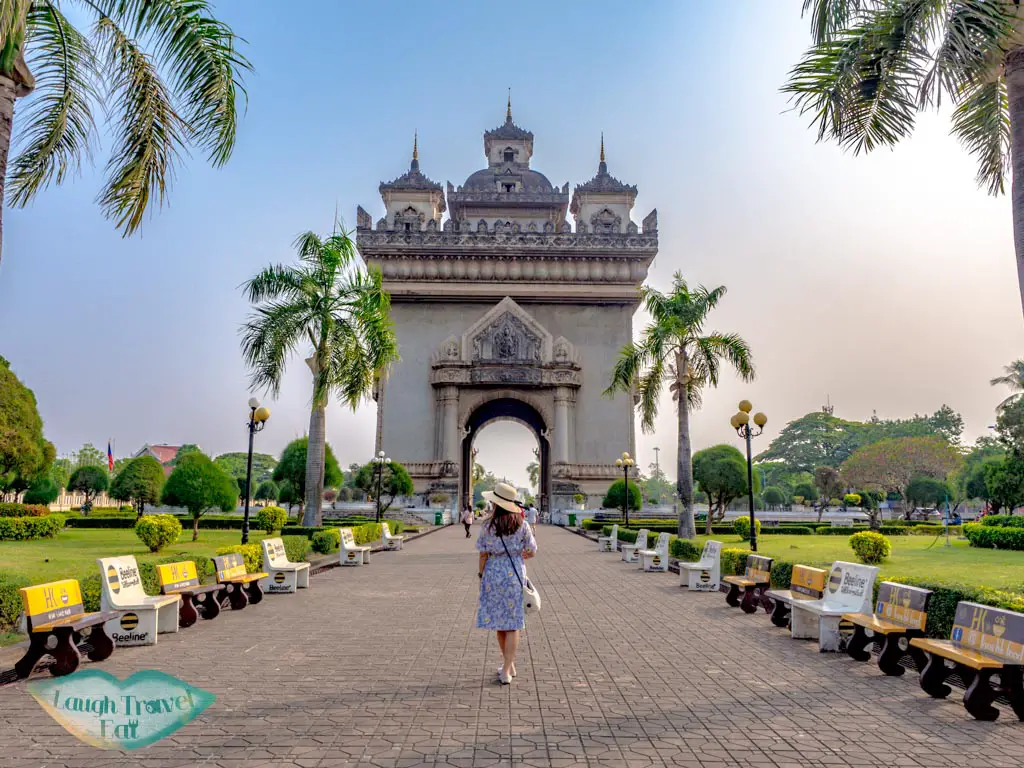 The Arch de Triumph of Laos, the Patuxai Victory Monument sits between two roads at the end of another main road. It was built in the 50s to commemorate the lives of those who fought for freedom in France.
While the shape and the setting bare some resemblance, if you look closely, you can see that the decorations are all of Laos mythology and origin. It is also much smaller than its frequently compared counterpart.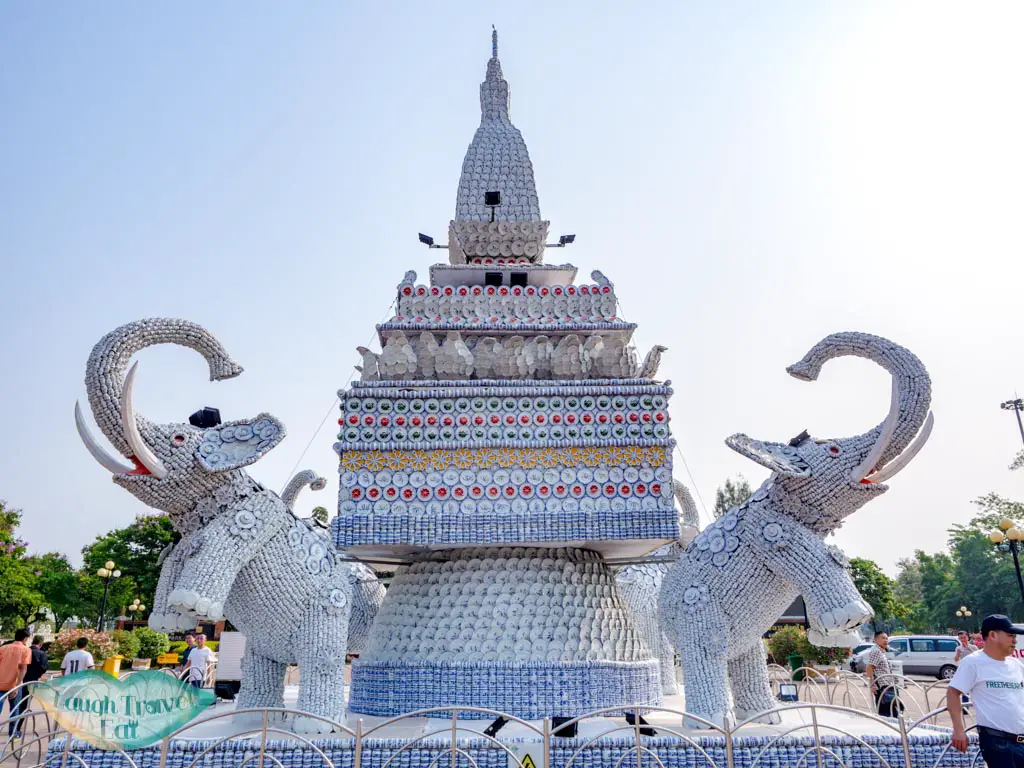 The monument fronted by a water fountain that's a gift from China and a long walkway on the other side. Most people take their photos in front of the fountain so the walkway is usually relatively crowd free.
You can climb up to the top of the arch, too, however there's not much to see in the skyline of Vientiane.

Entrance fee for top: 3k

Buddha Park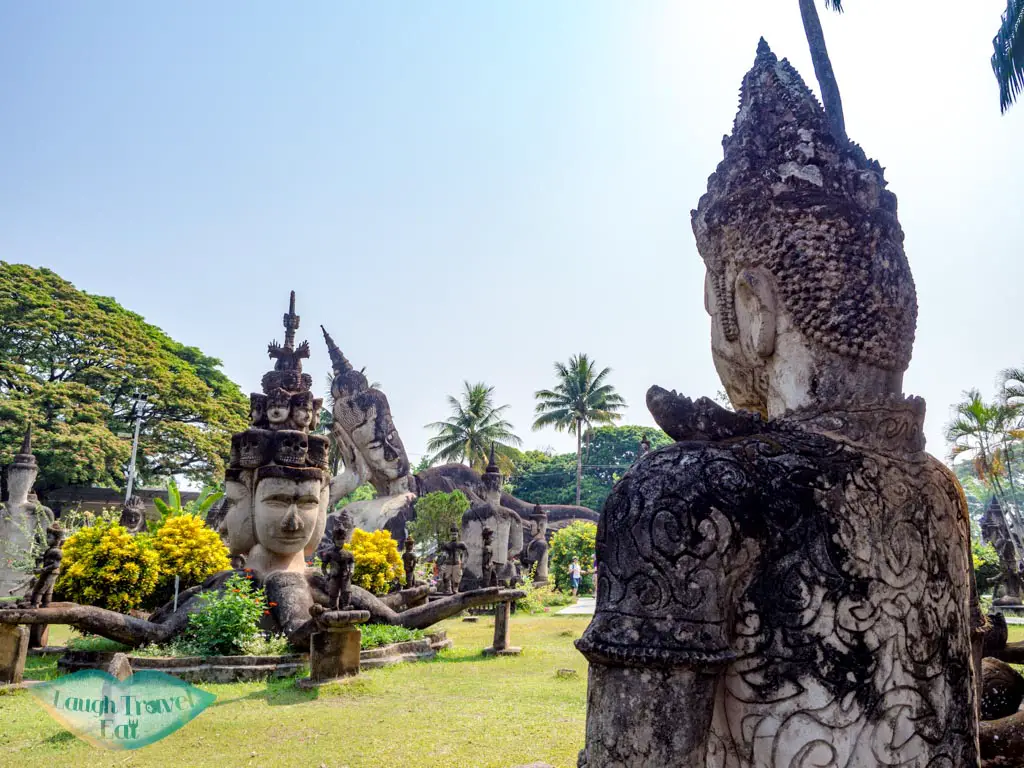 Built by a Hindu-Buddhist priest in the 50s, the Buddha Park isn't so much a temple but a collection of Buddha statues. Located some distance away from the city center, those who wants to visit either have to take a bus or hire a tuk tuk.
The Buddha Park is set between the main road and the Mekong River, with various Buddha statues scattered inside. The most famous one is the three-storey high structure where visitors enter through a demon's mouth and ascend from hell to Earth to heaven.


The top gives a panoramic view of the park and beyond. Other statues includes a giant reclining Buddha as well as Hindu gods.
On average, people spend about an hour here. There are food stalls and bathrooms inside. If you have the time, it's not a bad thing to do. If you don't have time to take the bus, give it a skip.
Audio guides are also available for an extra cost that would give more background on the individual statues.
Entrance fee: 15k – no extra charges for camera use or toilet

How to get there:
The bus 14 departs at the Central Bus Station 2 which is across the road to the left of the main one:


The bus doesn't go into the bus stop but form a neat(ish) queue by the road entrance, so make sure you pay attention to the bus number at the front. I was sitting at the official stop for a while and was waved over by the station staff and driver and ushered into the departing bus!
The journey out took about an hour but on the way back there is a potential long wait at the Thailand Laos land border as the bus waits to pick up more passengers.
The bus stop back is directly across from the Buddha Park by some small shops and restaurant with a bus stop sign at the front.

Cost: 8k

Statue of King Sisavangvong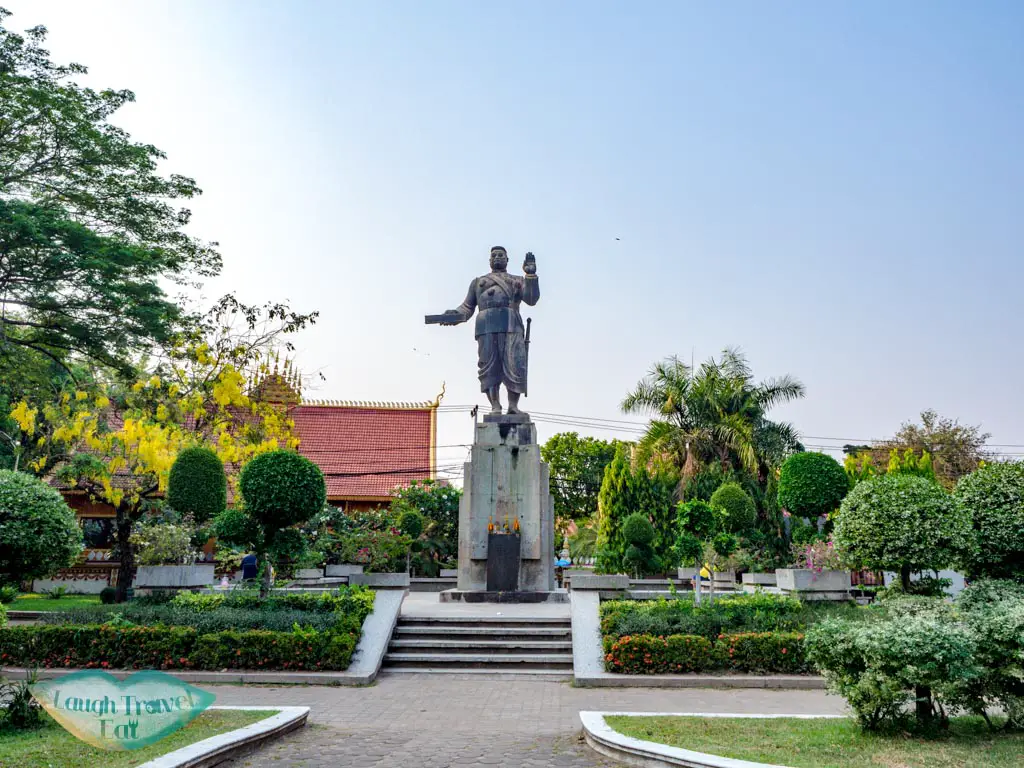 A statue of the first King of Laos as we know it today – King Sisavangvong – can be found in the park by Wat Si Muang. One of the longest ruling monarch in Southeast Asia, he was first King of Luang Prabang then Laos and reigned for 55 years from 1904 – 1959. Under his rule, Laos was unified and while he was a French rule supporter, they gained independence in 1953.
The royal palace in Luang Prabang was built by the French for him and a statue of him in a similar position can also be found there.

Chao Anouvong Statue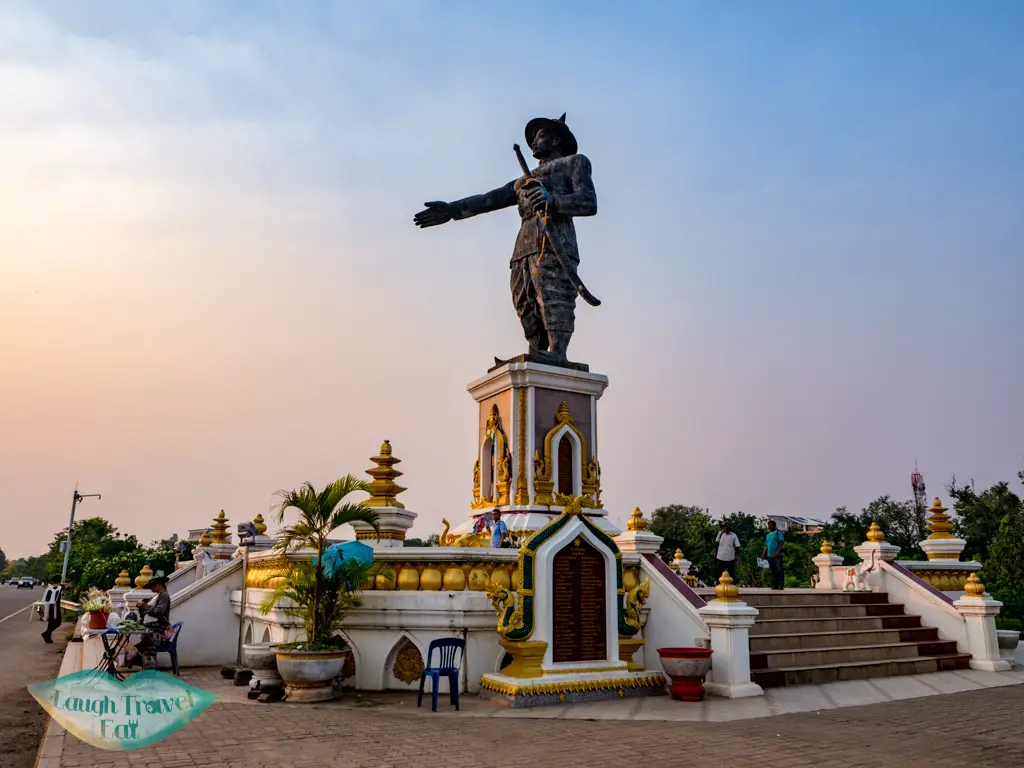 At the end of the night markets by the mekong river stands the statue of CHao Anouvong. He was the last king of the Kingdom of Vientiane, known for his rebellion against the Siamese in the early 19th century. The rebellion was squashed by the Siamese and led to the total destruction of the city. In fact, Anouvong's rebellion is precursor for the later wars between Siam, Vietnam, and China in the region, allowing the French to set up Indochina in the mess.

Vientiane temples
Although Vientiane has some beautiful temples, the ones in Luang Prabang are without a doubt more spectacular and historic. That said, it's still worth paying the following ones a visit:

Note – most temple closes around 5 but you usually can still visit the grounds
Pha That Luang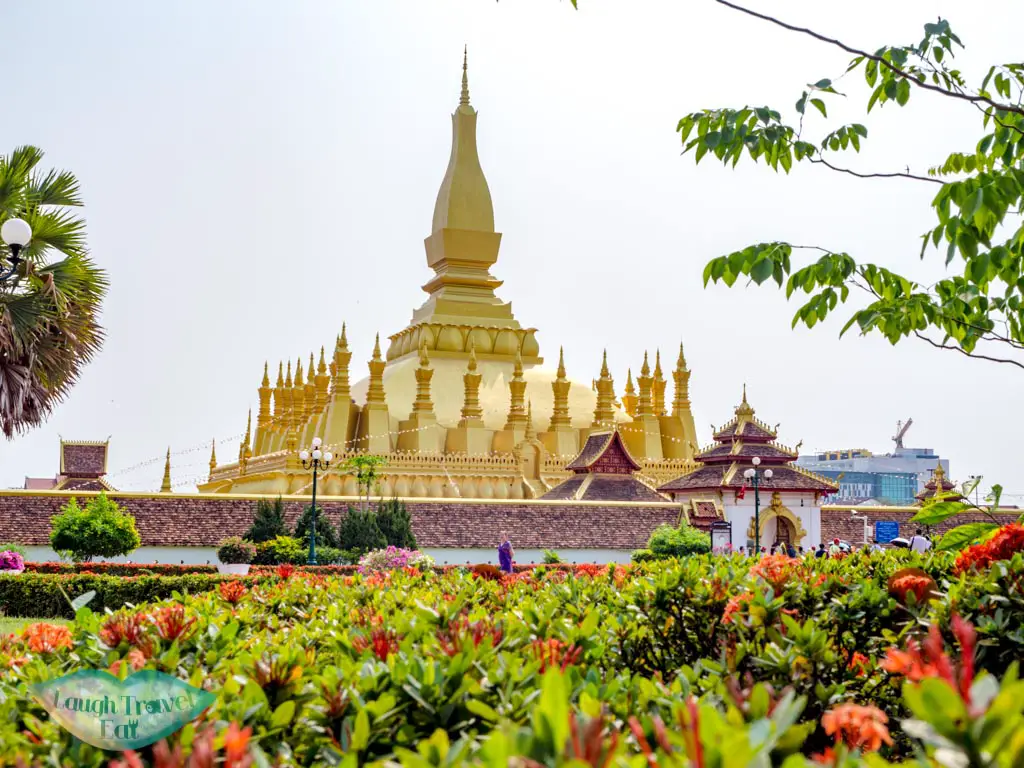 The other landmark of Vientiane besides Putaxay, Pha That Luang is a 44m high golden stupa in the heart of the city (but not downtown). The site was believed to have housed a temple as far back as 1st century, although Pha That Luang as we know it today dates back to 1566. Since then, it had suffered through periods of war with Burmese, Siamese, and Chinese so the current version we see is from the 30s.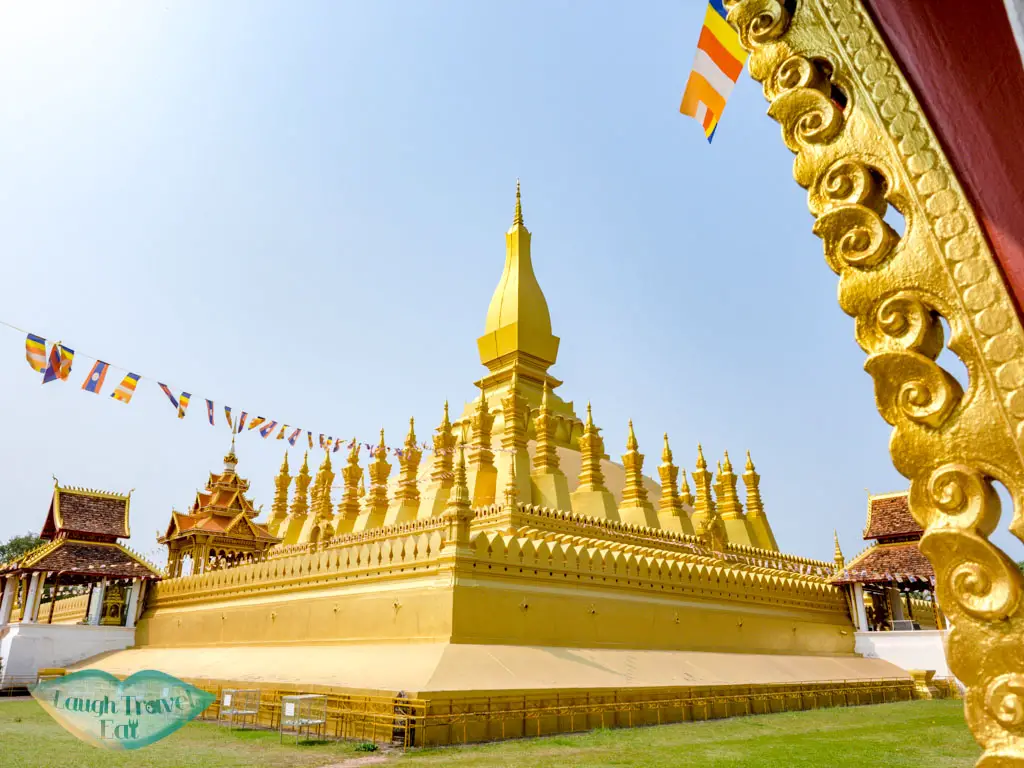 The stupa is surrounded by a grassy courtyard in an rectangular gallery walkway. Visitors can admire the three-level stupa from the shaded walkway but aren't allowed to go inside. There are a few smaller temples surrounding Pha That Luang which are worth a look, too.

entered here

parked inside
Note: if you are cycling there, you can enter by the car park in front of cafe Amazon and Texas Chicken. Just watch out for traffic in the opposite direction.
Admission: 10k kip
Opening times: 8:00-12:00, 13:00-16:00

Sisaket Temple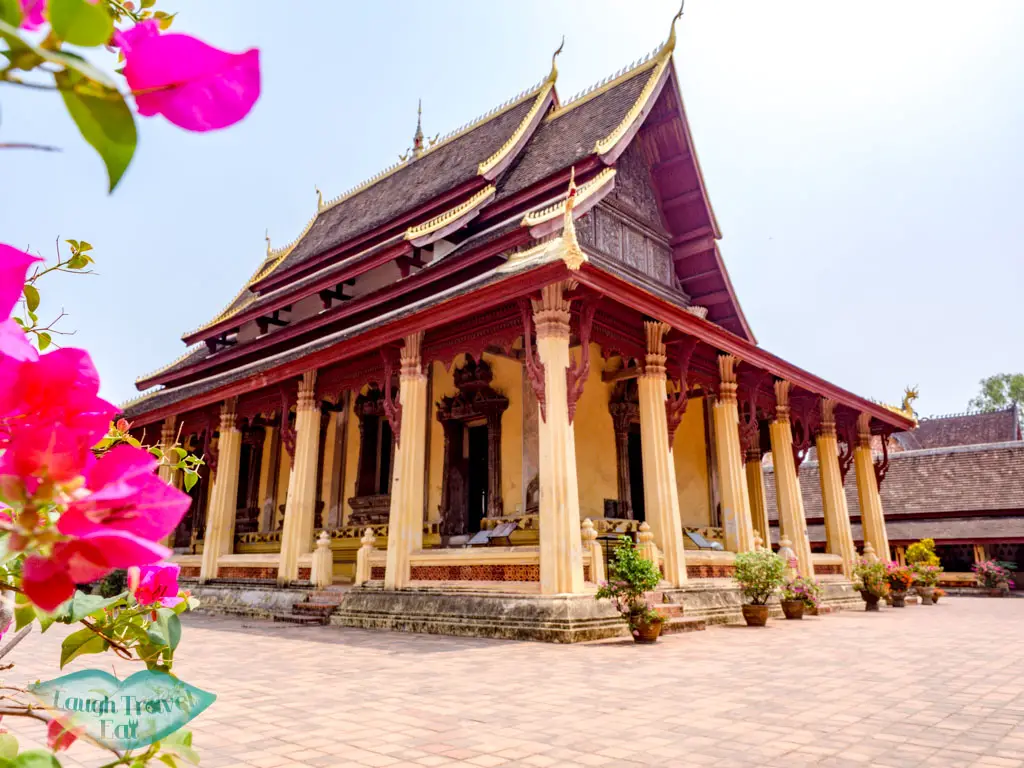 Sisaket is the temple with thousands of Buddha, built by King Anouvong in the early 19th century. The distinctive courtyard with cloister surrounding the central temple and the woodsy colour makes it distinctive. The entire complex houses over ten thousand Buddha images, hence its nickname.
It was spared during the sack of Vientiane in 1827, perhaps due to its Siam architecture style, and was used as a headquarter.
Admission: 10k kip
Opening times: 8:00 – 12:00, 13:00 – 16:00

Wat Phra Kaew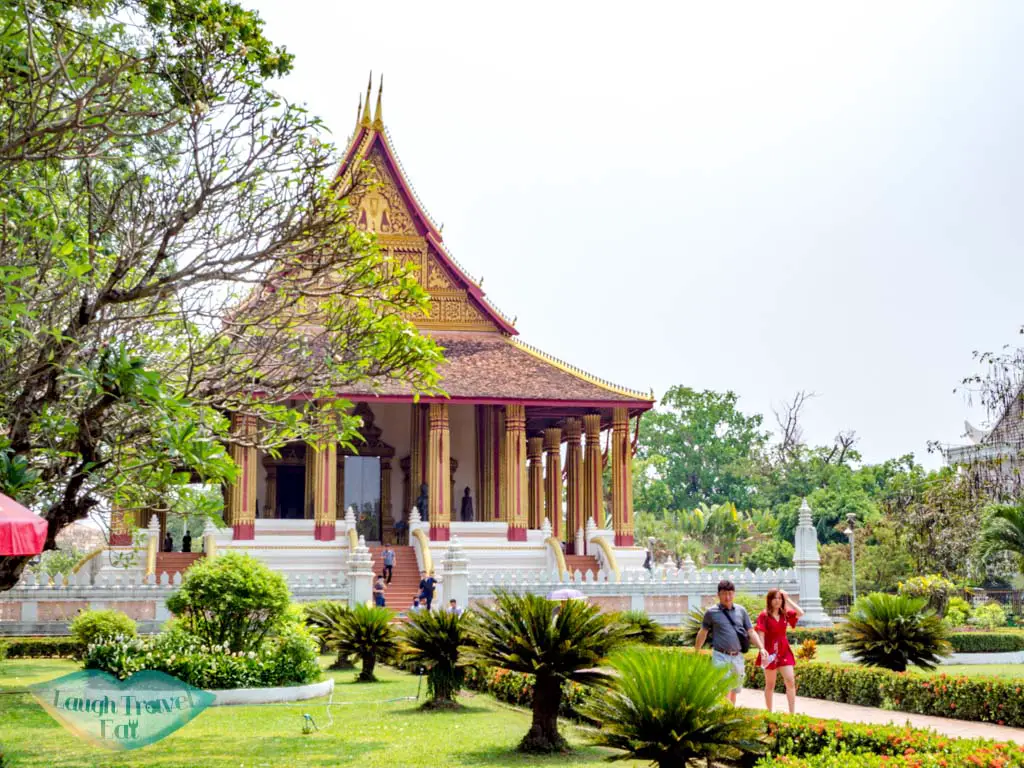 Wat Phra Kaew is just across the road from Sisaket and is a temple turned museum. It was built by King Setthathirath in the 16th century when he moved the capital from Luang Prabang to Vientiane. This was where the Emerald Buddha (now in Grand Palace in Bangkok) was originally held before it was taken by the Siamese.
The Emerald Buddha was seized and removed to Bangkok in 1779 and the temple was destroyed, it was rebuilt in early 19th century by King Anouvong, which was also destroyed and the current version was restored by French in the 1930s. Nowadays, the museum displays various Lao and Buddhist artefacts from around the country.
Entrance fee: 10k
Opening times: unclear but should be similar to Sisaket

That Dam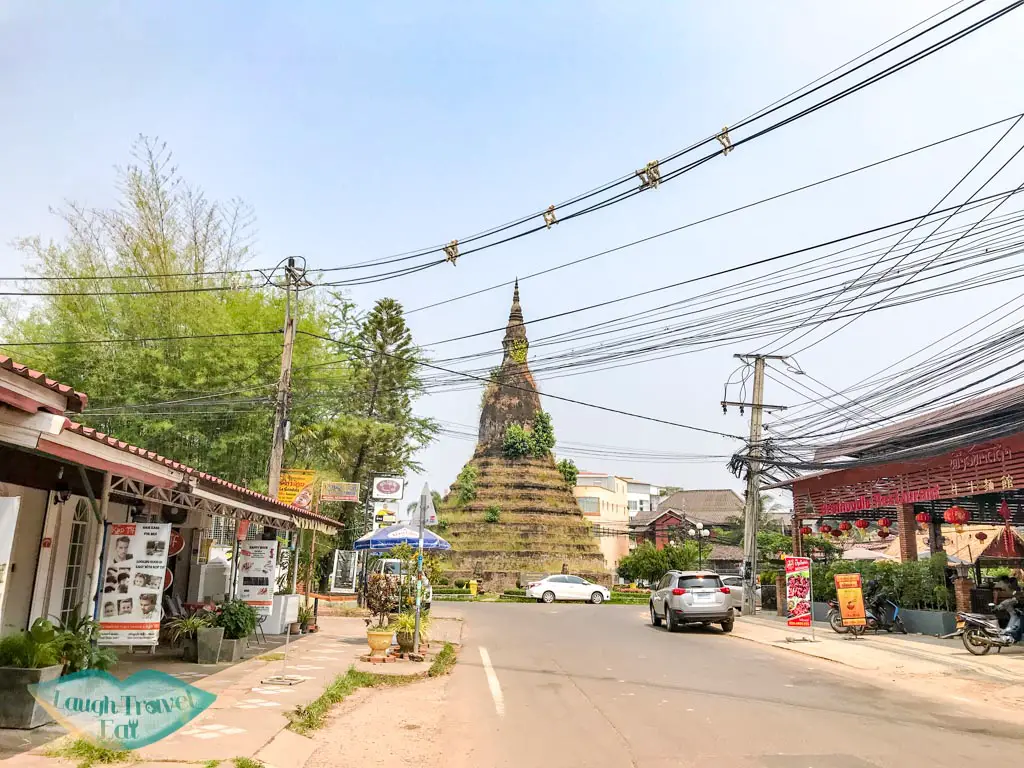 A stupa in a state of ruin, That Dam seems like an unassuming strange ruin that is now a roundabout surrounded by parked cars. However, it has an interesting history. Also known as the Black Stupa, it is said that a seven headed Naga resides inside.

Wat Mixai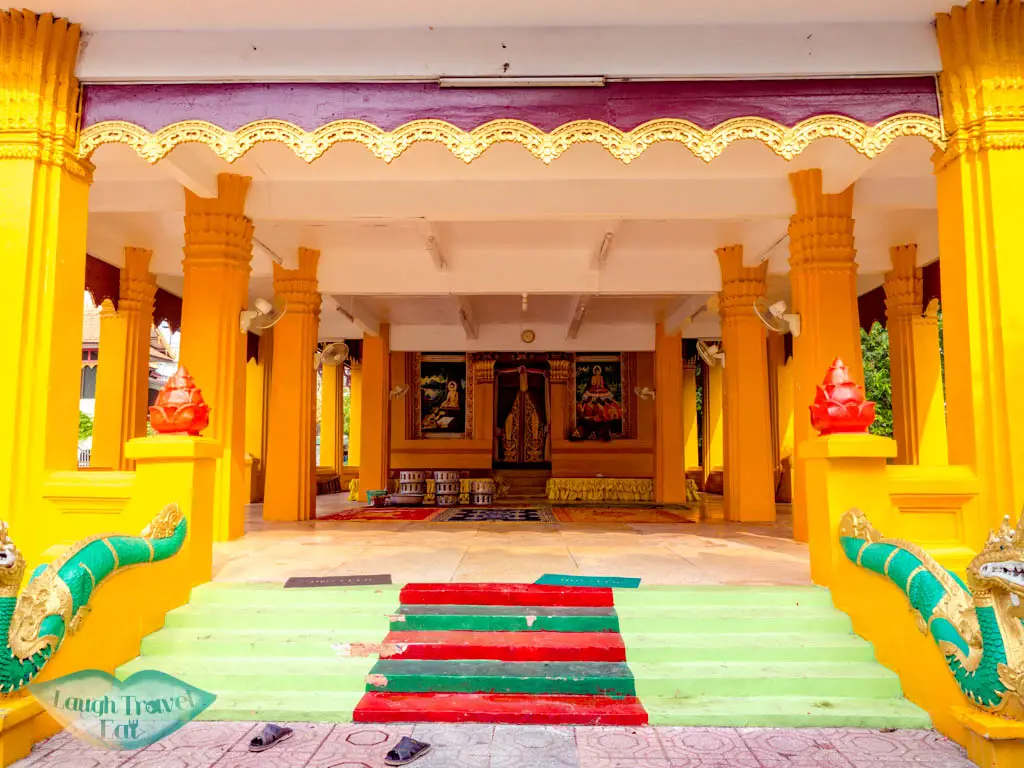 A red and yellow temple by the mainstreet near downtown, Wat Mixai is the temple of Victory built to celebrate the winning of Lao-Burmese war in 16th century. The temple was renovated in the early 20th century to Thai-style and is a quiet but pretty temple to visit and usually free of crowds. Although the locals seem to use it as a parking space.

Wat Si Muang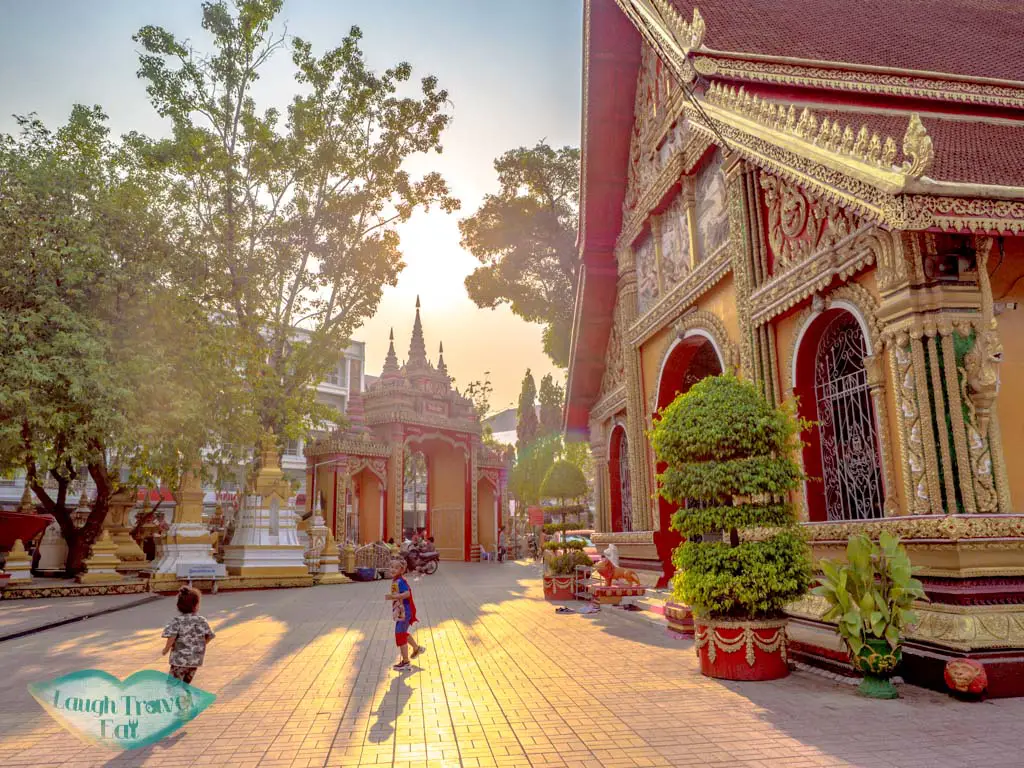 Although not as famous as Wat Sisaket or Pha That Luang, Wat Si Muang is an important temple in Vientiane as well. The site was first home to a Hindu Temple dating back to the 1st century, but the current Buddhist temple in the Khmer style is from 16th century.
It is said that the name of the temple is from a girl who sacrificed herself during the building of the temple to appease the local spirits. It is a popular temples for local with tall gates and stalls selling fruits, flowers, and other items for offerings.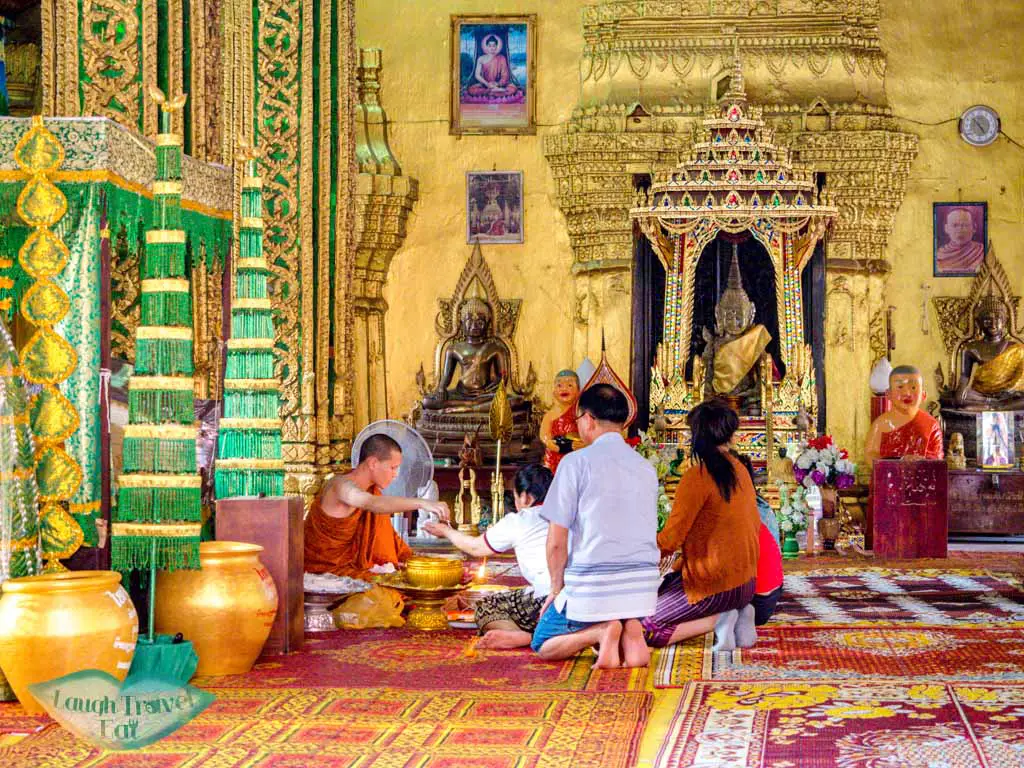 The main temple was busy with many people coming and going and I saw a family seeking blessing from the monks while I was there. Next to the main temple is the ruin of the stupa that is said to be from the original temple. It's definitely a temple worth visiting and convenient a stop after the COPE Center.
Opening times: 6:00 – 19:00

Vientiane City Pillar Shrine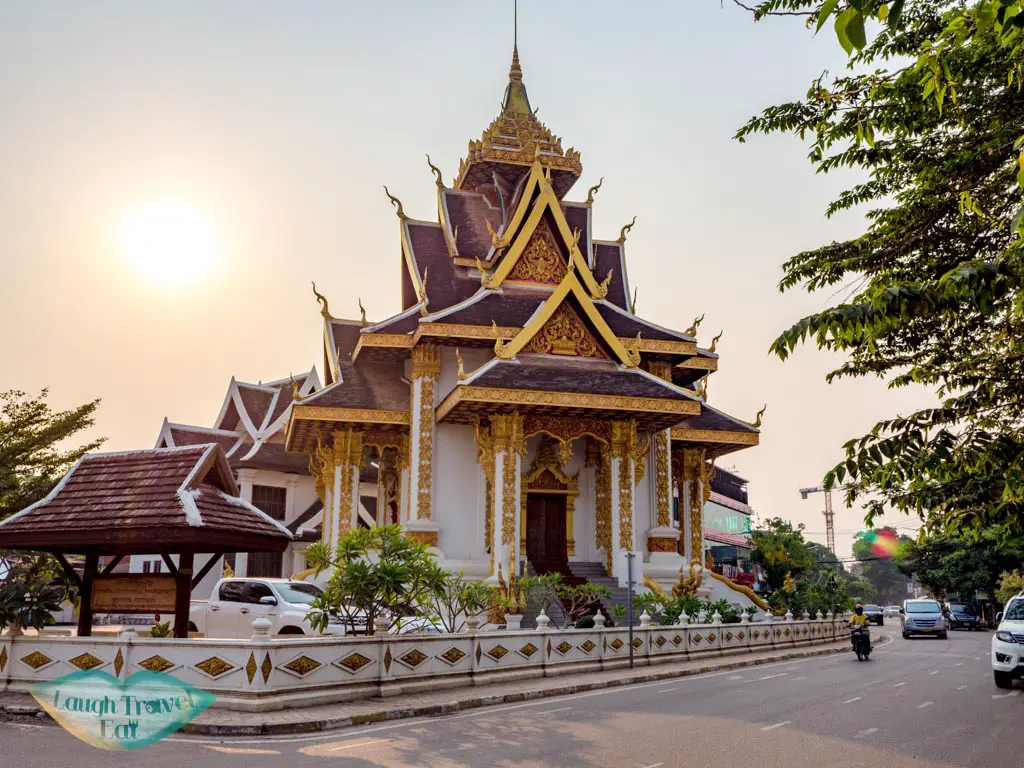 A new temple built not too far from Wat Si Muang, the Vientiane City Pillar Shrine is by a busy road and stands out with its impressive architecture. I walked past it after my visit to Wat Si Muang and had to stop to take some photos. It was closed by 17:00 but if you are nearby it's worth a stop to admire.

Museum Vientiane
COPE Visitor Centre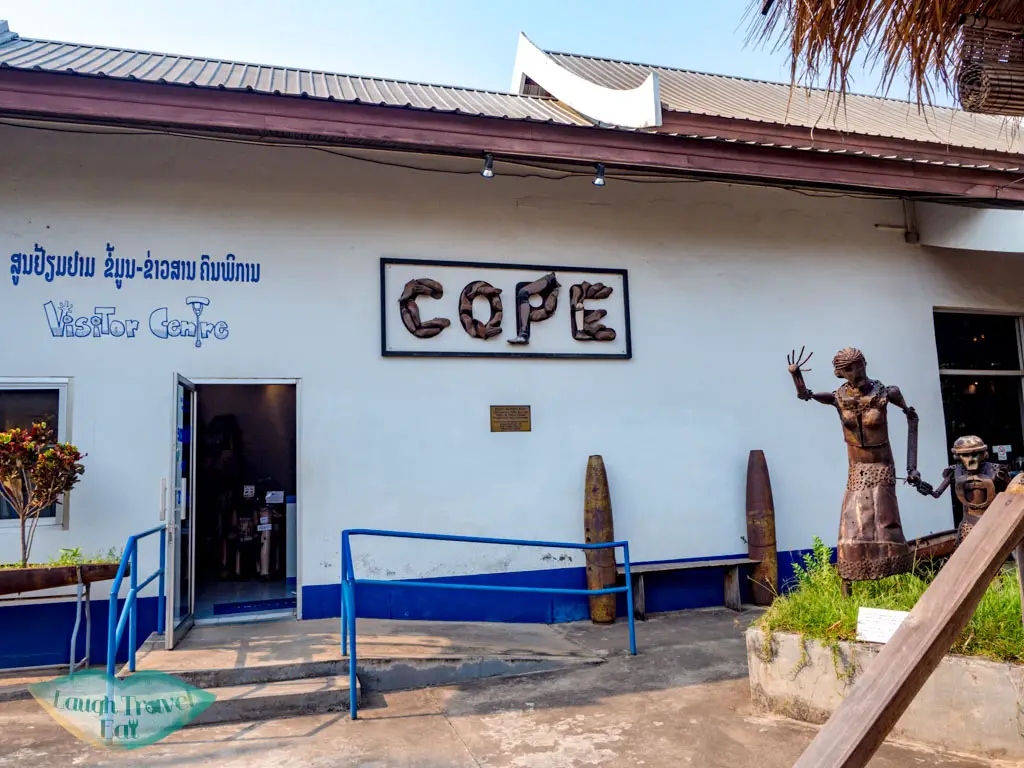 I have to admit, the first time I saw jewelries made from bomb casings in Luang Prabang night market I thought it was a hoax. After all, there was no war in Laos, so why would they have bomb?
Turns out I was only right about one thing: the no war part. During the vietnam War, cluster bombs were dropped all over Laos so much that it becomes the most bombed country per capita in the world.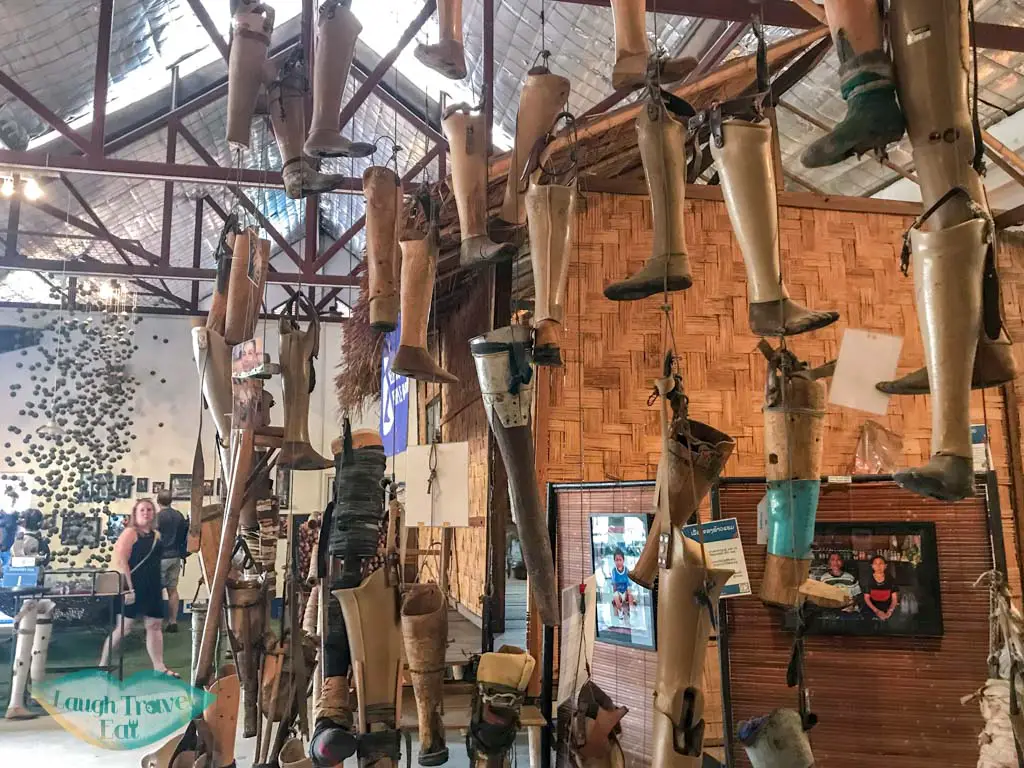 COPE center is an initiative to help bomb victims as well as people with disability to recuperate and fit with a prosthetic limbs. It tells the stories of the bombs, the surveys and clean up, how the victims are helped.
While it is a little way out of town, I strongly encourage anyone who is interested in learning more about the devastating damage to come and visit. It is such a recent part of history that's so tragic yet unknown to most that it's crazy.
Free admission
Note: I walked from the city to there and it's about 20-30 mins depending on where you start. It's totally doable but pavements are nonexistent in some places.

COPE was the only museum I visited in Vientiane but I had hope to also visit the textile museum:

Lao Textile Museum
A museum that also doubles as a weaving demonstration and shop, Lao Textile Museum is a little far from town center. Since I didn't personally visit it, see the review on travelfish here.
Night market in Vientiane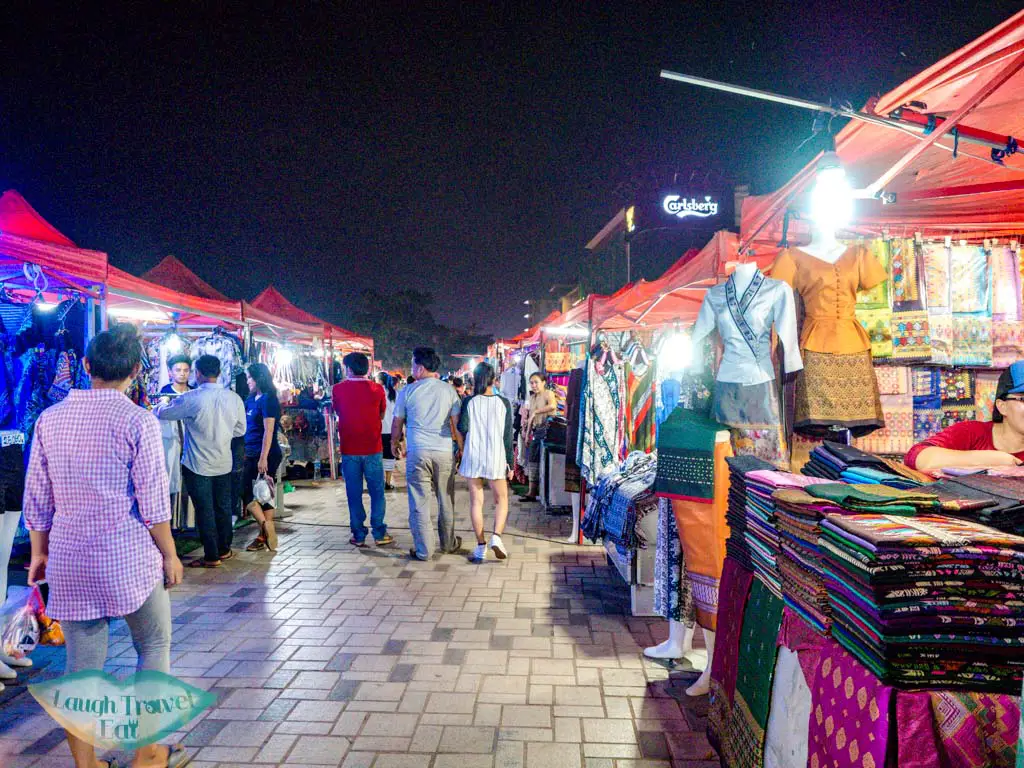 The night market in Vientiane spread along the river as a sea of red and blue tents. It is a rather busy and generic market selling many of the same-same item found in Bangkok markets. While I'm not impressed by the items on sale, the majority are at good prices and there are also a few that sells traditional clothings and fabric. Haggling is a must when price isn't displayed and if the crowd gets too much, escape towards the Mekong River for a leisurely stroll by the river instead.

Morning Market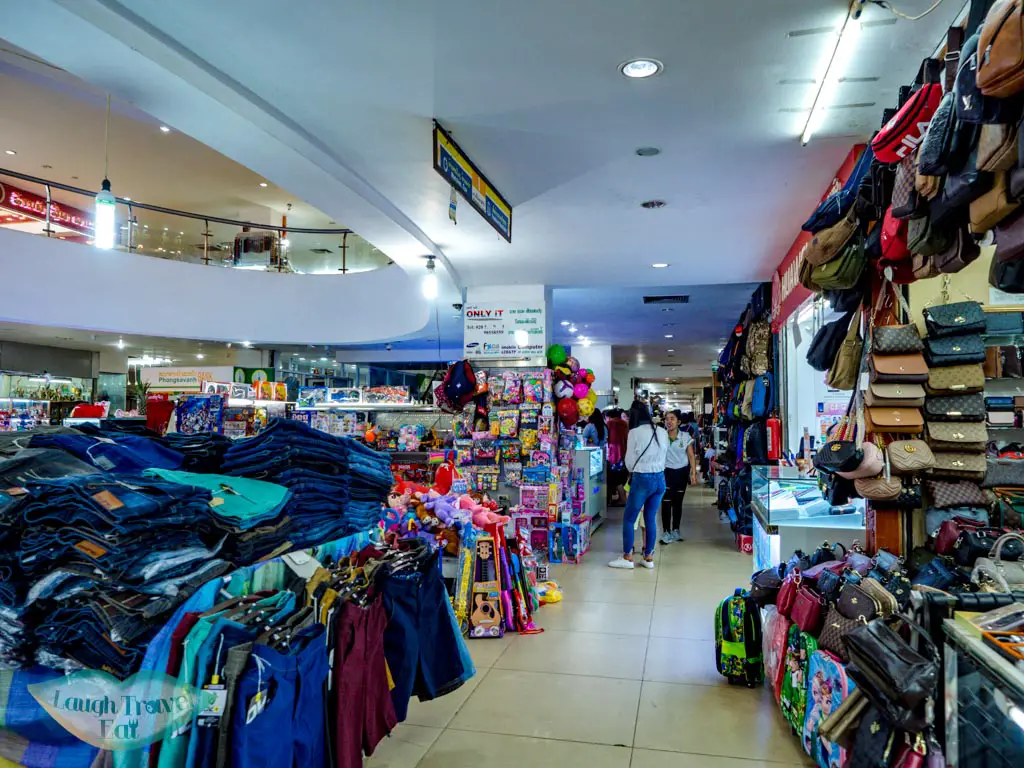 The Morning Market in Vientiane has a misleading name, as it is a all-day market by the main bus station. It is a combination of a food market sprawl next to an old mall and the mall itself.
The later chiefly sells electronics and associated accessories and after a quick browse it was clear that there wasn't much of interest for tourists. I've read online that some finds good souvenir here, so perhaps I just hadn't given it a thorough enough comb.

Shopping in Vientiane
If you'll be going to Luang Prabang or further north in Luang Namtha region, I'll recommend holding off any purchases until you get to either place. However, if you are only in the capital and looking to do some souvenir shopping (or to buy some stuff yourselves), here are some of my favourite shops:

Her Works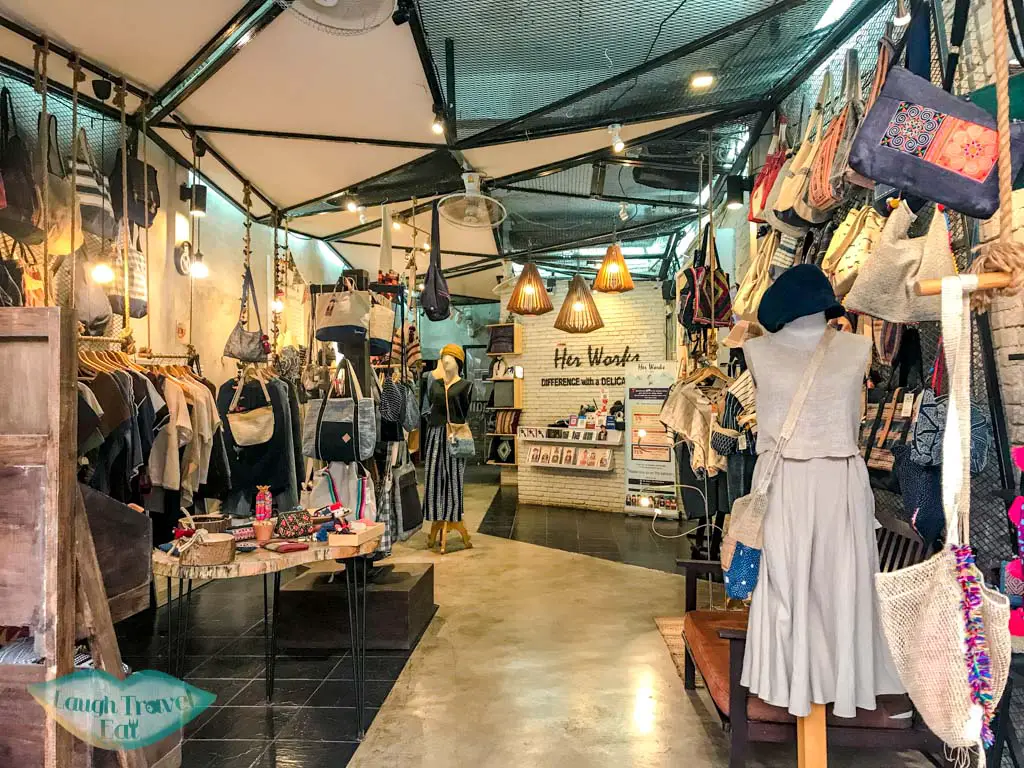 A beautiful shop that sells boutique Lao design and tribal print clothings and bags, Her Works is a great place to shop for ethically sourced quality product. You won't get the prices in Luang Namtha at night market, but you sure will get quality items. With small bags in Lao weave starting at 50k and clothings at around 200k upwards, it's a good place to shop for both clothings of your own and souvenirs.
Address: Rue Nokeokoummane, Vientiane, Laos
Opening times: 9:00 – 21:00

Mixay Boutic Art of Mekong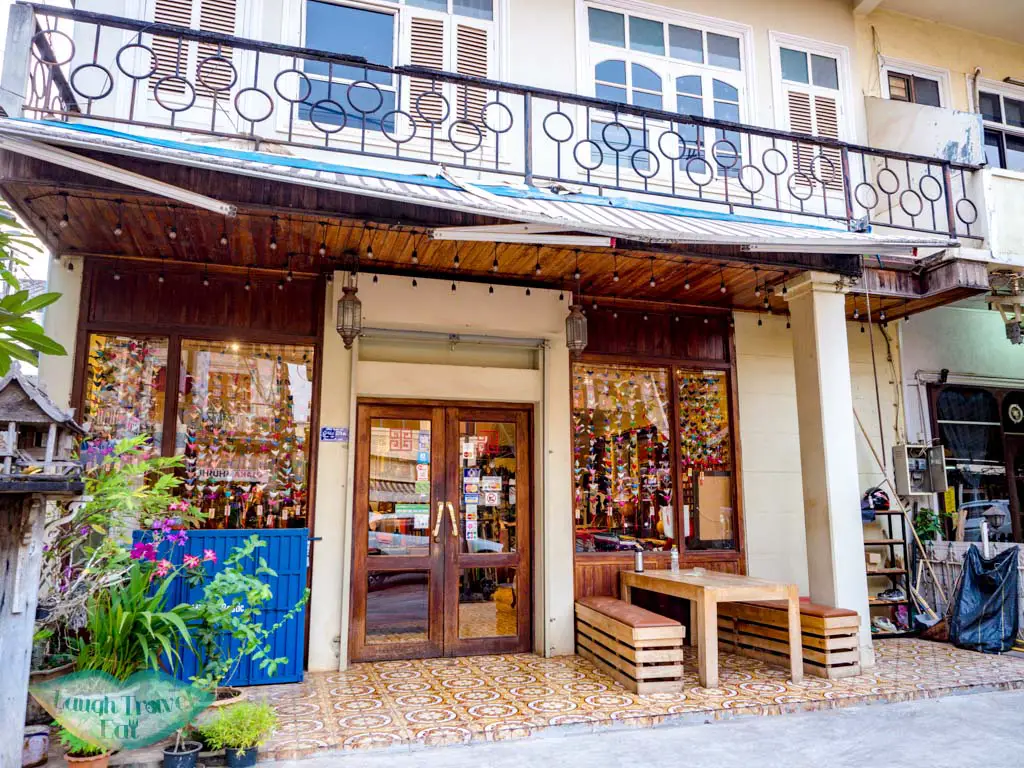 Down the road from Her Works, the Mixay Boutic Art of Mekong is a reasonably sized shop that sells a variety of sovenir products. The products are a bit more old fashion than I expected and I didn't see any ethnic products, but all of them are made in Laos.
Address: Ban Mixai, Vientiane, Laos
Opening times: Close Sunday 9:30 – 20:00

Mulberries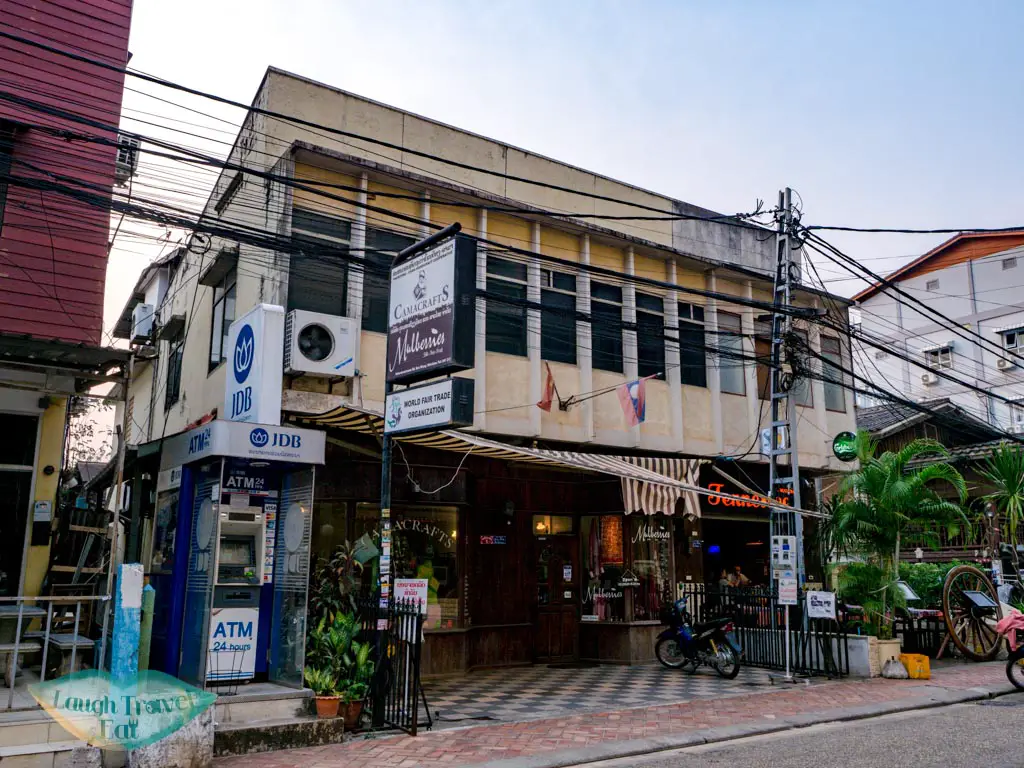 Also close by is Mulberries, a spacious two storey store that mainly sells beautifully woven scarves but also soaps, home decor, bags, tea, and shirts. The prices range from 180 upwards for scarves depending on design and whether or not it is silk.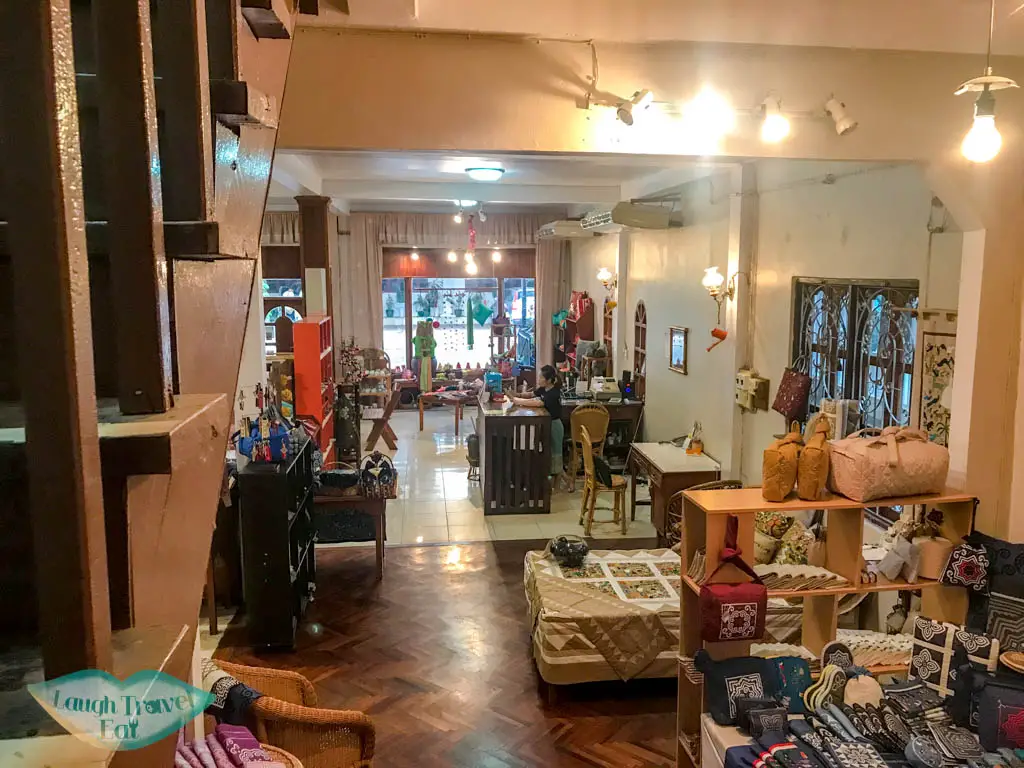 All the products are colour organised and very cute and it makes for a great stop from the heat of Vientiane.
Address: Rue Nokeokoummane, Vientiane, Laos
Opening times: unclear

Elegant Boutique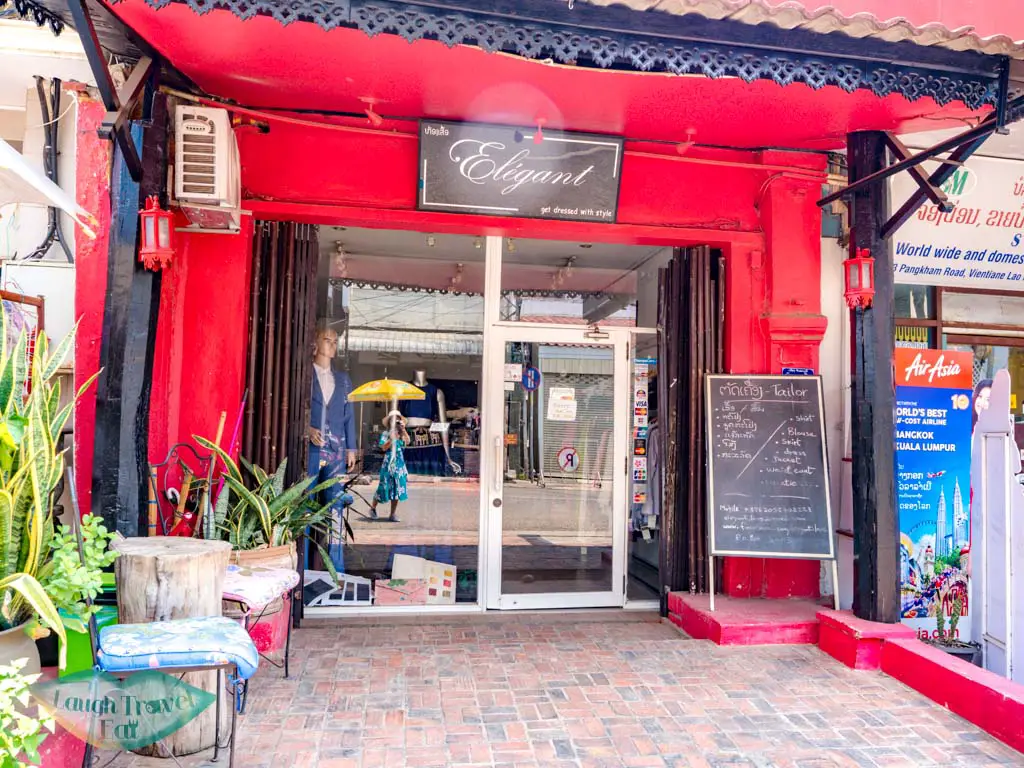 Elegant Boutique sells ready-to-wear and also offer tailoring service. One of the most recommended shopping in Vientiane, the owner is a famous local designer that incorporates Lao design into modern cut. Unfortunately, the shop wasn't open when I visit, but if you are looking for something bespoke and upscale then this might be the place to visit.
Address: Po Box 3003, N°103 Pakham Street, ວຽງຈັນ, Laos
Opening times: unclear

Around Elegant Boutique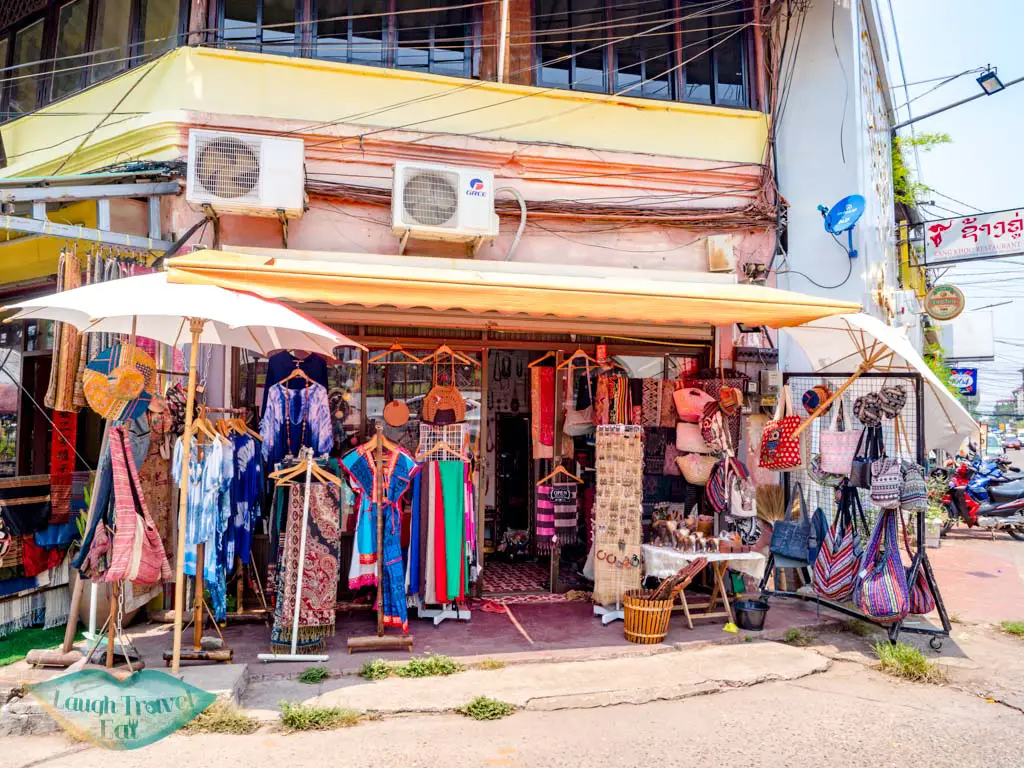 There are a few cute little shops south of Elegant Boutique by the bend to NamPhou Park. They sell more ethnic items but the prices are elevated compared to the night market of Luang Prabang and Luang Namtha.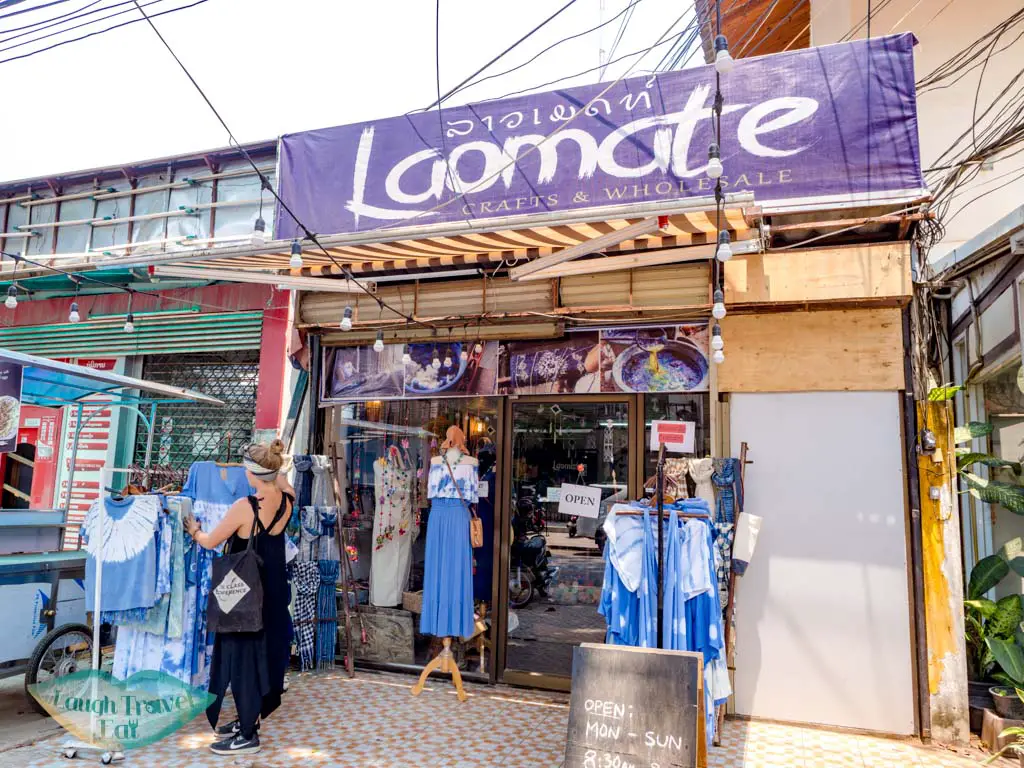 There's also a similar shop across from Coco&Co.

Lao Artisans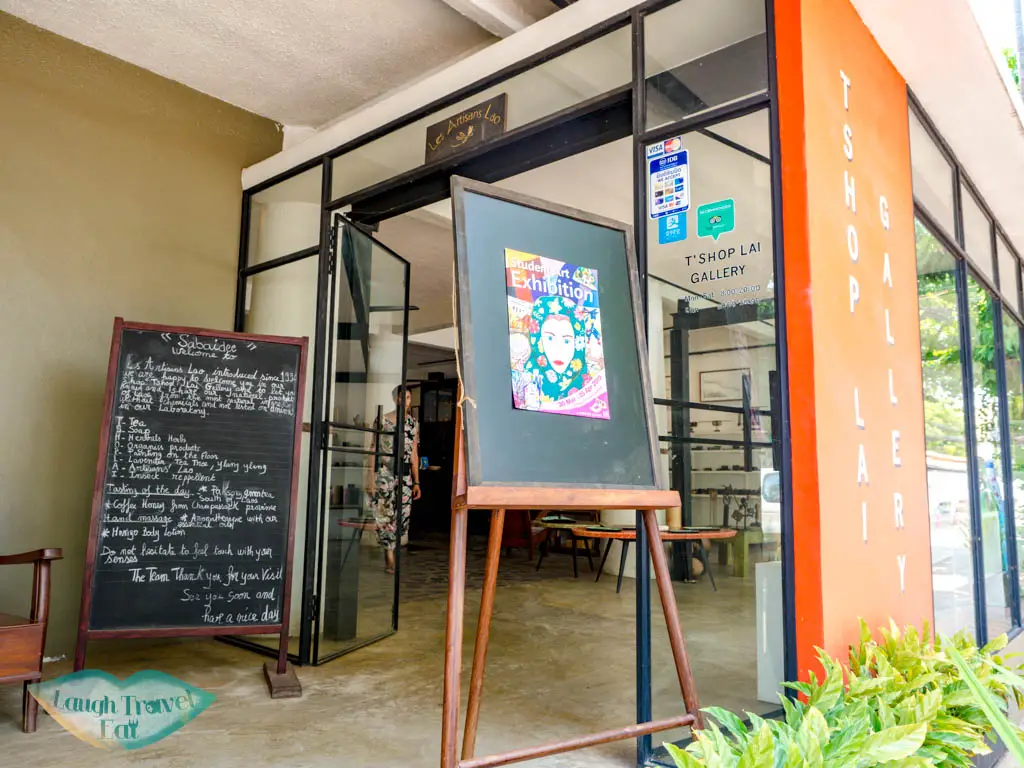 Want to buy something more universal and useful? Lao Artisans sells essential oil, soap, and similar products made from ingredients collected in Lao. The prices aren't as cheap but the quality is said to be good and the shop smells heavenly!
Address: Chao Anou Road, Vientiane, Laos
Opening times: Mon – Sat 8:00 – 20:00; Sun 10:00 – 18:00

Kanchana The Beauty of Lao Silk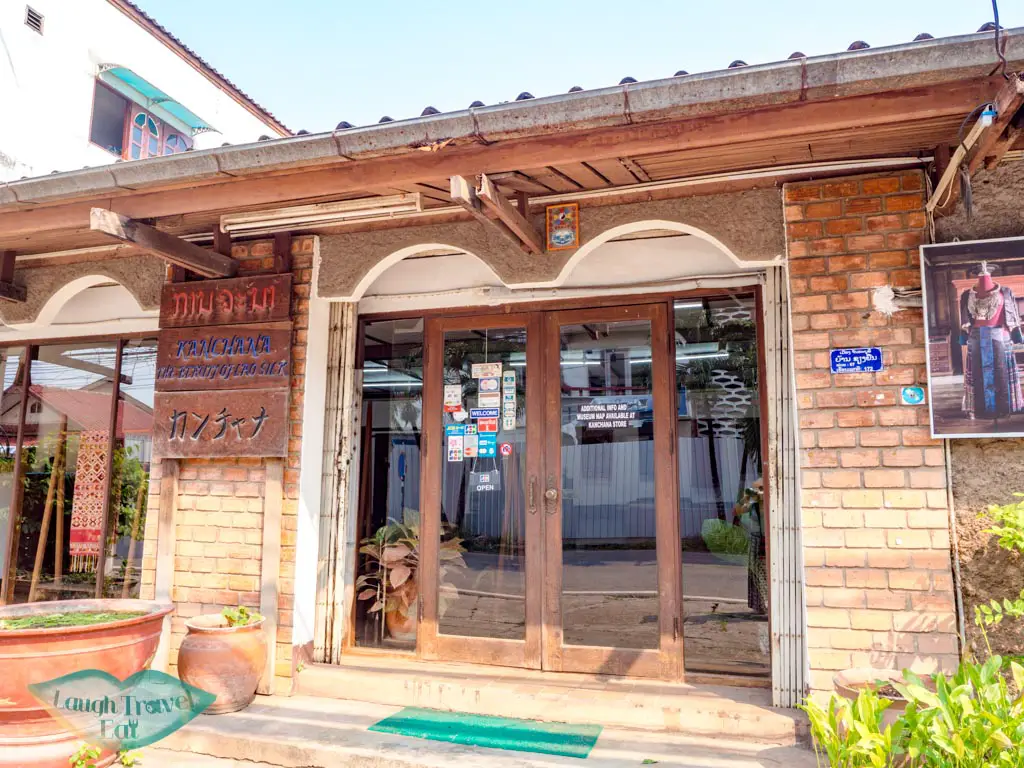 This one is for the serious silk and scarf lover. The Kanchana shop is close to That Dam and exclusively sells silk scarf. There isn't much to browse aside from silk scarves of different colours and weave so if that's not what you are looking for it's best to skip it.
Address: 140, 09 Samsenthai Rd, Sisaket, Vientiane Capital
Opening times: 9:00 – 20:30

Cafe and restaurants in Vientiane
Vientiane isn't much of a foodie's place, however, that doesn't mean that good food cannot be found. After a collectively 5 days in the city, here are some of my favourite dining spots:
Note: many restaurants are closed on Sunday

Indigo Cafe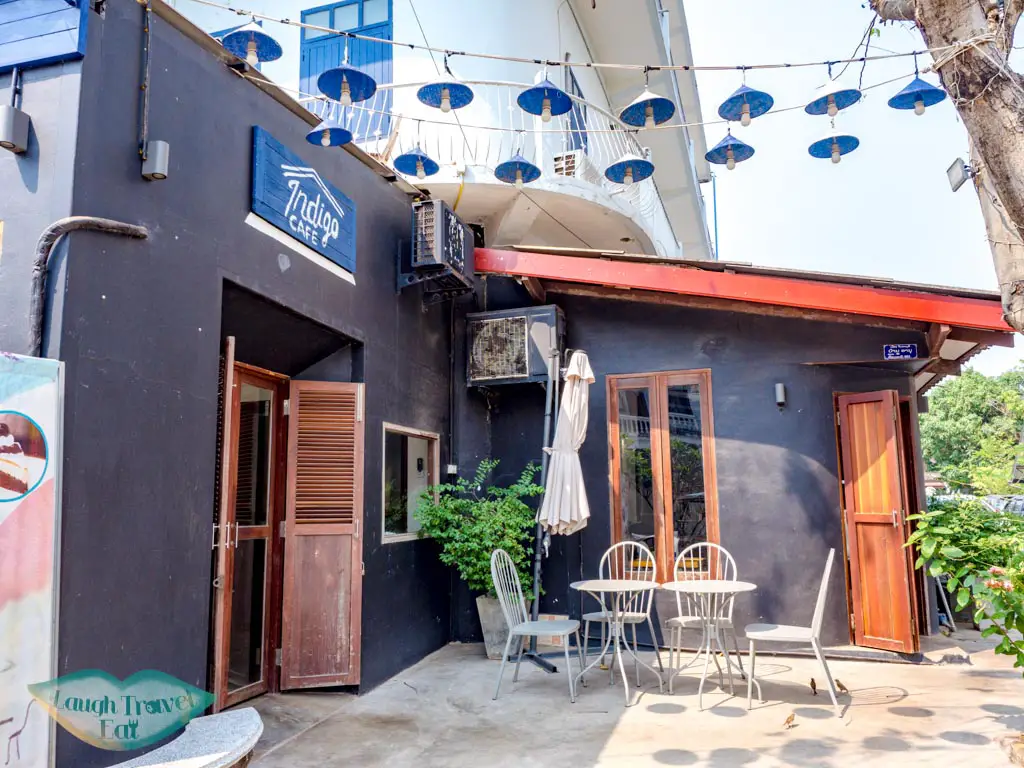 My favourite place in Vientiane, Indigo is hidden in a quiet side street on the north end of town center. The cafe is decorated with Indigo pillows with great WiFi and modern decor, and the best part is that they serve free pea flower drink for free.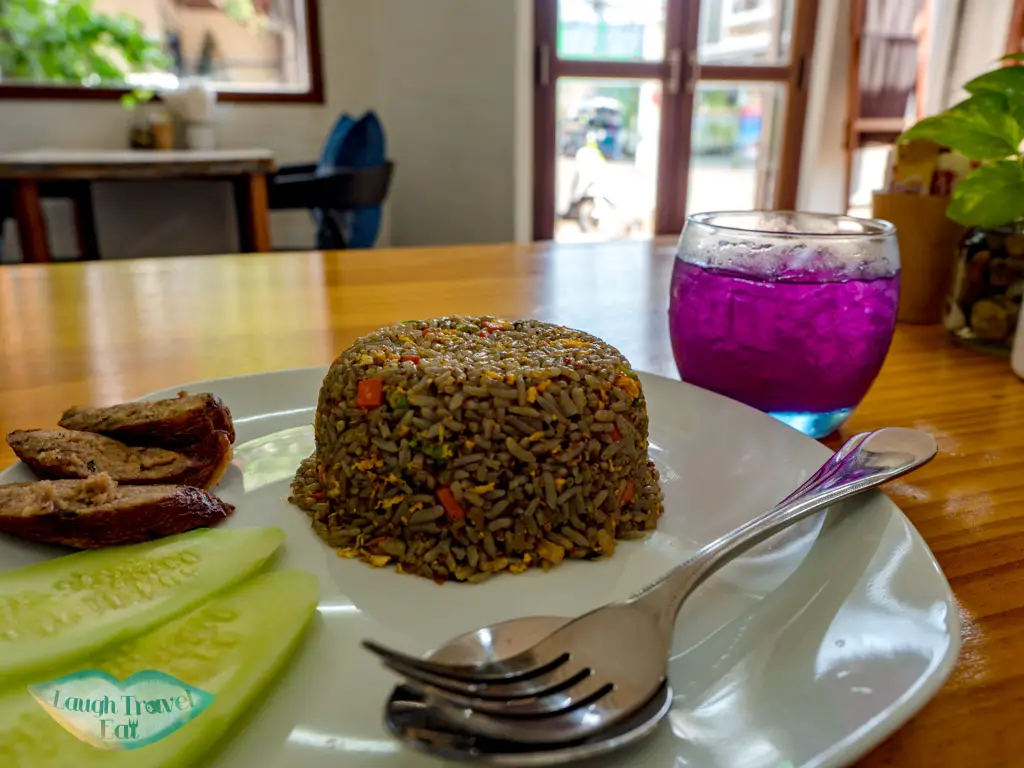 The food are also ridiculously cheap with both western and Lao food. I had a Lao fried rice for 15k that includes the drink and soup. You can't get better value than that! Note that it has a side room in addition to the main restaurant.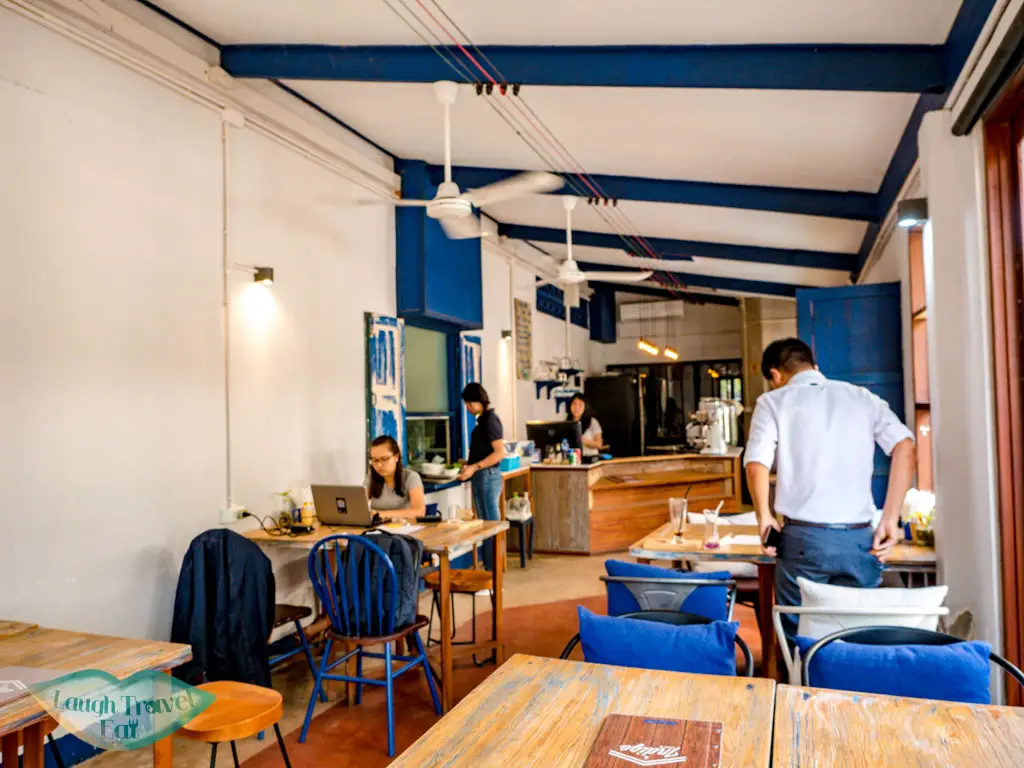 The two are separate and you'll have to pay at the main restaurant anyway so check that you didn't accidentally walk into the small room (like me).
Address: Phnom Penh Road, 01000, Rue Phanompenh, Vientiane, Laos
Opening times: closed Sunday 7:00 – 21:00

Tyson's Kitchen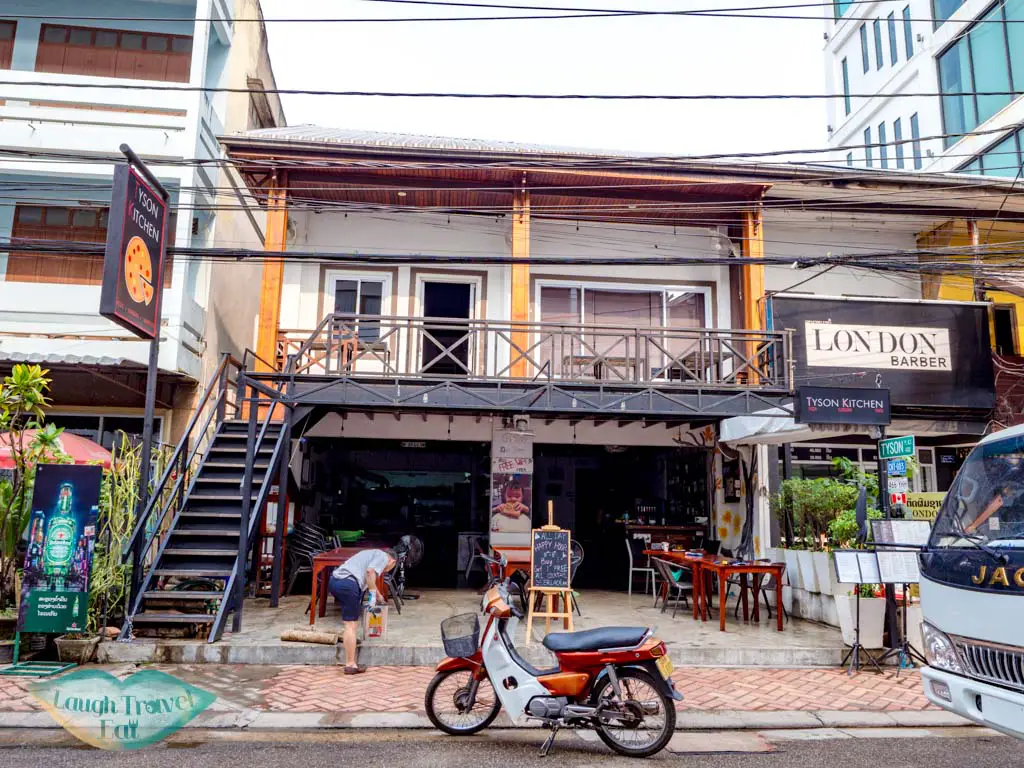 We were craving some burger and(or) pizza when we came across Tyson's Kitchen. It's a beautiful open air restaurant with friendly and cheerful staff. There was a mix of local and tourist clientele, so we settled down on the second floor balcony seat. We ordered the burger and was not disappointed – they even offer a choice of salad or fries to accompany it.
The owner, Tyson, came to chat for us for a while and upon hearing that we wanted pizza but ordered burger, he especially gave us dessert apple pie (pizza)! And he had no idea that we were bloggers.
Opening times: 11:00 – 23:00

Once upon a Time Cafe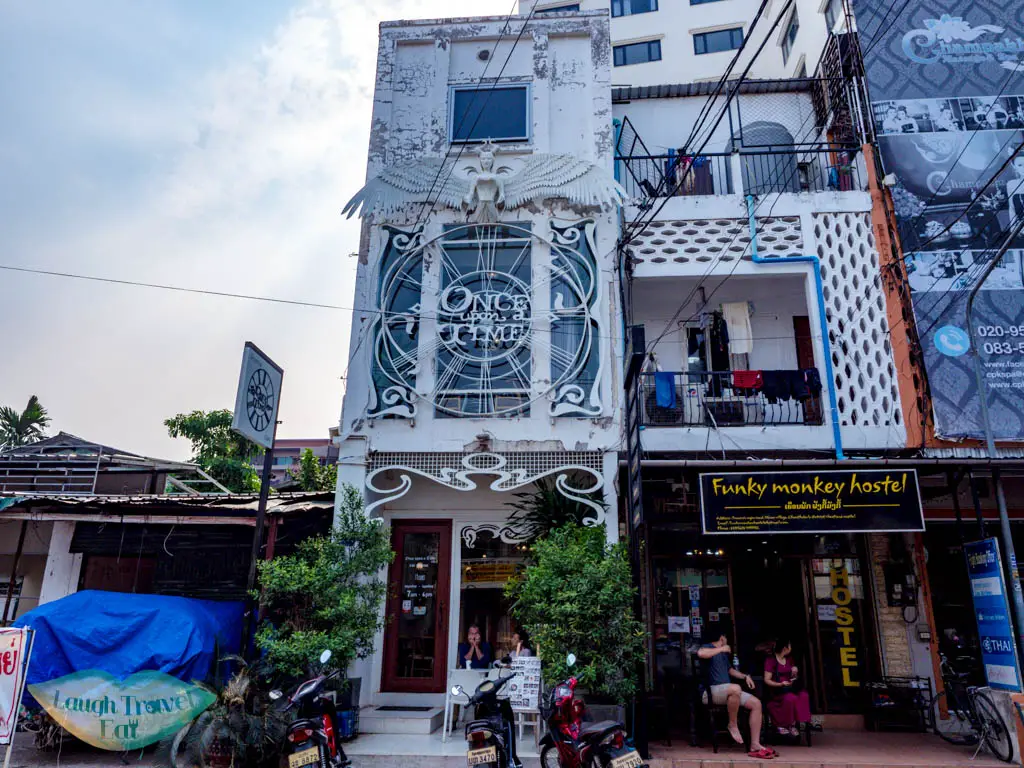 Looking for cute cafe in Vientiane? It turns out that fairy tale is just around the corner at Once upon a Time Cafe. a four storey high building with eye-catching white metal filigree decoration of a clock and Cinderella outside, the inside is equally as quaint, with depiction of Cinderella and Ariel on the wall.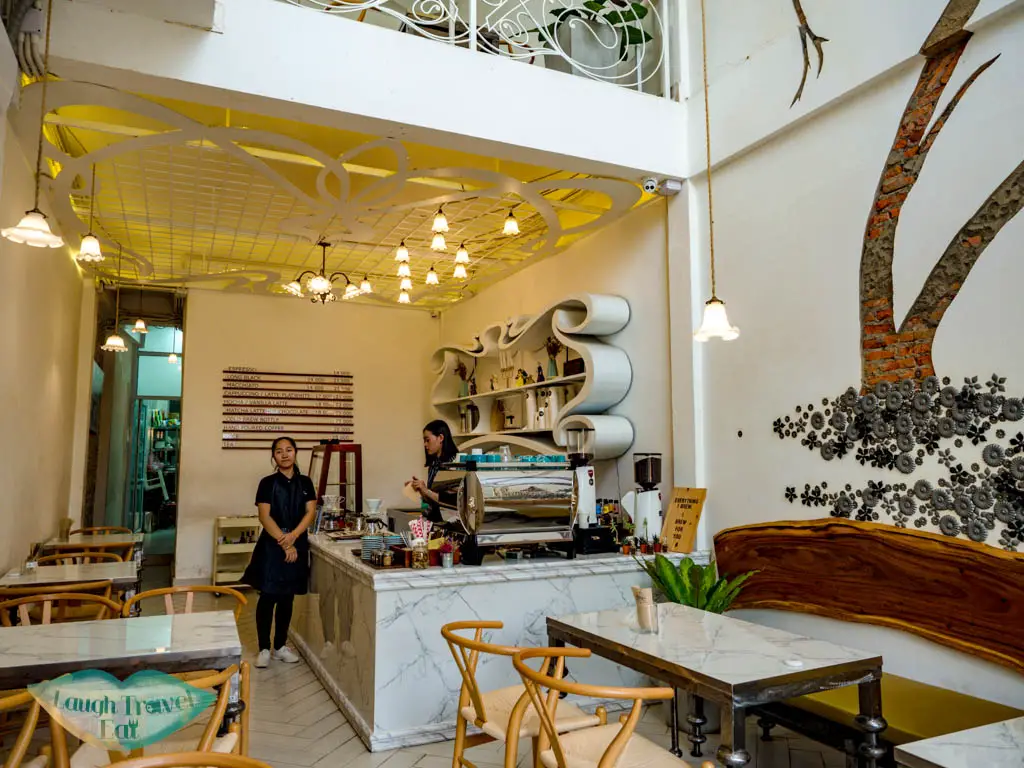 Their second floor has a open loft design and it's super easy to spend a day there.
Opening times: 7:00 – 18:00

Hidden Cafe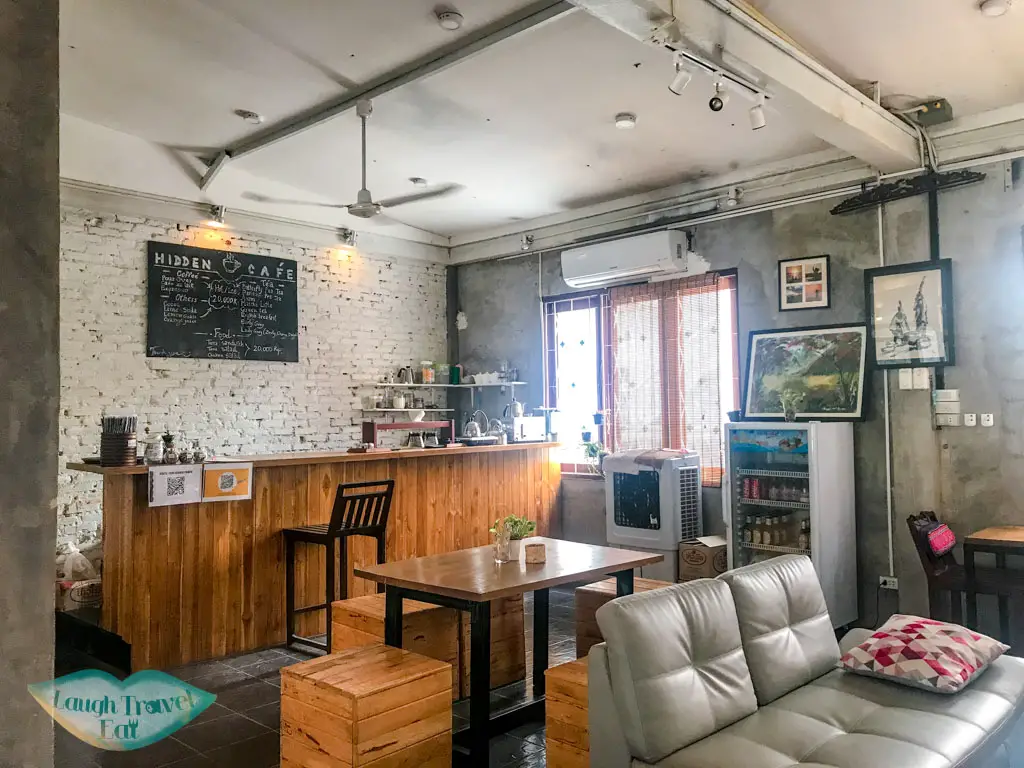 On top of Her Works is the Hidden Cafe. True to its name, it's a hidden space that isn't so visible from the outside. The cafe area is spacious with a strangely cohesive mismatch set of sofas and cushion chairs. I didn't try anything there but it looks like a nice place to relax.
Opening times: closes Sunday 10:00 – 18:00

Coco&Co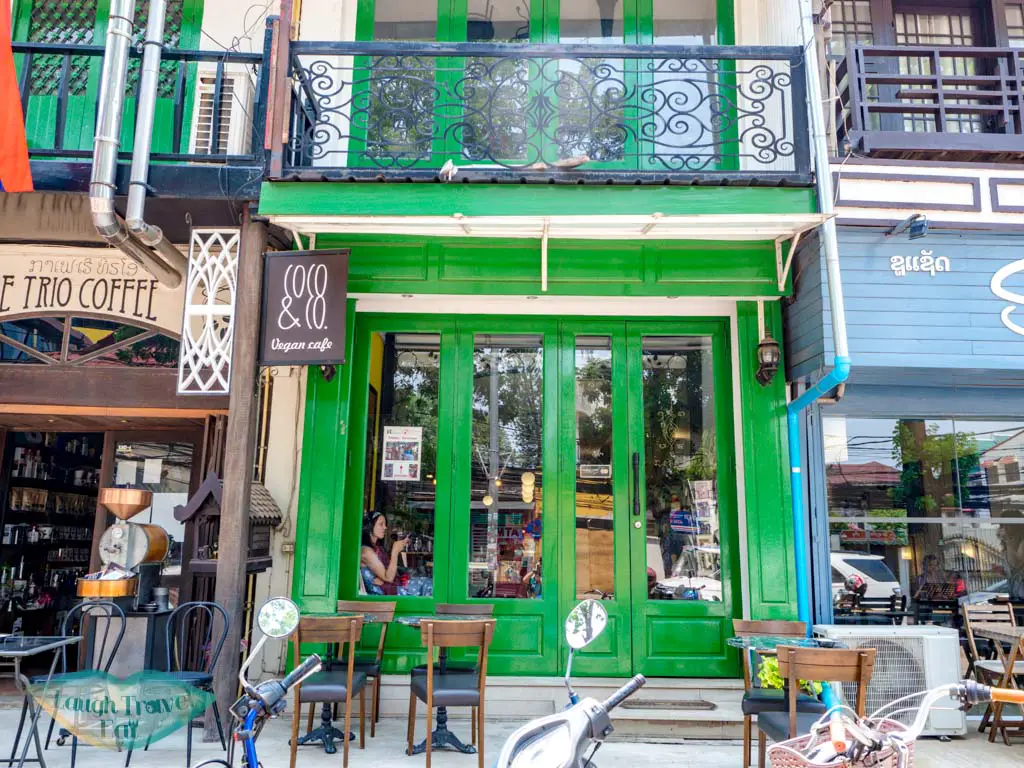 A vegan cafe that serves coffee, drinks, and simple food, Coco&Co is a lovely little spot for a drink or dessert even if you aren't vegan. The prices are on the higher side but their Kombucha and vegan chocolate cake was divine. Their smoothie bowl is also value for money given the size and a great choice in the heat.
Note: one of the staff was rude to me from the get go but everyone else was very friendly
Address: Rue Setthathilath, Vientiane, Laos
Opening times: 8:00 – 17:00

Massage in Vientiane
Lao Phu Thai Massage and Spa

A relatively new spa opened in early 2019, it's on the backpacker hostel street on the edge of city center. The staff (owner?) greeted me warmly with cold water, which was much appreciated in the Vientiane heat.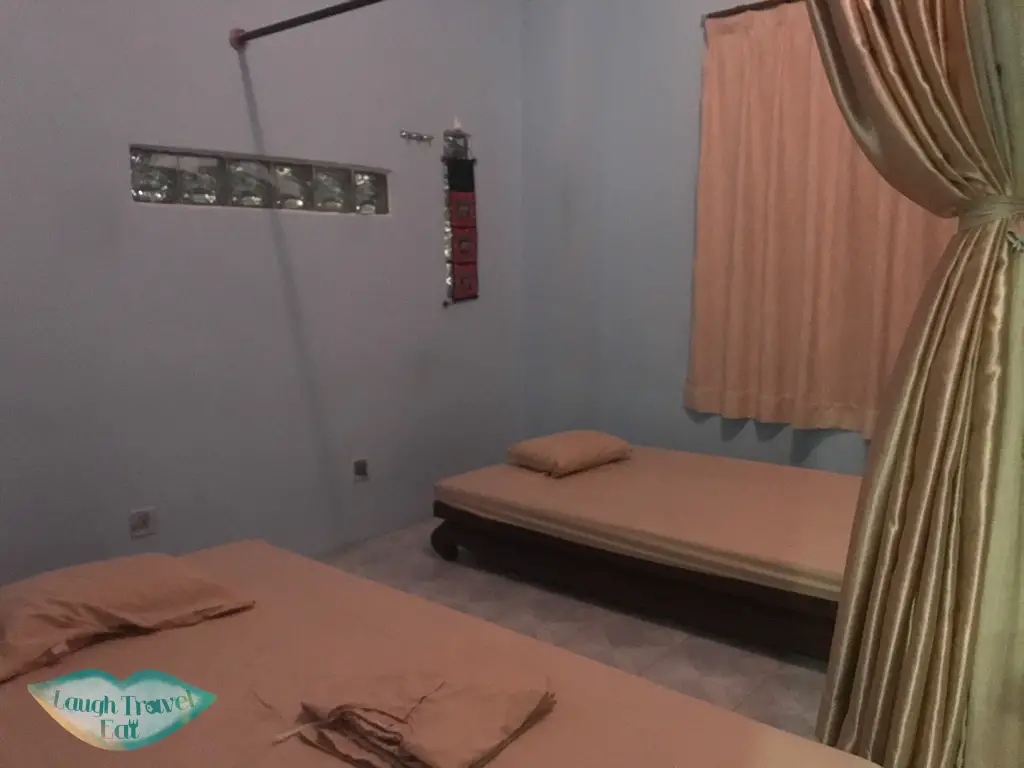 I had a 60 minutes Lao Massage and it was very good. The room was air conditioned, clean, and tidy and my masseuse was quiet and professional. I'd definitely recommend this place!
Address: Sihom Road, Laos
Opening times 9:00 – 22:00

Where to stay in Vientiane
For first time visitors, I'd recommend staying in a hotel around the few blocks by Mekong River. It's close to the night market and temples, plus it's where most of the restaurants and shops are. The next surrounding blocks aren't so bad either, but don't go north or too far west of Khun Bu Lom Road and stay west of Morning Market.

Hostels in Vientiane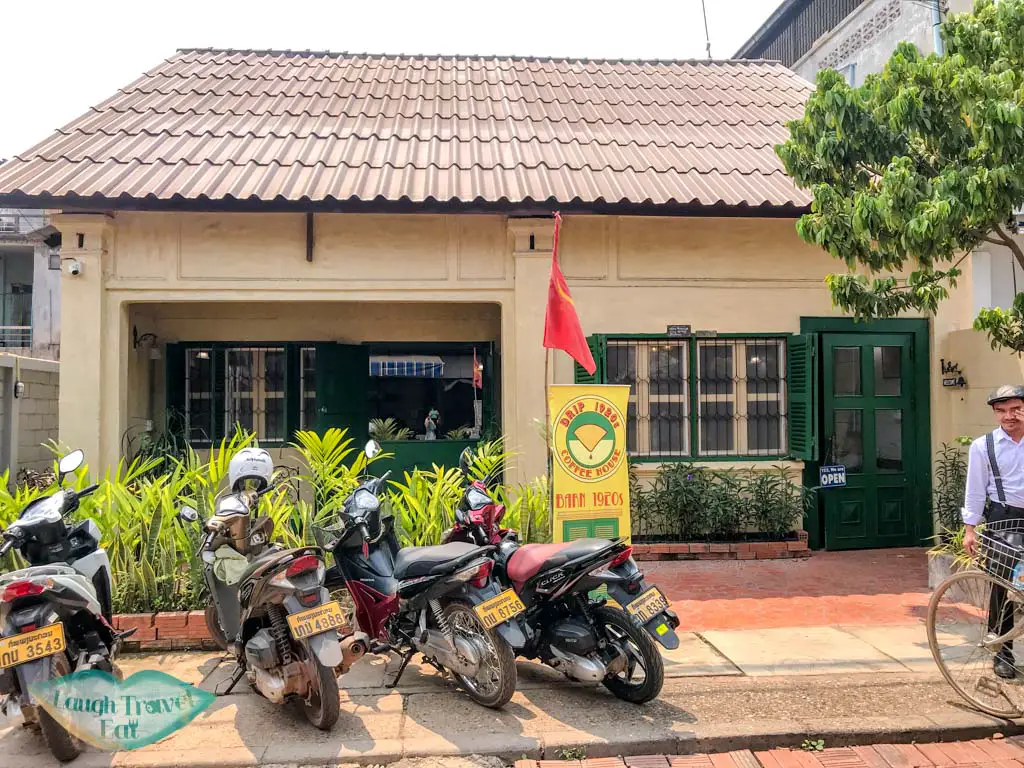 Located in a quiet corner of Vientiane, Barn1920s hostel is a cute mustard yellow building with a cafe at the front by the Ban Anou Night Market. It has a cafe at the front with rooms above it and in the building at the back. There are no elevator, but the stairs aren't too difficult to manage.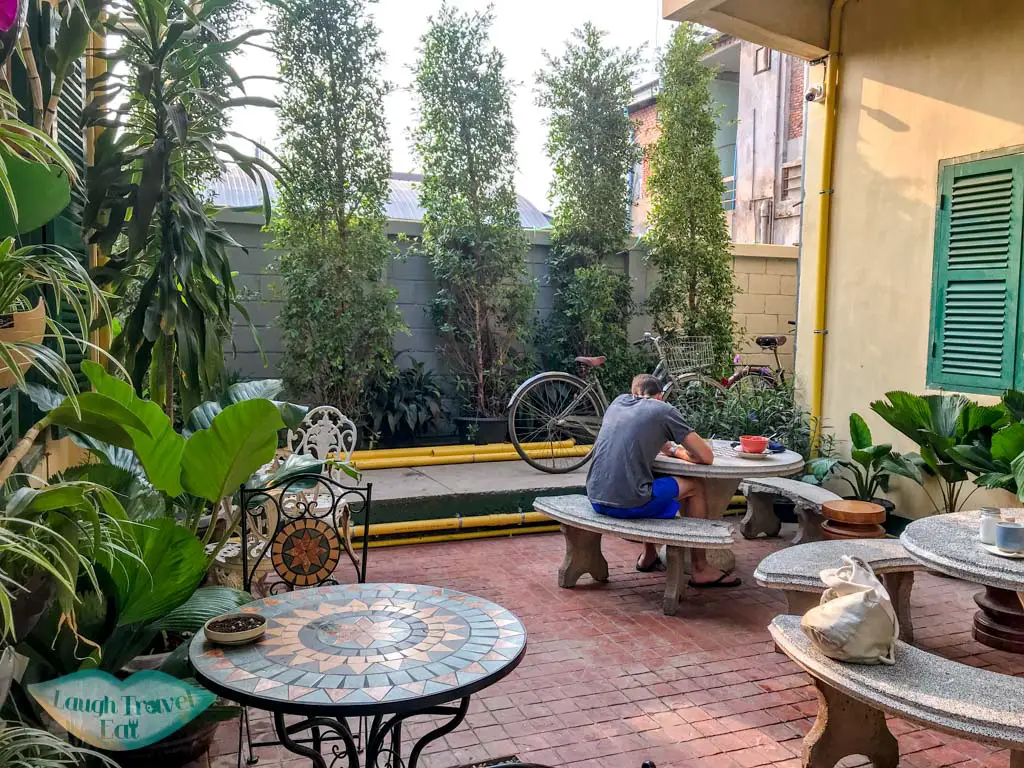 My favourite things about their dorm is the privacy on each bunk. Each one has individual lights and curtain in addition to a ledge to put your belongings. The bunk beds are pretty so you won't feel your bunkmate moving.
The locker is at the end of the ledge space and generally enough to put a big backpack. If you are like me and have a suitcase, you can tuck it under the bed, too. A towel is provided free of charge and they even have two bicycles you are use free of charge – although you should reserve it in advance.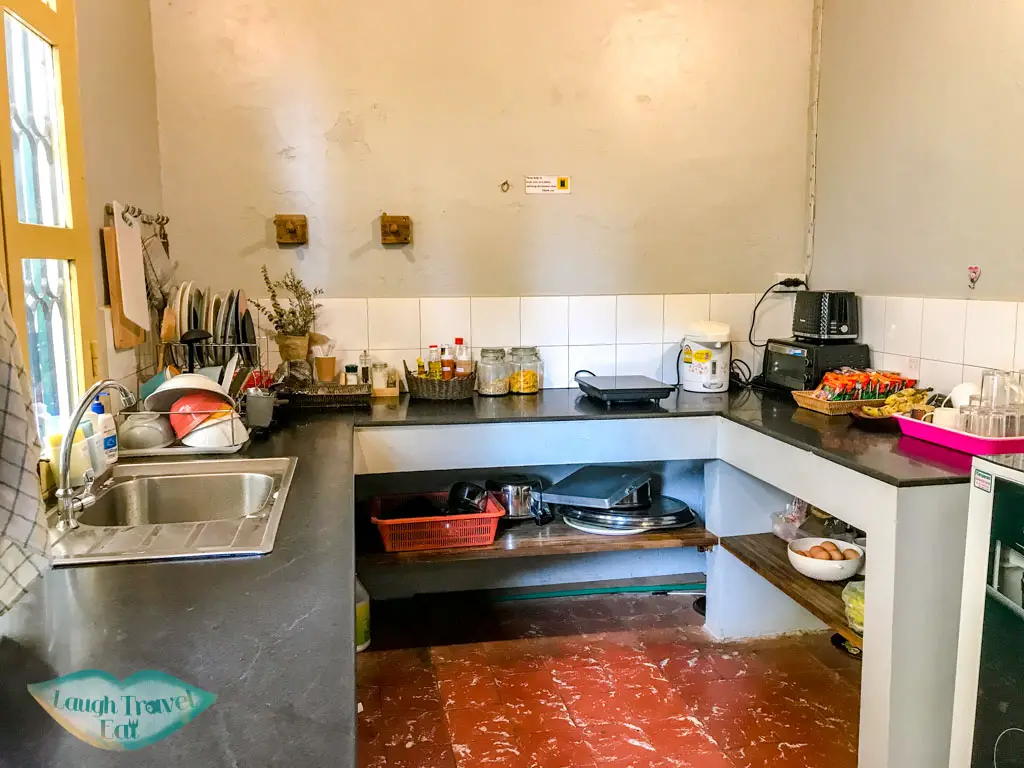 Breakfast is self serviced with eggs, bread, jam etc as well as noodles and you are supposed to clean up after.
How to get there: taxi from the airport or take the bus to A4 stop and walk for 8 minutes northwards
Vientiane hotel: best hotel in Vientiane
V Hotel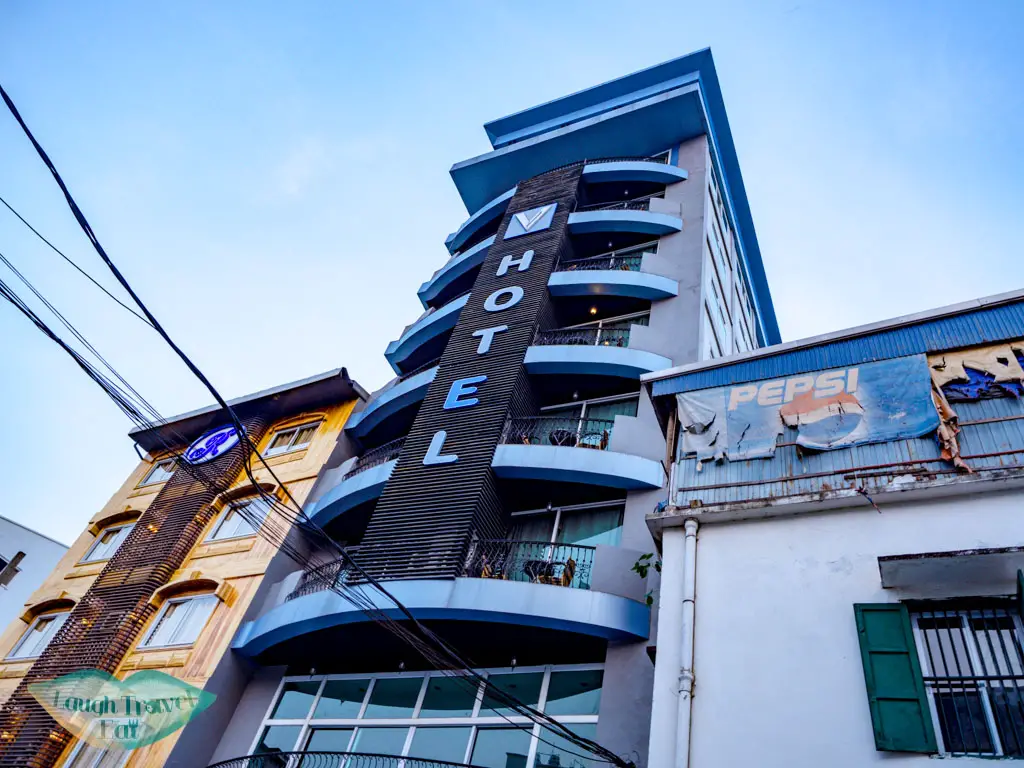 A good budget choice close to the riverside, the V hotel's room are small but functional. The bathroom is basic with no shower curtain or cube, and the drainage doesn't really work. Breakfast is on the second floor with a selection of fruits, rice, and bread, so overall not bad for its price.
Note: it's very close to where I was dropped off by the VIP bus from Vang Vieng so might be a good choice if you don't want to lug your luggage too far.

Center Point Boutique Hotel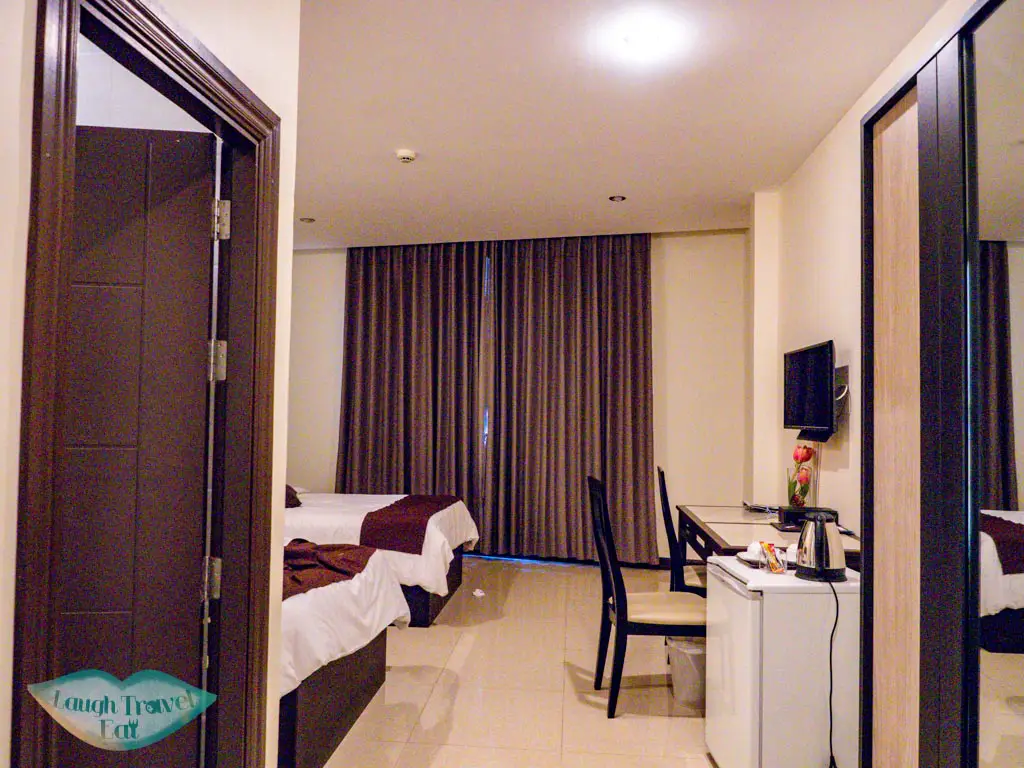 A more upscale hotel in a quieter part of town, Center Boutique Point Hotel has spacious rooms with proper shower cubicle and close to main road. It's easy to get both the airport bus and taxi and the staff are friendly. Breakfast is by the lobby and has a decent selection.