Nestled in the northwestern corner of Laos, Luang Namtha is a hidden gem that's slowly creeping up on people's radar. Teeming with lush mountains dotted with ethnic villages, it is a hidden gem for nature lovers who are looking to trek and kayak in pristine landscapes and learn more about the hill tribes. Whether you are passing through on your way to other parts of Laos or looking for somewhere off the beaten path, here's what to do and see in Luang Namtha:

(it's honestly much better than taking the slow boat from Hauy Xai to Luang Prabang)

Note: I was invited to visit Luang Namtha by the tourism board but all opinions are my own

Getting to Luang Namtha
It's three hours from the Thai-Laos border at Houey Xai and accessible via bus and plane from other major cities in Laos.
Here is the bus schedule and destination for getting out of Luang Namtha.
Pro tip: it's faster and more comfortable to take the minibus up from Luang Namtha as it stops less than the bus since it's more expensive.
Luang Namtha Valley Route (cycling)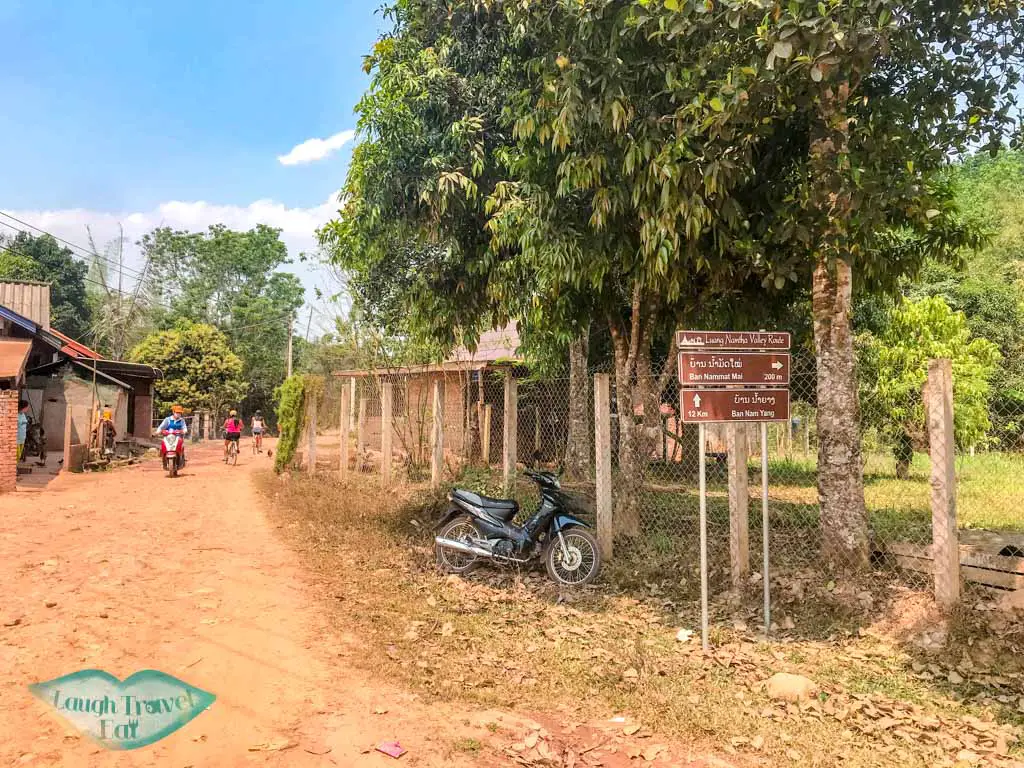 Not a fan of motorcycles? Me neither, which is why the Luang Namtha Valley Route is a dream come true. It's the perfect way to explore the city's attraction and surrounding in a leisurely pace, and there's a full day and half day itinerary available. You can pick up a map at the tourism center and followed the brown sign around or join a tour offered by the many agencies in town. It's a good way to do a self guided tour of the town at your own pace. Here are what's on the route and how to rent a bike:

Renting a bicycle at Luang Namtha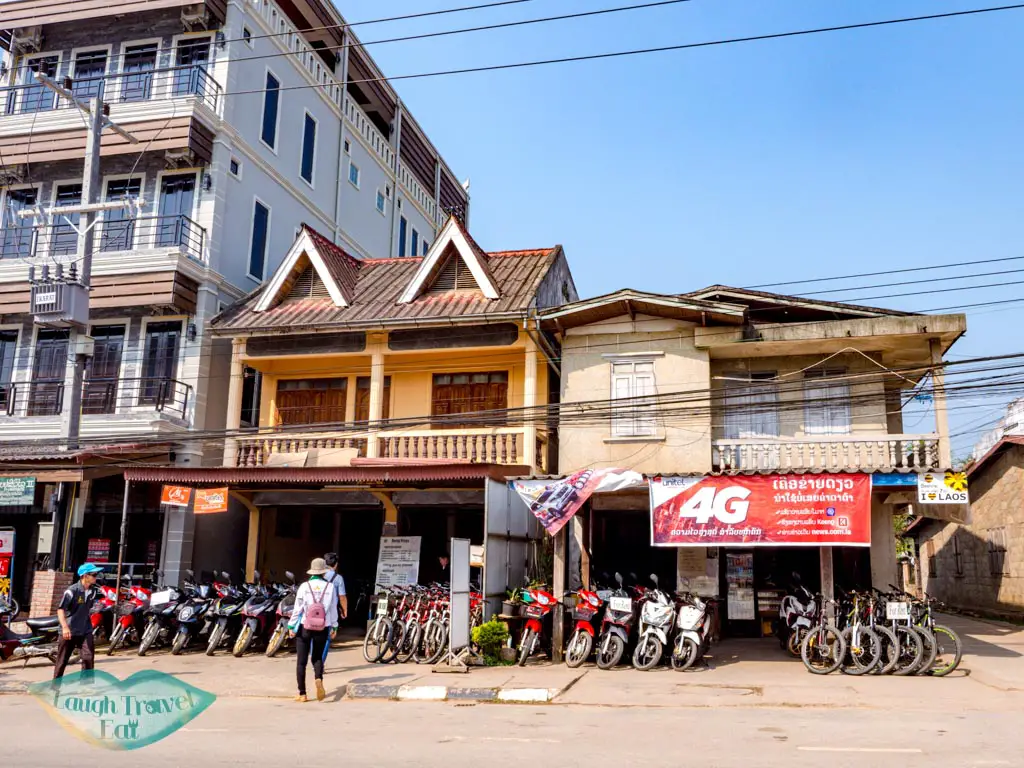 There are numerous rental shops scattered around town that rents bicycles, scooters, and motorbikes. The price are similar across board and we rented one from a shop near the Manychan Restaurant. The brakes on my bike wasn't that good so I wasn't particularly impressed, however they have several different options to choose from. I recommend checking it before you go off.
Tip: rent a mountain bike instead since it'll make life a lot easier on those roads, especially during wet season

Luang Namtha Museum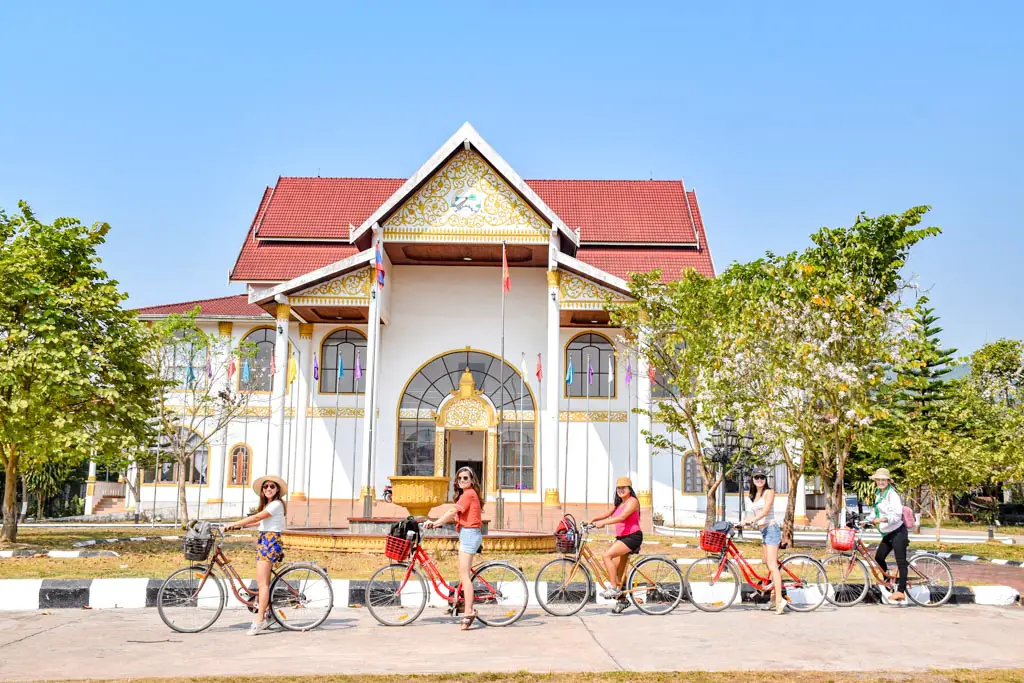 A beautiful building in town, the Luang Namtha Museum houses items from ancient times to recent wars in the region. From old Lao money, guns used in the Indochina war to ancient bronze drum. In addition, it also houses the traditional clothings of the ethnic minority.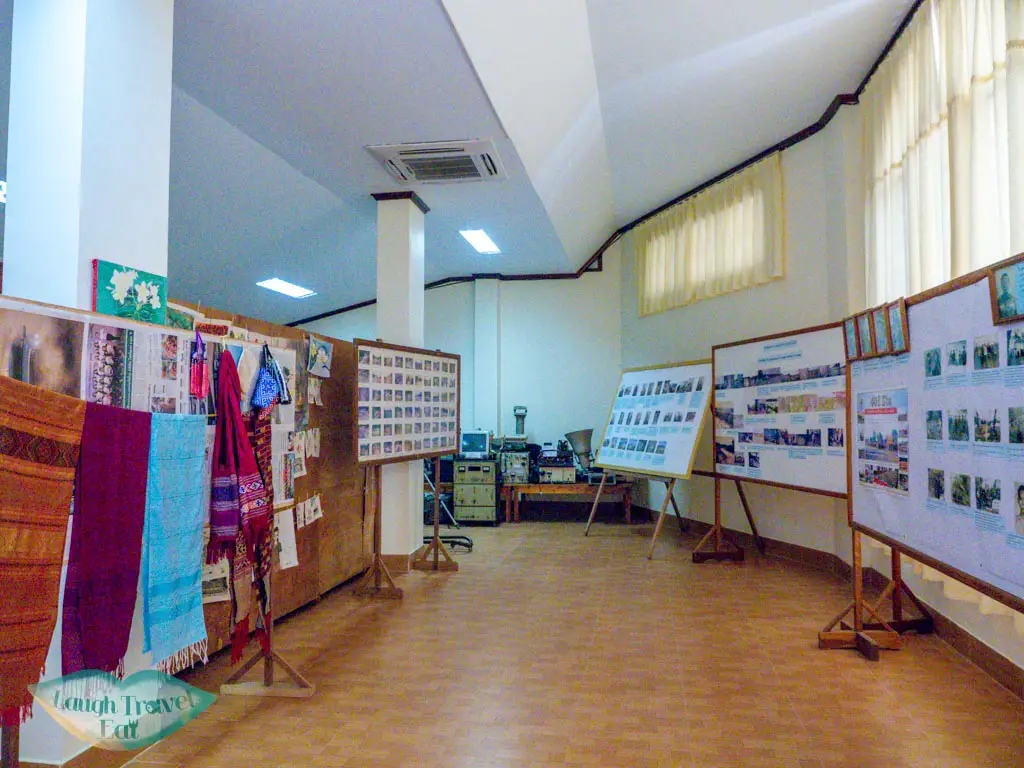 Even if you decided you don't want to go in for a visit, it's a nice place to take photos!
Admission fee: 10k kip

Luang Namtha Stupa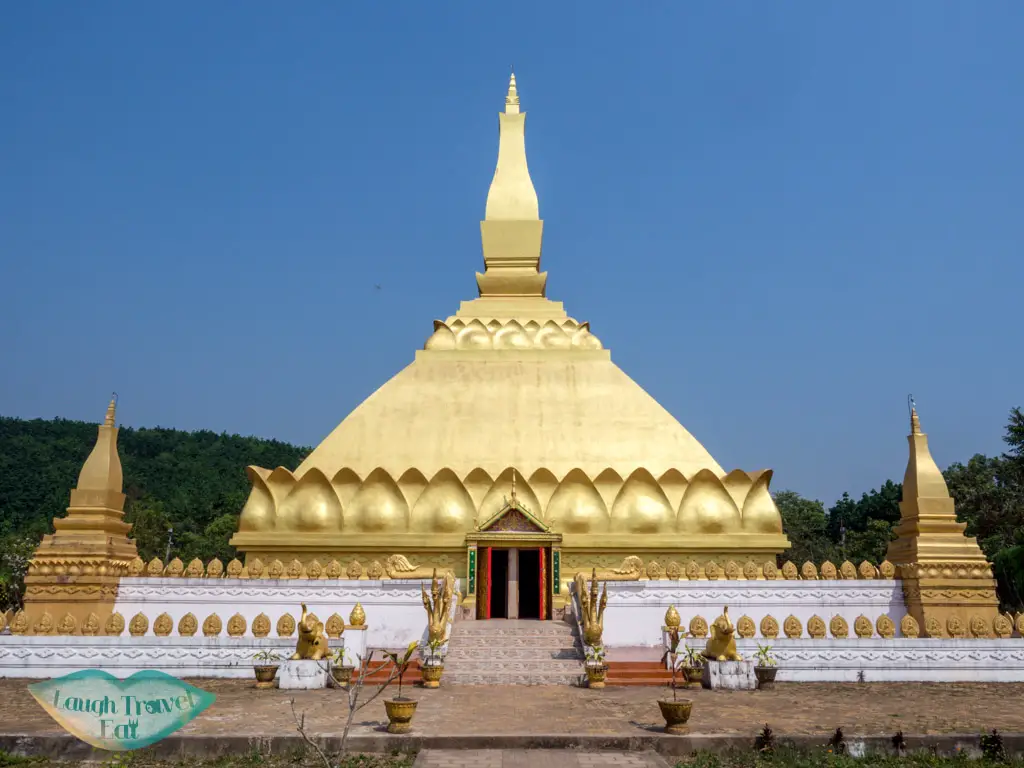 Also known as the Samakkhixay Stupa, it was built to represent friendship between a northern Thai King and Laos King. However, the current one we see is a rebuilt to replace the two that was lost. The temple was completed in 2008 and you can get a great view of the city from the stupa, which is set at the top of the hill. Behind the stupa is a statue of a reclining Buddha as well as a small cave.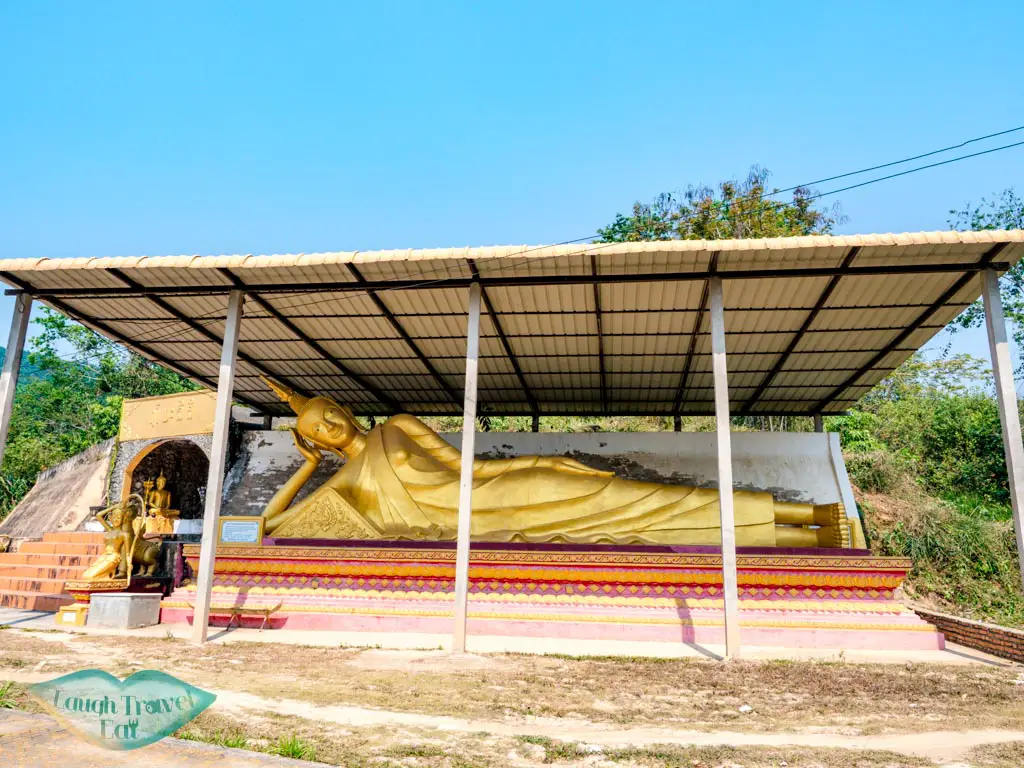 Cycling to the Luang Namtha Stupa involves some uphill stretches. We parked our bike by a constructing house and walked the rest of the way up. Current as of my visit in March 2019, they are building a main temple hall a little down the hill from the stupa.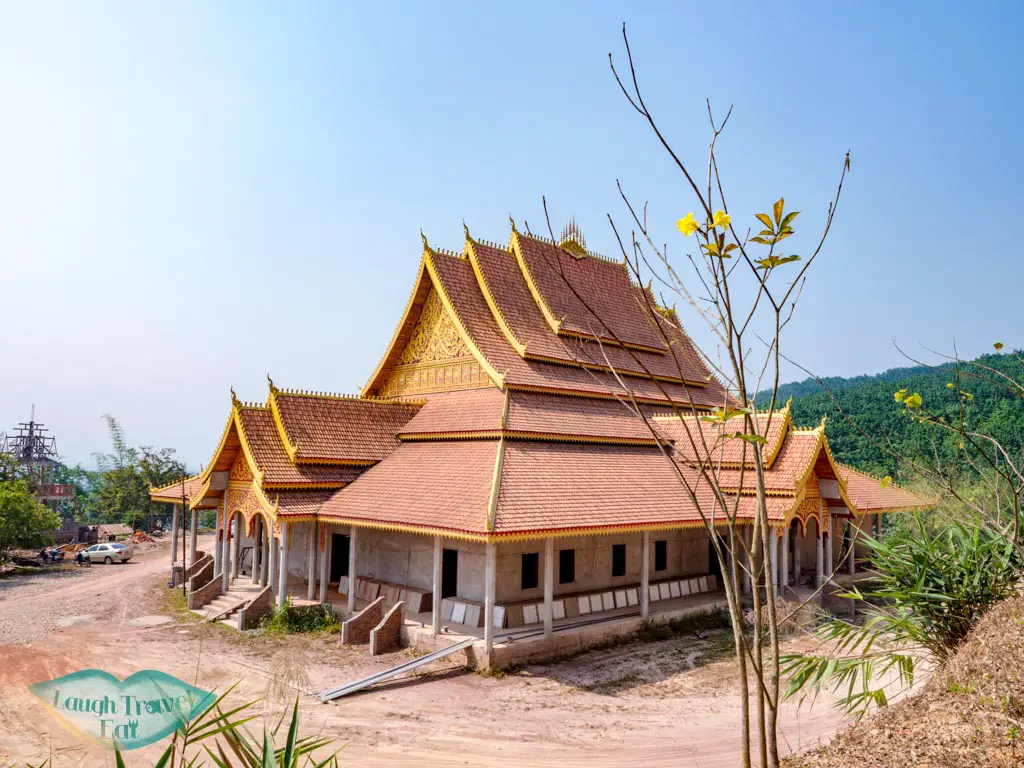 Free admission
Note: if you wish to enter the stupa you must cover your shoulders and knees, applies to both Male and female. However, it's ok to walk around the stupa in shorts and tank tops.

Poumpouk Stupa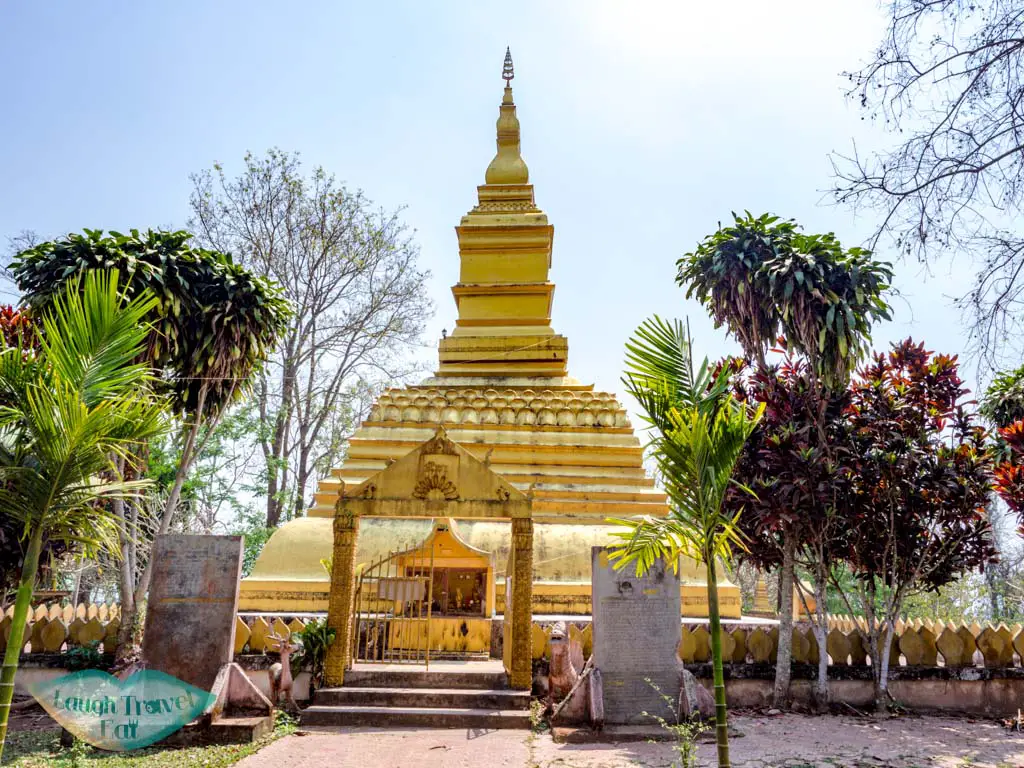 A little way northeast of the valley is the Poumpouk Stupa by Nam Ngaen Village. A stupa was rebuilt in 2003 after the original was destroyed by American war planes. You can still see the ruin of the old stupa by the new one and it dated back to the 17th century.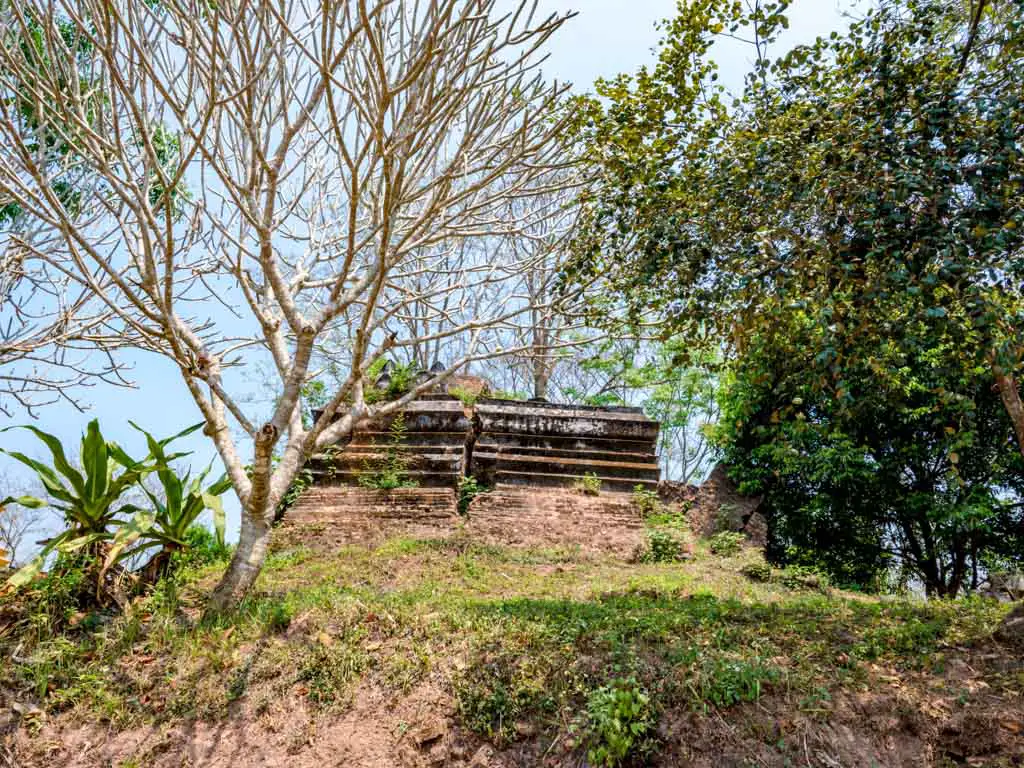 The golden stupa itself is much smaller than Luang Namtha Stupa. We cycled for half an hour from Luang Namtha Stupa. However, to reach it involves a steep flight of stairs flanked by Nagas.
Free admission

Nam Mat Mai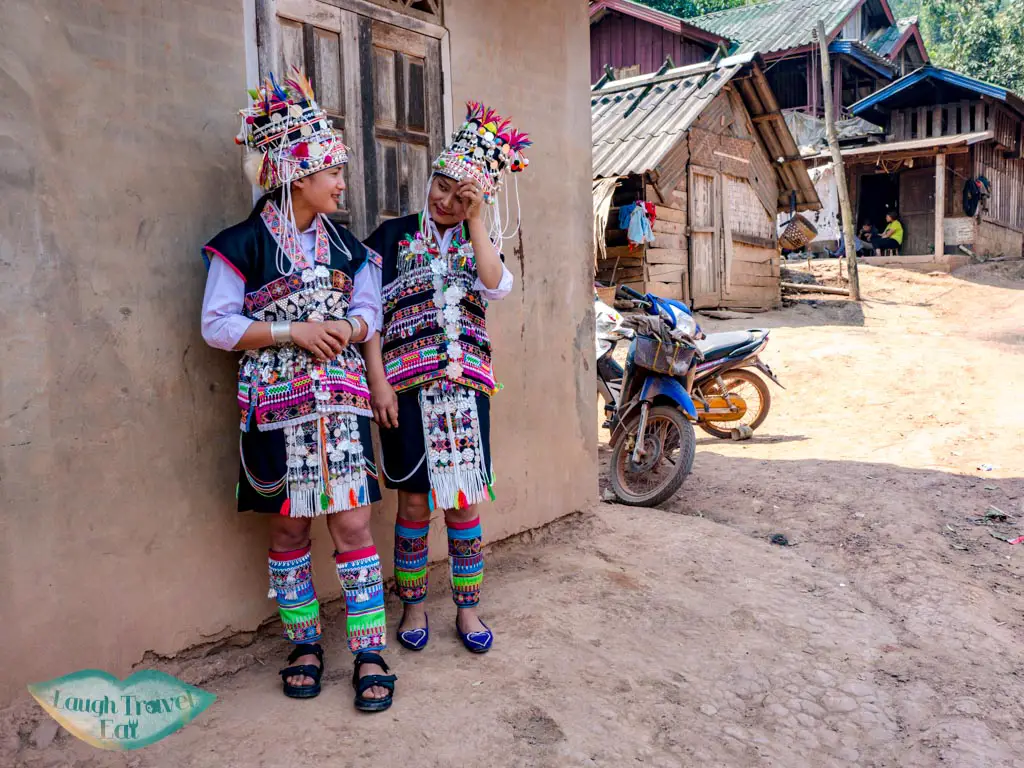 Another half hour's bicycle ride later is the Akha village Nam Mat Mai. We had to cycle over a bamboo bridge to reach the village and the children, who had been playing in the river, came running towards us. We had tea and a chat with the village elder, who welcomed us warmly and was even able to try on the hat and top of their costume.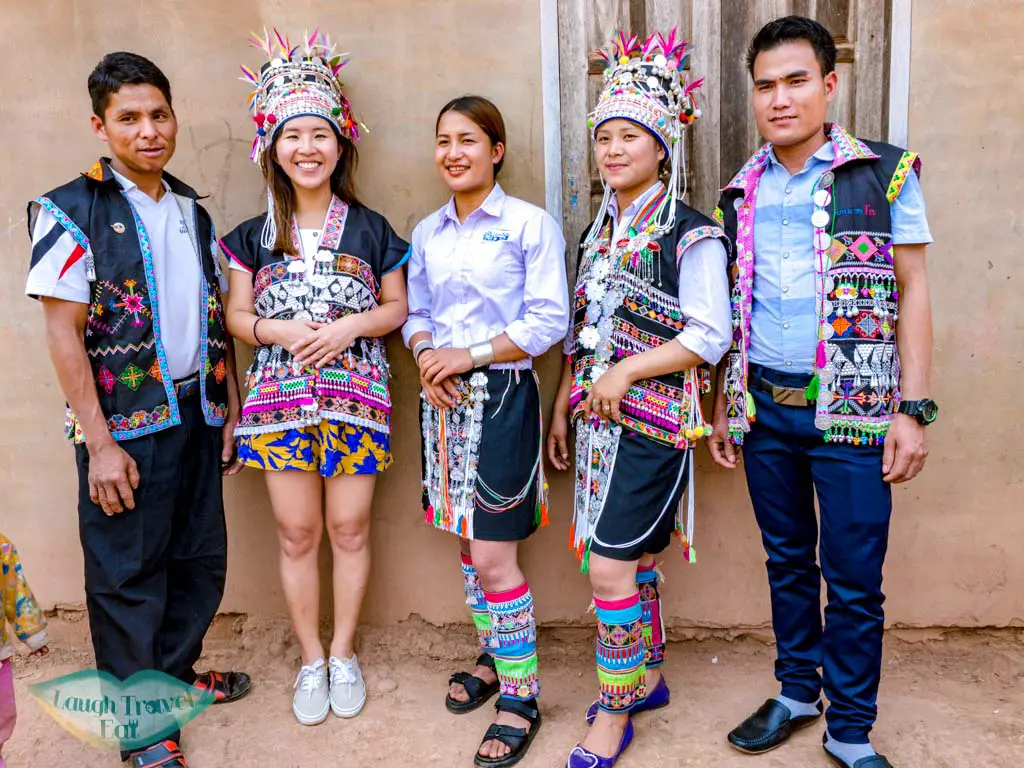 The dirt road leading into the village is very bumpy and best not attempt without a mountain bike!

Phieng Ngam Handicraft Center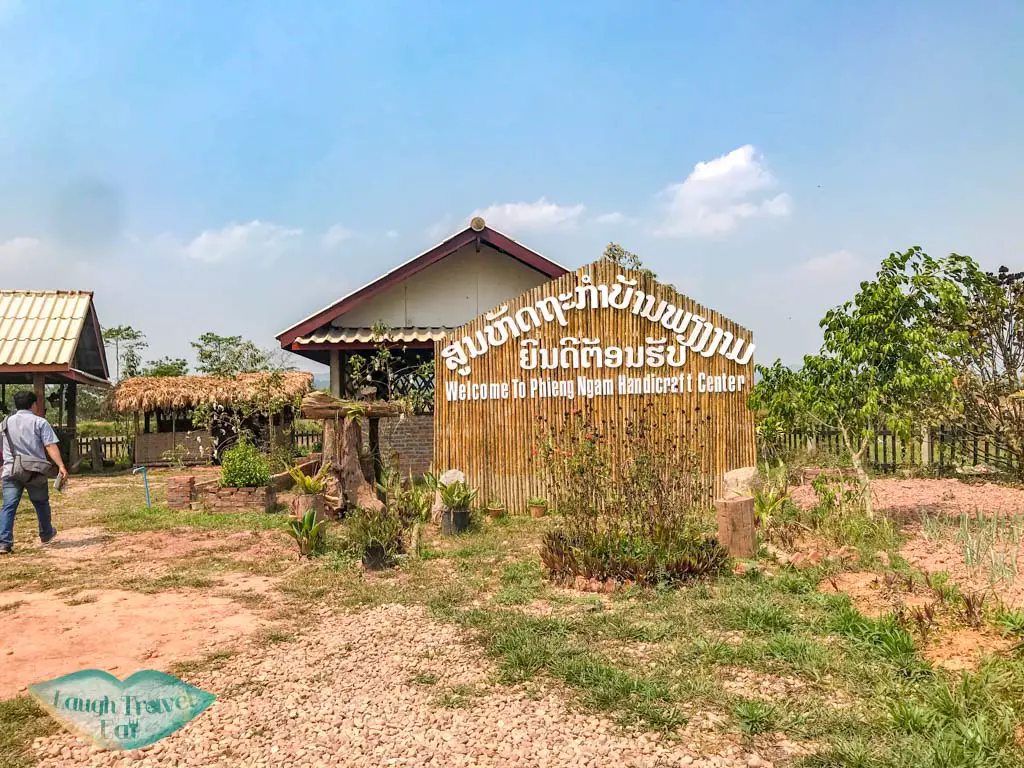 Showcasing the textile and craft made by the Tai Dieng tribe, the Phieng Ngam Handicraft Center is a heaven for textile and fashion lovers. Not only are there products on sale, the skilled weavers also do demonstration and are happy to let tourists to try. If you think buying weaving product is expensive, you'll know it's worth it once you have tried it yourself!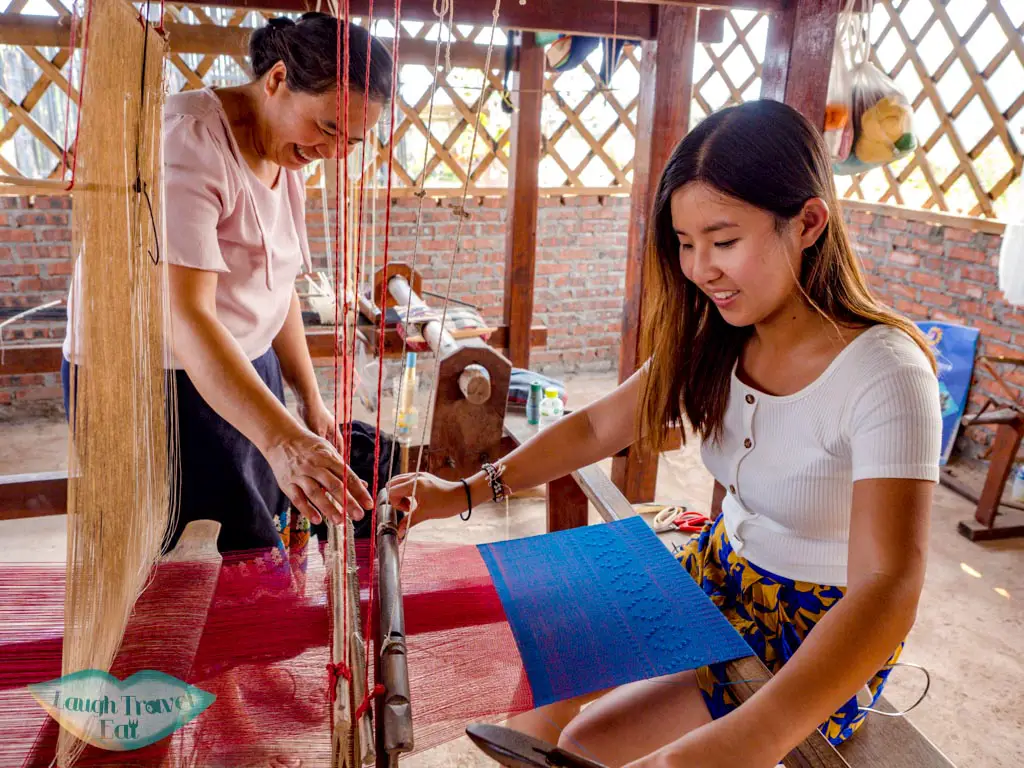 The handicraft center is full of sin (the traditional Lao skirts), table cloths, and scarves. The prices here are better than the local market, ranging from 50k to 180k kip as they are all weave and sold in one place. I bought a beautiful scarf for 60k kip and a bag from the Phounoy ethnic group for 50k!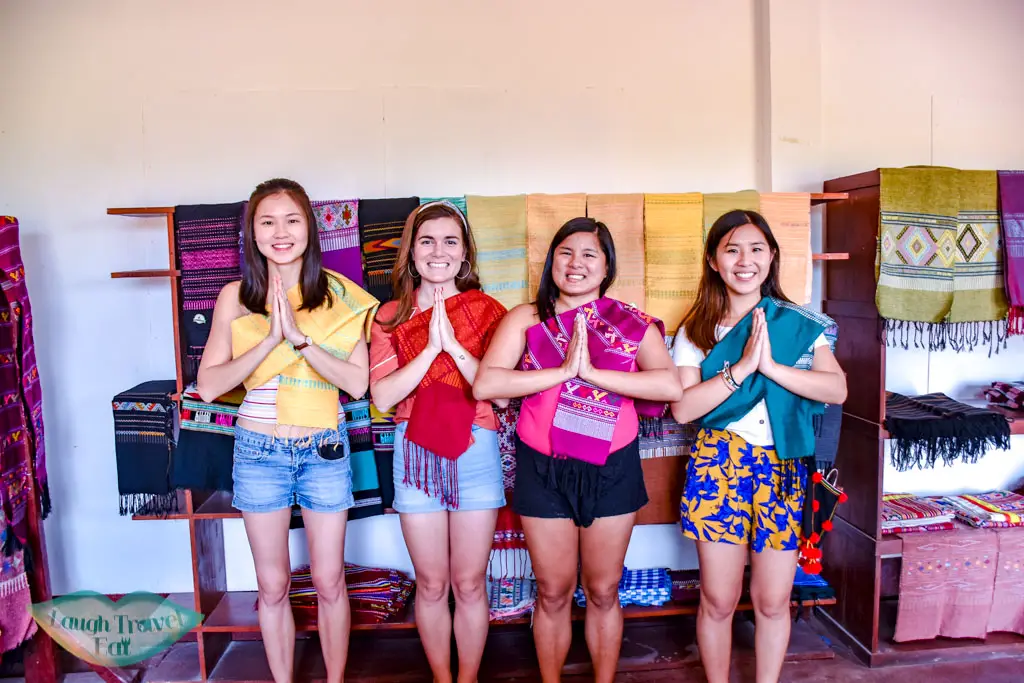 There is also a restaurant on sight and we had a spread of organic chicken, fruits, and vegetables. It's a good place to stop for rest and lunch, although it only serves Lao food and doesn't have cold drinks.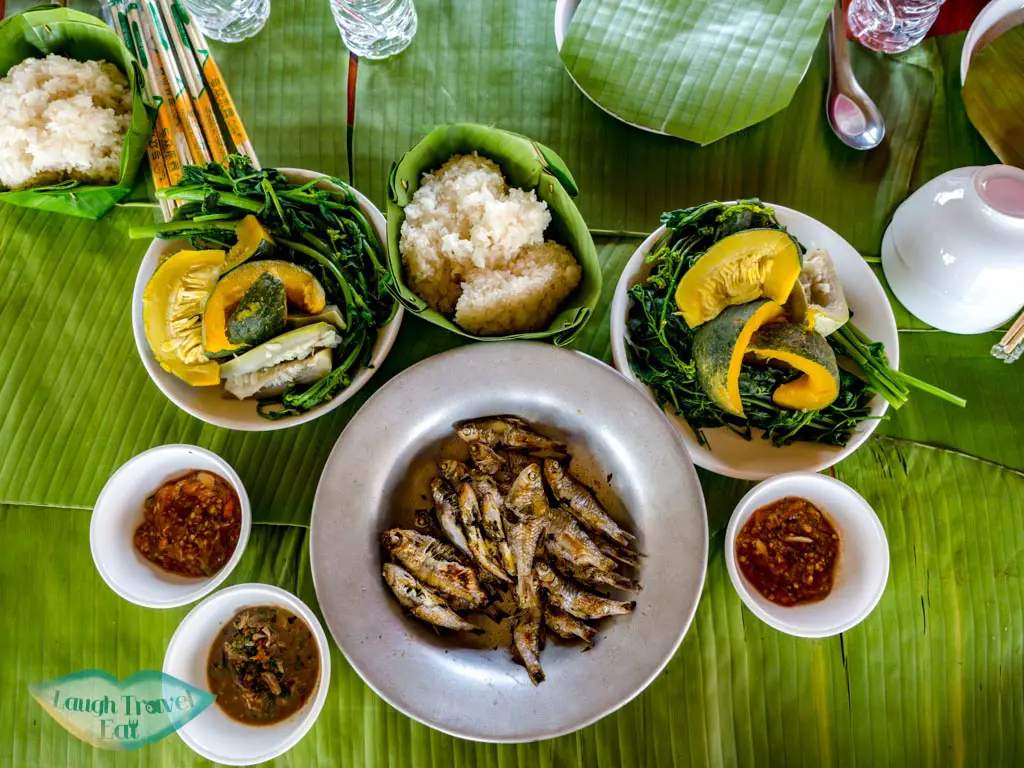 Admission free
Opening times: 8:00 – 18:00

Nam Dee Village (Lanten Village)
If you have enough energy, you can cycle onwards to Nam Dee Village which is just 5.5km from Luang Namtha. Alternatively, you can get a tuk tuk or join a tour to see this Lanten Village.

The Lanten people are originally from Southern China and are famous for bamboo papermaking and indigo dye. To make bamboo paper, young bamboo are soaked in water for 5-6 months until they are soft then make into paper. A sticky plant substance is then added and the mixture spread over a screen. Then it is left to dry for a day or so and peeled off.
The paper is traditionally used in copying or writing down ritual. As the Lanten were originally from China, their writing are still very similar to traditional Chinese, although the word uses are archaic.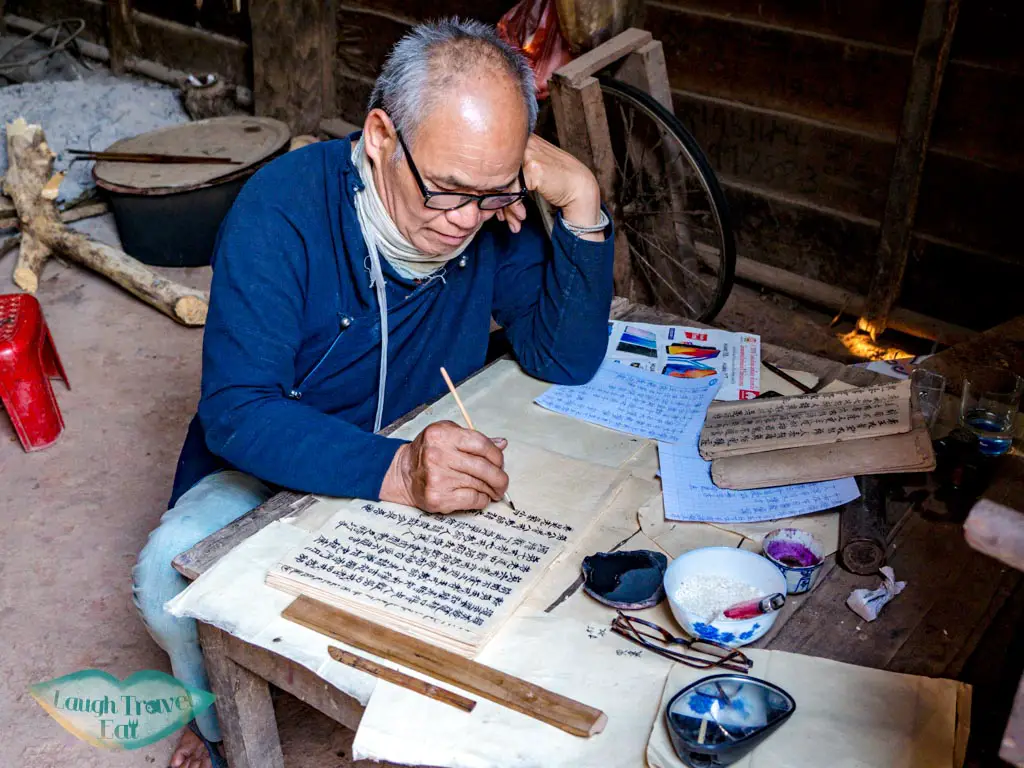 They also offer homestay programs here if you are interested.

Nam Dee Waterfall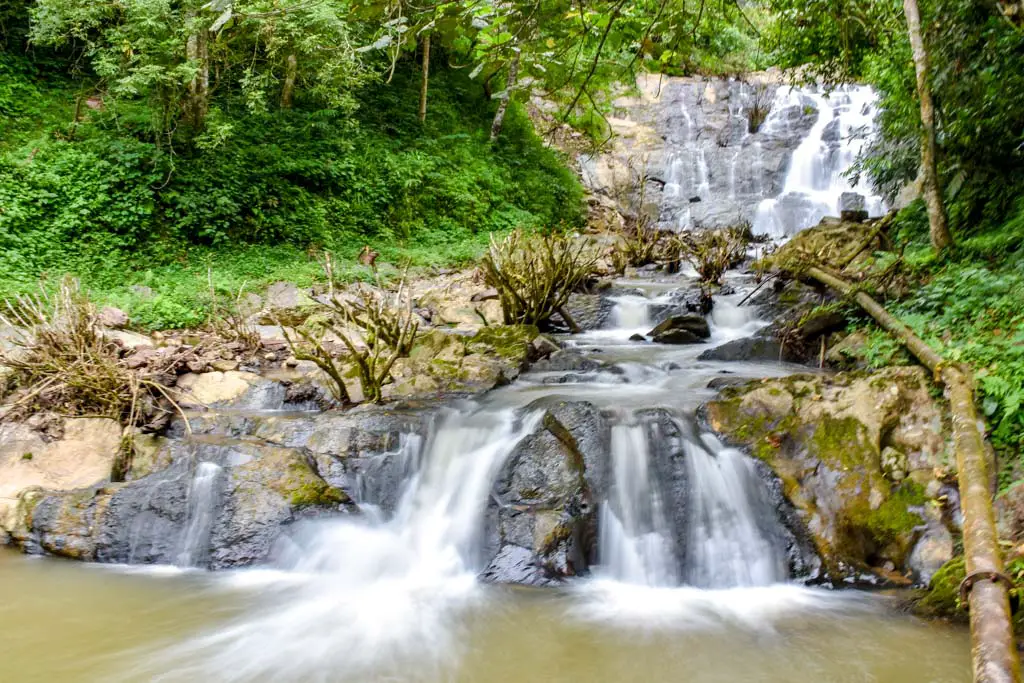 While we didn't have time to go, the Nam Dee Waterfall is quite popular and a good place to cool down. However, don't underestimate the hike to the waterfall! It is not very impressive during the dry season so you can give it a skip if you are not there in the right season. You do have to pay entrance fee and tThere is a handicraft center that sells ethnic crafts
Admission fee: 10,000kip

Luang Nam Tha Trekking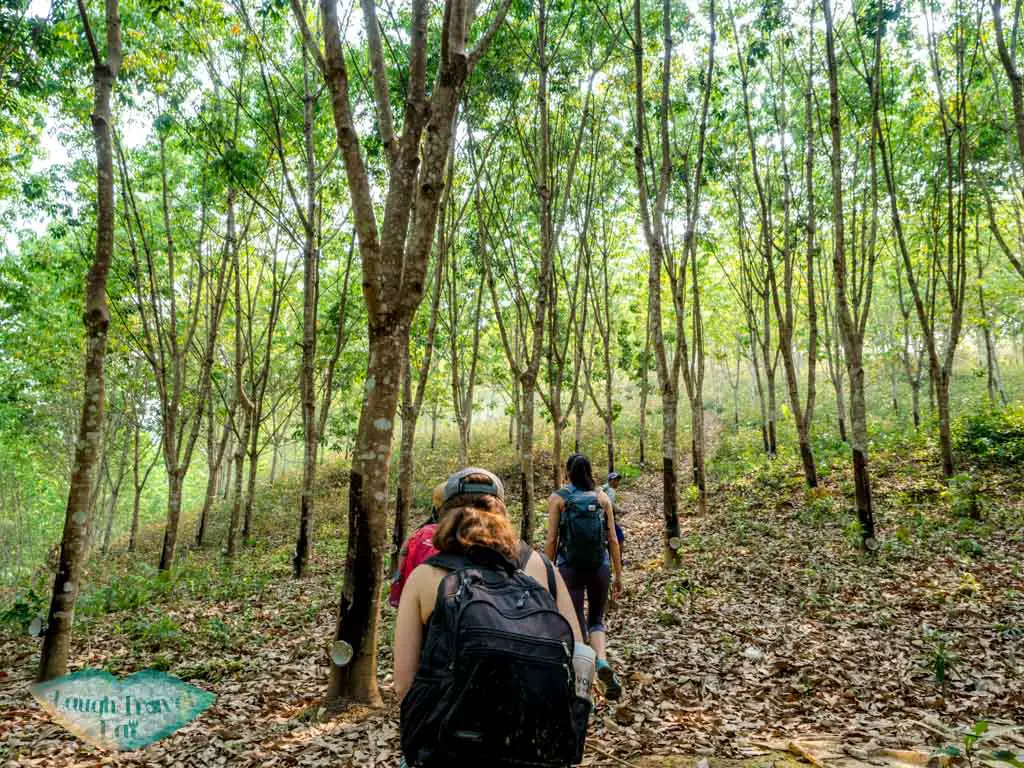 Luang Namtha province has some of the best trekking Laos has to offer. It is definitely more than a stopover from Thailand to Laos, with plenty to do in town and even more around. Escape the (relative) crowds of Luang Prabang and hit up some of the other towns in and near Luang Namtha provinces, as well as other cool day trips and hiking trips:

Nam Ha National Park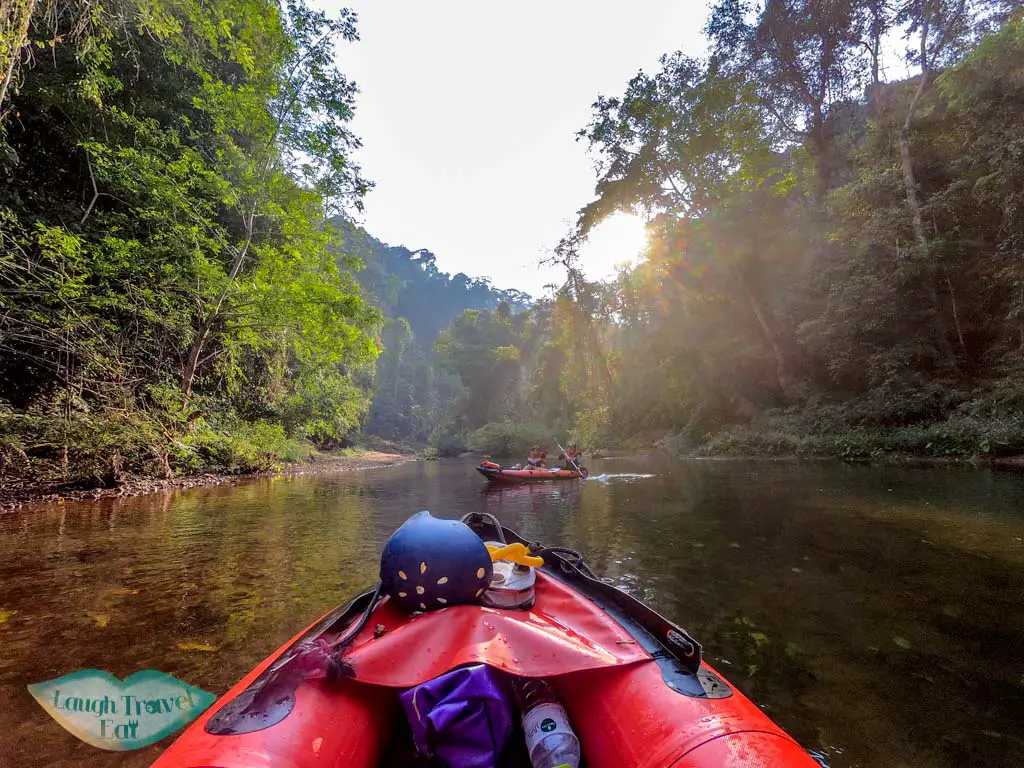 See here for an 2 day 1 night experience with hiking, kayaking, and homestay

Where to eat in Luang Namtha
Luang Namtha Night Market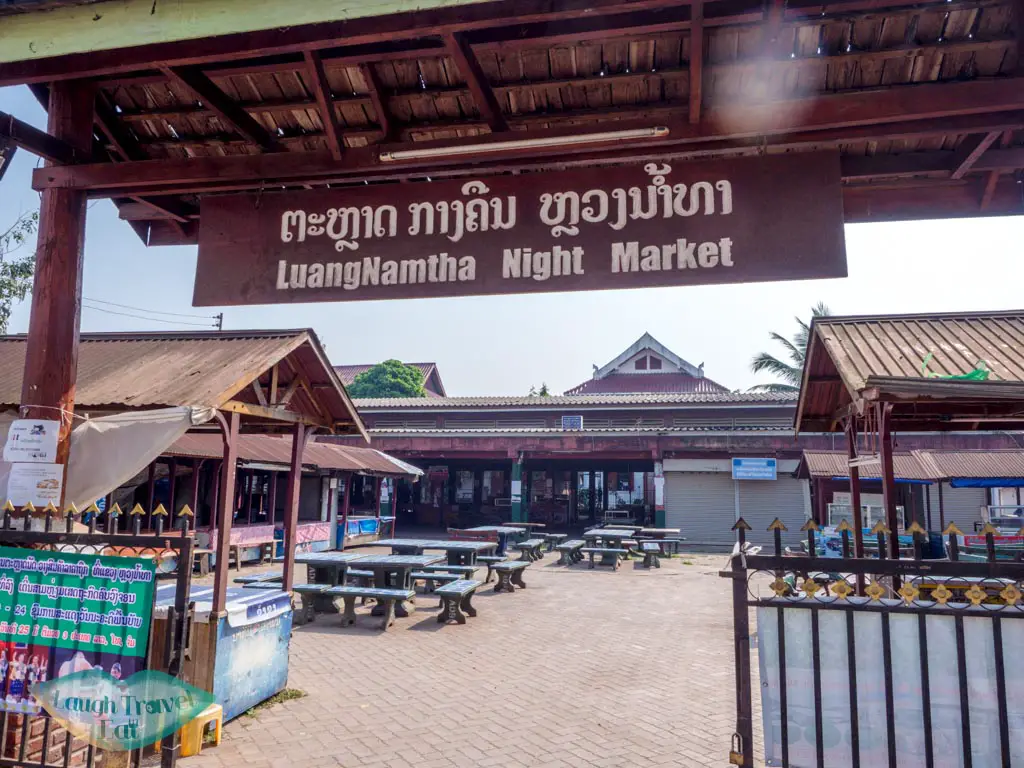 Unlike the night markets in Vientiane and Luang Prabang, the night market at Luang Namtha is more of a food only affair. It looks like a rudimentary hawker center and offers a range of economical eats.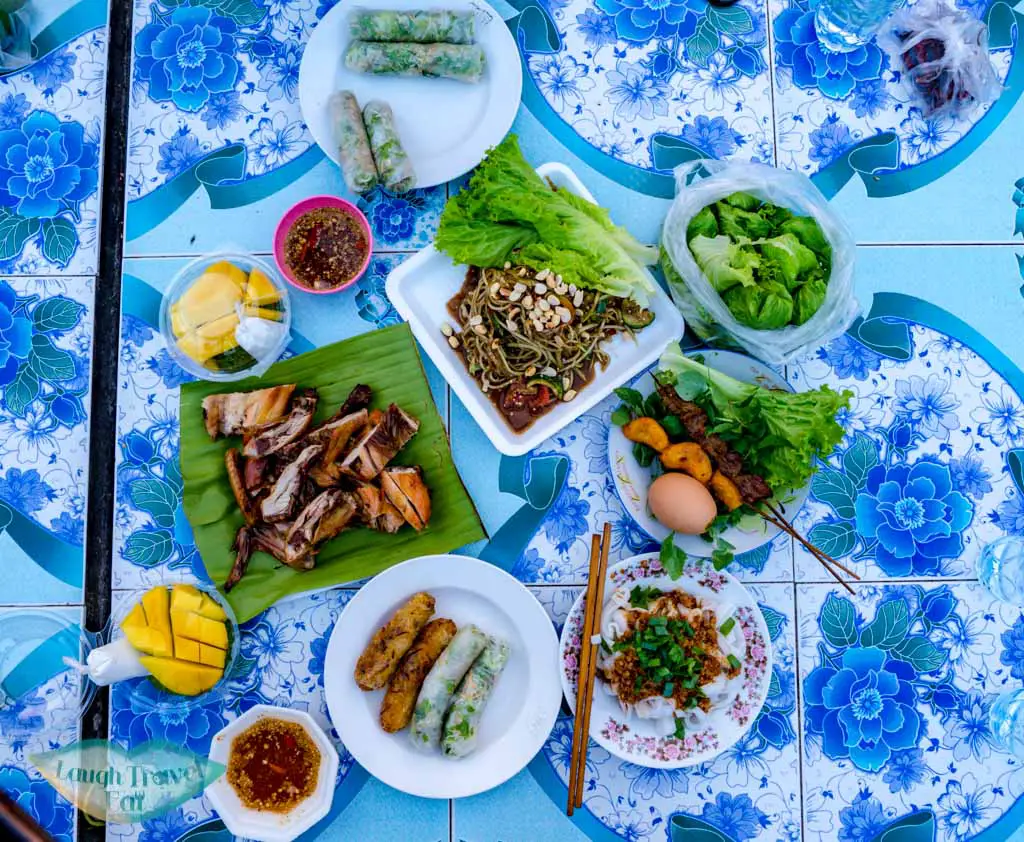 The food available includes grill meat, skewer, Kao Soi, spring rolls, papaya salad, Lak (Lao minced meat salad). They also have mango sticky rice that are green and grilled banana stuffed with coconut!
Like a hawker center, seatings are free for all and you pay the vendor food and collect it yourself. We had a full meal for less than 10 USD altogether:
Opening times: 16:00 – 23:00

Manychan restaurant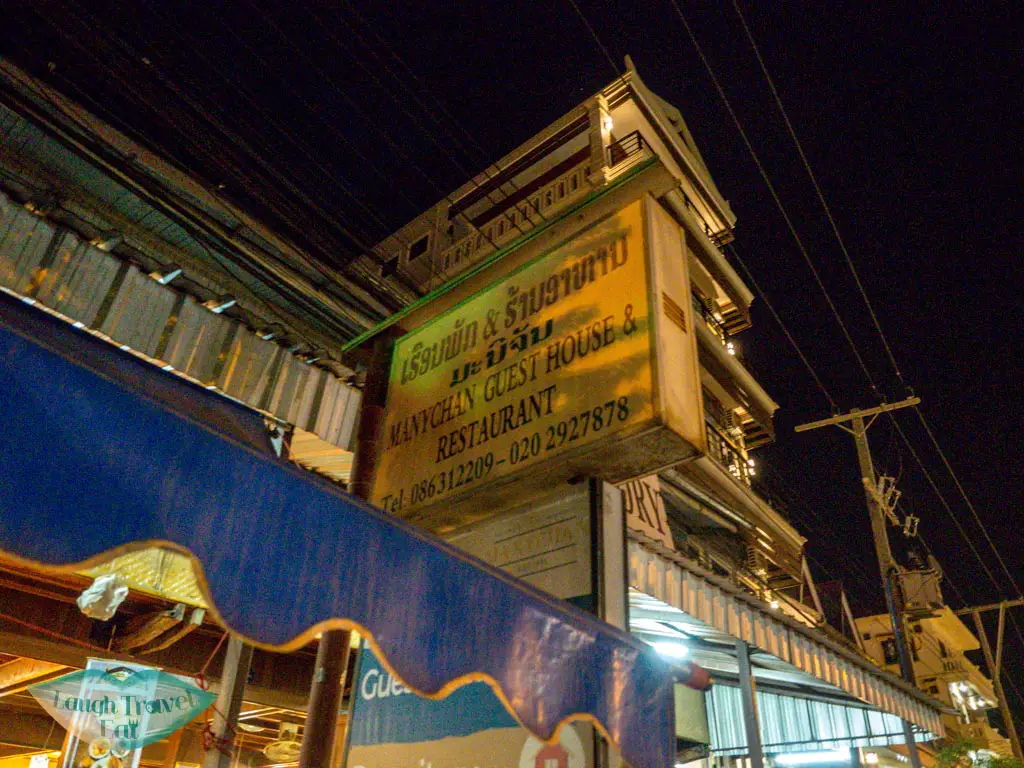 For a comprehensive menu, you can't go wrong with the Manychan Restaurant. Lao food, Thai food, Western food, you name it, you got it. Prices are pretty reasonable with each dish costing around 60k kip. However, do note that the photos aren't representative to what you want to order! We ordered lemon fish which is pictured as a fillet but is a steamed fish! However, the fried rices looks good – and the ovaltine and orange juice are great too.

Zuela Guest House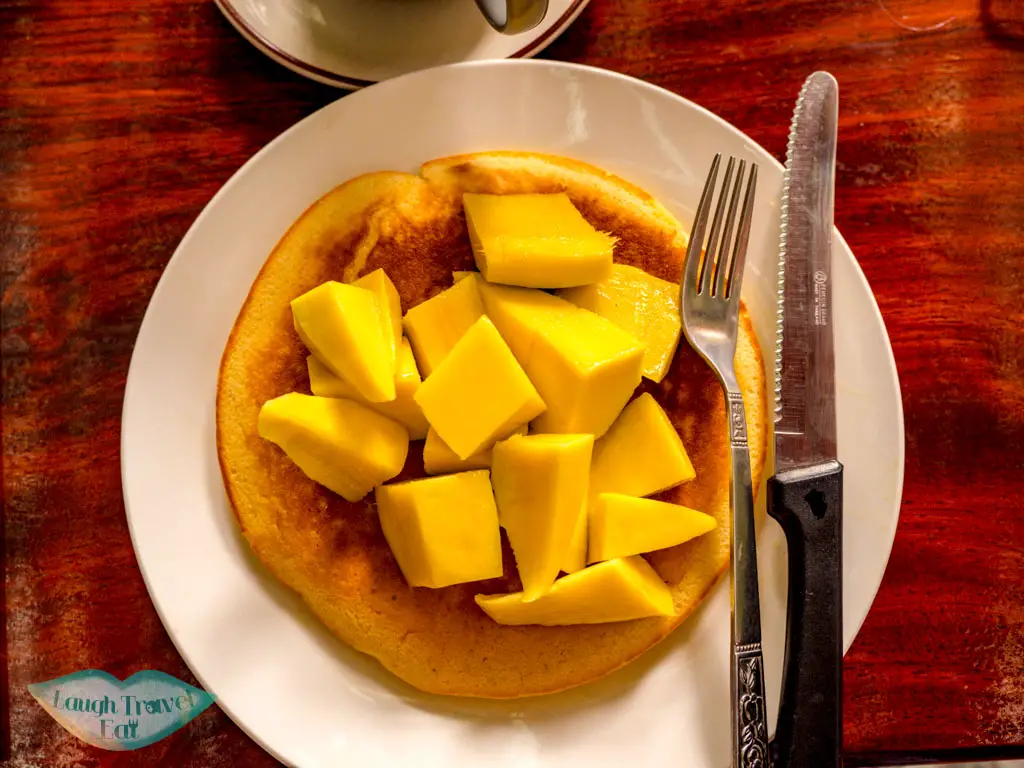 Although it is a guest house, you can come here to have breakfast, lunch, dinner, or try their bakery food. They have both Lao and Western food, and has some great reviews on Tripadvisors.

Luang Namtha Hotel
Although not that well developed for tourists, there are some comfortable guest houses to stay in. Expect more asian style facilities but generally the cost is proportional to the facilities – which means they are all affordable and nice!

Zuela Guesthouse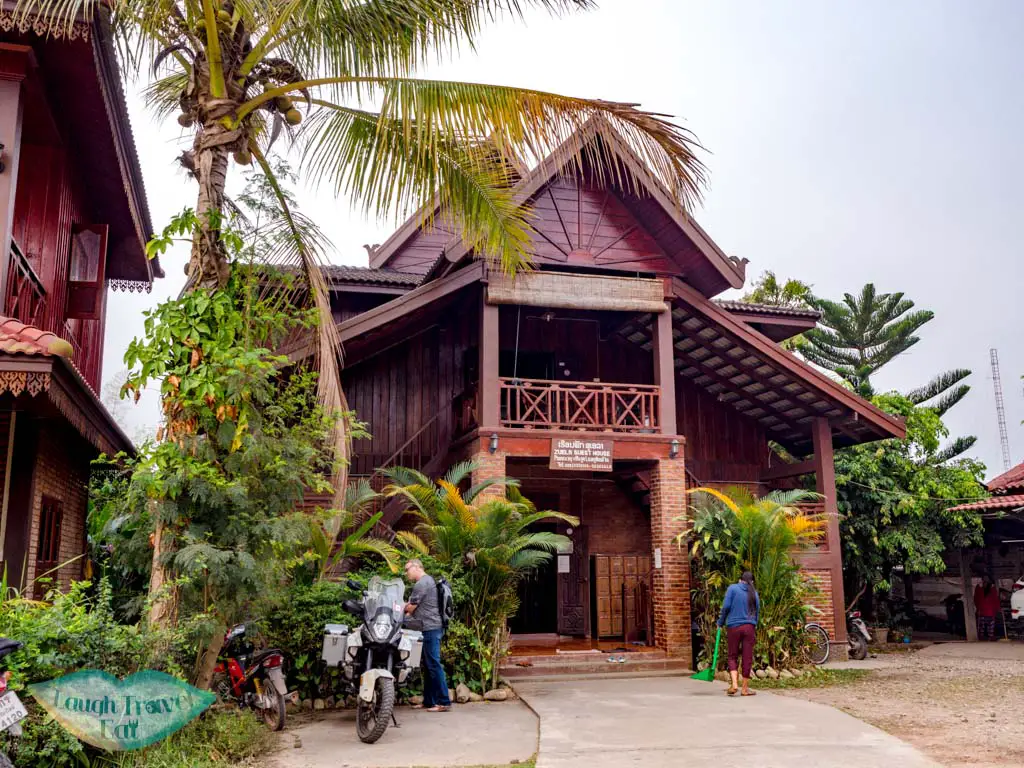 A cute Lao style guest house, Zuela is directly across from the Luang Namtha Night Market. The architecture of the guest house is cute and the room functional, however the soundproofing is horrible and we could often hear people outside, but more so the chickens.

Cost: ~25 USD or 196 HKD per night per room

Thoulasith Guest House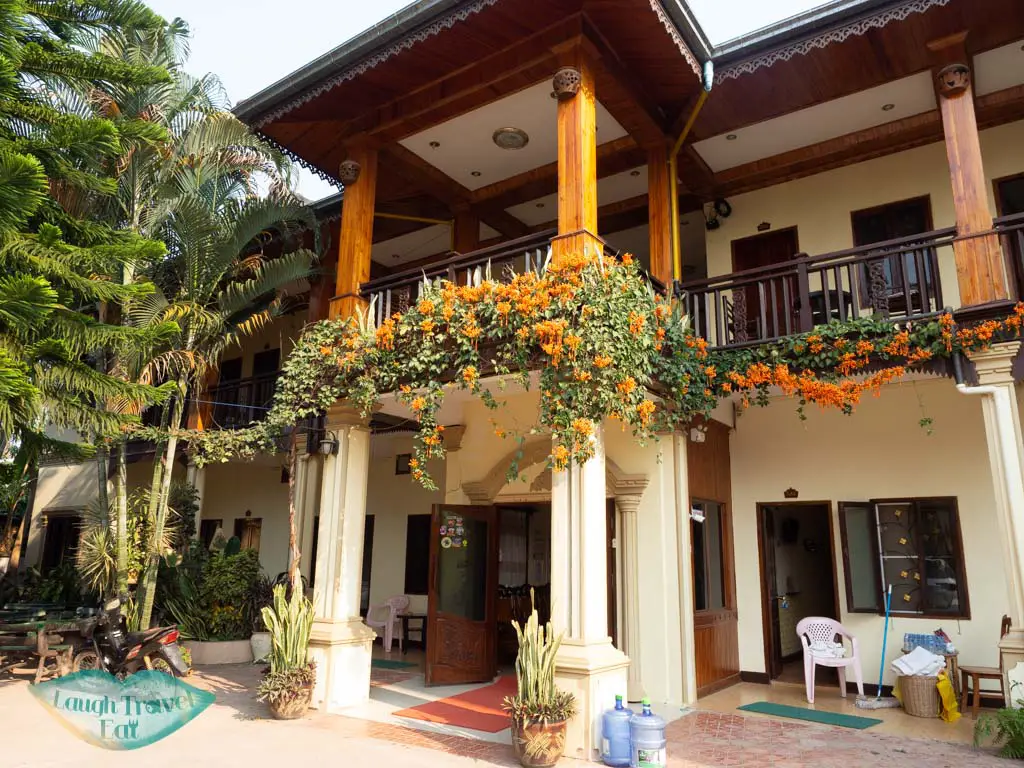 Only a few house down from Zuela, Thoulasith Guest House has a lovely courtyard with two separate buildings. The amenities are better than Zuela Guesthouse, with bigger and brighter rooms. The left building has three storey with cute balconies, and there are little tables for guests to sit on outside.
Cost: ~25 USD, 200 HKD

Vieng Neua Homestay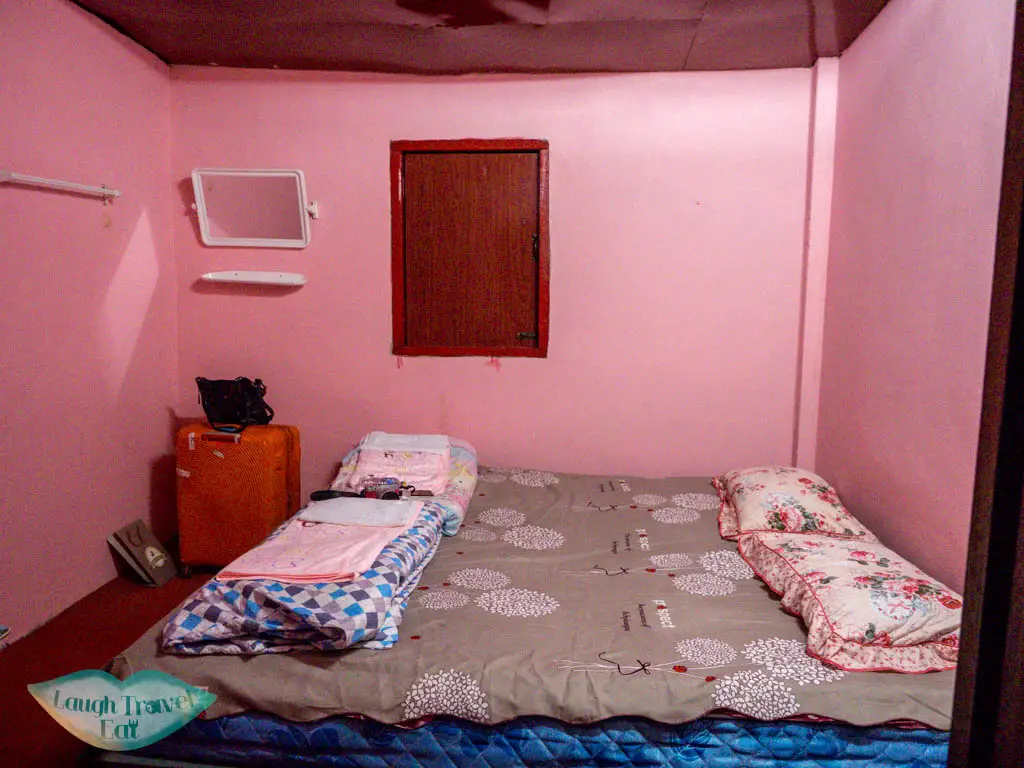 Vieng Neua is a village fairly close to Luang Namtha, and if you have a motorbike or want to experience a local experience, it's a good choice. The best part is that the homestay will include dinner and breakfast, and let me tell you the food are delicious!
We also had a welcome Baci ceremony welcome and dance on our arrival night.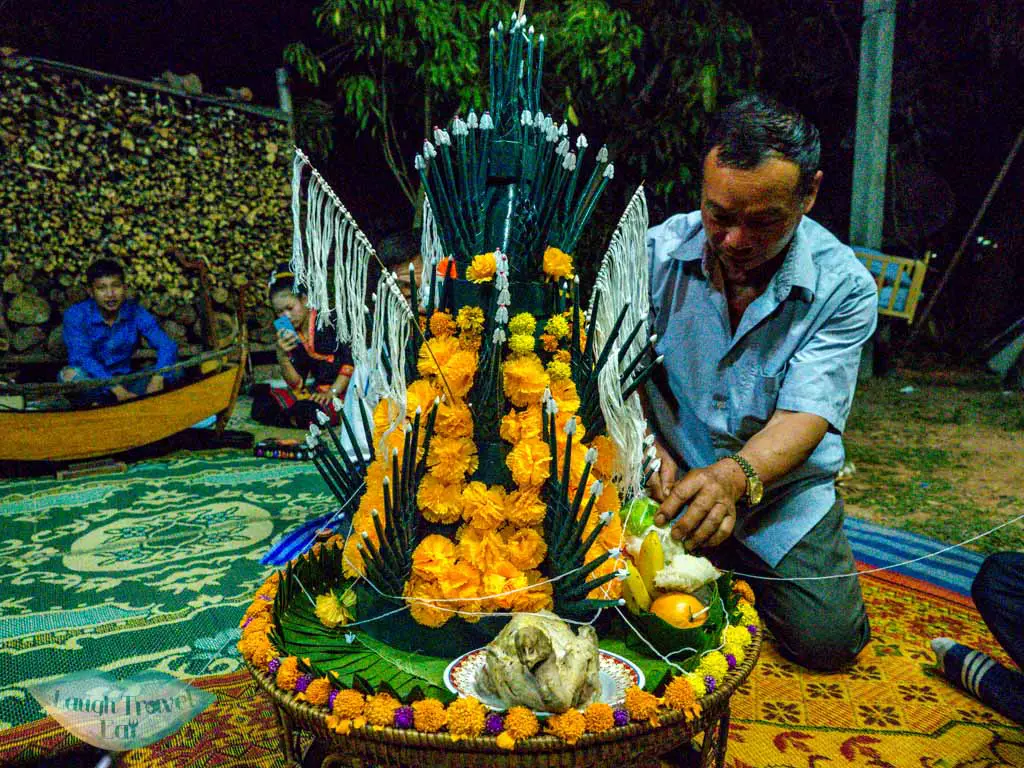 The nearby Vieng Neua Temple is gorgeous and worth a visit too since it's walking distance.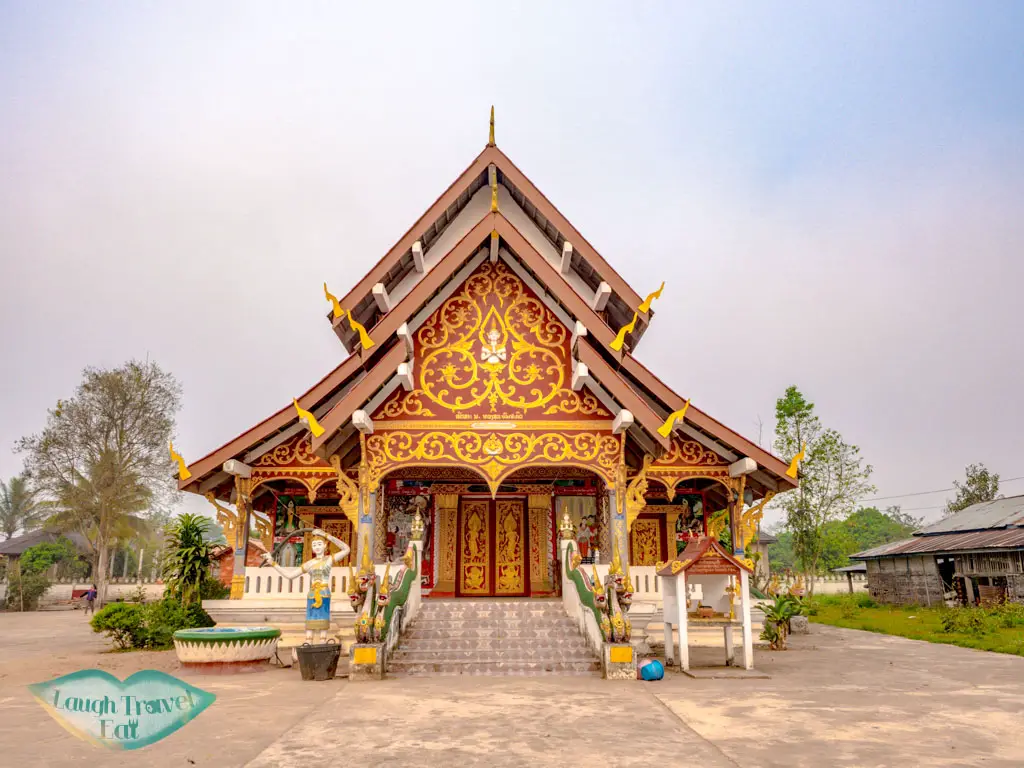 Cost: 150k
Note: the homestay owners are lovely but speak very, very little English. You can book directly at the tourism office or through tour companies such as Discovering Laos.