13 things to do in Vang Vieng and where to stay, eat, and get around
Vang Vieng is a small town between Vientiane and Luang Prabang that was once the party central for backpackers. Nowadays, its reputation is slowly replaced by its natural beauty and outdoor activities. Located by the Nam Song River, it's all about karst mountains, caves, river, and lagoons in Vang Vieng.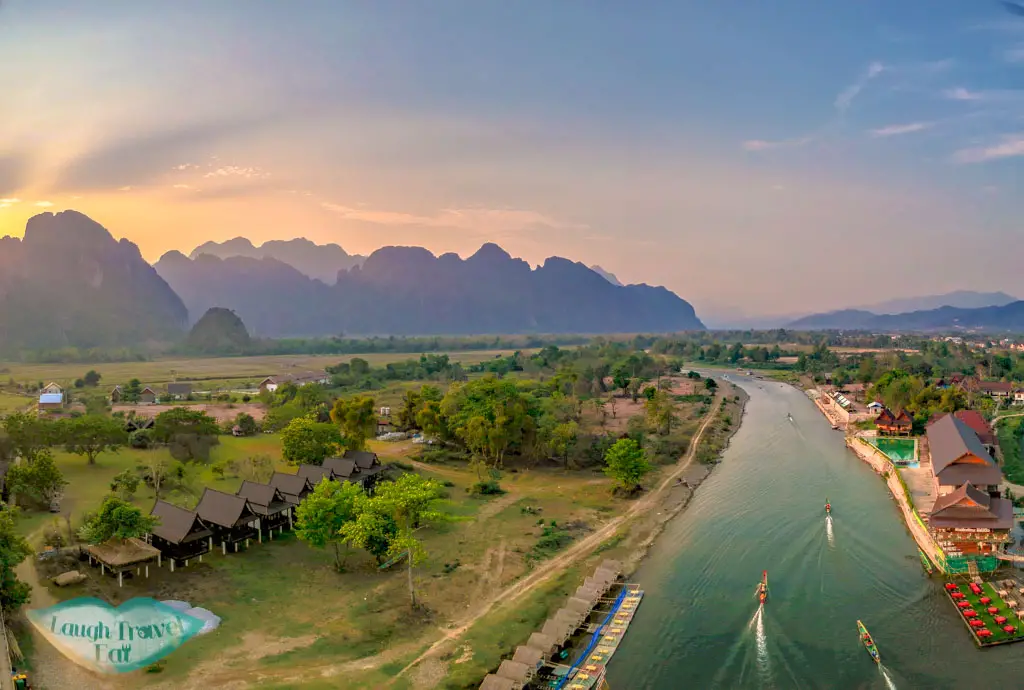 While I didn't particularly like the town itself or the dusty roads, it is by no means a good place to stop and enjoy nature (or even to party) in Laos. Here's what to do:

Bus from Vientiane to Vang Vieng
The easiest way to get from Vientiane to Vang Vieng is to book the VIP Bus or minivan via your hostel or hotel. The cost should be the same across the board, so if you get quoted something different don't be afraid to walk out and find another travel agency.

VIP Bus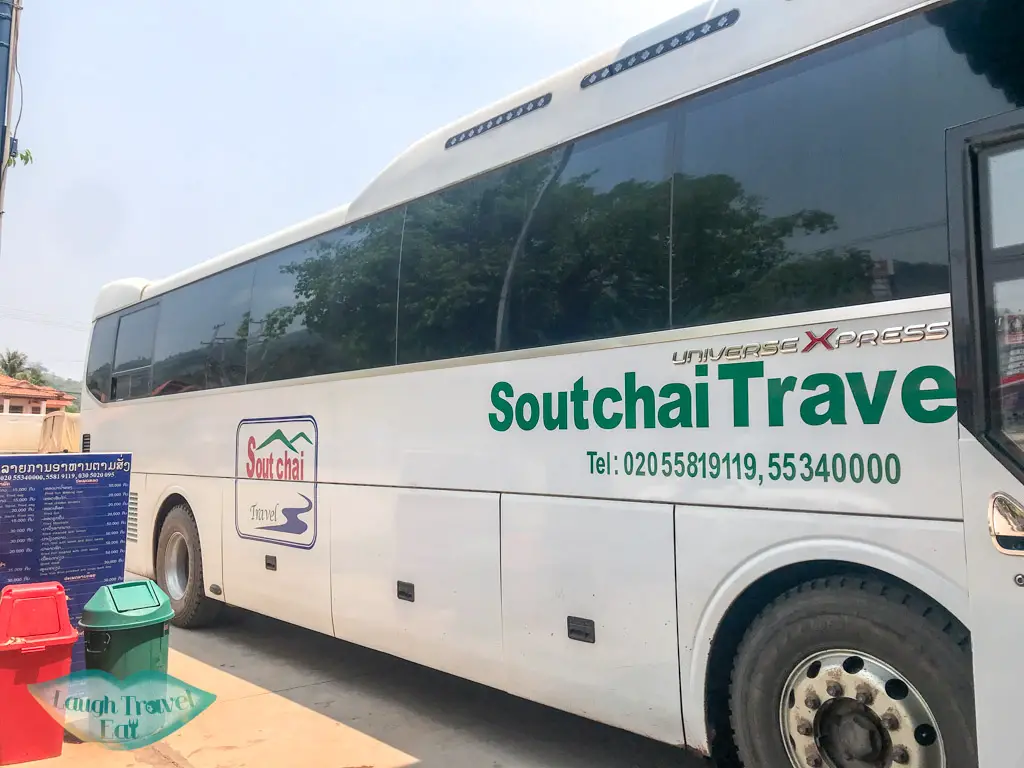 The cheapest and easiest way to get to and from Vang Vieng is the VIP Bus. At 50k kip, there is one bus in the morning and one in the afternoon, and it should pick you up at the hotel. Expect the journey to be 5 hours because of that, so the pick up time fluctuates around 9:30-10ish am.

Minivan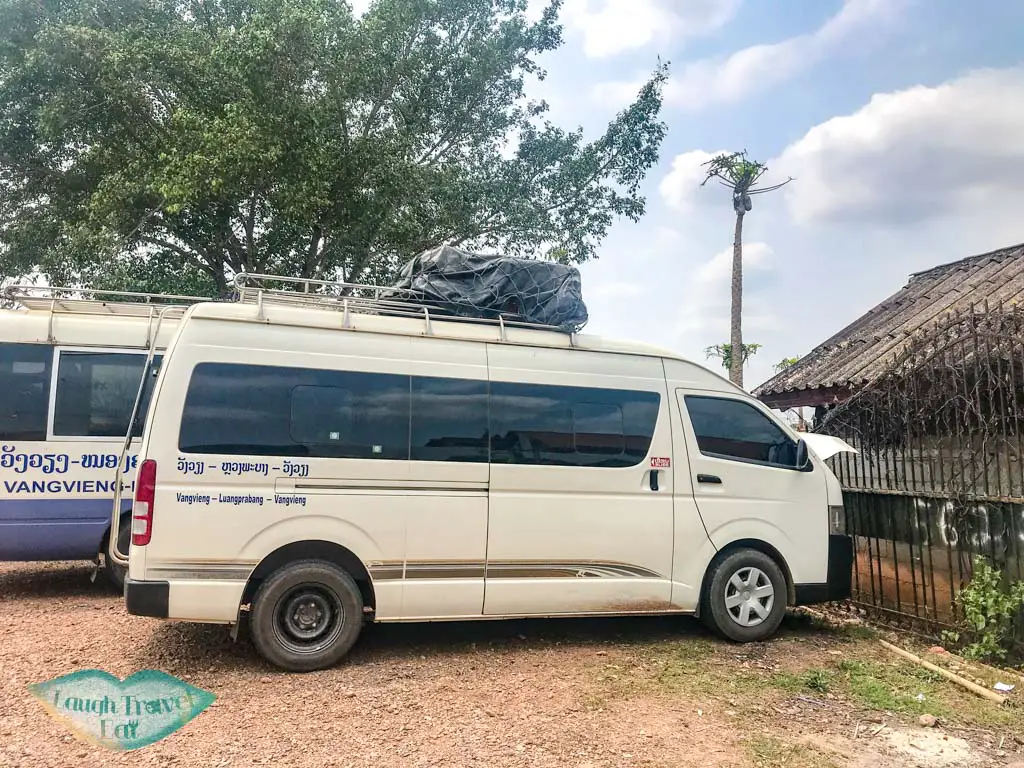 The minivan should cost 65k (although my hotel in Vientiane asked for 70k and I didn't have the energy to argue). The minivan is much faster since it only picks up up to 15 people. Although if you have long legs the legroom is pretty bad. However, it can save up to an hour's journey.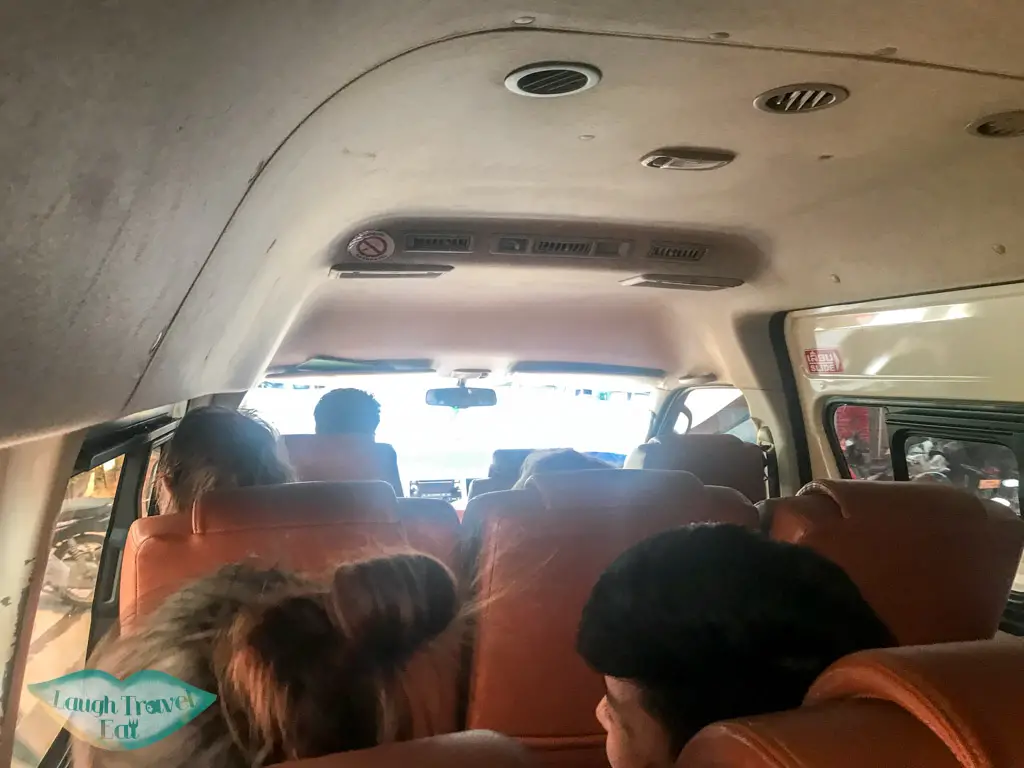 On my trip up, I was picked up around 9:45. The minivan wasn't full which gave me space to put my stay-close-to-me bag. We did a small stop at the gas station then at the North Bus station after picking up everyone. They'll collect the tickets too so make sure you don't lose it.
At around 11:40 we stop at a midway rest point for bathroom and food break. It's about 20 minutes long with drinks, snacks, and proper meal available.
The road is considerably less good from here on. We were dropped off in town by the Malany Villa 1. It's a short walk to most accommodations providing you are not carrying too much. Otherwise, a tuk tuk will usually show up soon. Be prepare to negotiate the price.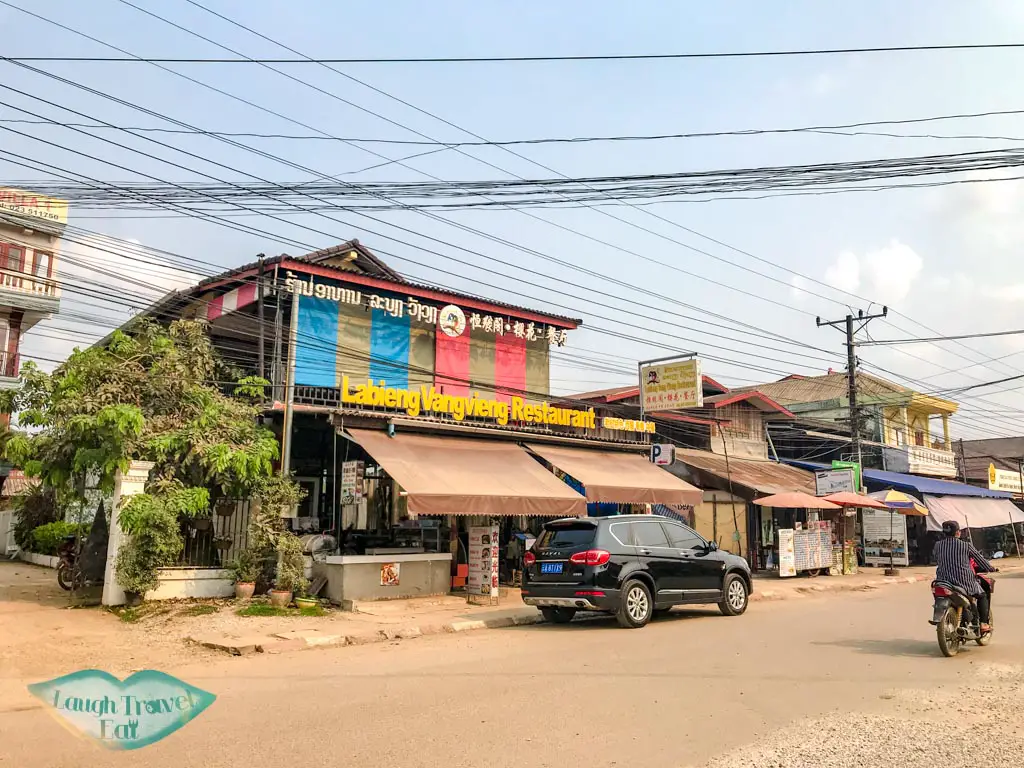 Note: you luggage will be stored on top of the van covered by a tarp and held in place by a net. My medium-large size suitcase fitted just fine.

North Bus Station (public buses)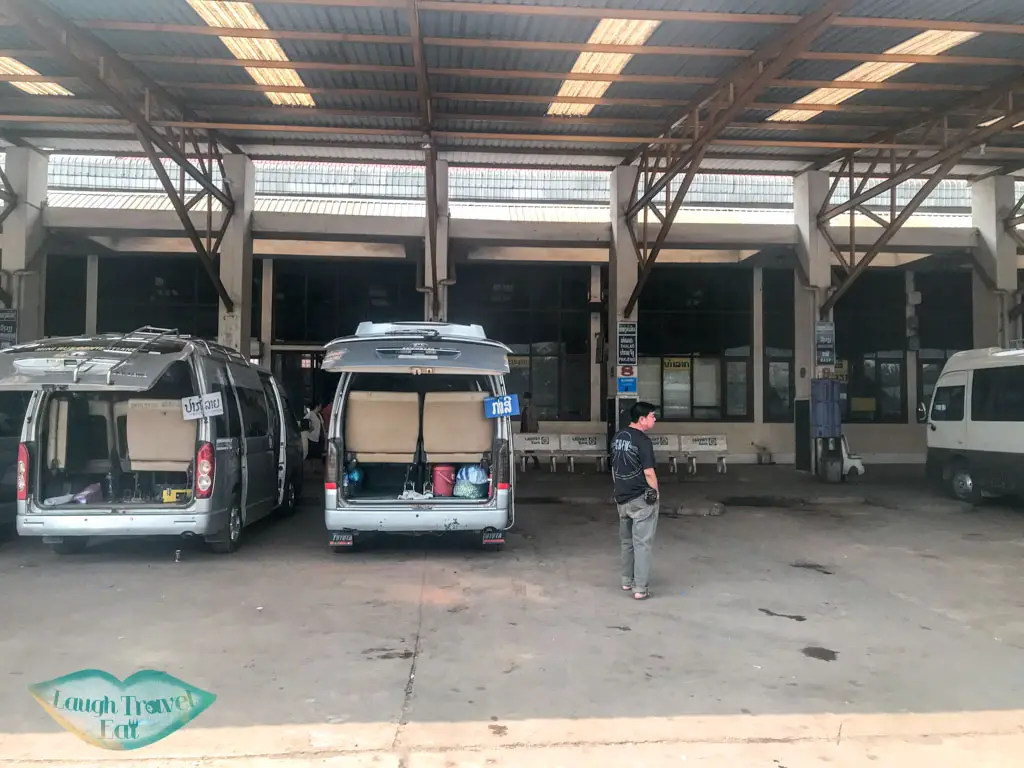 Alternatively, if you don't have big luggages, you can make you way to the North Bus Terminal. According to Hobo Maps, almost all the northbound bus will go past Vang Vieng.

You can also hail minivan and buses on the Main Street and hop on if there's space – not that I'm brave enough to try it.

Cost: VIP bus 50k, minibus 65k (current as of March 2019)

Vang vieng to Vientiane
Almost all the hostels, hotels, and tour companies in Vang Vieng can help you book transport to Vientiane and Luang Prabang. The time table seems more frequent than the reverse route, with minibus almost leaving hourly according to the time table advertise on some of the tour agencies.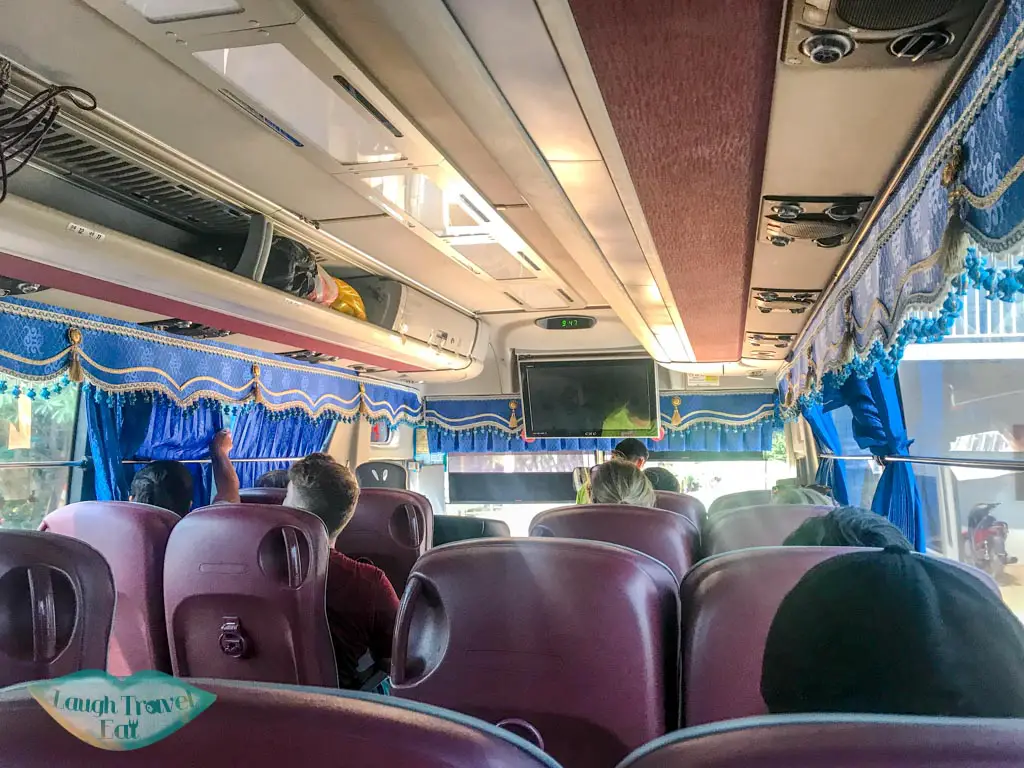 For simplicity's sake, I booked through my hotel so that I can get help from the reception if needed. However, the price seems pretty consistent across the board with VIP bus costing 50k and minivan 60k.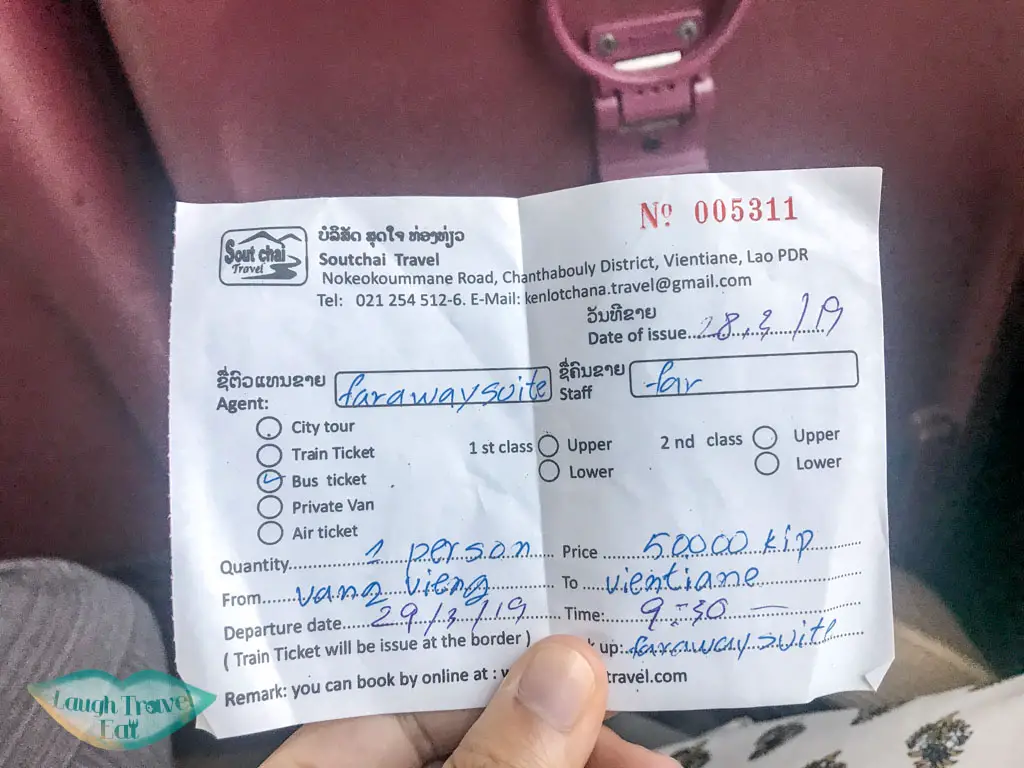 I took the VIP bus from Vang Vieng to Vientiane since it's unclear whether or not minibus will drop you off at the north bus station or in the city center. I was picked up at my hostel at 9:30 am and taken to a big car park area in the center for Vang Vieng. Once the bus is suitably filled up, which for us was at 10am, we were off. The journey felt smoother on a bigger vehicle and we stopped at a bigger rest stop with free rest rooms and a minimart.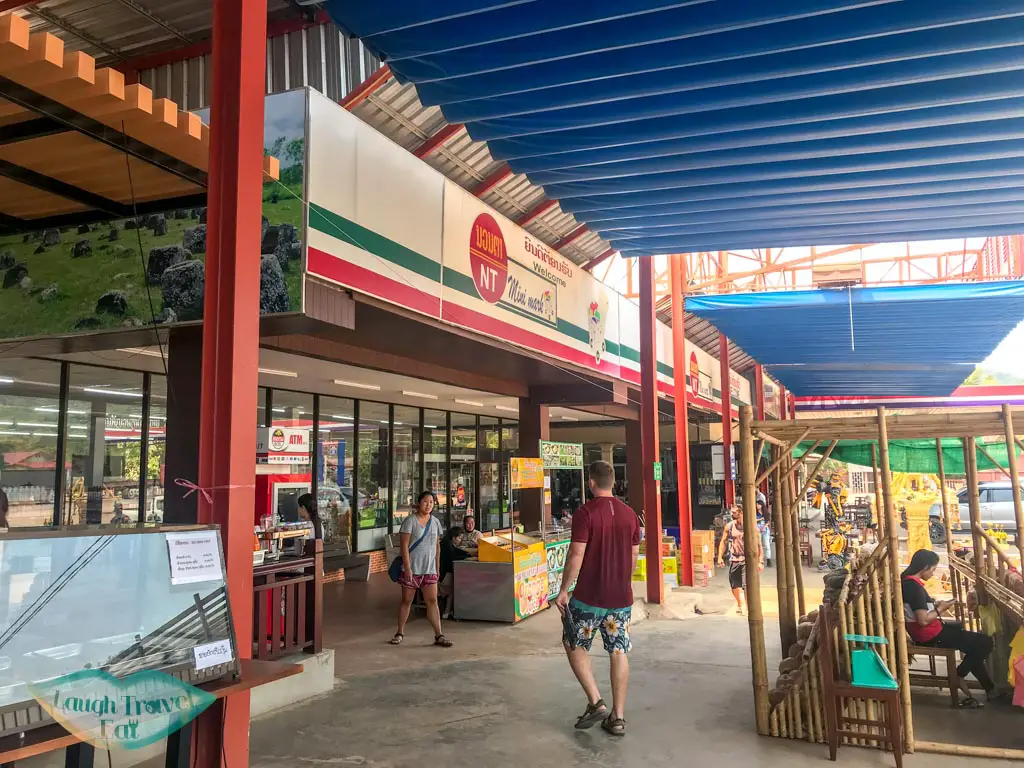 We actually made good time and arrived in Vientiane before twelve, with the bus dropping us off by the park parallel to the Mekong River downtown.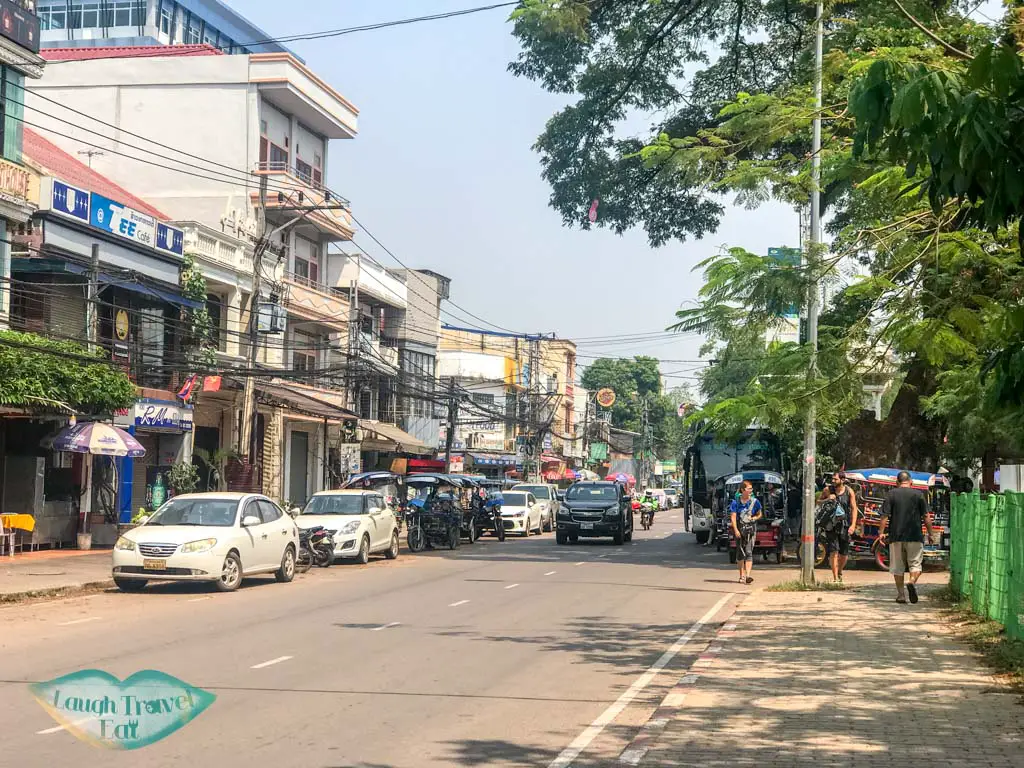 There are plenty of tuk tuk waiting to shepherd people to their hostel but I chose to walk 10 minutes.

Getting around Vang Vieng
The town itself isn't large and it takes 20 minutes to walk from one end to the other with most restaurants being 10 minutes walk from each other, though you can also cycle around town. To get out and explore, there's really only two options:

Renting a vehicle of sorts
Almost every other shop in the town rent bicycle, motorbikes, and buggy out. I tried to ask for recommendation but for the most part it seems that every shop is similar.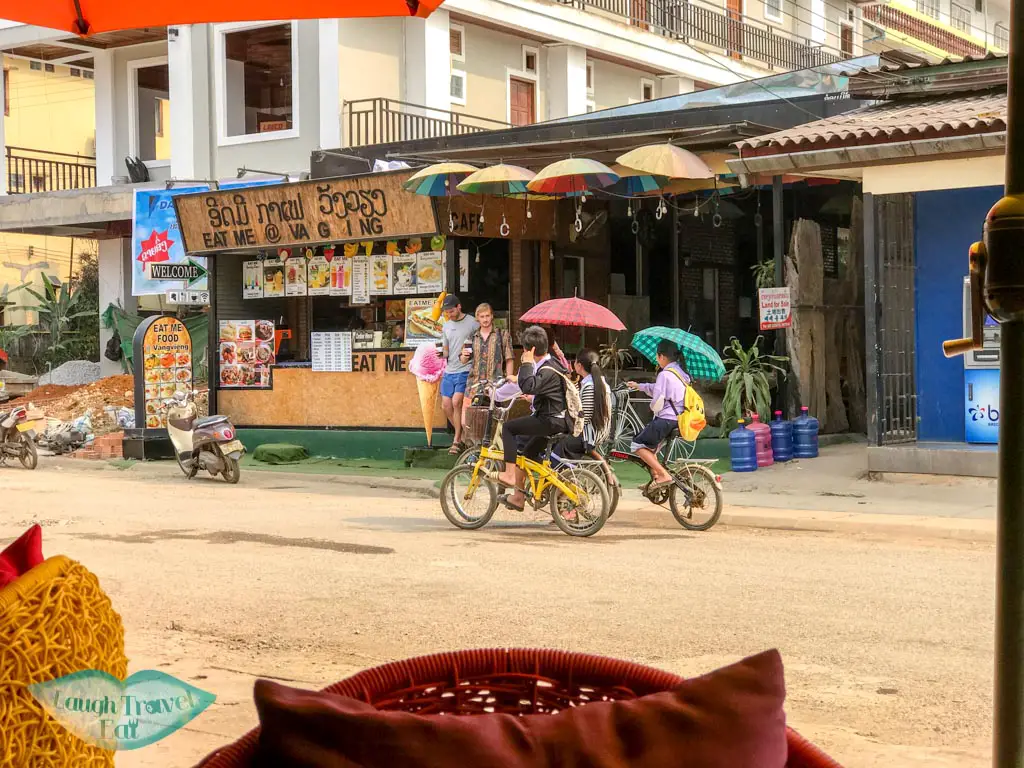 To explore the surrounding scenery, the best thing to do is to rent a quad bike buggy. I won't even recommend motorbikes or scooters because the dirt road can be extremely difficult to maneuver and I've seen plenty of people having problem during my time here.
It is possible to cycle to the Nam Xay, Pha Ngern, and Blue Lagoon 1, but it's best to have a mountain bike for that as the road has a lot of ups and downs.

Joining a tour
If you are not a keen driver, it's best to join a tour. You can find ones on Klook that covers the most popular activities and Green Discovery also offer good options. I went on a tour with them to Tam Chong, villa Vieng Tara, Nam Xay Viewpoint, and Blue Lagoon 3. It costed 25 usd.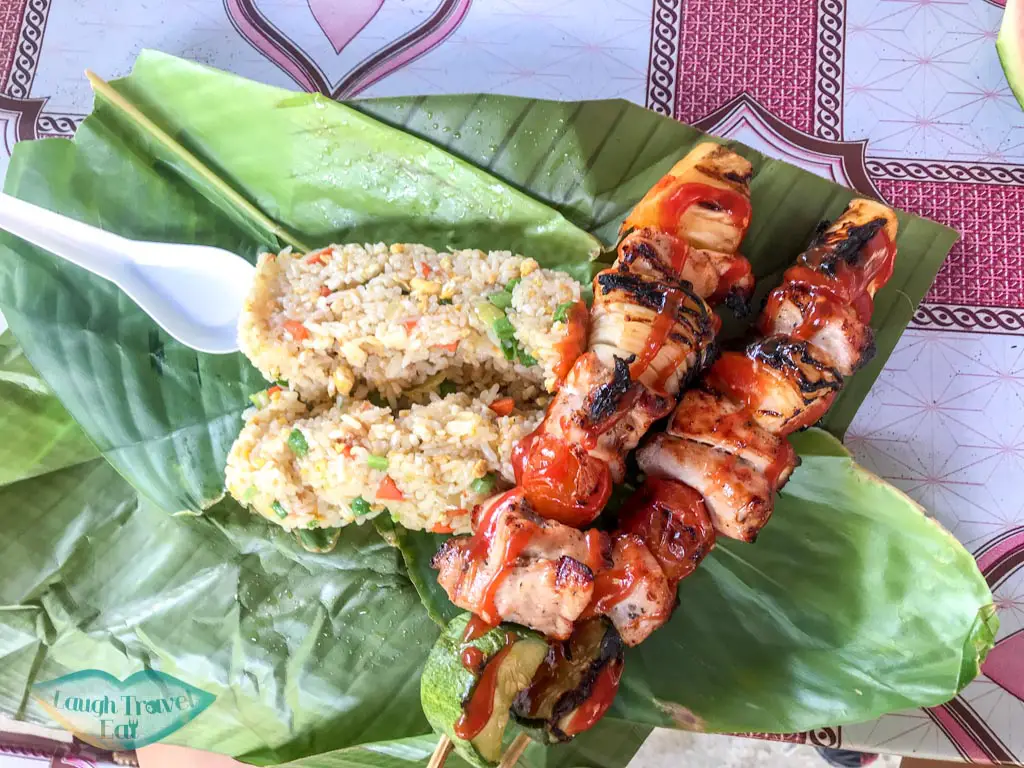 You can also hire a tuk tuk for the day, which should cost between 30-35 usd and a good option if you are with friends. Be warned: it'll get extremely bumpy and dusty.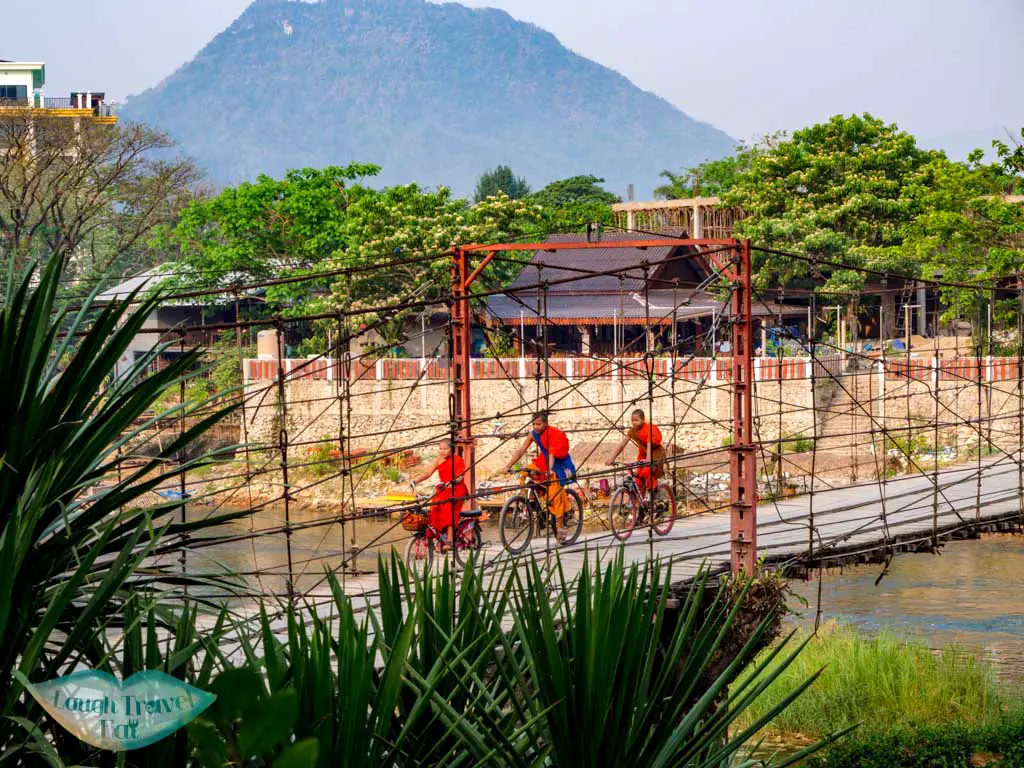 I also visited the Elephant Cave, Water Cave, did kayaking and visit the Blue Lagoon through a tour I booked on Klook. Aside from waiting an hour for lunch and the weirdness of waiting for ziplining participants since I didn't want to do it, it was pretty good. Our guide – Comdee – was fun and speaks good English, and everything was well organised.

Pro tip: if you are in Vang Vieng during dry season, there's a wooden bridge by the road that's behind Holly's Cafe which you can use for free instead of the toll bridge by Riverside Boutique Resort.

Things to do in Vang Vieng
Blue Lagoon Vang Vieng
There are actually 5 blue lagoons in Vang Vieng and they are denoted by the number 1-5. The most famous is the Blue Lagoon 1 which is coincidentally closest to town. I have only made it to 1 and 3 on my trip:
Blue Lagoon 1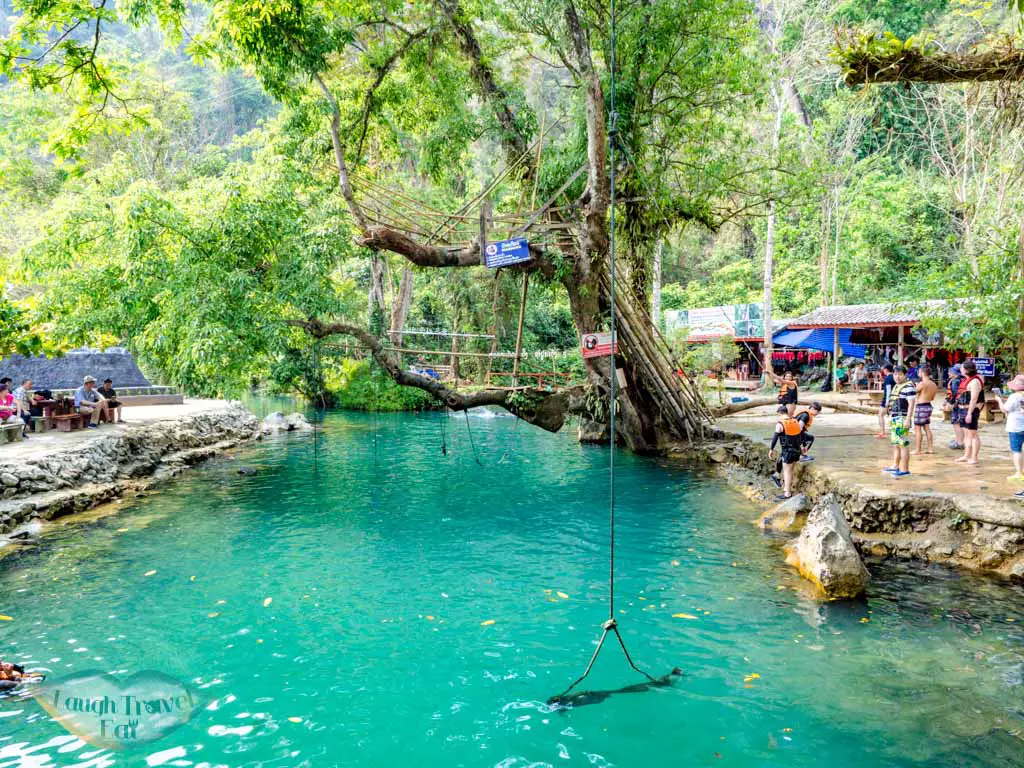 The most famous blue lagoon of them all, Blue Lagoon 1 is about 20 minutes drive west of Vang Vieng on good road. The lagoon itself is not big, but the hypnotic blue water and the overhanging tree in the middle makes for an iconic scene.
That said, it is a rather small pool which makes it less ideal for swimming. For the most part, people enjoy swinging out to the pool or jumping off the two different levels on the tree. There's a bridge that spans across the lagoon where you can take photos. It is, however, a good place to cool down and go for a dip after hiking up one (or two) of the viewpoints.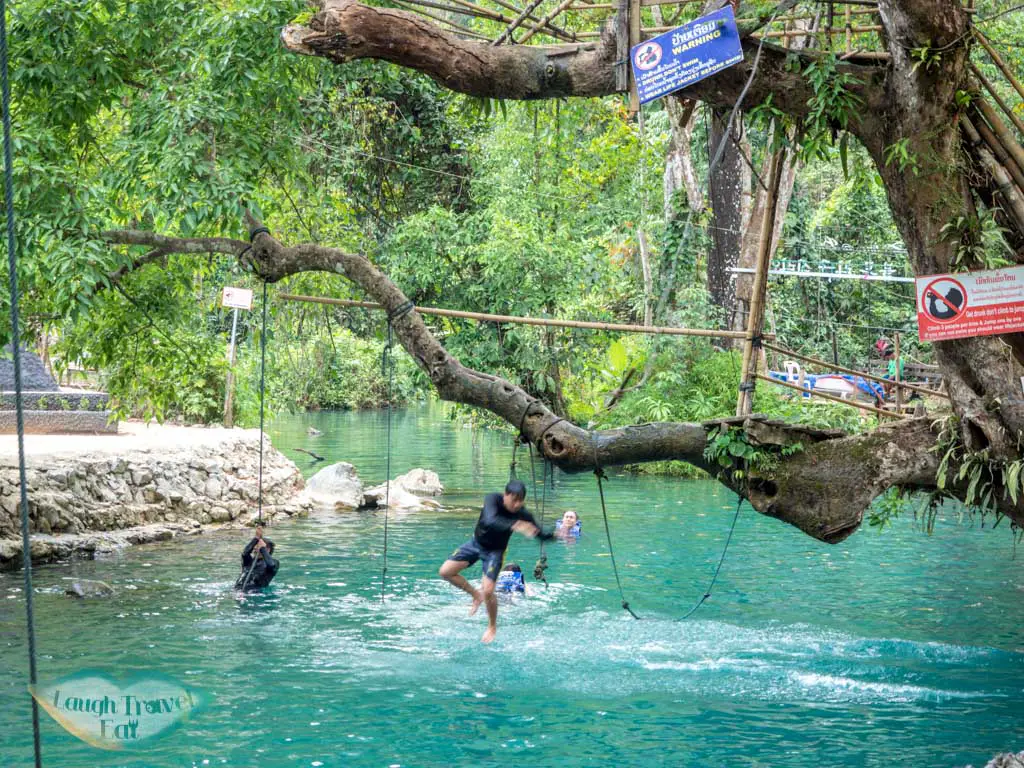 I visited in the afternoon of a weekday and there's not that many people there. It's mostly Korean tourists and some other milling around. They have tables and bamboo huts for guests to use freely – I brought a lock for my backpack and leave it on a chair and it was just fine.
Admission fee: 10k kip

Blue Lagoon 3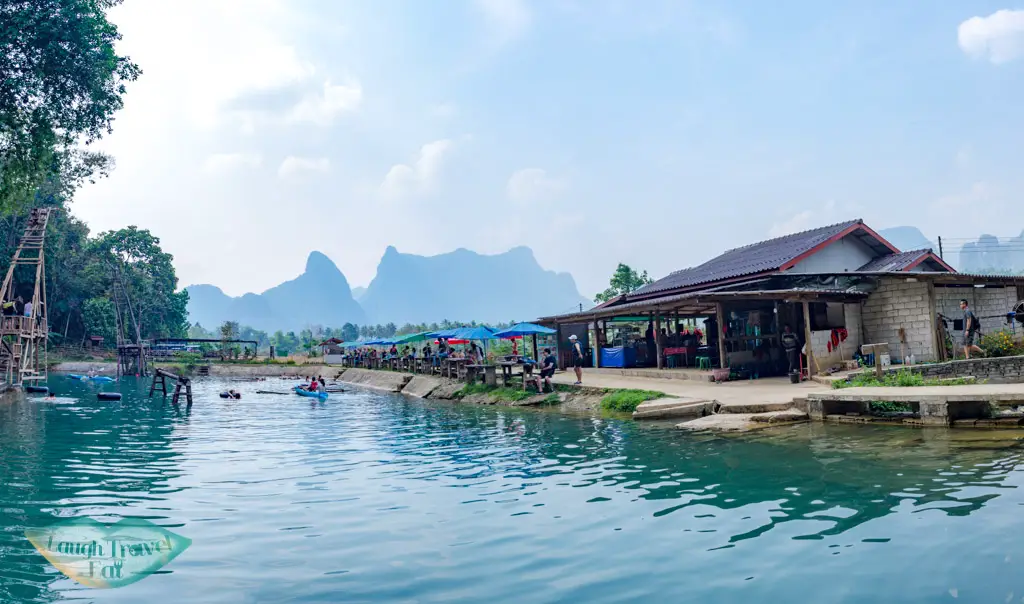 If you are looking for somewhere to swim and relax, blue lagoon 3 is about 30-40 minutes from town and a lovely little place. However, the dirt road to get there is no joke and it's a bumpy and dusty ride whether you are biking, tuk tuking over, or on a buggy. Buggy is probably the best course of action, however, tuk tuk is good too providing you try to duck and avoid hitting your head.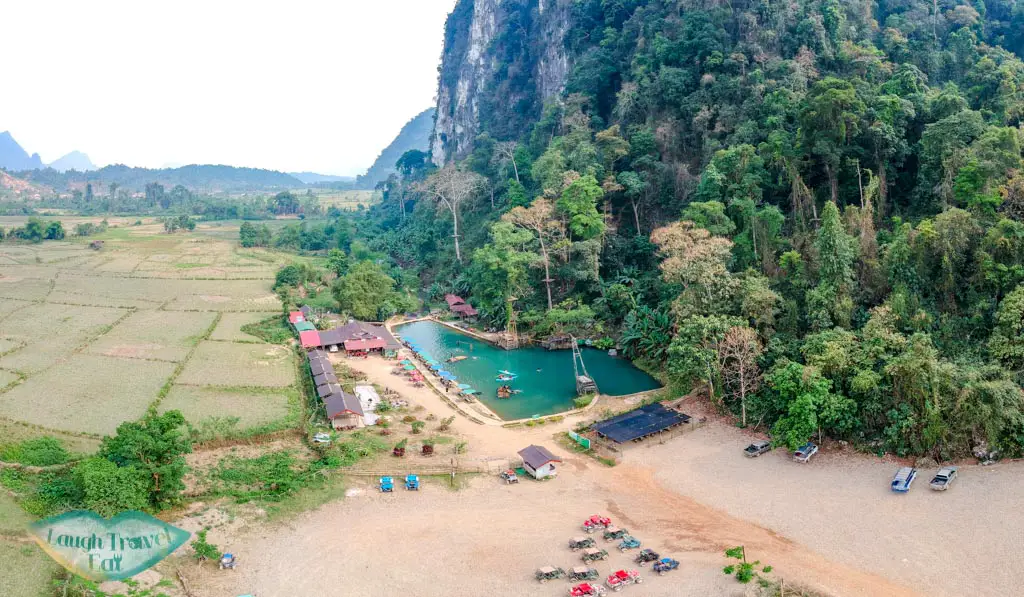 The setup is reminiscent of waterworld with bamboo rafts and wooden towers. There's a swing and a zipline on one of the platform that looks like a rock lunger, and even a balancing plank! Although it's not big by any means, there's enough room for people to swim.
Like with Blue Lagoon 1, there's huts and tables to sit on. There is changing room and bathroom as well. You can rent a life jacket for 5k kip, although if you know how to swim, the water is pretty calm and easy to swim in.
Admission fee: 10k

Note: I won't recommend cycling that far out as the road aren't good at all after the Nam Xay viewpoint.

Nam Xay Viewpoint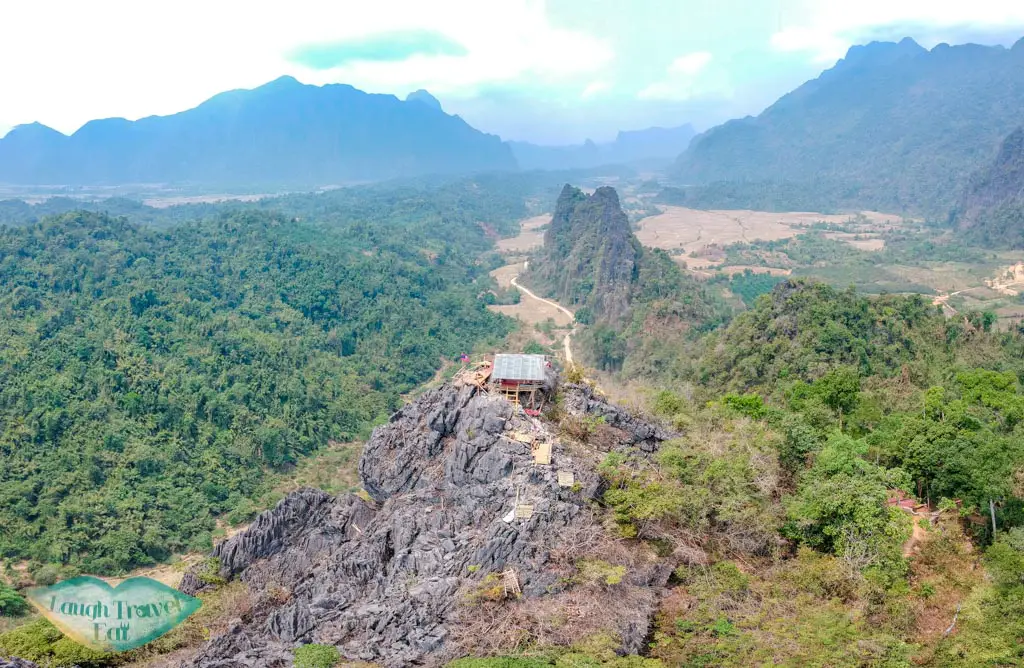 THE viewpoint hike in Vang Vieng, Nam Xay is a steep steep climb up that ends with a rewarding view. The hike takes about one hour to get up but don't underestimate the difficulty or the heat. Bring lots of water, wear your best trainers, and hold on to the bamboo railings as you make your way up.
The last part is practically rock climbing with a small clearing and benches for people to rest for a while before making the ascent.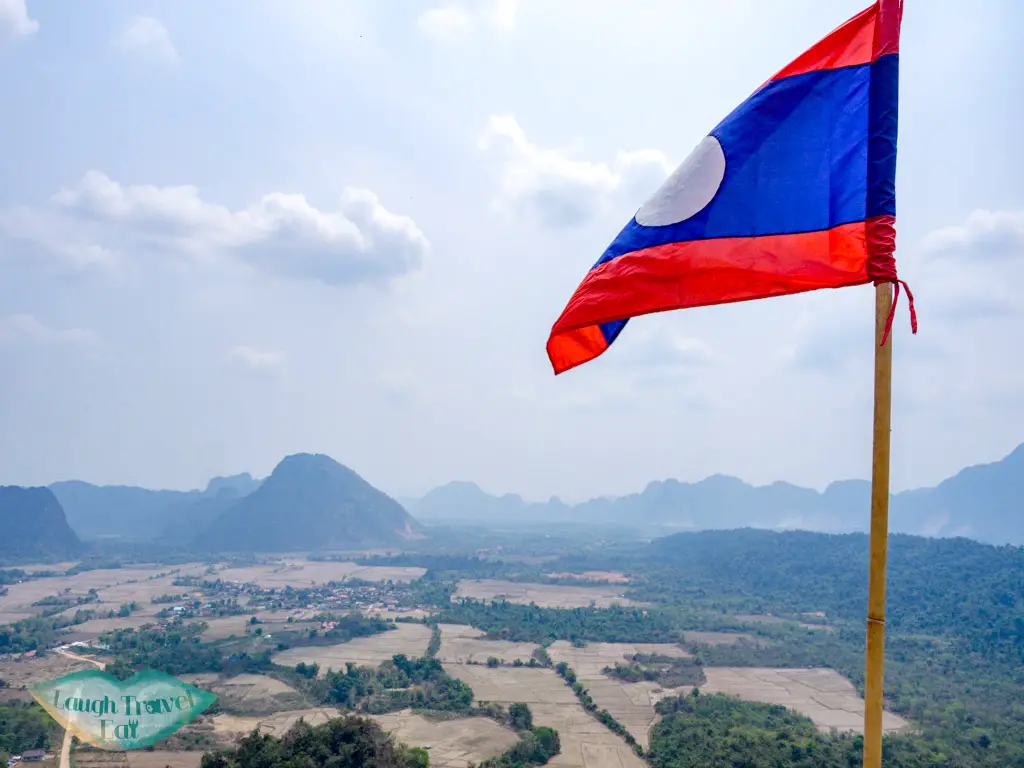 A small series of bamboo platforms are built on top with the hut at the peak, and you can get a great panorama. For the iconic view with a lone karst mountain, it's over on the other side. A motorcycle had been moved up by locals over two days to act as a photo prop – along with a Laos flag.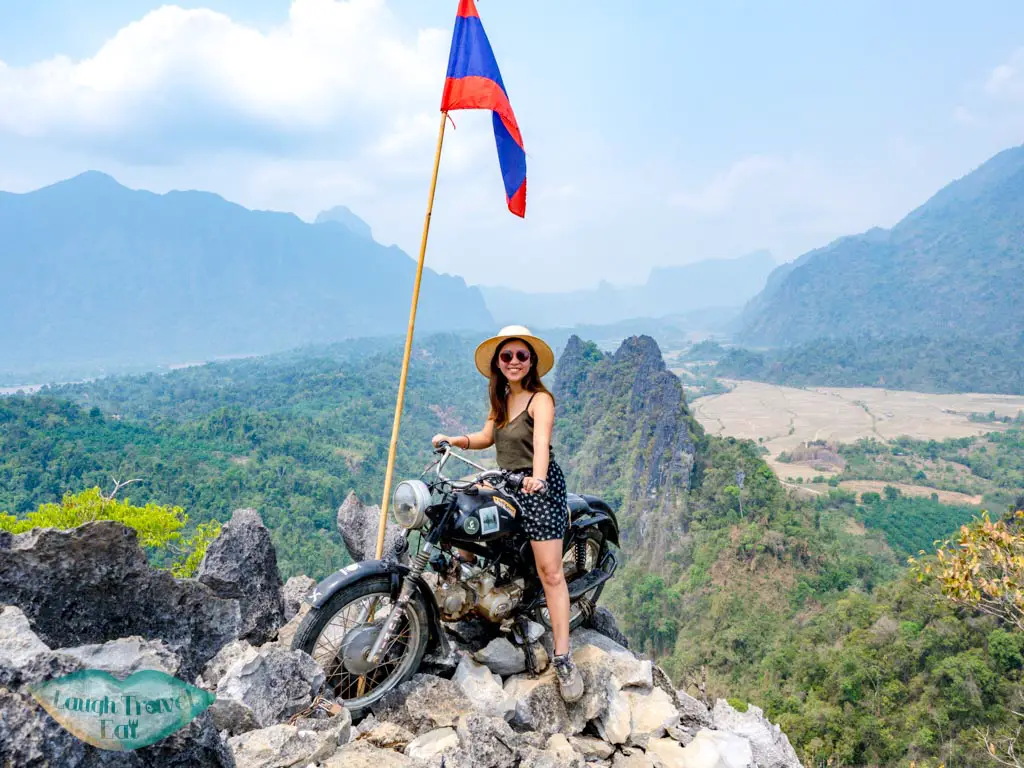 Getting down is not a strenuous but be weary of the slippery ground. If you plan on doing a sunrise or sunset hike, be sure to bring a head torch.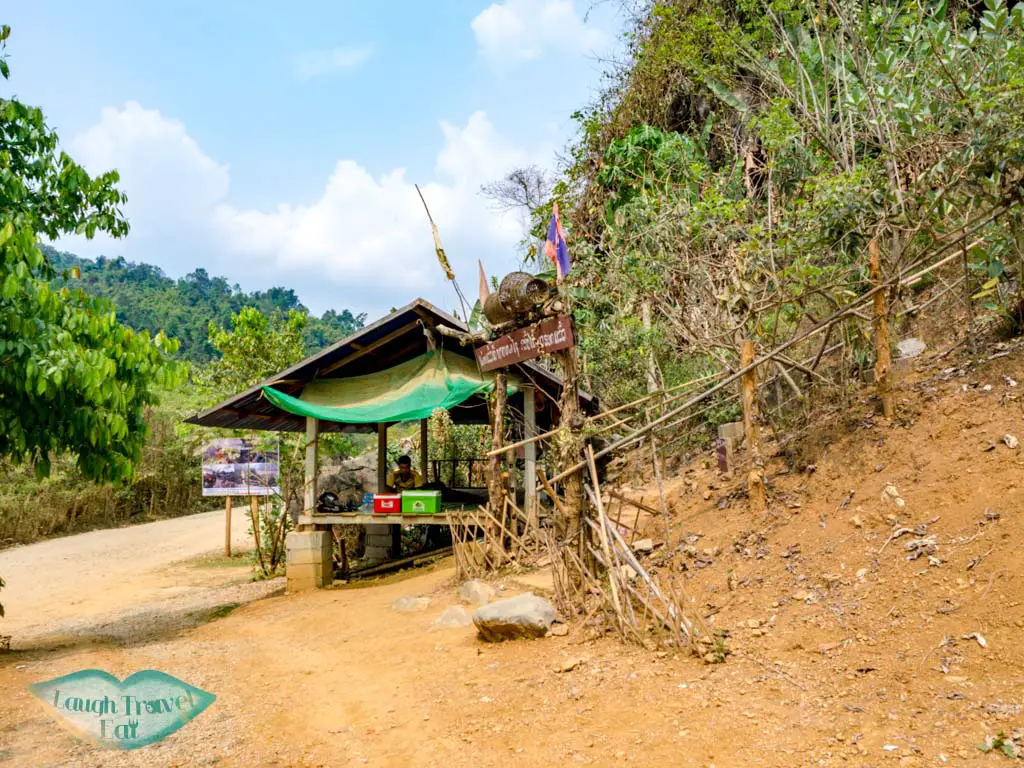 Admission fee: 10k – they build the bamboo railing and the viewpoint pavillion so it's well worth the price 🙂

Villa Vieng Tara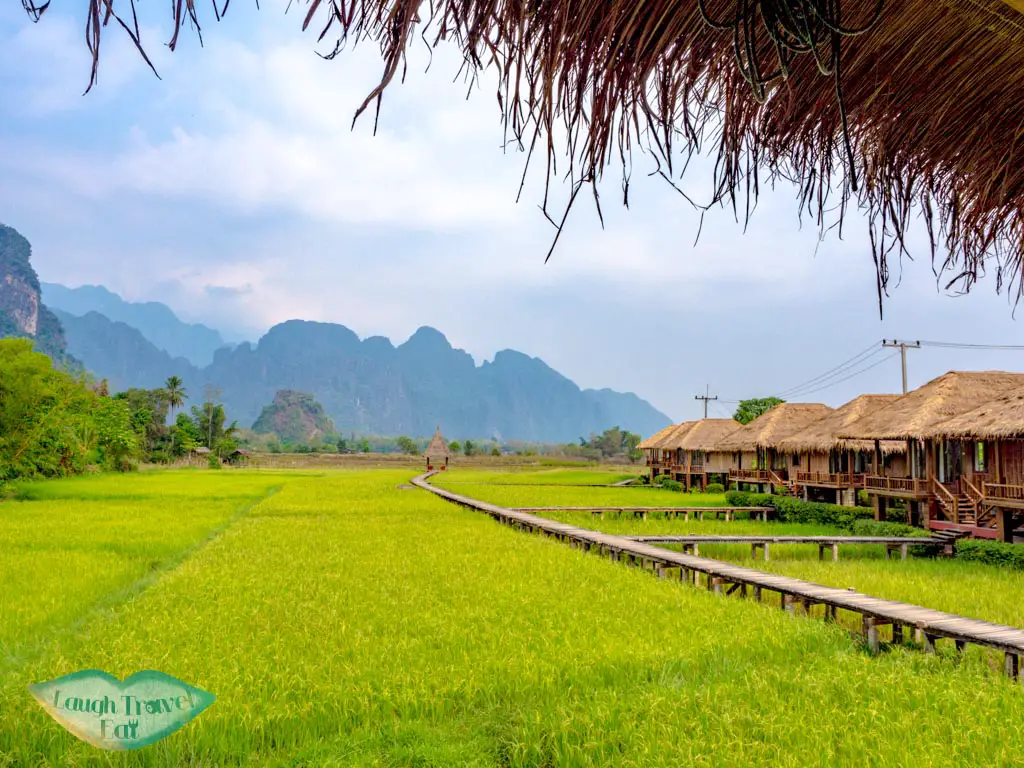 If you are on Instagram and keep seeing this wooden broadway surrounded by lush rice paddies tagged generically as Vang Vieng, chances are that it's the Villa Vieng Tara. Since becoming an instagram sensation, the villa doesn't allow outside guests to take photos on the broadway anymore.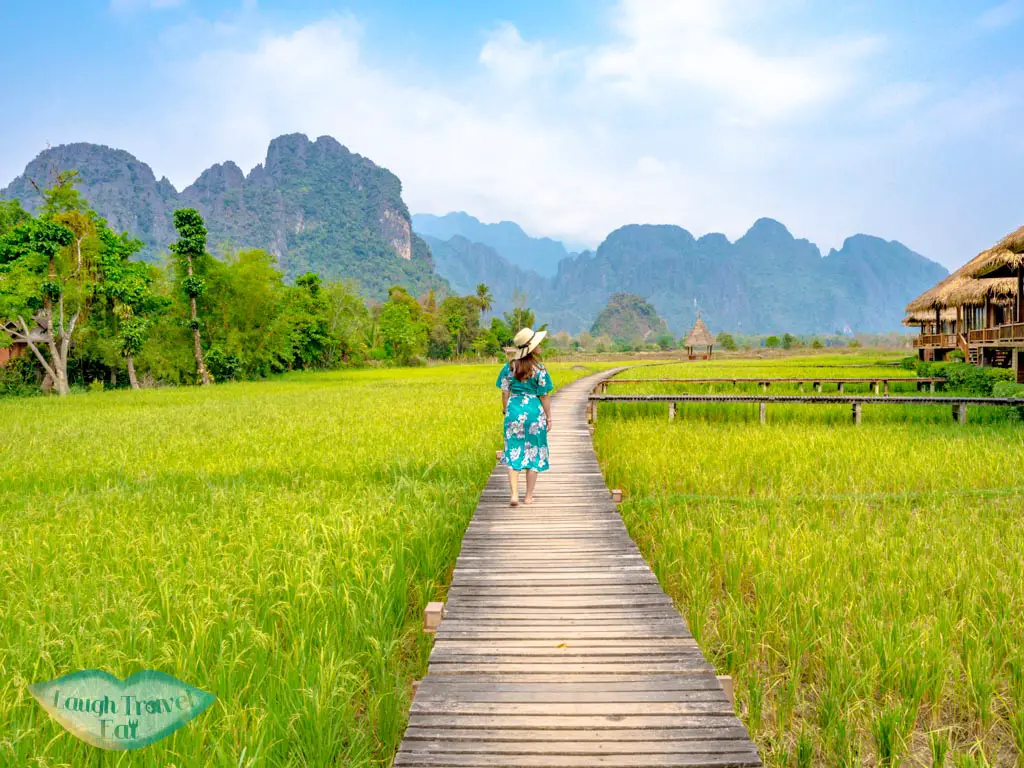 We had a drink at their restaurant on our visit and was able to take a photo close to the broadway entrance, but weren't allowed to get any further out. So if you really want a photo there, the best thing would be booking a stay.

Pha Ngern
The other popular view point, Pha Ngern is the highest hill in the region and more difficult. The fork that leads to it is en route to Blue Lagoo 3 with a big banner sign on the top. From what I can gather, the hike has three different viewpoints and hikers take the same route in and out!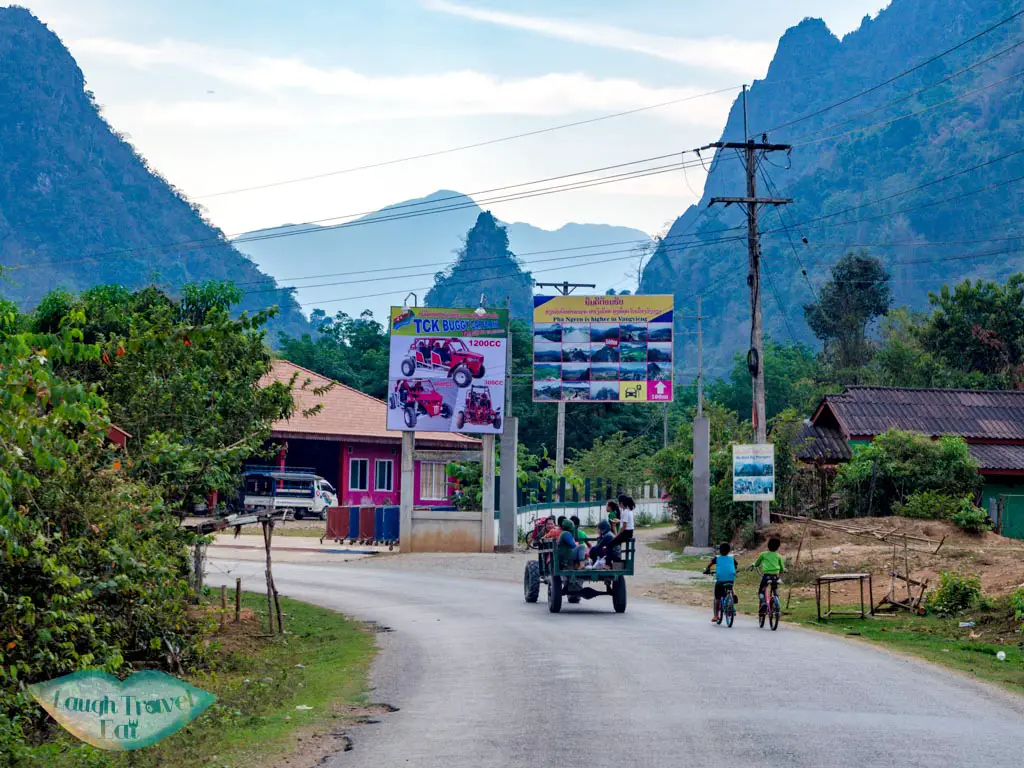 As I had accidentally hiked Phadeng instead, I didn't manage to do Pha Ngern as well.

Phadeng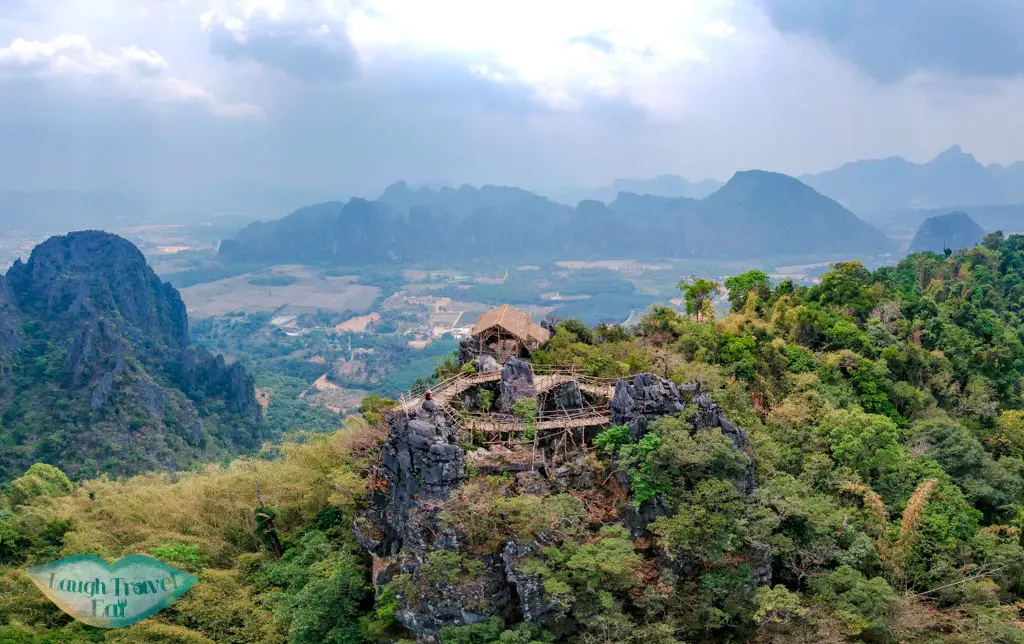 Naively thinking that Pha Ngern would be the first viewpoint on the road out of town, I unwittingly hiked up Phadeng Hill because I wasn't paying enough attention.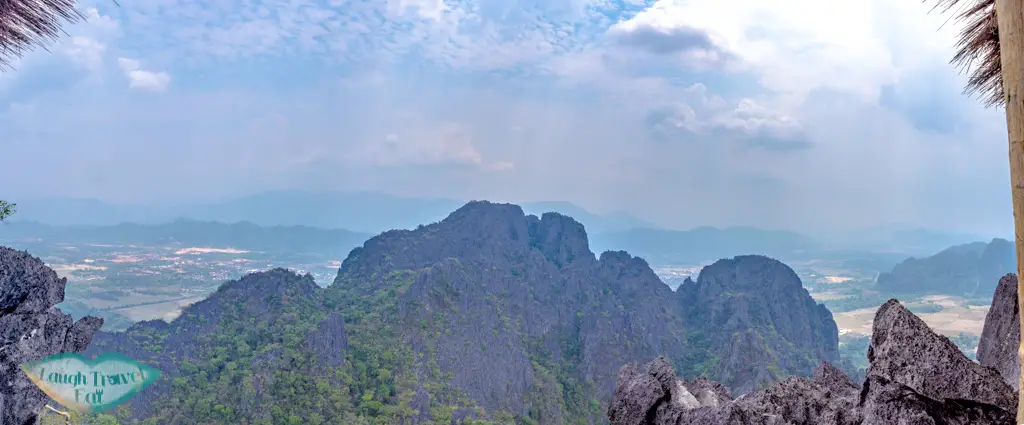 It leads to a crazy pebbly dirt road that goes on for a good 700m before you purchase your ticket and reach the parking lot. The hour trek up really isn't for the unfit.
The viewpoint isn't bad but isn't good either, consisting towards the end a series of bamboo and wood ladder and platform. I ended up taking drone shots and not setting up my tripod as the floor is gapy.

Note: while they are all gorgeous views in their own right, it's pretty much same same but different. If you just want to do one, do Nam Xay. You are less likely to get lost and it's probably the shortest.

Elephant cave (and Buddha cave)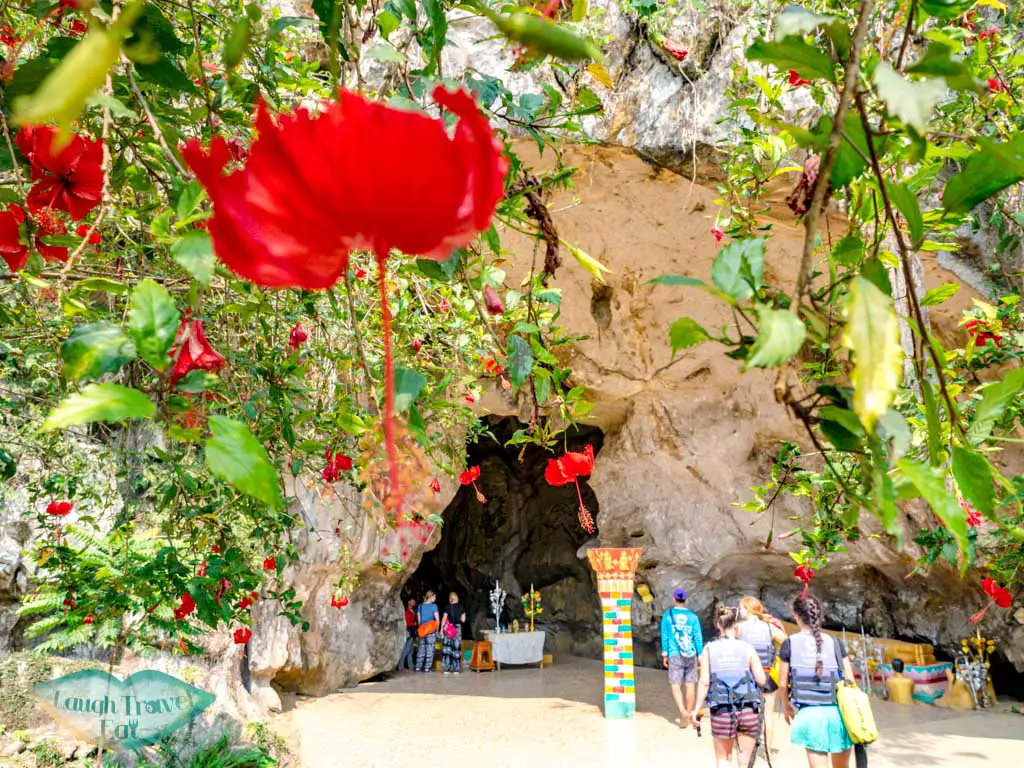 About half an hour's ride north of the city, the Elephant Cave is also called the Buddha Cave and is actually a temple. The cave is smaller than expected, with several Buddha statues scattered around and a main alter. The elephant shaped stalactite is to the right of the cave and also smaller than expected!
The cave is said to be used for religious ritual as far back as three hundred years ago, eventually becoming the temple we see today. You can also kau chim here or make a wish!

Tham Nam (water cave)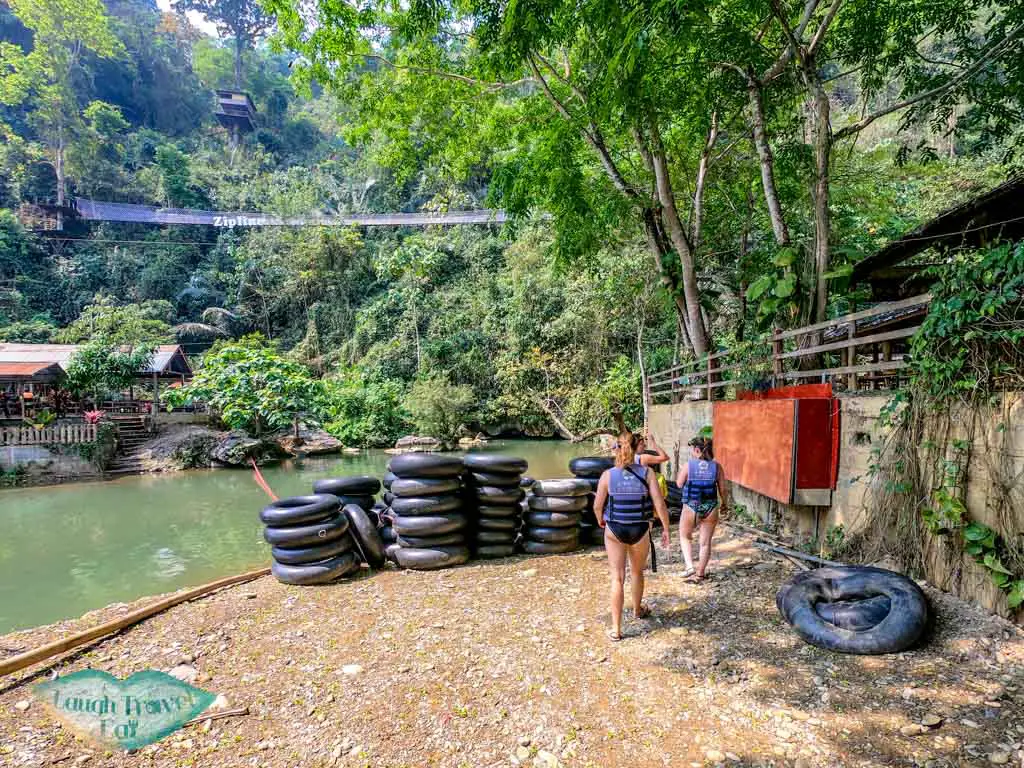 A short walk from Elephant Cave is Tham Nam – the water cave. The exploration method of choice for this cave is tubing, with tourists pulling themselves along on ropes that are installed in the cave.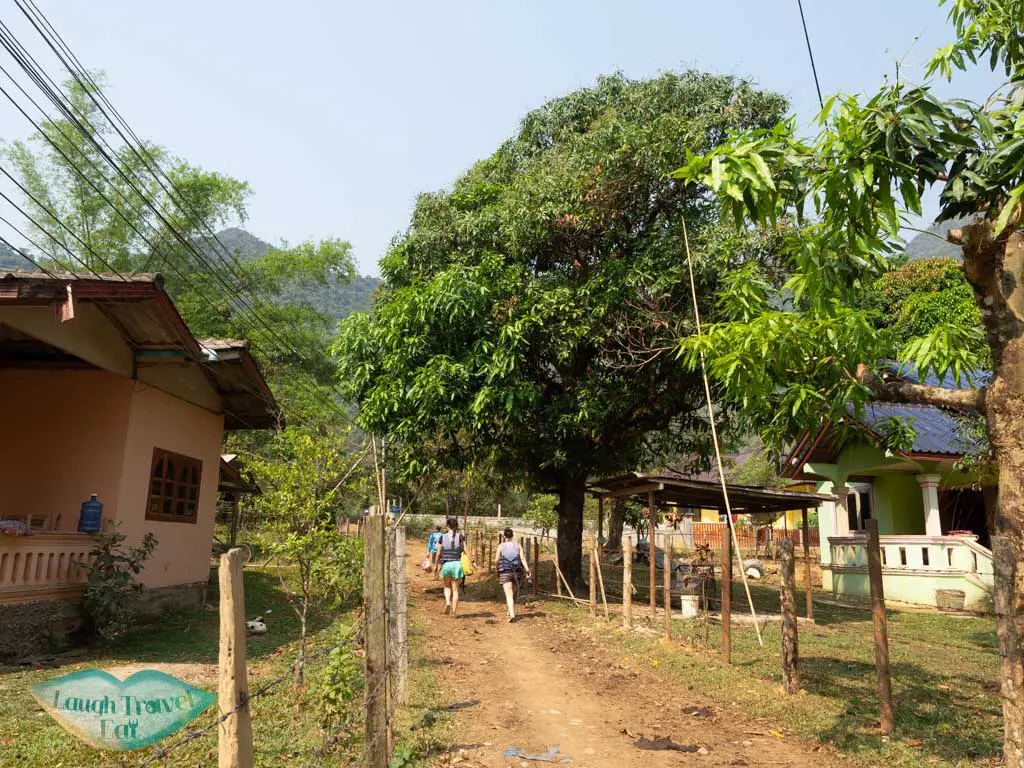 A head torch was handed to us and we settled into a tube each to enter the darkness. The first portion is 90m long, and pulling yourself along is surprisingly strenuous given that you are basically sank into a hole.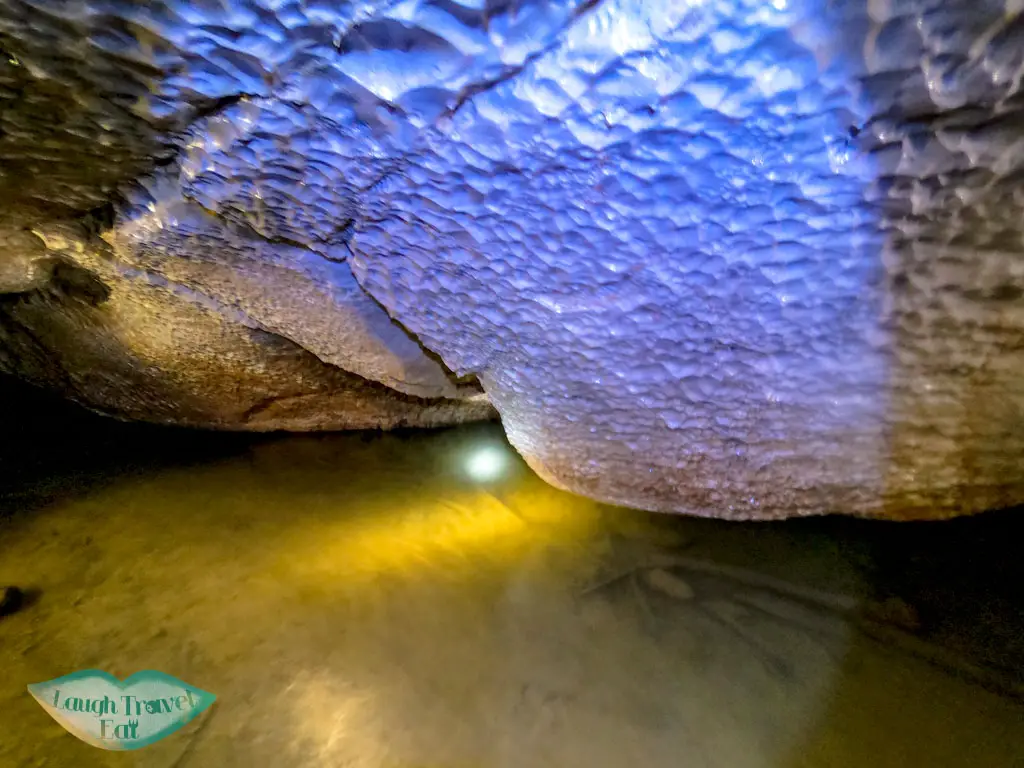 The cave walls are karsts, too, polished smooth by the river with small stalagmites grewing. There are also strands of river weed, much like tree roots, hanging down from the wall. We had to walk a little after the first stretch to go down the second part, which is 60m long. Our guide had us turn off the torch for a minute and it was eerily dark and silent!
Admission fee: 10k

Tham Chang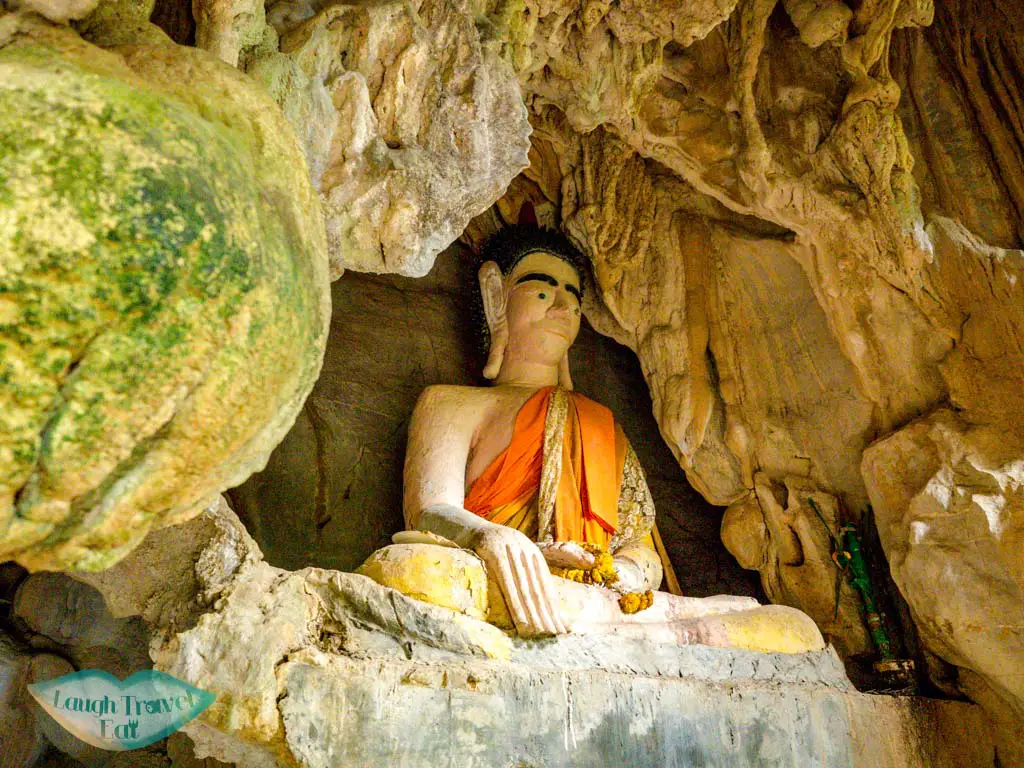 Just a 20 minutes walk south of town, Tham Chang is a cave that is most famous for the orange suspension bridge that connects it across the river.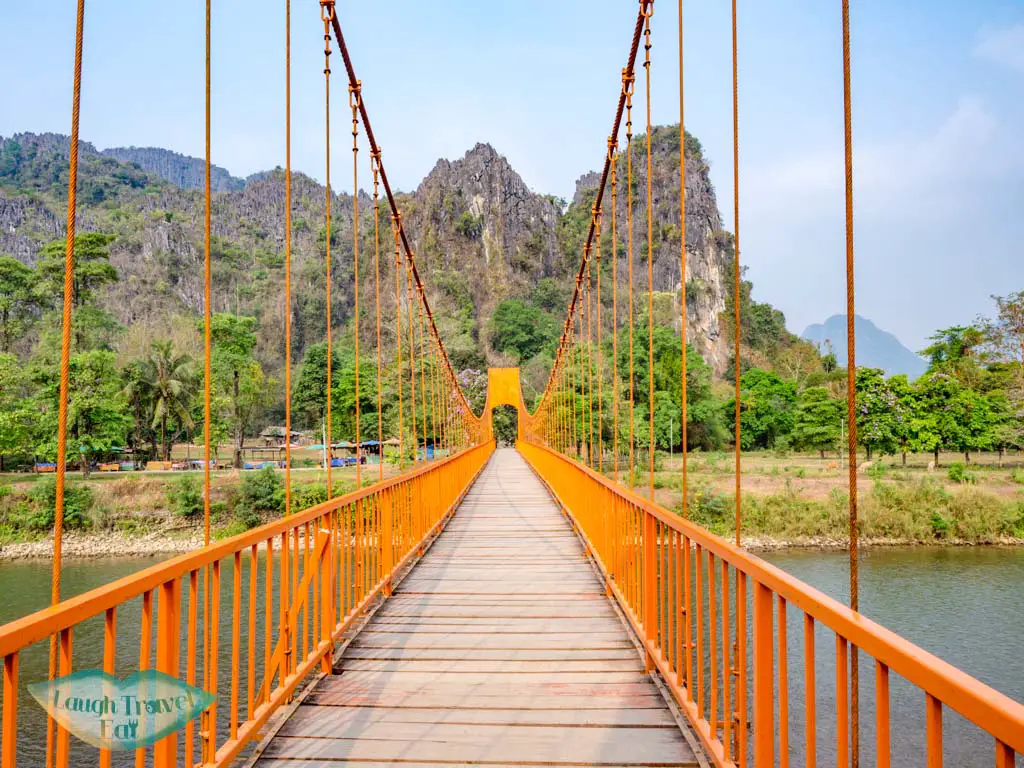 A small stream runs through the area that's riddled with small stores as well as a disused zipline course. The water looks crystal blue and inviting, though not big enough to swim in.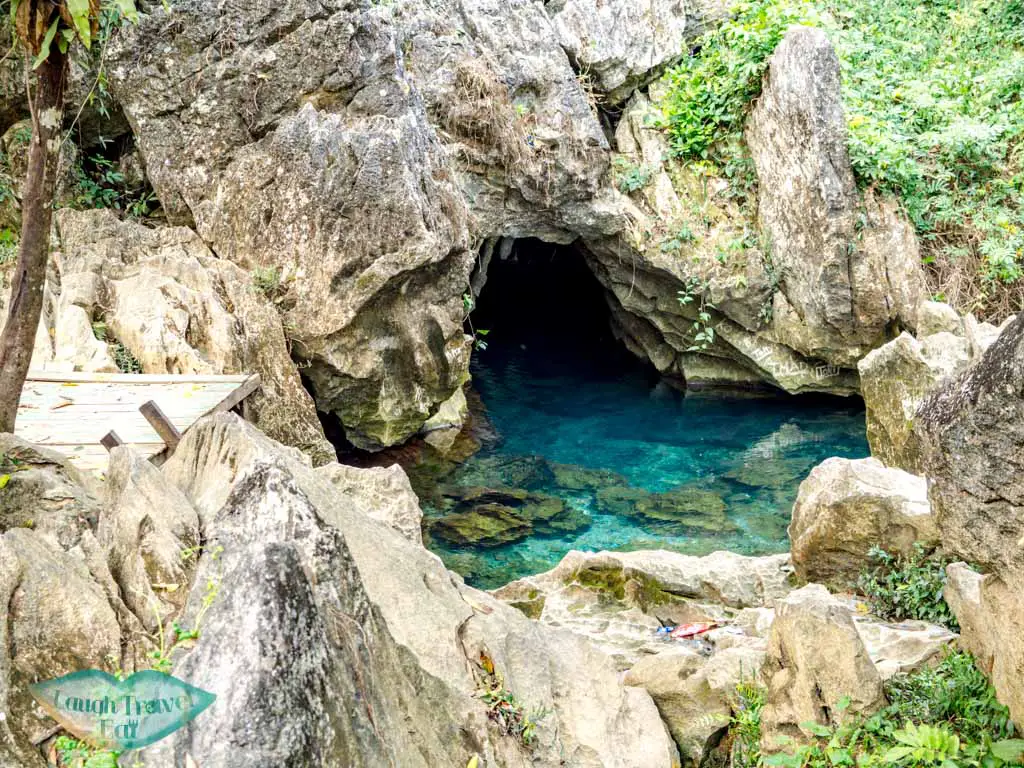 We went in one of the caves and find some Buddha statues inside. All in all, it's an interesting stop that's close by the town.
Admission fee: 10k Kip

Kaeng Nyui Waterfall
A spectacular waterfall northeast of town, the Kaeng Nyui waterfall is reduce to a trickle during dry season. It is northeast of town and best reach on motorbike. I didn't make it up there since I don't ride a motorbike and it's also dry season during my visit.

Kayaking on Nam Song River
A lot of day tours include about an hour of kayaking down the Nam Song River. It's a much faster and non-boozey way to see the riverside sceneries than tubing! You'll also get to watch the tubers not moving during dry season, which is kind of like playing a move around them game.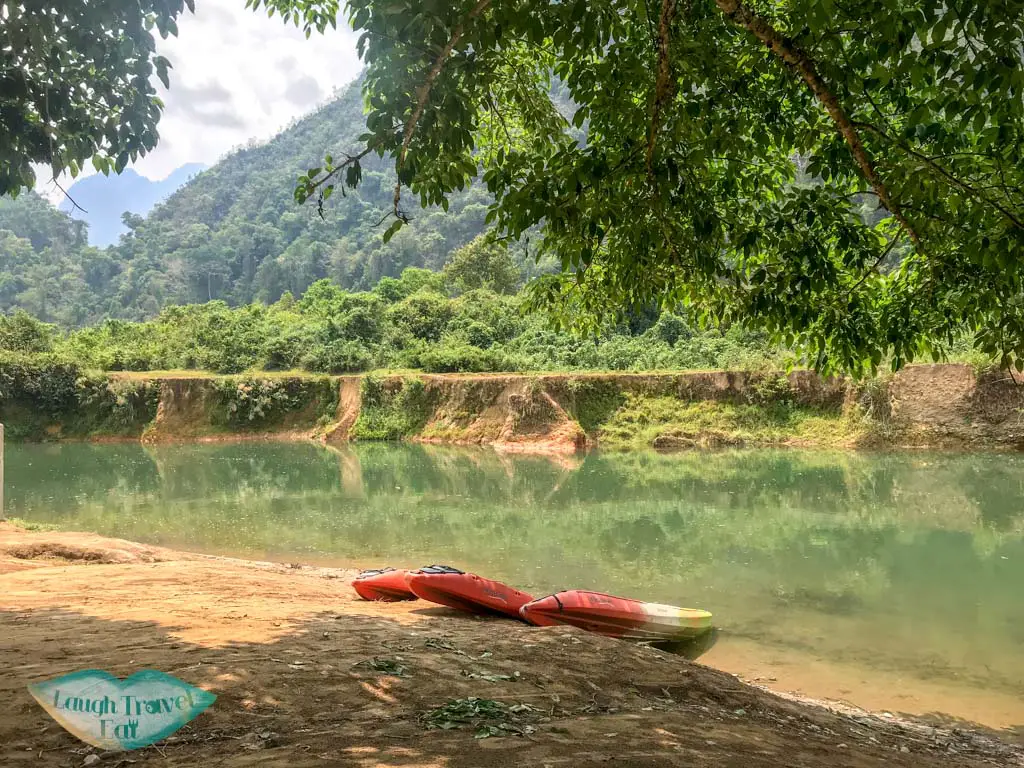 There are a few small rapids as well but it's not very fast or dangerous in dry season given that it's shallow. However, the river can be quite fast in wet season and it's best to keep life jacket on.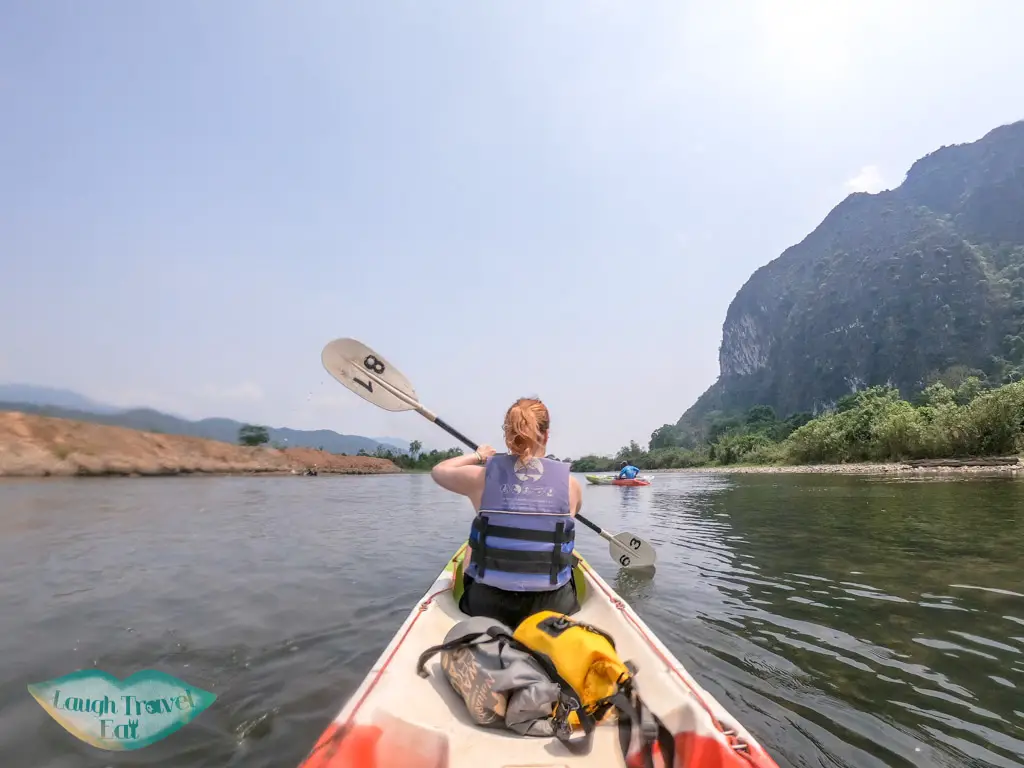 Note: alternatively, you can hire a longtail boat to whiz you up and down the river by Nam Song Hotel, although I'm not sure of the price

Vang Vieng tubing
If you are unfamiliar with tubing, it's basically sitting in a donut-shaped floating device and floats down the river. Once, and perhaps still is, the most famous activity in Vang Vieng, with hordes of party-goers drinking their way down the river from pre-prepared drinks or riverside bars. it was banned for a while due to the amount of drunken death that results. Nowadays, it's a more seduced affair with less establishments along the way.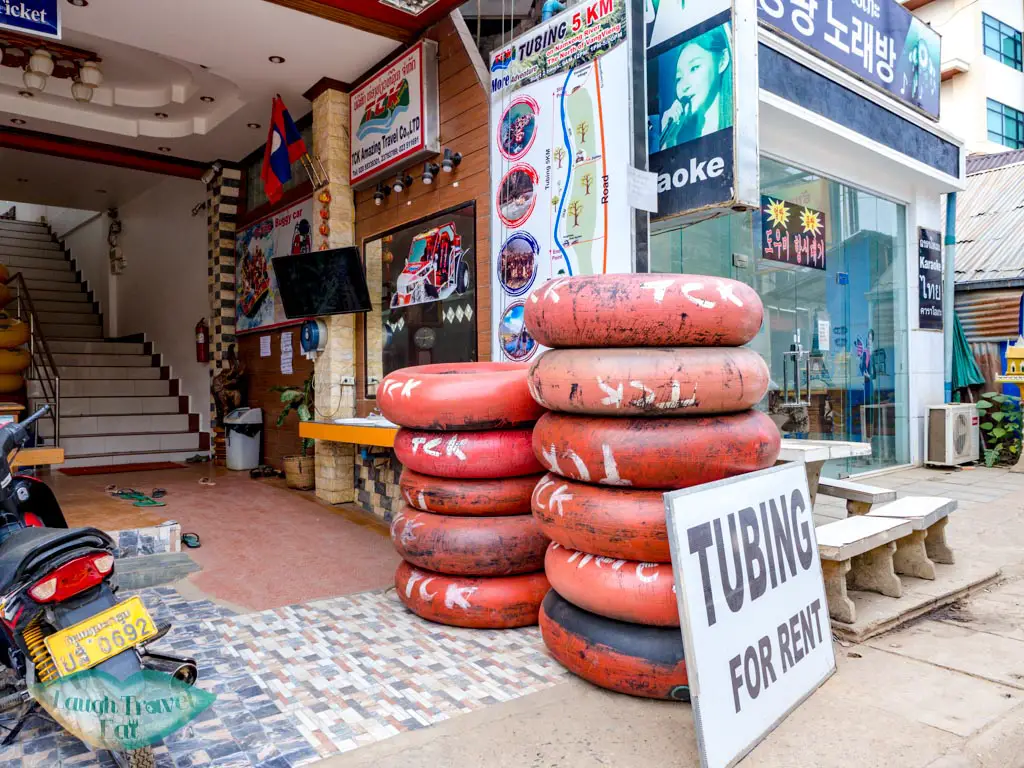 Personally, I don't recommend drinking and being in a river, but it can be a fun way to float down the river with your friends. However, during dry season the water level is low and the current slow, and it can take up to 4-6 hours to finish the entire course.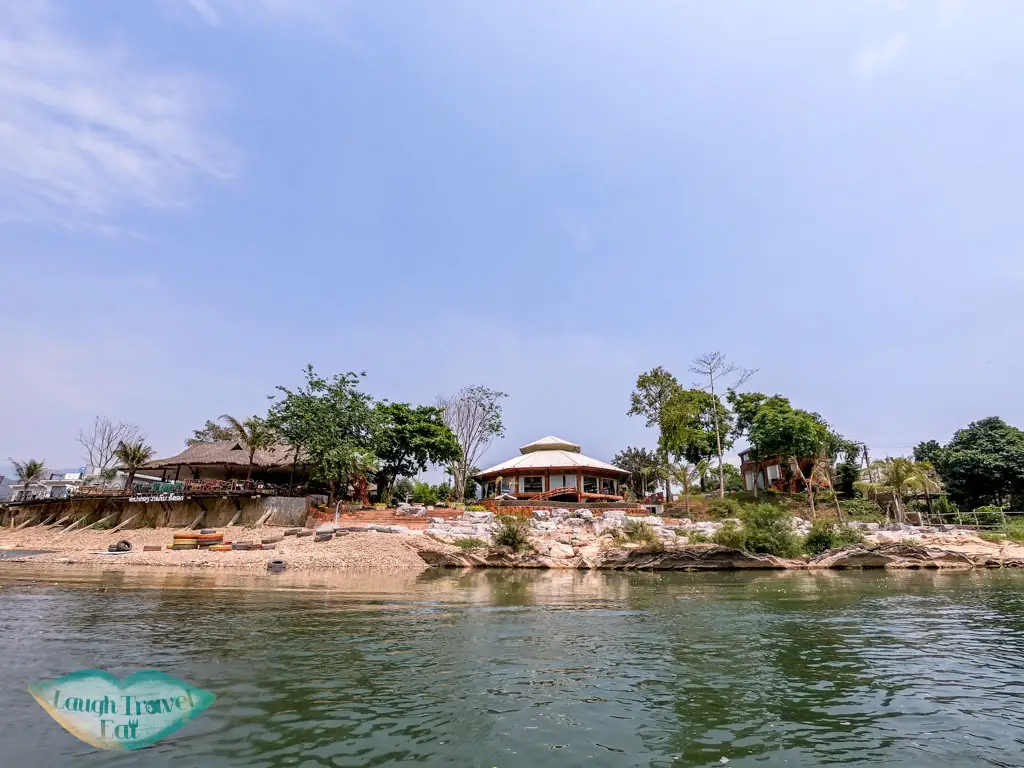 If you are interested in tubing, the rental shop is on the road by the river on the northern edge of town. Here's a photo for reference.
You'll pay a price for renting the tube, around 50-60k and a deposit 60-70k, and the tuk tuk up north (dependent).

Hot air balloon Vang Vieng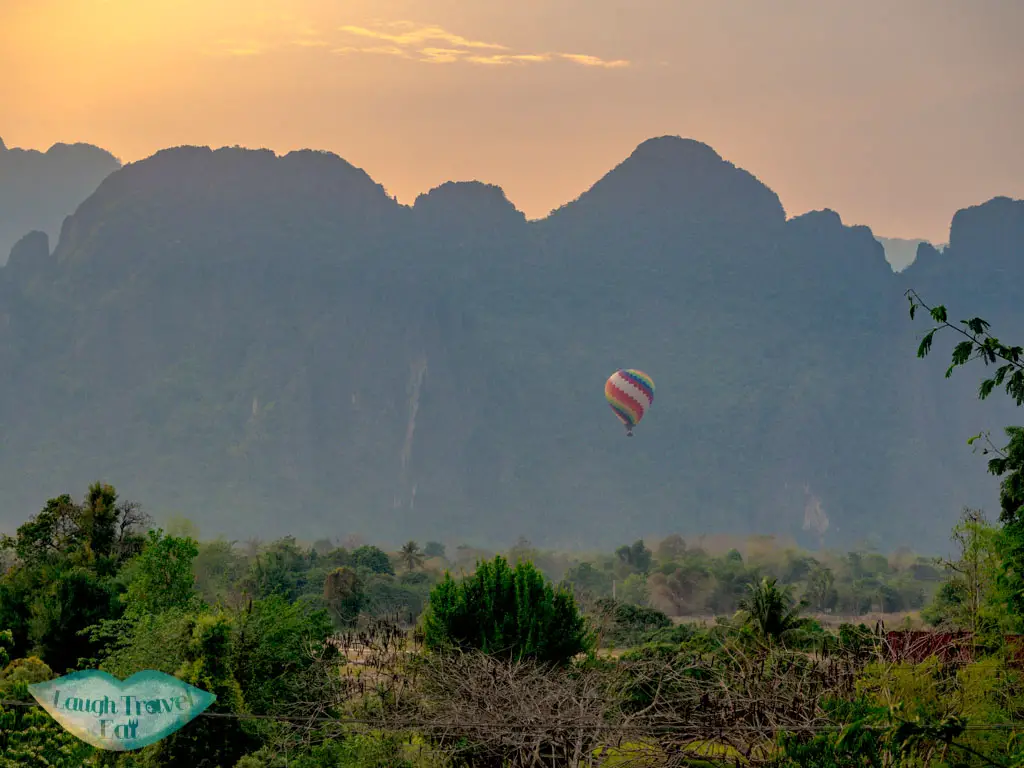 The cheapest place in the world to fly on a hot air balloon, you can take a sunrise or sunset ride to see the karst mountains. If you are not up to go up to any of the viewpoints, it's a good way to see Vang Vieng from above. There are two companies that runs hot air balloon tour, with a new one opened recently in 2019 by a Swiss who uses French balloons – Above Laos Ballooning Adventure and also do Parameter. I didn't have the time or the budget to do it and opted to hike instead to see the view!

Rock climbing
Another popular activity is rock climbing, which I didn't try and also didn't see!

Restaurants in Vang Vieng
There are a range of dining options in Vang Vieng that isn't actually too bad. Since I was on a tour for two out of four days, I didn't try as many restaurants as I'd like:

Happy Mango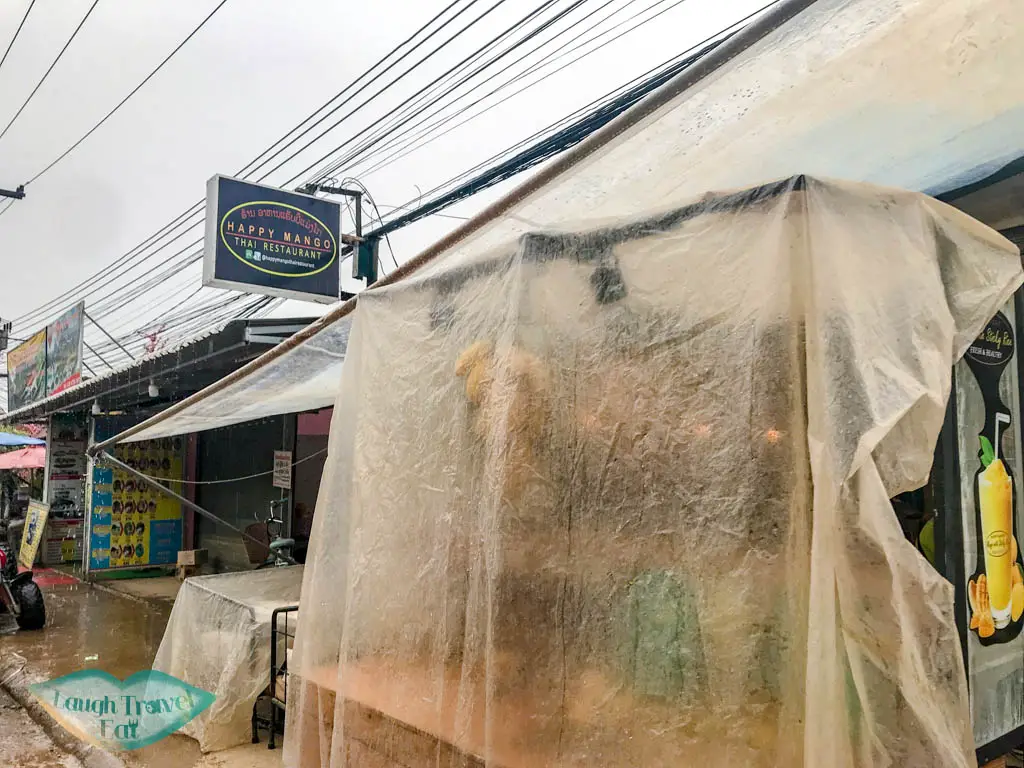 My best meal in Vang Vieng was at Happy Mango. It's a Thai place in the center of town opposite the Irish pub. While the service it's slow and the price not as cheap as you'd expect, the food is pretty amazing. I had a tamarind sauce duck with crispy seaweed and a Thai Ice Tea on a rainy after and it was just the thing to cheer me up.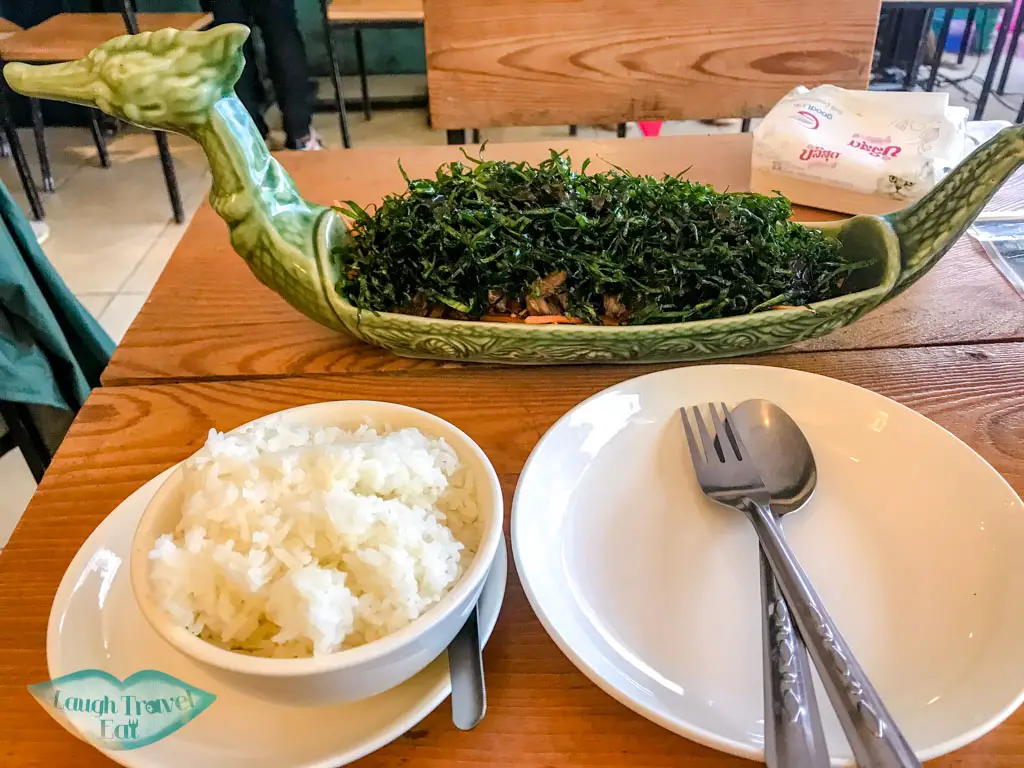 They have good WiFi for working, too, but not a lot of seating. The grand total of the meal was 80k and I was so full that I didn't even eat dinner!
Opening hours: 11:00 – 23:00

Restaurant du Crabe d'Or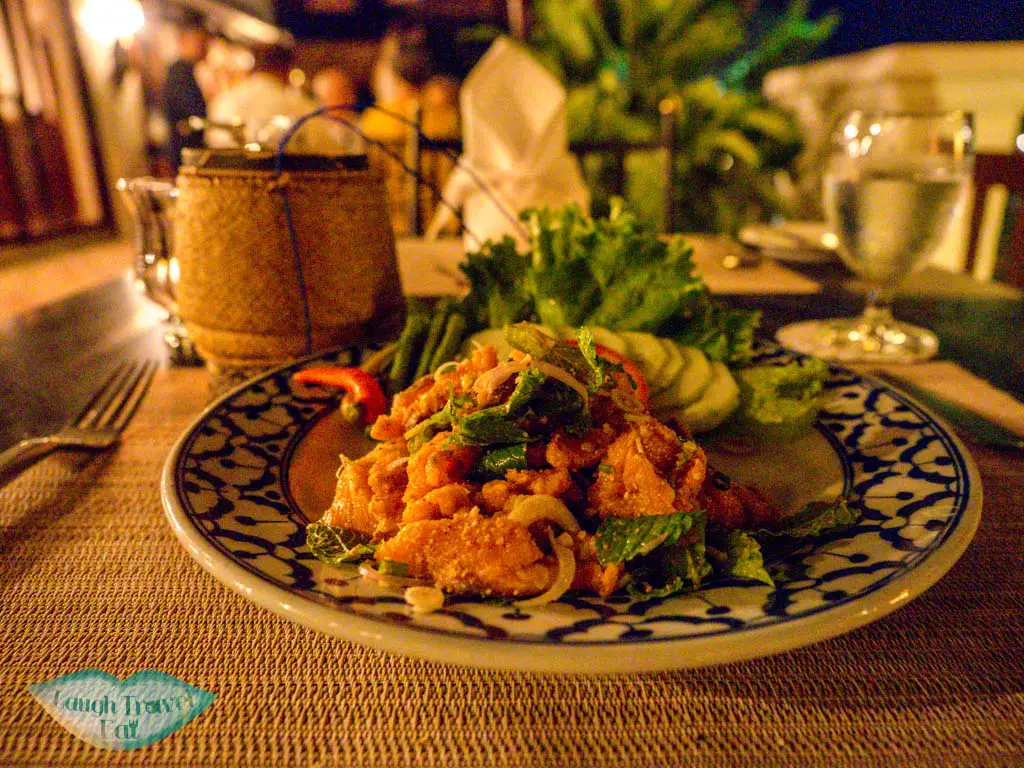 Looking for a restaurant with great ambience? The Restaurant du Crabe d'Or is located in the Riverside Boutique Resort and honestly not much more expensive than some of the places in town. The restaurant faces the Nam Song River with beautiful lanterns and view, you have western and Lao option to choose from. I ended up eating a Lao Salmon salad with sticky rice which only costs 75k and got a bread basket, too!
Opening times: 7:00 – 10:00, 12:00 – 22:00

Earth bar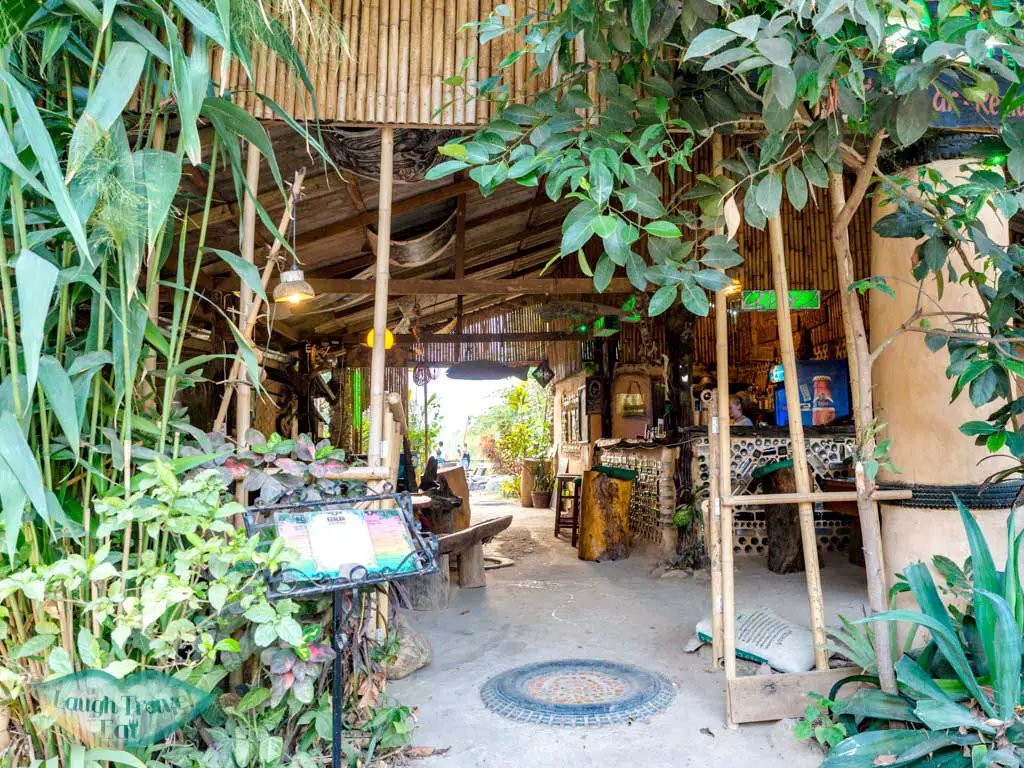 More western with a grungy vibe, it's a good place to chill with friends and grab a drink. They have a garden inside that offers a good sunset view of the lush vegetation and karst mountains. A small beer Lao would only set you back 10k and the reviews of their food is good.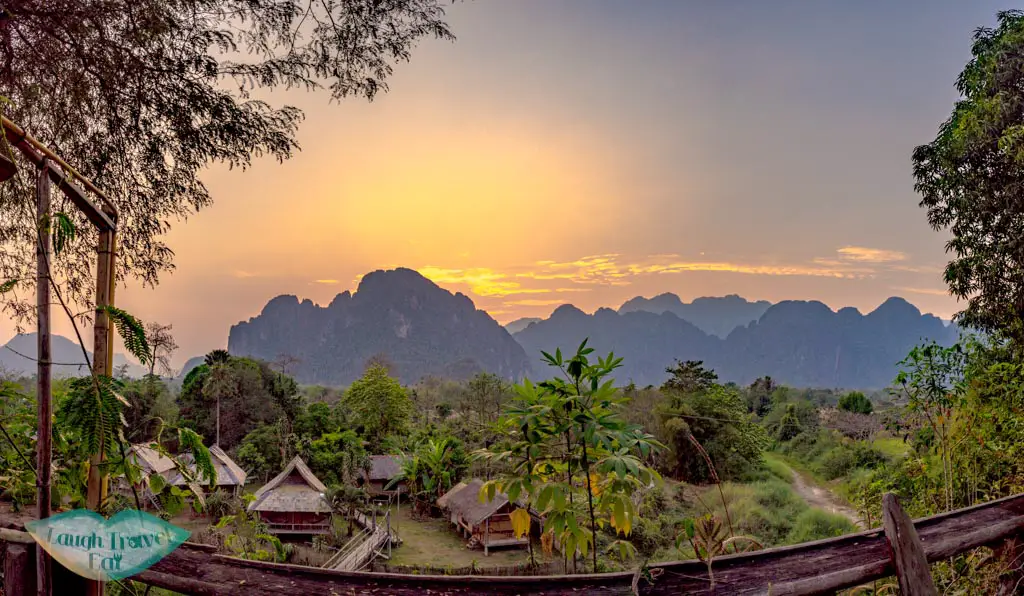 Opening hours: 17:00 – 23:59

Il Tavolo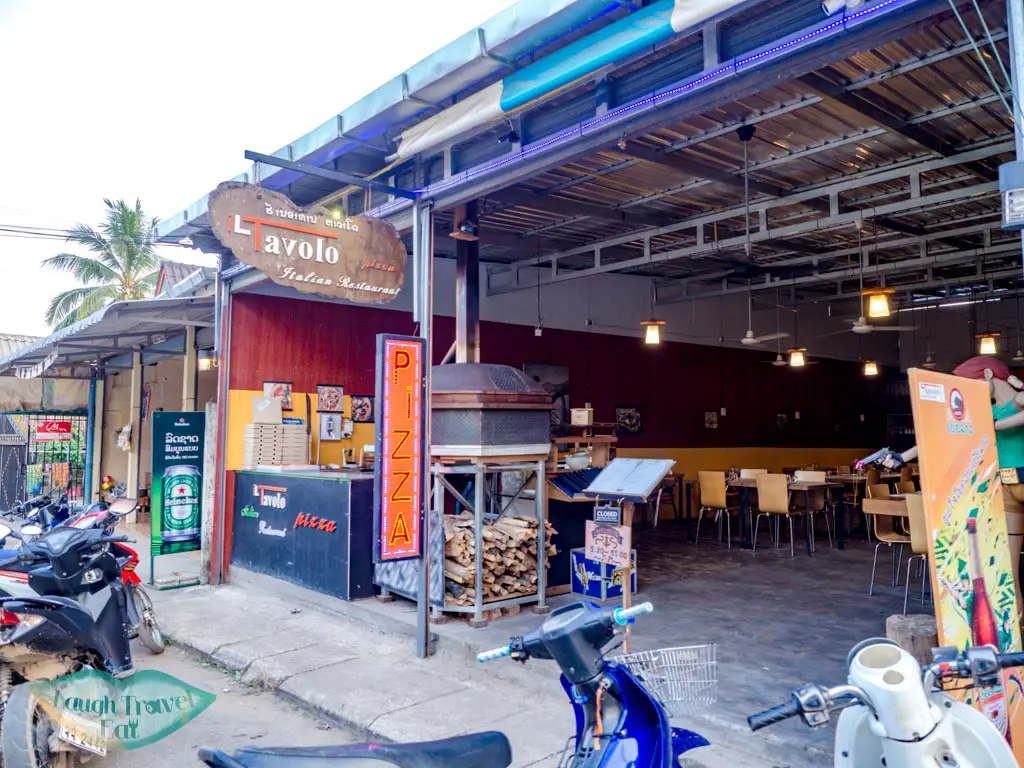 Fancy some Italian food? I knew I did and so I headed to Il Tavolo. Run by italians, the spacious restaurants is located in a quieter part of town with the pizza baked in a wood oven! I ordered their four cheese pizza and couldn't quite finish it on my own.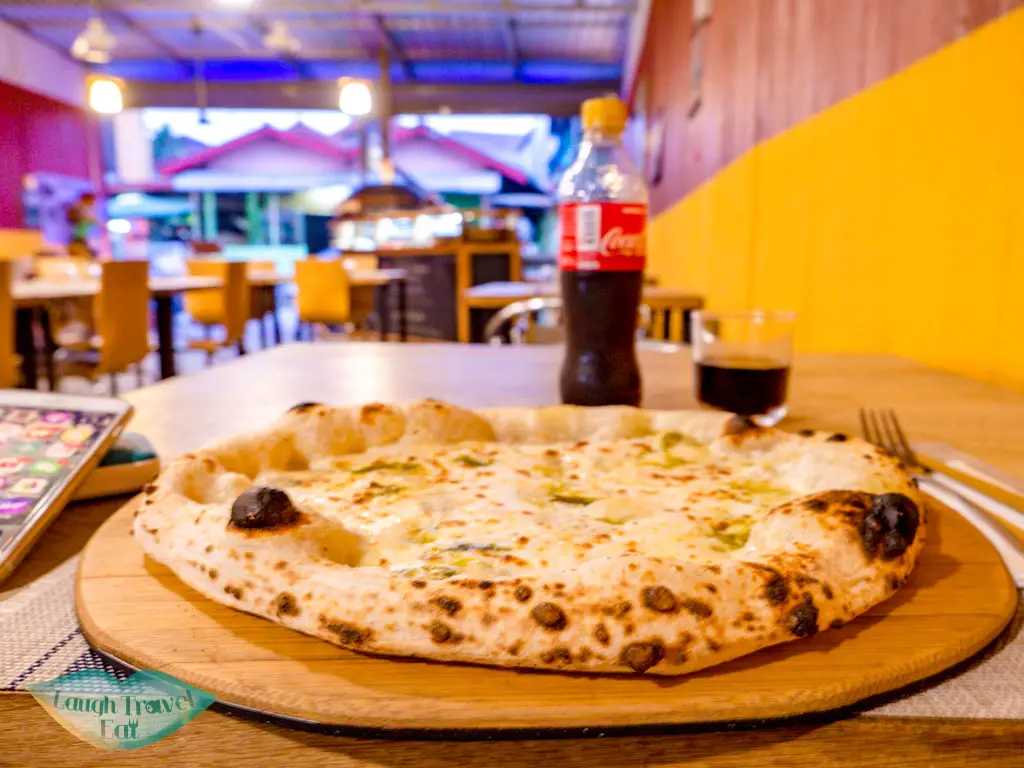 Opening hours: closed wednesday 17:30 – 23:00

Amigo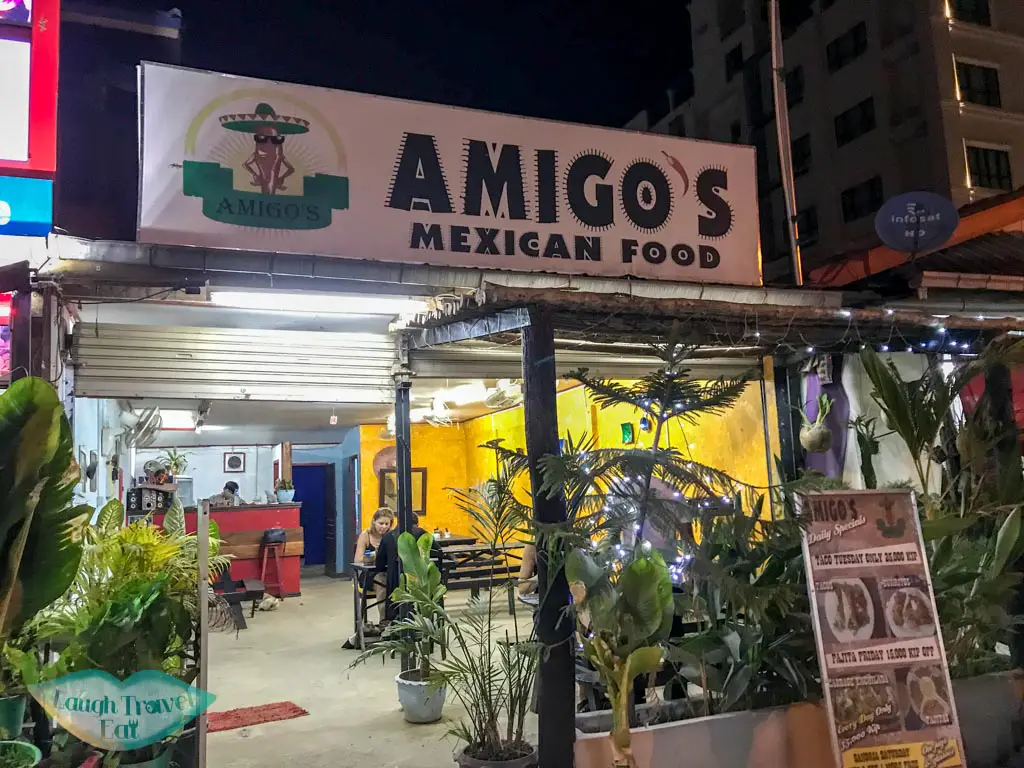 At the recommendation of my friend Tara from Silly Little Kiwi, I hit up Amigo for their Taco Tuesday. With great vegetarian and meat choice, this Mexican joint have the quintessential tacos, burrito, nachos, and more.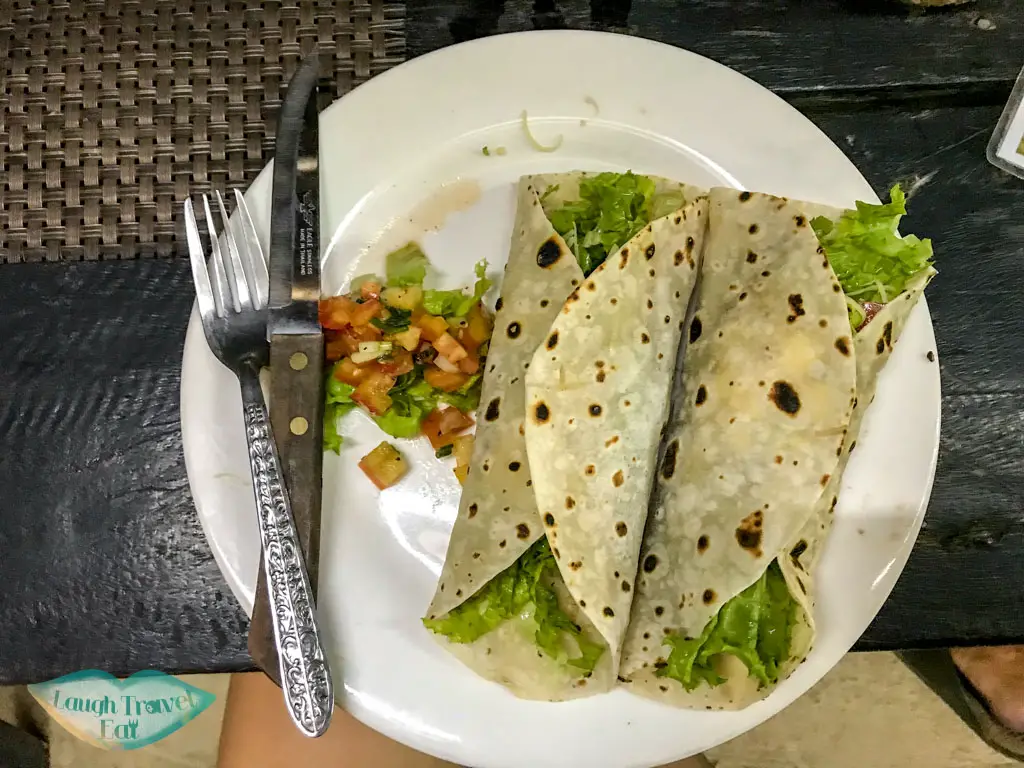 Two tacos only set you back 35k and 25k on Tuesday, so it's pretty value for money not to mention tasty.
Opening hours: 12:00 – 22:00

Luang Prabang Bakery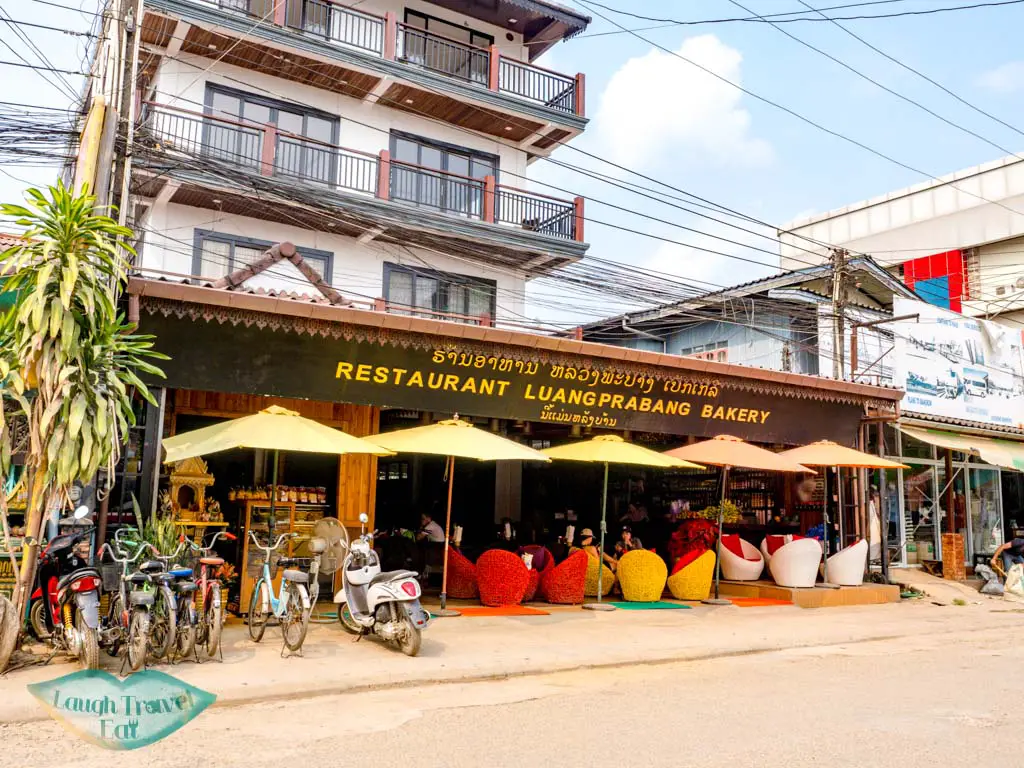 To be completely honest, I'm still not sure whether I like Luang Prabang Bakery. But for lack of a better place to go for breakfast during two morning of my stay, I went there since they open at 7. They do a variety of western food and baked good – all with huge portions. Although for the price it's good, I couldn't really finish most of what I order and the baked goods are on the really sweet side.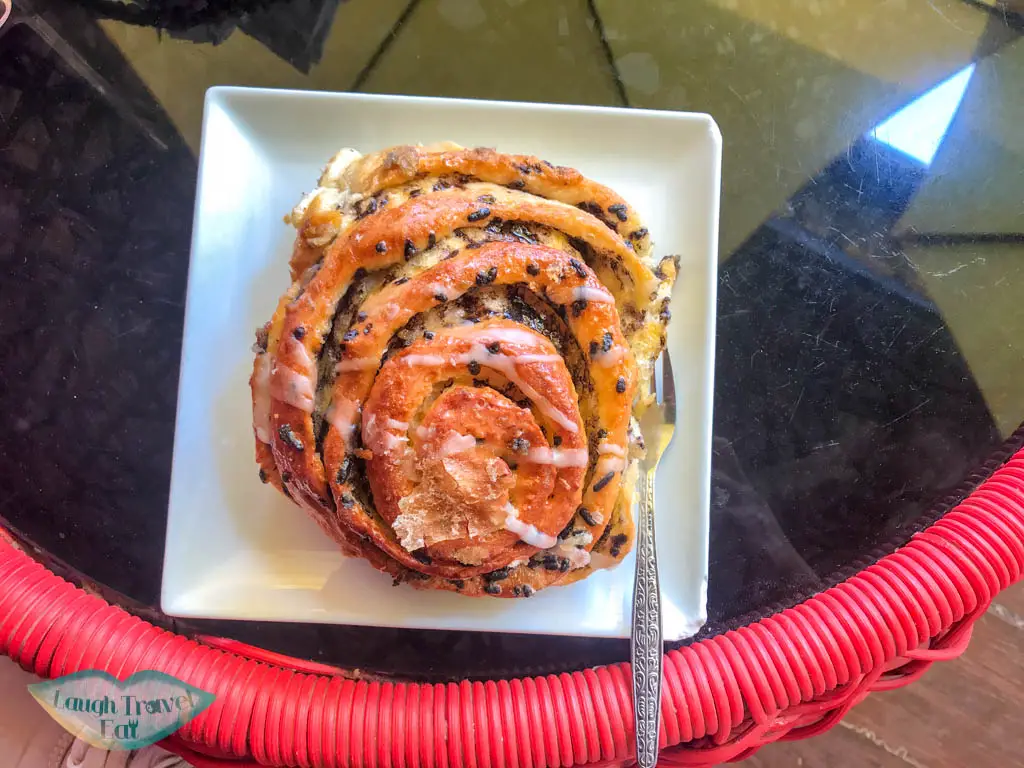 A stack of pancakes for 30k is great only if you can finish it, same for a 20k huge croissant. Overall, it's a good place to share food if you don't tend to eat a lot.
Opening times: 7:00 – 22:00

Hotel in Vang Vieng
There are a great range of options in terms of accommodation in Vang Vieng, but the quality is also reflected. As I've mentioned before, the town itself is pretty run down and not very nice to see. So if you want to truly experience Vang Vieng's beauty, you've got to stay by the river and ice the perfect choice for you:

Riverside Boutique Resort Vang Vieng


Getting the benchmark high for luxury accommodation in Vang Vieng for the last 7 years, the Riverside Boutique is ideally located by the toll bridge, making it ideal for exploring the western side of town. It's also only a 10 minutes walk into the center of town by the Nam Song River, making it a quiet and secluded haven.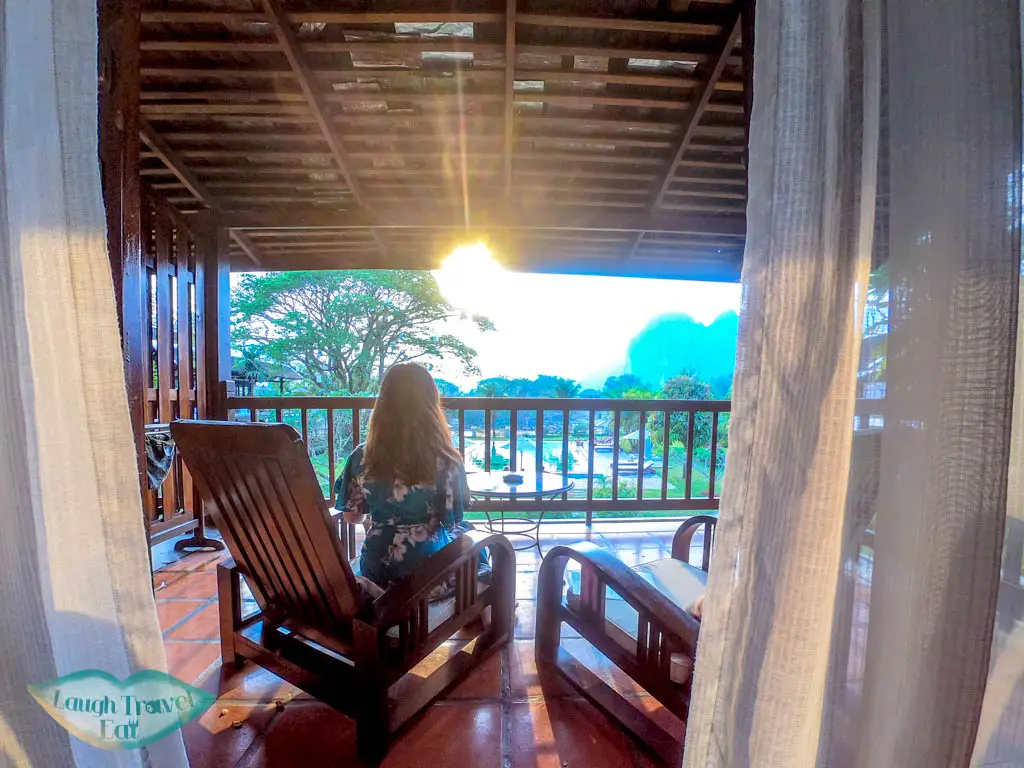 Each room has a balcony that faces towards the pool and also offers a great view of the river and karst mountains, a perfect spot for sunset. While the newly opened Inthira has an infinity pool, the one in Riverside is much bigger and allow you to swim and take a dip without feeling crowded.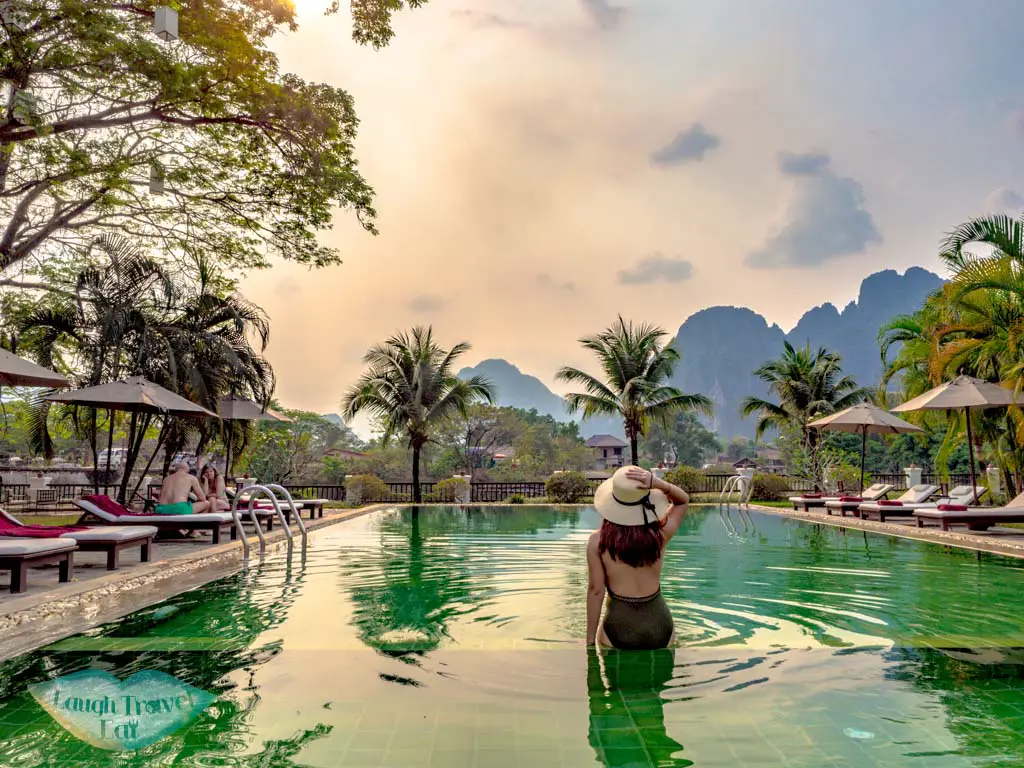 The room are spacious with all the amenities yet retain a Lao edge with wooden furnishing and woven cushions.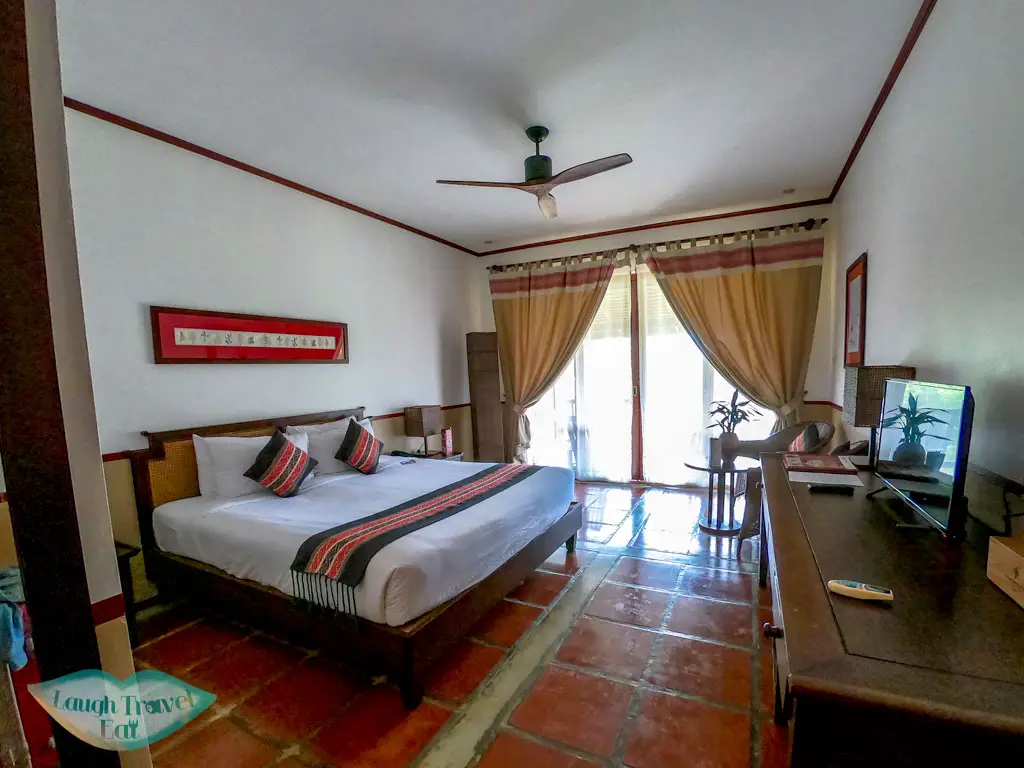 The staff are all lovely and helpful, I ended up with a stomach bug on one morning and they brought me tea and medicine. Breakfast is on the second floor of the building to the left facing the river – aka the restaurant. They have a great range of food from fruits to cheese to pastries, as well as an egg station.

Note: I was hosted for my stay in Riverside Boutique Resort Vang Vieng but all opinions are my own

Faraway Suites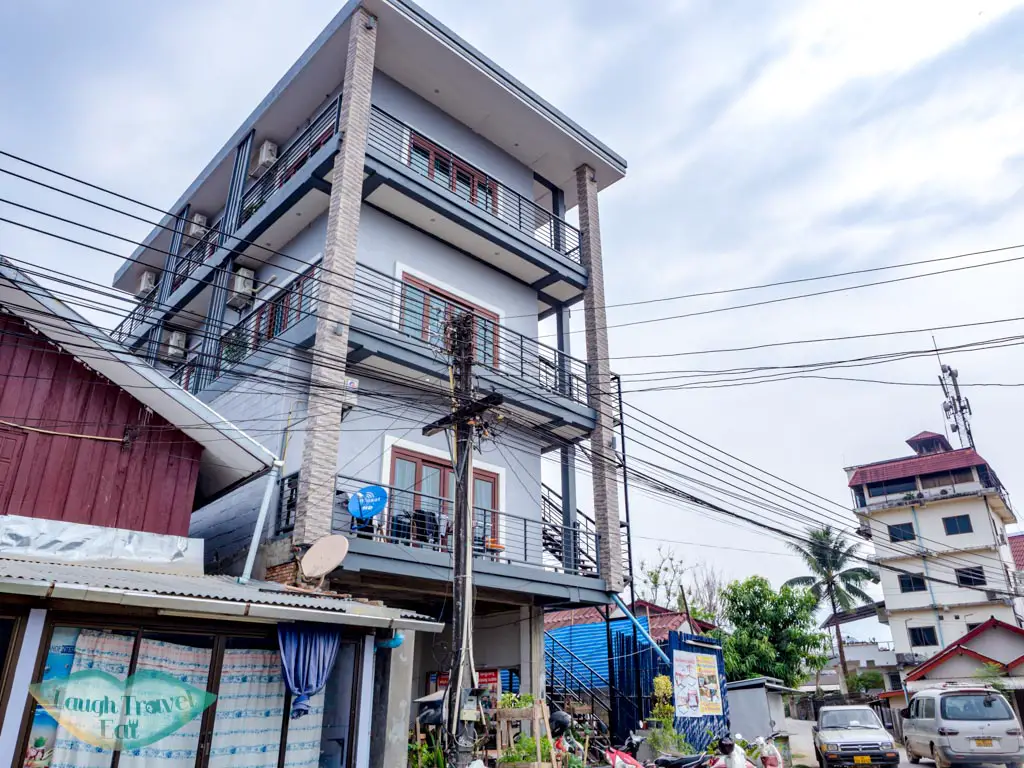 About 5 minutes north of the main center, the Faraway Suites is a newly opened hotel and hostel that's still under semi-construction. I spent the second portion of my time in Vang Vieng here and while it's no Riverside Boutique, it's clean, comfortable, and quiet too. The only downside is that it currently has no breakfast and there's no elevator but only a narrow flight of stairs for all four floors.

VV Guesthouse
In the center of town and opposite Luang Prabang Bakery, I personally didn't stay in VV Guest Houses but have met travellers who enjoyed their stay here. They have private rooms available and free laundry.