13 things to do in Luang Prabang for first time visitors
Since Laos opened its door to tourists in 1989, Luang Prabang has shot up in popularity. Declared a UNESCO World Heritage Site, the city is home to beautiful temples, French architecture, and lush nature. With Mekong River right by its bank, Luang Prabang has the charm of Chiang Mai but a more laid-back vibe. If you are headed there, here are some top things to do:
> For more about what and where to eat in Luang Prabang, see my foodie guide here.
Luang Prabang waterfall
Kuang Si Waterfall
A series of beautiful limestone falls that's reminiscent of Plitvice Lake, Kuang Si Waterfall is arguably the most iconic attraction around Luang Prabang, if not Laos. While a few of the pools are open for visitors to swim in, it's important to respect and look out for signs noting where you can't. Interestingly, the route up to see the pools first lead us to a bear rescue center, who usually hang out in hammocks of the same colour so it's difficult to spot!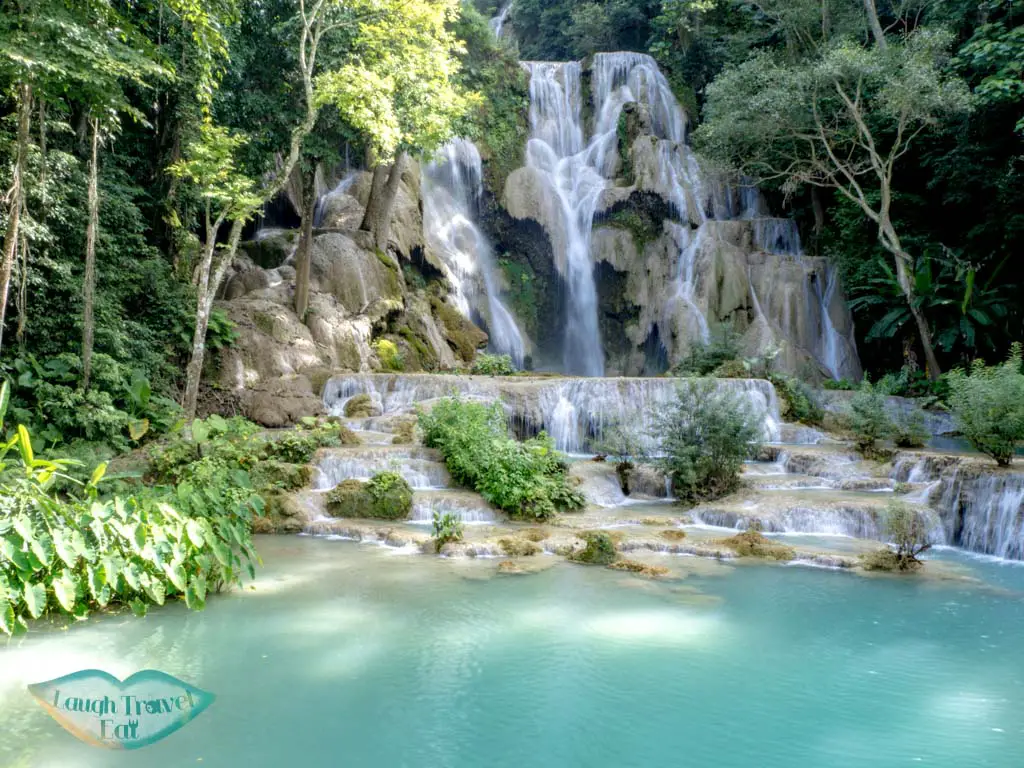 The walk up to the pools isn't bad, mostly along dirt paths and stairs. It gets flooded during heavy rain, so it's still a good idea to wear footwear with a decent grip. The big waterfall is about five pools up, with wooden walkways that allow you to admire the milky blue water up close. We also sneaked a photo by walking (not swimming) in a pool further up where you are not allowed to swim: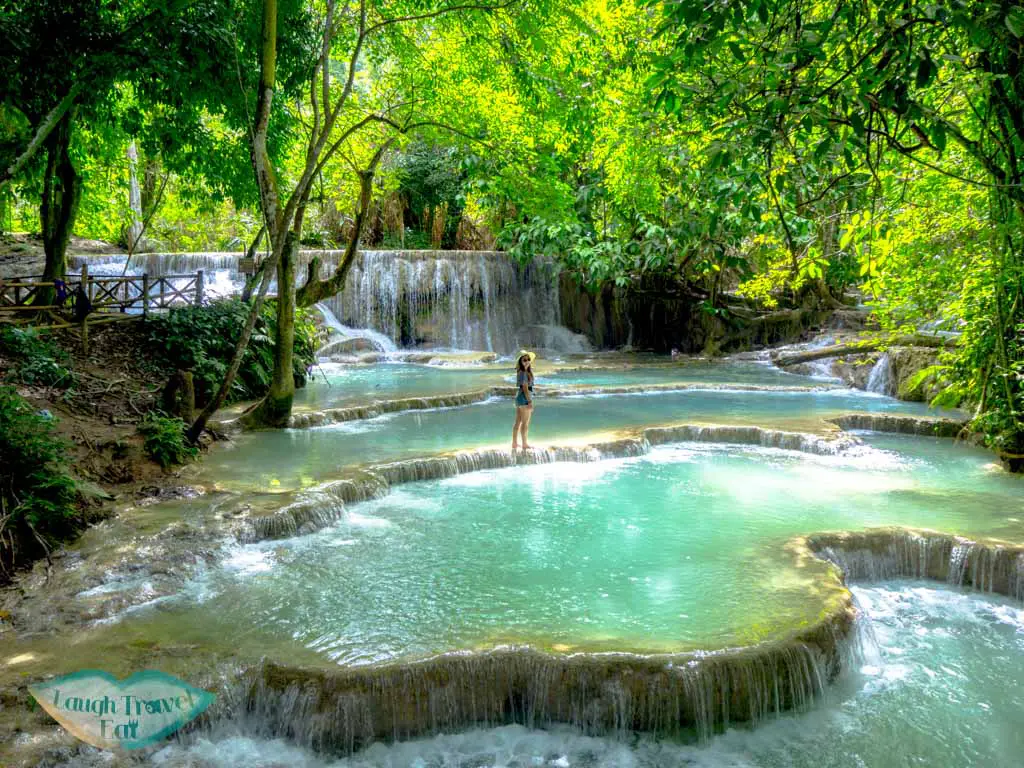 You can hike all the way to the top via some fairly steep stairs to walk across the river upstream. While it only takes ten minutes, don't underestimate the steepness! If time permits, there's a cafe up there for a drink and you can even get a raft to go further upstream.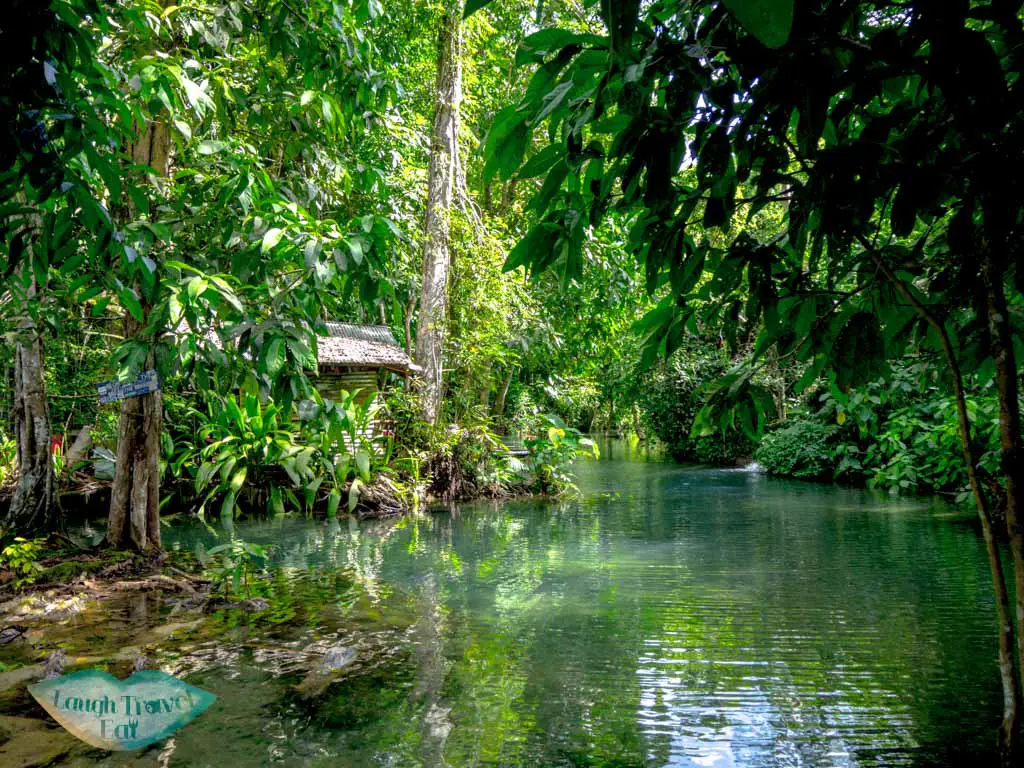 The view on top isn't particularly good, as it's not safe to get too close to the edge, though I managed to sneak a quick shot: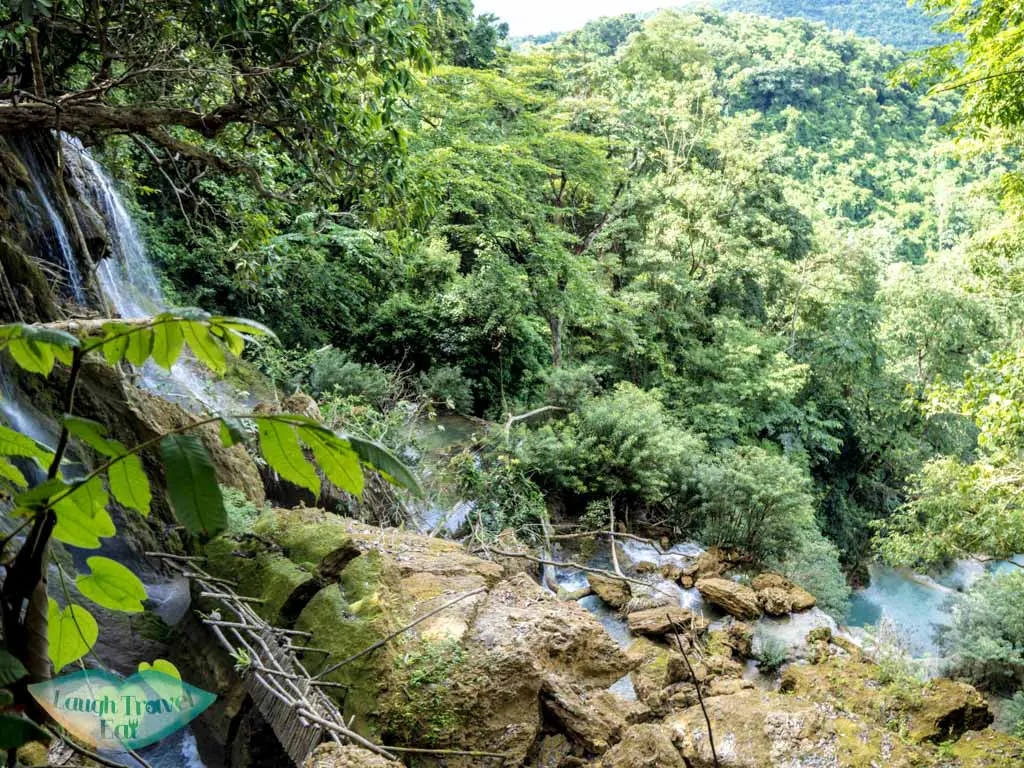 There is also a cave you can hike too, unfortunately, I ran out of time.
The best pool to swim in is located kind of in the middle, which is only 1.8m at its deepest. They have a little wooden branch for people to jump off. Personally, I would rather just take a photo on there! The water is cold but refreshing, and there are plenty of fish under that would nibble at you, kind of like a free fish spa.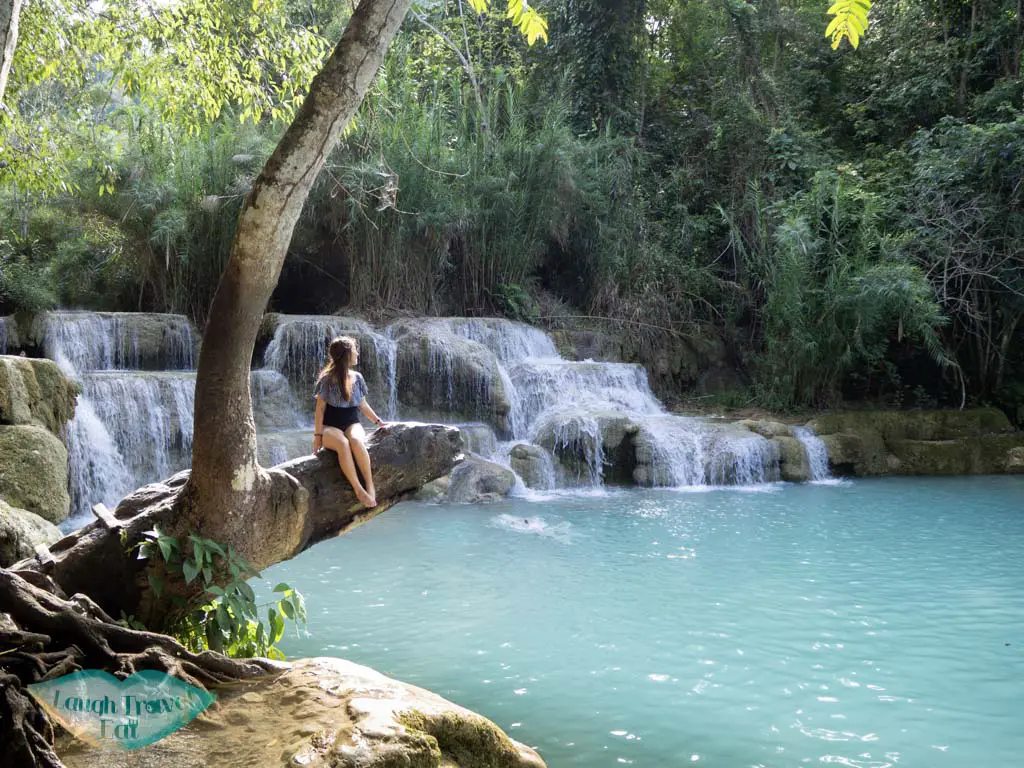 Entrance fee: 20,000 kip
There are also other waterfalls to visit, but if you only have time to do one, make it Kuang Si!
Luang Prabang night market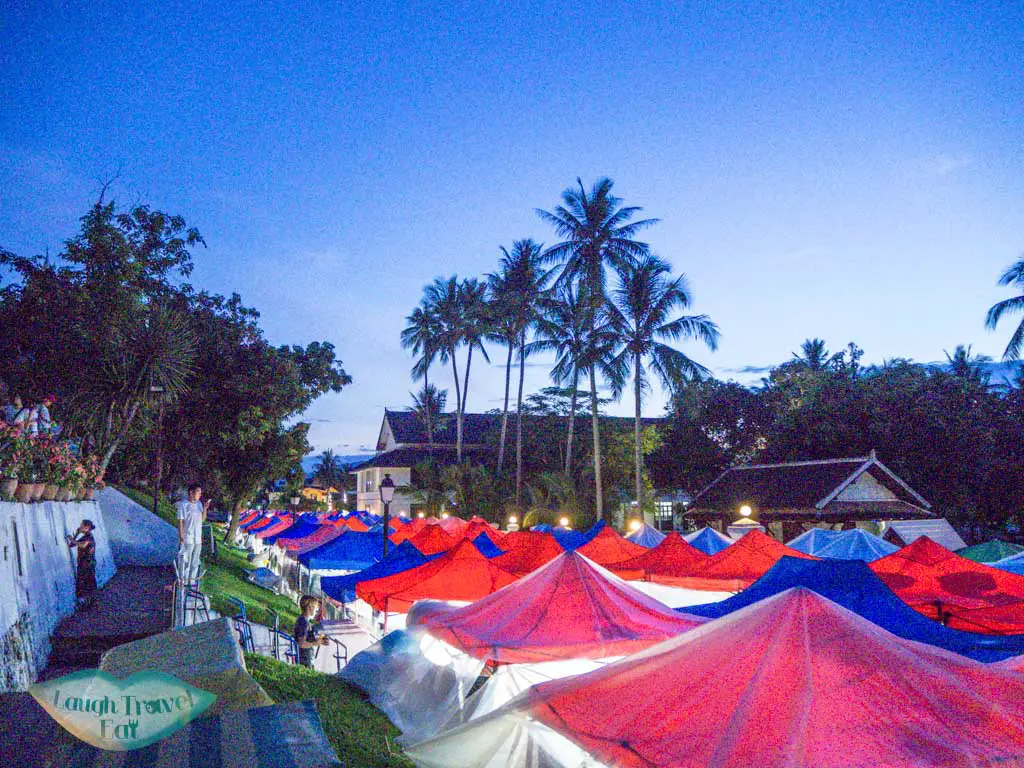 As a fan of markets, I was at first skeptical about the merchandise I'd find in the Luang Prabang Night Market. After all, how different would it be to those of Bangkok and Chiang Mai? The night market is located along the entire main street in the heart of Luang Prabang, and admittedly, it does sell all the backpackers essential such as elephant pants, fairy lights, and small trinkets. However, we also found some awesome local textiles! The thing to look out for is the Luang Prabang Handicraft logo in the stall, which means everything is made locally.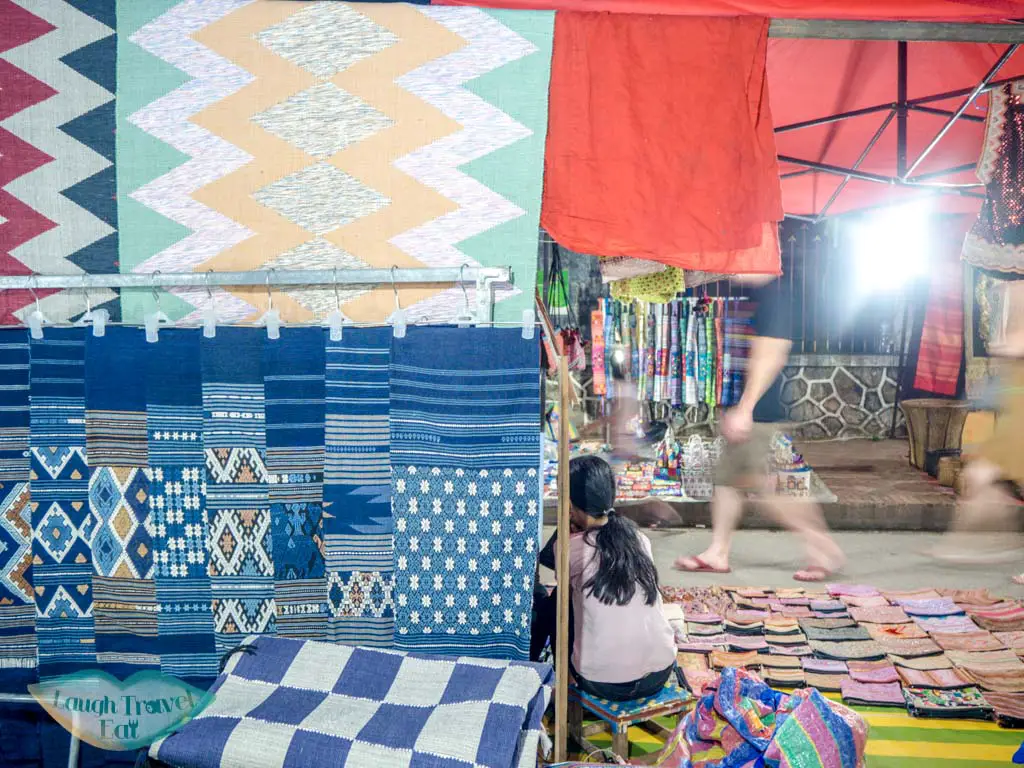 Here are some of the things that I think are worth buying and their approximate price points:
Medium-small cross body bag 35-50k, but some quote will you 60

Small zip bags are around 18-25k, the best thing to do is to keep asking them for a best price!

I ended up buying this beautiful number for 50k and got this one for 35k when I bought two with another girl.

Their cushion covers are beautiful, too. The quote started at 60k, but we got it down to 40k each and ended up getting 4!

For clothing, I didn't buy any, but Ketki managed to get trousers for Paula for 35k!
Luang Prabang market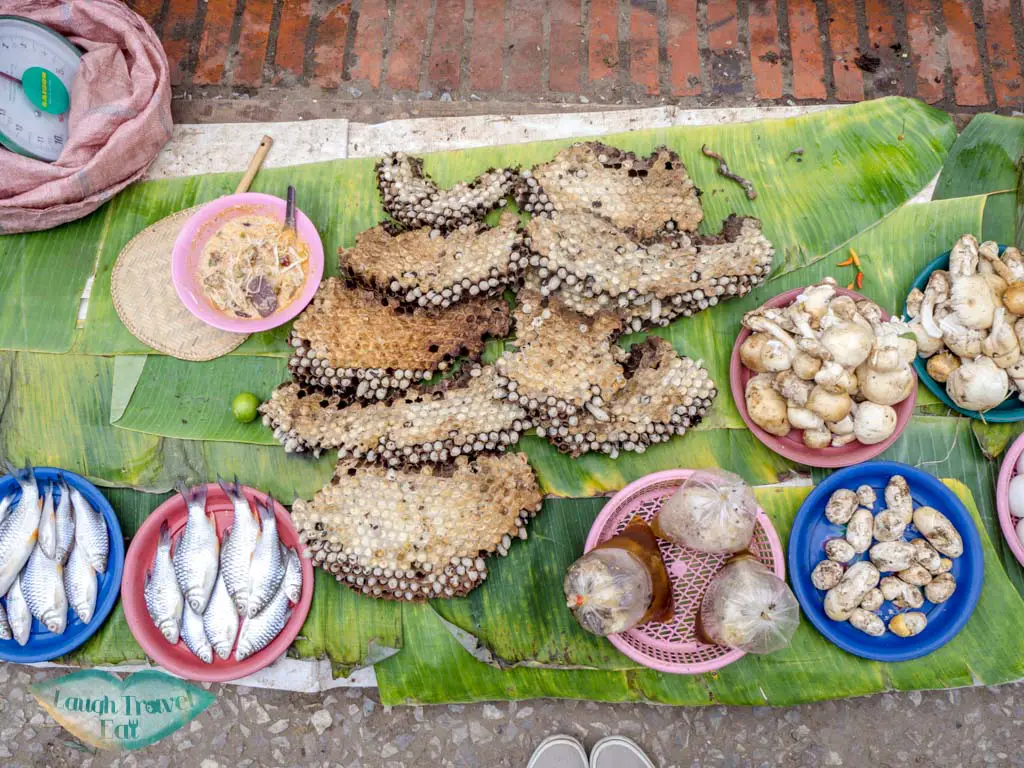 Aside from the night market, there is also the morning market that operates one street to the north of the night market. It makes for an interesting morning walk as the locals amble along buying fresh produce, and it's also a good place to buy fabric and textile, as this is when and where the locals get it.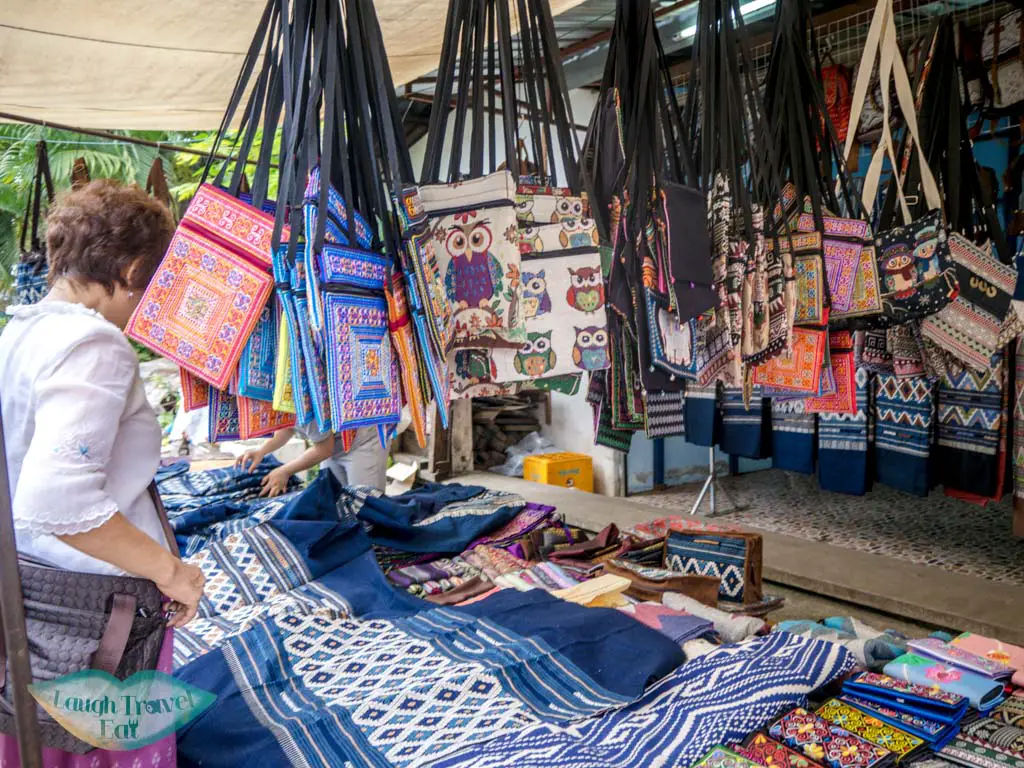 Depending on the design, I was quoted between 150k to 400k. The one I like was about 200k, as the weave is more complex. In the end, I got a scarf with the local indigo dye and rhombic weave for 150k instead – which is the same price I would get at the weaving village.
Phou Si mountain


The highest point in the old town, Phou Si Mountain is not only the best spot to watch the sunset, it is also home to the two Buddhist temples. Sandwiched between Nam Kong and Mekong River, it offers an unparalleled panorama of the old town peninsula as well as the whole of Luang Prabang.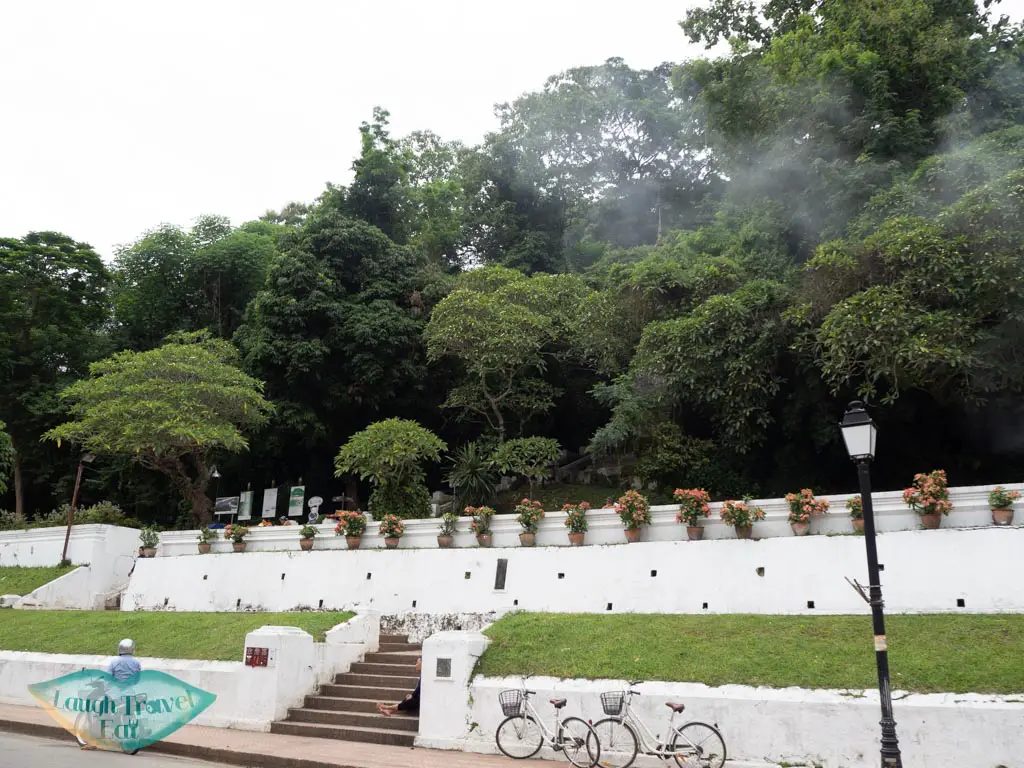 At 100m high, it is not a particularly hard climb up with paved stairs, though the initial flight up to the ticket office is fairly steep!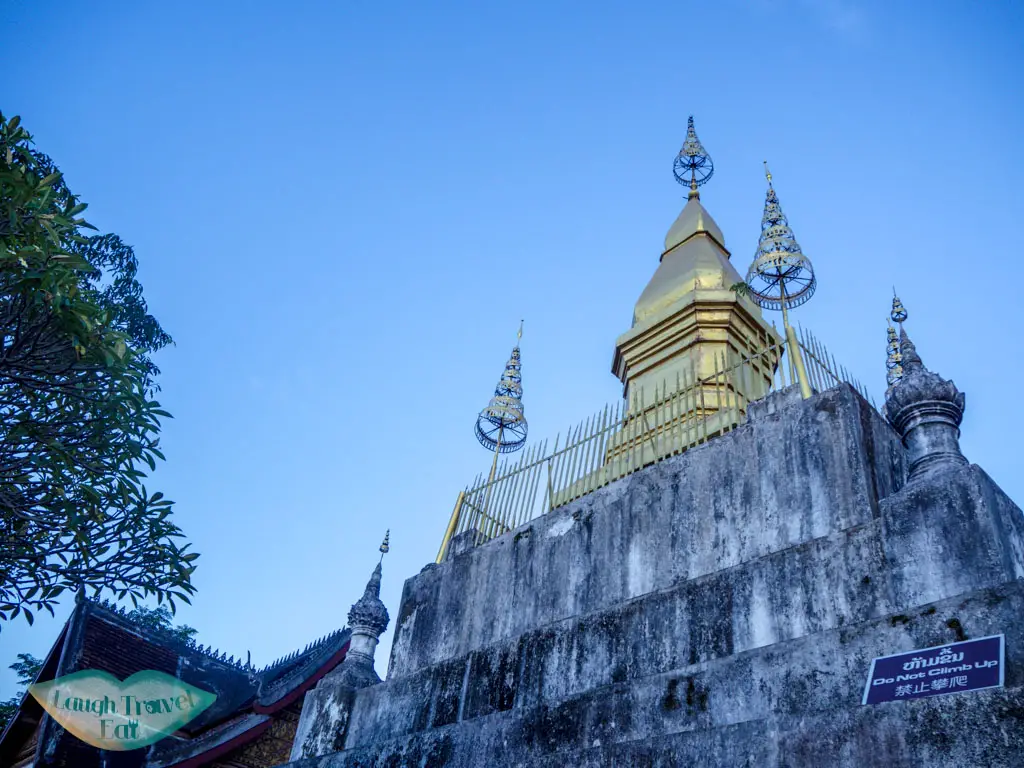 The summit isn't very big, with Wat Chom Si taking up most of the space and a small terrace. Even during low season, it can get crowded, though people queued fairly orderly for a shot at the little rock outcrop on the western side: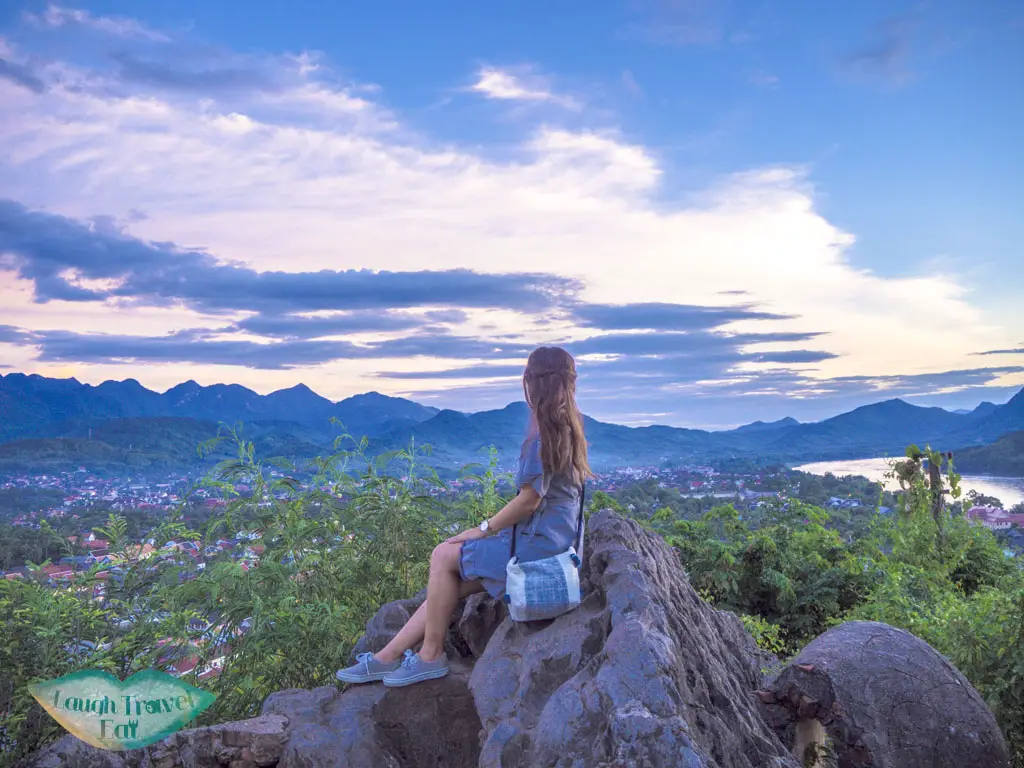 Entrance: 20 k kip
Royal Palace/National Museum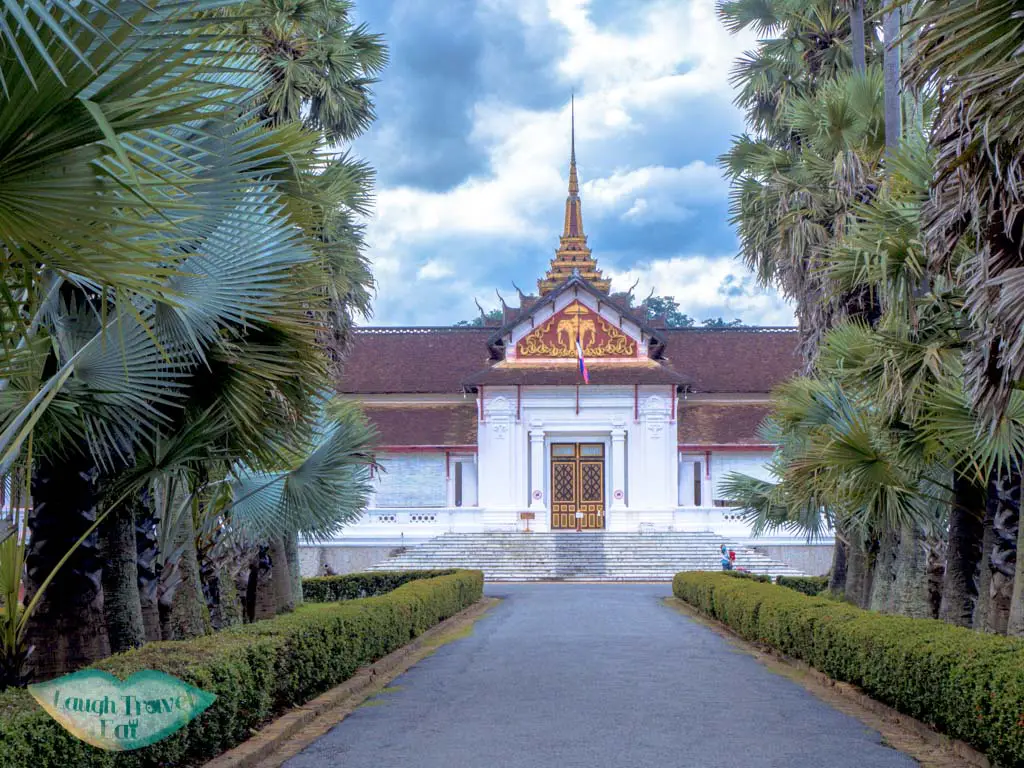 The Royal Palace of Luang Prabang is also the National Museum, which can get a bit confusing on google map and discussion! Built in 1904, it is home for the last two kings of Laos, a mix of Laotian and French influence. The building itself is only one-story with white walls and slanted brown roofs, fronted by a row of trees and built along the river. Unfortunately, it was not open during my visit (on a Tuesday).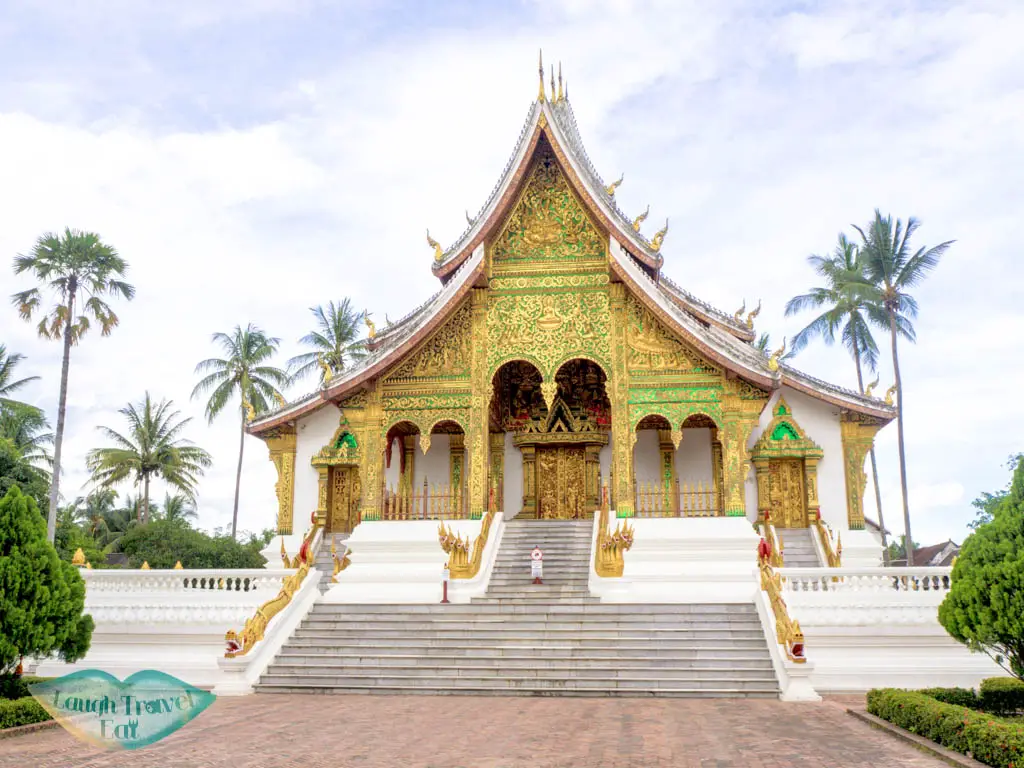 Another striking feature there is the Haw Pha Bang Temple on the right. Fronted by a flight of short stairs, the gold and green Wat is guarded by four-head Naga. you can still visit the temple even if the Royal Palace isn't opened!
Admission fee: 30k kip
Opening times: Open daily: 08:00am – 11:30am and 13:00pm – 15:30pm(Cleaning on Thursday, they close at 15:00pm) close on Sunday
Counter ticket: 08:00am – 11:00am and 13:00pm – 15:00pm

(I found this information online but we weren't able to visit on a Tuesday!)
Almsgiving ceremony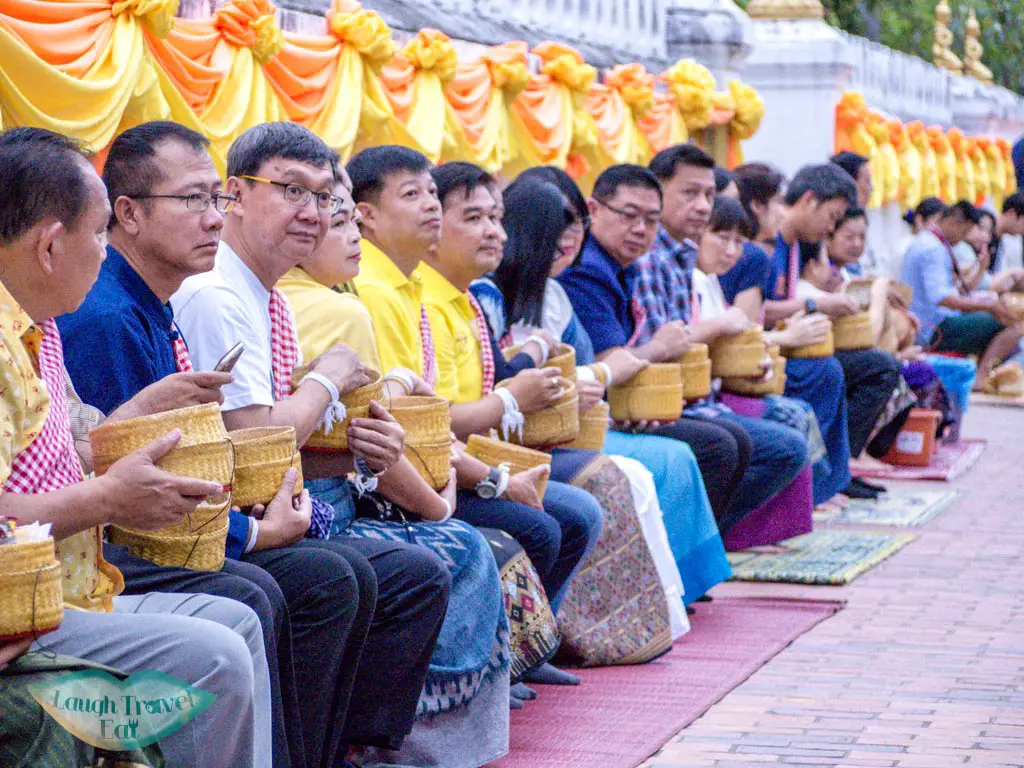 A famous tradition in Luang Prabang, the Alms giving ceremony starts at 5:30 and ends at about 6 am. Taking place along the Sakkaline Road, it is a ceremony where people will give their homemade food, mostly stick rice, to the monks as they walk down in a row to receive. Nowadays, you can purchase sticky rice for 10k per small basket and sit on the long row of small chairs to give. Locals and tourists both participate, with the former dressing in the traditional wears.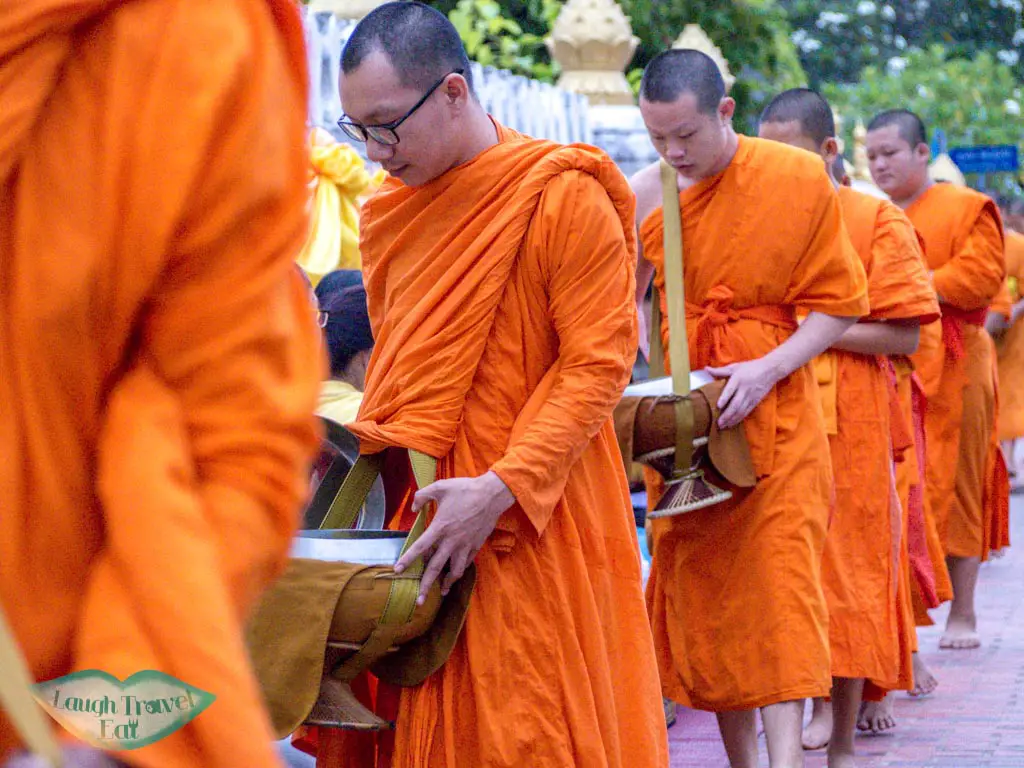 However, note that it is now a crowded tourist affair with many people vying for photos of the monks, and many are there as a tour with people taking photos of them giving alms. The monks often get more food than they needed, which can be seen being thrown away. Luckily, most excesses are given to poor people.

Note: the best place to watch is opposite Wat Sensoukaram, so you get a pretty background.
Luang Prabang Temples
As a UNESCO heritage town, Luang Prabang has some beautiful Buddhist temples scattered around the old town worth exploring. I started at the end of the little islet and worked my way out:
Wat Xiengthong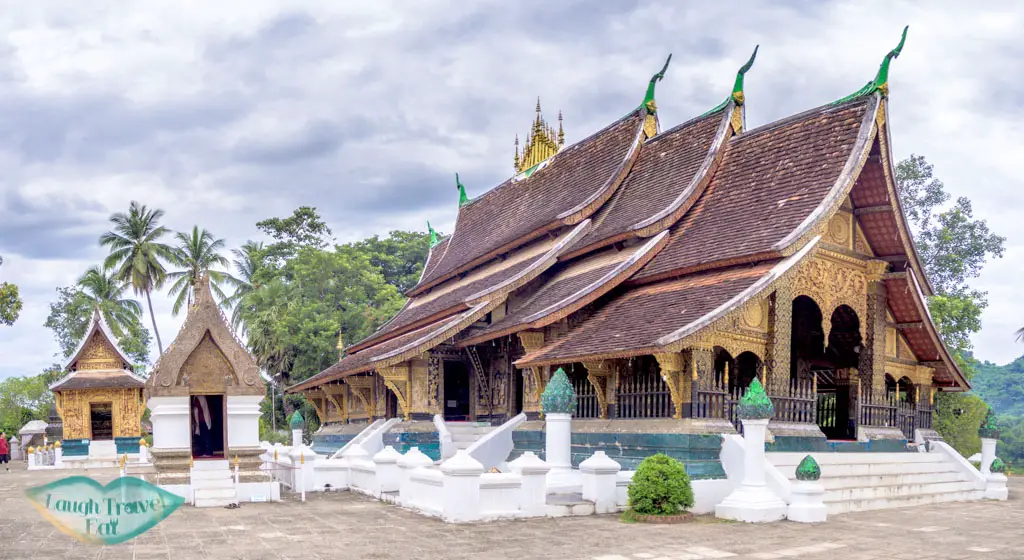 The landmark temple of Luang Prabang, Wat Xiengthong is most recognisable as red mosaic walls on prayer halls and faces Mekong river.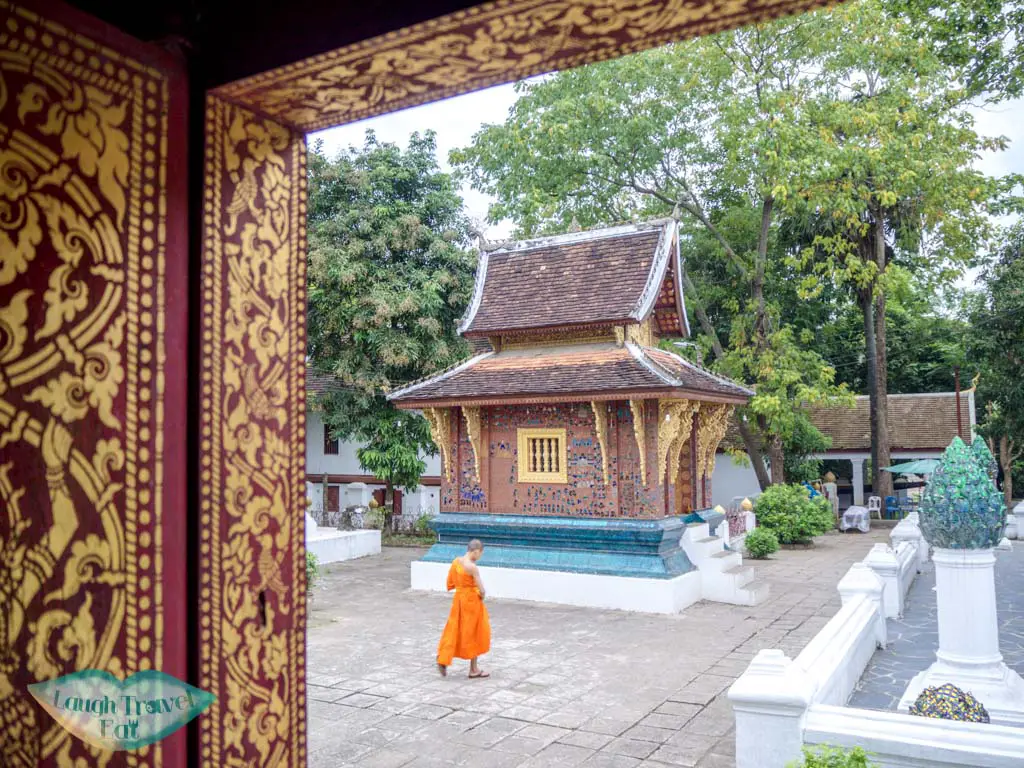 It was built where Mekong and Nam Kong River meet in the mid 16th century and remained a royal and coronation temple until the 70s.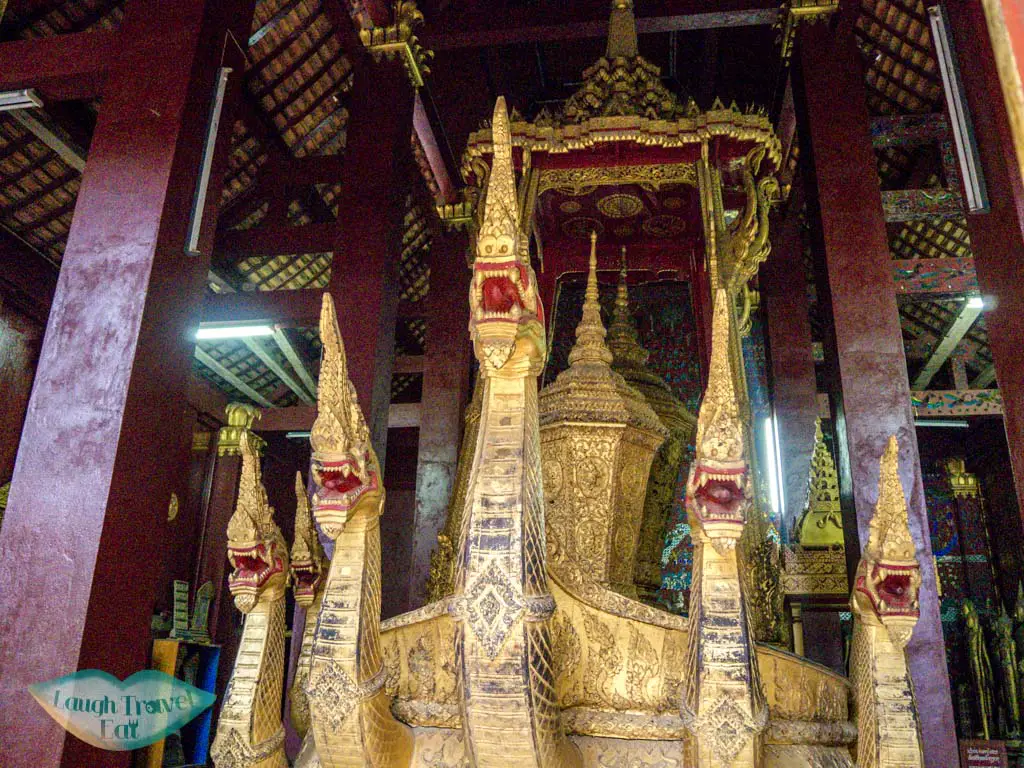 With over twenty structures built around the compound, don't miss the royal barge in the funeral temple in a corner or admire the black and gold painting on the temple up close.
Vat Nong Sikhounmuang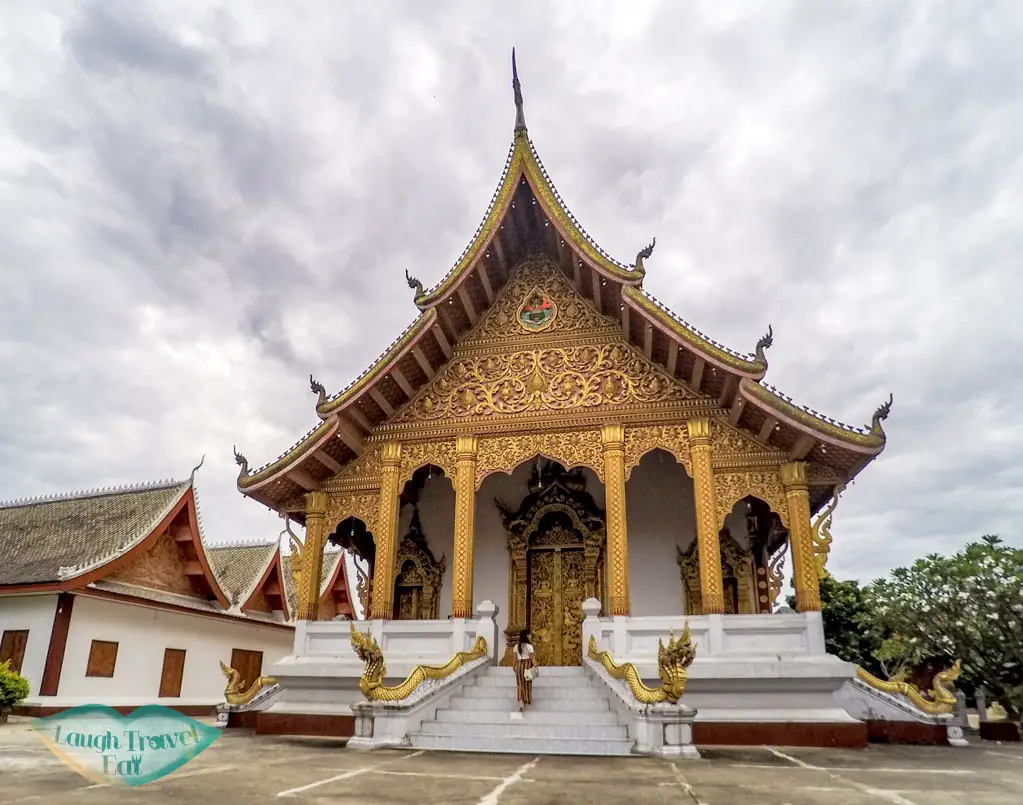 With a distinctive red and gold facade guarded by 4 headed Nagas, Vat Nong Sikhounmuang has colourful tiles similar to Thai Temples with inspiration from Vientiane.
Admission free
Wat Sensoukharam
Another beautiful red and gold temple, Wat Sensoukharam is the perfect place to watch the alms giving ceremony. Sensoukharam allegedly refers to the 100,000 kip donation, or that it holds 100,000 treasure or the fact that it was built with 100,000 stones from the Mekong River. Built by King Kitsarath in 1714, it's said to be built as a celebration for Buddha's 2500 years.
Admission free
Wat Xieng Muan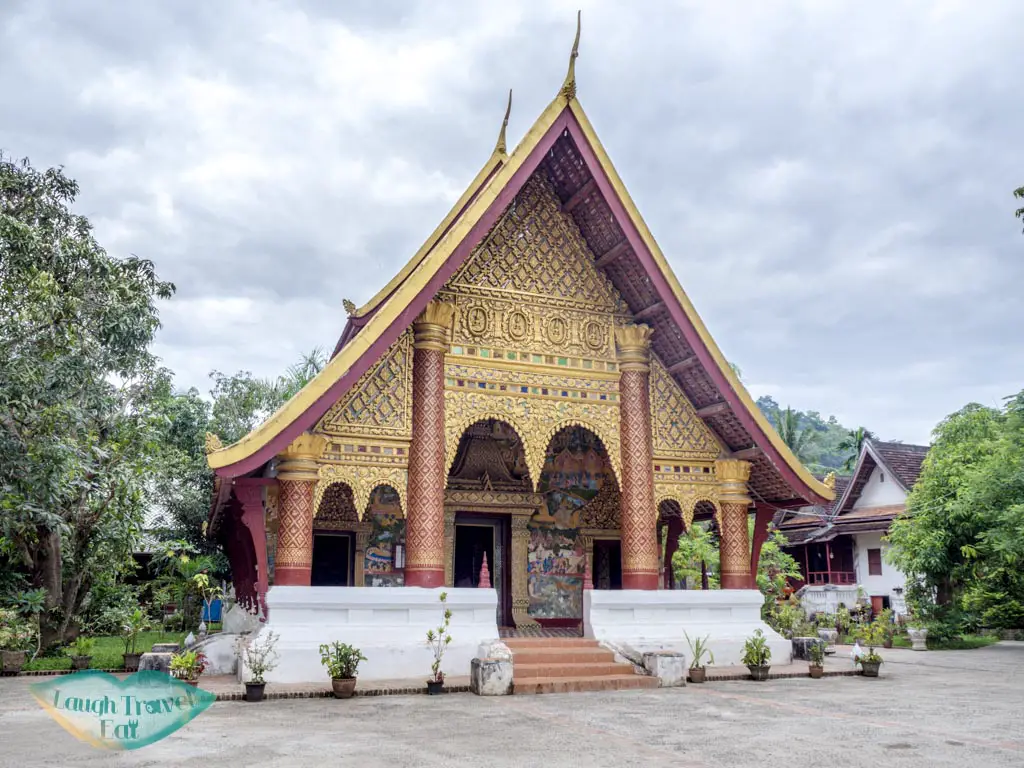 The temple with the most colourful painting on its walls, Wat Xieng Muan is one of the oldest temple in the area.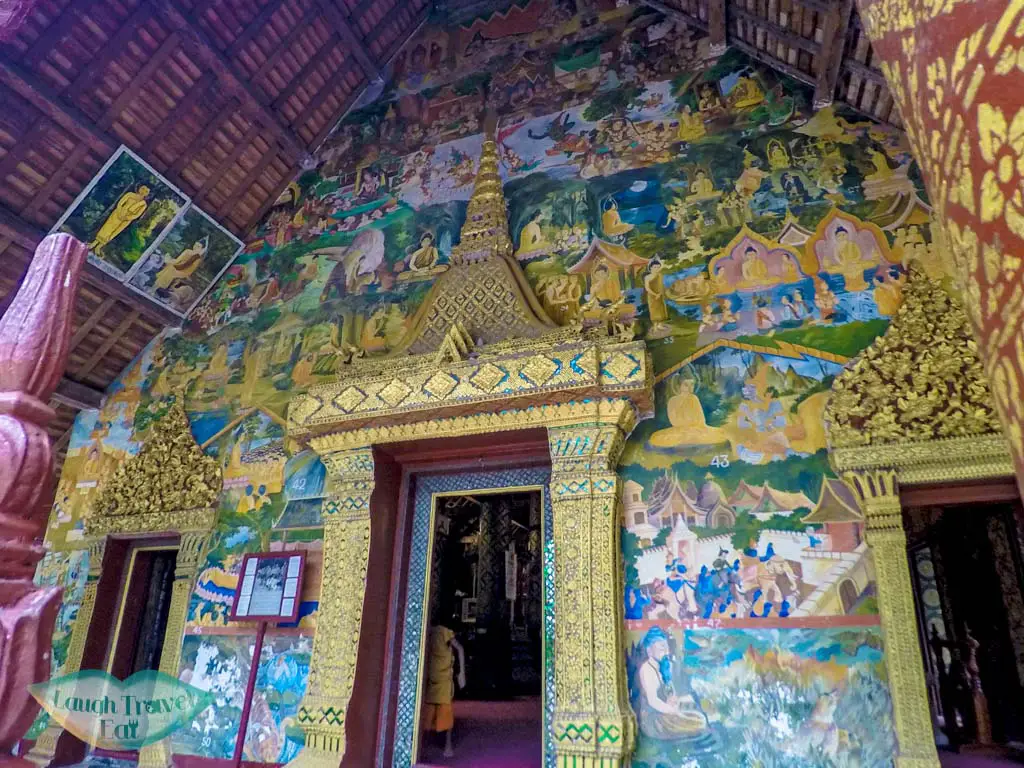 A work of art by Luang Prabang and Myanmar artists, the facade displays stories of Buddha's life. It was built in the 16th century by King Xaysetththi.
Admission free
Wat Choumkhong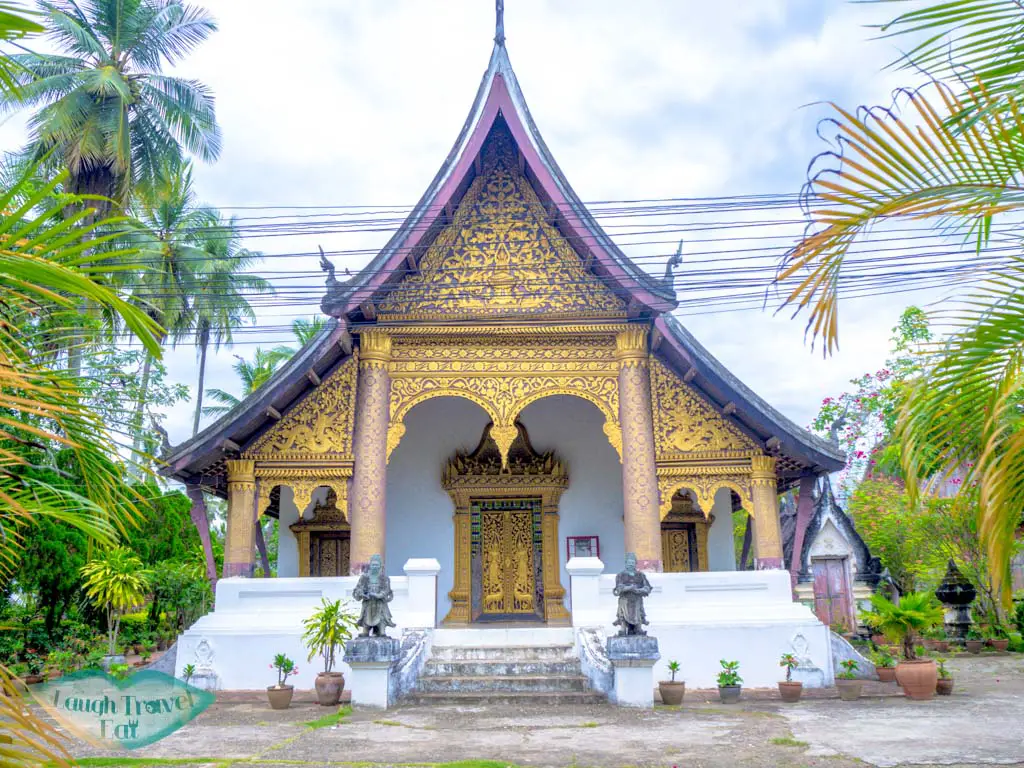 Right next to Wat Xieng Man, Wat Choumkhong stands out with the statues of not Naga or elephants, but Chinese generals. It is known as the Monastery of the Core of the Gong, with many novice monks on the ground.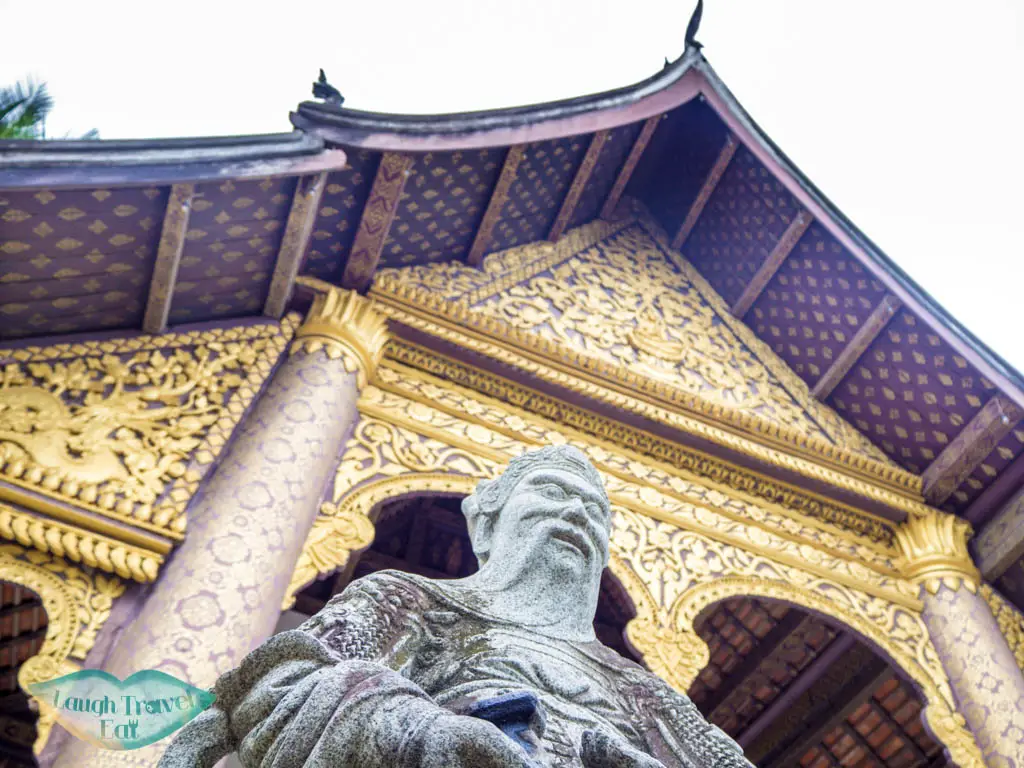 Admission free
Wat Mai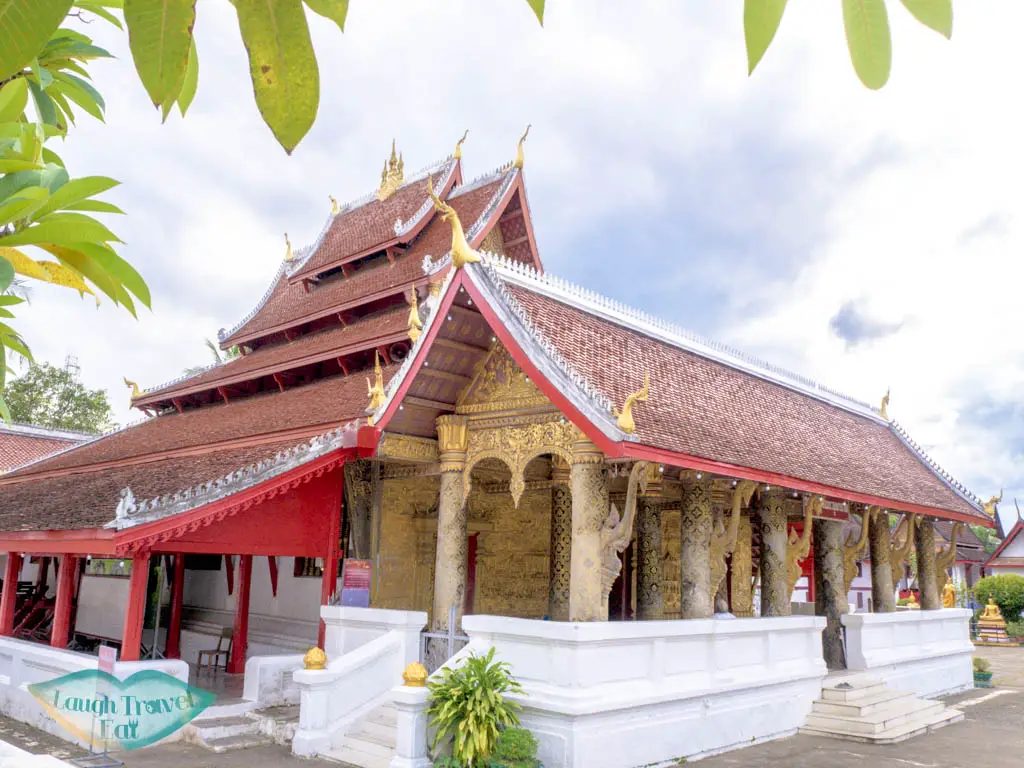 The temple close to palace and post office, Wat Mai might not have as high a roof as the others, but it is uniquely four-tiered. Built in 1796, it is known as the New Monastery with the full name Wat Mai Souwannaphummaham.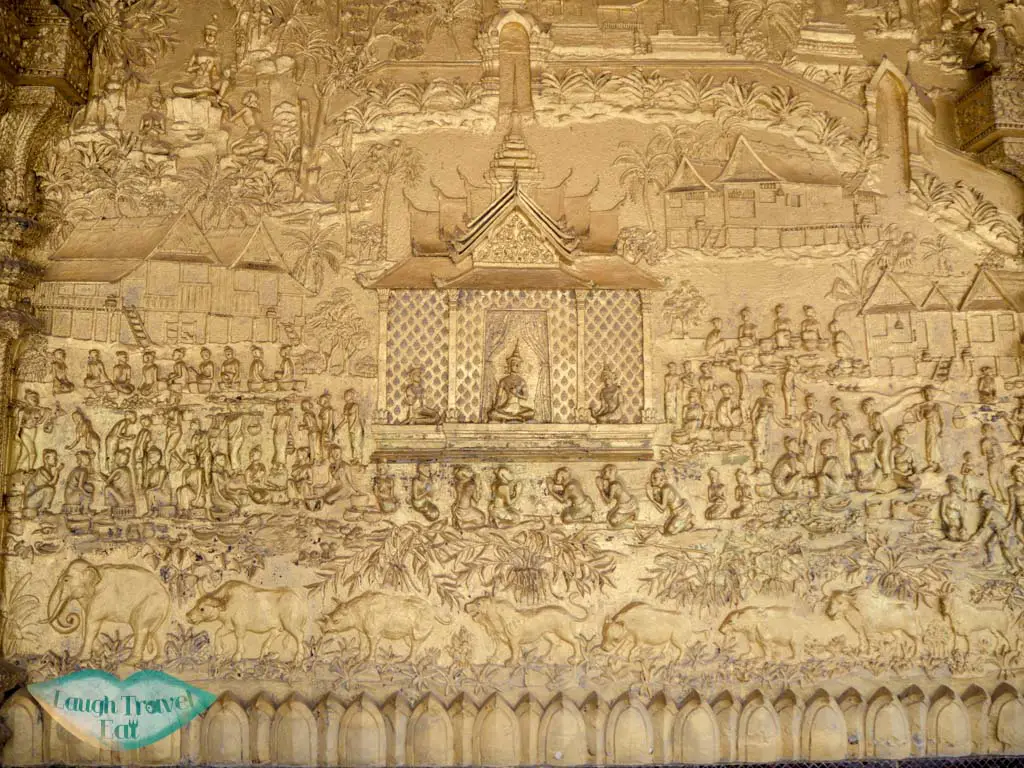 It was built in 1796, though it underwent major renovation in the 19th century. You can find the legend of Vesssantara, Buddha's past live, painted on the walls!
Entrance fee: 10k
Opening times 8:00 – 17:00
Cruise and caves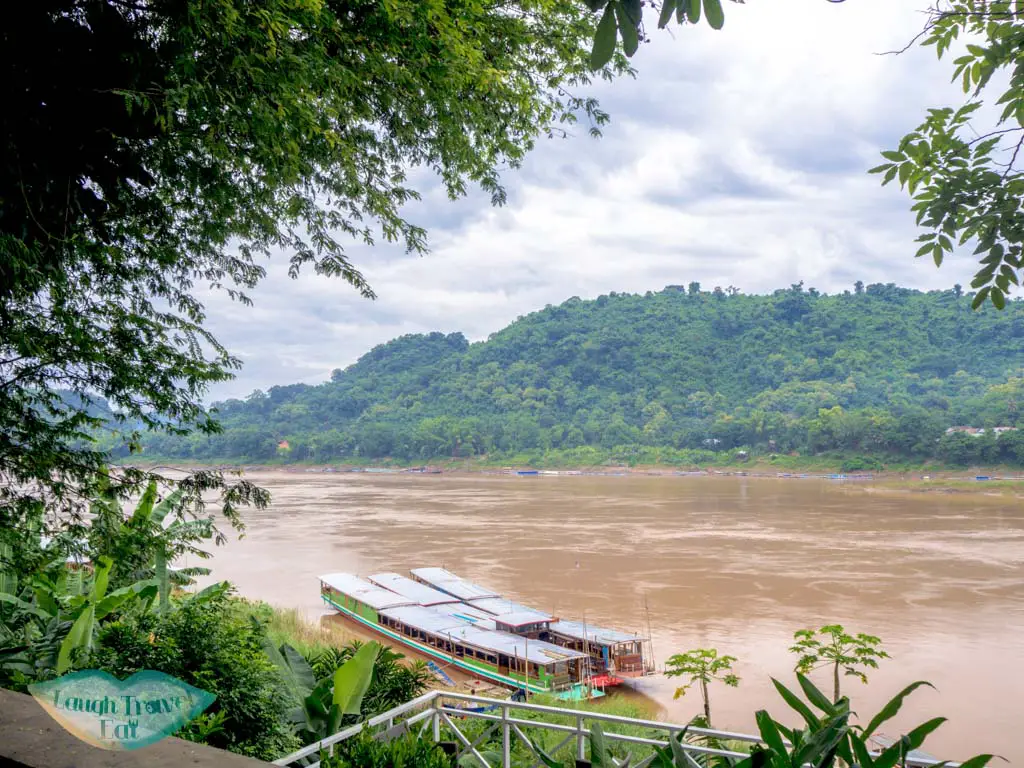 I ran out of time to head out to the river and explore the surrounding, but a sunset cruise or one that visits nearby caves are popular options.
See Cruise and Cave tours here
Getting around Luang Prabang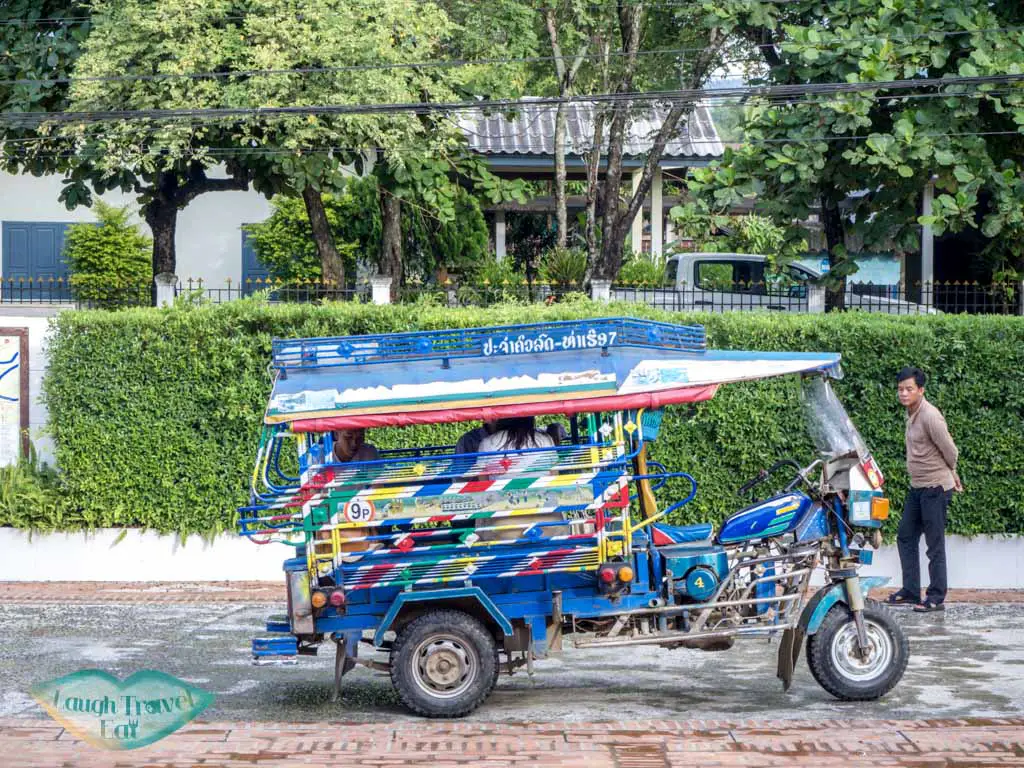 Luang Prabang old town isn't big and it's totally walkable if you are staying around the area. However, if your hotel is a little further, you might want to consider cycling or a Tuk tuk. Some hotels have shuttle services or free bicycle. The traffic in Luang Prabang is quite tame and it's totally safe.
For tuk tuk, a ride from the town center to Pullman or Rosewood, which is about ten minutes away, is 30,000 kip.
Best time to visit Luang Prabang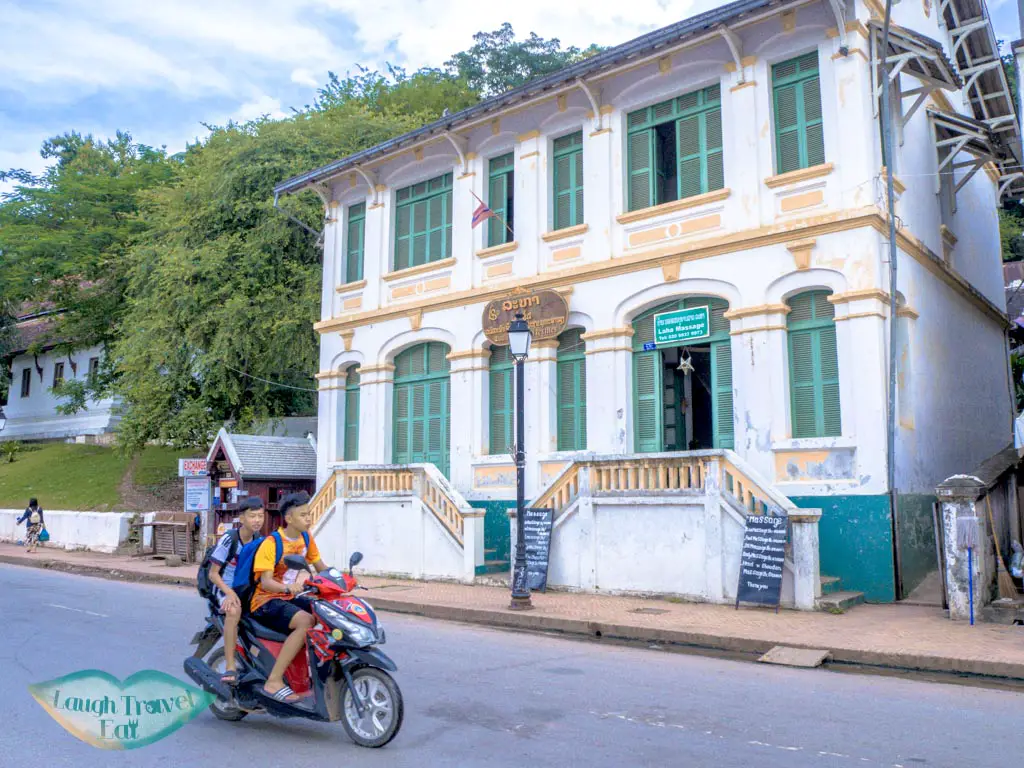 July is pretty decent, though it is in the low season which is also the wet season (April to September)
There are festivals year round, most notable is their water festival Boun Pimai Lao in April, boat racing in August, Hmong festival in December as well as the Khmu New Year, as well as various full moon festivities.
How many days in Luang Prabang
If you want to see all the top sights around Luang Prabang comfortably, i would suggest staying for around 4 to 5 days. That said, if you only want to see the highlight, you can probably do it all in three days! However, there are plenty around Luang Prabang to explore such as the Nong Khiaw region, not to mention various other interesting activities such as rice farming, weaving, and trekking.
Where to stay in Luang Prabang

Luang Prabang has some wonderful accommodation options for all budgets, and even their luxury hotels aren't going to break your bank. Given that the old town isn't that big, the best area to stay in Luang Prabang can vary depending on what you are looking for. Obviously, being in the town center means easy access to restaurants and sights, but you can also live somewhere among the rice paddies, mountains, or by the river. Regardless, here are some of my top picks:
Budget to Mid-range:
Stay close to town but in a quieter spot with the lovely Jasmine Luangprabang Hotel or be right in the center of the action by the night market at Indigo House Hotel. If you fancy something a little more upscale, stay a little further at Le Bougainvillier, consisting of two Lao Mansion.
Luxury

:
My personal pick would be the brand new Pullman Luang Prabang which is the perfect combination of luxury, comfort, distance, and value! If you want to be close to the town center, then Mekong River View is ideally located. If you want to stay in the mountains, then take a look at Kiridara and its infinity pool. For the ultimate luxe escape, Rosewood offers a villa-style room with individual plunge pool!
Note: I was invited to visit Luang Prabang but all opinions are my own. This post also contains affiliate links!