Danang is the third largest city in Vietnam and since my first visit in 2016 has become a popular up and coming destination. An itinerary around Danang not only includes the beach, a river and downtown, but also cool cafes and many day trip opportunities.
It has its own international airport close to city center not to mention it's half an hour's ride to Hoi An, one of the most well-preserved 16th-century international seaport in Southeast Asia. Even though it is not as famous Ho Chi Minh City or Hanoi, the beautiful beaches and cheap street food more than make up for it. While I spent a large part of my journey hiding in the hotel from the extreme heat, I still have time to see a fair amount of the city. Here is my 72 hours guide to Danang:
Danang itinerary

There really isn't as much to see in Danang as Hoi An, but I won't be so quick to dismiss Danang altogether as a destination. For starters, it has a better beach than Hoi An that is clear of jellyfish (at least, it was when I was there). Instead of making a list, I'll present my rough itinerary:
>Note: I've done a separate restaurant and food guide for Danang which you can find here.
Day 1 in Danang
Marble Mountains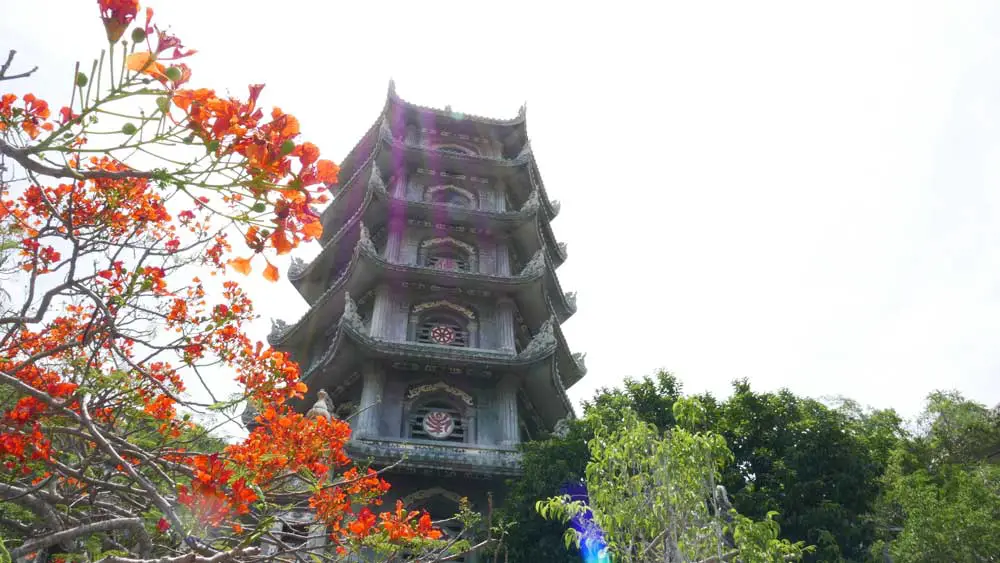 Marble mountains are actually situated south of the city, en route to Hoi An. It is a collection of five mountains, each is named after an element: Earth, Water, Fire, Wood, and Gold.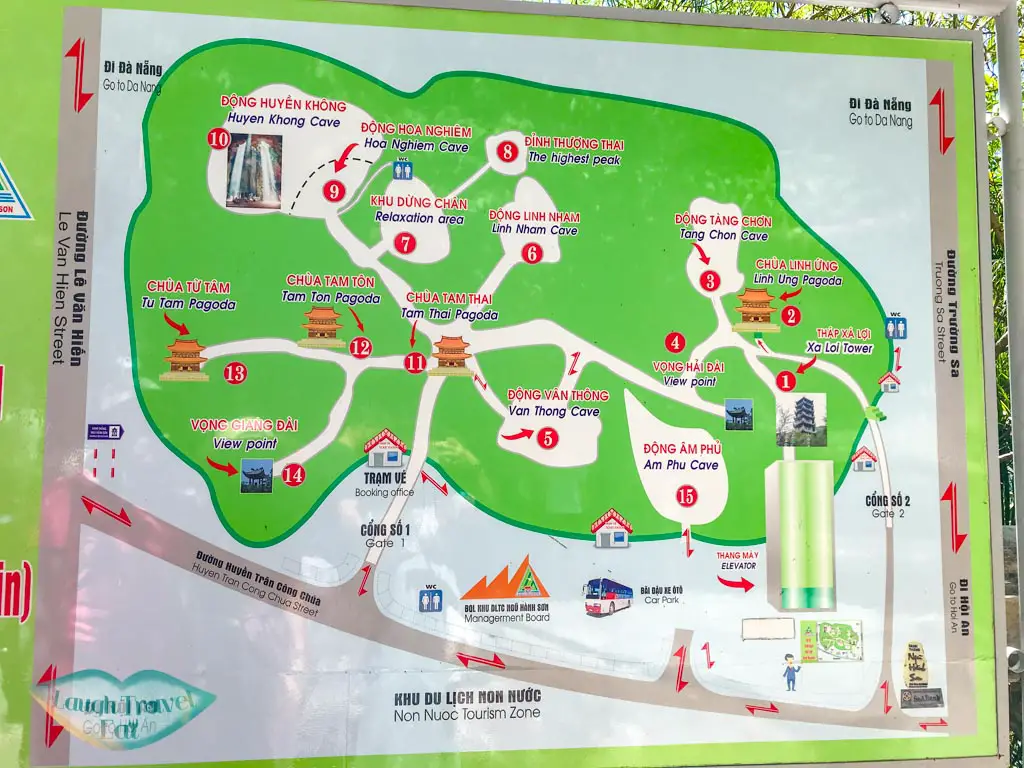 The mountains themselves are a curious sight, rising over the flat plain near the sea in odd shapes. On the mountains are Buddhist and Hindu pagodas, temples and grottoes that date back to the prehistoric time. You can get up to the Water Mountain, via 156 stairs or a lift.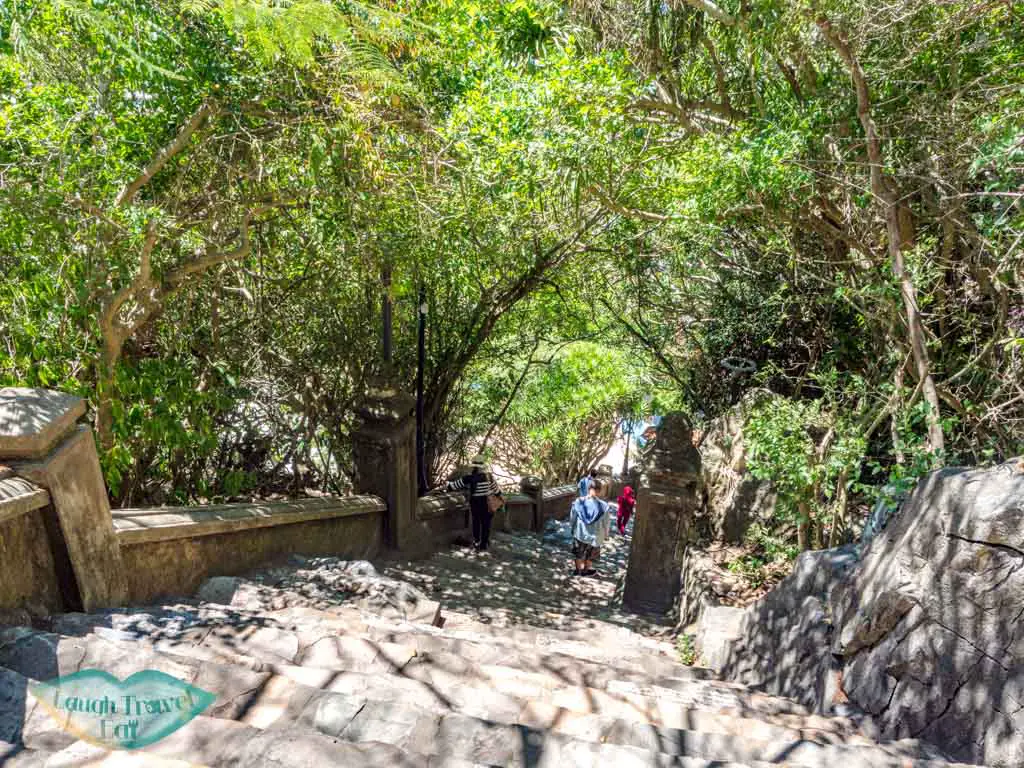 The stairs look steep at the beginning, but it's actually very doable if you take your time and go up slowly. You should be careful as it is slippery, since the marble is polished by millions of shoes. I would budget around two hours up there. Here are some highlights:
Linh Ung Pagoda

Van Thong Cave
There is a small 'exit' at the back of the cave that will take you up to the view point. It's very slippery so be careful. And don't wear a dress like me if you want to climb up. There is another way up and down to here: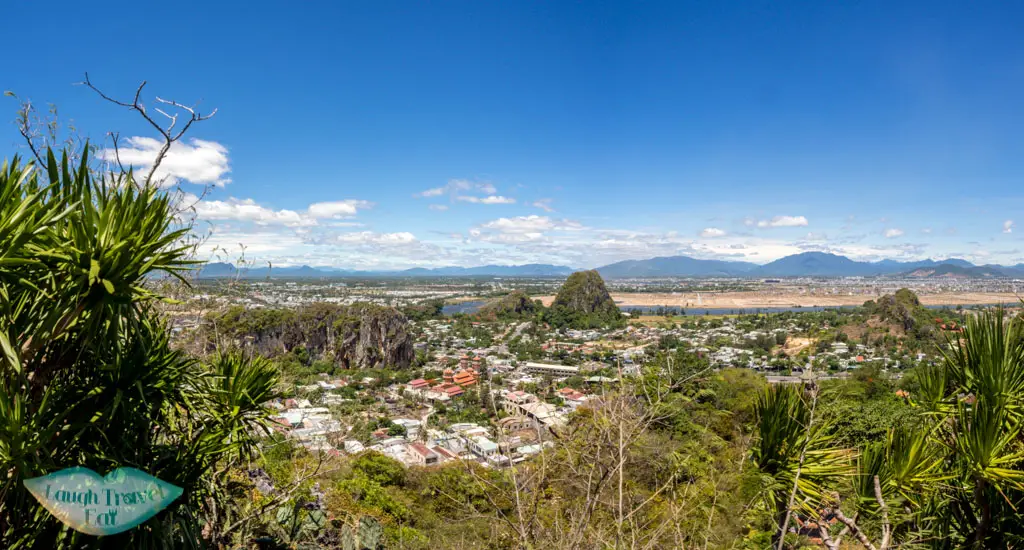 Tam Thai Pagoda
From Van Thong Cave to the left of the split road is Tam Thai Pagoda. If you don't have much time, I'll turn back here to go to the main cave as the other ones aren't that interesting.
Huyen Khong Cave
This is the biggest and the most famous cave on Marble Mountain. It houses several Buddhist sculptures and shrines, as well as a doline. It's best to arrive here around noon to see the light shine directly down!
There are also plenty of stone sculpture shops nearby – if you want unique souvenir, look no further!
Opening times: Daily 7:00 – 17:30
Admission fee: 15,000 dong, elevator extra 15,000 per person per trip
My Khe Beach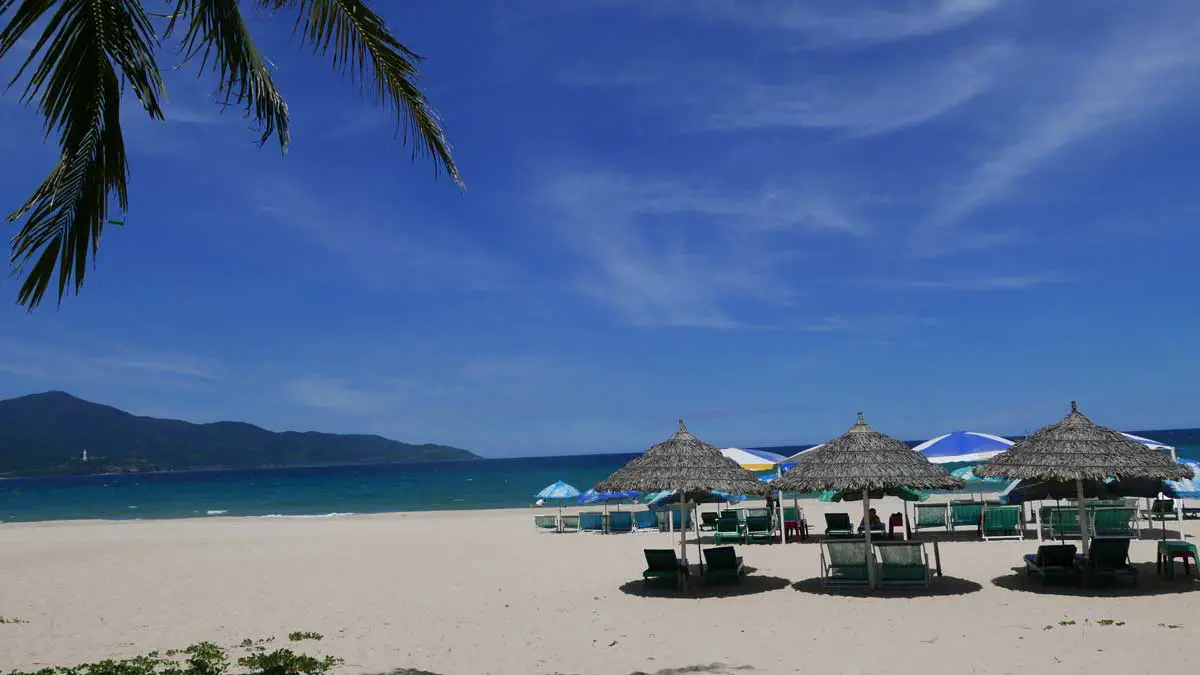 Did you know that Danang is referred to as the Hawaii of Asia? And I heartily agree with that. With over 30 km of beaches that stretch all the way to Hoi An, the pristine white beach is in the best condition I've ever seen in a city beach. The locals, who are afraid of getting tan, don't hit the beach until the late afternoon, meaning you usually get the beach to yourself in the morning. A sun umbrella will only set you back 40,000 dong for the day – it really is a no-brainer for you to schedule a proper beach day.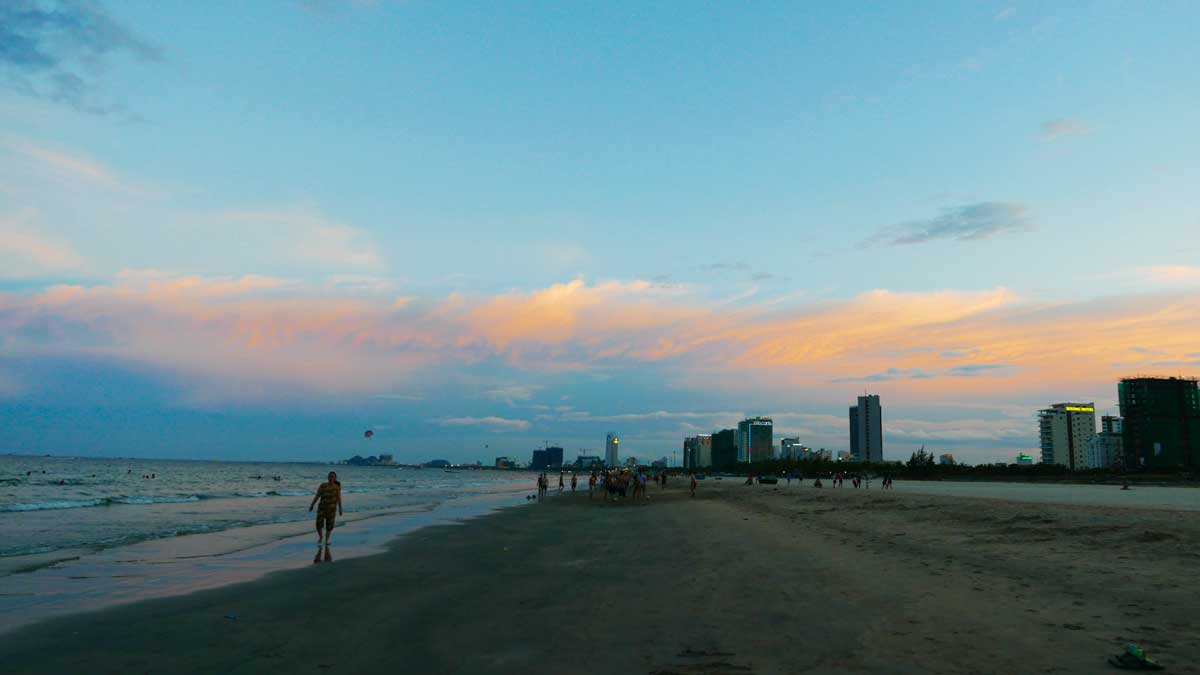 There are plenty of luxurious hotels or budget places to stay near the seafront for the beach lovers.
Pro tip: the sand in the morning reflect like gold glitters – go see it!
Address: southern side of the Danang shoreline
Seafood dinner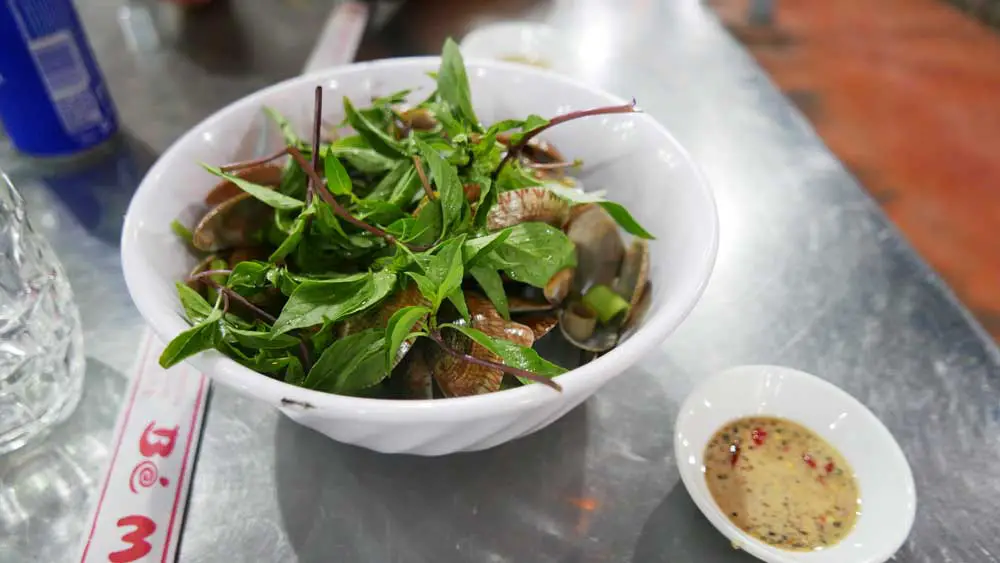 There are many seafood dining options along the beach. Most of them are open air where you can pick whichever seafood you desire, but if you fancy somewhere with air con, there are those, too. Head to my Danang restaurant post for more info.
Day 2 in Danang
Ba Na Hill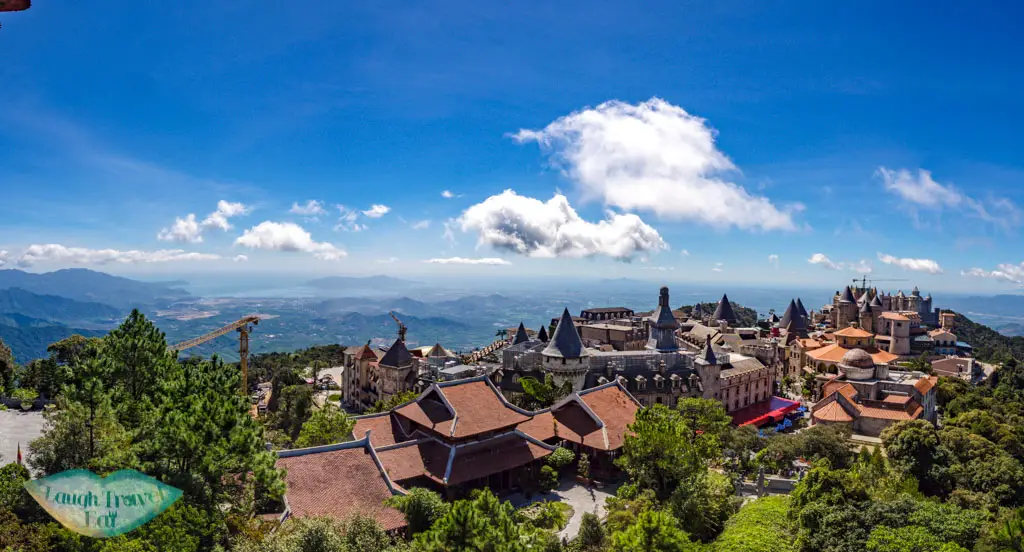 Ba Na Hill is the supposed #1 attraction near Danang – it is located in the Mountains west of Danang. It leverages its founding by the French in 1919 heavily, however, I have to warn you that all of the buildings are from this century and caters to wedding photography and locals.

If you have been to Europe, chances are you won't be impressed, but the view combined with the architecture does make it look stunning. Since my first visit in 2016, they have expanded and added many new things which makes it more worth while to go but also attract more crowd.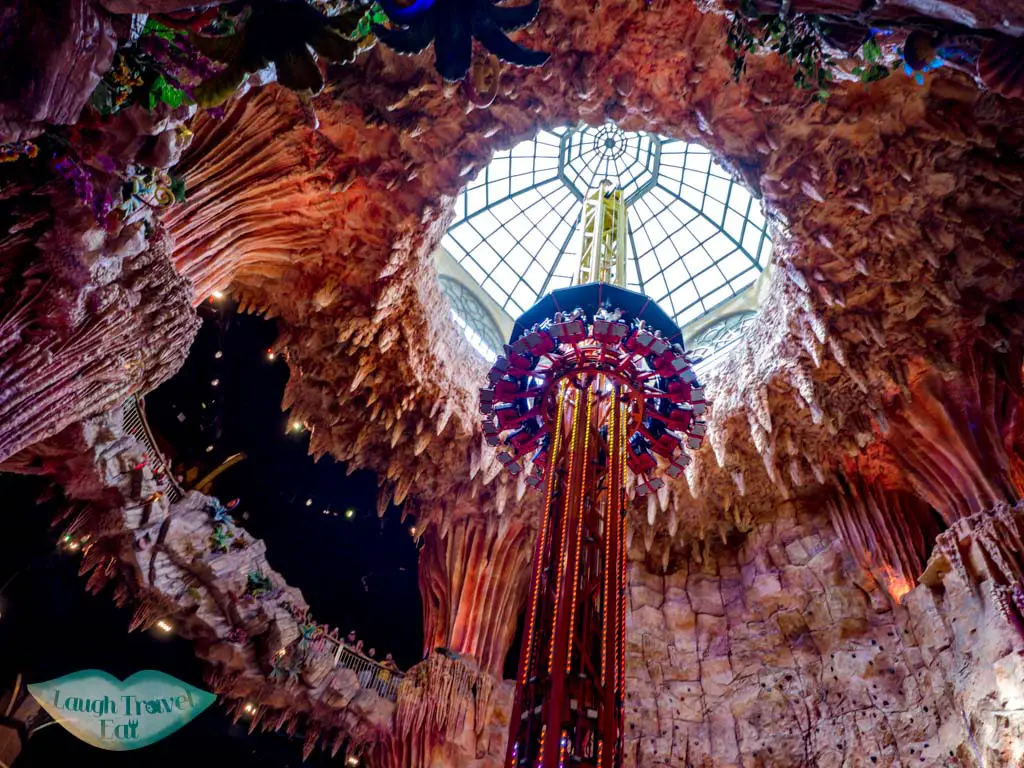 Another thing is that they have some theme park facilities, and we manage to get on one – be warned, the queues can get LONG.
Golden Hand Bridge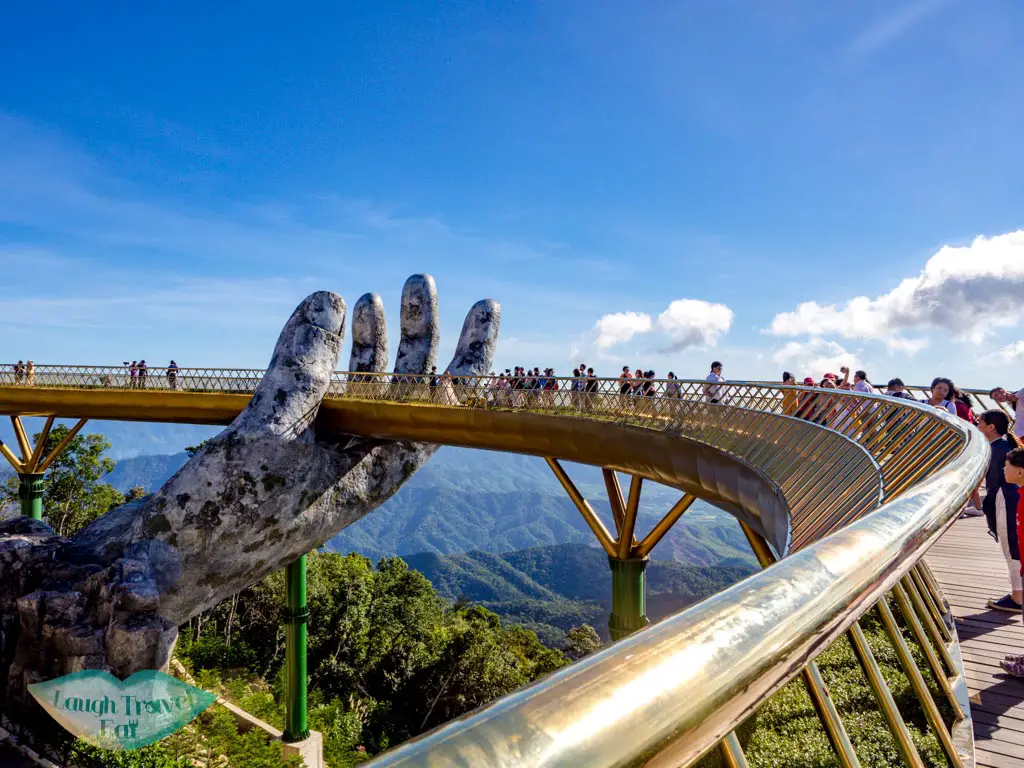 The most famous part of Ba Na Hill is now the Golden Hand Bridge. It's only added in 2018 and already a favourite among instagrammers and wedding photography.
The first stop on the Ba Na Hill Cable Car is Gare de Marseille that directly connects to this bridge. It's much shorter than expected and link to the Garden of Lovers. We tried to get there as early as we can, arriving 10 minutes after the cable car start running but it's already pretty busy!
You can now book a tour to see the bridge on Ba Na Hill!
The Garden of Love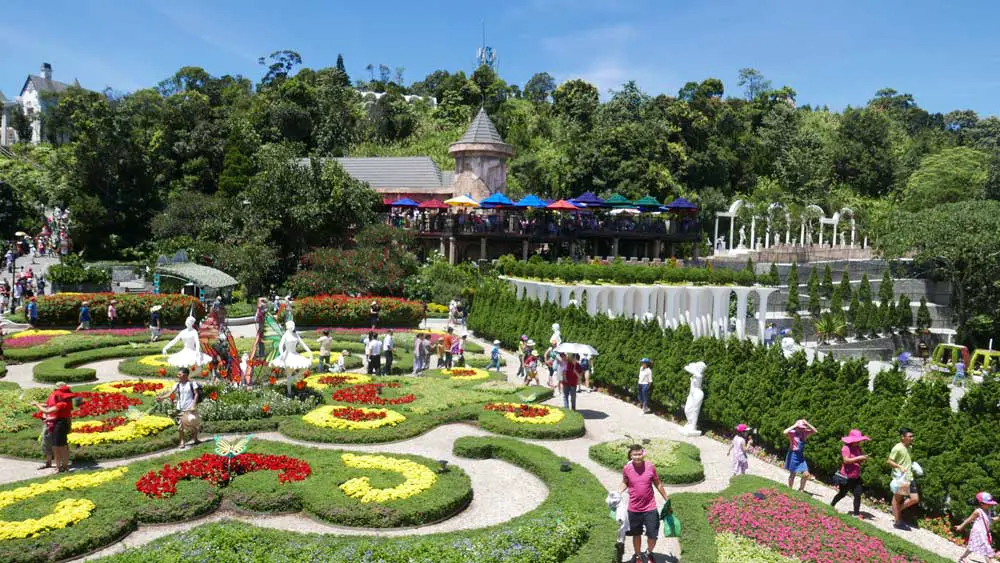 Now directly connected at the end of the Golden Hands Bridge, the Garden of Love is a pretty place that oozes European vibes.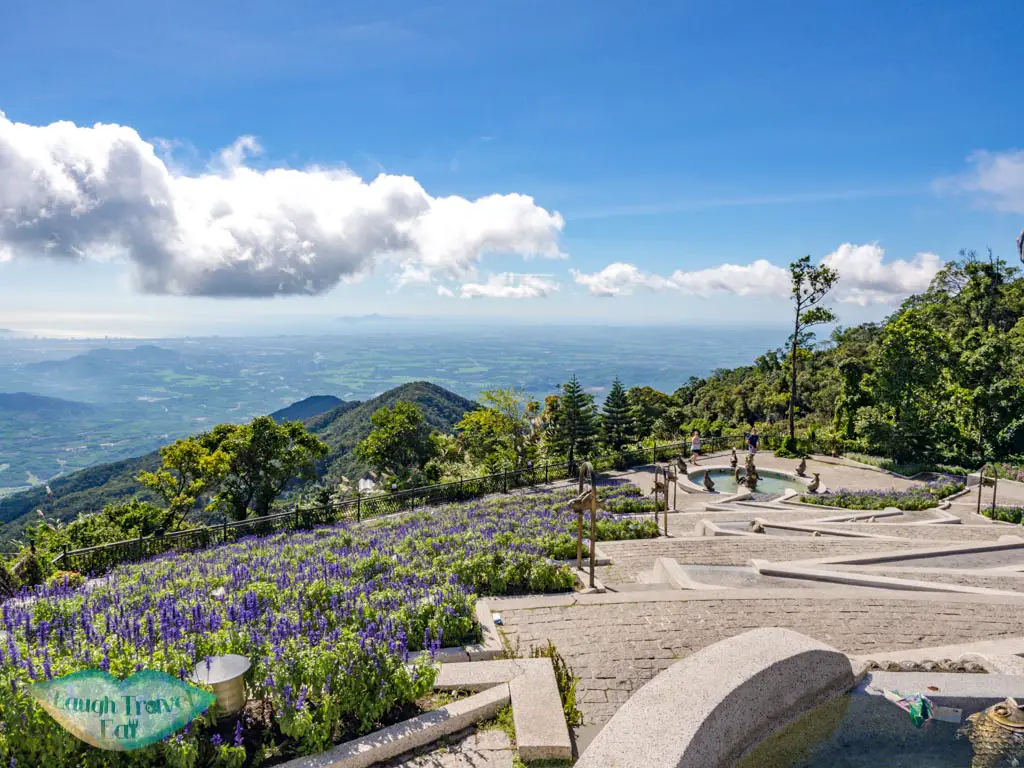 The best part, for me, is the view of the valley and Danang in the distant.
French Village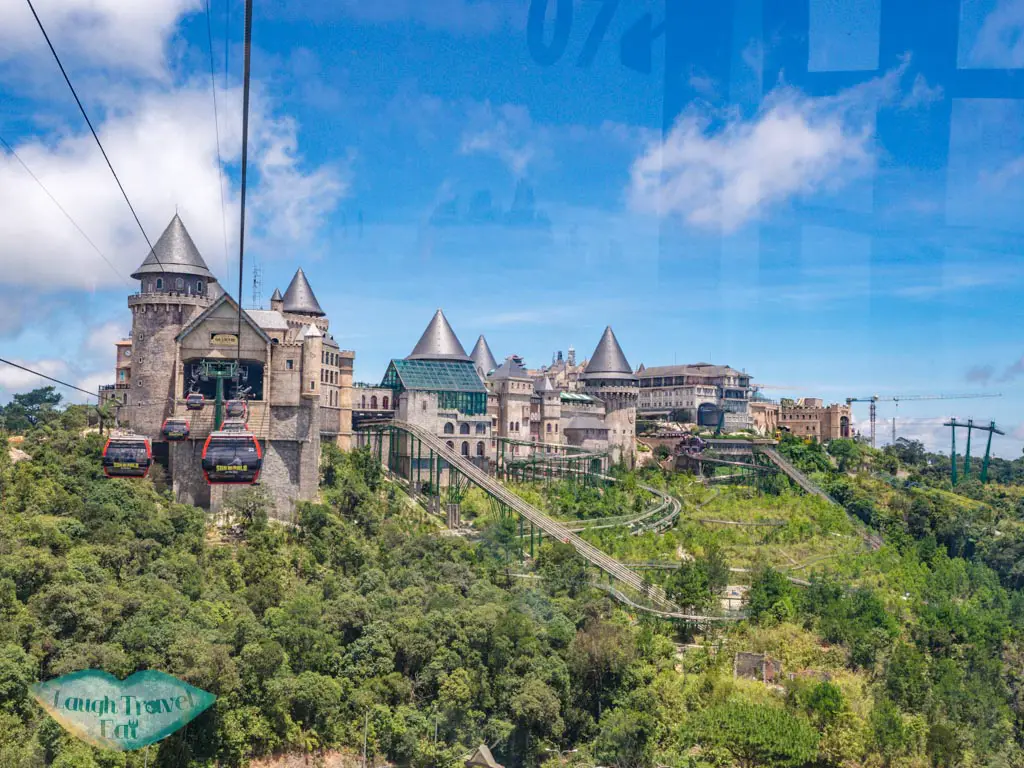 The main part of Ba Na Hill is the French Village, now accessible by two (and soon three) cable car lines. You can get back to Gare du Marseille or take a train to another station to get up.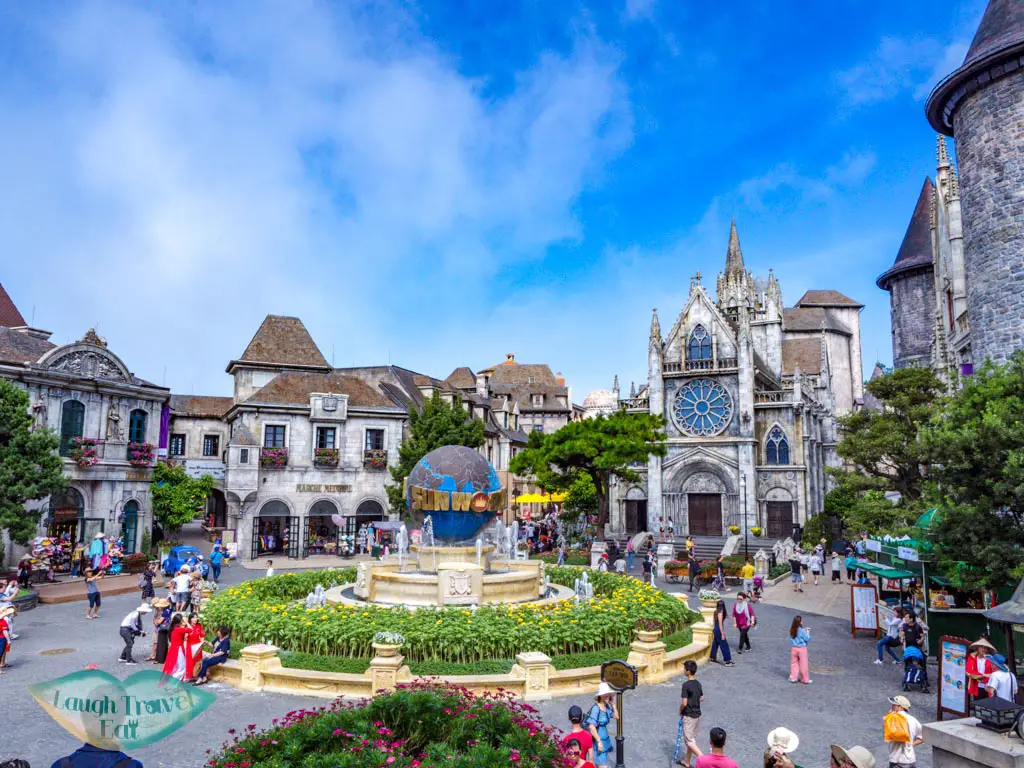 Getting to Ba Na Hill
We booked a day tour via our hotel and it cost 850,000 dong (39 USD) in 2016, including the entry tickets and the buffet lunch. We have to pay extra (70,000 dong per person) to visit the Garden of Love, which offers a stunning view of the region, along with some temples and pseudo-roman architectures.
See the all-inclusive tour (tickets + lunch) here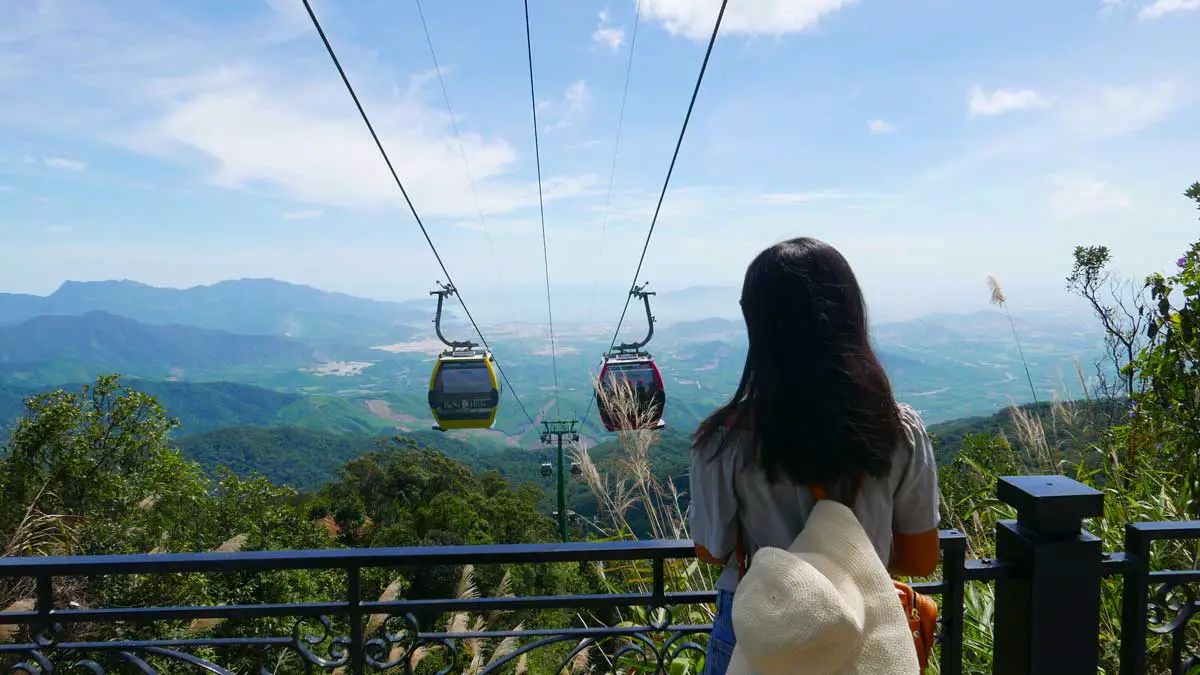 For my trip there in 2019, we wanted to get there early for photos so we hired a private car for 900k dong that would take us there at 7. I had a horrible experience with them (Same Same but Better service) so won't recommend, but do use mine as a price point.
As I've noted, there were a lot of people even early in the morning. I spoke to two girls who went there in the late afternoon and said it was better. That said, the park closes for guests (unless you are staying there) around 5-6pm so you won't get to do much if you go late.
Admission cost is 750,000 dong (600,000 for children under 1.4m), which translates to around 32.3 USD or 252.5 HKD. I booked tickets on Klook to save using dong and it's a little cheaper at 242 HKD. The pick up point is to the left of the entrance photographed above.
 
Address: Nhà máy nước Sân Bay, Trường Chinh, Hòa Thuận Tây, Đà Nẵng, Vietnam
Opening times: daily 7:00 – 23:30
Lunch recommendation: Mi Quang A1 or Pizza 4P
We depart from Ba Na Hill before noon and got the driver to drop us off down town for some lunch. I suggested Mi Quang A1 (which I loved from 2016) but my sister vetoed me for Pizza 4P.
Hello awesome cheap food!
Danang Spa
Salem Spa Garden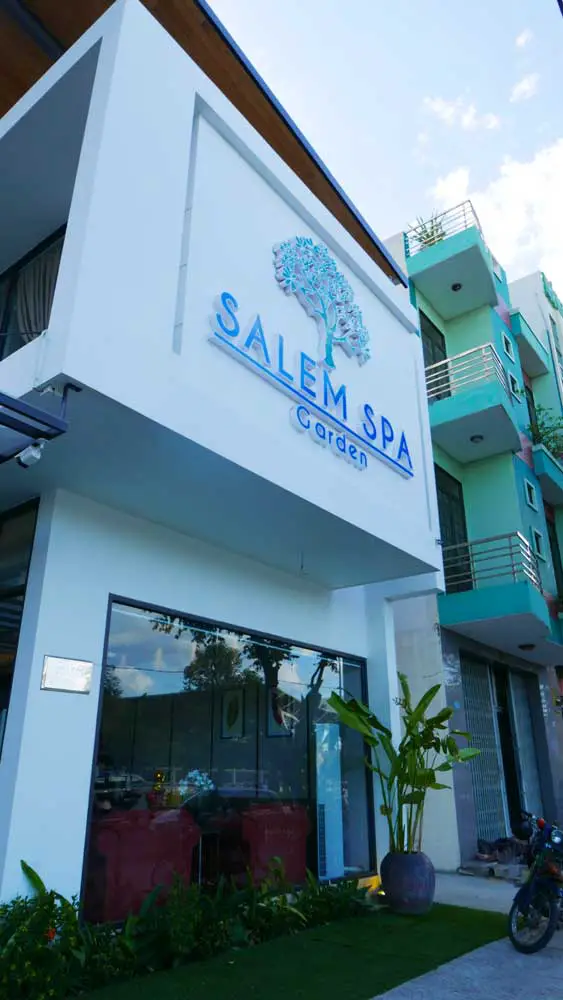 A friend of ours booked us to this Day Spa that's across the Quy My Bridge. Not to be confused with the Salem Spa, this one is newer and a few blocks down. Although the price isn't particularly cheap in Vietnamese standard, the spa does have a nice décor and service.
We had a 90 minutes massage that is listed at 20 USD, but they charge a compulsory service charge so it ended up being 24 USD. The hot stone massage was heavenly and we got treated with soup and passion fruit juice afterwards. And did I mention they have the best design?
Address: 528 2 Tháng 9, Hải Châu, Đà Nẵng, Vietnam
Opening times: daily 9:00 – 22:30
Booking available on their website
Maison Spa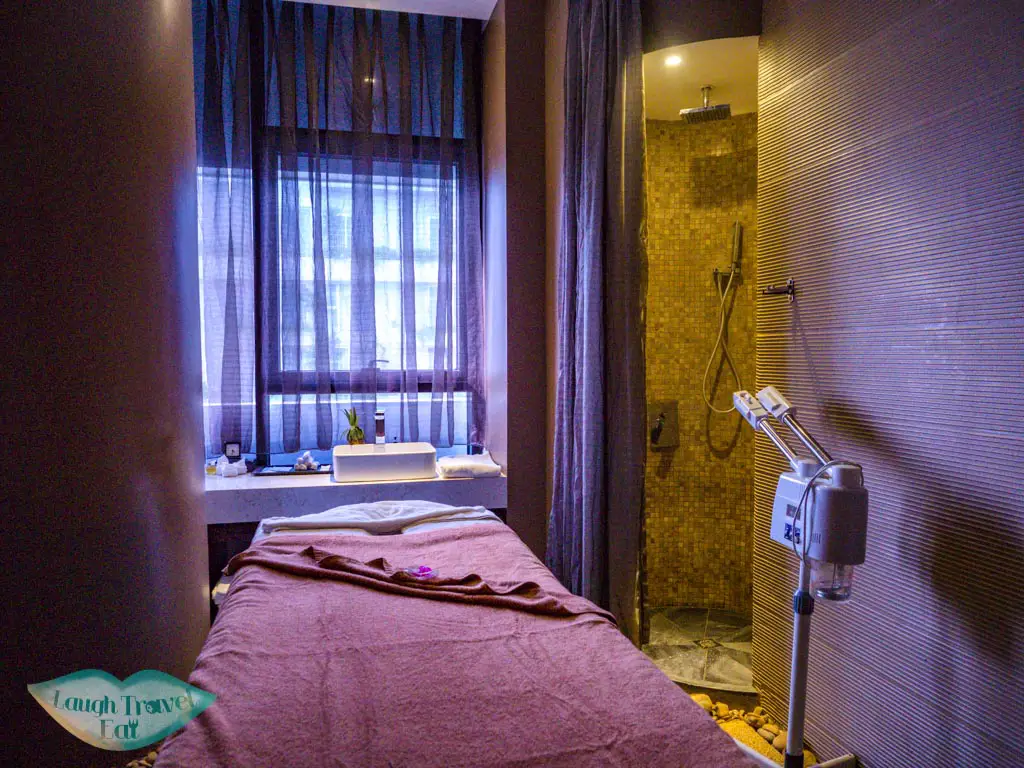 If you are staying beach-side, Maison Spa is likely more convenient and I adore their decor and lovely service. It is located in the Belle Maison Parosand Danang Hotel, just across from My Khe Beach. I did a 60 minutes body massage and the room is heavenly. They also provide bathrobes, disposable underwear, and shower facilities.
Opening times: 8:30 – 22:00, last booking 21:00
Day 3 in Danang
Lotte Mart
For those of you who have the need to shop for souvenir with air con, then Lotte Mart is for you. Lotte Mart might just be a familiar name to some of you, that's because it's a Korean brand supermarket. But that doesn't stop it from selling local produce. Here, you can find rice spring roll paper, dried fruit, coffee products, tea etc.; in fact, it's where all the Korean tourists come to do their souvenir shop. There's also a currency exchange service for those who have insufficient funds. You won't find an easy place to exchange anywhere else.
Address: 6, Nại Nam, Phường Hòa Cường Bắc, Hải Châu, Đà Nẵng, Vietnam
Opening times: Daily 8:00 – 22:00
Han Market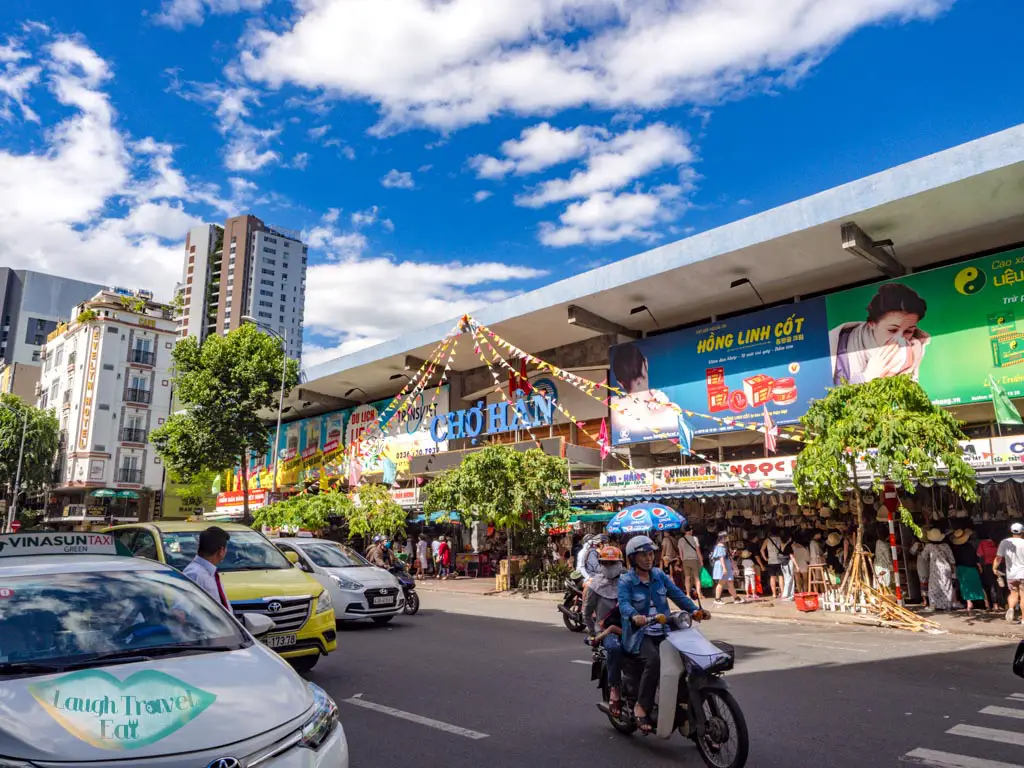 To be 100% honest, Han Market doesn't stand out among the hundreds of markets that I've been to in the past. However, those of you who find the tailoring too expensive in Hoi An would be sure to find a myriad of choices and cheaper services here.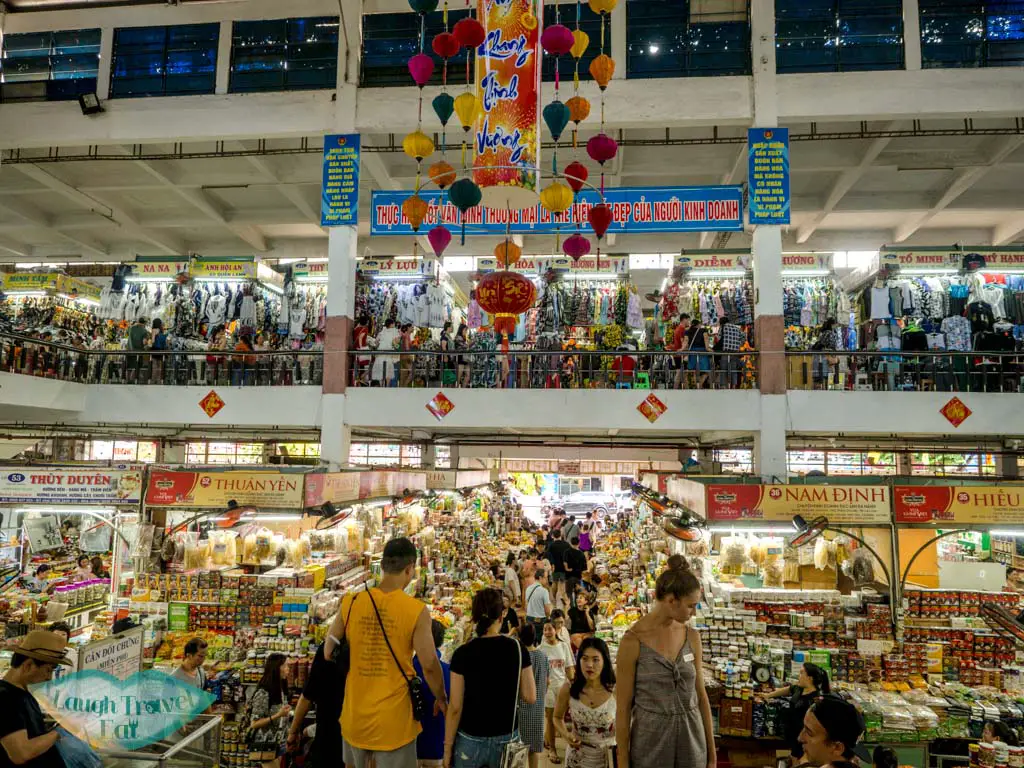 It is situated in the downtown area of Danang, and therefore within walking distance from the Church, Han River, and various street food stores. So it's worth a visit if you are in the area.
Address: 119 Trần Phú, Hải Châu 1, Hải Châu, Đà Nẵng, Vietnam
Opening times: daily 6:00 – 19:00
Con Market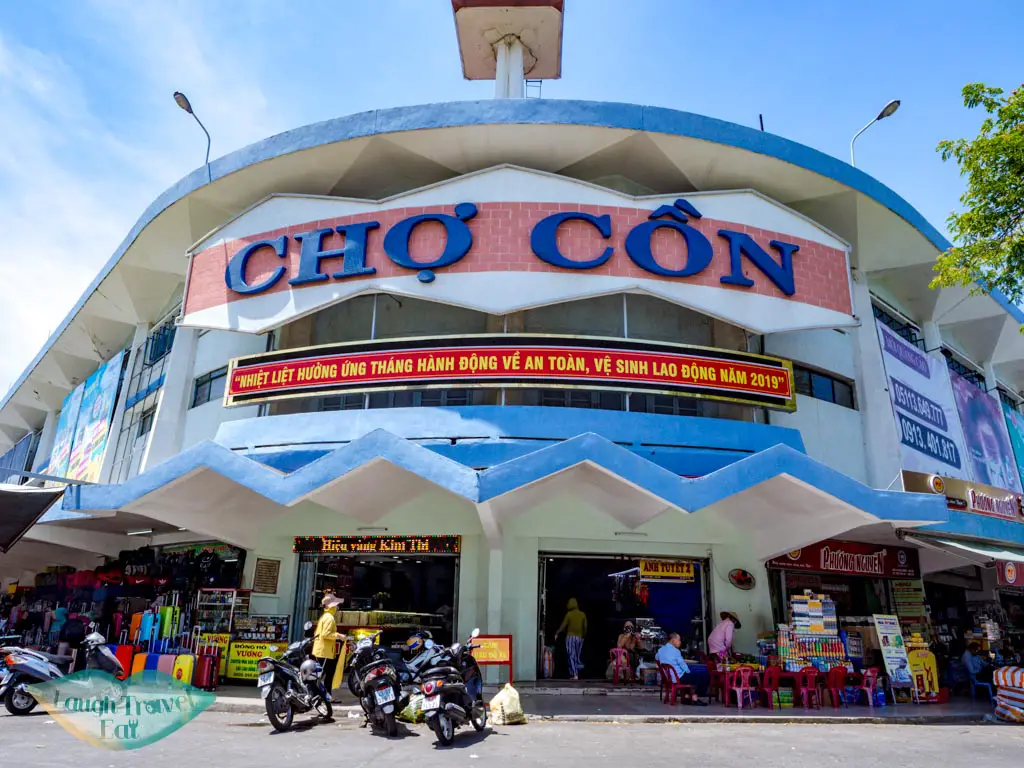 Still too touristy? Then head further west to Con Market – which sells pretty much the same thing as Han Market but local-orientated. Goods from each stall spilled into the narrow walkways with shop assistants gathering in huddle to chat among themselves. It can be quite hot and not necessarily fruitful for the average buyer given its chaotic structure.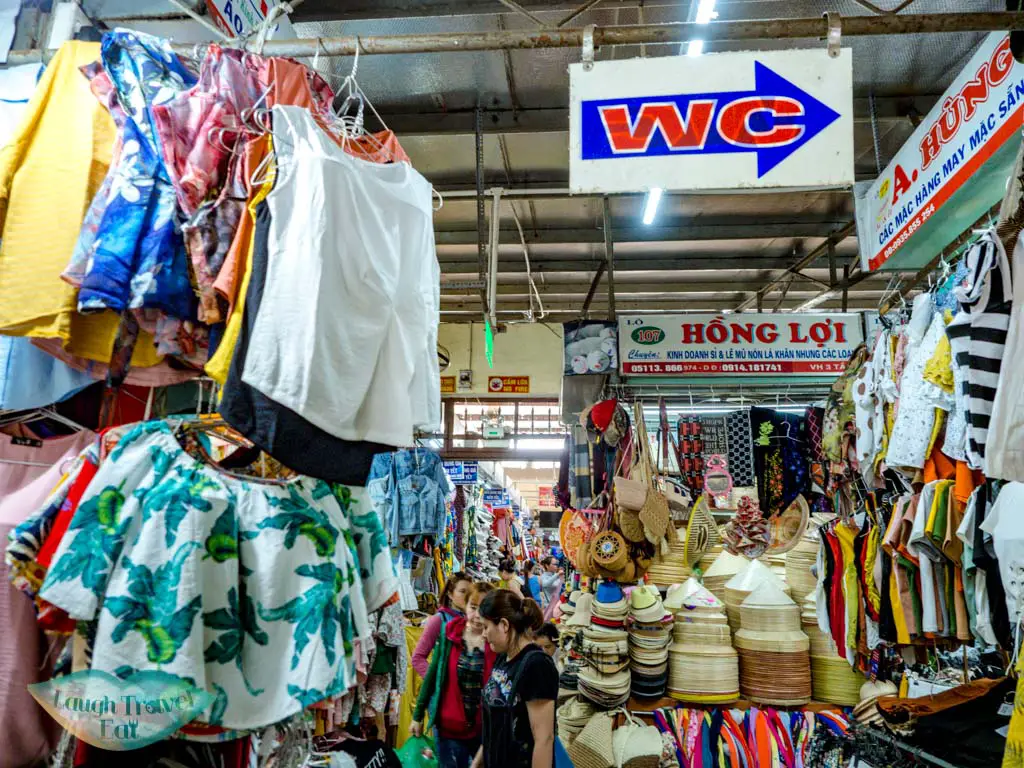 Many also come to their food court to eat. For someone like me who have issues deciding on what to eat, it can be a little daunting. But almost everything is super affordable here (around 20k dong) so just ask!
Address: 269 Ông Ích Khiêm, Hải Châu 2, Hải Châu, Đà Nẵng 550000, Vietnam
Opening times: 6:00 – 20:00
Danang Cathedral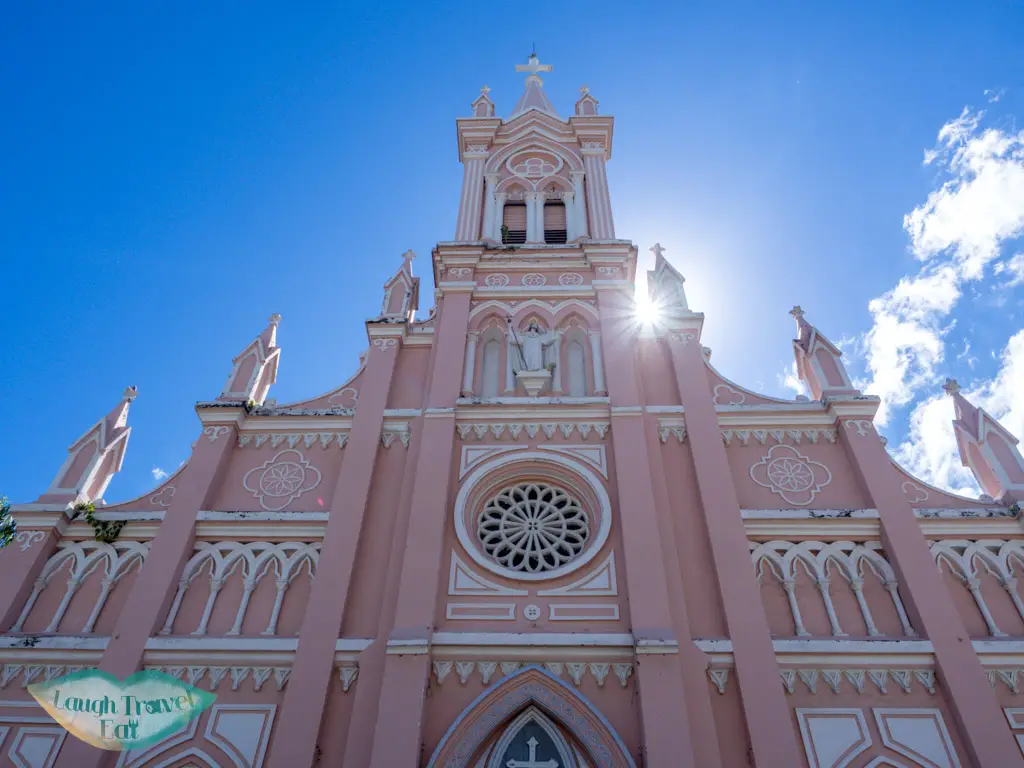 A curious pink church that stands in the Danang Downtown area, it is a testimony to the city's French heritage. Built by the French priest Louis Vallet. Built in the early 20th century, the church that was the tallest in the area with 70m high dome.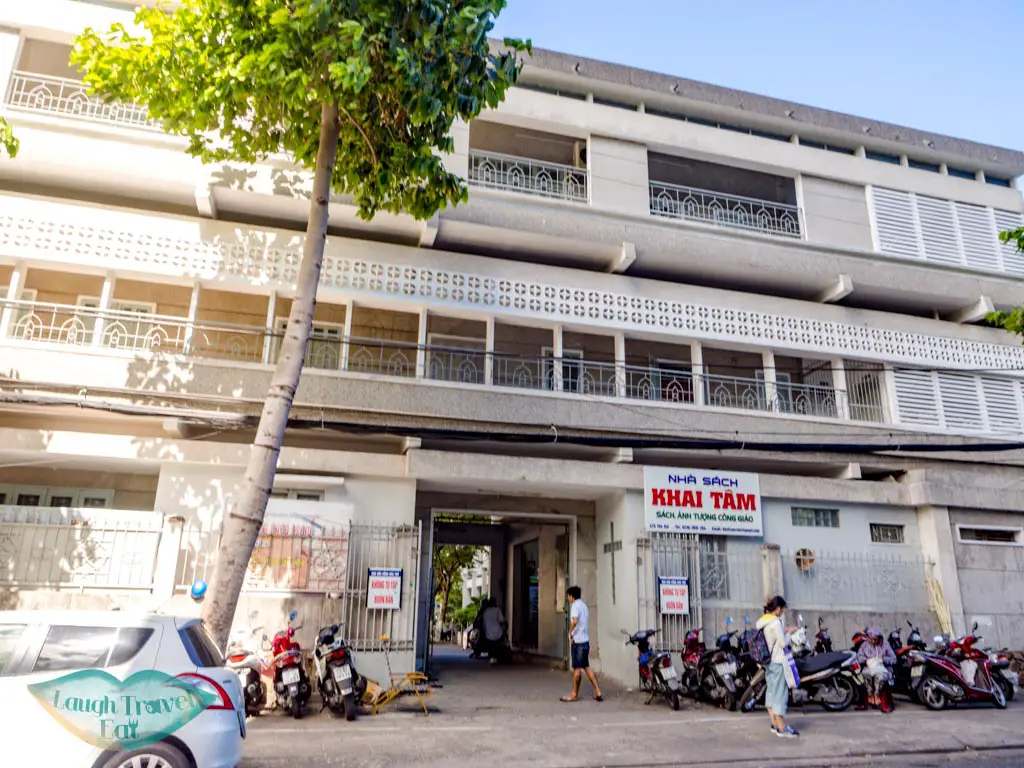 On my visit in July 2019 you can no longer enter from the front. There is a unassuming entrance at the back that you enter and exit through. We weren't able to visit the inside of the church, however, it is an interesting spot to visit in downtown.
Address: 156 Trần Phú, Hải Châu 1, Q. Hải Châu, Đà Nẵng, Vietnam
No admission fee
Han River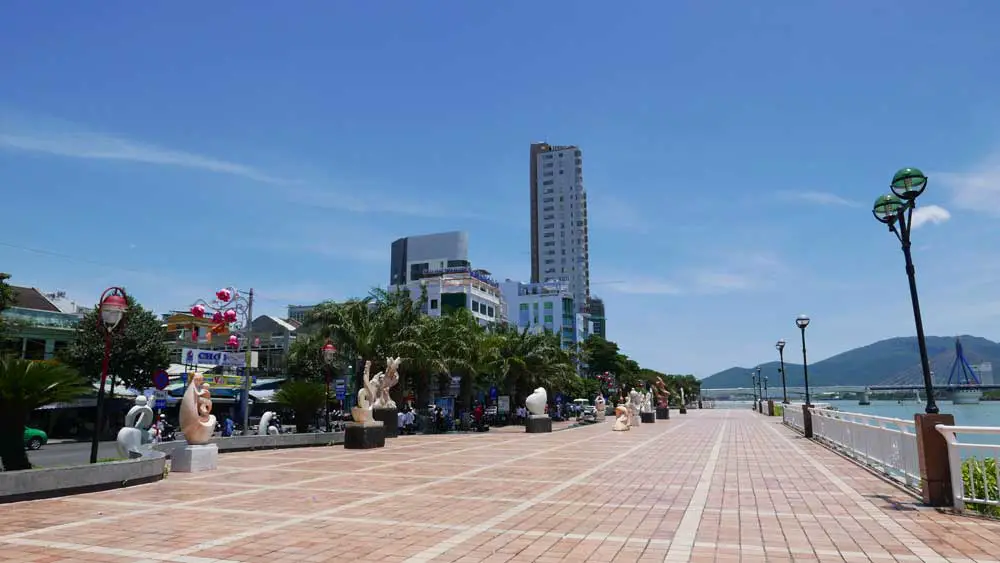 The river that runs parallel to the sea, the Han River is curiously wide and separated Danang into two parts. A series of five bridges, including the famous Dragon Bridge, span across it. You can get a pretty good view of the city from river banks, which also happens to be a great Pokemon catching spot. It's good for an evening walk or to take some photos.
Linh Ung Pagoda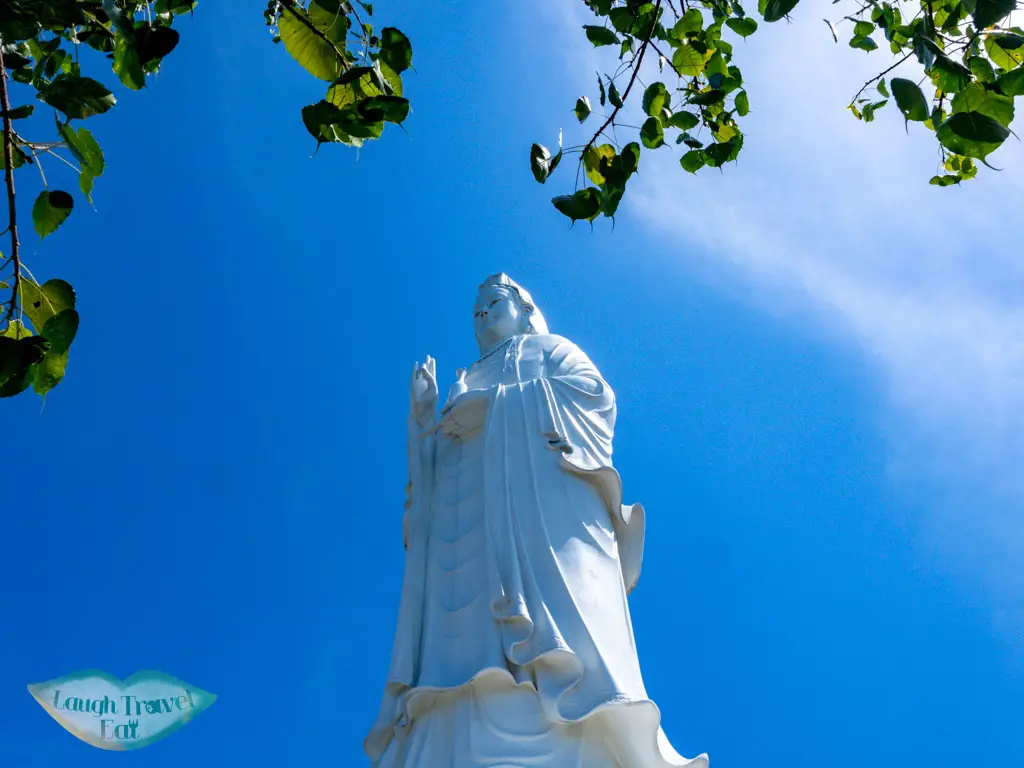 A white statue of the Lady Buddha, the Linh Ung Pagoda is hard to miss for anyone on the seafront of Danang. Located on the Son Tra Peninsular, it was built in 2004 on the site where a Buddha statue was said to washed up in the 19th century under the Nguyen Dynasty.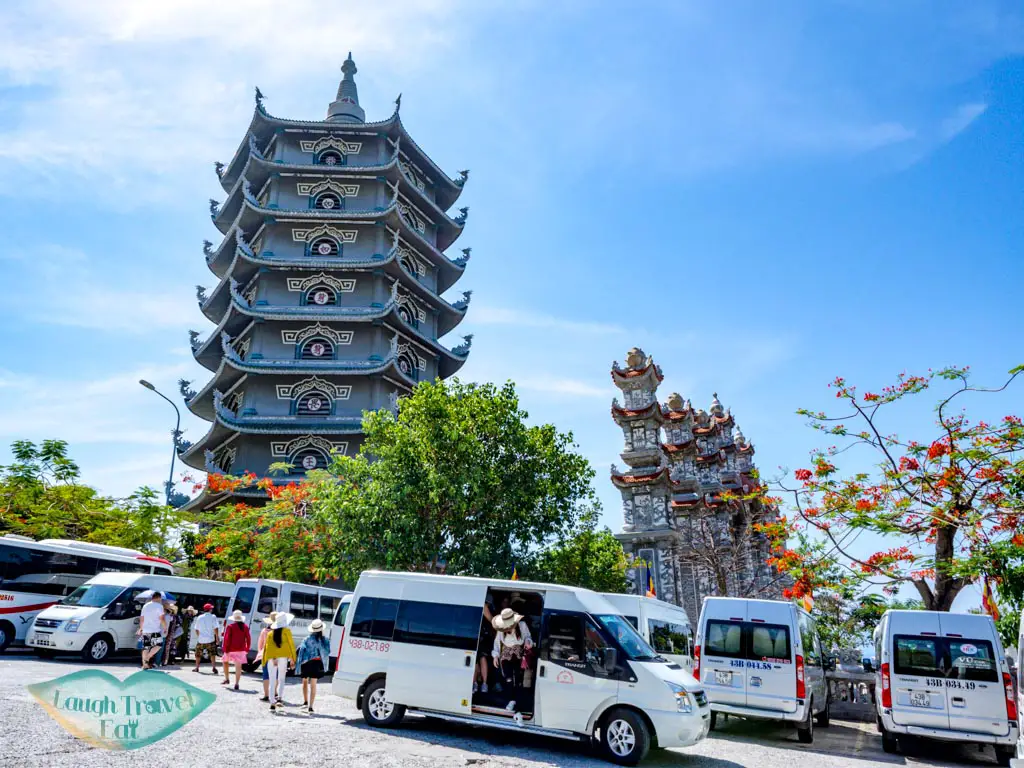 The pagoda stretches around the Lady Buddha statue with a main hall and a pagoda. It's melting hot to visit during the summer but the onsite snack shop provide refreshment at a very resonable rate.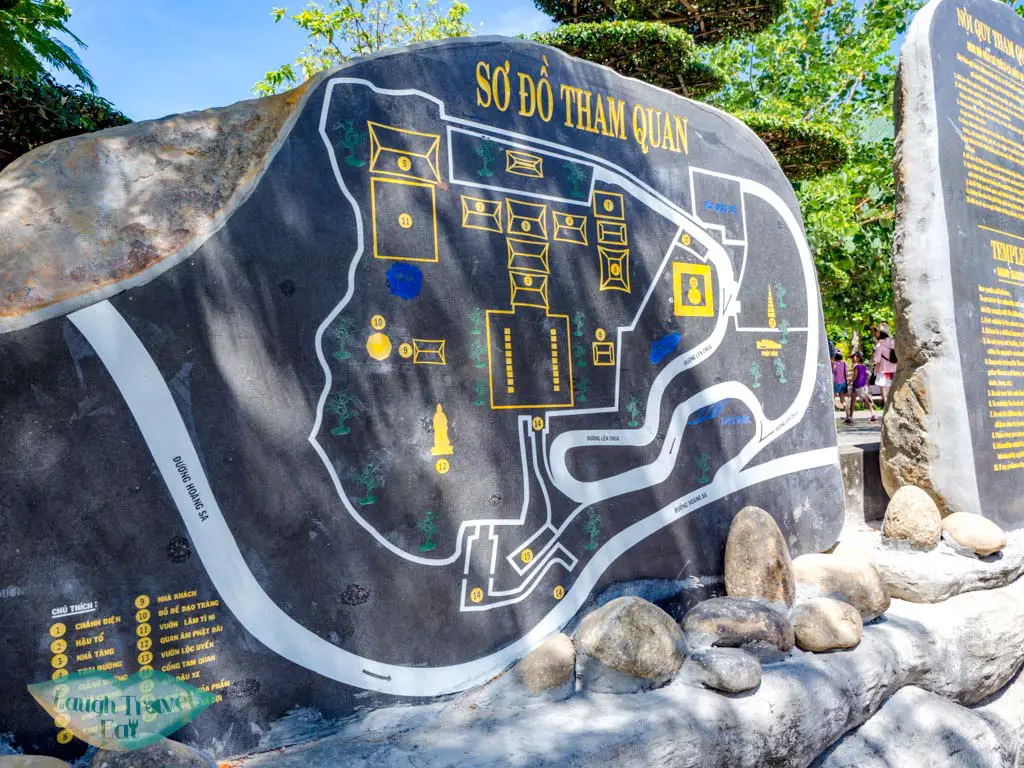 I visited in the morning using Grab bike from my hotel – it was surprisingly easy to get one back since I barely stayed an hour due to the heat!
Address: Chùa Linh Ứng, Hoàng Sa, Thọ Quang, Sơn Trà, Đà Nẵng, Vietnam
Opening times: unclear
Admission free
How to get around Danang:
Danang is not a small city, and there tends to be a fair distance between each attraction. You can't get around on foot, particularly not under the summer heat. There is only two way to go around:
Taxi
Fortunately for you, since my first visit in 2016 where we had to google map our way to make sure our driver isn't circling for more fare, Grab has arrived! It'll tell you exactly how much the trip cost and works pretty much the same as Uber. If you still have question, I have a guide on how to use Grab here.
Scooter
You can also rent a scooter to go around. However, a traveler we met expressed that Danang has one of the most chaotic traffic he had ever seen, and the roads can be pretty busy. I highly recommend using taxi wherever possible.
Where to stay in Danang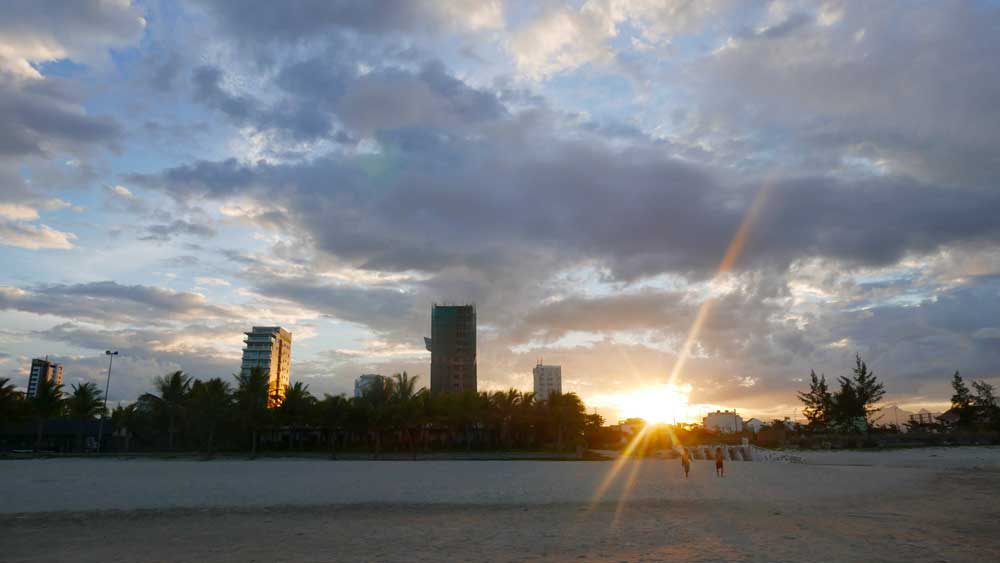 There are only two areas you should stay in, in my opinion: downtown or seafront. As I had mentioned above, Danang is not an easy city to get around unless you get a taxi/Grab. So depending on your interest, figure out which side you want to stay on. Here are some suggestions:
Beach front
Splurge: Danang Golden Bay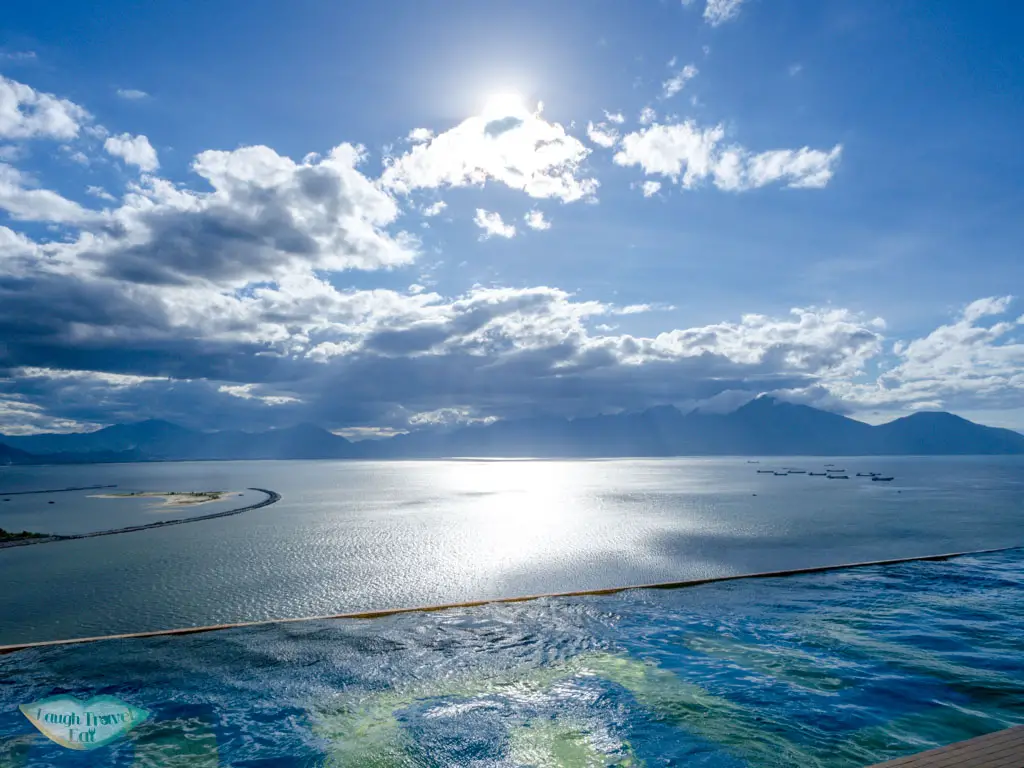 Technically neither beach front nor downtown, Danang Golden Bay is a bit out of the way but with many pros as well. Not only does it gives the best view in the city, it also has a 24k gold infinity pool that faces the glorious sunset everyday!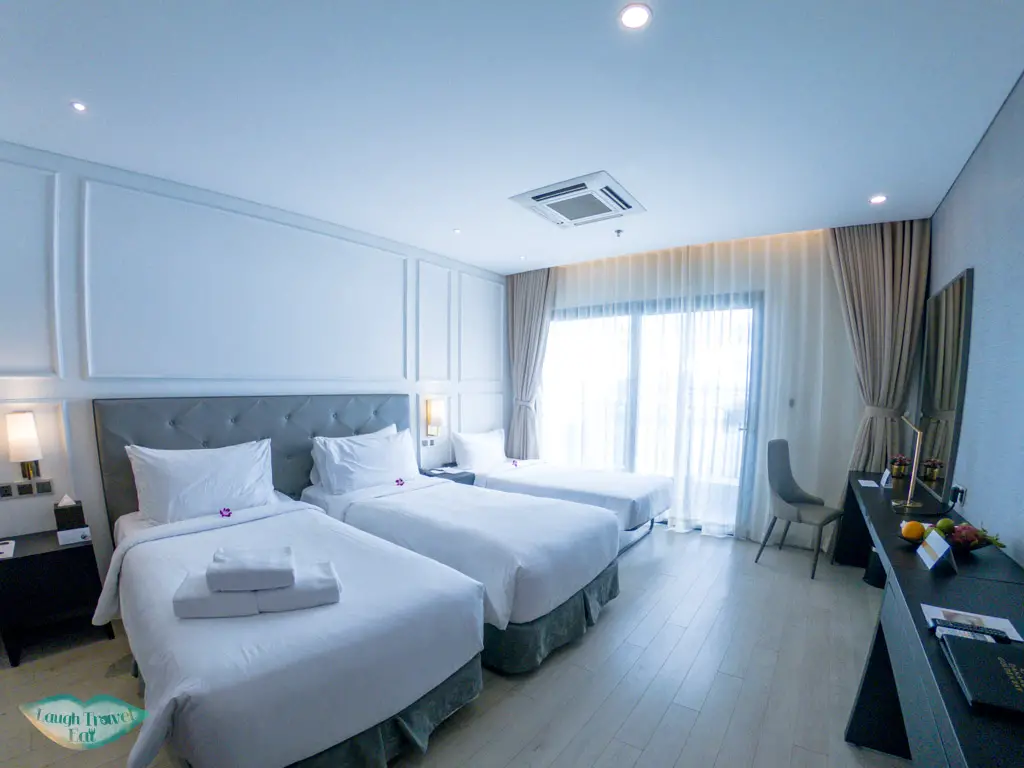 Its location also guarantee quietness, meaning you won't be bothered by the loud Vietnamese Karaoke that plague the beach nightly. Its buffet breakfast and free shuttle to strategic locations in town, the beach, and the airport also make up for its remote location.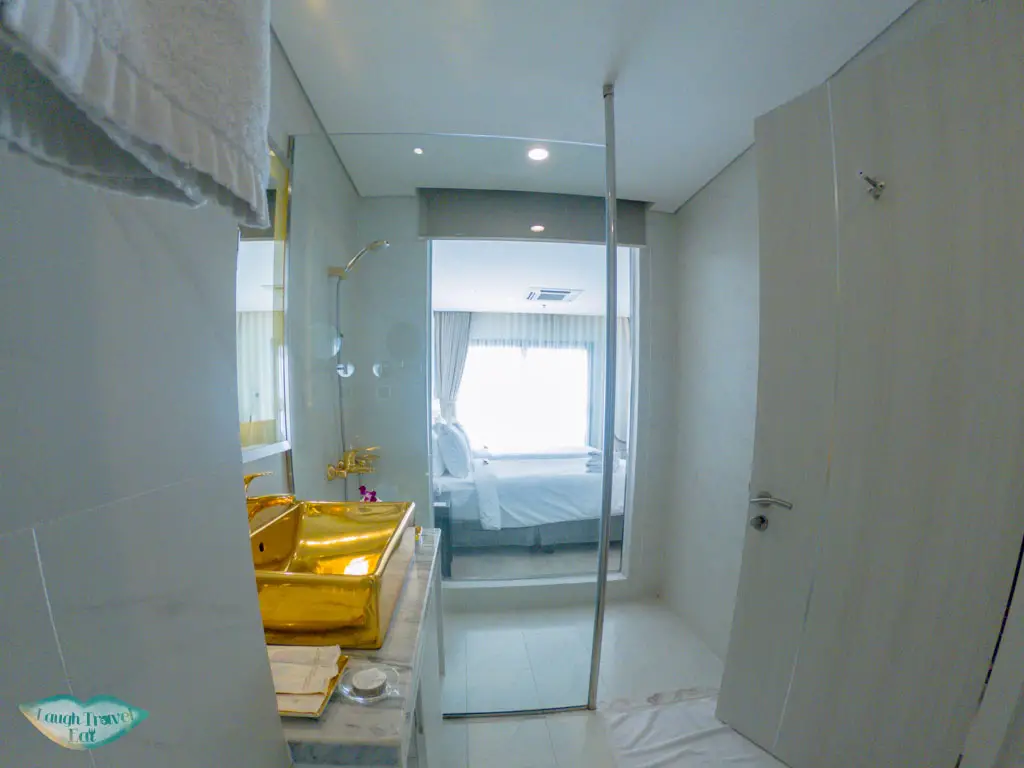 The rooms are minimalist and gives you a refreshing atmosphere. Our room faces the river which offers a stunning view on the balcony.
However, with 900 rooms in the hotel, it does get noisy and getting on an elevator during peak hours can be difficult.
Mid-range splurge: Belle Maison Parosand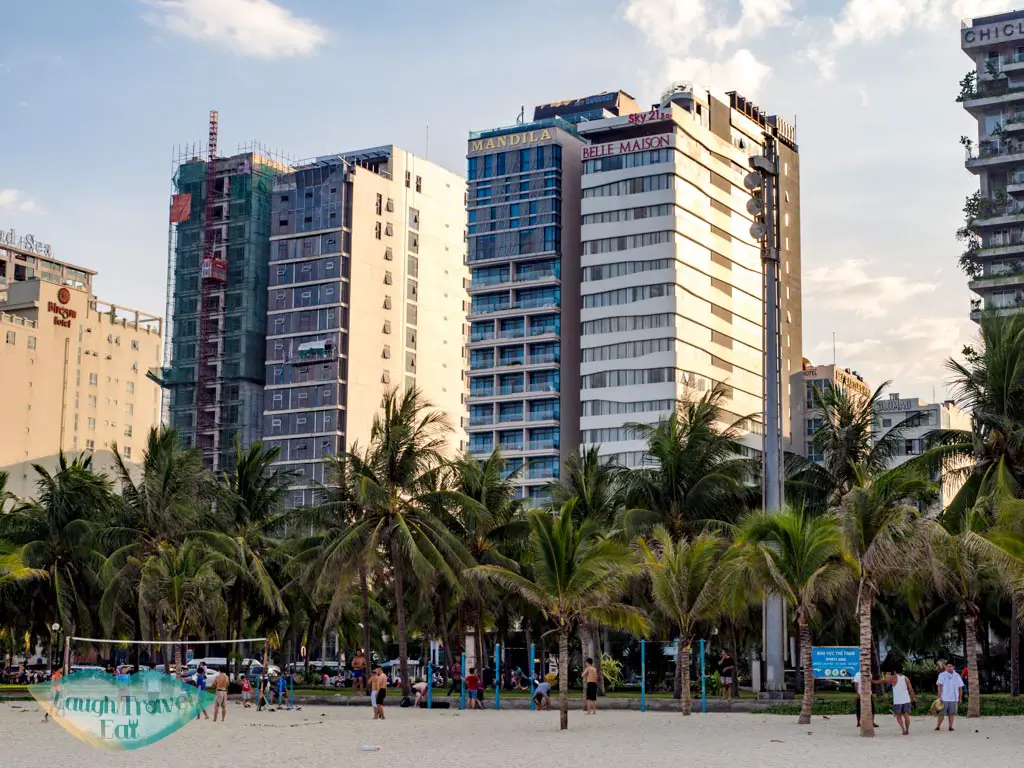 Just across the road from my Khe Beach, Belle Maison Parosand is ideally located by the seafront with a rooftop infinity pool to boast.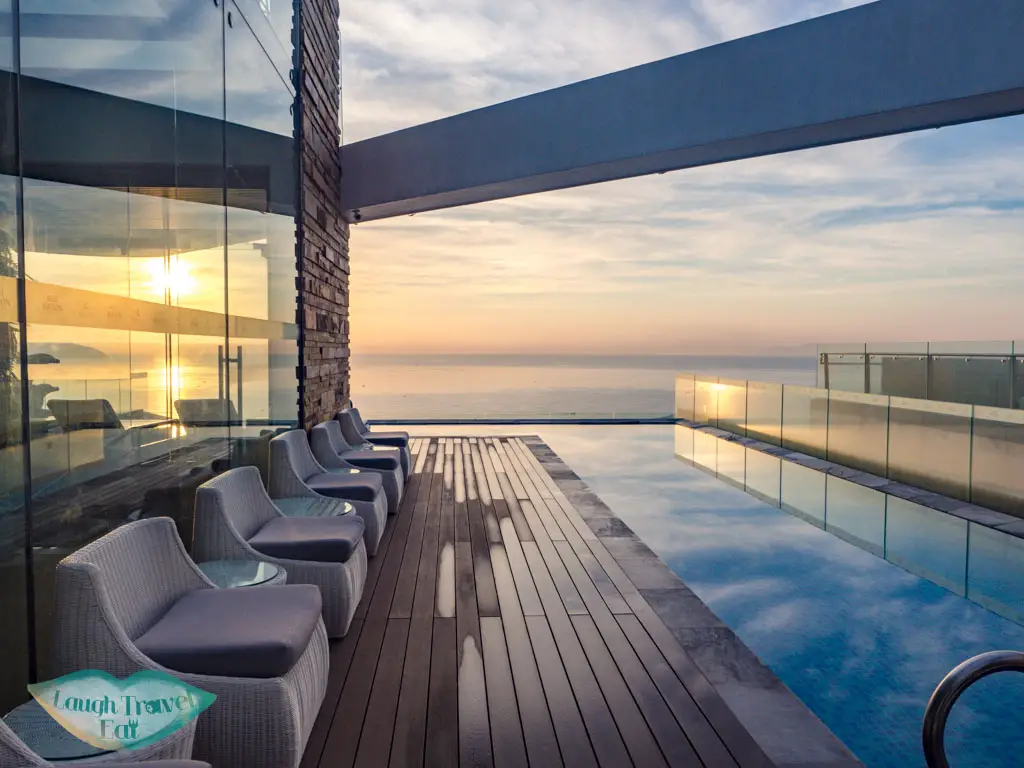 With kind staff, good breakfast, and fast WiFi, there's nothing not to like about it! For a detailed review, read here!
Mid-range/Budget: Sea Wonder Hotel
Situated 2 blocks away from the beach, Sea Wonder Hotel is a decent hotel with basic breakfast provided. The wifi works well, the TV has cable channels and the aircon is great. Although the breakfast time ends a little early (around 8:30), the reception staff has been helpful and it was a good, budget stay – check out its review on bookings.com.
Downtown by Han River
Danang Han River Hotel
Not to be confused with the Han River Hotel, if you want to stay in the center, this hotel was recommended to us by two Korean tourists we met. It's located in the downtown area close to everything, and according to them, they can't fault the hotel. I mean, just have a look at its pool and beautiful decor!*
It certainly would have made my street food hunting life easier!
Danang to Hoi An
If you want to go from Danang to Hoi An, you can easily do so by a taxi. The distance between the two should cost about 350k VND, depending on where you are being picked up and dropped off. I would strongly recommend a metered taxi unless you are going during rush hours.
Alternatively, you can find travel agencies who run minibusses or buses between the two. But since it's a half-hour by taxi, it's much more time efficient!
Book private transfer from Danang to Hoi An here
Danang to other cities
If you have longer in Vietnam or want to extend your trip from Danang, my usual itinerary involves going up to Hue, and then Phong Nha.
Hue – capital of the last dynasty in Vietnam, you can visit the emperors tombs, old citadels, and the infamous abandoned waterpark.
Phong Nha – famous for its beautiful karst mountains and caves, the Phong Nha Caves alone are worth the trip up!
Pin me!

Pin me!
this post contain affiliate links where I get a % sale if you book at NO COST to you.