Last updated on May 14th, 2020 at 10:15 am
Hua Hin is 4 hours from Bangkok and a great alternative to Pattaya for people seeking a beach escape. It makes for a great stop for anyone who wants to head from Bangkok to the southern islands, and it itself makes for a great beach destination, too. However, I'm here for its national parks and while I didn't hit all of them, I made a good dent:

How to go to Hua Hin from Bangkok
By bus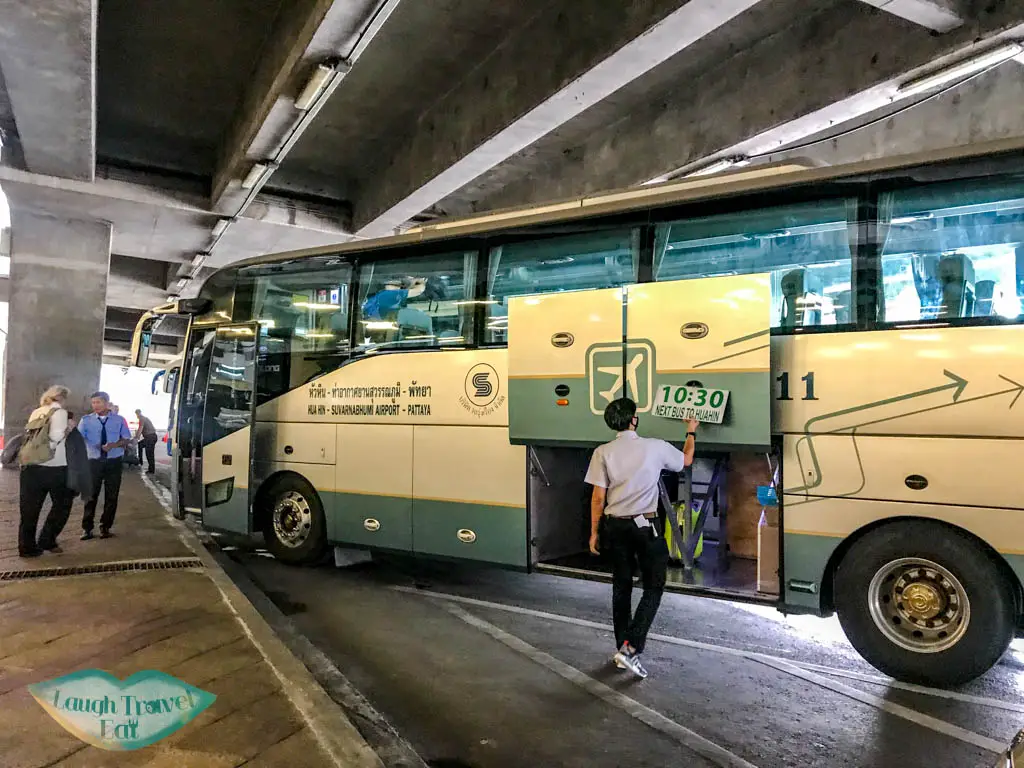 There are two main points for buses from Bangkok to Hua Hin: Khao San Road or the Suvarnabhumi Airport. Unless you are staying in the old town or near Khao San Road, it's easier to get to the airport in my opinion. I was staying in Ratcha and the BTS and Skytrain got me to the airport in half an hour or so.
The bus was surprisingly spacious and comfortable and the 4 hour flew by. That said, we spent almost an hour alone getting out of Bangkok so it's definitely not the best choice if you have limited time.

By train
While slower than bus, train is actually a cheaper option and the rail station in Hua Hin is in the center of town. Trains depart from Hua Lamphong in Bangkok and runs roughly every 1-2 hours and take 4 to 4.5 hours.

By private transfer
If you are in a group, a private transfer directly to and from your accommodation is the fastest way. Especially if you are not near any of the bus or train stations. 
Getting around Hua Hin
Public songthaew
Or wait by the main road to flag down a large green tuk tuk. Be on the right side for your direction.
This website has all the routes listed but I've only personally used the green one.

Green Songthaew Route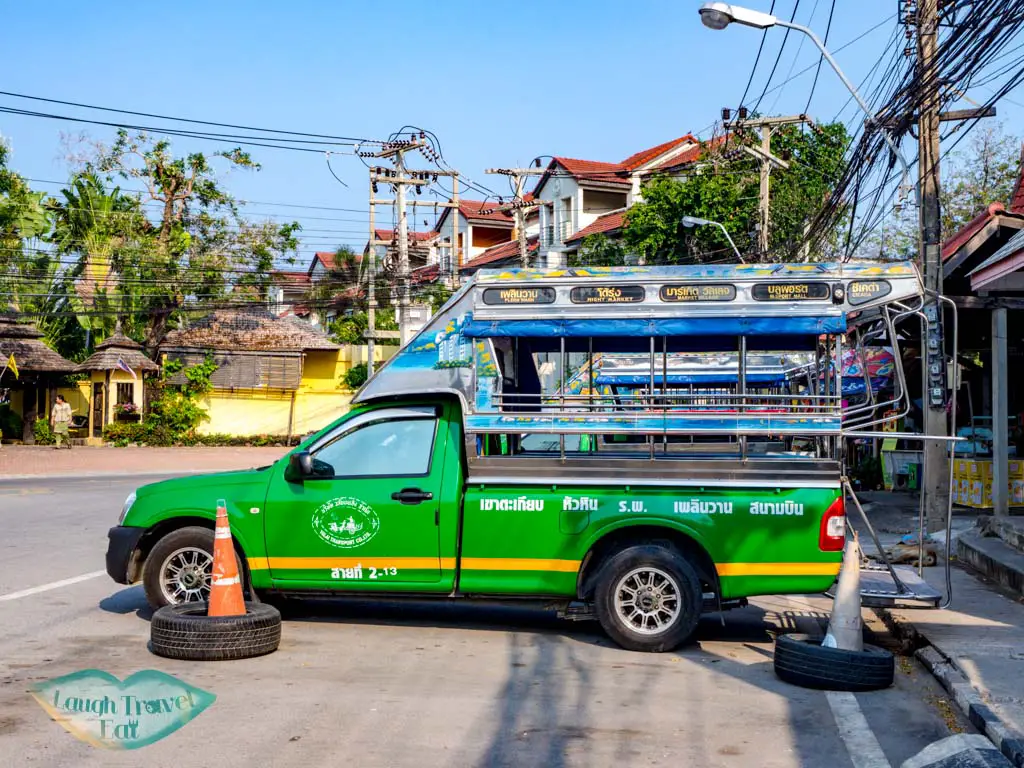 It starts at the nightmarket and ends near Wat Khao Talia. Common places it stops at are by the Market Village and various other malls. It runs around every 15 minutes and you can press the bell on the roof to let the driver know to stop at pretty much any point.

Grab
There is no grab bike, only grab car in Hua Hin. The prices run on the higher end so I would use it when there's nothing else available.
Renting a motorbike or car
If you can drive, renting a motorbike or even a car is the best thing to do in Hua Hin A's distances are quite large.
The roads are flat all around and relatively quiet aside from the highway itself.
Hua Hin Thailand attractions
The below is a list of attractions that I visited over 3 days! You can easily add another one for a beach day. To be honest, I could spend another few days here to explore nearby national park, but as I was on a 4 week trip across Thailand and solo, I decided to save that for next time.
Hua Hin beach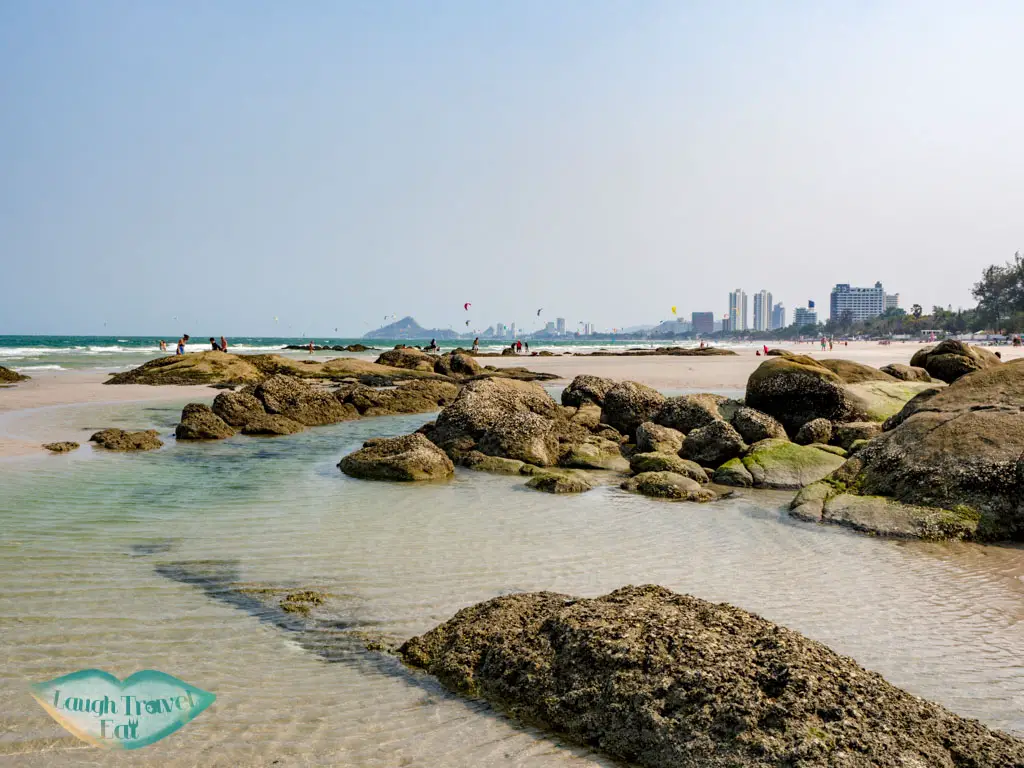 I didn't expect much for the Hua Hin Beach but it was surprisingly beautiful and pleasant. The entire stretch will take you hours to walk down and only the section by the town center is Hua Hin Beach. You can see both ends of the bay with limestone mountains which reminds me of Rio from the photos I have seen.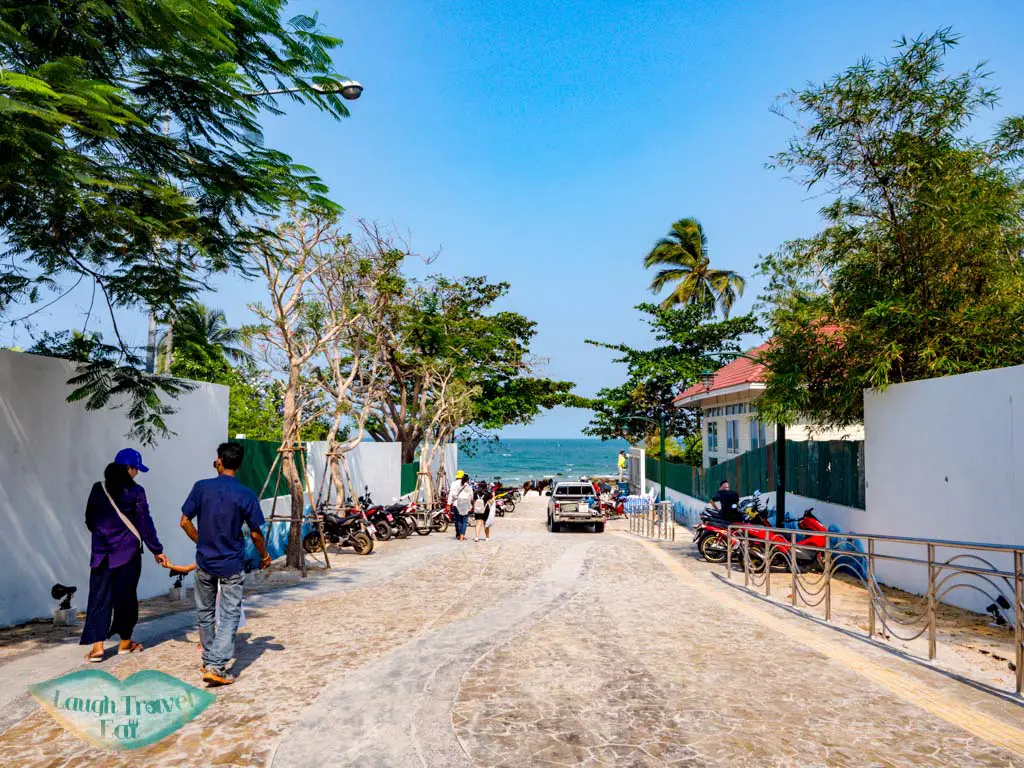 By the Centara entrance to the beach, there is a rock cluster that makes for beautiful photos with small pools of water. Locals with horses stand by the entrance or along the beach and you can ride a horse for photo or fun too.

Note: the beach faces east so it's not good for sunset, only sunrise

Hua Hin Train Station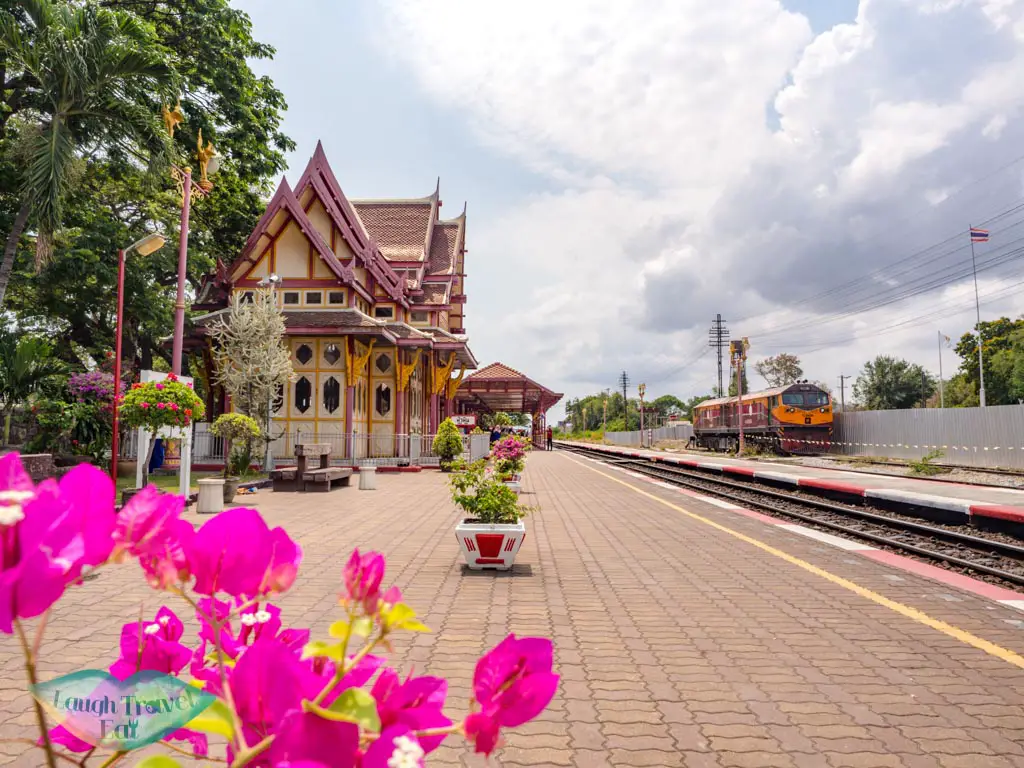 Hua Hin Train station is smaller than expected but the red and beige Thai style pavilion is eye-catching and pretty. It was built and renovated in the 1910s and 1920s with Victorian Style influence. The interior is decorated in tiles and half open air, with many travellers waiting for their train seated around.
There is an old style cafe to the left of the platform and the right side is also good for photos, since most people are hiding from the sun under shade.

Chopstick Hill (Wat Khao Takiap)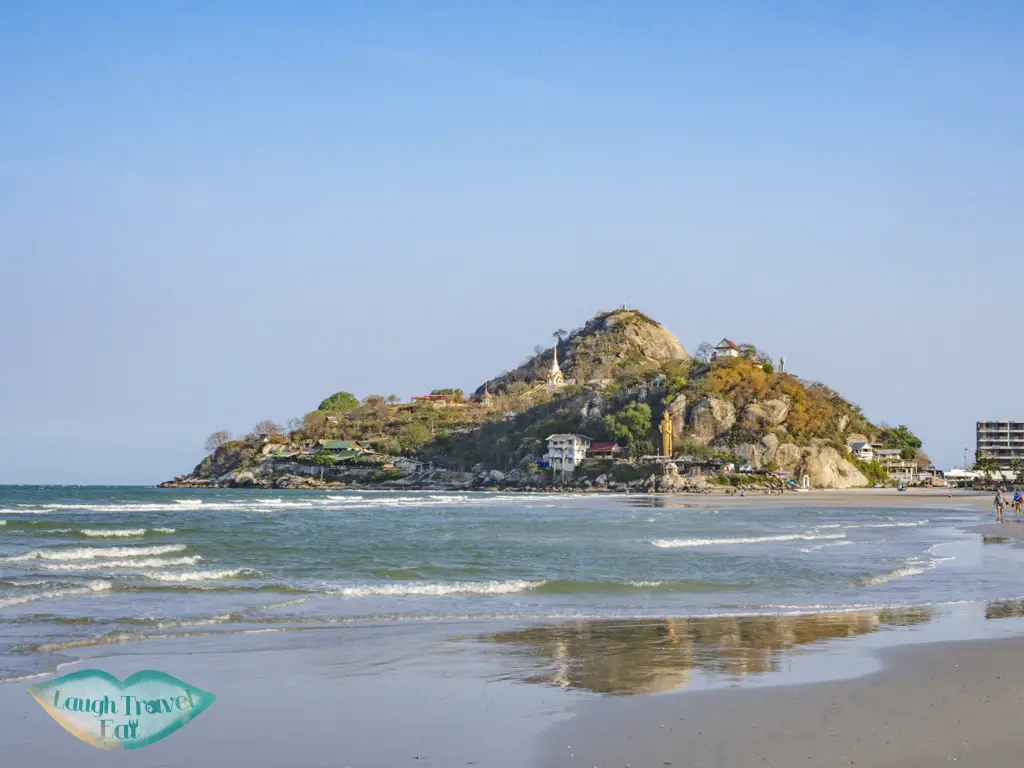 At the southern end of Hua Hin is the Chopstick Hill where Wat Khao Takiap and a giant standing Buddha statue stands.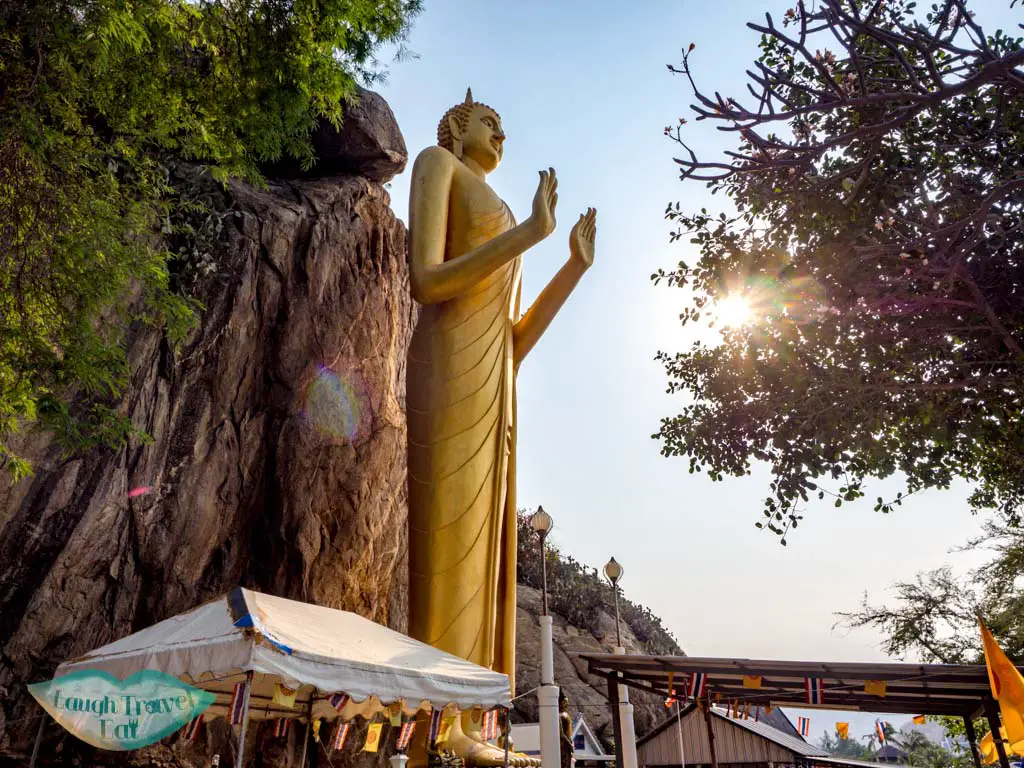 It's over an hour's walk from the city center, so you either have to pay 150 baht from the main town by Grab or take the big green tuk tuk for 10 baht to its end stop. From the end station, go towards the beach and up the flight of stairs to the standing Buddha statue.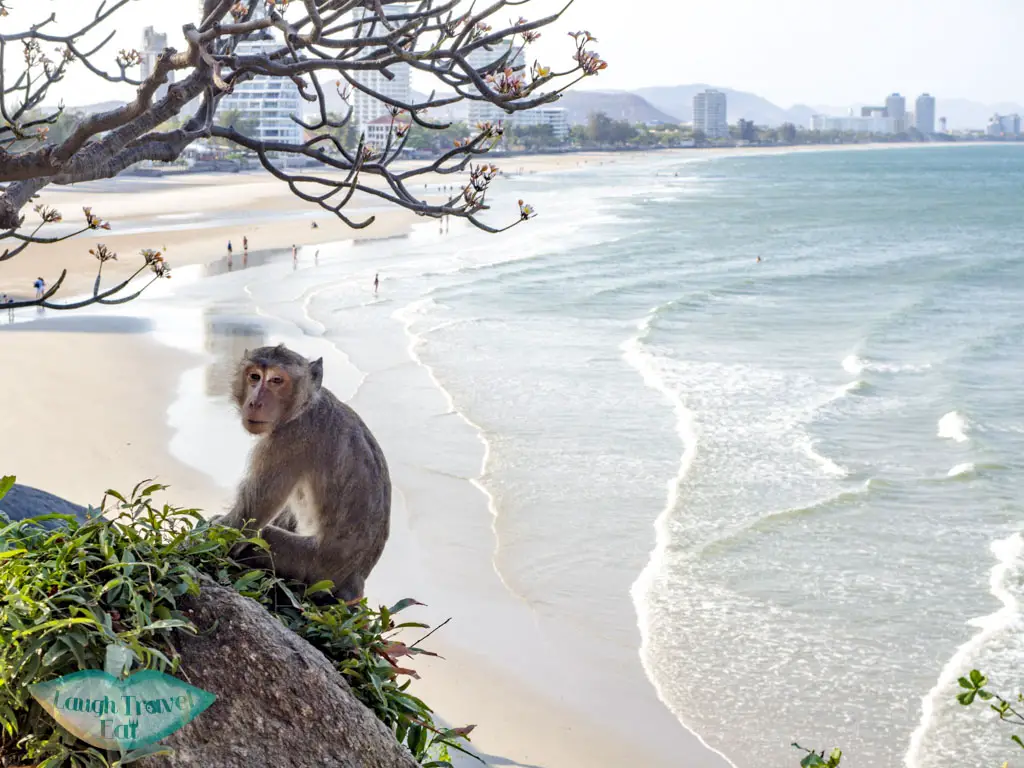 You can also get a great view of the whole coastline of Hua Hin here. Wat Khao Takiap is further on, I recommend continuing on instead of taking the stairs as there are a lot of monkeys up there and one ended up jumping on my back. And it's less easy to get lost in the abandoned complex directly above the stairs.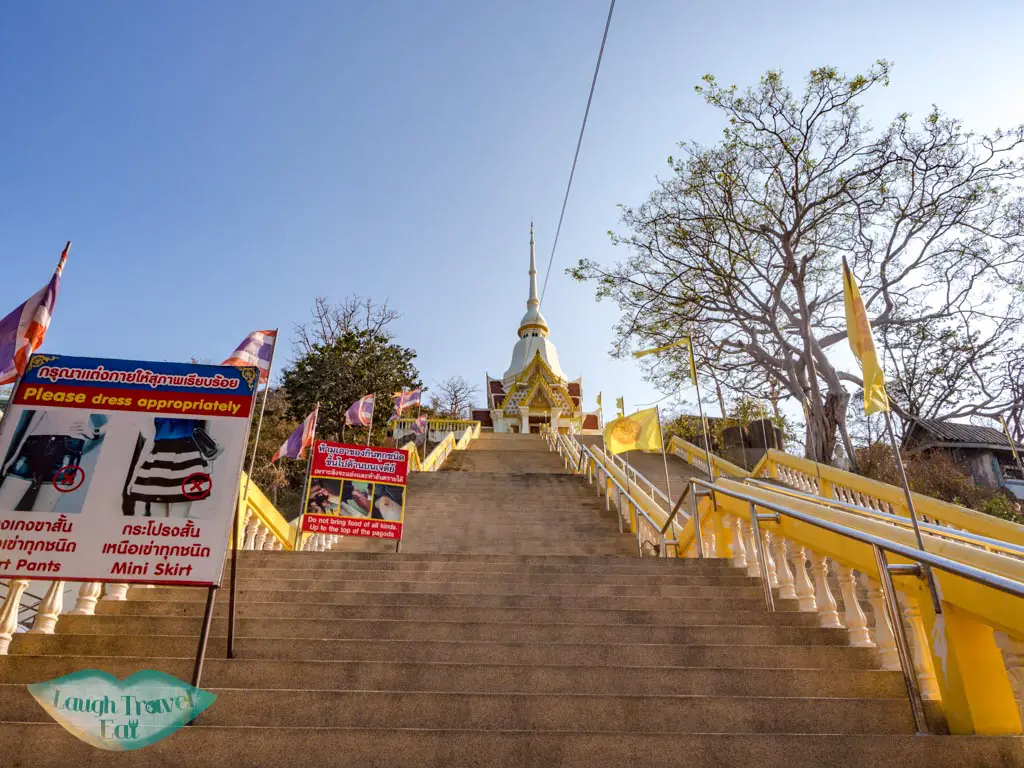 Wat Khao Takiap itself is smaller than expected, a small golden roof temple atop a long flight of stairs. The design is reminiscent of a Nepalese temple with bells circling the shrine in the middle.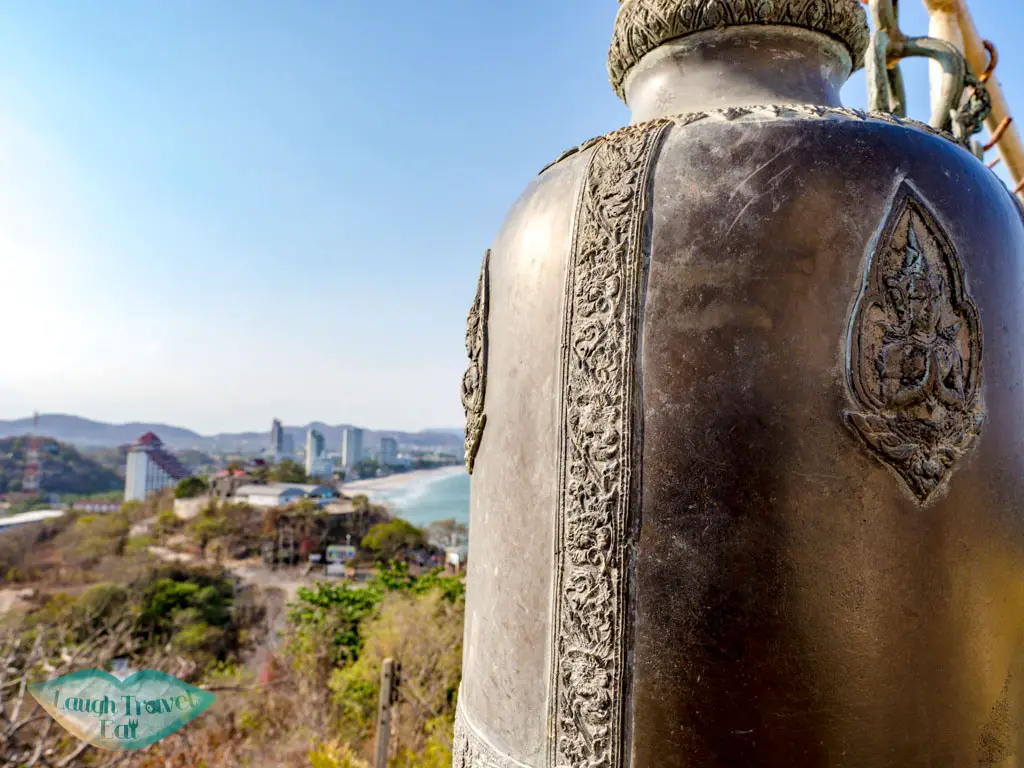 It's free to visit but not particularly interesting in my opinion.

Note: avoid eye contact with the monkeys and wear socks since you have the ascend to the temple barefoot.

Khao Sam Roi Yot National Park
About 30 minutes south of Hua Hin is the Khao Sam Roi Yot National Park.known for its karst caves and mountains, it reminds me of Vang Vieng in Laos and a much smaller version of Ninh Binh in Vietnam. The name means three hundred peaks, a reference to the park's many jagged peaks.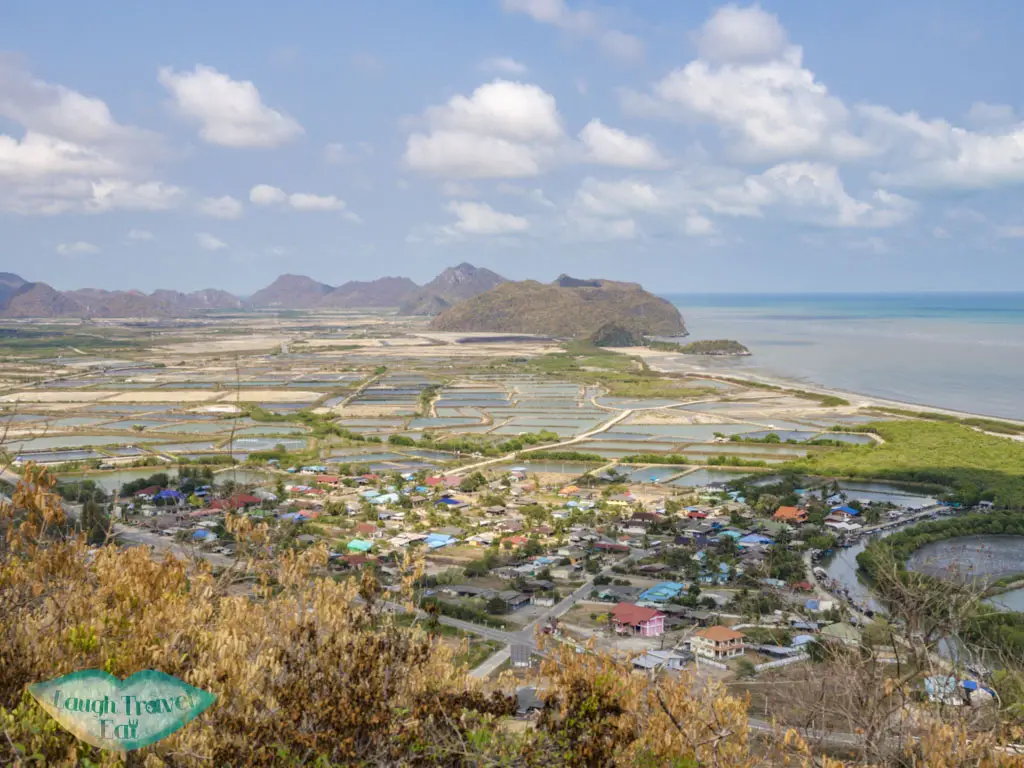 There is no public transport to the national park, so the only option is to either rent your own vehicle or hire a car with a driver. I ended up finding two companions through Instagram and dug around Facebook and found a driver from 9am to 5pm for 1800 baht. That didn't give enough time to visit everything in the national park, so I settled on the top 3: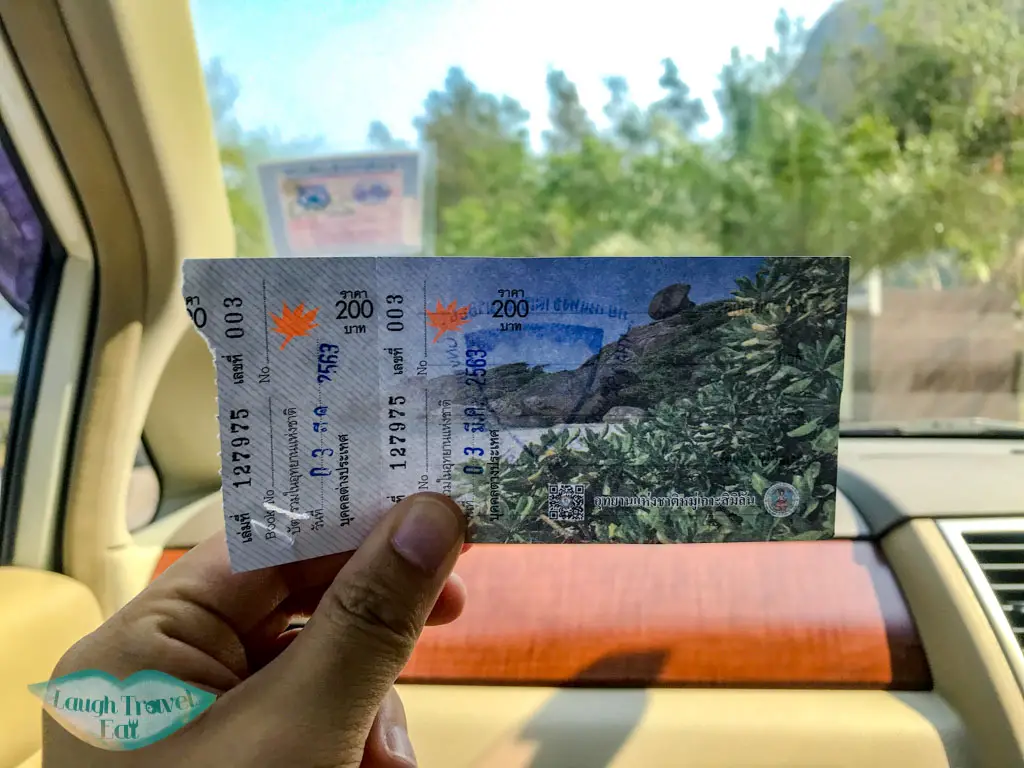 Note: no drone flying is allowed in the national park

Bueng Bua Wood Boardwalk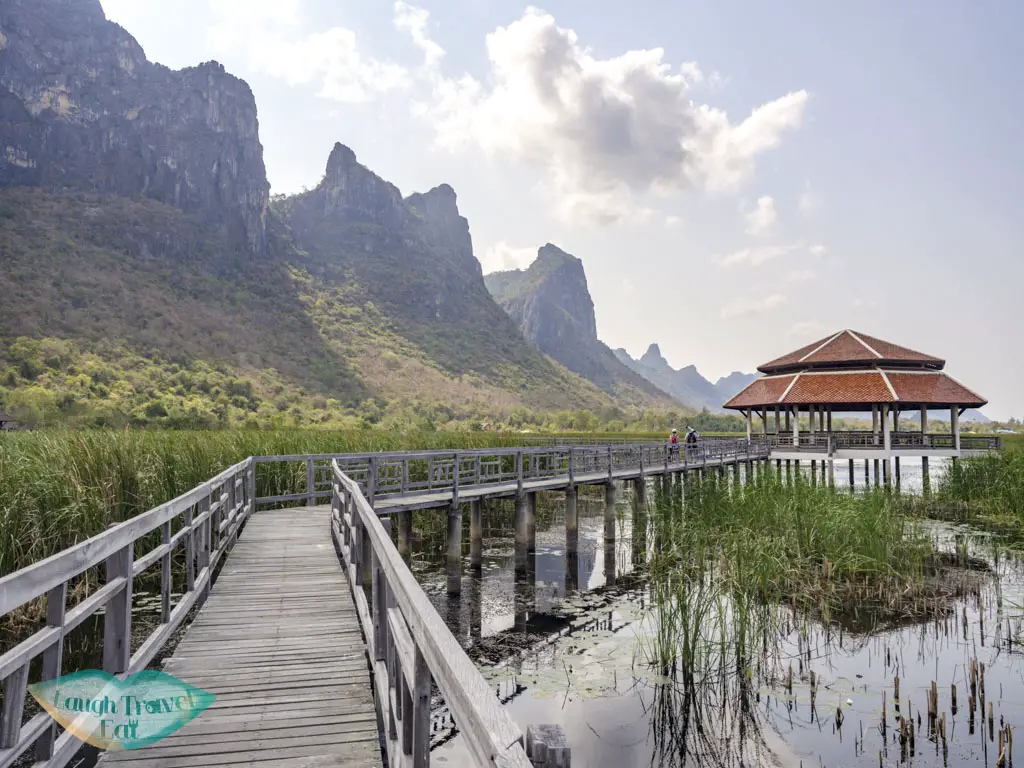 A sea of lotus with a network of wooden boardwalks, the Bueng Bua Wood Boardwalk is a swamp bordered by towering karst mountain on one side and a beautiful sight to behold.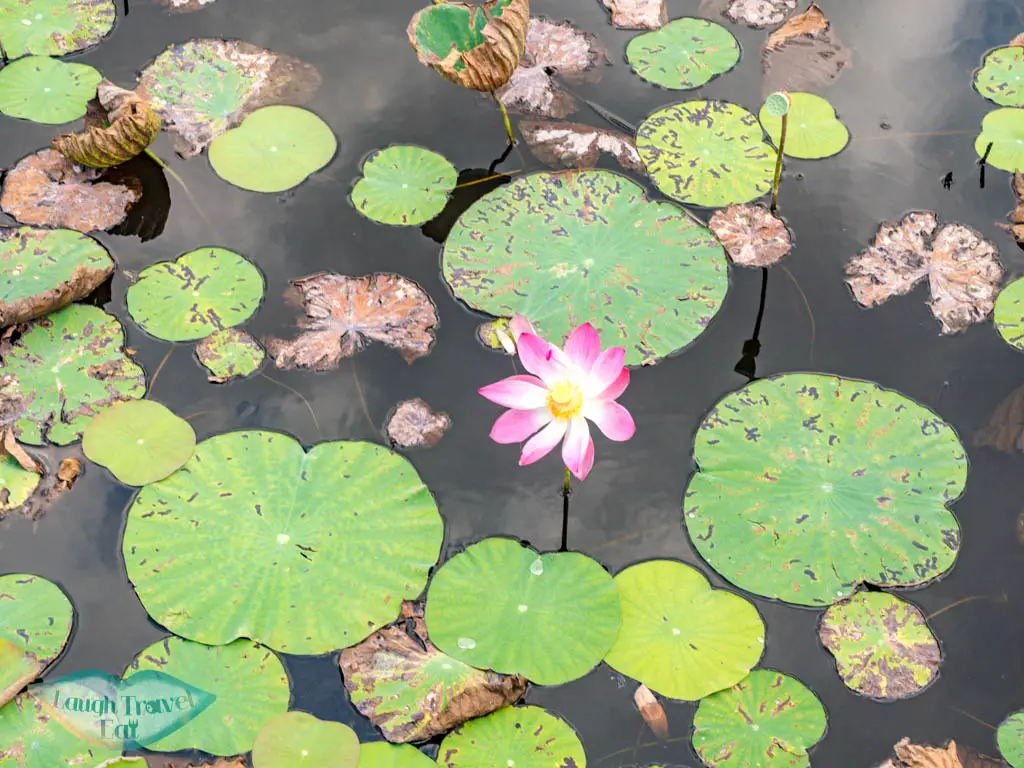 There are boat rides available if you are interested, but going around the boardwalk itself is decent enough. While the boardwalk looks extensive, you can only go about 500m in before a barricade.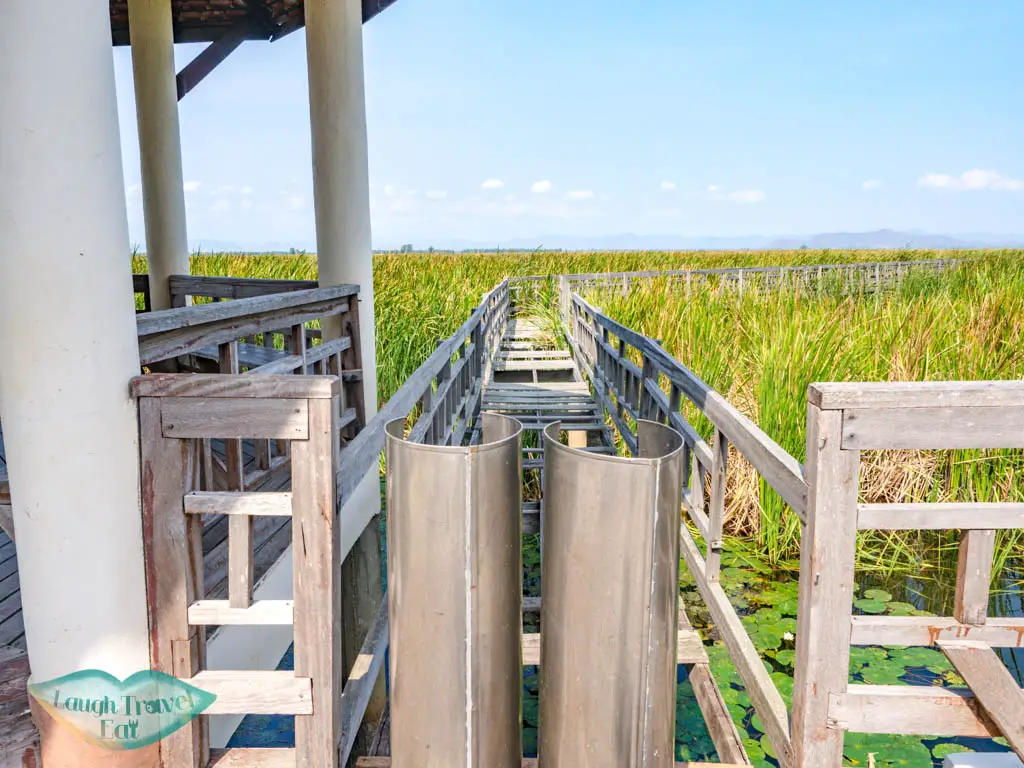 The rest of it appears to be in despair, so we spent around 40 minutes there before heading to the cave.

Phraya Nakhon Cave
The most famous site in the national park is the Phraya Nakhon Cave, discovered 200 years ago by a ruler seeking shelter and subsequently named after him. But it's best known for the temple that sits under a doline in a cave within a cave. 
To get there is no easy task. From the beach where the car park is, you can either hike across the mountain or take a boat to shorten the 30 minutes journey. The trail consists of slippery marble rocks polished by the throngs of locals and tourists paying pilgrimage to the temple.
The boat will shave 20 minutes off the hike but you do have to walk through water to board and disembark the longtail boat. Personally, I think the hike not only saves you money but also offers some good views.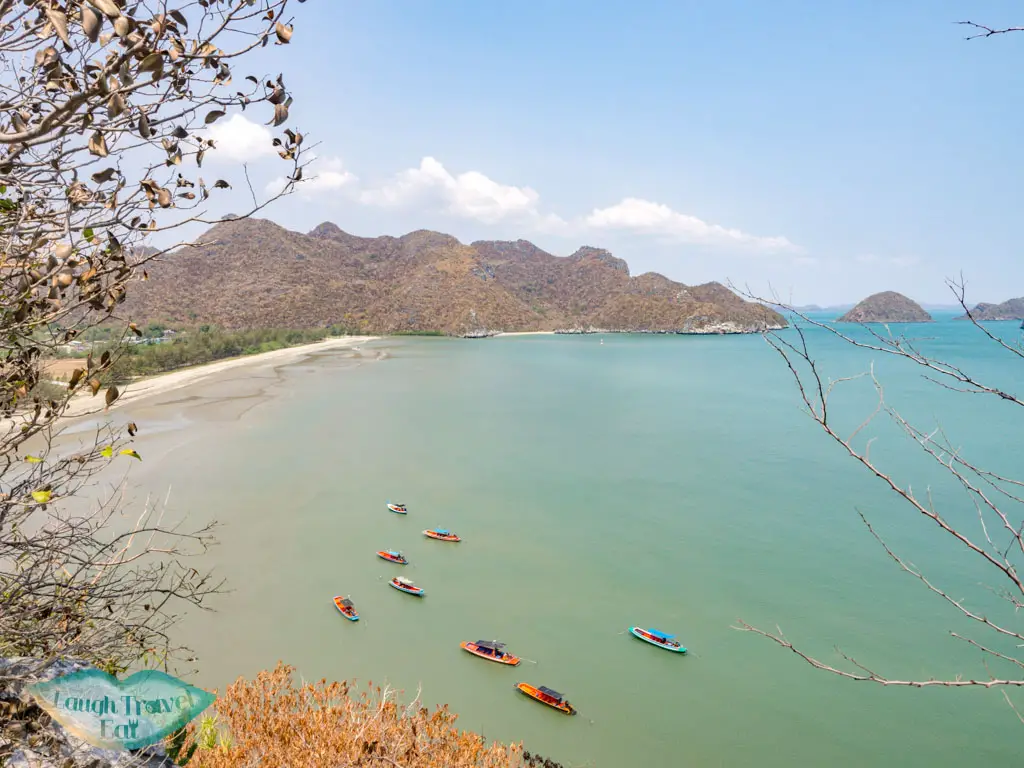 There is a restaurant at the beach as well as holiday huts if you are interested in refreshment or even staying a night here. The trail to the cave continues away from the beach with similar footing as the trail over the hill.
It's best to wear close-toed shoes with good grip but there are people who manage in sandals.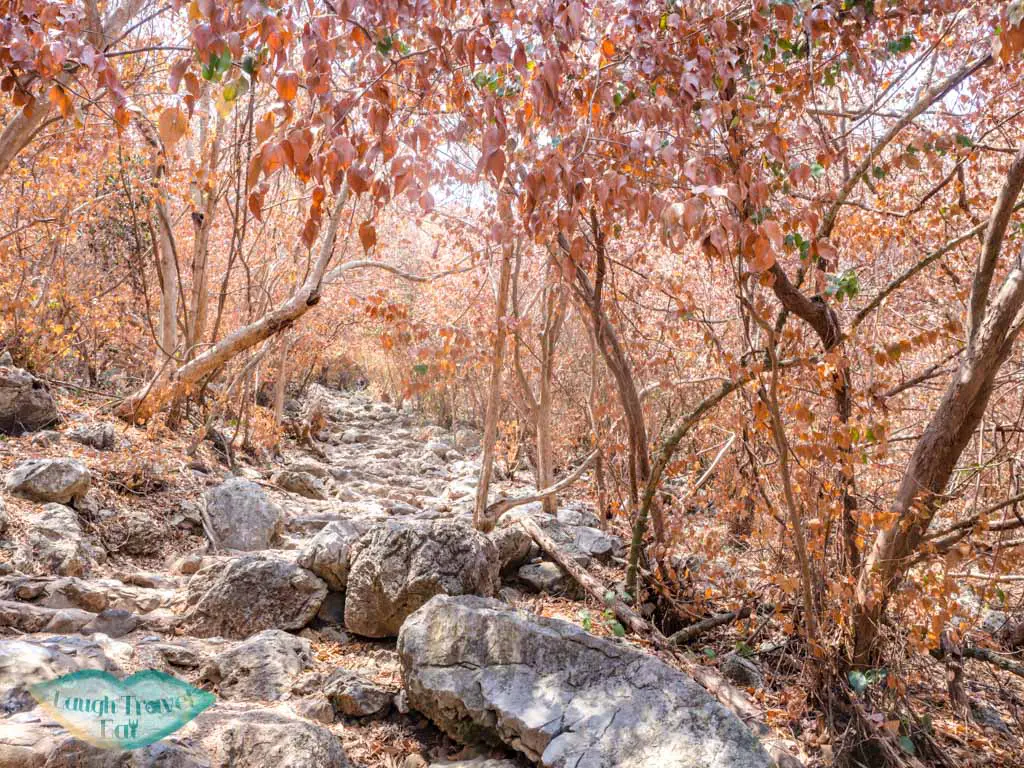 The descend into the first cave is made easier with good stairs and the small forest under the doline lends it an otherworldly air.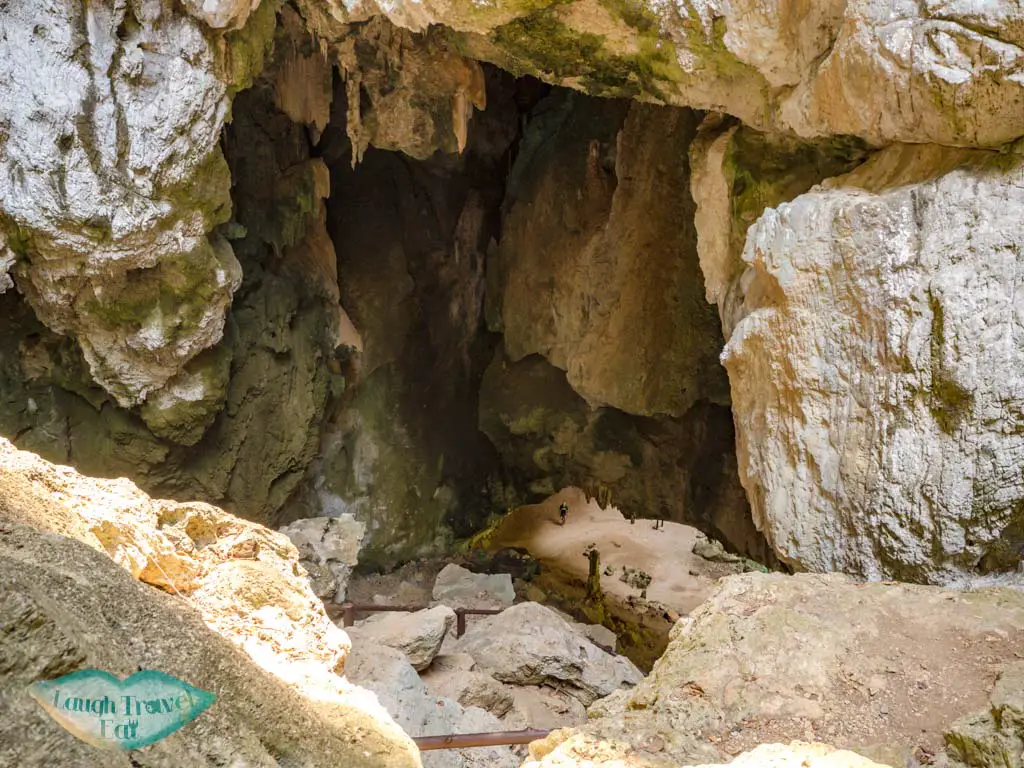 A narrow pass riddled with stalagmites and stalactites to the side would lead you to the temple, or rather the Kuha Kharuehat Pavilion.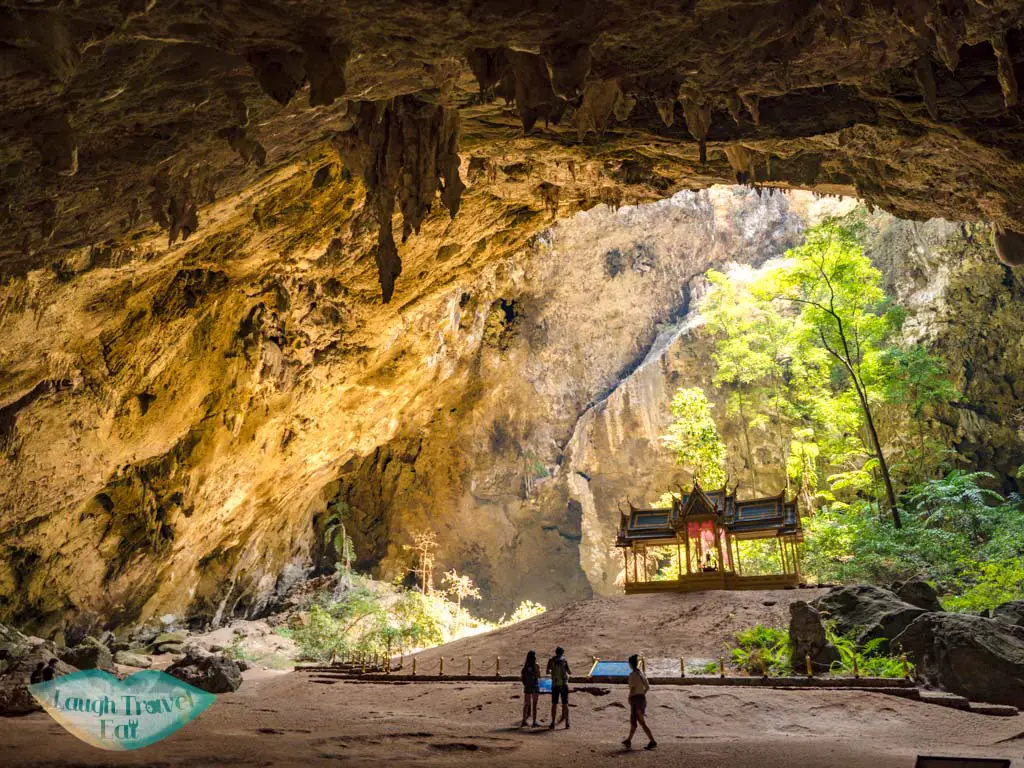 It was built on the order of King Rama V in the 19th century, and consequently visited by Rama VII and Rama IX, all of them leaving their handwriting to the right of the pavilion.
If you visit around midday, the light from the doline shines directly on to the pavilion, giving it an ephemeral glow. However, if you want to avoid the crowd, it's best to visit after. It took us around an hour on the car to get to the cave and another 45 minutes to visit.

Khao Daeng Viewpoint
No national park visit is complete without a viewpoint and Khao Daeng has been on my radar since I saw photos of it on Instagram. It shows a view of the land and sea, of fields and mountains, but not much about the hike itself. As our driver pulled into the parking lot that's well marked on google map, it appeared to be a very small area.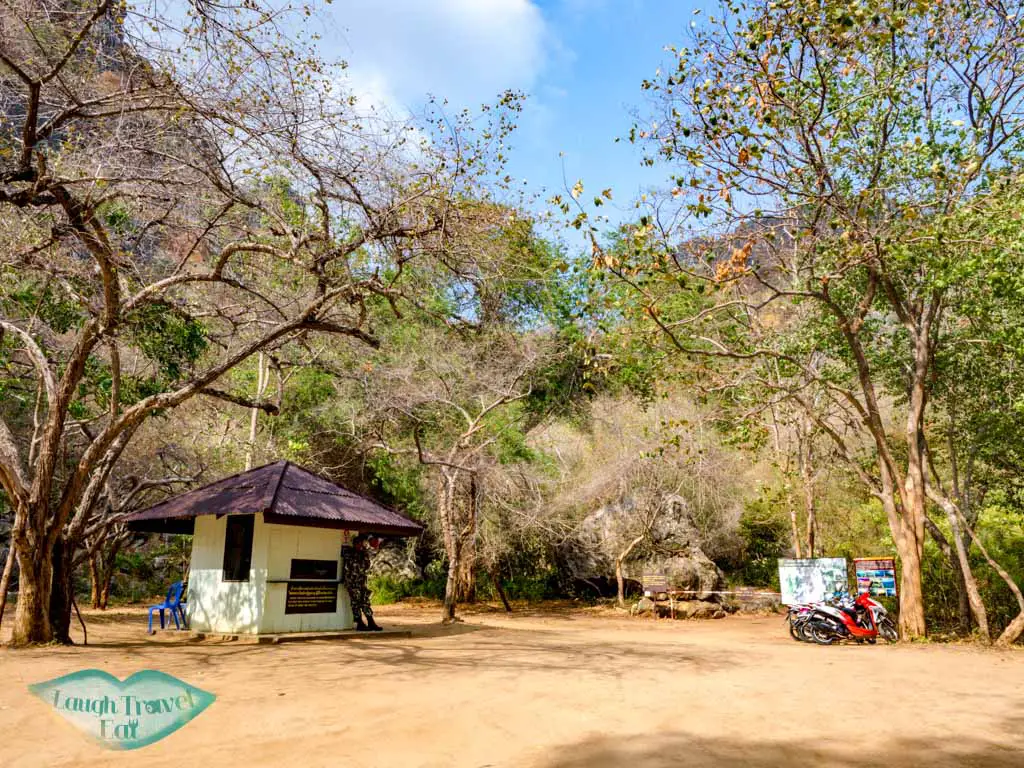 A guardhouse stands in the middle of the lot, who came over to issue a warning on the hike difficulty, as did the other signs around. A small pack of monkeys eyed us from a corner, but otherwise didn't make a move.

To my surprise, the trail, although not as well paved as the one to the cave, is clearly marked and not that difficult. It was, however, steep, and it took us half an hour up to get up. A sign proclaims that it is the Khao Daeng Viewpoint with a sweeping view of the river flowing into the sea and small villages dotted around.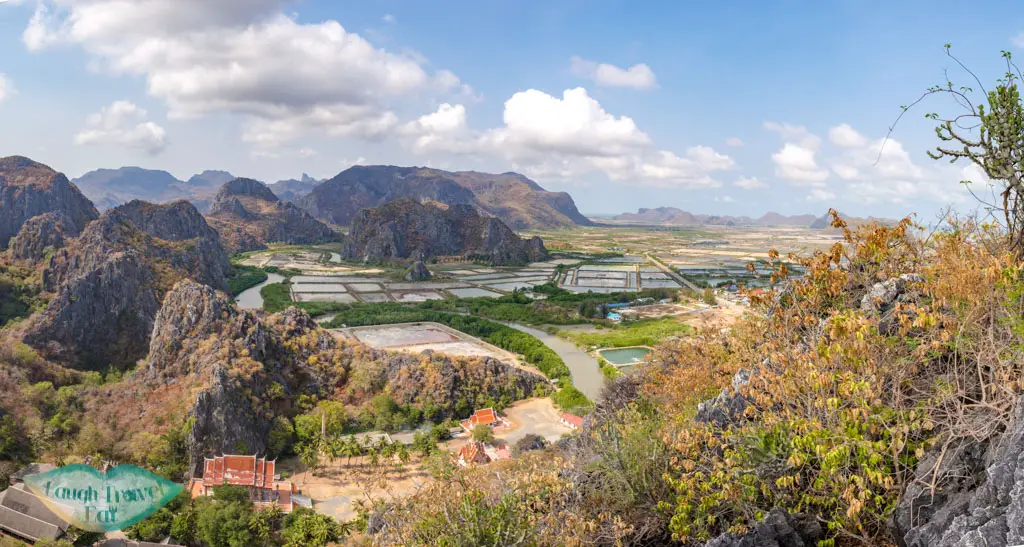 The smaller outcrop on the other side is also beautiful and looks back towards the national park.
While I don't think it's as difficult as advertised, do bring lots of water and wear good shoes as going down is also slippery and no steps.

Where to eat in Hau Hin
Rod Fai Seafood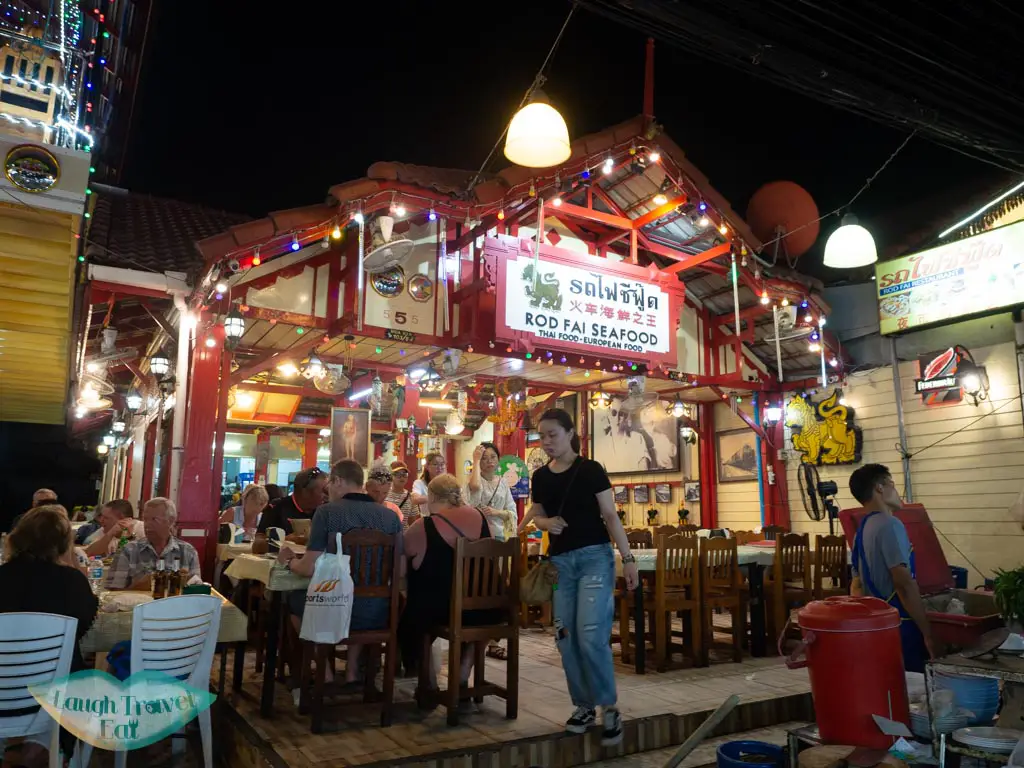 When you are by the seaside, seafood is naturally a must-try. I ended up at Rod Fai twice since it's fuss-free and value for money. There are two restaurants of the same name and this one is not on google map, but one of the many restaurants lined on the north end of the nightly night market.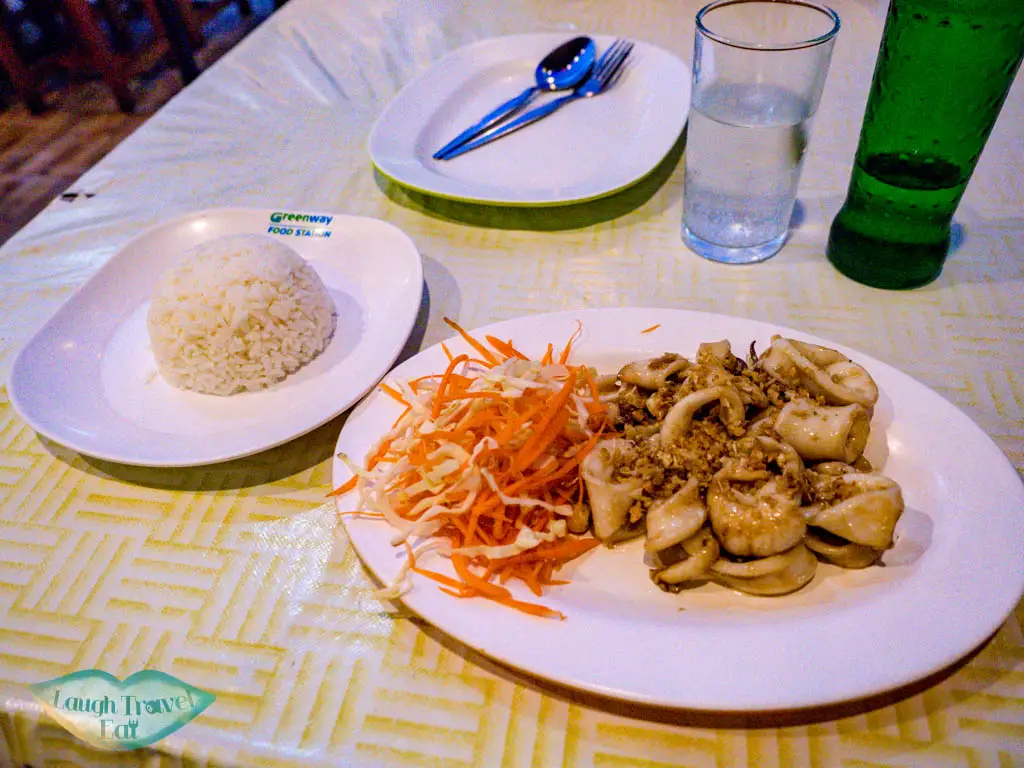 We had soup and two dishes with rice each for 160 baht per person on average. I particularly liked their calamari fried with garlic!

Oraya restaurant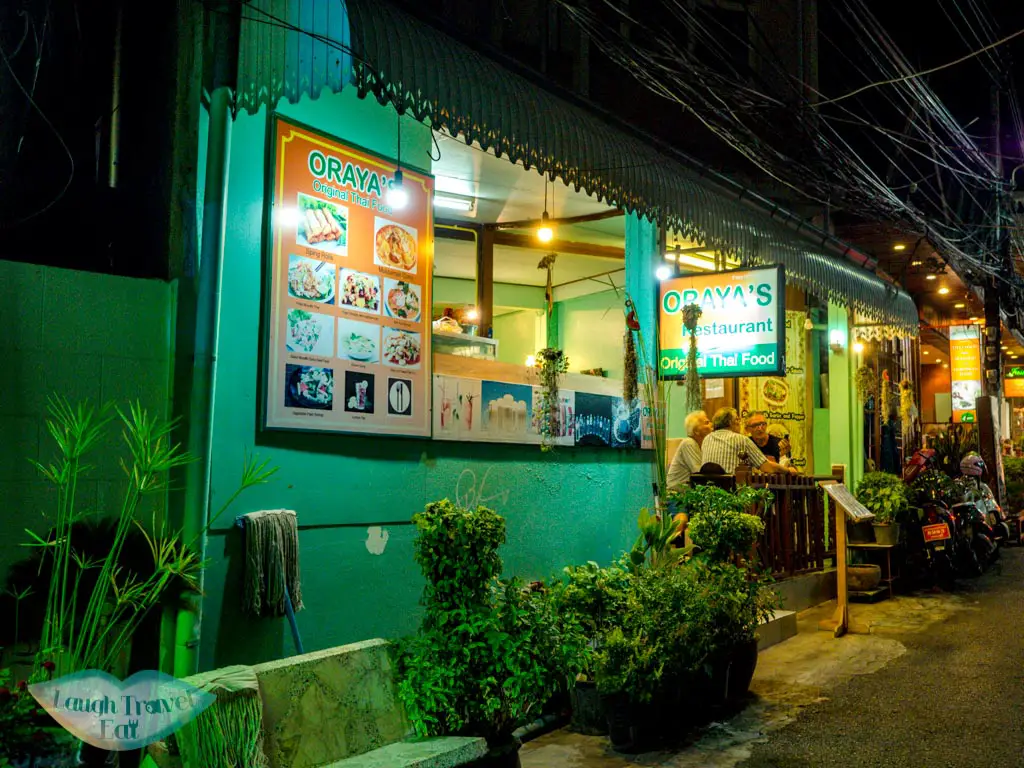 For somewhere more sit-down but still affordable and casual, Oraya is highly rated. It's on a side street near the beach in what resembles a sort-of red light district.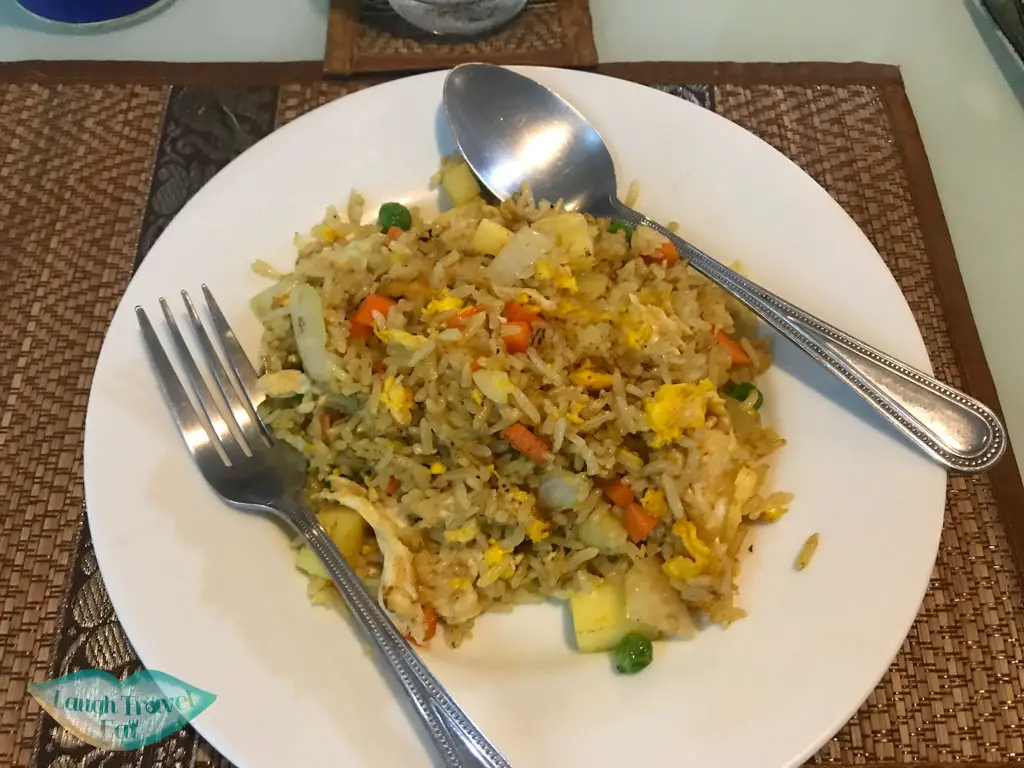 Prices run at average 100 baht per person with decent portion size! I had their pineapple fried rice (with no meat) which was above average.
Address:  23/2 Selakam Alley, Hua Hin, Hua Hin District, Prachuap Khiri Khan 77110, Thailand
Opening times: Mon – Sat 11:00 – 22:00

Fame restaurant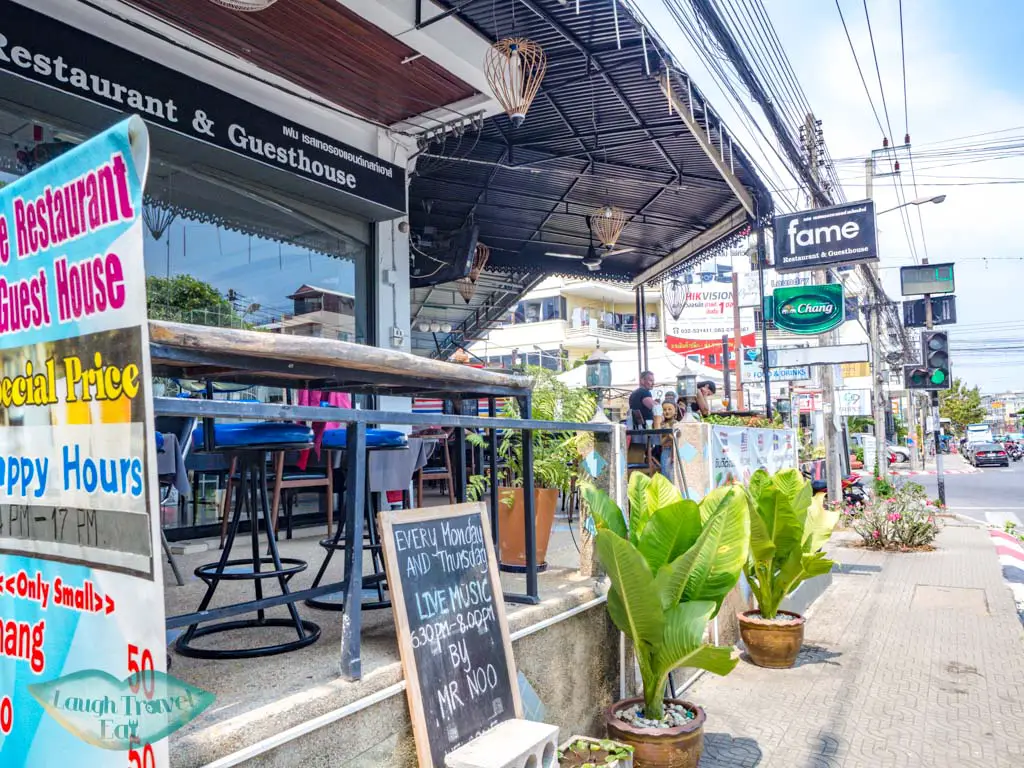 Fancy some western food? I had a great burger with fries and a Fanta for 180 baht at Fame Restaurant. The burger was a little salty but otherwise good. They have an outdoor seating area as well as indoor seating and faces one of the busier roads in Hua Hin, so a good spot for people watching.
Address:  Hua Hin, Hua Hin District, Prachuap Khiri Khan 77110, Thailand
Opening times: 8:30 – 23:30

Sip it cafe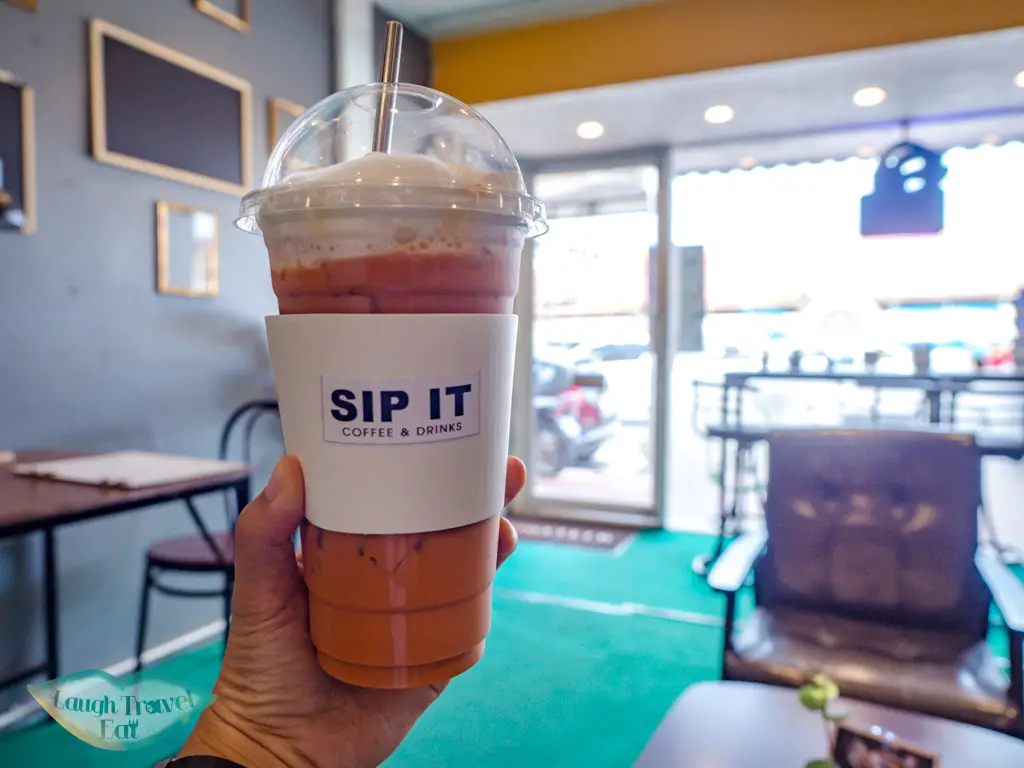 I came across Sip It Cafe on my way back to my hostel during a really hot day. A thai milk tea was exactly what I needed so I ducked into the quaint vintage-western style cafe for one. It's only 40 baht and it's air conditioned inside!
Address: 92 2 Petchkasem Rd, Hua Hin, Hua Hin District, Prachuap Khiri Khan 77110, Thailand
Opening times: 9:00 – 21:00

Night market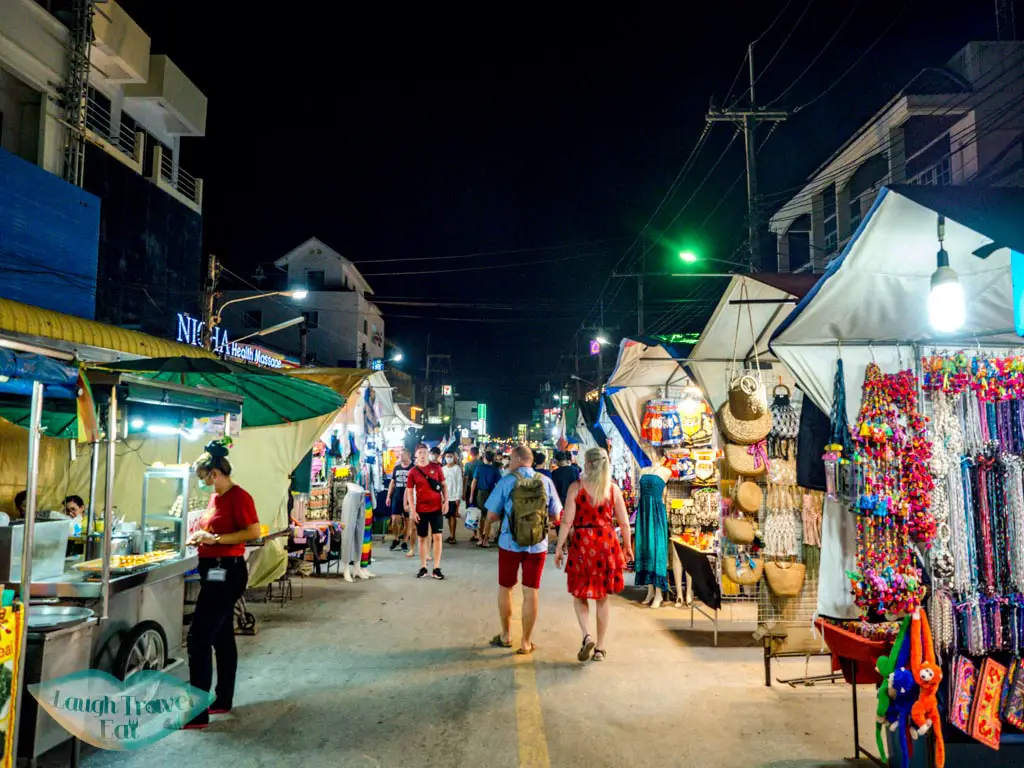 There is a daily night market north of the mainroad diagonally across from the clock tower where you can find many snacks. An original-flavoured roti starts at 15 baht and you'll also find pancake, ice cream, and other stir fried food for cheap.
I often grab a roti if I'm not full from dinner or was in need of a snack.

Massage in Hua Hin
Ava Massage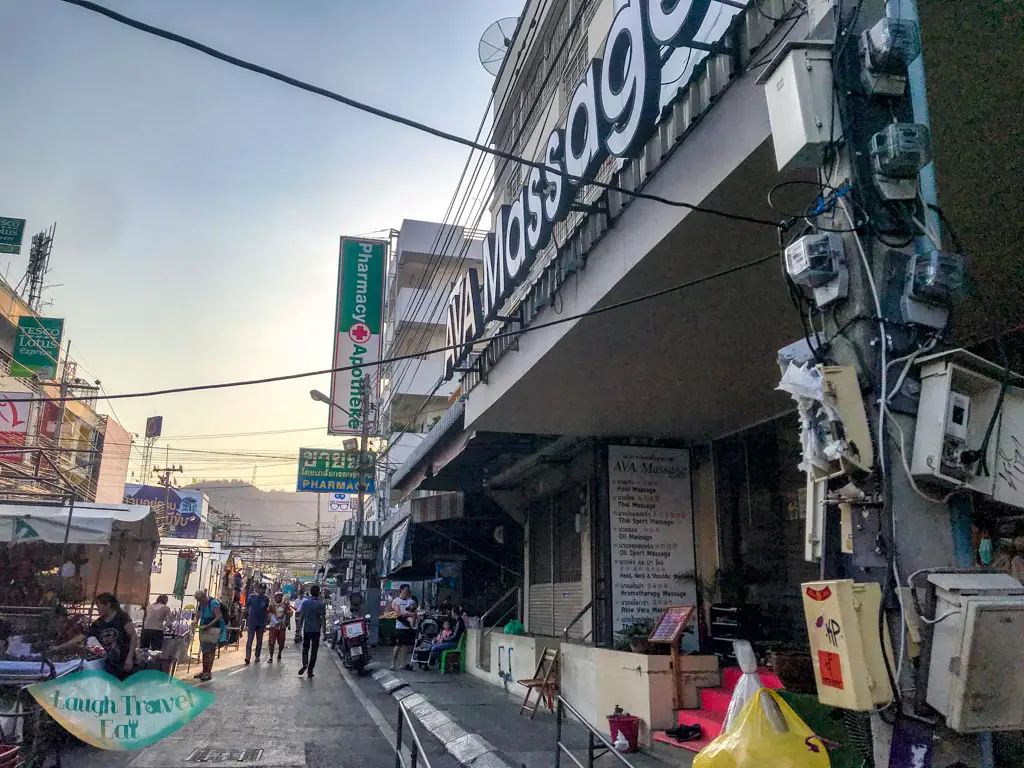 By far one of the best foot massages I've had, Ava Massage is one of the many massage shops lining the night market street. I ended up choosing it because it has a better decorated interior than the others.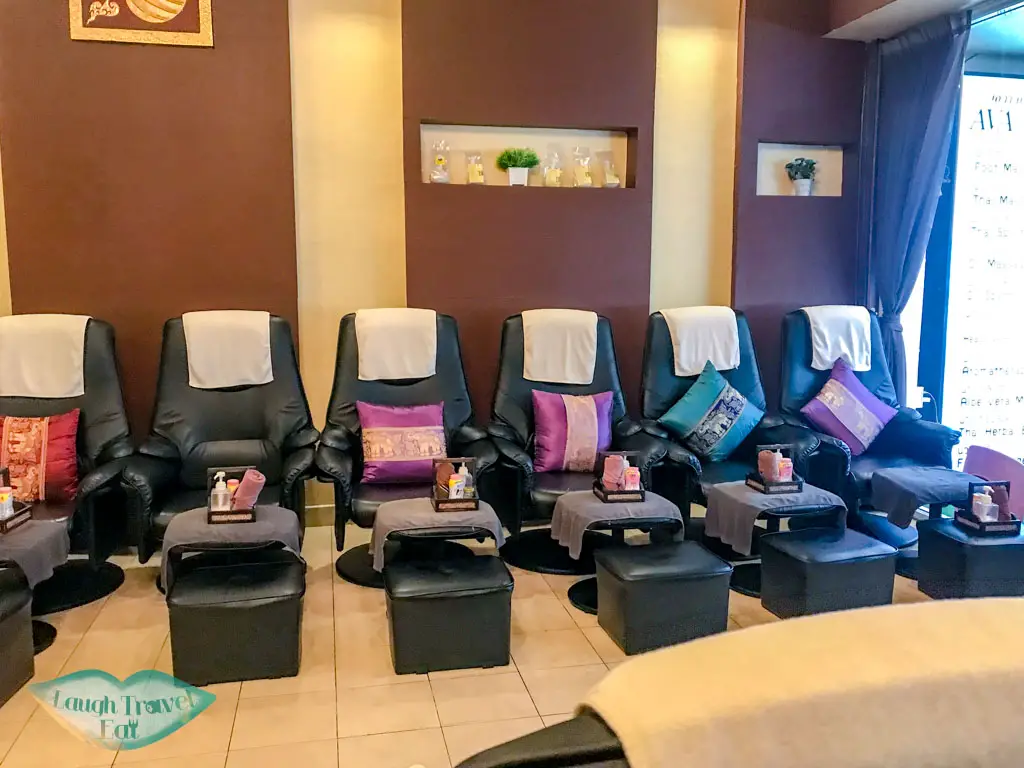 For 200 baht, it's definitely value for money.

Where to stay in Hua Hin
Budget to Midrange:
I stayed at the Moon Hostel, which is right by the clock tower. The facilities are good and clean, but the vibe is not very friendly. The day receptionist was better, but the night one was mostly preoccupied by her phone. The signs around are all warning and fines, which didn't add to it being welcoming. There's also no lift/elevator, but there's 4 floors so you would have to carry your luggage up. 
A non-dorm choice is EU – Bakery Guesthouse, which also has no lift but is otherwise highly rated for its spacious and clean room. Anchan Hotel & Spa is another great choice but it is nearer to the nightlife which means it doesn't get quiet until after 1am.

Splurge
Hua Hin Marriott Resort and Spa has its own space near the center and beach with a spa and a pool. Another nearby choice is Hilton Hua Hin Resort & Spa with similar facilities.