Are you wondering what to do in Hua Hin? Hua Hin is 4 hours from Bangkok and a great alternative to Pattaya for people seeking a beach escape. It makes for a great stop for anyone who wants to head from Bangkok to the southern islands. However, I'm here for its national parks and while I didn't hit all of them, I made a good dent:
(You can skip straight to the end for a suggested Hua Hin itinerary):
How to go to Hua Hin from Bangkok
Wondering how to get to Hua Hin? Most people looking to get there would do so from Bangkok, though you can also travel up from the south and make a stop there. Hua Hin has its own airport, but it mostly serviced flights from Kuala Lumpur, Chiang Mai, and Udon Thani.
I like to book my transfer using 12GoAsia because it saves me from using cash and also allows me to book well in advance and not through my hostel.
Bangkok to Hua Hin Distance
The driving distance between Bangkok to 198.7 km. It takes around 2 hours and 36 minutes but in reality the driving time is often longer due to traffic, especially when exiting Bangkok city.
Bangkok to Hua Hin by Bus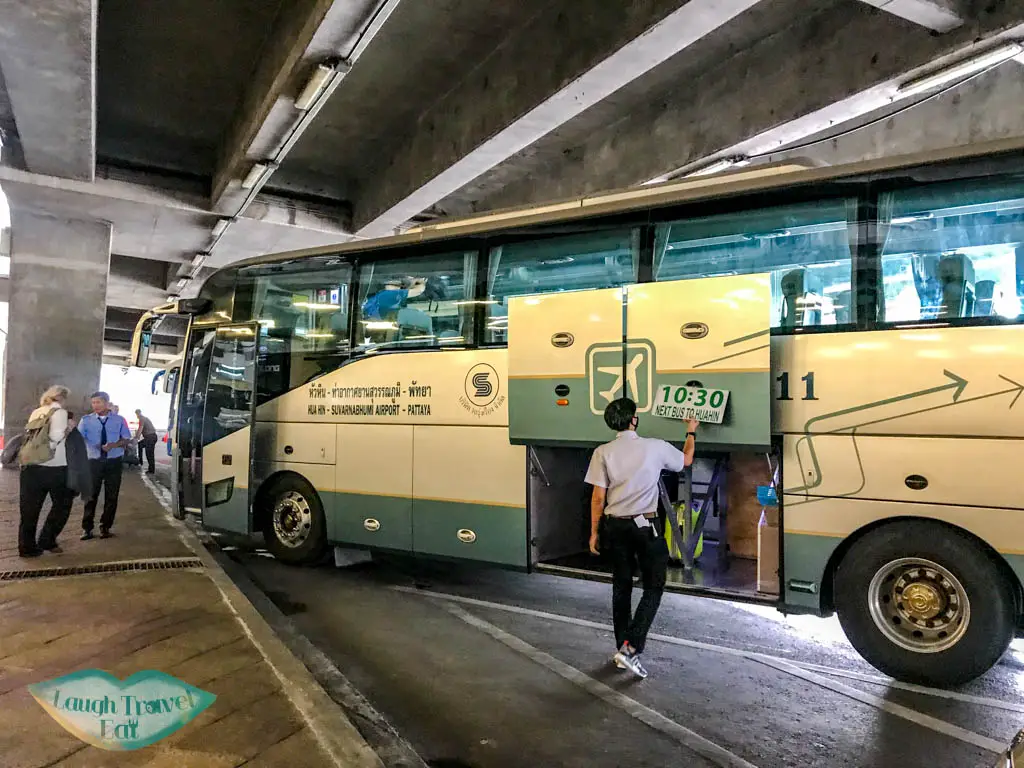 There are two main points for buses from Bangkok to Hua Hin: Khao San Road or the Suvarnabhumi Airport. Unless you are staying in the old town or near Khao San Road, it's easier to get to the airport in my opinion. I was staying in Ratcha and the BTS and Skytrain got me to the airport in half an hour or so.
The bus was surprisingly spacious and comfortable and the 4 hour flew by. That said, we spent almost an hour alone getting out of Bangkok so it's definitely not the best choice if you have limited time.

Bangkok to Hua Hin Train
While slower than bus, the train is actually a cheaper option and the rail station in Hua Hin is in the center of town. Trains depart from Hua Lamphong in Bangkok and run roughly every 1-2 hours and take 4 to 4.5 hours.
Bangkok to Hua Hin minibus
The minibus options for Bangkok to Hua Hin gives you more departure time option but it's known to be more cramped. It's less suited for those with big luggage. You can set off from Ekkamai, Asoke, or Mochit.
Bangkok to Hua Hin Taxi
If you are in a group, a private transfer directly to and from your accommodation is the fastest way. Especially if you are not near any of the bus or train stations. 
Driving Bangkok to Hua Hin
If you're a confident driver and prefer to make your trip from the capital by self-drive. It's likely going to take 4 hours accounting for traffic. You'll find better deals renting a car in Hua Hin locally, otherwise, it's probably easiest in terms of pick up and driving to do it at the airport.
Getting around Hua Hin
Hua Hin has a very simple layout of a city linear to the beach on either side of a main road. However, it has very limited public transport options with no grab bike, only grab car available. Getting a grab is also not the easiest so the best option is to rent a car or motorbike, or plan to hang out by the beach, or join day tours.
Here is a guide on getting around Hua Hin:
Hua Hin Songthaew Route
Or wait by the main road to flag down a large green tuk-tuk. Be on the right side of your direction.
This website has all the routes listed but I've only personally used the green one.

Green Songthaew Route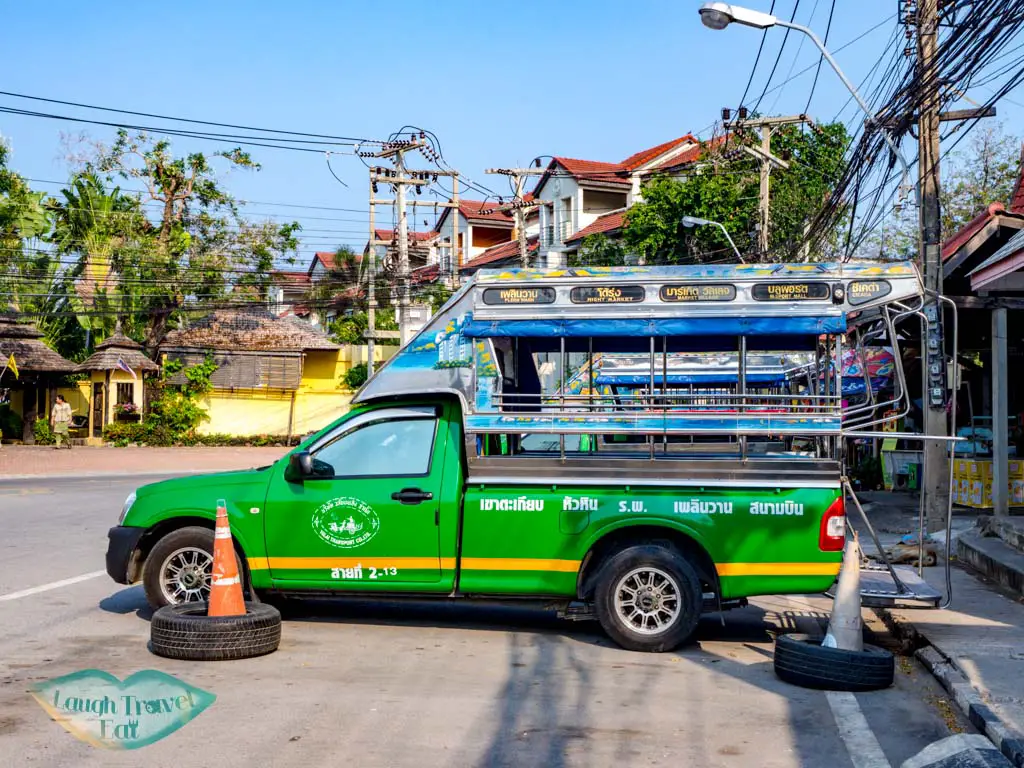 It starts at the night market and ends near Wat Khao Talia. Common places it stops at are by the Market Village and various other malls. It runs around every 15 minutes and you can press the bell on the roof to let the driver know to stop at pretty much any point.

Renting a motorbike or car
If you can drive, renting a motorbike or even a car is the best thing to do in Hua Hin as distances are quite large.
The roads are flat all around and relatively quiet, aside from the highway itself.
If you want a better car, it's advisable to book early. Easy Car Rental Hua Hin is well rated and reviewed.
We ended up renting through a street side rental place and the car was pretty dated and ate a lot of gas. But when the handle broke from age/overuse it wasn't charged on us so overall it was a good experience.
We paid 3000 baht to rent a car for 2 days at Mr.Wichai Bicycle & Motorbike for rent. He stays open quite long and is a friendly guy.
Grab
There is no grab bike, only grab car in Hua Hin. The prices run on the higher end so I would use it when there's nothing else available.
Renting a motorbike or car
If you can drive, renting a motorbike or even a car is the best thing to do in Hua Hin A's distances are quite large.
The roads are flat all around and relatively quiet aside from the highway itself.
What to do in Hua Hin Thailand
There are quite a few places to visit in Hua Hin, as well as around it. I'll start with the Hua Hin attractions and make my way down with increasing distance.
Hua Hin Thailand attractions
Hua Hin beach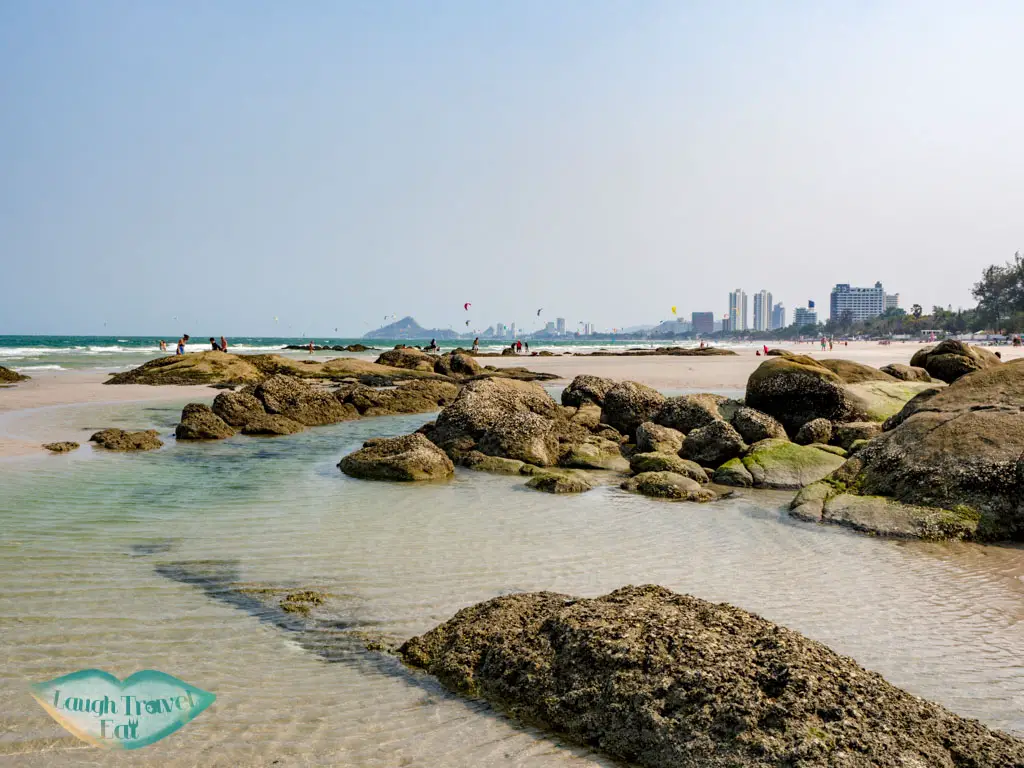 I didn't expect much for the Hua Hin Beach, but it was surprisingly beautiful and pleasant. The entire stretch will take you hours to walk down, and only the section by the town center is Hua Hin Beach. You can see both ends of the bay with limestone mountains, which reminds me of Rio from the photos I have seen.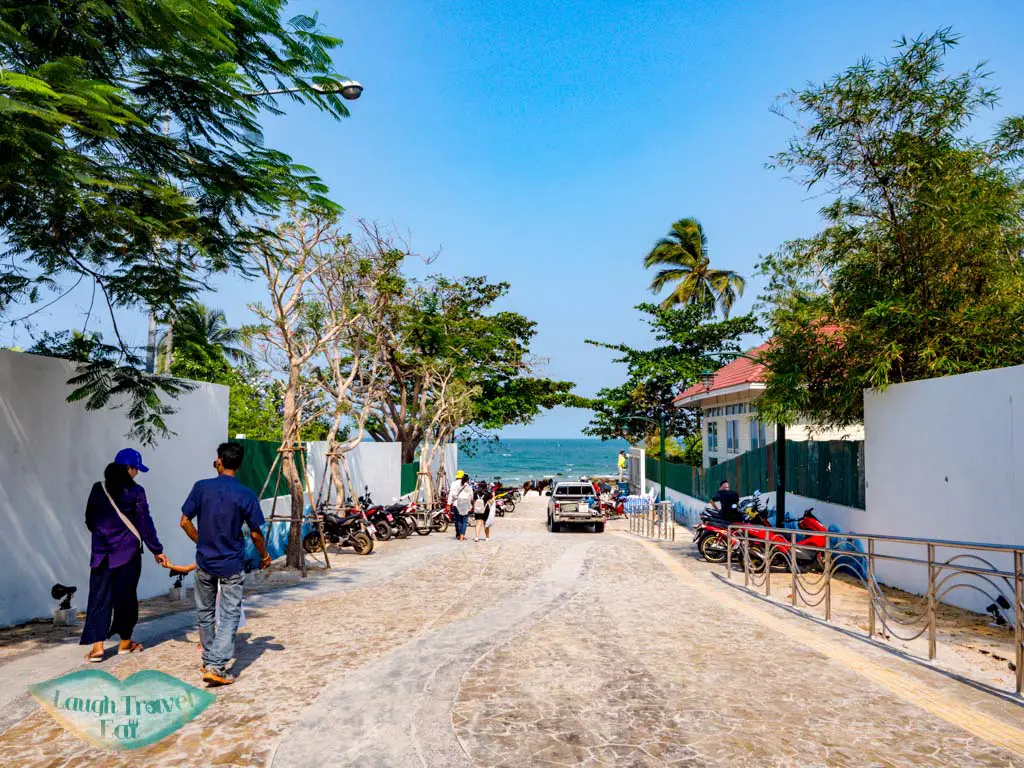 By the Centara entrance to the beach, there is a rock cluster that makes for beautiful photos with small pools of water. Locals with horses stand by the entrance or along the beach and you can ride a horse for photos or fun too.

Note: the beach faces east so it's not good for sunset, only sunrise

Hua Hin Train Station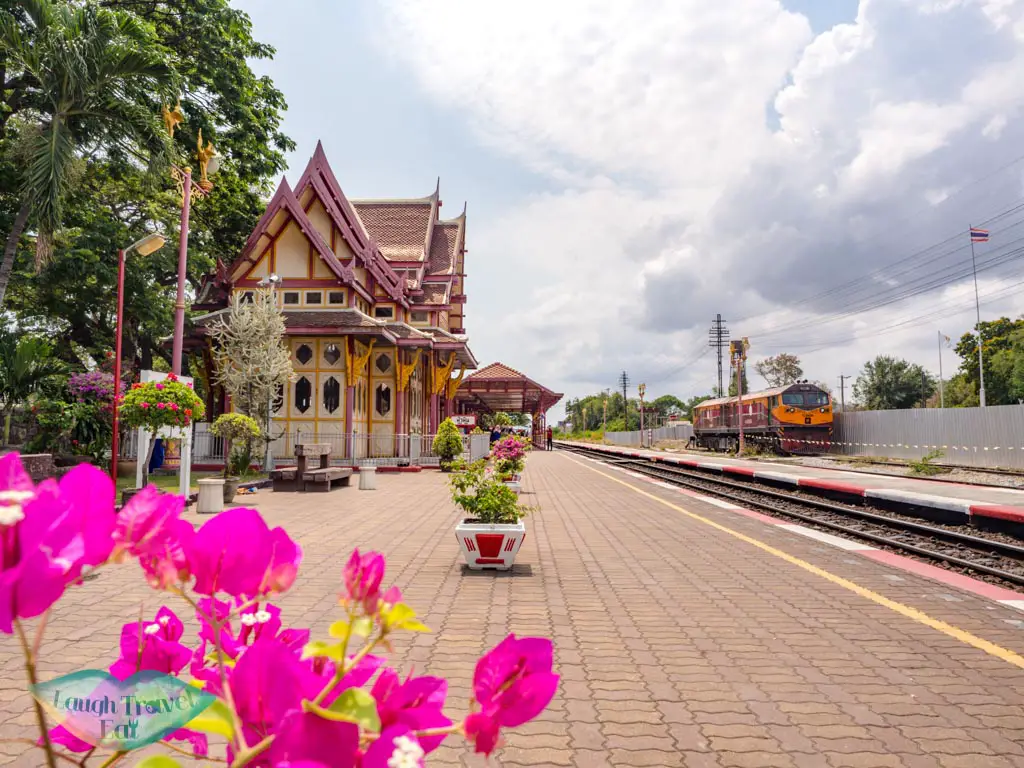 Hua Hin Train station is smaller than expected but the red and beige Thai style pavilion is eye-catching and pretty. It was built and renovated in the 1910s and 1920s with Victorian Style influence. The interior is decorated in tiles and half open air, with many travellers waiting for their train seated around.
There is an old style cafe to the left of the platform and the right side is also good for photos, since most people are hiding from the sun under shade.

Chopstick Hill (Wat Khao Takiap)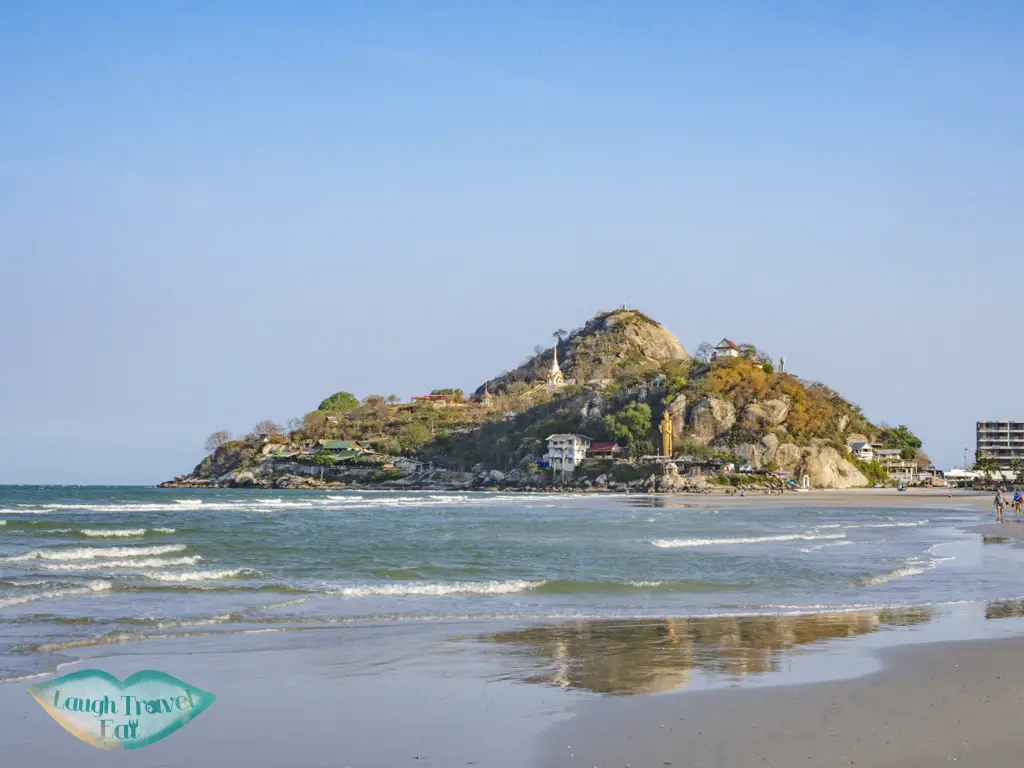 At the southern end of Hua Hin is the Chopstick Hill where Wat Khao Takiap and a giant standing Buddha statue stand.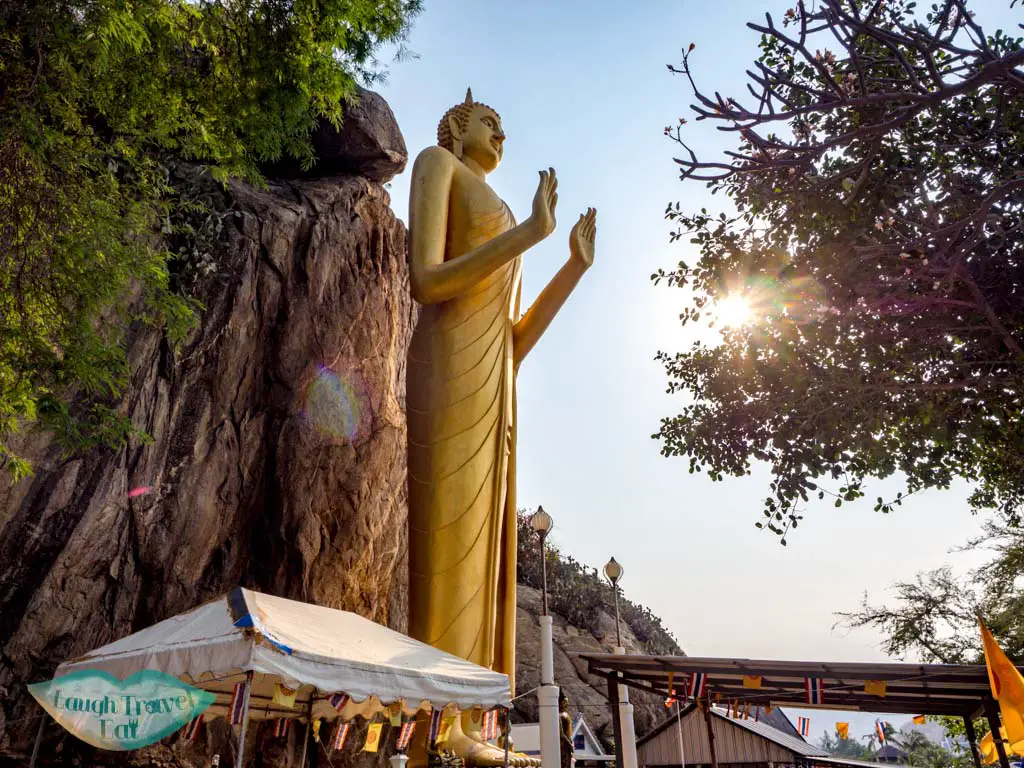 It's over an hour's walk from the city center, so you either have to pay 150 baht from the main town by Grab or take the big green tuk tuk for 10 baht to its end stop. From the end station, go towards the beach and up the flight of stairs to the standing Buddha statue.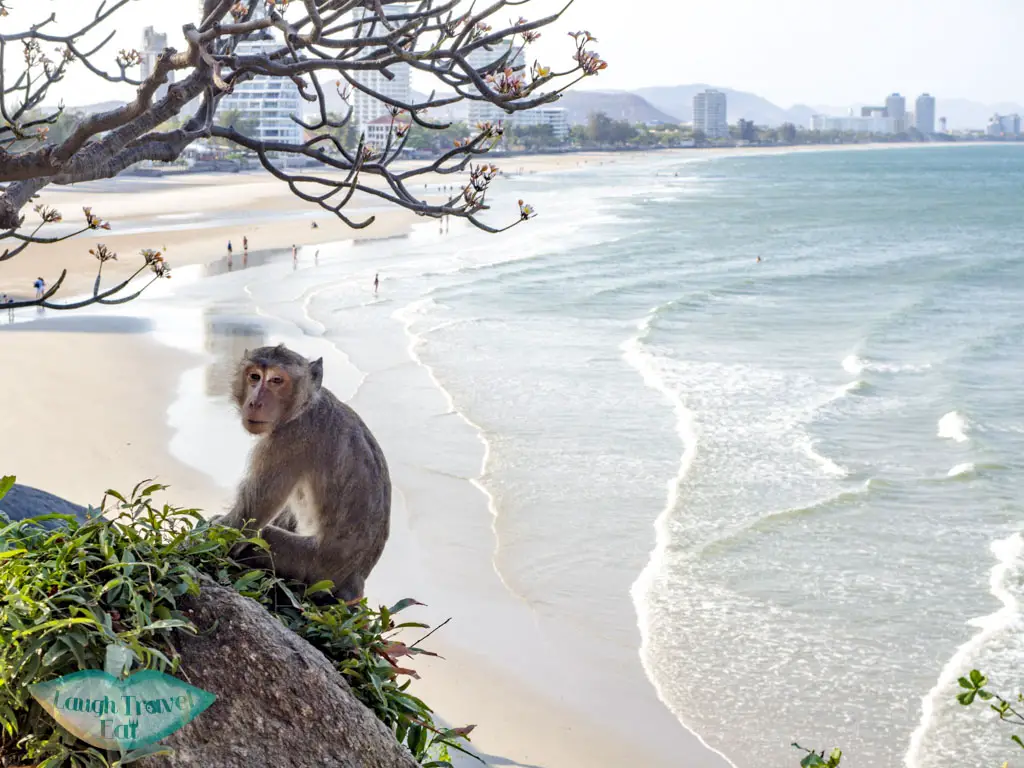 You can also get a great view of the whole coastline of Hua Hin here. Wat Khao Takiap is further on, I recommend continuing on instead of taking the stairs as there are a lot of monkeys up there and one ended up jumping on my back. And it's less easy to get lost in the abandoned complex directly above the stairs.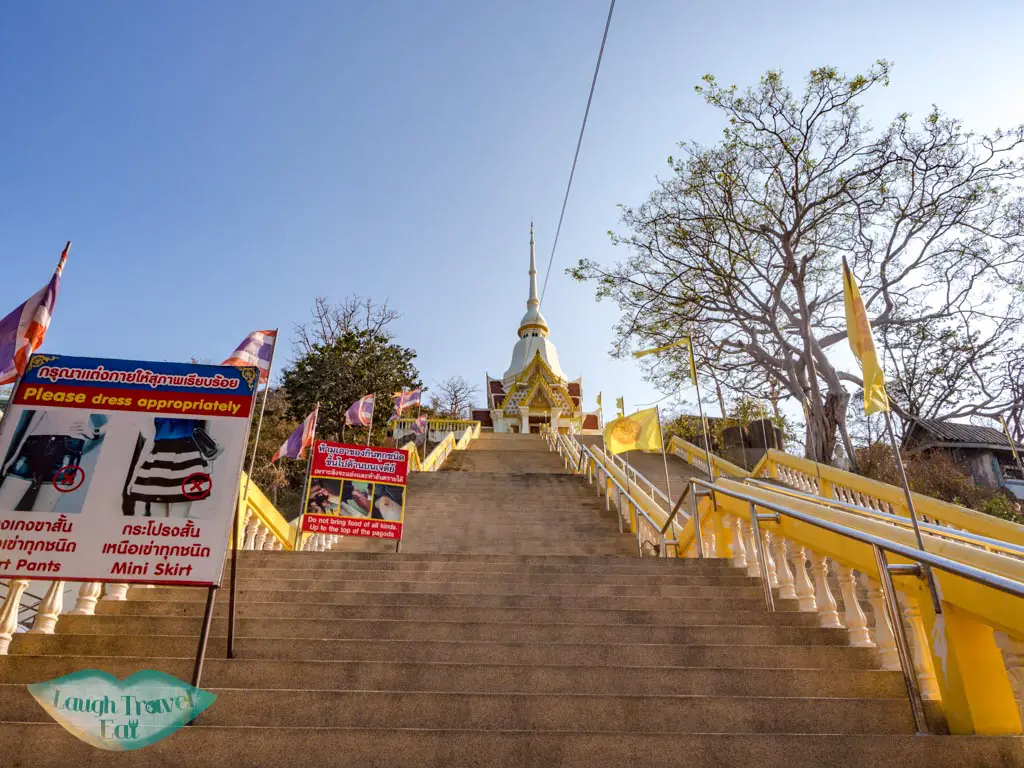 Wat Khao Takiap itself is smaller than expected, a small golden roof temple atop a long flight of stairs. The design is reminiscent of a Nepalese temple with bells circling the shrine in the middle.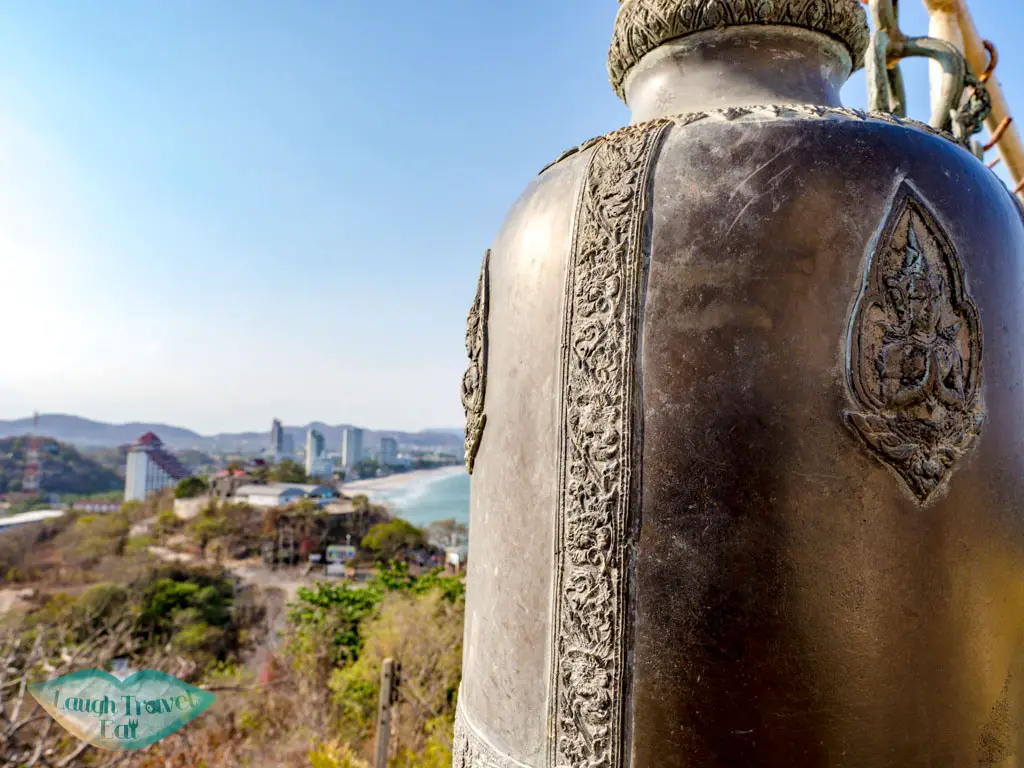 It's free to visit but not particularly interesting in my opinion.

Note: avoid eye contact with the monkeys and wear socks since you have ascend to the temple barefoot.
Cha Am Hua Hin
Cha Am is the name of the stretch of beach north of the Hua Hin main city that is home to a plethora of sea-front hotels and resorts. It's a gorgeous place to stay, just note that it is not close to Hua Hin city itself. If you stay in this area, it's best to drive or be prepared to take taxi or Grab to get around outside of your hotel.
Rajabhakti Park – 7 King Monument Park
The Rajabhakti Park is known as the 7 King Monument Park on the outskirt of Hua Hin. It was built by the army with a military base right next door. The large park is set in front of distant mountains with the statues of the 7 influential kings from Sukhothai all the way to the modern era standing in 14m tall bronze glory.
There is a large, dedicated parking space at a corner of the park and visitors can get on the free golf-cart shuttle to get close to the statues. The driver gave commentary in Thai, so unfortunately I didn't understand it. But there are information boards in the pavilion nearby the statue, so you don't have to worry about not knowing who is who. The 7 kings are:
King Ramkhamhaeng the Great
Also known as Ram Khamhaeng, he was the Pho Khun (aka King) of Sukhothai between 1279 – 1298. He created the Thai alphabet and established Theravada Buddhism in the country.
King Naresuan the Great
He was a King in Ayutthaya between 1590 – 1605. He is better known as Prince Naret the 'Black Prince and battled against the Tougoon Empire (Burmese).
King Narai the Great
The Ayutthaya King reigned between 1656 – 1688 and developed a diplomatic relationship with France. His reign was influential and one of the most famous kings.
King Taksin the Great
He reigned from 1767 to 1782 and moved the capital after the fall of Ayutthaya.   Although he had a short reign, he reunited the country and fought against the Khmer, Burmese, Vietnamese, and Chinese. 
King Rama I
The Great Rama I was the first king of Chakri Royal Family and a gifted military leader. He moved the capital to Rattanakosin City and reigned from 1782 to 1809.
King Ramam IV Mongkut
He is the 4th king of the Chakri Dynastic and a notable scientific scholar. He left monkhood to ascend the throat at urges of the royal family and ministers after the previous king's passing and reigned from 1850 to 1868. 
King Ramam V
King Chulalongkorn the Great is the son of Rama IV and abolished slavery, and furthered public services and education following the west. He reigned from 1868 to 1910 and is one of the most beloved kings of Thailand.
Address: 8 Petchkasem Rd, Nong Kae, Hua Hin District, Prachuap Khiri Khan 77110, Thailand
Opening times: 8:00 – 17:00
Free entry
Pranburi Forest Park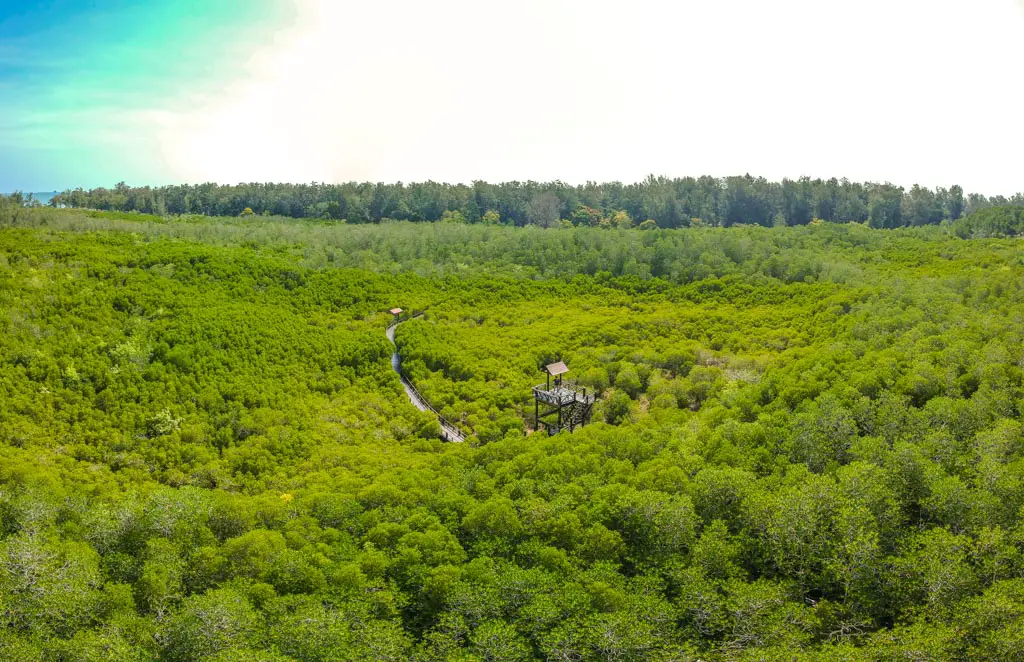 The mangrove forest of Pranburi Forest Park is less than half an hour's drive south of Hua Hin. It has a nice wooden boardwalk that meanders through the 3.2 km² mangroves with an option to take a boat ride out in the river.
It's easy to reach using google Maps and there is plenty of parking by the park entrance. It was free to park and enter, and since I arrived before 9am, it was relatively quiet.
It's a loop route that goes in a clockwise direction and the most scenic part of the walkway is towards the 'end'. There is a watch tower that gives you a great panorama of the surroundings and all the way to the city.
Address: 14 ผาสุกวนิช 16 Pak Nam Pran, Pran Buri District, Prachuap Khiri Khan 77220, Thailand
Opening times: 6:00 – 18:00
Free entry, I read online that it's 400 baht for the boat ride
Hua Hin Cafe hopping
If you go on Instagram and search for Hua Hin, you'll see many hip and gorgeous cafes. Most of them are beach-side and here are two that I have found on Instagram and went to:
1d+ Day Artist
1d+ Day Artist is close to Pranburi, a beach cafe right on the sand with hammocks, swings, and photogenic tents and flags. They serve a mostly western menu and you have to order a drink first before being seated.
It's best to visit in the morning or late afternoon to avoid having to step on the fiery hot sand. The prices are on the higher end for Thailand but it's a great place to sit and relax. They have occasional live music, too. They have free parking by the cafe and it wasn't too busy on the morning I visited.
Address: เขาเต่า หัวหิน Pak Nam Pran, Pran Buri District, Prachuap Khiri Khan 77220, Thailand
Opening times: 10:00 – 20:00
bOnnie on the Beach
If you prefer an option to be inside an air-conditioned space, bOnnie on the Beach is between Cha Am and Hua Hin Beach located in a resort complex that was slightly confusing to drive in. But the cafe itself is a modern-day fairytale white concrete block with outdoor seating on grass and bean bags on the beach.
It has unblocked view and access to the beach and is sandwiched between two resorts, making it fairly quiet. They have coffee, tea, soda, and also some sweet treats, and WiFi!
Cost: it was around 140 baht per drink.
Address: 849, 21 Petchkasem Rd, Tambon Cha-am, Cha-am District, Phetchaburi 76120, Thailand
Opening times: 9:00 – 19:00
Khao Sam Roi Yot National Park
About 30 minutes south of Hua Hin is the Khao Sam Roi Yot National Park known for its karst caves and mountains, it reminds me of Vang Vieng in Laos and a much smaller version of Ninh Binh in Vietnam. The name means three hundred peaks, a reference to the park's many jagged peaks.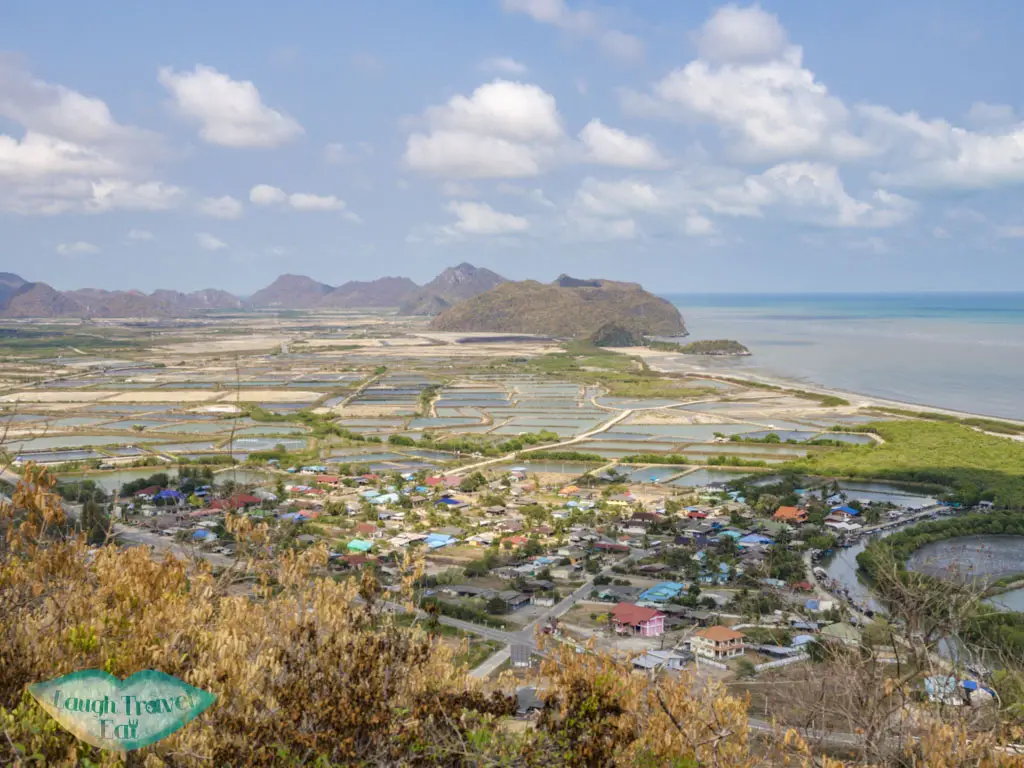 There is no public transport to the national park, so the only option is to either rent your own vehicle or hire a car with a driver. I ended up finding two companions through Instagram and dug around Facebook and found a driver from 9am to 5pm for 1800 baht. That didn't give us enough time to visit everything in the national park, so I settled on the top 3: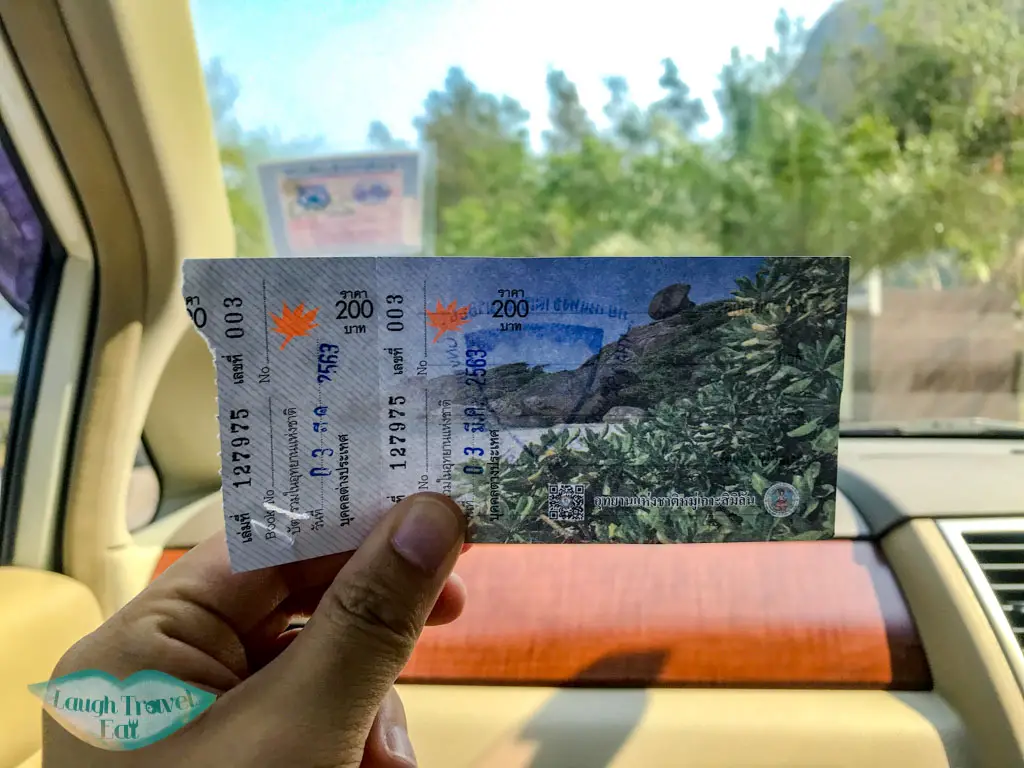 Note: no drone flying is allowed in the national park

Bueng Bua Wood Boardwalk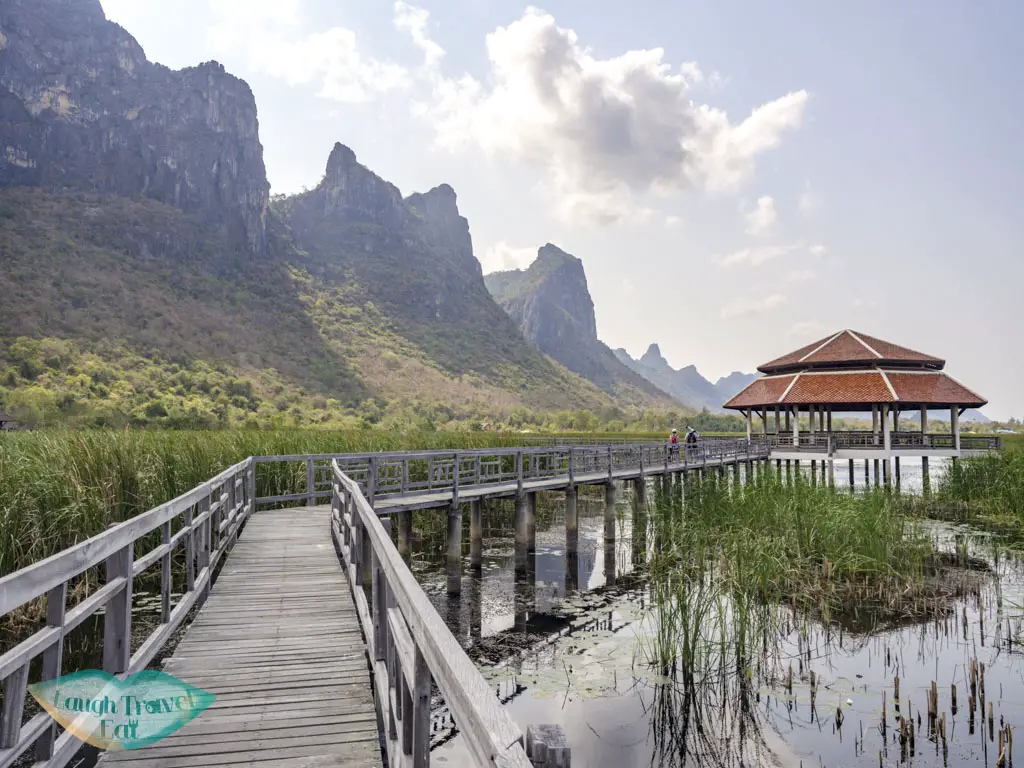 A sea of lotus with a network of wooden boardwalks, the Bueng Bua Wood Boardwalk is a swamp bordered by towering karst mountain on one side and a beautiful sight to behold.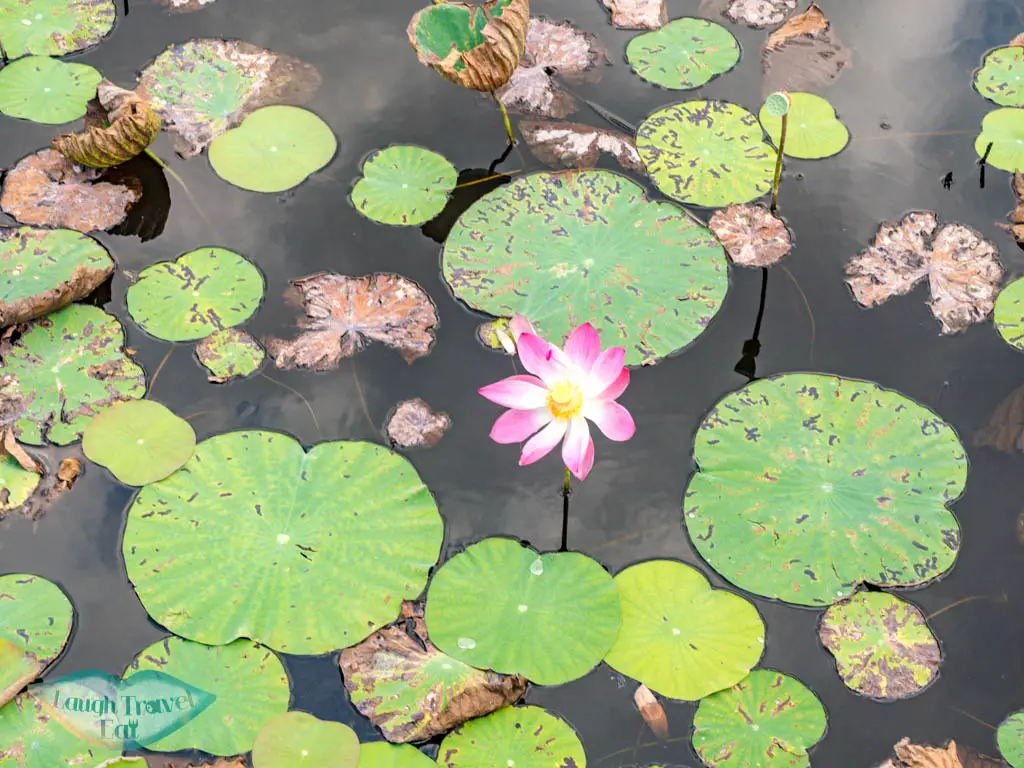 There are boat rides available if you are interested, but going around the boardwalk itself is decent enough. While the boardwalk looks extensive, you can only go about 500m in before a barricade.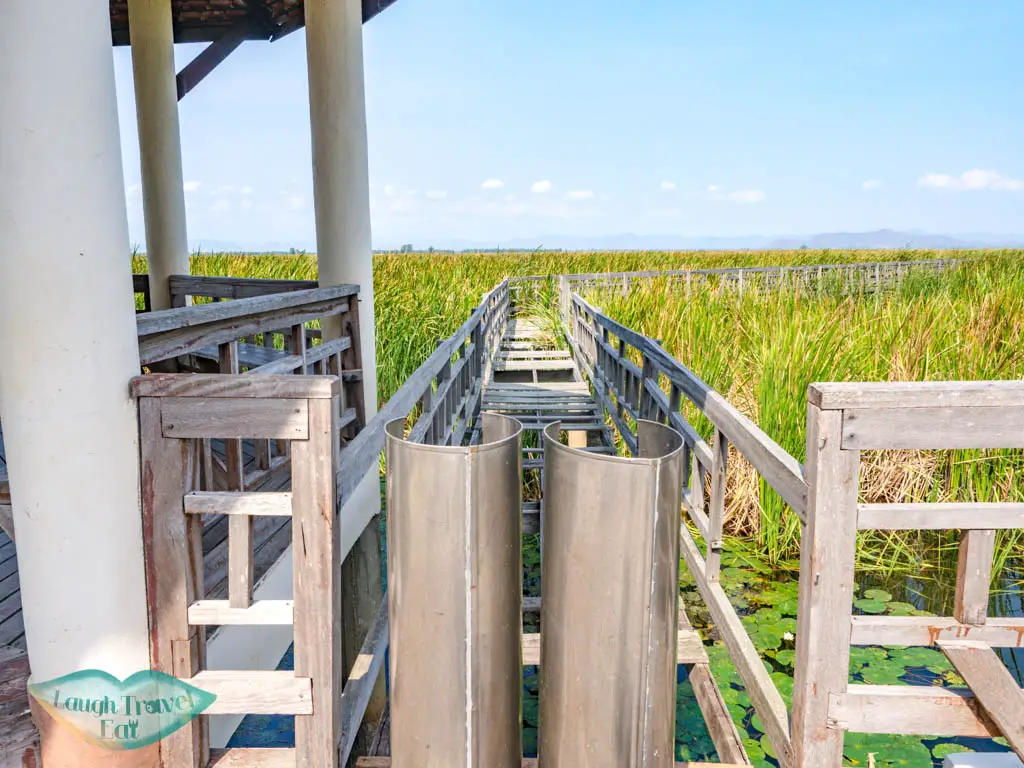 The rest of it appears to be in despair, so we spent around 40 minutes there before heading to the cave.

Phraya Nakhon Cave

The most famous site in the national park is the Phraya Nakhon Cave, discovered 200 years ago by a ruler seeking shelter and subsequently named after him. But it's best known for the temple that sits under a doline in a cave within a cave. 

To get there is no easy task. From the beach where the car park is, you can either hike across the mountain or take a boat to shorten the 30 minutes journey. The trail consists of slippery marble rocks polished by the throngs of locals and tourists paying pilgrimages to the temple.
The boat will shave 20 minutes off the hike but you do have to walk through water to board and disembark the longtail boat. Personally, I think the hike not only saves you money but also offers some good views.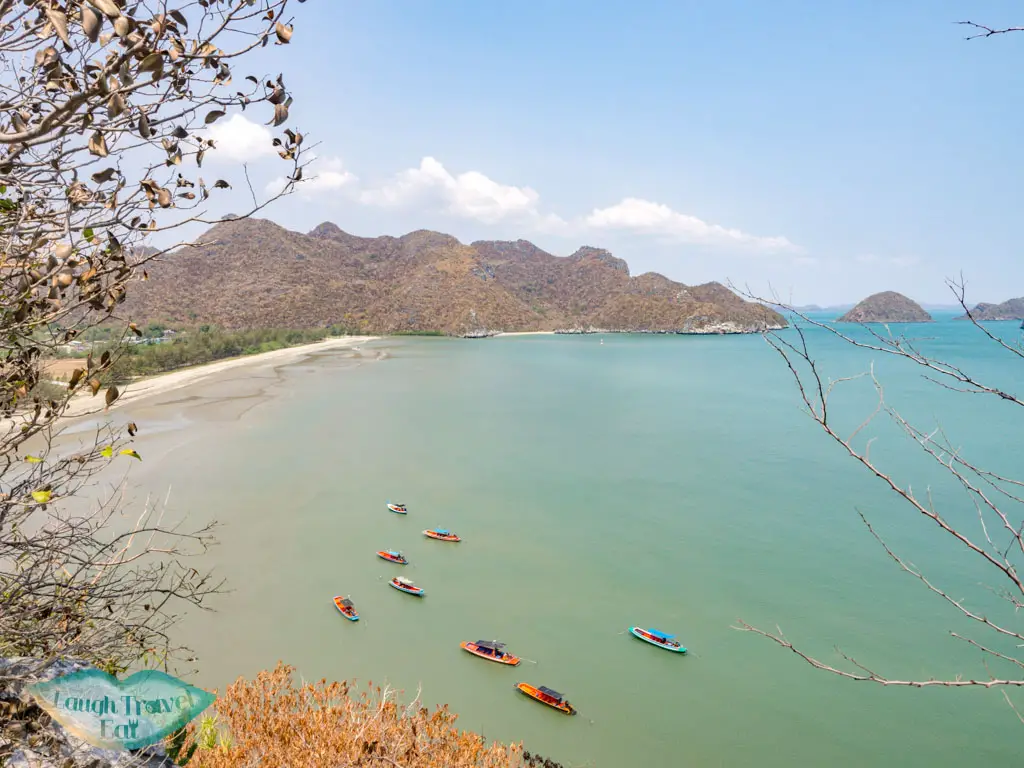 There is a restaurant at the beach as well as holiday huts if you are interested in refreshments or even staying a night here. The trail to the cave continues away from the beach with a similar footing as the trail over the hill.
It's best to wear close-toed shoes with good grip but there are people who manage in sandals.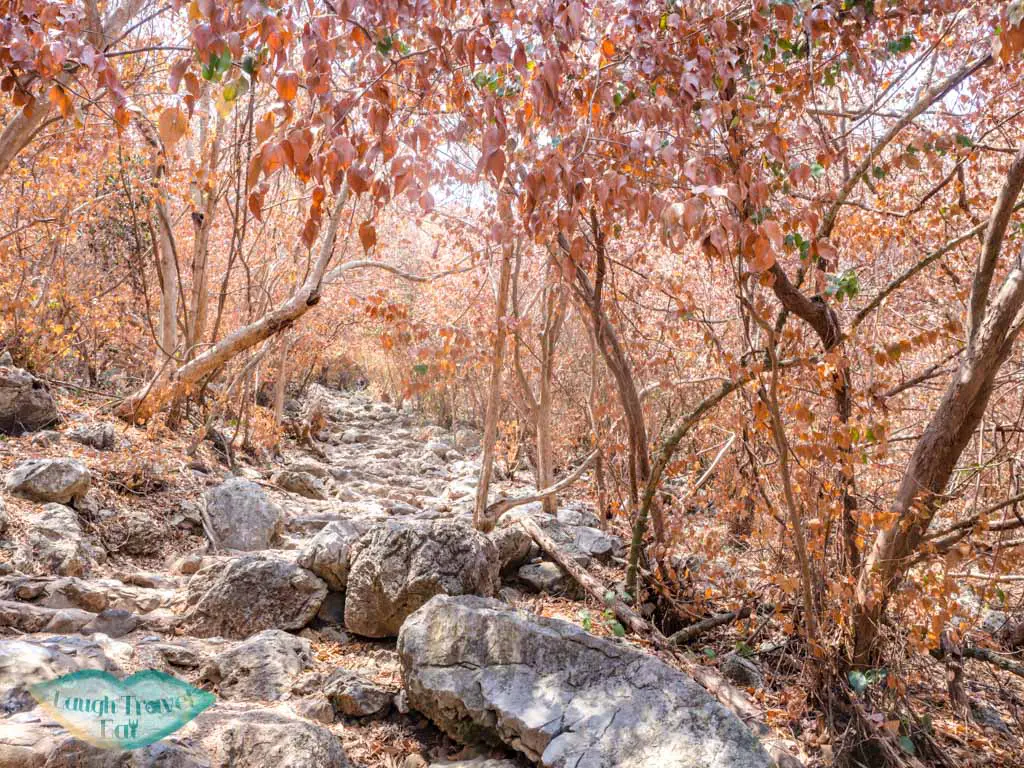 The descend into the first cave is made easier with good stairs and the small forest under the doline lends it an otherworldly air.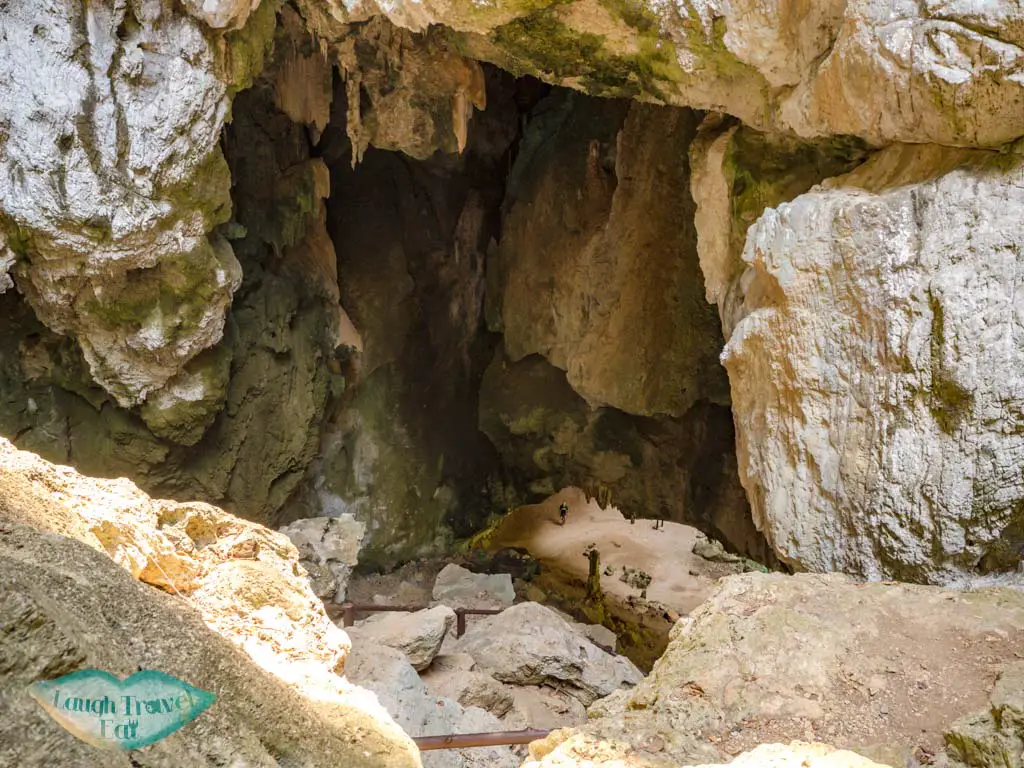 A narrow pass riddled with stalagmites and stalactites to the side would lead you to the temple, or rather the Kuha Kharuehat Pavilion.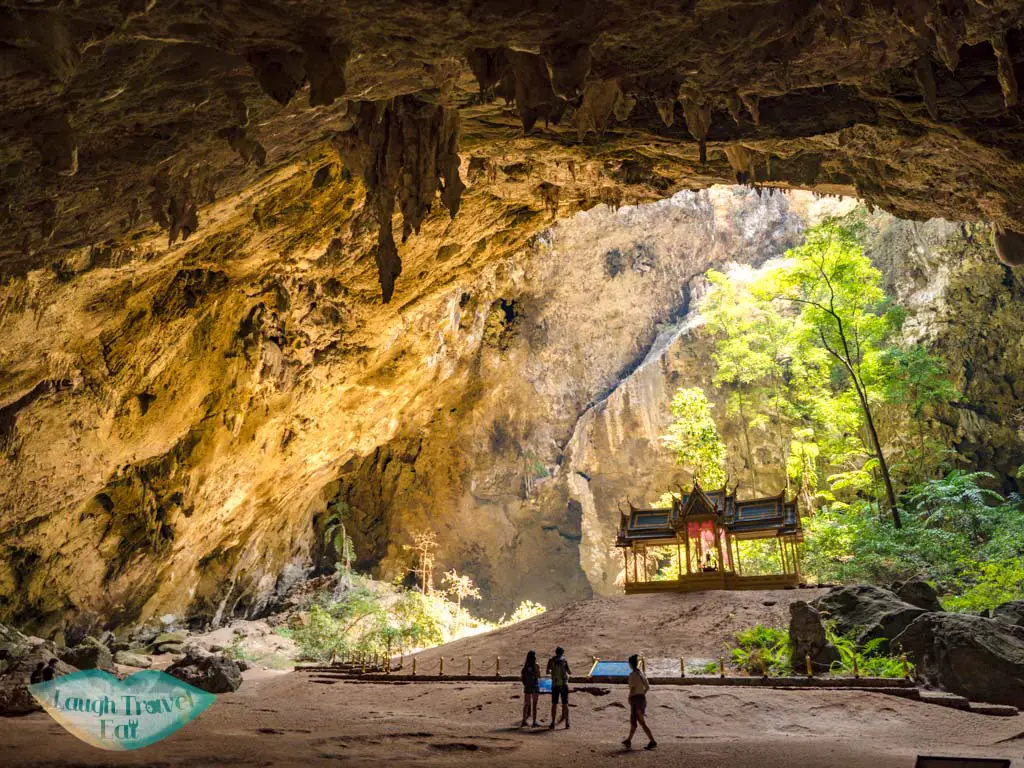 It was built on the order of King Rama V in the 19th century and was consequently visited by Rama VII and Rama IX, all of them leaving their handwriting to the right of the pavilion.
If you visit around midday, the light from the doline shines directly onto the pavilion, giving it an ephemeral glow. However, if you want to avoid the crowd, it's best to visit after. It took us around an hour in the car to get to the cave and another 45 minutes to visit.

Khao Daeng Viewpoint

No national park visit is complete without a viewpoint and Khao Daeng has been on my radar since I saw photos of it on Instagram. It shows a view of the land and sea, of fields and mountains, but not much about the hike itself. As our driver pulled into the parking lot that was well marked on google map, it appeared to be a very small area.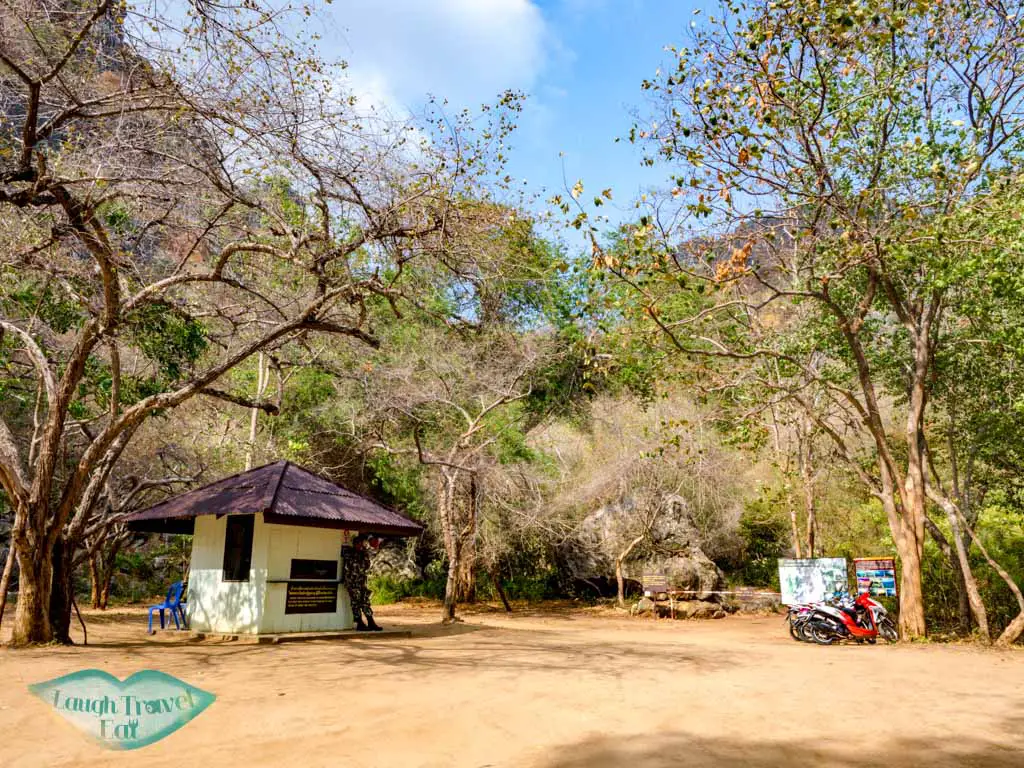 A guardhouse stands in the middle of the lot, who came over to issue a warning on the hike difficulty, as did the other signs around. A small pack of monkeys eyed us from a corner but otherwise didn't make a move.

To my surprise, the trail, although not as well paved as the one to the cave, is clearly marked and not that difficult. It was, however, steep, and it took us half an hour up to get up. A sign proclaims that it is the Khao Daeng Viewpoint with a sweeping view of the river flowing into the sea and small villages dotted around.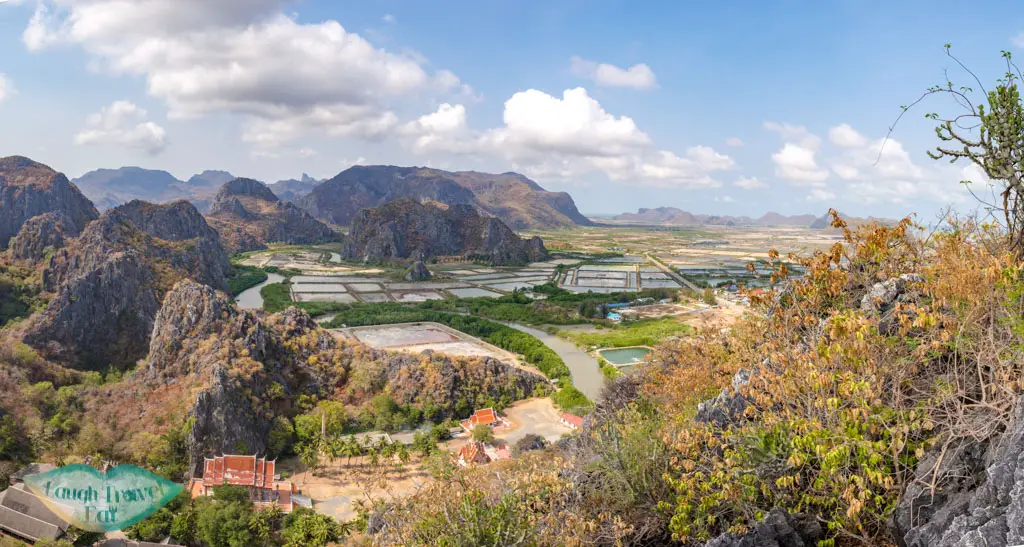 The smaller outcrop on the other side is also beautiful and looks back towards the national park.
While I don't think it's as difficult as advertised, do bring lots of water and wear good shoes as going down is also slippery and no steps.

Kui Buri National Park
Kui Buri National Park is known for being the place to spot wild elephants in Thailand. But like all things, seeing the majestic creatures in the wilderness requires some luck. The national park advertises that 99% of visitors see elephants, but I would say that real number is perhaps a little lower.
The national park covers 969 km² and it's about 1.5 hours drive from Hua Hin. You can go to Pranburi in the morning, stop for lunch, then head off to Kui Buri. Other animals in the part include gaurs, deers, hares, wild boars, golden jackals, gibbons, and even tigers, leopards, and tapirs.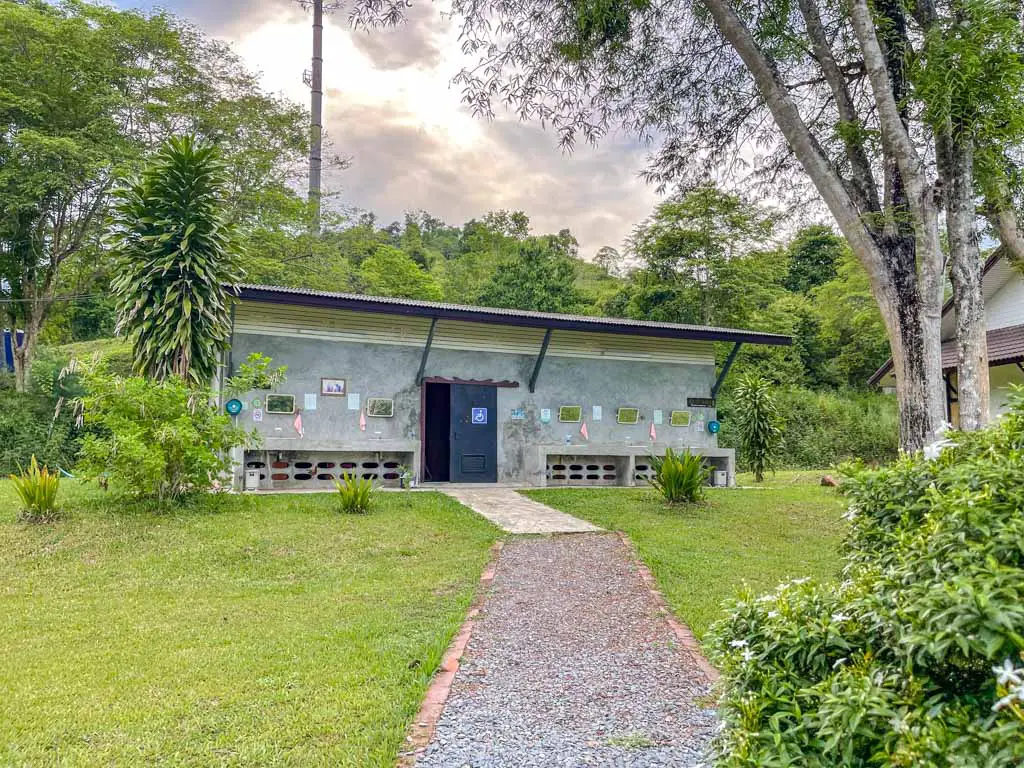 It's a nice experience to be on the back of the jeep roaming the roads of the national park, especially for those who have never been on an animal safari. We had a driver and a guide with us, the latter would point out wild animals here and there but doesn't speak good enough English to engage in more conversation. They drive along a set route with a few stops at scenic spots and viewpoints. We saw a few bison and plenty of birds, but no elephants, unfortunately.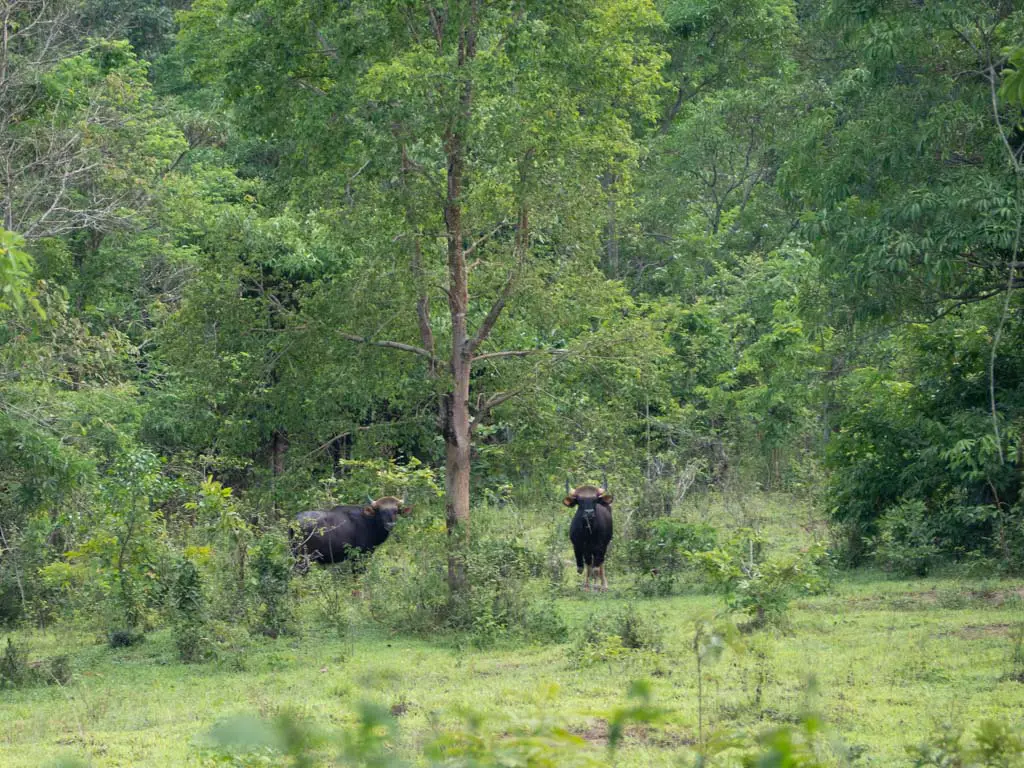 Tips: it's best to come here in the wet season and in the early morning or late afternoon when the animals are more active.
Cost: for 2 people, it was a total of 1250 baht. It's cheaper to share the Jeep, which is 800 baht with 200 baht entrance fee per person. I can't remember where the extra 50 baht fits!
Note: it's encouraged to tip your guide and driver here
Address: 3J4G+Q9, Hat Kham, Kui Buri District, Prachuap Khiri Khan 77150, Thailand
Opening times: 8:00 – 16:30
It's free to park at the Pran Buri National Park. 
Tham Khao Luang Cave
The Tham Khao Luang Cave is in Phetchaburi about one hour north of Hua Hin. It's en route if you're driving to or from Bangkok and Hua Hin yourself, and still worth a visit otherwise.
The cave is famous for the doline (collapsed top) that let sunlight streams into the cave.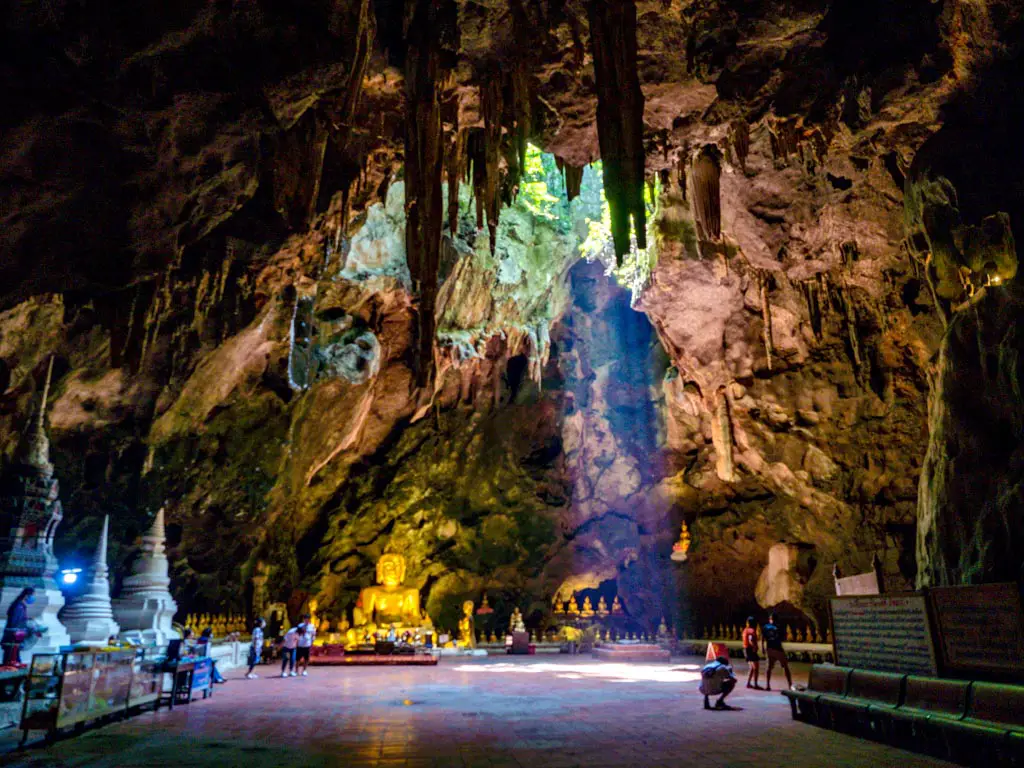 The temple is relatively new, built by King Chulalongkorn there to honour his father King Mongkut, who had visited the cave. There are Buddha statues and shrines spread across all three caverns, with a reclining buddha and a Buddha in lotus position.
I spotted an old flight of stairs at the very back of the cave, too!
On my visit, we were not allowed to drive up to the cave but to park at the temple nearby (coordinates here). After purchasing tickets, we got on a songthaew that took us up to the base of the stairs before walking up. It's not a long walk but be wary of the monkeys loitering!
Address: 4WJJ+VXQ, Thongchai, Mueang Phetchaburi District, Phetchaburi 76000, Thailand
Opening times: 8:00 – 16:00, open until 17:00 on Sunday
Admission fee: 25 Baht
Khao Wang
Khao Wang is the nickname for the Phra Nakhon Khiri Royal Palace in Phetchaburi, which stands for mountain palace. It was built by King Rama IV and is an eclectic blend of different architectural styles. The palace, pagodas, and temples of Thai, European and Chinese styles are spread over three hills. It reminds me a little of the Marble Hill complex in Danang, Vietnam.
The best way to go up is by cable car, which is more like an open-air funicular. Or you can also hike up the 92m high mountain. You buy the entry ticket once you get off the cable car and the brick paths are all well-shaded with clear signposts.
Phra Nakhon Khiri National Museum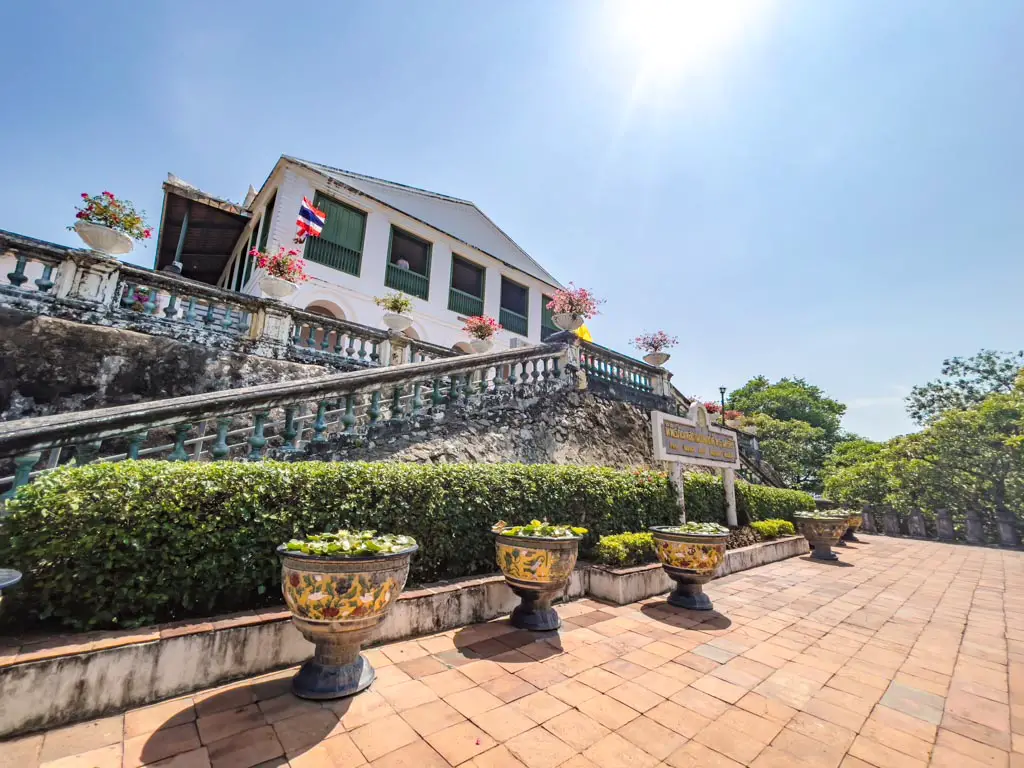 The palace is now a museum with many of the rooms kept in original condition for visitors to see. You have to take off your shoes and wear shoe covers to visit and photography is not allowed inside. 
It's an interesting glimpse into the lives of the royal family and it has a great view of the surrounding.
Great White Pagoda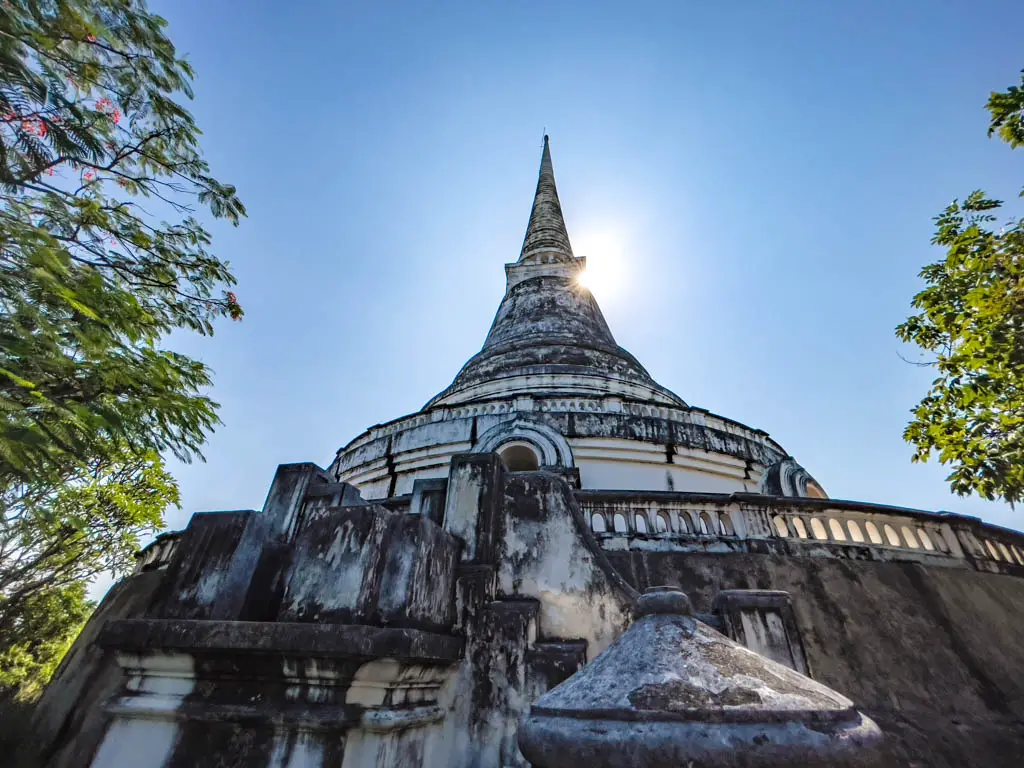 The Great White Pagoda is just like its name, a round stupa that occupies the hill top it is on. You cannot go inside but it's quite lovely to see. There is a trail that leads down the mountain right next to it.
Wat Phra Kaew Noi
If you're wondering why it looks familiar, it's because King Mongkut ordered it to be built in the same style as the Emerald Buddha in Grand Palace in Bangkok.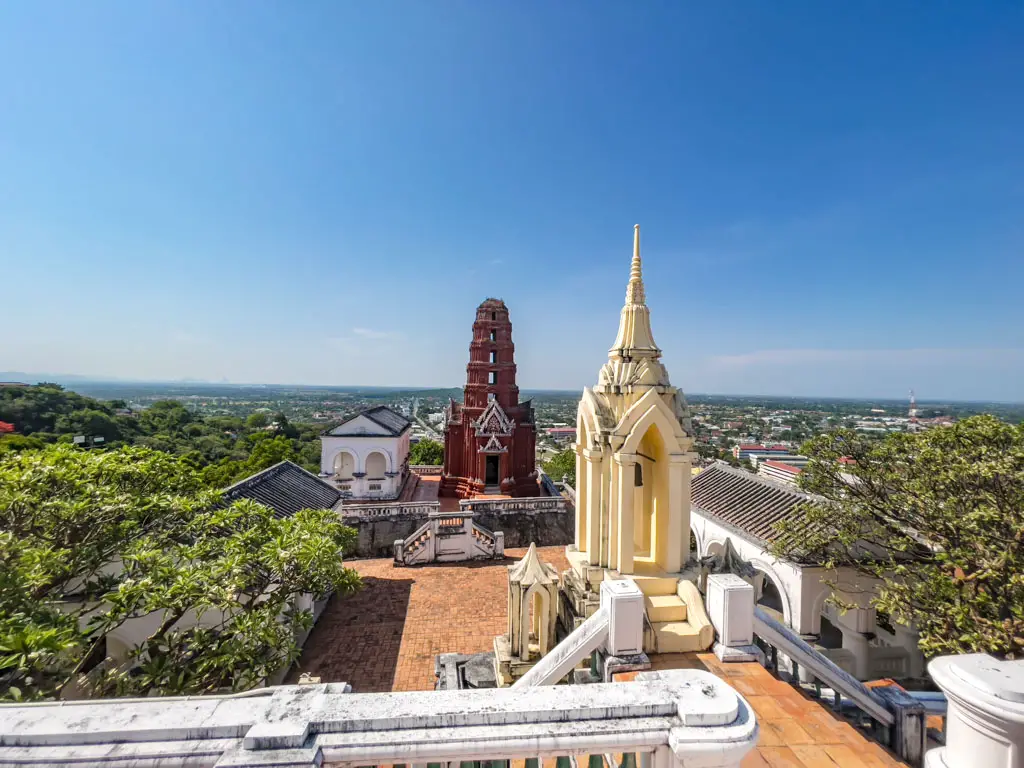 You'll also see the red Pra Prang Daeng pagoda, Phra Sutthahasela Chedi, and the ordination hall.
Note: you can't drive up Khao Wang – this is the address for the cable car with plenty of parking.
4W5P+H2W, Khlong Kra Saeng, Mueang Phetchaburi District, Phetchaburi 76000, Thailand
(If that doesn't work, try JM Cuisine noodle shop)
Opening times: 8:30 – 16:30
Admission fee: 50 baht for cable car, 150 baht entrance fee
Pala-U Waterfall
The Pala-U Waterfall is the most famous attraction in Kaeng Krachan National Park about an hour's drive east of Hua Hin. It's a great swimming hole to escape to with many falls along the river and it's possible to trek around in the national park as well.

If you don't want to drive, you can do a full day visit through a join-in tour that includes a transfer.
Where to eat in Hau Hin
Rod Fai Seafood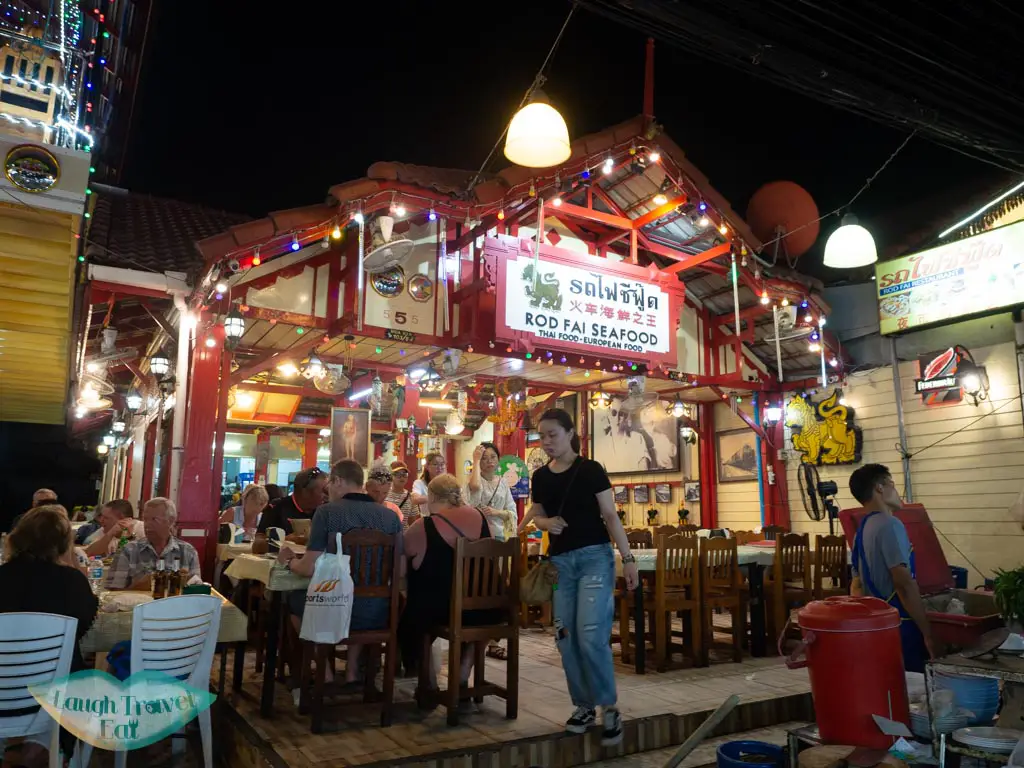 When you are by the seaside, seafood is naturally a must-try. I ended up at Rod Fai twice since it's fuss-free and value for money. There are two restaurants of the same name and this one is not on google map, but one of the many restaurants lined on the north end of the nightly night market.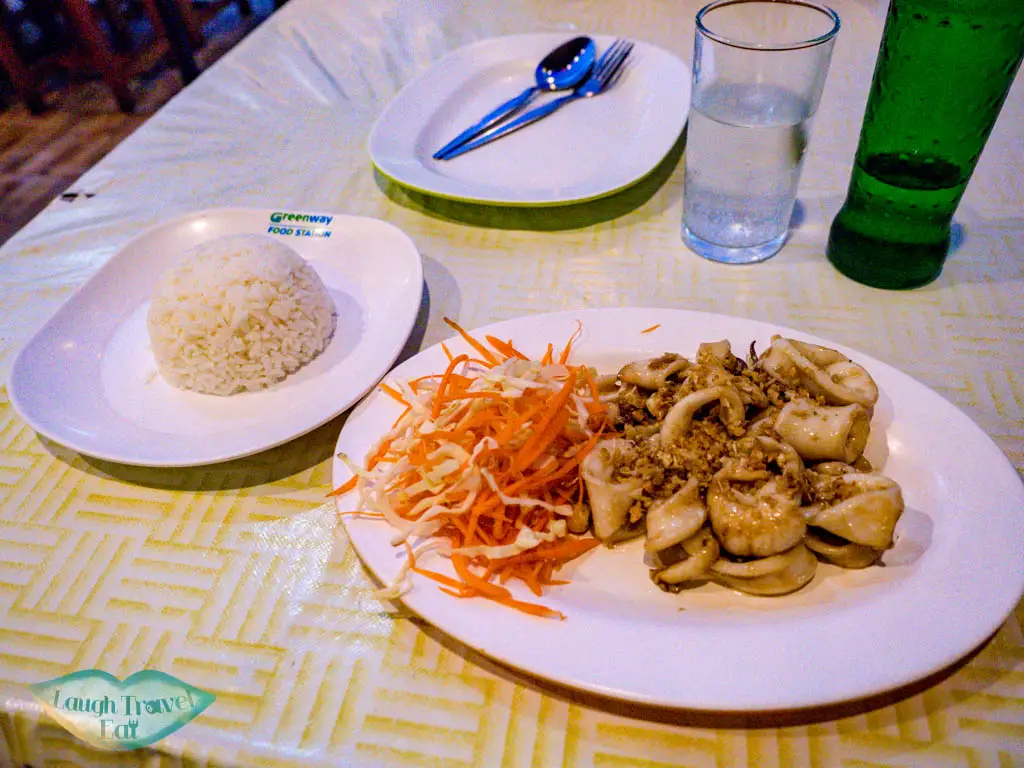 We had soup and two dishes with rice each for 160 baht per person on average. I particularly liked their calamari fried with garlic!

Oraya restaurant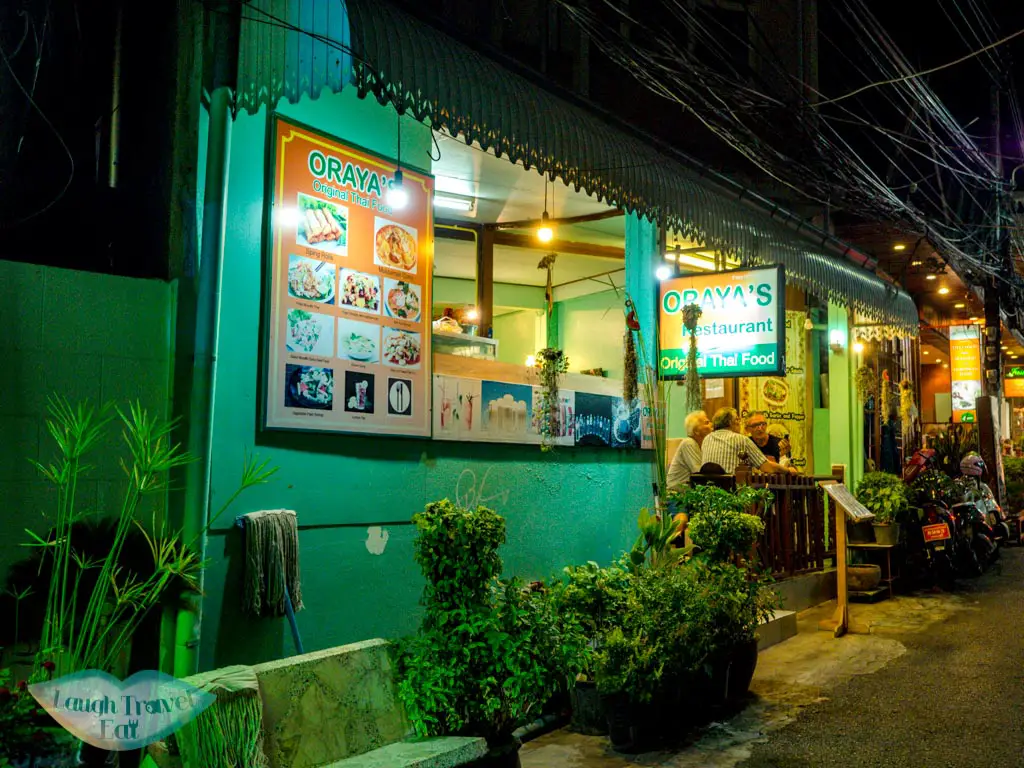 For somewhere more sit-down but still affordable and casual, Oraya is highly rated. It's on a side street near the beach in what resembles a sort-of red light district.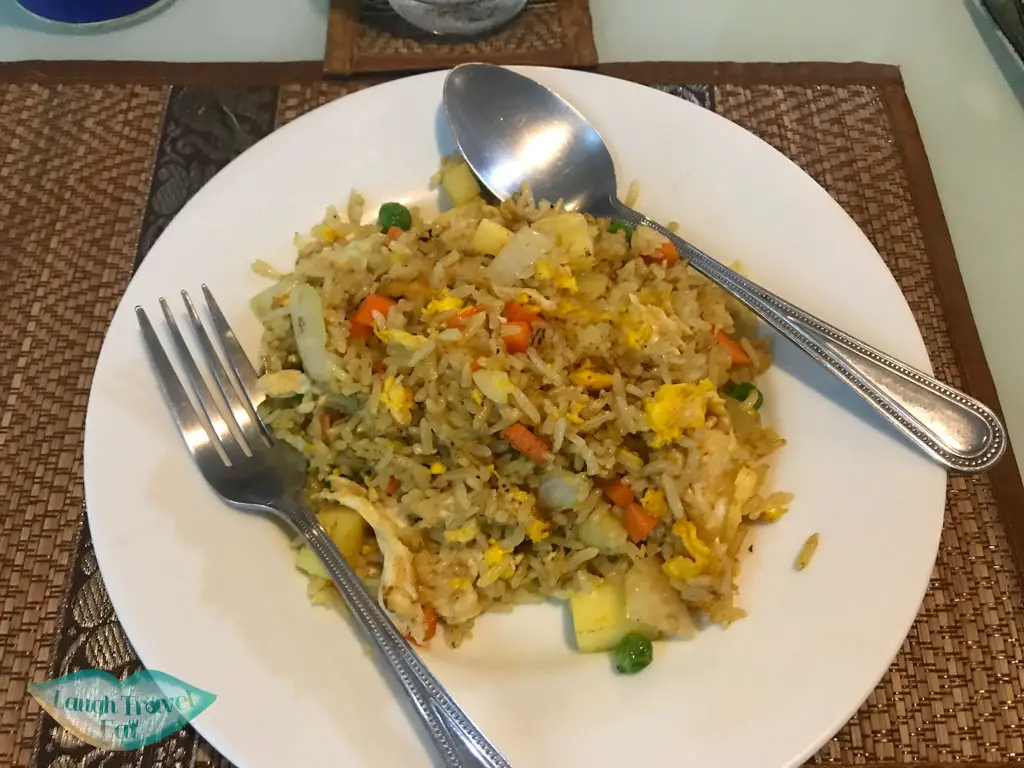 Prices run at average 100 baht per person with a decent portion size! I had their pineapple fried rice (with no meat) which was above average.
Address:  23/2 Selakam Alley, Hua Hin, Hua Hin District, Prachuap Khiri Khan 77110, Thailand
Opening times: Mon – Sat 11:00 – 22:00

Fame restaurant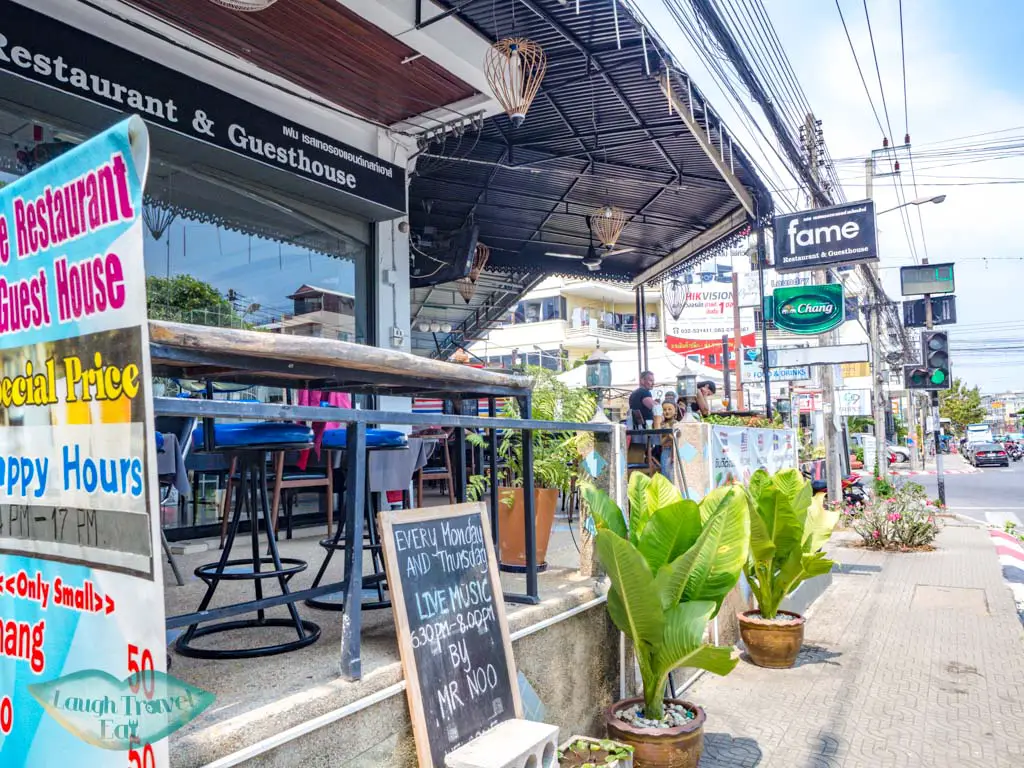 Fancy some western food? I had a great burger with fries and a Fanta for 180 baht at Fame Restaurant. The burger was a little salty but otherwise good. They have an outdoor seating area as well as indoor seating and faces one of the busier roads in Hua Hin, so a good spot for people watching.
Address:  Hua Hin, Hua Hin District, Prachuap Khiri Khan 77110, Thailand
Opening times: 8:30 – 23:30

Sip it cafe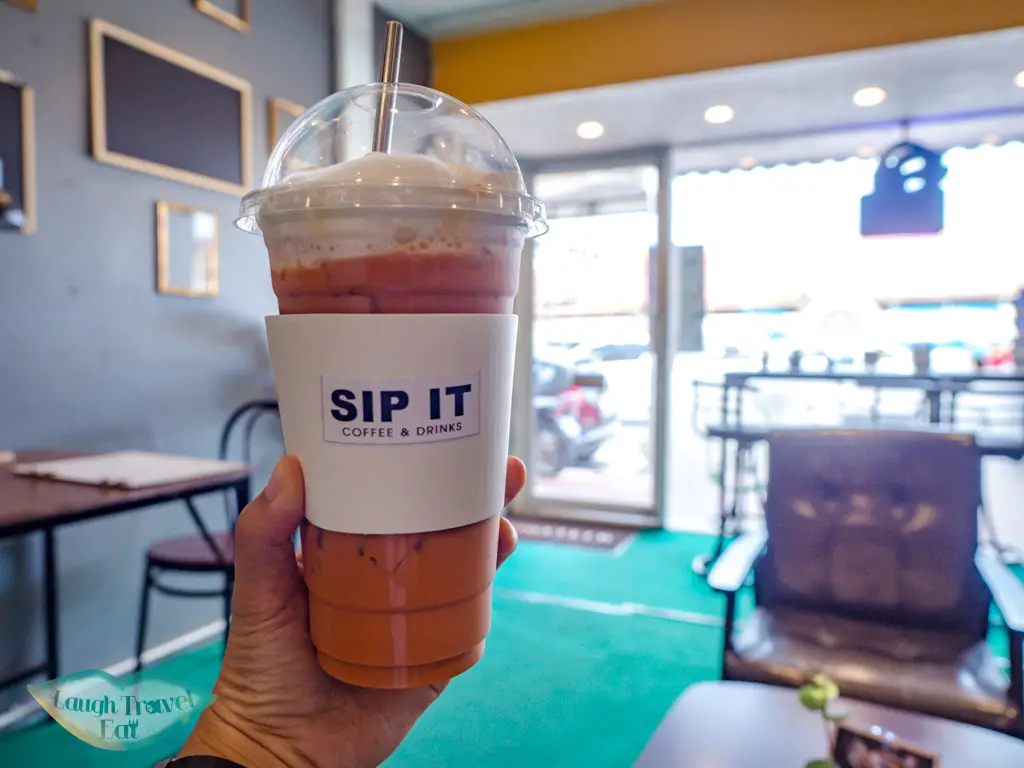 I came across Sip It Cafe on my way back to my hostel during a really hot day. A thai milk tea was exactly what I needed so I ducked into the quaint vintage-western style cafe for one. It's only 40 baht and it's air conditioned inside!
Address: 92 2 Petchkasem Rd, Hua Hin, Hua Hin District, Prachuap Khiri Khan 77110, Thailand
Opening times: 9:00 – 21:00

Night market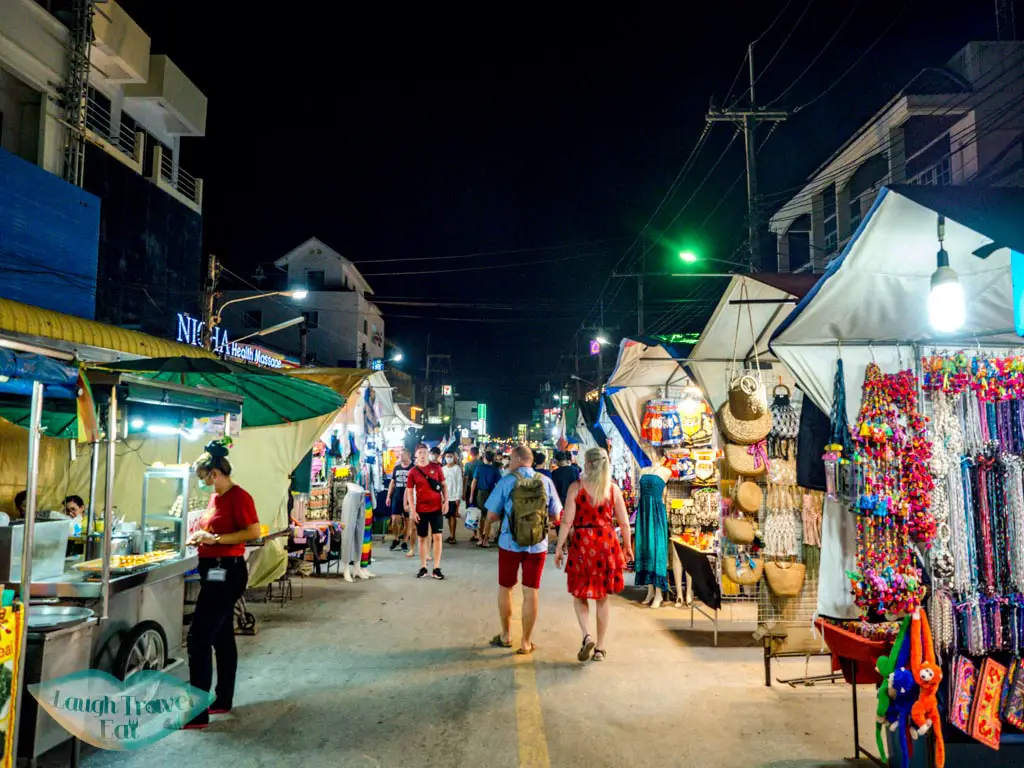 There is a daily night market north of the main road diagonally across from the clock tower where you can find many snacks. An original-flavoured roti starts at 15 baht and you'll also find pancakes, ice cream, and other stir-fried food for cheap.

I often grab a roti if I'm not full from dinner or was in need of a snack.

Massage in Hua Hin
Ava Massage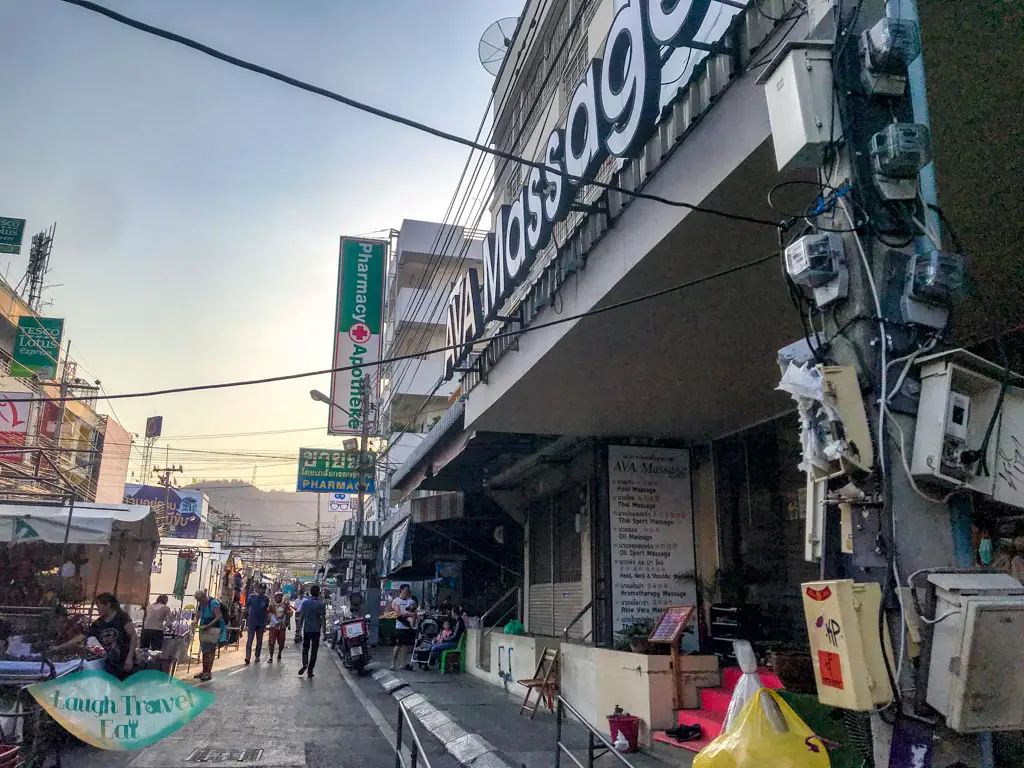 By far one of the best foot massages I've had, Ava Massage is one of the many massage shops lining the night market street. I ended up choosing it because it has a better decorated interior than the others.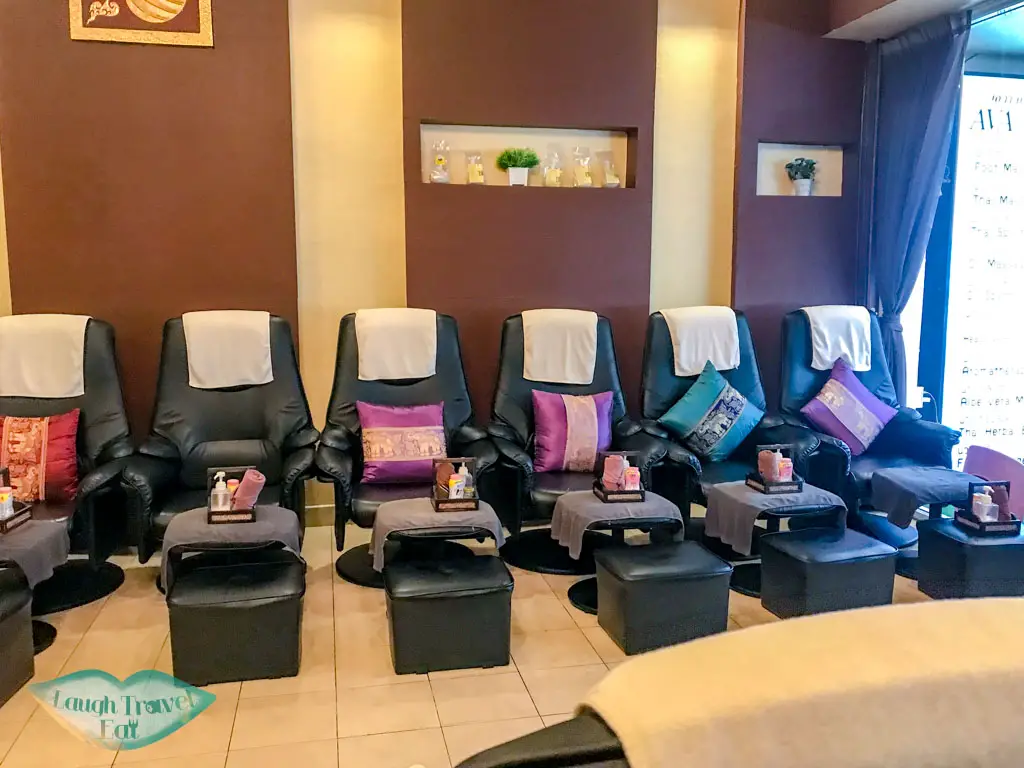 For 200 baht, it's definitely value for money.
Hua Hin Itinerary Suggestion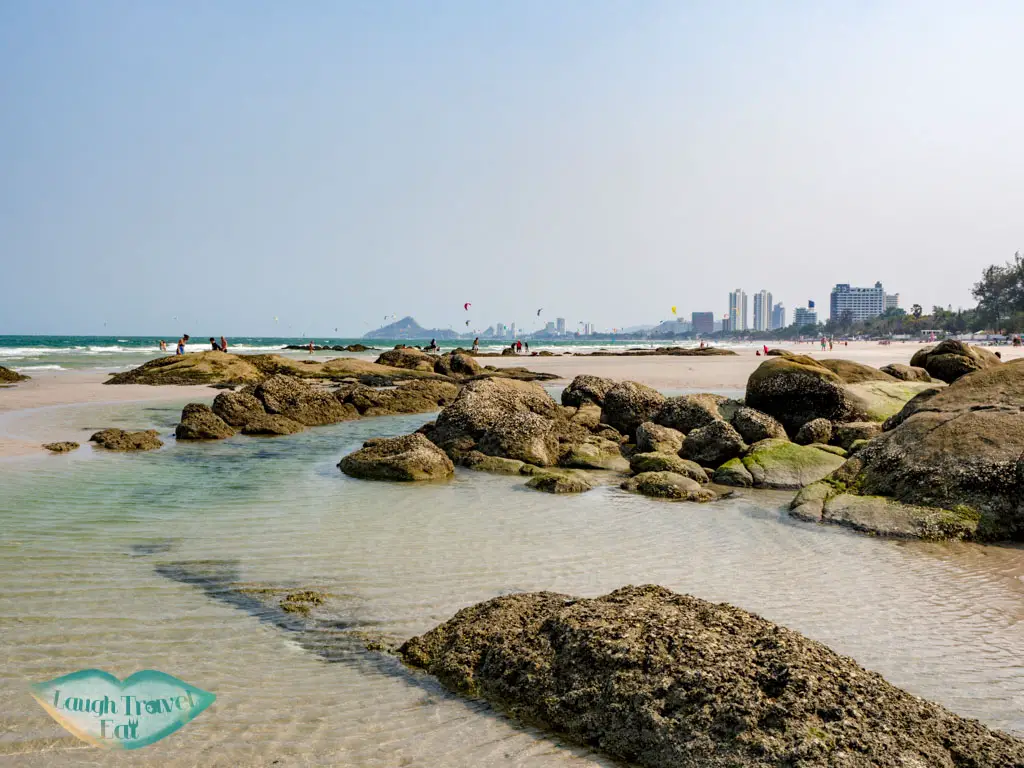 How many days should I stay in Hua Hin?
The optimal time to spend in Hua Hin depends on what you want to do. To get through everything on the list, it would be best to budget 4 to 5 days to get through everything on the list at a leisurely pace.
Since I've covered the attractions in detail above, I'll use bullet points here.
Hua Hin Day Tour
Some people might opt for a Hua Hin tour from Bangkok, but given that traffic often makes the trip a 4 hour journey one way, I would say that it's best to spend more time in Hua Hin if you can.
If you don't have time, it's still possible to take a day trip. This one has great reviews and takes you to both Tham Khao Luang and Khao Wang.
Alternatively, you can opt to get a car with a driver and plan your own itinerary.
Hua Hin 2 day Itinerary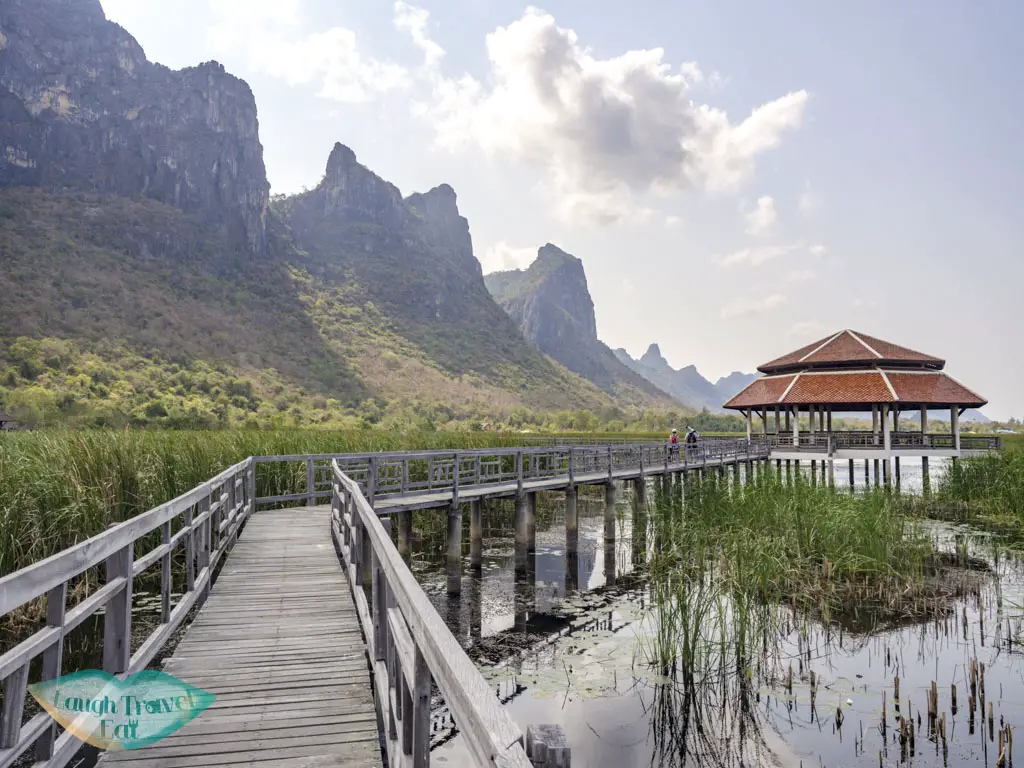 Day 1: Arrive in Hua Hin, visit Chopstick Hills and relax on Hua Hin Beach. Visit a night market or seafood restaurant for dinner.
Day 2: Day trip in Khao Sam Roi Yat National Park (or Pranburi) depending on time, stop by a cafe in Hua Hin on the way out.
Hua Hin 3 day Itinerary
Day 1: Arrive in Hua Hin, visit Chopstick Hills and relax on Hua Hin Beach. Visit a night market or seafood restaurant for dinner. 
Day 2: Day trip in Khao Sam Roi Yat National Park or Phetchaburi. If you prefer nature, visit Pran Buri in the morning, stop by a cafe for shade and lunch, then visit the 7 King Monument before driving to Kui Buri for an elephant safari.
Day 3: Day trip to Phetchaburi before leaving Hua Hin
Hua Hin 4 day Itinerary
Day 1: Arrive in Hua Hin, visit Chopstick Hills and relax on Hua Hin Beach. Visit a night market or seafood restaurant for dinner.
Day 2: Day trip in Khao Sam Roi Yat National Park
Day 3: Visit Pran Buri in the morning, stop by a cafe for shade and lunch, then visit the 7 King Monument before driving to Kui Buri for an elephant safari.
Day 4: Day trip to Phetchaburi before leaving Hua Hin
Hua Hin 5 day Itinerary
Day 1: Arrive in Hua Hin, visit Chopstick Hills and relax on Hua Hin Beach. Visit a night market or seafood restaurant for dinner.
Day 2: Day trip in Khao Sam Roi Yat National Park
Day 3: Visit Pran Buri in the morning, stop by a cafe for shade and lunch, then visit the 7 King Monument before driving to Kui Buri for an elephant safari.
Day 4: Pala-U Waterfall day trip with trekking
Day 5: Day trip to Phetchaburi before leaving Hua Hin
Where to stay in Hua Hin
Budget to Midrange:
I stayed at the Moon Hostel, which is right by the clock tower. The facilities are good and clean, but the vibe is not very friendly. The day receptionist was better, but the night one was mostly preoccupied with her phone. The signs around are all warning and fines, which didn't add to it being welcoming. There's also no lift/elevator, but there's 4 floors so you would have to carry your luggage up. 
A non-dorm choice is EU – Bakery Guesthouse, which also has no lift but is otherwise highly rated for its spacious and clean room. Anchan Hotel & Spa is another great choice but it is nearer to the nightlife which means it doesn't get quiet until after 1am.

Splurge
Hua Hin Marriott Resort and Spa has its own space near the center and beach with a spa and a pool. Another nearby choice is Hilton Hua Hin Resort & Spa with similar facilities.