Brno Nightlife: best Brno Bars and Clubs
As the second biggest city in the Czech Republic, Brno's nightlife is not to be underestimated. I'd say that the best bars in Brno are arguably some of the best bars in the country. Whether you're looking for quirky bars with characters or the best cocktails, there is a place with the right vibe for you in Brno. Here are some of the best bars in Brno:
Super Panda Circus
Super Panda Circus is an experience in itself and the number one bar to visit in Brno. The circus theme doesn't just apply to the decor, your fun starts with buzzing the doorbell to enter. The circus staff will greet you with a welcome palate cleanser drink in the velvety room with leather sofas and thick curtains. You can choose to go up with an a la carte menu or take part in an RPG multiple-question game to determine what cocktails you should drink that night.
The entire game can involve up to 8 drinks, though you can opt to skip a few. The upstairs bar lives up to its name with the occasional panda decor dotted among the circus-themed seats. Don't miss the chance to admire the large mural on the far wall that depicts a cocktail bar scene with famous Czechs.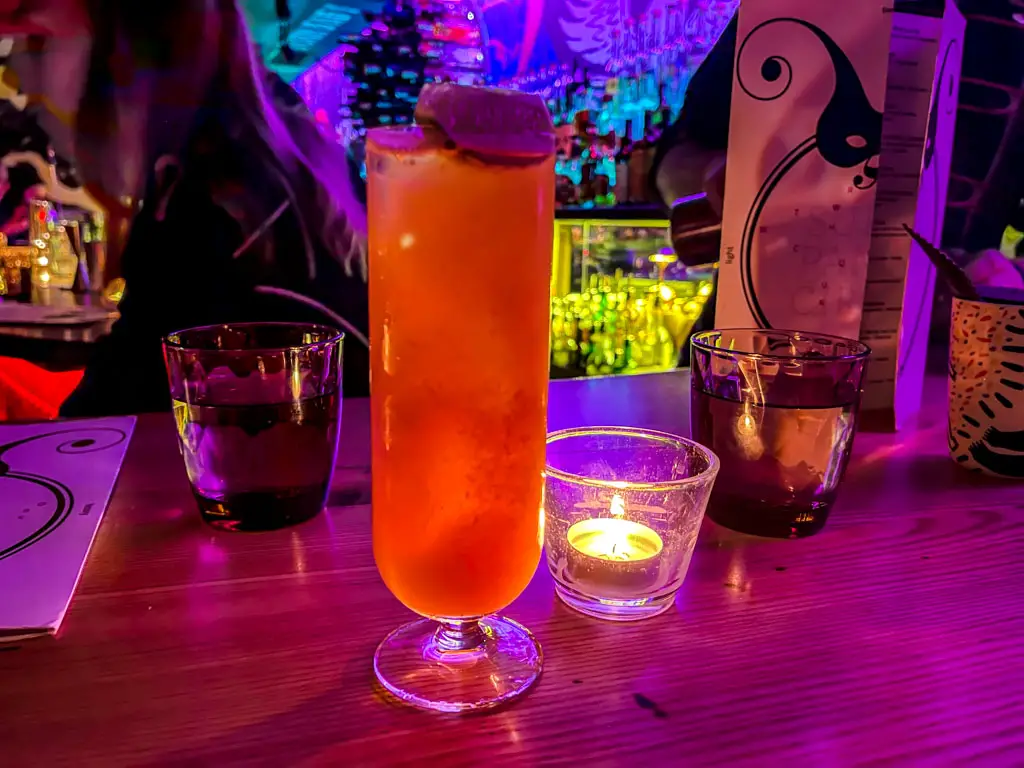 The cocktail menu changes annually with spectacular cocktails that use a range of ingredients that are both house-made and from around the world. Honestly, I would recommend heading to Brno for this bar alone!
Address: Šilingrovo nám. 257/3, 602 00 Brno-střed, Czechia
Opening times: Mon – Sat 18:00 – 2:00
The Bar that Doesn't Exist
The bar that Doesn't Exist wasn't meant to always be called that, but when the fun gimmick places there before the bar was ready had gotten so much attention, it stayed. Ironically, the bar itself is in the middle of town and it's also a top-notch burger place.
That's because the theme of the bar is that it's a slice of New York in the heart of South Moravia. It was one of the first modern cocktail bars to open in the city as well. The space itself is family-friendly with a long bar table as well as comfortable sofa seats. They have a new menu twice a year with fun cocktails. The tall shelves of alcohol display behind the bar is always very gorgeous to look at!
Address: Dvořákova 1, 602 00 Brno-střed, Czechia
Opening times: Sun – Tues 17:00 – 2:00; Weds – Thurs 17:00 – 2:30; Fri – Sat 17:00 – 3:30
The Whiskey Bar that Doesn't Exist
Beyond the Bar that Doesn't Exist, there is a Whiskey Bar that Doesn't Exist as well! It's a little outside of the old town center and resembles more of a traditional pub with wooden furnishing and walls.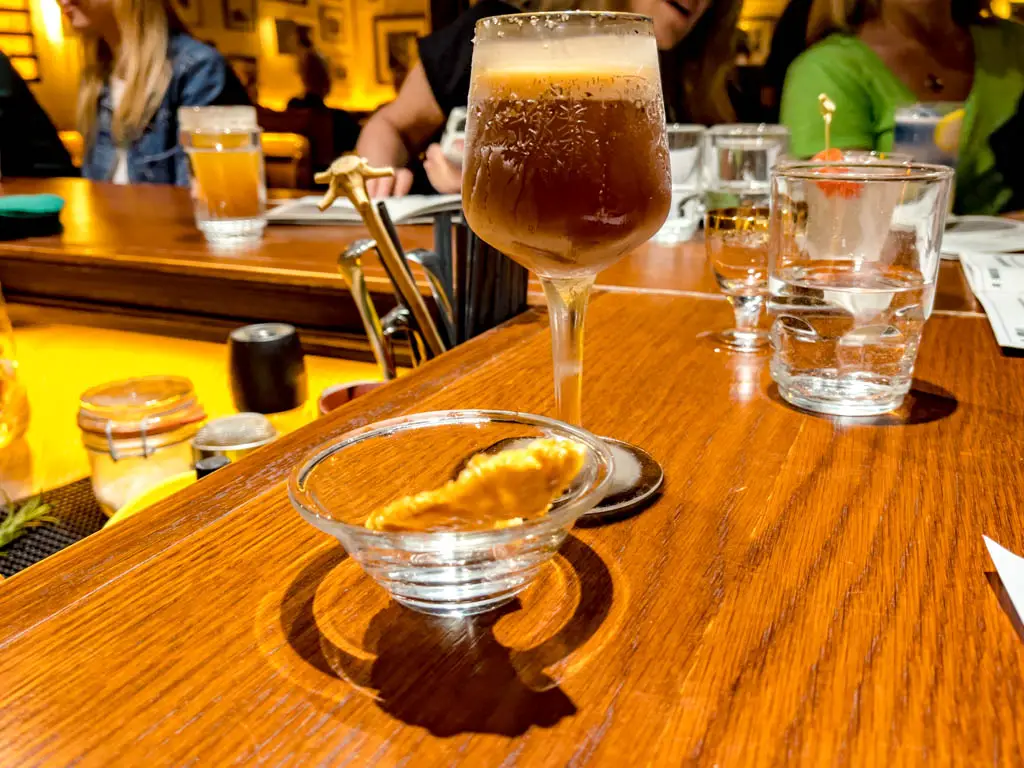 The bar has a range of whiskey as well as cocktails that don't have whiskey, so it's perfect for anyone. The bartenders are also happy to give you recommendations and certainly know how to put on a show! This is certainly the place to go if you're looking for more of a traditional bar vibe without too many people.
Address: Gorkého 98/58, 602 00 Brno-střed-Veveří, Czechia
Opening times: Mon – Thurs 17:00 – 0:00; Fri – Sat 17:00 – 1:00; Sun 17:00 – 23:00
4pokoje
4pokoje is just around the corner from the Bar that Doesn't Exist. It's a combination of a breakfast place, cafe, and cocktail bar and it's reflected in its opening times and menu.
The key concept of 4pokoje is that it doesn't do things the traditional way. Instead, you'll find food and drinks that are inspired by a traditional version but done with a twist. Most of their fare is inspired by Asia but the menu changes weekly and even daily, except for eggs benedict!
The design of the bar also reflects the modern Asian theme with pink neon lights, curved bars, and sleek furnishing. It's a great place to kick off the night or satisfy some food cravings as you bar-hop around Brno.
Address: Vachova 6, 602 00 Brno-střed, Czechia
Opening times: Sun – Tues 8:00 – 15:00, 17:00 – 2:00; Weds – Thurs 8:00 – 15:00, 17:00 – 3:00; Fri – Sat 8:00 – 15:00, 17:00 – 5:00
Slast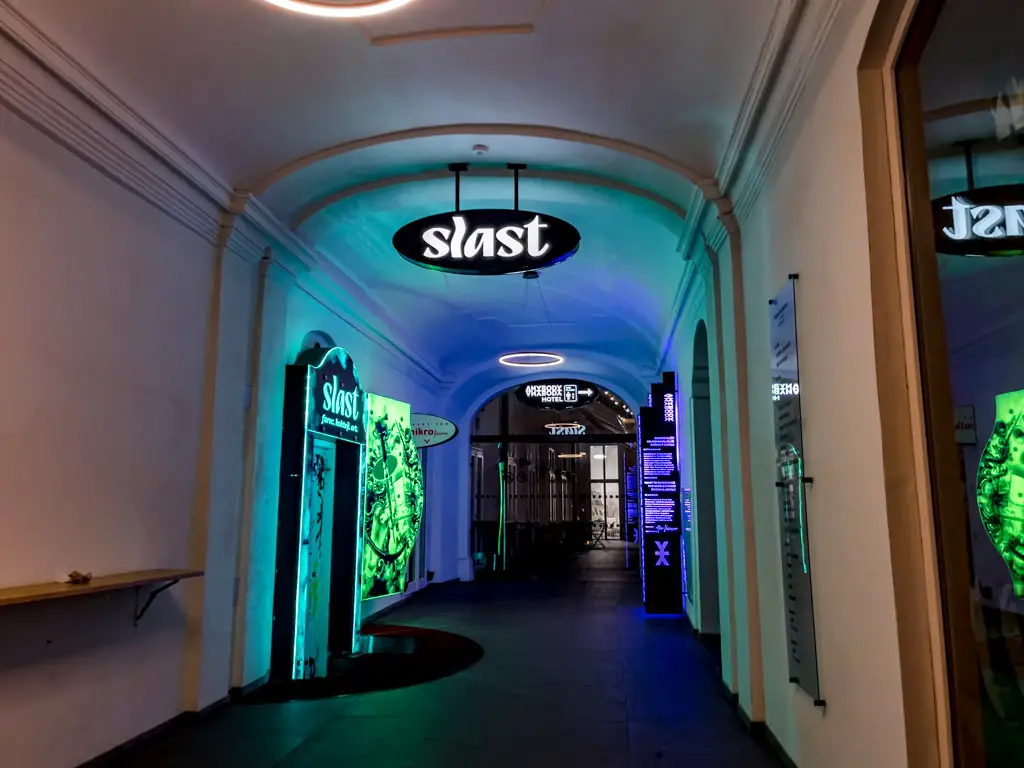 Slast is an underground maze of a bar with numerous rooms and antique furnishing that has the vibe of a ruin bar. The door to the place itself is almost hidden on a small corridor as it's just solid white wood. But after some steep stairs, you'll get to be in a 19th-century dungeon.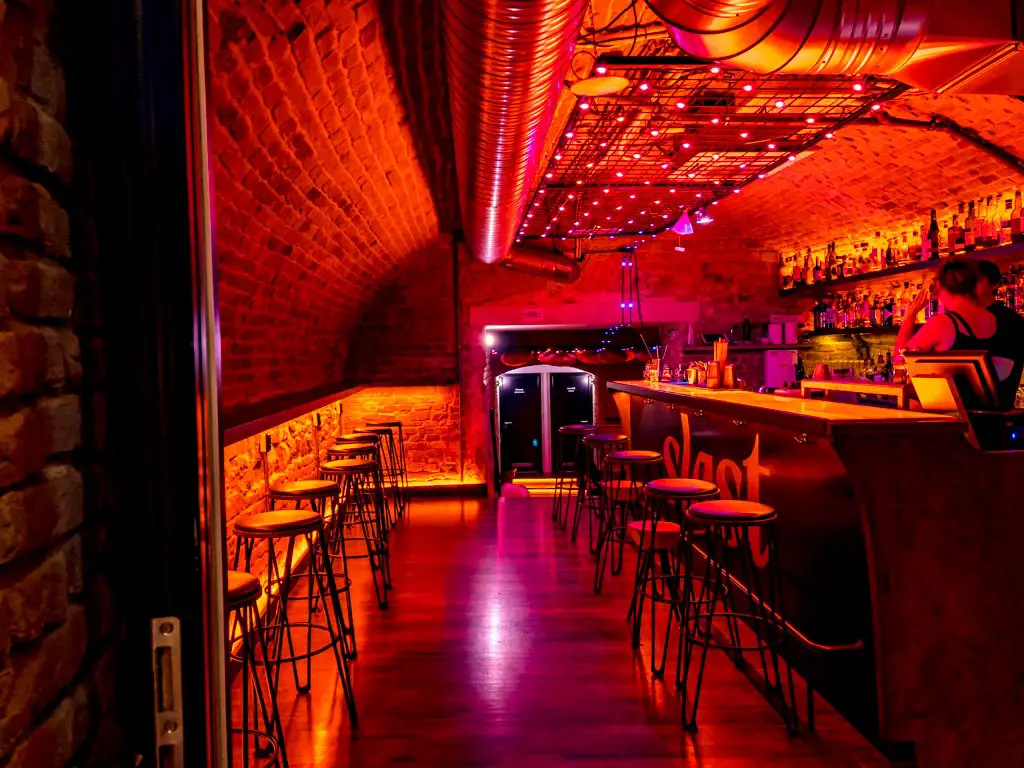 Their menu is also one of the prettiest I've ever seen with bespoke illustration, although some of the names and drawing is not reflective of what the cocktail looks like or what's in it!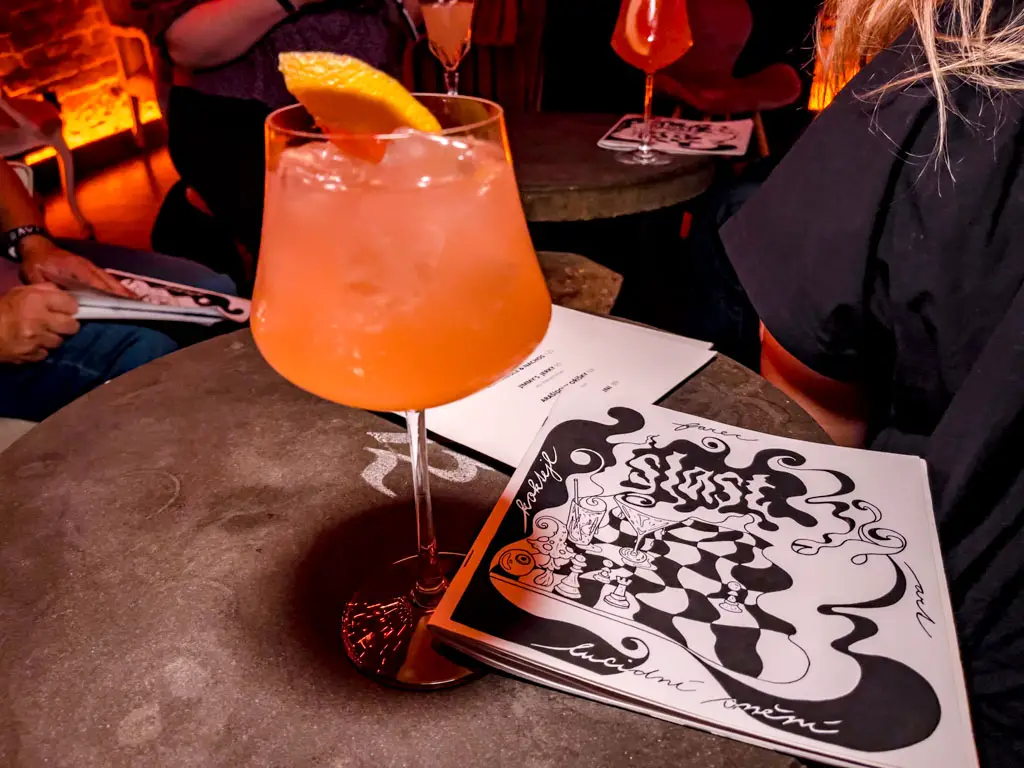 That said, I really like their innovative cocktail and the relaxed, intimate vibe. They also have food and shisha, and remembering where your table is after you go to the bathroom is a bit of a task!
Address: Zelný trh 10, 602 00 Brno-střed, Czechia
Opening times: Sun – Thurs 17:00 – 1:00; Fri – Sat 17:00 – 2:00
Efi Brewery
Efi Brewery is a newly opened brewery in the Efi Spa Hotel. They started making their own beer onsite in 2020 and has a good traditional Czech bar and restaurant vibe. You can also see some of the brewery tanks and space from the bar itself!
I went on a short brewery tour there and had to leave quickly but I do like the vibe and decoration they have. And it's a perfect place to try local craft beer.
Address: nám. 28. října 1903/23, 602 00 Brno-střed, Czechia
Air Cafe
Air Cafe is just across the square from Slast and is a resto-bar with a twist: it's also some kind of an airforce museum. They have a standard list of drinks including Czech beer and good cocktails, and enough space for groups.
Address: Zelný trh 8, 602 00 Brno-střed, Czechia
Opening times: Mon – Thurs, Sat 14:00 – 23:00; Fri 14:00 – 0:00
Terraza
Terraza is a rooftop bar inside the Renaissance building Dům pánů z Lipé by the main street and square. Although the cocktails weren't that good, you can also order wine or beer. Its best feature is the outdoor area as well as a small observation deck on top where you can see the entire city.
Address: nám. Svobody 86/17, 602 00 Brno-střed, Czechia
Opening times: Mon – Thurs 14:00 – 3:00; Fri – Sat 14:00 – 4:00; Sun 14:00 – 2:00