Prague Food Guide: food tour + what to eat
Are you looking for a Prague food guide? Like you, I was looking for the best food in Prague and the first thing you need to know about Czech cuisine is that it's meaty, filling, and satisfying. They like their potatoes and bread dumplings, and they also love a good beer. It might seem repetitive at first but there are many nuances to the food and here are some of my recommendations for Prague:
Prague Food Tour
Looking for a good Prague food tour? I always think that food tours are the best way to discover a city, and the Prague Food Tour run by Leona and George are basically a walking tour combined with food experience. The tour lasts for 4 to 4.5 hours, taking us through the new and old towns of the city along with four unique food experiences.
First, we tried the traditional cuisine of the Czech Republic in the most decadent restaurant and learn all about the country's food and history. I would never have thought to order this traditional soup that has a poached egg in it! Leona also explained to us how to eat each dish, which is insightful and helpful. 
The second experience is at a local beer hall where we tried both beers the Czech way with various levels of foam and some traditional beer food.
The third experience is at a cafe that was taken over by the communist party and fortunately returned to the owner after for some traditional dessert. We tried some delicious coconut pastries along with a delicious custard soup with brioche bun.
Last but not least, as this is my favourite stop, we hopped to an up-and-coming neighbourhood for a modern take on traditional Czech cuisine. The sauce, the smoked carp, and the potato are the perfect combination!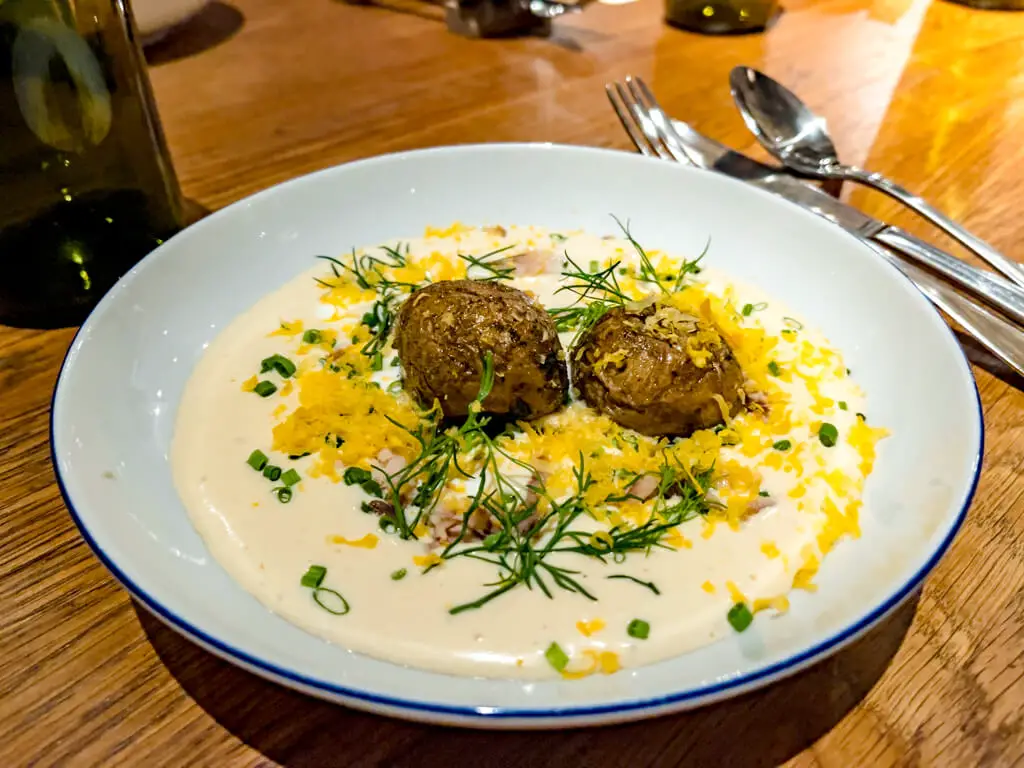 Cost: 113 euros
Time: 4-4.5 hours, meeting time vary
What to eat in Prague
Wondering what to order in Prague? To learn what you'd like most you should do the food tour above. Otherwise, here are some of the common things to get:
Trdelnik (Chimney Cake)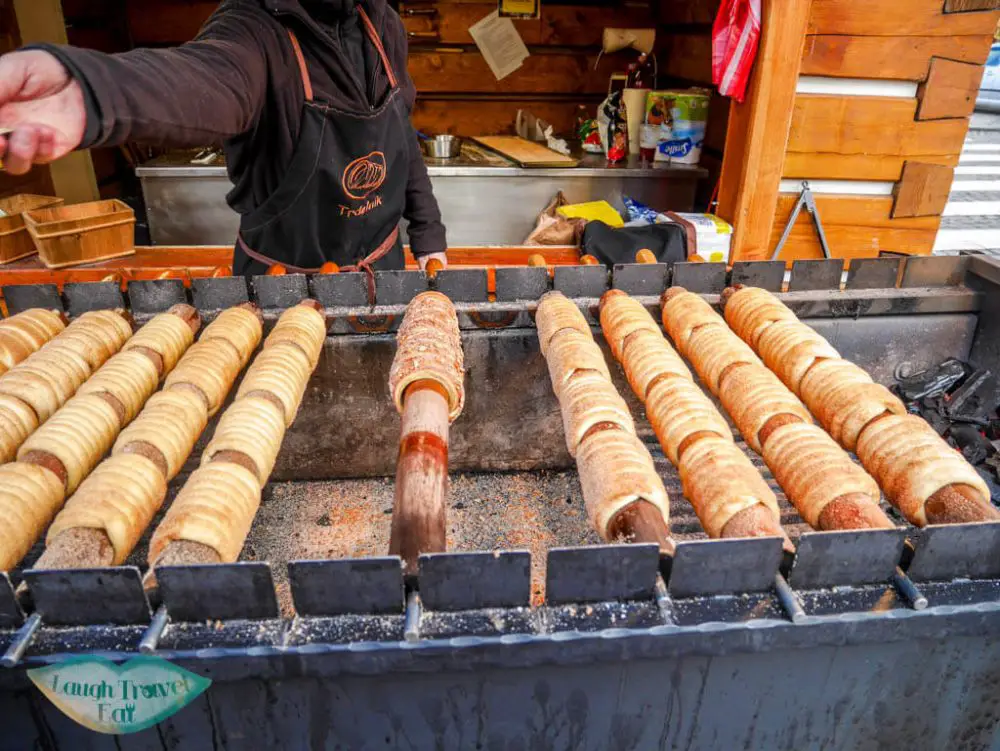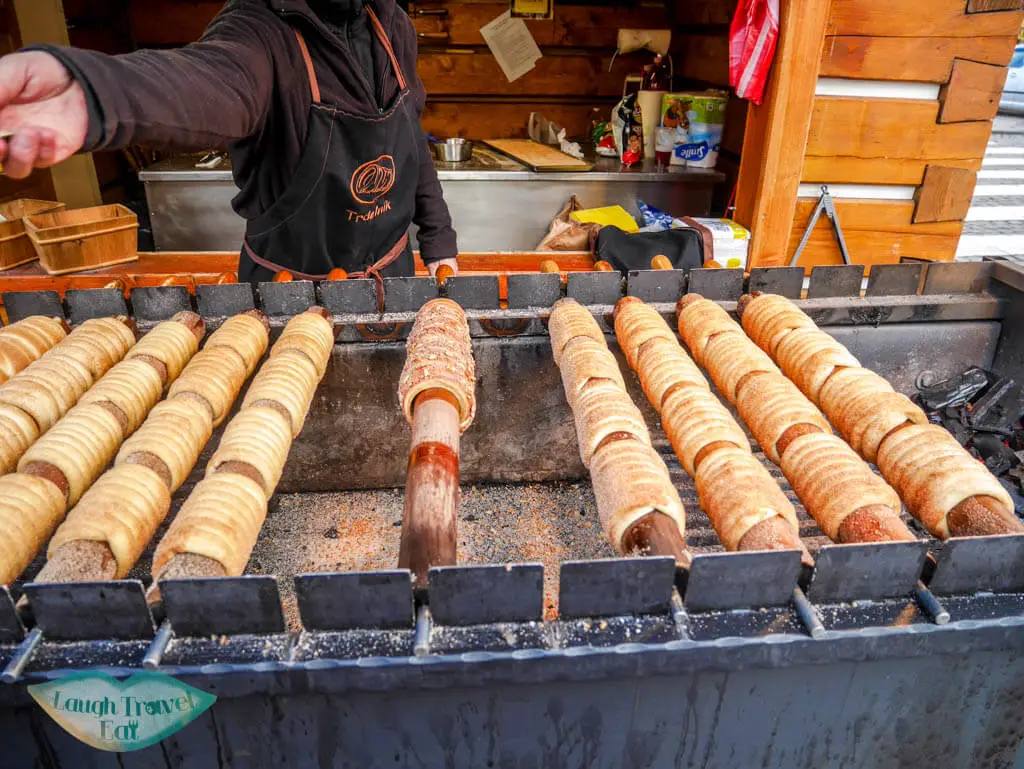 Traditionally a Transylvania snack, this tasty spiced roll is a favourite snack in the city. Roasted on a spit before being dredged through cinnamon and nuts, these tasty treats will keep your energy up as you roam through the City. They are typically 60 kruna.
Note: they are originally from Hungary so this technically isn't the 'authentic' place to get it
Beer
Famous for its beer, you can pretty much get it in every restaurant. However, Strahov Monastery has their own Brewery with the special brown ale called Norbert and a lighter lager. I would have tried some – but the weather was far too cold, and their restaurant looked pricey.
Kofola
During the communist era, there was no import of Coca Cola so Czech ended up with their own version: Kofola. It has a more herbal taste with liquorice, and I do enjoy drinking it instead of Cola when I was there! Most restaurants offer it along with the regular cola, some even on draft!
Svarak (Hot wine)
Heading to Prague in December I was under-prepared for the chilliness. But I didn't stay frozen for too long, for I was saved by the Svarak, the traditional mulled wine in Czech. A cup usually costs about 50 koruna for 200ml, which occasionally can be cheaper than Hot Chocolate.
Beef goulash
It is one of the famous traditional dishes, which can be served as a soup or with potato pancake (which is absolutely divine) or dumplings (which are not what you expected).
Meat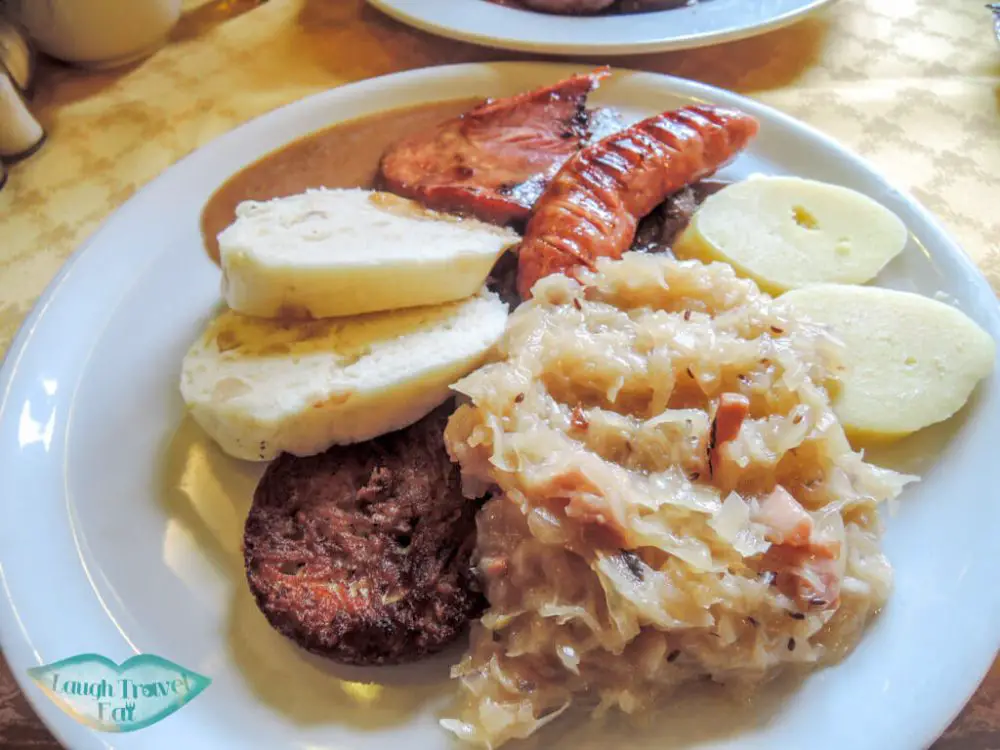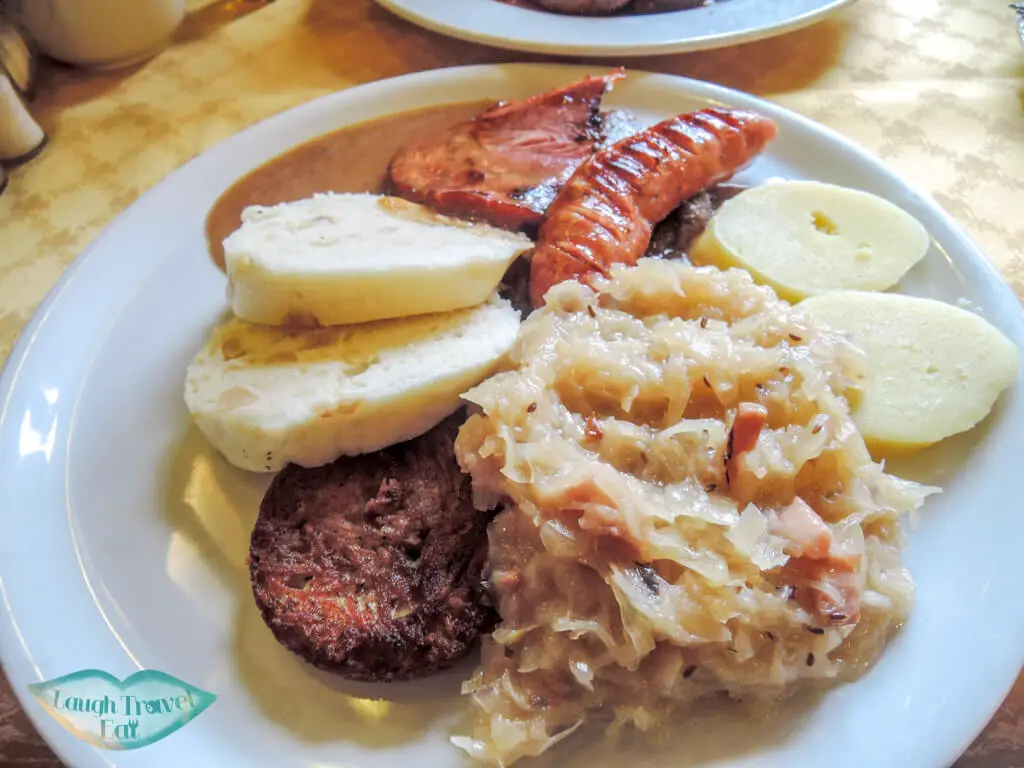 Meat is the main focal point of Czech cuisine and you can often find mixed grills or mixed meat dish offered at restaurants. One of the ones I've tried was served with potato pancakes, dumplings with sausage, gammon and pork steak accompanied by onion. If you're a meat lover, you're going to love Czech food.
Usually, duck and beef are the two most common meat to get!
Best restaurants to eat in Prague
U Tri Jelinku
A restaurant in a historic shop house just below the castle, it's a popular eatery with a few outdoor seatings. Although constantly busy, the staff are friendly and they have a comprehensive menu of Czech cuisine. I tried the duck confit while my friend had a pate starter. The portions were big and it took me a while to finish!
They also have pretty good free WiFi!
Address: Nerudova 206/4, 118 00 Malá Strana, Czechia
Opening times: 10:00 – 23:00
Hotel U Krize
Situated next to Petrin Hill, and across the bridge from the National Theater, this surprisingly cheap restaurant is located inside a hotel. Despite the good food, I wouldn't vouch for their dessert, and one needs to be patient for the service.
Address: Újezd 423/20, 118 00 Praha-Malá Strana
Tkalcovsky dvur
A traditionally decorated tavern, this restaurant has proved itself to me that it is not a fancifully decorated tourist trap. Close to Charles Bridge, it is an ideal lunch place, as they have a special menu for tourists regarding their traditional dish that won't break your bank.
Address: U lužického semináře 104/28, 118 00 Praha
Opening hours: Mon – Sun 11:00 – 24:00
Cafe Louvre
Cafe Louvre is one of the best rated place to dine in town. Although do note that its restaurant and cafe are on two different side, so you have to let the waiters know which side you want to dine at.
We had food at their restaurant which was less busy than the cafe. The steak tartare starter was great, but my veal was a bit dry and overcooked. Interestingly, one of their signature is a club sandwich!
If you're after coffee, hot drinks, and pastries, you'd have to dine at the cafe.
Address: Národní 22, 110 00 Nové Město, Czechia
Opening times: Mon – Fri 8:00 – 23:30; Sat – Sun 9:00 – 23:30
Here are a few that were recommended to me but I hadn't managed to try:
Cukrar Skala – a cafe that's suggested with Mysak Cafe
Bila Krava – it is said to be the best place for steak in town and completely booked for the night when I tried to go
Prague Cafes and Bakeries
Cafe Mysak
Cafe Mysak is one of the oldest and most beloved cafe in Prague. Its decoration hasn't changed since the early 20th century, taking you right back to the Art Nouveau era. They have both breakfast pastries and delicate sweets, with surprisingly little dine-in crowd.
I went there for breakfast and they have a range of pate-choux. I didn't see the croissants until later, otherwise, they would have been my choice!
Address: 710/31, Vodičkova, Nové Město, 110 00 Praha, Czechia
Opening times: Mon – Fri 8:00 – 19:00; Sat – Sun 9:00 – 19:00
Bakeshop
The small bakery and breakfast spot is run by a Czech-Australian couple who are friendly and helpful. They have milk alternatives, bagels, and cooked breakfast on offer, as well as WiFi.
It's a great choice if you headed over the visit the castle or Charles Bridge early and needed a breakfast spot!
Address: U Lužického semináře 99, 118 00 Malá Strana, Czechia
Opening times: Fri – Sun 9:00 – 18:00
Pernikovy Panacek
This is technically neither a cafe nor a proper bakery, but it'd be a shame not to mention this cute gingerbread cookies place. It's near the Bakeshop on the west side of the river with many different gingerbread cookie design. Whether it's for photos, souvenir, or just a treat, it's one of the best places to get them.
Address: Malá Strana, 118 00 Prague 1, Czechia
Opening times: 10:00 – 19:00