Street food in Chinatown Bangkok is one of the best in Bangkok not only because of the variety but also the quality. Street food vendors as well as restaurants line up under the neon signs as day turns to night, each with its own specialty. The charm of street food in Chinatown Bangkok is that finding the stall is sometimes an adventure in itself. There are just so many places vying for your attention. Here are my best food recommendations for street food in Chinatown and some tips before you set off.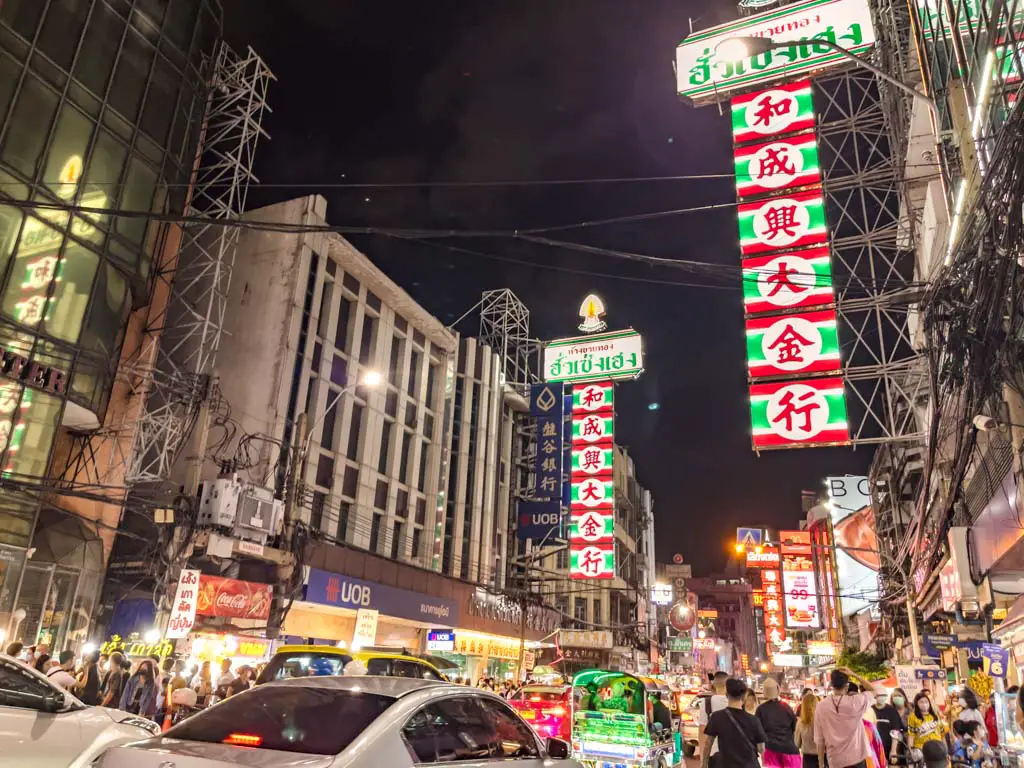 Street food in Chinatown Bangkok is one of the best. Street food vendors as well as restaurants line up under the neon signs as day turns to night. Here are my best food recommendations for street food in Chinatown.
This post is only for Chinatown food, for the rest of Bangkok, see my post here
Bangkok Chinatown Food: what you need to know
Chinatown Bangkok's street food is not to be missed, so I'm here to tell you all about where to eat in Chinatown Bangkok. Before that, we want to make sure your foodie venture is off to a success, so here are some top tips and FAQ:
Is Chinatown Bangkok worth visiting?
Yes, Chinatown in Bangkok is absolutely worth visiting. Whether you're into photography, food, or simply want to see an integral side of Bangkok, the Yaowarat Road is an attraction in itself. I'm ashamed that it took my third visit to Bangkok to actually make it to Chinatown, and it's my number one place to visit every time I'm back since.
Is Chinatown closed Mondays?
No, but many of the restaurants and street food carts are not open on Monday. If you have a place you want to dine at in mind, be sure to check their opening time. But if you're looking for the vibe and the hustle, Monday would not be the right time to go.
What time does Bangkok Chinatown open?
Chinatown is open from the morning, but it's best to visit around 3-4 pm until late. That's because some places open until only the mid-afternoon, while some don't open until late afternoon! If you want to full Bangkok Chinatown street food experience, it's best to cover afternoon to early evening so you don't miss out.
What time does Chinatown Bangkok close?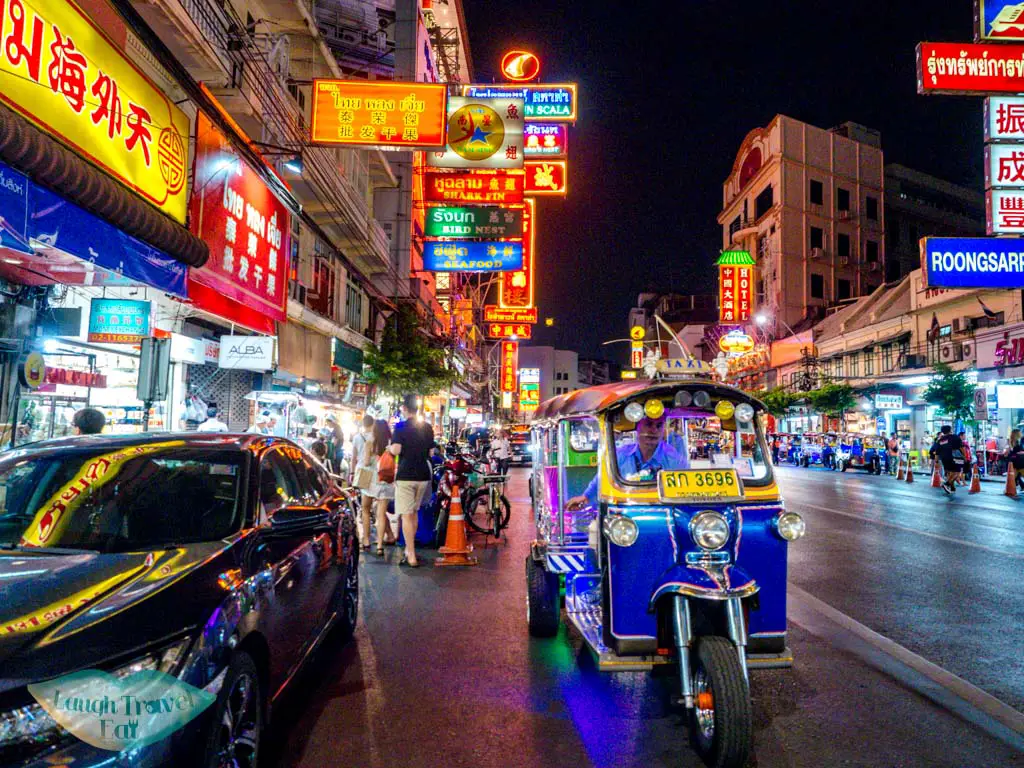 A lot of eateries close well after midnight in Bangkok Chinatown, so if you're not fussy about which place you are going to eat at, you'll definitely find something open! To avoid disappointment, I recommend taking a food tour:
A Chef's Tour China Town dinner tour
I was hosted for the tour but all opinions are my own – and honestly, I've had some of the best food in Chinatown Bangkok

Nam
To find the very best street food in Chinatown Bangkok, you need help from experts and joining a tour is the easiest way to get them (aside from reading here too).
A Chef's Tour also runs an evening tour in China Town. This is by far the best street food tour to take to fully experience all the street food Bangkok Chinatown has to offer. While a few of the places included in the tour, you can probably find yourself or are recommended online, there is just so much more depth to it when you have a guide who knows the vendors and the place inside out.
I followed the instructions to meet at the Shanghai Mansion bar at 4 pm, you won't miss it because it's a beautiful high-ceiling art decor hotel!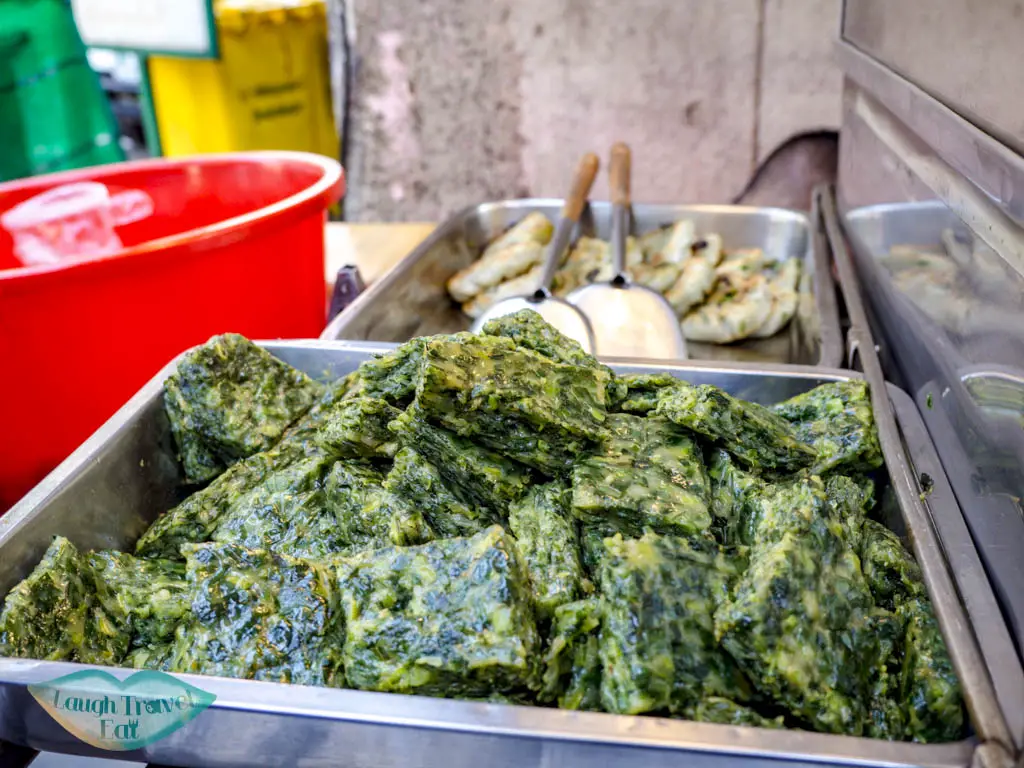 Our guide grew up here, and we'd actually be visiting his mother's stall! But our first stop is to try some Chive Dumplings. It's a curious mix of tapioca flour and chives and served with dips.
The next is arguably my favourite, an unassuming street-side stall run by a lady who sells pork leg stew with peanuts in five-spice soup. The meat is very tender and you add raw garlic and spicy sauce or chilli as well. While I have had similar dishes in Hong Kong, I'd never add raw garlic on it and it's divine.
We then finally made it to our guide's mother's stall! I honestly would not have stopped here for street food in chinatown Bangkok. This is why tours are great.
I love the setup since it's a group of stalls sharing a seated space – almost like a hawker center but street side style by a Cantonese Temple. We had chicken satay with peanut sauce, which has a different flavour to the Malaysian version; Glass noodles in soup with the noodles being made with mung bean and the soup with morning glory, celery, chicken, and egg in a Japanese-style pork broth.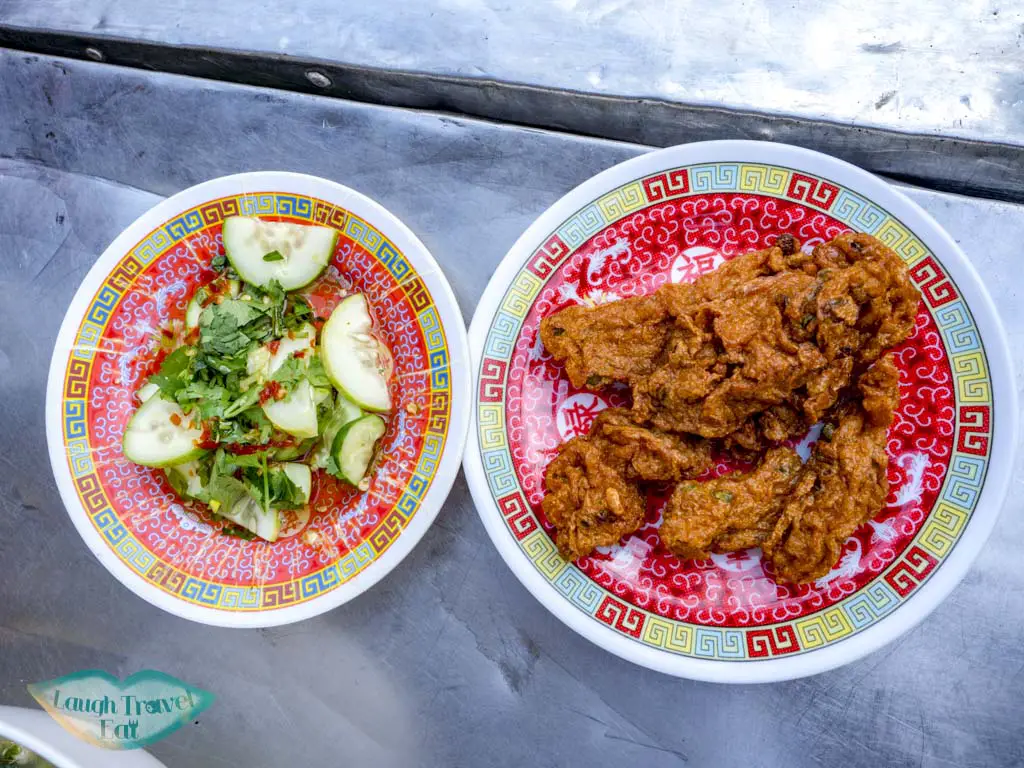 Last but not least, a fried fish cake is not what I expected. It's more like a piece of fish, clown featherback fried in a chilli paste, kaffir lime, and long bean.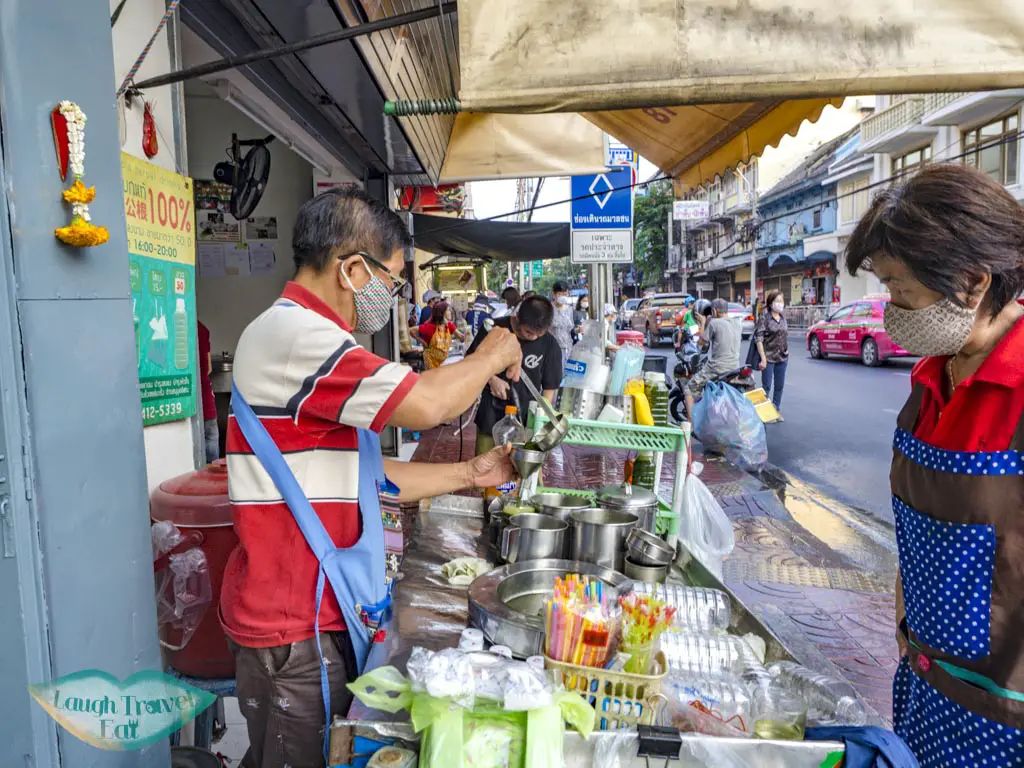 Then it's time for some refreshing drink and that came in the form of pennywort juice served in a plastic bag. It's a distinctive grass green with a very earthy taste, but much needed in the Bangkok heat.
Another contender to my favourite is the visit to the oldest noodle shop in the area. It's at least a century old with the owner still making the egg noodles by hand, which are served in pork broth with pork. It's so tasty that we all finished our not-so-small portion!
One of the highlights on the trip is our stop at the Netflix Street Food curry place. While I won't say it's the best curry I've ever had, I like that it's less spicy and served with dried pork sausage as well as chicken. Another unique point is that everyone sits on a plastic chair in the courtyard!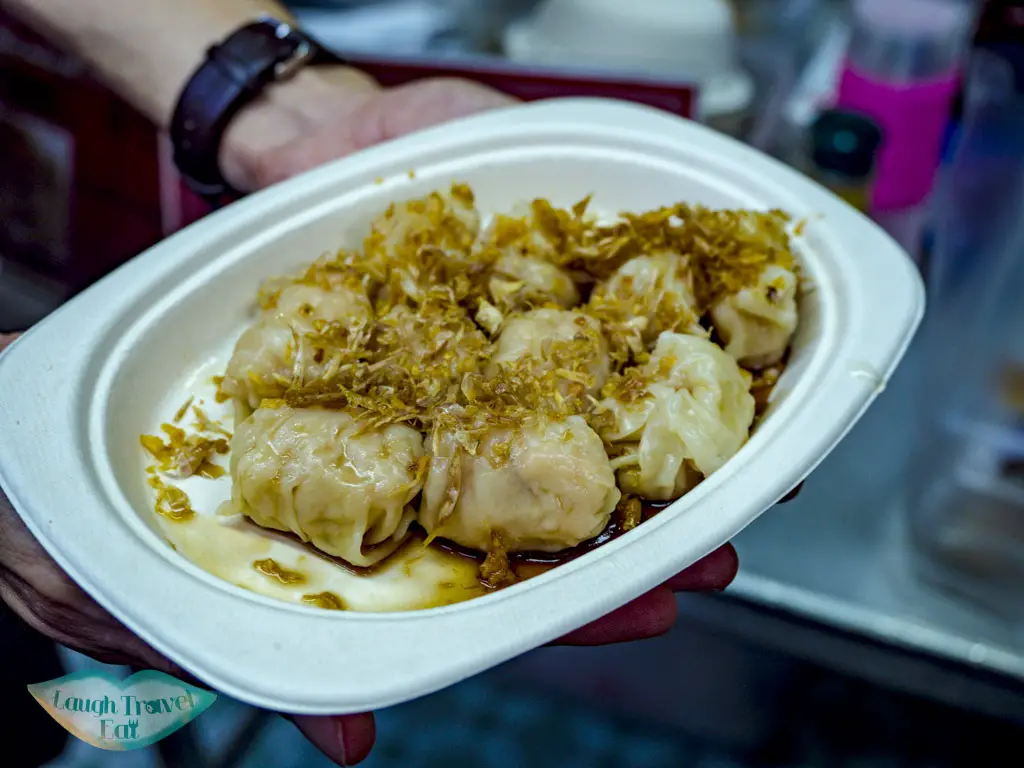 We then started to walk back to the main street of Chinatown, stopping for some shrimp wonton – topped with fried garlic and vinegary sauce – and into a shop that serves soy sauce ice cream! It actually tastes more like caramel in my opinion, but you top it with sweet soy sauce and it's surprisingly delicious!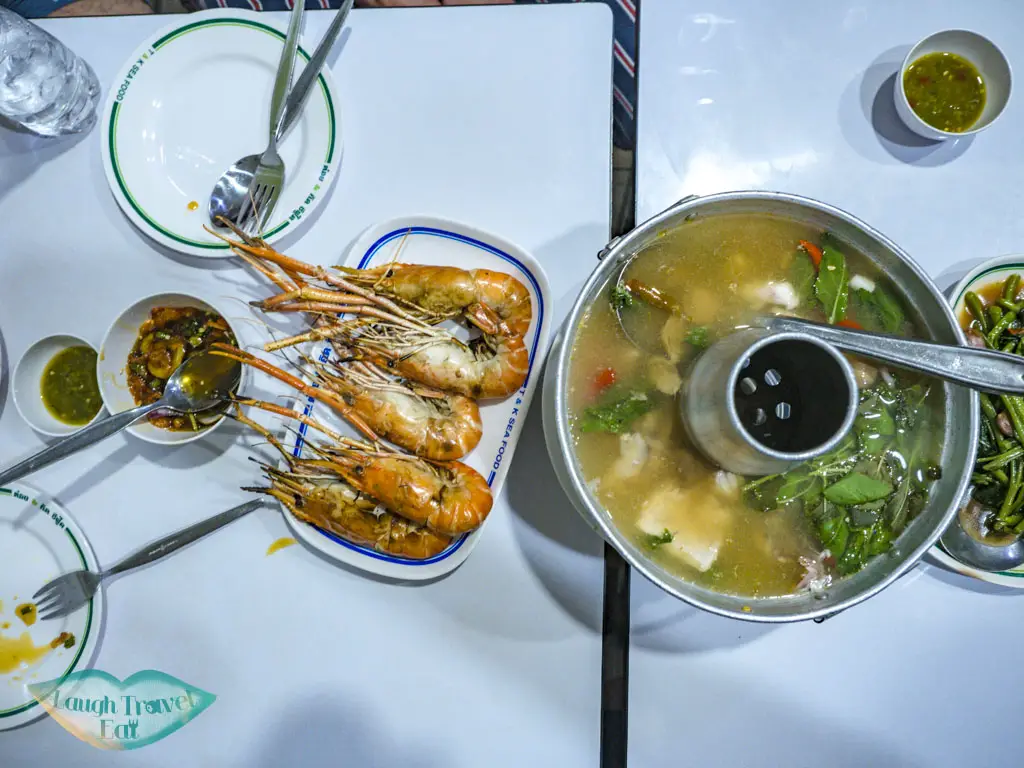 The food adventure is not yet over as we got ushered up to the attic of a seafood restaurant. The dishes presented to us are fried morning glory, mango green with sauce, Bobdek- the original tom yum, and grilled shrimps with dip! As we are all starting to get full, I didn't think I'd finish but I do have a weak spot for shrimps!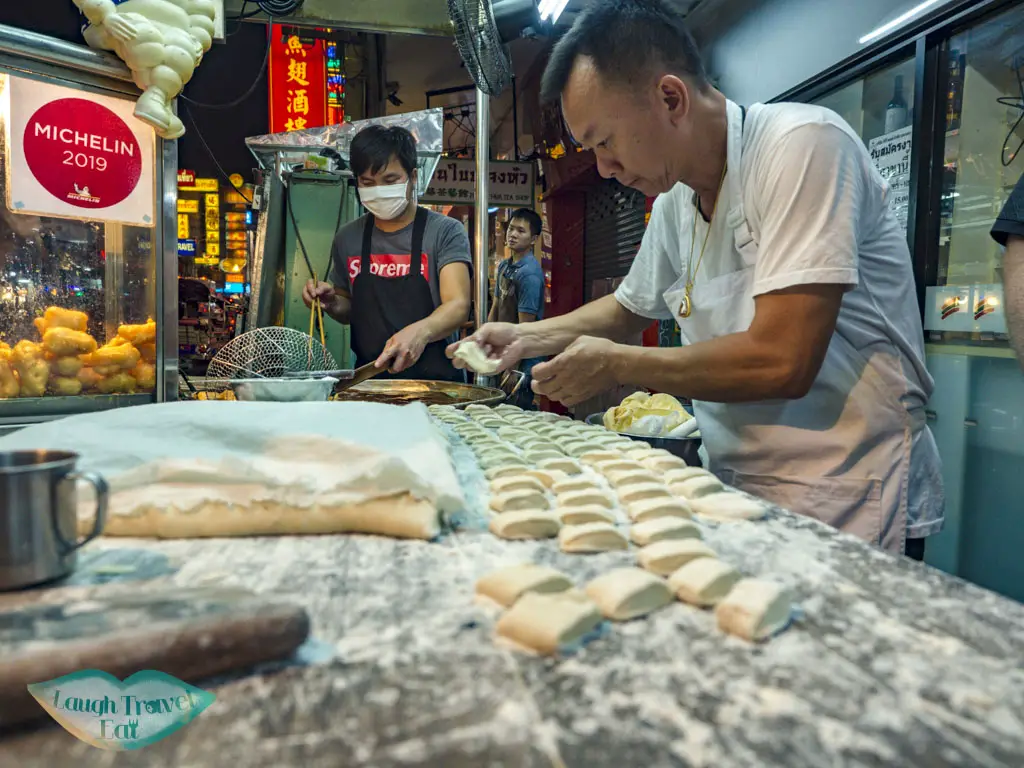 As the saying goes: there's always room for dessert. My top favourite is the Michelin Recommended street food stall that serves Yaotiu with pandan custard. The former is of Chinese origin, usually a breakfast staple, but pairs oh-so-well with the Thai custard that I single-handedly finished a third of the bag. We rounded it all off with the classic mango sticky rice and mango juice.

Food in Chinatown Bangkok that you need to eat
Chinatown Bangkok's food is legendary, here are my favourite stalls. Here's no holding back of what to eat in Chinatown Bangkok:
Michelin recommended Yaoti
Yaoti – the fried dough that is typically a breakfast dish for Chinese, has evolved into something more in Bangkok Chinatown. The Michelin-star-recommended stalls are set up in from of the 7-11 on the eastern end of the Yaororwat road every evening and a long queue always forms in front of it. It is something you'd do with the street food tour above, but you would not regret getting more on your next visit to Chinatown!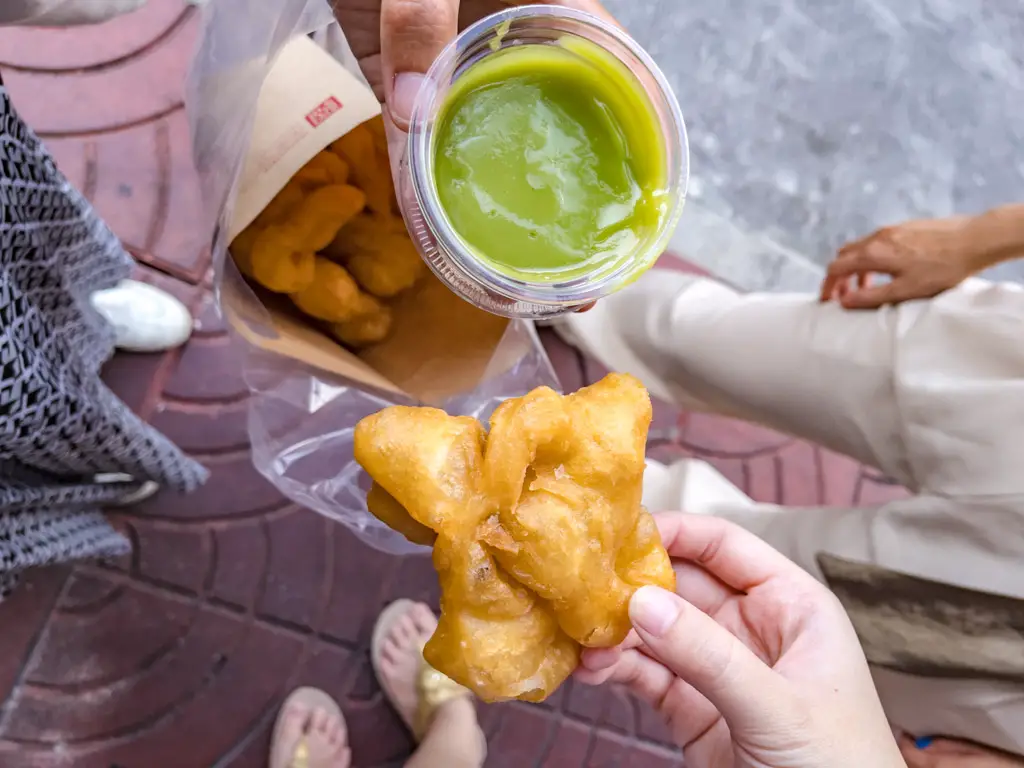 The pieces of yaoti are smaller than their roots and come with pandan dip, making for a great dessert. This is an absolute must for Chinatown street food in Bangkok.
Nai Ek Roll Noodle
The shop is famous for its rolled rice noodles and was founded by Nai Ek, who moved from China and started off as a street food court. They also serve food dishes, too, but their crispy pork roll noodle. Their stew pork knuckle rice is also quite delightful and makes for a great stop.
Address: 442 ซอย 9 Samphanthawong, Bangkok 10100, Thailand
Opening times: 8:00 – 0:00
Sweettime
Sweettime is a series of street food carts that serves Chinese-style sweet soup that's the perfect way to cool down. There is a large variety of choices and it's really up to your own taste as to what you want to order.
Address: 436 ถ. เยาวราช Samphanthawong, Bangkok 10100, Thailand
Opening times: Tues – Sun 18:00 – 02:00
Krua Porn La Mai
One of the most popular street food stores in Chinatown is Krua Porn La Mai. They serve up hot plate gravy noodles popular with locals and even attracted to Gordon Ramsey. Their signature is the Rad Na Phu Khao Fai Seafood. There is also a dried seafood version.
If you're heading there at night time, prepare to queue for a little. We were sat across the road from the restaurant and it's all plastic chairs and metal tables, with plenty of sauces, too.
Address: 590 592 Charoen Krung Rd, Samphanthawong, Bangkok 10100, Thailand
Opening times: 10:30 – 23:00
Guy Kao Grilled Squid
The best grilled squid salad is by a street food stand that would be hard to miss with the piles of skewers waiting to be grilled and being grilled. You can choose what part of the squid you want in your salad from just regular squid meat to squid mouth.
Ordering is also an adventure in itself, with one of the staff taking your order first, then you heading over to the assembling counter to check if your order is ready. The squid are chopped up and put inside a bowl with coriander (cilantro) and various other salad. The sauce, which is very spicy, is given in a little sachet separately. You can add as much or as little as you want, depending on your spice tolerance.
Address: 414 416 ถ. เยาวราช Chakkrawat, แขวงจักรวรรดิ Bangkok 10100
Opening times: Tues – Sun 17:30 – 1:30
Bamee Jabkang
Bamee Jabkang is hidden in an alleyway and the oldest egg noodle place in Bangkok. It's a little grungy with only a long wooden table next to the stall with an outside, open kitchen. But the 50 baht signature egg noodle cannot be beat, and you can see the noodles being prep right in your face.
The hygiene condition might not be ideal, but most people are only here to slurp up the noodles before going. Or, you can get the noodles takeaway!
Address: PGR6+X22, Soi Charoen Krung 23, Pom Prap, Pom Prap Sattru Phai, Bangkok 10100
Opening times: 9:30 – 17:30
Jek Pui Curry Rice
Jek Pui Curry Rice is featured on Netflix's Street Food Bangkok episode and it's surprising to see that it remains exactly how it was: a bustling, cheap, and warm eatery. It's on a side street north of Yaowarat Road with pots of curries lined up for you to snoop at. Their yellow curry is more aromatic and less spicy, with a choice of pork or beef. The green curry is spicier and more watery, with a choice of pork or chicken. Vegetarian options are also available.
The curries are served on a pink plate with rice and you're expected to eat this without a table. That's right, part of the charm of eating at Jek Pui is that tourists and locals alike sit on red plastic stools and attempt to eat with one hand. The many cats there might pay you some attention in return for a few pets, and a plate of filling curry still only costs 60 baht. You simply pay when you leave and the owner is really friendly.
Address: 25 Mangkon Rd, Pom Prap, Pom Prap Sattru Phai, Bangkok 10100
Opening times: 14:00 – 19:00