Prague is a popular destination with plenty to see. From its Old Town to the two castle districts, you have a lot of sights jostling for attention. However, there are 5 that stood out the most to me, and I want to share my list with you!
Strahovs Library
Perches on the north side of Petrin Hill, the Strahovs Monastery of Premonstratensian Order is the oldest monastery in Bohemia and established in 1140. The most visited site is its library, which has a turbulent history. Its first collection was lost in the fire; the second was destroyed during the Hussite war. The surviving collection today hosts 130,000 volumes, including many saved from WWII.
The two most famous rooms in the library are the Philosophy and Theological Hall.The Philosophy Hall was built in 1784, a library that rivals the one in Beauty and the Beast. A tall room with two storey of wooden bookcase framed with golden capitals and arches, with sunlight streaming from in between. The fresco painting on the ceiling of the heavens is done by Franz Maulbertsch in 1794, portraying how indebted mankind is to Sophia (wisdom).
Theological Hall was created by 1670 by Giovannai Domenico Orsi, ceiling fresco is the work of Siard Nosecky from 1727. It has a lower ceiling than the Philosophy Hall with a ceiling that looks like clouds with fresco painted inside circular panels. The corridors leading up to the two halls show some animal specimens and old books, which are nothing special in spectacular.
Address: Strahovské nádvoří 1/132, 118 00 Praha 1, Czech Republic
Opening times: daily 9:00 – 12:00, 13:00 – 17:00 except Christmas day and easter Sunday.
Admission fee: photo license CZK 50, and tickets are CZK 100, 50 for students
Nearest station: Pohořelec tram station
Vyshrad (cemetery, St Peter and Paul Church)
While many people flock to Hradcany, the oldest castle district in the world, most visitors seem to overlook the other castle district across the river on the southern edge of tourist-filled Prague. Legend has it that Vysehrad was the where the first settlement and princedom were found, though this is not supported by a modern historical report.
This once magnificent castle has now turned into a beautiful park dotted with rich histories; most notable places are the St Peter and Paul Church and Vysehrad cemetery.
The medieval Vishyrad Cemetery situated next to the church is also worth a peek. The burial place opened in 1660 and is the resting place of many notable people such as Bedrich Smetana. The crypts and headstones are elaborate and stunning works of Art Nouveau style, with its Neo-Renaissance entrance and sinister high walls adding to its eerie charm.
It is worth a visit for the vibe and paying respect to Czech/Slovak people. It is free to enter the cemetery and you might still see fresh flowers laid on numerous tombs.
St Peter and Paul Church – CZK 10 for student
A tall, handsome brick structure with two belfries, the Romanesque Basilica appeared unimpressive until you see the front. The colourful and intricate mosaics above the identical red doors with alternating rhombic of blue eagle and red lion crest sat beneath the belfries immediately caught my attention, and resulted in many photos.
The two belfries were added in the 1900s and the main door is a piece of art in its own right, with crests embodied the entire way. Although I had never been a fan of churches, the interior was exquisitely painted with motifs in yellow or blue tones.
It was first built in the 10th century, but rebuilt many times since and its revolution is evident in its interior. Consisting of five navels, the original gothic structures can still be seen in the aisle and a chapel.
Intricate patterns outline the pillars and cellings are by painter Frantisek Urban and his wife. Grand scale frescoes depicting scenes from Christianity, history of art and Czech lands, with those by saints sitting at the bottom of the pillars.
The Southern Gate is quite beautiful – much more so than the entrance near the river. There is also a little round church that you can visit.
If you are looking for some more cool castles/architecture around Prague, here are some great day trips out of Prague that covers just that!
Address: V Pevnosti 159/5b, CZ 128 00 Praque 2, Czech Republic
Website: www.praha-vysehrad.cz/
Nearest station: Vysehrad (metro), Albertov (Tram 7,8 or 24) or Vyton ( 3, 7, 17 or 16)
Opening times (for church): Apr-Oct: Daily 10:00-18:00, Nov-Mar: Daily 10:00-16:00
Alfons Mucha Museum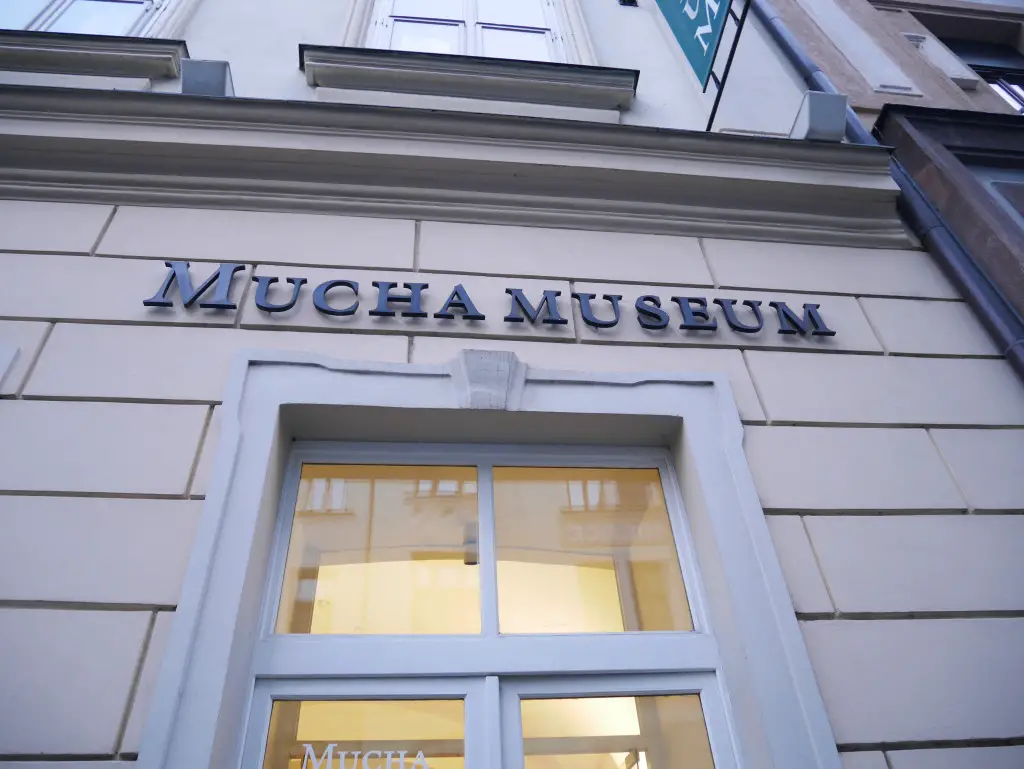 Whether or not you know who Alfons Mucha is, the museum is definitely worth a visit for any art lovers or just those who like simple things. Dedicated to the works by Alfons Mucha (1860 – 1939), the infamous Czech Art Nouveau artist, over 100 of his arts were on display. Most notable are his posters of Gismonda, Lorenzoccio and Hamlet for Sarah Bernhardt in Paris. His earlier works are reminiscent of the Classical Greek style, elegant, simple, beautiful and revolutionized the poster world. Post 1910s his works were much more ominous, focusing on Czeck-Solvak folklore.
Address: Kaunický Palác, Panská 7, 110 00 Praha 1, Czech Republic
Opening times: daily 10:00 – 18:00
Admission fee: CZK 240 for adults, 160 for students and children. CZK 600 for family for two adults and two child.
Wesbite: www.mucha.cz/
Nearest station: Mustek exit A
Loreto Church
Commissioned by Baroness Belgna Katherina von Lobkowicz, the church is built in Baroque style by Kilian Ignac Dienzenhofer.
With a very impressive red roof, white façade gilded with gold, gargoyles lining the front and stairs completed with a central belfry topped by a bronze dome, there is no question why the Church of Our Lady of Loreto is such a popular pilgrimage place. The clock tower has 27 bells, but do not move and instead, chimes the song We Greet Thee a Thousand Times every hour fro, 8:00 – 18:00. The corridors surrounded the courtyard with ceiling frescos and smooth tile floors.
The real reason, however, is that it houses the Casa Santa in its courtyard – a marble with relief depicting scene from the Old Testament and Mary visited by Gabriel and Birth of Jesus copied from Italy. Inside Casa Santa there is a small altar where ancient wall paintings can still be seen in places.
It is surrounded by six chapels scattered around the courtyard: the chapel of St Anne, St Francis Seraphinus, St Joseph, Holy Rood, St Anthony of Padua and our Lady of Sorrows, each beautiful in their own right.
The Church of the Birth of Our Lord is also included in the entrance fee, and the Church of the Virgin Mary Angelic is connected to the Loreto church by a covered corridor. And you would not want to miss the upstairs museum showcasing items from the church's treasury, including the 12 kg Diamond Monstrance called the Prague Sun.
If you are visiting as a family then there is a family ticket available for two adults and one child under 15; it is also worth noting that children under six years old go in free and you need to buy a photo license to (CZK 100) per person to take photos.
Address: Loretanske Namesti, 7 | Hradcany, Prague118 00, Czech Republic
Opening times: 1/11 – 31/3 daily 9:30 – 12:15, 13:00 – 16:00; 1/4 – 31/10 daily 9:00 – 17:00
Website: loreta.cz/en/index.htm
Admission fees: Adults: CZK 150, Students CZK 110, Seniors (70+) CZK 130
Jeruselum/Jubilee Synagogue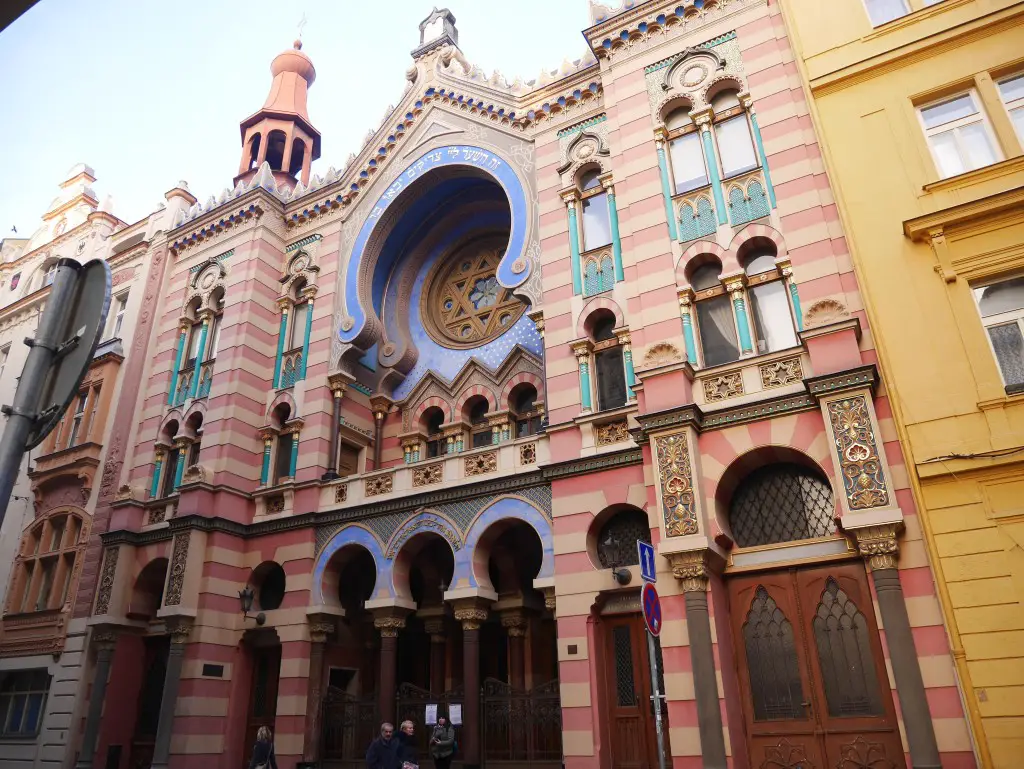 Reminiscent of 1001 nights with vibrant primary colours and gold facade, the synagogue is decorated with gold gilded six point stars; you will be in awe of the hidden synagogue from a side street leading from the Vrchlicky Park. Built in 1906 by Wilhelm Suassy in honor of silver jubilee of Emperor Franz Joseph I of Austria, during the Moorish Revival from with Art Noveau décor that's predominantly pink striped with some royal blue tones. Its other name, Jeruselum Synagogue is derived from the name of the street it is on. Unfortunately, it was under renovation when I went – so I cannot say anything about its interior.
Address: Jeruzalémská 1310/7, 110 00 Praha 1, Czech Republic
+420 224 800 849
Opening times: 23/4 – 31/10 Sun – Fri 11:00 – 16:00 Sun except Jewish feast
Website: www.synagogue.cz/cs/jerusalem-synagogue-page
Admission fee: CZK 50