Pak Lung Stream is one of the five streams of Lantau Island near Tung Chung. Known for its crystal clear water, the stream is a difficult hike with an obscure trail start that should only be attempted for those with stream trekking experience. However, it is a good challenge with interesting sites such as the open book-like cliff at the end. On the way out it also offers a great view of the airport and Tung Chung.

Note: if you visit during a dryer time like we did, the water won't be as clear and most of the stream will be dry. However, do not go if there has been a lot of rain though as you can get swept away.

Pak Lung Stream hike summary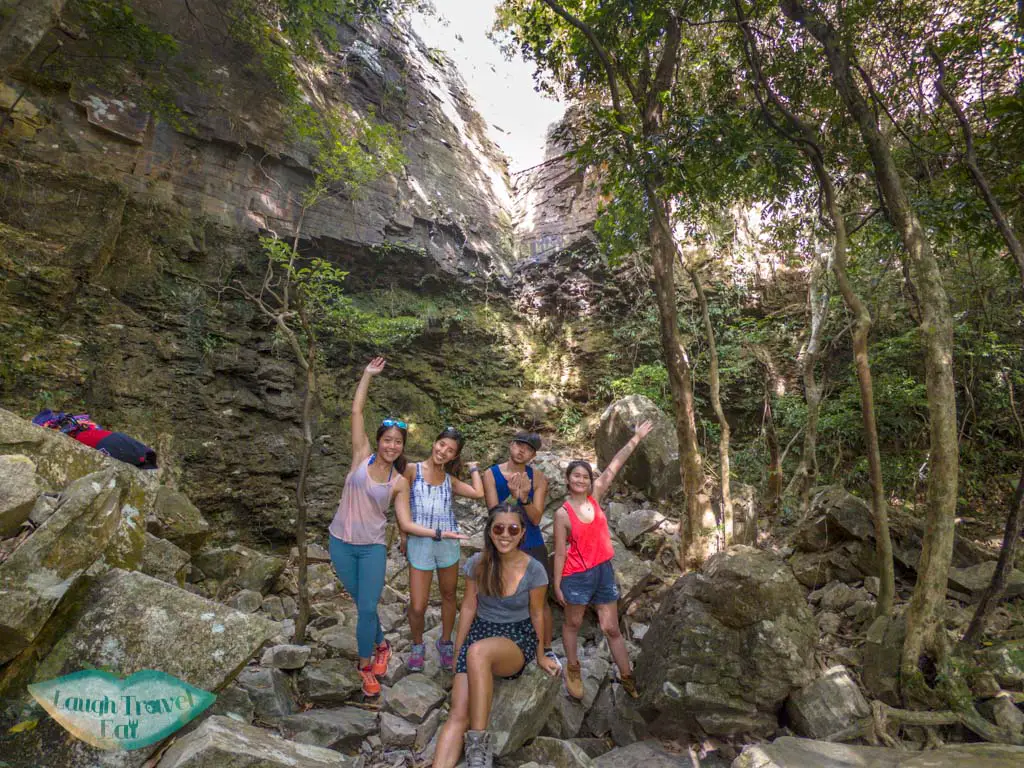 Difficulty: 5/5 – a lot of climbing
Time taken: 5 hours
Pros: a relatively hidden trail with beautiful pools and falls (only if there has been recent rain), walking distant from Tung Chung
Cons: difficult to locate trail start and also a difficult trek. If there is water it also becomes more difficult

Pak Lung Stream trail start
You can walk to the hike from Tung Chung MTR, which is what we did. However, you can also save some time by getting a taxi to the end of the Wong Lung Han Road (or to the picnic site nearby).

Exit Tung Chung MTR towards the taxi station (which is the direct opposite of the exit towards the mall and bus station that will take you to Tai O), then go right, cross the road and head towards the Chap Lap Kok New Village.
If that's confusing, head towards the fire station first, then cross the bridge to the Chek Lap Kok New Village.
The village is the last refreshment point, then it's a long way up the road. It is a single lane road so watch out for incoming cars.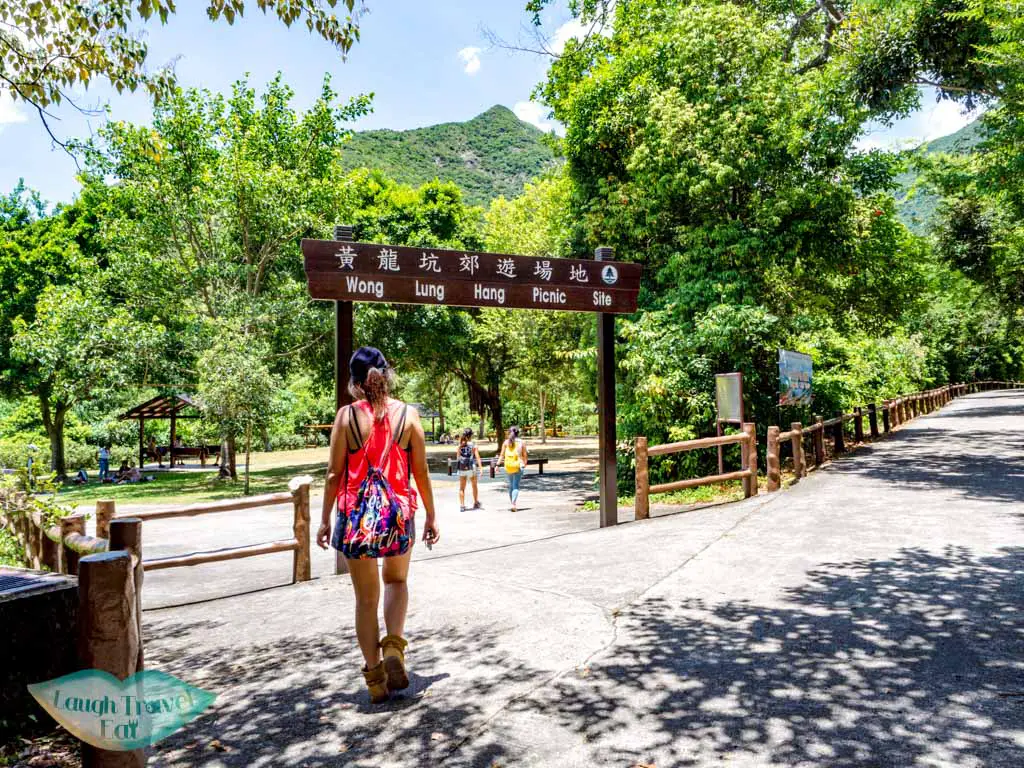 Eventually, we reached the Wong Lung Han Picnic Site where there is the last public bathroom. This is also where the trail up/down to Lantau Peak and Sunset Peak is.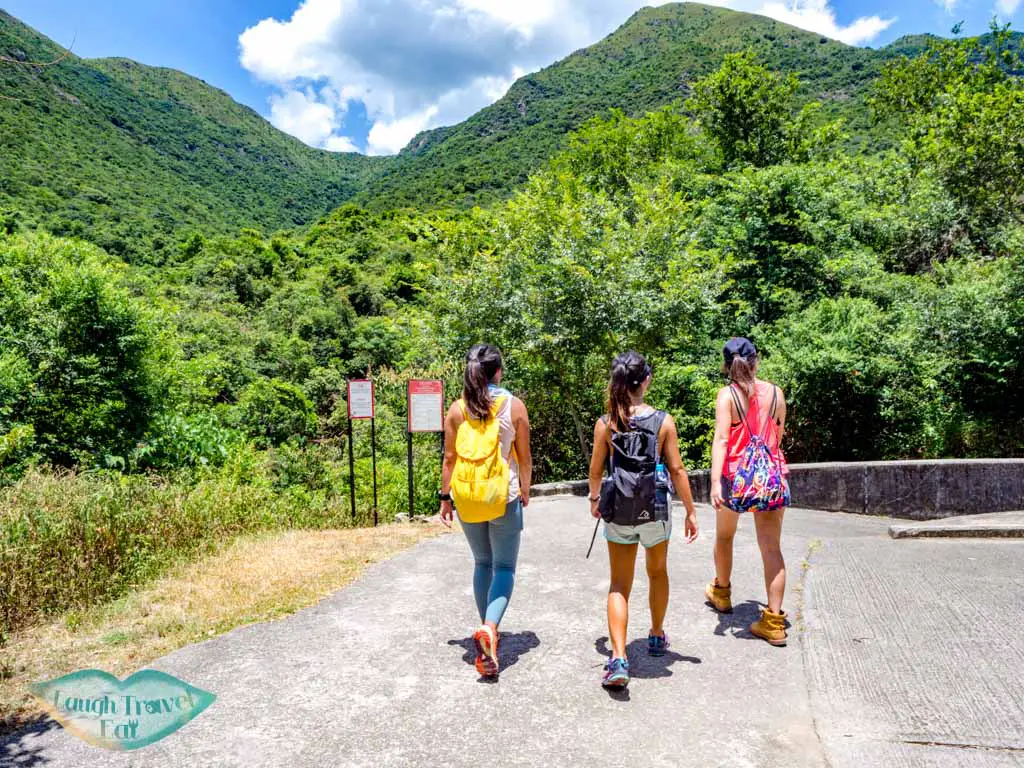 Carry on to the end of Wong Lung Han Road and go left at the end to the dam. Then take  a sharp left going almost back the way we came at the far end to this other dam. Head up the flight of stairs there.
To go along the stream, go right along the metal fence and then you'll be on the Pak Lam Stream.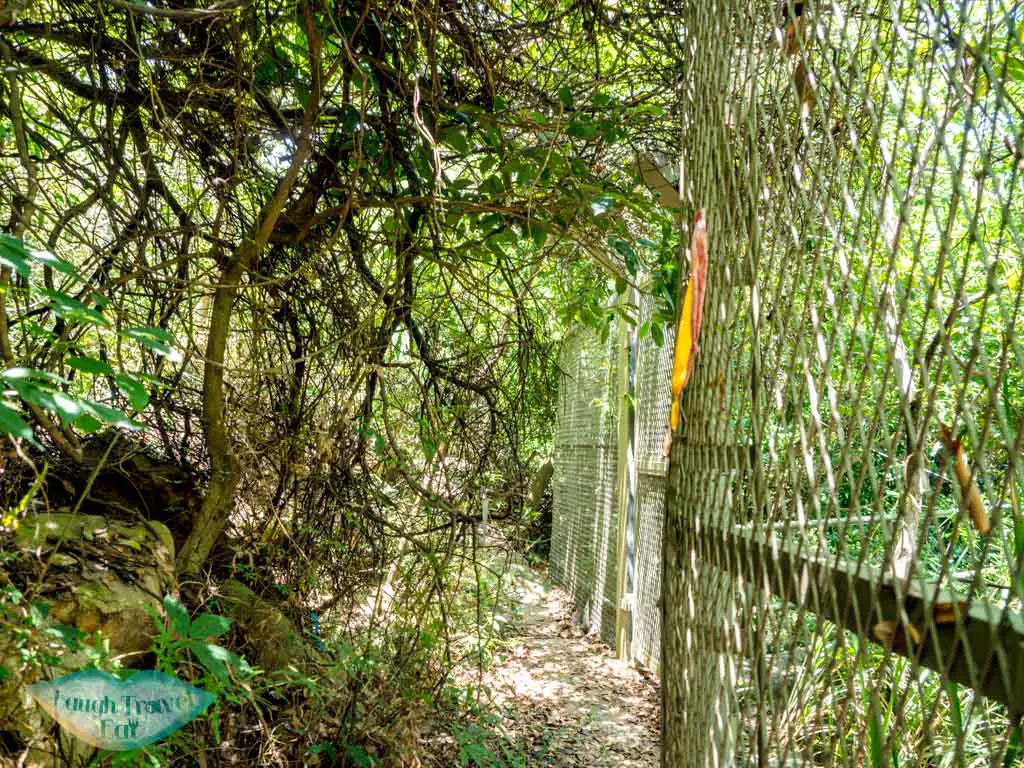 Hiking Pak Lung Stream
We hiked on a drier day so there isn't much water, which makes this a bit easier but it's still tough. For the most part, it involves a lot of climbing and do make sure you are wearing good shoes. The stream bed grows wider and steeper as we go up, and in general we end up zig-zagging our way up.
This is the famous pool that has graced instagram many times, but without rainfall it remains pretty dry.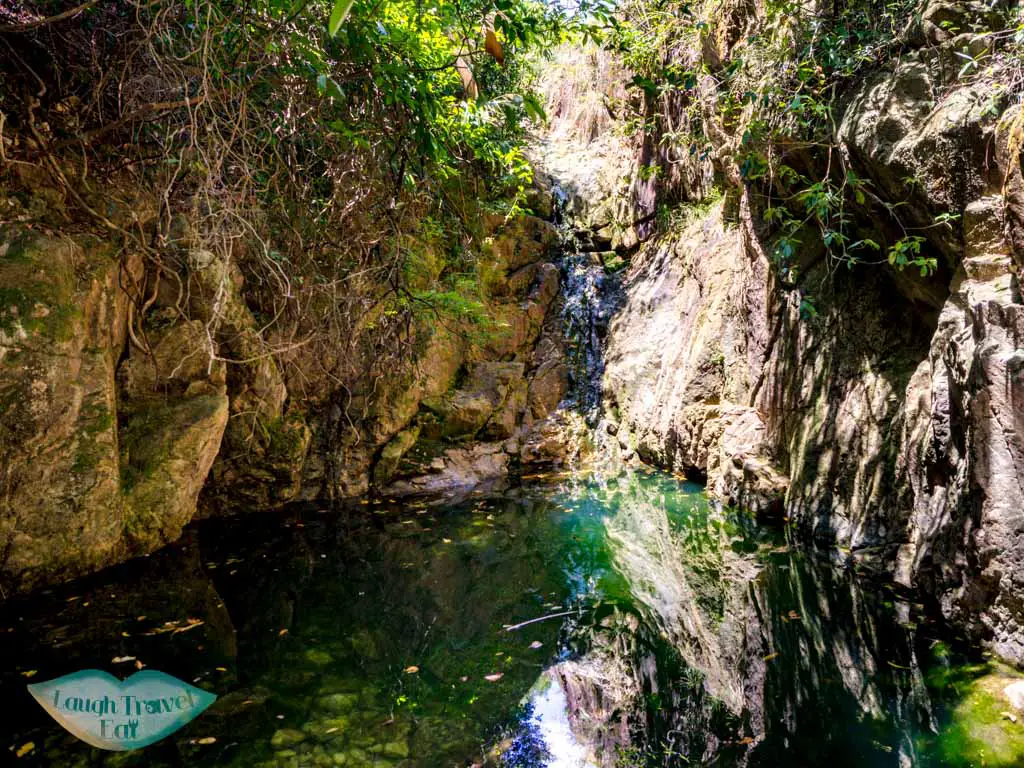 After some photos, we carried on up on this steep path to the right, which takes us to the only exposed part of the stream.
This part is fairly short, then we're back in the forest.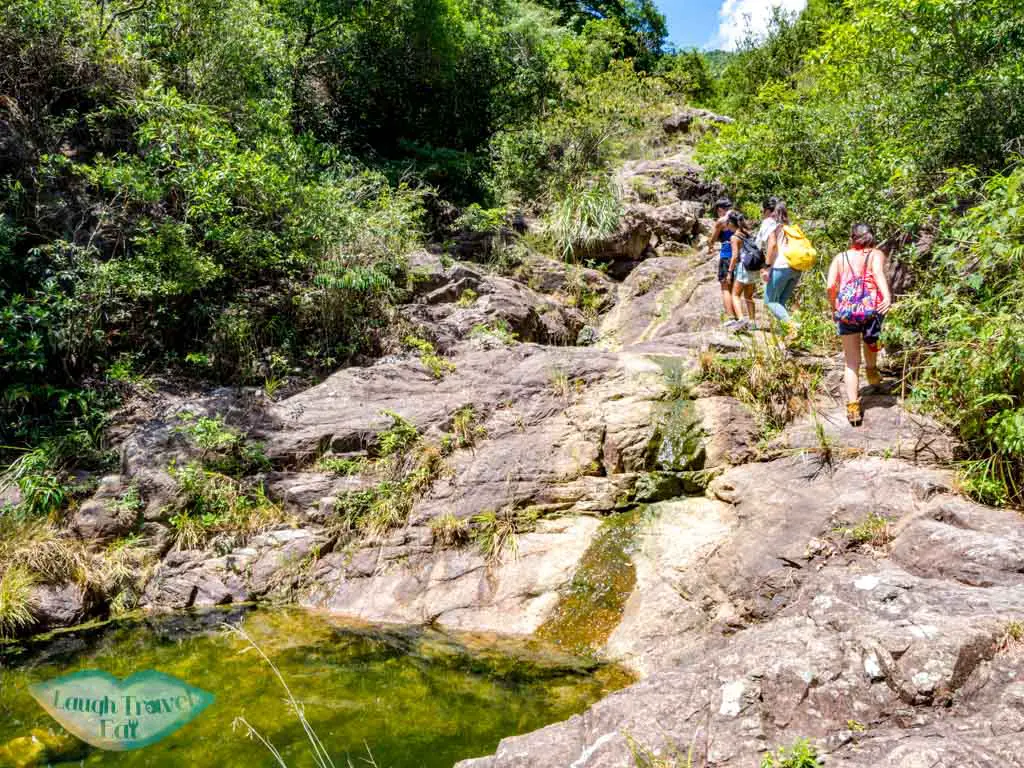 Some parts are very steep on one side and you have to be very careful. And we finally found a pool where we can dip our feet in to cool down. Do note that the water quality is not the cleanest so if you take a dip, remember to wash your clothes and rinse off as soon as possible.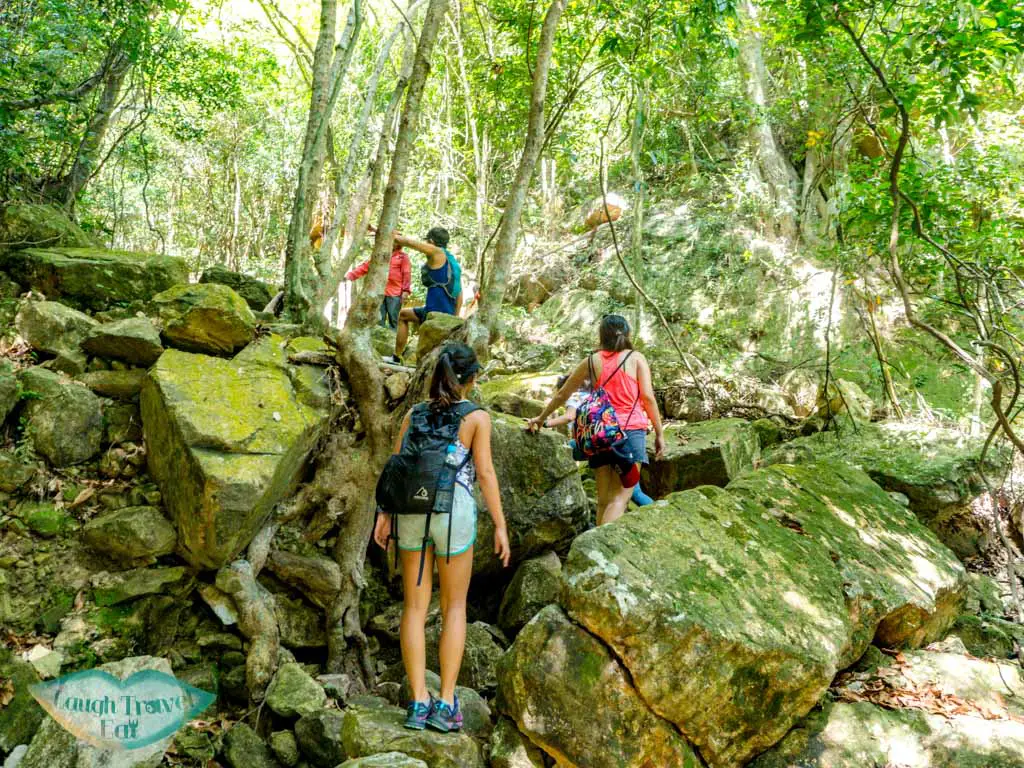 After that is probably the hardest part of the hike where we are basically on a slope up all the time. The last part is still the same and there's even rope asist. If you are not comfortable, I'd recommend practicing stream-trek on an easier route e.g. Madai Stream.
And then we finally made it to the open book cliff. There won't be any waterfall if there hasn't been recent rain, but it is still a cool spot.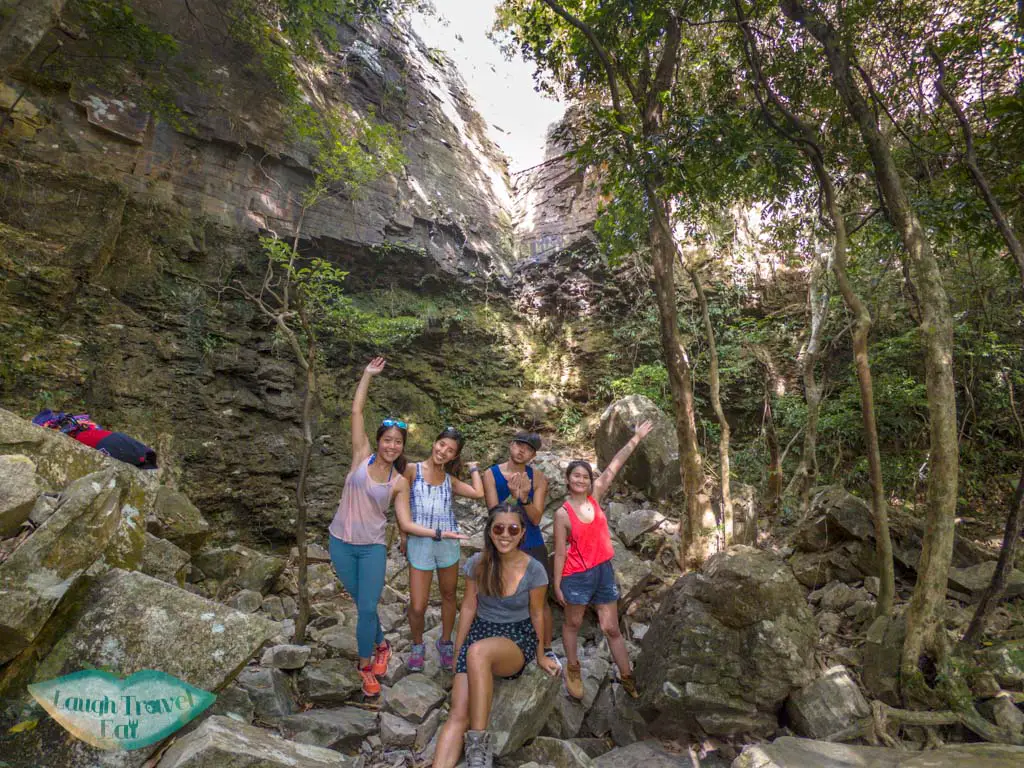 The path to get out is to the left, where we had to climb up this narrow stretch.
It isn't as difficult as it looks with good foot holes. Once you emerge, you have finished the stream trek.

Getting out of Pak Lung Stream
Follow the small trail, turn right at the junctions until you reach a bigger, wider path. You'll see Por Kai Shan but we are skirting past it to a small trail that goes back down to Tung Chung.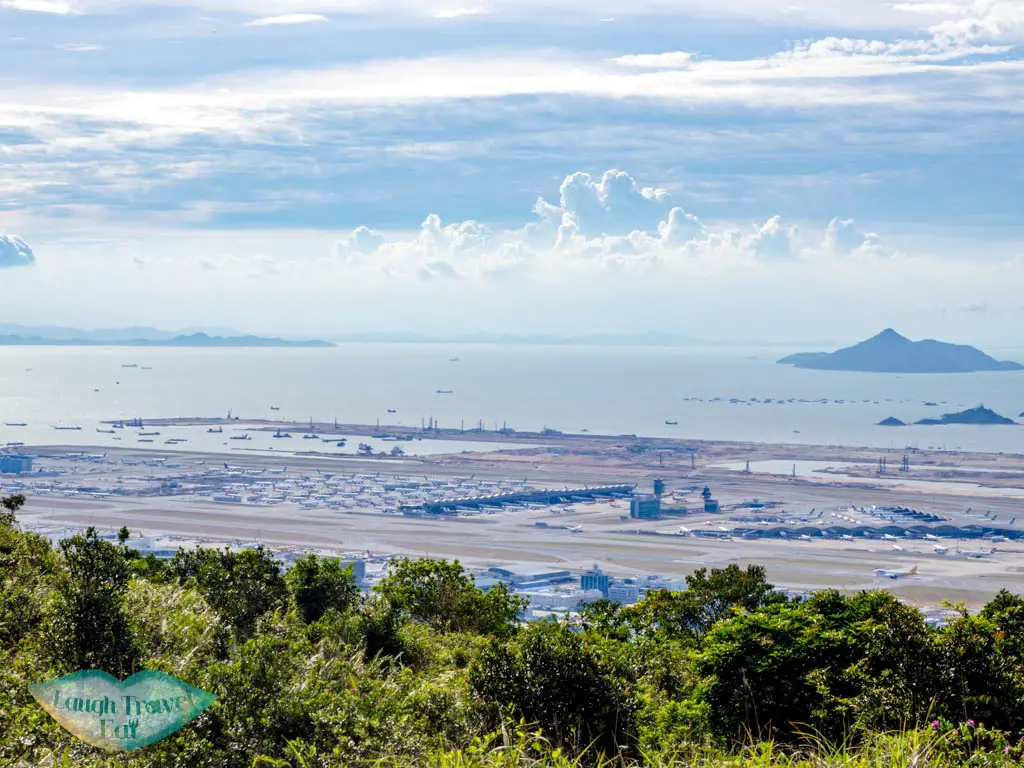 The trail then becomes more open and you can see the airport in the distance. Follow it until you reach a turn in the road where there is a small path that goes down.
It is also quite steep but easy to follow. Again, wearing the right shoe is super important. The hike down took about another half an hour until we reached some concrete stairs.
The stairs took us to a small bridge then down to Cheung Tung Road. From here, it's about a 15-20 minutes walk back to Tung Chung town center.