Bali is a huge island, while 10 days might sound like a lot, this itinerary is so packed that you can stretch it out to even longer. When I was planning my trip to Bali, so many beautiful places popped on my radar but I knew we won't have time to make it to them all. We ended up staying in the southeastern part of Bali, but even then, we were a bit pressed on time.  
Bali essential information:
You can find most of the information in my Bali Budget post, but I would also like to address some common questions/problem:
Bali sim card
There are a lot of sim card options in Bali, and you can find the best prices in small local stores away from the town centers. It's easiest if you can ask your taxi driver to stop en route to your hotel from airport to get one. Our drive took us to a store and there will be a lot of options. The prices we saw were all below 100k, and we chose a 4.5 GB sim for our 10 days and it was sufficient. Ironically it also costs 45k.
For the safest and easiest solution: book your WiFi egg for airport pick up
Bali ATM & Credit Cards
While there are many ATMs in Bali, you should only use the ones with what looks like a telephone booth. Those are the only safe place to withdraw cash. As for credit card use, I would avoid using it unless it's a reputable place as I have heard of my friends' credit card details being stolen and used.  
Tipping in Bali
Tipping is not compulsory in Bali, although any would be appreciated. Some places would automatically add a service charge, although we have eaten at several places that add the charge afterwards. So have a good look first. For some places, they also add the government tax on after, which means you are looking at anything between 15-21% on top of the bill in total with the service fee!
Prices in Bali
I've written a whole post on prices and costs in Bali written a whole post on prices and costs in Bali – because no one wants to be ripped off!  
Day 1: Arrival in Canggu
For us, our flight arrived around 7 pm. However, due to the massive traffic jam out of the airport, it took us almost two hours to get to our villa at Canggu. Our driver told us that normally it would take around 40 minutes, but we hit the Friday rush hours. Whether you are taking a taxi or private car (we did the latter, organized by our villa), you can request your driver to stop along the way to purchase a sim card. It would be cheaper than finding a store in the town area.
After we settled down, we ventured out to find food. Given the late hours and our tiredness, we went to Pit Stop, which opens until late, for some burgers.
Address: Jl. Nelayan No.2, Canggu, Kuta Utara, Kabupaten Badung, Bali 80361, Indonesia
Opening times: 10:00 – 00:30
Day 2: Canggu & half day trip to Tanah Lot
Breakfast at Shady Shack
After arriving late yesterday, a lovely breakfast at Shady Shack was in order, especially since it isn't far from our villa. Their Acai bowl has been on my radar for a while, and it didn't disappoint. In fact, the portion was so large that it took me ages to finish. I also saw a lot of people goes there with their laptop to use their WiFi, so it appeared to be a popular digital nomad hotspot, too.
Address: Jl. Tanah Barak No.57, Canggu, Kuta Utara, Kabupaten Badung, Bali 80351, Indonesia
Opening times: daily 7:30 – 23:00 P.S. While I chilled – my sister and friend were doing a surfing course with Bali Surf School, which they both loved. It was a bit pricey but it's one-on-one, so perfect for beginners. I just didn't want to risk injuring myself on the first day because I have bad knees and no abs.
Chilling at our villa at Canggu
After breakfast, since we had rented a private villa, I went back to enjoy it as much as I could – I mean, we had a private pool. The other two had headed to the beach for surfing lessons, but I didn't want to tempt my accident-prone self to get more injuries. >For more awesome AirBnB to stay in Bali, check out my friend Janet's post on choosing the best villa in Bali~
Massage in Therapy Canggu
After their surfing lessons, we made it to Therapy Canggu for a much-needed massage. They have a lovely cool interior and the massage was fabulous. 
Address: Echo Beach, Canggu, North Kuta, Badung Regency, Bali 80361, Indonesia
Cost: 60 minutes for 250k rupiahs
Opening times: daily 10:00 – 20:00
Lunch at Green Spot Cafe Canggu
Therapy happened to be close to Green Spot Café, which serves up some decent Indonesian food and lemonade. Their tuna tartar starter was delicious, although the fresh coconut wasn't cold enough, the size made up for it. My only real complain is that the restaurant is very dark.
Address:  Jl. Batu Mejan, Echo Beach, Canggu, North Kuta, Badung Regency, Bali 80361, Indonesia
Lunch cost for 3 with none alcoholic drinks: 245k rupiahs
Opening times: daily 7:00 – 22:30
Half Day trip to Taman Ayun and Tanah Lot
In the afternoon, we booked a half day tour to Taman Ayun and Tanah Lot through Bali Online Drivers. We started at 14:30, half an hour later than their proposed time since we are skipping the coffee plantation. Cost: 400k per car
Klook also offer a similar tour with an added Monkey forest itinerary with tickets included for ~440k
Taman Ayun
Taman Ayun, directly translated as the garden temple, is located in the small town of Mengwi northwest of Canggu. It was built in the 17th century and renovated in the 1930s. We saw a few tour groups visiting as well when we were there, as it is an easy stop before Tanah Lot.
Address: Jalan Ayodya No.10, Mengwi, Kabupaten Badung, Bali 80351, Indonesia
Opening times: unclear
Admission fee: 20k rupiahs
Tanah Lot
Tanah Lot is a famous temple on an offshore rock about 40 minutes ride from Canggu, with its name translated as "land in the sea". You can cross over the shallow water to the temples, however, on my visit we weren't permitted to go in. the entire temple is now surrounded by a multiplex of stalls and carpark, and a number of people in the vicinity are staggering. Personally, I find the Pura Batu Bolong, situated on the edge of an arched headland, much more pretty.
There are plenty of photo spots around Tanah Lot, however, be careful of the strong waves that crash on the rocks. Also, note that if you leave after sunset, the traffic would be horrible. Because of the less than ideal, we opted to go early so we wouldn't have to be stuck.
Address: Beraban, Kediri, Tabanan Regency, Bali, Indonesia
Opening times: daily 7:00 – 19:00
Admission fee: 60k adult, 30k child, parking fee: 2k motorbike, 5k car, 10k bus
Dinner at Warung Dandelion
We got our driver to drop us off at Warung Dandelion. It has a beautiful wooded setting and a great Indonesian food menu. However, the portion size was on the small side.
Address: Jalan Pantai Batu Bolong No. 10, Canggu, Kuta Utara, Canggu, Kuta Utara, Kabupaten Badung, Bali 80361, Indonesia
Cost for 3 people with none alcoholic drinks: 248k rupiahs
Opening times: daily 17:00 – 22:00
Day 3: Nusa Penida
To make it for our ferry in Sanur, we quickly break takeaway breakfast from Shady Shack before our driver picked us up at 7:30 to catch our ferry to Nusa Penida at 10:15. You can read my detailed itinerary on Nusa Penida here. P.S. this driver – Made –  is the one who took us around mainland Bali for the rest of the trip, his number is +62 853-3785-6643 (Not affiliated, just a happy customer) P.P.S. we went with him again on our recent trip (October 2018) and he's as good as last year. Some people have found him through my blog and went with him too so it's great to hear!
Day 4: Nusa Penida
Our only full day on Nusa Penida and definitely one of the most spectacular day. If you don't have time to visit Nusa Penida for 3 days or want to see the other two Nusa islands, too, on a short timespan, there is a 3 island day trip tour that I kind of wished I had gone on!
Prefers hiking? You can consider taking a trip to Java to hike Bromo and Ijen!
Day 5: Travel up to Ubud
7:30 am ferry from Nusa Penida to Sanur
Since we are on a tight schedule, we took the morning ferry at 7:30 from Nusa Penida back to Sanur. From there, our private driver picked us up. There are many sights between Sanur and Ubud, and we have picked the best of the best to visit. Cost of private car: 500k rupiahs (for the whole car)
Hidden Canyon Bali
The first stop is the Hidden Canyon. We arrived just after 9, before the crowd rolls in, and had the whole place to ourselves. It is undoubtedly one of the coolest attraction we visited. We were led through a series of three main canyons by a guide (whose help was genuinely needed) and by the end, we looped back to the center through rice paddies.
tips: wear swimsuits and bring wet shoes if you have!
Address: Jalan Sahadewa, Banjar Wangbung, Guwang, Sukawati, Guwang, Sukawati, Kabupaten Gianyar, Bali 80582, Indonesia
Opening times: daily 8:00 – 17:30
Admission fee: 15k rupiahs per person, a guide for each group for 100k.   We had lunch at a warung near the Tegenungan Waterfall – the name escapes me but it isn't particularly good anyway. The funny thing is that they missed our order so we had to wait another half hour.
Tegenungan Waterfall
Tegenungan Waterfall is a famous waterfall near Ubud, and we had heard so much about it that the reality was kind of disappointing. The waterfall, though majestic, was muddy, and to go up to the upper level to see the waterfall at mid-height costs another ticket. Between Hidden Canyon and Tegenungan Waterfall, I would give this one a miss.
Address: Jalan Ir. Sutami, Kemenuh, Sukawati, Kemenuh, Sukawati, Kabupaten Gianyar, Bali 80581, Indonesia
Opening times: daily 6:30 – 18:30
Admission fee: 15k rupiahs per person
Arrive and check in in Ubud
We then arrived at Ubud and checked in at our new hotel. Alam Terrace Cottage was surprisingly nice, though it is set back from the road and you'd have to tow your luggage down. But look at that view!
Stayed at Alam Terrace Cottages
Butik Camplang
After relaxing for a bit, we decided to hike the Butik Camplang walk over to our spa appointment. The walk wasn't the most straightforward to find, but if you have your google map open, it shouldn't be a huge problem – just go into the side road and head down to the path next to the resort. The walk lasts about 30 minutes if you walk fast, but it isn't as easy to get out from the other side and we had trouble finding a taxi back to town.  
Karsa Spa
We had booked a 60 minutes massage at Karsa Spa and I didn't expect it to be so beautiful. If you are a fan of beautiful spas, then you mustn't miss it. The 60 minutes massage costs 200k rupiahs, a pretty standard rate for such a beautiful place. The favourite thing is that the place was outdoor and there is a place for you to shower. *I was given a complimentary massage (but my friends paid for theirs) and all opinions are my own
Address: Jl. Markandia, Banyar Bangkiang Sidem, Keliki, Tegallalang, Kelusa, Payangan, Kabupaten Gianyar, Bali 80571, Indonesia
Cost: 60 minutes for 200k rupiahs
Opening times: daily 9:00 – 19:00
Dinner at Toro Sushi
We walked back into town after two fail attempts to get an Uber (spoiler alert: it was horrible). We wanted to eat something other than Indonesian food and Toro Sushi didn't disappoint. Their soft-shell crab roll is pretty amazing, although they allow smoking which meant that we were faced with smokes.
Address: Jl. Gootama, Ubud, Kabupaten Gianyar, Bali 80571, Indonesia
Cost for 3 without drinks: 411.4 k rupiahs
Opening times: daily 11:00 – 22:30
Day 6: Sightseeing around Ubud
We've booked again with our private driver for a half-day trip around Ubud. The first stop, naturally, was the famous Tegalalang Rice Field.
Private Car: 400k rupiahs (for the whole car)
Tegalalang Rice Field
We had arrived bright and early at 8:30, paying a parking fee of 10k rupiahs before heading down. Now the rice terrace is quite big, so make sure you go down on the right path or else you would be wandering into dead ends of the paddy fields.
Bear in mind that if you want to go over to the other side, there is a man asking for compulsory donations at the end of the bridge. We decided that the view would be the same either way and didn't go over because we didn't like how they were extorting more money.
Address: Jalan Tegallalang, Tegallalang, Kabupaten Gianyar, Bali 80561, Indonesia
Admission fee: 10k rupiahs each
Opening times: 7:00 – 17:00
Tegalalang Art Market
Telalanga rice field and market is along the road where you enter down the rice paddies from. The market doesn't open as early as the rice paddies, but there were a few shops open by 9:30. If you have time, I recommend stopping longer than we did as it is the cheapest market to buy things from. More about the prices of things and haggling in Bali here.  
Tirta Empul Temple
Tirta Empul Temple is north of Ubud and Tegalalang and more well-known as the holy spring temple. A Hindu water temple dedicated to the god Vishnu, it is popular among both locals and tourists. You must use the sarong provided for free to cover your legs to enter and to enter the main area the women must wear their hair up.
While the temple is large, the main attraction is their holy spring where devotees purify themselves. I have seen some tourists do it, too, but given that I am not of Hindu faith, I didn't think I should be in their way.
Address: Jalan Tirta, Manukaya, Tampaksiring, Manukaya, Tampaksiring, Kabupaten Gianyar, Bali 80552, Indonesia
Opening times: daily 9:00 – 17:00
Admission: 15k for adults, 7.5k for children
Lunch at Puspa's Warung
We got dropped off in Ubud and had a quick lunch at Puspa's Warung. It is one of the cheapest and most authentic places we've eaten at. We had the Nasi Goreng, as usual, and while that was great, it was their guacamole with prawn crackers that stole the show.
Address: Jl. Goutama Sel., Ubud, Kabupaten Gianyar, Bali 80571, Indonesia
Lunch for 3 people with none alcoholic drinks: 115k rupiahs
Opening times: daily 12:15 – 22:00
Ubud Palace and Market
After lunch, it was shopping time at the Ubud Art Market. Although it isn't as cheap as Telalanga, the variety and compact nature of it makes it a great place to roam and browse.
Right opposite is the Ubud Palace, which unfortunately is under construction during our visit so we could only visit a small portion of it. Did you know that Ubud has a royal family? And they apparently still lives there. Its official name is Puri Saren Agung, and while the palace was built in the early 1800s, the current one we see is rebuilt after the 1917 earthquake.
Address: Jalan Raya Ubud No.8, Ubud, Kabupaten Gianyar, Bali 80571, Indonesia
Opening hours: 9:00 – 18:00
No admission fee
Folk Pool & Garden
After a long few days, my sister decided that we should go to this restaurant with a pool that she found on Instagram. And that turned out to be a great idea! Despite costing 250k to rent a sunbed by the pool, the atmosphere was idyllic and relaxing.
The food, though pricier than average, was great and makes for some insta-worthy shots. They also have a swim up bar and we stayed until the sun has set to capture its magical view at night.
Address: Jl Monkey Forest, Ubud, Bali, 80571, Indonesia Sunbed + dinner and none alcoholic drinks: 411.4k rupiahs
Opening hours: daily 10:00 – 22:00
Day 7 Mount Batur hike and Uluwatu
Mount Batur Sunrise Trekking
We had headed back early to sleep because we had an early morning hike up Mount Batur to see the sunrise. For the full details, you can read the sunrise trekking post here.
Lunch at Black Pearl Ubud
Our tour dropped us back at the hotel by 10 and we relaxed a little before checking out. We decided to lunch at the nearby restaurant the Black Pearl, and the food is pretty good. I met up with Lola from MissFilatelista who introduced me to the Indonesian vegetarian dish Gado Gado.
Address: Jl. Bisma No.45, Ubud, Kabupaten Gianyar, Bali 80571, Indonesia
Opening times: Mon – Fri 7:30 – 22:00; Sat – Sun 7:30 – 23:00
Krisna Seminyak
Our private driver then picked us up to head down to Uluwatu with a stop at the big supermarket Krisna. The supermarket is a good stop only if you need to buy tacky souvenirs without worrying about haggling. Although if you are willing to haggle, you can get a cheaper price than Krisna.
Private Car: 450k rupiahs (for the whole car)
Address:  Jl. Sunset Road No.88, Kuta, Kabupaten Badung, Bali 80361, Indonesia
Opening times: daily 8:00 – 22:00
Single Fin Uluwatu
After we checked into our hotel, we went straight to Single Fin. I didn't realize they have online reservation available, which you should do as soon as you know when you would be in the area. We were there just before 17:00 and managed to grab a seat that overlooks the ocean.
We then stayed there for two hours, enjoying the sunset and the food. While the prices are more inflated at Single Fin, the view and the easy accessibility is worth it. Besides, the food is pretty good, too.
Address: Pantai Suluban, Jl. Labuan Sait, Pecatu, Uluwatu, Kuta Selatan, Pecatu, Kuta Sel., Kabupaten Badung, Bali, Indonesia
Dinner for 3 without drinks: 280k rupiahs
Opening times: Mon-Tue, Thurs-Sat 8:00 – 22:00; Weds 8:00 – 0:00; Sun 8:00 – 1:00
Day 8 Uluwatu to Seminyak
Breakfast at Suka Expresso
Since breakfast wasn't included in our hotel, we headed to Suka Expresso for one of the best meals I've had in Bali. The café is more western orientated and does the best Acai bowl and brunch option.
Address: Jl. Labuansait No.10, Pecatu, Kuta Sel., Kabupaten Badung, Bali 80361, Indonesia
Breakfast for 3 with 1 milkshake: 274k rupiahs
Opening times: daily 8:00 – 22:00
Padang Padang Beach
The other reason as to why we went to Suka Expresso was because there was a road down to Padang Padang Beach directly opposite. It involves some steep staircase down, but the view is beautiful and there are plenty of sun loungers for rent.
Since we were there early and were scheduled to leave in an hour, we got 3 for 100k.  
Uluwatu Temple
Our drive was scheduled to pick us up at 12:30, so we headed back to pack and check out. Our first stop was the Uluwatu Temple, which I must admit was a bit underwhelming. The temple's origin dated back to the 11th century, with its grounds expanded by Javanese sages. Similar to Tirta Empul, they provide sarong to cover your legs for free.
Its dramatic coastline is one of the attraction points, though one must be careful as there had been an incident of tourists falling over before. There are also monkeys roaming around the complex and some are known to be aggressive. If they snatch your belongings away, don't engage and find a groundskeeper for help.
Opening times: 9:00 – 18:00
Admission fee: 30k rupiahs for adult, 20k for children
Dreamland Beach
We wanted to hit another beach before we arrive at Seminyak, so after some google search, we decided on Dreamland Beach. What we didn't expect was that the beach was located in a resort area, and we had to stop at a car park to take the free shuttle in. The beach is a popular spot for many, with its huge waves and fine sand. Instead of renting another sun lounger, we moved further down to lay down on the sand.
The waves here are huge, so if you are not a good swimmer, I would discourage you to venture out. Me and my sister went out to jump waves and almost got caught when a particularly big one rolled in.  
Check in at Seminyak
After a few hours at the beach, we were tired and headed straight to our hotel in Seminyak. We stayed at GrandMas Hotel Plus and it is a great value for money choice. We even got welcome drinks.  
Potato Head Beach Club dinner
Then we went around town shopping before going to the Potato Head Beach Club for dinner. We had booked a few days ago and the atmosphere there was everything you wish for on a beach holiday. It also has a beachside pool as well as an open area with sofas for drinks leading up to it.
The menu was more bar-food orientated, and though we loved the starters of swordfish tartar and softshell crab, their portion sizes were a bit on the small side. The pizza we had was great but the burger and the pork belly wasn't as good as you'd hope with the price tag. The smoothies and mocktail we had were amazing, though. Overall, I would recommend it more as a place to have a drink rather than a dinner option depending on your budget.
Address:  Jalan Petitenget No.51B, Kerobokan Kelod, Kuta Utara, Kerobokan Kelod, Kuta Utara, Kabupaten Badung, Bali 80361, Indonesia
Cost of dinner for 3 with none alcoholic drinks: 1440k rupiahs
Opening times: daily 10:00 – 02:00
Day 9 Seminyak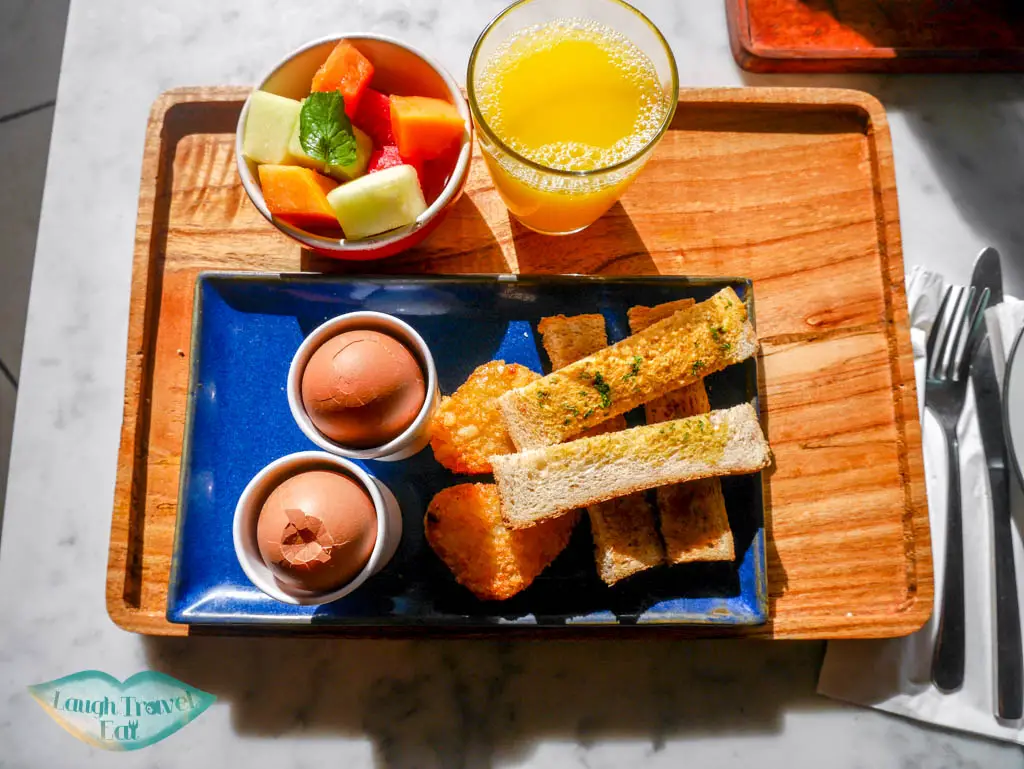 After a leisurely breakfast at our hotel, which admittedly is the best hotel breakfast of our trip, we set off to do some shopping. We first hit the Flea Market, where we brought some sarong, then we had a good wander around.
Lunch at Motel Mexicola
Craving some Mexican food, we had lunch at Motel Mexicola and it is beyond a doubt my favourite meal of the entire trip. While it might seem weird to have Mexican food in Bali, you won't regret going to Motel Mexicola. Not only is it colourful, they serve up some mean tacos at a fraction of a price I'd pay in Hong Kong. Did I mention that it makes for a perfect photo spot?   We continued to shop – you can find a list of our favourite shopping areas in Seminyak here. Because the weather was overcast, we only had a quick stroll down Double Six Beach, but I can imagine how lovely it would be to spend an afternoon or even a day here, as well as all the restaurant details etc.
Dinner at Miura – Pintxos Bar & Grill
Since we were too lazy to go far, we had dinner at Miura – Pintxos Bar & Grill, which is where we have our hotel breakfast. The food was equally as good as breakfast.
Before we head to bed, we had a massage at DeNyuh Spa and Beauty Salon, which is conveniently located in GrandMas hotel as well. I've got to say that being able to walk back down to my hotel room was the best part.
*Note: I stayed at GrandMas Hotel in Seminyak as a guest but all opinions are my own
Book GrandMas Plus Hotel Seminyak
Day 10 Seminyak and flight
We squeezed a bit of time to do more shopping after breakfast before it's time to head to the airport for our flight!  
Bali 10 days Itinerary summary
While the itinerary was for 10 days, we did pack everything very tightly and it can be spread out over a much longer time. I would recommend adding a day or so to each destination except Seminyak if you want to be more relaxed.