Bali shopping prices, or Bali prices in general, can vary greatly depending on where you eat and also your bargaining skill. This is why I decided on writing on Bali price guide to help make sure you don't get ripped off.
Whether it's shopping prices in Bali or restaurant prices, as visitors we are likely paying more – aka tourist tax (e.g. Nasi Goreng for 25k rupiahs is still cheap for us even if the local only pays 8k rupiahs). Now it's still affordable and reasonable sometimes but often they try to cheat you. Which is why I'm making this guide!
It's difficult to gauge whether or not you are receiving a fair price – which is why I want to write this guide. While I might not have gotten the best deals myself either, I did learn one important lesson:
They won't selling it to you if they aren't making a profit.
So the worst case scenario is that you walk away! But I'm saving that lesson right now for the negotiating part.
The best shopping in Bali is in Canggu, Seminyak, and Ubud – but you'll be seeing boutique prices vs generic souvenirs.
If you have already been to Bali before or want to go somewhere offbeat, consider North Bali.
If you are looking for affordable stunning accommodation, check out Sebatu Sanctuary.
For adventurous peeps, I would say go for a 3D2N trip to climb Ijen and Bromo! Or close to home here on Bali on Mount Batu.
Is Bali expensive
Perhaps a most frequently asked question, the truth is that while Bali isn't that expensive; it isn't as cheap as one would expect, either. As a popular destination for people all over the world, especially Australians, the prices aren't as low as Vietnam or Thailand, especially in some particular categories. It's worth remembering that you can splurge as much as you want, and for this guide, we are going with my usual mid-range price/summary:
Bali prices
Accommodation: ~30 USD per person per night based on two sharing
Meals: we usually hover around 90k rupiahs per person in mid-range places, but we also spent up to almost 400k per person at expensive restaurants.
Bali shopping prices: depends, but I personally wouldn't spend more than 300k rupiahs. But I didn't buy any home décor stuff – which tends to be hand-crafted and therefore the prices are justifiably higher.
Taxi: if you are taking taxi around town, it shouldn't cost more than 50k at all unless you are stuck in traffic for ages. If you are around Seminyak and Kuta, Grab is available.
Note: it is often more expensive at the airport. On my arrival in 2018, we got a taxi to Seminyak for 250k rupiahs and it's actually similar to book one on Klook.
Private car: depending on how many stops you make and how far, we paid 250k to 500k. You can actually pre-book at a similar price point on Klook nowadays!
Sim card: get your taxi driver to stop by a sim place when you land and get a sim card. We got a 4.5 GB sim from XL for 45k. Basically, you shouldn't pay more than 100k for a sim card. Alternatively, book it in advance and collect on arrival to avoid hassle and get a decent, straight price.
Bali Shopping Prices
Basket bags
There are a lot of different types of basket bags you can buy, and the best place to get them with the most variety is in Ubud or Tagalalang. The round basket bag is the most frequently brought one and can be found everywhere, although its popularity also makes it more expensive.
Prices we got quoted: 350k to 1 million – it seems to have gotten better on my visit in Dec 2022 with prices at 300-500k rupiah but less room to negotiate.
The lowest price we negotiated: 180k (at Tagalalang Market)
The price we bought it for: 225k (in Seminyak)
Note: if you are a perfectionist, you will have trouble finding the best bag. As each bag is handmade, there are many that aren't completely flat, the fabric inside isn't good enough etc.
Sarong Bali price
Sarong is important in Bali. You need it for the temples, for the beach, and frankly, it's multi-purpose. I'm going to admit that some of the designs you can get anywhere, but there are some unique ones, too. Generally, they are quoted anywhere from 50k to 100k, but you should be able to negotiate it down to 50k. That's about 4 USD and 3.2 Euros, comparatively slightly cheaper than the 5 Euro sarong I once brought in Greece.
Batik Sarong
For the Batik sarong with golden lines, they are going to be more expensive. In shops with price tags, they were sold upwards of 100k rupiahs. I ended up getting mine at 190k for two but the other one isn't the golden-line Batik. So my advice is: try to buy multiple items if you are trying to get the deal.
I haven't bought any other items, so I can't advise on their prices, but I have found this website with price quotes. I find that the prices are higher than that but it's always inflating.
Best shopping in Bali
Clothing items are definitely not cheap enough in my opinion, with prices comparable to Hong Kong. There are a few recurring themes in the ones that we see around, mainly tie-die numbers and the usual rompers and dresses.
Bali clothing prices
The cheapest we got was the tie-dye dresses in Tagalalang Market, for 75k each. The original quote was 150k.
In Seminyak, there were more choices with good prints and styles. However, the prices are also higher. We first got quoted for 250k per piece, and it dropped to 200k. Generally, unless it's a special fabric, I would say don't pay more than 250k
Cheap shopping in Bali
Tegalalang Market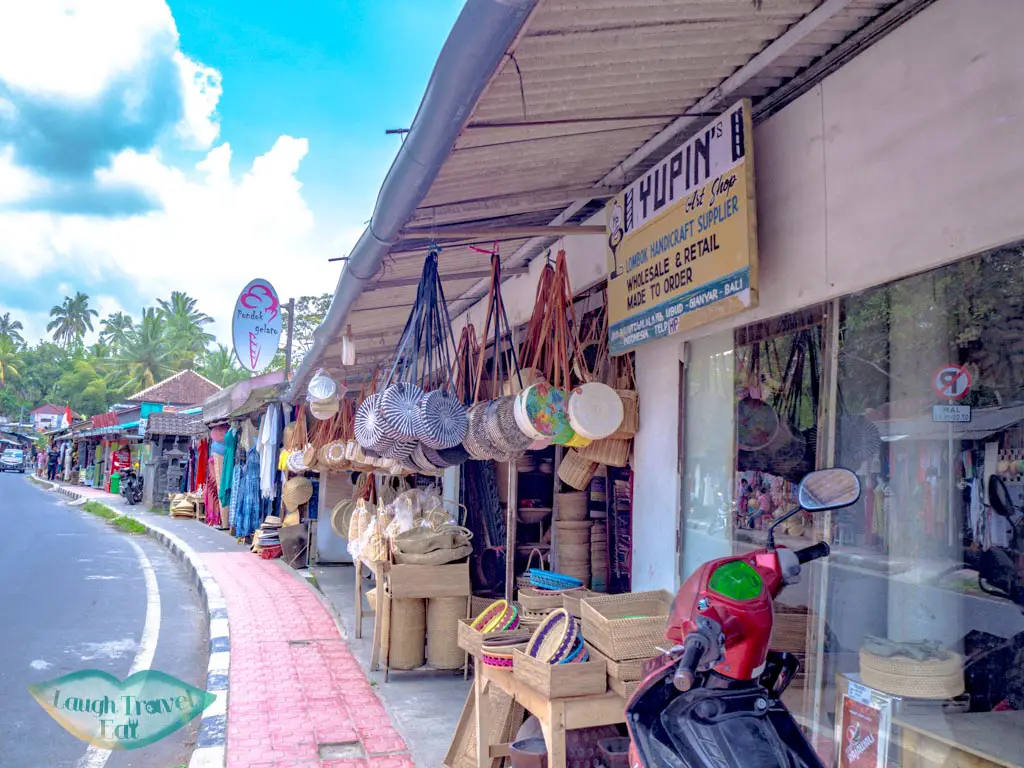 This is the cheapest place to buy things and the market is along the road that's next to the famous Tegalalang Rice Terrace. Thanks, Prachi for mentioning it! However, because it was the first market we visited, we didn't buy much there. Regrettably.
Note: a lot of the shops have closed due to COVID but the area is the hotspot for home decor item so get your driver to stop if you see something you like along the way.
Ubud Art Market
The second best place to buy things is in the Ubud Art Market. There is the indoor and outdoor part, but don't forget to haggle. The prices at Ubud Market aren't as good as Tegalalang, but it's central and good for those who won't venture north.
Seminyak Double Six Street
For quick shopping in Seminyak, the Double Six Street is the best place to go. Although it's not like markets, the stalls are pretty much like the ones in the market. There are even a few sarong-only shops!
P.S. you can also buy a lot of the most basic souvenirs such as keyrings, bottle openers and the like. You can buy it in big supermarkets such as Krisna near Seminyak. However, it does feel like they are slightly overpriced. And there are no handmade craft items. But if you are in a hurry and not in the mood for haggling, you can do it.
Sukawati Market

Sukawati Market is near the Tegunungan Waterfalls, and this is the cheapest place to shop! It is not exactly what I pictured with three buildings of several floors each. There are domestic and international tourists and also what seems like bulk purchasers.

It is a good stop if you want to buy a basket bag as there are so many varieties there. It is also not too out of the way if you are heading down from Ubud to the airport or up from Nusa Dua. So be sure to budget in a stop if you are headed that way.
While it counted as around Ubud, it's to the southeast between Ubud and Sanur.
Bargaining in Bali
Slash the price in half or thirds
The price is usually twice if not thrice of what you got quoted, so be mindful of that. So when negotiating, definitely chop it off as so. Refer to my price guide above for a rough price point, though I can't guarantee that I didn't get ripped off!
If you don't have thick skin, another thing you can do is just ask around everywhere to see how much they quote. We literally got quoted anything from 350k to 1 million rupiahs for the round basket bag. Insane, right?
So don't hesitate and cut the price!
Grow a thick skin
Some of the vendors aren't going to be nice. We got a basket bag for 150k at Tagalalang Market and when I told a vendor in Seminyak so, he called me a liar. Repeatedly. It was extremely rude of him and we had faced many vendors like that. But you either get ripped off or face the chances of getting yelled at.
Don't get personal
The previous point leads to this one. Sometimes haggling gets a bit personal, especially since the feeling of being ripped off doesn't generally resonate well with me. I pretty much walked away in rage when the vendors told me they'll give us the cheapest price and then quote a whopping 750k rupiahs for a round basket bag. Right.
But hey, they are trying to run a business and you are trying to get things cheap, it's not personal, so don't get emotional.
Don't even say you like it – I mean it!
It's the oldest trick in the book that I learn from my grandmother. Don't let them know that you like it. They won't lower the price as much if you look like you love it. Hold in your victory/happiness, especially after you brought it as well. We saw a lady come in and basically shouted at the staff, then screamed loudly like she won the world cup. It was horrifying and demeaning to the vendors and generally doesn't make the other party feels good.
Pretend/say you are from somewhere less rich
A vendor pretty much confessed to us that he quoted us less outrageously because we weren't Caucasians. In fact, the line we frequently used to lower the price is that "we can get it cheaper in China."
Don't be afraid to walk away
If the prices aren't good, don't be afraid to walk away. You can always go back later if you don't find a better offer. The price wouldn't go down, but it wouldn't go up either. In fact, when we return to a clothing store later, we actually got better prices than before.
Sample haggle lines:
"How much is it?"
"X"
"No, we can get it for X/2."
"Really?"
"Yes, that's why we are shopping around."
"We will only do it for X-(100 to 200)."
"We can get it cheaper in China."
If you can't reach a good price, walk away!
Bali taxi
There is little public transport in Bali, so a taxi is naturally the common go-to. I'm going, to be honest and say that I have my hesitation with taxis, and they were completely well-founded.
While Uber and Garb are available in Bali, they are frowned upon by the locals. In fact, our taxi driver told us that he almost got beaten up trying to pick up a Russian couple at the airport through Uber. So yeah, it's not something to take lightly.
We didn't try to get a taxi in Canggu, and in Ubud, we had the worst experience with the first driver demanding more payment and in cash, and the second accepting the pickup before he picks up other guests and basically being half an hour away for half an hour.
NOTE: on my second trip in 2018, we used Grab around Kuta and Seminyak without trouble, but Ubud is still problematic
Therefore, I recommend relying on your own feet in those two cities. In Uluwatu and Seminyak, the best bet is Blue Bird.
Bluebird Bali
The best reputation taxi company on the island, they have their signature blue bird logo on their taxi. They also have an app that you can download, but frankly, I hadn't used it because of the need to register with phone numbers, etc. You can get them easily in Seminyak, and getting to the airport with Blue Bird costs under 50k, too.
Bali driver price
If you are looking to stop by places, or unsure of how long you might be stuck in traffic, it'd be best to book with a private driver. I'd admit that my heart does skip a beat whenever a taxi meter jumps. For example, we got stuck in a half-hour jam inside the airport, but since we booked a private car with a fixed price, we were fine.
You are going to get a lot of price quotes for private cars, and we found a fair driver who basically took us around for the rest of the trip. You'll find more detailed prices and what stops we made in my itinerary post.
Let's just say that the most expensive trip for us was from Ubud to Uluwatu with 3 stops, and the cost was 500k. On my second trip, we went further up from Seminyak to the north and that was 550k. *current as of 2018
The cheapest way from the airport to Canggu, which is 250k (and probably overpriced). But there are a lot of taxi problems there, so it's best to not worry and get someone to pick you up.
Note: we got a taxi from just outside the airport and they have a standardized price for different drop-off zones. To Seminyak, it was 150k.
Cheap stay in Bali
Accommodations in Bali can be pretty affordable. For around 30 USD per person, the three of us stayed at some pretty nice place.
Canggu: Villa Oasis 74
We actually rented the entire villa, which has enough room for six people in two rooms.
What we love: a private pool, a lot of rooms, quaint and quiet. The kitchen has everything from a water machine to a microwave
What we didn't love: the cushions on the outdoor seating area are dirty, I even found a cockroach under one of the seat cushions…
Nusa Penida: Singabu Bungalows
We booked late so there weren't many options yet. Singabu Bungalows is on the north coast of the island but has no sea view. But it's new! And although it is relatively not close to the attractions, it's still only 20 mins drive from the pier.
What we love: each room is an individual villa. The pool is nice and so is the outdoor bathroom
What we didn't love: the soundproofing was non-existence and there's nowhere to hang anything
Ubud:
Alam Terrace Cottage
Probably the best place we've stayed in! it's near the main street in Ubud but set back enough that it's not noisy.
What we love: the décor, the vibe, and it's the largest room with two double beds.
What we didn't love: it is quite dark in the room at night and a car can't go all the way in
Tebesaya Cottage
On our second trip, we decided to try somewhere else and stayed at Tebesaya Cottage two blocks parallel to Alam Terrace Cottages. 
What we love: there are two pools, the rooms are very nice and clean. The beds are comfortable and the choices for breakfast are so good that it's ridiculous. They also have free daily afternoon tea.
What we didn't love: the roads outside is under construction making it hard to get out. We asked the staff to book us a taxi and they confirmed but he failed to show up. Also, one pool is much smaller than the other.
Uluwatu: Ayodhya Uluwatu
I honestly don't want to recommend it, but the location is too good as it's 3 minutes away from Single Fin. However, their deluxe double is horrible with no sink and a small attic type window. If you have to stay there, go for the Ocean View rooms
What we love: the location
What we don't love: the staff were rude, the rooms aren't clean. There's no sink in the deluxe double room and the blanket has cigarette burns. It's quite worn down. 
Seminyak:
GrandMas Plus Seminyak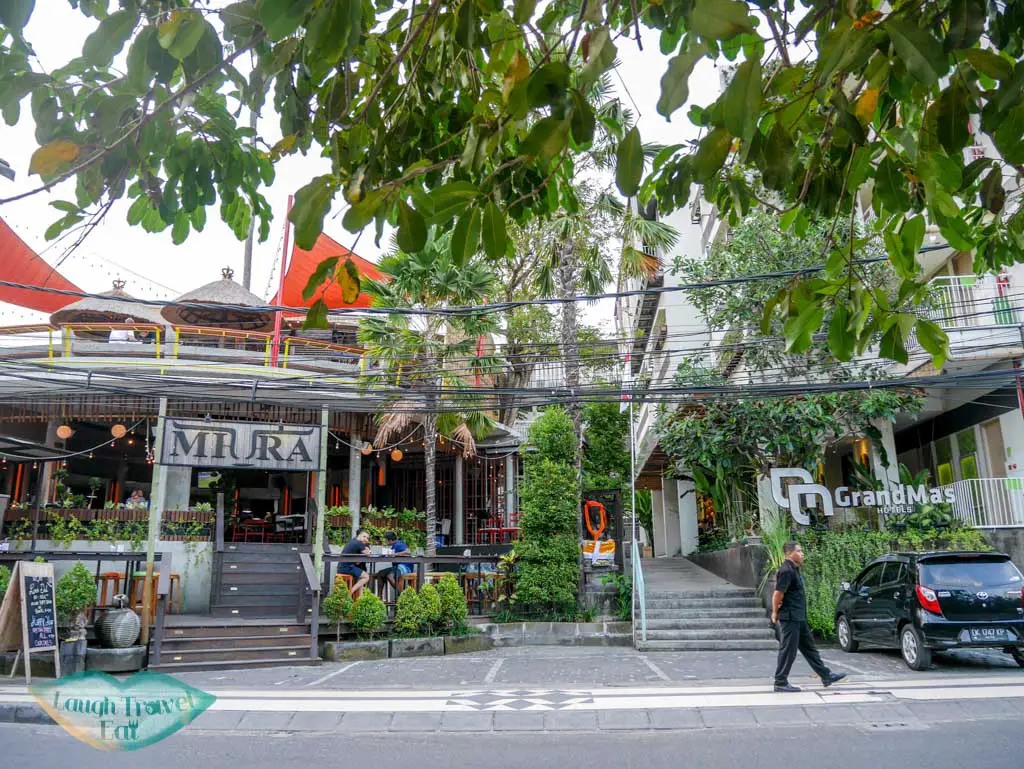 Located in a good location, I really like the GrandMas hotel.
What we love: the location, the great breakfast, the bed is comfortable and nice
What we didn't love: the room is on the small side and the live music from the restaurant is really loud at night
Book GrandMas Plus Seminyak Hotel
*I stayed at GrandMas as a guest but all opinions are my own
D'Penjor
My sister had booked d'Penjor near Sunset Road on our second trip, as we needed to be close to our meet up point for pick up to Java for a 3-day trekking trip. It's still close to town, only 20-30 mins walk to the beach.
What we love: how secluded it feels, the pool, the spacious room, the breakfast, everything really! The balcony is great, too
What we didn't love: nothing at all – though the staff were a little over-enthusiastic and often interrupt our breakfast to ask if we are okay