Yoga retreats in Bali are a popular thing, whether you are looking for a week-long introduction or full-fledged teachers training. As a beginner, I wanted to find something affordable where I can ease into yoga but also have the opportunity to learn more about Bali's culture. Shanti Toya Ashram just 30 minutes from Ubud tick all the boxes and then some, offering a week-long yoga retreat with daily activities to keep you occupied.
Shanti means peace, Toya means water and spring, and Ashram is like a blessing, so the name itself is wonderful enough. I had nothing but good memories (ok, maybe bug bites too) at Shanti Toya Ashram, and here's my full review of the retreat:
Note: I was hosted for the retreat but all opinions are my own
Shanti Toya Ashram overview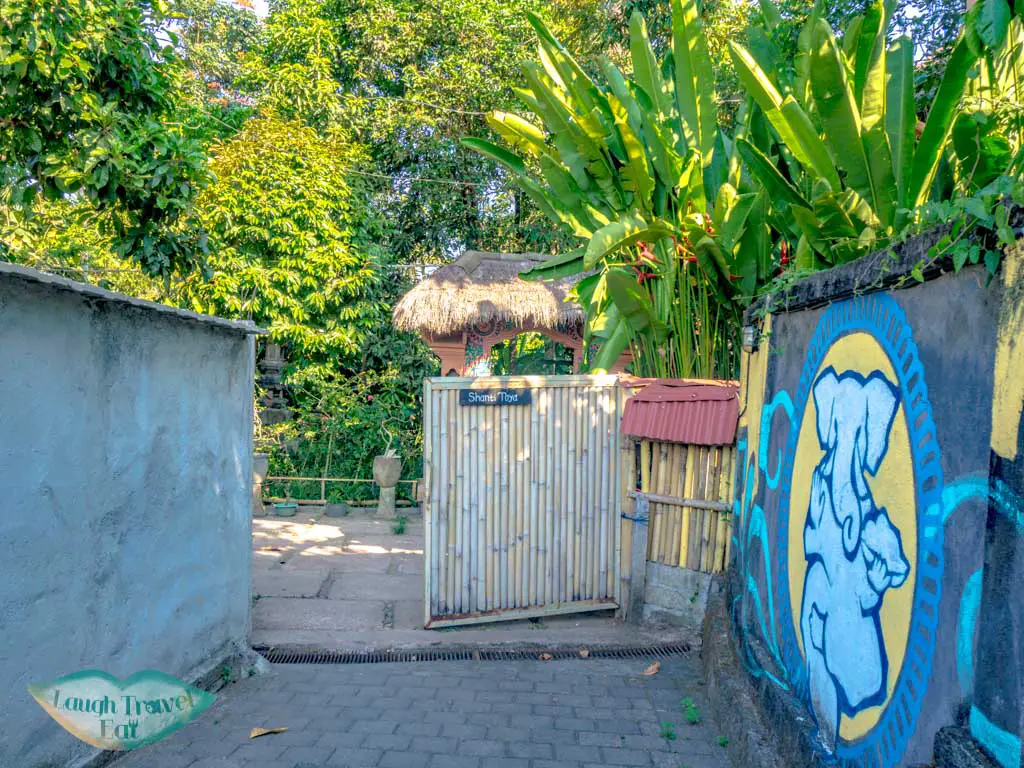 The ashram is located in a village called Penarungan, about 30 minutes from Ubud and 15 minutes from the Taman Ayun Temple. It's in the southeastern corner of the village, in the middle of the rice paddies. It's a serene place and none of us ventured out for the week, savouring the peacefulness, though if you do Go Jek is available (or you can rent a motorcycle yourself or from Shanti Toya at 80,000 rupees per day, 48 hours advance notice needed).The cost of a yoga retreat, on twin sharing basis, is 295 as of October 2018.
Yoga Retreat rough overview:
The retreat lasts a week with an arrival and departure day

7am and 5pm daily yoga for 5 days

3 vegan meals every day – dinner only for the arrival day and breakfast only for last day

One coconut per day (although we keep forgetting to ask for ours)

Balinese cultural activities

One Balinese massage by the local healer which was epic
Shanti Toya Ashram Facilities
Dining room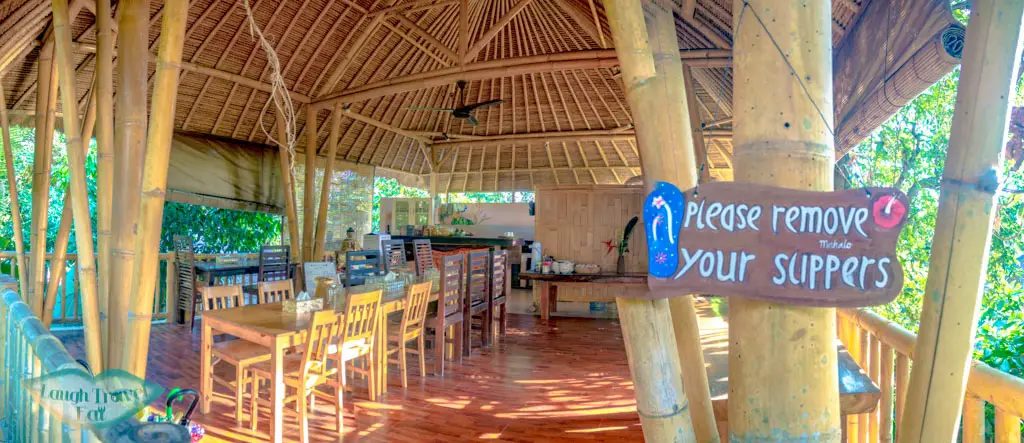 The dining room is where all meals and some of the Balinese classes happen in Shanti Toya. It's on top of the office and where everyone generally gathers to hang out. It's an open air space and often times you'll see a gecko or two on the roof beams. They tend to be pretty chill but is known to occasionally poop in your food. The WiFi is also the best here!
Yoga Shala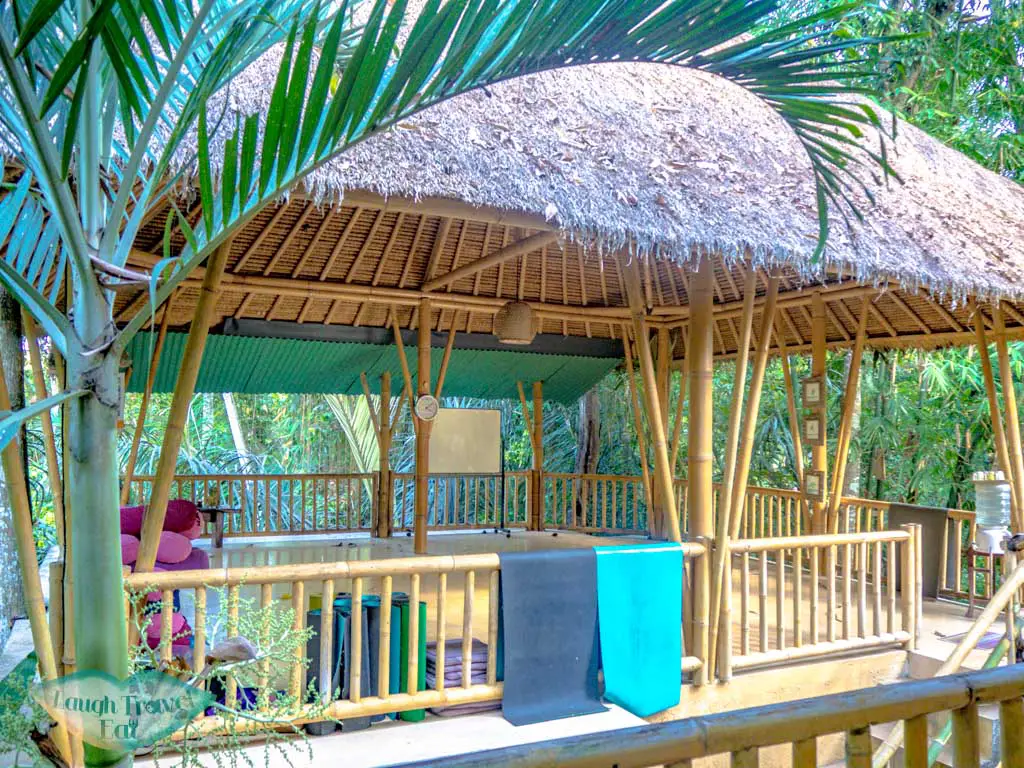 The Yoga Shala is also an elevated open air space. It had rained two nights of our stay and the space remains generally quite dry.
Swimming pool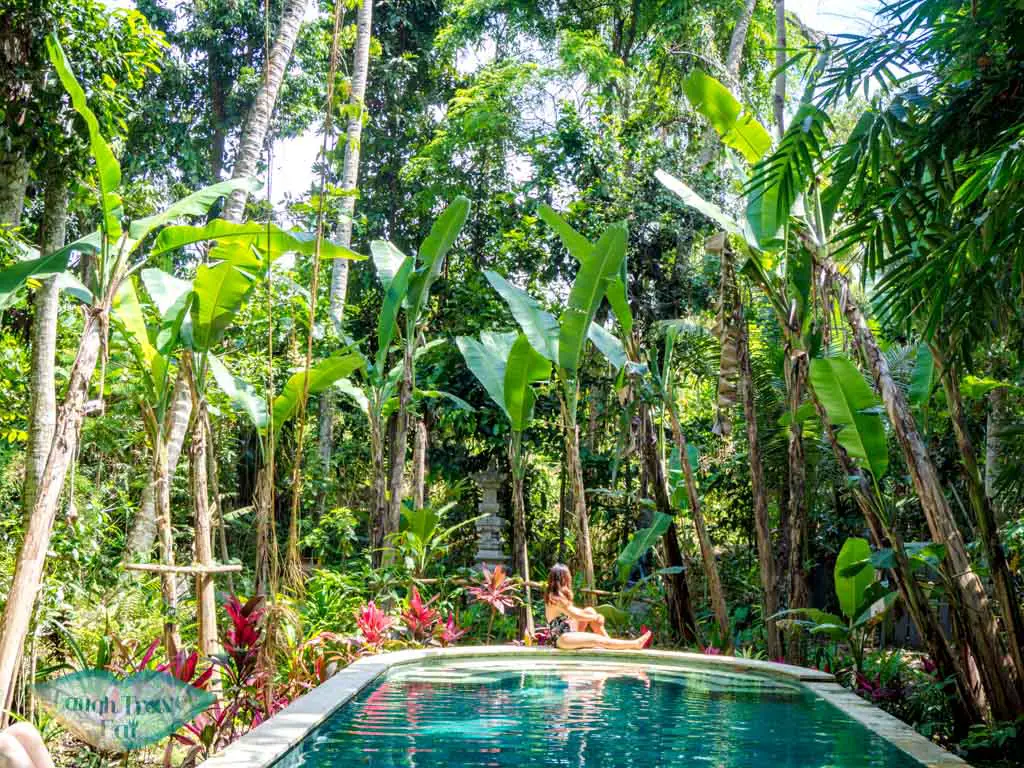 The swimming pool is at the very end of Shanti Toya, a lovely tranquil space shaded by trees. It is, however, quite popular with mosquitoes too, but the spring water they fill it with it's extremely refreshing.
Treatment room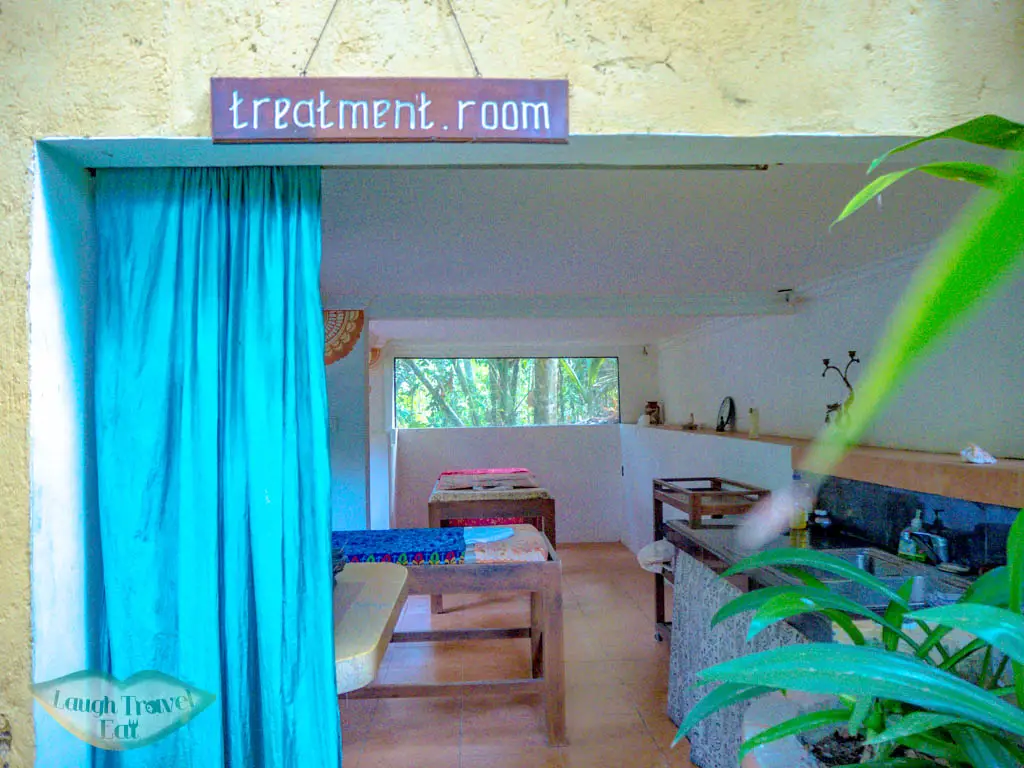 The treatment room is where the massage takes place, right underneath the yoga shala. The healer is great, using coconut oil with the massage and made me feel so relaxed!
Room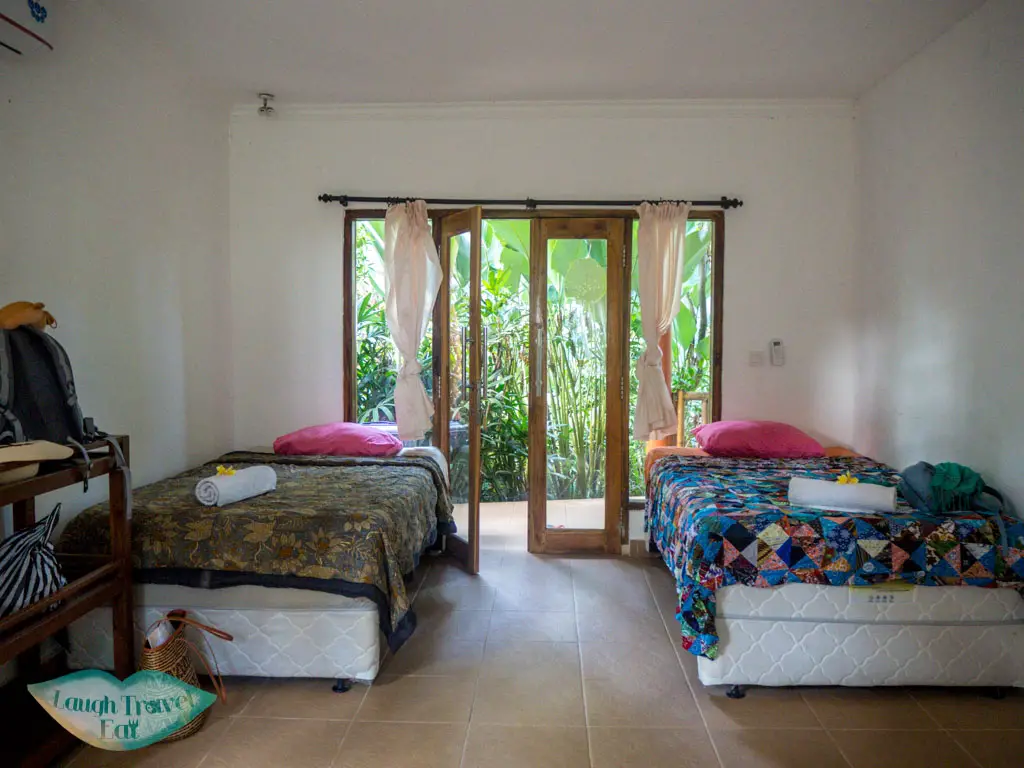 There are several different type of rooms around the ashram, which can accommodates up to twenty plus people. All rooms have an en-suite bathroom and I stayed in a twin room near the Yoga Shala. There is air condition, which was great since it gets humid there, and everything is pretty basic but functional. However, be prepared for bugs, especially ants, to invade your space!
Yoga at Shanti Toya Ashram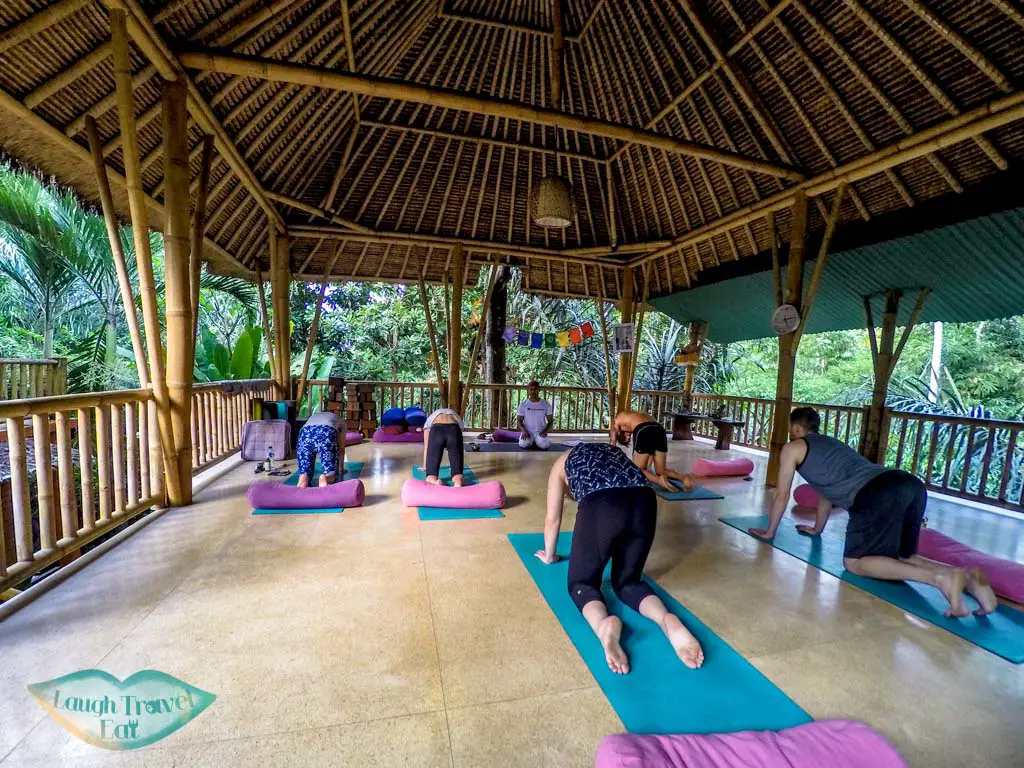 We have two daily yoga classes that last between 60-90 minutes at 7am and 5pm and a rotating cast of teachers. There were four in total: Ita, Ari, Wagyu and Wagyu. The yoga they teach are suitable for beginners as well as those who are a little advance, as we began to tackle crow pose, shoulder stand, and headstand from mid-week onwards. Most of the style are a Hatha and Vinyasa mix, but we also had a Yin class at the end of our stay.
I love that they encourage us to try but also to listen to our body, to not push ourselves too hard since we are all on different levels. The classes are spaced out just right so even though I was getting fatigued towards the end, I was still able to muster up enough energy to go to class!
Food at Shanti Toya Ashram
All meals at the ashram are vegan and delicious. I'm a self-confessed meat lover but honestly, I didn't feel at all bothered by the lack of meat. So I guess that simply means I'm a good food lover.
They always have jugs of herbal water in the dining room all day – the usual are ginger, turmeric, mint and lime, lemongrass.Breakfast is definitely a favourite meal with their padan bread, delicious homemade chocolate, and peanut butter spread. There's also cinnamon porridge and fruits – usually papaya and watermelon.
The menu changes daily for lunch and dinner, we had mee goreng, stir-fried dishes with tempeh, tofu, potato, and various veggies, as well as soup and curry. All meals are served buffet style, so you can get as much or as little as you want.
Balinese activities
One of the best thing about the yoga retreat is that we get to learn so much about the Balinese way of life. It's great to have a daily activity that gives us a better glimpse into the local life and their culture. Here's what we did:
Balinese offering
If you have been to Bali, you probably are no stranger to the offerings scattered around the entire island. The green squares, made from young coconut leaves, are filled with different colour flowers as well as small offerings, with a lit incense are part of the Hindu tradition on the island. We accompanied the staff in Shanti Toya one morning after breakfast as they made their round around the ashram, placing offerings in different places for different purposes.
Some are for the gods, some are for safety, and some are for the forest!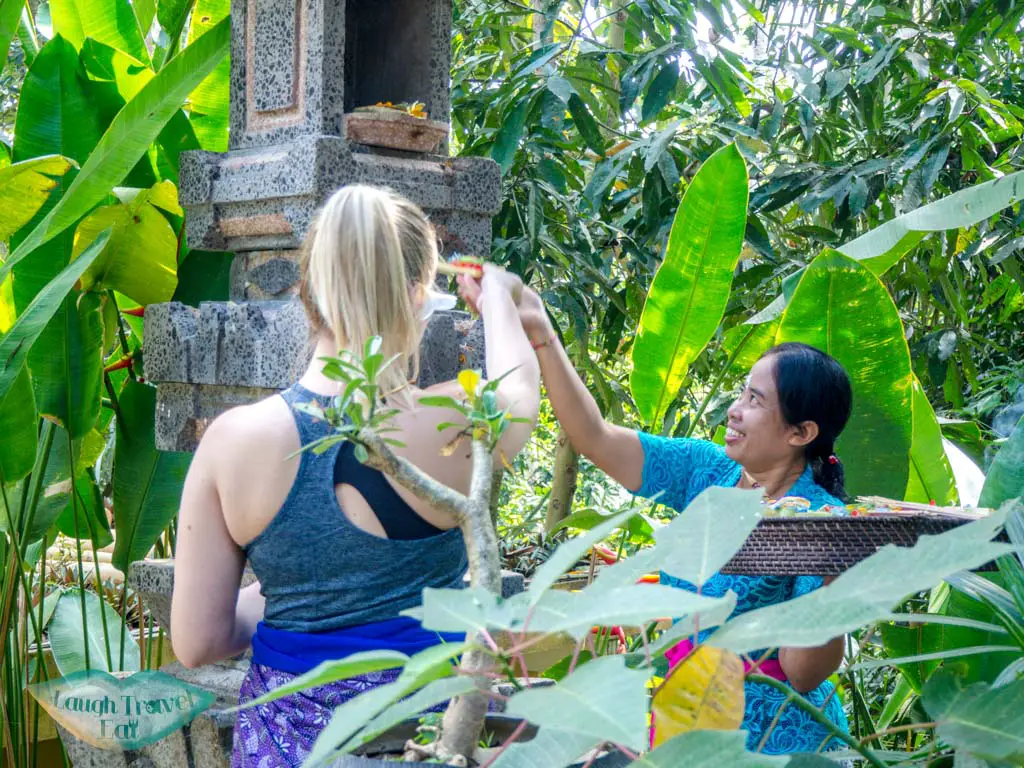 They had dressed us up in a sarong and taught us how to place the offerings, sprinkingling them with holy water and lighting up the incense. There was almost one placed in every single building and on the road outside, too.
Balinese offering making
The offerings you see are called chanang, and we learned how to make them in the afternoon of the Balinese offering class. We learned how to make the base, the correct order to put the flowers in, as well as what else we could put in. It took us almost an hour to finish but the professionals can make one in a minute!
Jamu making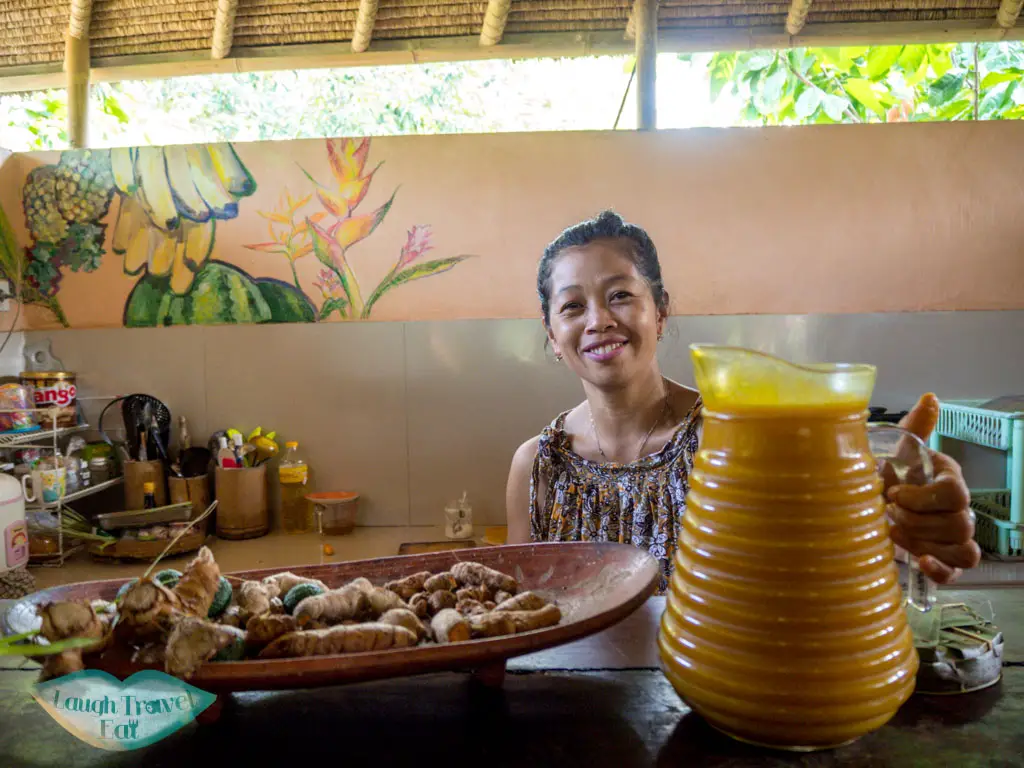 Jamu is a traditional herbal drink in Bali (and Indonesia), and is surprisingly easy to make. We mostly help Isa, the wonderful cook in Shanti Toya, prepping the ingredients, which consist of turmeric, palm sugar, and various other herbs.Jamu is great for your health and can be drunk hot or cold, though it does stain your teeth a little.
Balinese Cooking Class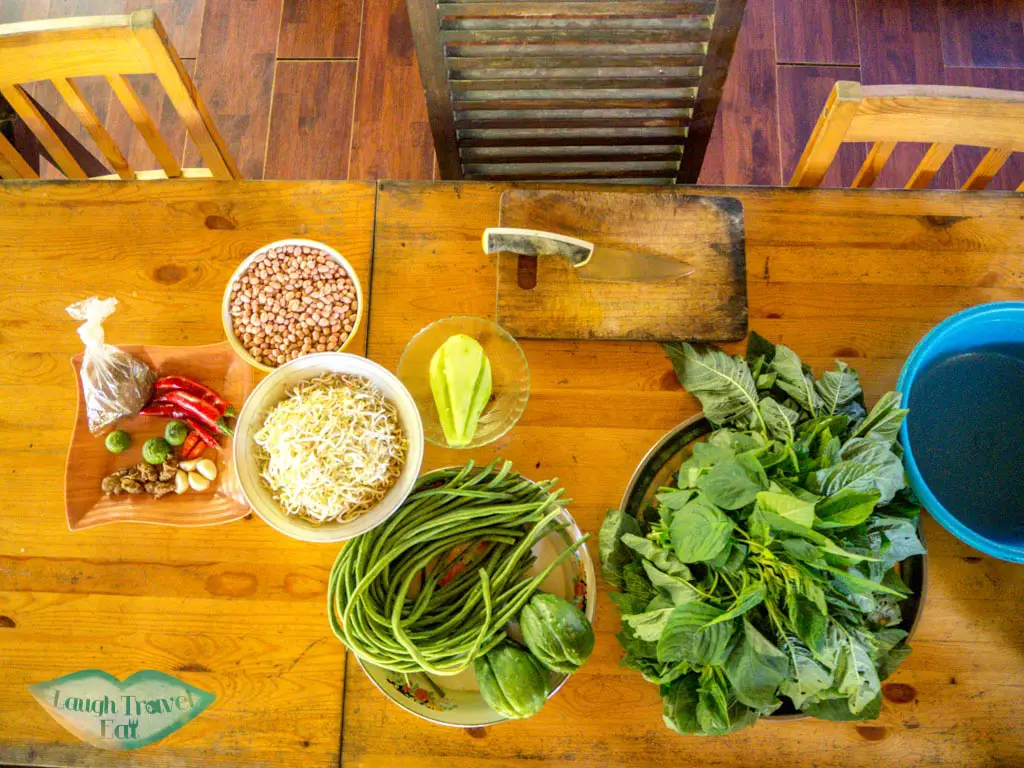 We learned how to make Gado Gado at the Balinese cooking class, which is the Indonesian version of salad! While long beans, Bali spinach, and bean sprouts are often used, you can use any greens you want. The key is the peanut sauce!
Balinese experience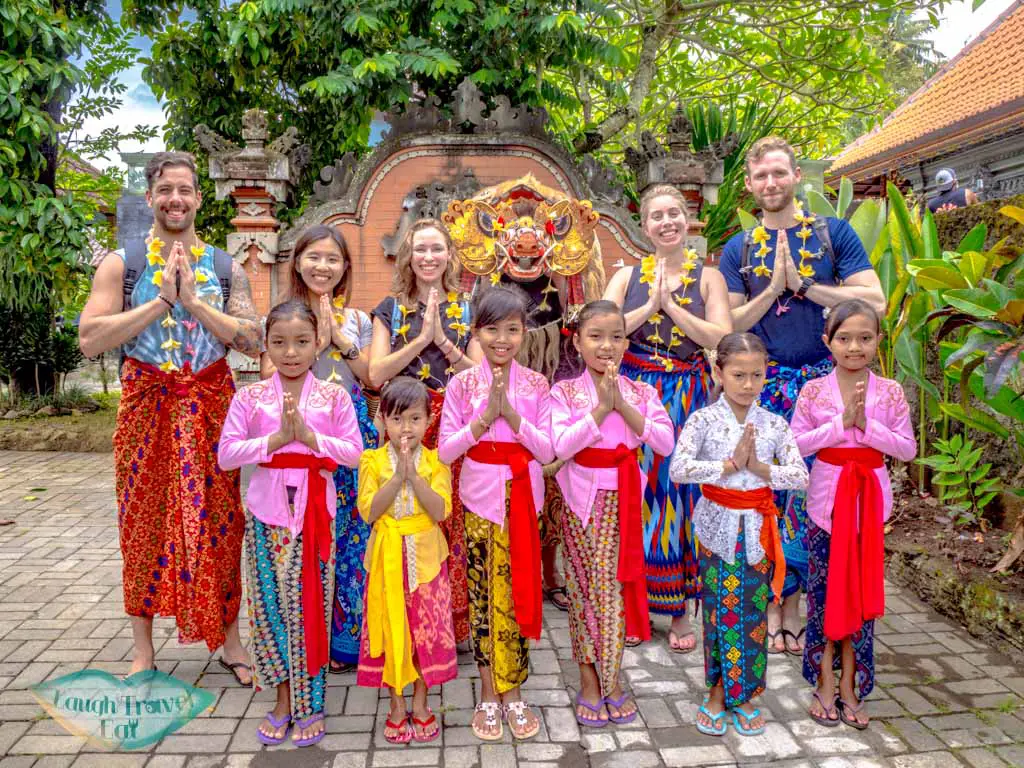 By far my favourite activity on the list, the Balinese experience gave us a glimpse into the life of the villagers by Shanti Toya. We were picked up by an elder, who whisked us away to participate in a local ceremony with Barong Dance (their version of Lion Dance), and we walked with the local ladies in their usual possession to the Balinese compound.
We were welcomed by the children, who were there for their Sunday school, and the elder proceeds to give us a tour and explain the significance of the compound.

He also took us to see the 120 hectare of rice paddies, and learning about the local crafts such as coconut leave carpet weaving, coconut oil making.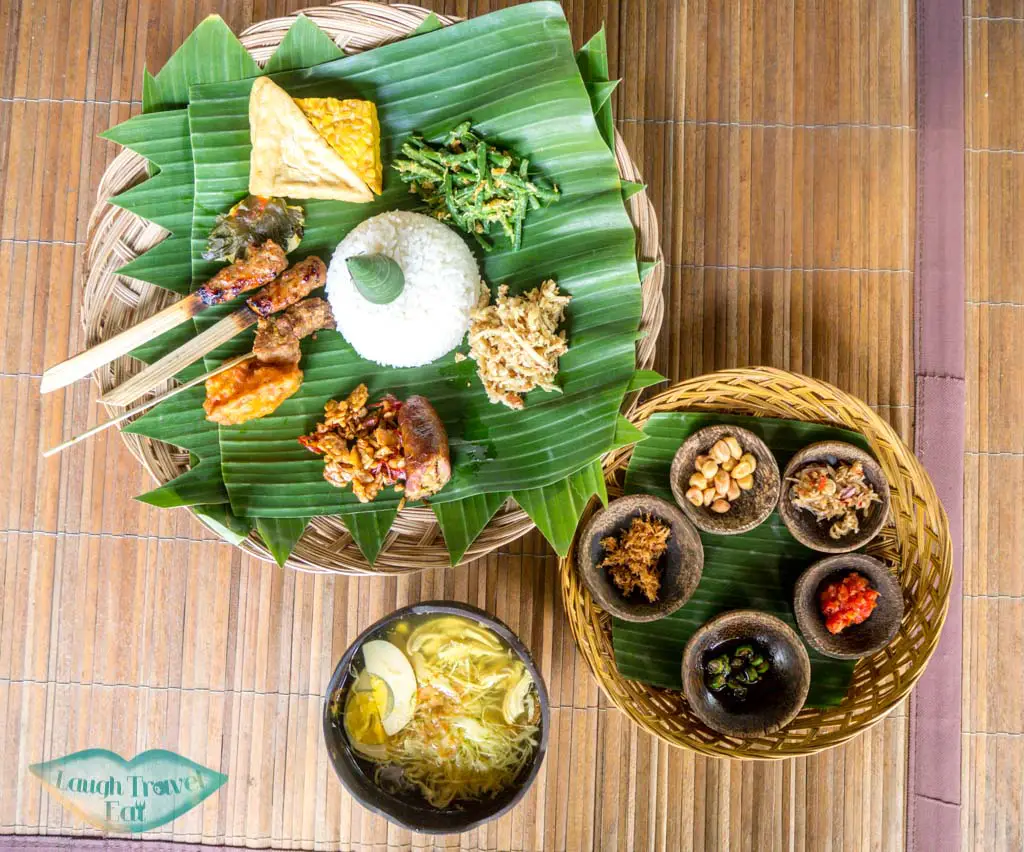 Then we had the most amazing Balinese lunch (with both meat and veggie option) and watched the little girls perform the Balinese dance, before an older girl performed and invited us to join!
Balinese dancing
Our last experience was a Balinese dancing class led by the performer Agung, who had came in from Ubud to teach for the hour. The posture required for the dance was nothing I had ever tried before, and the whole class was a bit chaotic but fun. We did a welcoming dance and ceremonial dance, and basically just try to follow the teacher as best as we could!
Other activities
Other things you can do from Shanti Toya includes a walk along the beautiful rice paddies at sunset or sunrise. I missed the best sunset of the trip because I was having my massage, but I caught a sunrise:
Another one is going to the morning market in Penarungan, which is a local's farmer market that happens between 4-6am. The market isn't large, located at the crossroad, but is a great insight into local life!
Verdict
Overall, I think this is a great yoga retreat for anyone who looks to get into yoga and want to learn more about the Balinese culture. We were a group of 5 with people from Spain, US, Canada, and, well, me. The staff at Shanti Toya was beyond helpful, huge shout out to Isa and Marta at the kitchen, Widi who takes my joke in strides, and Kalina and Ari!