What are the to things to do in Lombok? My main purpose visiting there was to hike Mount Rinjani, but we ended up staying around Lombok for over a week. While I can't say that we prefer Lombok over Bali for various reasons, I do believe the island is worth a visit as you head there to see the second most active volcanic. 
> see my Bali guides here
Lombok Essential Informations
Before we dive into what to do in Lombok, let's answer some frequently asked questions and get to know Lombok a bit better.
Is Lombok worth visiting?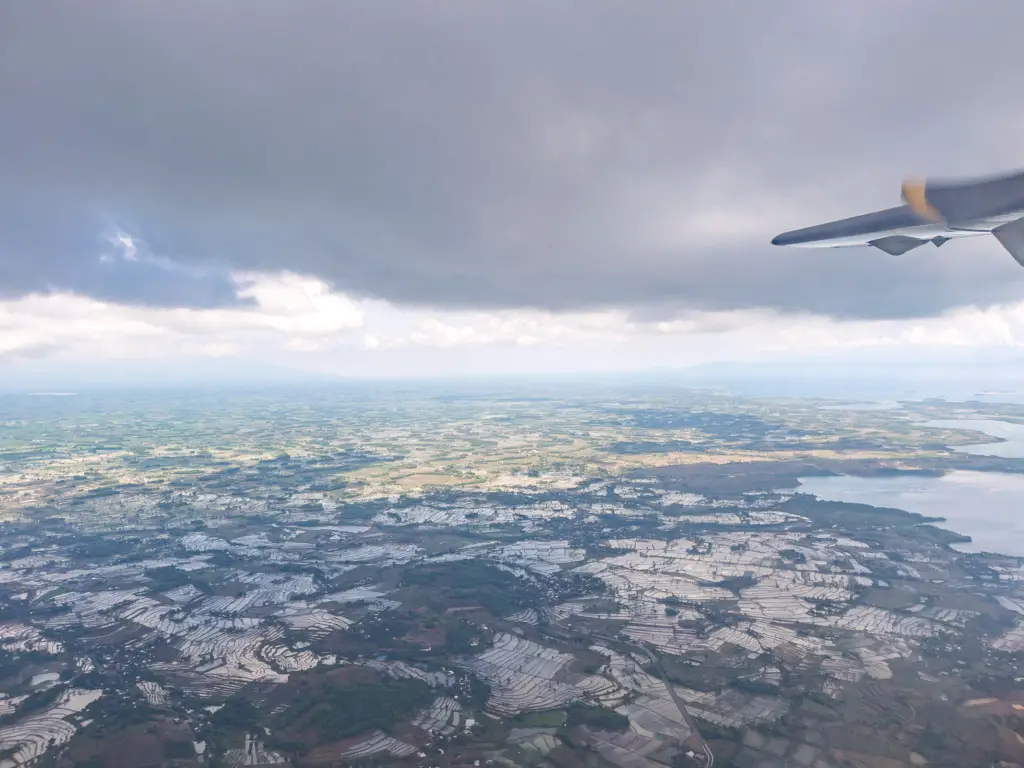 Yes, Lombok is worth visiting. As the island next to the famous Bali, it has seen increased tourist traffic as people spill over from the Gili Islands or make it there as part of their backpacking trip.
The most popular attractions are Mount Rinjani and Gili Islands, but there are other spots too. A lot of people prefer Lombok's peace and quiet over Bali. However, I have to admit that things are further apart than I thought. And while the locals are friendly, a lot of them also treat tourists like walking ATM, and it can be difficult to distinguish the two at first interaction.
And unless you rent a scooter or car, it can be quite costly to join tours and make your way around the island.
What is Lombok Indonesia famous for?
Lombok is the most famous for three things/locations:

Surfing (mostly the south coast)
There are also the Sasak local culture and waterfalls around the Rinjani National Park!
Best time to visit Lombok
The best time to visit Lombok is during its dry season between June to September. The shoulder seasons are lovely as well. We visited in December which is during the rainy season and it rained almost every afternoon.
How many days are enough for Lombok?
Depending on what you want to see, around 5 days in Lombok is pretty much the standard. This might also be affected by which tour you booked for Mount Rinjani, as it'll take up 2 to 4 days. And if you want to surf in Kuta, that's another 1 to 2 days.
Getting Around Lombok
Can you walk around Lombok? The short and long answer is no. Lombok might be smaller than Bali but it's not by much. Even when we were at Senggigi, it was not easy to walk due to lack of pavement or just badly maintained pavement.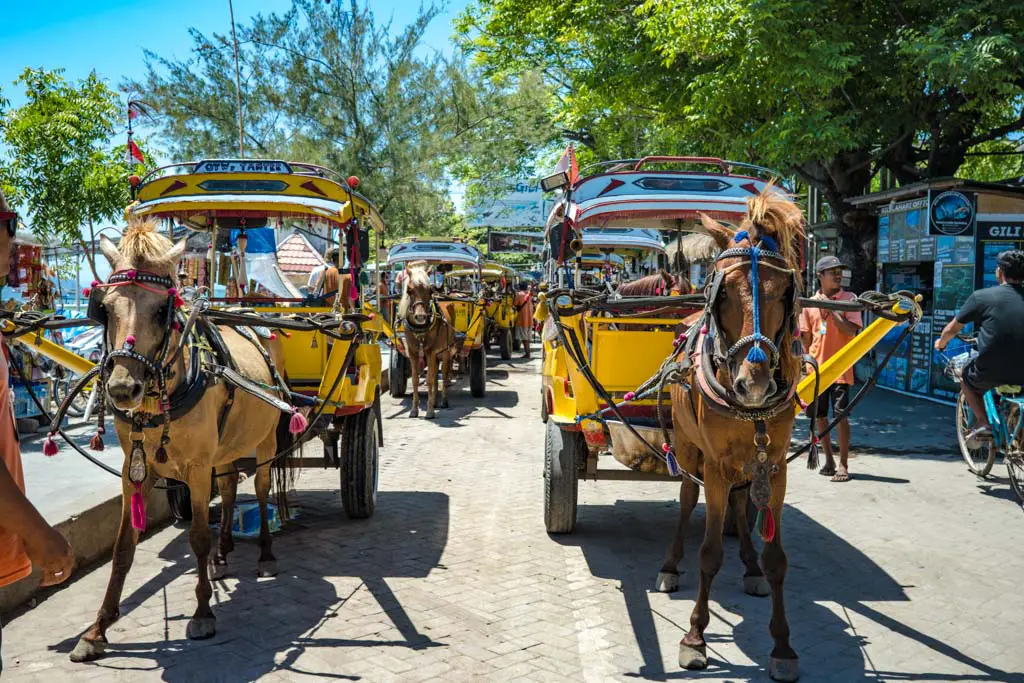 While there is taxi, the best thing to do is to either rent a scooter or even a car, or hire a driver to take you around for the whole day. A scooter is the cheapest options, but don't forget you will need to have a valid driver's license.
Hiring a driver is a lot more expensive but it does give you peace of mind. Or you can join day trips that would take you to top attractions.
Is Lombok better than Bali?
It's difficult to compare the two island as while they have similar landscape, there are some key differences. Bali has better tourist infrastructure yet the traffic there can be terrible because of it. But I have to say the landscape is more stunning. Lombok has Mount Rinjani and quieter beaches, but hiring a driver is not as convenient and potentially more expensive.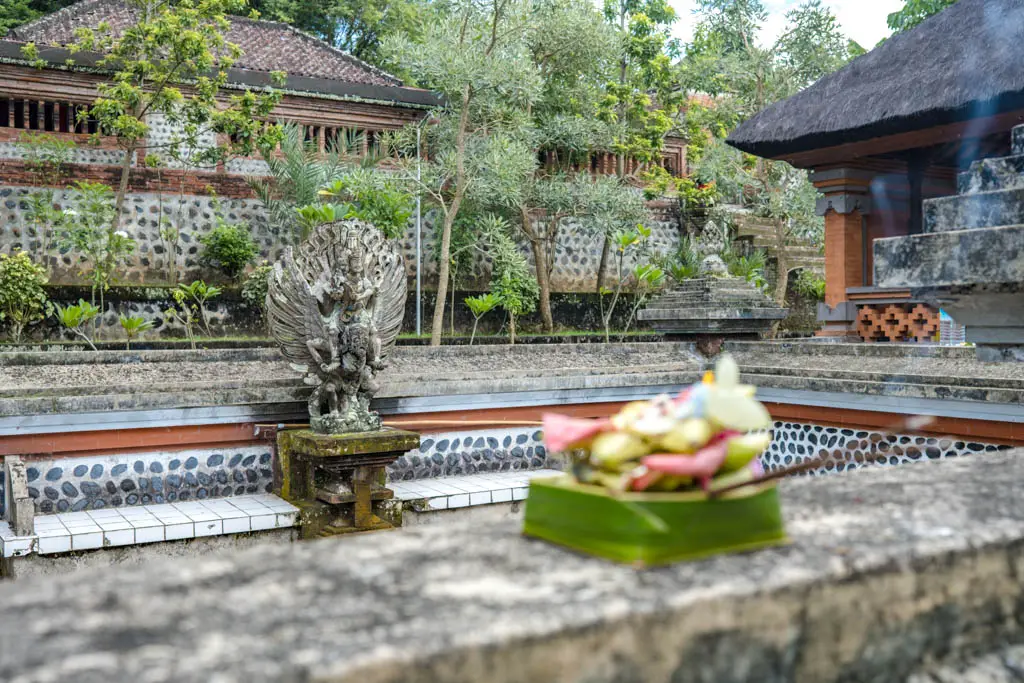 Lombok (and Java) is also a Muslim predominant island, whereas Bali is Hindu predominant. This does mean that you should dress more conservatively.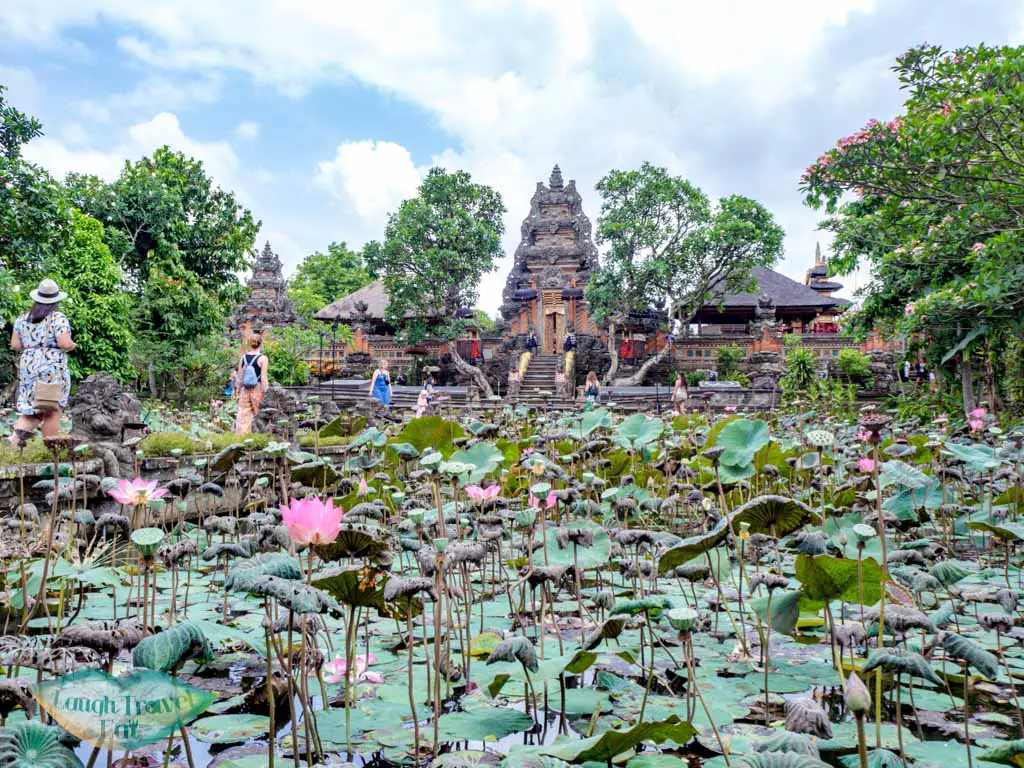 All in all, if you prefer a quieter holiday, Lombok will be the one. There are equivalent of what you want in Bali on Lombok, but I have to say that Bali does have its own unique charms and better backpacker and non-driving tourist amenities.
Can you drink alcohol in Lombok?
As a Muslim predominant island, there is restricted alcohol drinking in certain religious places.
What are the dangers of Lombok?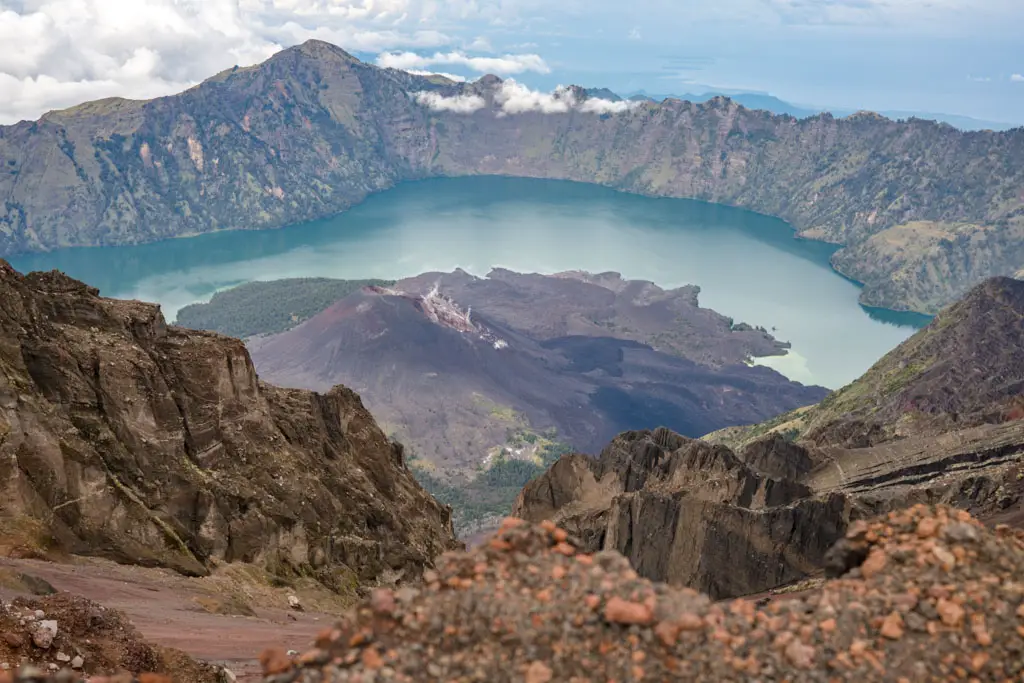 Lombok's main danger comes from Mount Rinjani, which is an active volcano. Its most recent activity was the 2018 earthquake that has changed some of the landscape of the island. The last eruption was 2015 – you can check more about its eruption history and record here. 
How to get to Lombok
Lombok is well connected, both domestically and internationally. Depending on where you are travelling from, you might want to fly over or take the ferry.
Airports in Lombok
Lombok only has one airport that serves both international and domestic flights. The full name is Zainuddin Abdul Madjid International Airport, but since there is only one people just refer to it as the Lombok Airport or by the code LOP. 

The airport is located on the south central part of the island, well connected by main roads that would take you around the island or to the south.
Currently, most flights are domestic, so the most common places you can fly to are Bali, Jakarta, and Singapore.
Bali to Lombok
There are two main ways to reach Lombok from Bali: by flight or by boat. Flight is faster but of course more expensive.
Boat from Bali to Lombok
Bali has different port that serves ferries to Lombok, most of them will go through the Gili Islands (see the Bali to Gili Islands guide here). The most common ports are the same: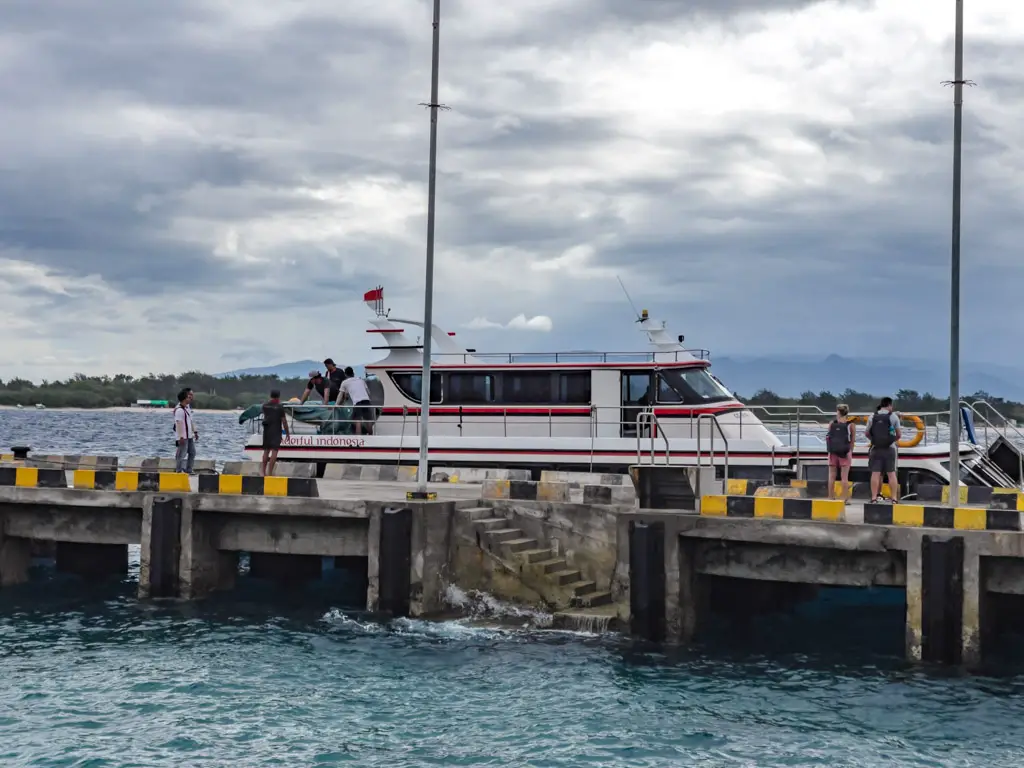 Padang Bai – closest port to Ubud
Sanur – most popular port from Nusa Dua and Kuta
Serangan – an alternative to Sanur
I usually book my transfer on 12GoAsia, or you can book via Klook.
How long is the ferry from Lombok to Bali?
The ride from Lombok to Bali (and vice versa) varies from 2-4 hours, and it can be longer if the weather condition is undesirable. 
Domestic flight to Lombok
From Denpasar to Lombok the best route is to take the domestic flight. It takes about 40 minutes with frequent flights departing from the domestic airport. We flew with Citilink and while the luggage restrictions means we had to pay more (since the maximum we could purchase was 15kg not 20kg), it was a smooth process.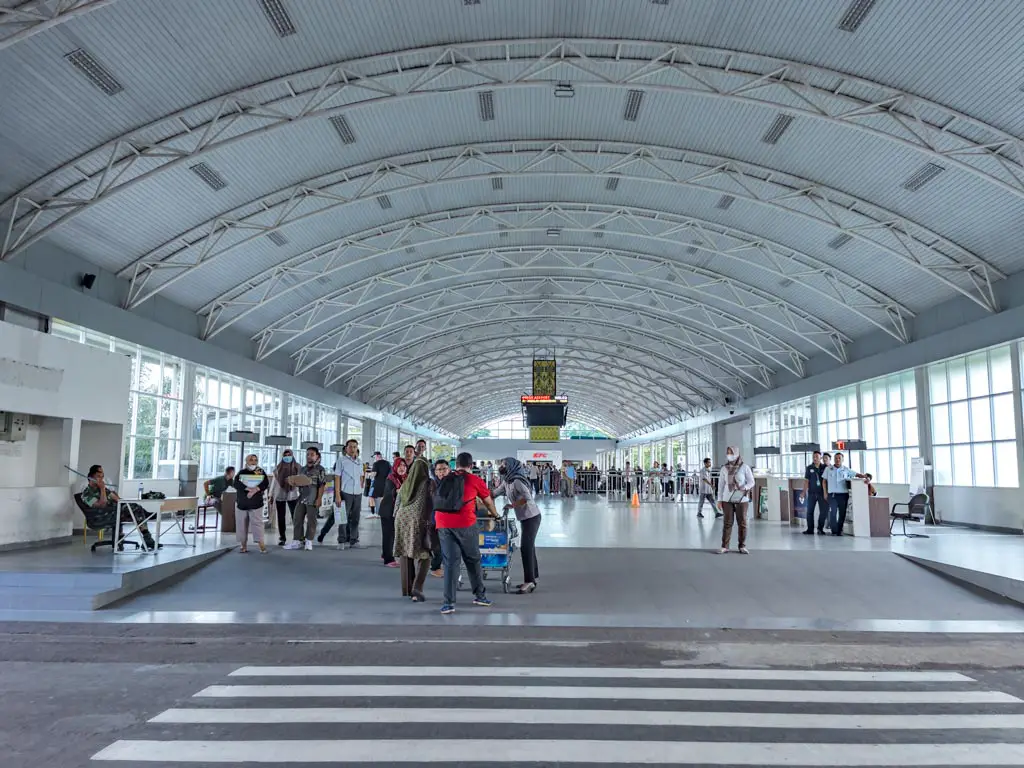 Note: the domestic airport is next to the international airport and only a 10 minutes walk away. If you accidentally made your way to the wrong one, it's easy to walk back over.
Top things to do in Lombok
We did our research on Lombok's things to do, since we don't want to just hike Mount Rinjani and not do anything else. I'll list the things that we did first and then also the ones that were on the list:
Gili Islands
Gili Islands are generally referred to the group of three islands on the northwest corner of Lombok: Gili Trawangan, Gili Meno, and Gili Air. there is another group of Gili islands off the south coast, but they are not as developed or as easy to get to as these one.


The Gili Islands are the best place to relax and unwind, or pick up how to dive since the waters are beautiful and home to many turtles.
Most people stay on the biggest island, Gili Trawangan, and island hop to the other two. But if you have time or prefer an even quieter secluded island holiday, the other two islands are a good choice. Alternatively, you can take a snorkeling day trip to the islands.
Mount Rinjani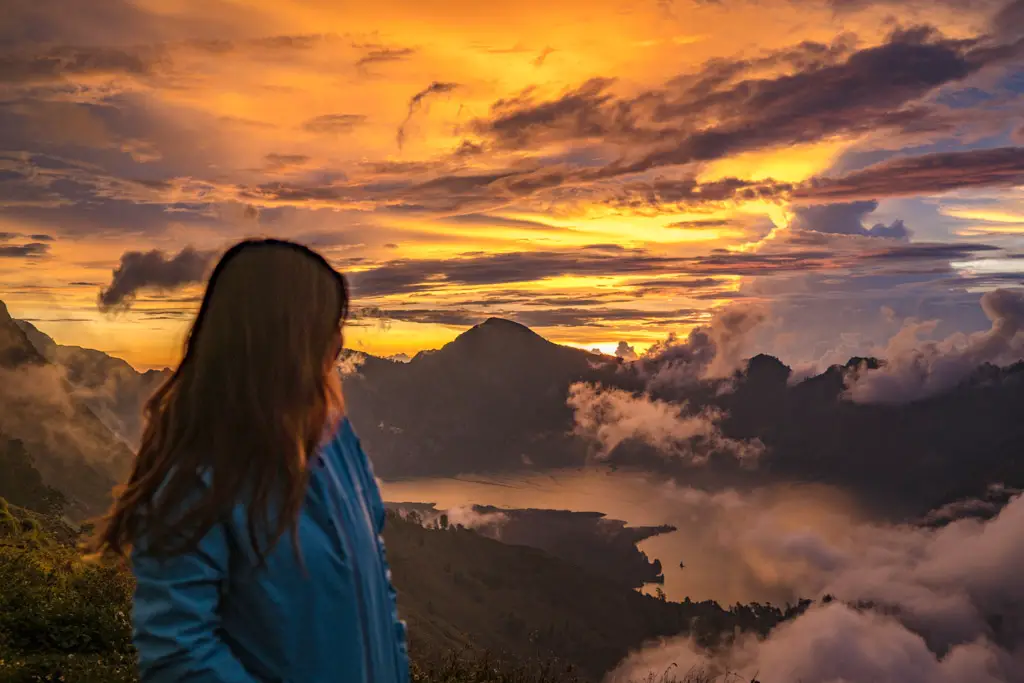 Mount Rinjani is the second most active volcano in Indonesia and the crater rim itself overlooking the crater lake is a treat to see. You can join a 2 day or 3 day tour to see the caldera and even summit the highest point at 3,726 m.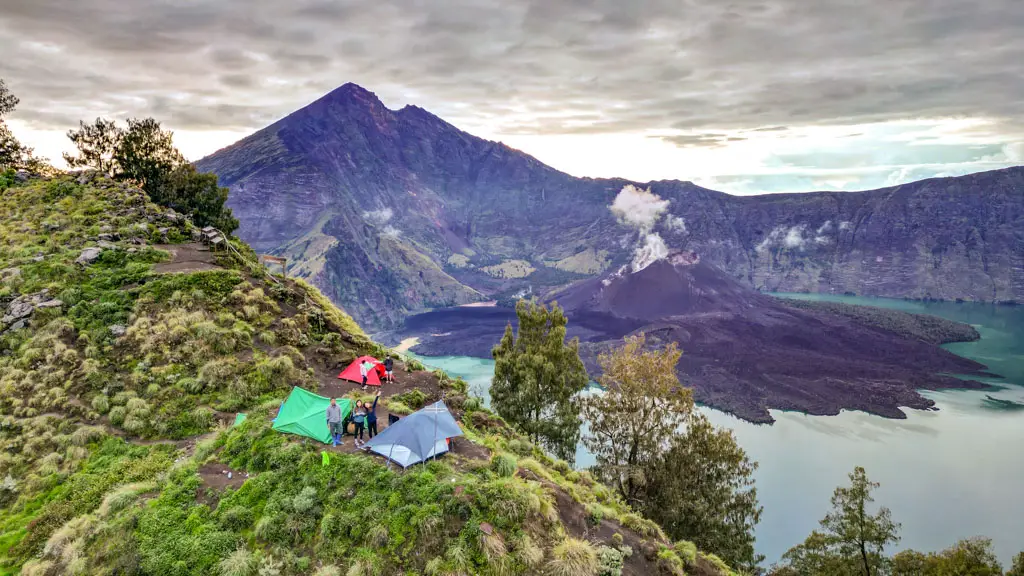 We did our hike with Hajar Trekking and absolutely loved our experience despite the rain. Depending on how active you are – you might want to do 2D1N or 3D2N 
Relax and Recover in Senggigi
We decided to go to Senggigi after hiking Mount Rinjani and before we set off to the Gili Islands to rest and recuperate. It was just enough time to do a day trip, do our laundry, and relax by the pool and beach.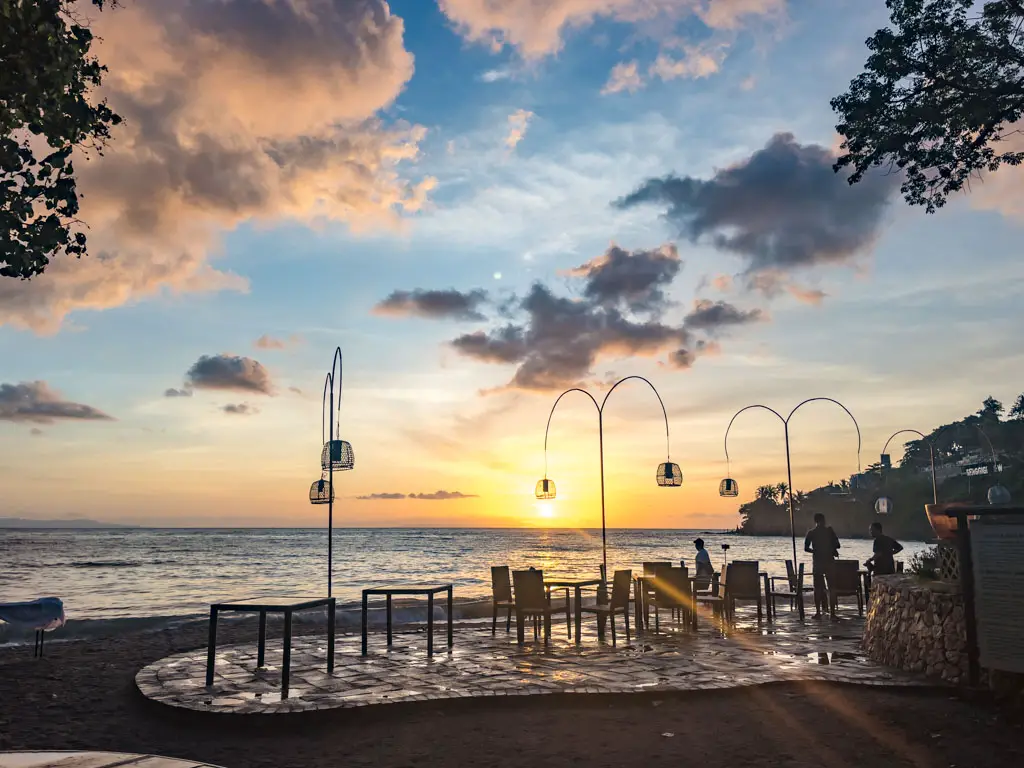 Why did we choose Senggigi? It's on the west coast an hour south of the Bangsar port to Bali and Gili Islands with long stretches of beach and resorts. This used to be the most popular resort area before surfers migrated down to the south coast at Kuta.
Here is a quick summary (day trip is the waterfall + temple, detailed in separate section):
We stayed at Sheraton Senggigi and while it was nice, the uninformed late check in was annoying. It does have a lovely pool by the beach, even if the beach wasn't that nice.
I'll cover other accommodation options in the hotel section at the bottom.
Orchid Massage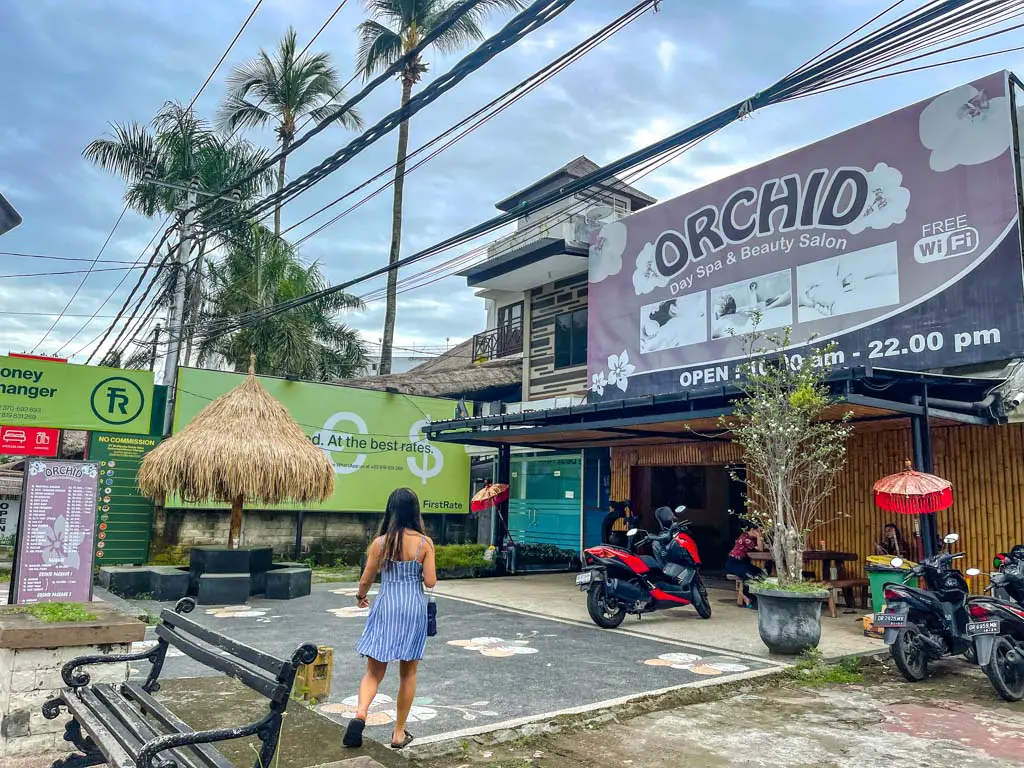 After a tough hike, there's nothing better than a massage! We showered and dashed to the Orchid Massage, right along the main road and not too far from Sheraton Senggigi by foot. The prices are very reasonable and they were able to accommodate quite a lot of people at the same time.
Note: if you came down from Rinjani like we did, we walked around 10 minutes to get our laundry done at another place
Go Chase Waterfalls in Lombok
Much like chasing waterfalls in Bali, you can also chase waterfalls in Lombok. Some of the more famous ones are clustered together south of Mount Rinjani and is still part of the national park. We did a semi-DIY day trip and hired a driver to see the most famous ones via Klook.
While the driver spoke very little English and some of our tour guides were more interested in asking for donations and tip, it was overall a good experience and convenient. 
With the tour, they've arranged a guide for us to visit three of the waterfalls. You can also head there by yourself and arrange for a tour guide. You can visit up to 4-5 waterfalls in total. And yes, a guide is mandatory. The one we had smoked like a chimney but is nice and made it a random leave crown.

Note: you can get a motorbike to take you to some of them, but the hike is not difficult and can be done in flip-flops.
Benang Stokel and Benang Kelambo in the center of Lombok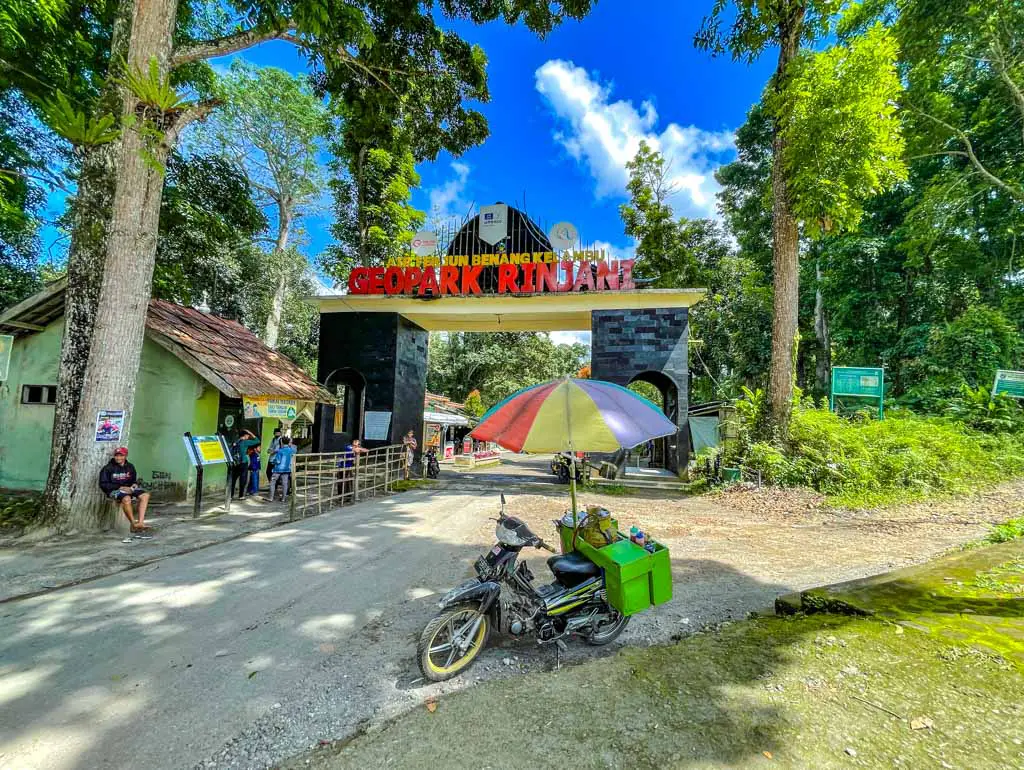 The first waterfall was quite easy to reach with a concrete trail. It consists of two waterfalls and a very shallow pool. It's not possible to swim there but you can splash around like these kids!
The layering of rocks that peek out from behind the waterfall are alternate layers of lava and breccia, a record of Mount Rinjani's activity.
The Benang Kelambo waterfall is often lumped in with Benang Stokel as they are visited at the same time. It is 500m upstream from Benang Stokel and about 1km by walking.There are two sides to it and it's a less easy hike (but still actually easy) from Stokel.
The leafy, stepped side to the left is less crowded in general, and the concrete pathway extends down to the right is right in front of the wider falls. The water collects into a pool at the end where you can swim or sit.
The name actually means curtain as the waterfall cascade over 4 levels across 40m and it is very pretty.
Sendang Gile Waterfall and Tiu Kelep Waterfall in the north
The Sendang Gile Waterfall and Tiu Kelep Waterfall are by Senaru and if you are heading up to hike Mount Rinjani, it's worth a stop by. The two are linked together on a short hike, so it's a two-in-one deal anyway.
You don't need a tour to visit, although if you're not driving yourself, booking one would be the most convinienet way to visit. There is a small entrance fee that should be included in your tour. If you're visiting by yourself, you can pay that and walk in yourself. A guide is not required and neccessary.

The Sendang Gile Waterfall is the first one you'll see, surrounded by leafy greens with a signle drop.

Tiu Kelep Waterfall is further along the road and you're likely to get wet from the hike, so it's best to wear wet shoes and bring a spare change of clothes. It is a dark, brooding waterfall that has a main fall thundering down in the middle and a second tier cascading down.
Lingsar Temple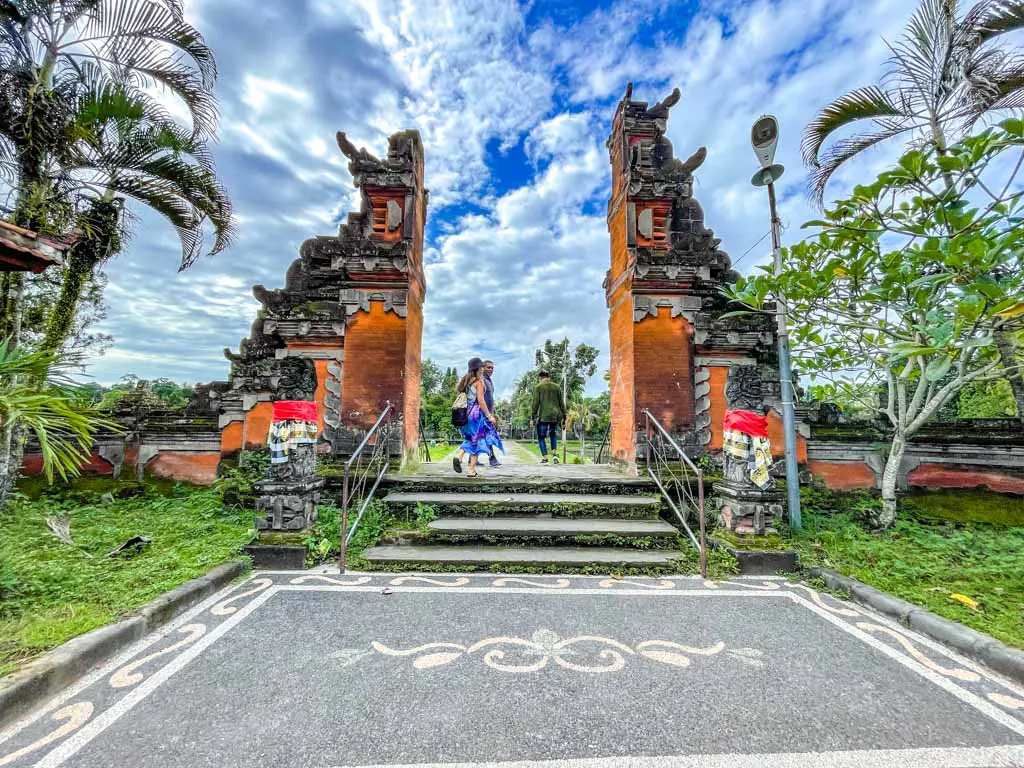 There are several Lingsar Temples around Lombok but the biggest one is the one in the center of Lombok closer to the west coast.
It is a temple that embraces all religions and you can see Hindu, Buddhist, and even just local families gathering there.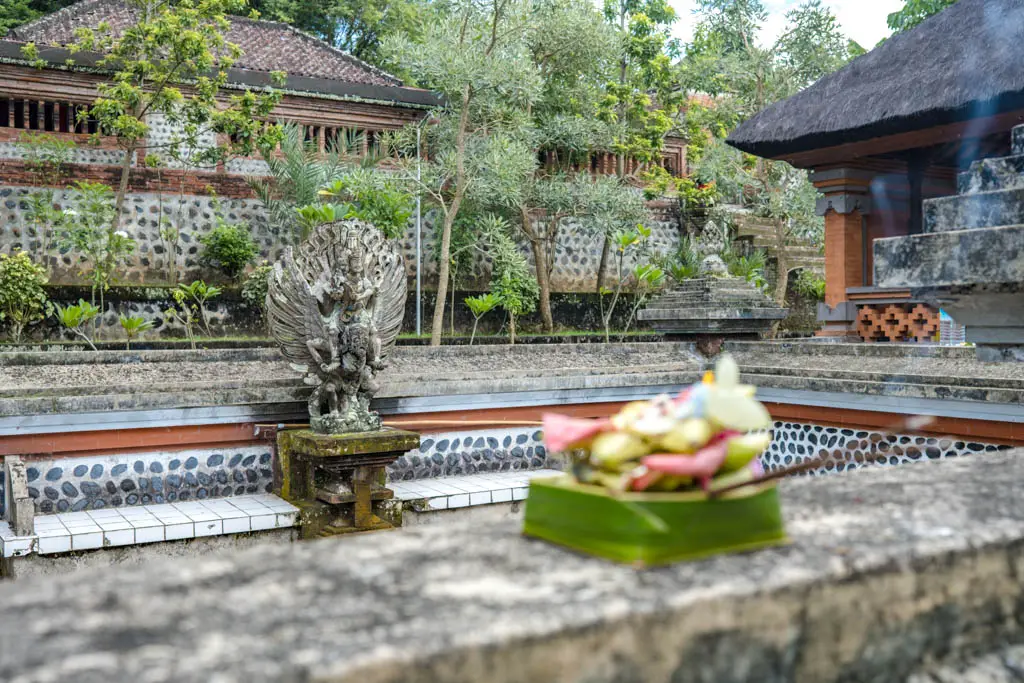 Our tour included a guide and be aware that it is likely they'll constantly ask you to provide donations. Our guide was semi-informative, although it did feel like you're forced to go on a tour that they want to give for even more money versus a nice visit. 
Weaving Village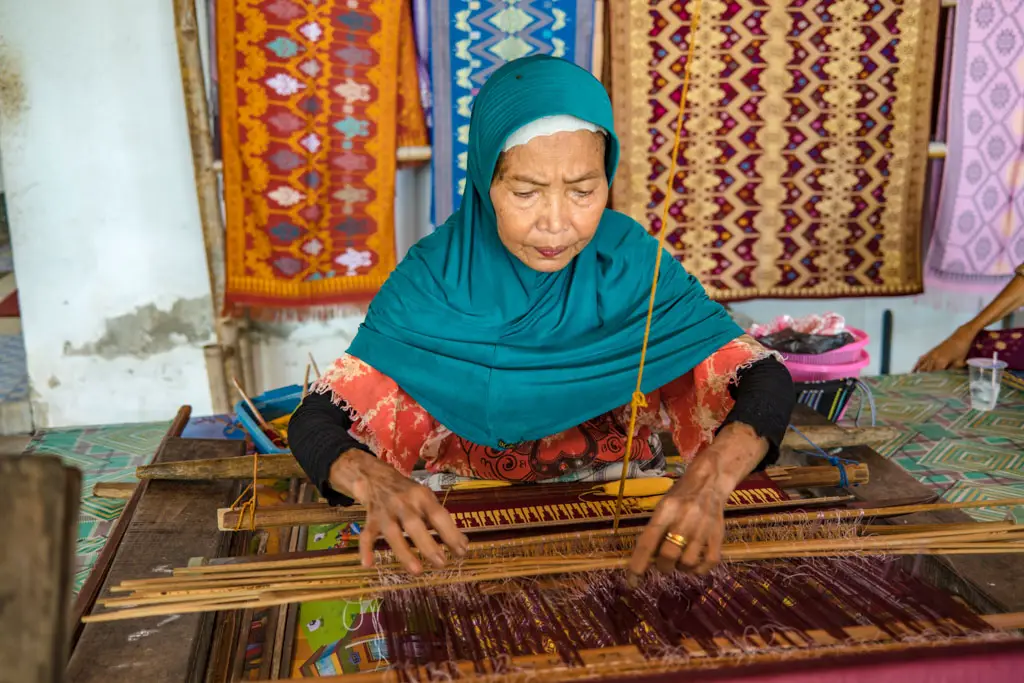 Our day trip included a visit to a weaving village, which is just a shop with local weaving techniques on display and some traditional houses. Normally, I'm not the biggest fan of these stop but it was kind of fun to get dressed up in the traditional Lombok costume and take some photos.
You're not forced to buy anything, although they'd, of course, love it. Bargaining is also expected so don't be shy!
Note: since we booked a day trip, we didn't tip after we bought something from the shop.
Surfing in Kuta
Kuta on the south coast of Lombok and the heart of the surfing action. While the whole of the south coast are ideal for surfing with waves coming in from the Indian Ocean, most beginner and intermediate surfers would base themselves in Kuta.

It is a far better place to learn to surf compare to Bali. There are many surf schools around the area or you can just head to one of the surf spot and rent a board. 
(more information coming soon as a friend is heading to Kuta to surf!)
See the famous Pink Beach

We ended up giving this a skip but it's the top thing to do in Lombok. The Pink Beach is on the southwestern tip of the island, making it a far drive from almost everywhere. 
The other Gili Islands
Aside from the famous Gili Islands on the northwest coast, there are another gili islands all over Lombok. In fact, there are 26! On the southwestern coast, there are three that are dubbed as the secret Gili islands: Gili Gede, Gili Asahan, and Gili Kedis. They are a lot less developed.
Gili Gede is the largest out of the three and has lovely sandy white beaches with corals on the north coast and mangroves to the south.
Gili Asahan is secluded with no electricity, no ATM, and even restaurants are difficult to find. But there are many beautiful resorts and great snorkelling.
You can also take snorkeling trips to Gili Sudak, Gili Nanggu, and Gili Kedis.
Sasak Village
The Sasak culture is the indigenous culture of Lombok. While Muslim is now the prodominant religion, the people of Lombok kept their culture alive. There are two Sasak Villages you can visit and tour the traditional houses and learn about the handicraft. They are quite close to each other so you can visit both if you feel up for it.

Sade Village – is the more popular one with handweaving demonstrations. There is no entrance fee but donations are welcome.
Rembitan Village – quieter and some might consider it more authentic.
They are between Kuta and the airport, so it might be a good stopover on your way in or out.
Goa Bangkang Prabu – the bat cave
Goa Bangkang is known as the bat cave in Lombok and also famous for the way the sunlight filters through. It's on the southcoast near Kuta and part of a series of underground caves and a 10 minutes drive from the main beach. 
As gorgeous as the caves look, it does not smell good due to the bats. For the best sunlight ray, visit between noon and 1pm. For the bats, however, go at sunset to see them flying around!
Entrance tickets: around 60k rupiah for all the caves, 25k rupiah for just the Goa Bangkang. 
Best Hotel in Lombok
It's hard to answer which is the best hotel in Lombok. But I can tell you the best places to stay in Lombok and recommend the hotels there. For most, you either stay in Senaru or Sembalun for hiking Mount Rinjani, around Senggigi for resorts and near the Bangsar Port, or in the south around Kuta for surfing. Here are the 3 locations plus some special hotels you might want to consider:
Senaru Hotels
Budget: a pool with Rinjani view can be super affordable at Pondok Guru Bakti Cottage, which has basic but clean rooms. For a homestay vibe, Tiu kelep Homestay is good but hot water and internet might be an issue.
Mid-range: Rinjani Lodge in Senaru has bungalow and family rooms with the view of Rinjani and an outdoor pool. Bukit Tiga Lima Boutique Hotel is a modern choice with wood interior and modern bathroom.
Note: if you have joined a tour to hike Mount Rinjani, they should provide 
Senggigi Hotels
Budget: Holiday Resort Lombok has good rooms and a beach club. If you don't mind not being right by the beach, Villa Umbrella is great for a small gathering.
Mid-range: Royal Avila Boutique Resort has a sleek modern design and great sea view. For a more Indonesian/Asian design, Jeeva Klui Resort is perfect.
Splurge: for a luxurious holiday with the family, Malimbu Cliff Villa is a stunning choice. You can also get a private pool villa at Jeeva Sentai Villas.
Kuta Hotels
Budget: Puri Rinjani Bungalows are by the main beach stretch with nice clean rooms.
Mid-range: Martas Windows is 400m from the Kuta Beach with pretty bungalows and rooms. Jivana Resort has individual villa with beautiful suites and pool. Jati Villas is also in the area with private pool villas.
Splurge: if you don't mind being a little far from action, Somewhere Lombok is a gorgeous property with villa and full breakfast. An eco friendly option would be Kalma Bamboo Eco Lodge but it is also remote but they can organise transport and food delivery.